Deciding whether to redeem points for an outright Business Class or First Class seat, or whether to instead book an Economy Class seat and throw your hat in the ring for an upgrade, is a common question I myself have wrestled with on numerous occasions.
On Qantas, upgrades with points are not guaranteed and may not even be approved until hours before your flight takes off, depending on your level of status.
Therefore, booking outright is the only way to lock in your seat at the pointy end of the plane.
However, Classic Flight Reward taxes and fees, which have to be paid for with cash, can add up on some routes.
Ad – Scroll down to continue reading.Minimum spend, terms & conditions apply.
How some popular routes compare
Here are some examples of popular routes for Australian travellers and how they compare.
Please note that this analysis was conducted pre COVID-19 flight changes, but these examples will still demonstrate the decision-making process that you should use to determine whether a Classic Flight Reward or an upgrade offers the best value for your intended flight booking in the new travel environment.
Melbourne to Sydney
Searching for one-way flights on a random weekday in July 2020, these are some options I got: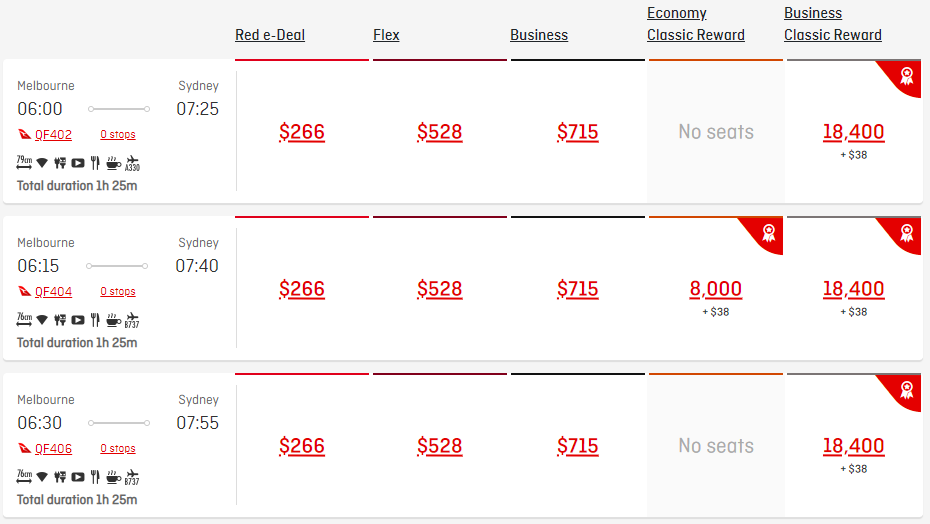 Paid economy seats under the 'Red e-Deal' ranged in price from $145 to $333, while there was good availability across the day for both Economy Classic Reward and Business Classic Reward flights.
Economy Classic Reward flights on this route cost 8,000 points plus $38 of taxes and fees, while Business Classic Reward flights will set you back 18,400 points plus $38 of taxes and fees.
If you bought one of the cheapest Red e-Deal Economy Class flights at $145, you could then apply for an upgrade to Business Class at a cost of 10,900 points.
So, your options to end up in Business Class are 18,400 points plus $38, or 10,900 points plus $145.
In this example, you are parting with 7,500 extra points to book an outright Business Class seat but are saving $107 in cash.
This puts a value on your points of 1.42 cents each, not bad bang-for-buck but below the current Point Hacks valuation of a Qantas Frequent Flyer point which comes in at 1.9 cents.
However, if you wanted one of the flights at the $266 price tag for an Economy Class Red e-Deal seat, the benefit of booking outright would be a very healthy 3 cents per extra point required.
Brisbane to San Francisco
Again picking a random date in July 2020, I found Business Classic Reward availability on a direct one-way Qantas flight:

This Business Class flight is available to book outright at a cost of 108,400 points, plus a $321.10 co-payment to cover taxes and fees.
An Economy Class seat was available to book with cash on this flight for $1,062, however 'Sale' fares on International Flights are not able to be upgraded later. Therefore, you would have to buy a 'Saver' fare at a cost of $1,257 if you wanted to upgrade to Business Class.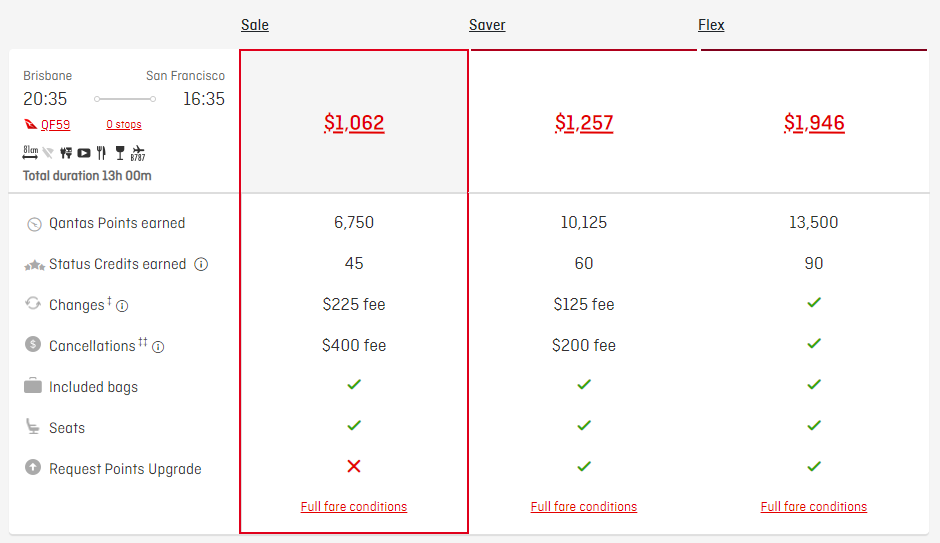 To upgrade a 'Saver' fare to Business Class on this route will set you back 98,100 points.
So, booking a Business Classic Reward flight outright would set you back 108,400 points plus $321.10, while buying an Economy Class flight and upgrading it to Business Class would cost you 98,100 plus $1,257.

In this example parting with an extra 10,300 points to book a Business Classic Reward flight outright would save you $935.90 in cash, placing a value on your extra points required to book outright of a whopping 9 cents each.
Sydney to Los Angeles
Time to really live the high life, with a one-way First Classic Reward flight to Los Angeles:

This flight is available outright for 162,800 points, plus a cash payment of $330.92 to cover fees and taxes.
To upgrade to First Class with a standard paid ticket, you will need to be booked in Discount Business Class at a minimum.
It is not possible to upgrade any Economy Class tickets to First Class.
Business Class was not available to book with cash on this specific day, but the same flight two days later was available at a cost of $9,266 for a Business Saver fare.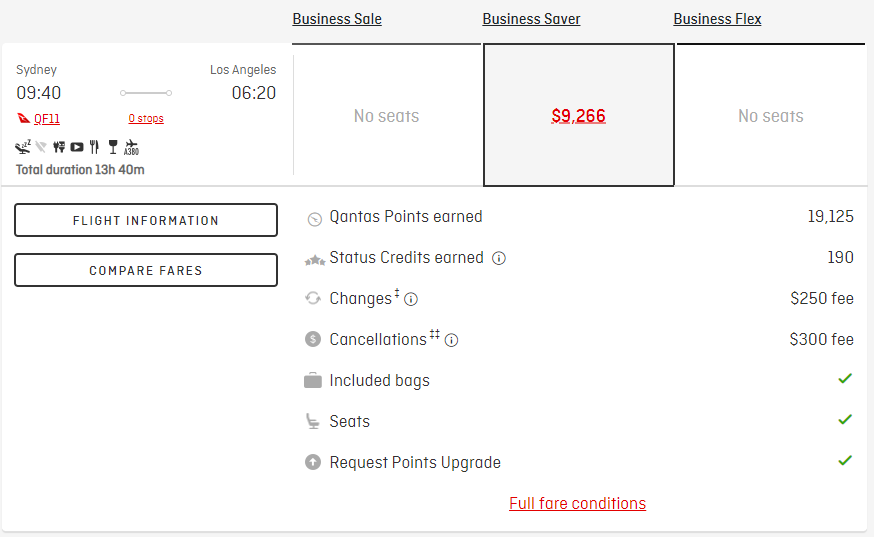 To upgrade to First Class from a Business Saver fare, you would be up for an extra 55,300 points.
It goes without saying that booking a First Classic Reward flight outright on this example is the best way to go, given that First pricing is generally $3,000 to $5,000 more expensive and is covered by expending just an additional 55,300 points.
Perth to Sydney
If you need to cross the country, doing so in lie-flat Business Class on a Qantas A330 is a nice way to do it. Here are some flights I found for one-way Perth to Sydney flight on another random day in July: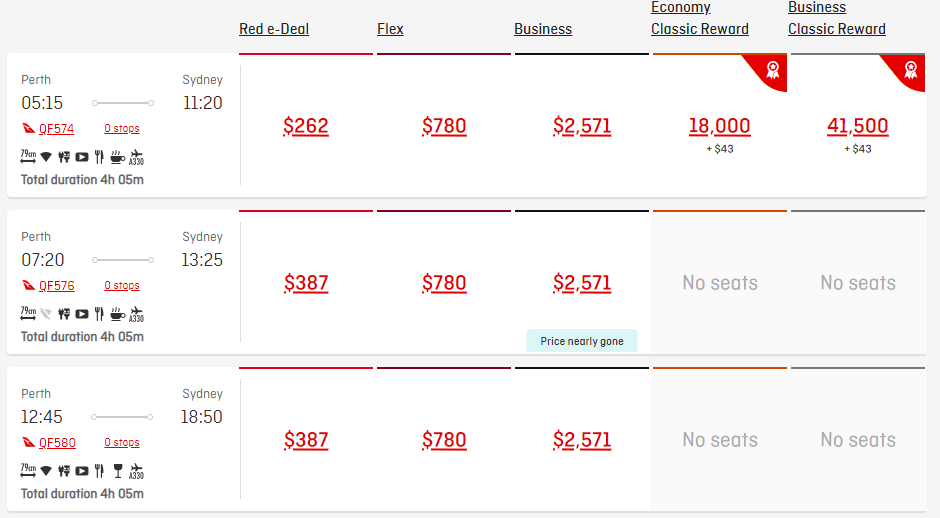 A Business Classic Reward flight will set you back 41,500 plus $43 in taxes and fees.
An Economy Class seat via the Red e-Deal on the same 5.15am flight costs $262, with an upgrade to Business Class available for 27,200 points.
That means you are parting with an extra 14,300 to book a Business Classic Reward seat outright but will save $219 in cash, putting a value on your extra points of 1.53 cents each.
This is still a solid value, but your points could be worth much more if the Red e-Deal price was higher, as it is for other flights this day.
Summing up
In the above four examples, booking Business or First Classic Reward flights outright makes sense on each occasion, especially the two international routes. Booking outright is the only way to guarantee yourself a spot at the pointy end of the plane for international redemptions, with upgrades based on availability and your level of status with Qantas.
However, booking an Economy Class ticket and applying to upgrade it does make sense when outright Business or First Classic Reward flights are not available for your preferred flight, or when Economy tickets are available at bargain-basement prices. It can also be beneficial to book a paid Economy flight and apply to upgrade it if you are chasing status with Qantas, given you will accumulate Status Credits at the Economy rate whether you are upgraded or not.
Outright Classic Rewards Flights do not earn Status Credits unless you are an elite member of the Qantas Points Club, which can be earned at reduced rates to that of paid fares.
Should I redeem for an outright Qantas Business or First seat or look to upgrade?
was last modified:
July 21st, 2020
by