Qantas' flagship superjumbos are back in the skies, now appearing on selected flights to and from Singapore, London and Los Angeles. Following a recent refurbishment, much of the attention has been on the jet's upper deck. But there are still some improvements for Qantas passengers flying Economy on the Airbus A380.
After zipping up to Singapore on QF1 – and securing a points upgrade from Economy to Business – the time came to return home. This time, on QF2: without the upgrade. At least I'd have an aisle seat, and as luck would have it, a spare seat beside.
Check-in at Jewel Changi Airport
I used the Qantas mobile app to get a boarding pass for my Airbus A380 Economy flight the night before departure. If I'd only had a cabin bag, that would have been enough to skip the airport formalities and zip on through immigration.
But I also had a checked bag to contend with – and I also wanted to get through quite early. Fortunately, Jewel Changi Airport tackles both of those needs.
There's an early check-in facility here that's available to Qantas passengers and a selection of other airlines. It's also conveniently just across the road from Terminal 1, where Qantas operates.
I'm able to quickly tag and drop my bag. Yet with time up my sleeve, I stretch my legs exploring the iconic Jewel precinct. Yes, it features the indoor waterfall and rainforest – which I still can't believe is in an airport. But Jewel is also a great place for some pre-flight shopping if you have the time… and the baggage allowance.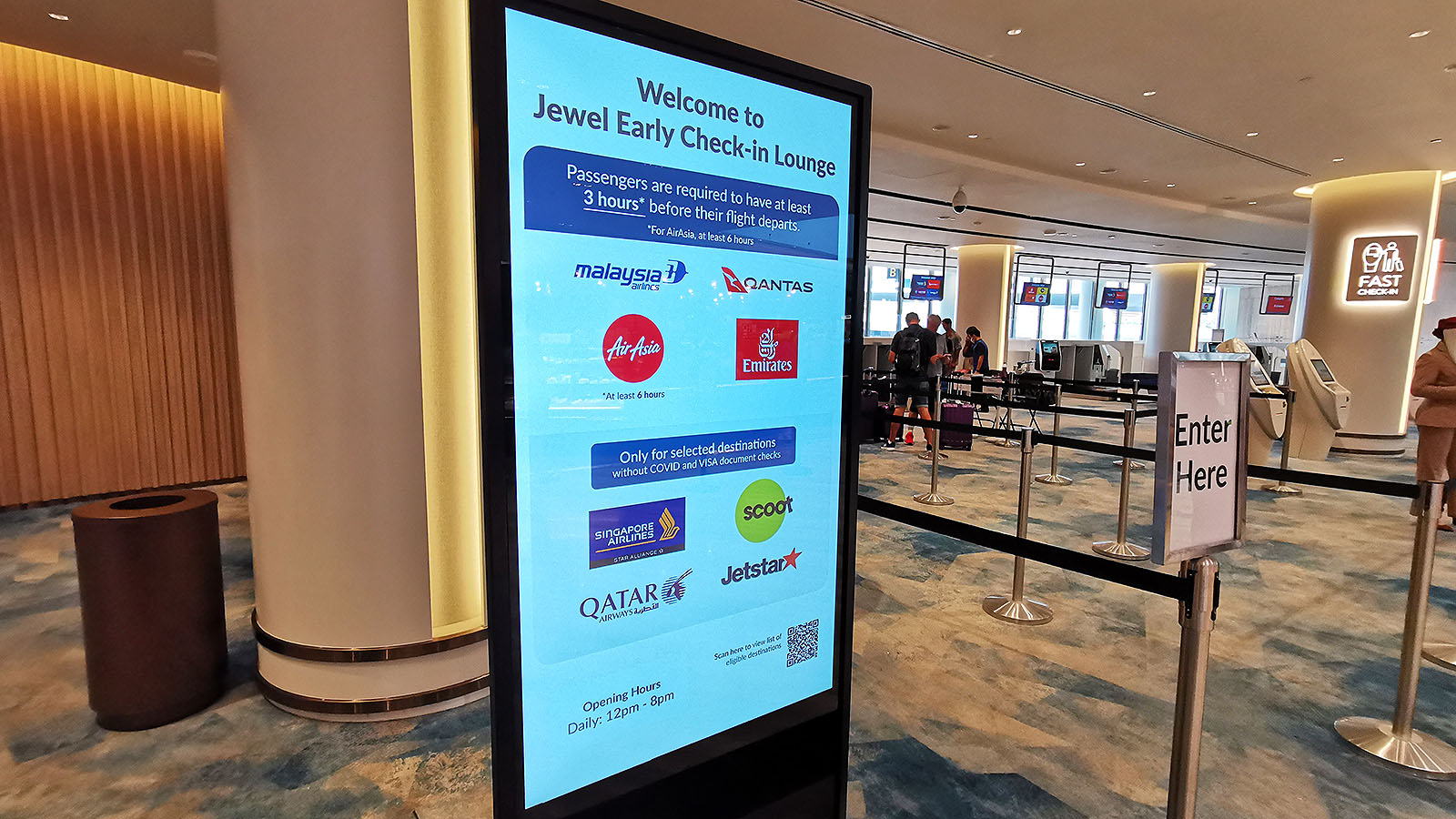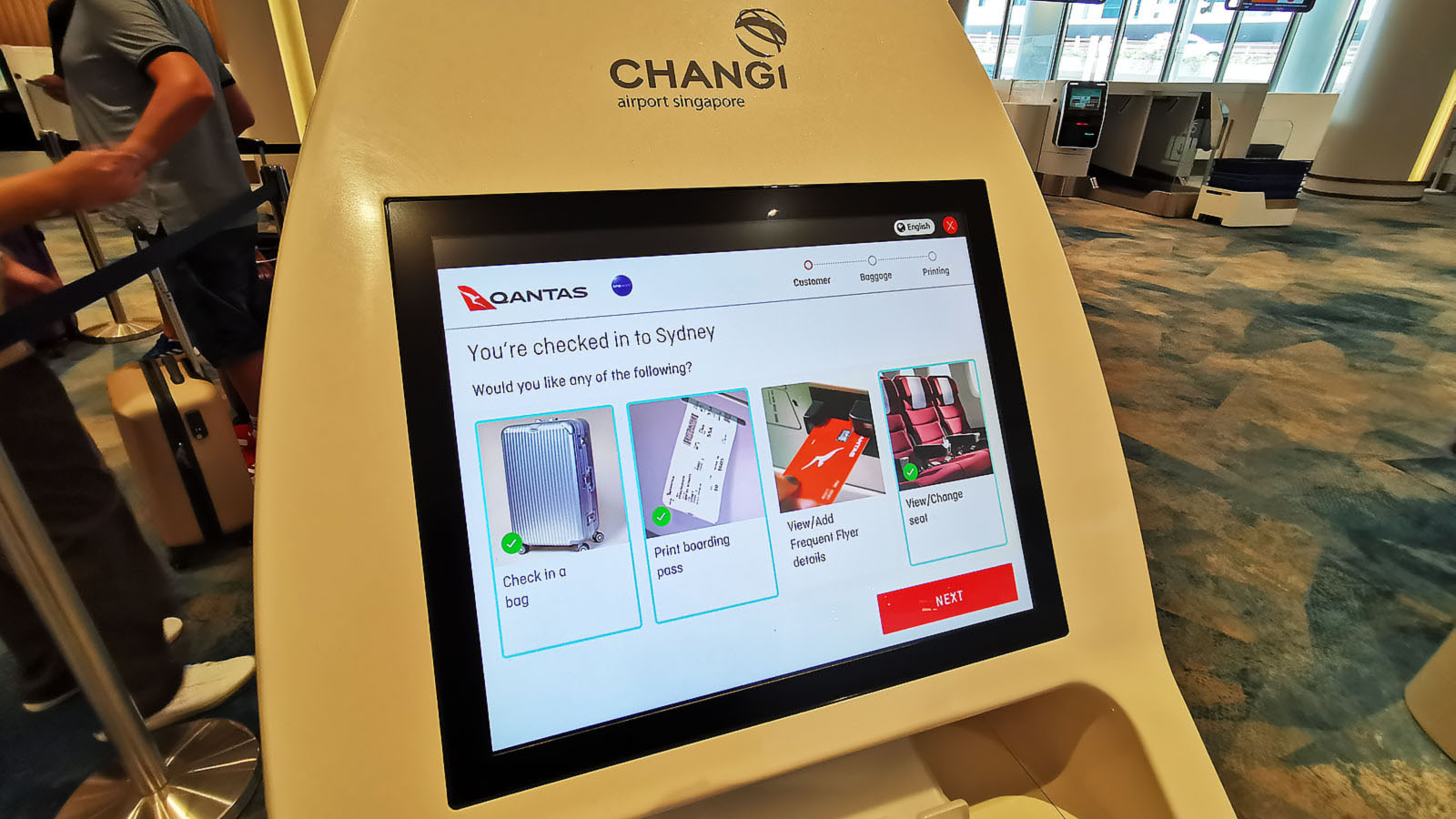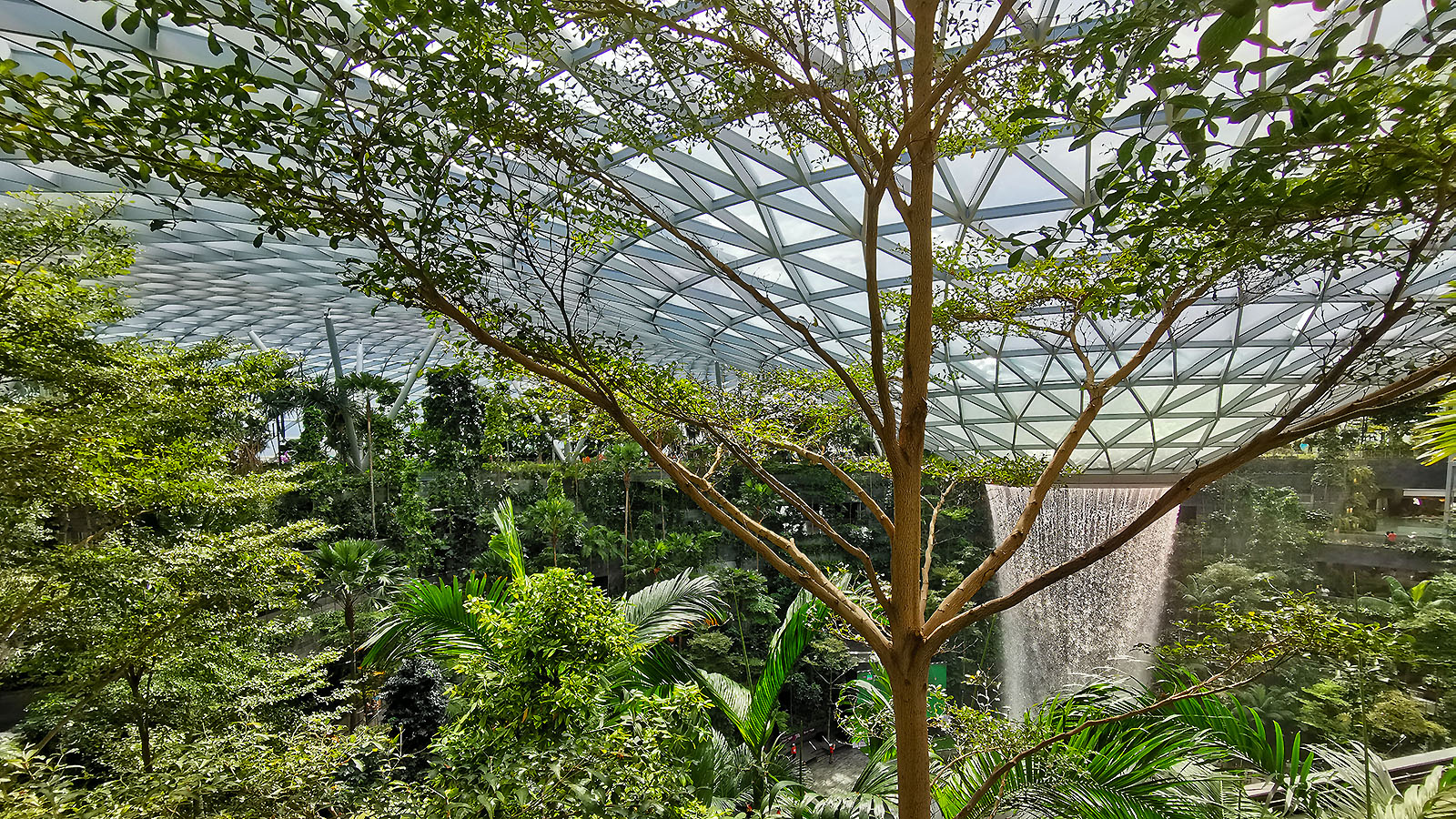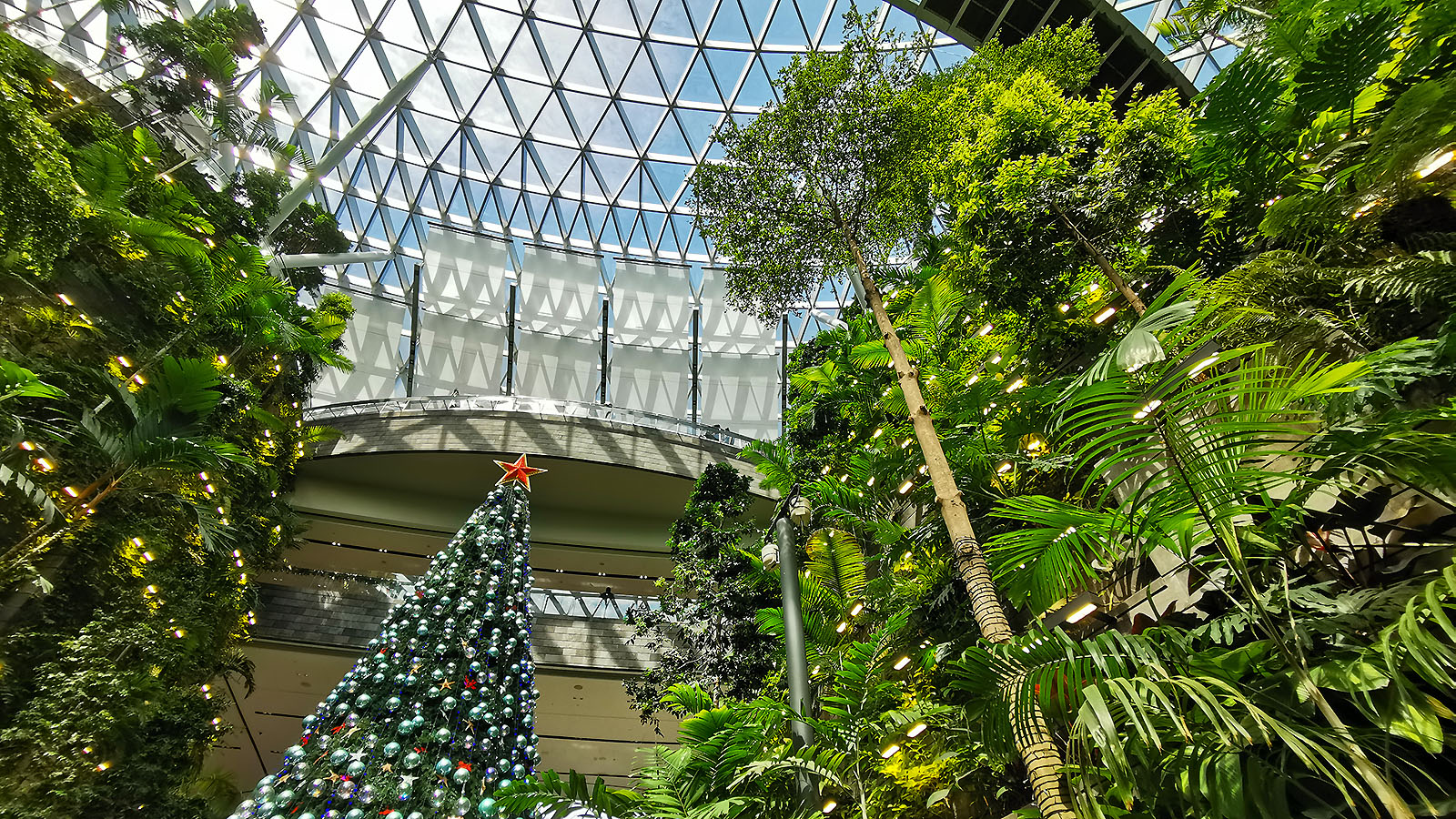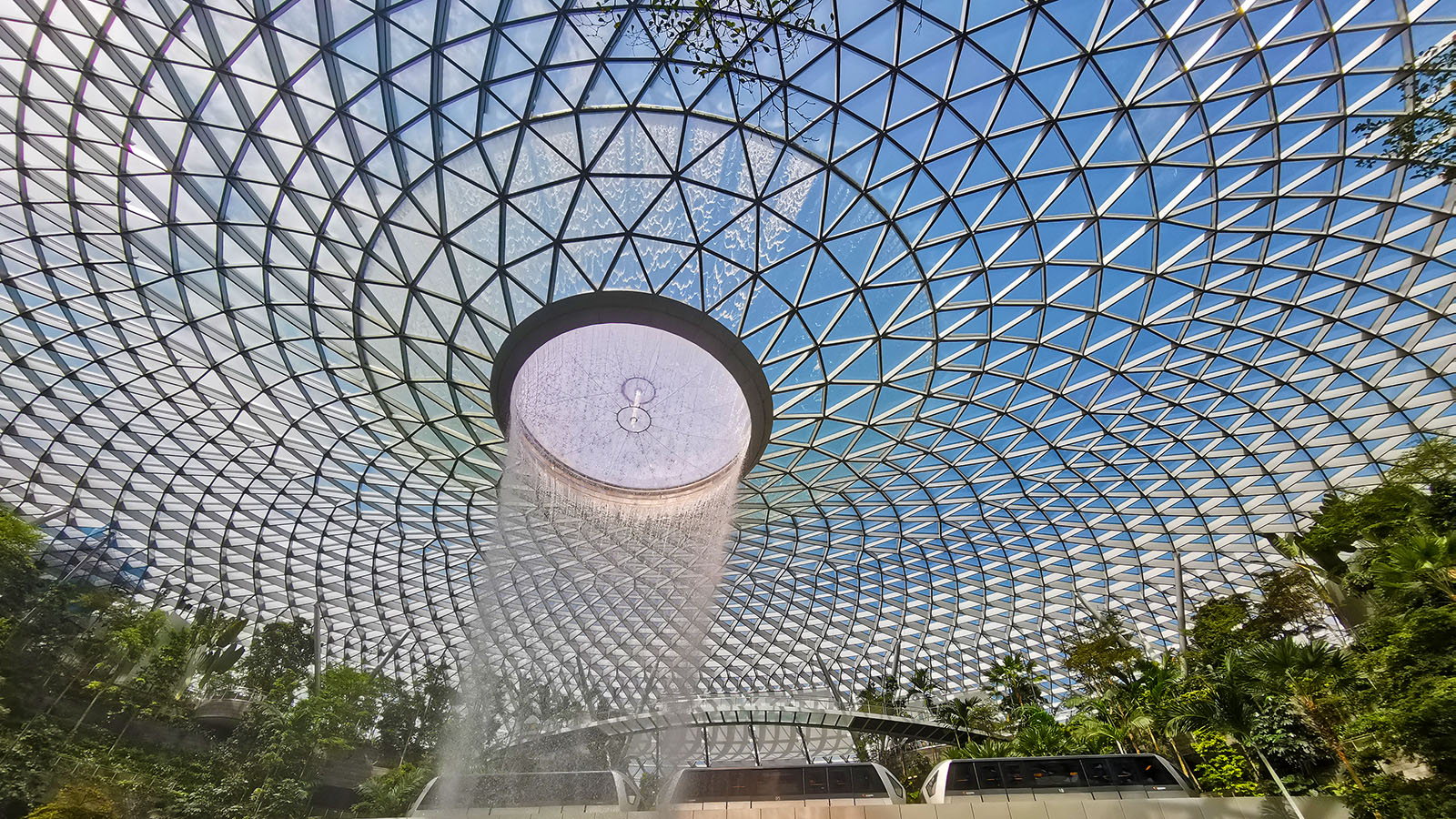 Singapore's many lounges for Qantas passengers
Of course, a Qantas Airbus A380 Economy ticket doesn't include lounge access on its own. This is instead where the power of frequent flyer status – or lounge membership – comes into play.
I've got hours until boarding, so I hop around. My journey begins with the Qantas International Business Lounge, which opens daily at 3 pm. It's a great spot for a fresh, made-to-order dish. Shower suites are plentiful here too.
From there, I wander to the British Airways Lounge next door, which opens at 4 pm. It's a great place to unwind with a cocktail amid the funky mood lighting – and at opening time, it's peacefully quiet.
Singapore's Emirates Lounge then opens at 5 pm each day, which also makes it accessible before Qantas' evening flights. It's a relaxing spot for a glass of Champagne (Moët or Veuve NV), and with delicious food that's ready to enjoy: perfect when you're in a hurry.
When departing on Qantas, including QF2 to Sydney, all three lounges are available via Qantas Gold status (or above). The Qantas Business and BA lounges also welcome travellers with other oneworld Sapphire and Emerald memberships. For Qantas Club cardholders, it's just the Qantas Business lounge.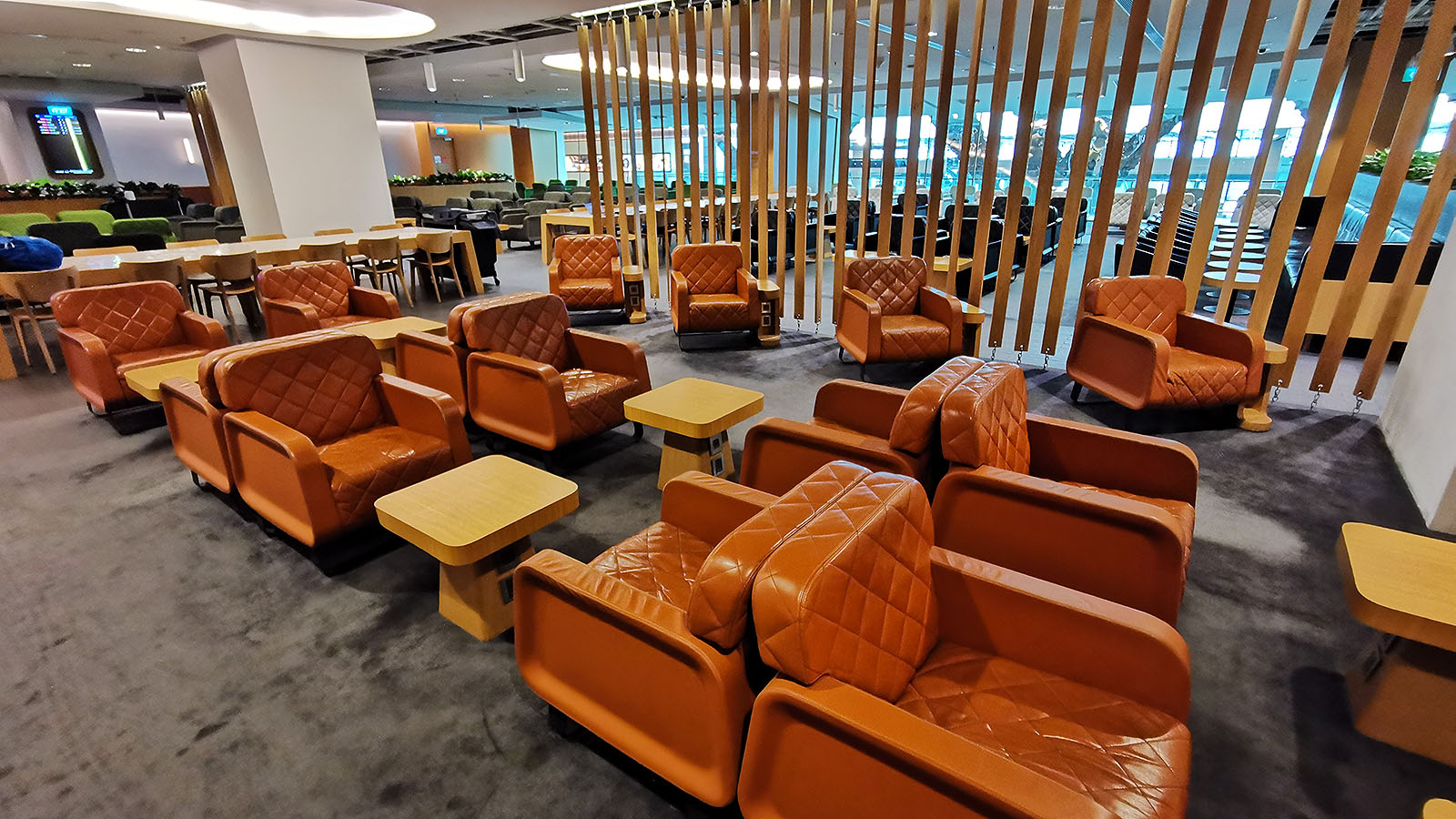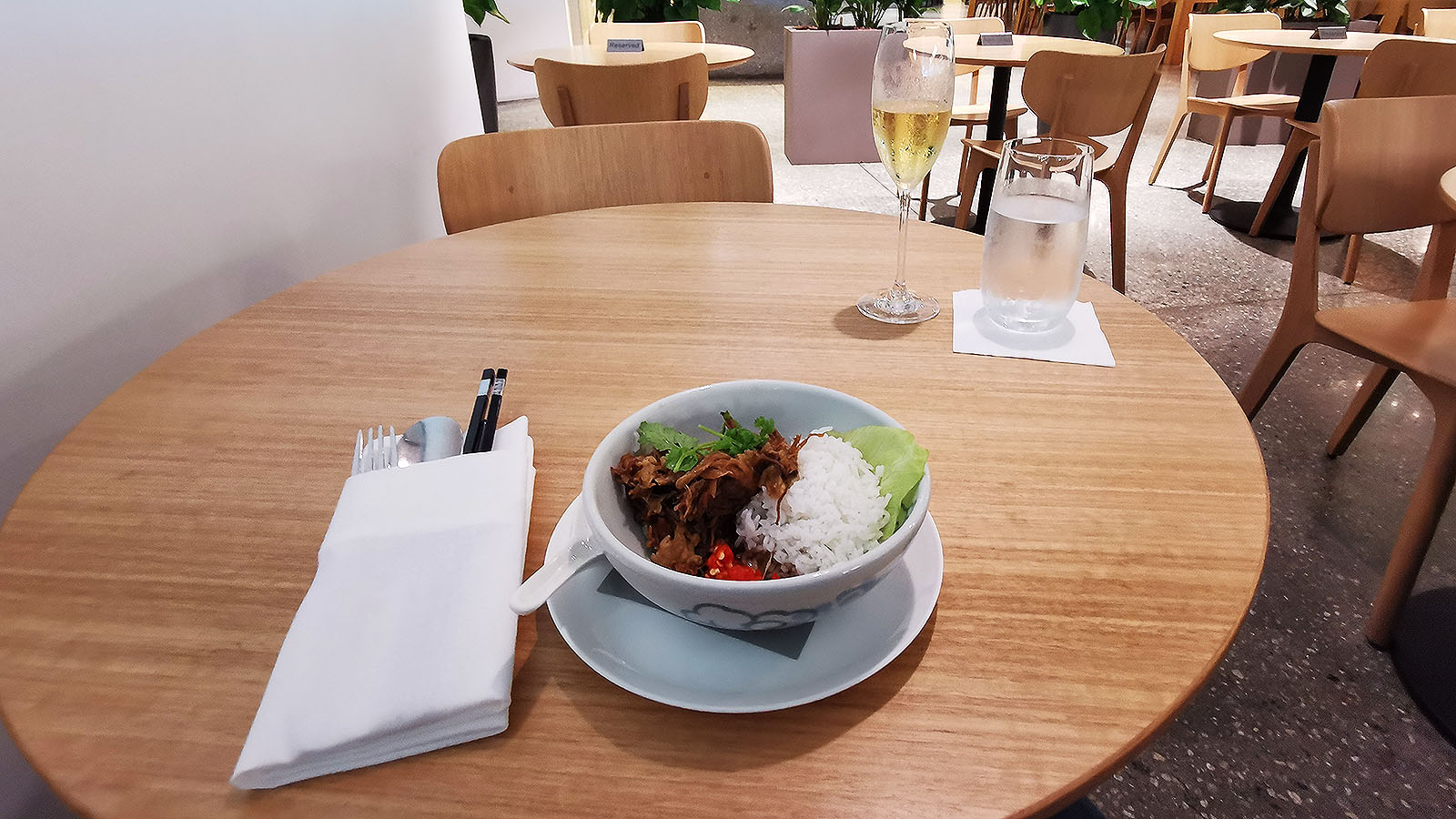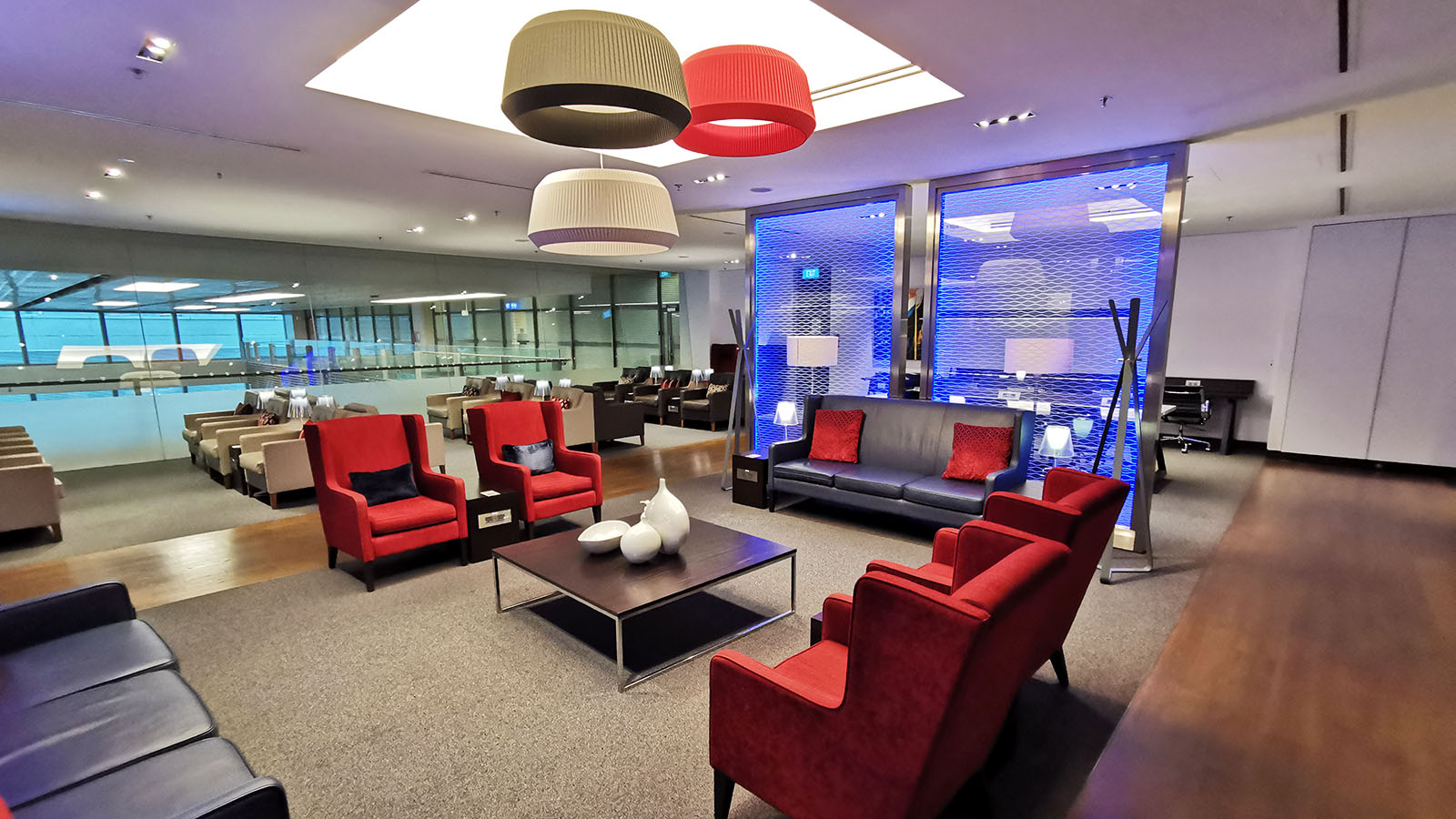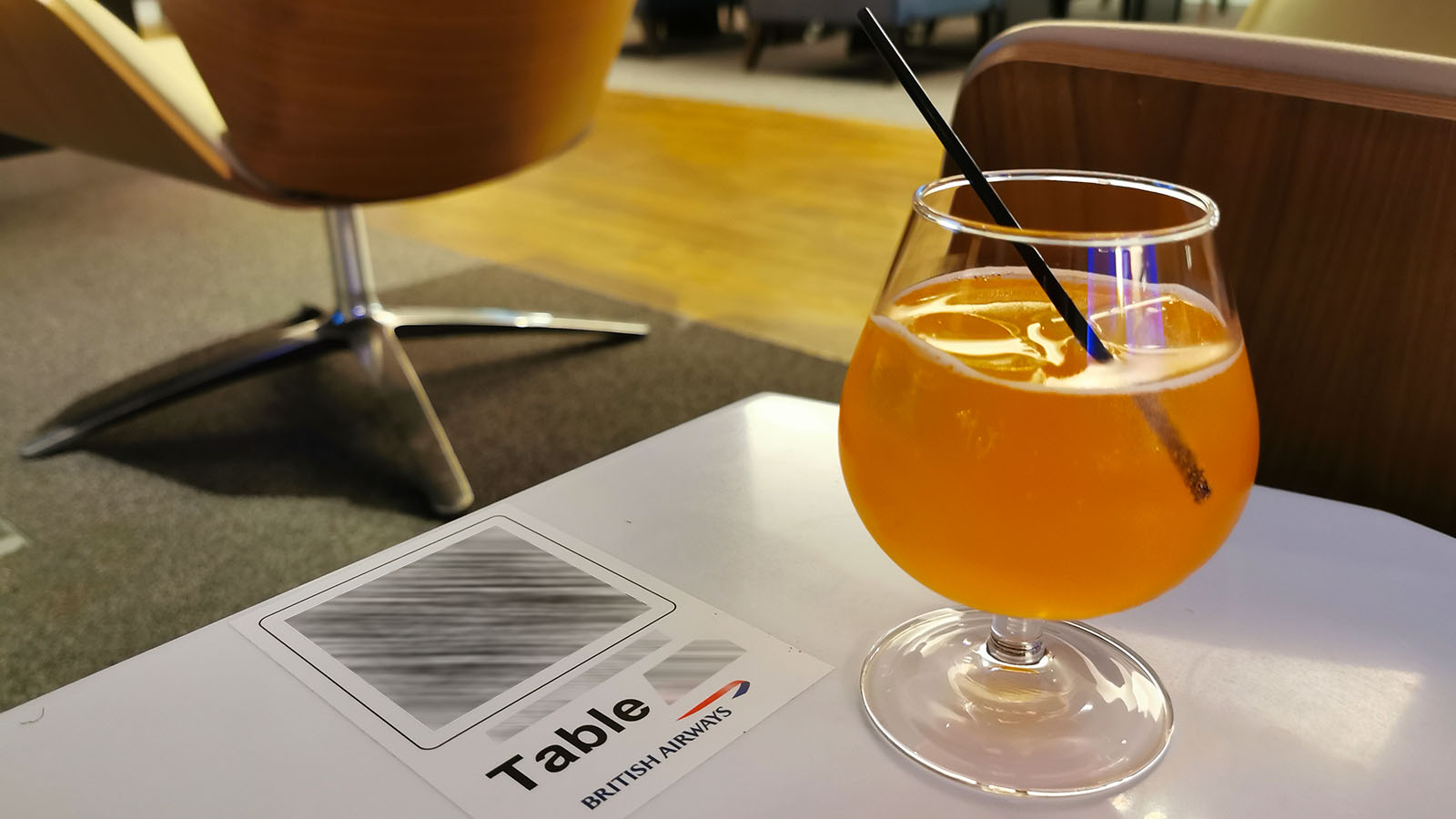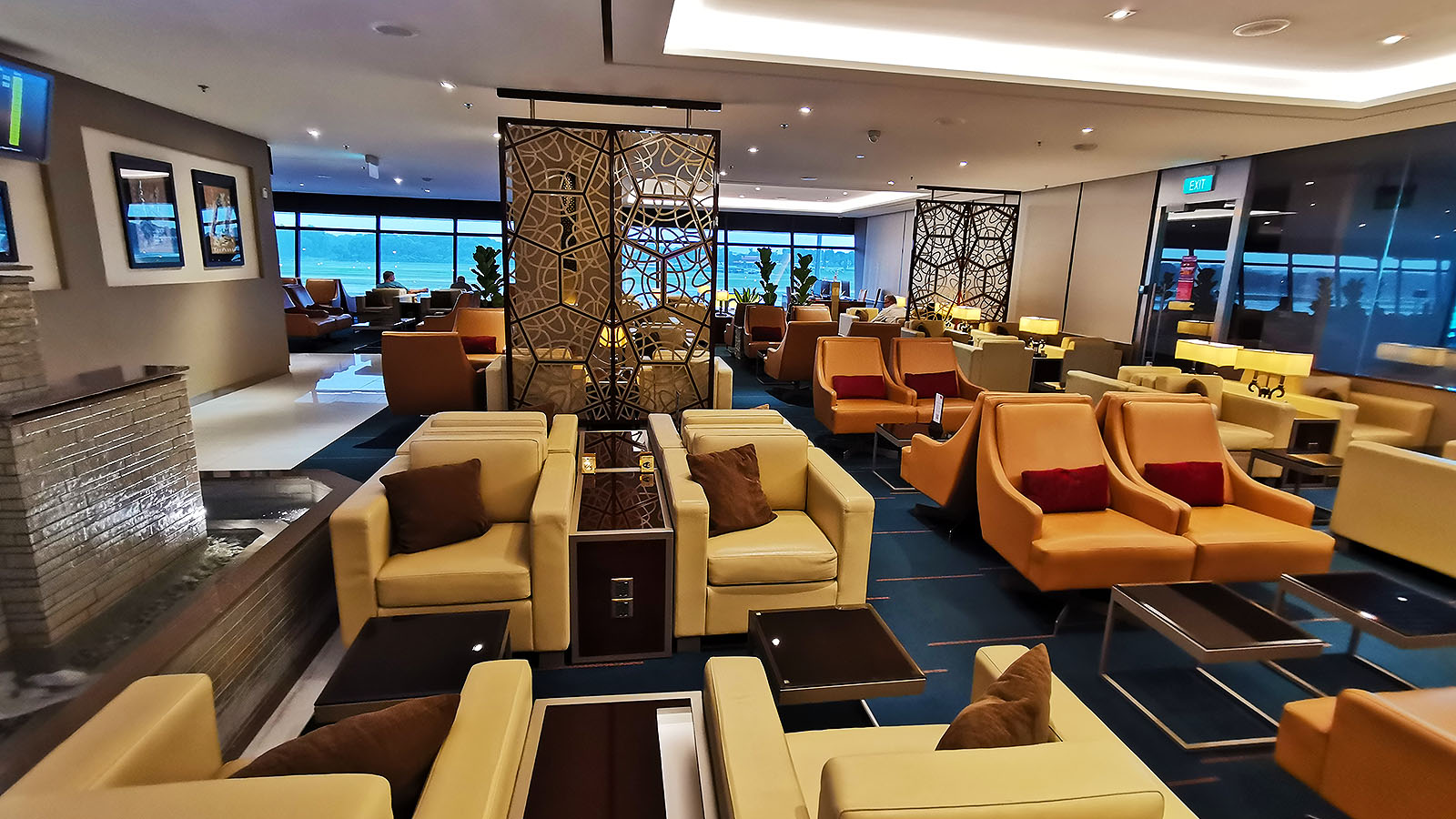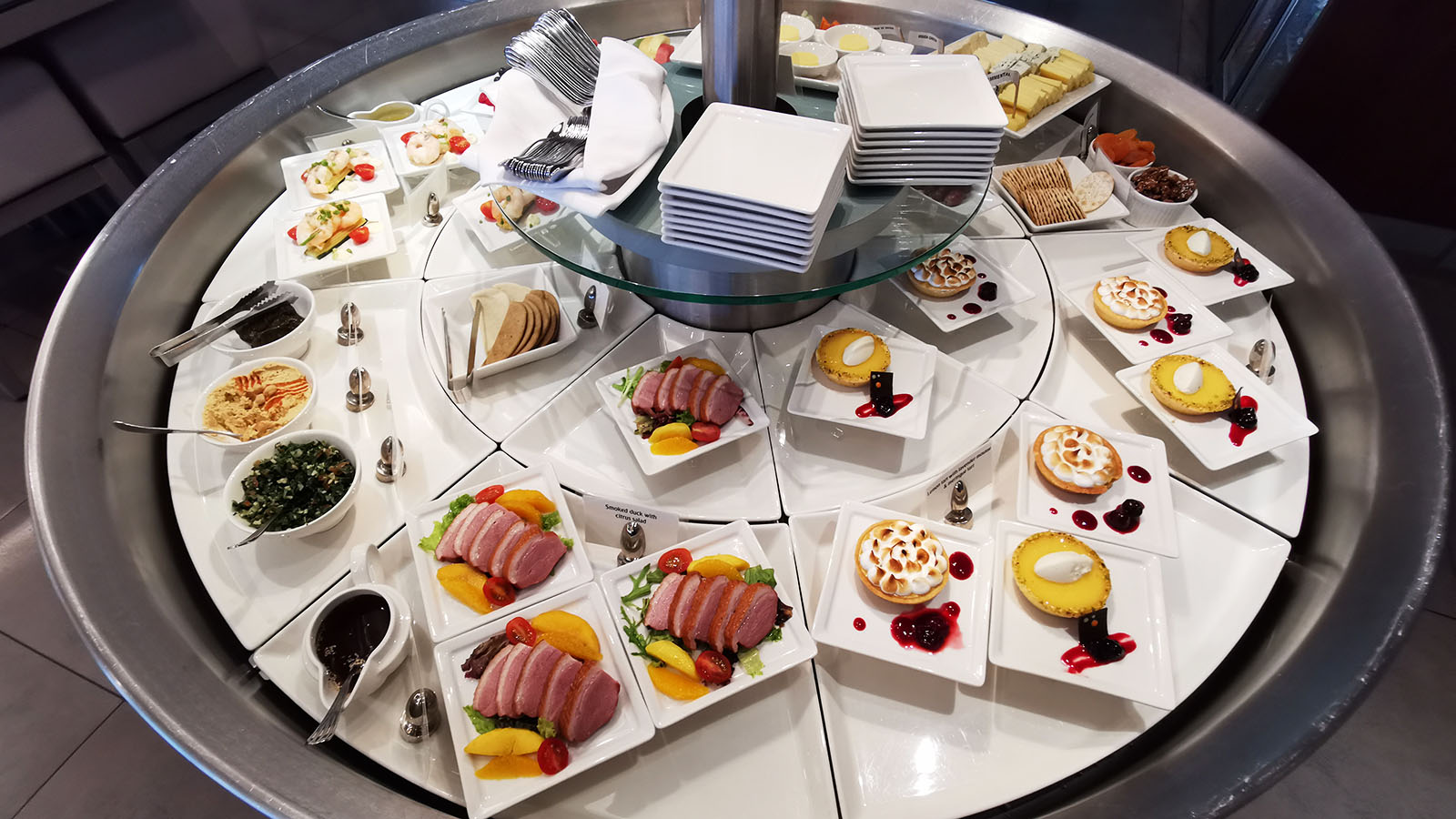 But with Platinum, Platinum One, Chairman's Lounge or other oneworld Emerald status, the Qantas International First Lounge is the choice pick. That's where I enjoyed dinner.
A meal here isn't complete without the iconic salt and pepper squid. I also spot 'The QF2' on the cocktail menu, and can't help but sample the Tanqueray, frozen Aperol, tonic and orange mix.
The lounge's signature laksa is a popular dish, but I've tried that before. This time, I opt for the barramundi, tastily served with a crispy skin. To finish, a coconut and mango sorbet. In a word, yum!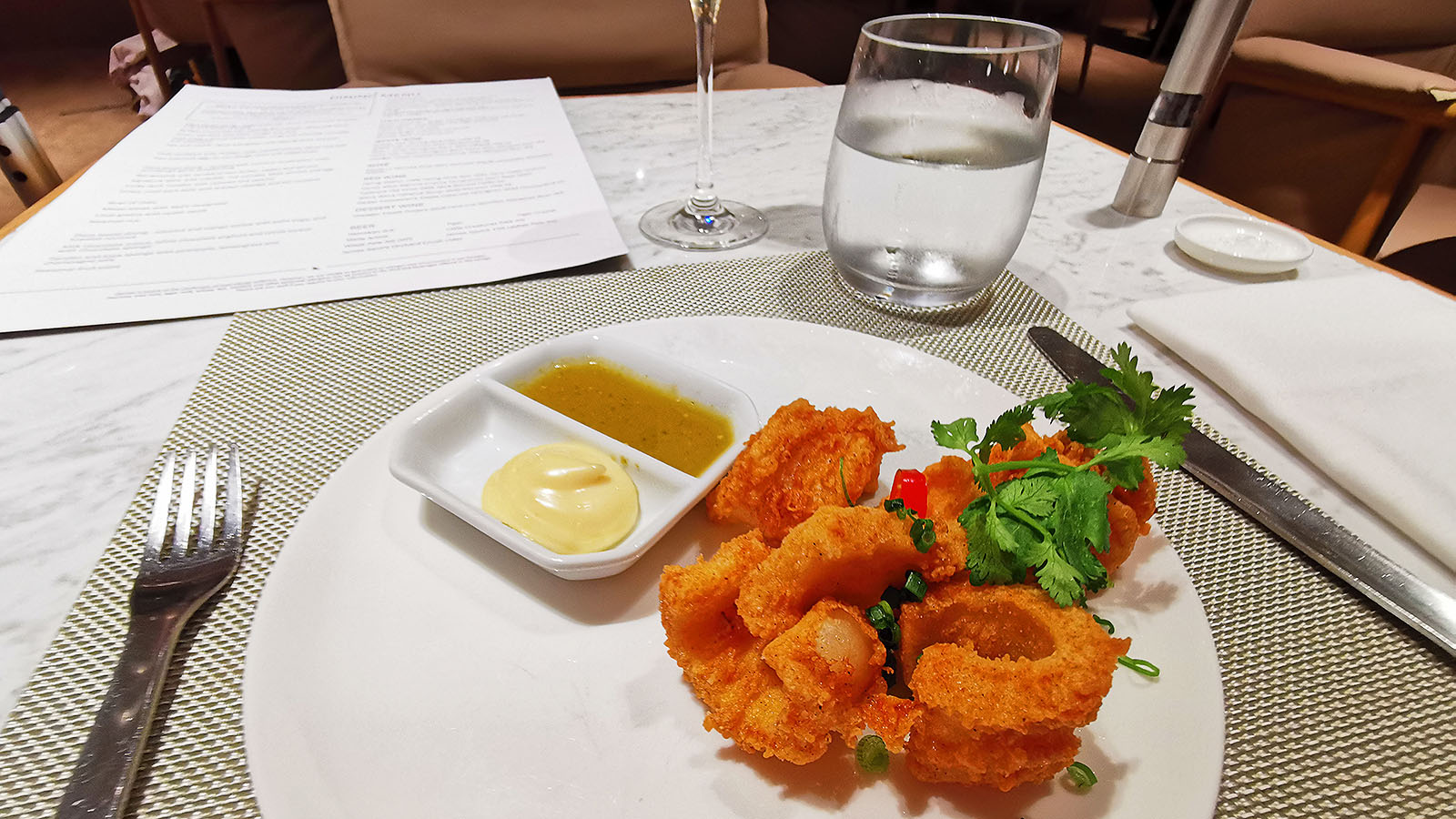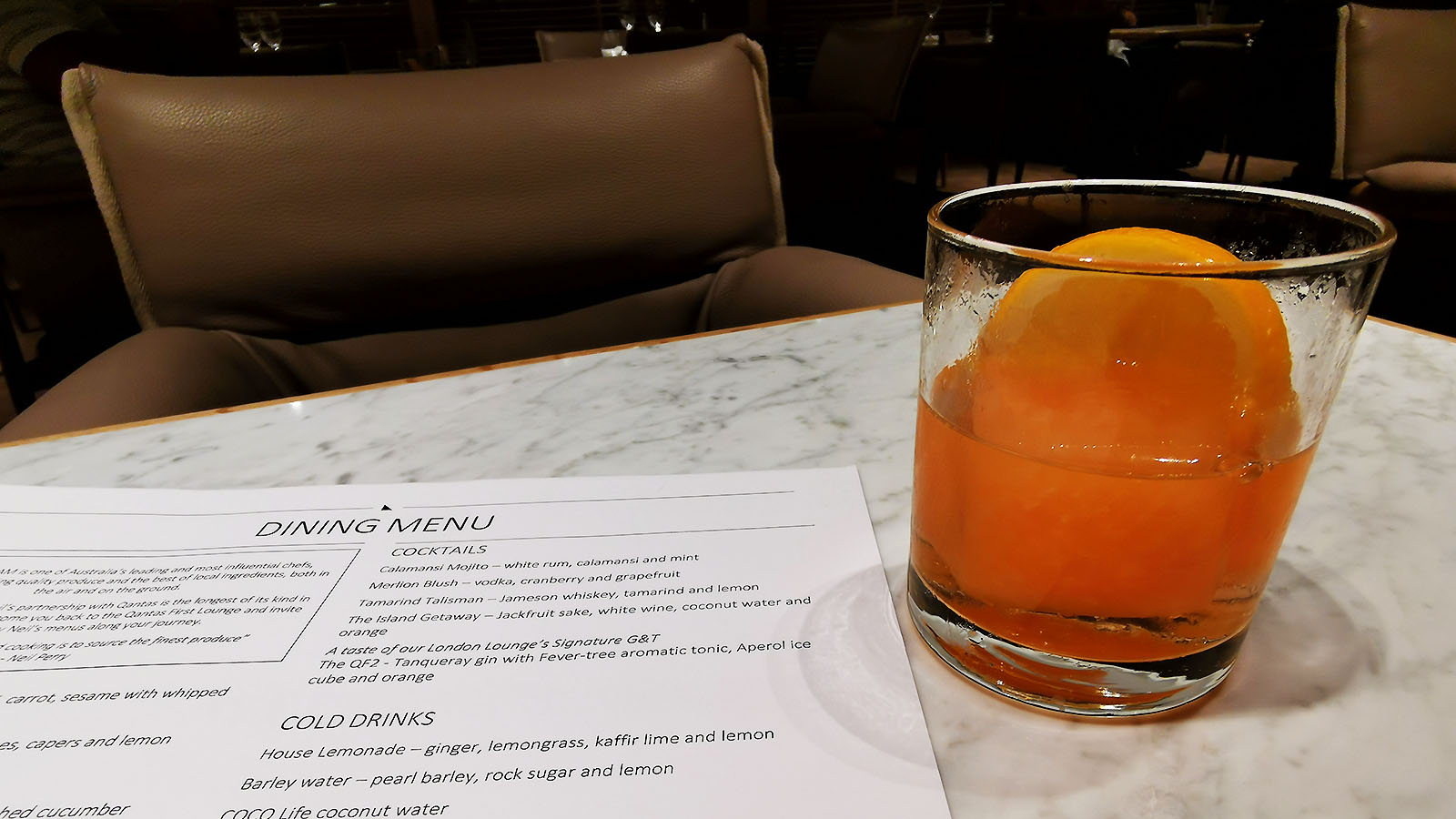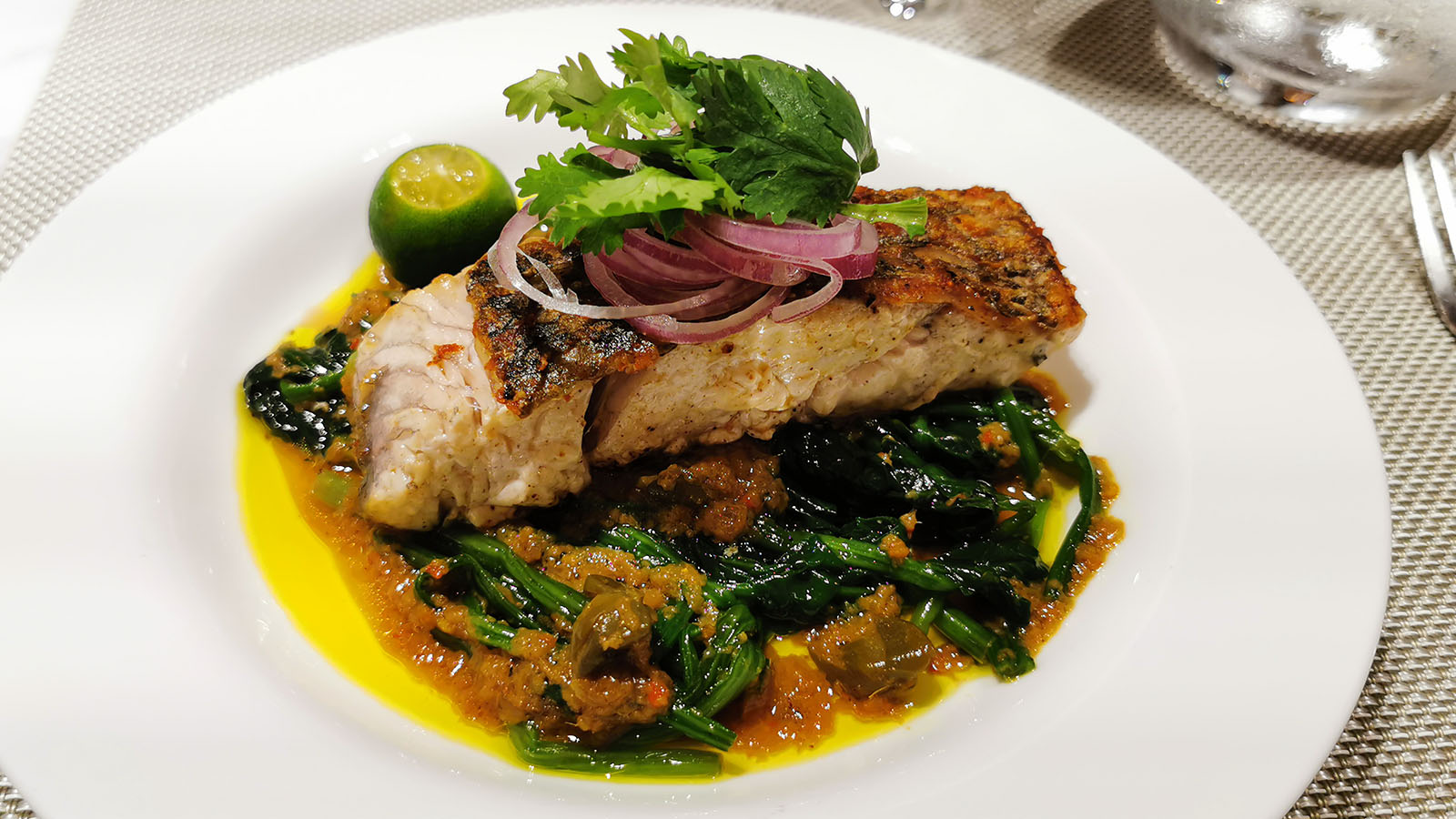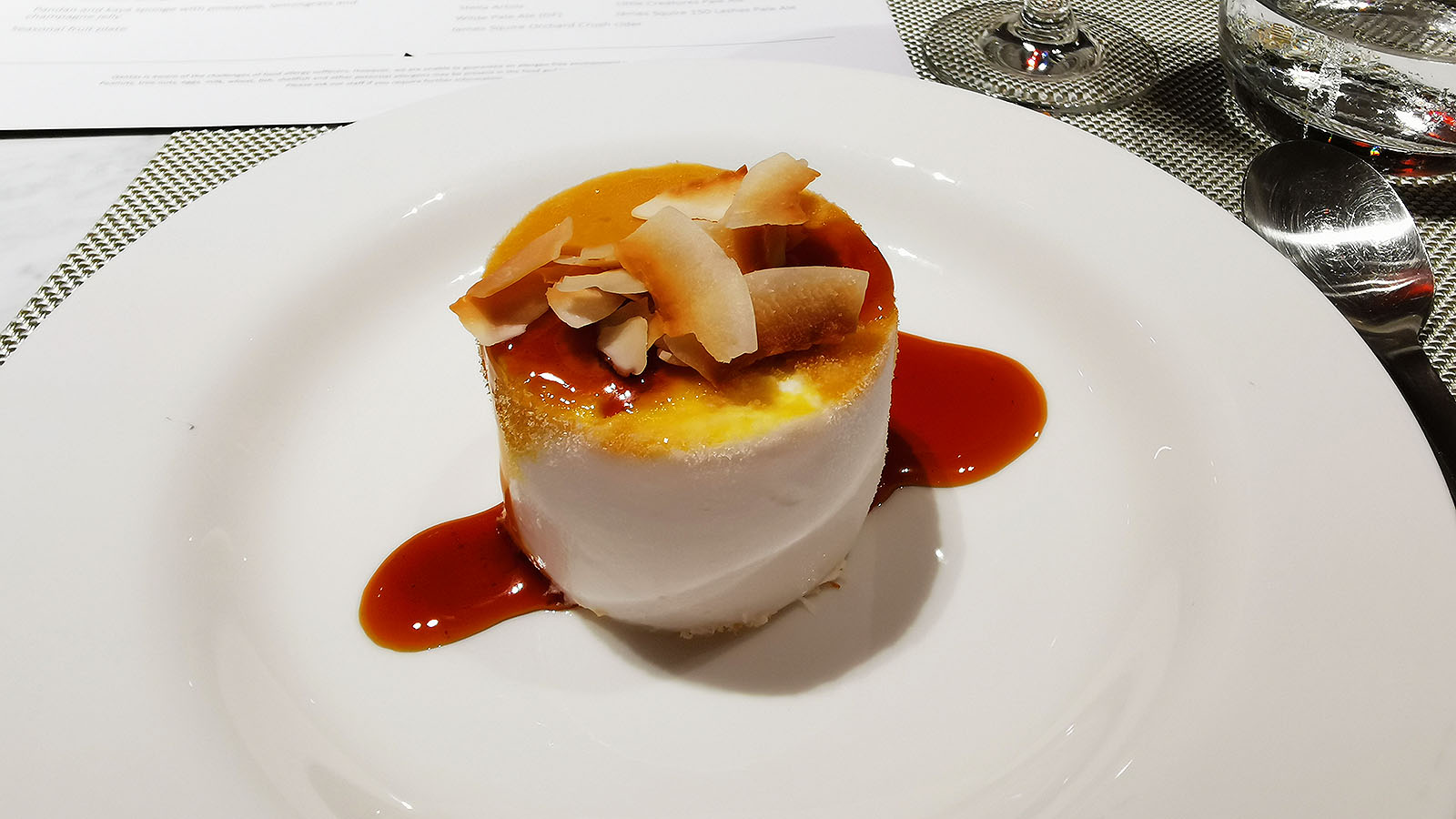 Alternative lounges when flying Qantas Airbus A380 Economy
If you don't have a shiny frequent flyer card or a Qantas Club membership, you're not without options.
Singapore's Changi Airport is home to a Plaza Premium Lounge. Access is complimentary for Amex Platinum and Centurion cardholders. Just present your physical American Express card for complimentary access, together with your Qantas Airbus A380 Economy boarding pass. Entry can also be pre-paid online.
Another option is Priority Pass, which comes included with several premium credit cards (and Amex Platinum, too). The program counts an impressive seven airport lounges across Changi Airport's four departure terminals. There's another at Jewel which can be used on arrival or before heading through immigration, too.
If you must fly Economy on an overnight flight, Singapore really is the best place to kickstart that journey.
Once I'm all lounged-out, it's time to board. There's pleasingly a priority line for security screening at the gate, and a priority queue at boarding for Gold/Sapphire and above.
I've tired myself out with all the lounge hopping, although next time, I'd likely visit just one lounge. Okay, maybe two, if my travel class and departure time align for access to Qatar Airways' swanky Premium Lounge.
Qantas Airbus A380 Economy seating
So, I've relaxed by the waterfall, and enjoyed cocktails and bottomless Taittinger Rosé in the First Class lounge… but now, it's time for the 'real' Qantas Airbus A380 Economy experience. Row 56, come at me.
With Economy adopting a 3-4-3 layout on the superjumbo's main deck, I've nabbed an aisle seat in one of those trios – 56C, to be precise. The seats have gained new cushions in recent years, giving the cabin a fresh and more comfortable feel.
As to the legroom, it's tolerable. I'm 6ft tall, and even then, my knees aren't touching the seat in front. Shorter travellers may also appreciate the fold-down foot net. And at least, when these seats recline, the base slides forwards, rather than the chair pivoting back. This means the seat doesn't come crashing into your knees when the passenger in front pushes that magic button.
All in all, I managed to get just under 2.5 hours of sleep on this eight-hour overnight flight. That was also aided thanks to the eye mask and noise-cancelling headphones I'd brought along with me.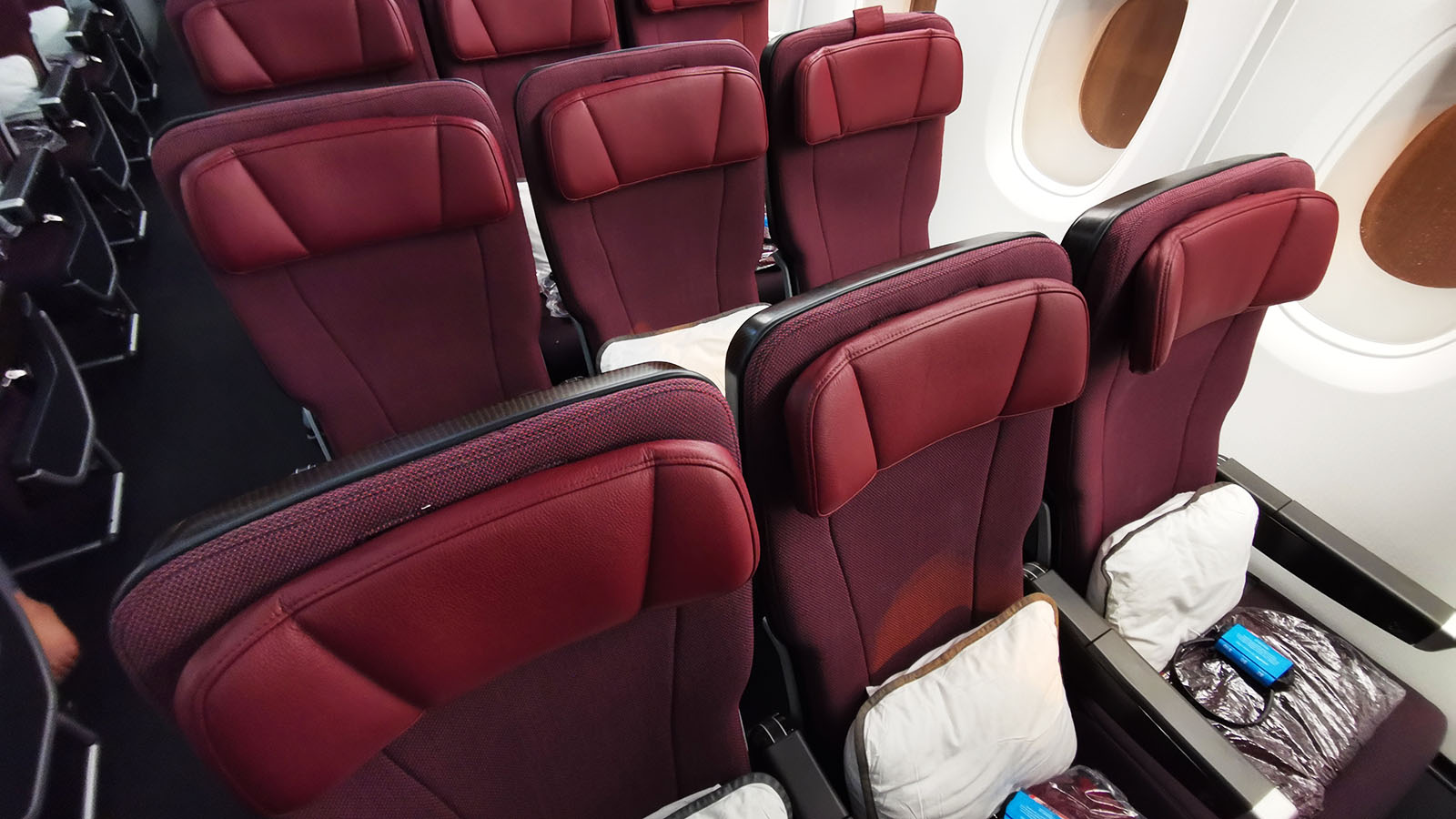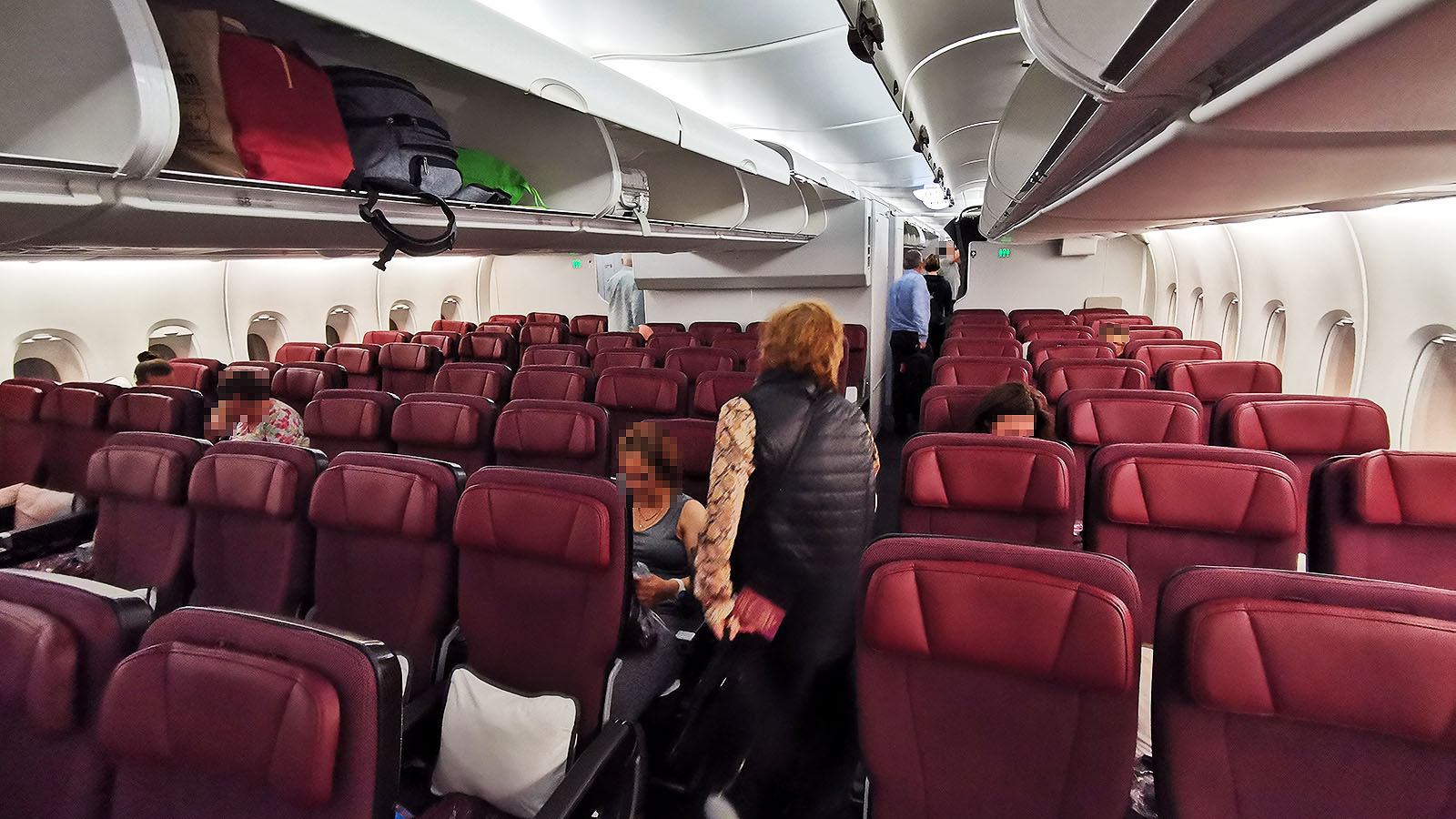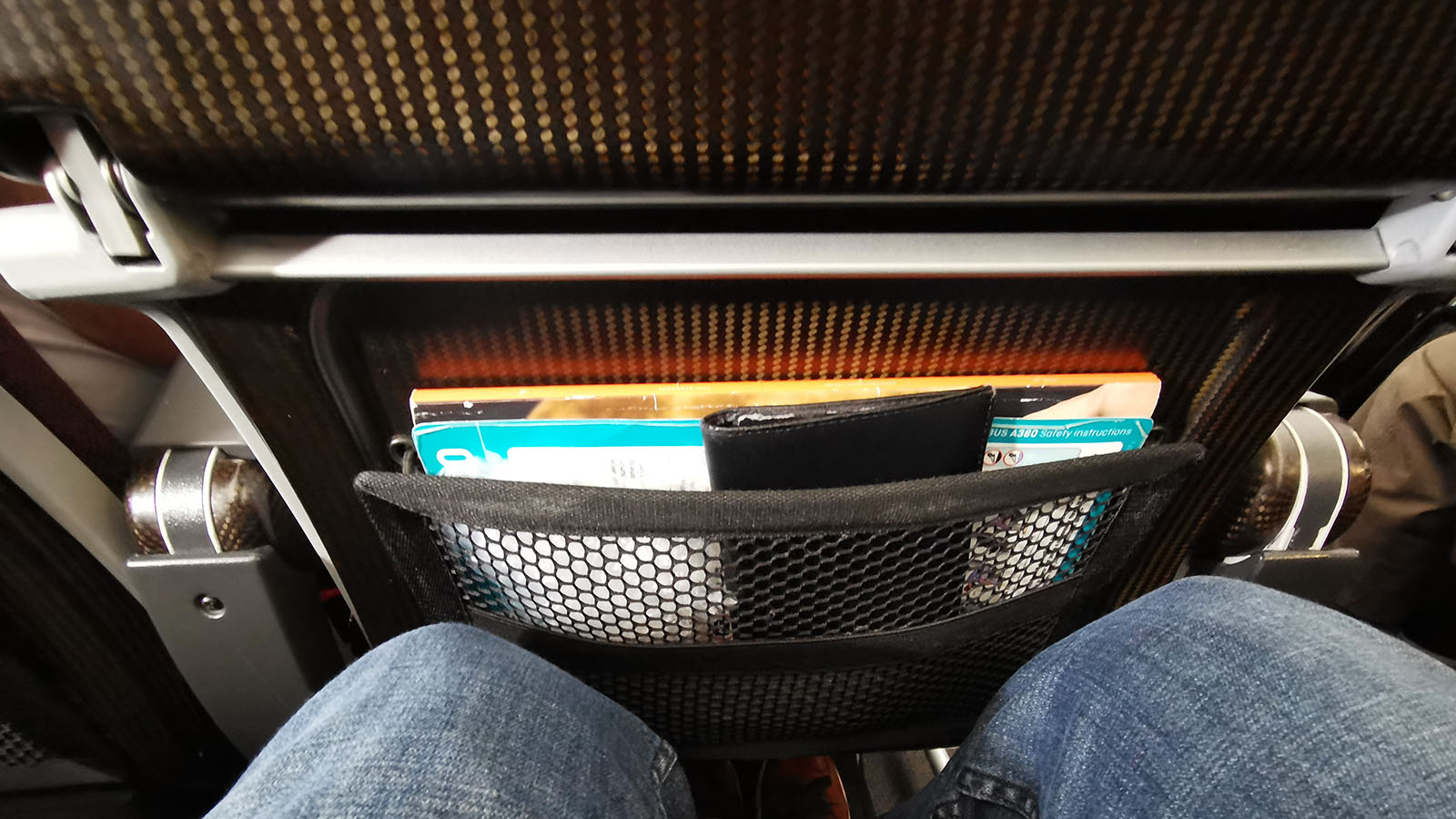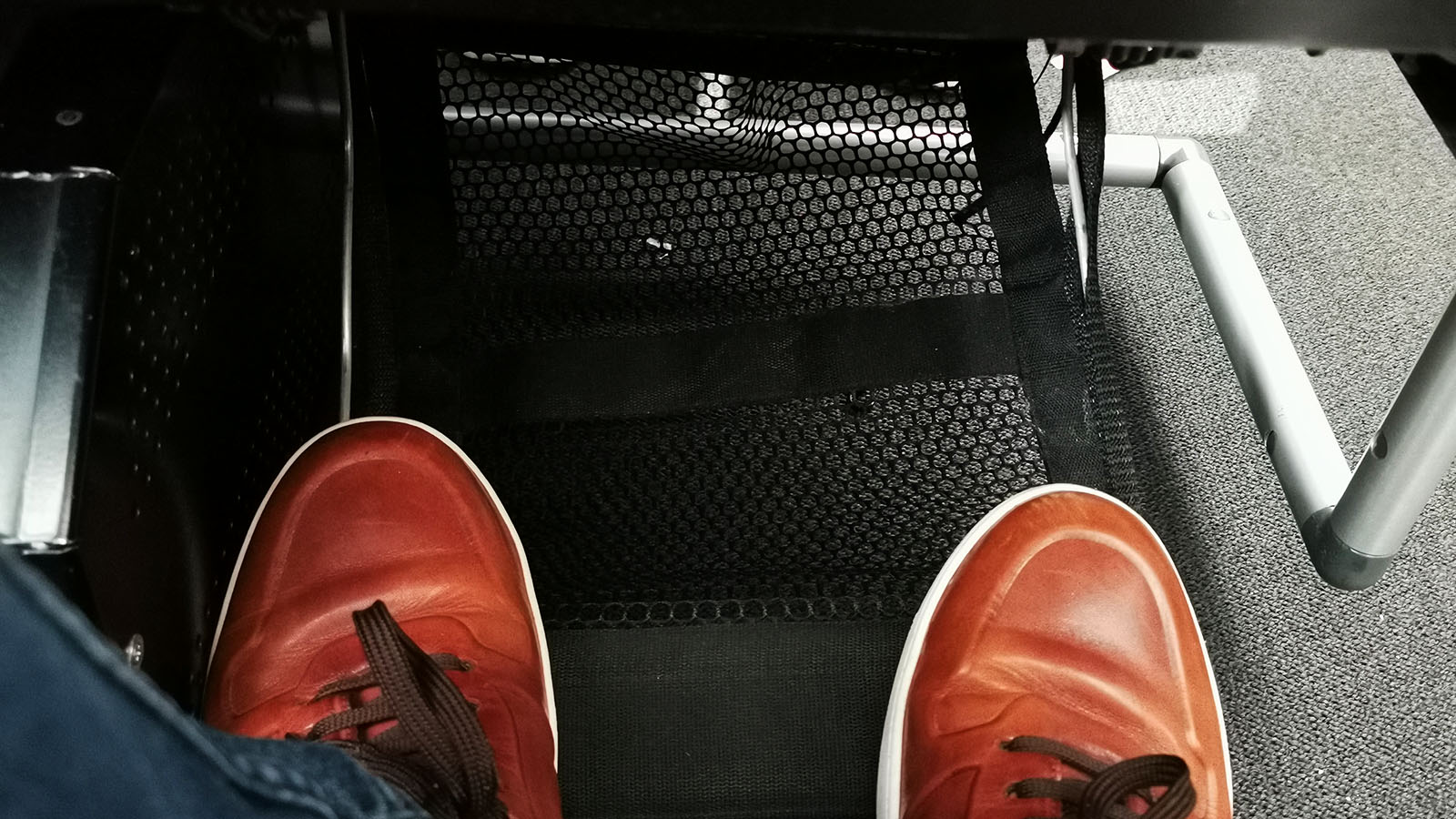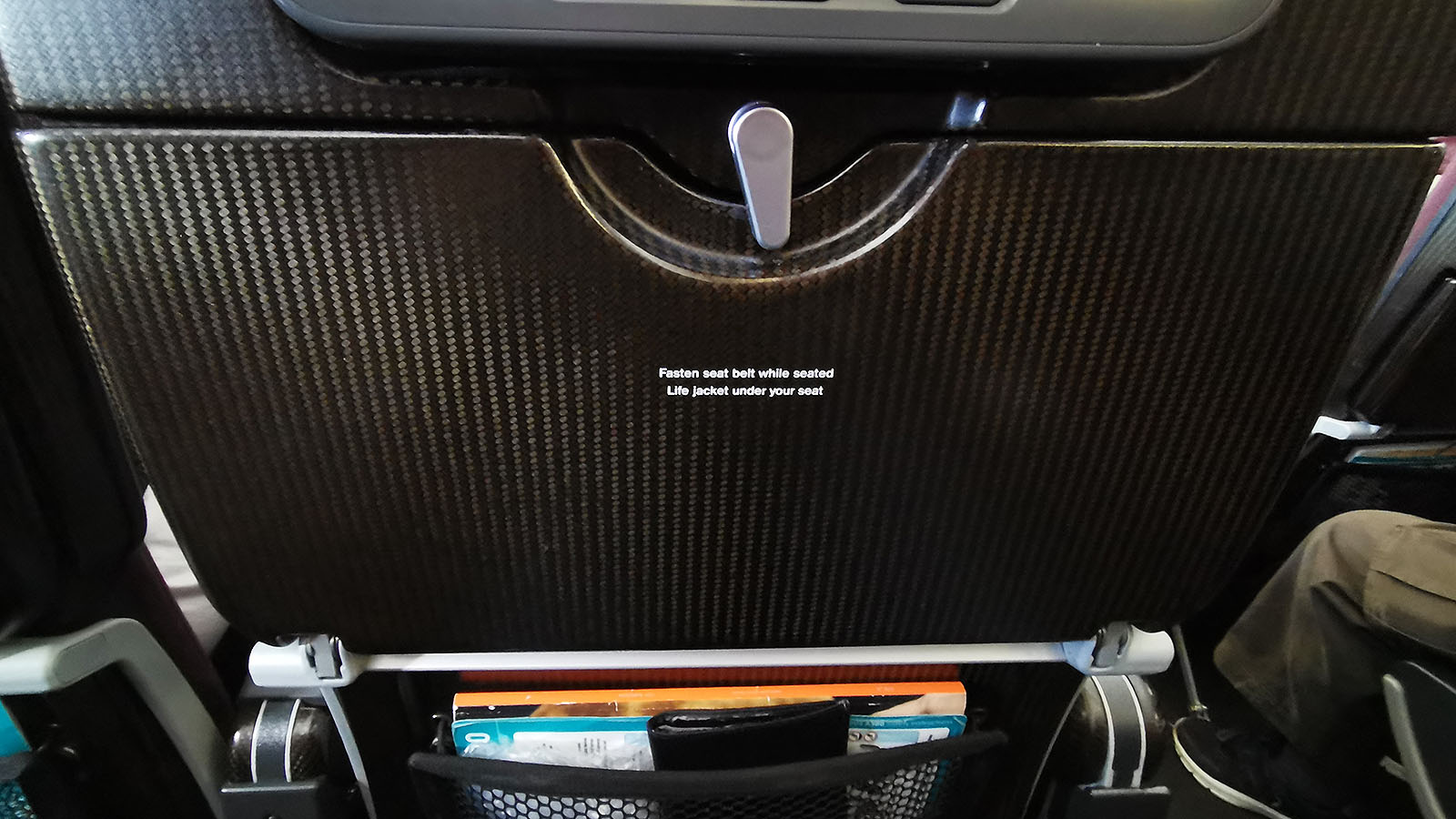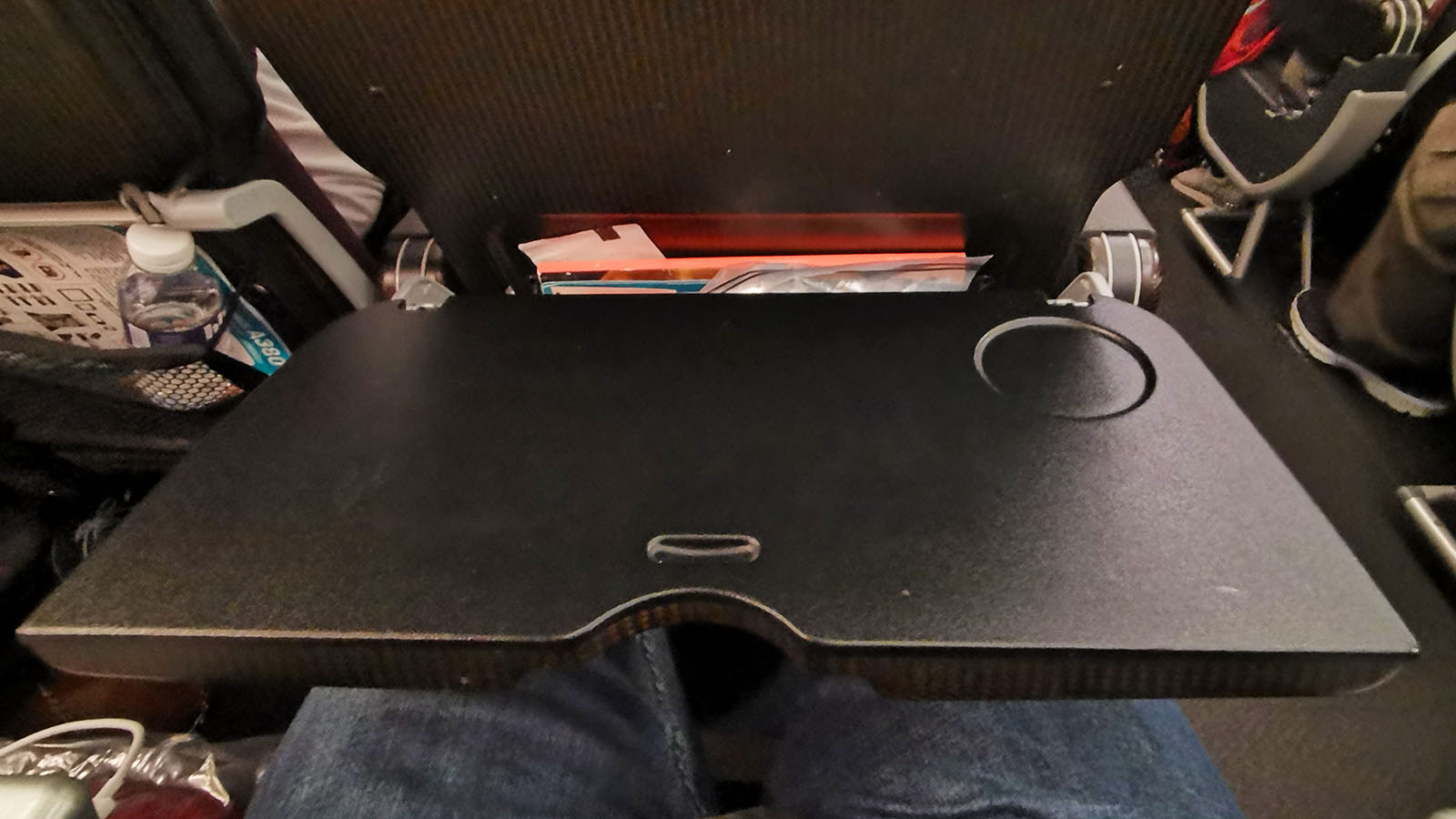 There's a sturdy tray table in front, with a circular indent to help keep your drink from bouncing off. However, the trade-off of having a full-sized table is the space it takes up when simply nursing a drink or snack. Other airlines, like Emirates, opt for a folding tray that can halve in size to maximise the space around you.
Look below and in front of you to find an AC power point. On the Qantas Airbus A380, there are two outlets shared across every three Economy seats, and three outlets shared between each group of four. There's also a USB-A port for each Economy passenger at the tip of the armrest. But these are so, so, so slow at charging anything.
I boarded this flight from Singapore with my phone at about 25% battery. Straight after take-off, I plugged it into the USB port – and only detached it when preparing for landing. To my surprise, it'd only made it to 82%: an increase of just 57%.
The takeaway? Forget about the USB port, and just plug your real phone charger into the AC outlet for a swifter juice-up.
Qantas Airbus A380 Economy food and beverage
All meals and refreshments are complimentary in Qantas Airbus A380 Economy. With a 7:15 pm departure from Singapore, this sees dinner as the first cab off the rank.
There's no longer a printed menu. Instead, an announcement is made, asking passengers to press the 'fork and knife' button on the inflight entertainment to explore the options. I have to say, I spent a good 10 minutes searching for it, and it just wasn't there. I know where it would usually be, but alas, not this time.
Without knowing the options, I presumed there'd be a hot chicken dish, and went for that. Served with vegetables and a garlic bread roll, it was tasty and filling – one of the better meals I've had when flying down the back. On the side, I went with a Hardy's Chardonnay – a stock standard drop, but this is Economy after all.
Dinner is also served with a packaged cake. After having dessert on the ground though, I couldn't manage even one bite of it. I could see I wasn't the only one.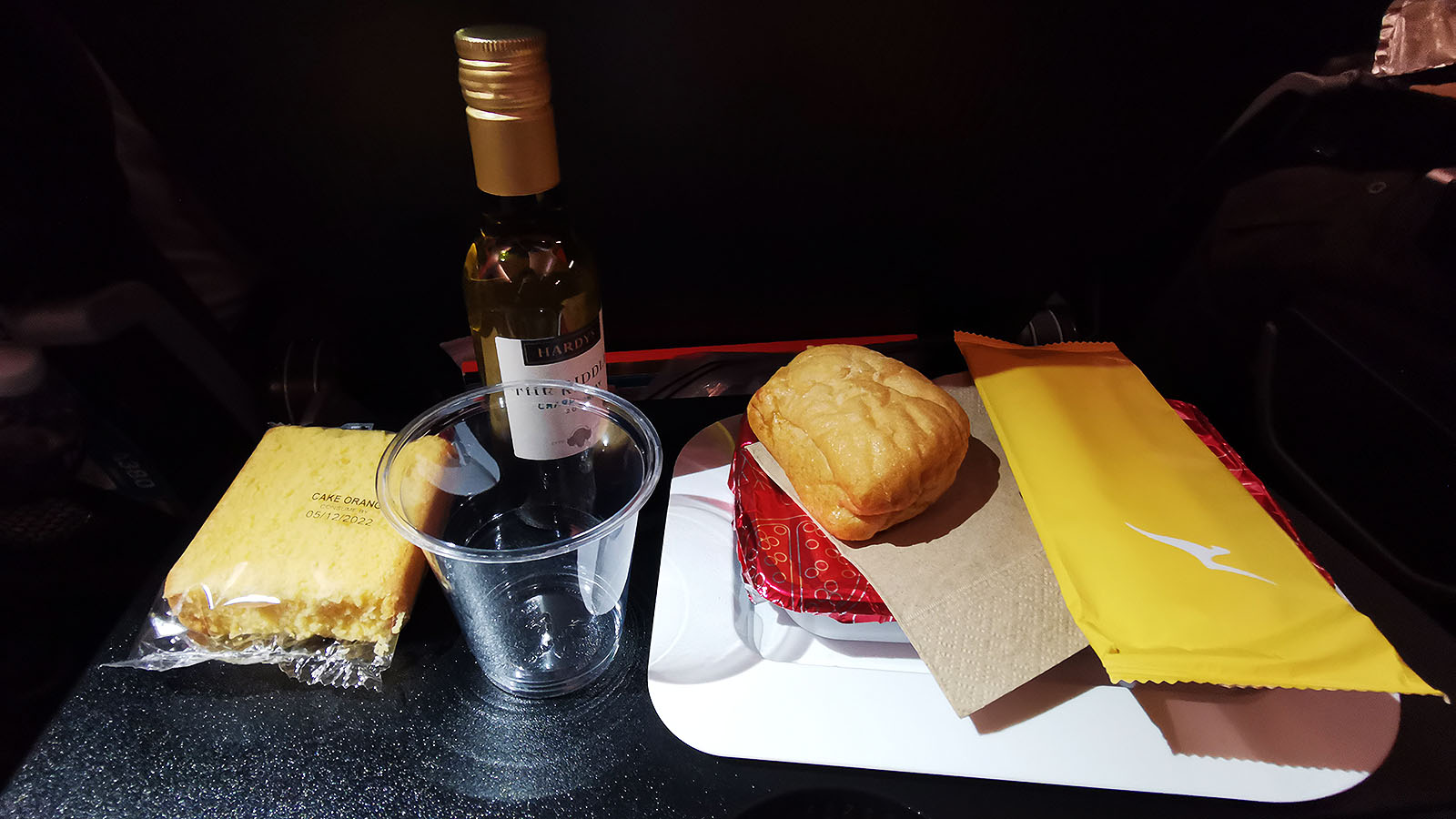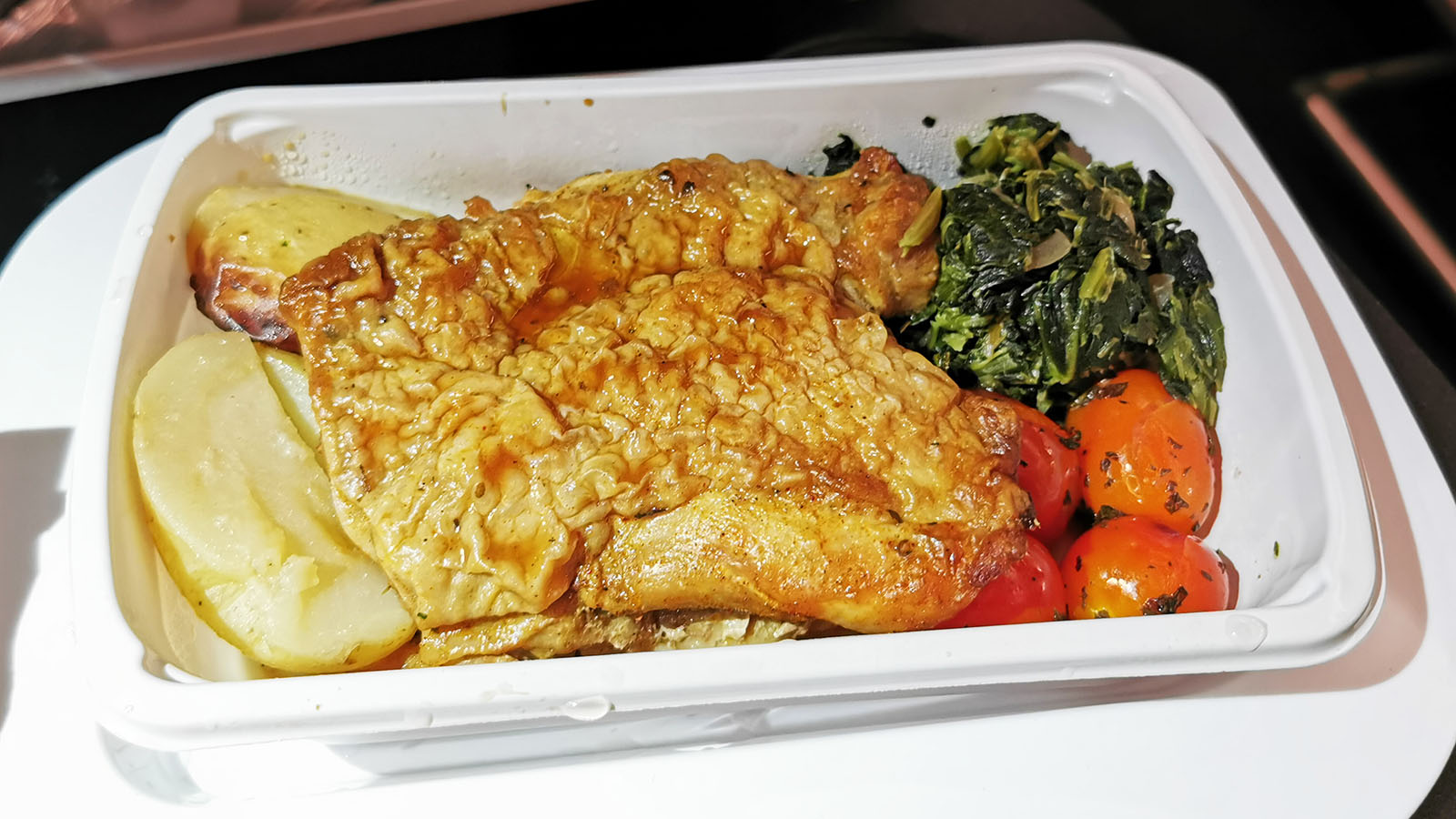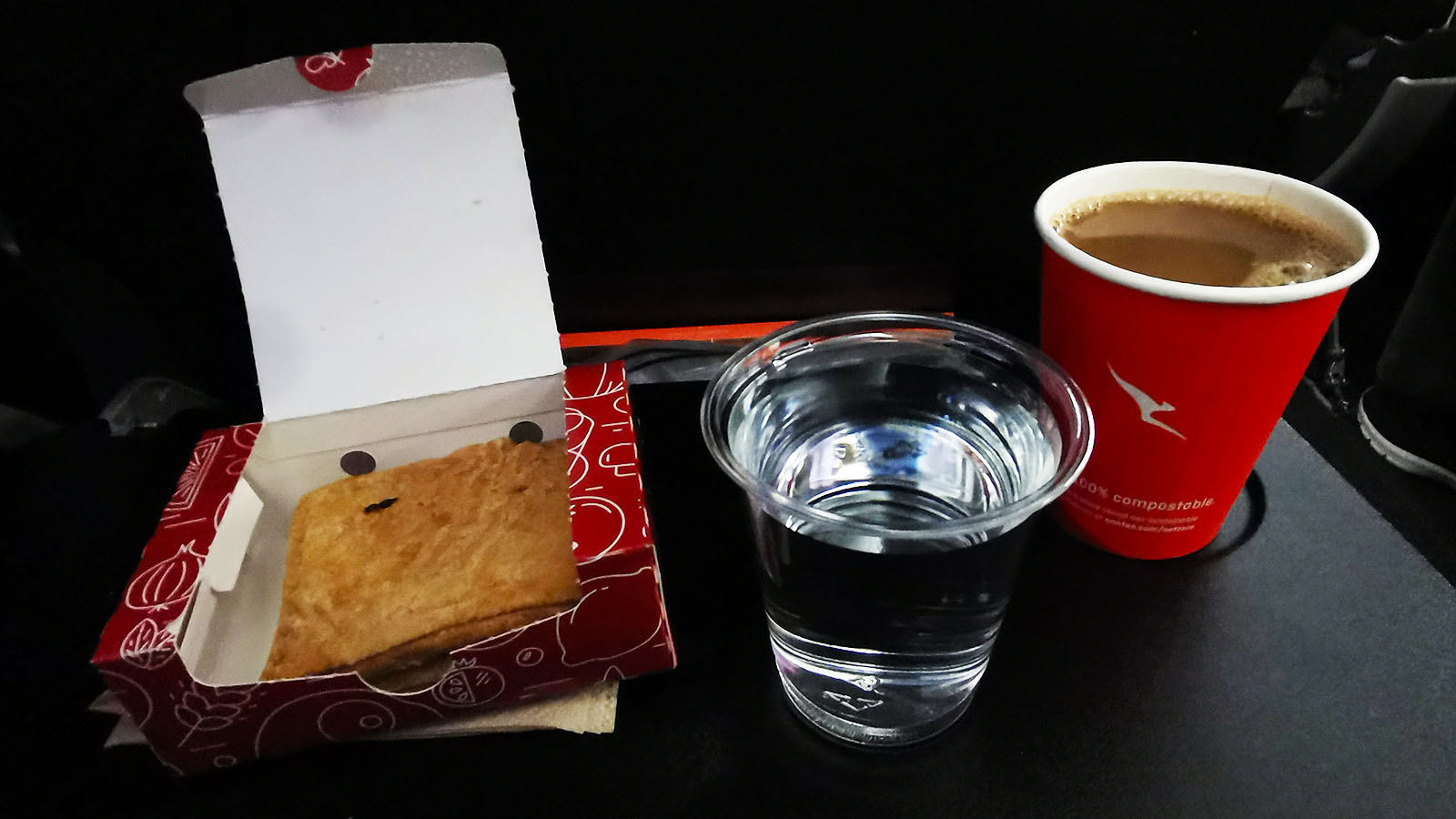 With a scheduled 6:10 am arrival, breakfast is a light refreshment served around 1.5-2 hours before touchdown. Fortunately for me, our flight had been delayed by about an hour, which meant waking up for the service at around 5 am local time in Sydney. It's still early, but still better than 4 am.
I'm glad there was nothing more than a spinach and feta pastry: it's all you really need after eating dinner just a few hours earlier. That said, one of the crew members working my aisle was quite generous with the pours for coffee and water. Clearly, we all looked like we needed as much caffeine and hydration as he could provide.
Qantas Airbus A380 Economy service and entertainment
I'd flown Qantas Airbus A380 Economy before, but not since the airline refreshed the cabin experience. While the most exciting changes came to Business Class, Economy didn't entirely miss out.
Other than replacing the seat cushions, Qantas touted 'improved inflight entertainment' as the other big win. For a moment, I got excited, thinking this meant new seatback screens: on-par with those of Qantas' Boeing 787s. Alas, not.
Qantas' upgrades were instead to the user interface. If you've thumbed through the inflight entertainment on other Qantas jets, you'll be very familiar. In fact, these old-style screens resemble what you'll find on some of Qantas' smaller Boeing 737s.
They get the job done, but they're not perfect. They're quite dull and reflective, so at times, it can be hard to see what you're actually watching – even with the brightness cranked up. They also don't respond to a light touch or swipe like an iPad. You instead need to press much harder, or better yet, tap your fingernail to make your selection.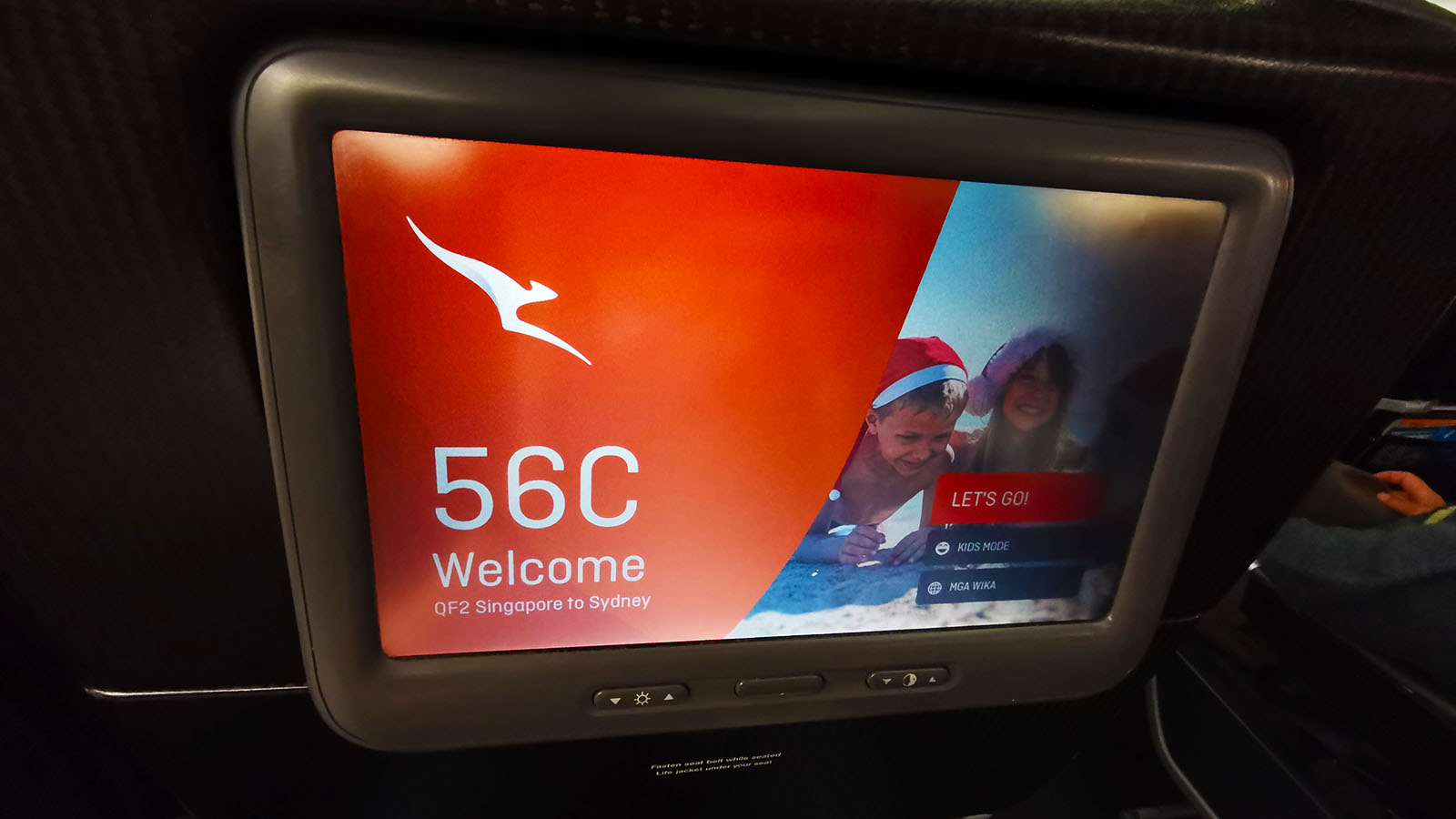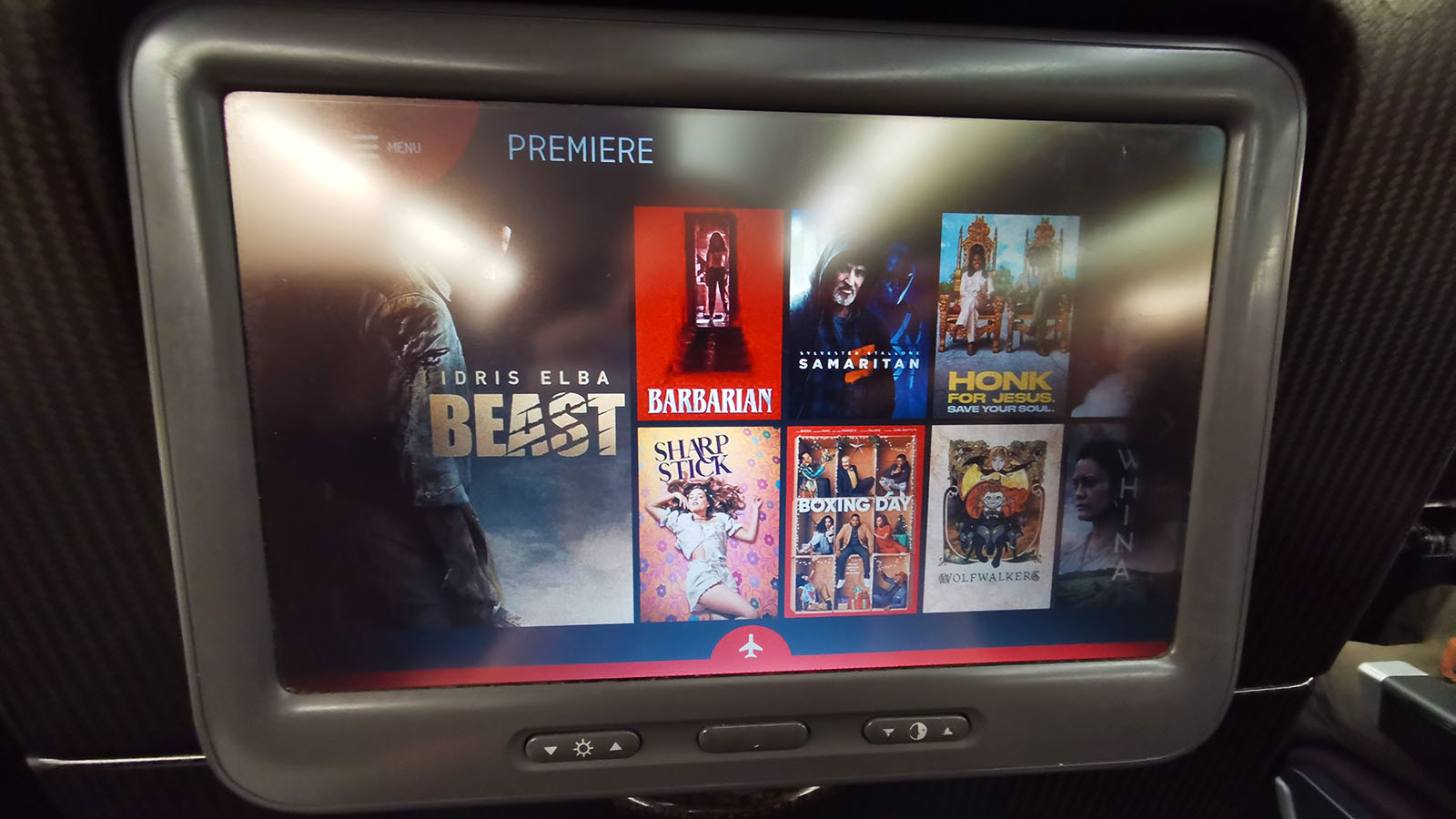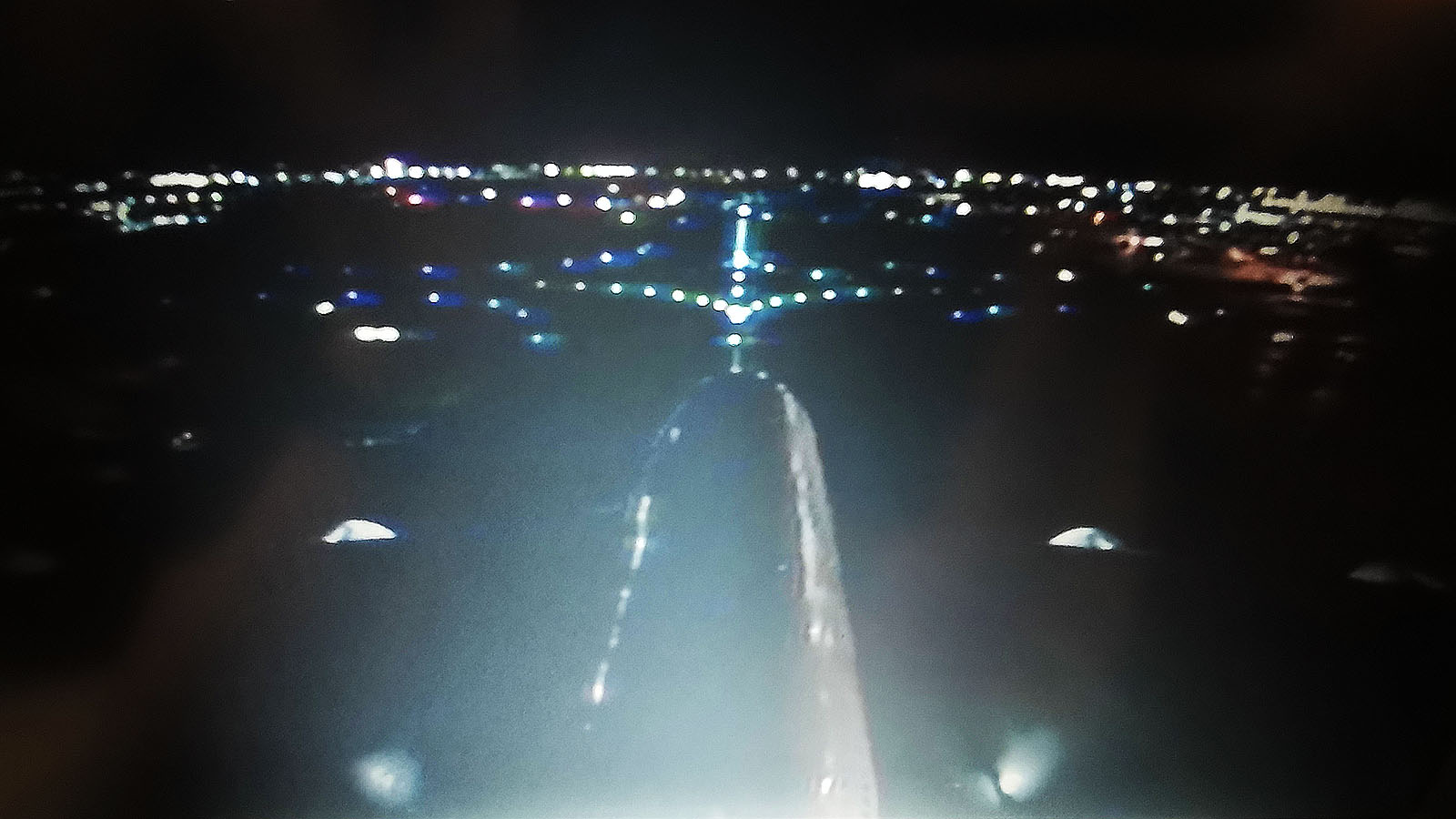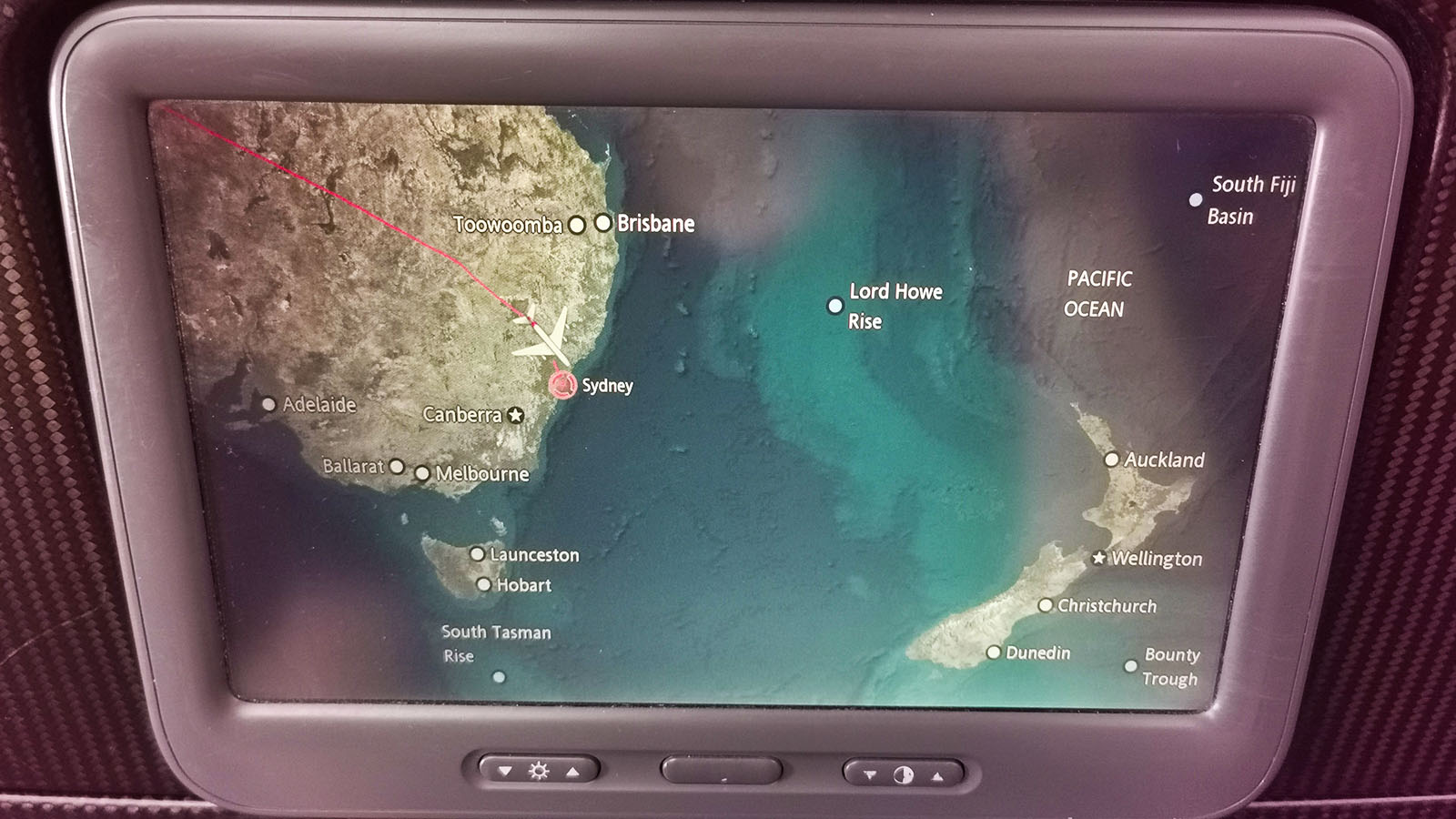 Qantas really should make an announcement to share that 'fingernail' tip on every flight. I've lost count of how many times I've seen people almost punching the screens to make them work. And of course, there's a passenger's head resting just on the other side.
In my own seat, I didn't want to get stuck into a new movie before bedtime, so I binged an old favourite: Curb Your Enthusiasm. I always ditch the basic supplied headphones and connect my own set. Those on the Qantas A380 are no better than you'd get on a domestic Qantas flight, so do BYO if you can.
Summing up
On quick overnight flights like Singapore-Sydney, it's not easy to get much sleep at the best of times. In Economy, you're lucky to get three hours at most, as that's generally the interval between dinner finishing and breakfast beginning.
With access to a lounge in Singapore, a smart strategy for QF2 is to eat on the ground. Then after take-off, don your eye mask and doze off if you can. That's normally what I'd do – but it's a move that works best either when you're in a window seat or at an exit row. That way, your sleeping isn't blocking others from accessing the aisle, so you shouldn't be woken up unnecessarily.
For the perfect trio of a window seat, room to stretch out and direct aisle access, 80A and 80K are unbeatable in Economy on the Qantas Airbus A380. But they're also charged as extra legroom seats, just like at the exit rows – and they're snapped up fast.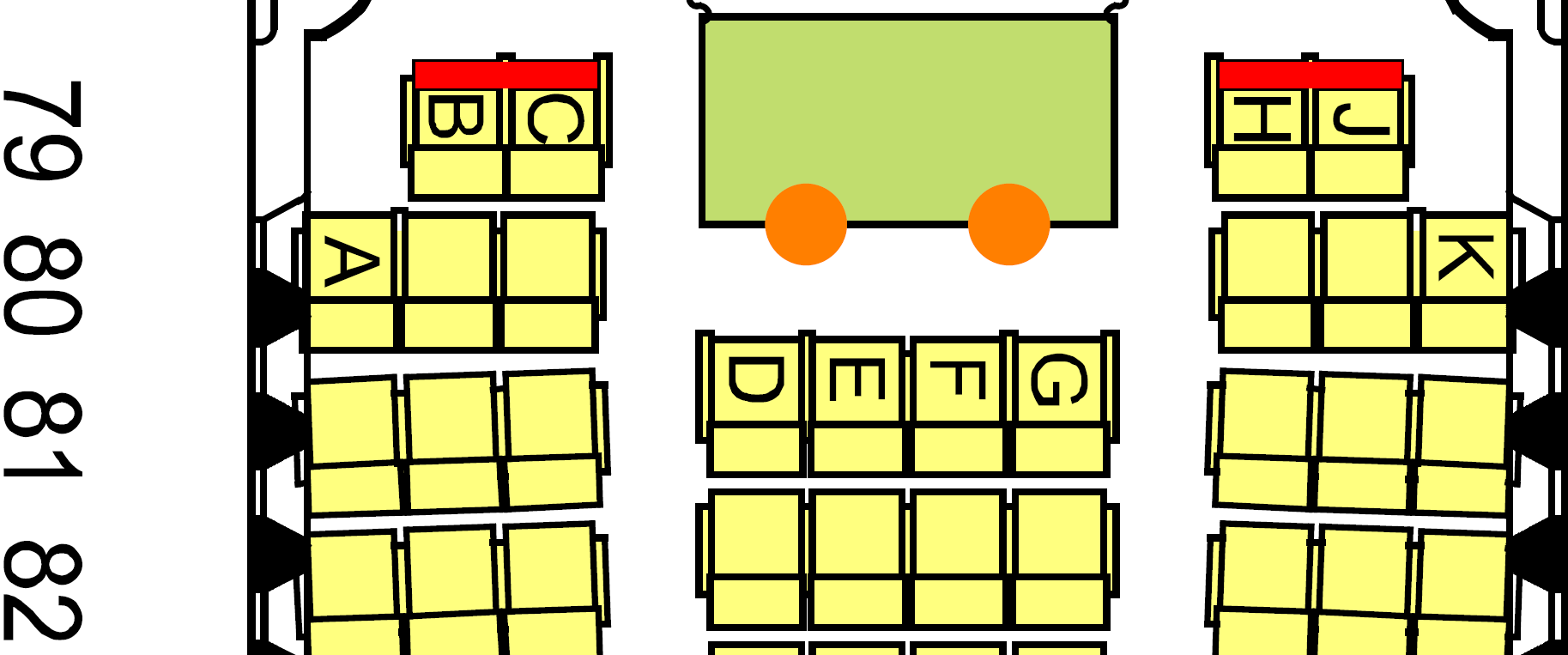 All in all, Qantas Economy is as you'd expect on the superjumbo. The seats are at least a little wider than on Qantas' newer Boeing 787s, which makes the A380 the preferred pick for my broad shoulders. But of course, the trade-off is the older style of TV screen, and the likely 'whack, whack, whack' on the back of your own seat.
But as much as I like flying on Airbus A380s in general, there's one thing that always slips my mind when I'm booking each flight – baggage claim. This is, of course, the largest plane in the Qantas fleet, and when full, it carries over 500 people (up to 485 passengers, plus crew). That's a lot of bags waiting at the other end.
Fortunately, Qantas status means my bag is priority-tagged. After landing in Sydney, it hit the belt within ten minutes of the flight's first bag coming down the ramp. But if yours is the very last bag to arrive, you'll be waiting a fair while. Keep that in mind if you're making a booking with an onward connecting flight.
Also reviewed: Qantas Airbus A380 Business (Sydney – Singapore)
Photography by Chris Chamberlin, who travelled on a paid ticket. Featured image courtesy of Qantas.
---
Stay up to date with the latest news, reviews and guides by subscribing to Point Hacks' email newsletter.
Qantas Airbus A380 Economy (Singapore – Sydney)
was last modified:
December 16th, 2022
by