Unless you stay at hotels 40 nights or more nights a year it's hard to attain status with hotel loyalty programs.
One of the ways of leveraging more value from your hotel stays is through programs like Accor Plus, because you are essentially buying a form of status – along with a range of other perks.
This is a guide to the benefits of the Accor Plus program, which includes a free night, discounts of up to 50% on rooms and food/drinks for your say, and benefits with other partners.

Feature image above from the Sofitel Bali Nusa Dua which is part of the Accor Plus program.

NOTE: American Express Platinum Charge no longer includes a complimentary membership to both an Accor Plus and Platinum Le Club status.
Digging into the details of Accor Plus
Unlike Accor's Le Club loyalty program, you can buy an annual membership to Accor Plus for $335. You can also apply for a supplementary cardholder for $149.
Here are the headline benefits:
A free night "Stay Plus" at participating hotels within the 600 plus properties in 17 countries across Asia Pacific.
Up to 50% of "Red Hot Rooms" promotions, where you get half price discount rate at certain hotels.
Up to 50% off your restaurant bill and 15% off drinks at participating restaurants
Silver status with the Le Club loyalty program
10% discount with Eurocar rental
Other special events for members only such as cooking with famous chefs, or golf with professionals
So is Accor Plus worth the $335 annual fee?
The Stay Plus free night benefit
The Stay Plus benefit is a complimentary free night for a standard room in a participating hotel across Asia Pacific and can be redeemed at Accor's budget brands like Ibis, to midscale Novotel and Mercure, all the way up to upscale Pullman and Sofitel hotels.
Here's a quick flavour of the various types of Accor brands at different properties around the world:
It's a no-brainer that the Stay Plus benefit yields the best value at the upscale hotels. However not all hotels are eligible for Stay Plus, just to make life more complex.
Many properties can be redeemed with Stay Plus. As you can see, the cost of some of the rooms for the 1 night can recoup the cost of the annual fee.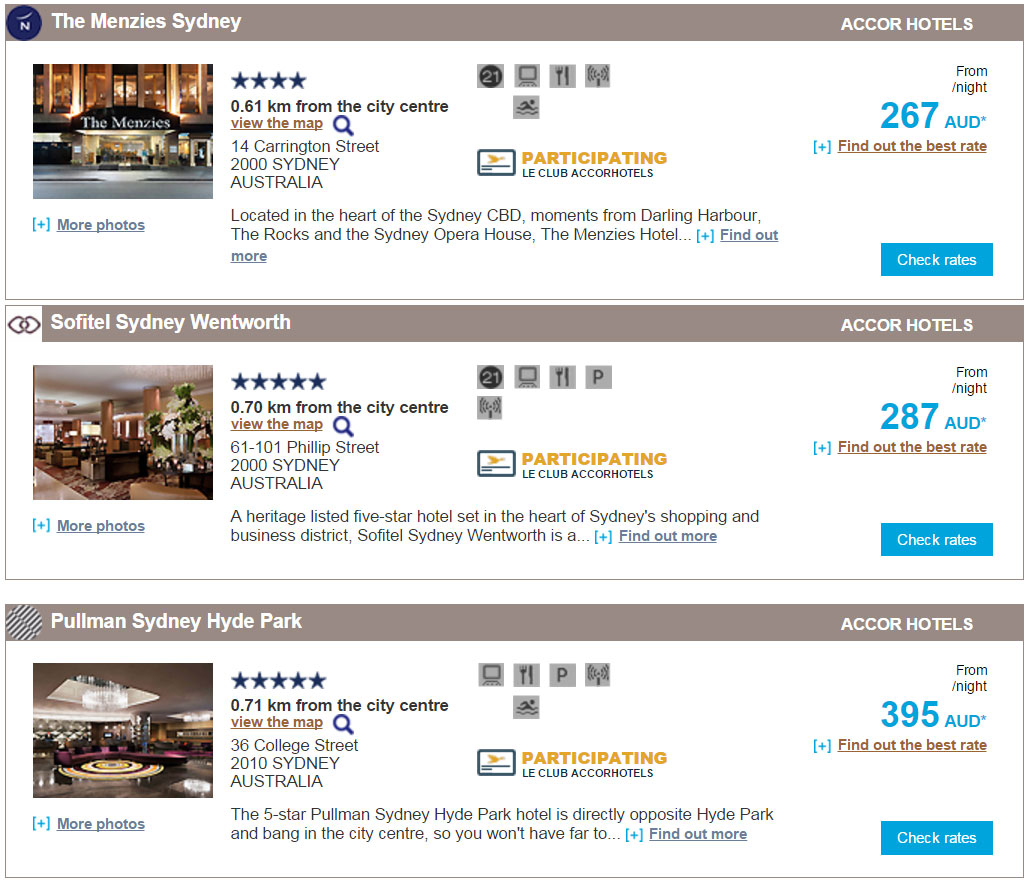 Ineligible properties will be marked "Stay Plus Not Accepted":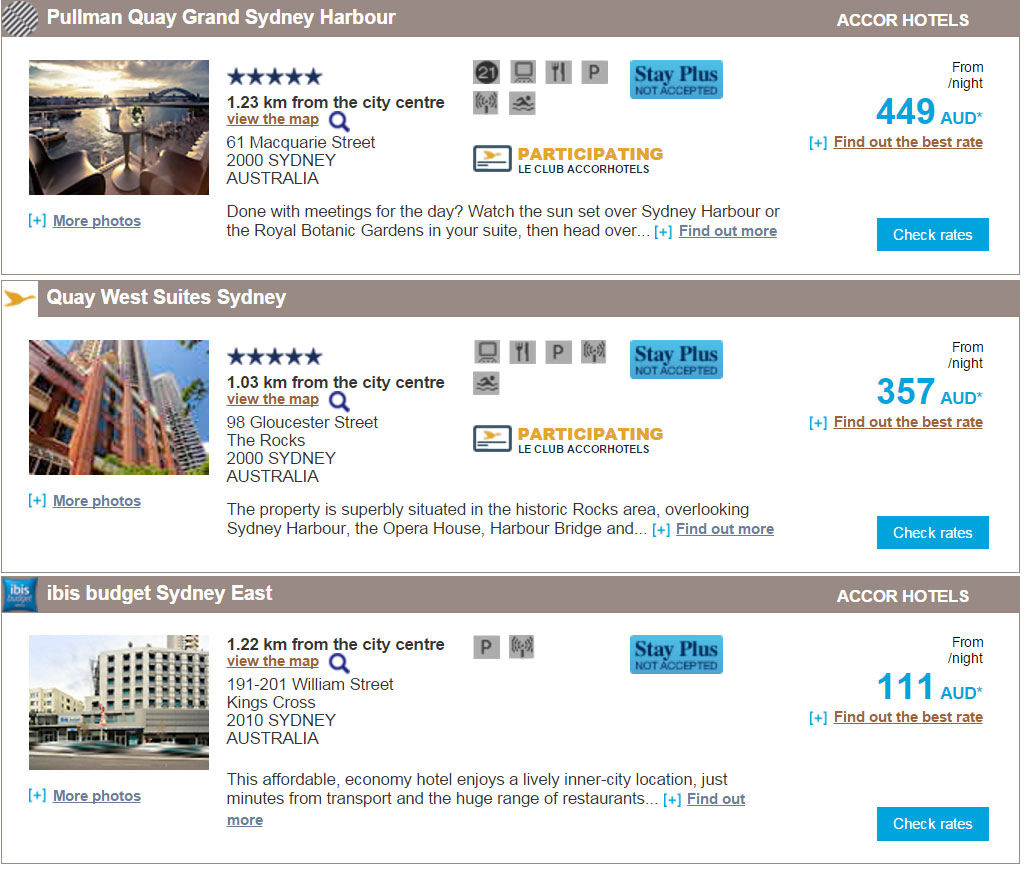 In some cases a Stay Plus benefit may not be available on the dates you want, in which case Accor Plus offers you the option to the Stay Plus benefit towards a room upgrade.
Be sure to bring your Accor Plus membership card to present at check-in as the Stay Plus credit is loaded onto your card.
Red Hot Room Sales
Accor Plus members have access to special deals at certain hotels over a certain time period, where you can book rooms with up to 50% off.
If Red Hot Rooms promotions are not running, you can also receive 10% off the Best Available Rate at any 600 plus hotels.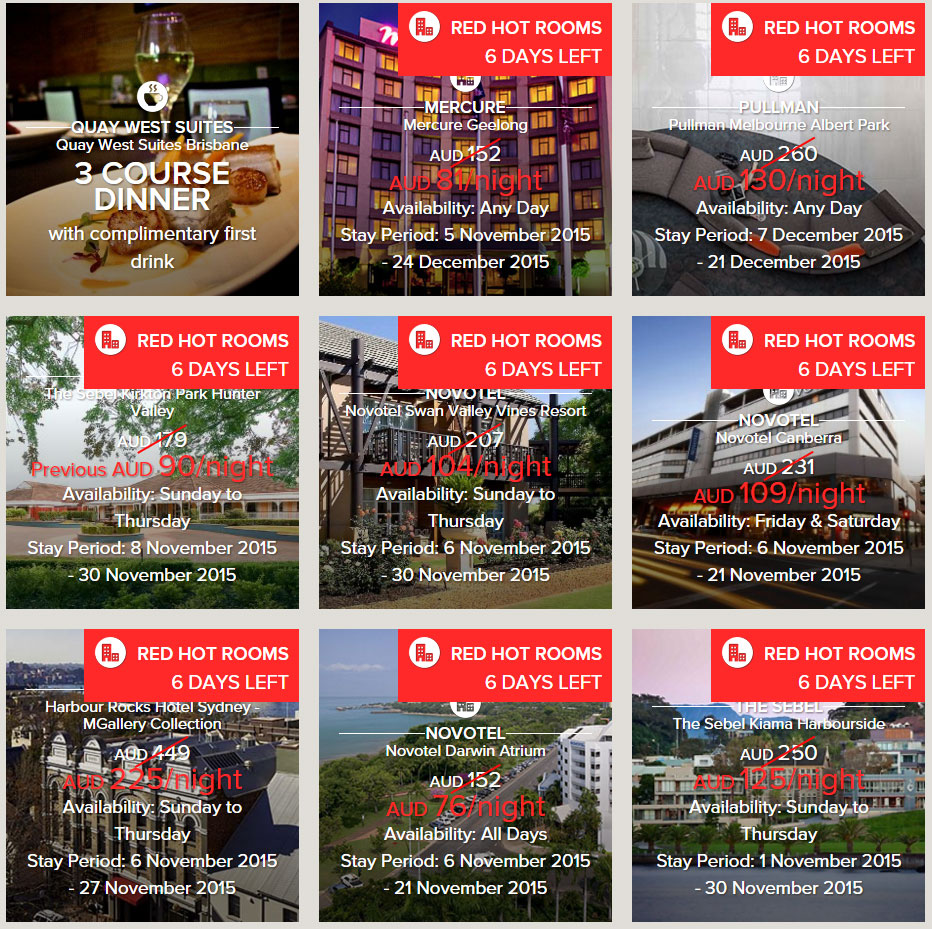 Up to 50% off restaurant bills with Accor Plus
As an Accor Plus member, you also get 50% off your food bill, whether its breakfast, lunch or dinner, at a participating hotel restaurant, year round – and you do not need to be a guest staying at the hotel.
Here's how the savings work, based on the number of adults dining and percentage saving off the total food component of your bill:
25% off – 1 member only
50% off – 1 member and 1 guest
33% off – 1 member and 2 guests
25% off – 1 member and 3 guests
In addition, participating restaurants in Australia, New Zealand and Fiji accept multiple cards per table (not valid in Asia), so you can you can save more than 25% of the bill.
For example, if 4 adults are dining and two Accor Plus member cards are presented, you'll receive 50% off the total food portion of your bill (maximum discount per table is 50%). When dining in Asia you also receive 15% off drinks.
There are also other promotional offers, such as your first free beverage, or afternoon tea at participating hotels.
Silver status with the Accor Le Club loyalty program
In addition to those benefits, an Accor Plus membership also gives you a Silver status with the Accor Le Club program.
Normally to qualify for Silver status, you need to stay at least 10 nights or earned 2,500 points.
With Silver Status, you get
Le Club Accorhotels Customer Care
Priority welcome
Fast Check-out
Free Internet worldwide
Late check-out on request and upon availability on arrival
Welcome drink
Bonus 6 points for every 10 Euros spent at participating hotels, converted from the local currency where the hotel is located.
In terms of points earn, every 10 Euros as a Classic member earns 25 points, whereas Silver earns 31 points, Gold 37 and Platinum 44 points (at Pullman, MGallery, Mercure/Grand Mercure, Novotel and other premium brands. At Ibis the earn rates are less).
10% Accor Plus discount car rental with Europcar
Accor Plus members also receive 10% off the best rate of the day when renting with Europcar. You can also choose to receive 250 Le Club points each time you rent a vehicle, but that would be instead of earning other airline points like Velocity or KrisFlyer.
The Europcar benefit is not particularly tangible, given that often other discount codes or offers are out there that can you get you this kind of discount.
Finally, there are other member-only special events such as cooking with famous chefs or golf with pros. I suspect this benefit might not be everyone, however Accor Plus promises, "step into the kitchen for a celebrity chef masterclass, tee off with golf pros, meet the cast of the latest theatre shows and more."
It's hard to put any kind of value on those given they need to match your taste for them to be appealing.
Value summary – Accor Plus
If you are savvy you can extract a lot of value from annual $335 member Accor Plus membership, given the inclusion of:
The Stay Plus free night, if you use it at a suitably otherwise expensive hotel
10% off the best available rate, or 50% off Red Hot Rooms
Up to 50% off your restaurant bills
All up that should equate to > $400 in value at least when each benefit is used just once.
If you use the dining benefit extensively on a family or romantic break, the savings against the usual cost of hotel will quickly add up. I've used a similar benefit at InterContinental hotels in the past and it's really helped ease bill-shock at the end of a long stay.
Guide to Accor Plus – the Accor Hotels membership program with a free hotel night and discounts at Accor Hotels
was last modified:
October 25th, 2017
by