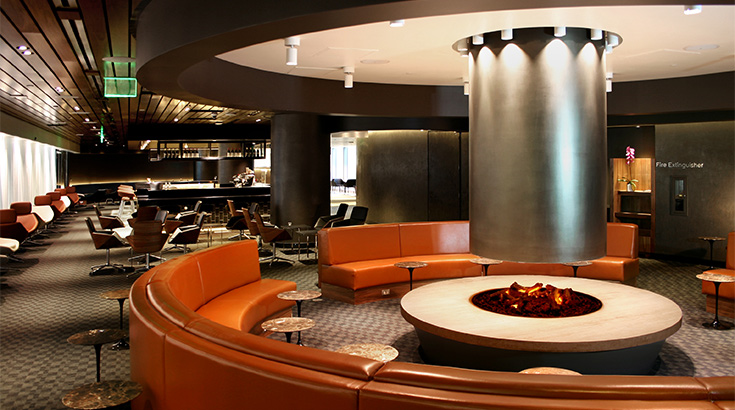 This lounge gets a solid four-star rating from me for its spaciousness, fast wifi and well-stocked bar, but is let down by dark lighting, some disappointing food and no tarmac views.
It is run by Qantas in partnership with British Airways and Cathay Pacific, with two-stage renovations completed in early 2015.
The lounge is open from 6:30am until 11:30pm (or last flight if delayed). I checked it out on a recent trip.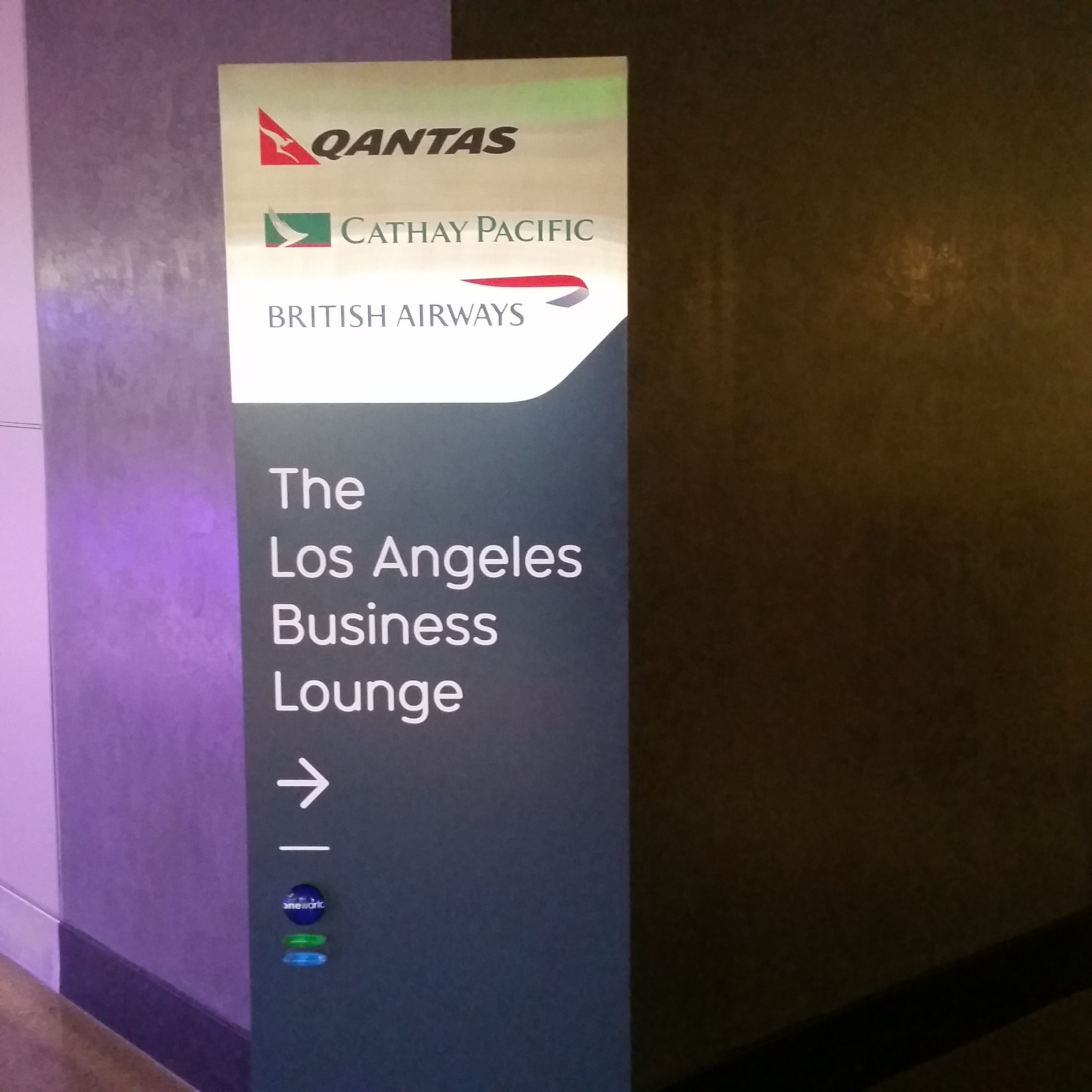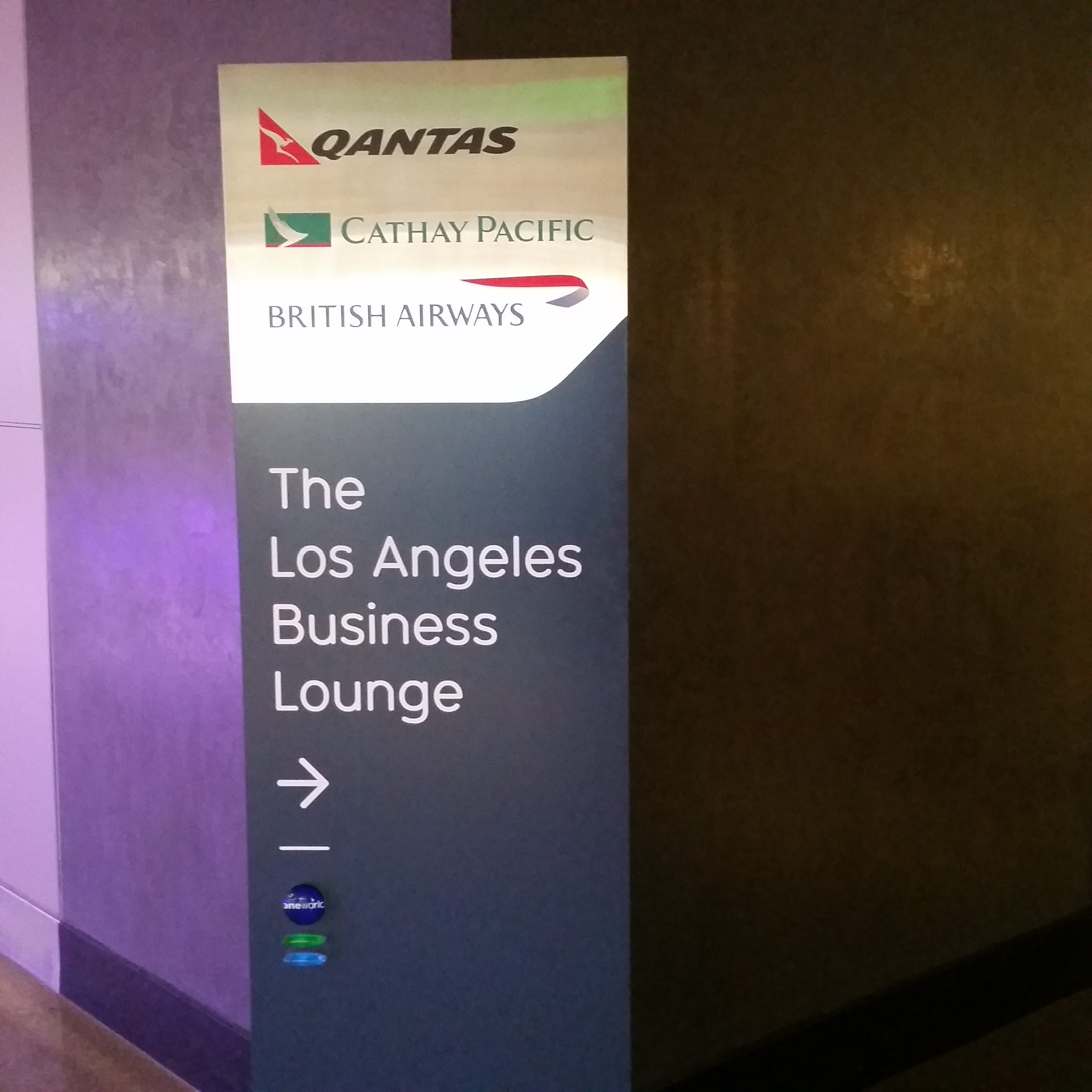 Who will get the most use from this lounge?
This lounge will be most useful for Australian travellers flying to US for a connecting flight on American Airlines throughout North and South America, as well as returning passengers to Australia on Qantas and AA services.
This lounge is located on Level 5 of the newly-renovated Tom Bradley International Terminal, now accessible from Terminals 4 (AA), 5 (Delta), 6 (Alaska) and 7 (United) with a new terminal-linking walkway.
Passengers flying from Australia on Qantas or AA and connecting to another AA flight in Terminal 4 now do not have to be bussed from TBIT to Terminal 4 upon arrival, but can make the walk themselves after clearing immigration and customs.
I used this lounge in early June 2016, flying AA from LAX to Austin. Surprisingly, it was the only domestic AA flight leaving from TBIT for the three hours I was at the airport, which was convenient for using this lounge.
As I have gold frequent flyer status with oneworld partner airberlin, even though I was on a paid economy ticket, I was able to use the Priority check-in, which took a minute to check my bag and get my boarding pass.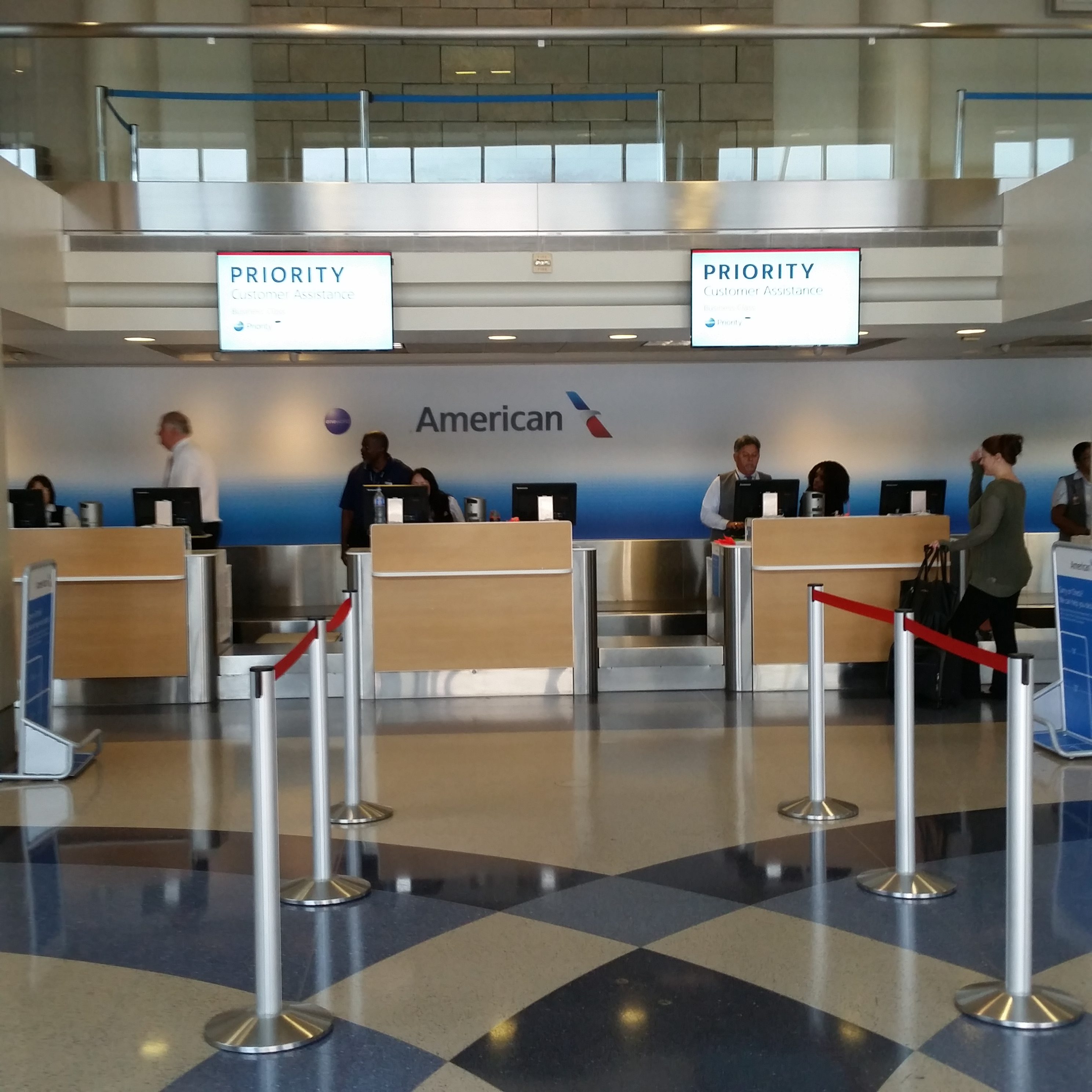 As security wait times are getting longer coming into the peak US summer travel period, I made sure to arrive with enough time to get through security and enjoy the lounge.
I spoke with a staff member and they said the 600-seat lounge fills up with the evening Qantas flights to Sydney, Melbourne and Brisbane, as well as two Cathay Pacific services to Hong Kong around midnight and a British Airways A380 service to London Heathrow. They said it runs at about 80% capacity from 11am to 1pm and 9pm to 11pm.
As I had 3:40pm departure, I was in the lounge from 1 to 3pm and the whole time it was only at about 10-30% capacity.
Beautiful design and open-plan layout
The lounge's design tone is sleek and modern, with a very cool communal fireplace and central atrium for natural light.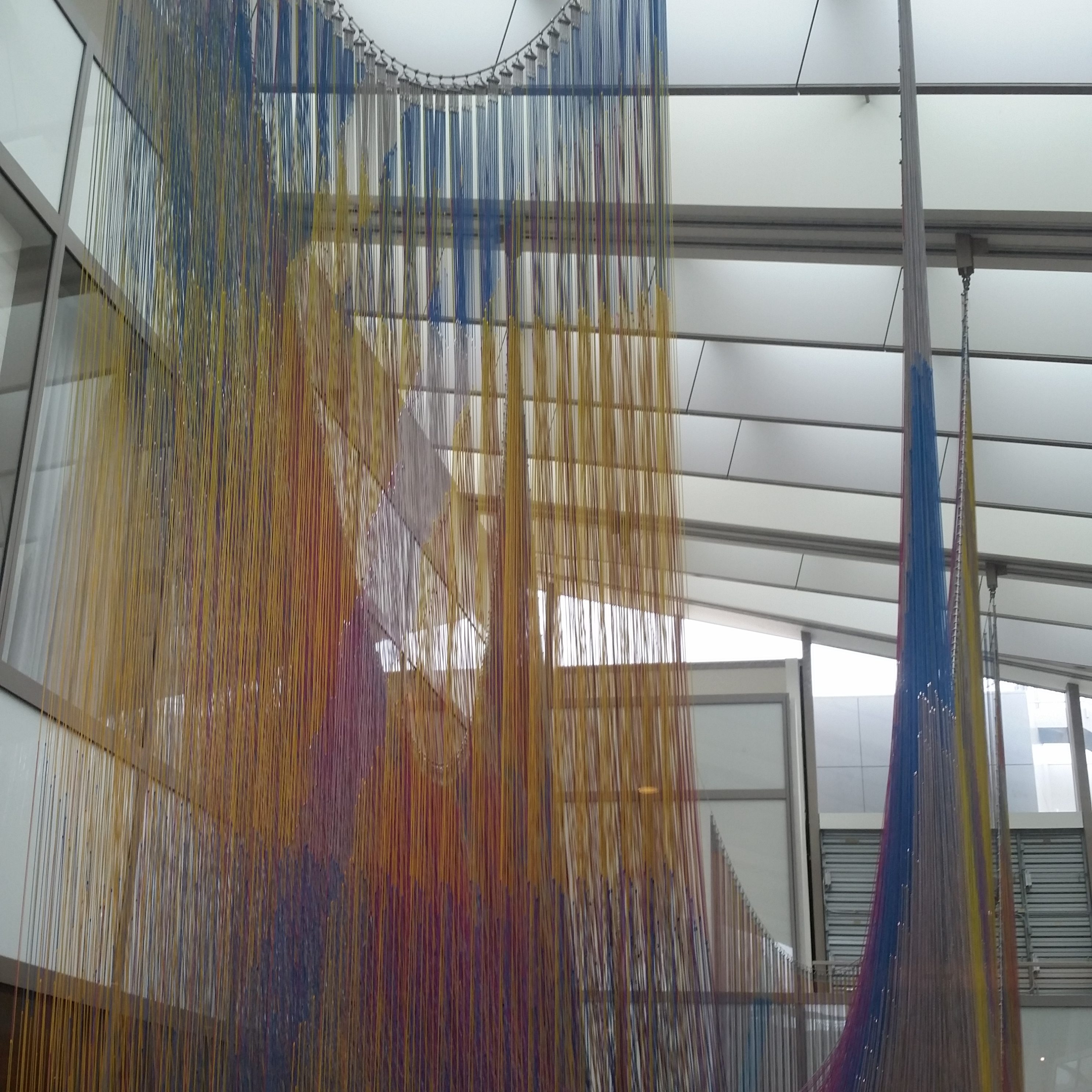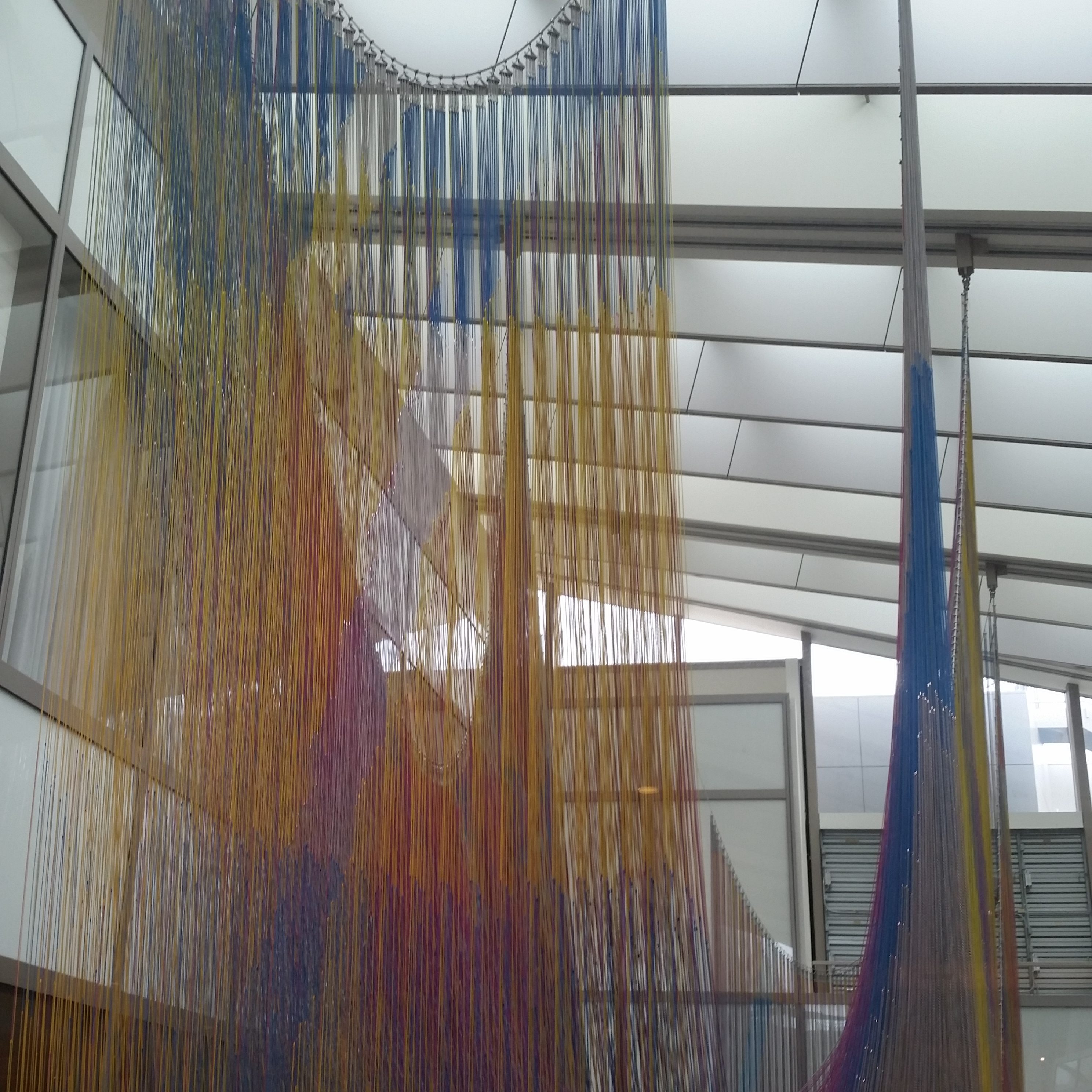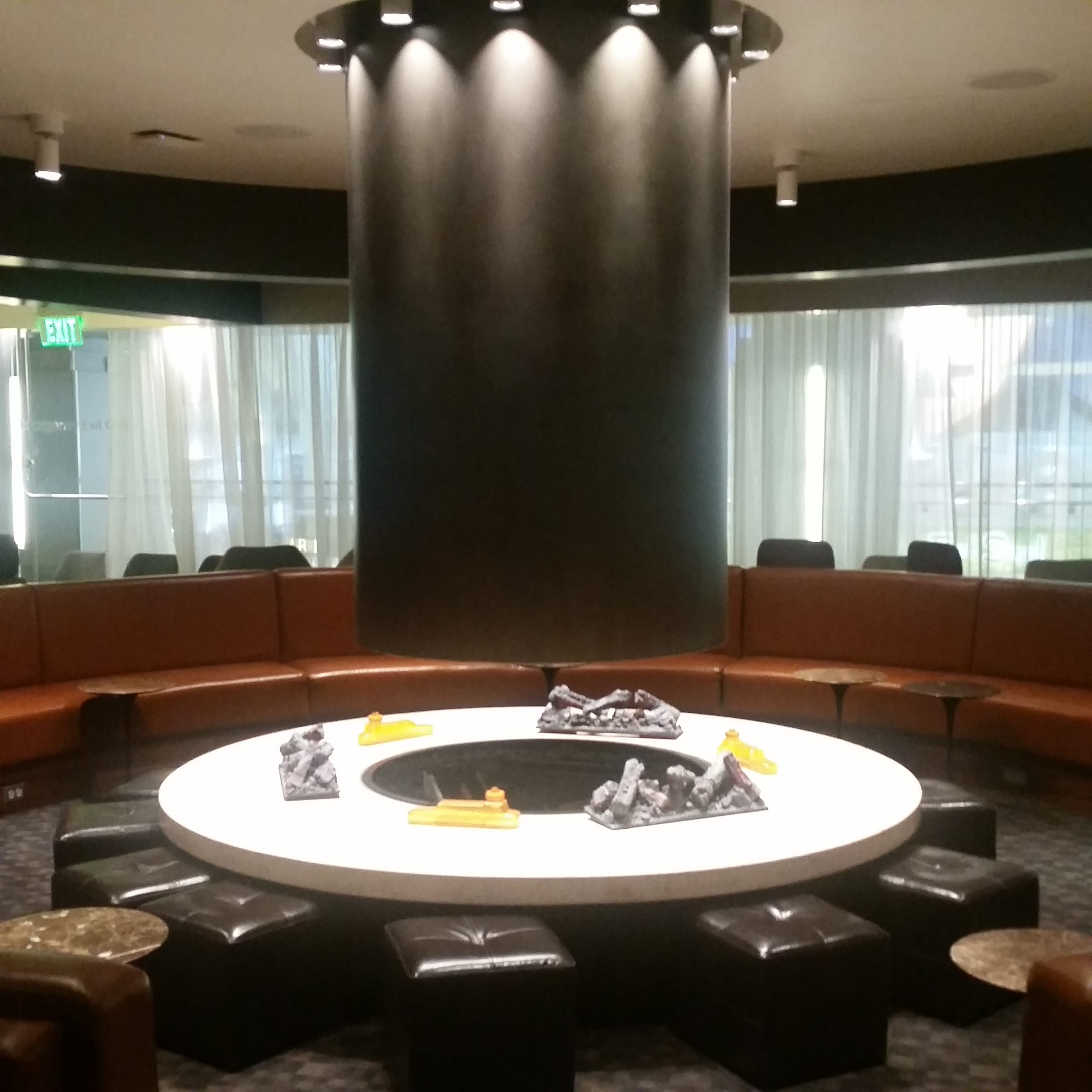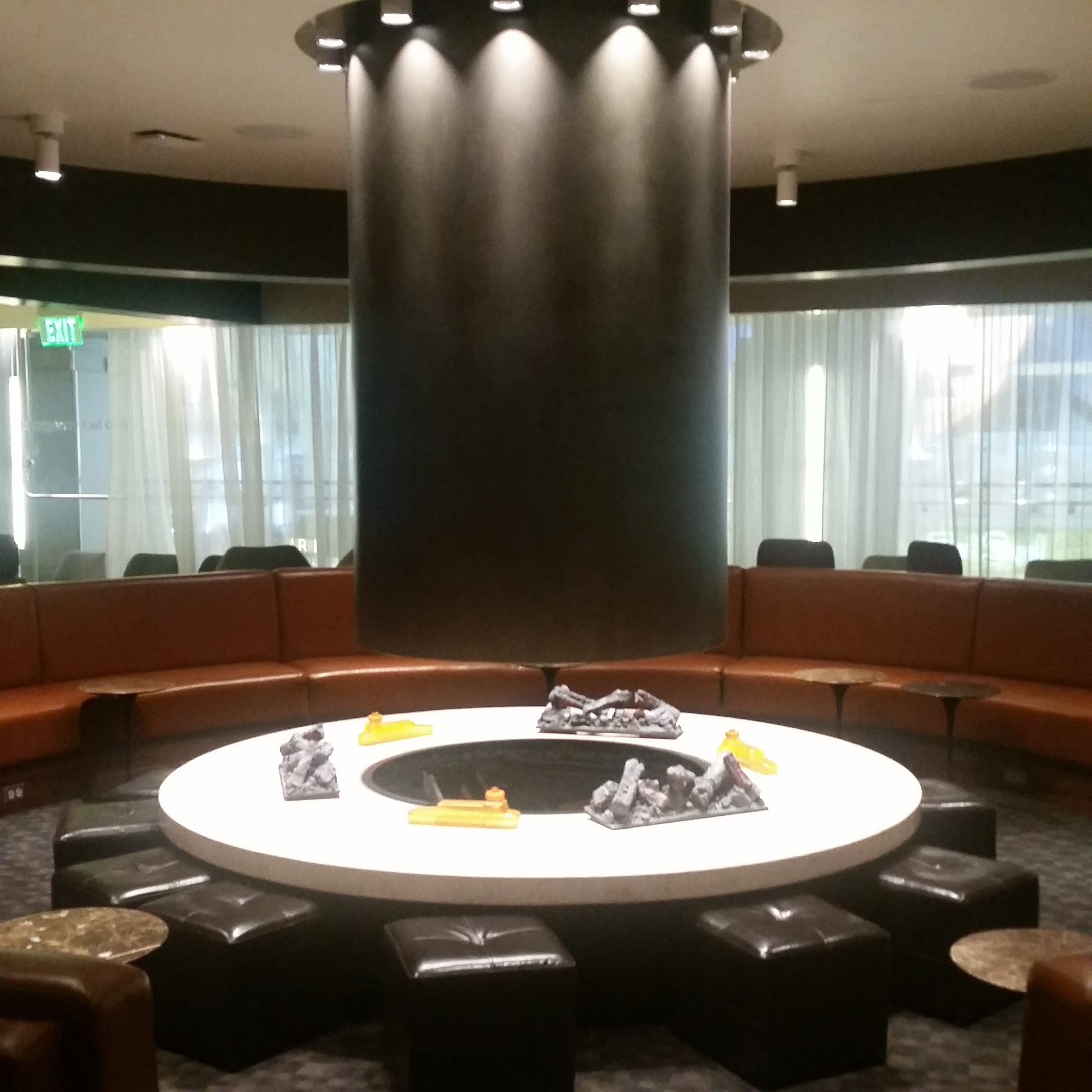 The lounge is split into two large dining areas with a central communal table.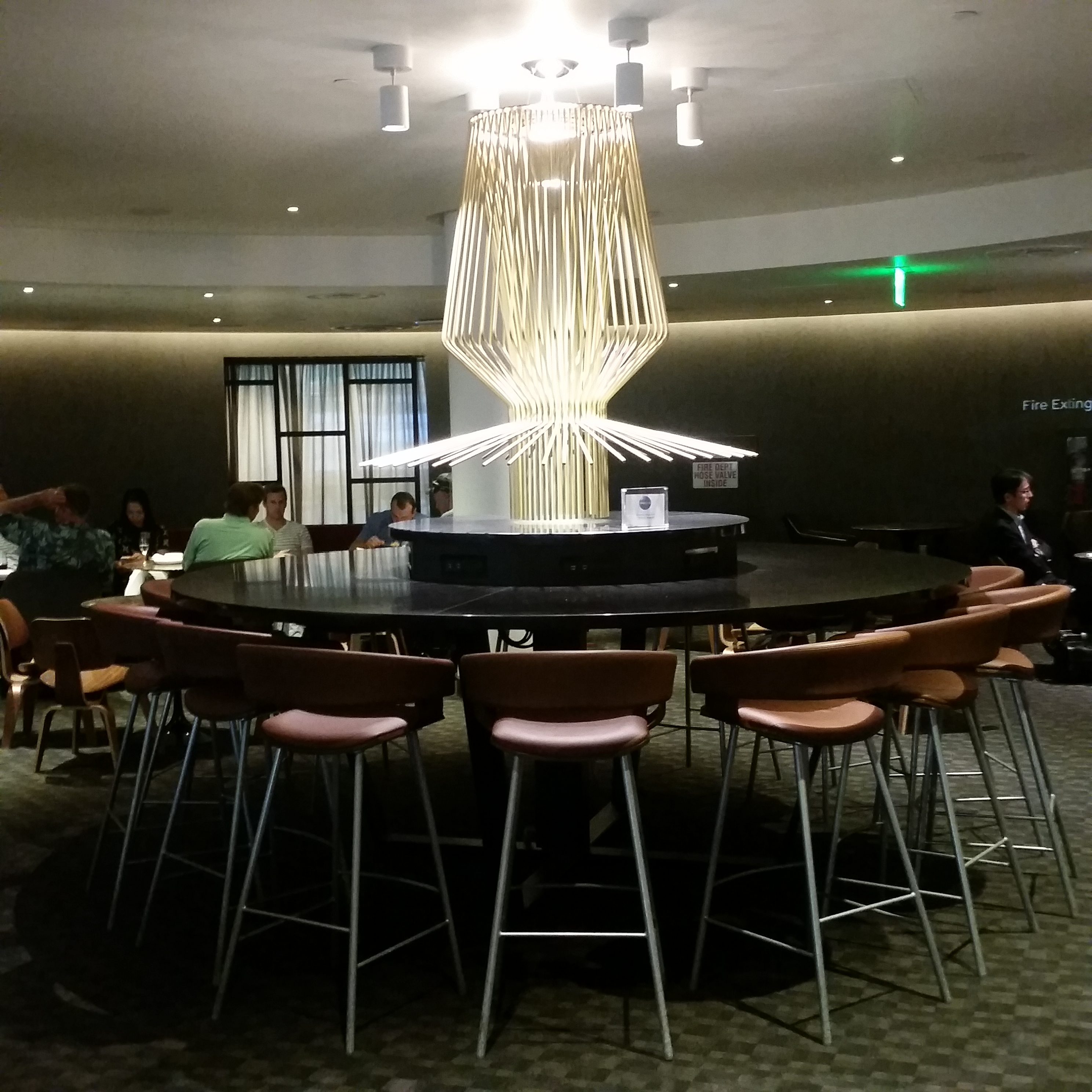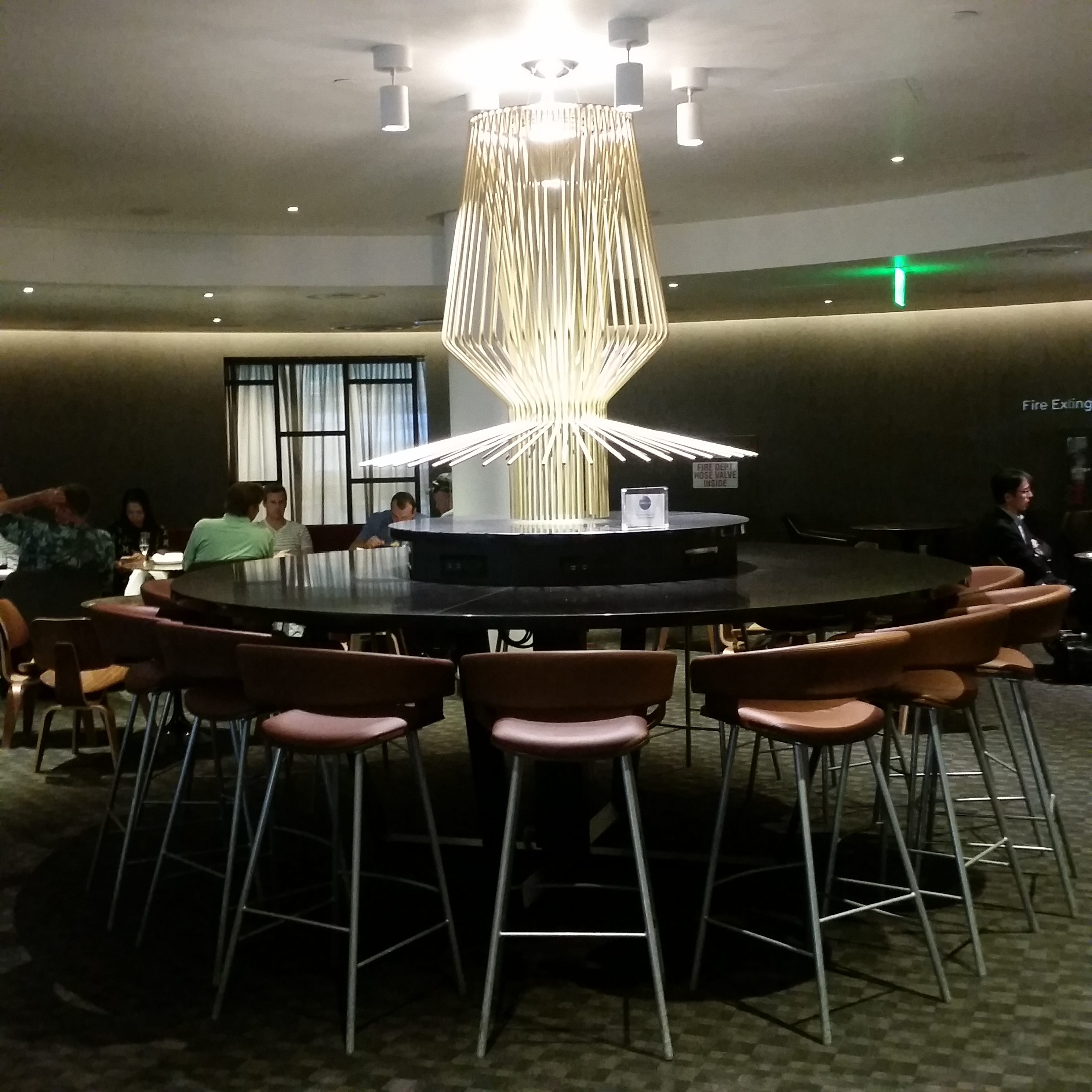 I found the lounge quite dark in most sections, however, the long work table gets natural light from the atrium.
Compared to the Star Alliance lounge at LAX (operated by Air New Zealand), the light contrast is stark, with the Star Alliance lounge enjoying an outdoor patio and wide use of glass.
Looking at it from a positive point-of-view, if you are trying to control jet lag and your body clock with regards to flight connections, the darkness may actually help you.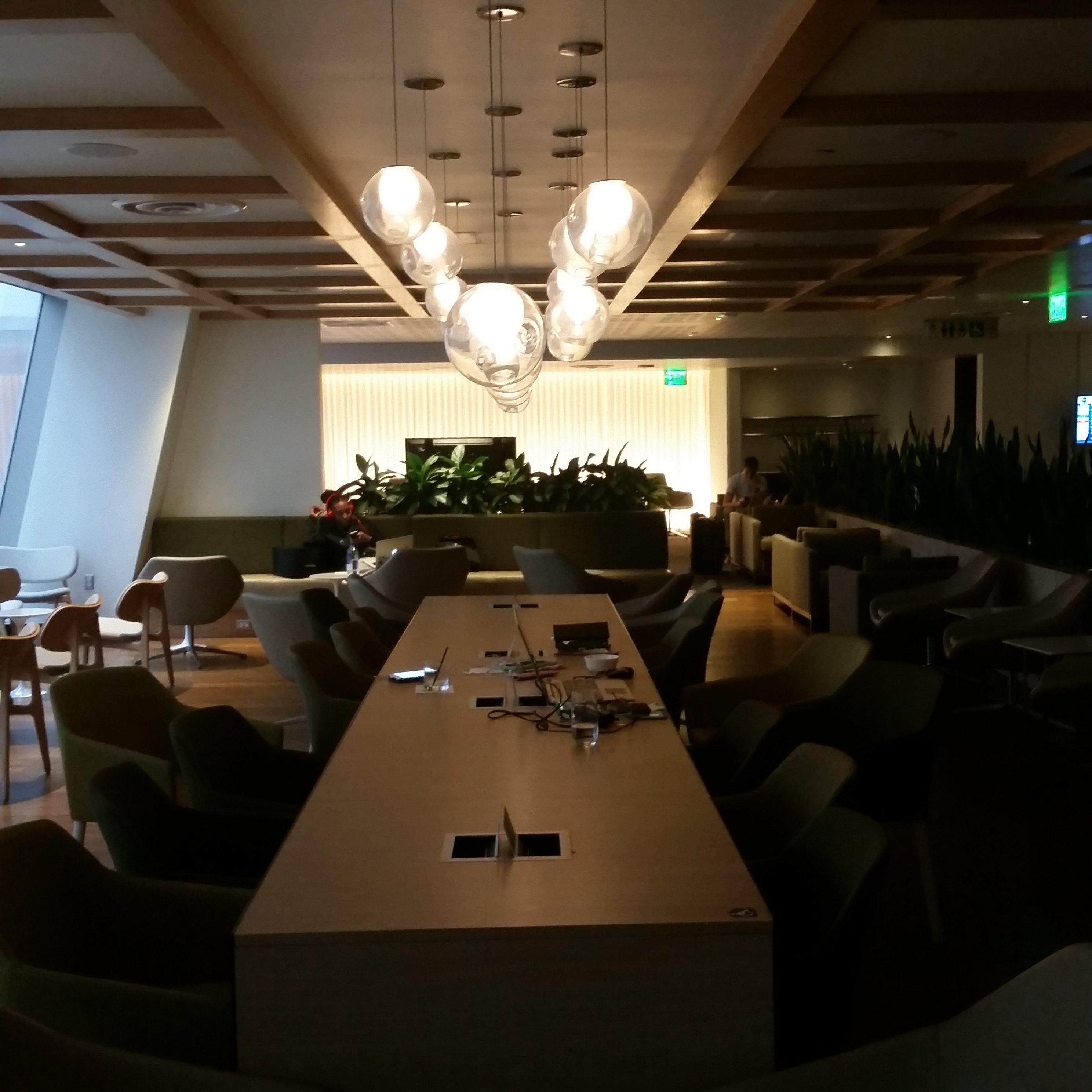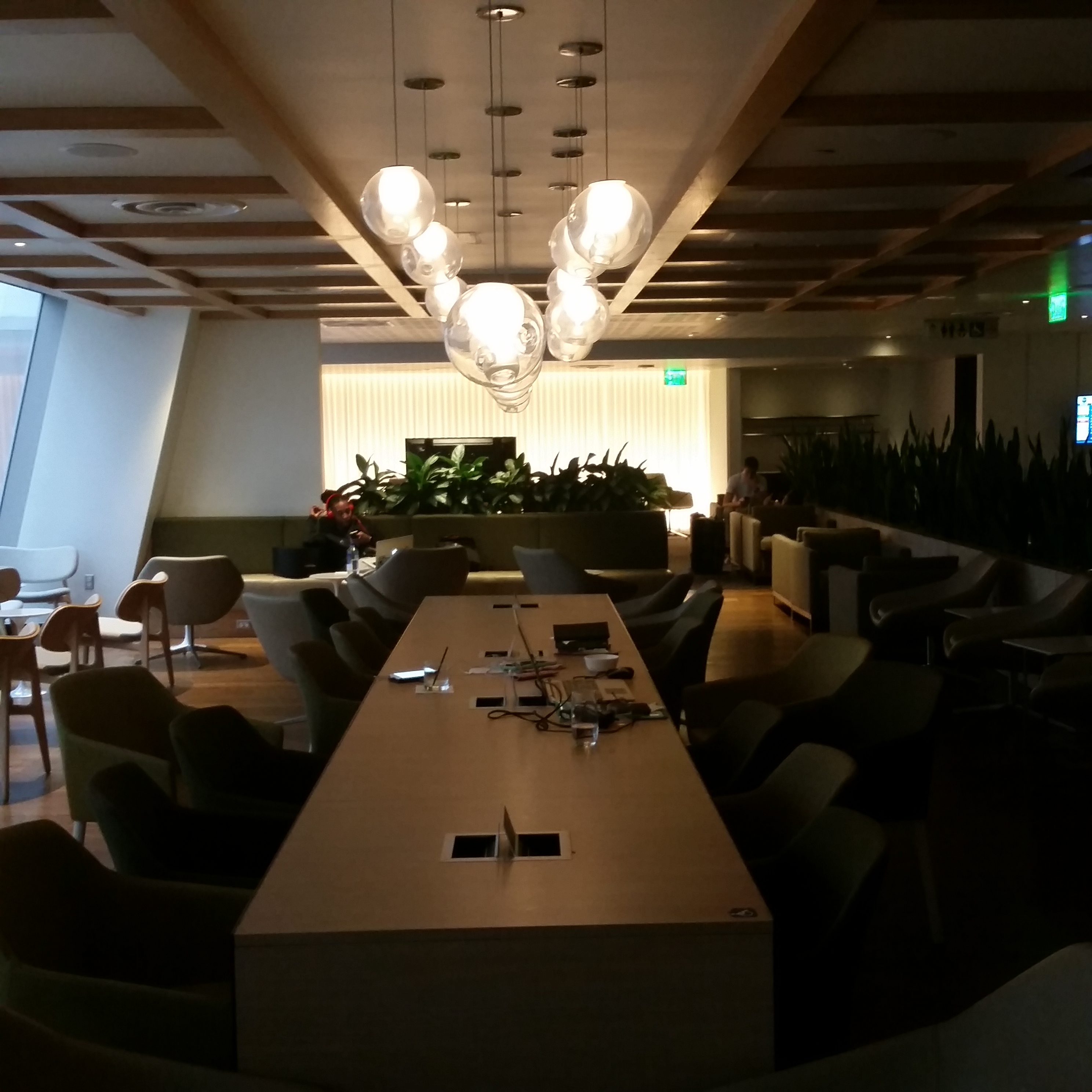 There was an average selection of newspapers and magazines, including the Sydney Morning Herald and The Age.
US pin AC sockets widely available throughout, but you need to grab a place at the communal work desk to charge USB devices. Make sure to bring an Australian-US adaptor as airport safety regulations at LAX prohibit the installation of international power outlets.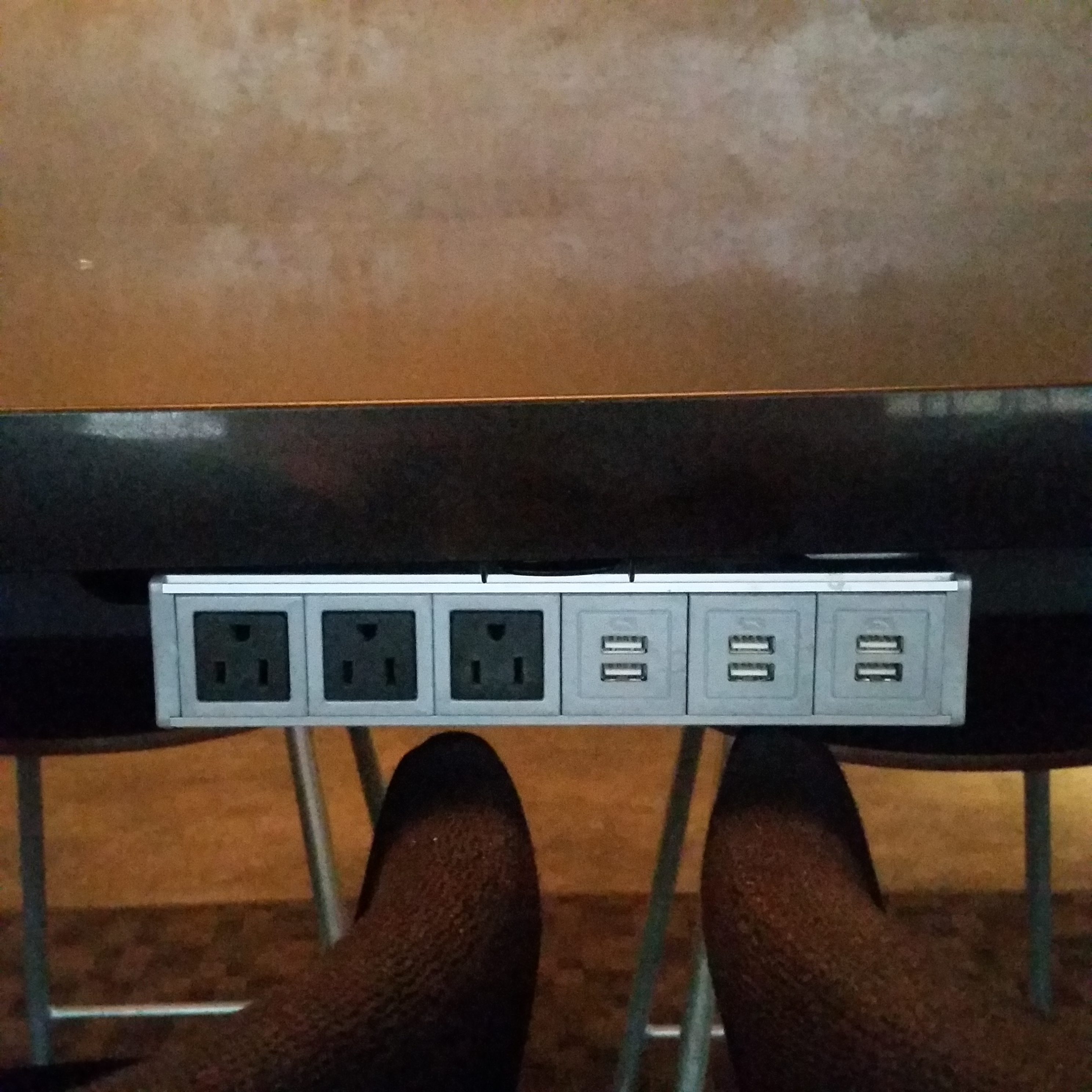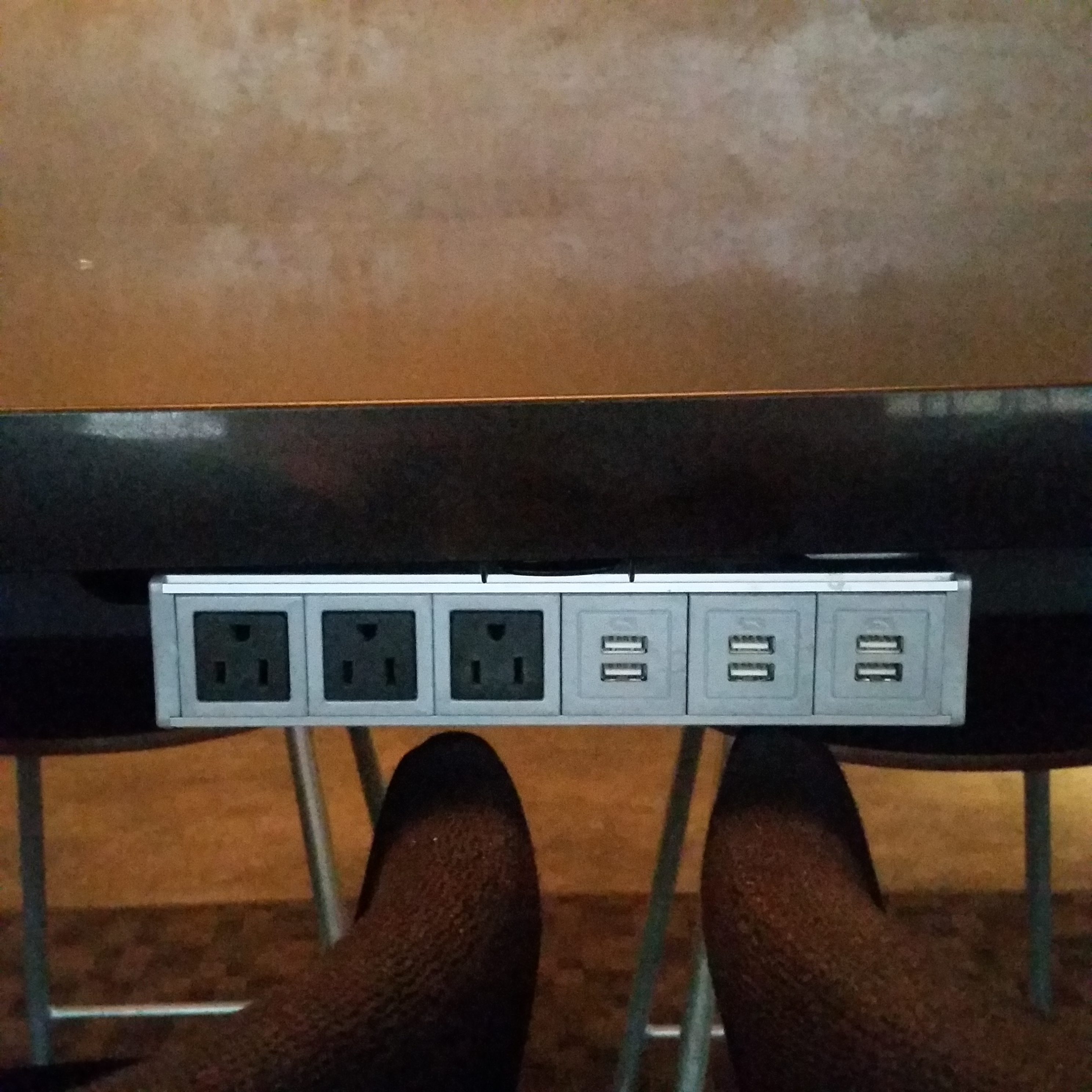 The wifi was the fastest and most reliable connection I have experienced in a lounge.

Mixed food and drink results
In keeping with the Australian-US fusion theme, the Neil Perry-designed menu is inspired by multicultural Californian cuisine.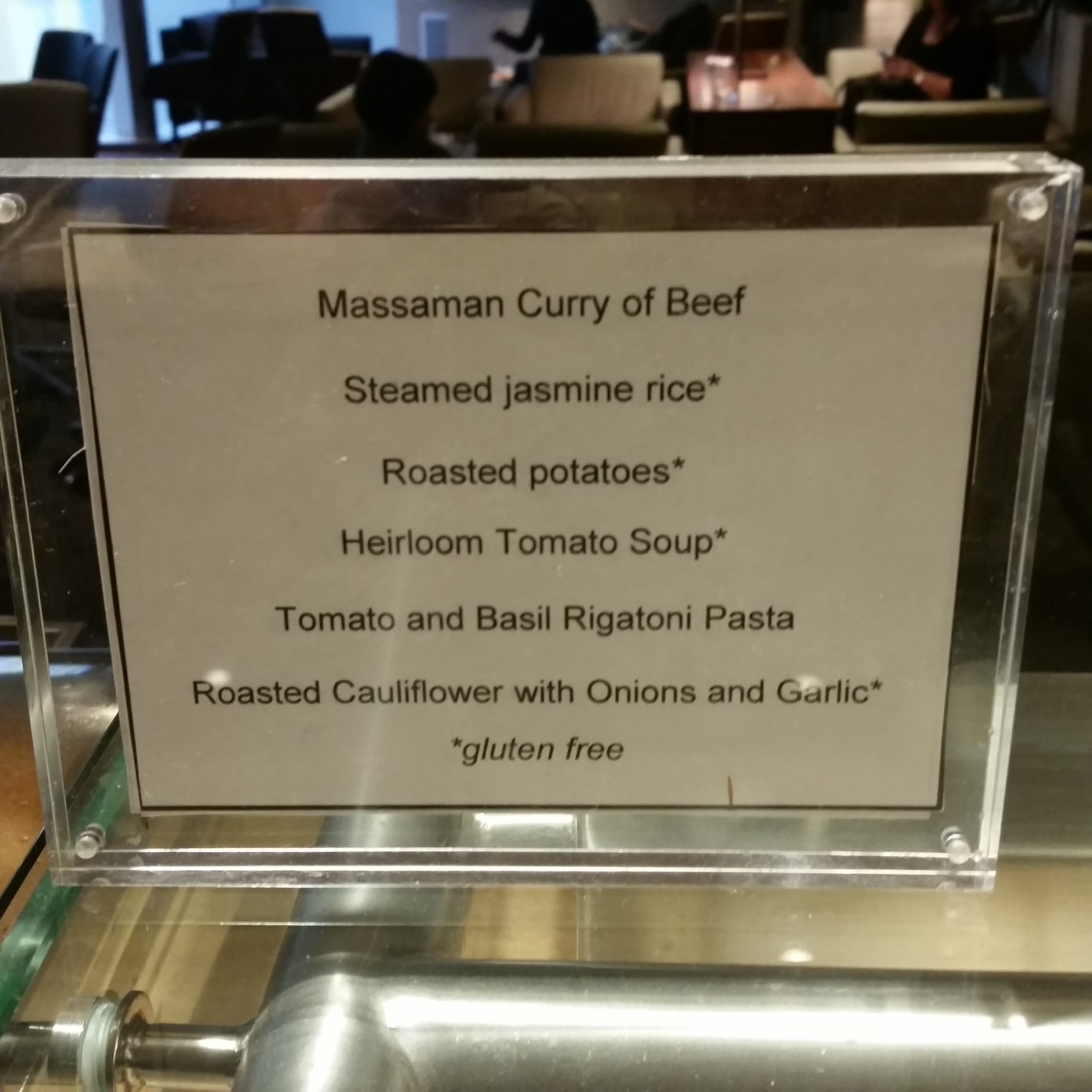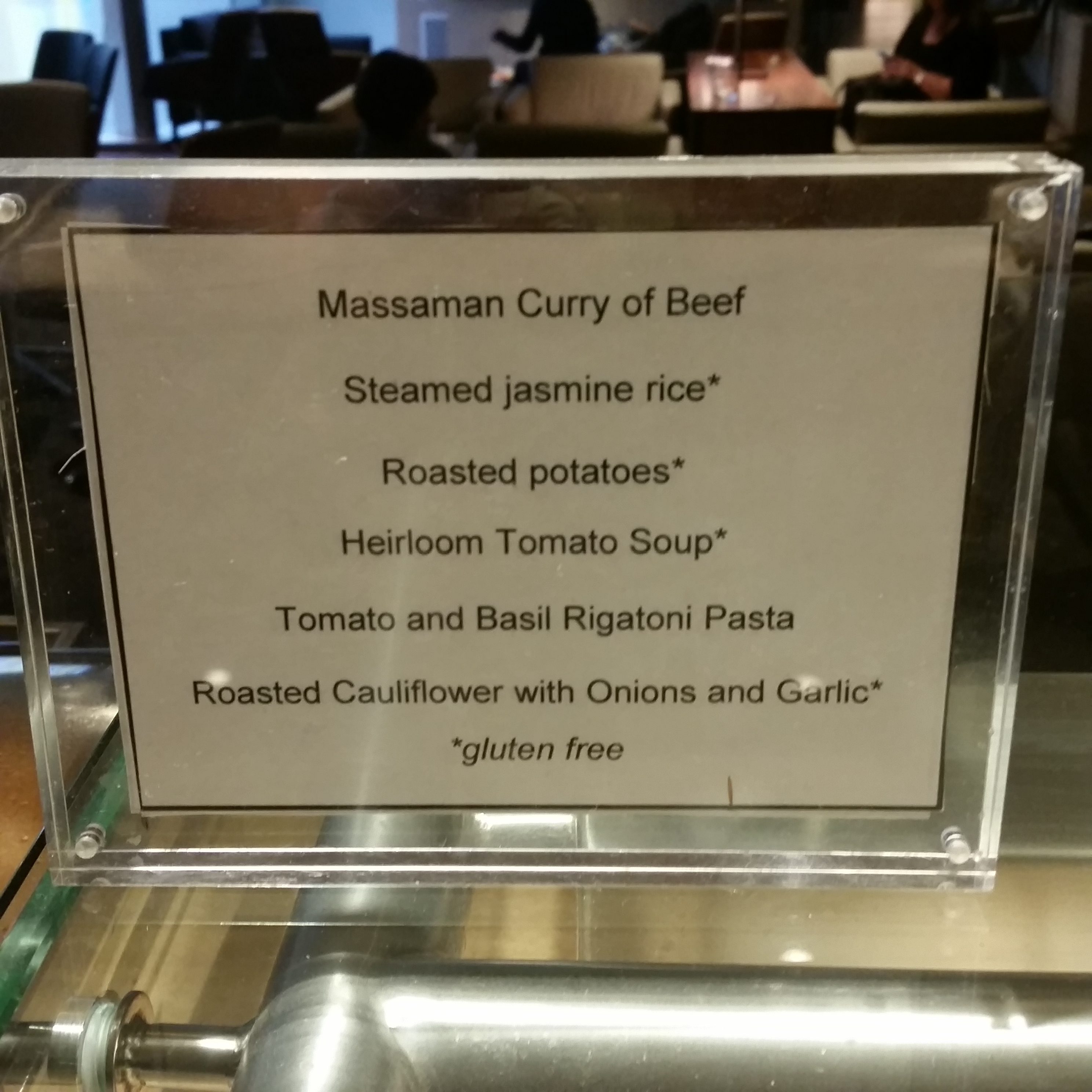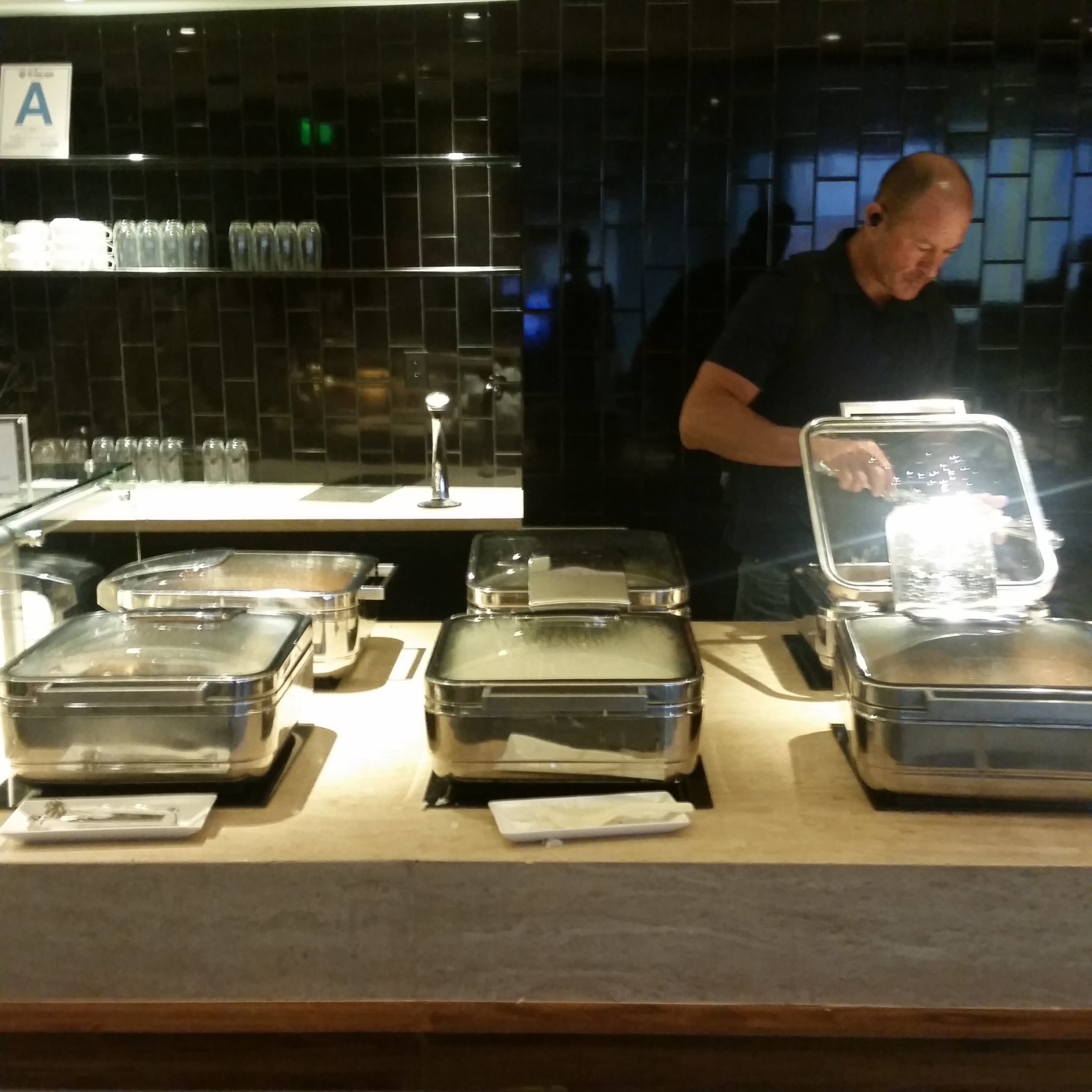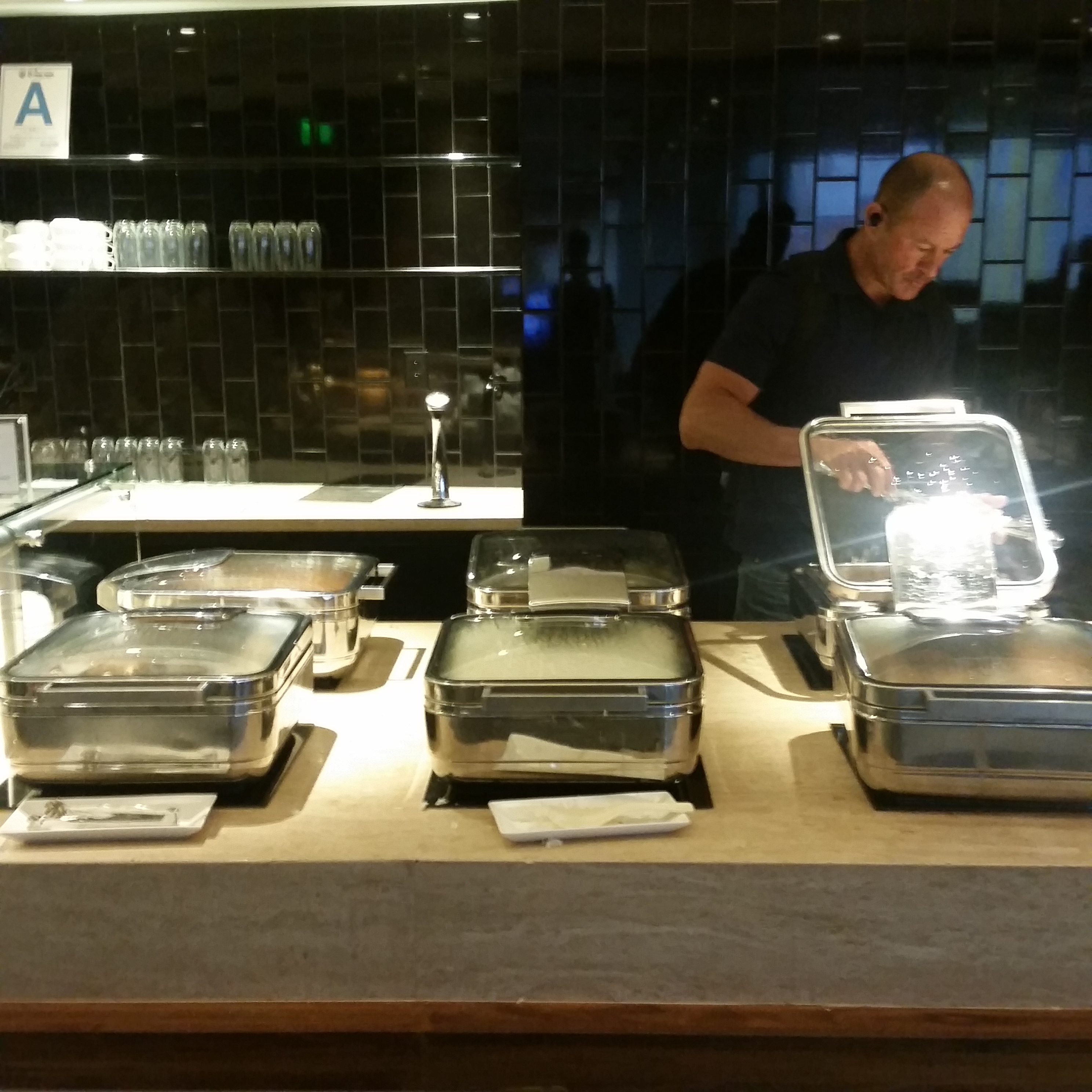 The salad and sides offerings were phenomenal.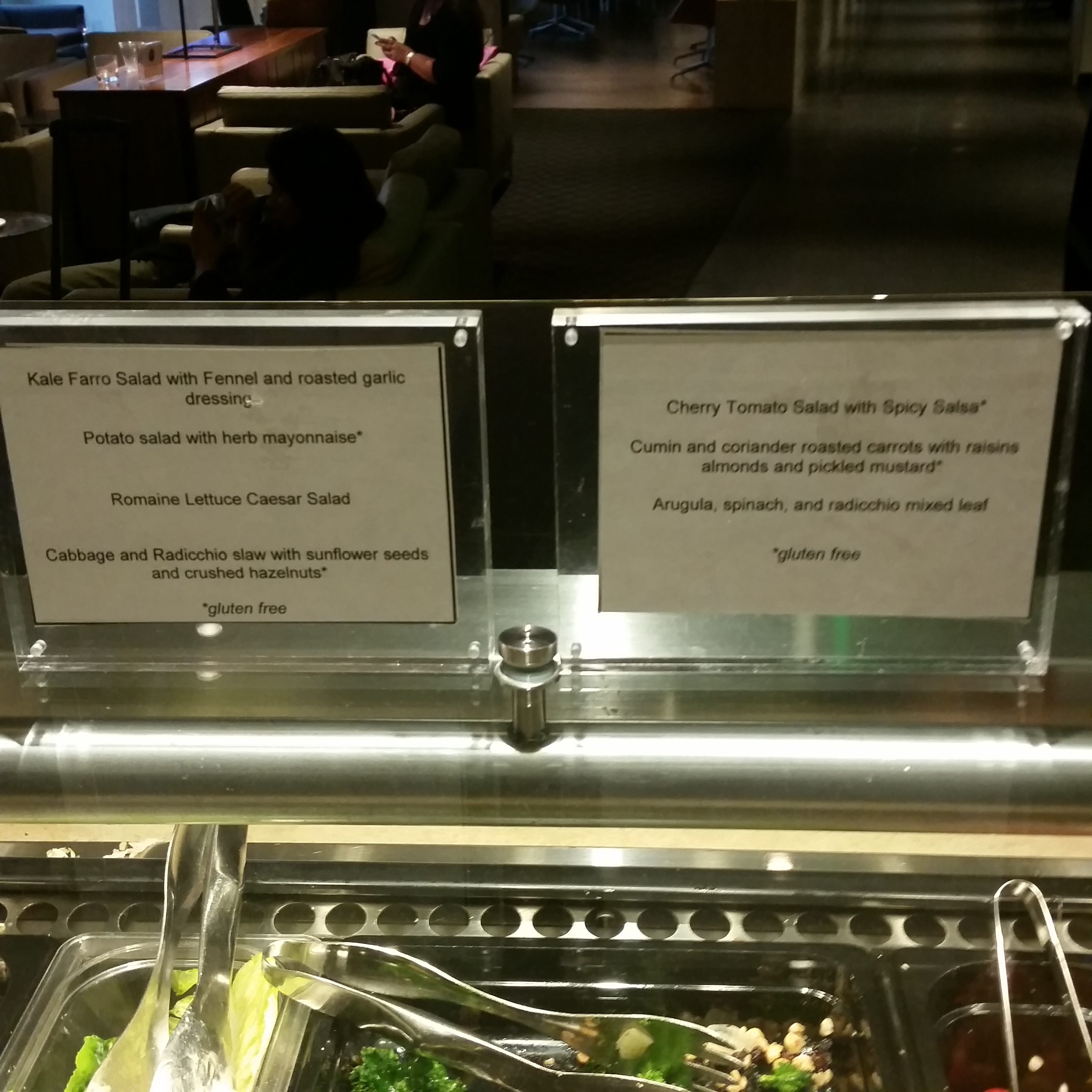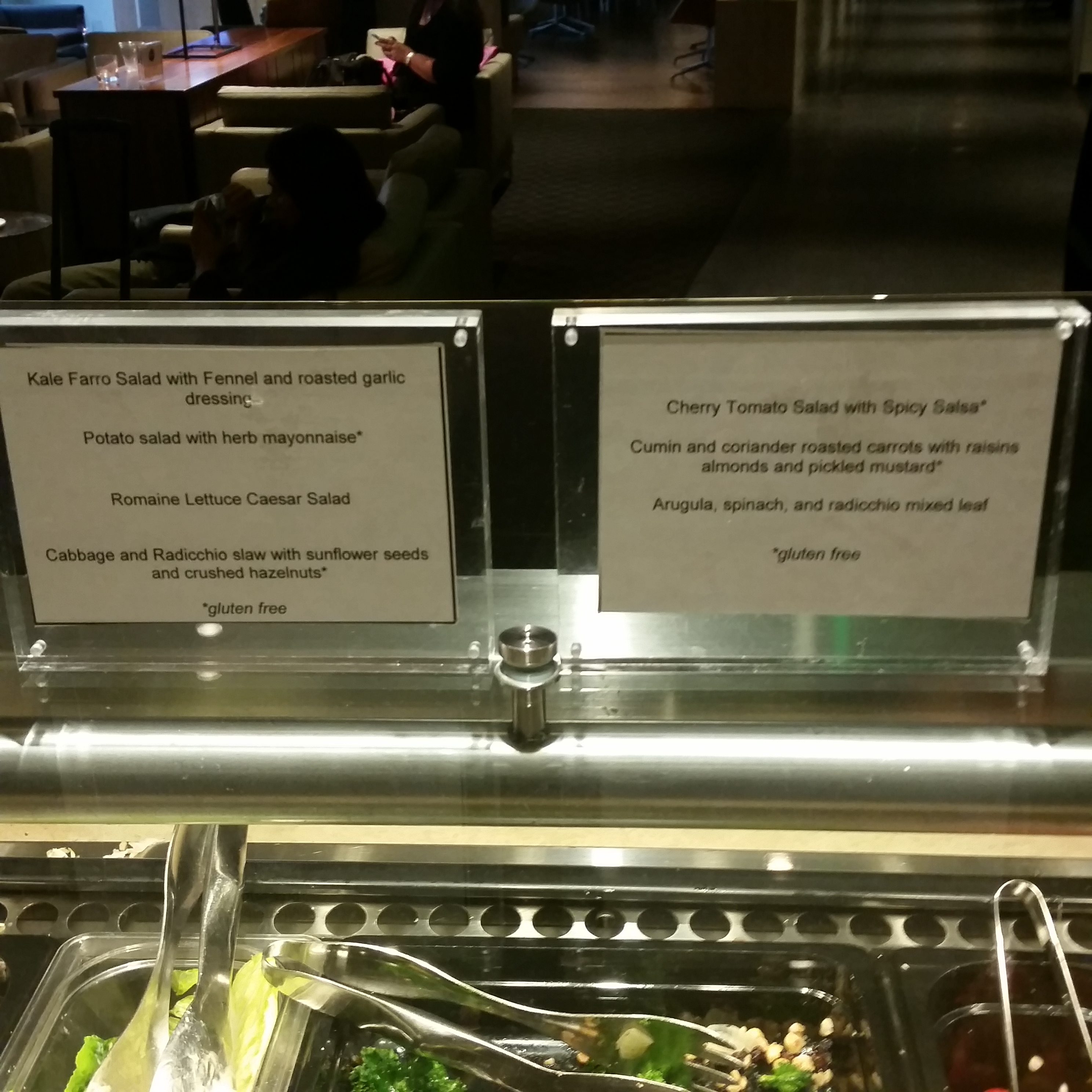 A nifty inclusion is the DIY juice station, where you can choose the fruit and vegetables.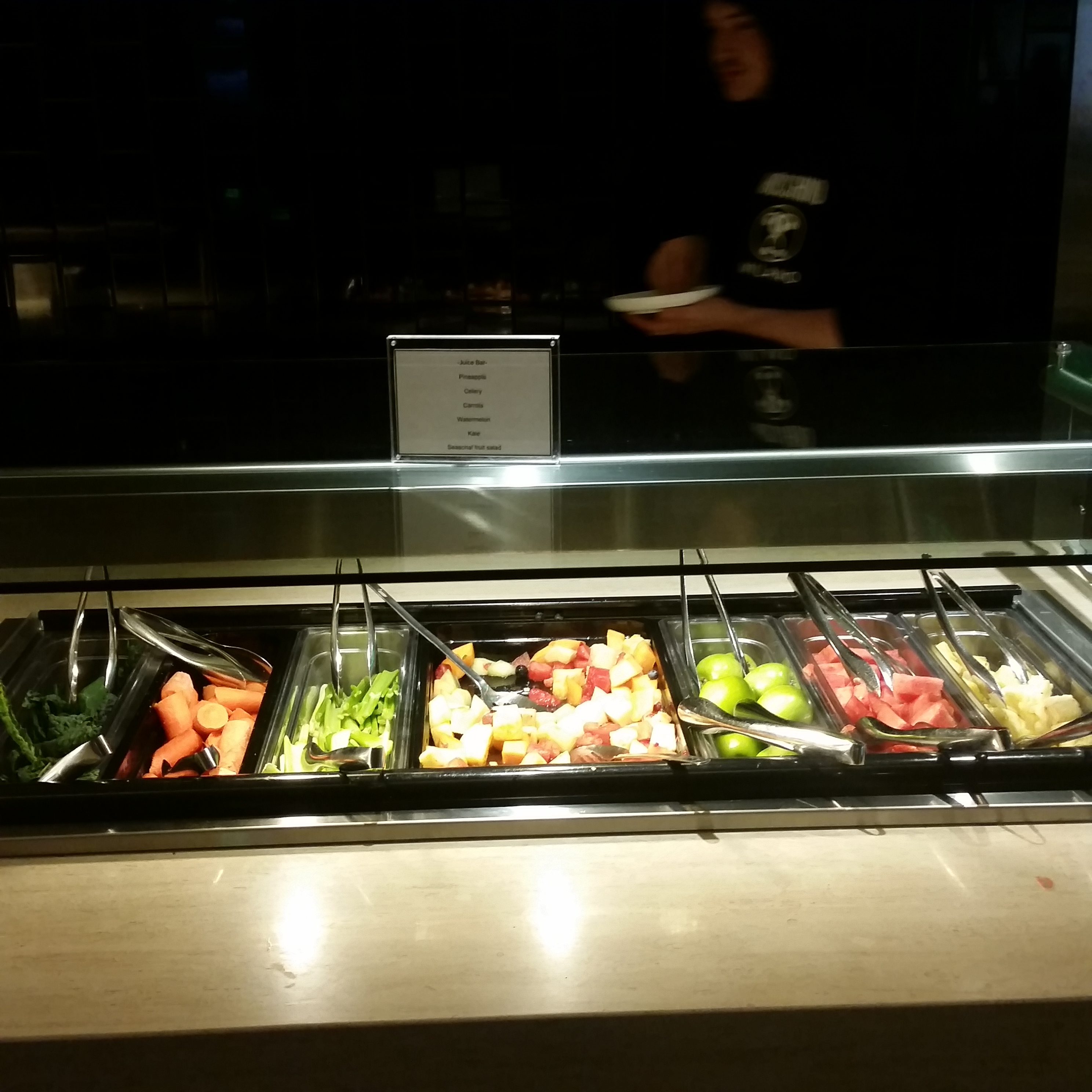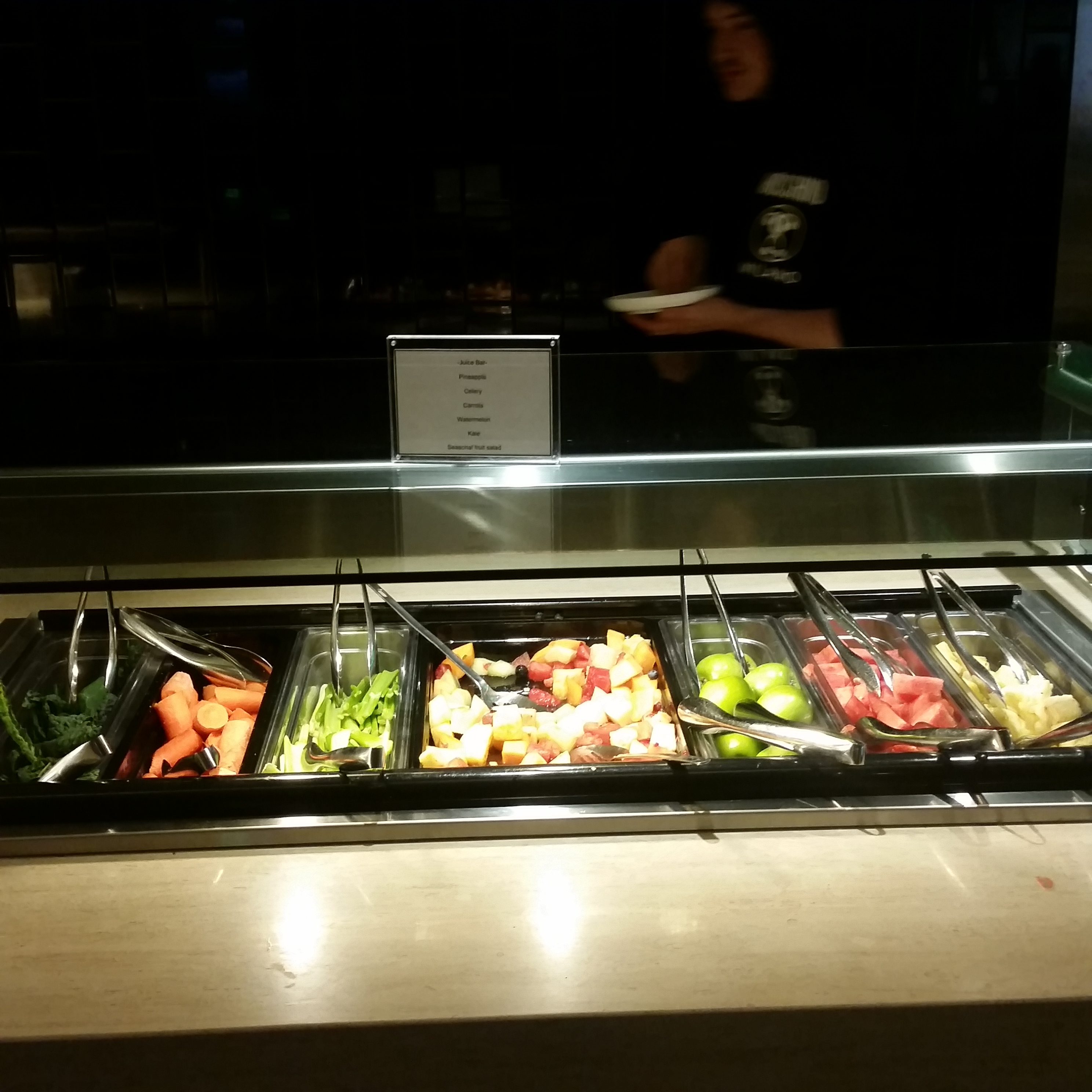 I had a delicious tomato soup and one of the best salads I've enjoyed on my travels, however the pasta was hard and undercooked.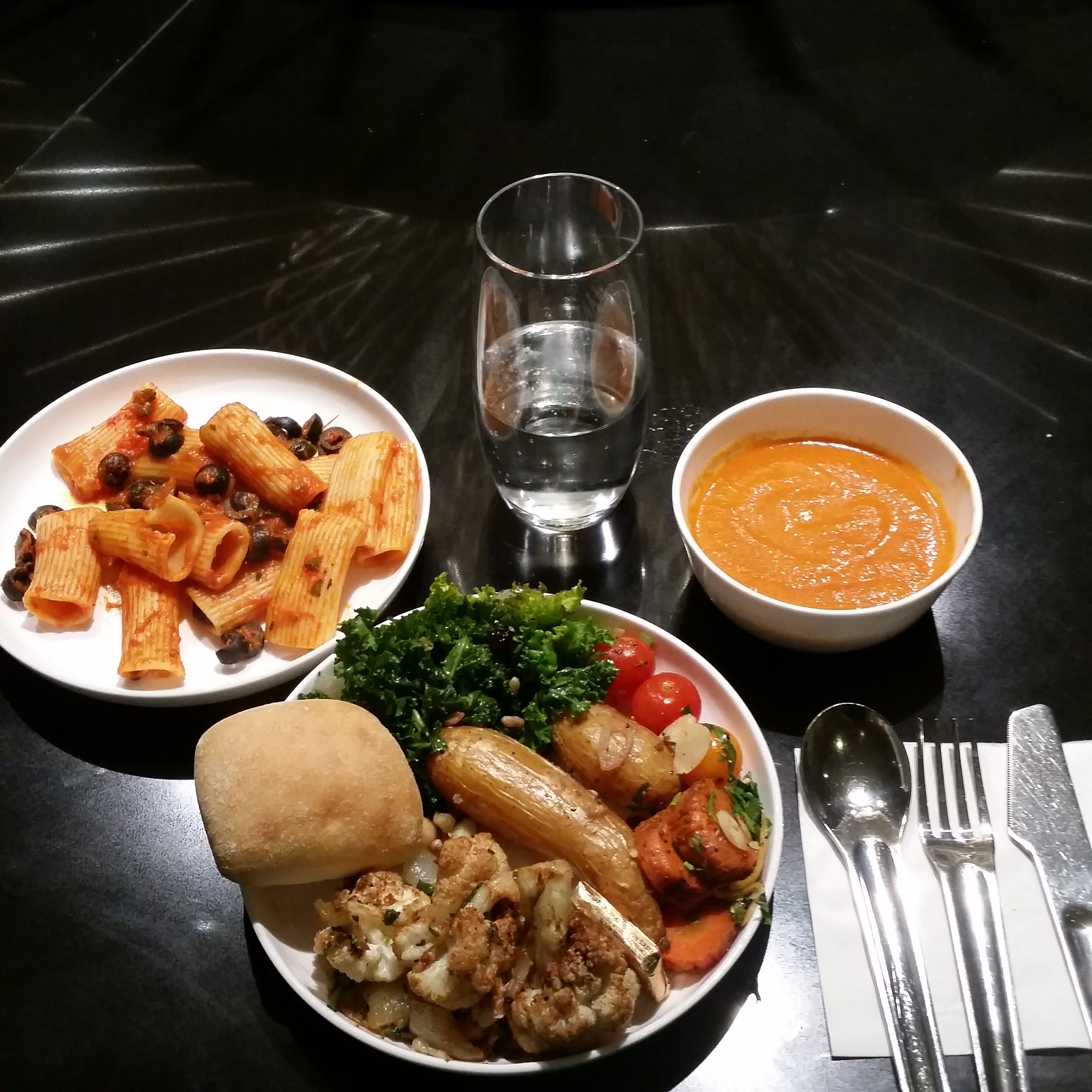 The bar was well-stocked and varied. The absence of a tip jar like at other US lounges I have used was a welcome sight.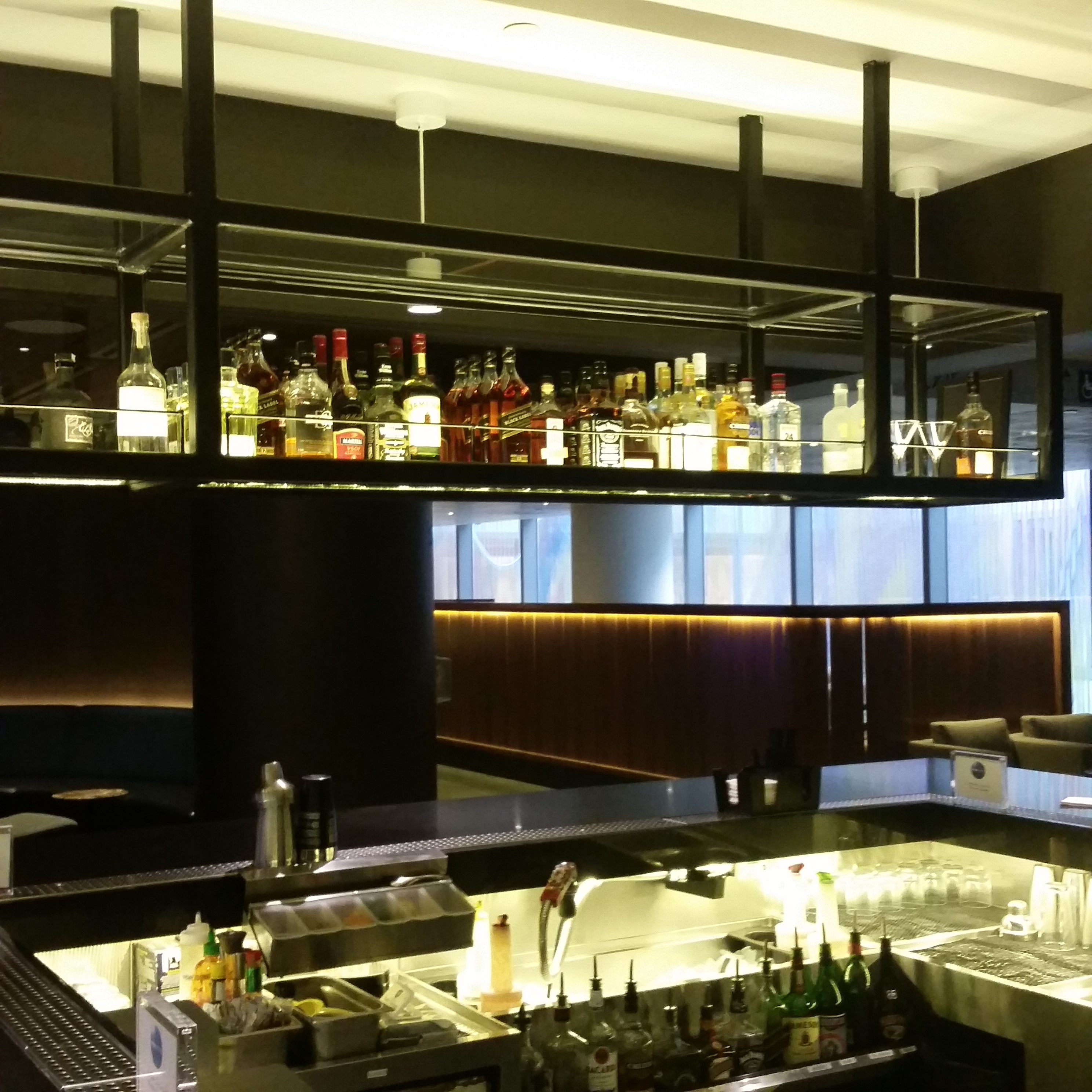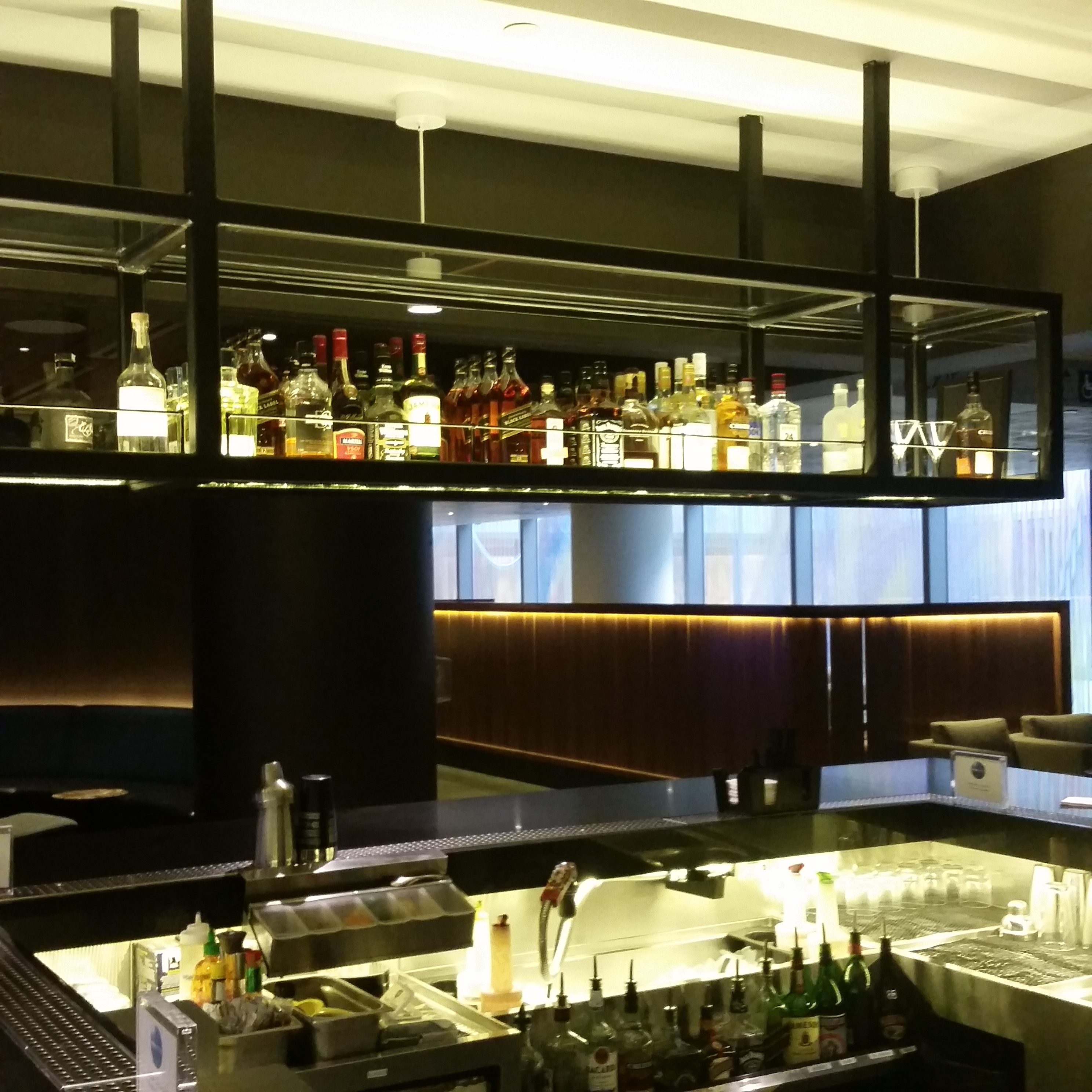 There were four beers on tap, including two local brews from Long Beach and Venice, and one each from Barcelona and Munich.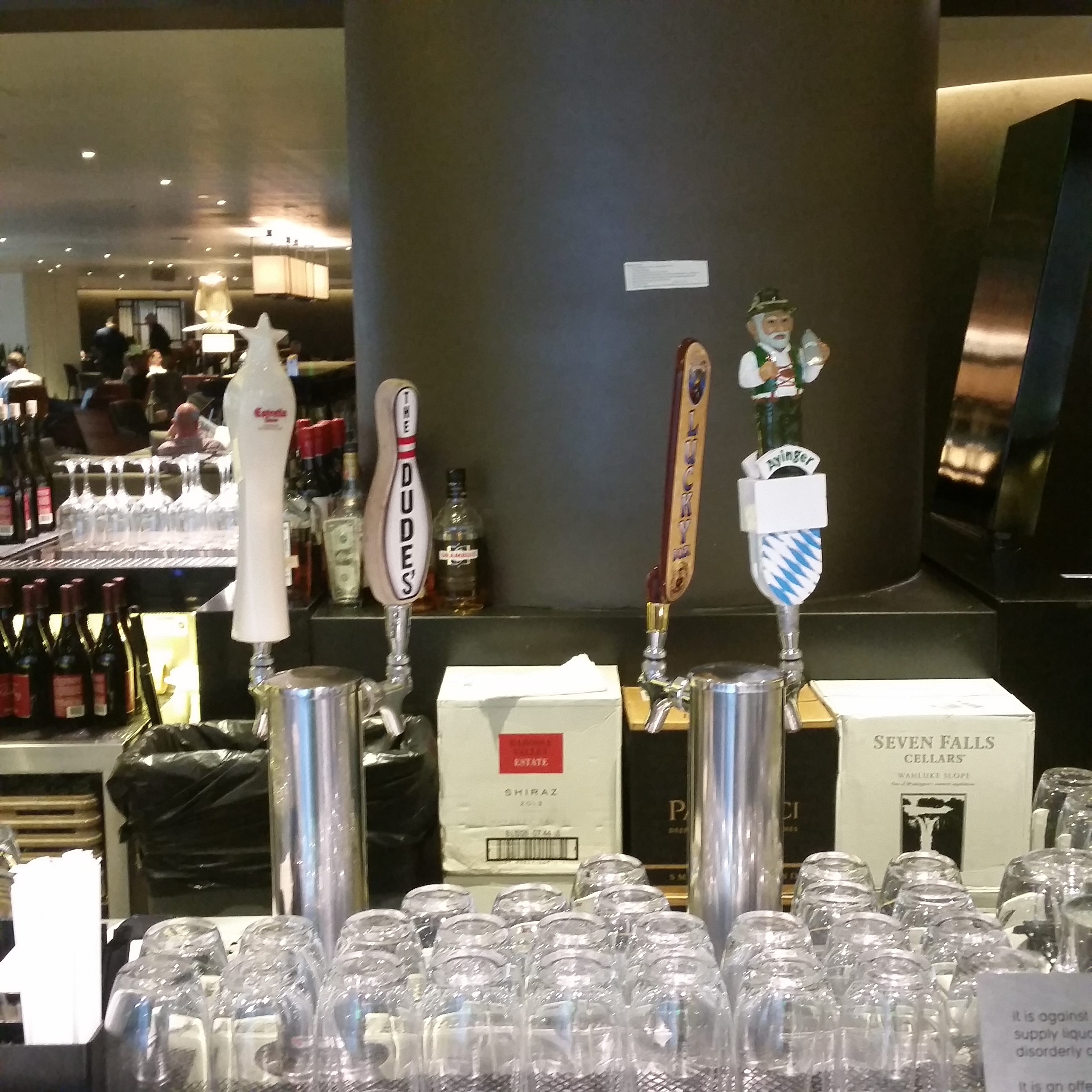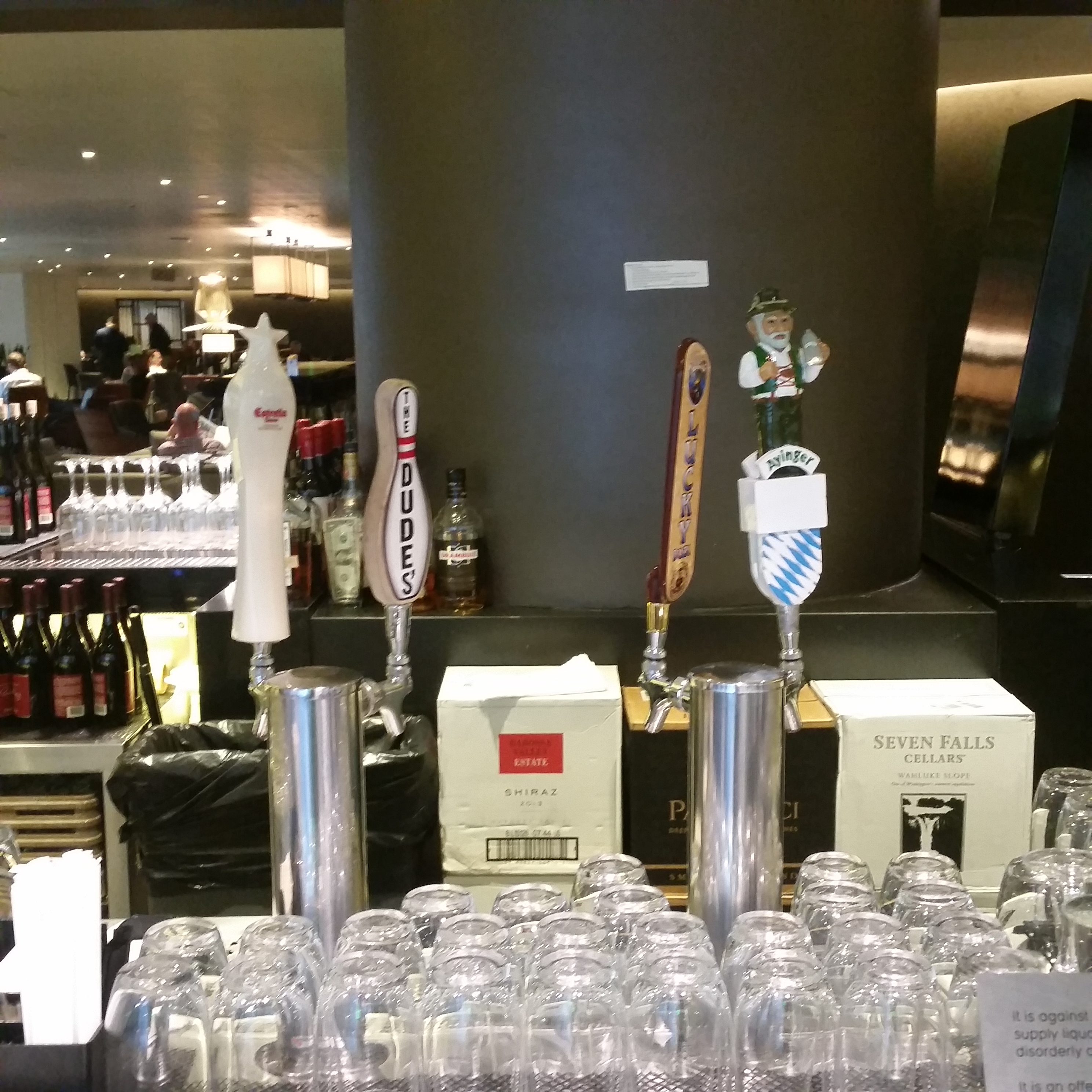 The bar staff were friendly and made a great espresso.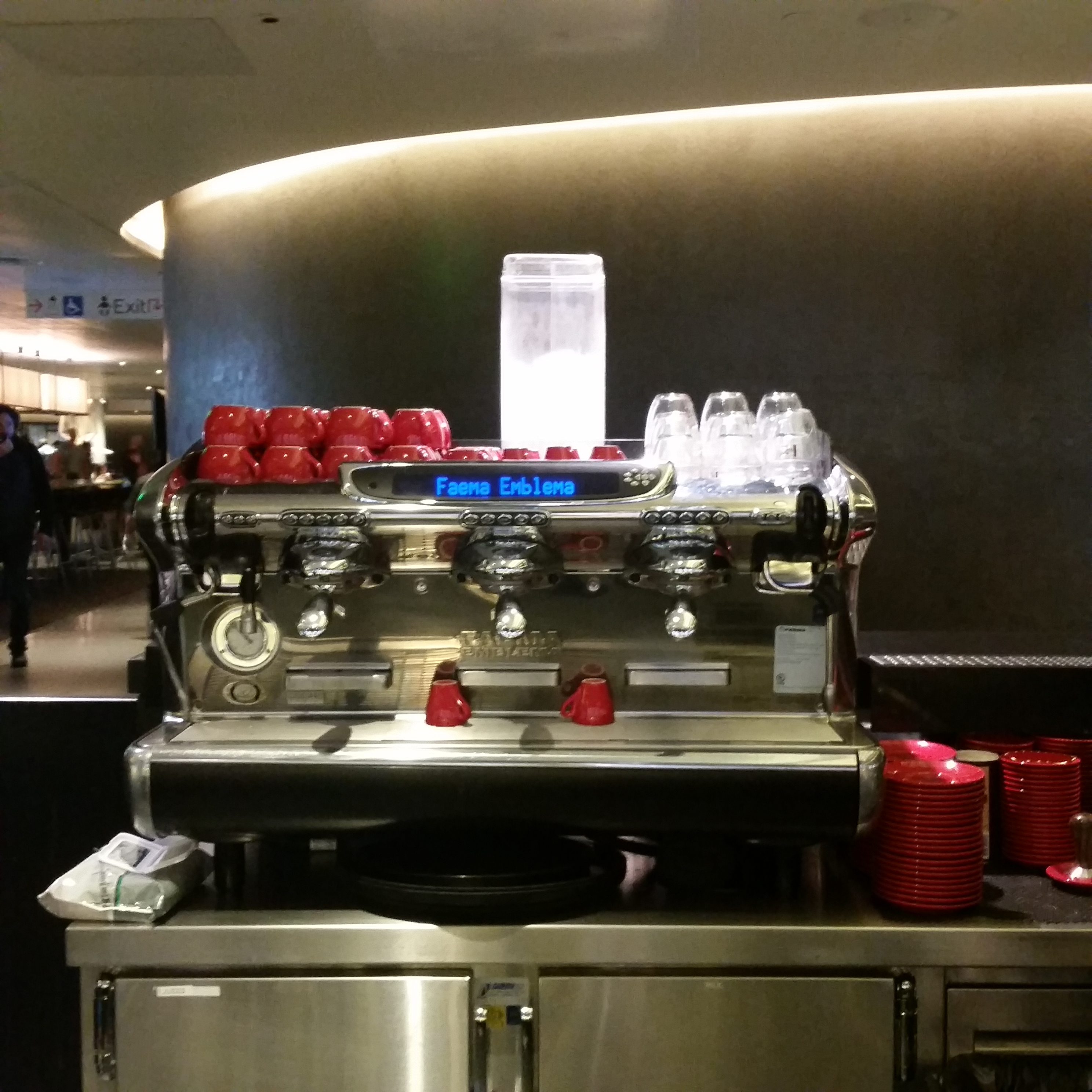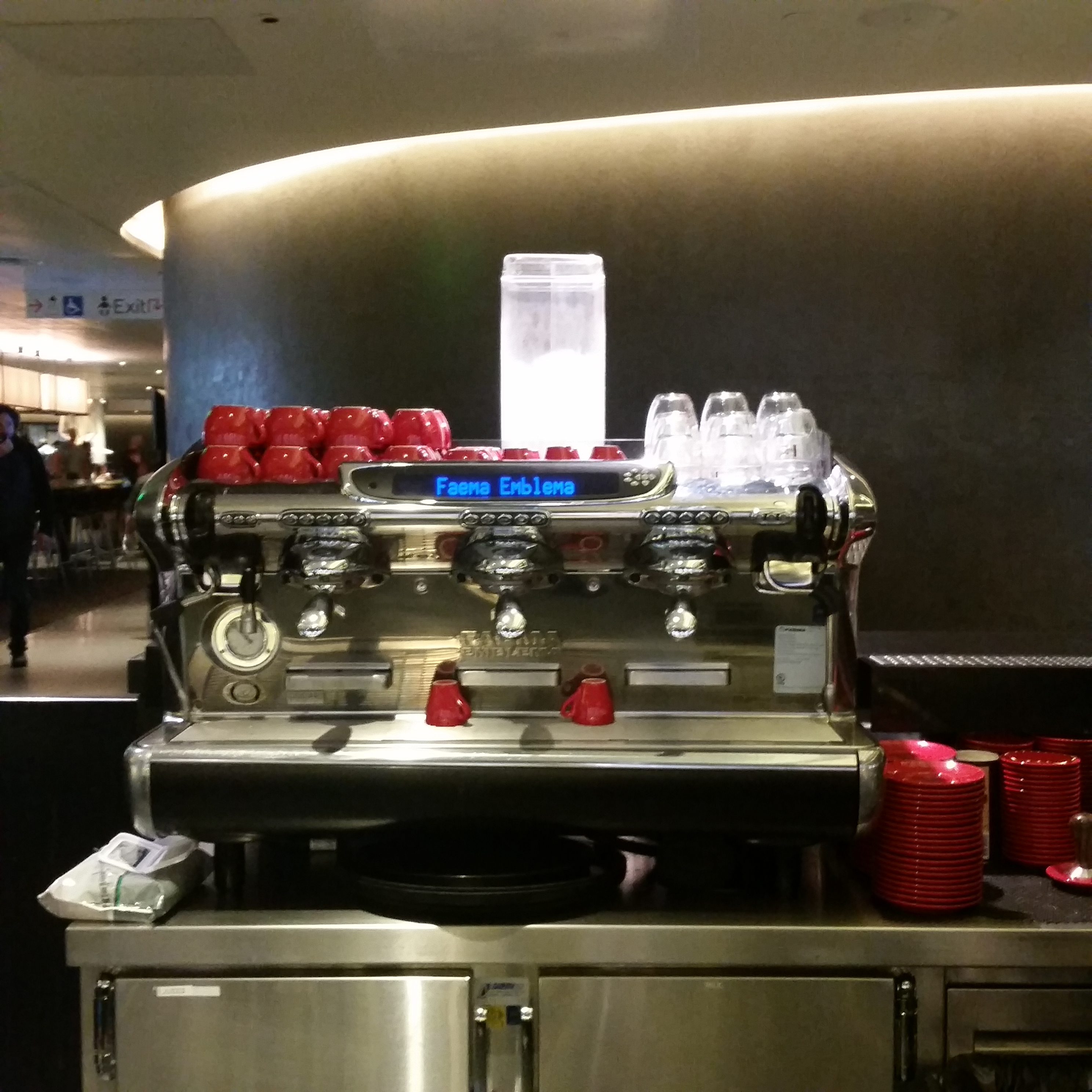 A good opportunity to freshen up
There are 16 shower suites, which were all free both when I arrived and left the shower. I think I went in the disabled shower (whoops!) because it was the largest shower I have seen in a lounge.
The downsides were that temperature was frustratingly variable and the shower a little dirty with mould.
Pictured below is one of the regular-sized suites.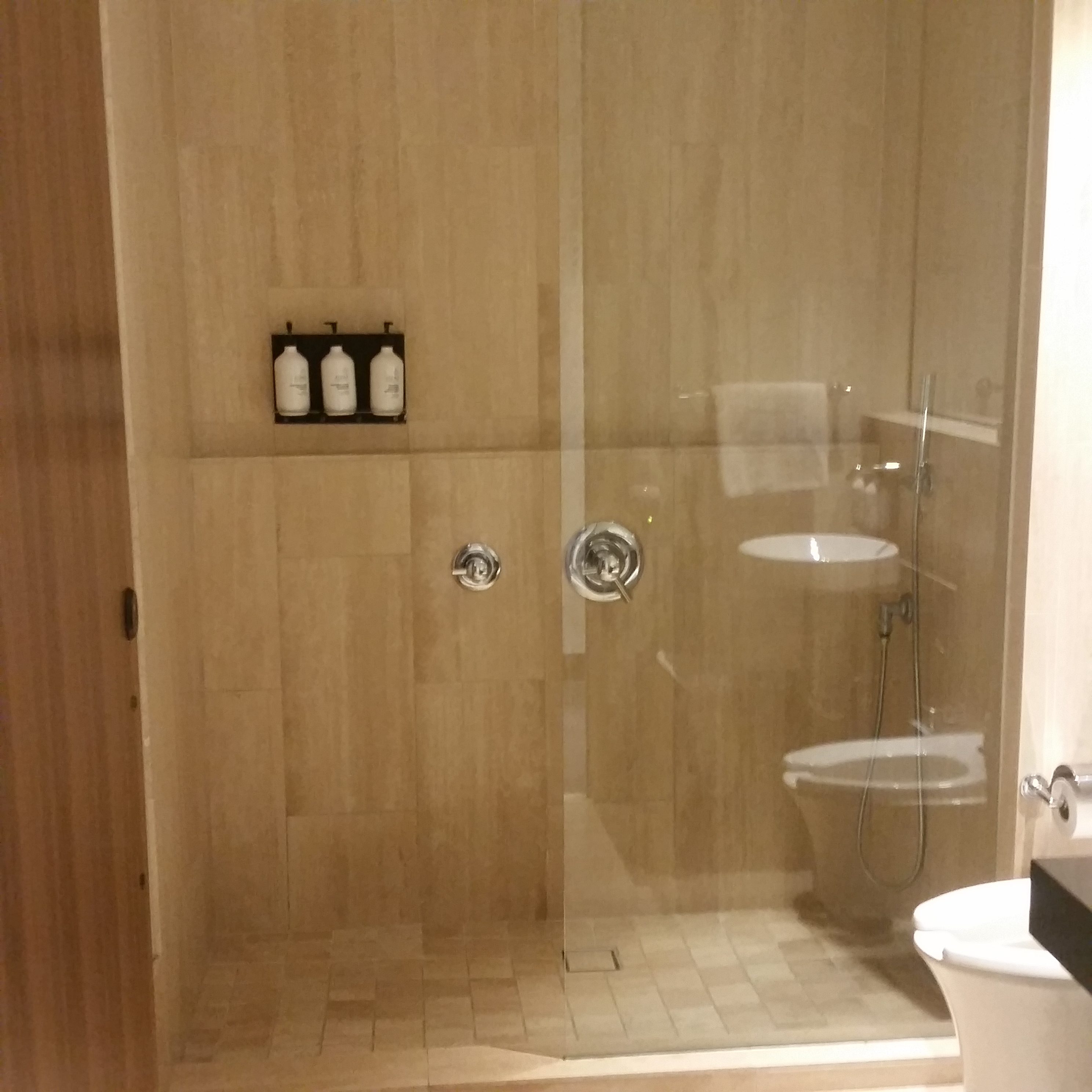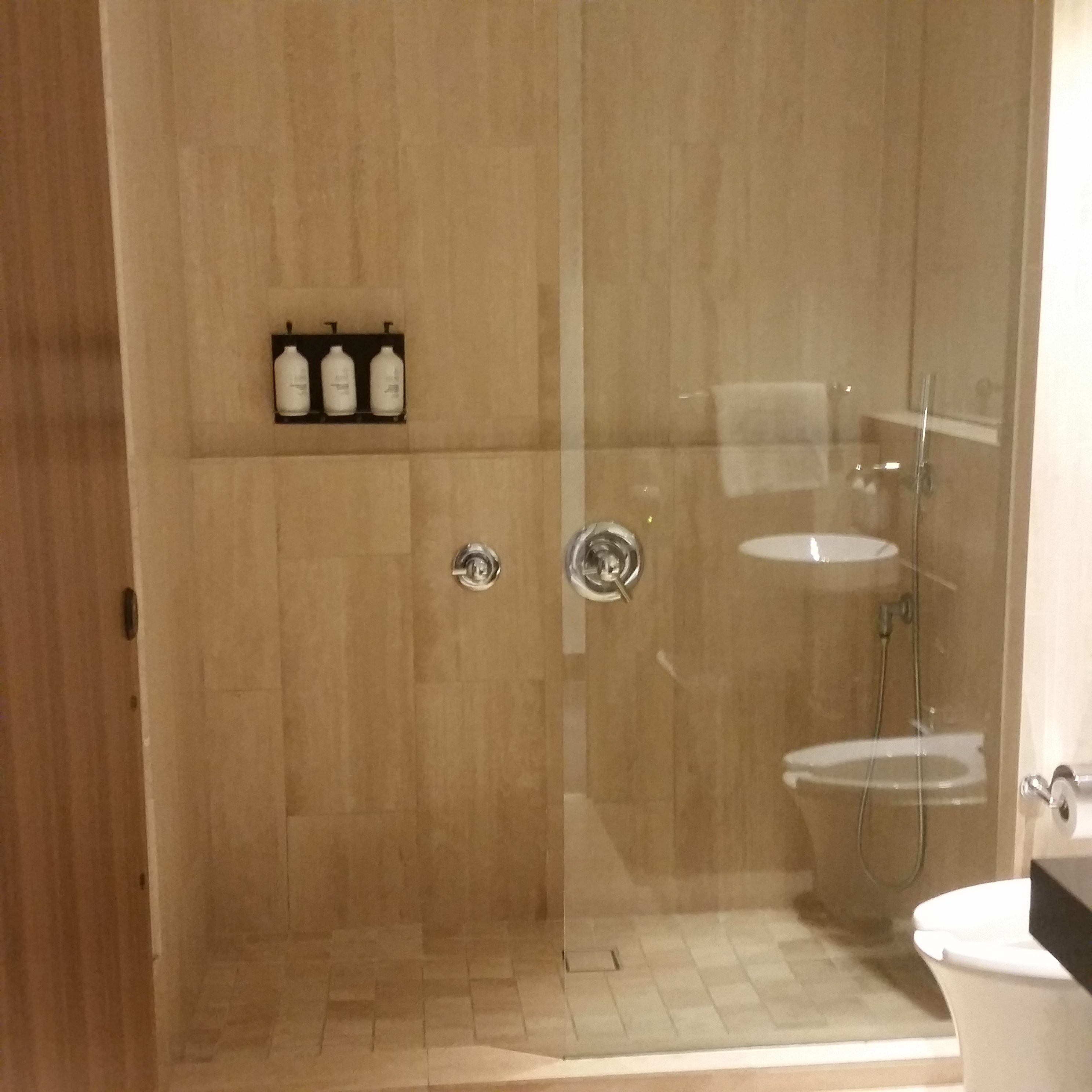 The Aspar shower products are supplied by Australia's Aurora Spa.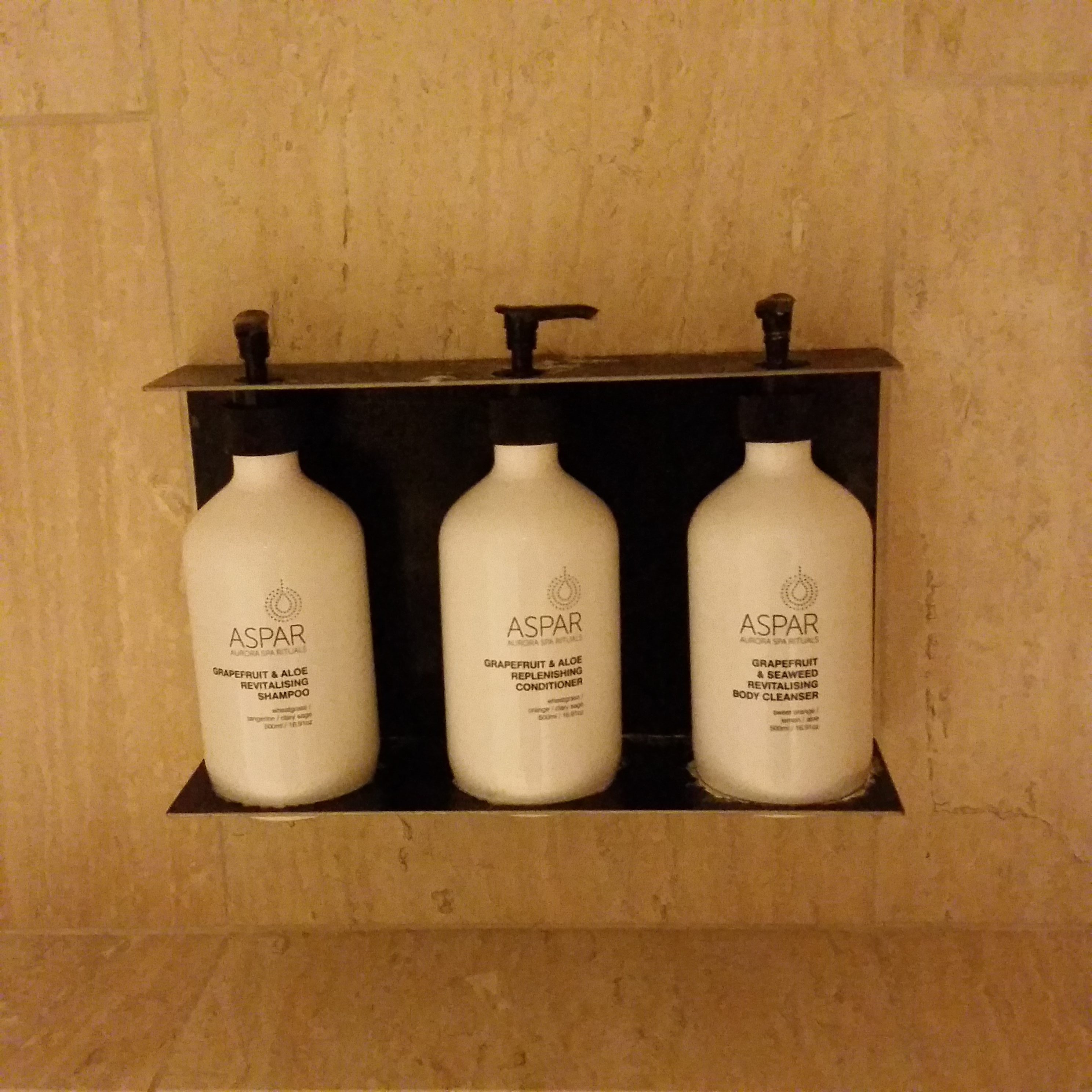 My take
The highlights of this lounge are the attractive open-plan design, fast wifi, wide availability of power outlets and the large number of shower suites.
The Sofitel-trained staff were very respectful, friendly and helpful, probably the best customer service I have encountered, especially in a US lounge.
Two things that were missing were views of the tarmac and an apparent lack of a children's play area (although that may have just been more hidden).
As long as you have earphones, the open plan's tendency to carry noise will not bother you.
Overall, a very solid lounge, with just a little room for improvement.
Access and eligibility
Passengers eligible for access include Qantas First and Business Class passengers, who can bring one guest, and must be taking a Qantas flight for their next flight on that day.
Qantas Platinum One, Platinum Frequent Flyers and Gold Frequent Flyers travelling on a oneworld-operated flight are also welcome and can invite a guest as long as they are traveling on the same flight.
Qantas Club passengers must be travelling on a Qantas flight and can invite one guest.
oneworld Emerald, Sapphire, First, and Business customers also have access to the lounge, providing their next flight is a oneworld-operated flight, and can invite one guest (except Business customers).
Complimentary passes cannot be used at this lounge nor can Emirates Skywards frequent flyers gain access as it is technically a oneworld, not Qantas, lounge.
Qantas/oneworld International Business Lounge Los Angeles overview
was last modified:
April 5th, 2018
by