oneworld connect is a new membership tier introduced in 2018, for smaller airlines to join the alliance and provide some reciprocal benefits without all the frill of being a full member.
To date, Fiji Airways is the first and only oneworld connect member, although there are talks of others joining the ranks soon.
Fiji Airways and oneworld connect benefits
This table from the Fiji Airways website succinctly summarises the new oneworld connect arrangements. As the airline was sponsored into oneworld connect by British Airways, Cathay Pacific, Qantas and American Airlines, those customers will get increased benefits.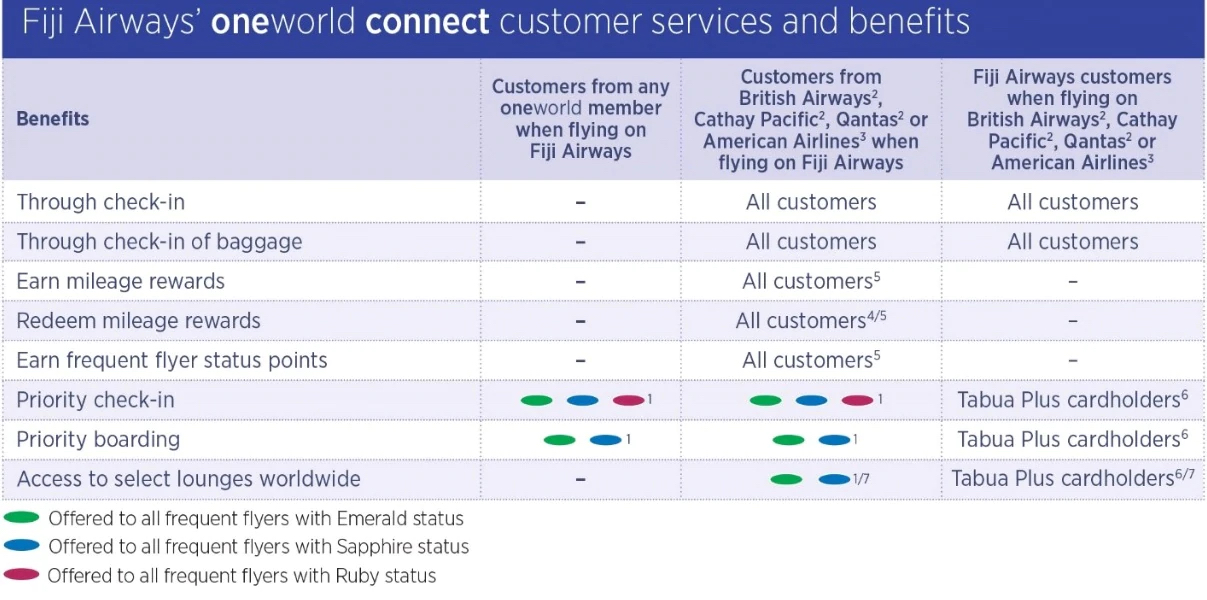 The benefits can be broken down into three main categories:
Any oneworld member: Base level benefits when flying Fiji Airways are limited to priority check-in (all elite tiers) and priority boarding (only oneworld Sapphire/Emerald and airline Gold/Platinum equivalents). There is no lounge access or any points earning/redemption opportunities.
Elite members of BA, CX, QF and AA: The oneworld experience is more streamlined for customers of these sponsoring airlines, with through-checking and points earning/redemptions enabled.
There is also lounge access at select ports, but the rules are still quite complicated, so here is a snippet from a more detailed oneworld table.
Essentially, lounge access with airline status (i.e. Qantas Gold and Platinum) is still restricted to flying a QF flight number on the Fiji Airways flight, which unfortunately is not much improvement from the pre-oneworld connect days.
To see the whole lounge access arrangements for other sponsor airlines, download the document from oneworld here [ZIP, 5.84 MB].
Fiji Airways customers on sponsor airline flights: Fiji Airways customers do not quite get the full oneworld benefits in return, but on BA/CX/QF/AA flights, all customers will have through-checking enabled. Tabua Plus cardholders will also get priority perks and lounge access as well.
Summing up
oneworld connect is a step in the right direction and matches Star Alliance's Connecting Partner model. However, it is a convoluted system and makes figuring out lounge access more difficult than it should be.
There are no other oneworld connect partners right now, but potential future airlines include Alaska Airlines, WestJet and Aer Lingus. All of them fit the bill—too small to efficiently become a full member, but large enough to offer benefits to select oneworld sponsors.
Aer Lingus was actually a full member of oneworld in 2000 but left in 2007 after downsizing and repositioning as a lower-cost carrier
An overview of oneworld connect
was last modified:
January 21st, 2020
by