Oneworld is growing, and its bespoke 'oneworld connect' membership paves the way for more airlines to get onboard. That means new opportunities for earning and spending points, huzzah!
Already, Fiji Airways is part of the oneworld connect fold. This makes it a close partner of Qantas, and by extension, Qantas Frequent Flyer. But what is oneworld connect, exactly?
The oneworld Alliance vs oneworld connect
On the one hand (see what we did there?), the oneworld Alliance is a collection of 14 global airlines. These carriers work together – and for the most part, apply a global set of standards across much of the travel experience.
It's designed to help frequent flyers understand exactly what to expect. That's true whether you're flying on their 'home' airline, or on another halfway around the world.
Oneworld connect is a little different to this. In some respects, it allows more airlines to link themselves with the oneworld Alliance. But it does so in a way that doesn't generate as much cost or complexity behind the scenes.
Rather than forging partnerships across the entire Alliance, oneworld connect members only need to partner with at least three oneworld airlines. This allows for a more strategic approach, where carriers can mould more personalised partnerships that bring two-way benefits.
It can make things more complicated for travellers, though. That's because frequent flyers from some oneworld airlines may enjoy a different set of benefits to those from other programs. But more on that below.
Benefits when flying on oneworld connect airlines
Here are some of the perks you can enjoy when booked on a oneworld connect carrier, such as Fiji Airways:
Priority check-in, for all oneworld Ruby, Sapphire and Emerald members.
Priority boarding, for all oneworld Sapphire and Emerald cardholders.
For example, a Qantas Silver member – oneworld Ruby – would qualify for priority check-in. Qantas Gold members and above would get that, plus priority boarding.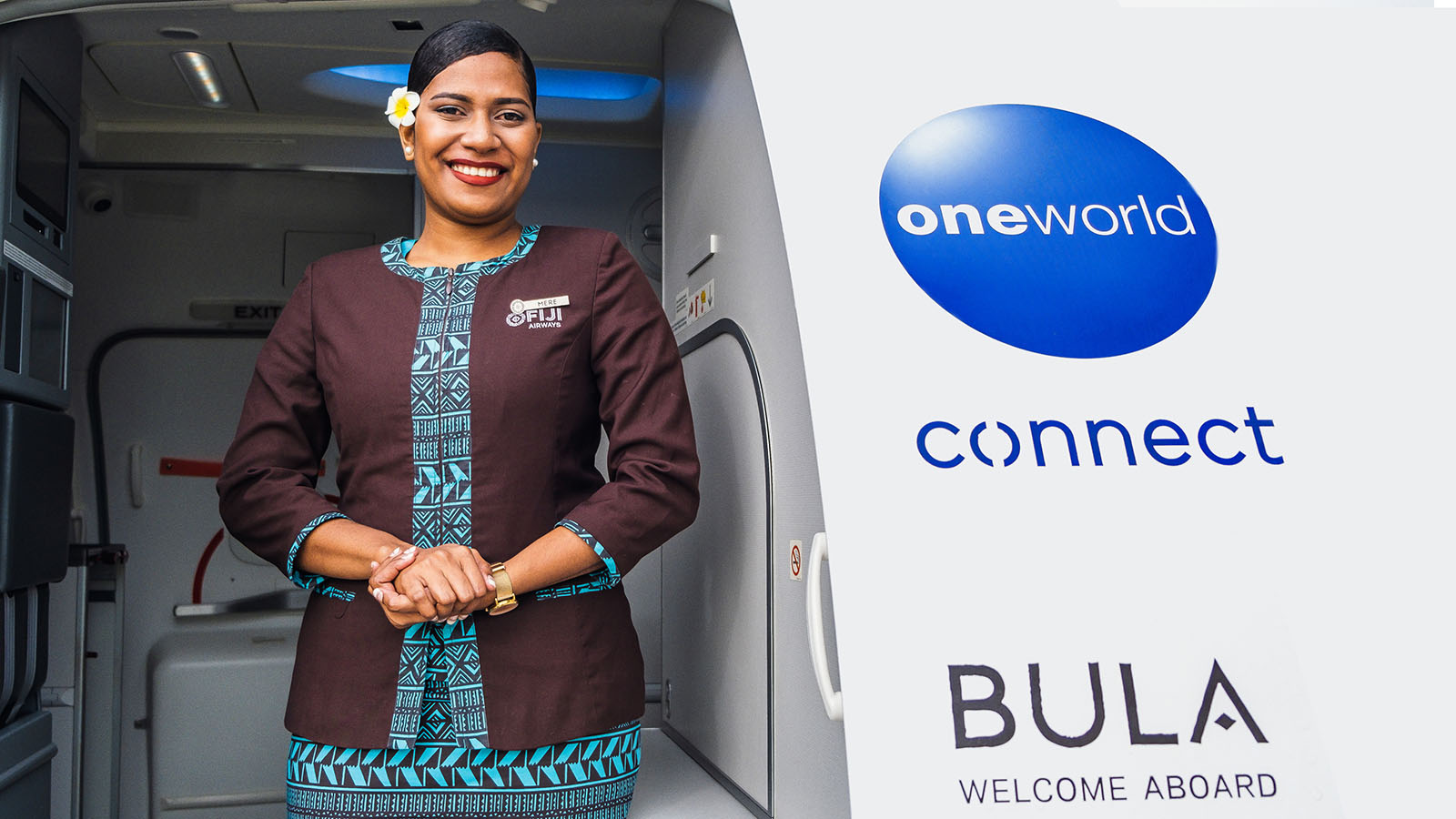 This is relatively straightforward – and mirrors the experience of flying with a true oneworld Alliance airline. But once you get to connecting flights and lounge access, things get a little muddier.
Ad – Scroll down to continue reading.Minimum spend, terms & conditions apply.
Boosted benefits for frequent flyers
Remember, the main purpose of oneworld connect is for an airline to focus on a few select oneworld partners, rather than the whole alliance. So it's no surprise that oneworld connect rolls out the welcome mat differently for some frequent flyers.
Let's look at oneworld connect member Fiji Airways. Its chosen oneworld Alliance buddies are Qantas, American Airlines, British Airways and Cathay Pacific.
Frequent flyers of these specific oneworld airlines can:
Earn frequent flyer points/miles on Fiji Airways flights.
Collect Status Credits (or similar) aboard Fiji Airways.
Spend points or miles on journeys with Fiji Airways.
There's another perk for passengers of Qantas, American Airlines, British Airways and Cathay Pacific.
These airlines can through-check you – and your baggage – onto connecting Fiji Airways flights. This means smoother connections from one airline to the other. In most cases, you won't need to collect and re-check your bag, and won't need to check-in again for that connecting flight. Easy stuff!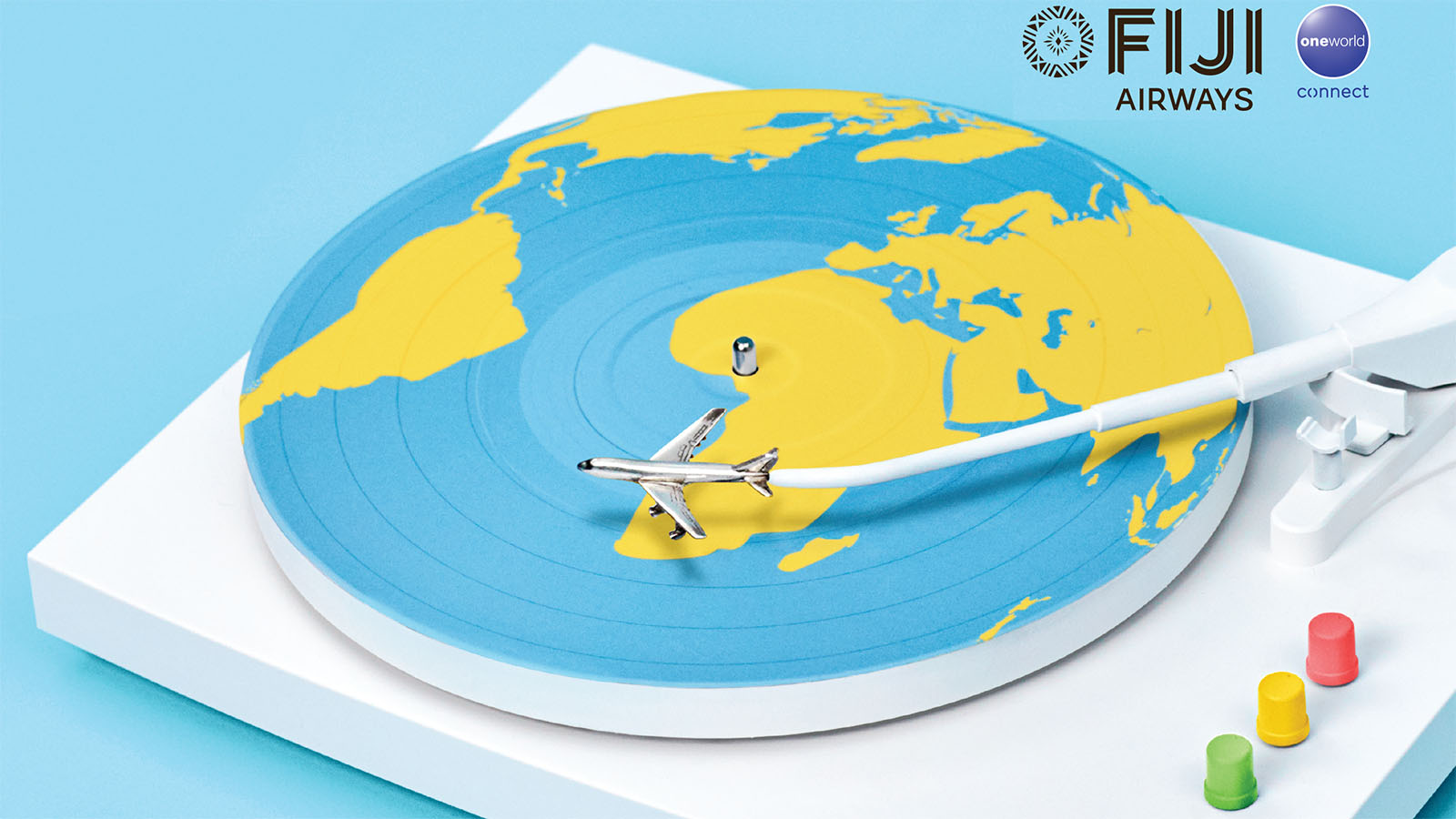 If your connection is in reverse, the same is often possible. Except, of course, when arriving into Australia with a domestic connection – where everybody has to collect baggage first to clear Customs.
Lounge access with oneworld connect airlines
Here's another way that oneworld connect isn't as straightforward. When it comes to lounge access, the rules again favour frequent flyers of 'chosen airlines'.
With Fiji Airways, that shortlist again includes Qantas – plus American Airlines, British Airways and Cathay Pacific.
Sapphire and Emerald cardholders of these airlines get lounge privileges on some Fiji Airways flights. But frequent flyers from other oneworld carriers, like Malaysia Airlines and Qatar Airways, do not.
As well as your frequent flyer status, your flight number also matters. Let's say you're departing Australia, and want to visit a Qantas lounge. Here's how complex things get:
Lounge access
Qantas Business Lounge
Qantas First Lounge
Fiji Airways Business Class
QF flight number: Yes
FJ flight number: Yes
QF flight number: No
FJ flight number: No
Qantas Gold
QF flight number: Yes
FJ flight number: No
QF flight number: No
FJ flight number: No
Qantas Platinum
Qantas Platinum One
Qantas Chairman's Lounge
QF flight number: Yes
FJ flight number: No
QF flight number: Yes
FJ flight number: No
The take-away? If you want lounge access as a Qantas frequent flyer, you'll need to book a Qantas flight number when travelling with Fiji Airways.
Book an FJ code as a Qantas Gold, for example, and you'd be lounge-less! That's despite being a oneworld Sapphire frequent flyer travelling on a oneworld connect airline. The only exception is when flying Business Class, where lounge access is included via the ticket itself, irrespective of status.
Summing up
Oneworld connect can be your ticket to points and perks beyond the regular oneworld Alliance airlines. But you need to pay close attention to the rules, to make sure your travel experience matches your expectations.
That's also true when planning a Round the World journey using Qantas Points. This is only possible on oneworld Alliance airlines. Unfortunately, those in oneworld connect don't make the cut.
In the future, more airlines may sign up to the oneworld connect model. Aer Lingus was considering the move prior to COVID, but is yet to make a call. Ireland's flag carrier was previously a full oneworld Alliance member, but departed about 15 years ago when its strategy shifted.
Could oneworld connect be the perfect way to get Aer Lingus back into the fold?
Images courtesy of oneworld Alliance and Fiji Airways.
The Ultimate Guide to oneworld Connect
was last modified:
October 20th, 2023
by