With so many Star Alliance carriers serving Los Angeles, the group offers a dedicated and on-brand Business Class lounge. Sure, some Star Alliance members like Air Canada and United have lounges here too that eligible passengers can use. But the 'Star Alliance Lounge' runs with a more neutral, broader-appeal style.
There's a little bit of Air New Zealand flair blended in – and I'll reveal why soon enough. But rather than mimicking the overall style of any particular airline, this lounge better reflects its home city instead. Think Hollywood and outdoor fireplaces. Let's light it up!
Location of the Star Alliance Lounge (Business Class) in Los Angeles
For both Business and First Class passengers, the Star Alliance Lounge complex sits on level six of Los Angeles' Tom Bradley International Terminal (TBIT). Just take the escalators or lift upstairs after security. Of all the lounges in the terminal, this one sits in arguably the best location – and here's why.
After you enter, wandering around to the left reveals a sizeable indoor terrace. This is one of the most popular spots in the lounge as it overlooks the terminal's 'Great Hall'. High ceilings add to the ambience. Together, it perfectly blends a bustling airport vibe with the more relaxed feeling of knowing that, at least here, chaos is far away.
Being in the home of Hollywood, it's also no surprise to see Star Alliance running with that movie theme throughout the lounge. For instance, most visitors have probably seen the Hollywood Sign. But have you ever seen how it looks from behind? There are many more Easter eggs dotted throughout, for those paying close attention.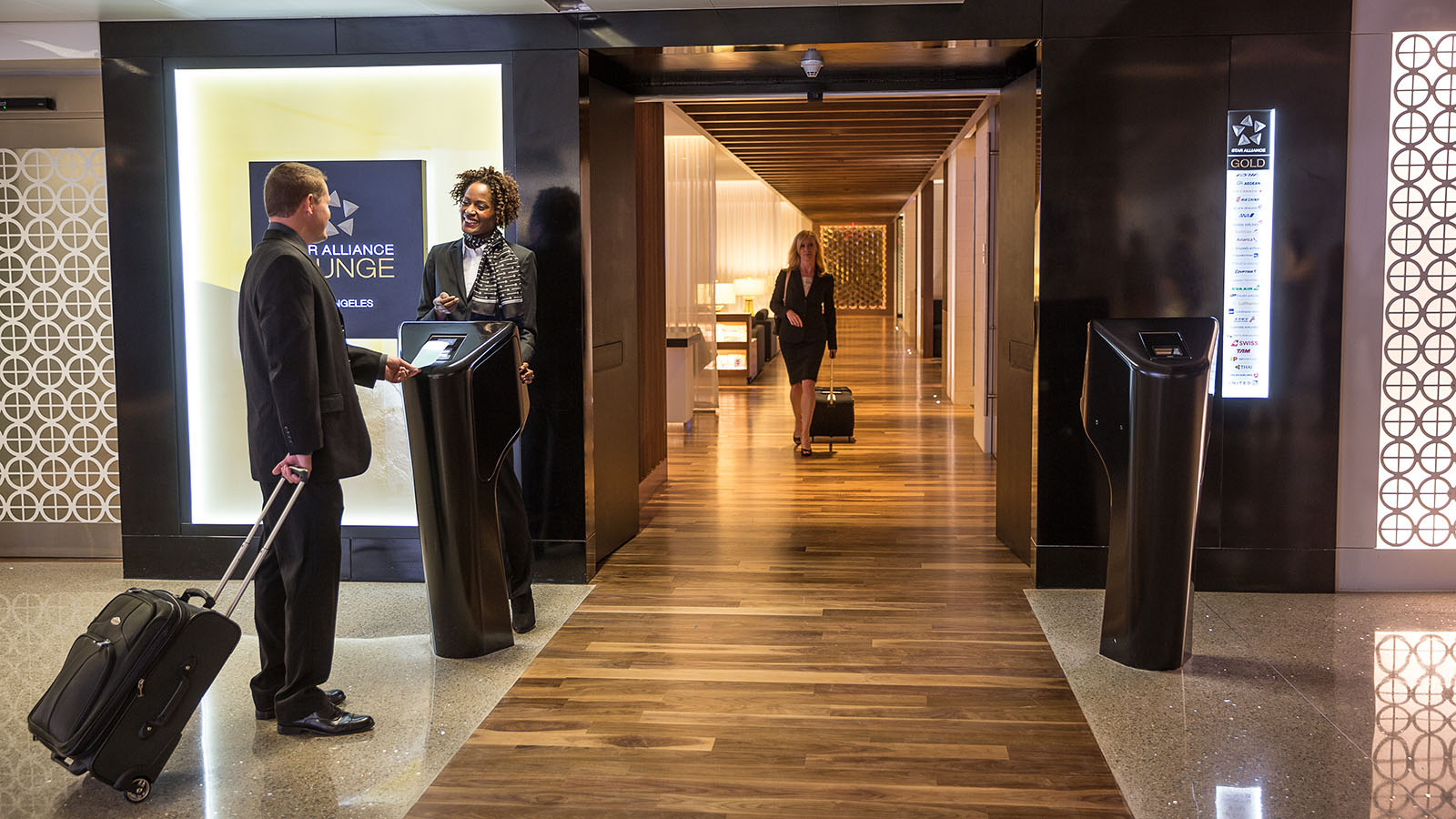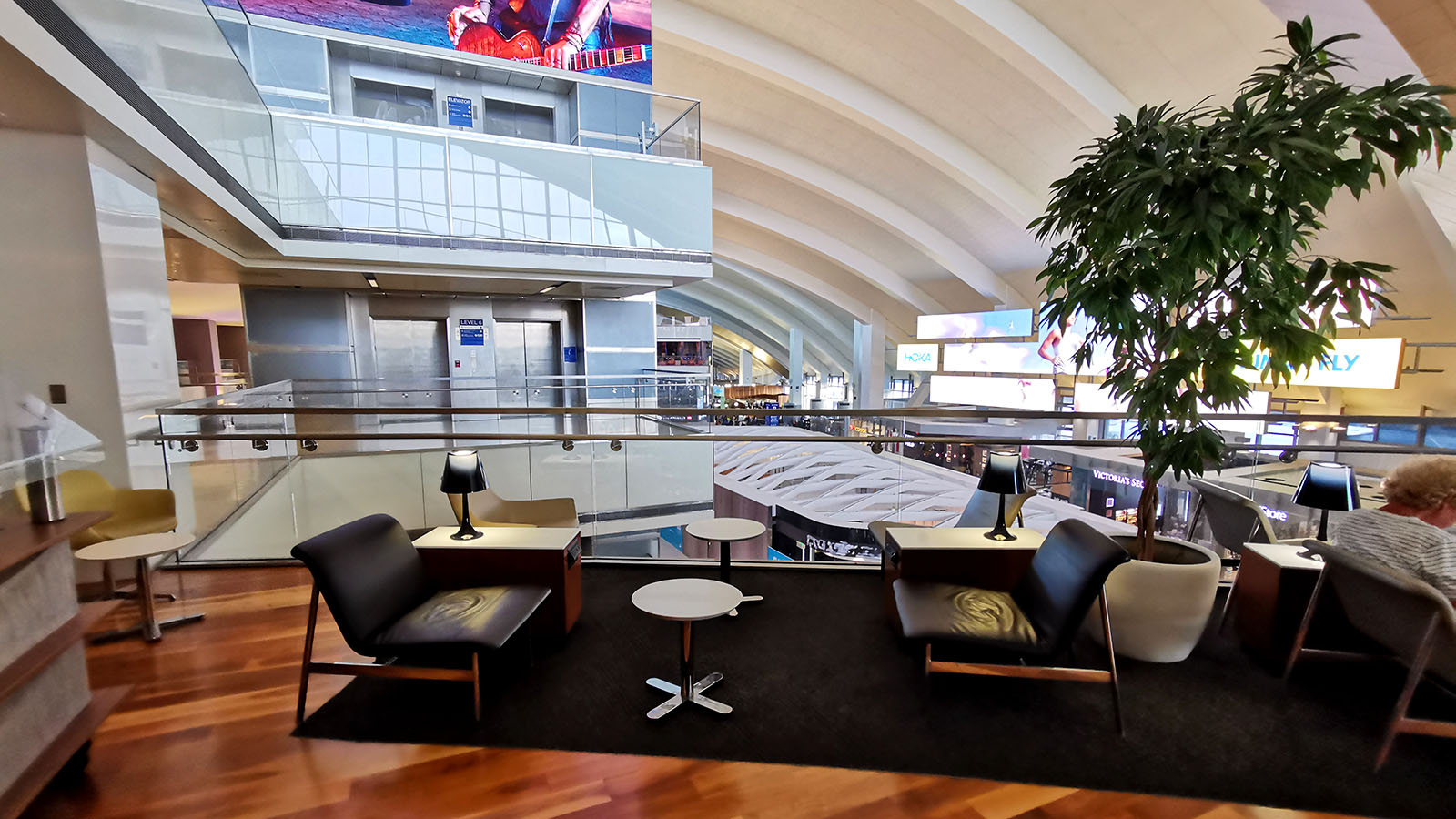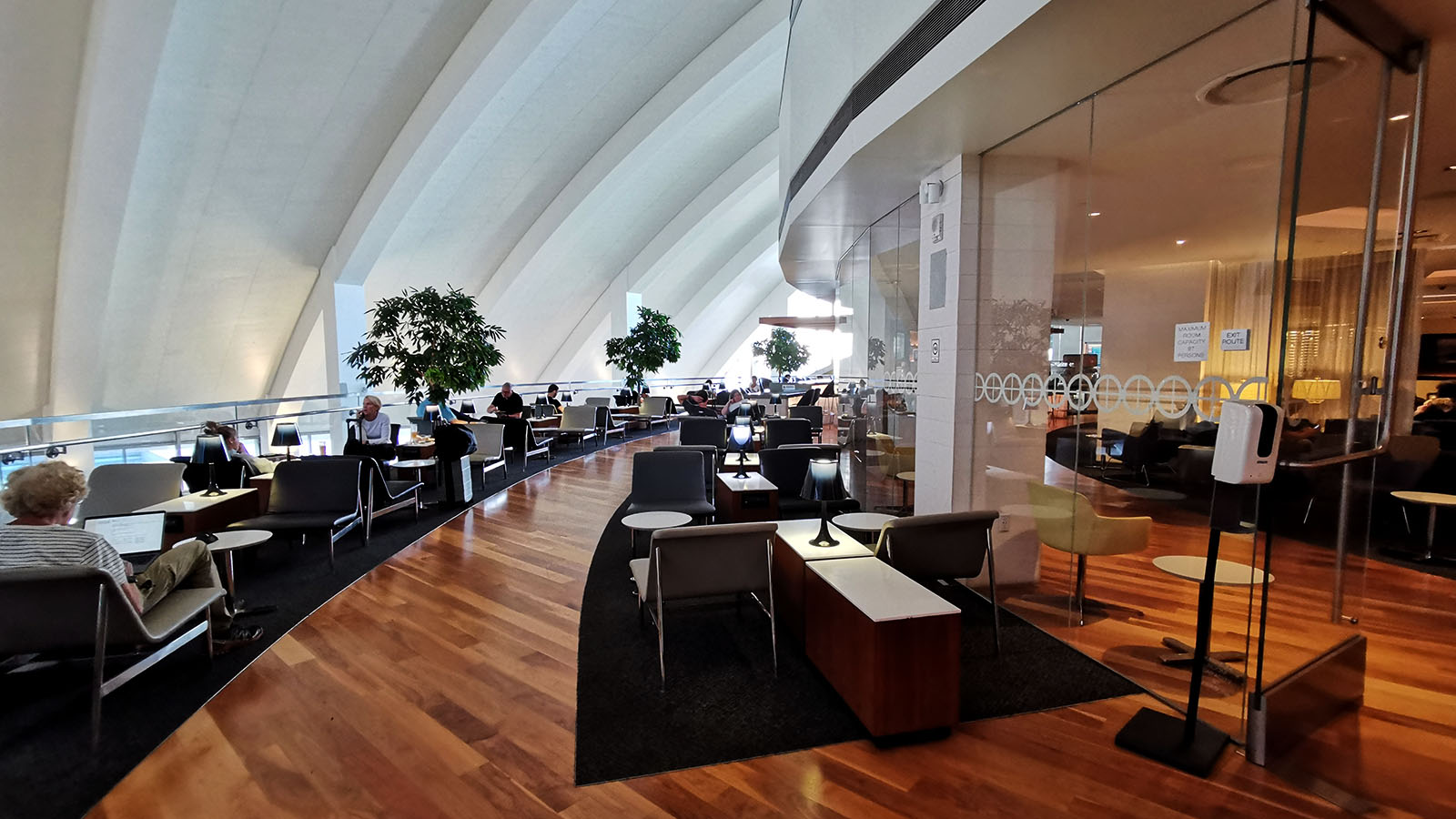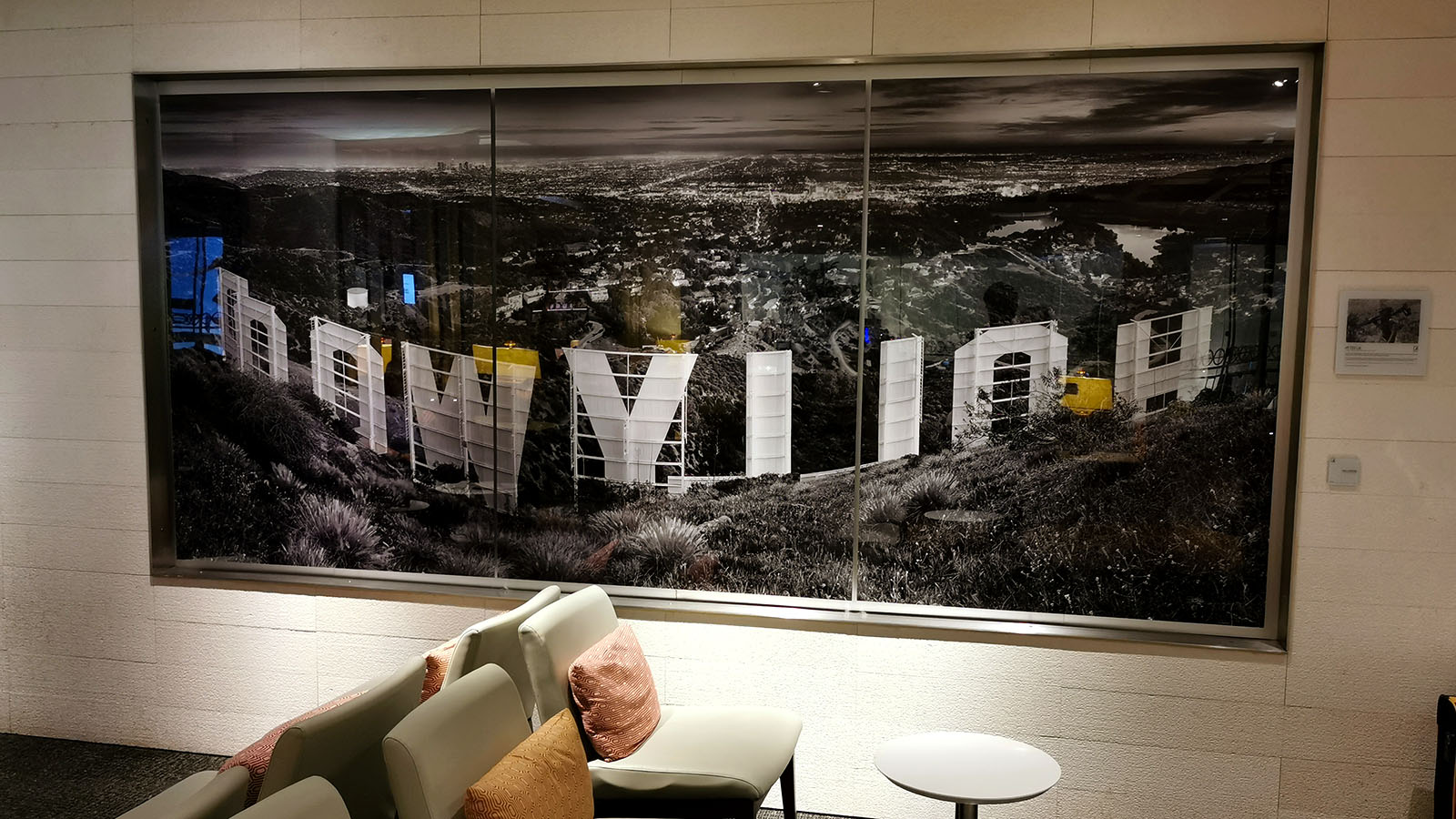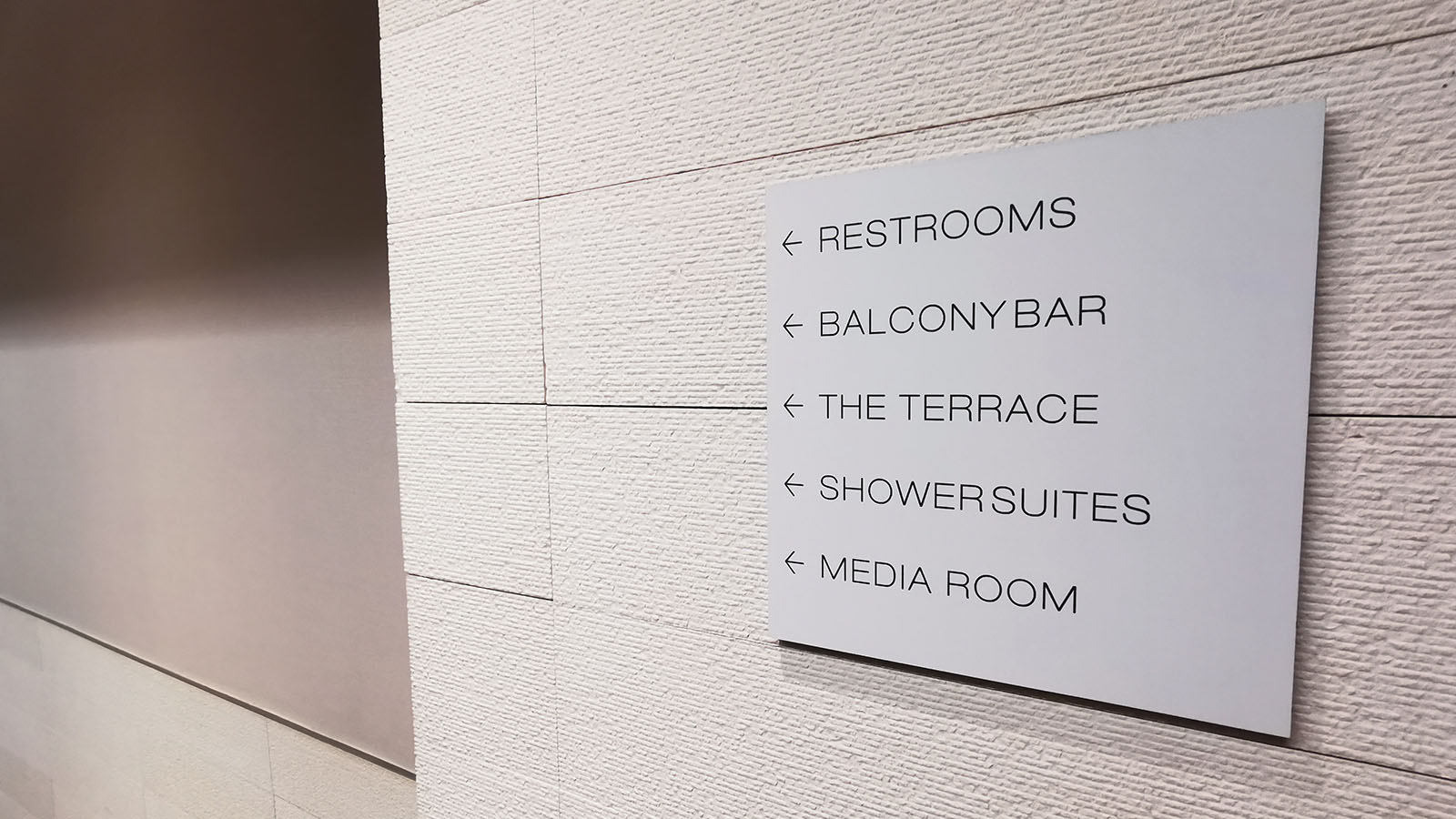 But there's even more to the lounge than its indoor terrace and silver screen cues. The separate outdoor terrace truly brings things closer to Oscar-winning territory. Whether you're a plane spotter, just want to escape to the fresh air or really dig the 'LA fireplace' vibe before you scurry off, you're covered.
The Business Class section of Los Angeles' Star Alliance Lounge opens at 8:30 am most days and 9 am on Sundays. It closes its doors at 1 am. Don't forget, most terminals at LAX are also linked airside. This means you might be able to visit the lounge when flying Star Alliance carriers from other terminals too – including Air Canada and United. But more on that later.
Layout and seating
So, to those travel-inspiring terraces. The 'indoor' one is the larger of the two, which means there's more variety in seating. If you're just kicking back with a drink, get settled in one of the many comfortable chairs lining the far side of the balcony. There's also a high-top bench if you'd rather more of a 'work meets play in the USA' vibe. It's a go-to of mine: especially sitting to face the comings and goings.
Back in the lounge proper, the centre of the space takes on more of a traditional feel. In fact, it's notably reminiscent of Air New Zealand's design style in places like Sydney and Auckland. And that's no coincidence. Even though this is a 'Star Alliance Lounge', it's actually operated and managed by Air New Zealand behind the scenes.
Unfortunately, the roof-mounted egg chairs of Air NZ's Auckland lounge didn't make it across the Pacific. But there's still plenty of other comfortable seating.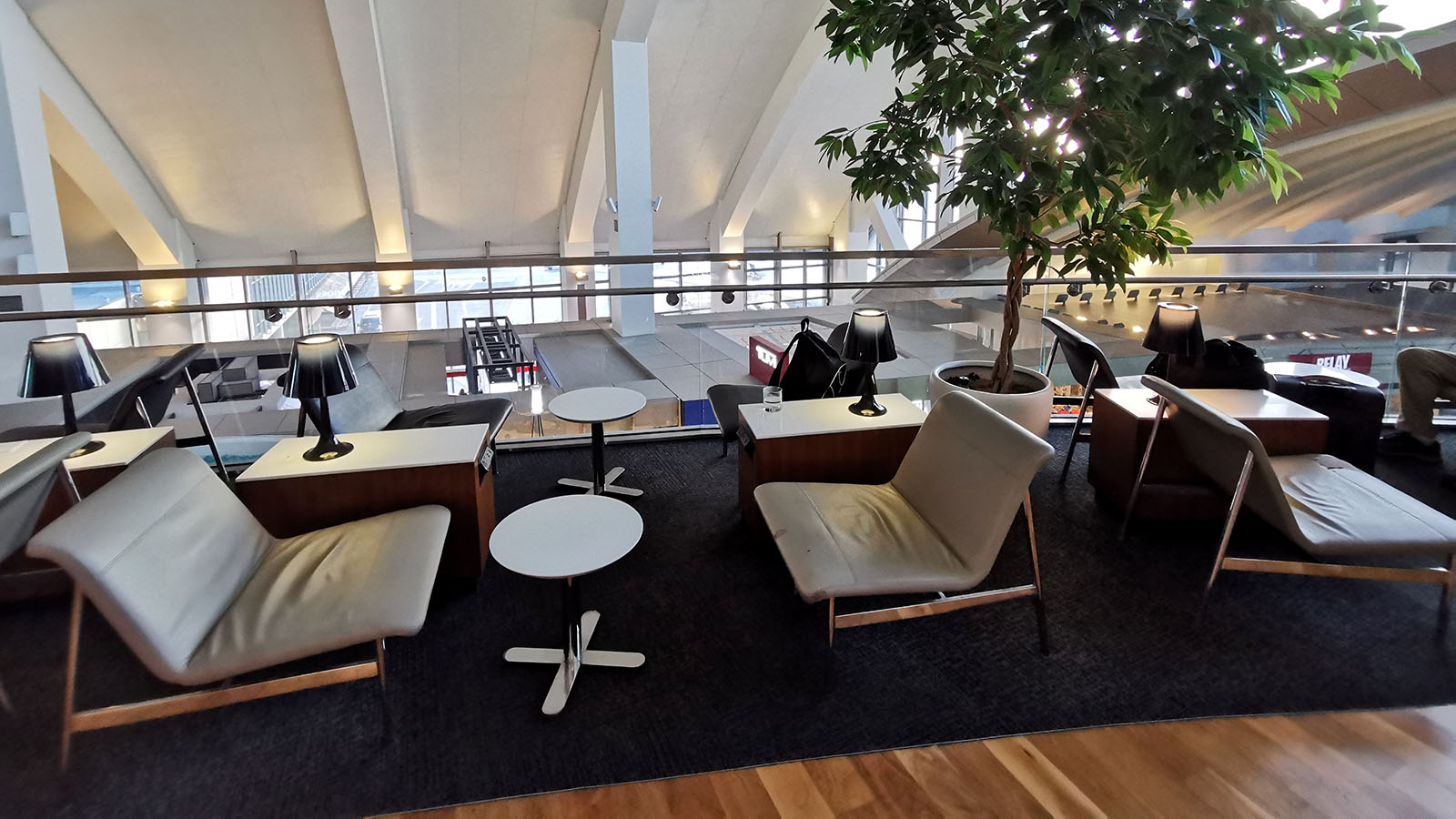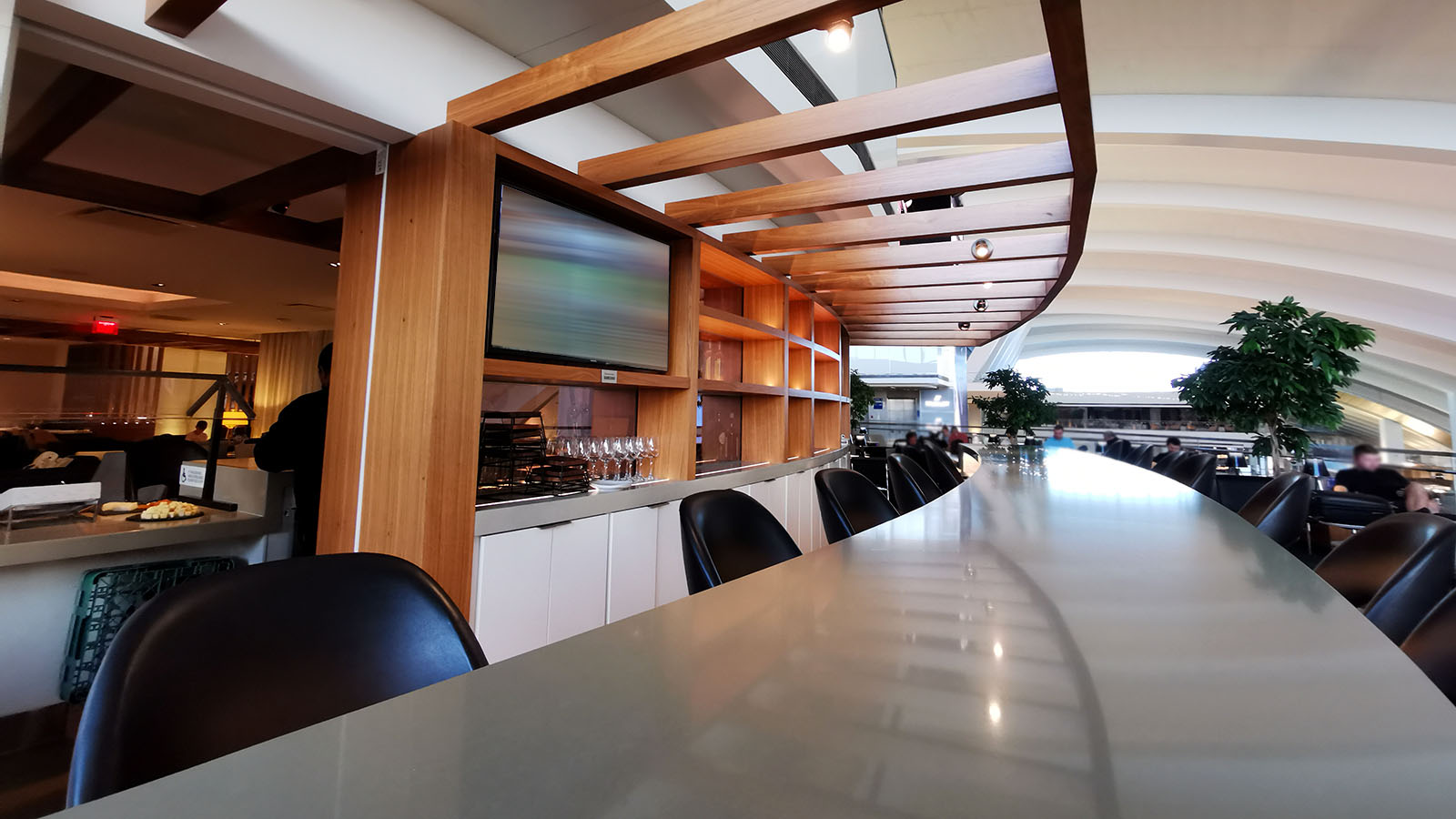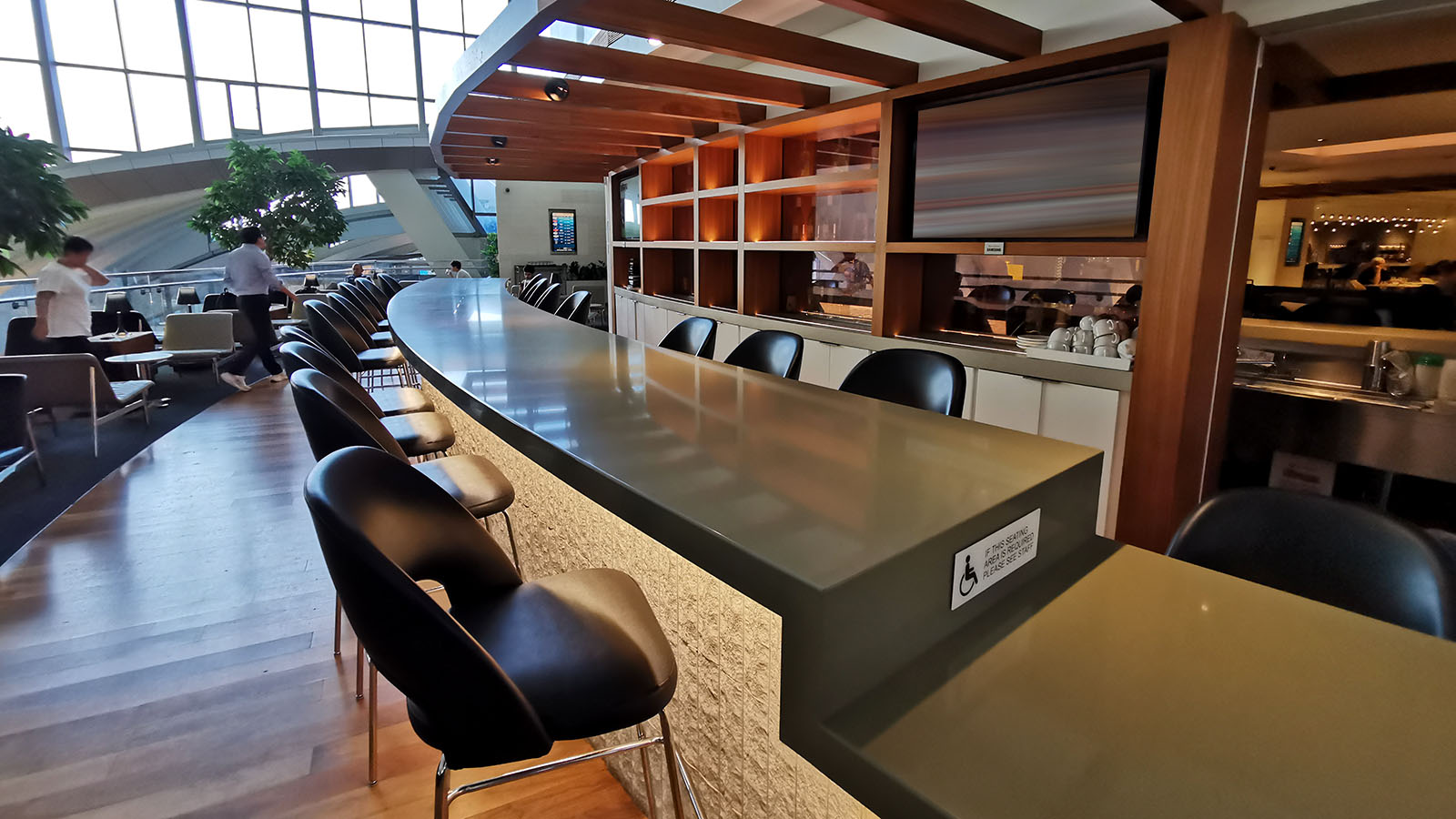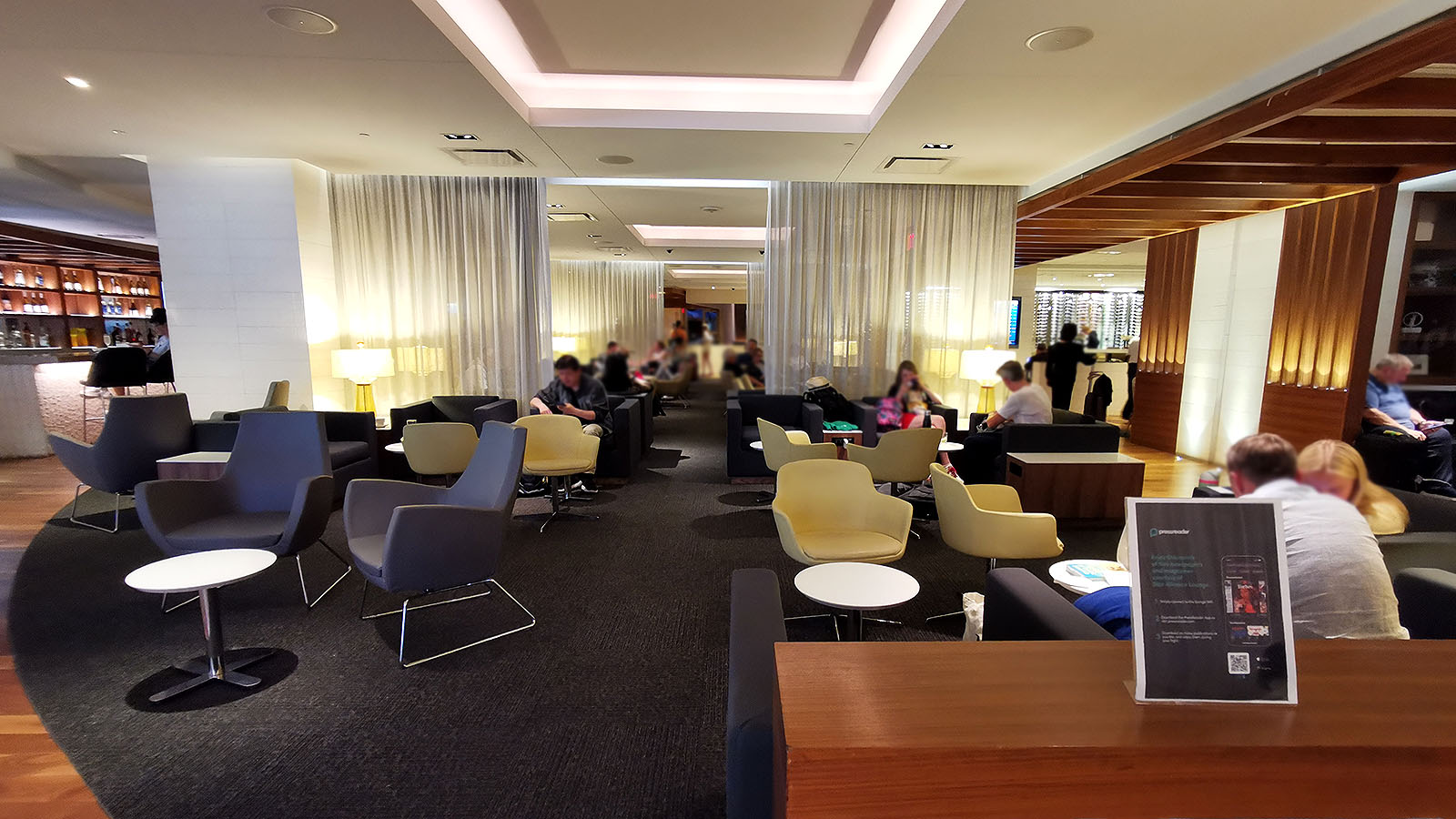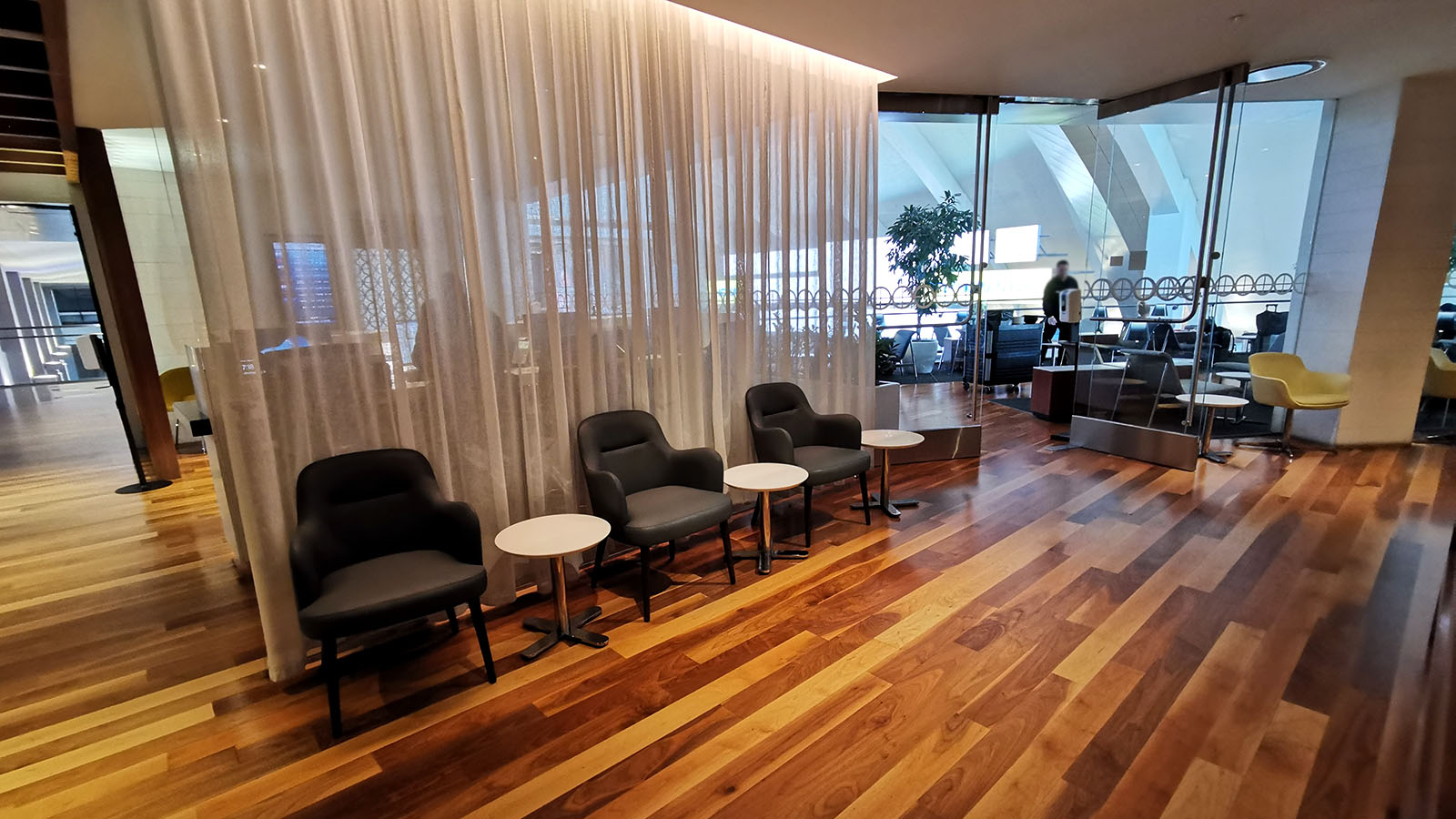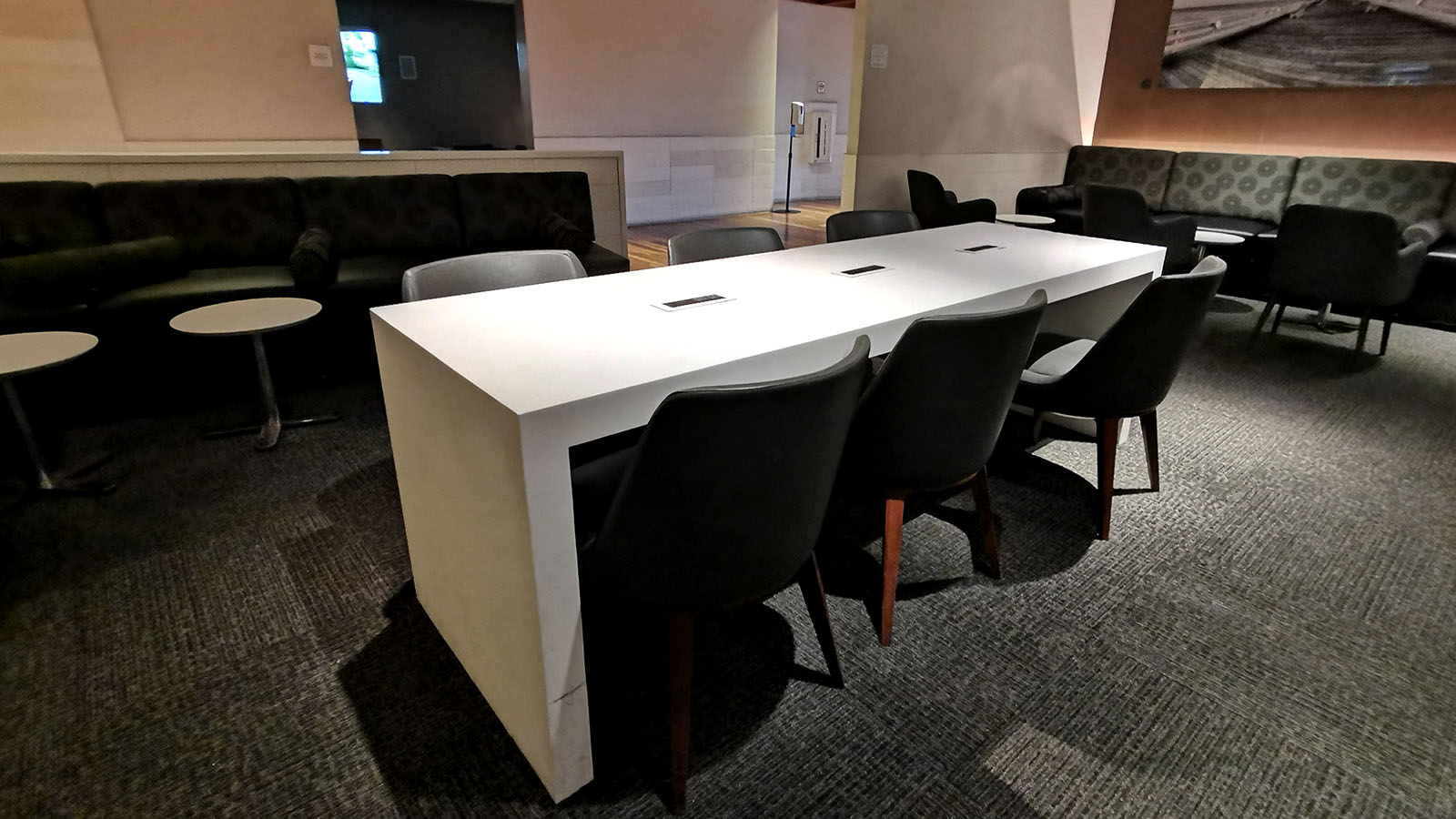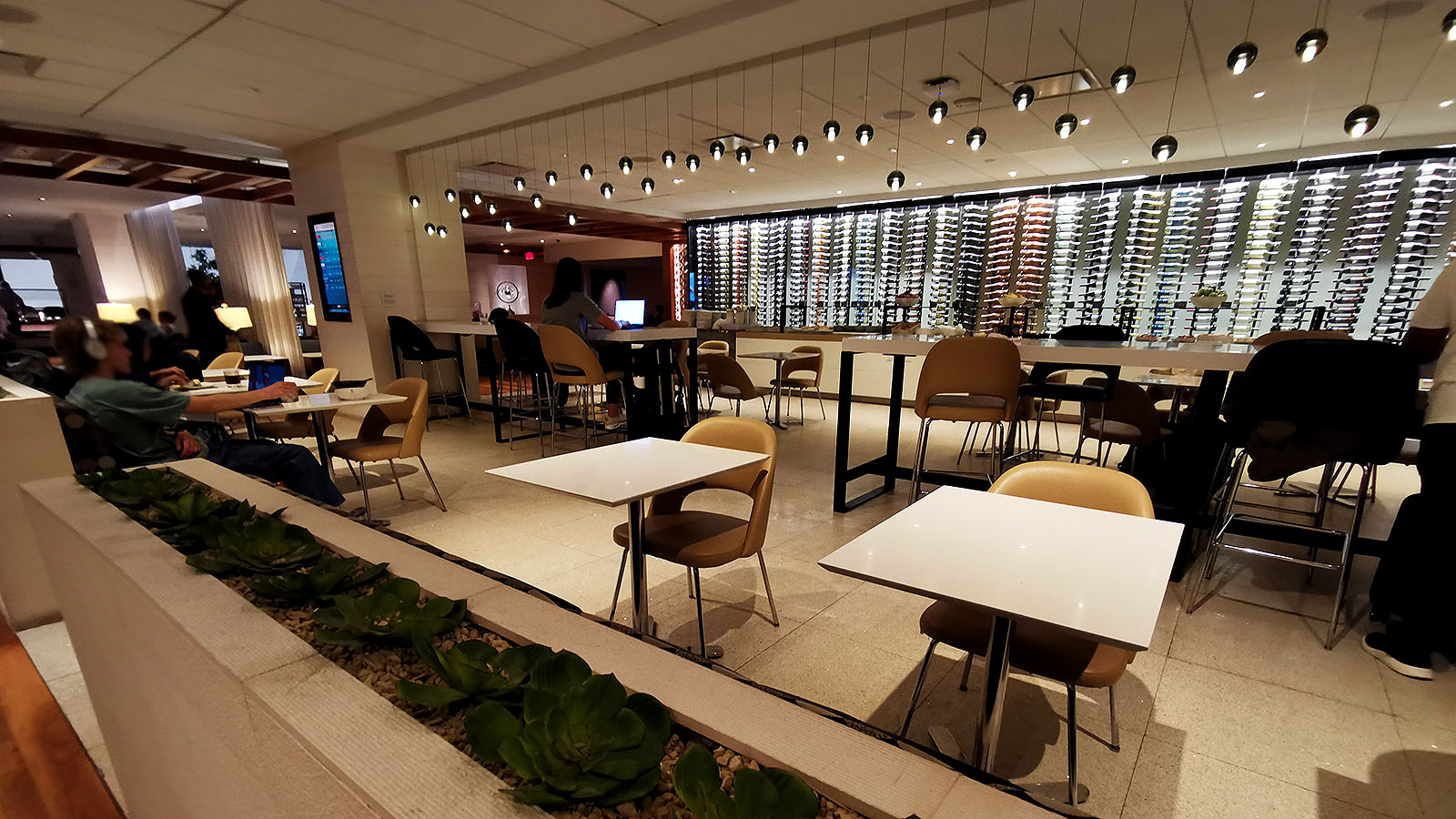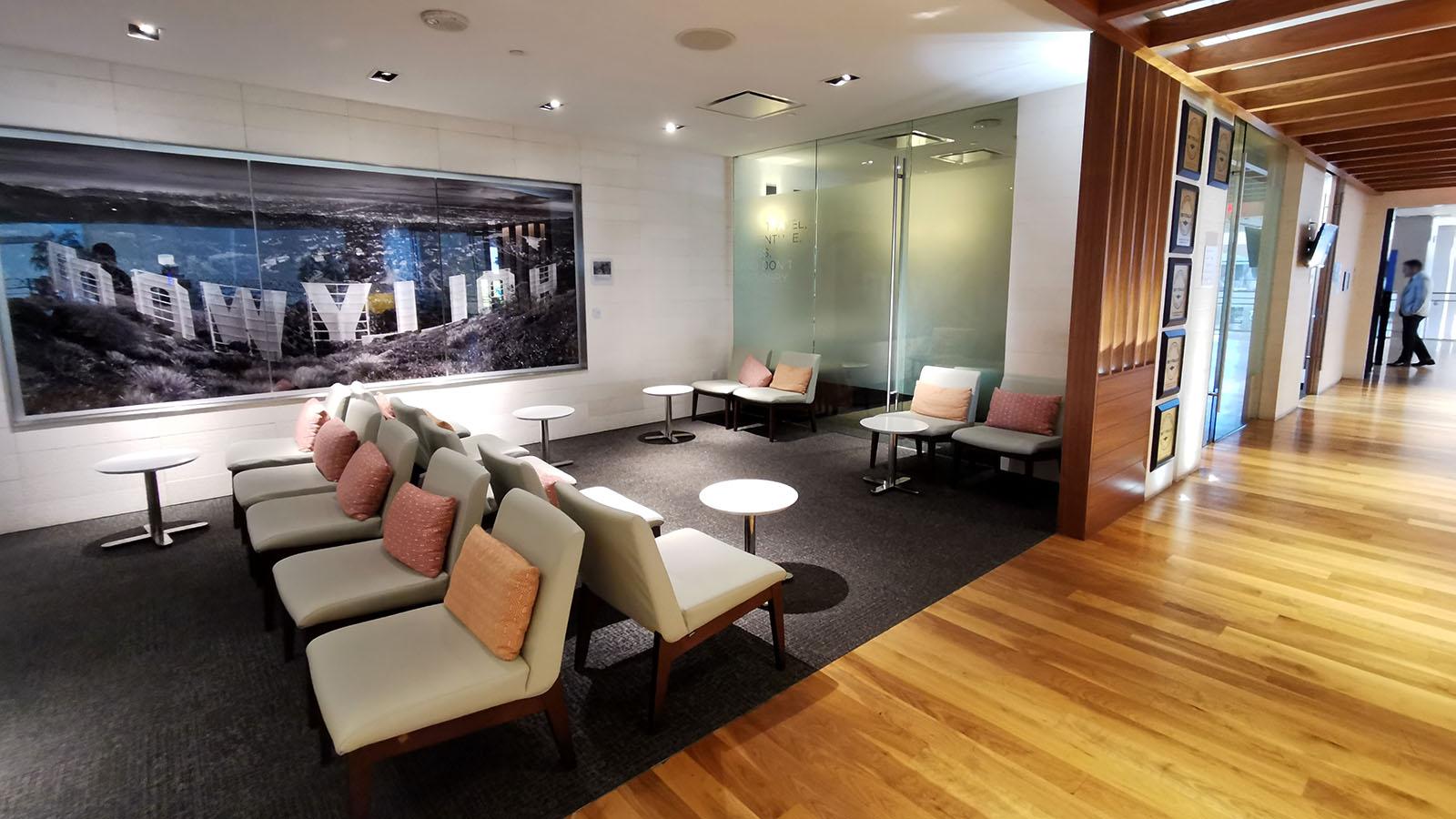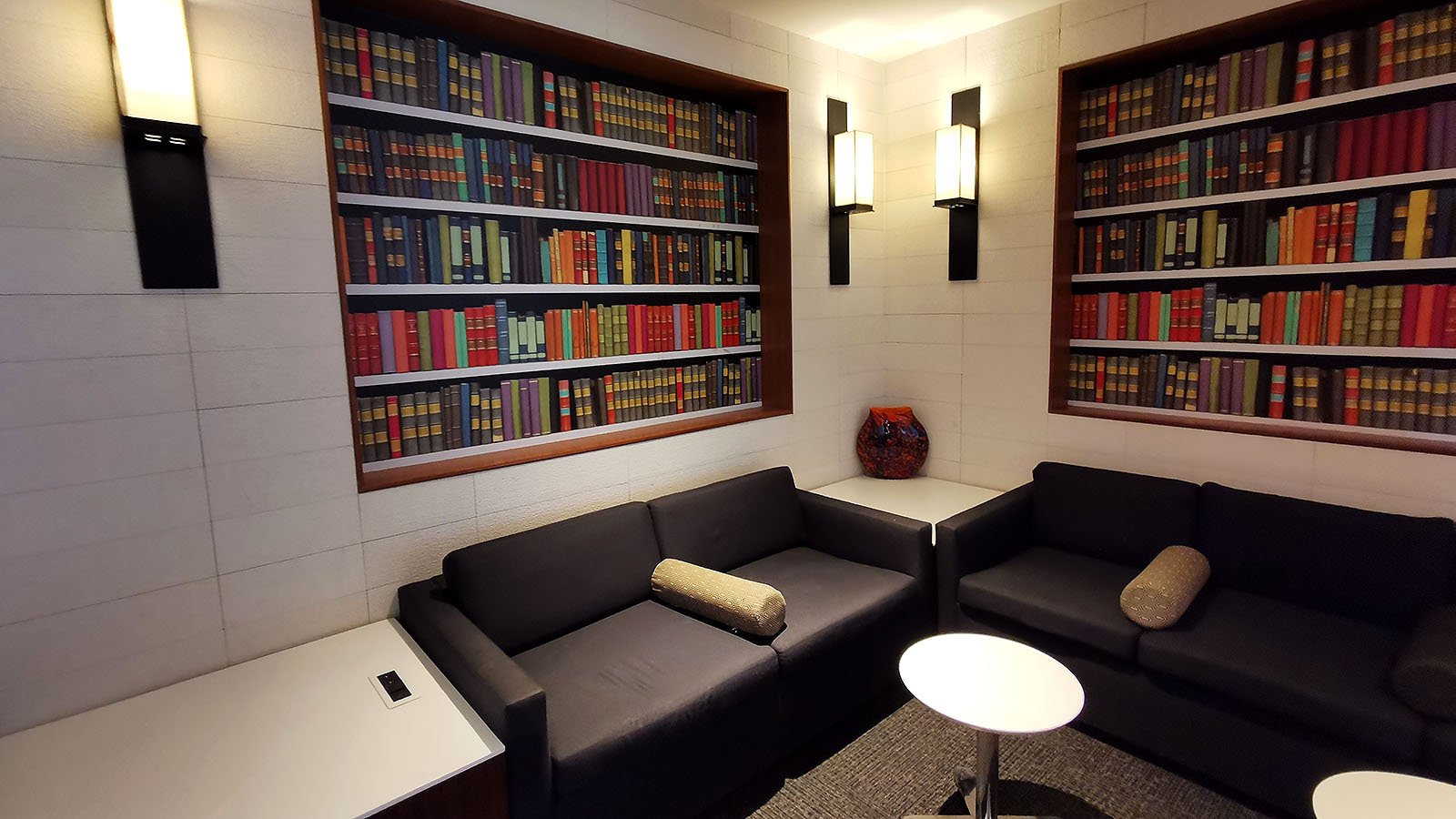 Do yourself a favour and take a stroll throughout the entire lounge before you settle down. You might find a quiet nook, a favourite spot – or perhaps, just something different. For instance, there's a library tucked away behind frosted glass doors. It's a nice quiet spot, but also doubles as a subtle VIP room or a space for families or groups as required.
The rest of the seats are more typical. You'll find benches suited to laptop work, tables for dining, padded sofas for relaxing – you get the drill.
Food and beverage
Speaking of Air New Zealand, I always look forward to the fresh wraps and salads in the Kiwi carrier's lounges. These options pleasingly make an appearance in Los Angeles too, even though it's a 'Star Alliance' branded Business Class lounge.
But there's more than just lunch-style favourites. On my late afternoon visit, I also find pasta, rice and sweet and sour pork. There's a custom noodle station too with a variety of ingredients to mix in. It's so popular that it's hard to even get close for a photo. I take a brief snap, and there's somebody already waiting behind me.
Looking for something to nibble on instead? Simple snacks like pretzels and potato chips are plentiful. There's also a bakery basket for a cheeky muffin. A well-stocked cheese counter also seems to be a hit.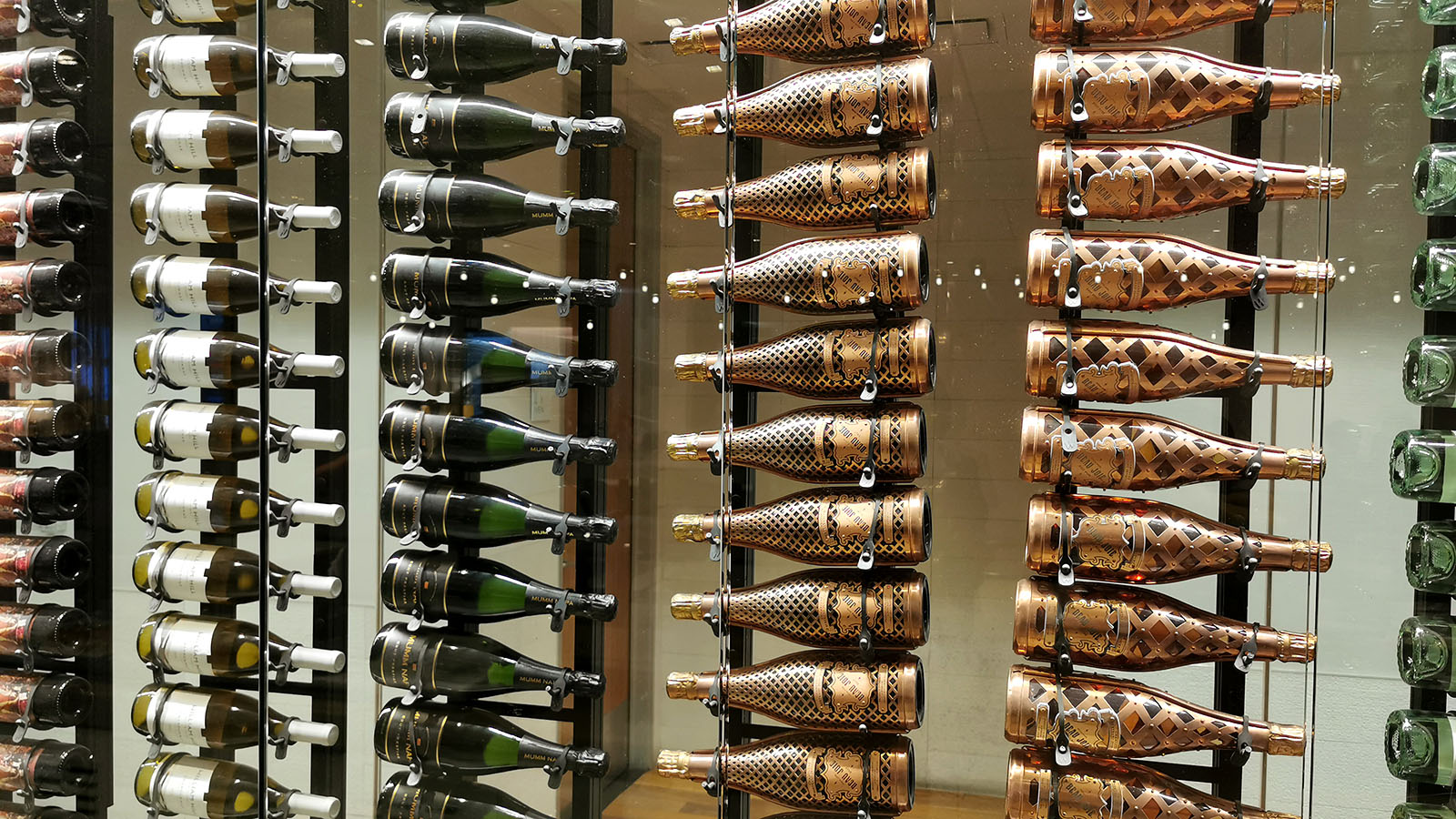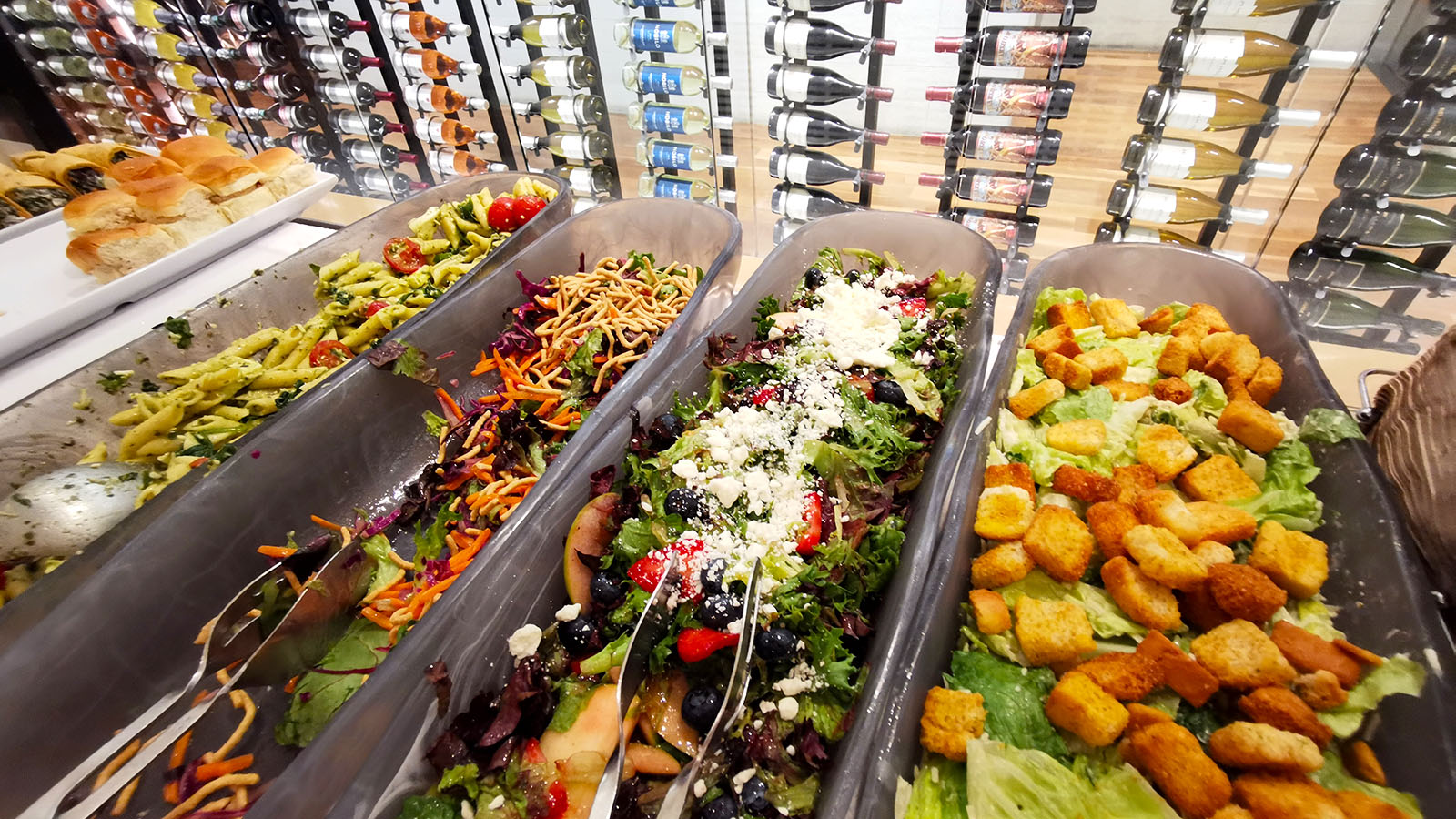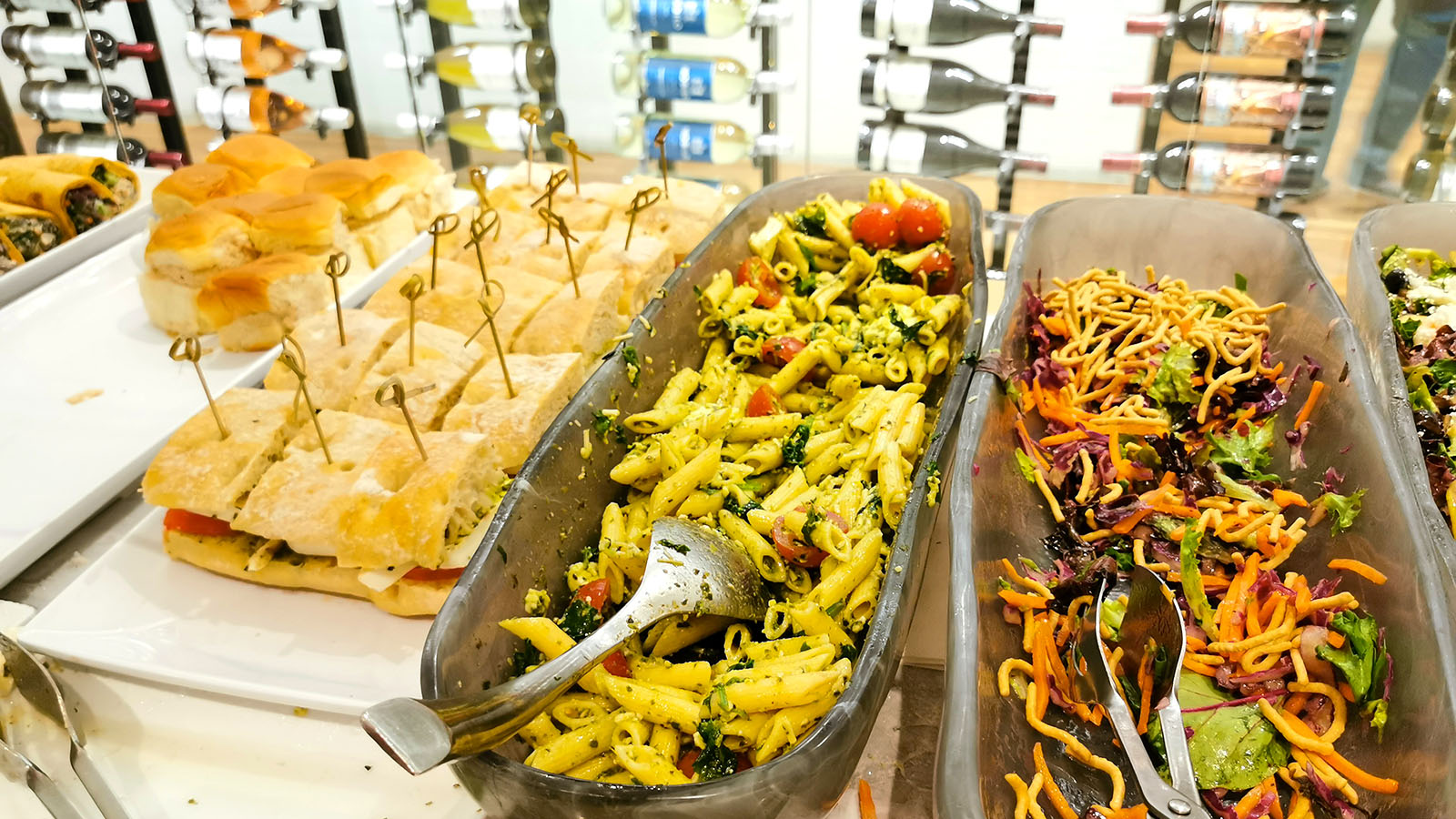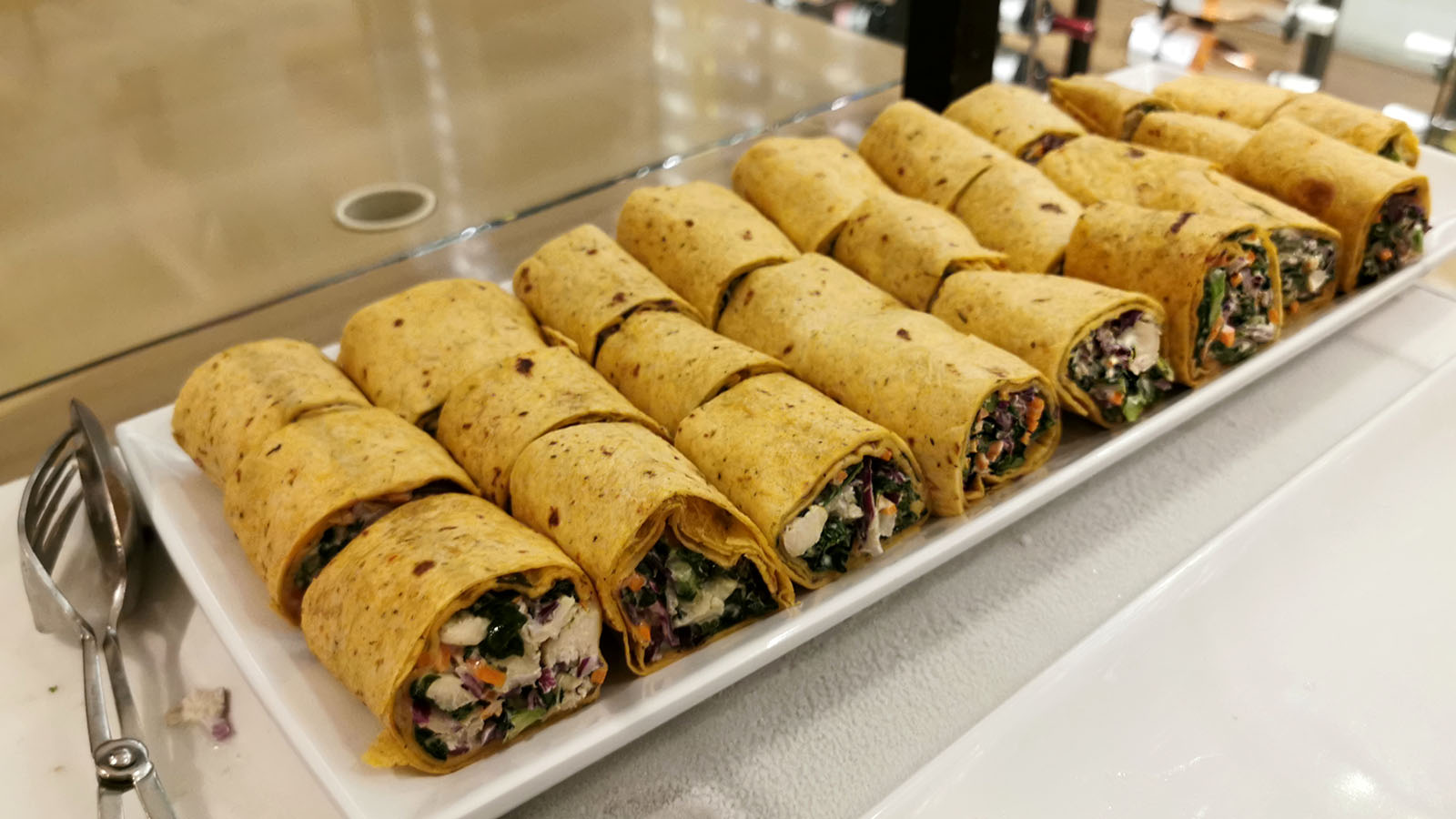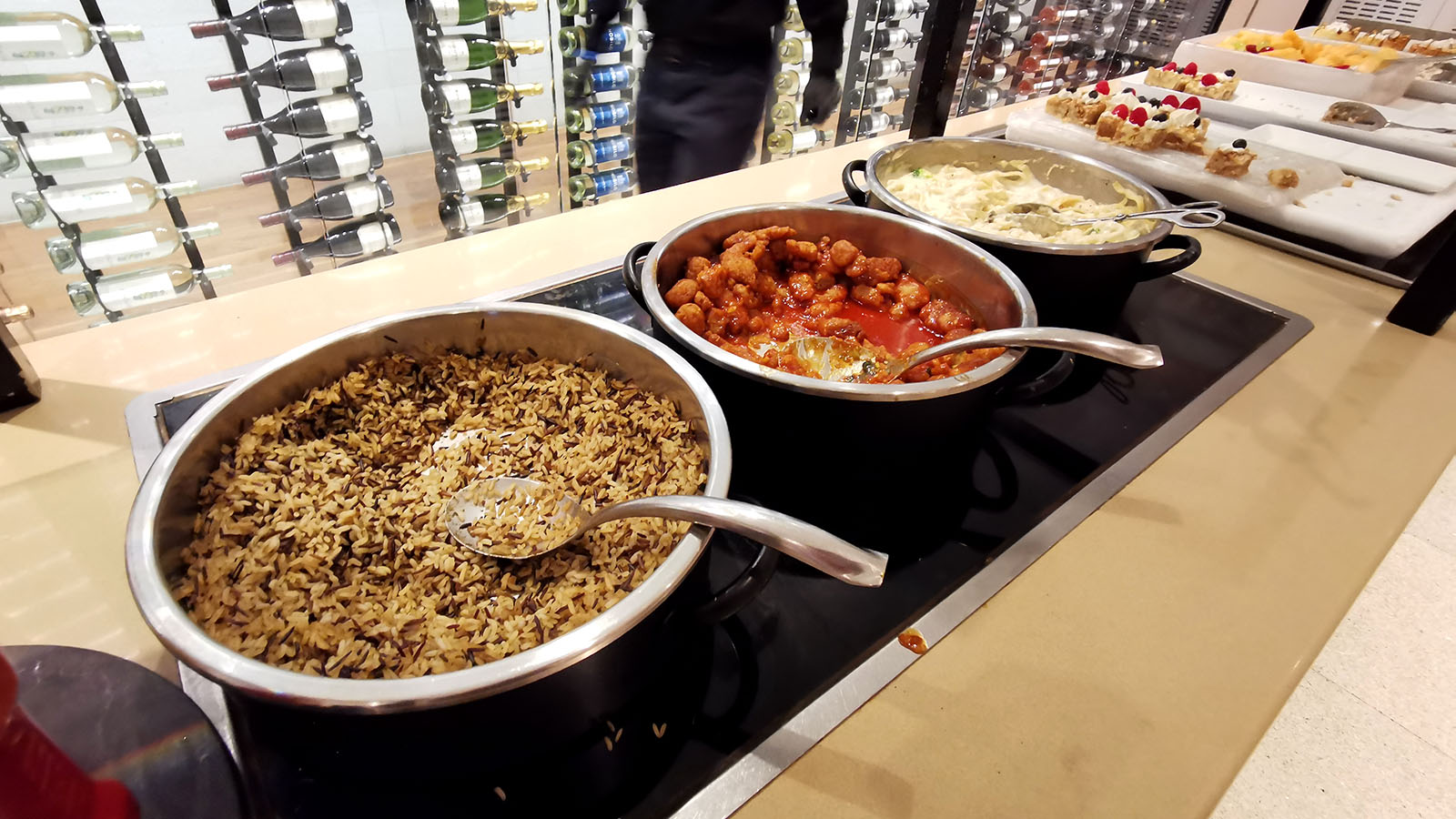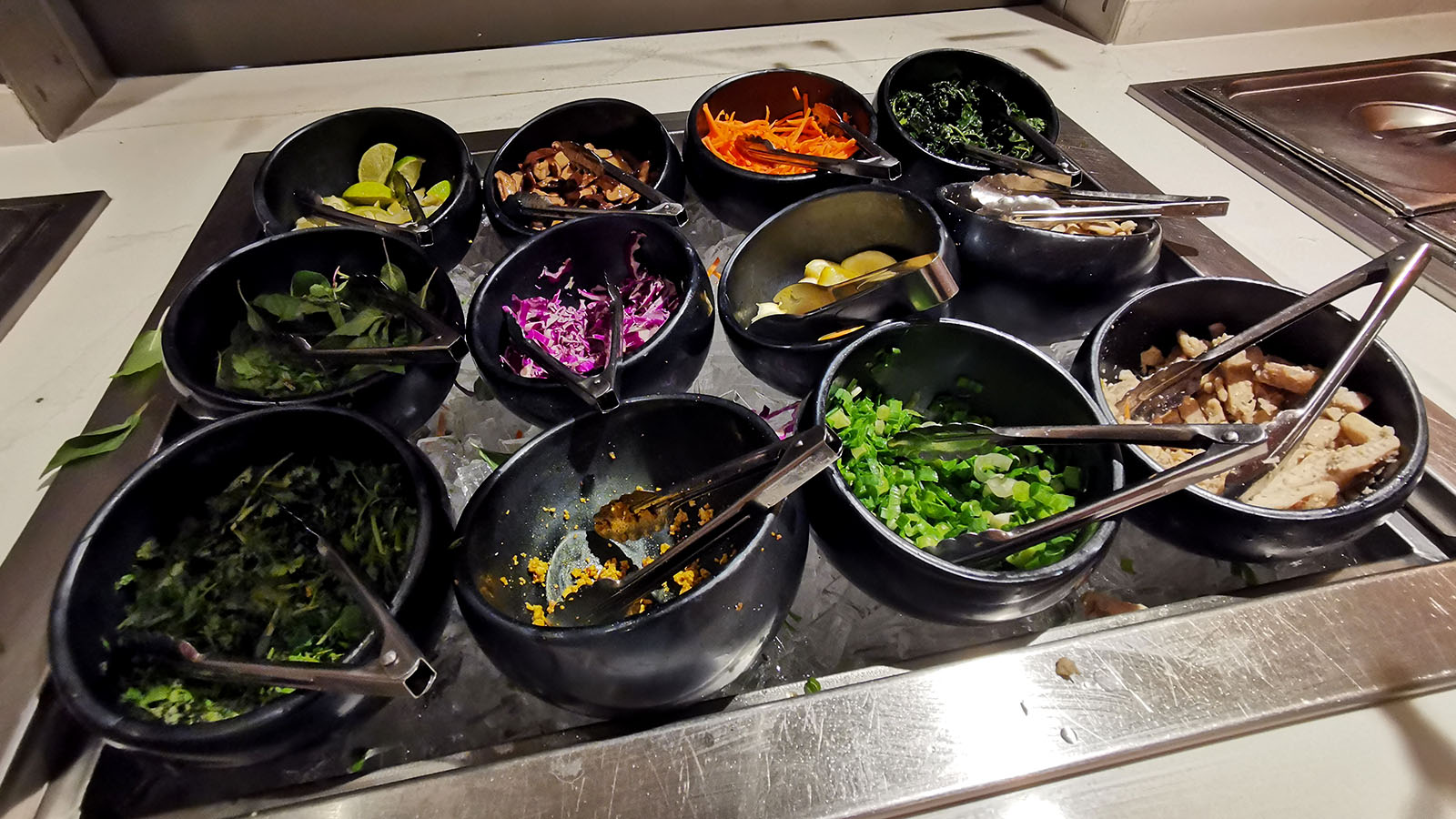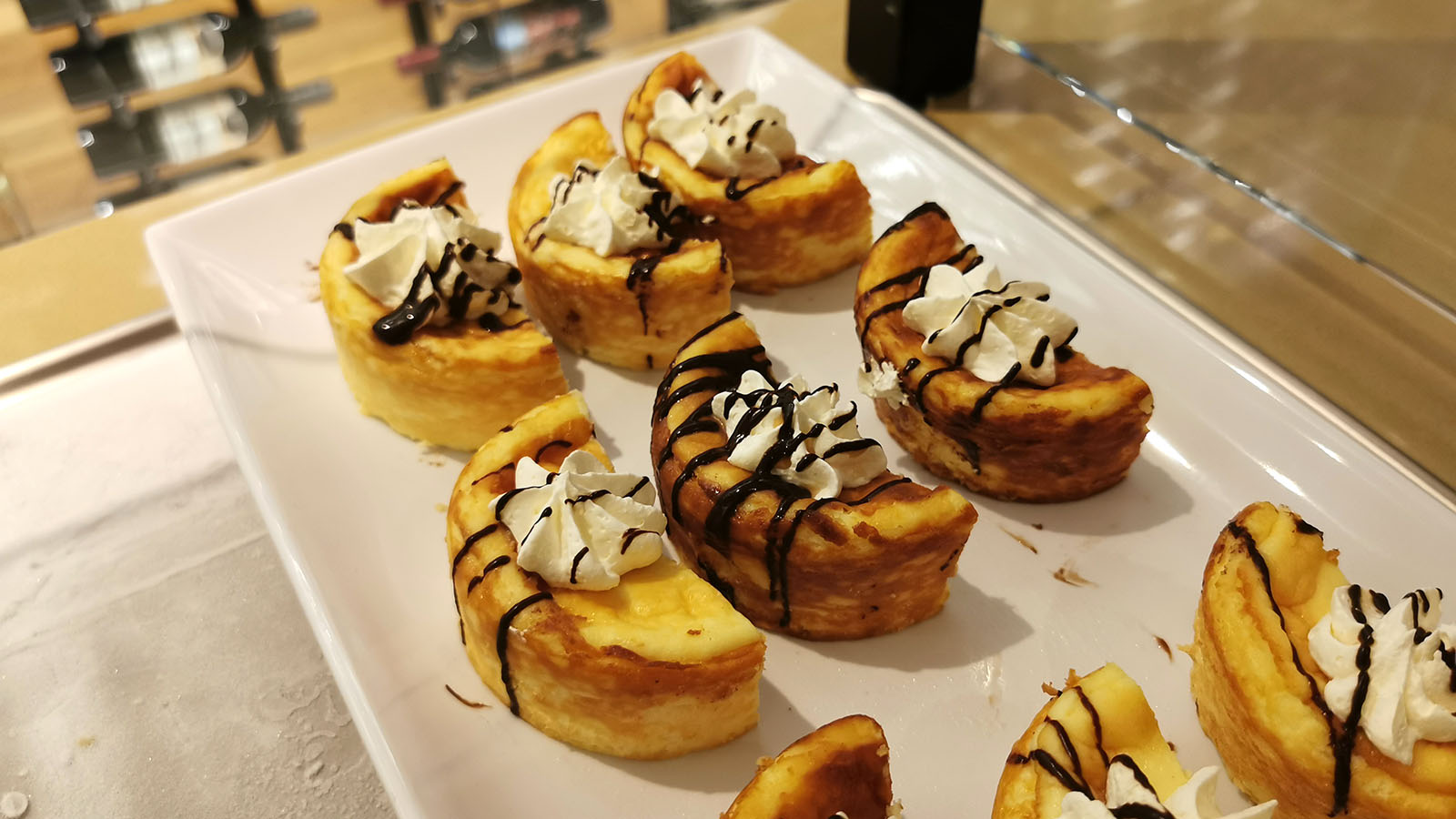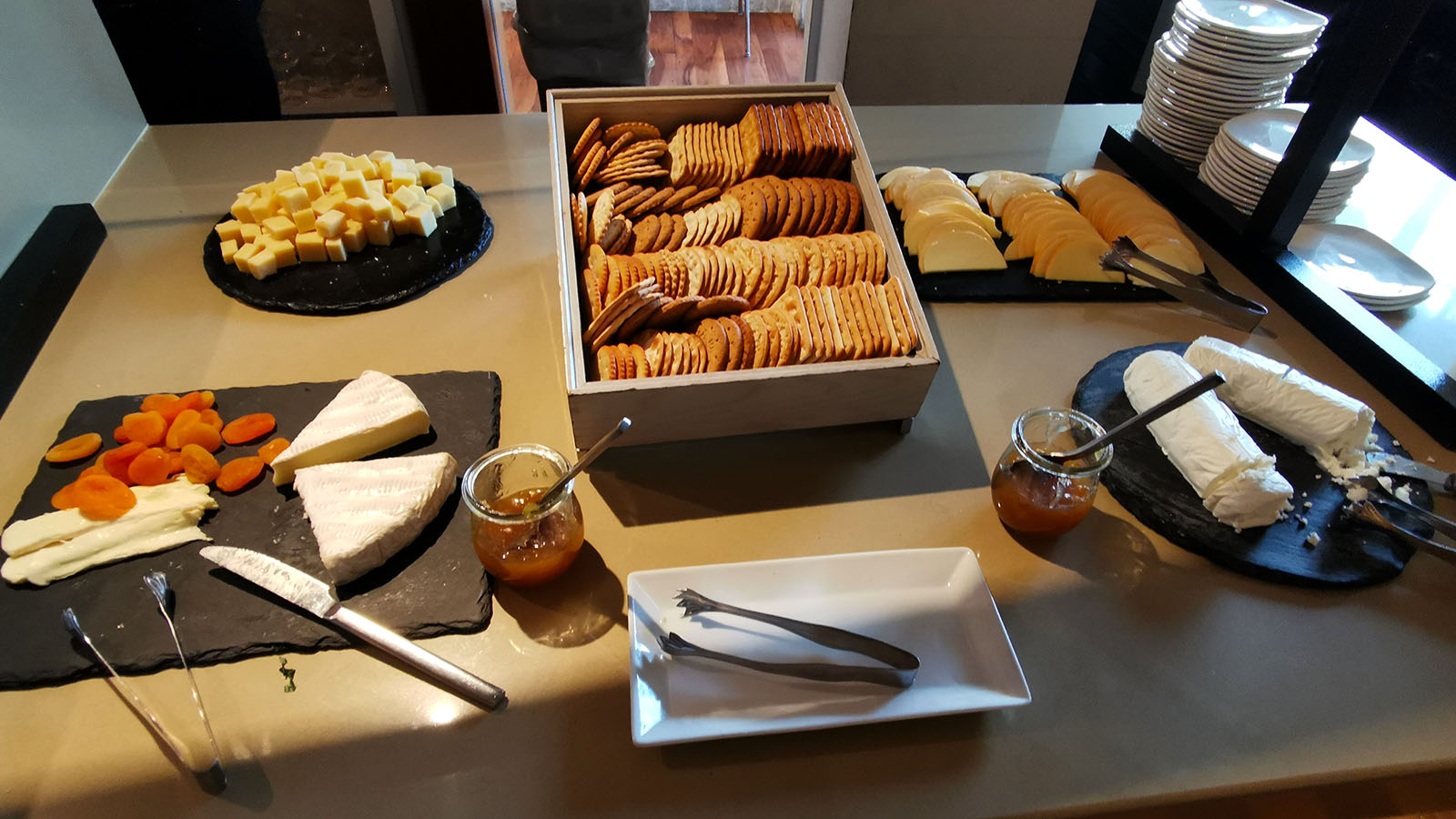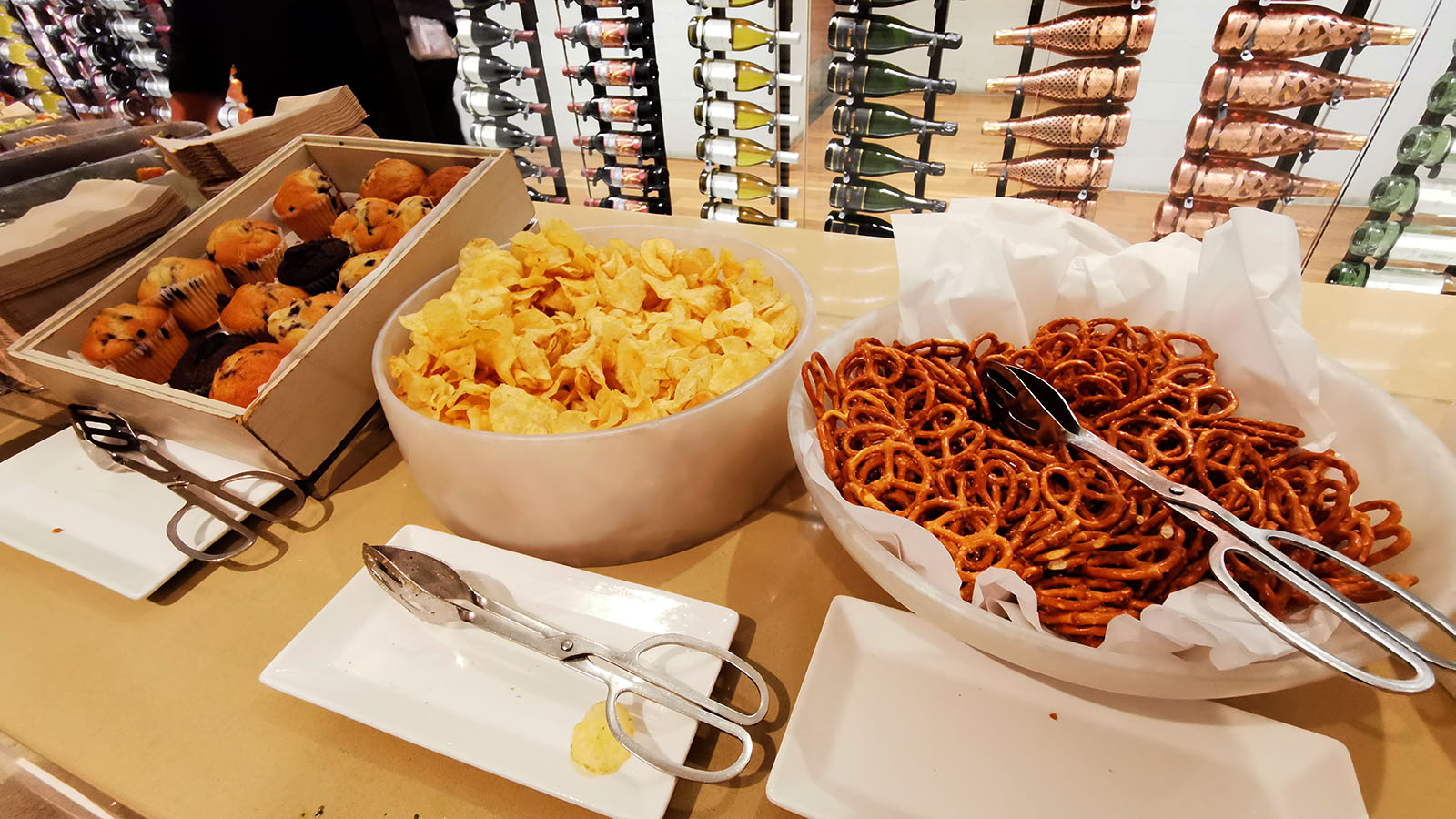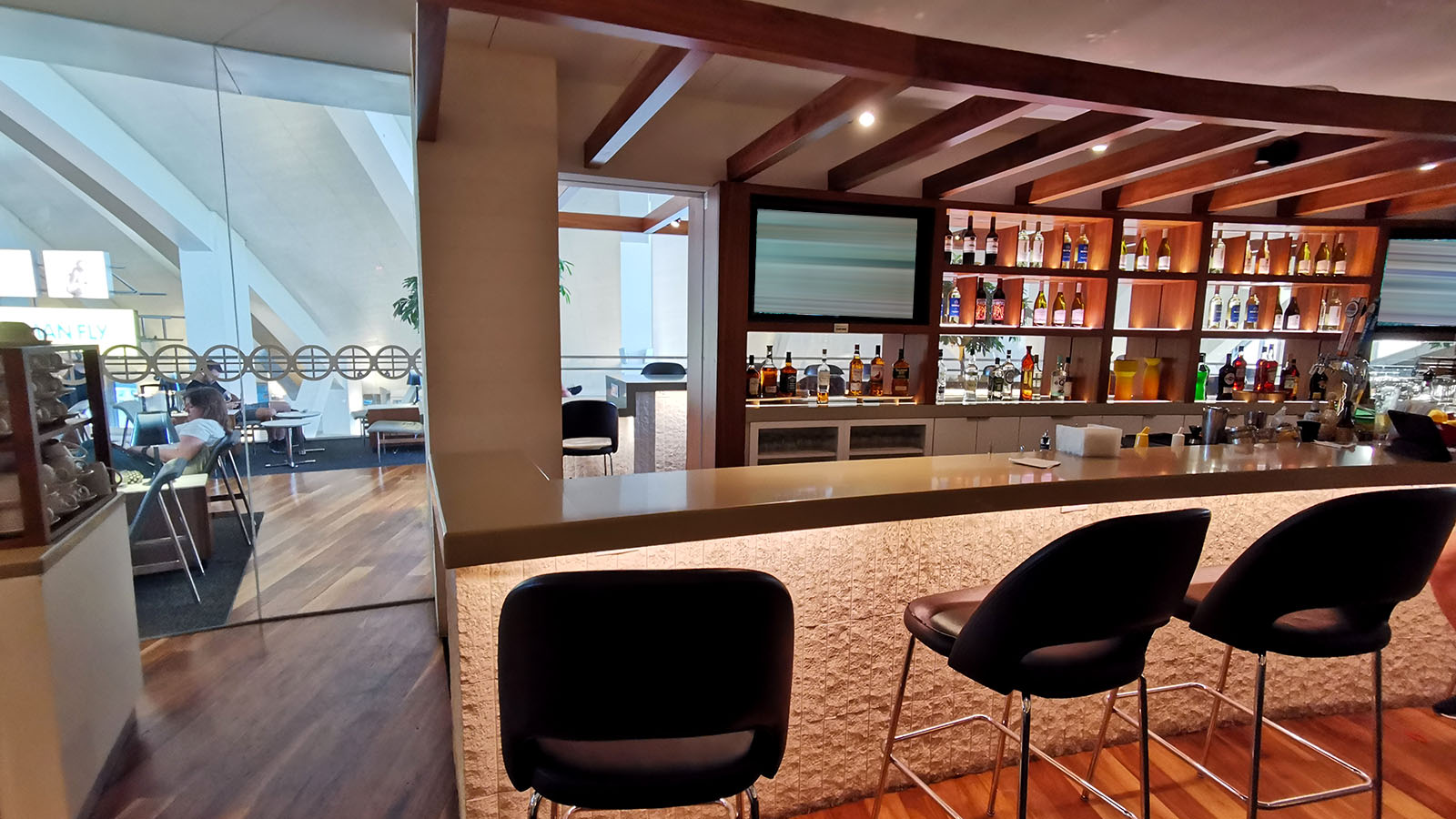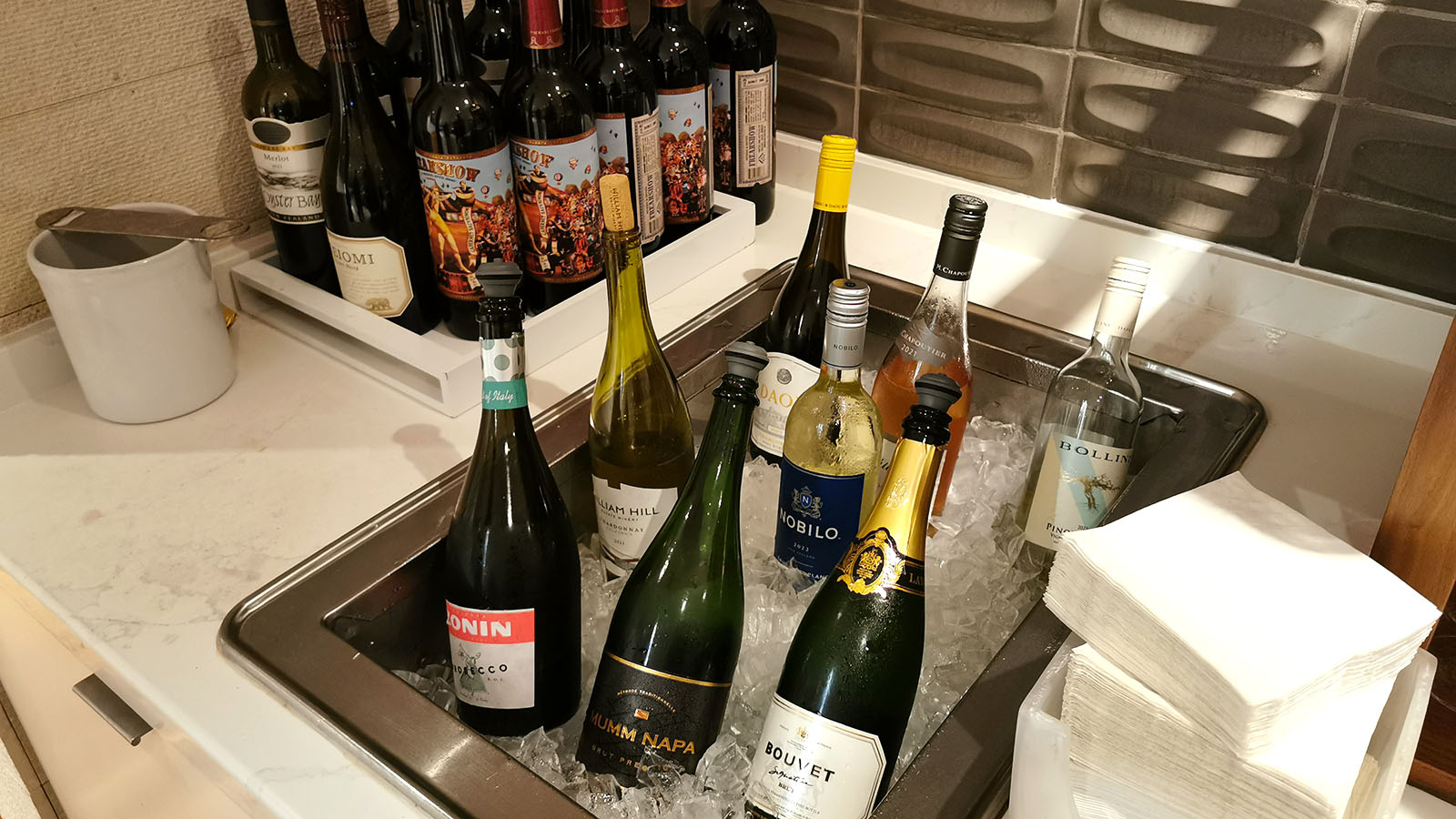 On the beverage front, there are numerous self-serve stations throughout the lounge. Pour yourself a standard soft drink, or perhaps, a glass of wine. For lovers of bubbles, there's Mumm Napa Brut Reserve and Bouvet Brut in lieu of (true) Champagne. Both are méthode traditionelle drops though, so some won't even notice the difference.
There's Prosecco too – and not to mention, a full bar. I have a few hours at LAX, so I take the chance to try a couple of cocktails. But with access to Star Alliance's First Class lounge next door as well – from which cocktails can be ordered for delivery from this bar – I enjoy my concoctions in those quieter surroundings. Stay tuned for that review.
Amenities in the Los Angeles Business Class Star Alliance Lounge
Earlier, I mentioned the lounge's two terraces – one indoors, and one outdoors. I have to say, I enjoy the outdoor terrace so much that I don't just consider it part of the 'seating', I consider it an amenity in itself. Especially so as somebody lucky to travel more than most. Any opportunity for fresh air is welcome – and it's a rarity in an airport.
But for guests in Star Alliance's Business Class lounge, Los Angeles is the place to be. During the day, the atmosphere here is a little bit 'poolside' – even though there's no water, of course. But once the sun is going down, the fireplaces light up. That's when the vibe really dials things up to 100, particularly as things get buzzing. The effect can be so calming that you just don't want to leave. But then, boarding time comes (boo!).
If you're in the mood for a little exploration while you're here though, keep your eyes peeled for notable quotes on display around the lounge. I won't spoil all of them here – you'll have to go on your own Easter egg hunt. I hope your carry-on doubles as a little woven basket, as you'll find a fair few.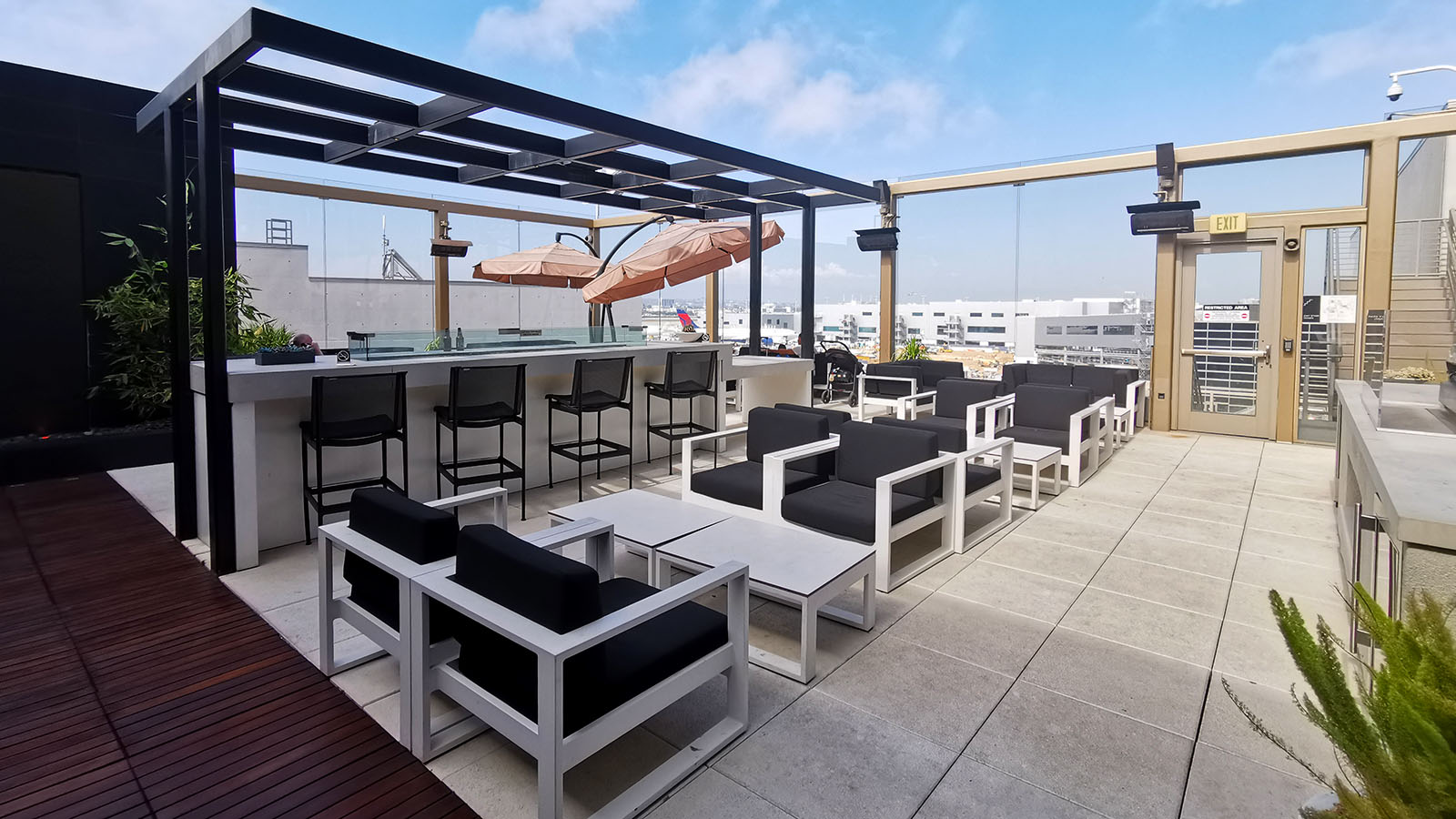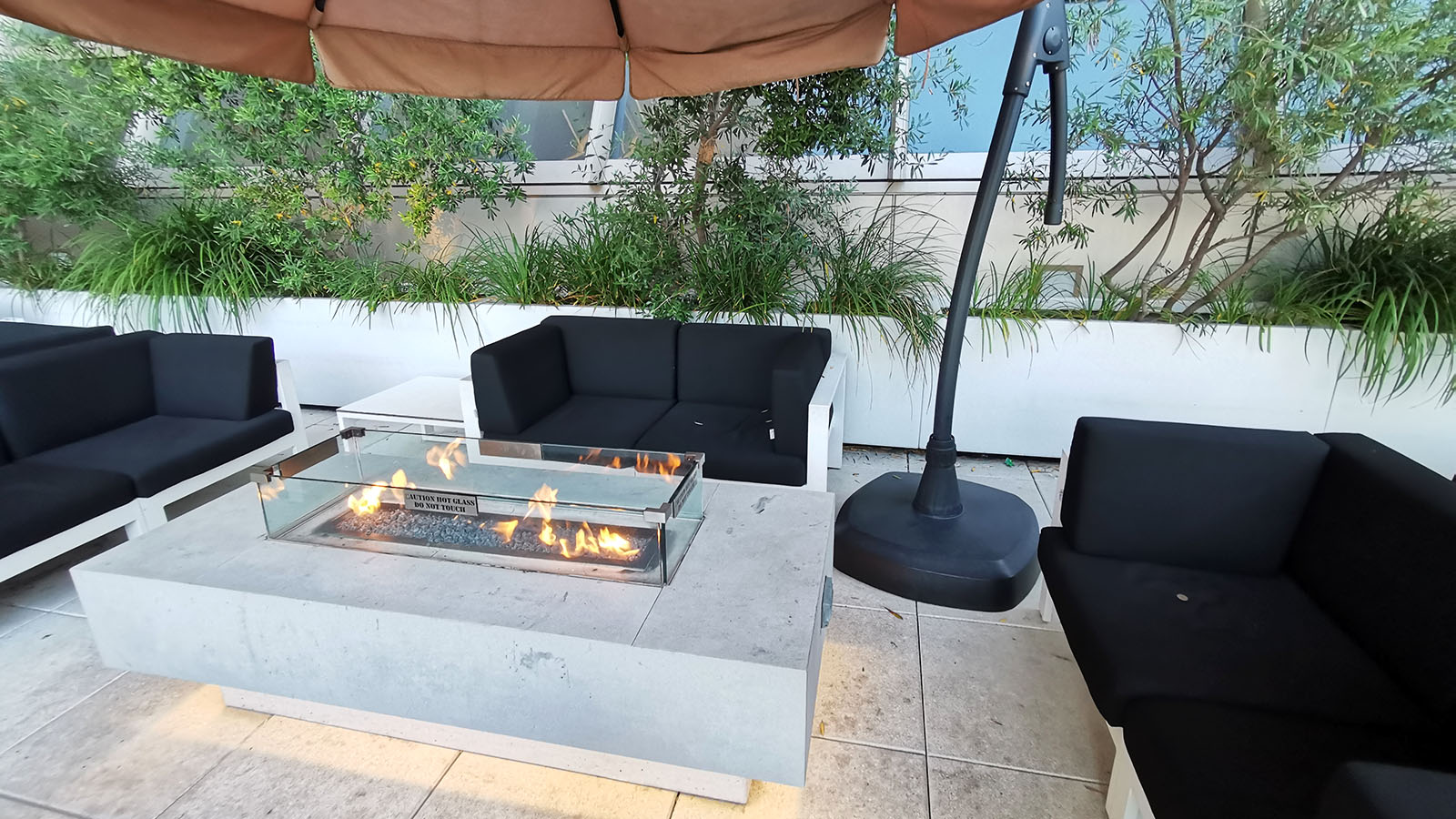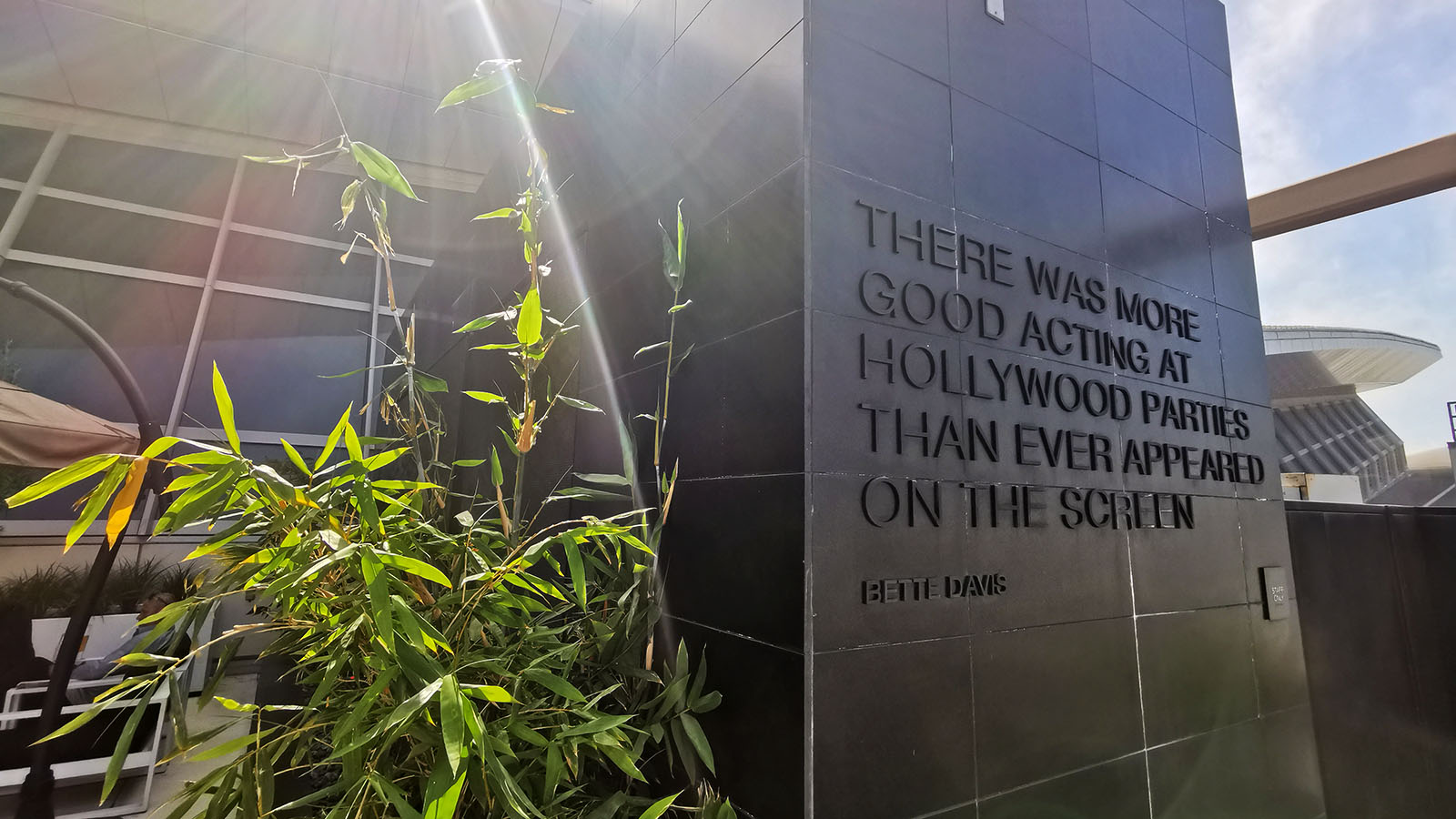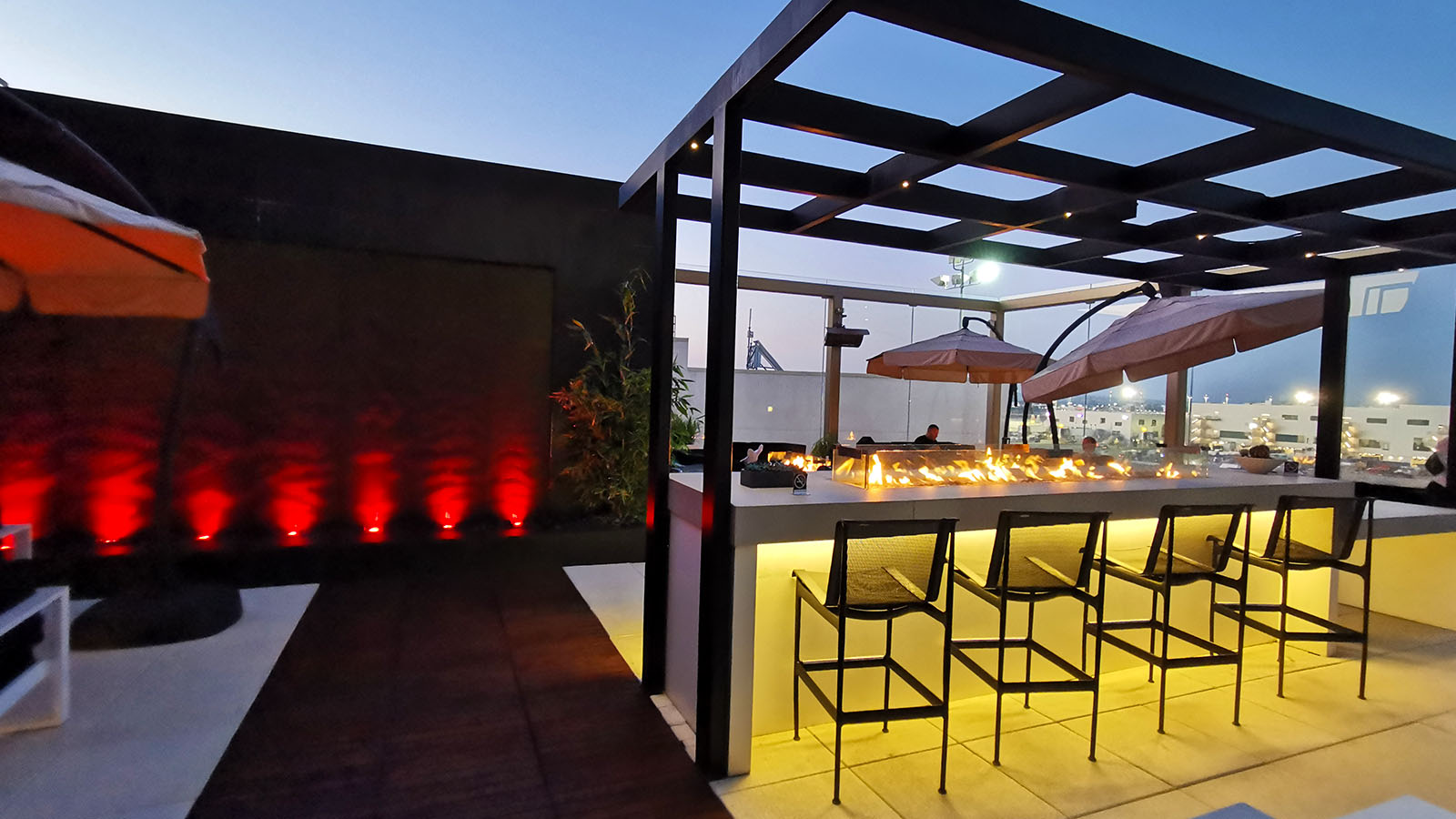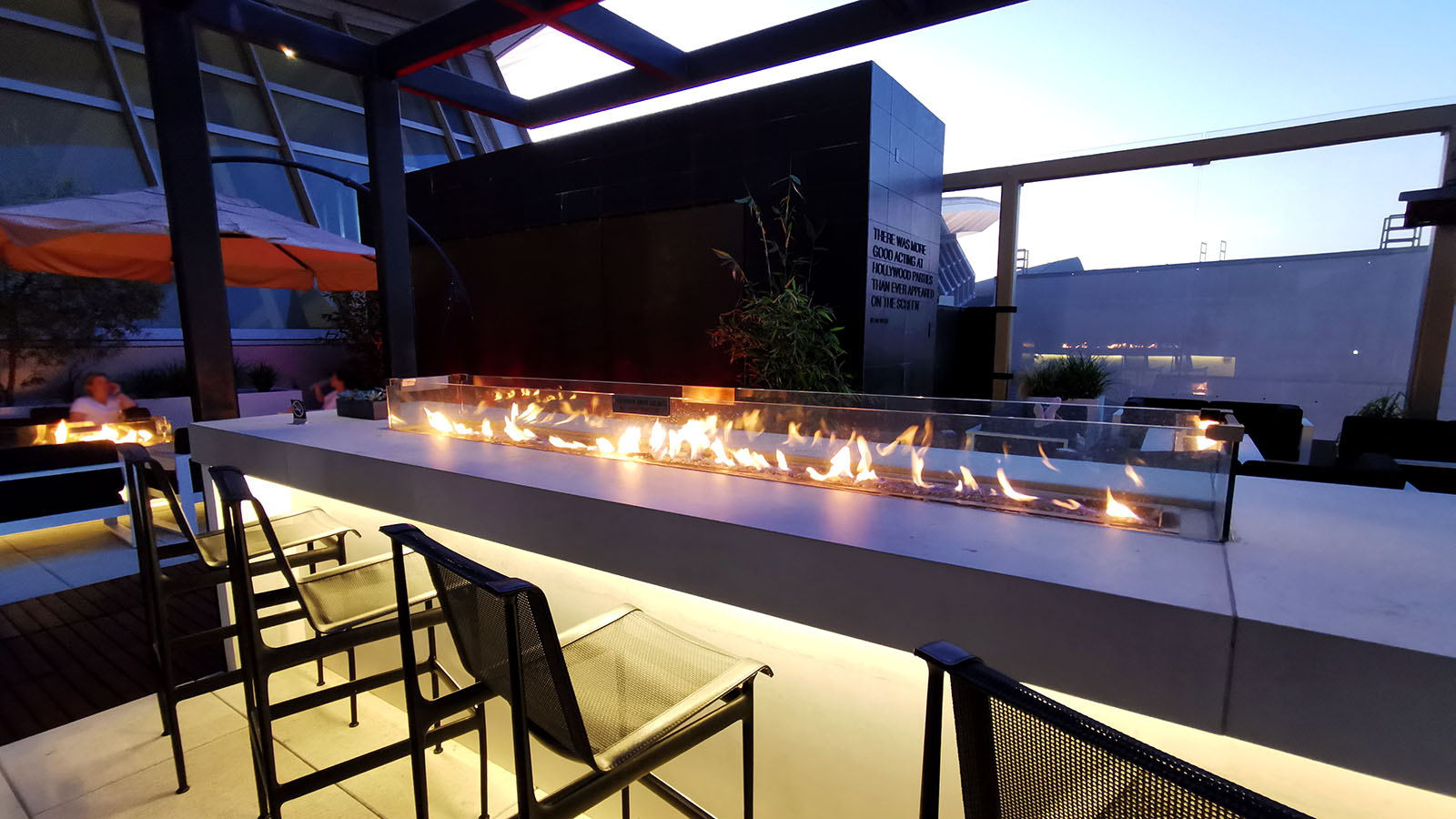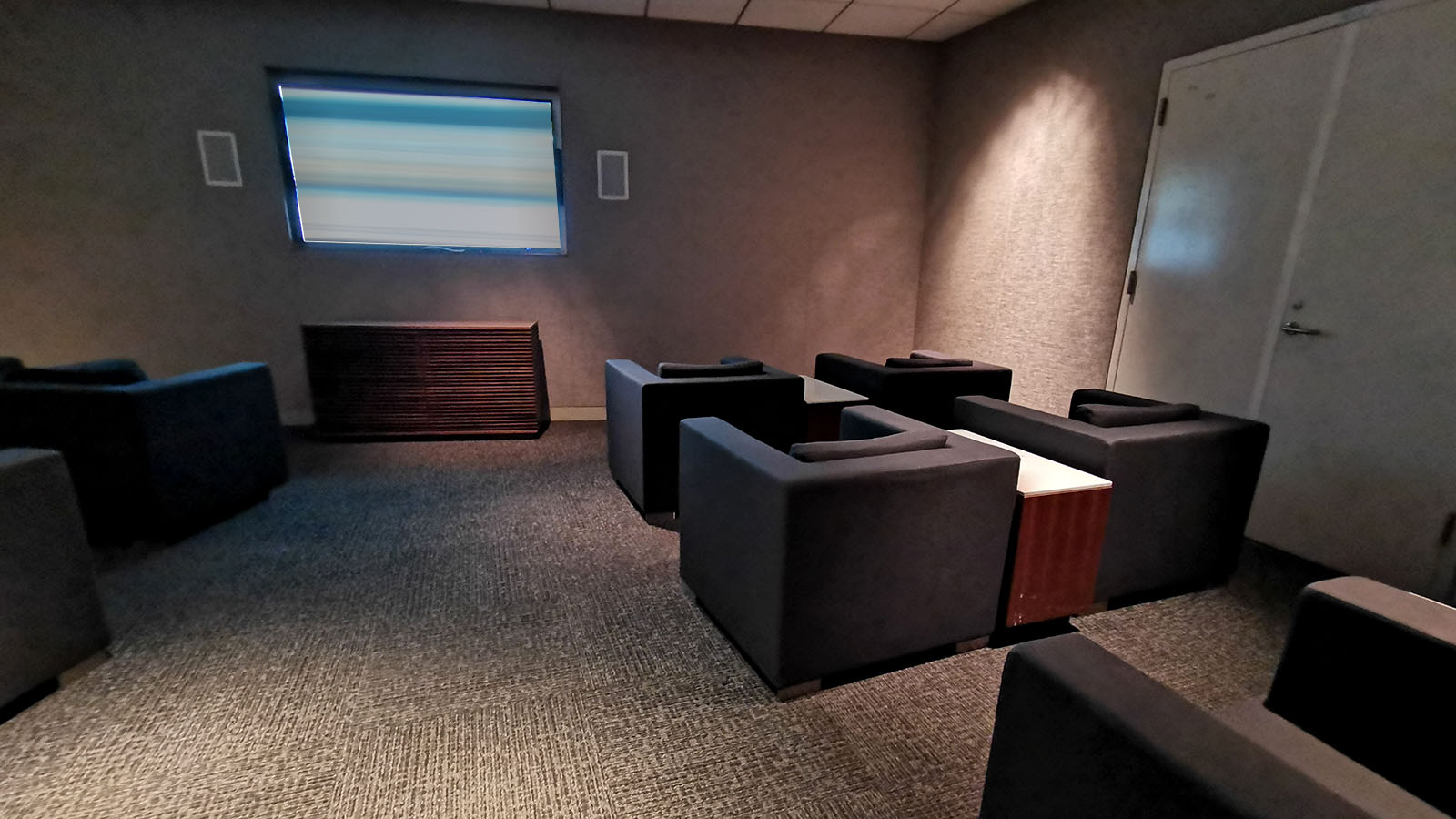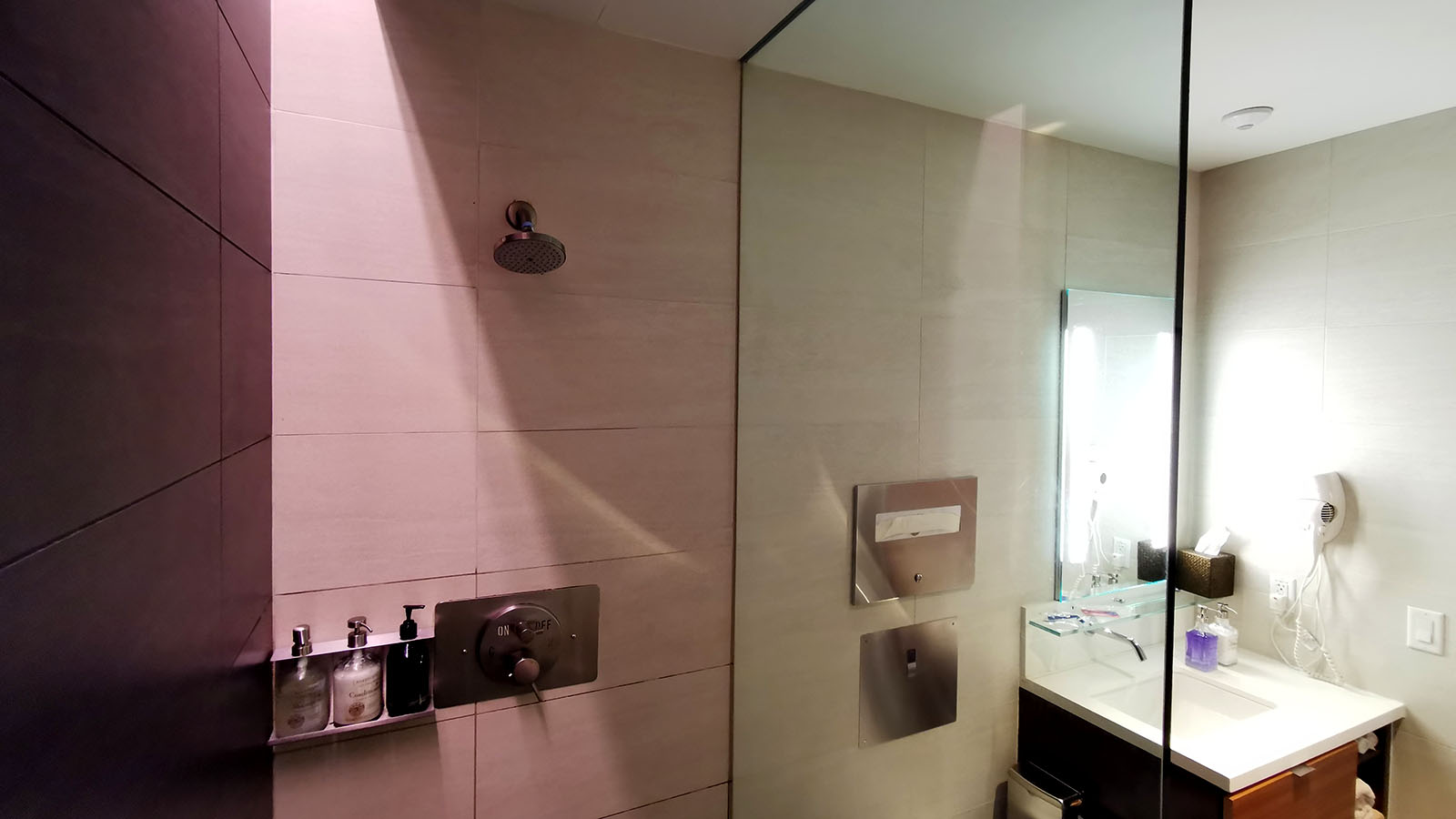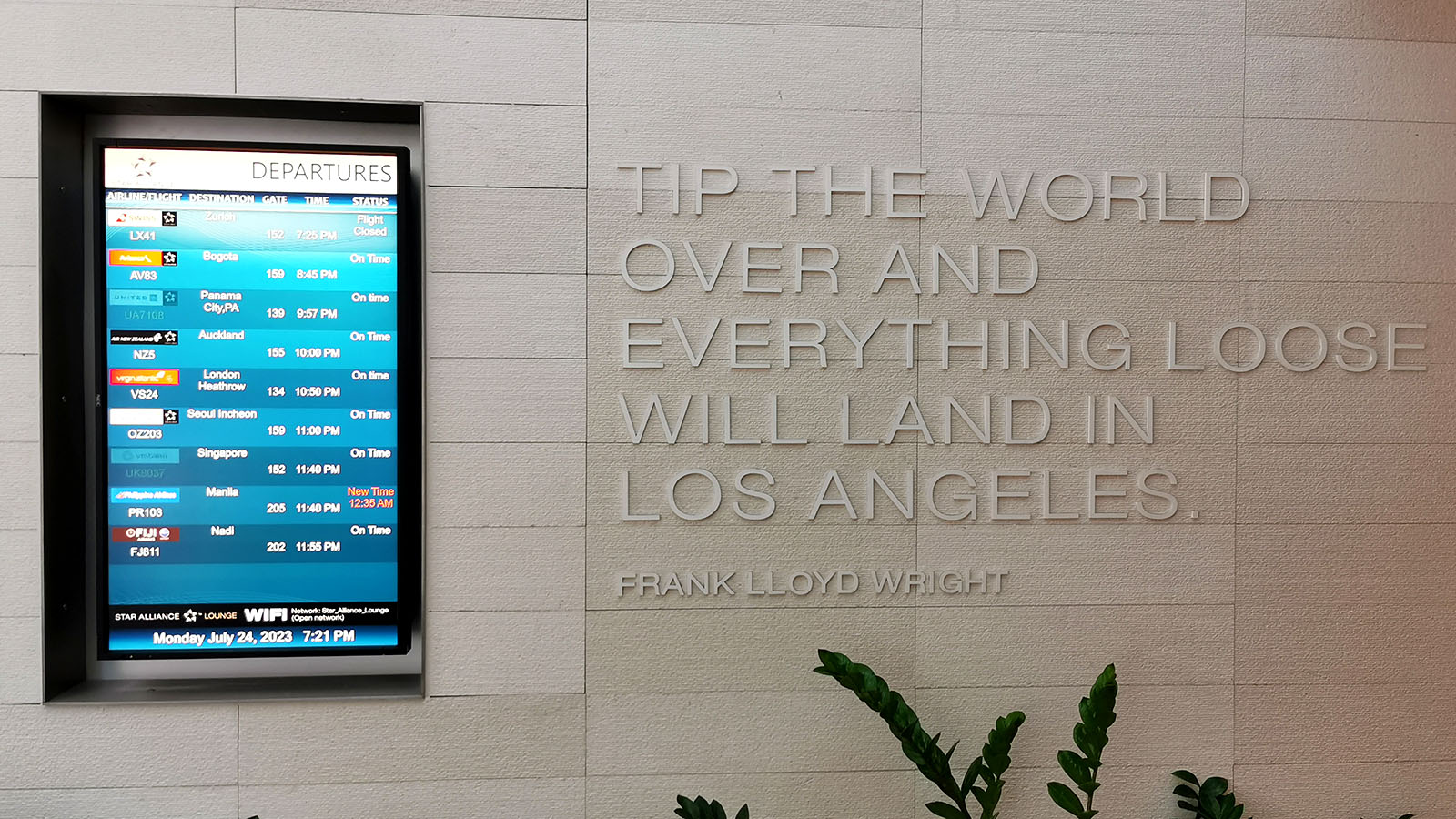 This also wouldn't be the home of Hollywood without a media room. Given the dim lighting, some seem to use this as a nap area as well. Just keep an eye on your flight time – and perhaps, set an alarm just in case. Generally speaking, boarding calls and announcements here are limited.
A bank of private shower rooms stand ready, and there's pleasingly no wait when I request to use one. Separately, Wi-Fi speeds are great on the download front (~49Mbps), but weak on uploads (~1.75Mbps). The latter makes for some rather slow cloud backups, and the same can be said of video posts to social media.
Accessing the Business Class Star Alliance Lounge in Los Angeles
Of Star Alliance's 26 member airlines, 16 serve LAX. Even though LA is home to several United and Air Canada lounges, these predominantly serve those airlines' passengers. This makes Los Angeles a very strategic place for a Star Alliance Business Class lounge.
In fact, its location within the airport is also quite advantageous. So much so, that four airlines outside the Star Alliance family also now call this space home. Here's a rundown of who makes the cut.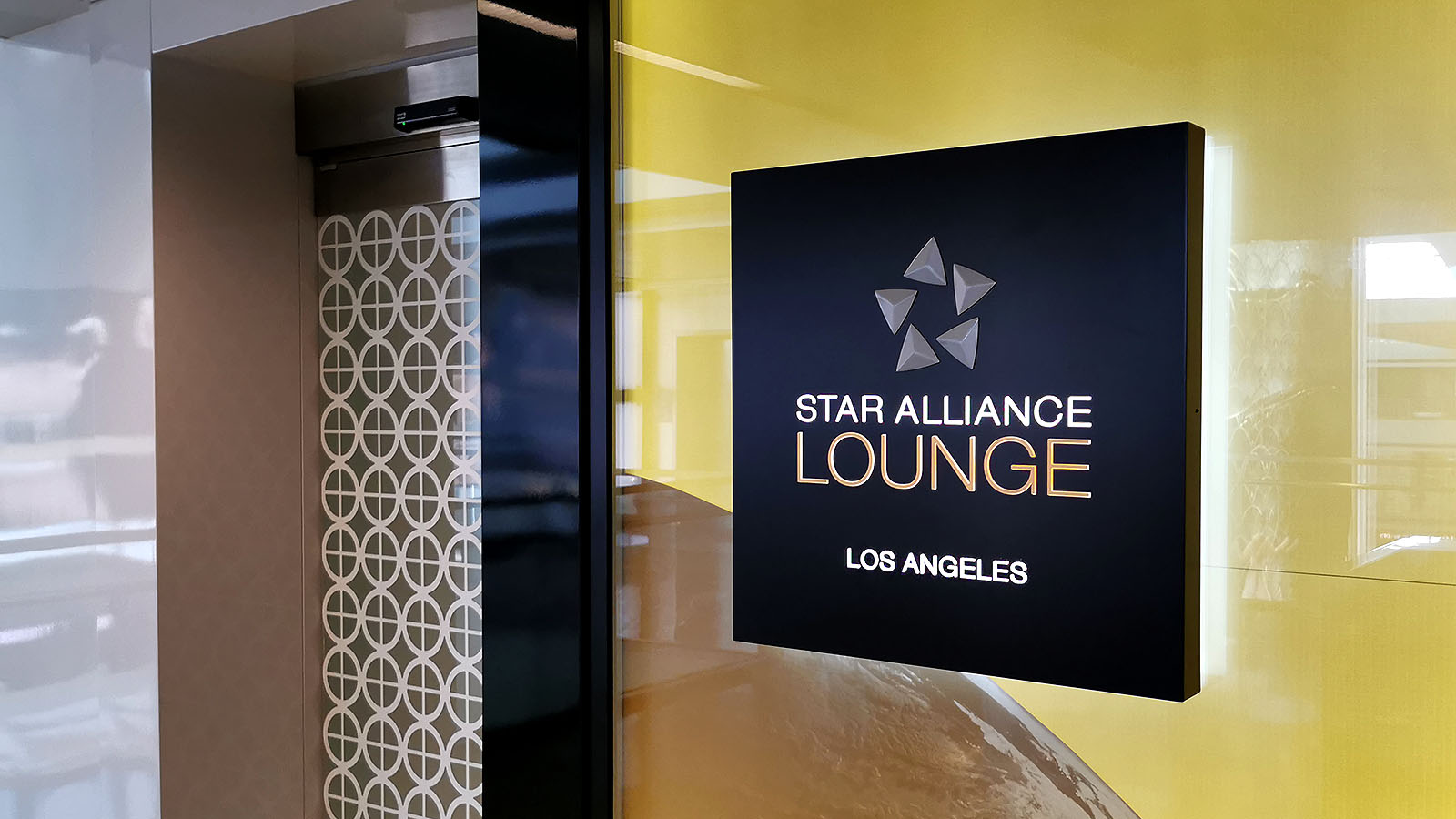 Courtesy of airline frequent flyer status:

Other Star Alliance Gold frequent flyers departing from LAX on any Star Alliance flight, including United domestic services (+1 guest).
Prior to Air Tahiti Nui flights only, Club Tiare Gold members (+1 guest).
Before Philippine Airlines flights only, Mabuhay Miles Elite (no guests), Premier Elite (+1 guest) and Million Miler cardholders (+2 guests).
Prior to Virgin Atlantic flights only, Flying Club Gold and UNIQ members (+1 guest).

By lounge membership:

Air Canada Maple Leaf Club 'Worldwide' members before Air Canada and other Star Alliance flights (+1 guest).
United Club members before United and other Star Alliance flights (+1 guest).
Only when travelling with Air New Zealand, Koru and Elite Partner members (+1 guest).
Prior to Fiji Airways flights only, Tabua Club members (no guests) and Tabua Club Plus cardholders (+1 guest).

By cabin:

Passengers travelling internationally in Business Class (or First Class) on any Star Alliance airline. Note, access is not available via cabin class for passengers on domestic United Airlines flights, even in United Business or United First.

Business Class travellers on Air Tahiti Nui, Fiji Airways, Philippine Airlines and Virgin Atlantic. (If booked on a QF code on Air Tahiti Nui or Fiji Airways, access is to the Qantas lounge instead).

By paid entry:

Available prior to any Star Alliance flight, including US domestic. Book online for US$75 (~AU$117.50), or US$66.50 (~AU$104) for those with any Star Alliance frequent flyer account – even sans status.
The verdict
It's been a while since I've spent much time in this lounge, so it's great to be back. Some high flyers may remember this lounge as the former home of Virgin Australia at LAX. Over the years, I've spent many evenings sitting by the fireplaces before those evening flights to Australia. As I'm sure, many of you will have, too.
But back to the terrace and those fireplaces. It's really hard to overstate the atmosphere here. The outdoor space has such a pull that even with access to the First Class section of Star Alliance's Los Angeles lounge, I still choose to venture into the Business Class space for this amenity alone.
My simple advice? Arrive early. Or for those transiting through Los Angeles, plan a longer connection and soak up those outdoor vibes. Your batteries will be recharged in no time, ready for your next adventure.
Also reviewed: American Express Centurion Lounge, Los Angeles
Photography by Chris Chamberlin, who accessed the lounge as a guest of Star Alliance while travelling at Point Hacks' expense.
---
Stay up to date with the latest news, reviews and guides by subscribing to Point Hacks' email newsletter.
Star Alliance Lounge (Business Class), Los Angeles
was last modified:
September 13th, 2023
by