American Airlines boasts a significant footprint of lounges across the United States. Most of these are designated as an Admirals Club – a more 'standard' type of lounge. But in four key airports, AA goes one better. Tucked away in Chicago, Dallas Fort Worth, Los Angeles and Miami, there's something more elusive – a Flagship Lounge.
Flagship is something of a hybrid. The lounge welcomes both Business Class and long-haul First Class passengers. It's also open to mid-tier and top-tier frequent flyers, including Qantas Gold and Platinum. But the access rules screen out AA's own elite members unless they're taking long international trips – plus, paying lounge members have no access either. This makes the space more for international flyers and overseas visitors to the US.
But here's a trick. As an elite Qantas Frequent Flyer member, you may be able to visit the Flagship Lounge before a domestic-only flight with American Airlines – even if you're not connecting to or from Australia. We've got all the details below, along with what you can expect inside the lounge itself.
Location
While American Airlines has several Admirals Club lounges in Los Angeles, there's just one Flagship Lounge. You'll find it in Terminal 4, co-located with the T4 Admirals Club. This places it after security, and given the layout at LAX, it's possible to stop by when flying from other terminals as well.
For instance, flying Qantas from the Tom Bradley International Terminal? You could walk to this lounge in about 10 minutes, without having to exit the airside area and re-clear security.
However you get here – and whichever terminal you're flying from – just head to the main entrance desk along the concourse. When eligible for the Flagship Lounge, staff will hand you a black entry pass. Take the lift upstairs and hand this over to be welcomed inside. (Otherwise, you'll remain inside the lower-tier Admirals Club).
As a nice touch, there's a Piper-Heidsieck Champagne counter right along the entrance. Given mine is a morning visit, I'm pleased to confirm that they also keep orange juice in stock below. It seems a shame to blend down true Champagne, but I have a long day ahead of me, so a mimosa it is.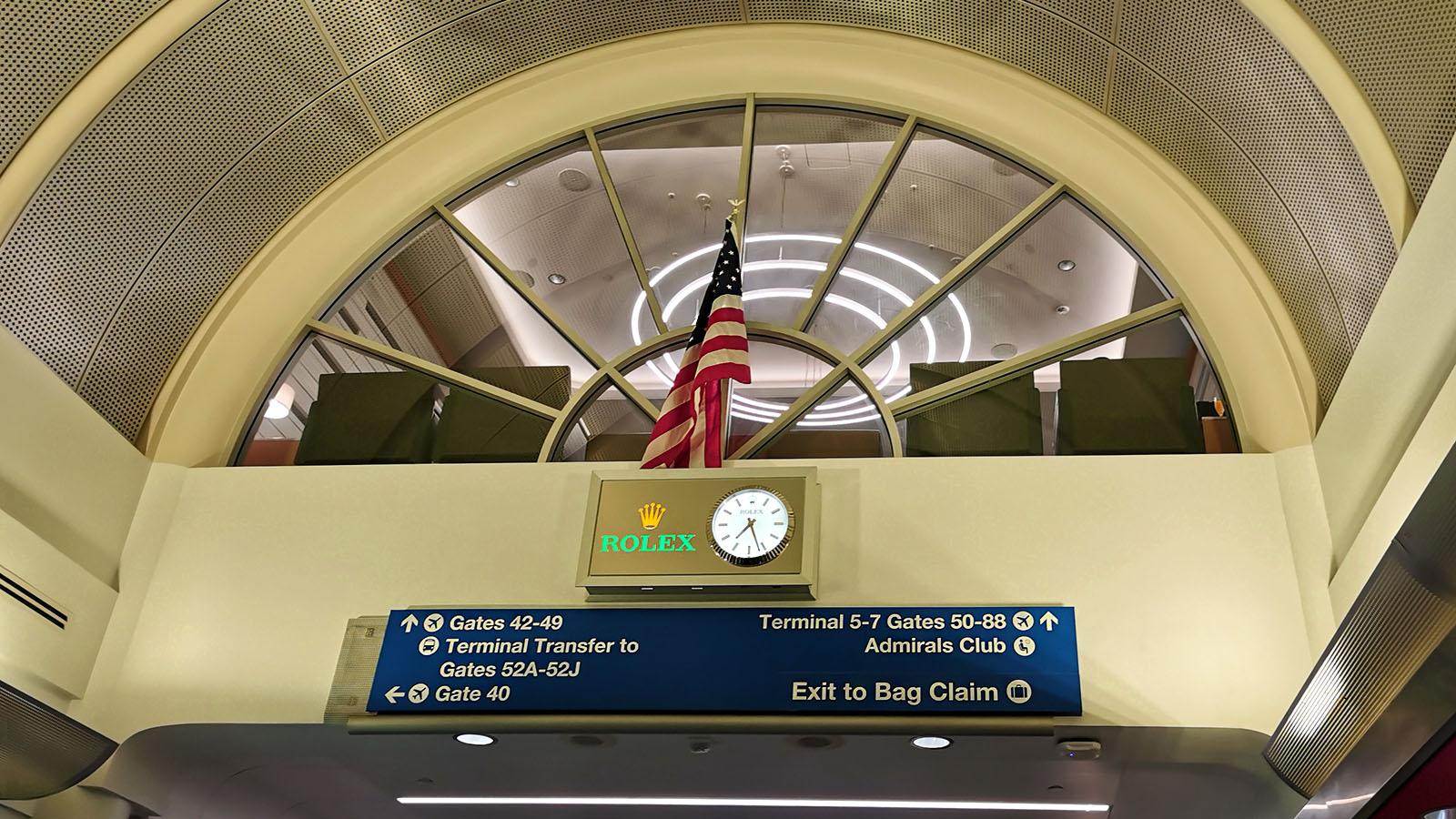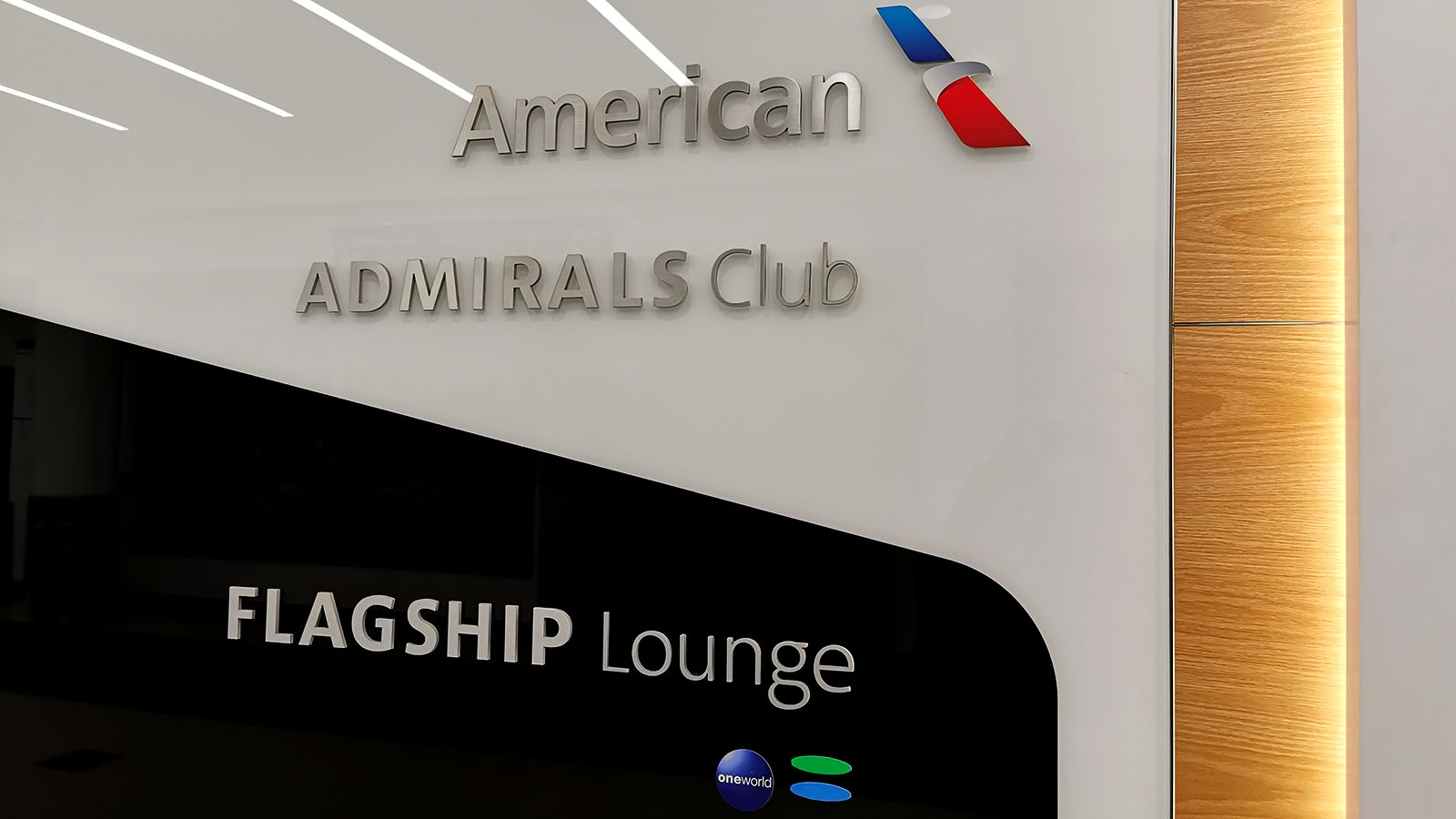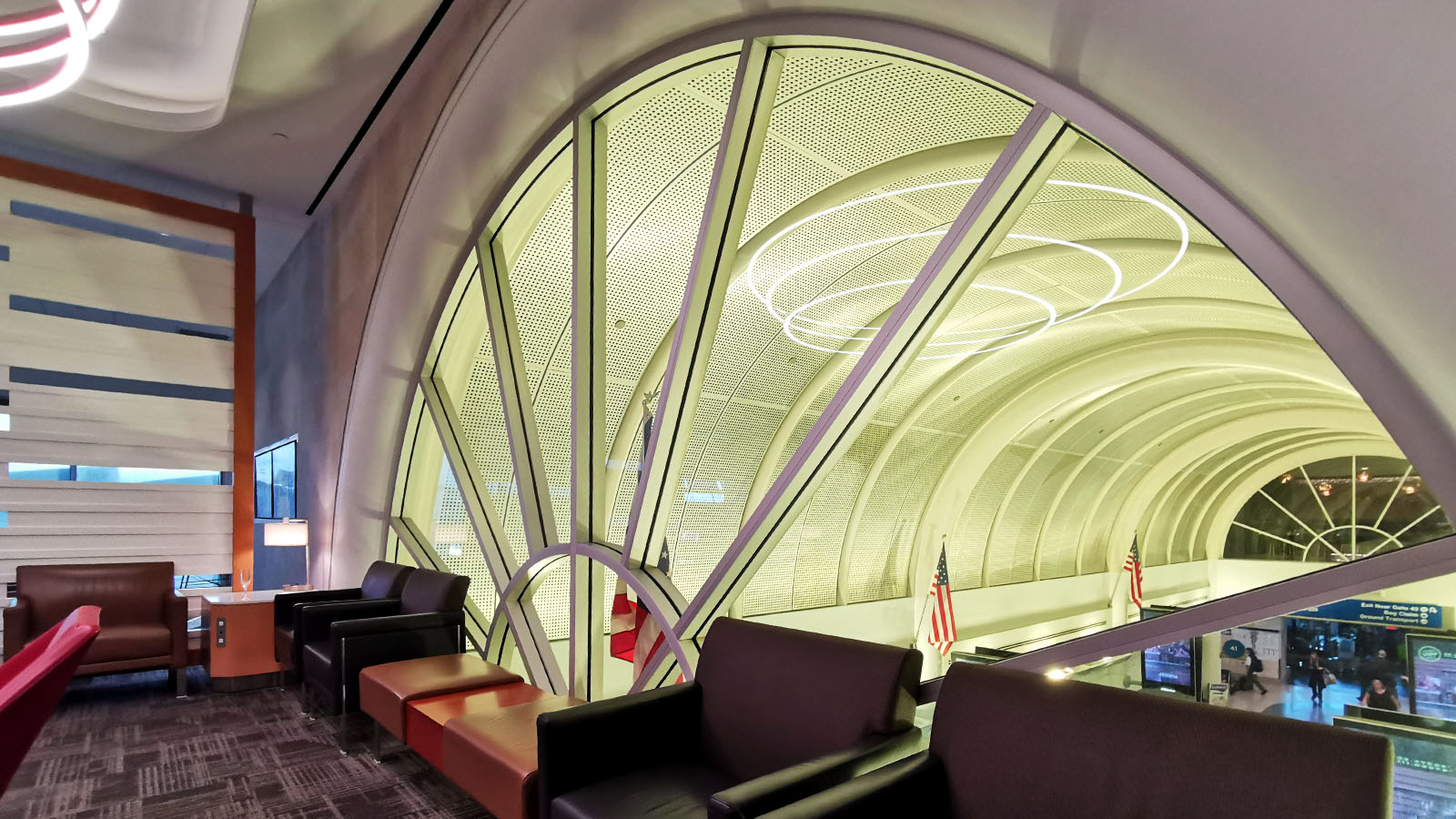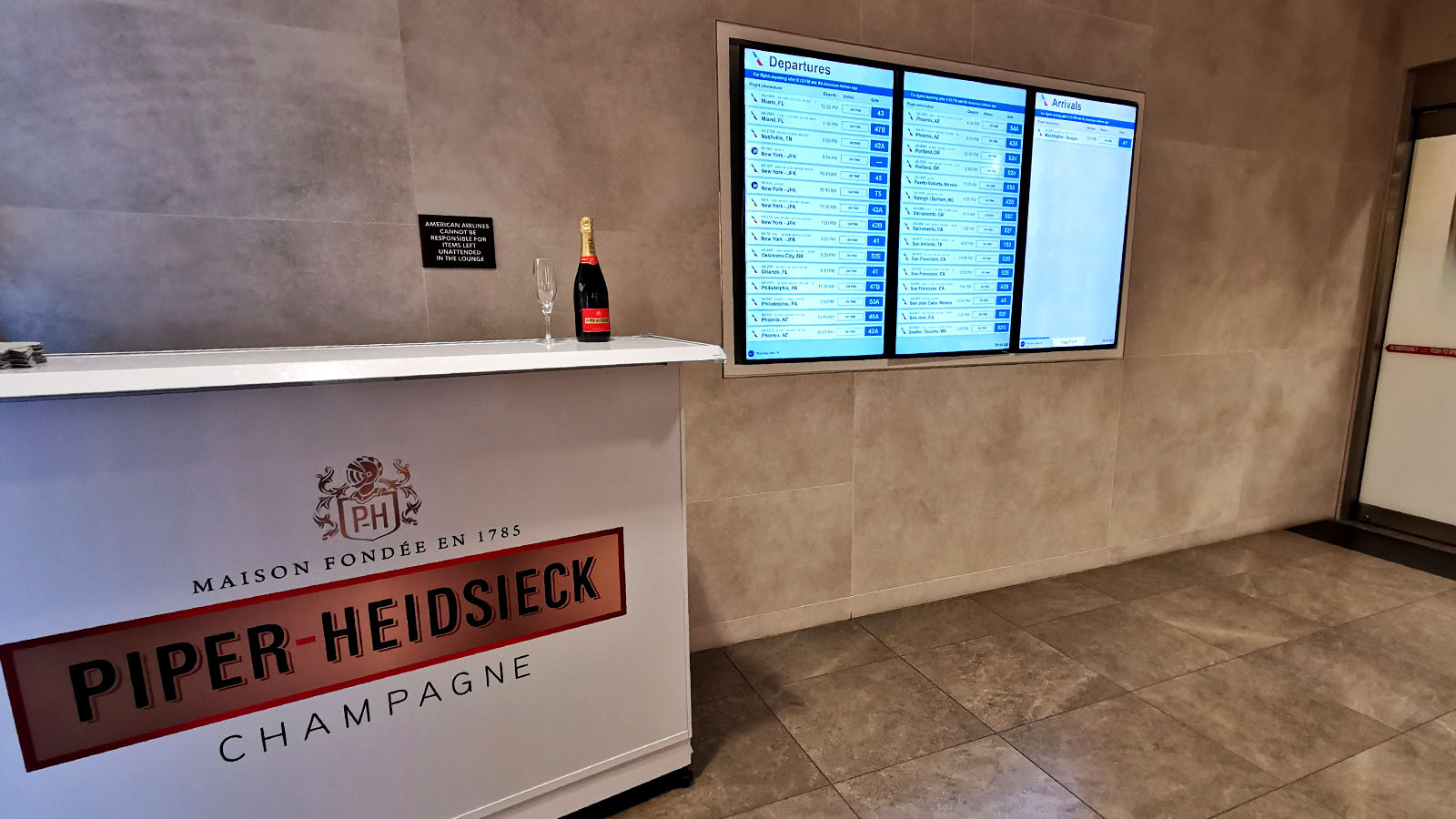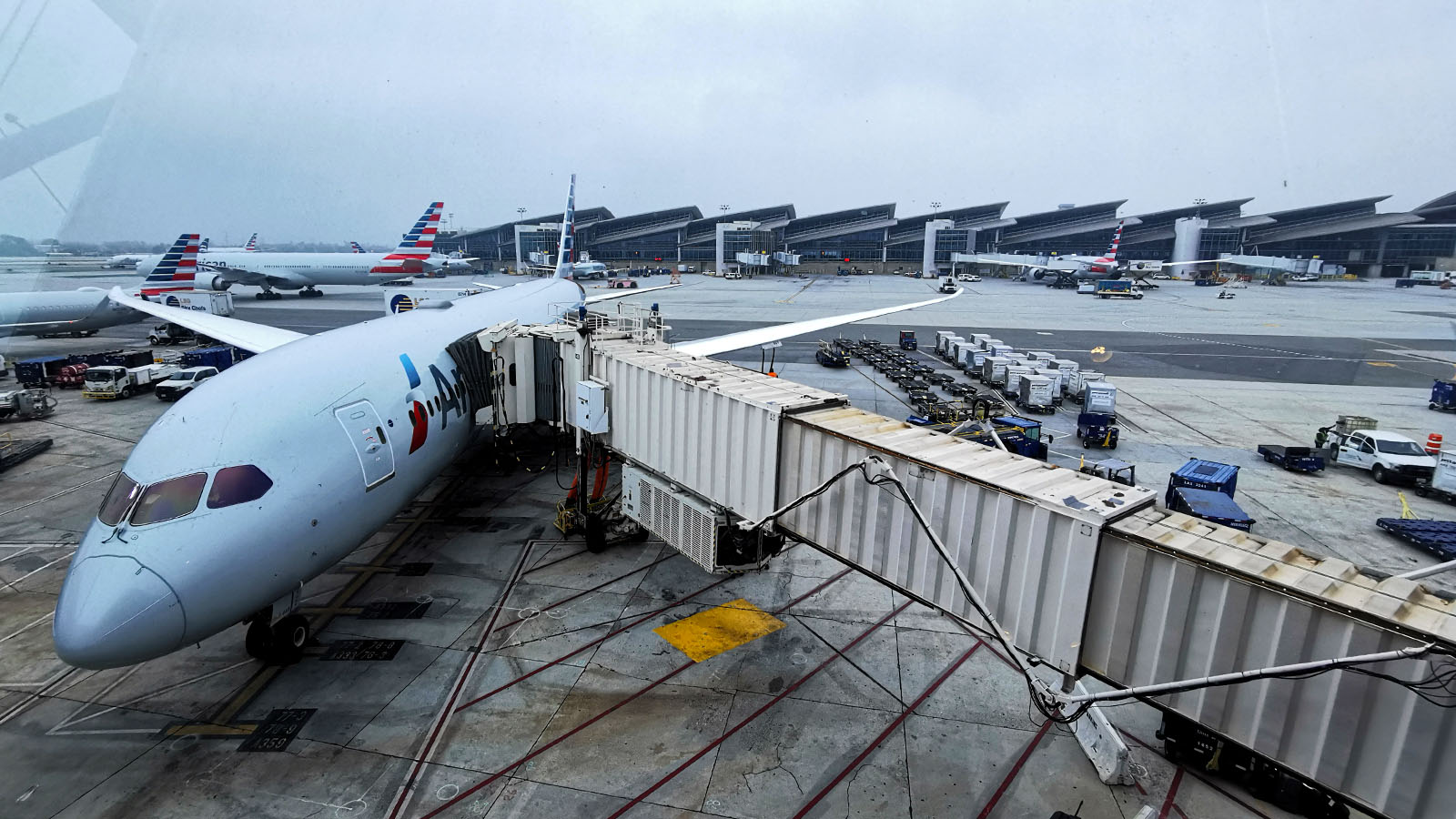 The lounge sits one level above the main concourse. In one corner, this provides views of the hustle and bustle below. From the rest of the lounge, there are clear airport views. The Flagship Lounge faces towards the Tom Bradley International Terminal (TBIT), so you might spot some interesting or familiar planes.
This Flagship Lounge opens daily at 4:30 am and closes at 1 am. This matches the opening hours of the Admirals Club next door.
Lounge layout and seating
The Flagship Lounge in Los Angeles is largely split into two different zones. Once you're through the front doors and past the Champagne station, there's a small sitting room. From here, you can look over the terminal itself. Or perhaps, wait close to the service desk if staff are working on something for you.
Move past that and you'll find a relaxed TV nook, which flows through to a line-up of tables and chairs along the windows. The space curves around to the left, so you'll emerge into the main lounge space. Across several visits, I observe that this tends to be where most people spend their time.
This space affords some terrific views across the gates of Terminal 4 and TBIT. It's also really refreshing to have lots of natural light flowing through – especially after stepping off a long flight from Australia and awaiting an onward connection.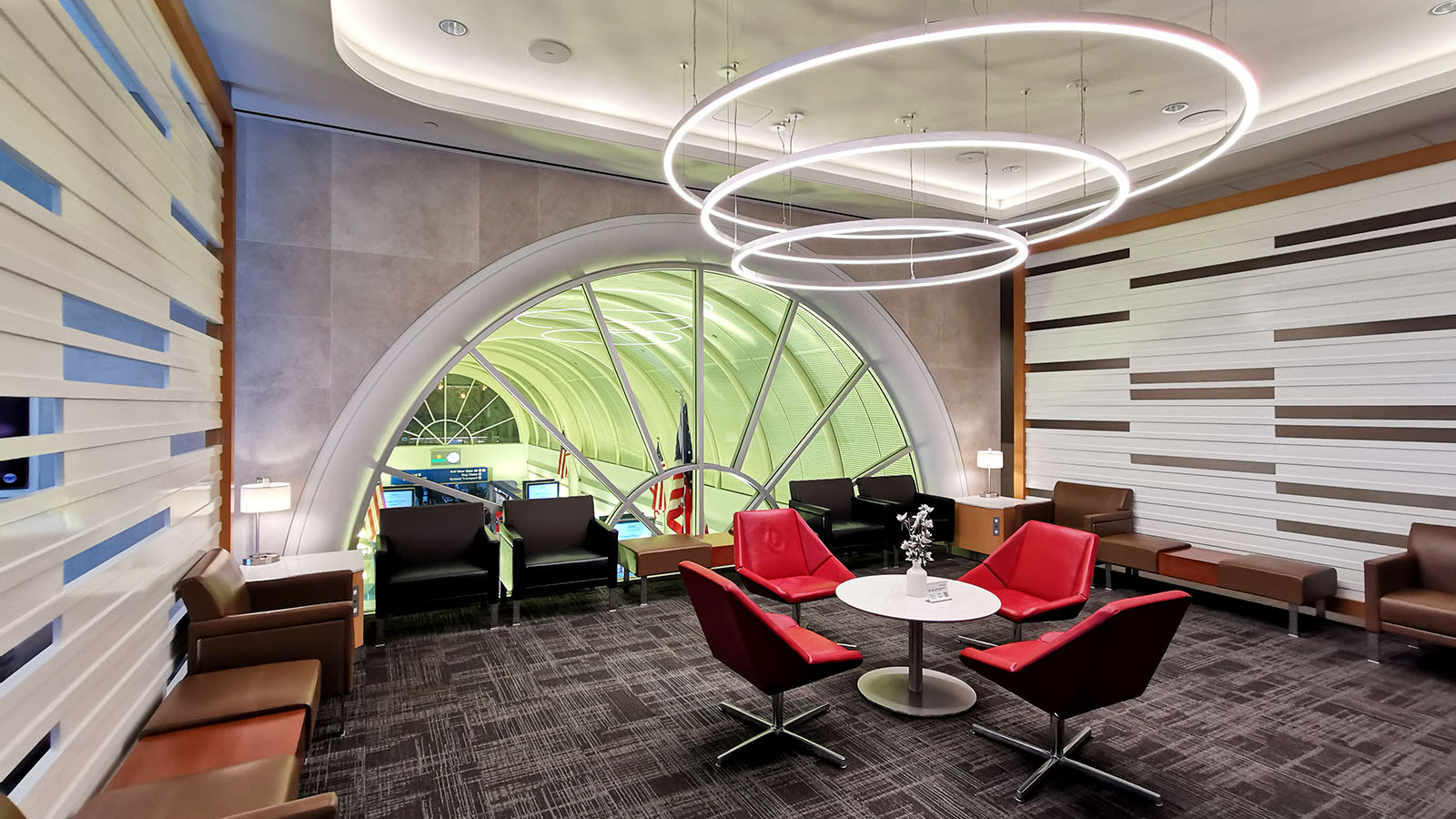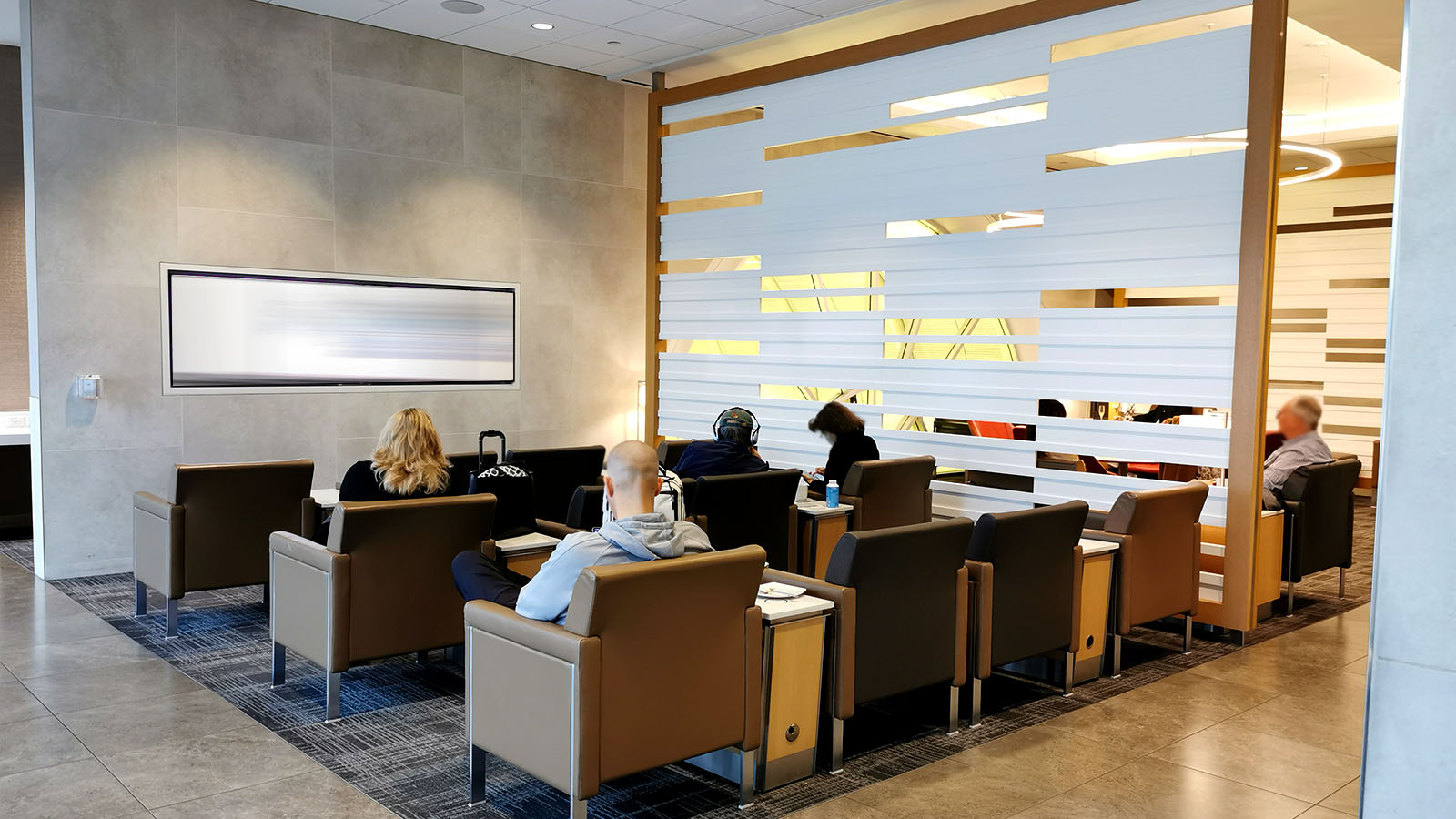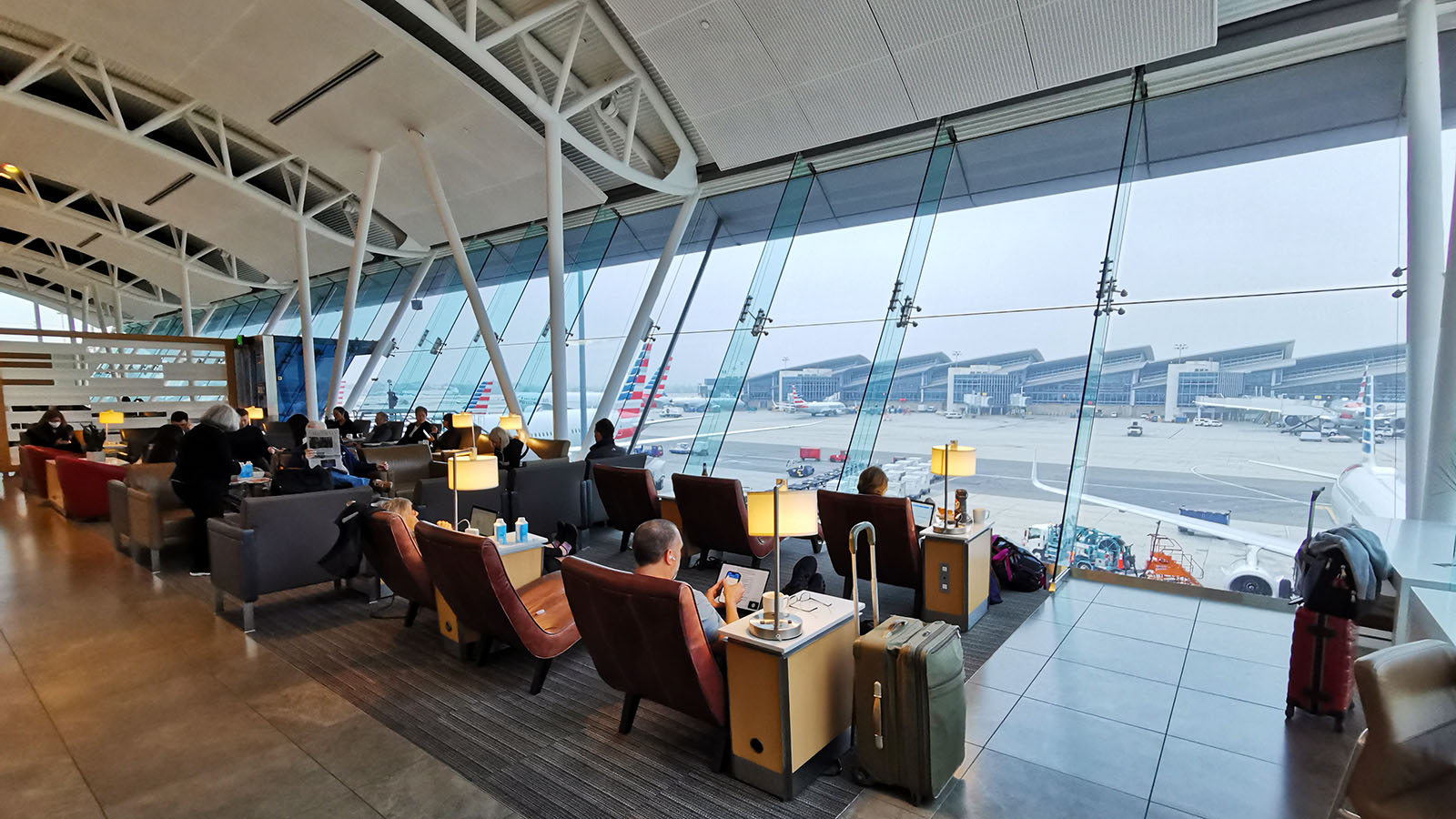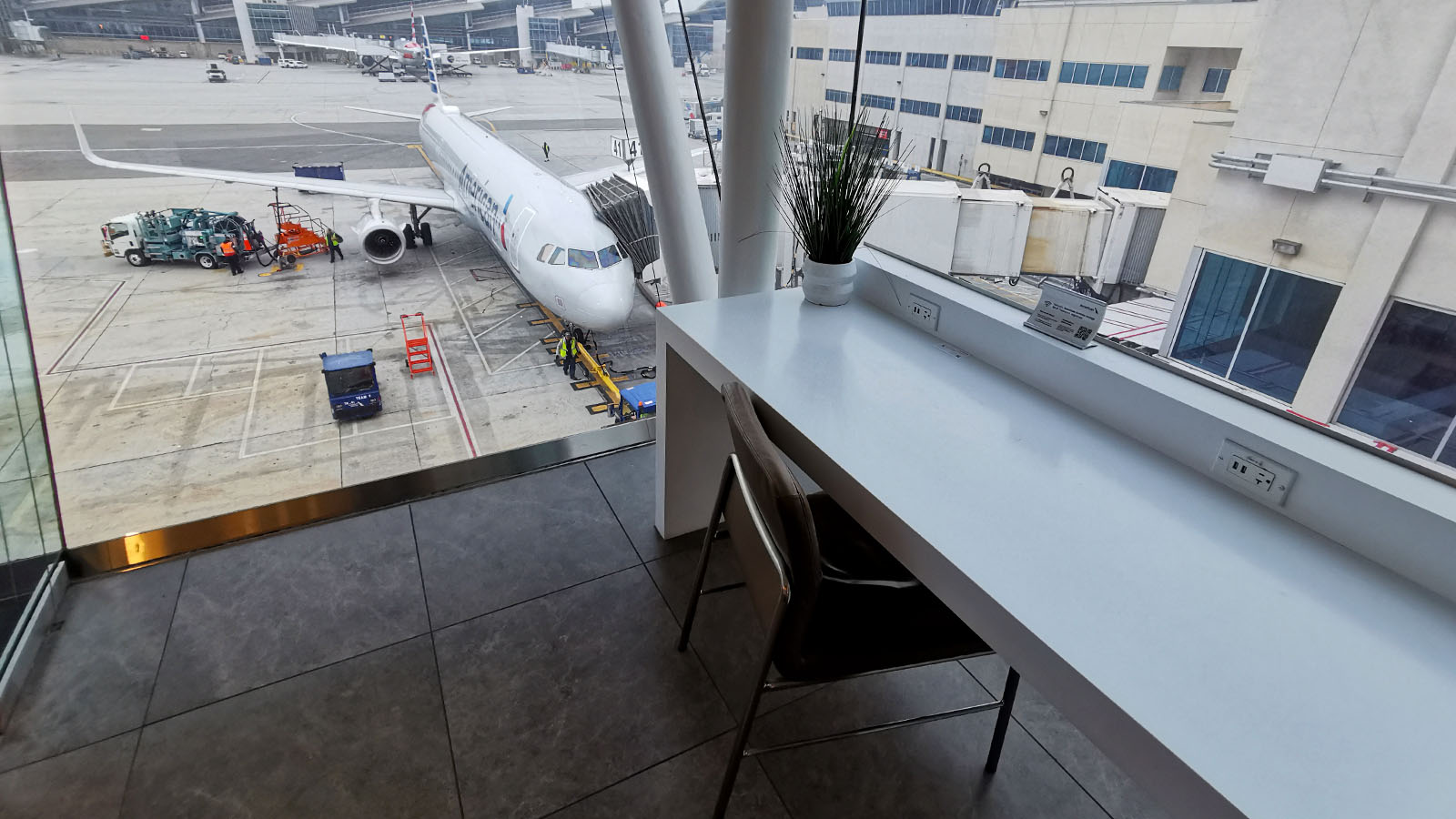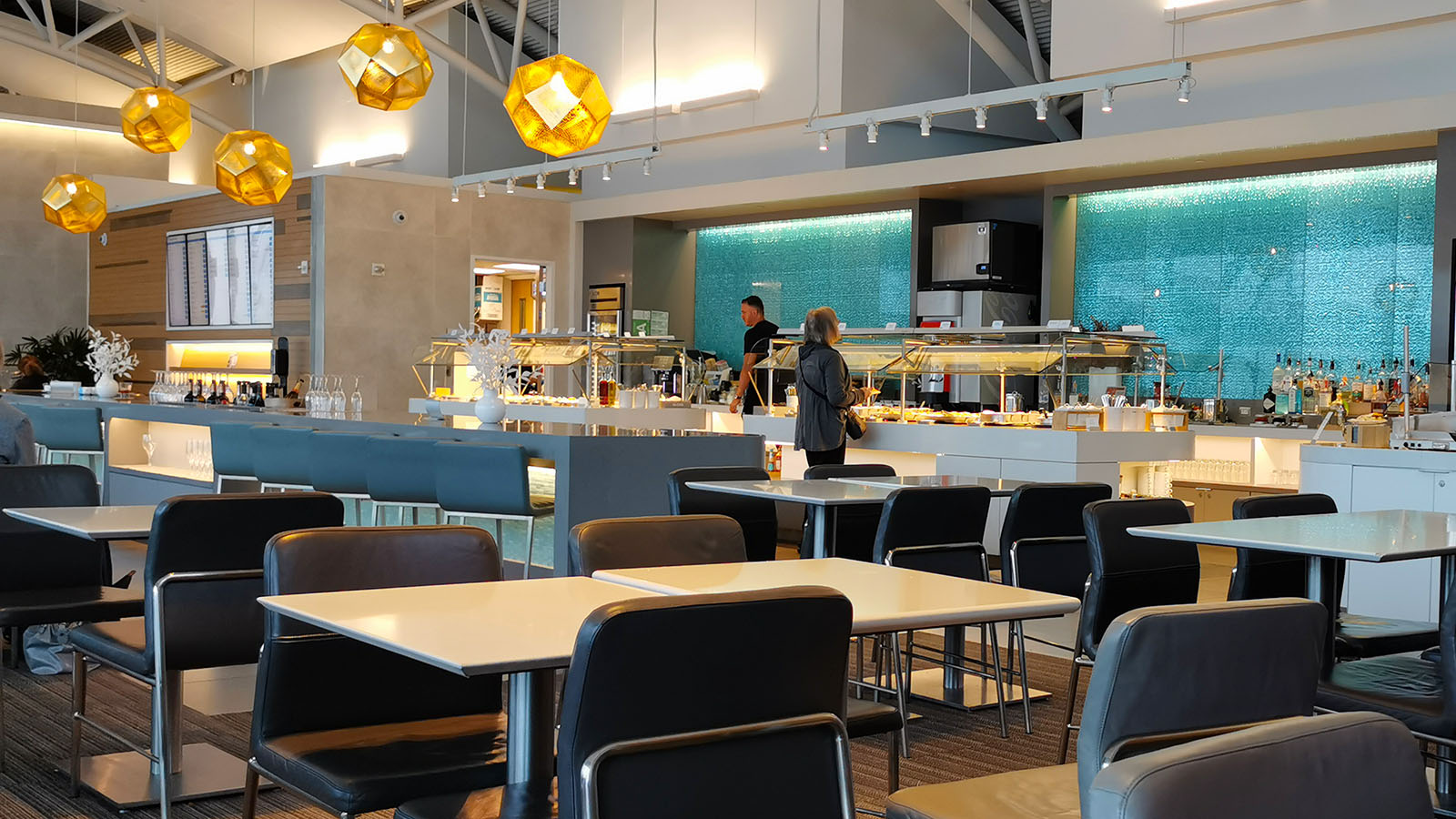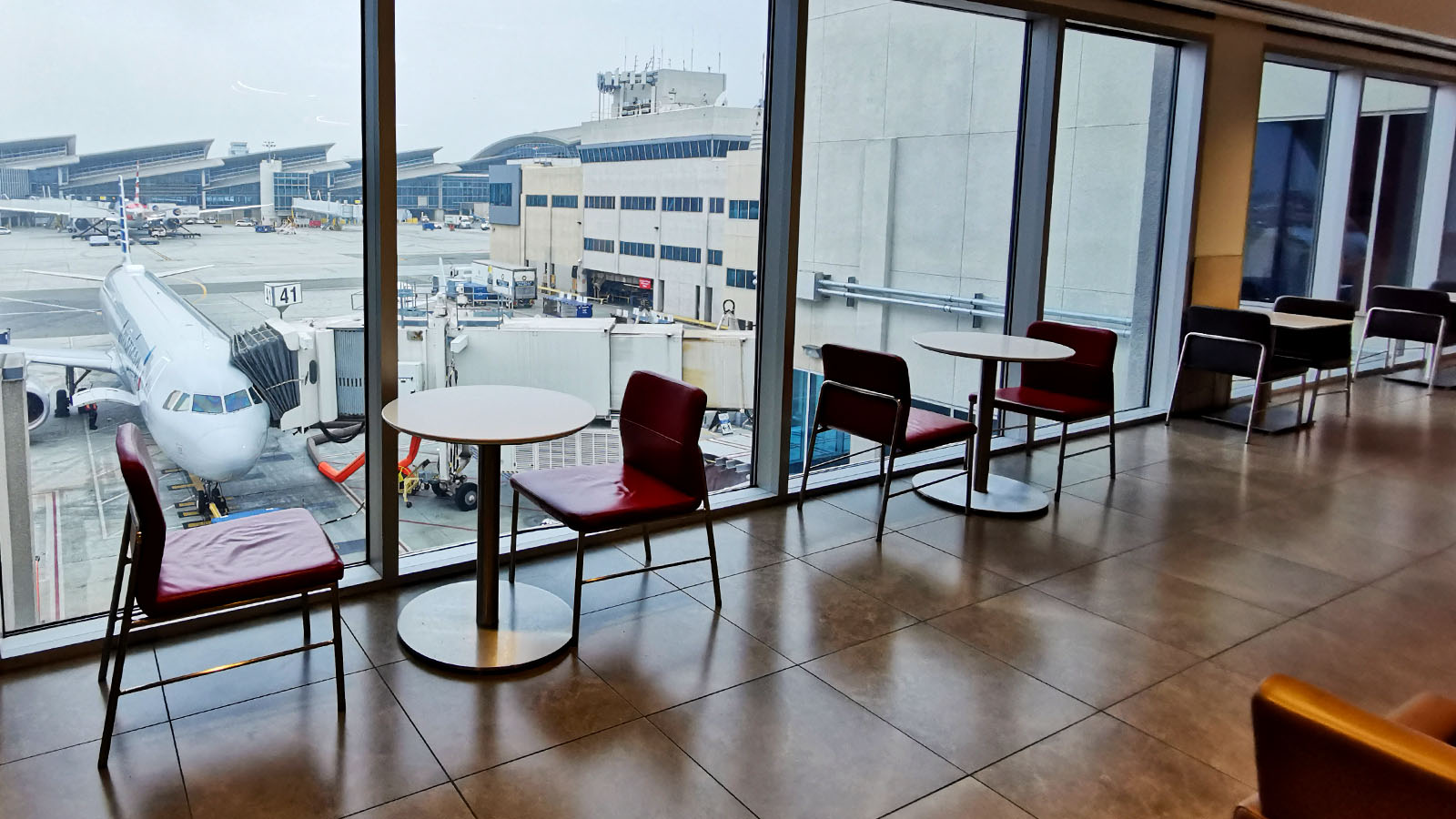 Need to get some work done? At one end of this great hall, there are workbenches lining the windows. They're equipped with power – but it's not the only place you'll find them. I venture down to the very far end and find an outlet tucked below a banquette dining seat. I can enjoy breakfast, catch up on some emails, recharge my devices and people watch, all at the same time.
The overall design here helps you feel like you're in your own little space. But socialising is easy too if the mood strikes. A couple sitting near me strike up a conversation. They're off to Spain for two weeks on a well-deserved holiday. One works for a global luxury hotel chain – you'd know the name. Safe to say, they won't be slumming it on this trip. I have around 10 hours in transit before my own flight to San Antonio, so the chit-chat is a nice way to help pass the time.
Lounge amenities
A few final touches complete the physical Flagship Lounge experience here in Los Angeles. I take a moment to appreciate some of the historic American Airlines imagery on display. Many of the images line the walkway to the separate Flagship First Dining facility. This room comes with a more exclusive access list – but it's long been 'temporarily closed' anyway. Though you can still appreciate the photos on display nearby.
If you really need a desktop computer, there's also a Mac station set up and ready to go. Shower facilities are available too. Just stop by the main lounge reception desk to book a room and get your key, or to join the waiting list. Happily, when I make my request, there's a room waiting and ready to go.
I also find staff at reception to be quite helpful. I wander past again and pause for a moment to read the flight screens. They proactively ask which flight I'm looking for so that they can provide the latest information. I appreciate the update, especially as boarding calls aren't made within the lounge.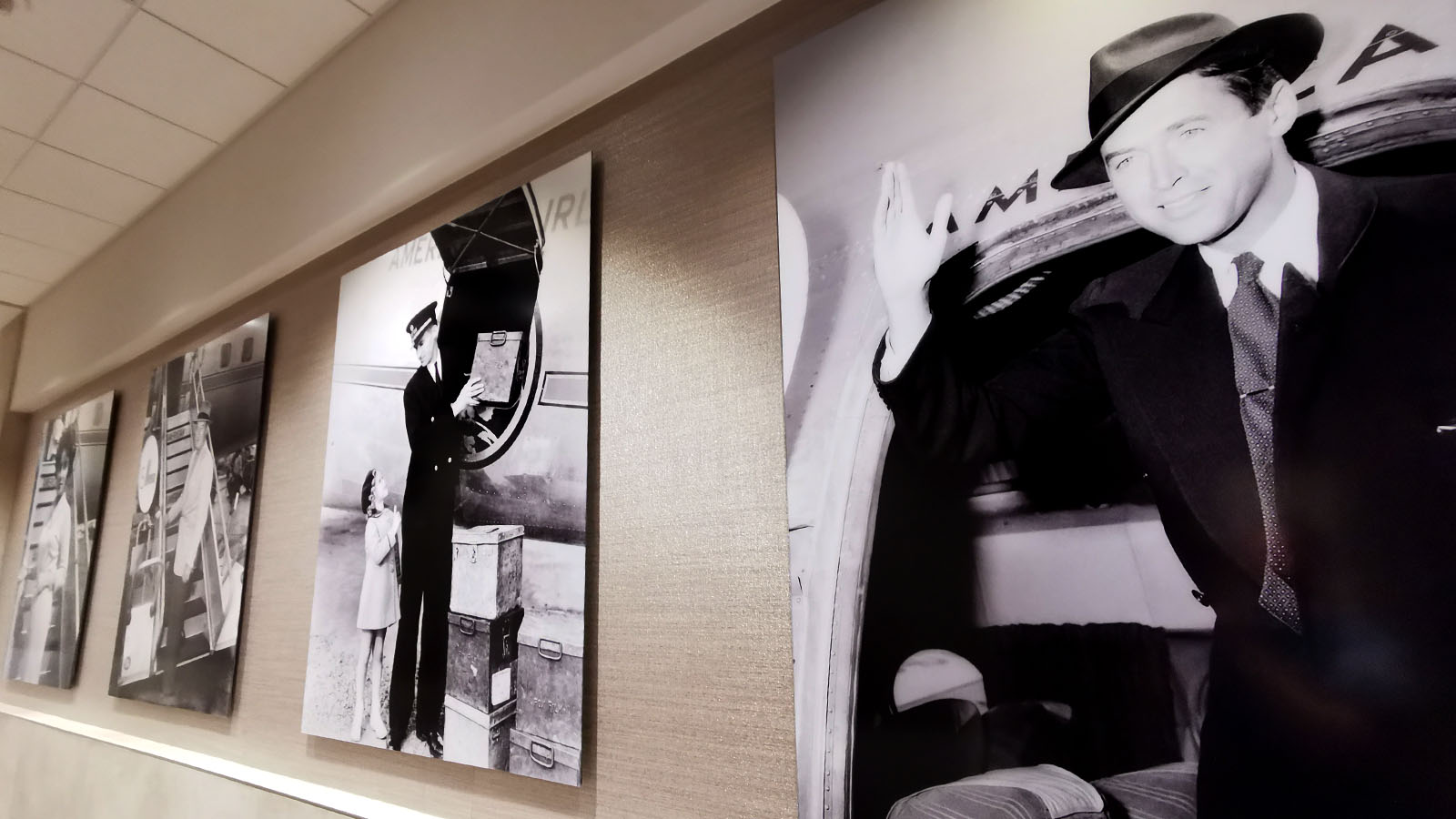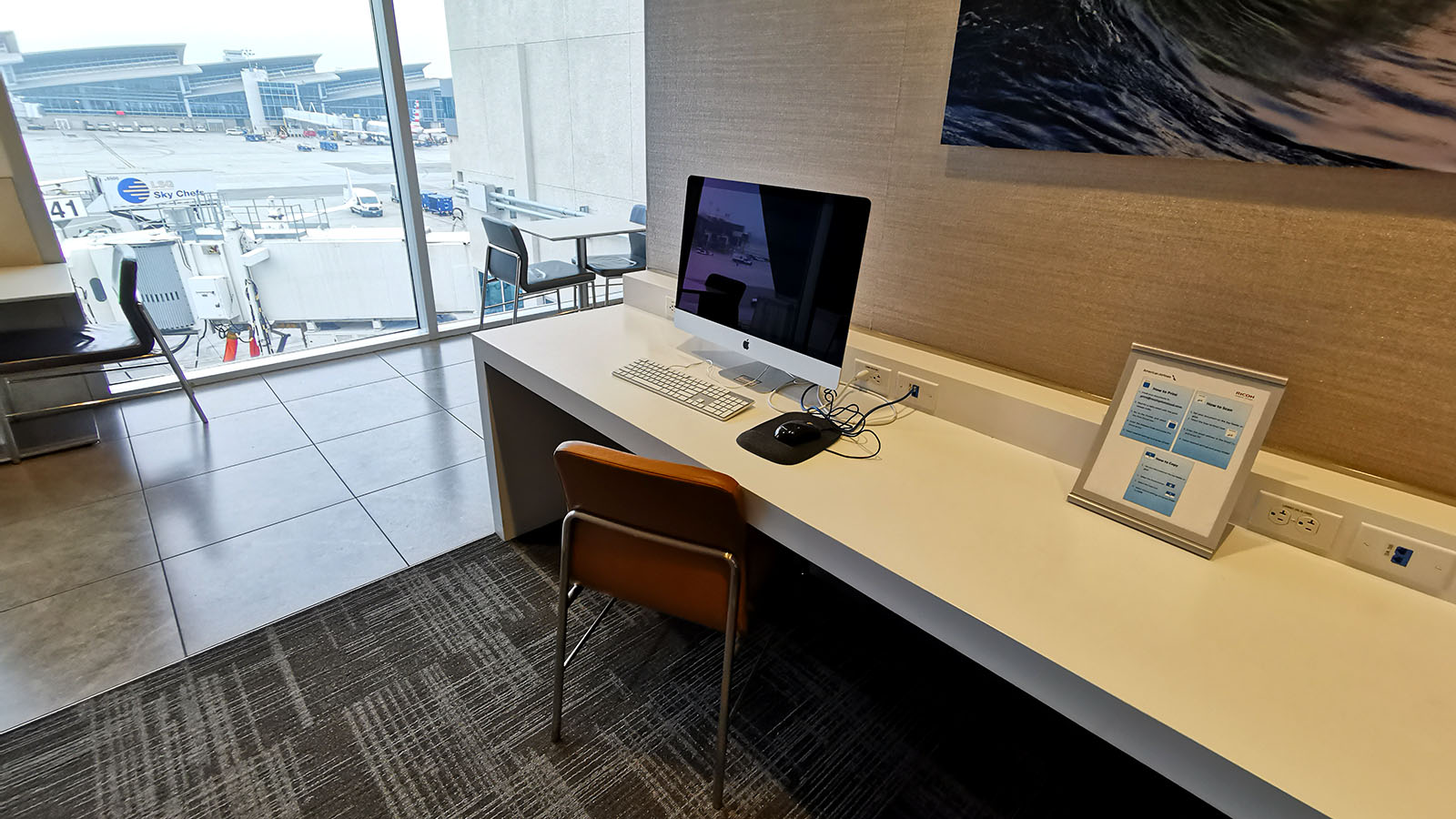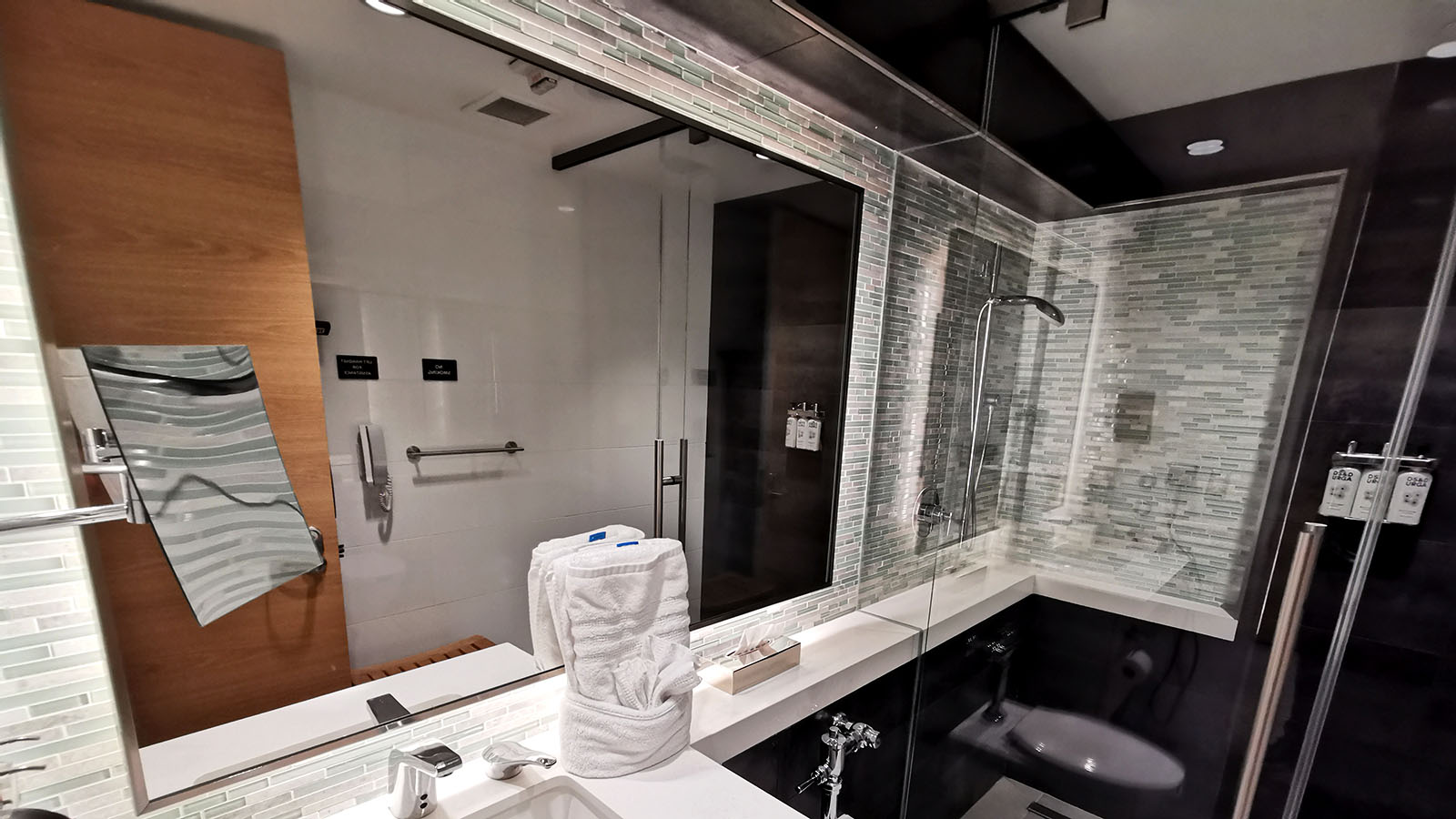 Food and beverage in the American Airlines Flagship Lounge, Los Angeles
In recreating my visit to the AA Flagship Lounge in Chicago over the last Christmas holidays, I settle in with my mimosa. After that, it's time for coffee. There's no barista here in the Los Angeles Flagship Lounge, but the DIY machine gets the job done.
For breakfast, the comprehensive buffet offers a wide variety of fare. The selections here are noticeably more premium than the typical Admirals Club breakfast choices. There's so much to choose from that I try little bites of things that take my fancy, and I'm not disappointed. For this one, I'll let the images do the talking.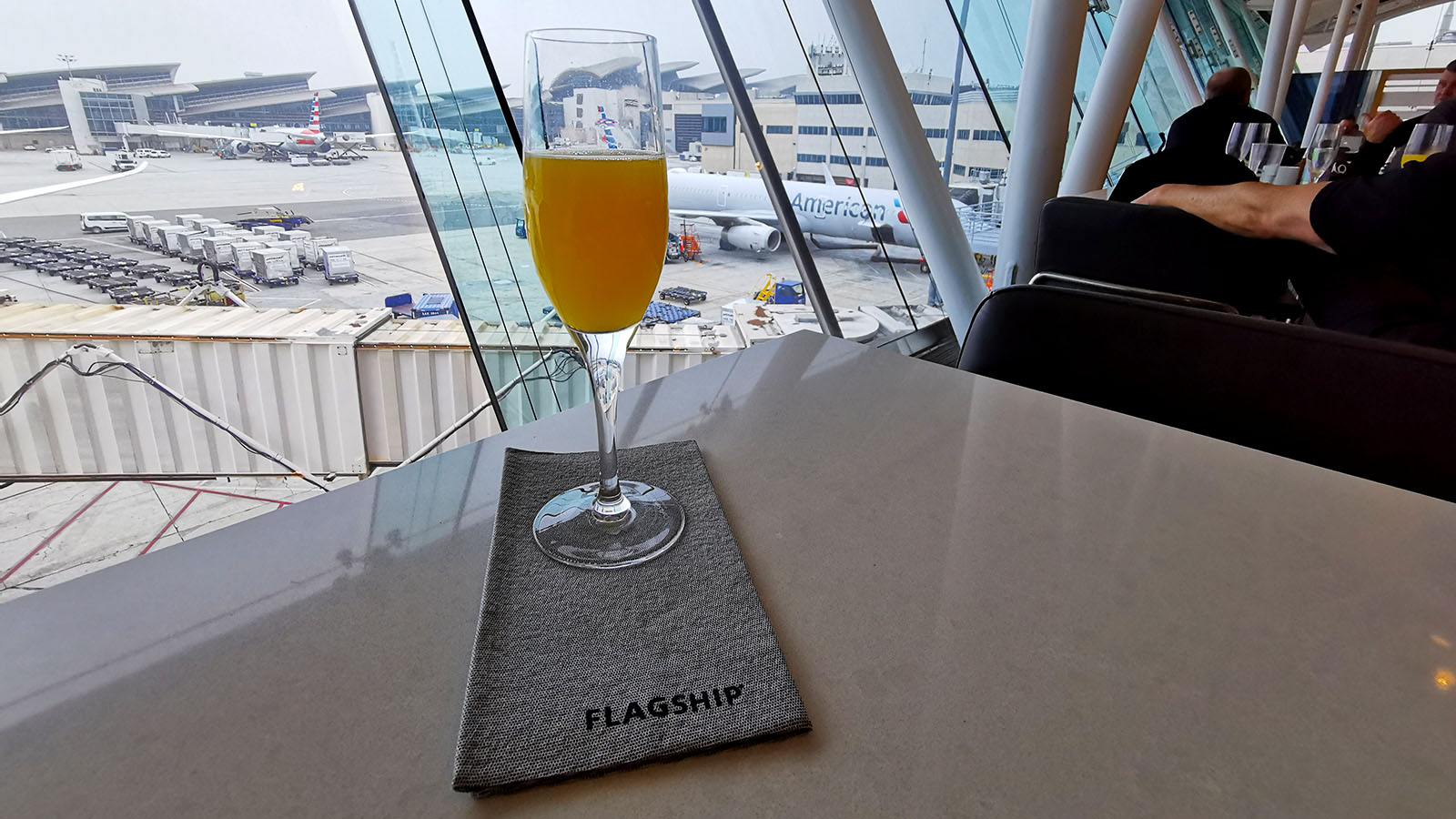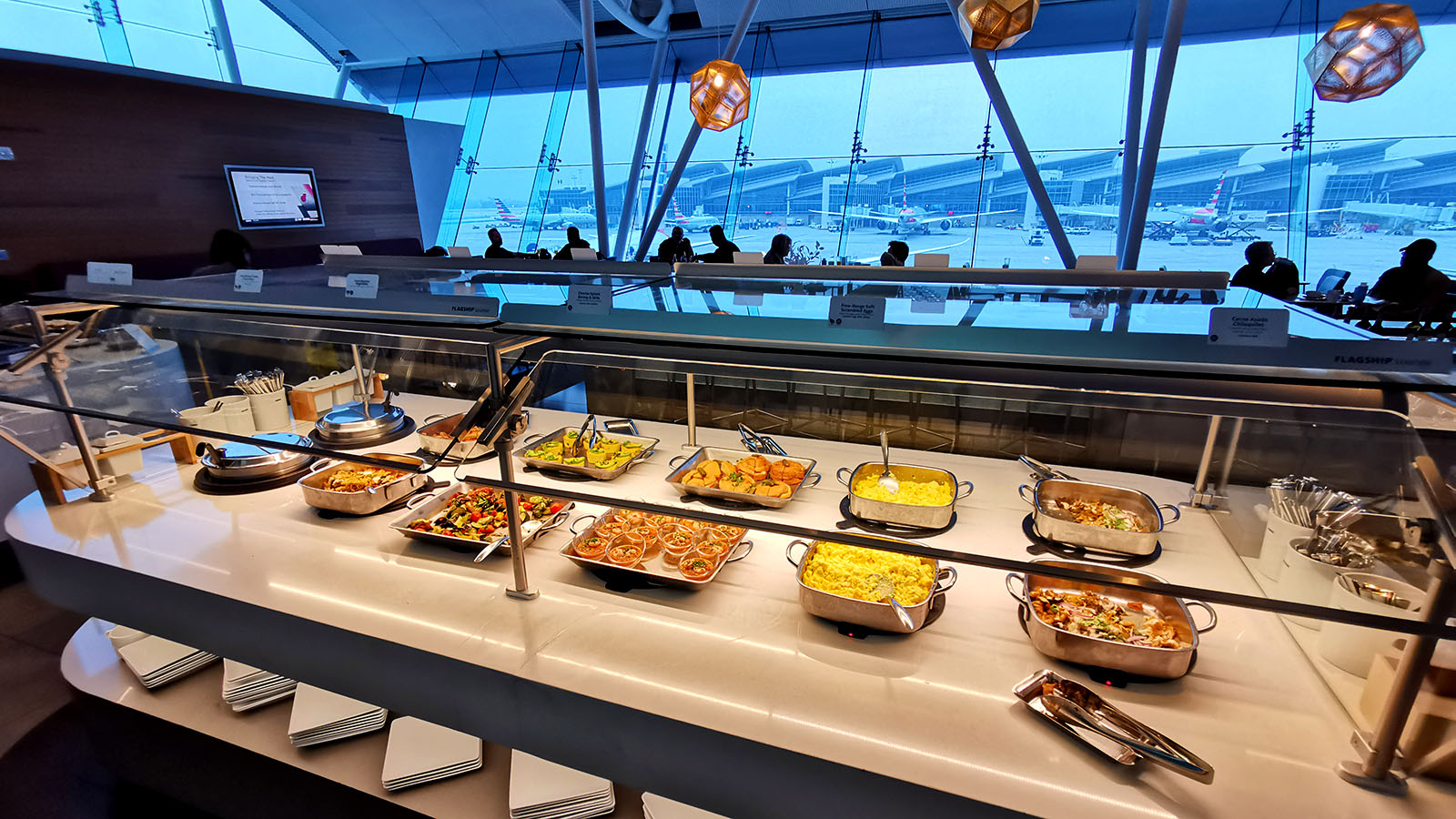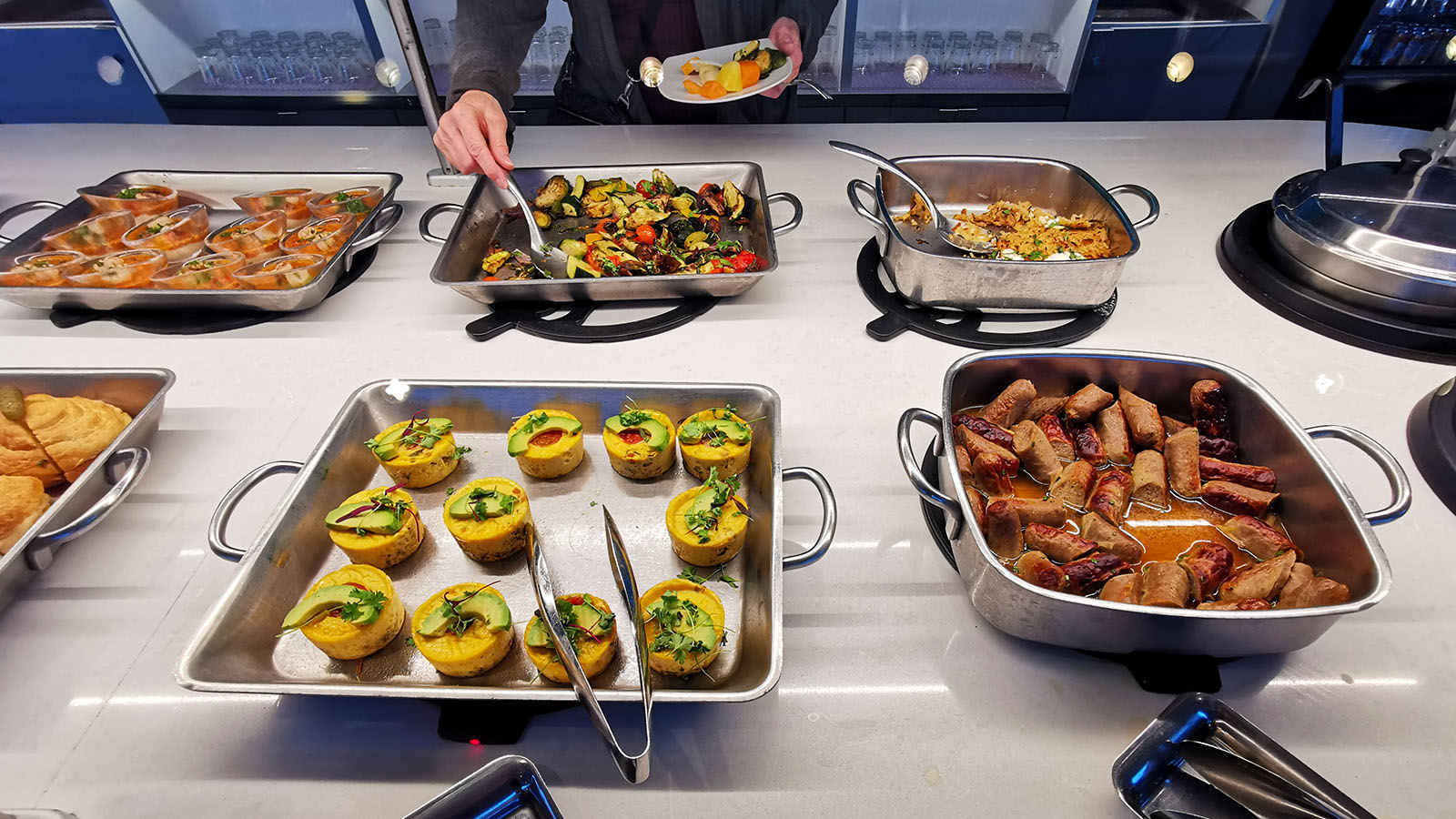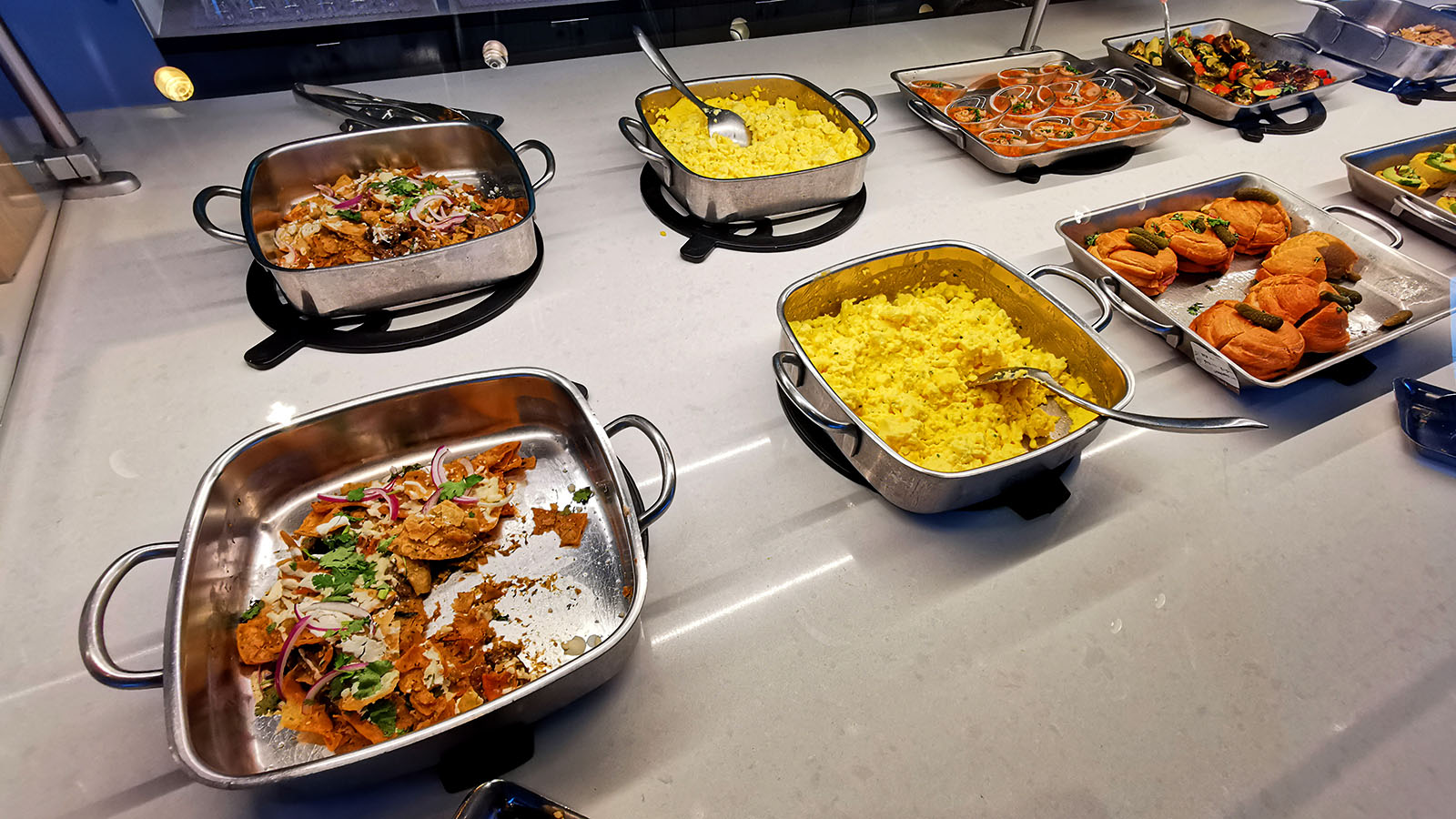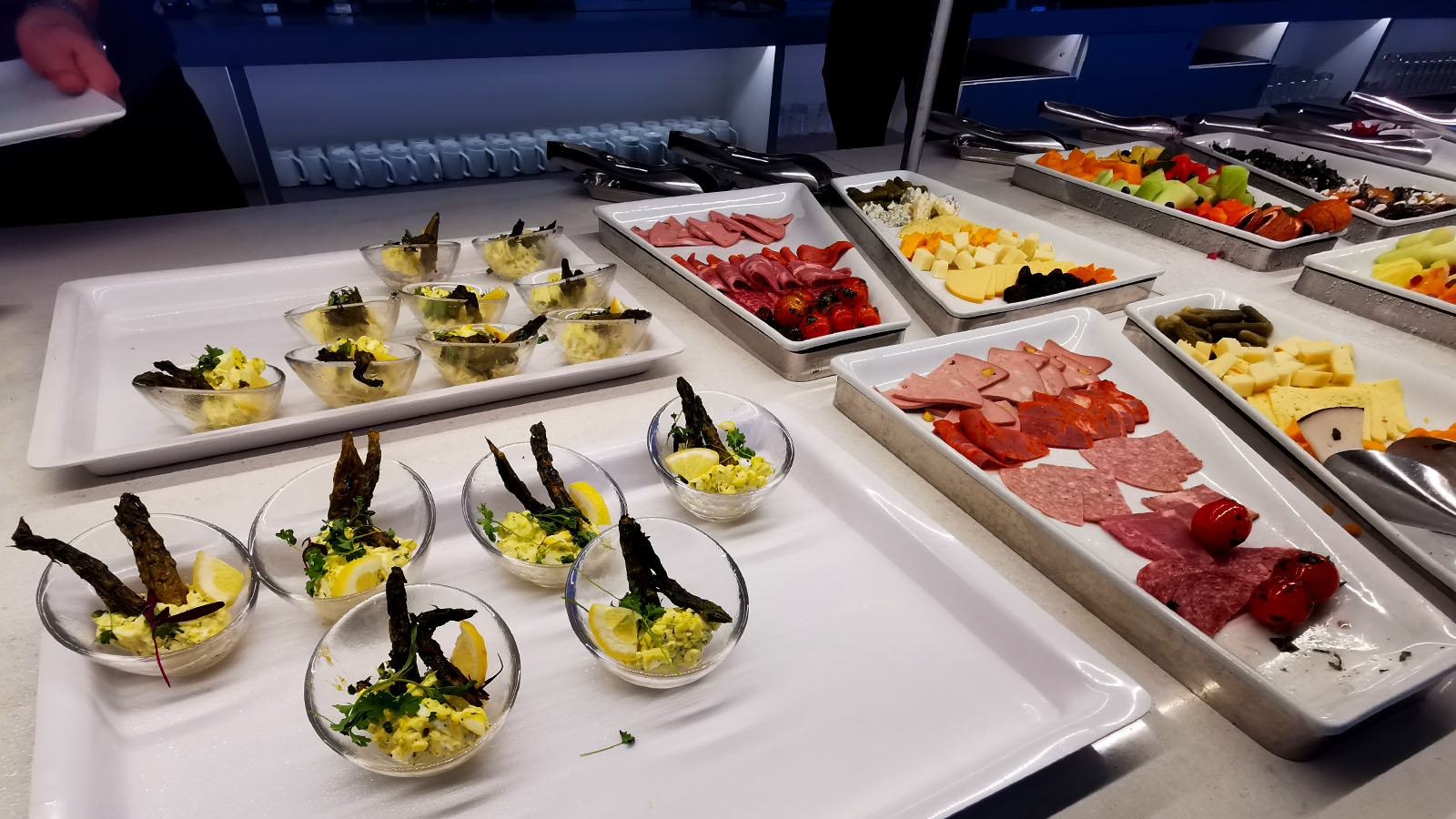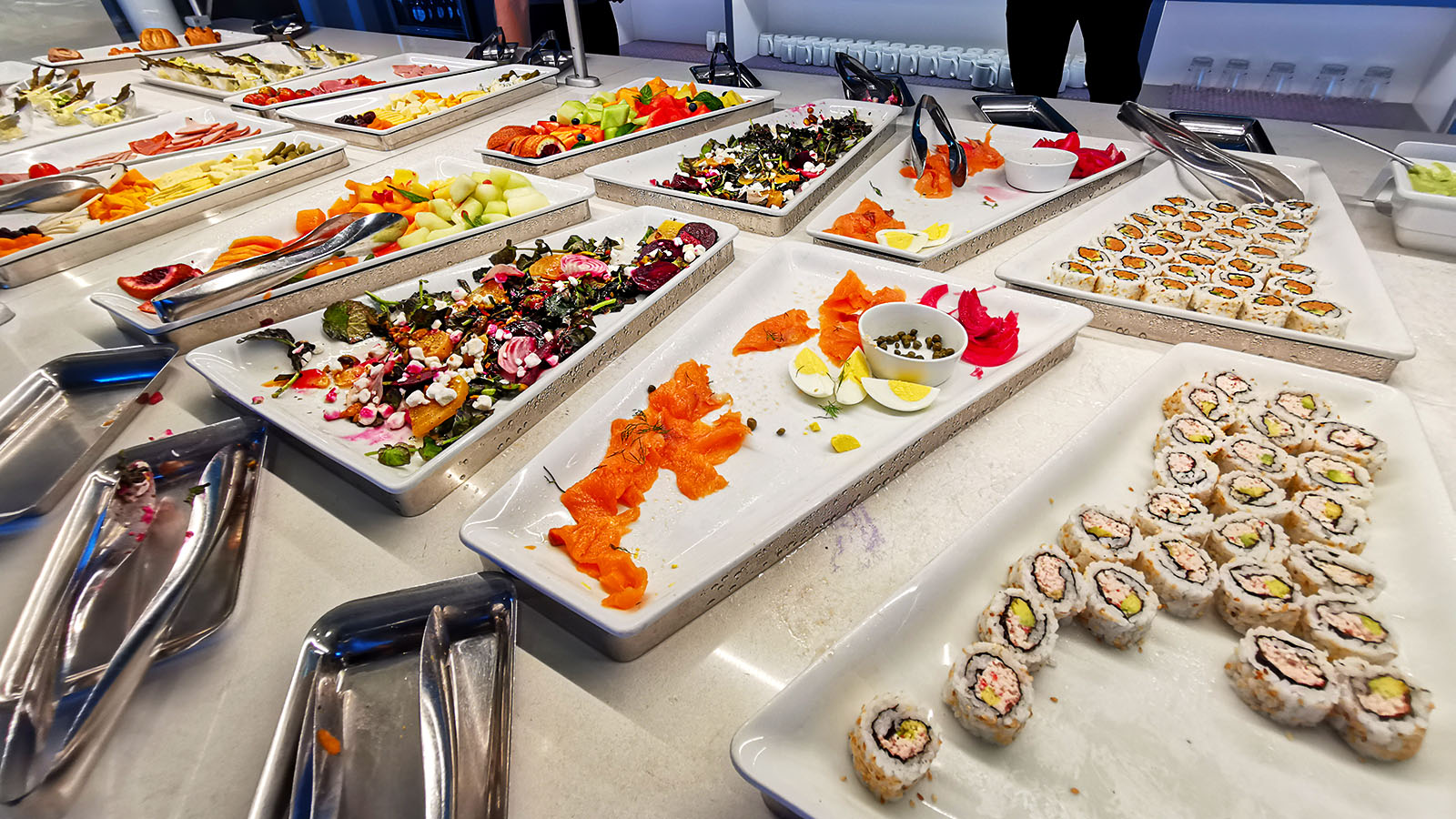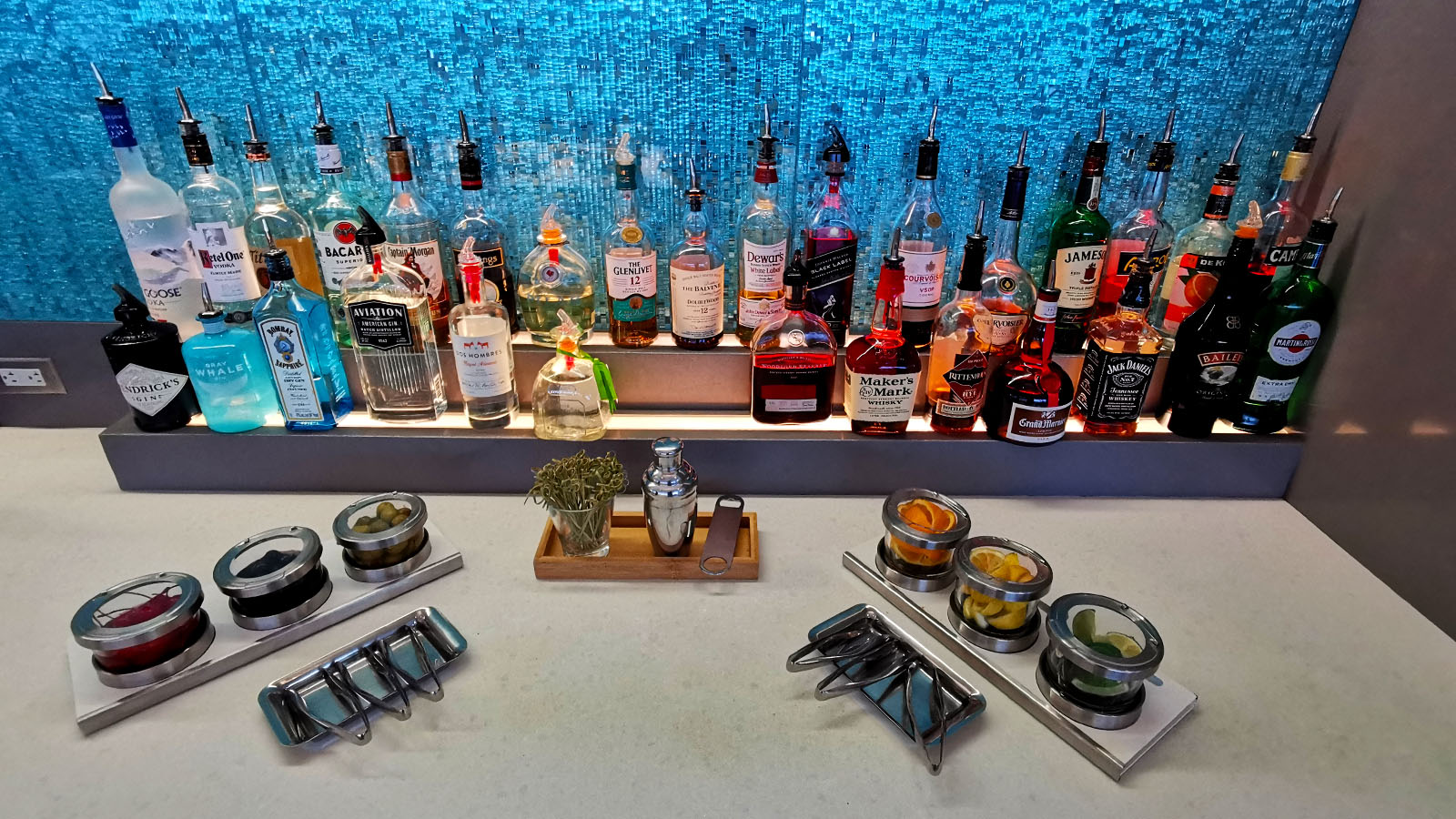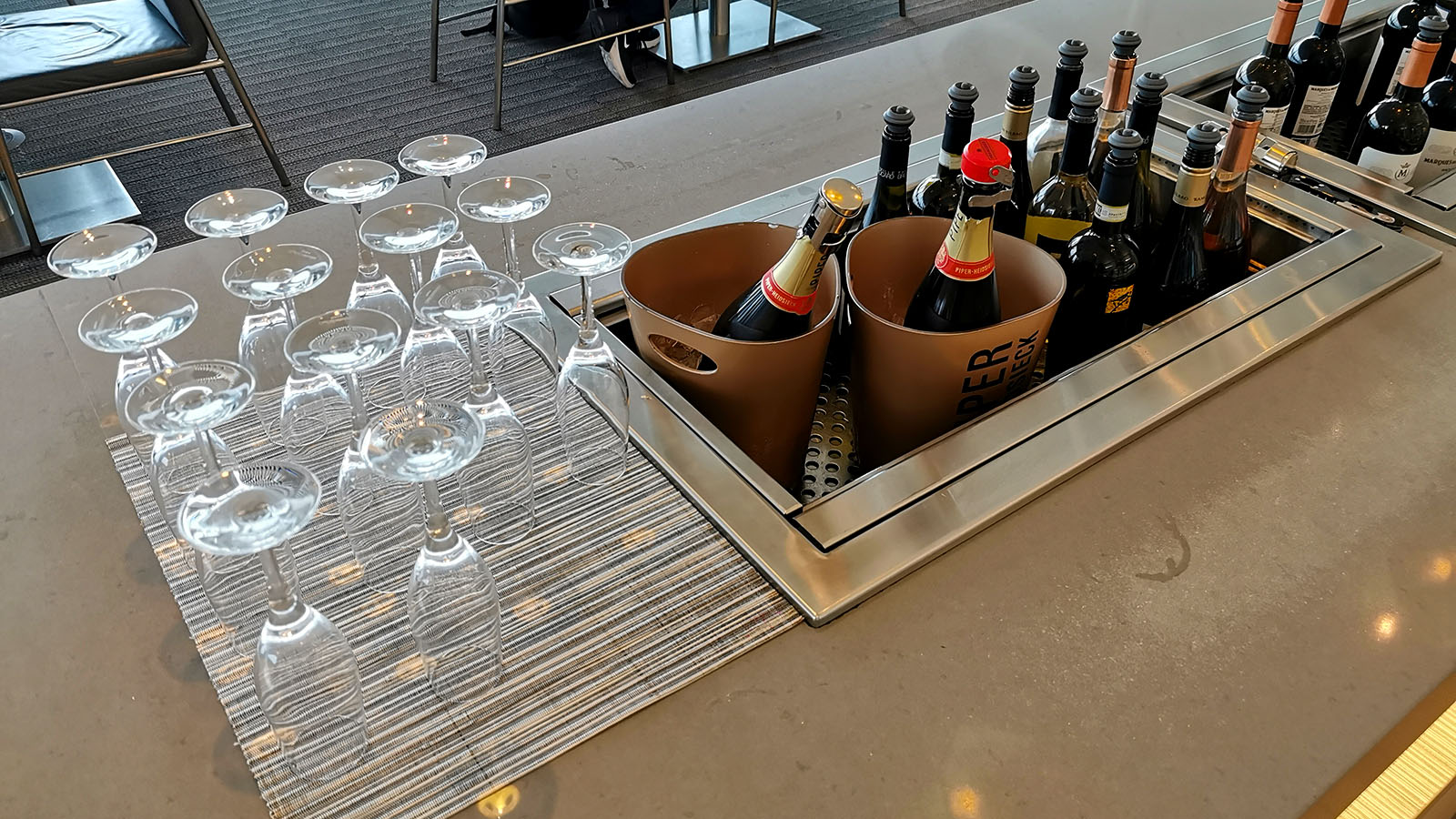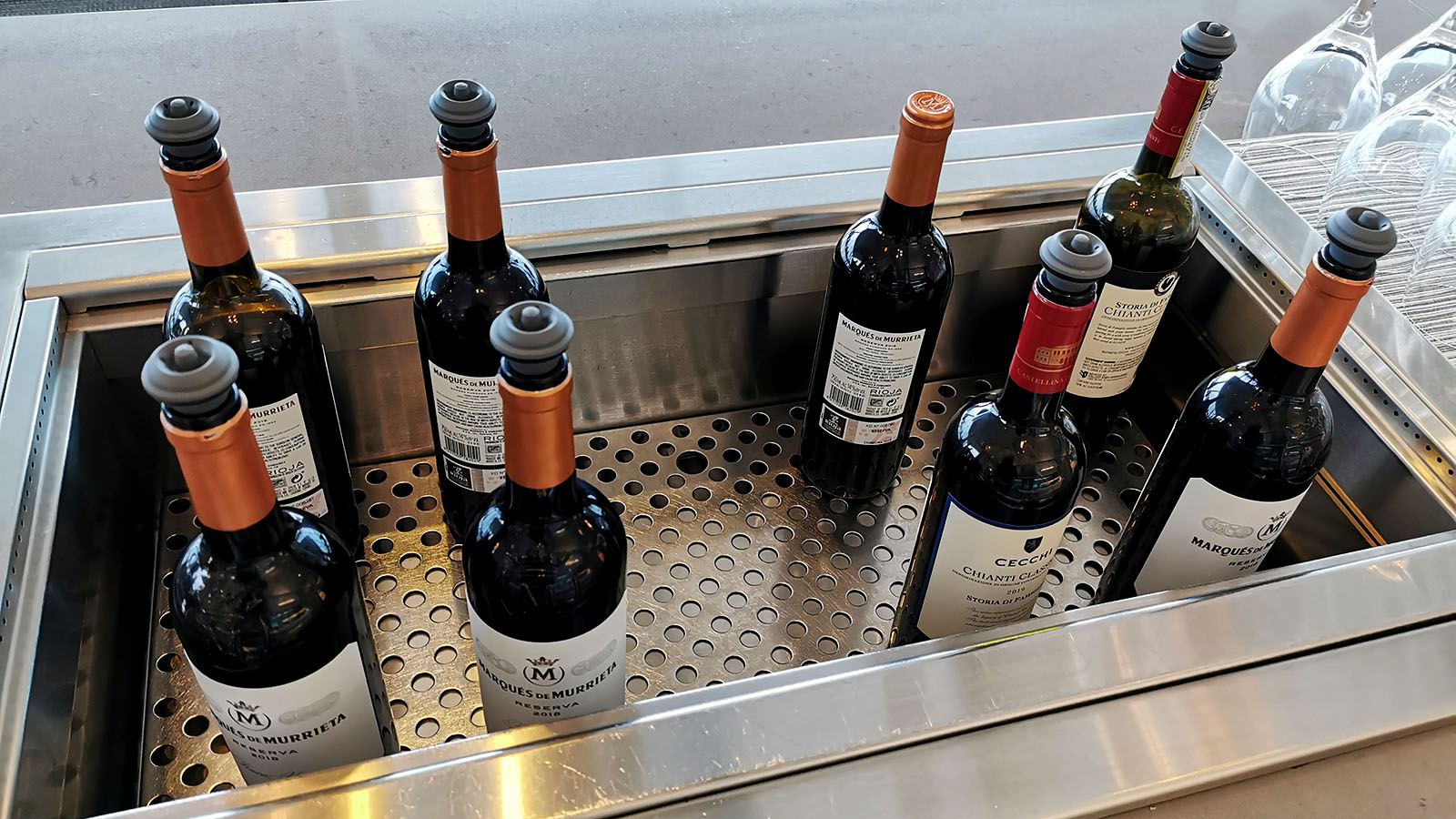 I have many hours to go before my evening flight to Texas. But I stay in the Flagship Lounge just in time to see a few of the lunch bites pop up, before moving on to my next lounge. I quite like the sushi – something you don't often see in lounges. Wine, beer and spirits are self-serve, with choices open and available even when I enter at around 8 am.
All in all, it's a very solid offering. It's a spread I'd be happy to encounter before a long-haul flight. And after all, this terminal is where AA's flights to Sydney depart from. But having this kind of facility to enjoy before a shorter domestic hop is a real treat. It's a perk AA normally reserves for its own VIP-tiered frequent flyers on domestic-only trips. But AA is more welcoming of elite frequent flyers of its partner airline programs. This really benefits Qantas Frequent Flyer members, as below.
Accessing the American Airlines Flagship Lounge in Los Angeles
As a reminder, the Los Angeles Flagship Lounge shares an entry point with the neighbouring Admirals Club. If you qualify for Flagship Lounge entry, you'll receive an invitation card to present at the next checkpoint. Without it, you'll simply end up in the Admirals Club.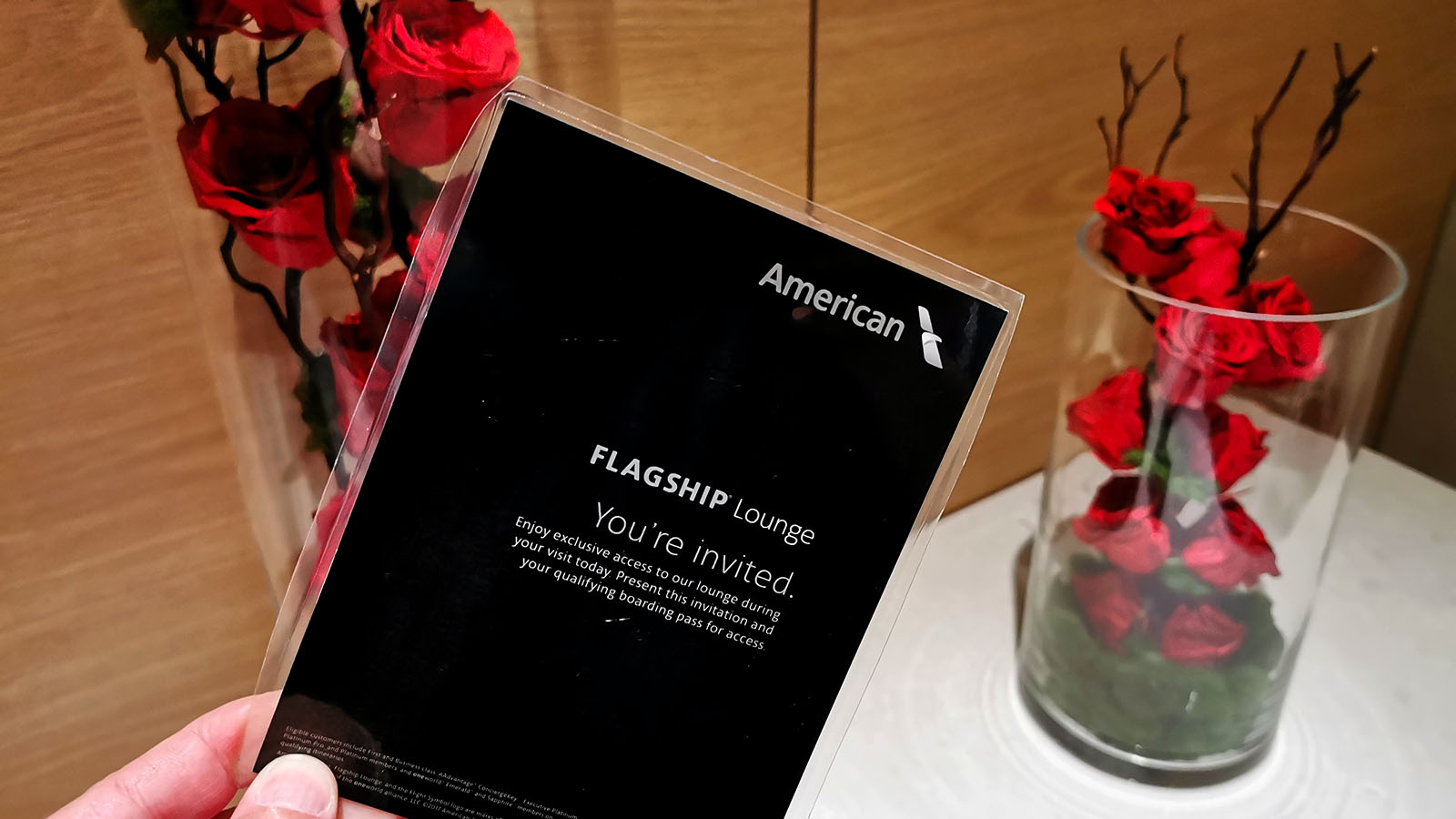 But who gets inside? Lounge policies can get quite complex in the US, but we've done the digging for you.
By airline and cabin:

American Airlines' Flagship Business, Flagship Business Plus and Flagship First passengers (+1 guest for international Flagship First only).
Business Class and First Class passengers on other oneworld Alliance long-haul flights (+1 guest for international First Class only).

Via airline status:

Qantas Gold, Platinum, Platinum One and Chairman's Lounge (+1 guest, when travelling with AA or on another oneworld flight, including on domestic itineraries).
American Airlines AAdvantage Platinum, Platinum Pro and Executive Platinum (+1 guest, but only when booked on an eligible international itinerary with AA or a oneworld airline).
Alaska Airlines Mileage Plan MVP Gold and MVP Gold 75K (+1 guest – again, only when travelling on an eligible international itinerary with AA, Alaska Airlines or another oneworld carrier).
American Airlines ConciergeKey (+2 guests, when travelling on any same-day flight with American Airlines or another oneworld carrier).
Other oneworld Sapphire and Emerald members (+1 guest, including on domestic itineraries).

Buy a single visit pass: If you don't otherwise make the cut, one-off access can be purchased at the door for US$150 or 15,000 AAdvantage miles. This is subject to available capacity.
It's worth remembering too that access for most eligible frequent flyers can be by way of a 'same-day flight'. In effect, this permits access on arrival, provided you can physically access the lounge (which you can't after an international arrival without also having an onward connection, unless arriving from Canada).
Summing up
Personally, I rather like the Flagship Lounge in Los Angeles. The airport views and natural light are great when you're in transit. The food is tasty and varied, and there's Champagne. There's a nice atmosphere too, and the space is noticeably quieter than the Admirals Club next door.
I rate this lounge higher than the Qantas International Business Lounge over in TBIT. Whereas for Qantas, that lounge is 'second tier', for American Airlines, the Flagship Lounge is 'top tier'. But interestingly, the Flagship Lounge guest list accommodates both mid-tier and top-tier frequent flyers.
A Qantas Gold member flying Qantas to Australia, for instance, could access the Qantas International Business Lounge in TBIT. But they can also choose to wander over to the Flagship Lounge in T4 – and if it were me, the Flagship Lounge would be my pick. For higher-tiered travellers though, there's also the Qantas Los Angeles International First Lounge to consider. It adds à la carte dining into the mix, but at the expense of airport views and with limited natural light.
In my book, the Qantas First Lounge edges out in front when it comes to food and drinks. But the Flagship Lounge is better for relaxing. As a Qantas Platinum member, I now have a 'game plan' when flying out of LAX. Visit the Qantas First Lounge for a meal, and then retreat to the Flagship Lounge to unwind or get some work done. There are very few places to work in the Qantas First Lounge with power available, whereas that's less of an issue in Flagship.
All in all, it's hard to go wrong. But if you have access to the Flagship Lounge, it's a very nice place to begin any journey.
Also reviewed: American Airlines Flagship Lounge, Dallas Fort Worth
All photography by Chris Chamberlin, who accessed the lounge courtesy of frequent flyer status when travelling at Point Hacks' expense.
---
Stay up to date with the latest news, reviews and guides by subscribing to Point Hacks' email newsletter.
American Airlines Flagship Lounge, Los Angeles
was last modified:
November 27th, 2023
by