The Perth Qantas Club is the main lounge for the majority of Qantas' frequent flyers and lounge members flying interstate from Western Australia.
Previously, it was also the only Qantas lounge in Terminal 4, meaning it was often a tight squeeze, with Business Class guests and Platinum Frequent Flyers directed here as well.
However, since the Perth Domestic/International Business Lounge opened in 2015, the pressure has eased off the Qantas Club.
Lounge Location & Details
The Qantas Club is located at the T4 domestic terminal at Perth Airport. After clearing security, head up the escalators and forward.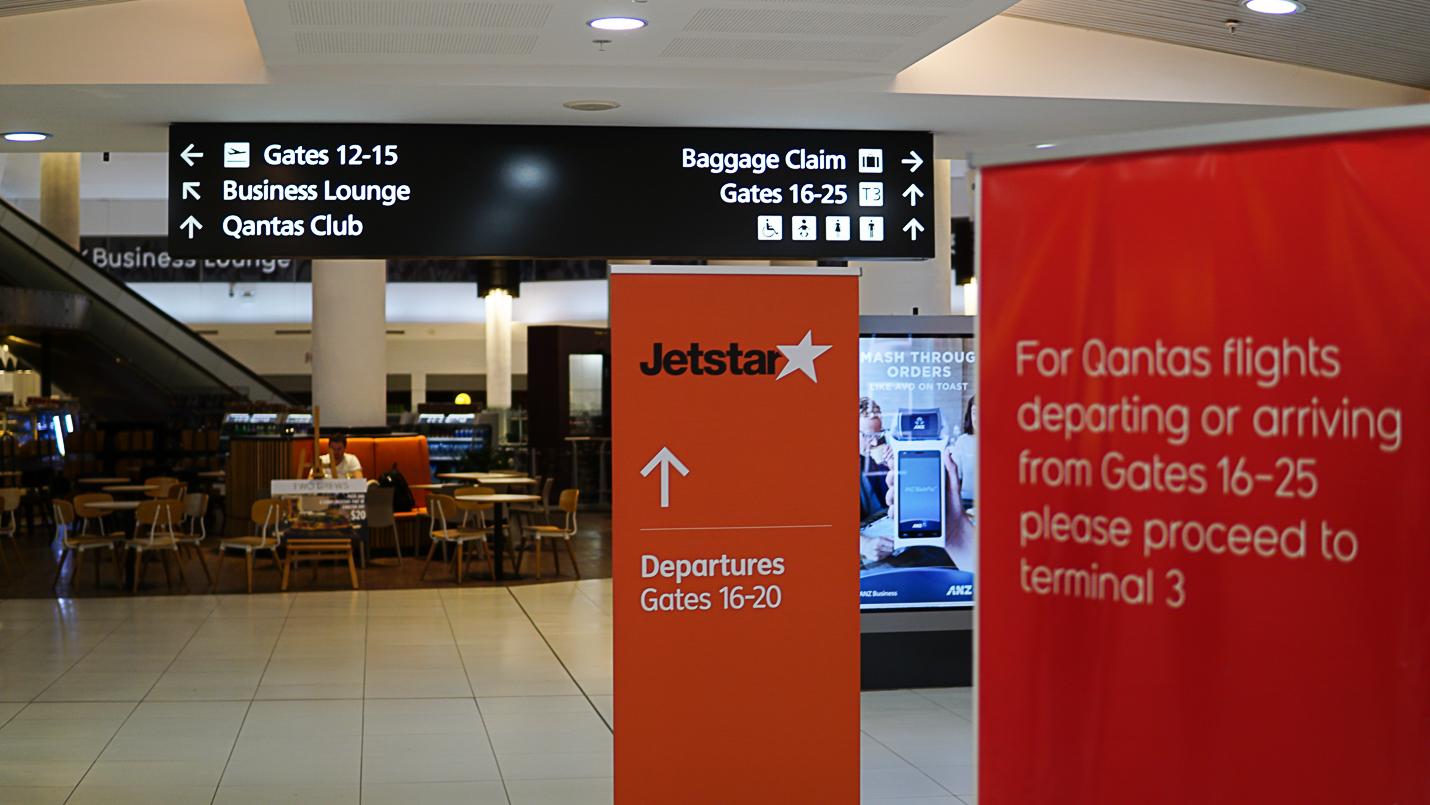 You will see the signage for the lounge in the centre of the concourse, with another escalator heading upwards.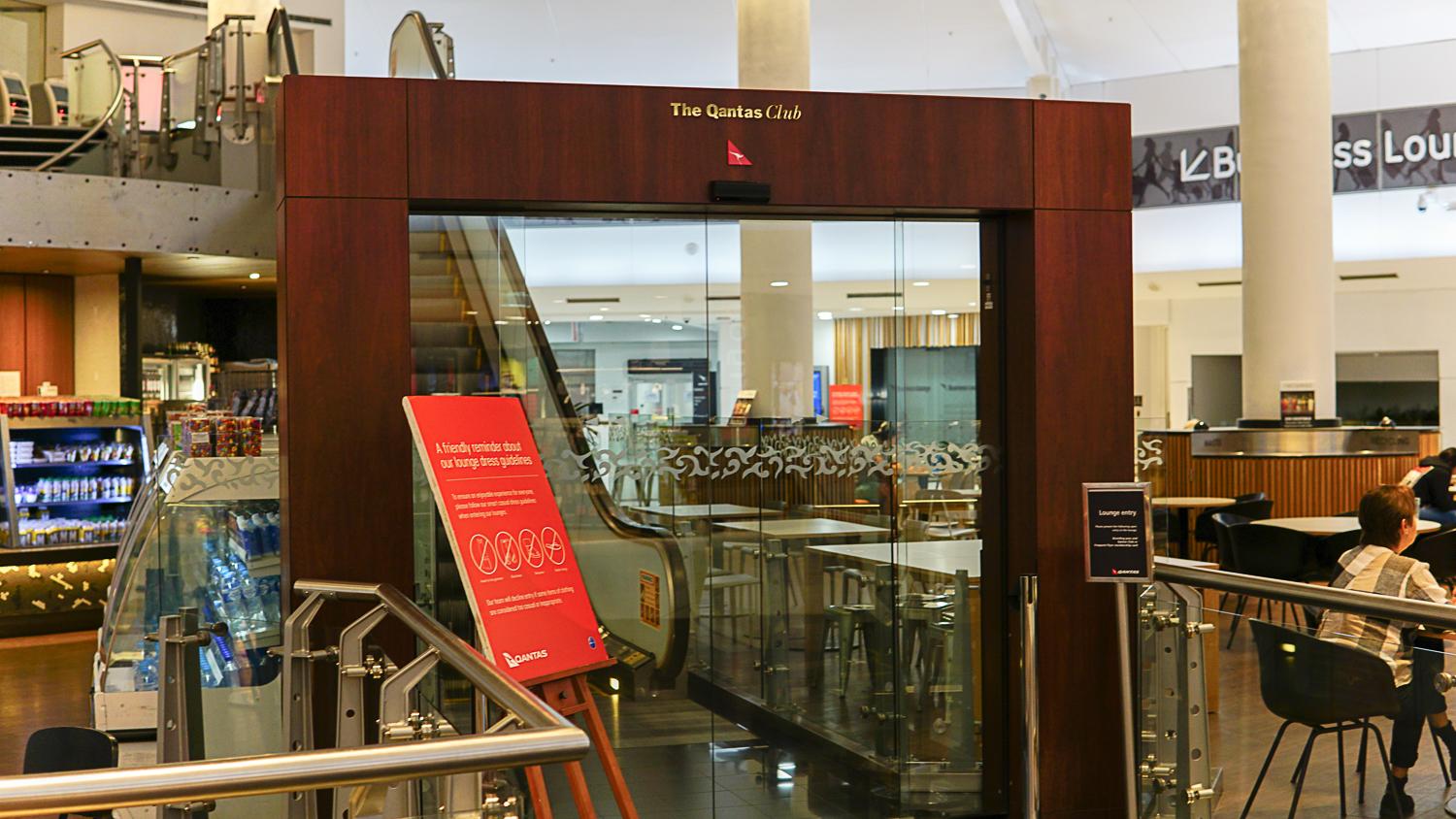 There are self-check-in machines in front of the lounge. There are also two signs highlighting the lounges' dress code, as Qantas lounges forbid full activewear, ugg boots, thongs and other items of casual clothing.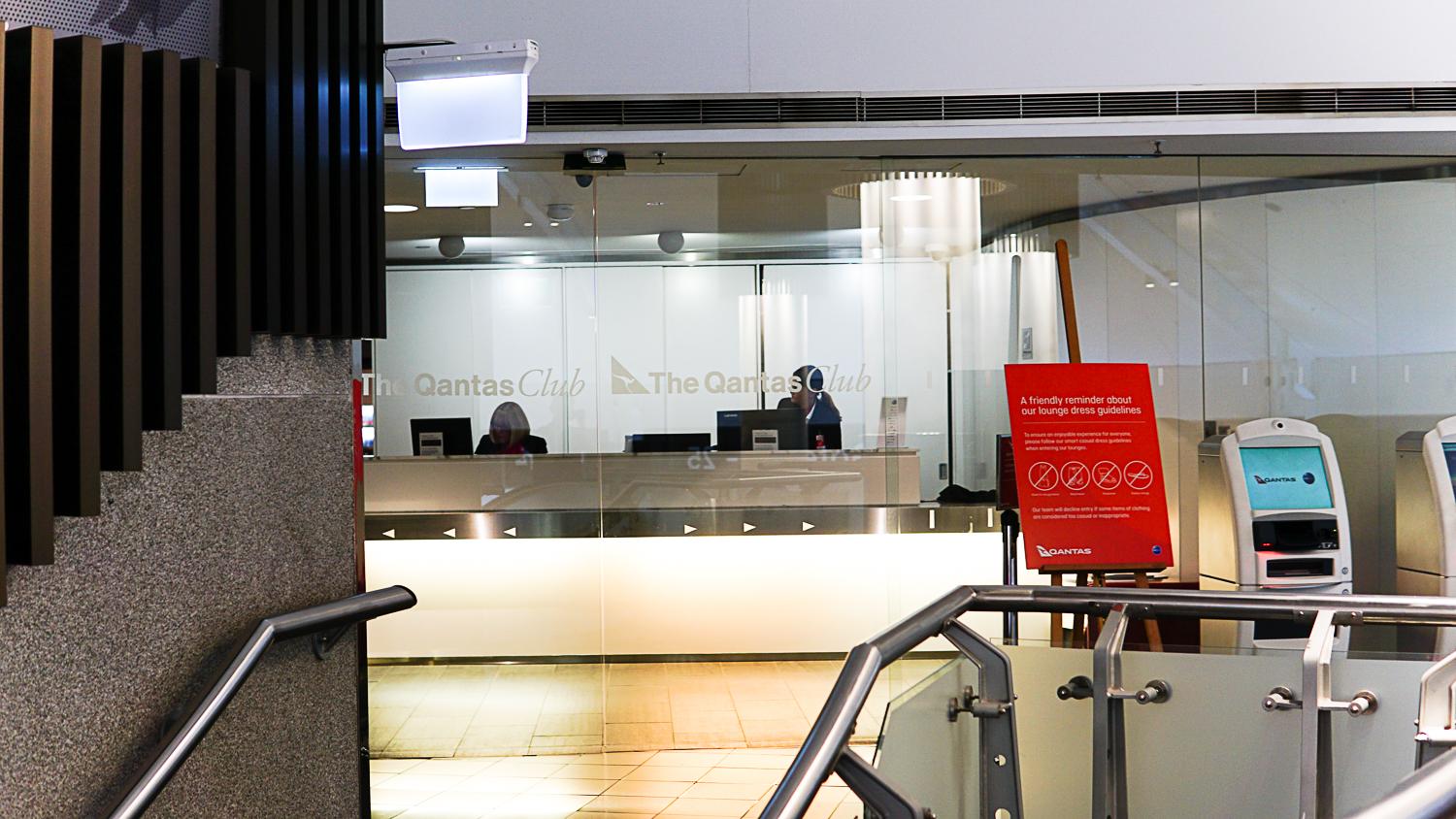 Head in to check in at the lounge reception. You can also place a coffee order through the Skip tablet (or app on your phone) to avoid the queue in the morning.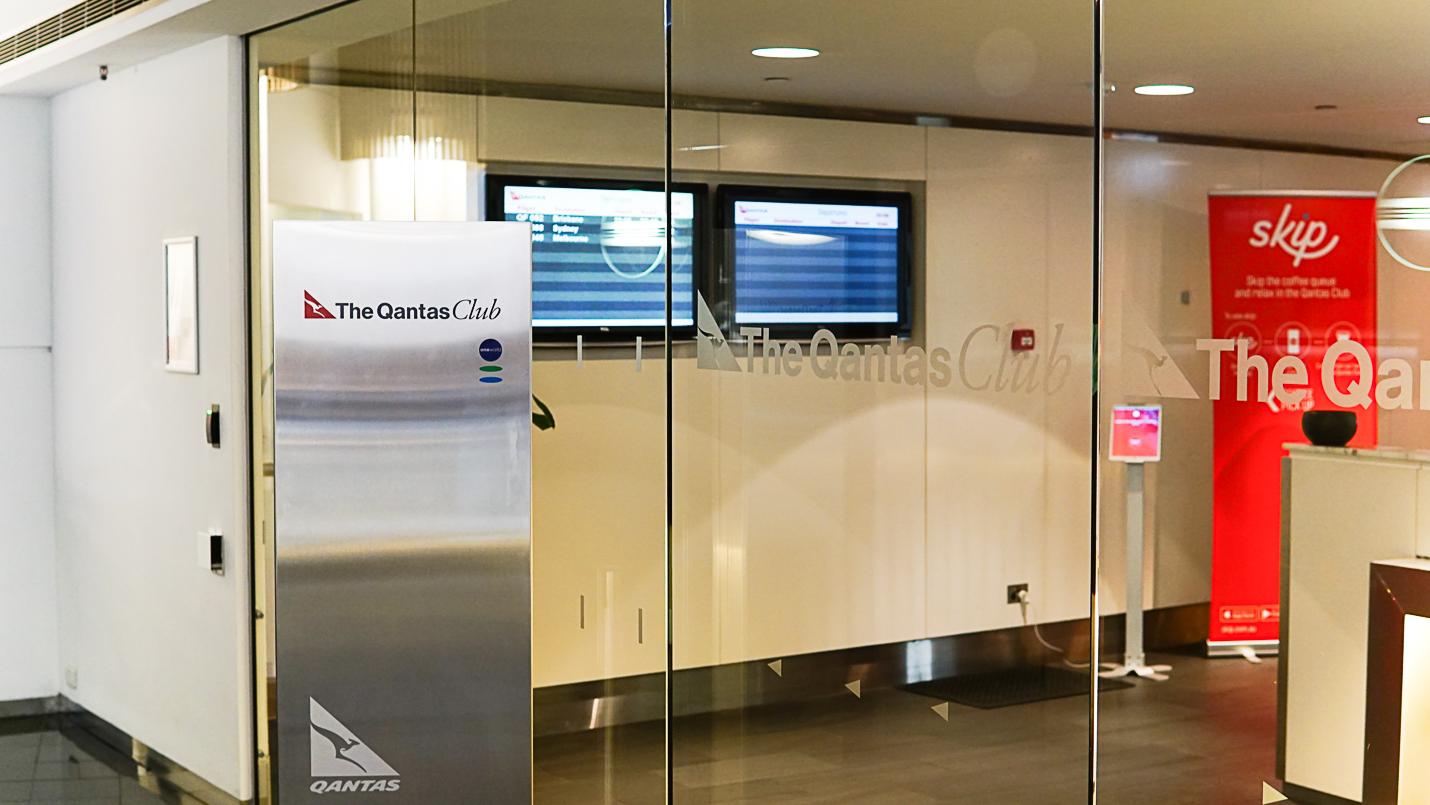 Lounge Features
The first thing you will notice as you walk in is a one-way exit escalator, taking you back down to the terminal.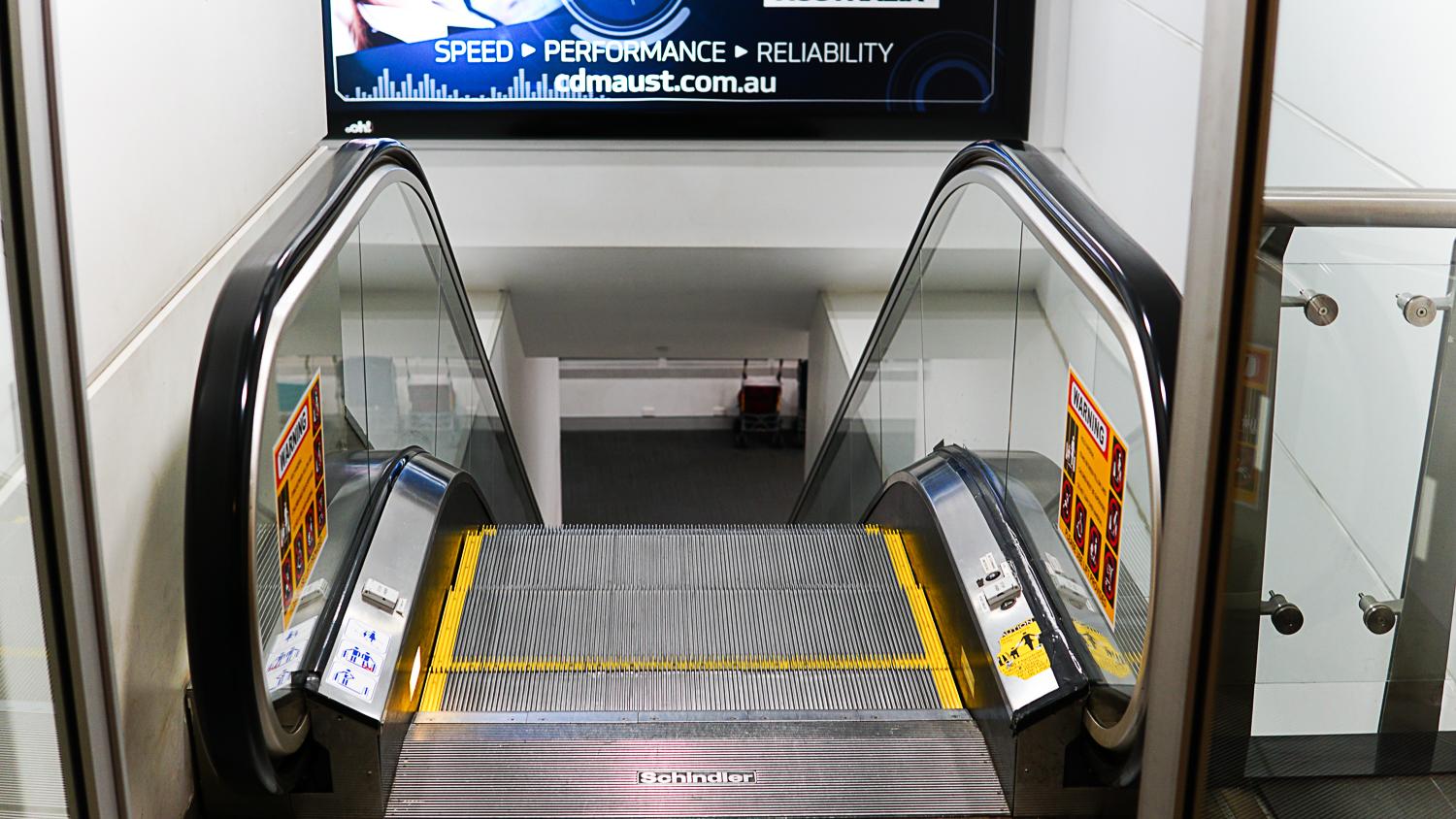 Moving on forward, you will emerge in the centre of this lounge, facing a magazine rack.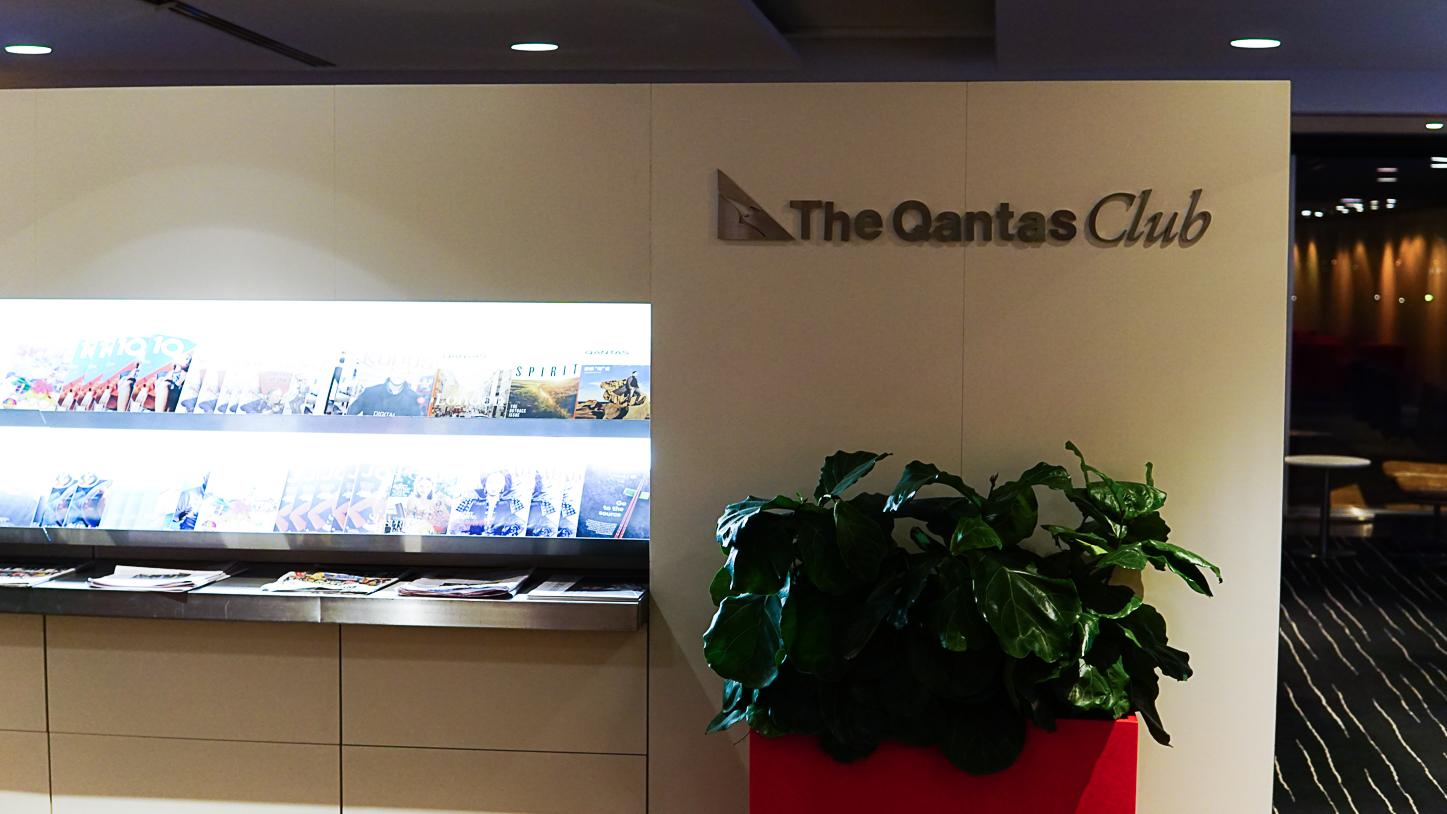 There is some seating in this walkway, which is often the last to fill up during busy periods, as most travellers will venture further into the lounge first.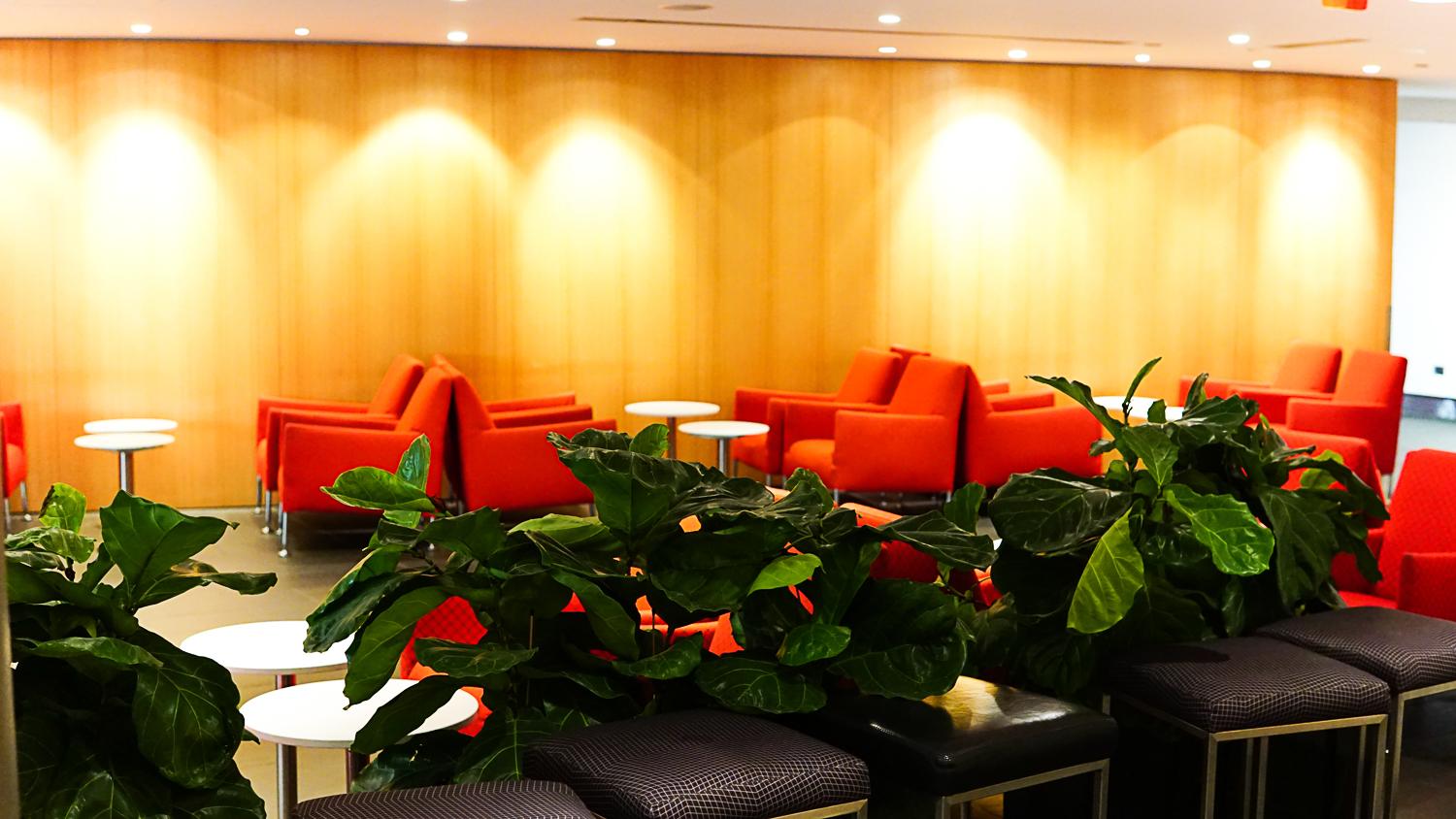 To your left is the dining area, complete with a coffee station, bar, buffet and bathrooms.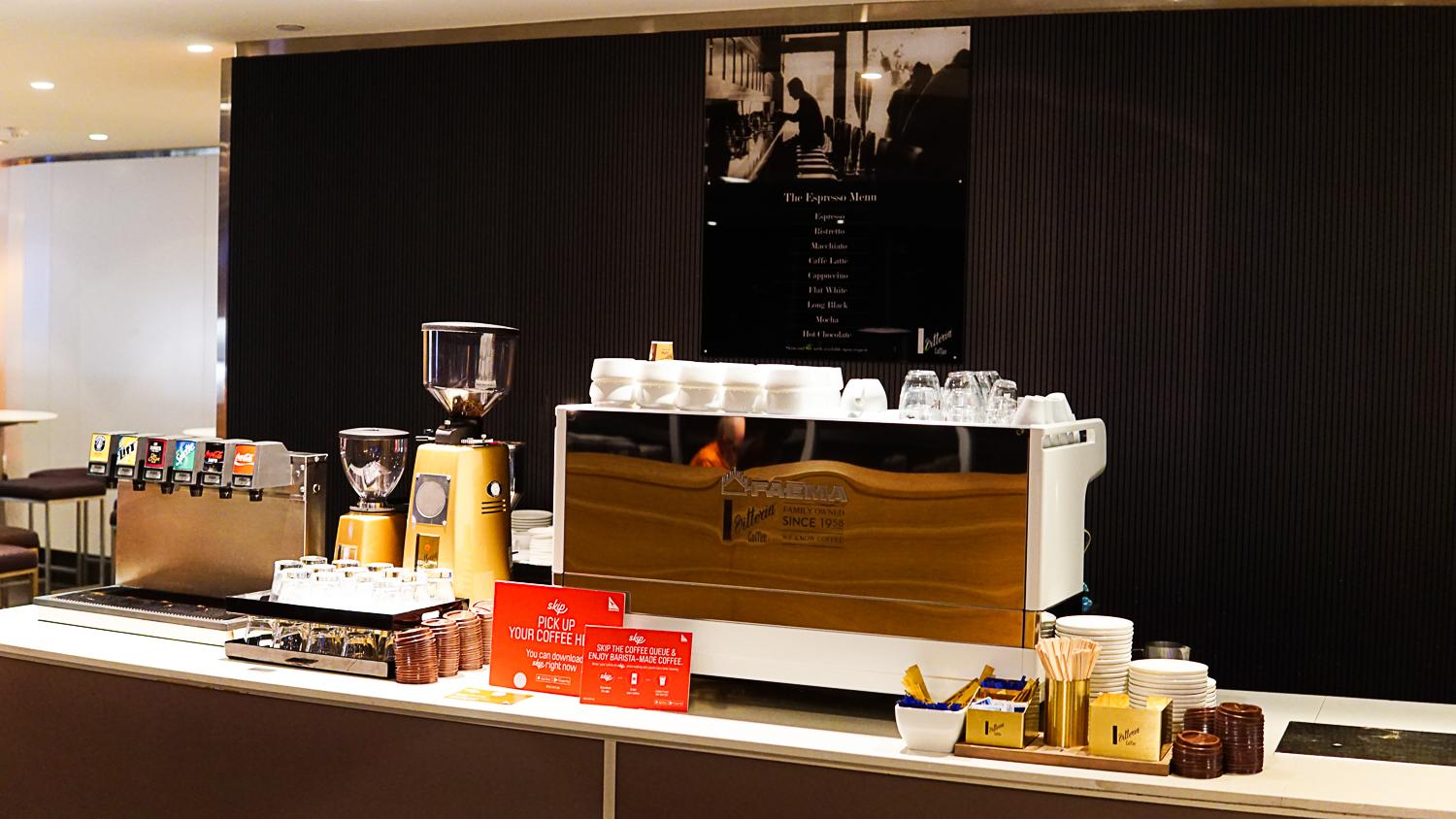 The seating is optimised for dining in this area.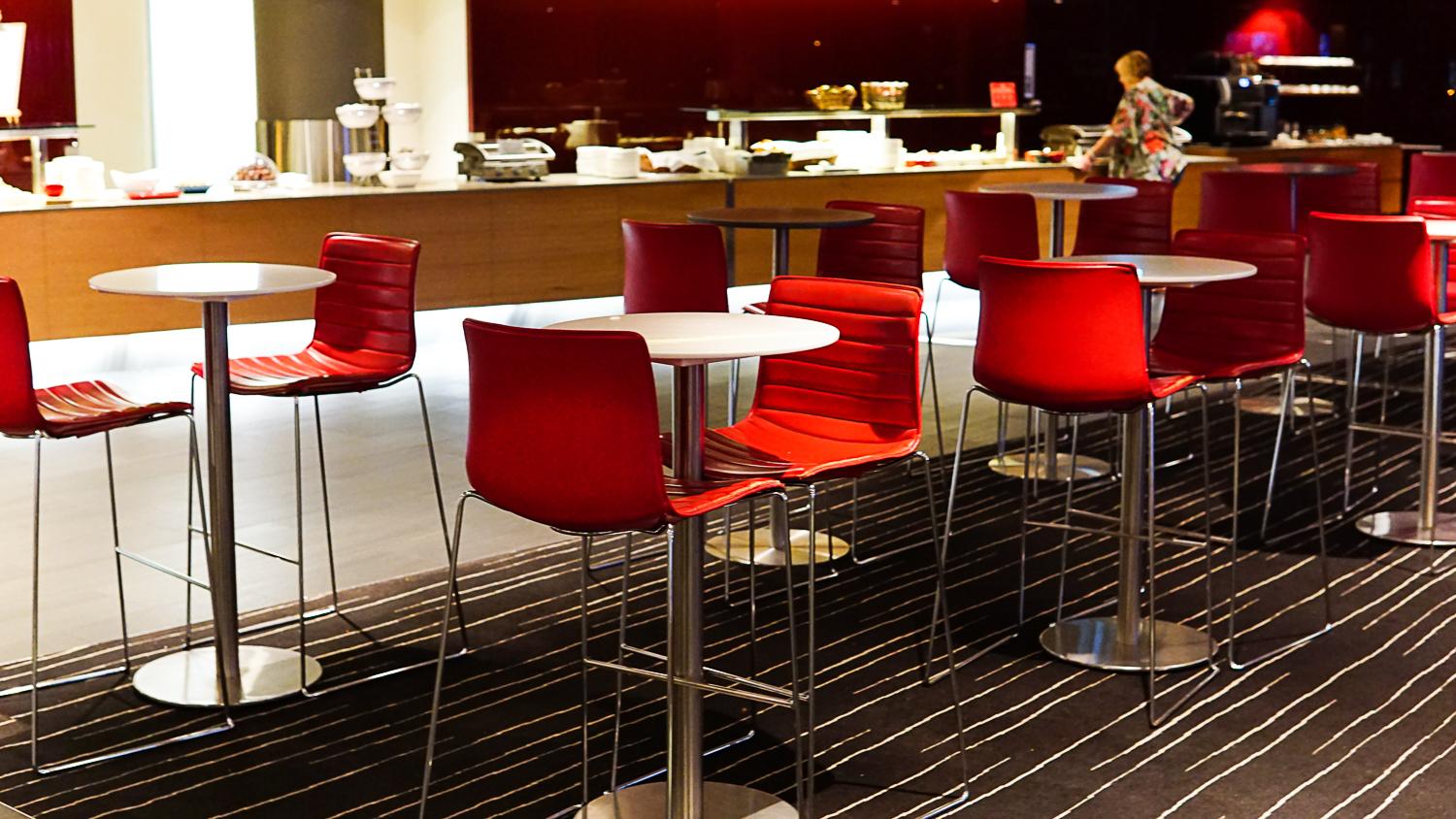 Adjacent to the buffet is a family-friendly seating area with some toys for the kids.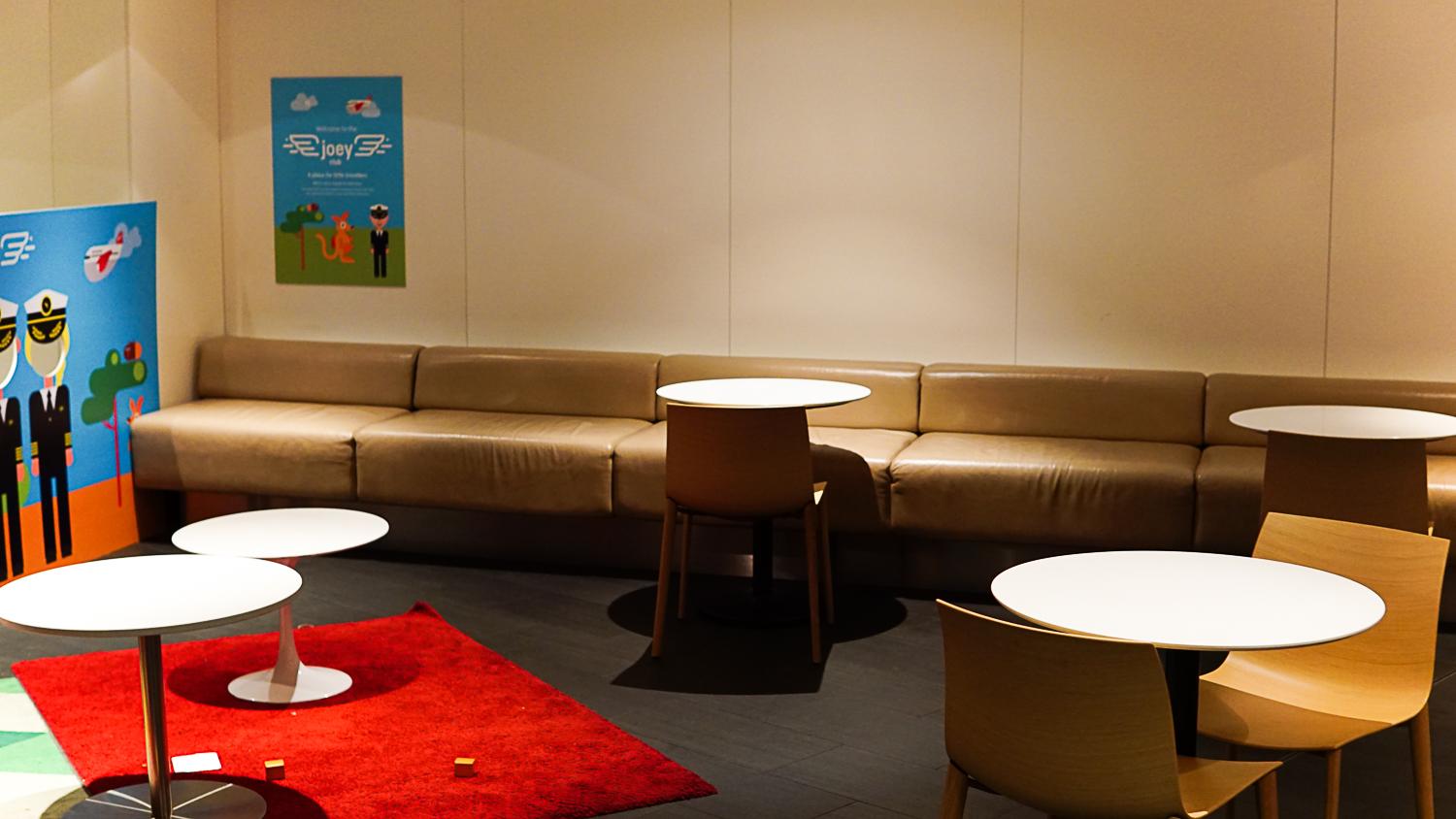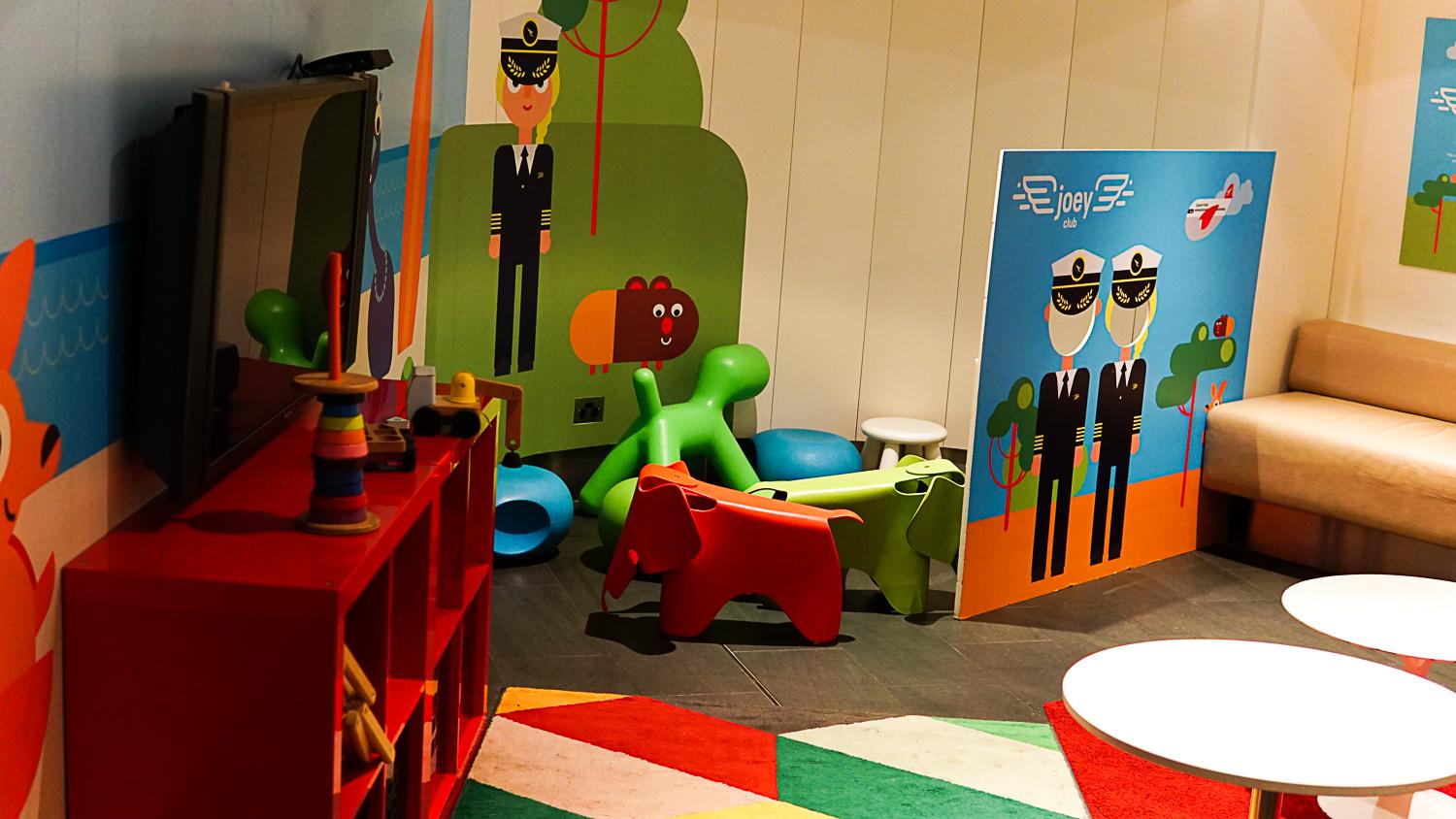 There are also communal benches, which are good for simultaneously working, eating and drinking.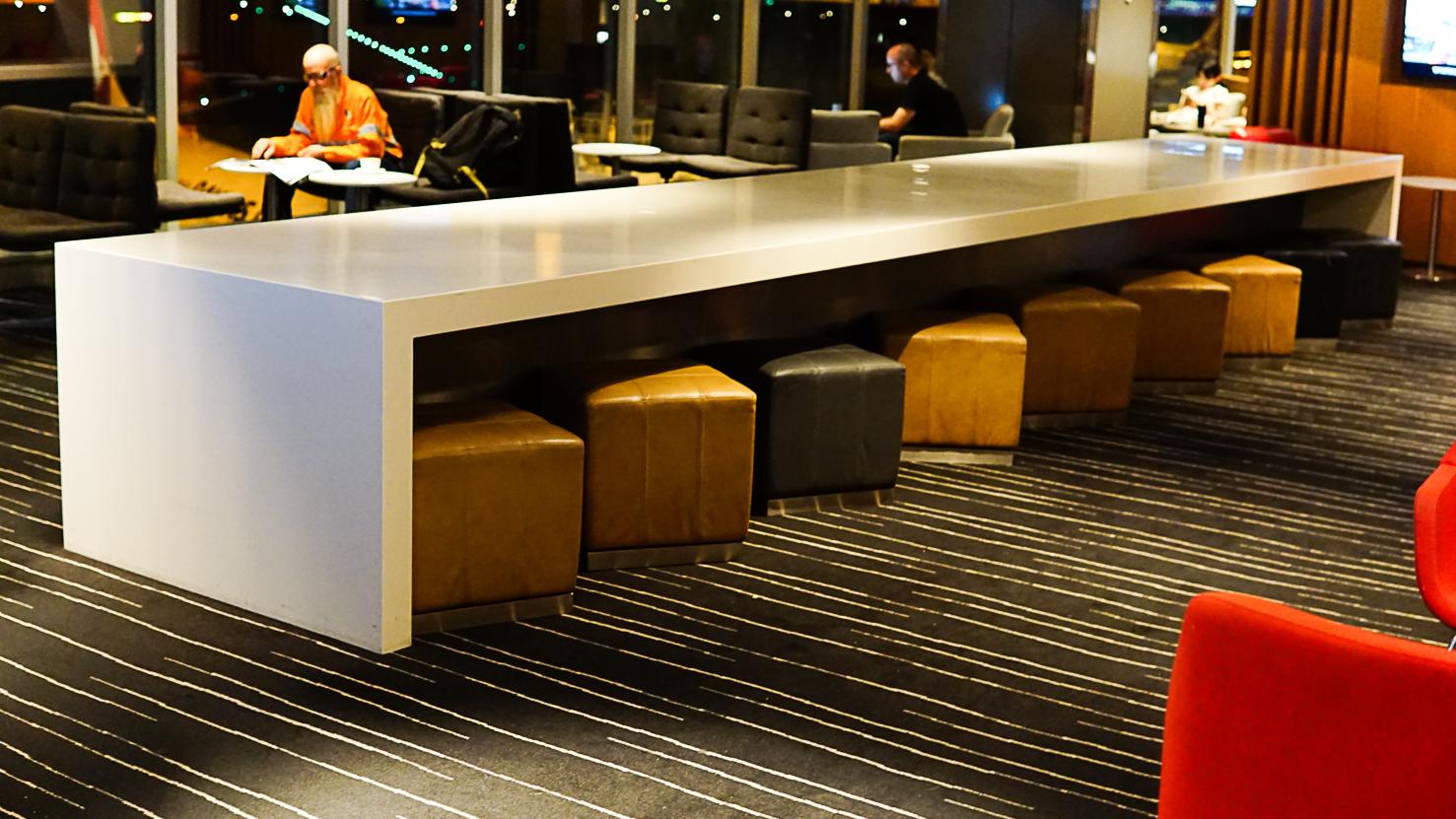 One of the best features of this lounge is large windows spanning the entire length of the lounge, allowing unparalleled tarmac views.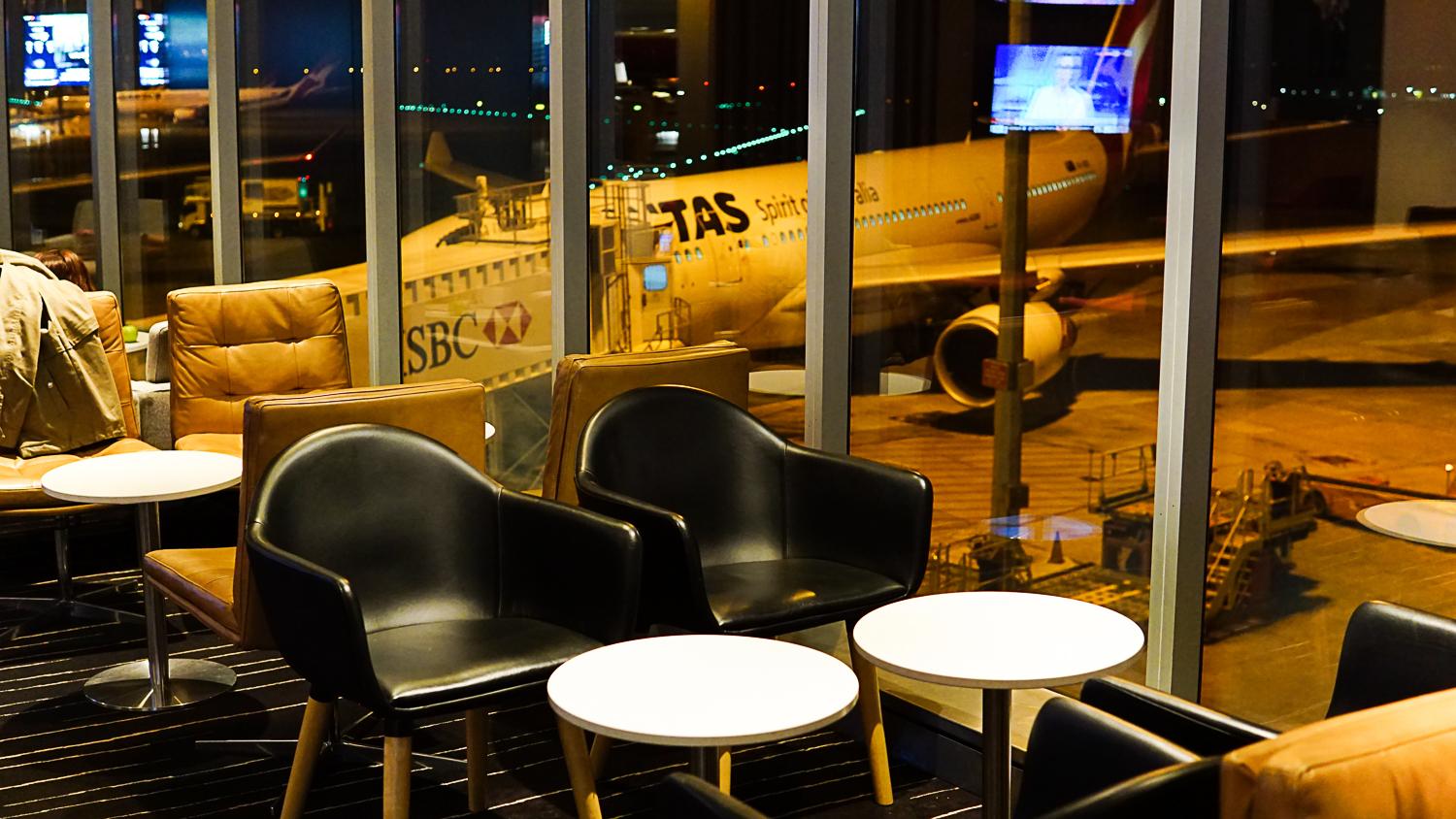 In this section of the lounge, there is plenty of general-use, contemporary seating arranged into groups. It is best to sit along the outer edge if you need to charge your devices, as there are limited plugs in other areas.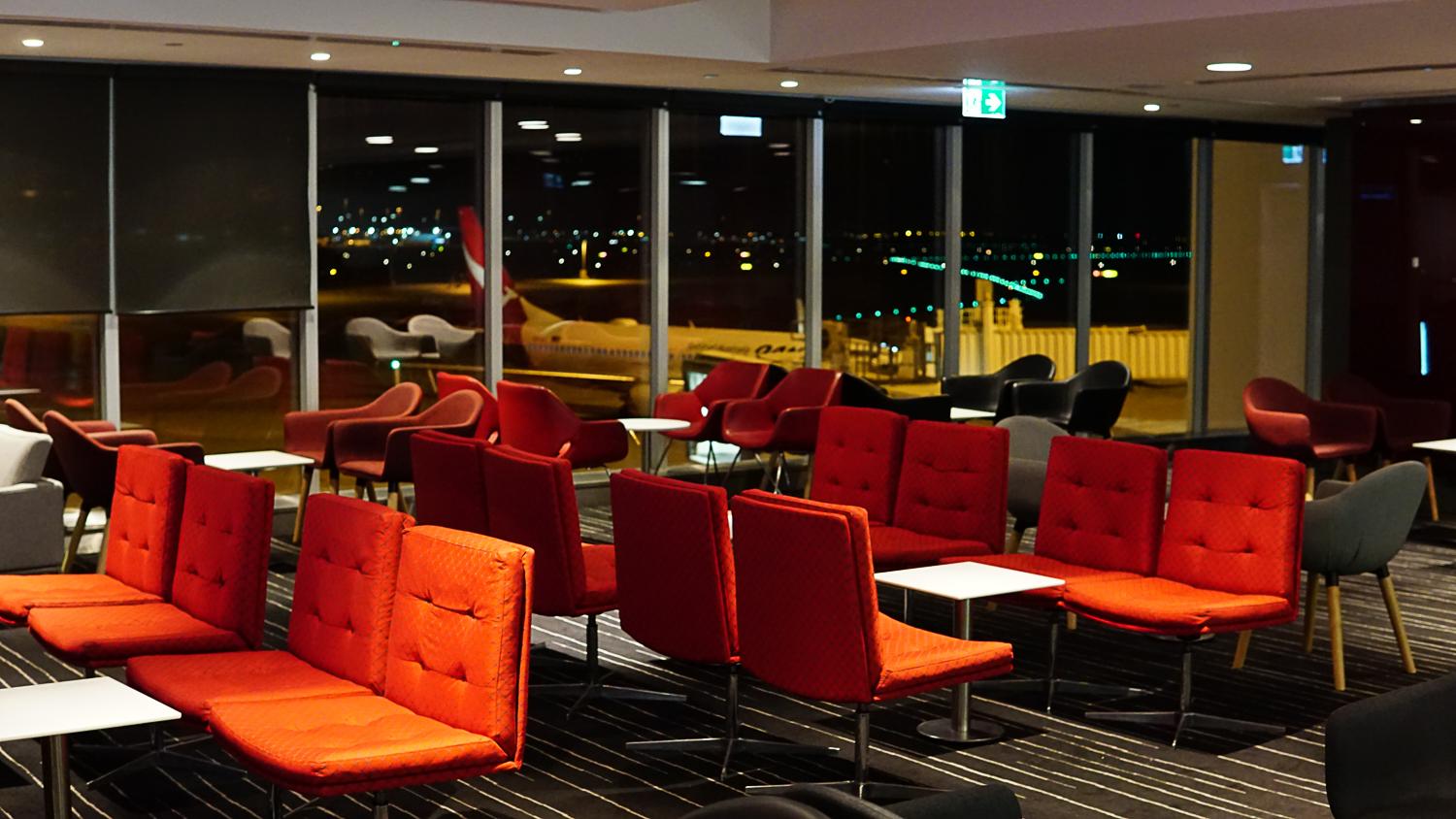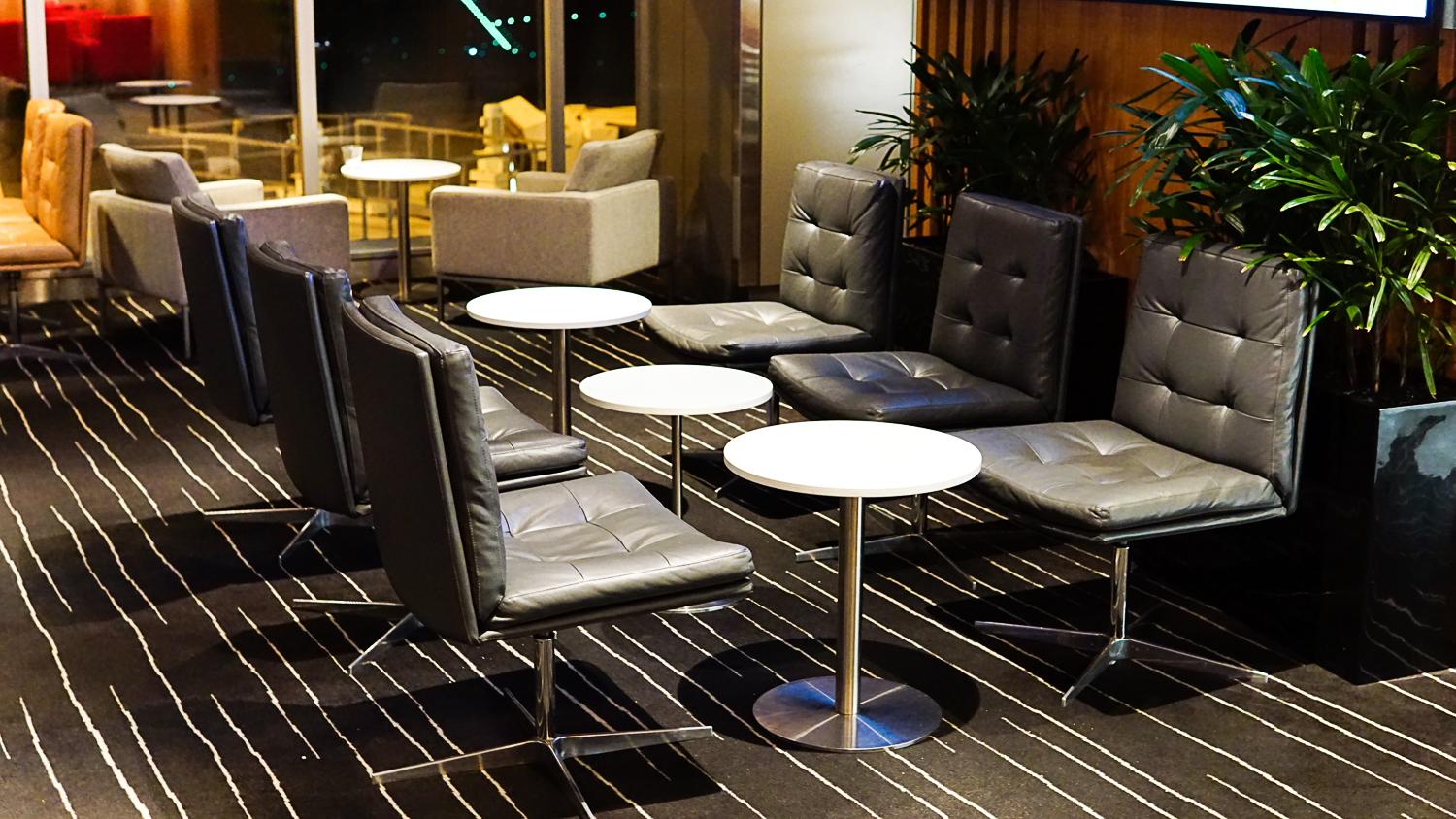 Towards the right-hand side of the lounge (from the main entry), is the business centre and an overall quieter area to work.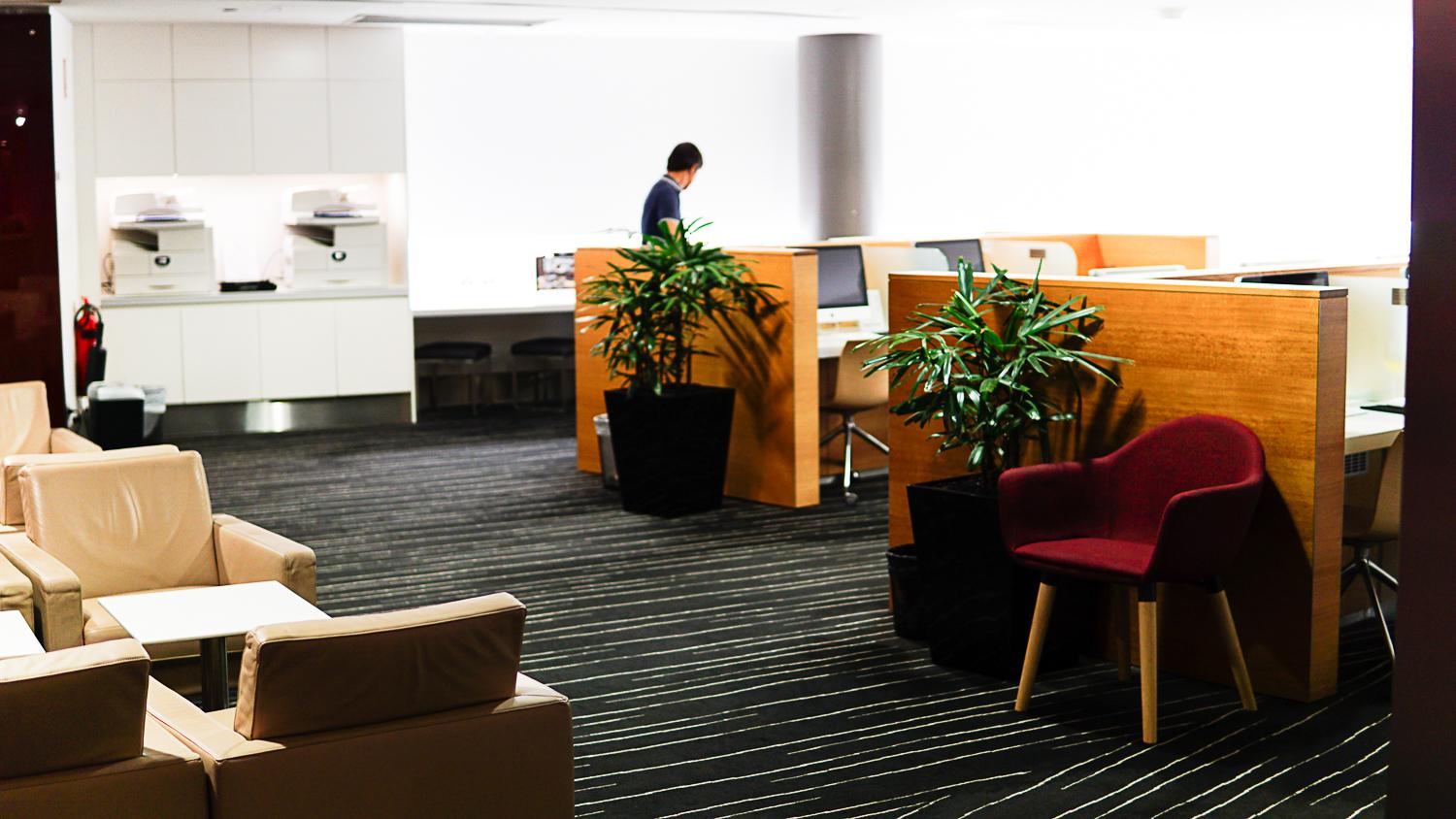 You will find Apple computers preloaded with both Mac OS and Windows 7: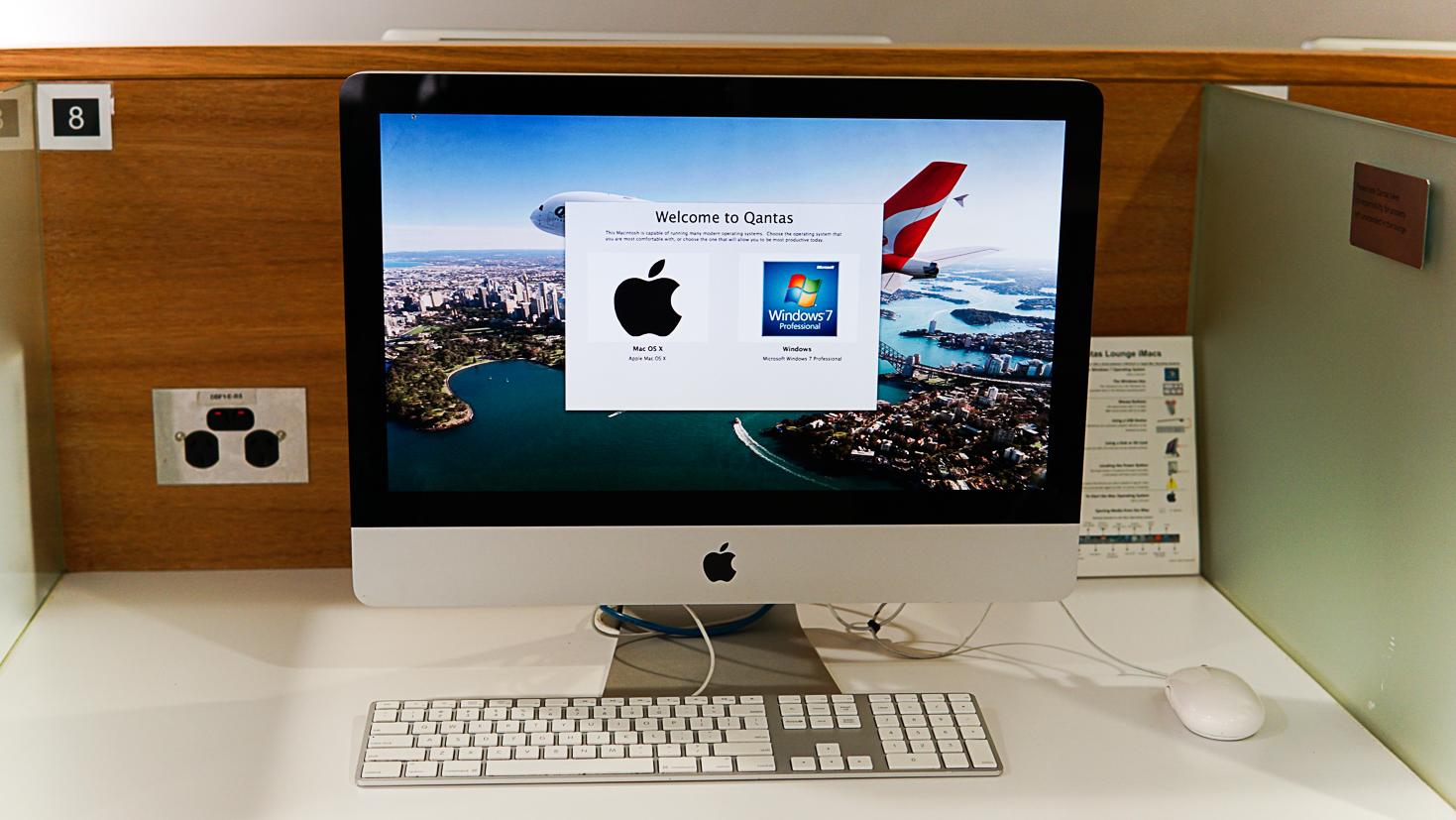 printers capable of wireless printing and plenty of charging ports.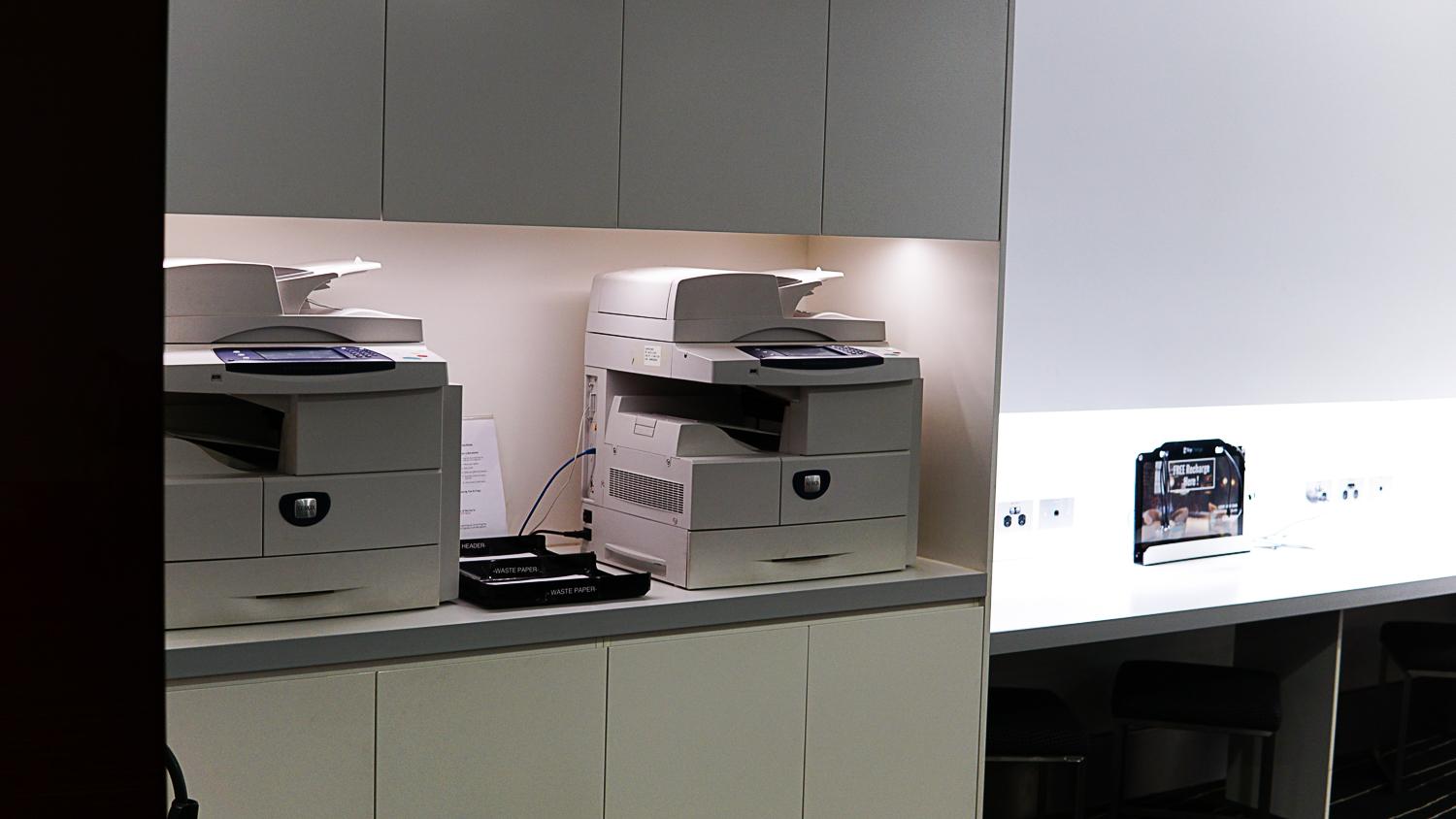 Food & Drink
There is always a buffet spread out, usually tailored to breakfast and then all-day dining. The breakfast options are fairly uniform across all lounges and can be found in our overview of the Melbourne Qantas Club.
The all-day dining menu is fairly simple and limited to salads, sandwiches and some sweet bites—although during our visit, there was also an unlabelled rice and meat dish that was not listed on the menu.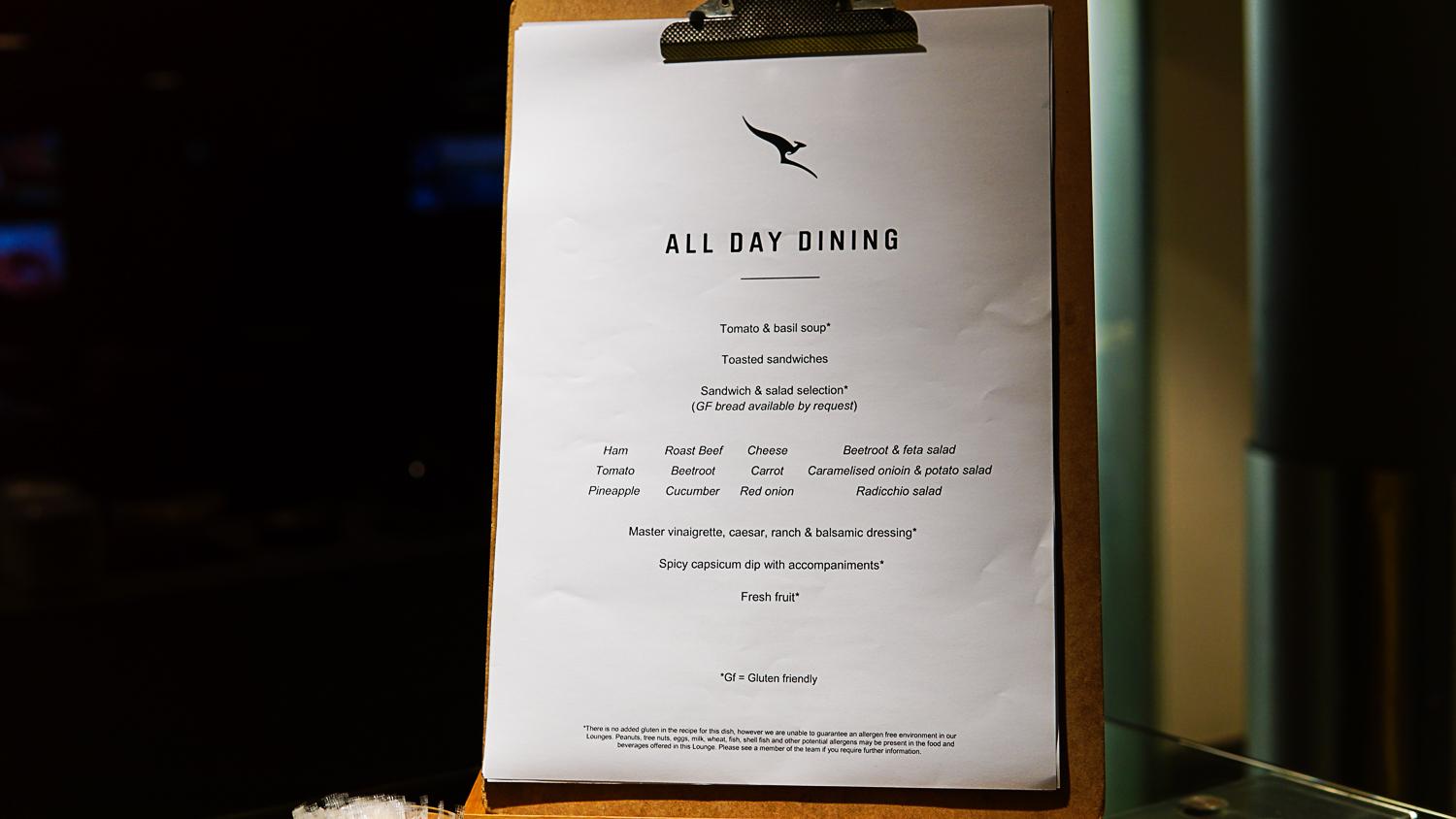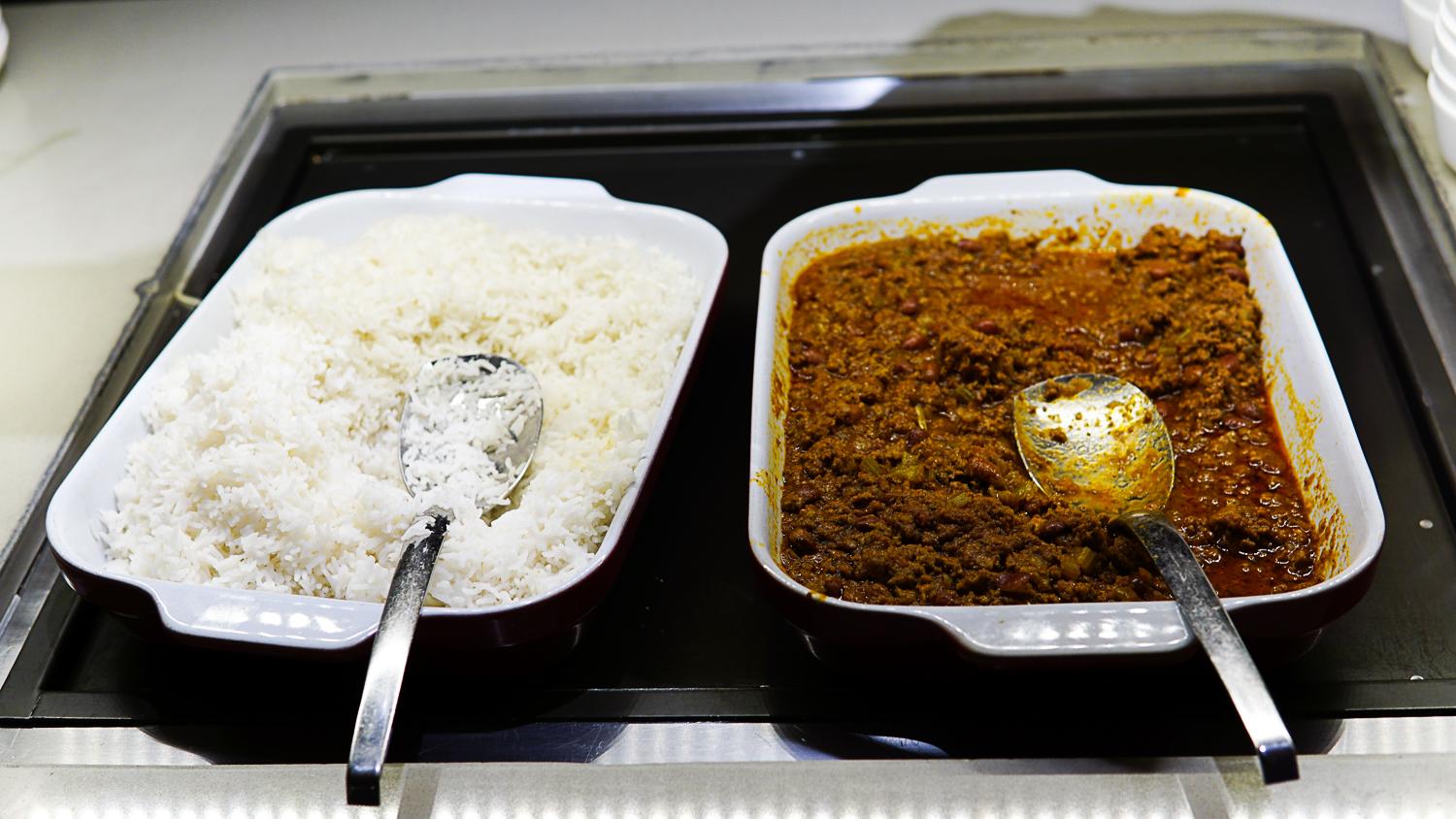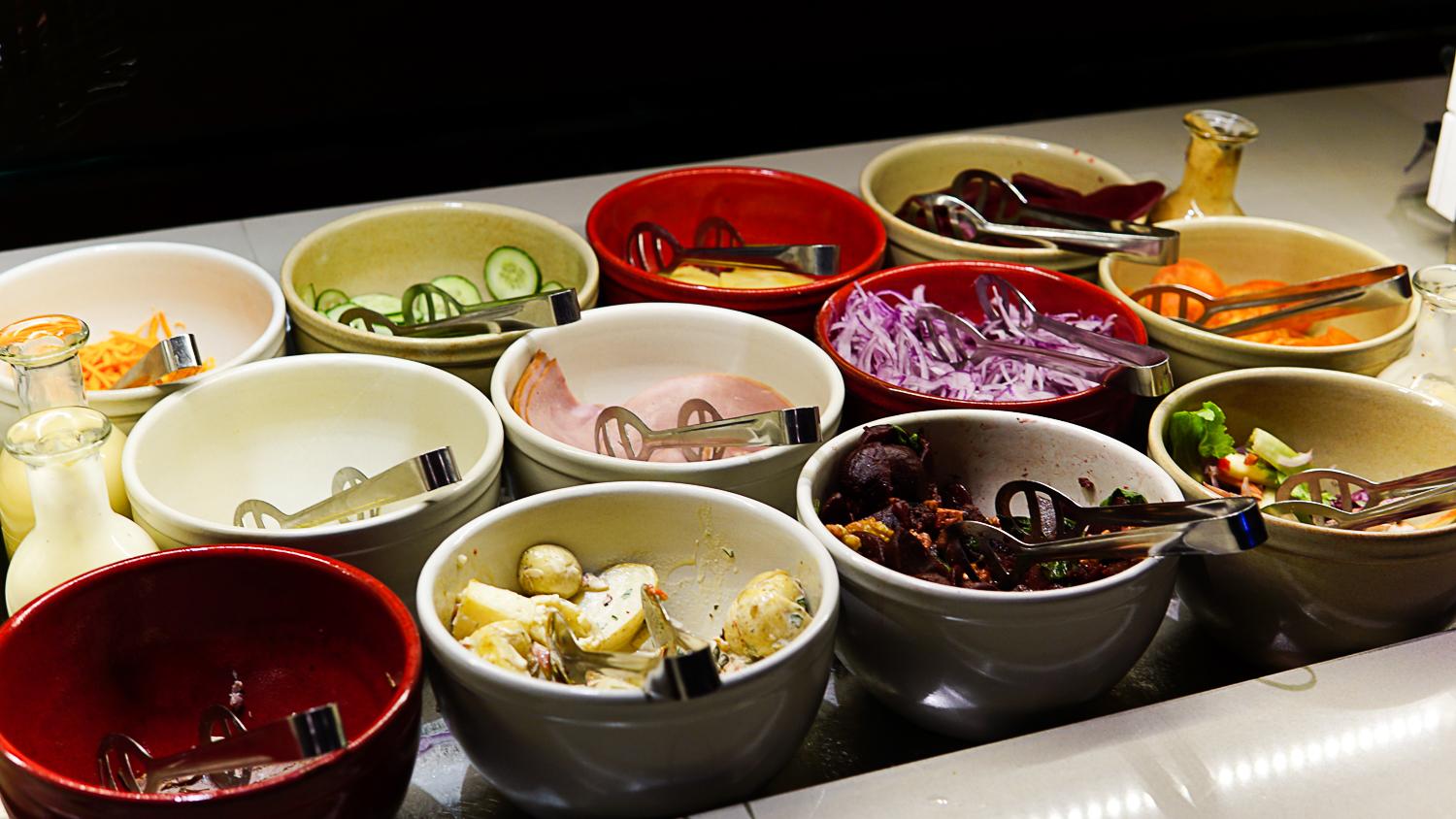 The extensive bar menu will satisfy most frequent flyers, with a number of recognisable Western Australian wines, beers and even spirits on offer (not pictured or displayed prominently). Qantas does not permit self-serve alcohol in their Perth lounges.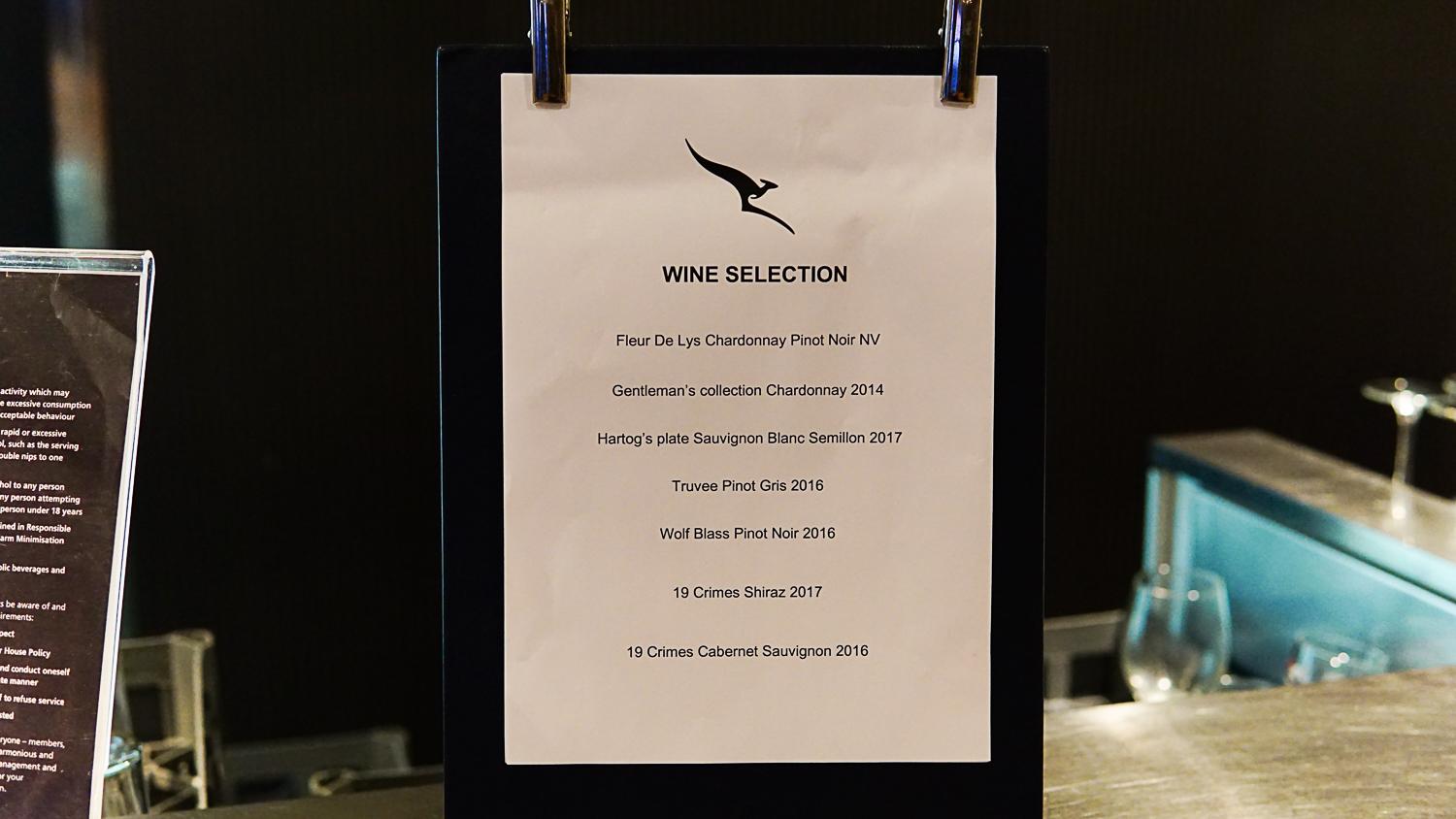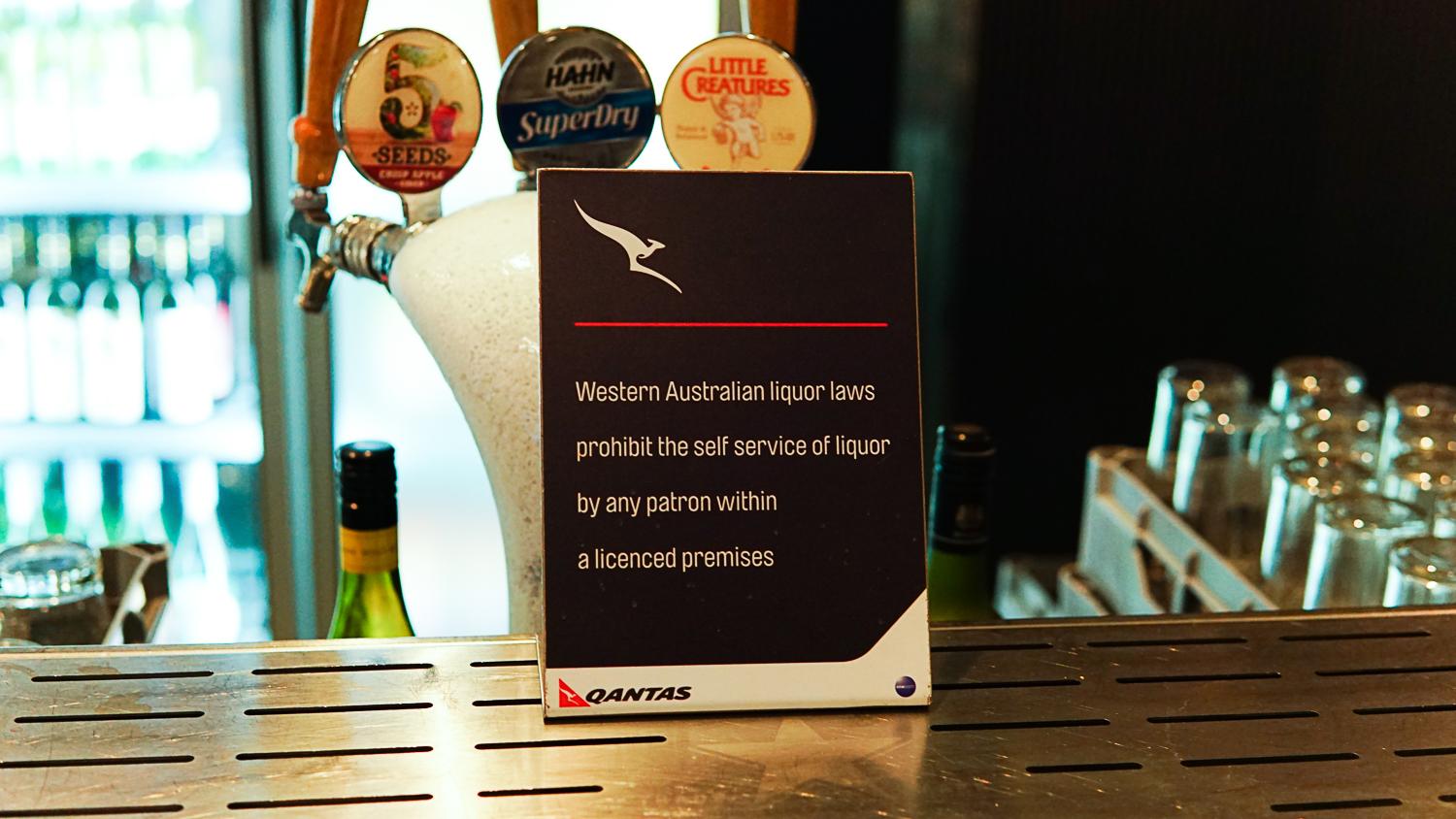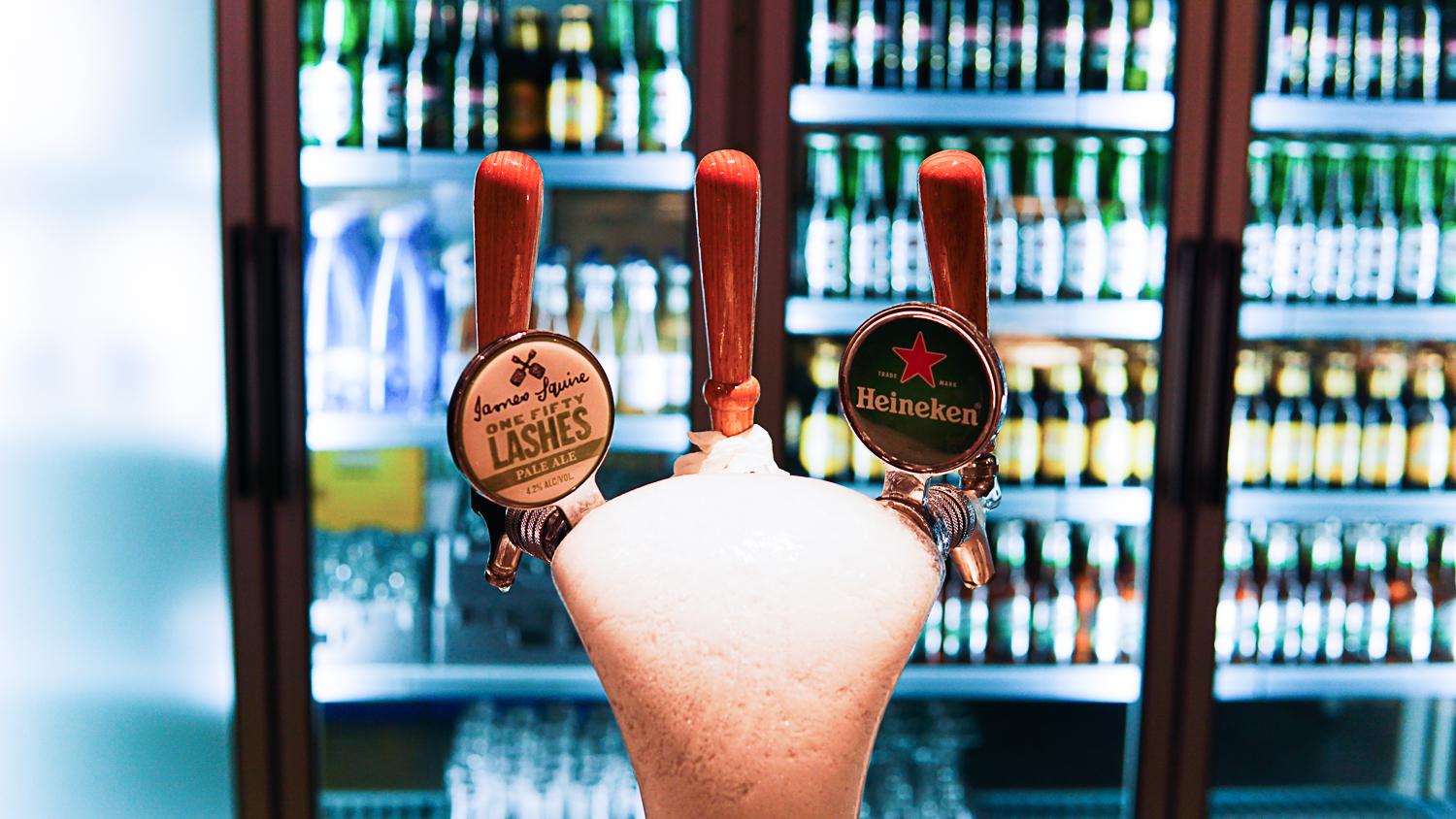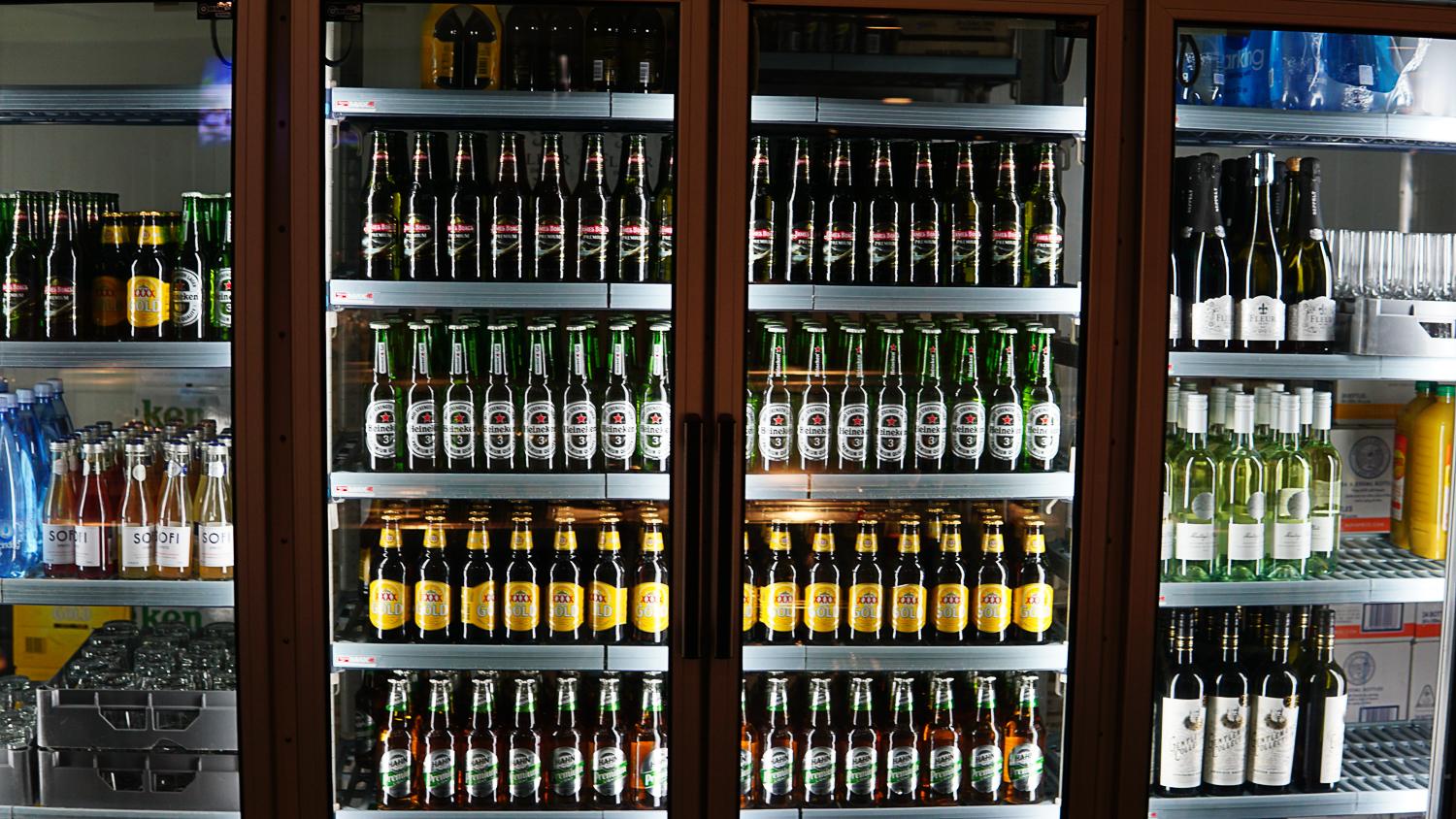 Minors and those looking to stay appropriately hydrated before their flight are limited to reconstituted juices, soft drinks, teas and coffees—the 'Quench' hydration stations offering fancy infused waters and cordials has not yet made its way to this lounge.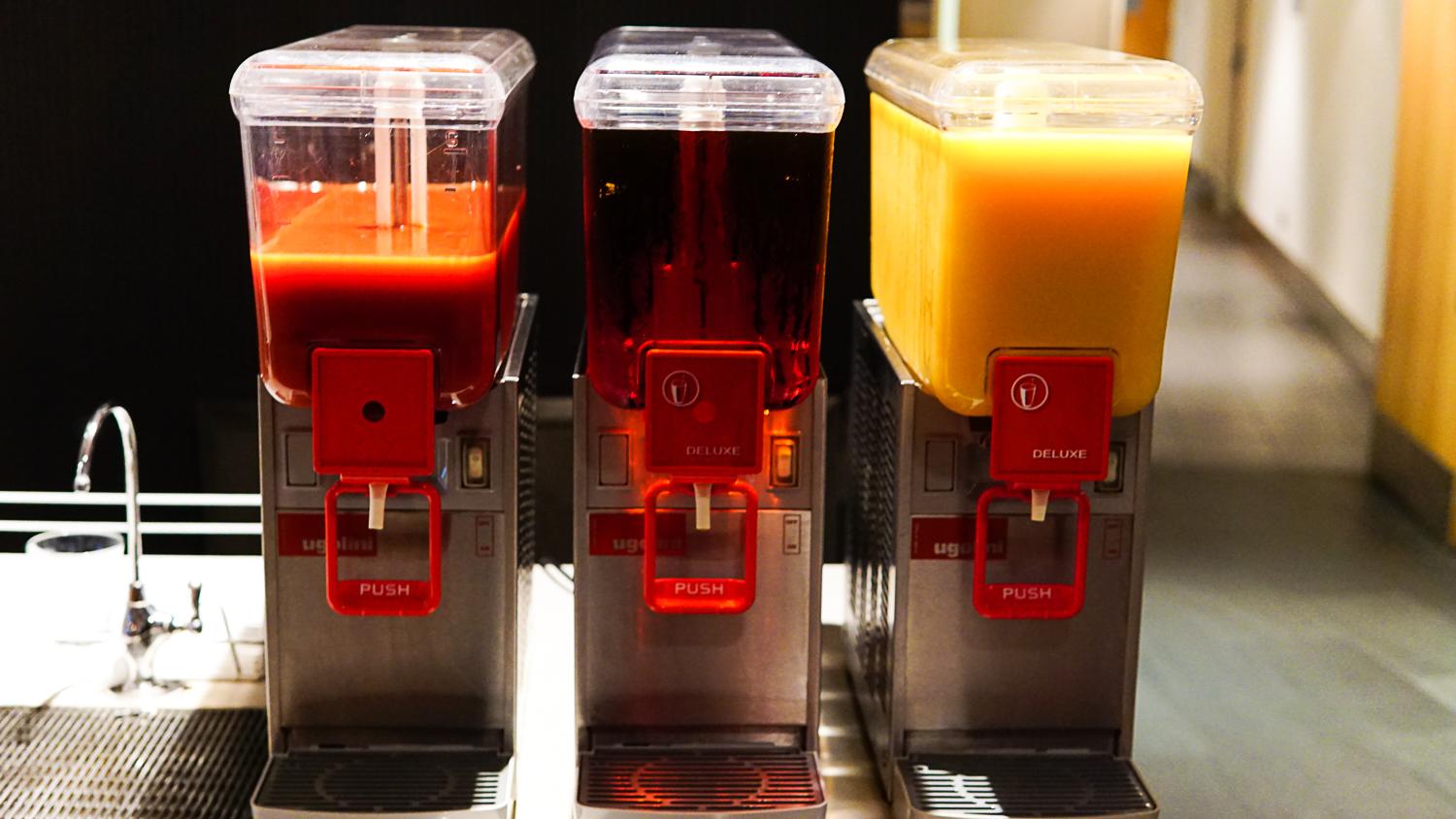 Shower & Bathroom Amenities
The bathrooms are clean and basic.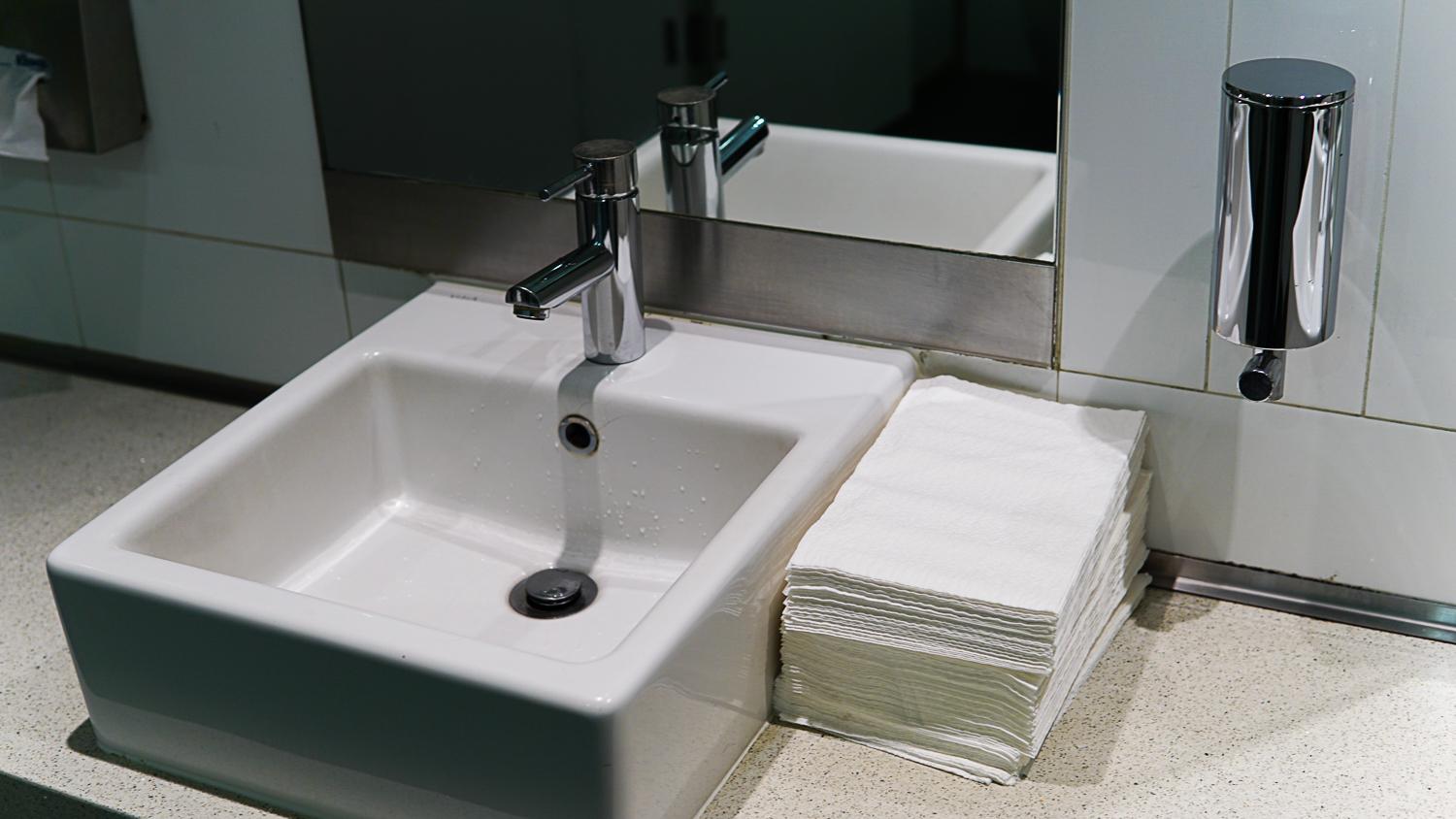 There are a few showers available but keep in mind they stock a three-in-one mixture which acts as shampoo, conditioner and shower gel. If you're fussy about hair products, it is probably best to bring your own.
The shower itself has good water pressure and warmth from the rainfall showerhead.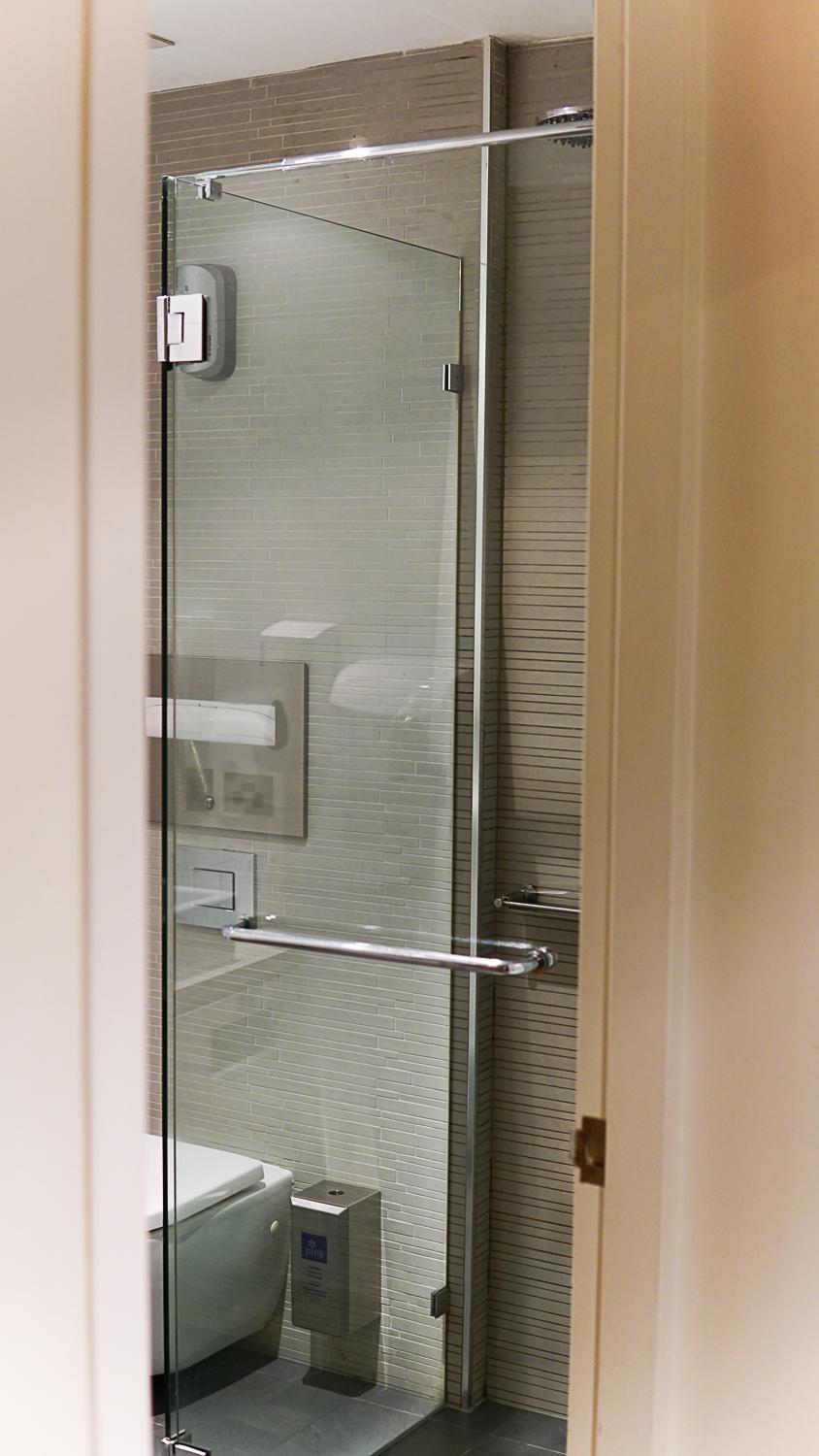 Lounge Access Options
There are quite a few ways to enter The Qantas Club, as long as your next onward flight is with Qantas or Jetstar.
Guests are usually allowed in the lounge (1-2 depending on your entitlements) and they do not need to be travelling at all in most cases.
By class of travel: Business and First Class passengers—but use the neighbouring Business Lounge instead (+1 guest)
By Qantas status: Qantas Gold (+1 guest) and higher (+2 guests)
By Qantas Club membership: Qantas Club members and Annual Guest Card holders travelling on a Qantas or Jetstar flight (+1 guest)
By airline partner frequent flyer status: Emirates Platinum Gold or higher, China Eastern Miles Gold or higher (+1 guest)
By oneworld status: Sapphire and Emerald members travelling on a oneworld flight (+1 guest); International First (+1 guest) or International Business (no guest) travelling on a Qantas flight or arriving on a oneworld flight in First or Business, respectively
By credit card: refer to our definitive guide to Qantas lounges for credit cards that offer access to Qantas lounges like this one
By day pass: from achieving Qantas Silver, or sometimes offered for purchase via email before your flight for $49—not available at the door
Other Qantas lounge reviews
Our take
Although the Perth Qantas Club sports an old décor, it is still a perfectly reasonable place for frequent flyers to relax before their flight. The tended bar is by far the standout here, with a great variety of drinks to cater for the ever-so-thirsty Perth crowd.
The location is also great, as big windows, natural light and tarmac views are always welcome in a lounge. It did not get very crowded in the evening we visited, leading up to three major flights to the East Coast, however, we are unable to comment on how busy it is during the morning rush.
Improvements to the all-day dining options would be welcome, as salads and sandwiches quickly grow tiresome. By comparison, the Virgin Australia Lounge Perth offers more exciting options such as arancini balls and fish & chips in the evening before their own red-eye flights to the East Coast.
The other amenities cater well enough to the occasional traveller who may want a shower or do some printing before their flight.
If Qantas refurbishes this lounge in the future and improves the food options somewhat, then this lounge has a potential to be one of the best Qantas Clubs in the country.
Qantas Club Perth overview
was last modified:
October 18th, 2021
by