If you are planning or considering travel in Economy Class on Qantas or Jetstar during the rest of the year or into next, this is a great opportunity to save some of your points.
These sales tend to run every 3-6 months and are valuable for those travelling during peak periods and/or as a family or group. The last time we saw a promo like this was in March. A 30% discount is the average that is offered.
Current Qantas and Jetstar Economy Class discount offer

Here is how Qantas describes the offer:
30% off points on Economy Classic Flight Rewards

Feel like taking off? You can save 30% off the Qantas Points required for an Economy Classic Flight Reward on eligible Qantas, Jetstar and Jetstar Asia flights worldwide.
The promotion applies to Economy Class travel on all domestic and international Qantas-, Jetstar- and Jetstar Asia-operated flights.
Please note, the discount doesn't apply to taxes, fees and carrier charges.
How to take advantage of this promotion
Log in to your Qantas Frequent Flyer account and select Use points to search for your flights
Book an Economy Classic Flight Reward between 10am (AEST) 13 June and 11:59pm (AEST) 16 June 2019 on flights operated by Qantas, Jetstar and Jetstar Asia with a QF, JQ or 3K flight number
Travel between 23 July 2019 and 31 March 2020
Examples of Economy Class discounts
All of the following prices are for one-way travel in Economy Class:
| Route | Regular pricing | Pricing with discount |
| --- | --- | --- |
| Sydney - Melbourne on Jetstar | 6400 | 4480 |
| Sydney - Melbourne | 8000 | 5600 |
| Adelaide - Darwin | 18000 | 12600 |
| Perth - Singapore | 20300 | 14210 |
| Sydney - Honolulu on Jetstar | 26000 | 18200 |
| Brisbane - Hong Kong | 25200 | 17640 |
| Sydney - Honolulu | 31500 | 22050 |
| Melbourne - Dubai | 41900 | 29330 |
| Brisbane - Los Angeles | 41900 | 29330 |
| Sydney - London | 55200 | 38640 |
Getting the best value out of this promotion
You may want to aim to get at least 2 cents per point value from your Qantas Points (according to our valuations).
So, if a one-way flight from Sydney to Melbourne costs $150 or 5,600 Qantas Points + $37 in taxes with this promotion, you'd be getting ~2c per point value.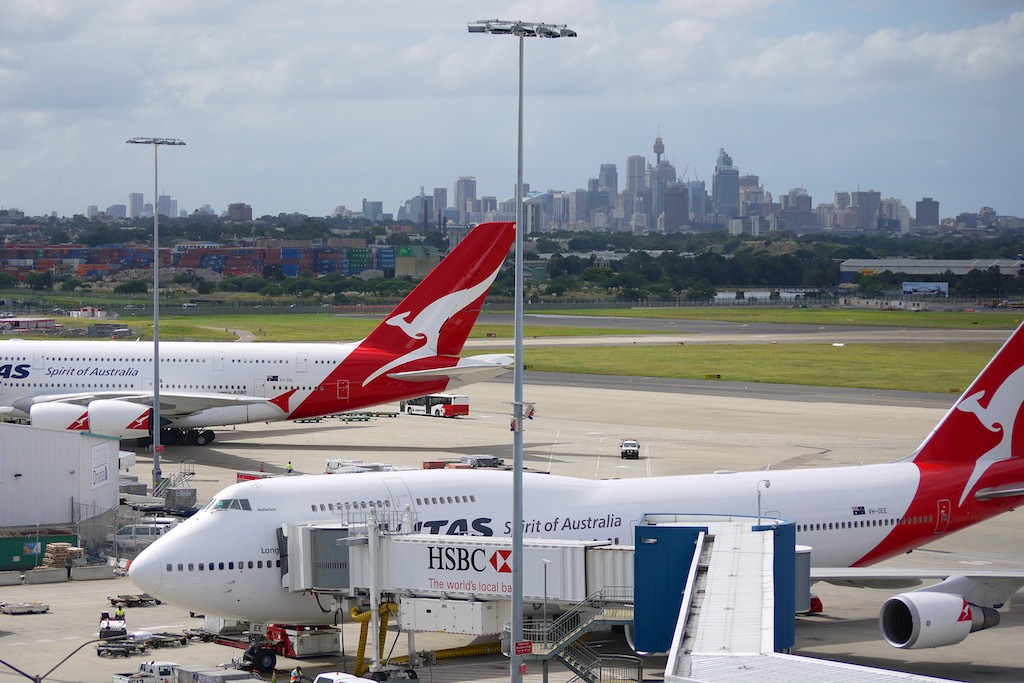 However, if your return flight from Brisbane to Los Angeles during Christmas time is $2,300 or 58,660 points with this discount + $334 in taxes, then you'd be getting a healthier 3.4c value for each point you use—that represents better value.
Note that the significant taxes and fees Qantas adds onto award flights can reduce their value substantially.
Frequently asked questions
When does it make sense to use my Qantas Points for Economy Class flights?
Everyone's financial situation, points balances and preferences are different. This means that the option of using points for Economy Class travel should not be written off. This guide can help you decide.
Does this promotion apply to First, Business or Premium Economy redemptions?
No, it doesn't. This promotion only offers discounts for Economy Class travel.
Are taxes and fees also discounted?
No, the discount does not extend to the ordinary surcharges and taxes that apply to Classic Flight Reward redemptions.
Can I cancel an existing booking and rebook at the cheaper price?
Yes, you can, but you'll want to make sure that the savings are more than 5,000/6,000 points for a domestic/international trip, given the change fee.
How do I see the discount when I search?
Annoyingly, when you go to book a Classic Flight Reward, the total points cost will just show you the final discounted amount and will not show you what the price would have been without the discount. If you are unsure whether or not the discount has been applied, you can check the ordinary points cost of your flight here.
Are partner airlines included?
This promotion covers travel on Qantas, Jetstar and Jetstar Asia only. Other partners such as Emirates, American Airlines and Cathay Pacific are not included.
Will I earn points on these flights?
No. As usual, you will not earn any points on award flights.
Does the discount not apply if I choose the 'Points Plus Pay' option?
No, it does not.
Offer history
Previous promotions have run as follows:
| Date | Discount (%) | Notes |
| --- | --- | --- |
| June 2019 | 30 | |
| March 2019 | 30 | |
| September 2018 | 25 | |
| March 2018 | 30 | |
| December 2017 | 50 | international only |
| August 2017 | 25 | |
| May 2017 | 25 | |
| August 2016 | 20 | |
| Average | 29.38 | |
Summing up
Whilst the best value for redeeming your points is usually found in Business and First Class, there are cases where redeeming your points for Economy Class tickets can make good sense.
Note, though, that these promotions do not take into account the generally significant taxes and fees that Qantas tends to charge on award flights, so that reduces the value of this redemption opportunity. Having said that, of course, it is 100% up to you how you use your points.
You can start your search and make your booking online on the Qantas website.
---
Quick and ongoing opportunities to boost your Qantas Points balance
Three of the quickest ways to top up your Qantas Frequent Flyer balance are to:
More longer-term, you can earn Qantas Points by:
Get 30% off Classic Flight Rewards for Economy travel with Qantas and Jetstar
was last modified:
November 21st, 2019
by