If you are planning or considering travel with Qantas or Jetstar sometime in 2021 or 2022, now is the time to book. Until 14 November 2021, you'll enjoy 30% off the points needed for Classic Flight Rewards in both Business and Economy Class! Domestic flights on both Qantas and Jetstar are included.
Discounts like this are rare, so be sure to get cracking if you've got the points to burn now.
Deal: 30% off Qantas and Jetstar reward seats
Expiry: book by 14 Nov 2021. Travel by 27 Oct 2022 (Qantas) or 31 August 2022 (Jetstar)

Eligible routes & cabins
All Qantas and Jetstar-operated routes within Australia
All cabins, including Economy and Business
Travel from 1 December 2021 to 27 October 2022 for Qantas flights
Travel from 1 December 2021 to 31 August 2022 for Jetstar flights
Book from 10 am AEST 8 November 2021 until 11:59 pm AEST 14 November 2021
Here is how Qantas describes the offer:
With 50% more Classic Flight Reward seats available on popular domestic destinations and the option to change or cancel your booking free of charge until 28 February 2022, get ready to reward yourself with a much-needed break, explore a new destination or reunite with family and friends.

Book between 8 and 14 November 2021 for travel from 1 December 2021.
Here are the updated points needed for eligible routes (note taxes are not included):
Distance
Qantas Economy
Qantas Business
Jetstar Economy
0-600 miles
e.g. Melbourne to Sydney
8,000 pts
5,600 pts
18,400 pts
12,880 pts
6,400 pts
4,480 pts
601-1,200 miles
e.g. Cairns to Brisbane
12,000 pts
8,400 pts
27,600 pts
19,300 pts
9,600 pts
6,700 pts
1,201-2,400 miles
e.g. Sydney to Perth
18,000 pts
12,600 pts
41,500 pts
29,000 pts
14,400 pts
10,000 pts
With this promo, it's a no brainer to book any Qantas domestic flight you have your eyes on – particularly those on the Airbus A330 or Boeing 787 Dreamliner.
The trans-continental trek from Sydney, Melbourne, Brisbane or Adelaide to Perth is now only 29,000 points in Business Class, down from 41,500 points. This is the best discount on domestic routes by far.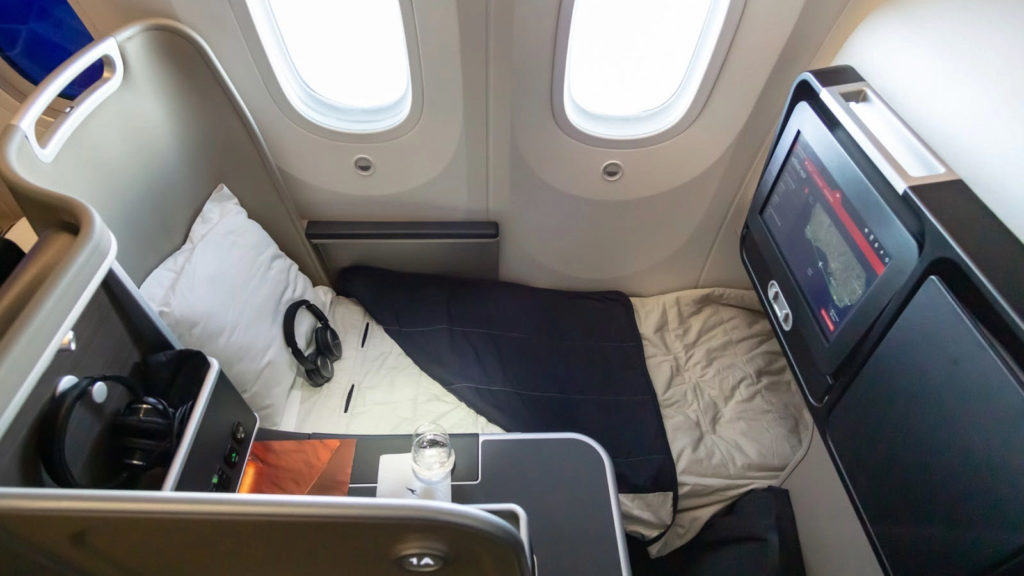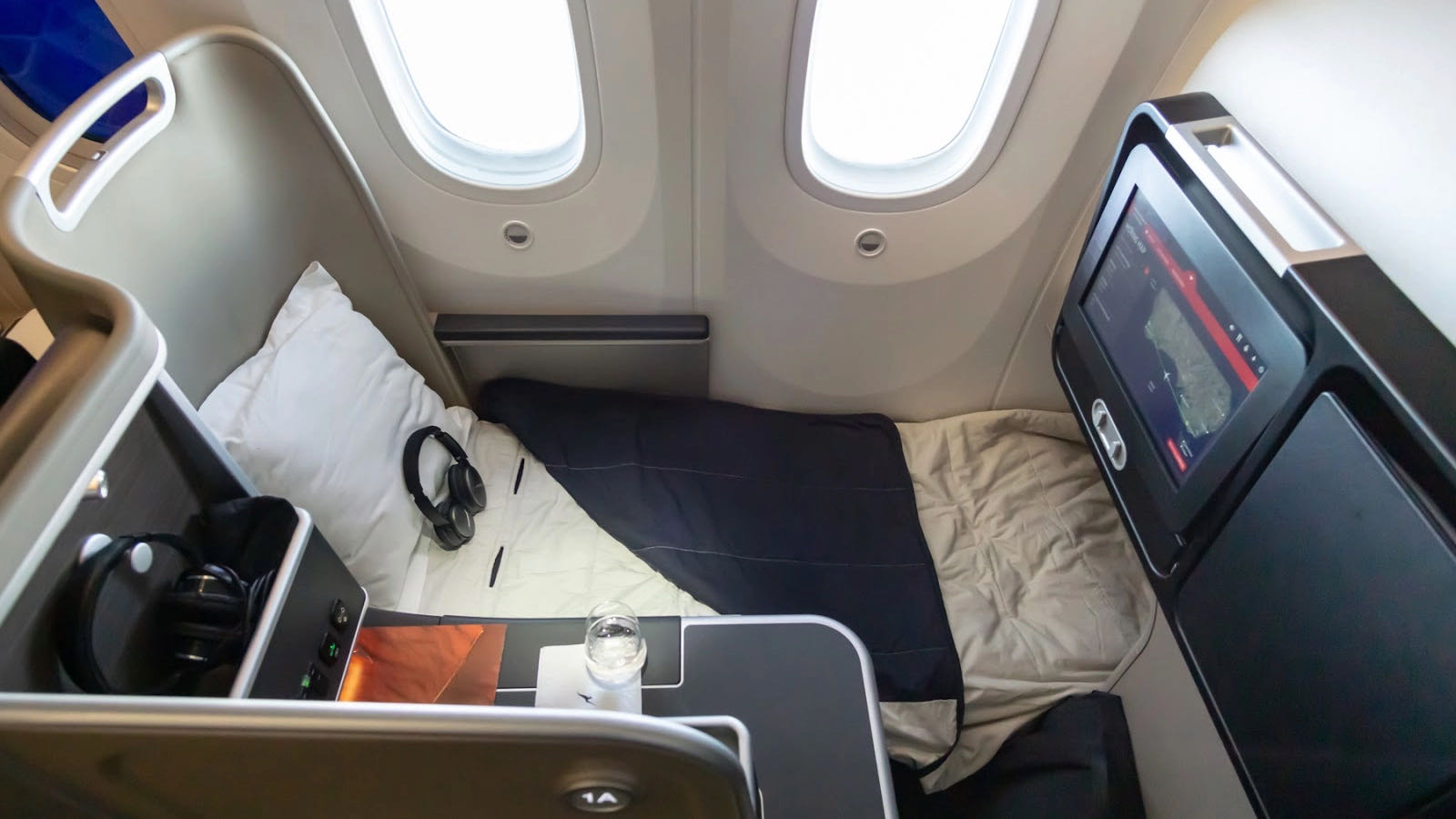 How to take advantage of this promotion
Log in to your Qantas Frequent Flyer account and select Use points to search for your flights.
Search for Economy or Business Classic Flight Rewards before 11:59 pm AEDT on 14 November 2021 on Qantas or Jetstar-operated flights within Australia.
Travel from 1 December 2021 to 31 August 2022 (Jetstar) or 27 October 2022 (Qantas).
Ad – Scroll down to continue reading.Minimum spend, terms & conditions apply.
Getting the best value out of this promotion
You may want to aim to get at least 1.80 cents per point value from your Qantas Points, according to our current points valuations. So, if your one-way Sydney to Perth flight in Qantas Business Class – which usually costs $2,572 – is booked for 29,000 points and $44 taxes with this promotion, that's an excellent 8.72 cents per point!
Offer history
Previous promotions have run as follows:
| Date | Discount (%) | Notes |
| --- | --- | --- |
| November 2021 | 30 | Australian domestic flights on Qantas and Jetstar |
| May 2021 | 30 | Australian and New Zealand flights |
| February 2020 | 30 | Select flights to New Zealand, Fiji and the US; includes Premium Economy & Business Class |
| June 2019 | 30 | |
| March 2019 | 30 | |
| September 2018 | 25 | |
| March 2018 | 30 | |
| December 2017 | 50 | International only |
| August 2017 | 25 | |
| May 2017 | 25 | |
| August 2016 | 20 | |
| Average | 29.44 | |
Quick and ongoing opportunities to boost your Qantas Points balance
Three of the quickest ways to top up your Qantas Frequent Flyer balance are to:
In the longer-term, you can earn Qantas Points by:
Summing up
Whilst the best value for redeeming your points is usually found in Business and First Class, there are cases where redeeming your points for Economy Class tickets can make good sense.
Note, though, that these promotions don't take into account the taxes and fees that Qantas charges on reward flight bookings. These are reasonable on domestic flights and a bit higher on trans-Tasman flights.
---
Frequently asked questions
When does it make sense to use my Qantas Points for Economy Class flights?
Everyone's financial situation, points balances and preferences are different. This means that the option of using points for Economy Class travel should not be written off. This guide can help you decide.
Are taxes and fees also discounted?
No, the discount does not extend to the ordinary surcharges and taxes that apply to Classic Flight Reward redemptions.
Can I cancel an existing booking and rebook at the cheaper price?
Yes, you can, but make sure to take into account any change or cancellation fees (may be waived due to COVID-19). If it works out, go for it.
How do I see the discount when I search?
Use the tables provided in our guide to check the pricing and see if it matches the base rate or the discounted rate.
Are partner airlines included?
This promotion covers travel on Qantas and Jetstar.
Does the discount not apply if I choose the 'Points Plus Pay' option?
No, it does not.
This guide was originally written by Matt Moffitt.
ACT FAST: 30% off Qantas domestic reward seats
was last modified:
November 10th, 2021
by