Fancy flying off to France but don't want to spend 24 hours in the air? Then set your sights on New Caledonia and its capital, Nouméa. An overseas territory of France, this piece of paradise sits in the Pacific less than three hours non-stop from Sydney. And it's easy to fly here using Qantas Points.
It only costs 41,500 Qantas Points each way in Business Class, plus fees and taxes. For 83,000 Qantas Points all up and a small payment of $217 for those taxes and charges, you can enjoy a trip that'd otherwise cost over $1,500 return.
Seeing the value, I didn't need much encouragement to get packing for Nouméa and my journey in Qantas Business. In fact, reward flight availability to Nouméa is very strong when spending Qantas Points. When I booked – even just a few weeks before travel – flights in Business Class were available on most days of the week. Compare that to somewhere like London, where reward seats can be tough to find, and a Nouméa holiday just looks better and better.
To top it all off, I spent my nights in Nouméa ensconced in an overwater bungalow: swimming with turtles and watching the sun sink into the gold-tinged ocean.
With Nouméa being this close, you could even jet there for the weekend… But after seeing what's on offer, we suspect you'll be planning a much longer visit.
Live the luxe overwater bungalow life in New Caledonia
AUD $3,649
What's included
3 or 5 nights at Doubletree by Hilton Illot Maitre Resort in a Deluxe Overwater Villa
2 nights at Hilton Noumea La Promenade Residences in a Studio Apartment
Full breakfast daily at both resorts
Daily dinner at Hilton Illot Maitre Resort
Return scheduled launch transfers from Port Moselle to Doubletree by Hilton Illot Maitre Resort
Flying to Nouméa in Qantas Business
With a ticket in Qantas Business, my airport journey begins at priority check-in. Despite the multitude of recent media reports, I'm pleased to find no queue at all as I drop my suitcase. (Before you ask, yes, it certainly did arrive – and with a Business priority tag, it was one of the first to emerge on the belt in Nouméa).
Once that's done, I'm straight through Sydney Airport's dedicated 'First and Business Class' departure channel. There's again no queue for a SmartGate at passport control, and no more than 10 people ahead of me at security. Booking an early morning flight certainly has its advantages!
This gives me plenty of time to venture through to the Qantas International Business Lounge. Given my early wake-up call, I'm very happy that barista-made coffee is served from the get-go. My usual skim latte arrives quickly, and there's a light food spread to get the day started. Of course, there's sparkling wine too: handy if I'd fancied a mimosa (or something stronger) while drifting into holiday mode.
(If you have a Qantas Platinum, Platinum One, Chairman's Lounge or other oneworld Emerald card, the even-better Qantas First Lounge awaits instead at Sydney Airport).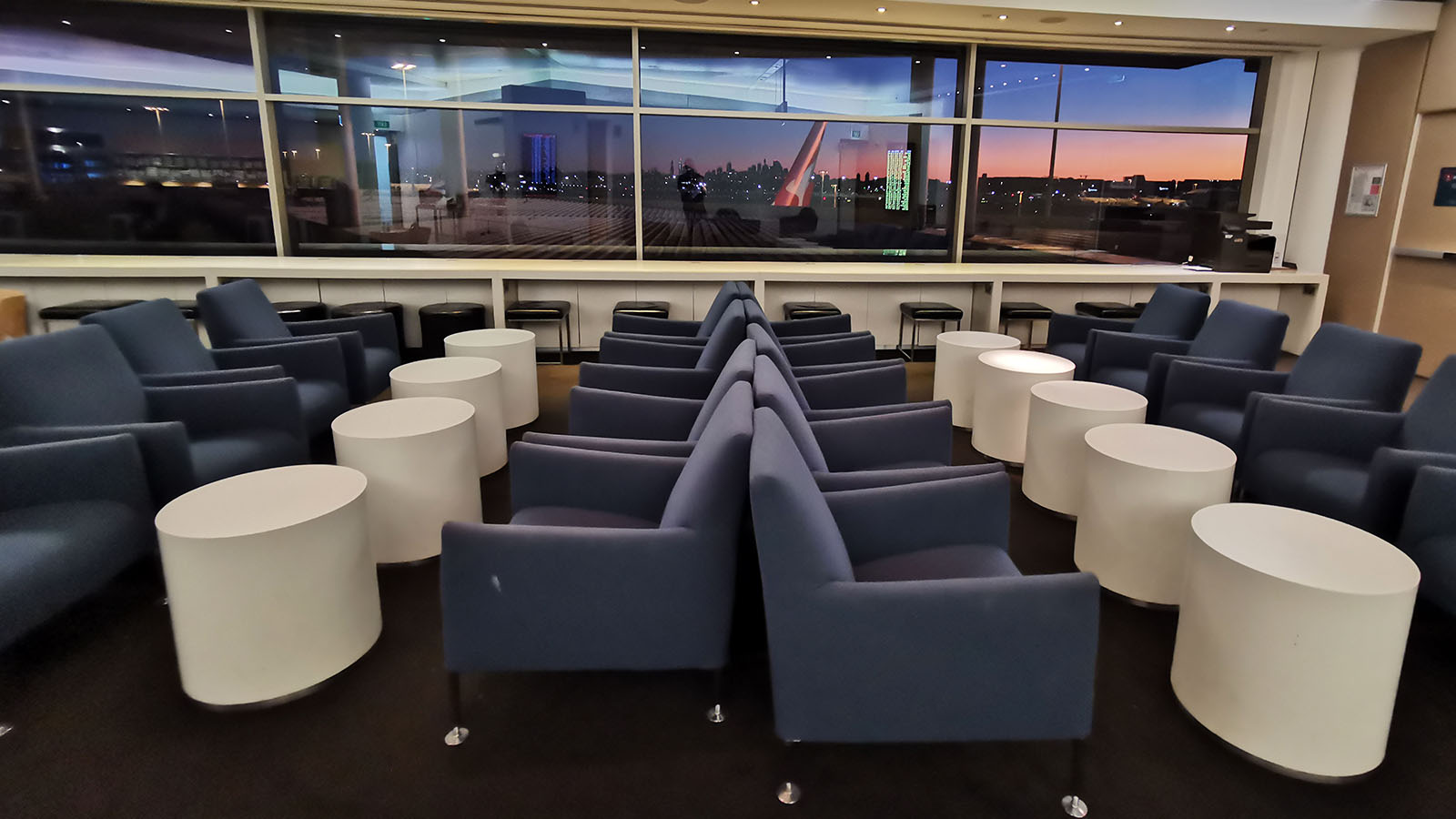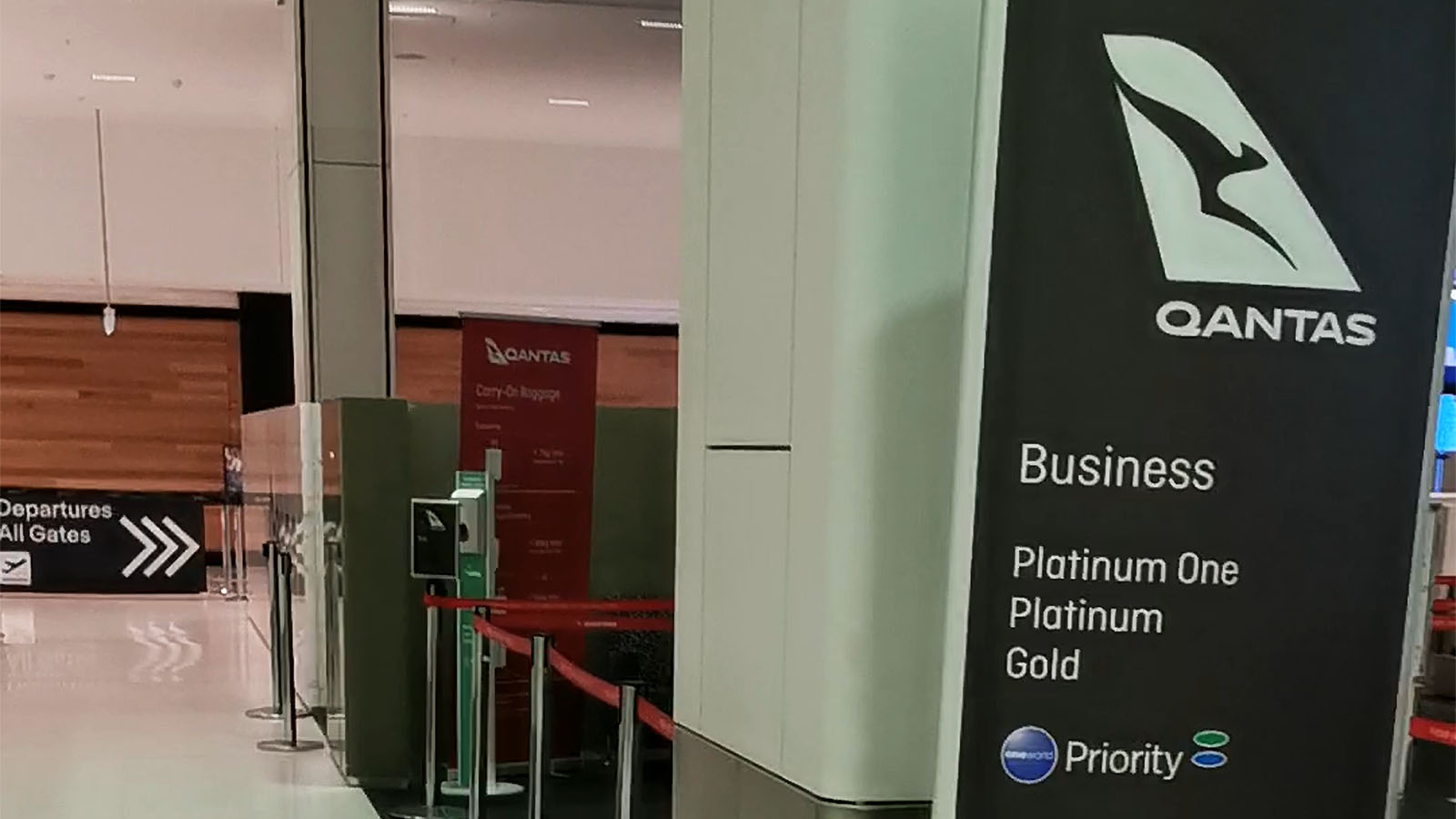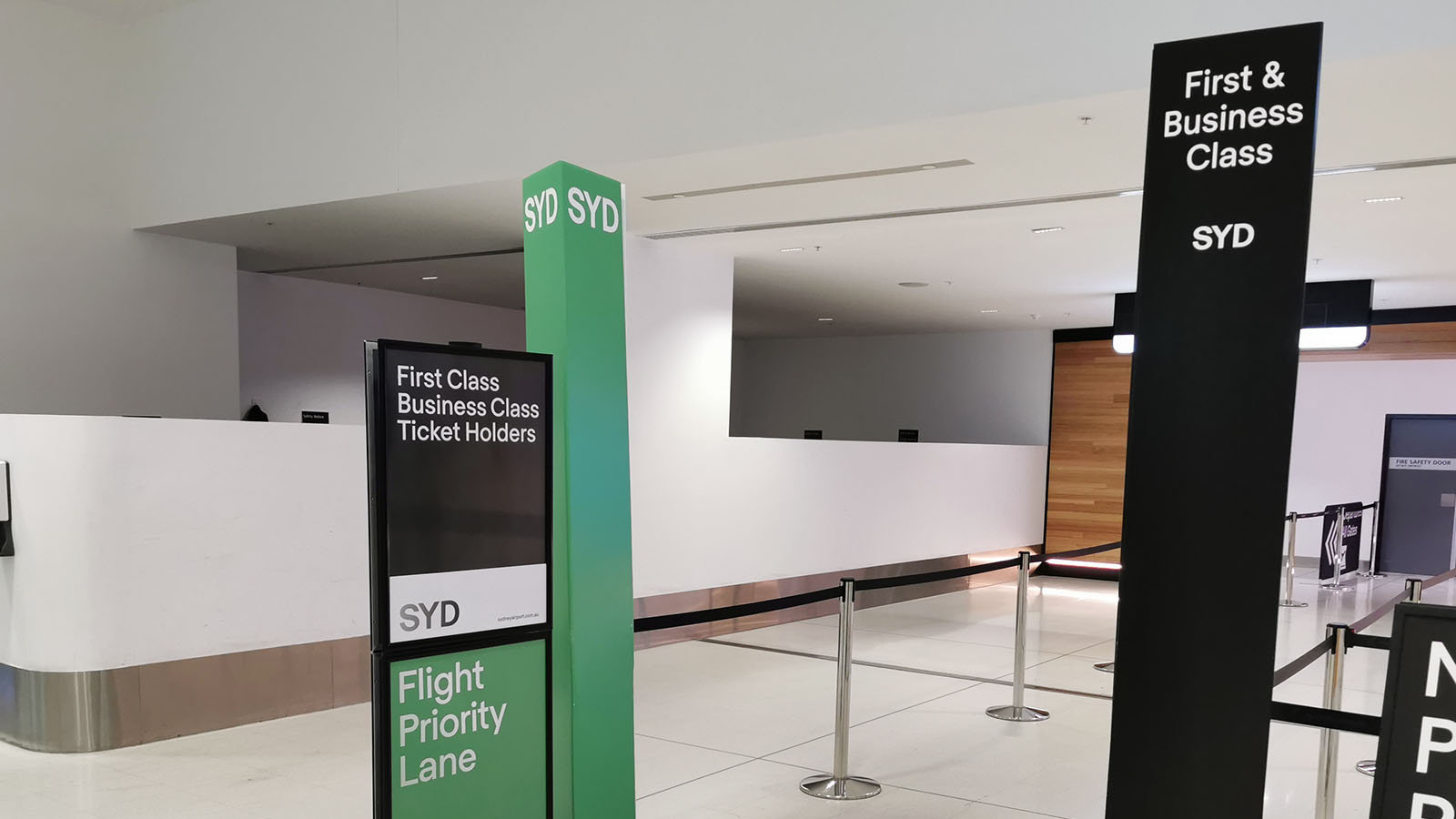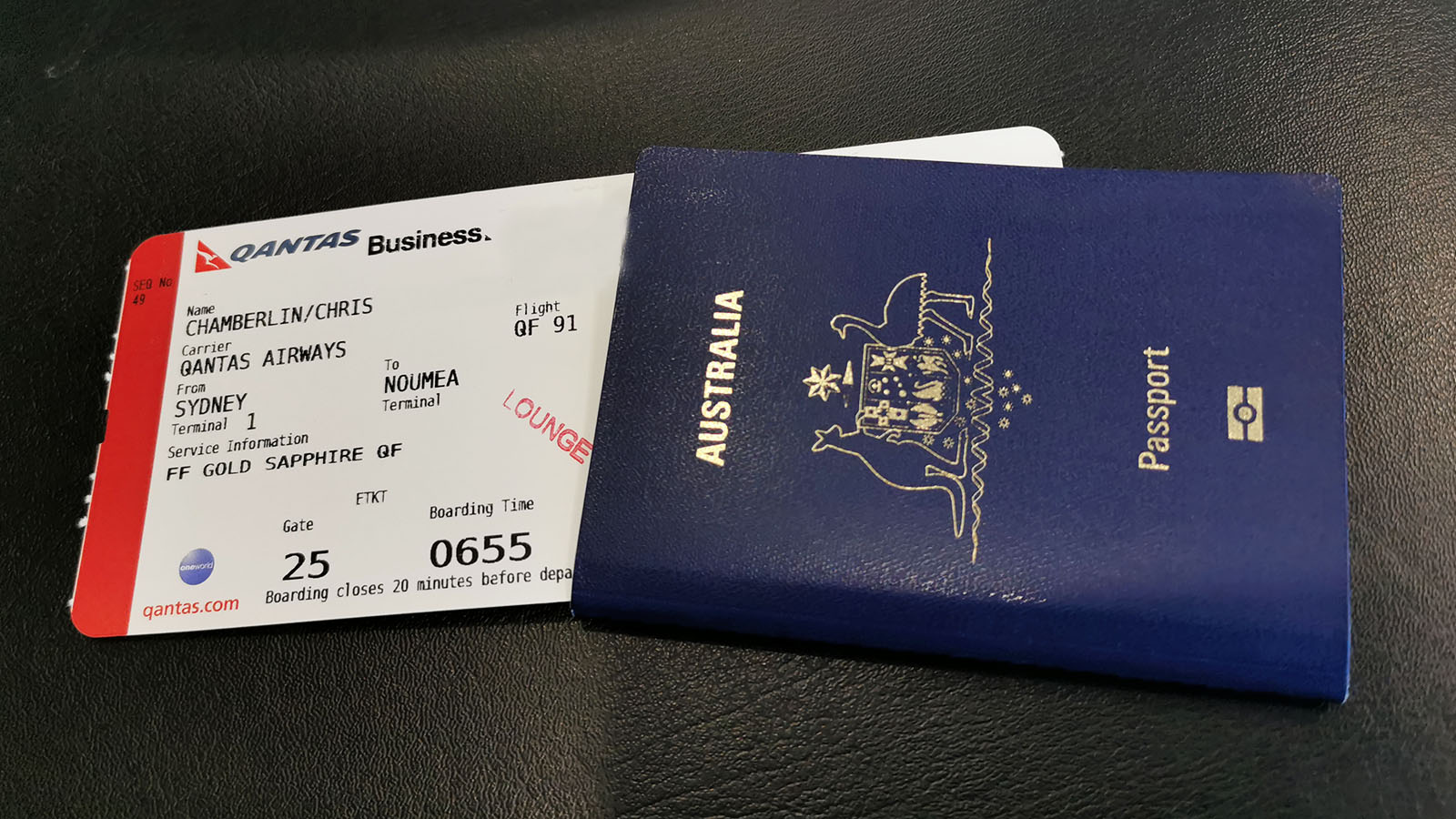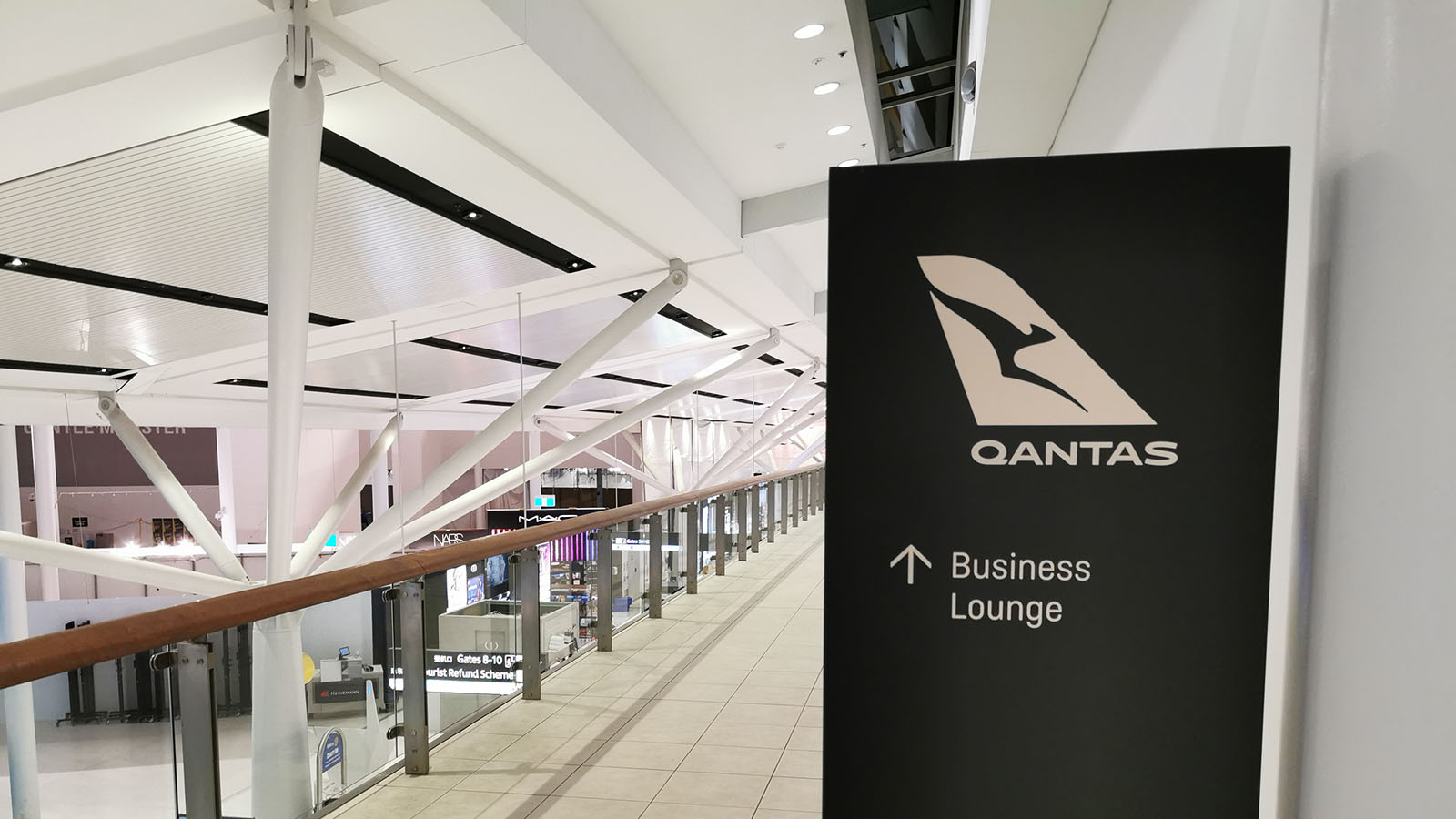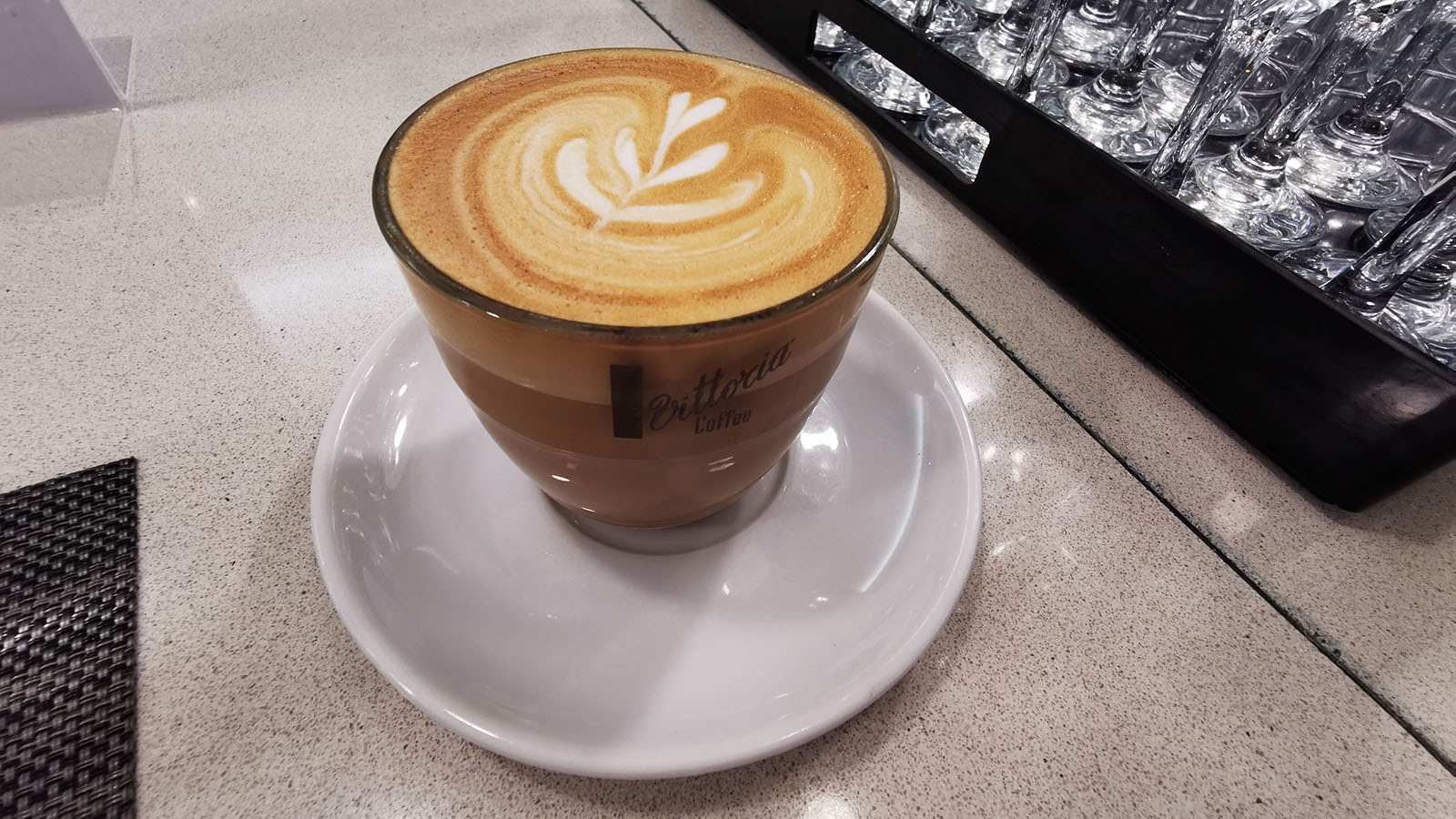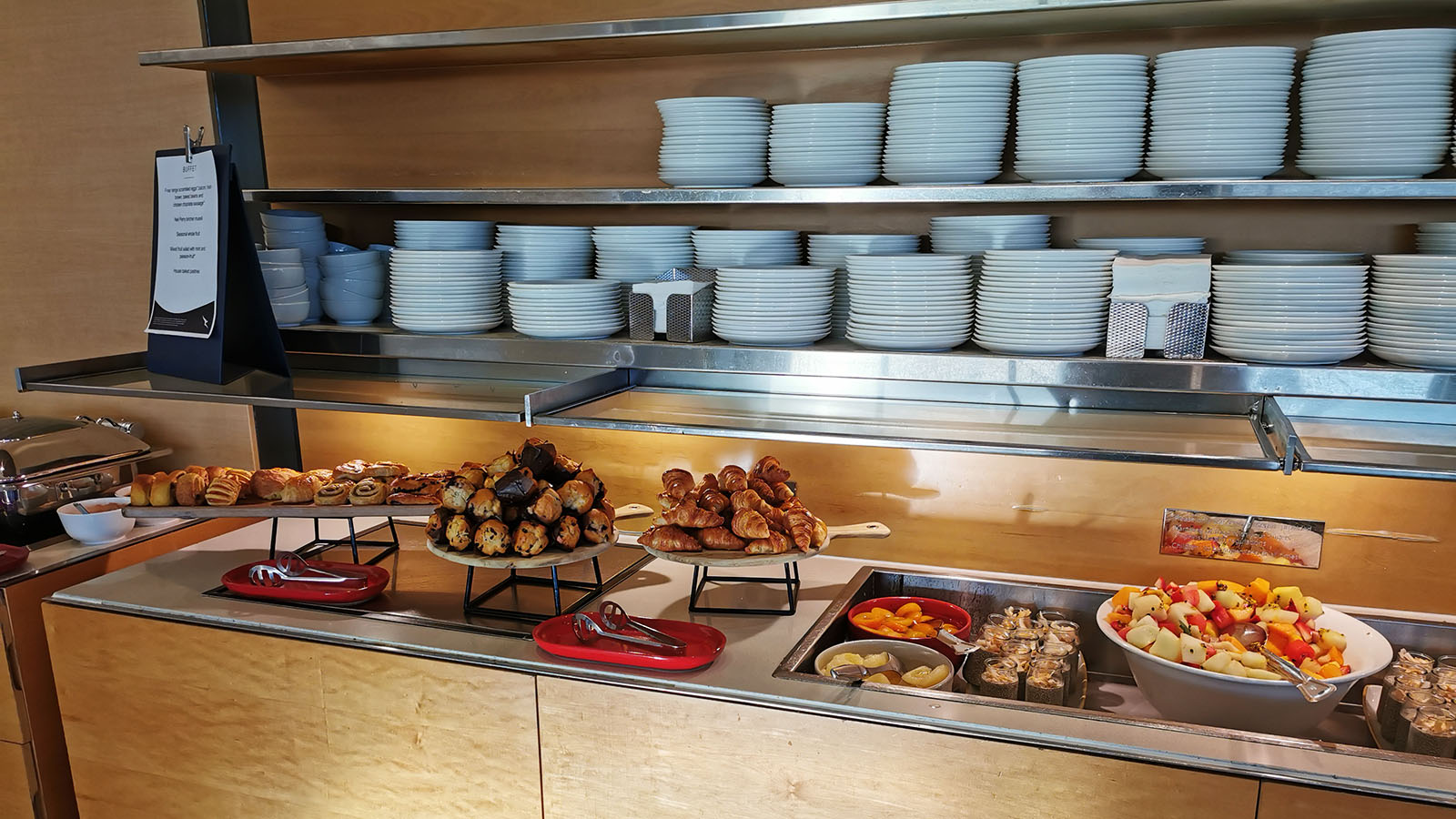 Before long, it's time to venture to the gate. Thanks to priority boarding – another perk of Qantas Business – I'm the very first person on the plane. I don't have far to walk, either. My name is on 1A, and to cap things off, the seat beside me remains free. Bliss begins before we're even in the air.
Qantas Boeing 737 Business Class
It's wonderful how close Nouméa is to Australia. I don't need to fly overnight – or even very far – for this getaway. With a flight time of just 2hr 40min, the trip is shorter than many Australian domestic routes. That's why Qantas flies its Boeing 737s to New Caledonia, rather than its larger Airbus A330 jets.
These provide comfortable reclining seats in a 2-2 layout. It's a great setup, particularly when travelling with a partner. That's because it's easy to sit together and enjoy the journey, without having to share that side of the plane with anybody else.
Even with a domestic-style seat, the experience is still a notch above the norm. There's a pillow and blanket waiting for each passenger, which makes settling in quite comfortable.
Cabin crew also spring into action before take-off. We've barely said hello at the door and there's already a glass of Champagne on its way. I'm settled in sipping my Jacquart Brut Mosaique NV while most others are still at the gate.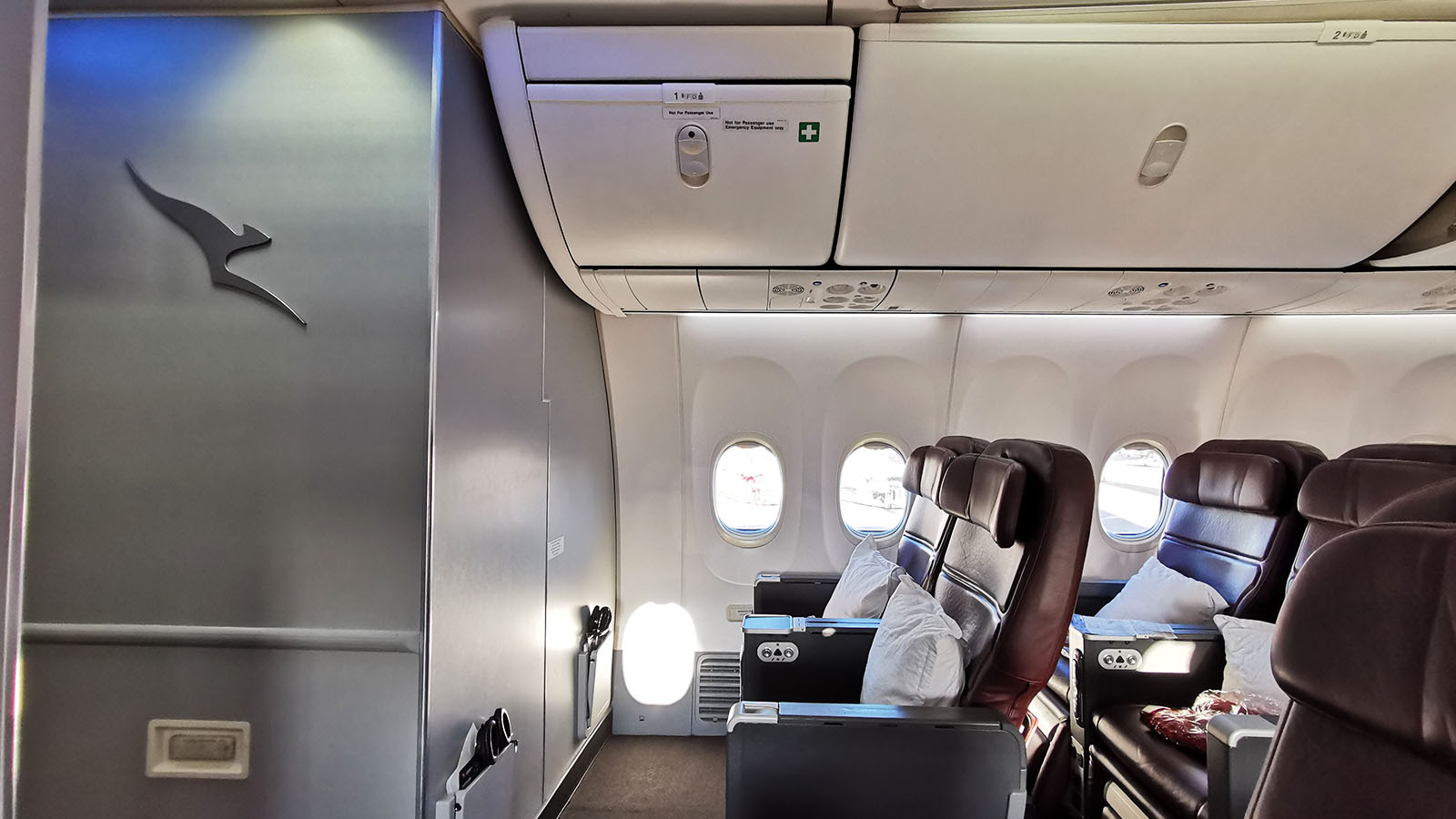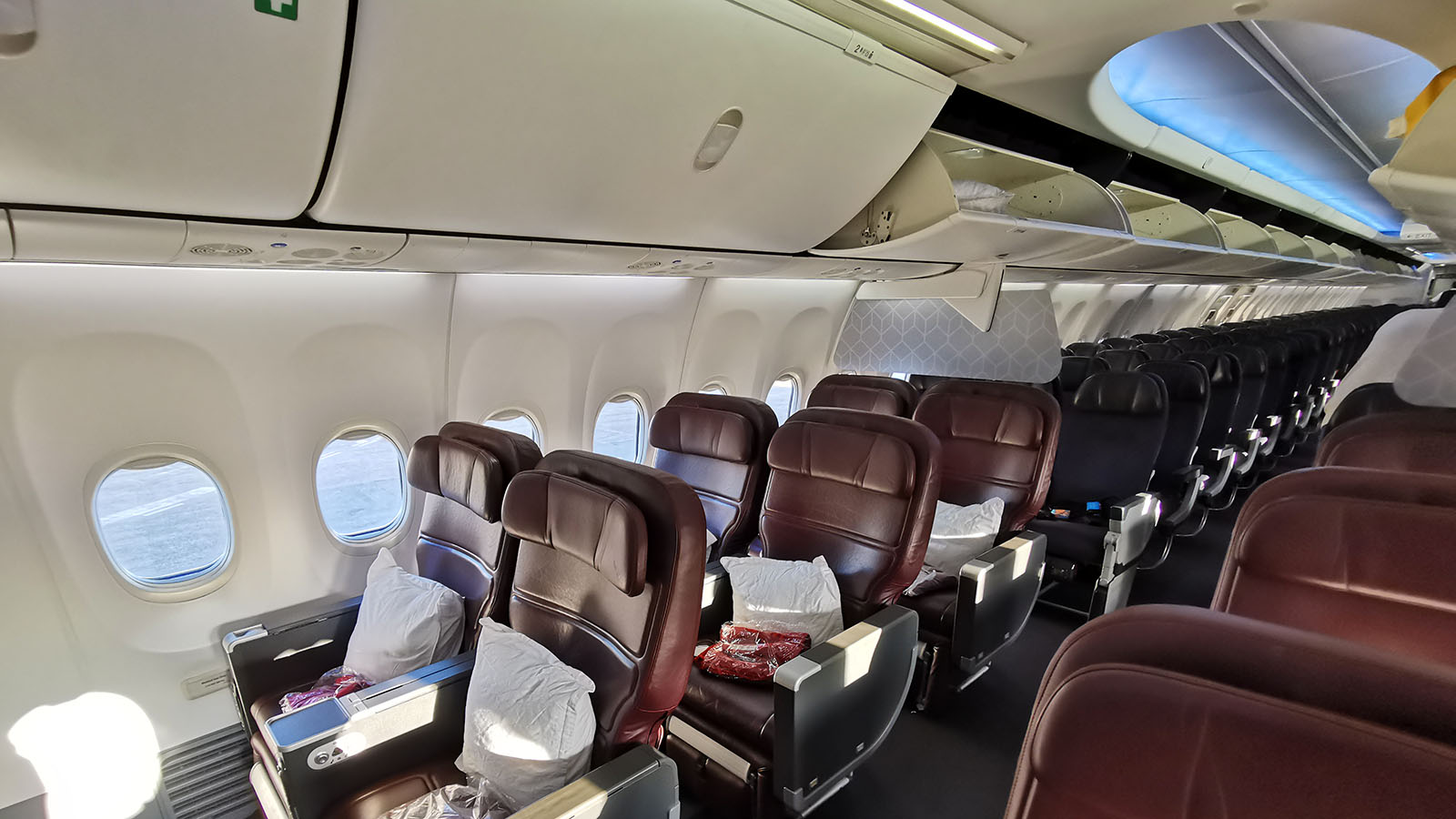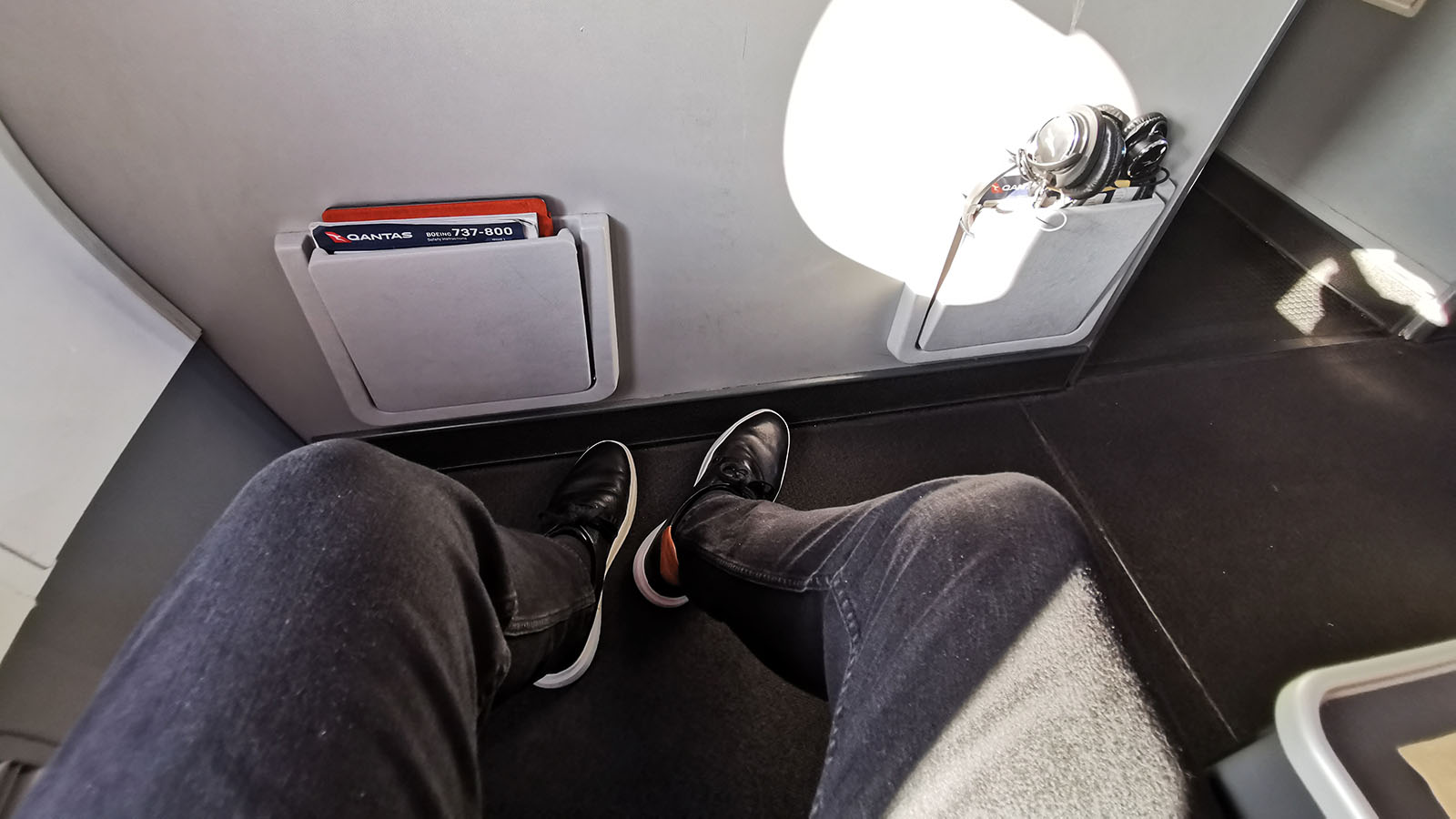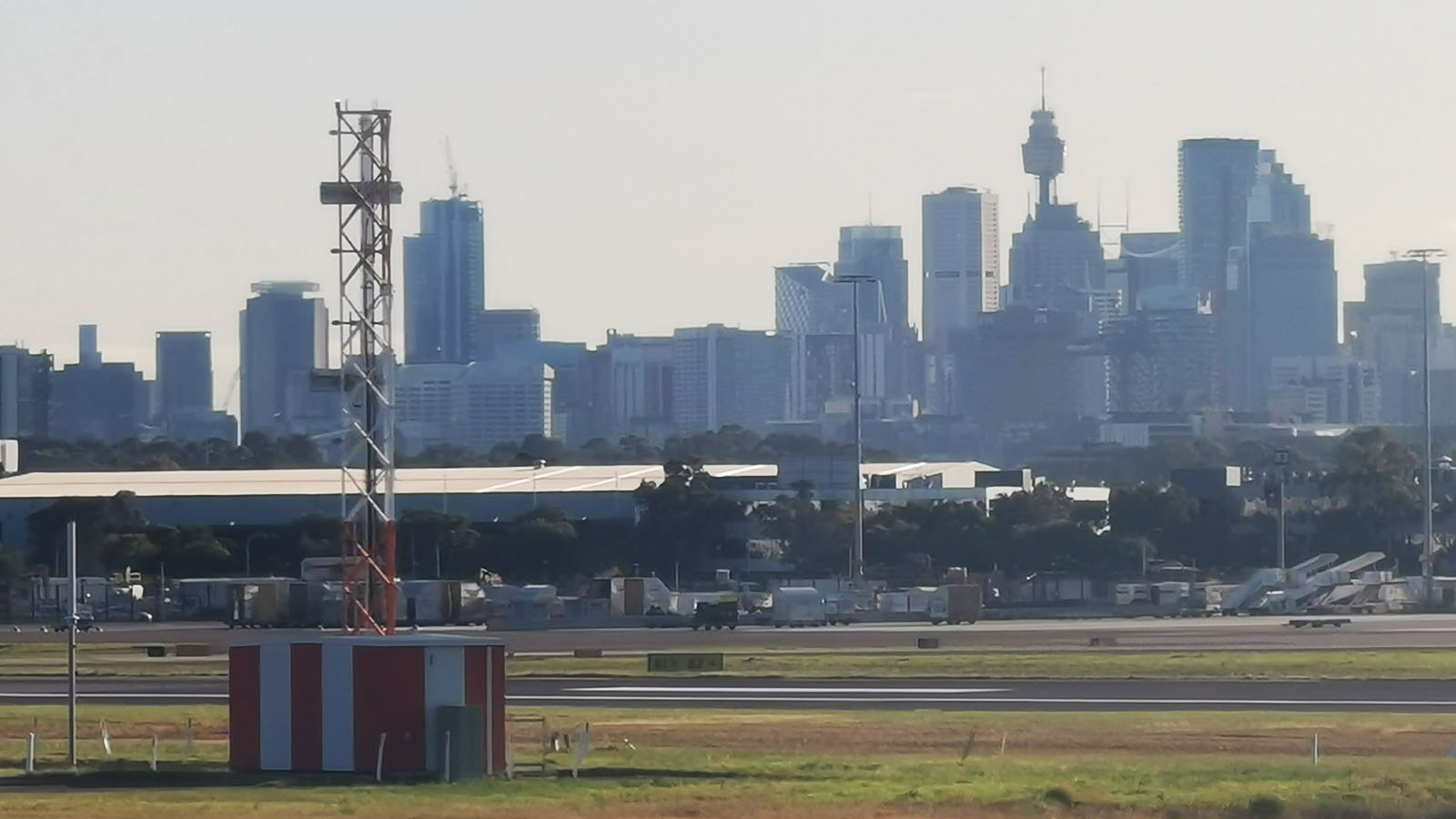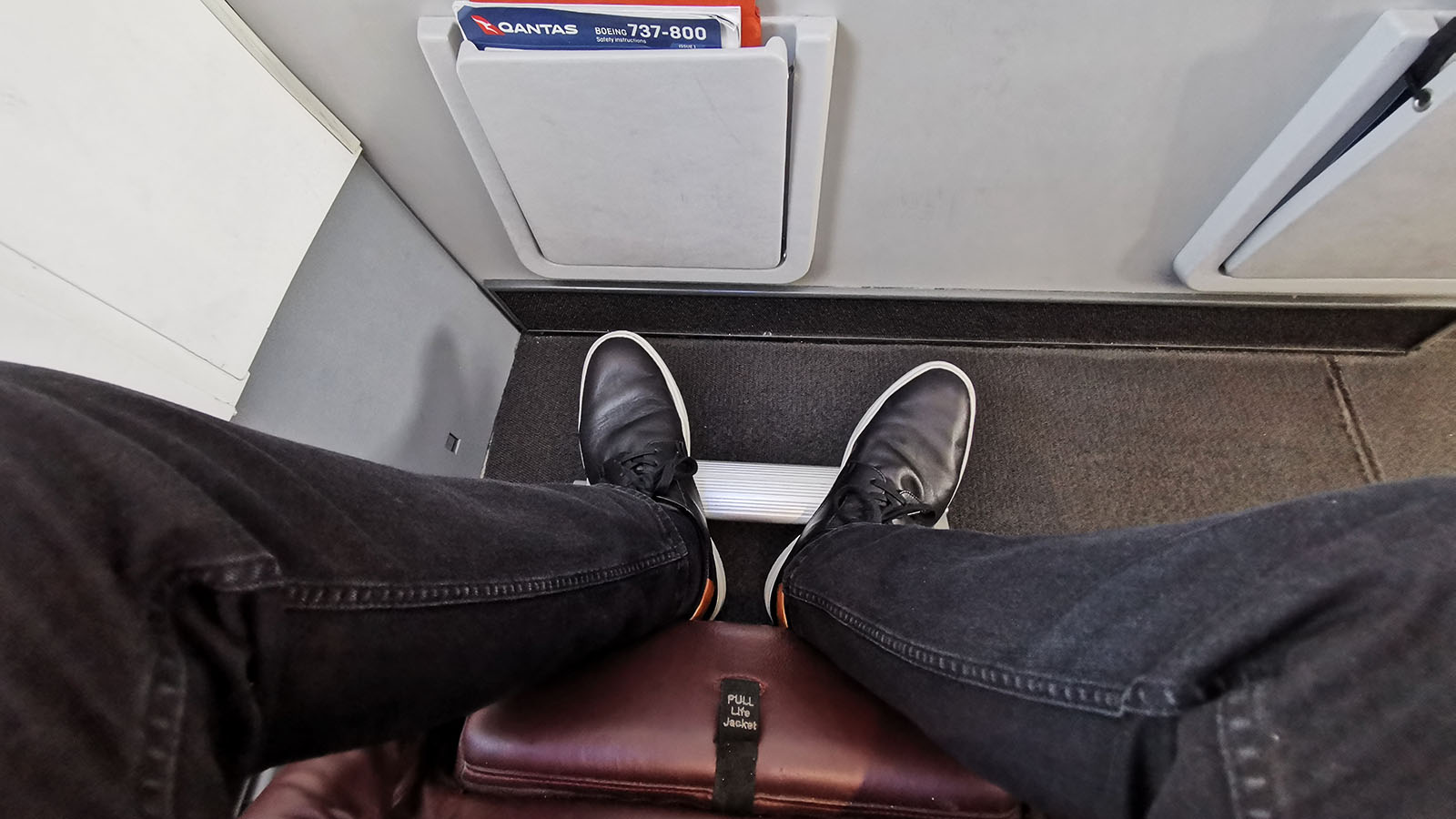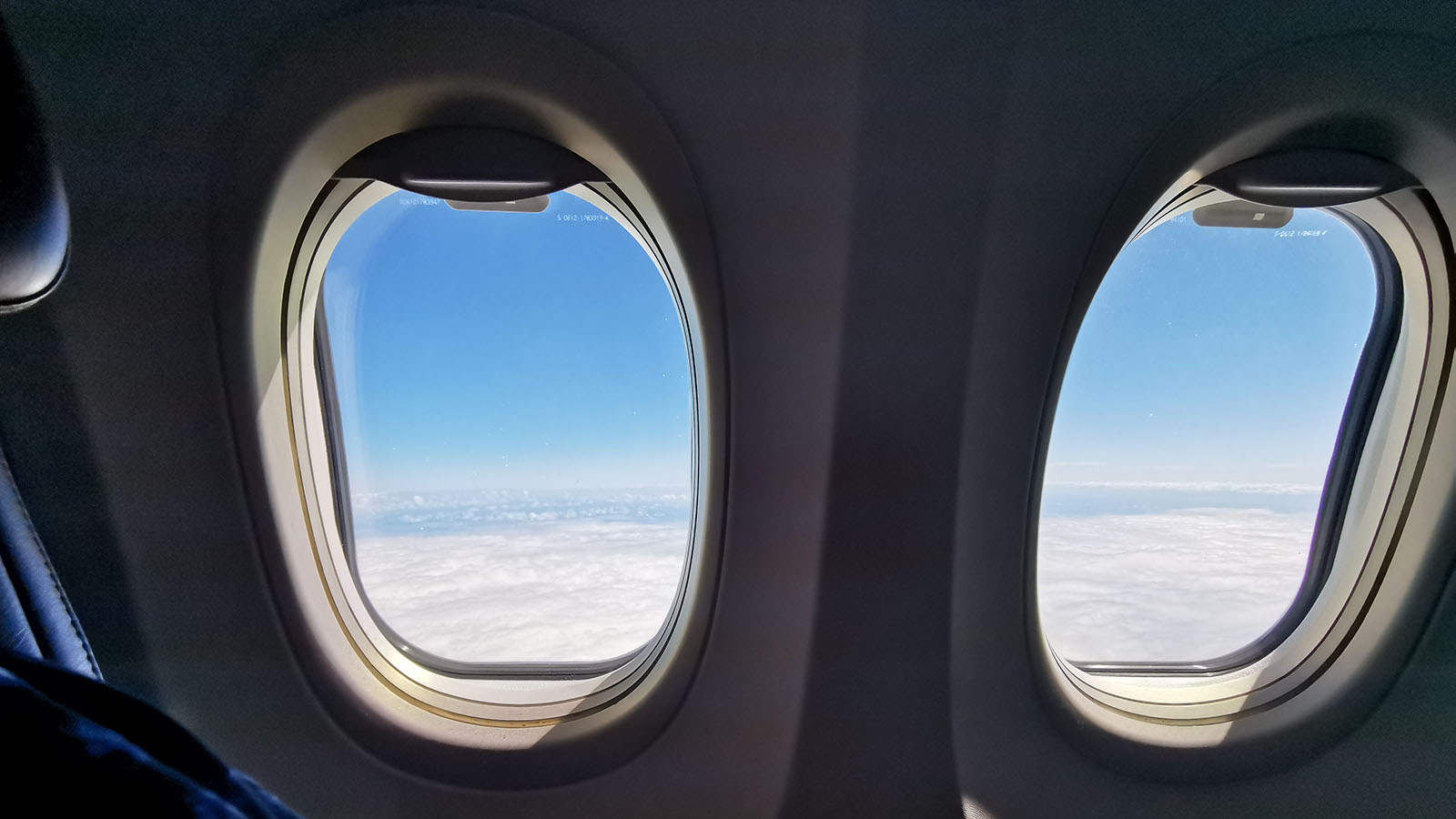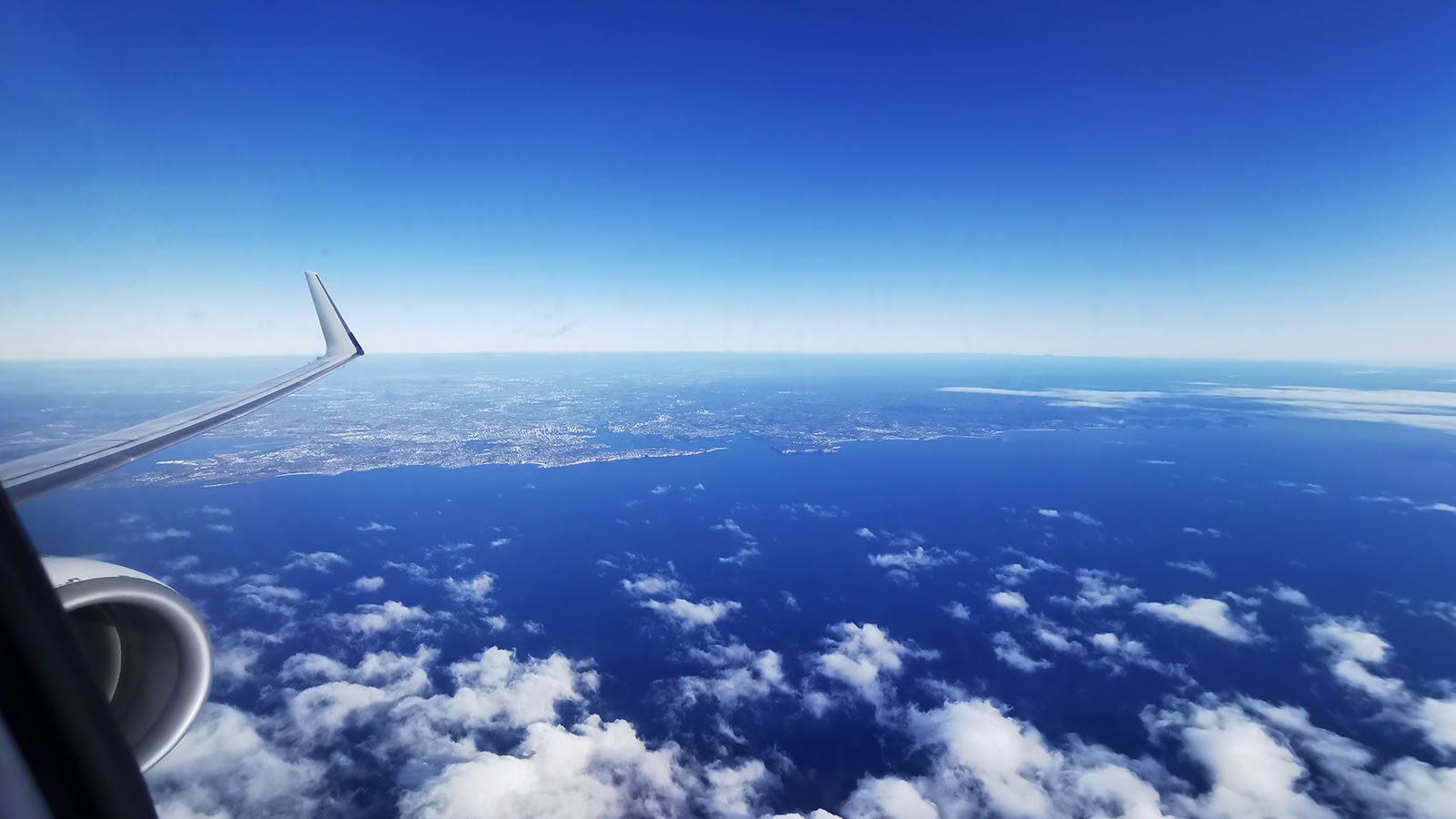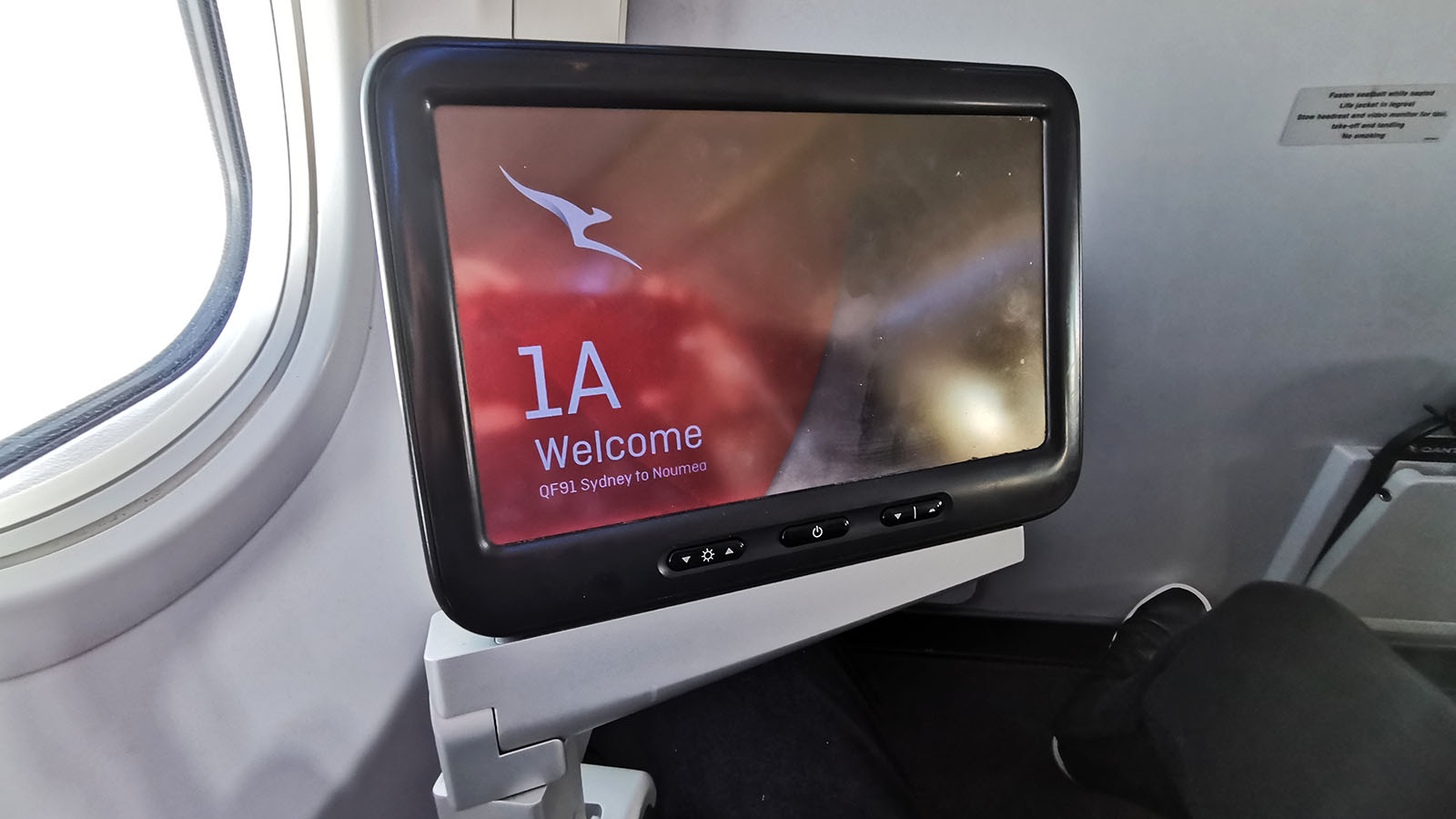 As soon as the seatbelt sign is off, my leg rest is up and its separate footrest is promptly folded out. It's that sense of space and comfort that drew me to book Qantas Business, even when Economy on a flight this short wouldn't have been an impost.
With my feet up, I settle in with a new release movie, Top Gun: Maverick. But with so much to look at down below as we fly by, I might just have to watch it again later. After all, I chose a window seat for a reason – and this is definitely a flight where that's a good call.
It's time for an inflight breakfast. I'm given the choice between a cheese and chive omelette or a frittata with feta and red capsicum. I'd only eaten light bites in the lounge, so I opt for the omelette. It's a filling choice, and one that keeps me from being ravenous as I arrive.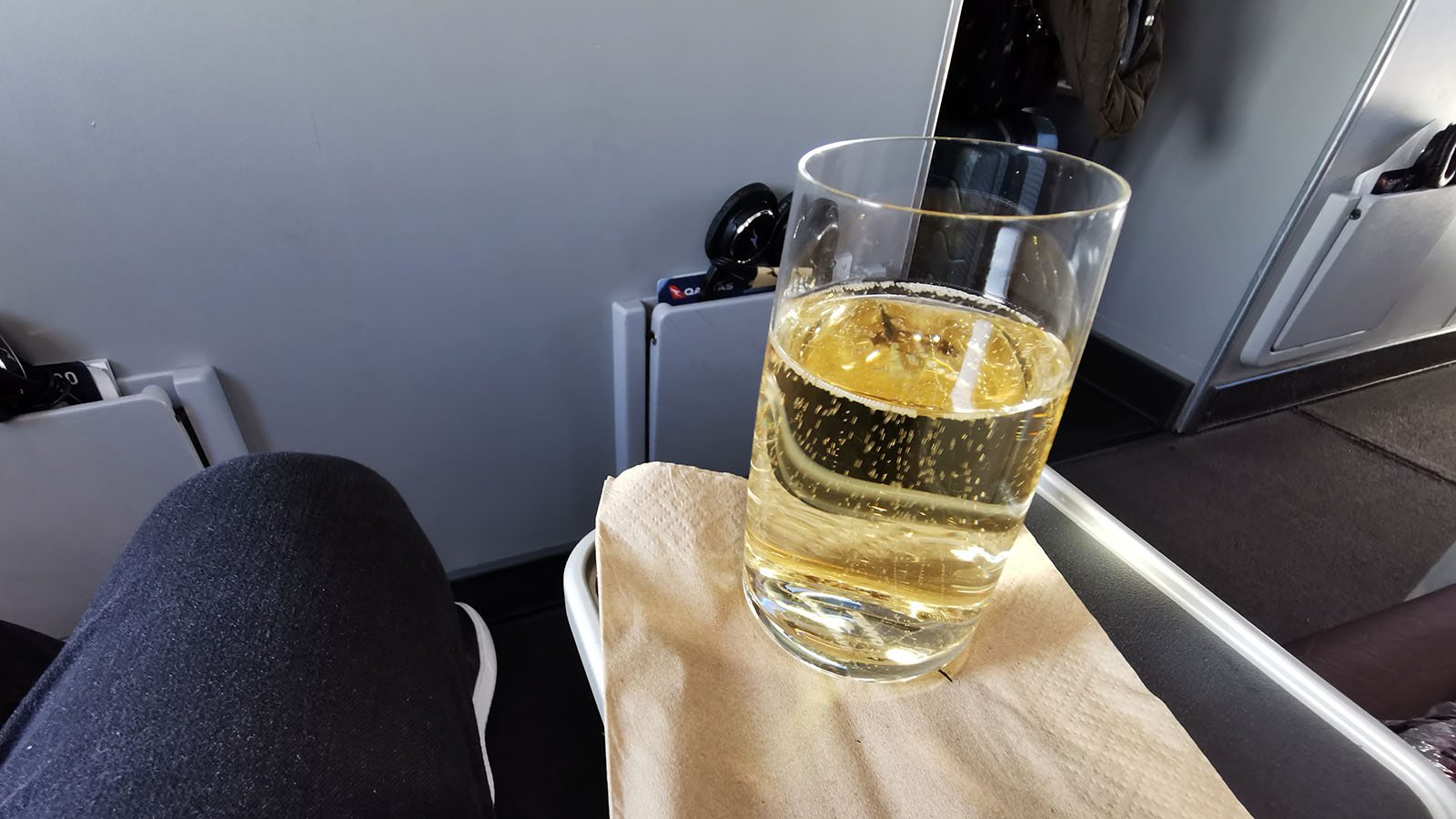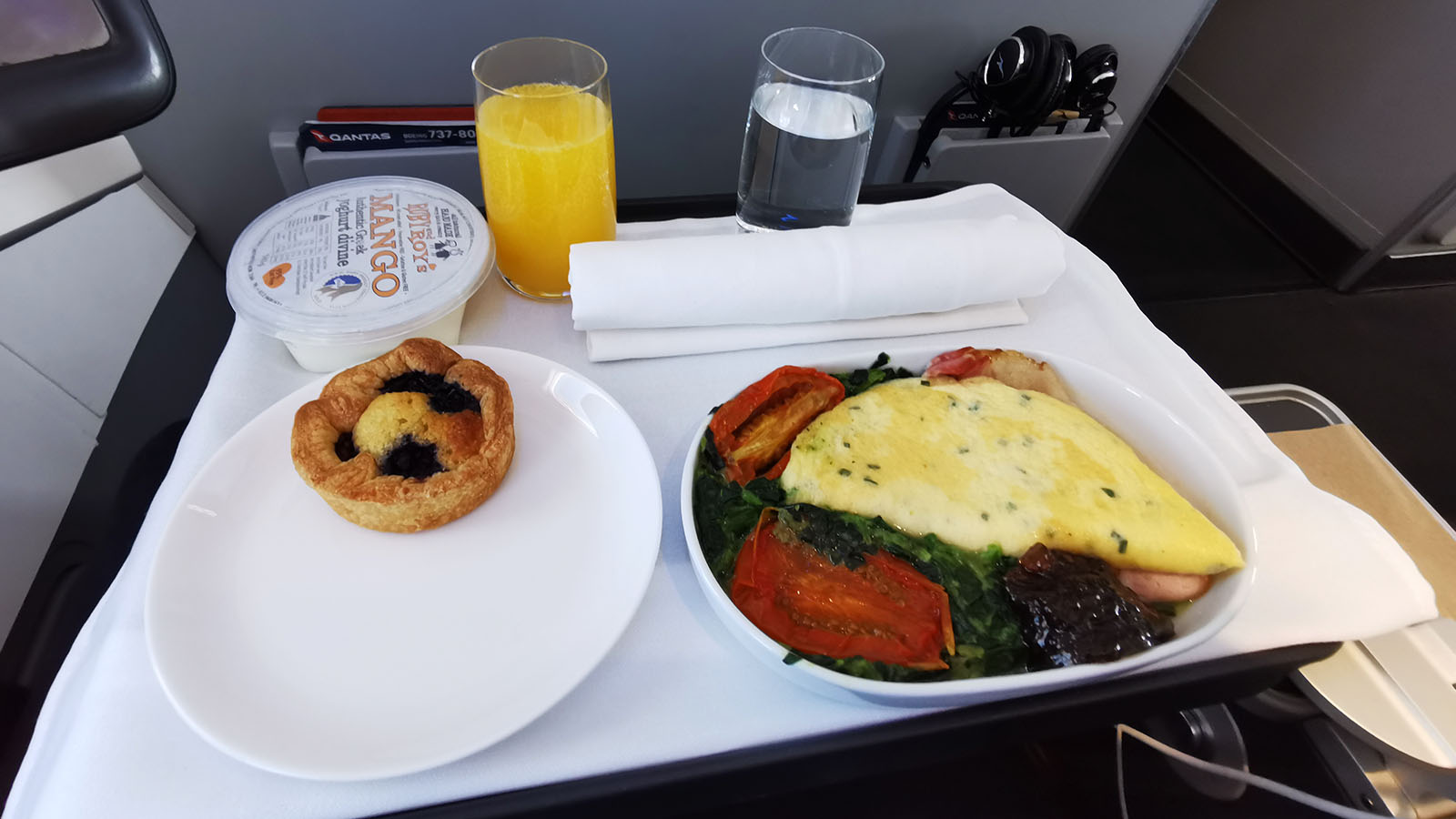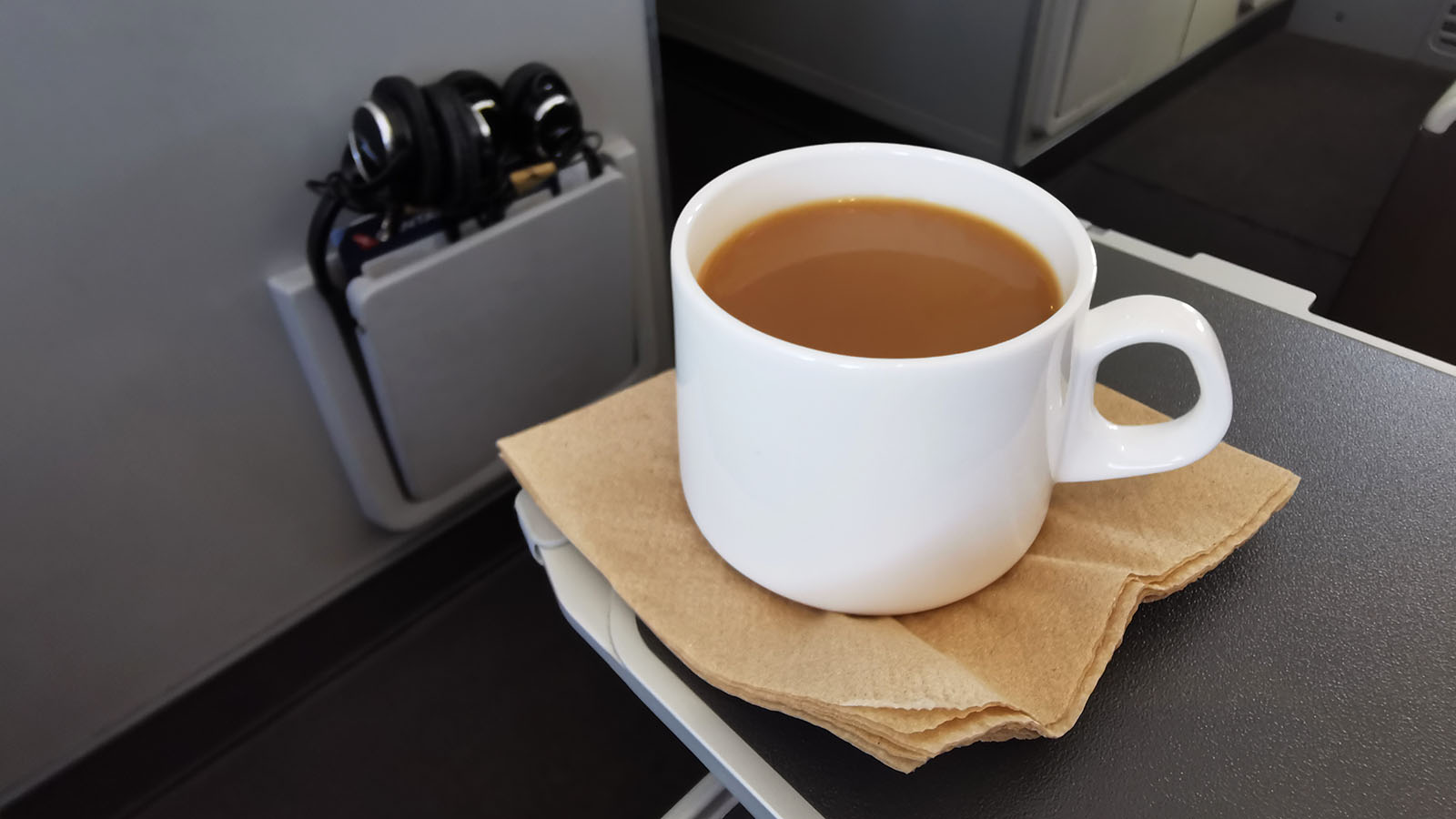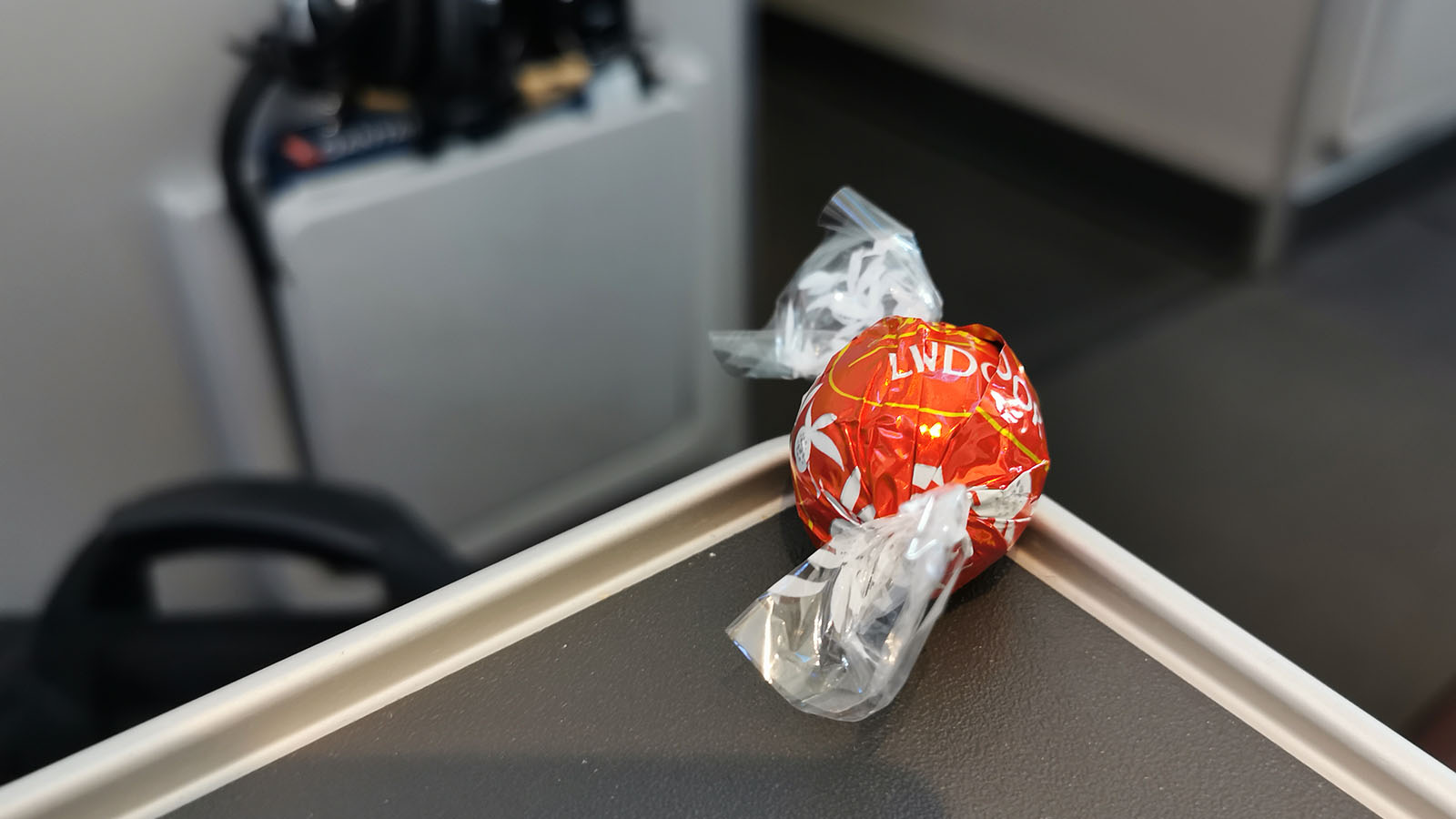 With a mimosa on the side – hey, I am flying overseas after all! – I progress to a white coffee. There's a Lindt chocolate ball to enjoy soon after, and before long, we're at the gate. Welcome to international flying without the jet lag, and to a territory of France in just a few short hours.
Hello, New Caledonia!
As I make my way from the aerobridge to passport control, I'm ushered towards a Business Class priority line. I have to laugh: there's nobody in the regular queue to have 'priority' over, but staff insist we accept the VIP treatment. Okay, no complaints!
Speaking of entering New Caledonia, it's super easy. There's no testing required before or after your trip, and I don't have to show proof of vaccination at any stage of the journey. There's no visa needed for tourists, or online forms to slow things down either – just the normal handwritten arrival card. Things really are back to their pre-COVID ways.
As an overseas territory of France, New Caledonia's passport stamp is also quite recognisable. It's not part of the European Union, or the Schengen Area, but you really can fly to France from Australia in less than three hours. Take that, Concorde!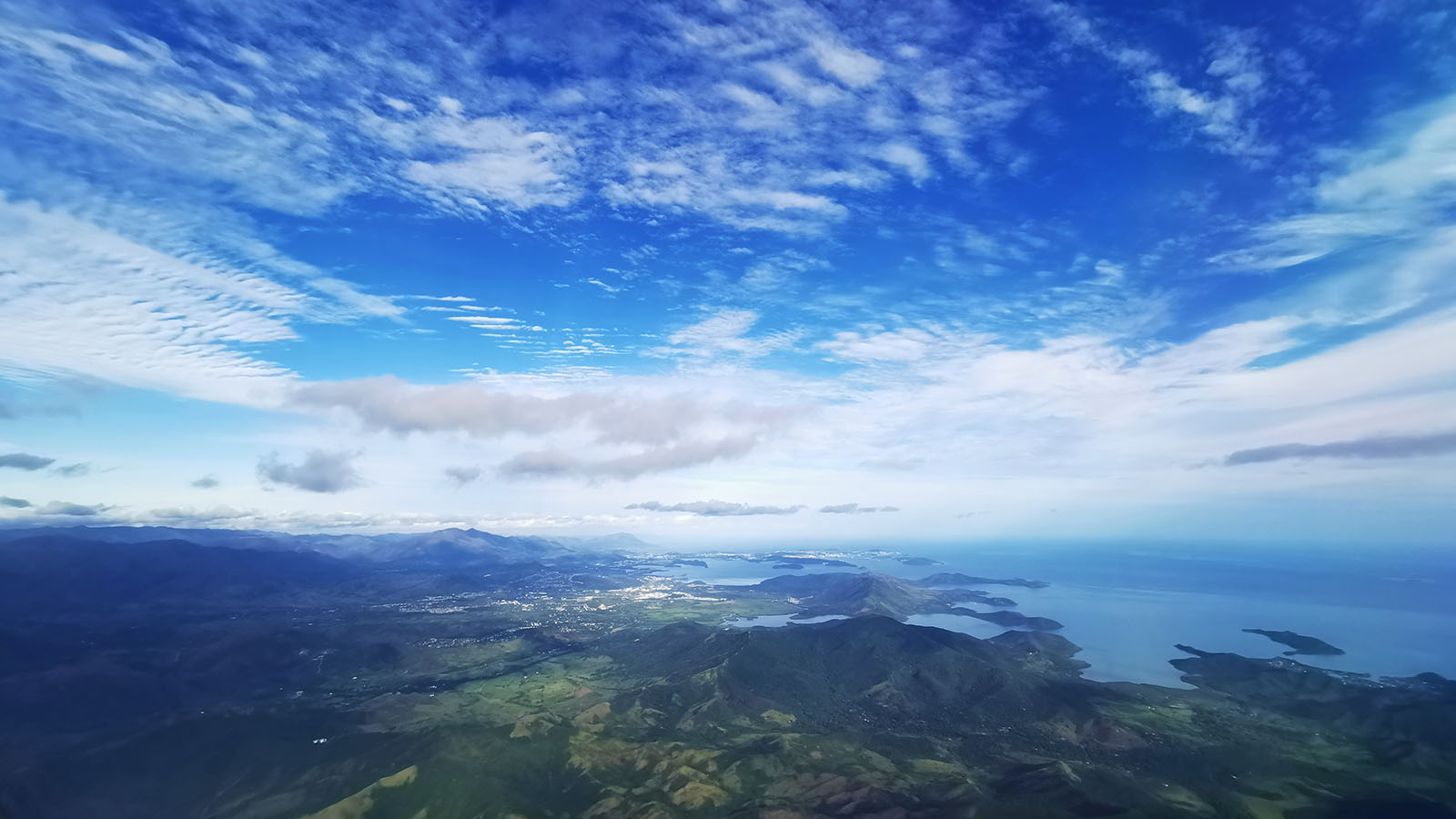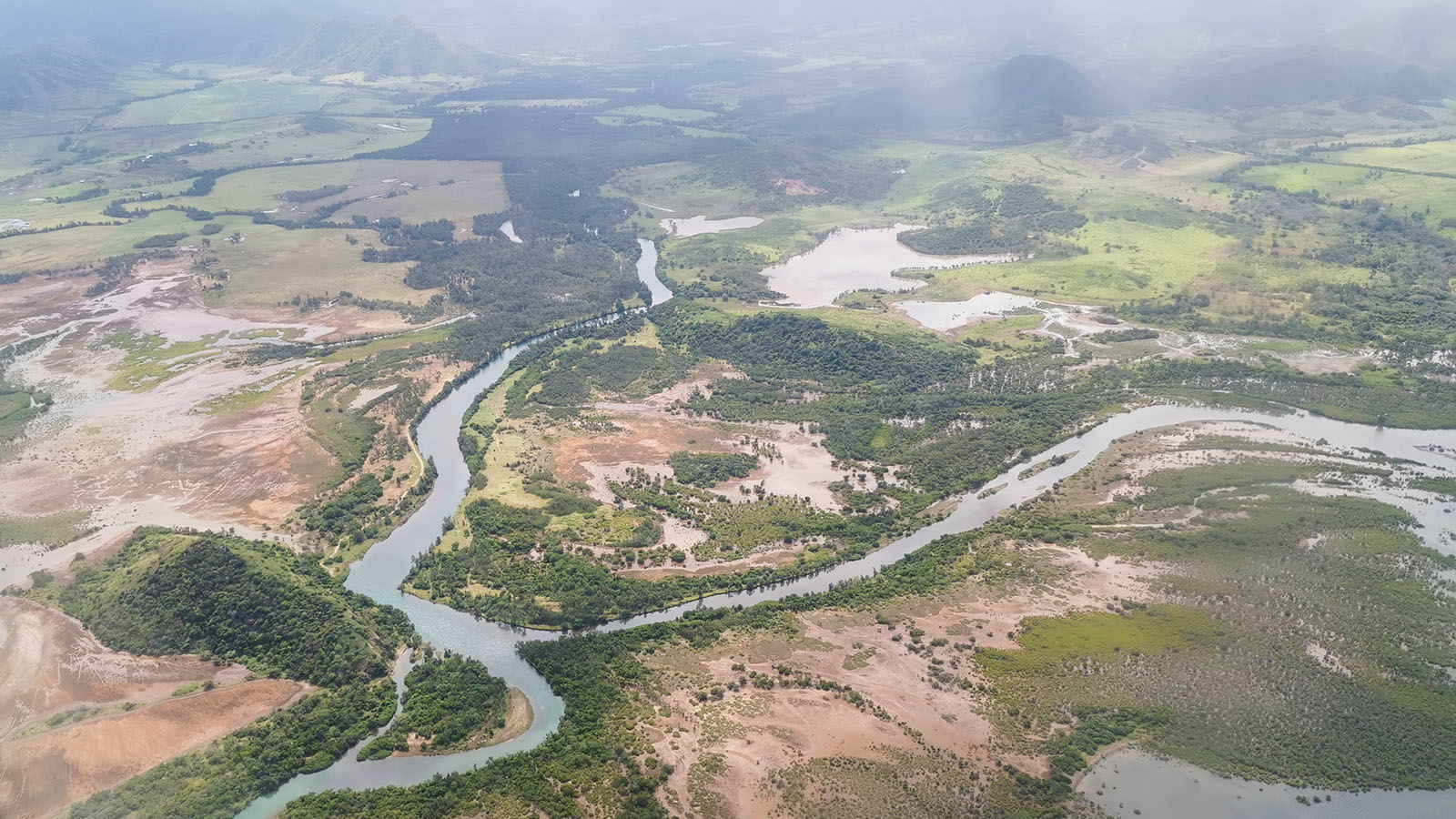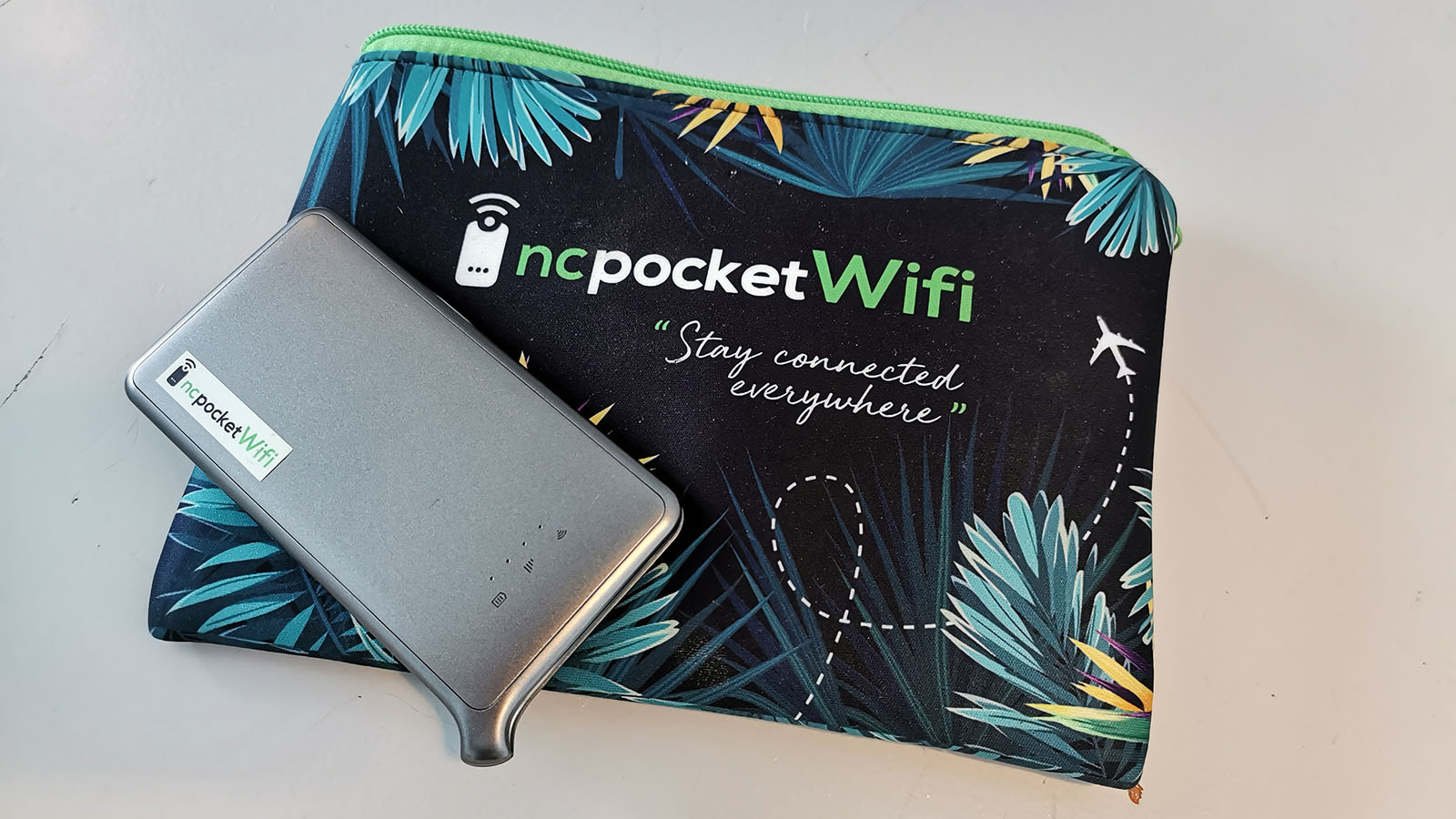 It helps to brush up on a few words of French to get around. But even if that's just 'je voudrais un café au lait, s'il vout plaît' ('I would like a coffee with milk, please'), you'll do better than most tourists.
With data roaming not available to Australians in New Caledonia, I quickly swing by the NC Pocket Wi-Fi counter at the airport to collect a portable hotspot. A must for the Instagram snaps to come.
For a smooth trip, I've pre-booked my airport transfer with Arc en ciel, as recommended by the hotel. My driver is patiently waiting for me at the terminal, and whisks me to my next port of call.
Ad – Scroll down to continue reading.Minimum spend, terms & conditions apply.
DoubleTree by Hilton Nouméa Îlot Maître Resort
This trip, I've gone all out. I haven't just booked a hotel room or a suite: I've reserved nothing less than an overwater bungalow at the DoubleTree by Hilton Nouméa Îlot Maître Resort. Yes, my very own hut above the turquoise waters of Nouméa.
The best part? The price. While a bungalow somewhere like the Maldives might fetch AU$1,500+ per night, here, they start around AU$450. In other words, you can stay in Nouméa for a whole week, for the cash you might burn in just 48 hours elsewhere.
Here in Nouméa, the DoubleTree lives on a small island. From the airport, head to Port Moselle in the city. From there, the resort's free boat transfer takes you the rest of the way.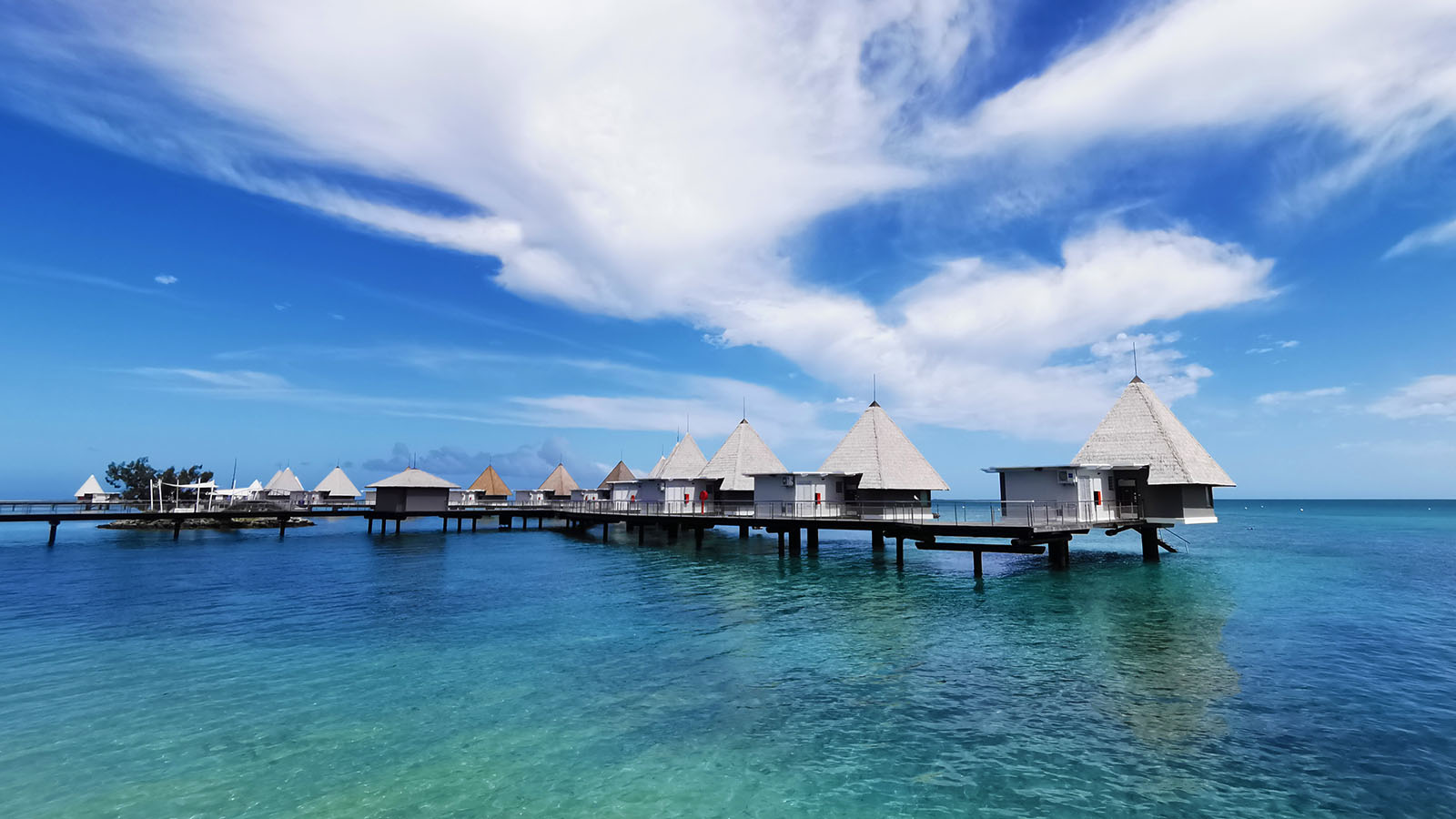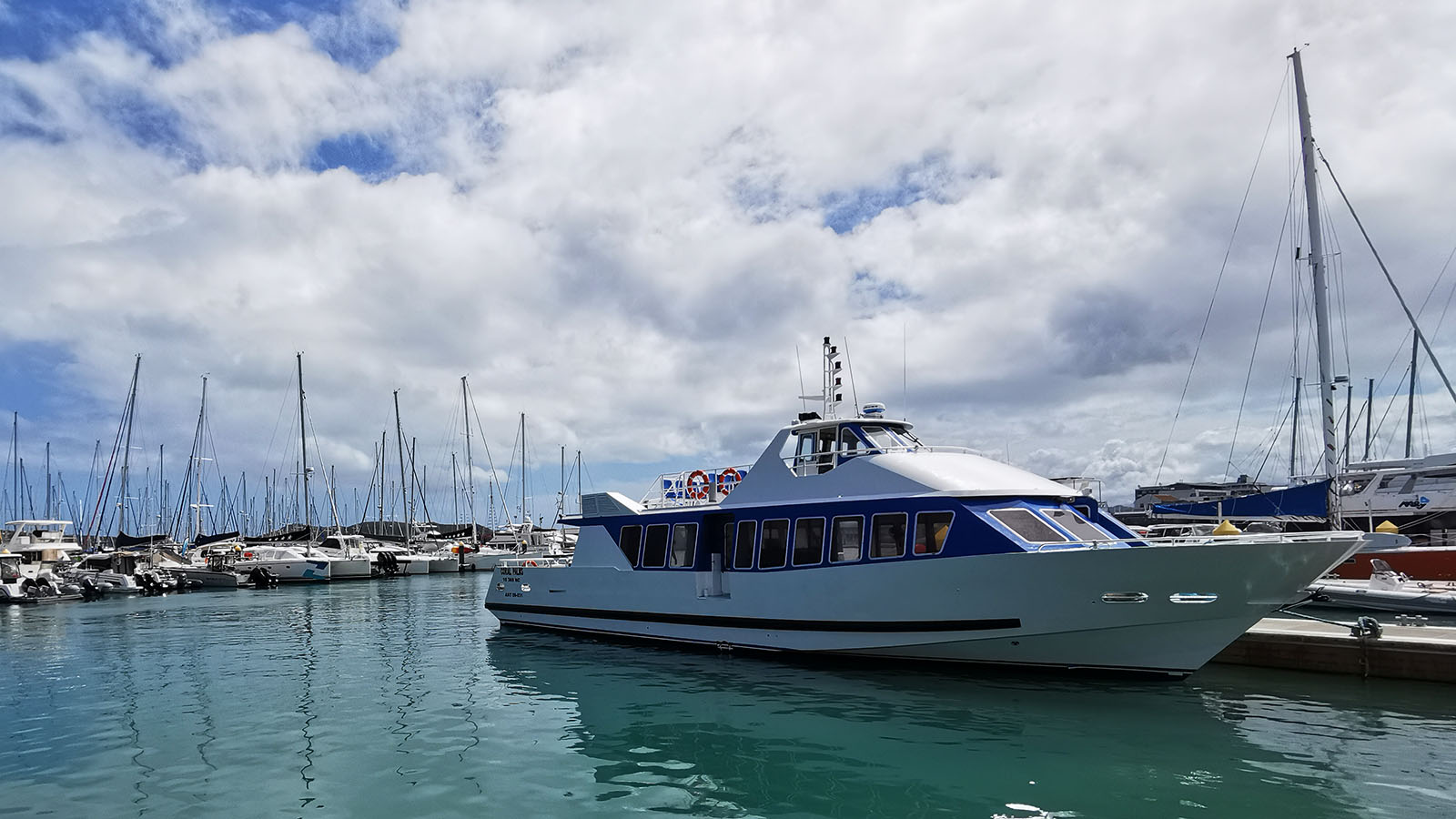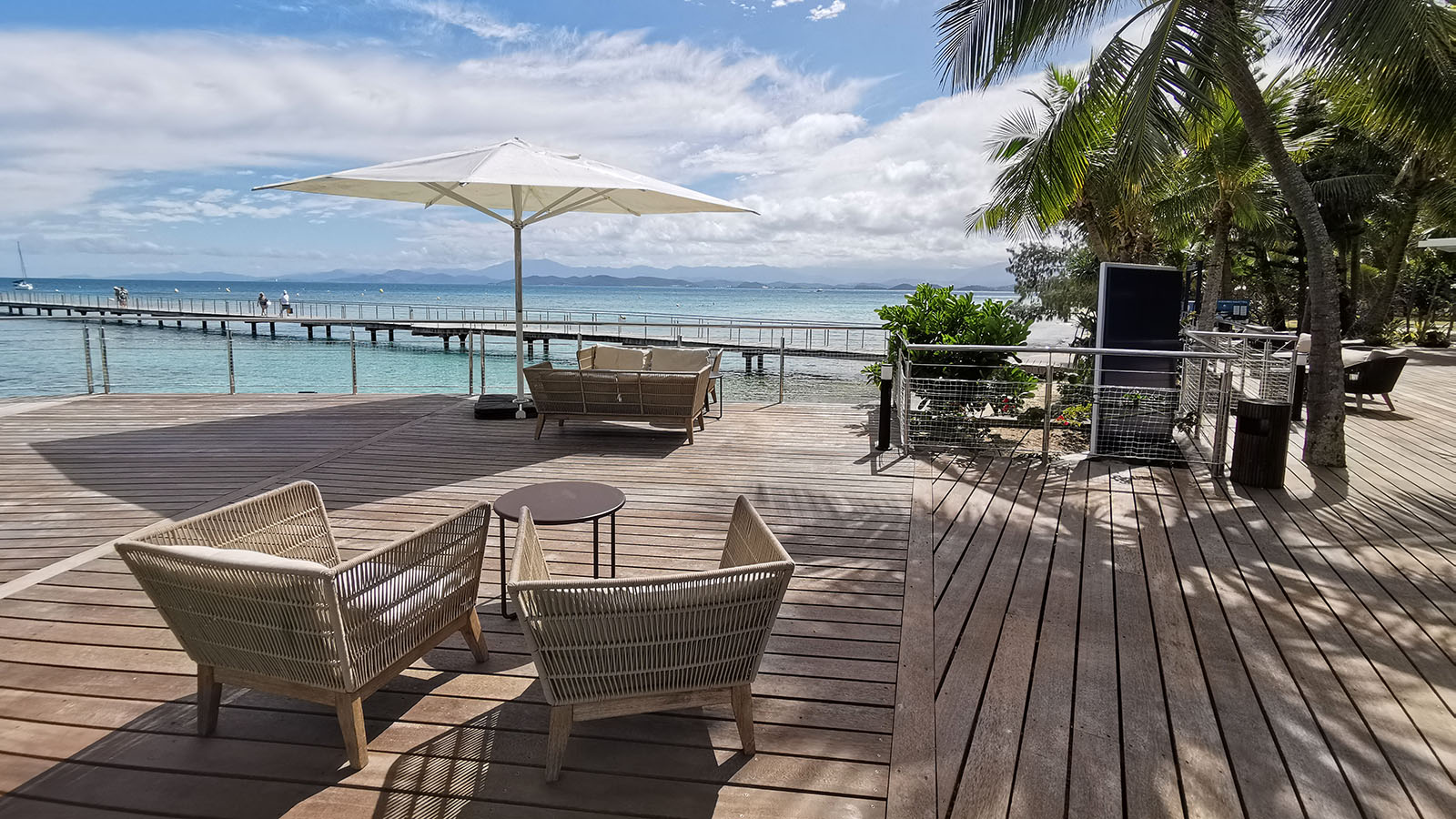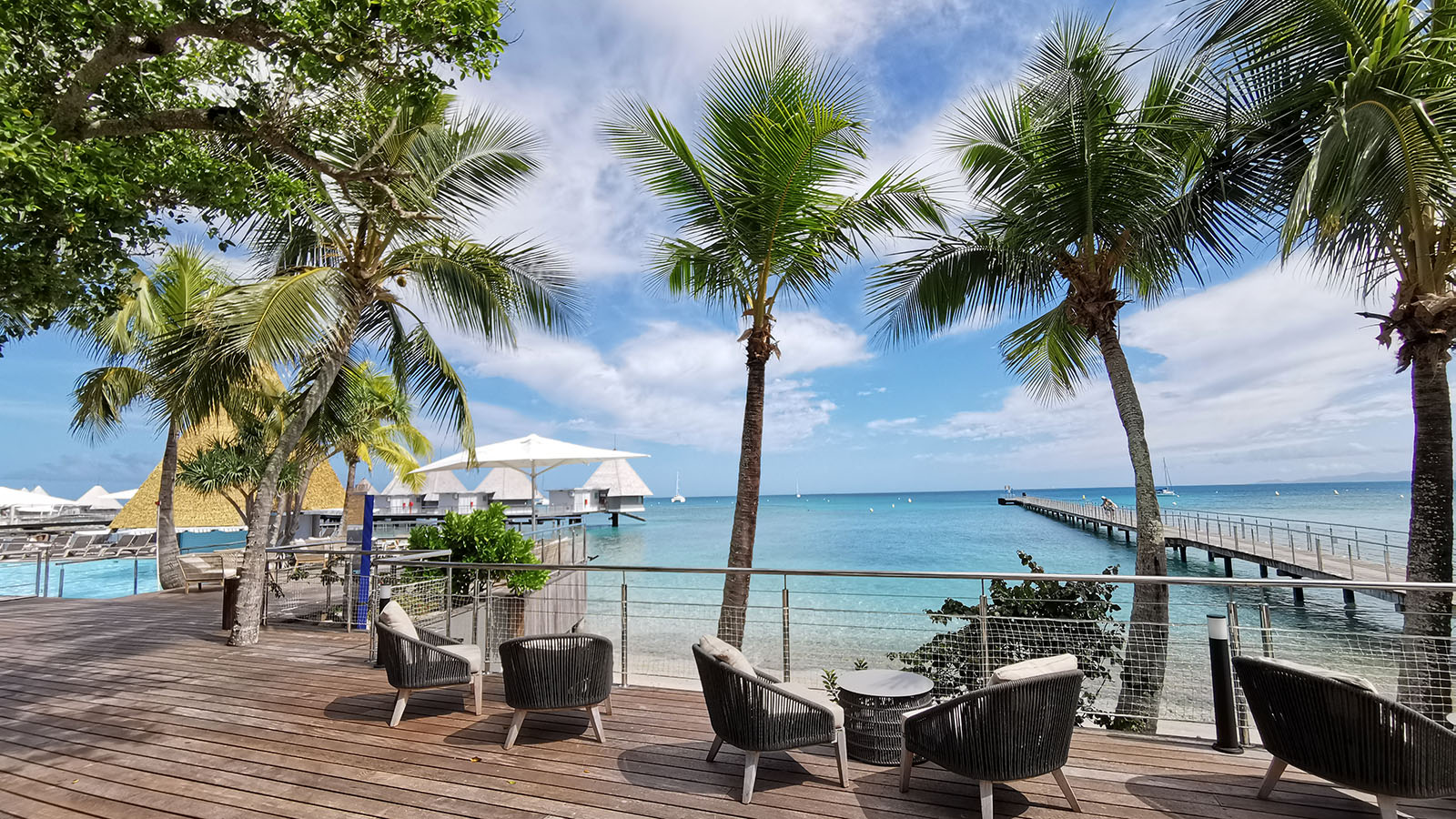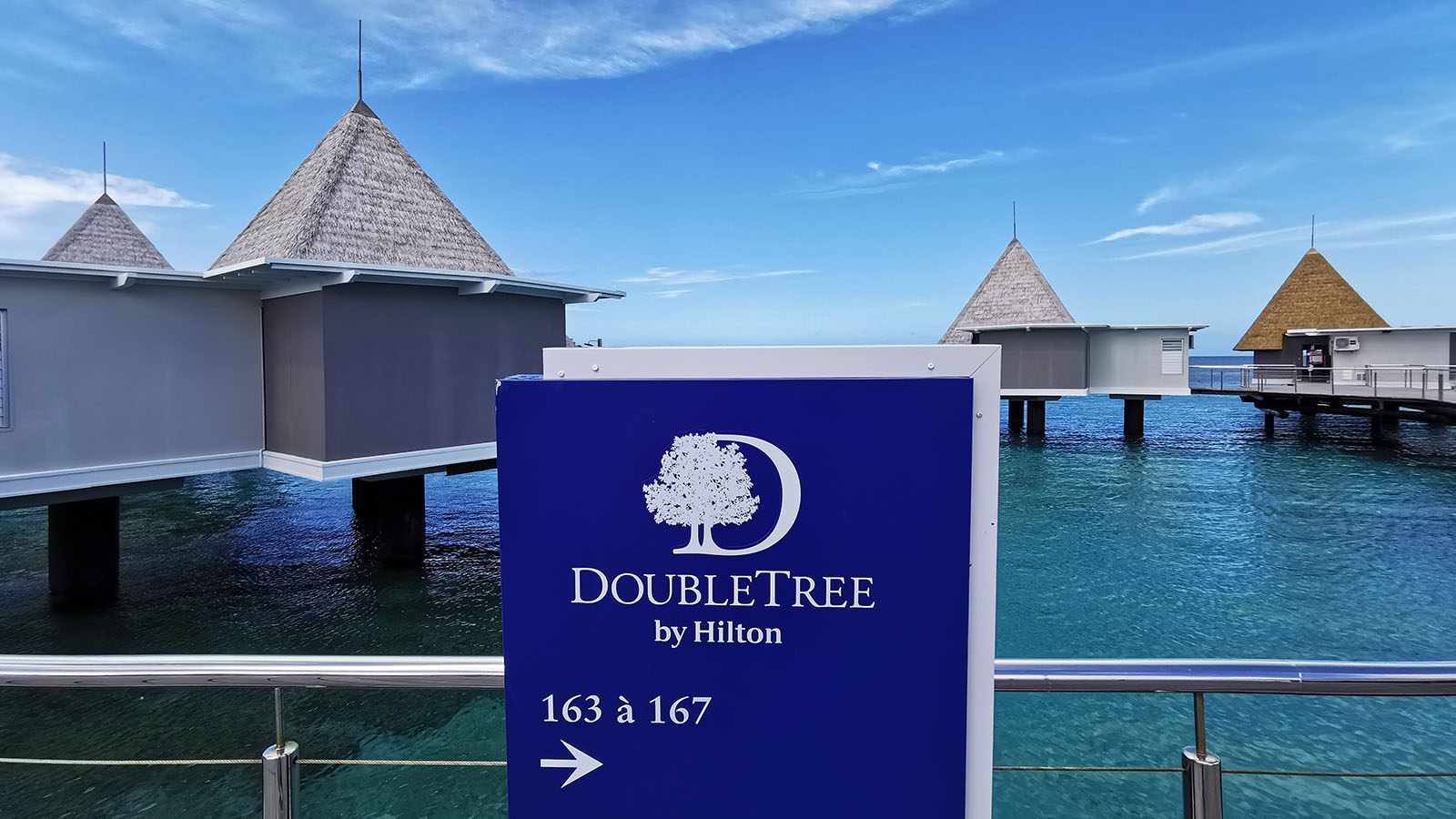 I've done a lot of travel before, but staying in an overwater bungalow is a new experience for me. It's one of those trips that's always seemed too expensive, too far away from home – and for that matter, too remote to reach easily.
But on every front, that's not the case in Nouméa. I can't believe it's taken me so long to visit somewhere so close. Before I leave, I'm already planning my return.
Living the bungalow life
There's something special about staying out over the water. As I make my way along the boardwalk, I pause to take in the views and the crisp yet calming breeze.
My three-room bungalow is super spacious. Opening the front door reveals the generously-sized living room complete with water views of its own. That leads into the separate bedroom: again, with water-facing windows. The roomy bathroom with a separate bath and shower also offers dual sinks. There'll be no fights with a partner when getting ready for an outing!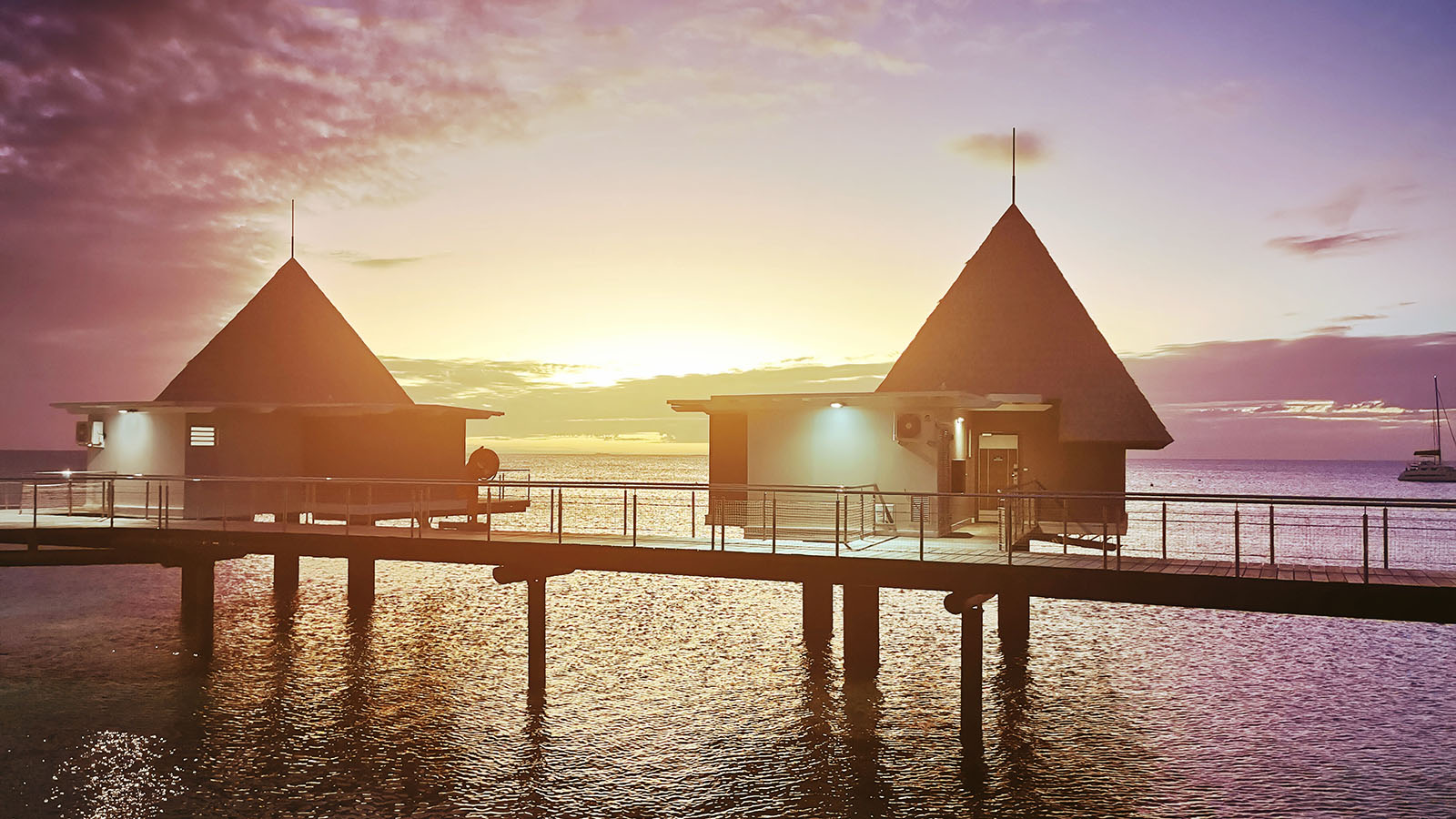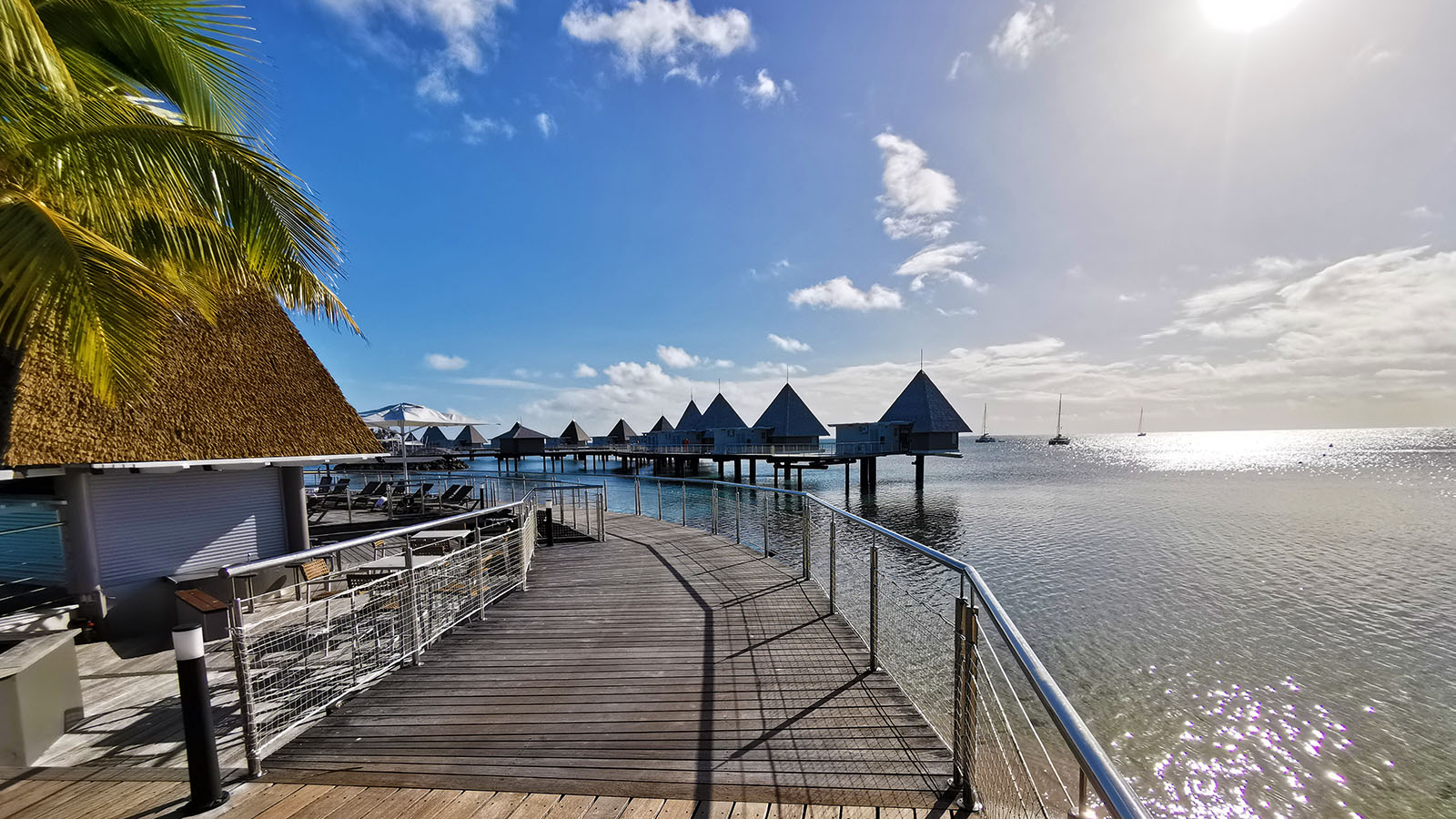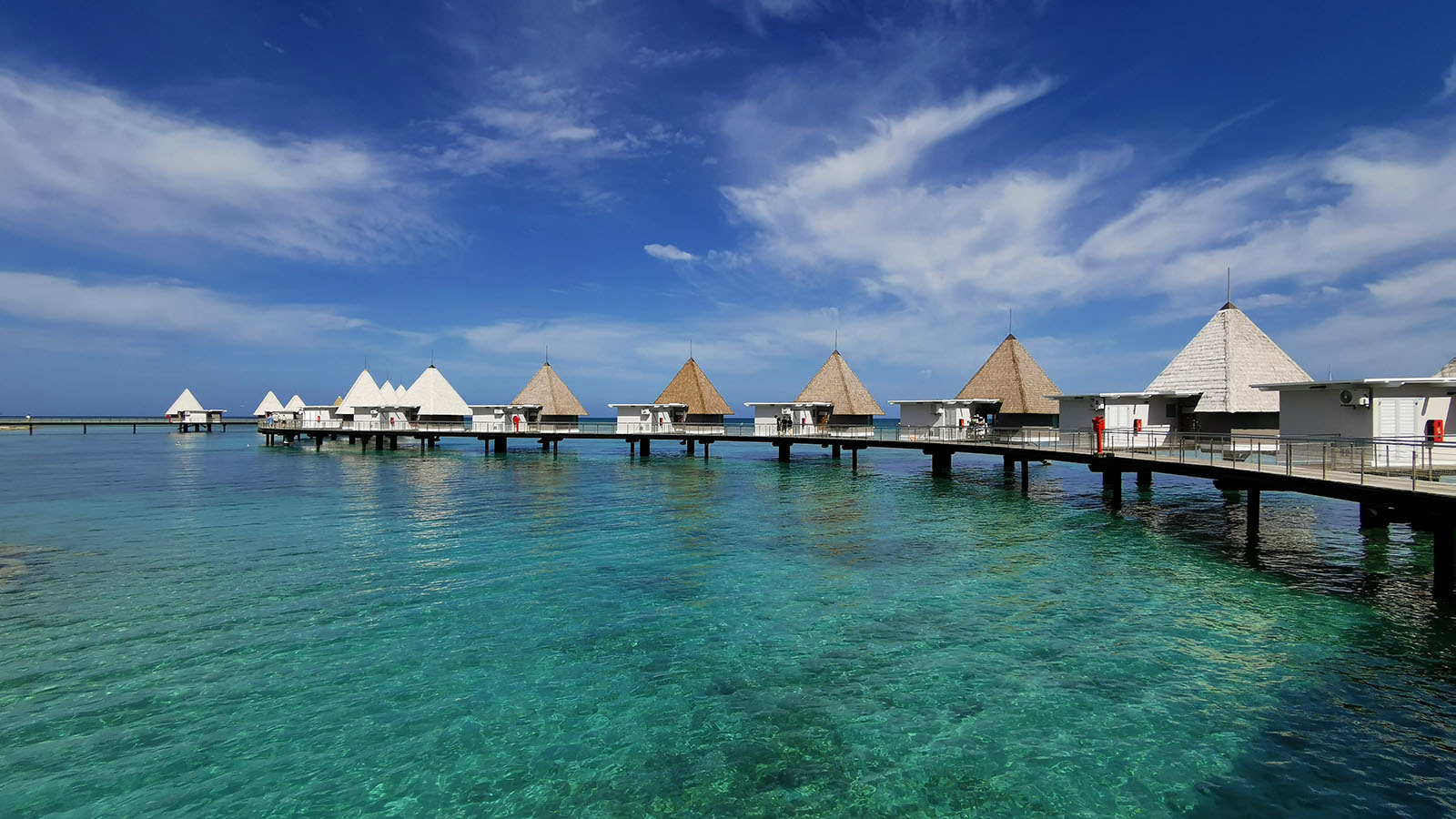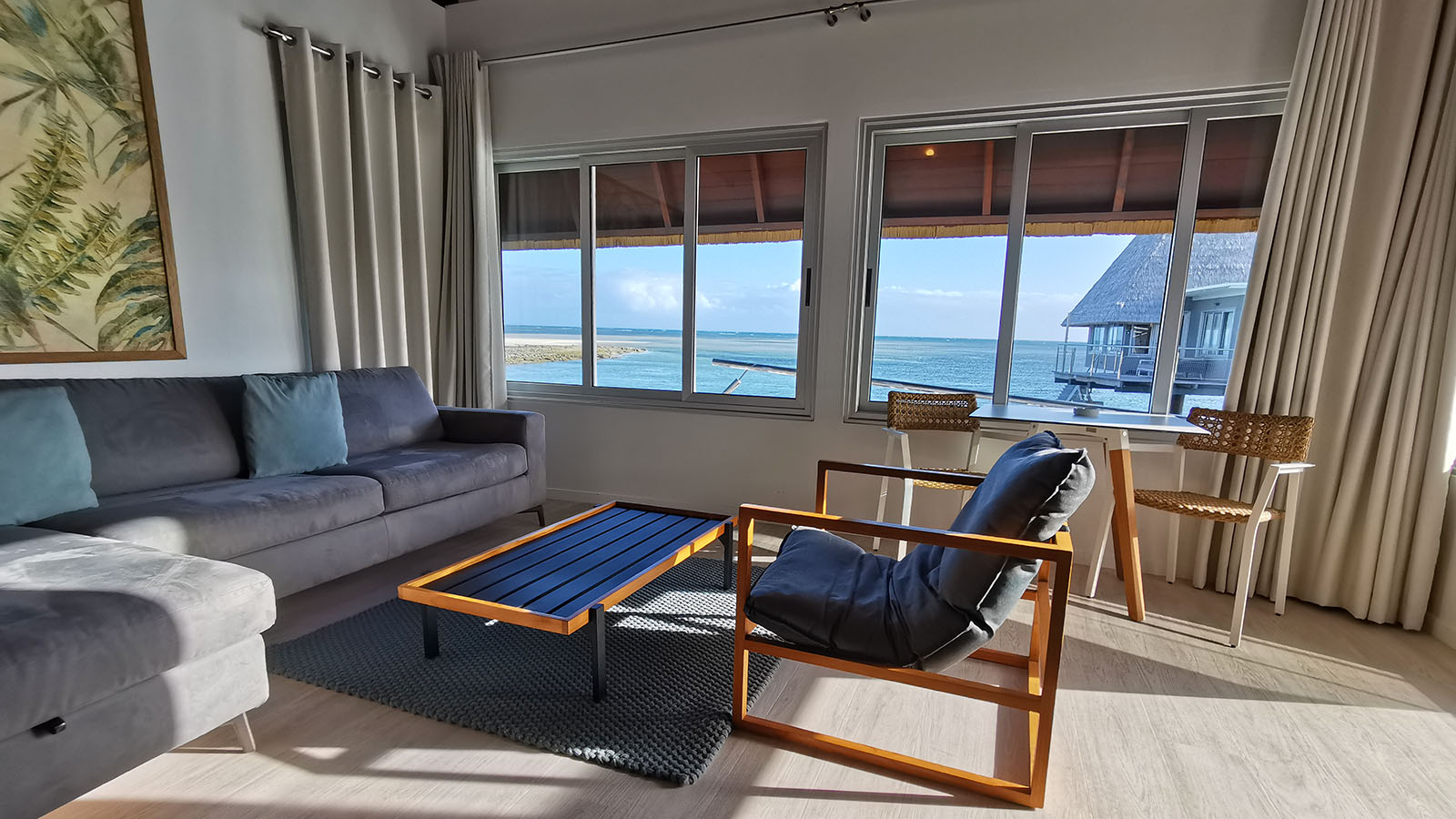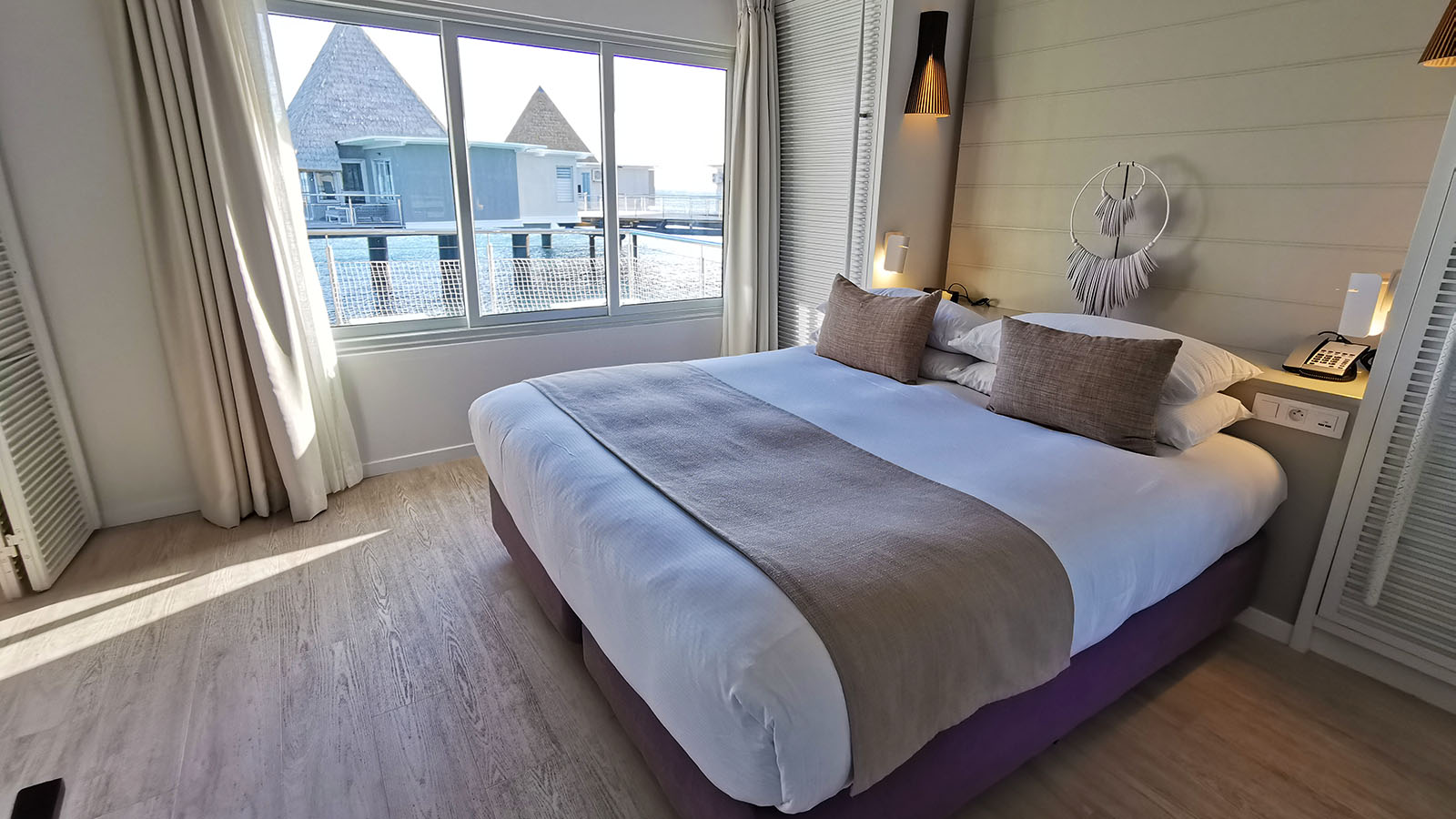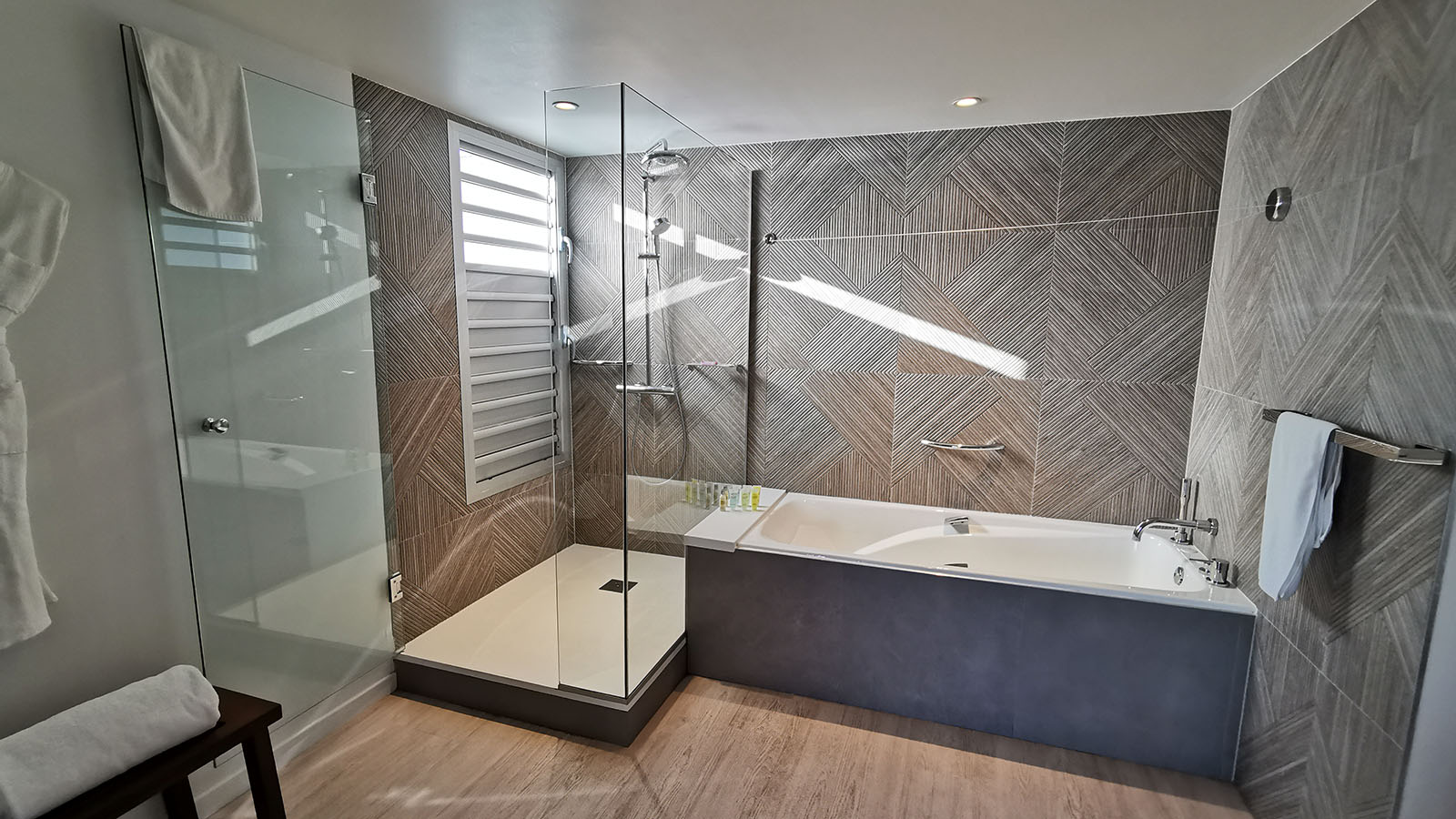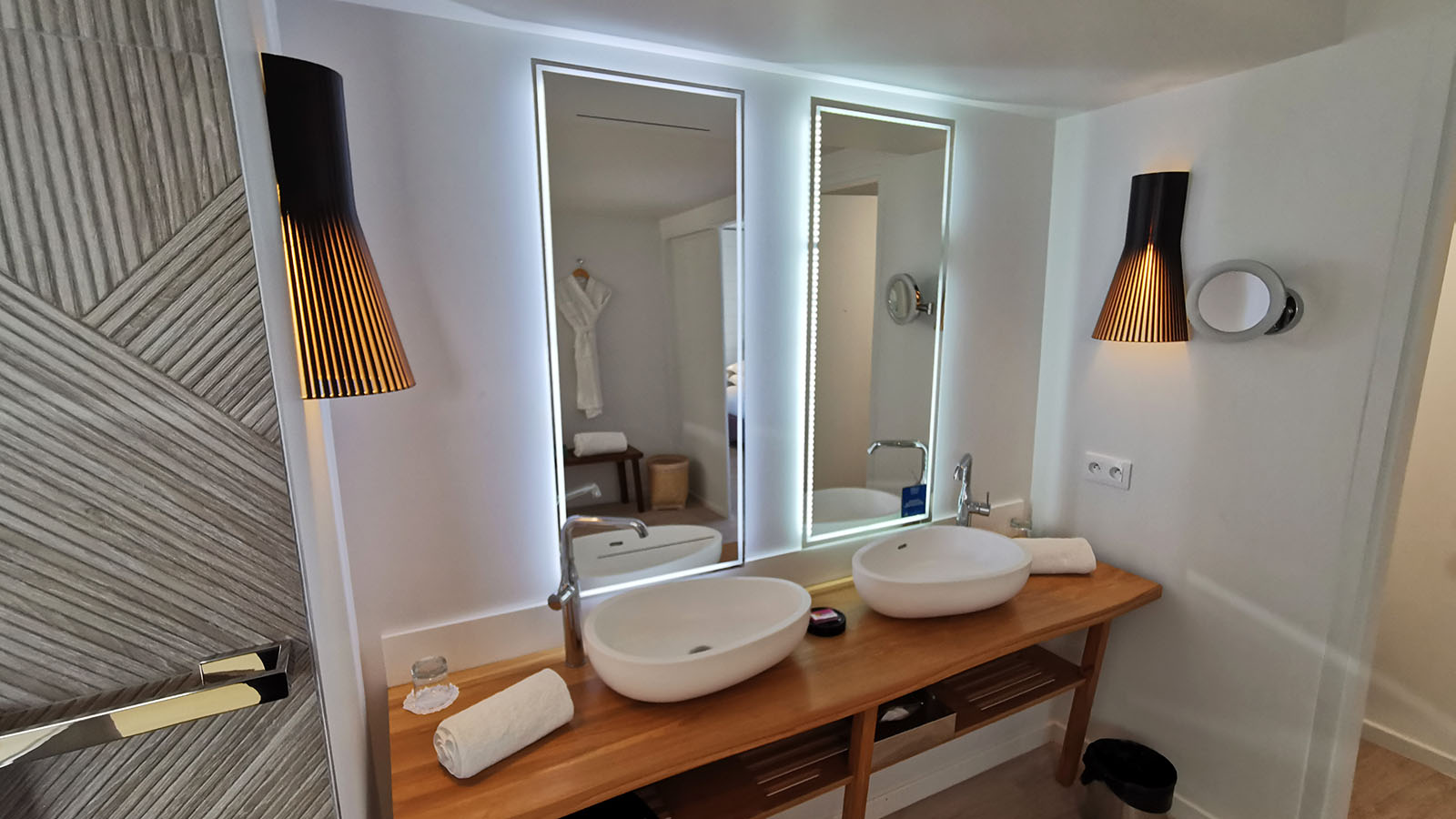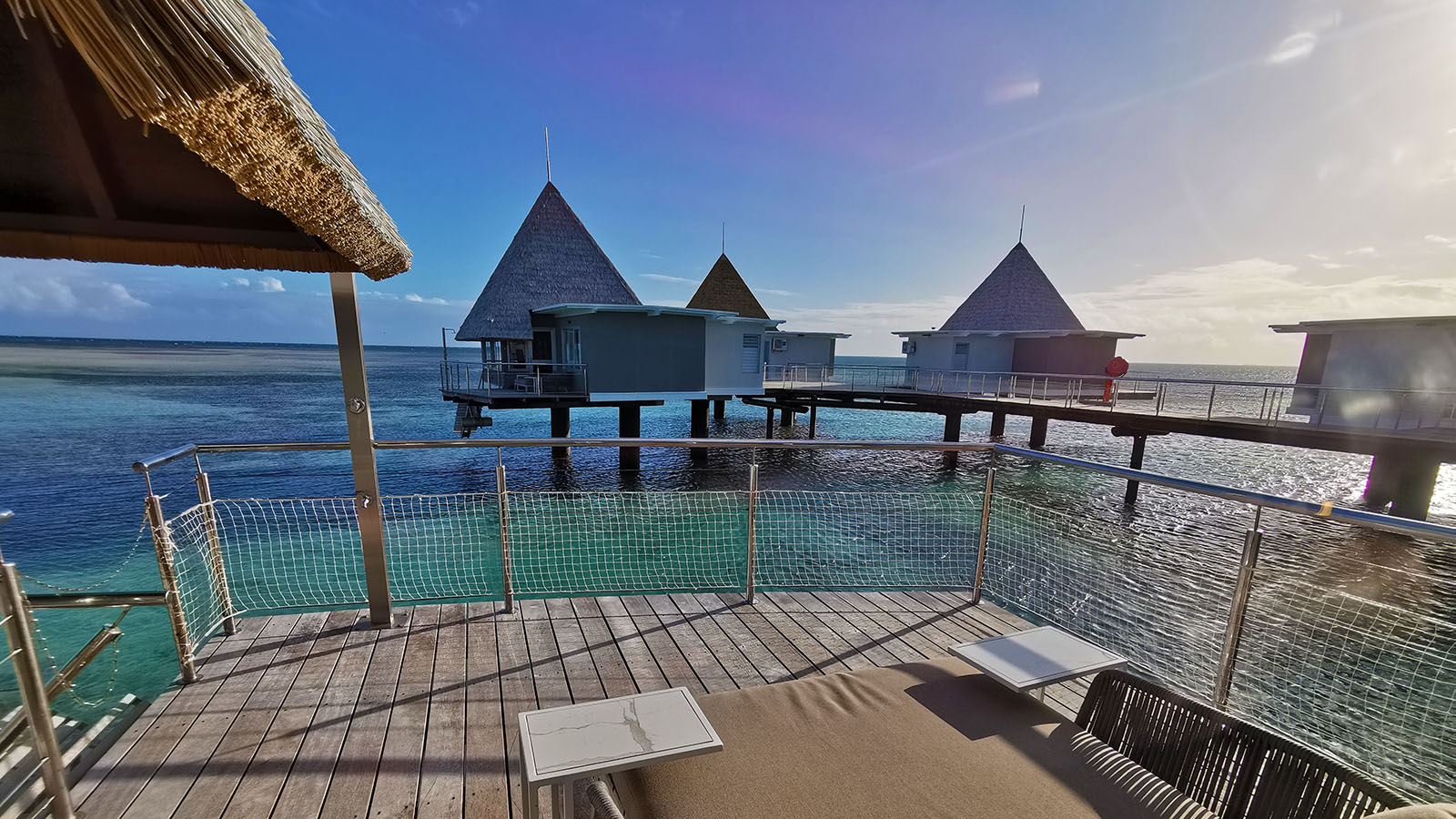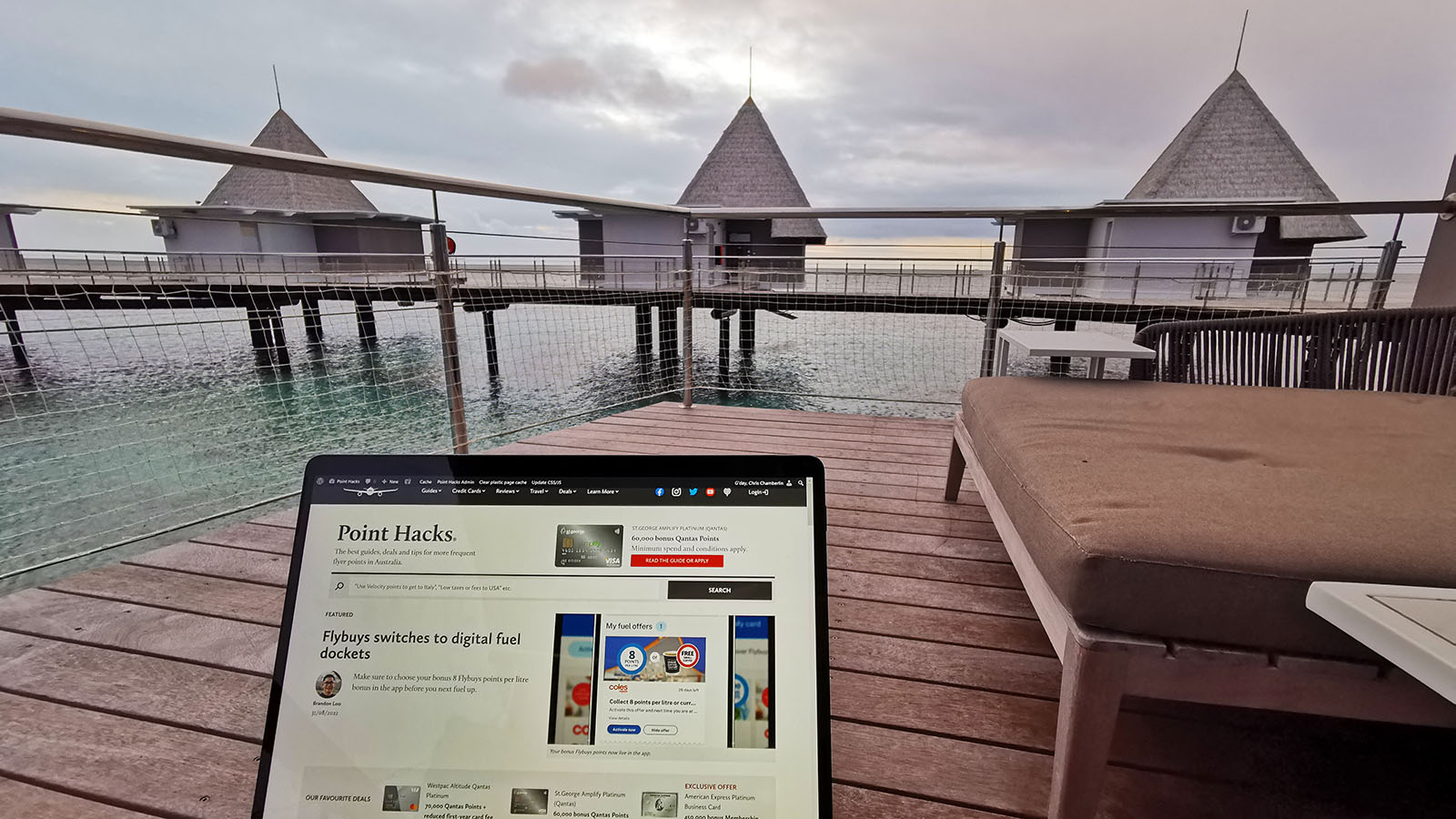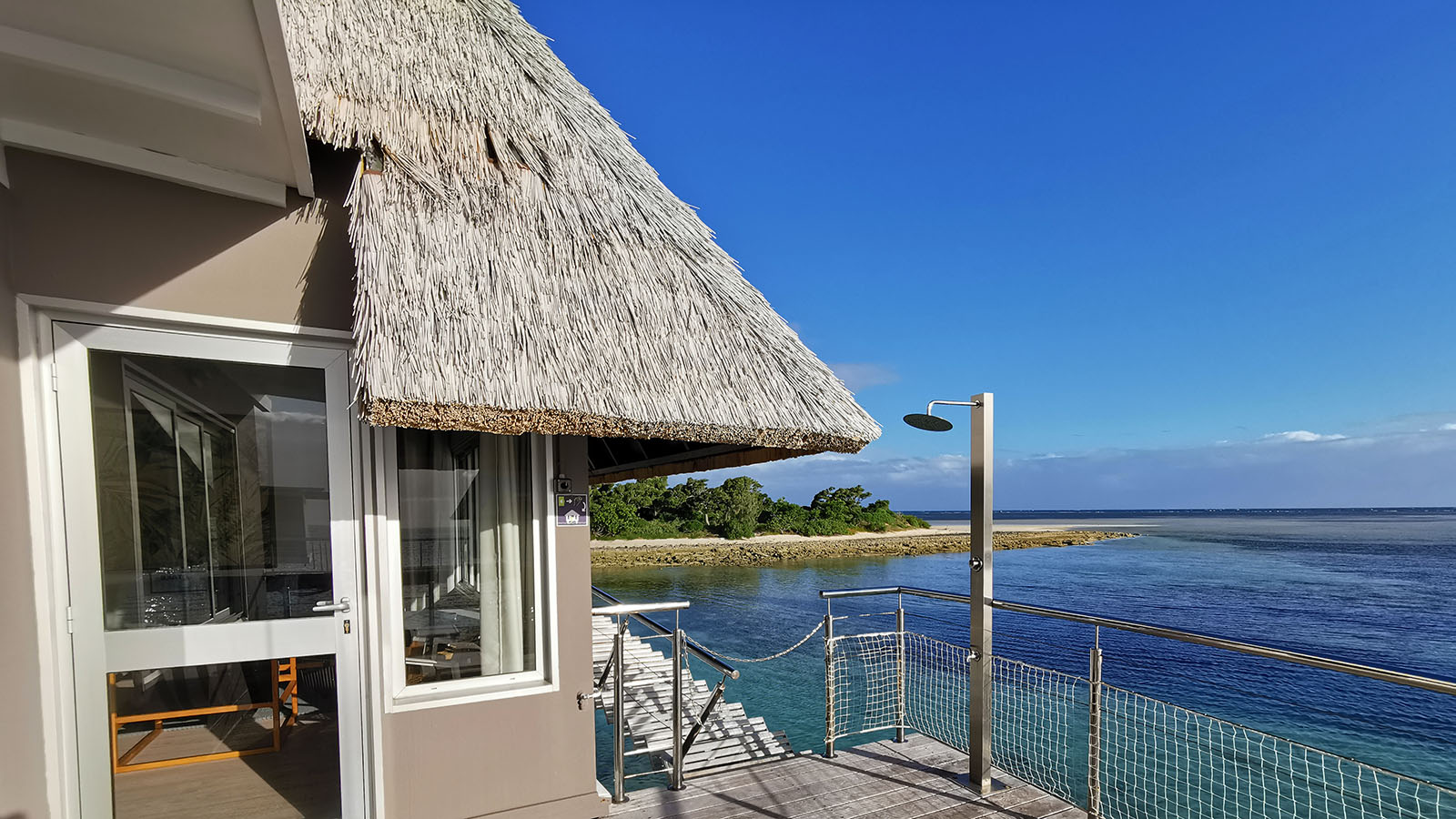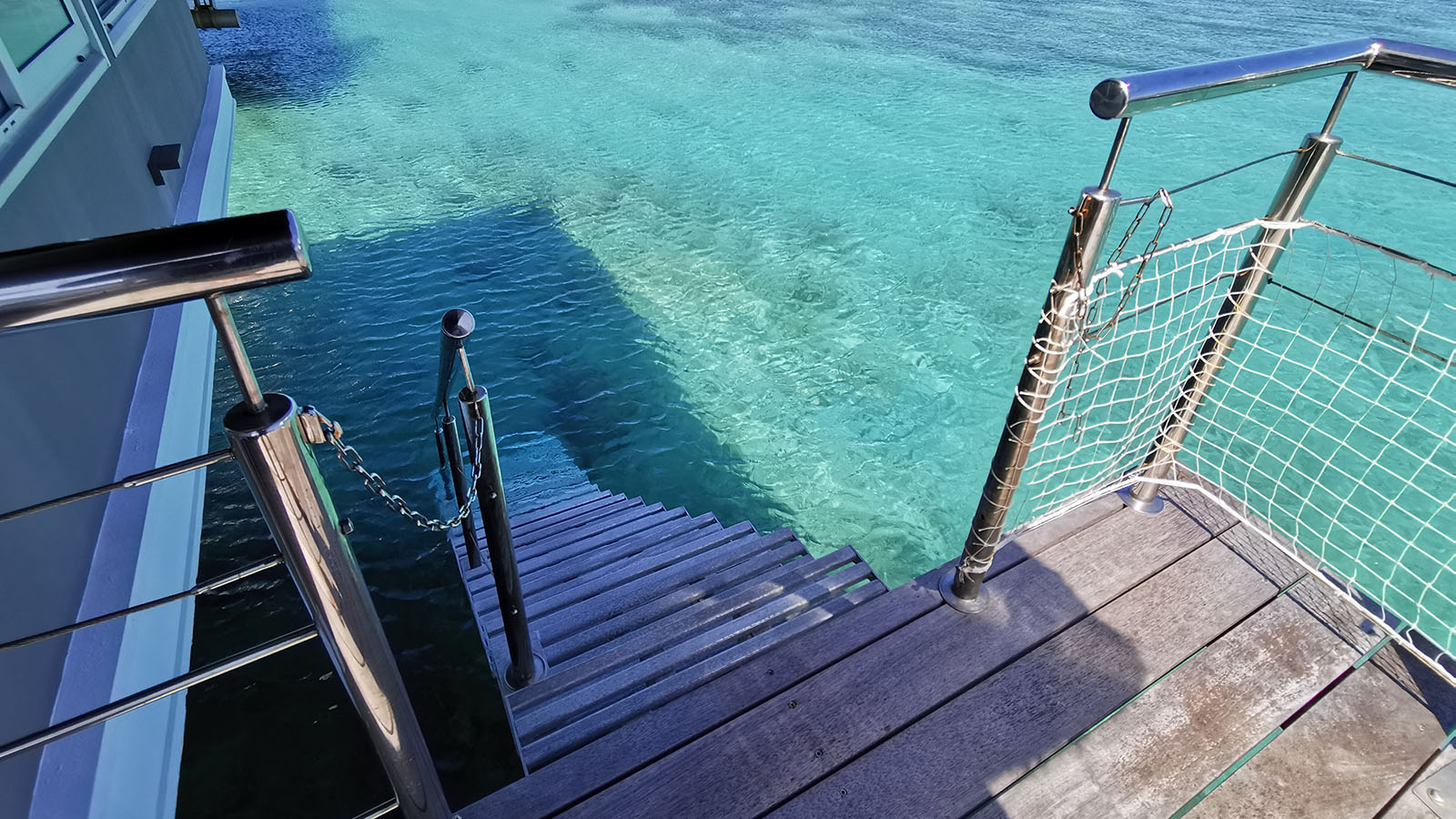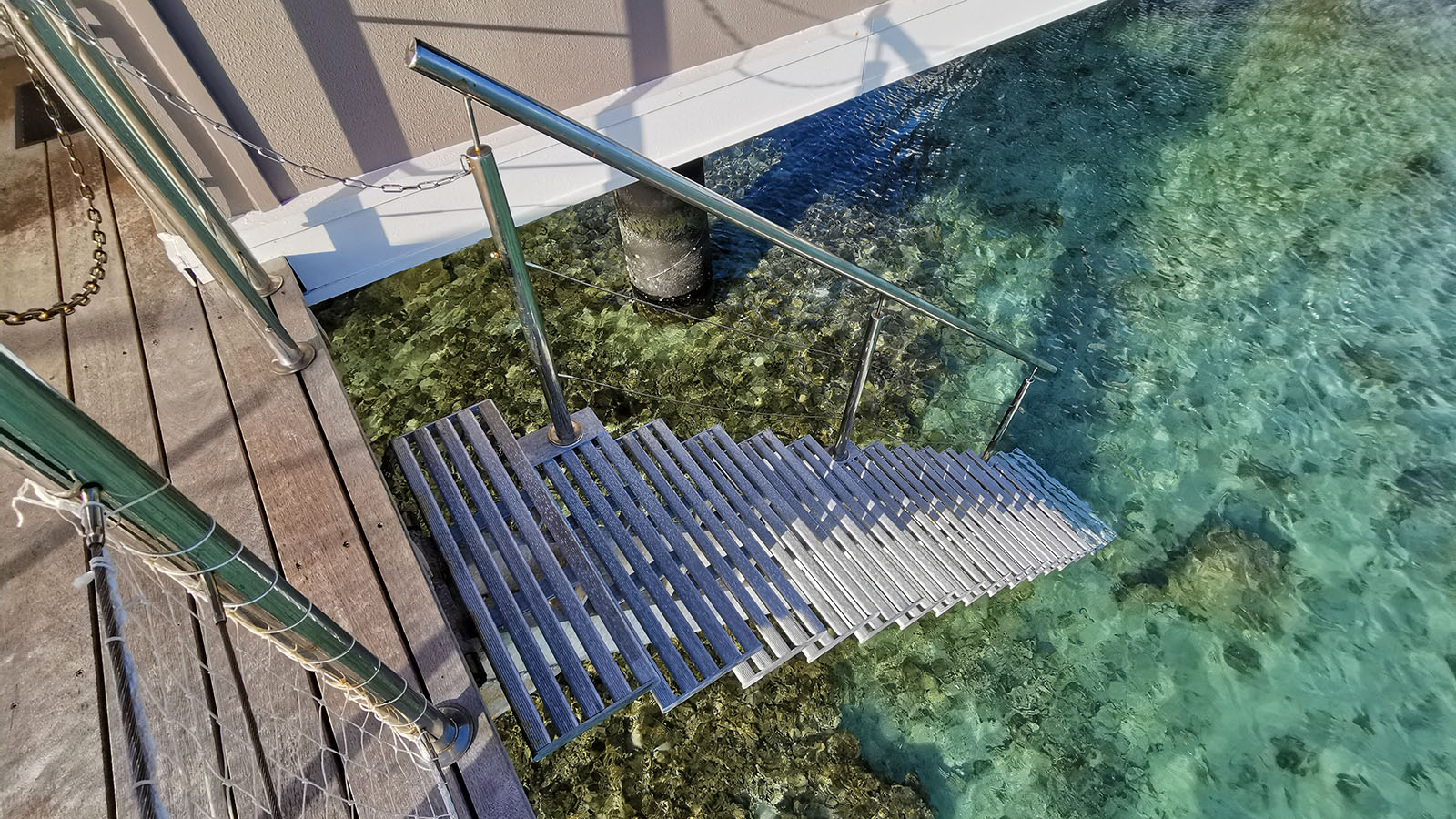 But as nice as the inside is, the outside gets even better. An overwater deck is my private place to relax and enjoy the atmosphere. This was teasingly a work trip for me, but setting up a makeshift office on the balcony still beats a typical day's grind!
That deck is also the perfect place to take in the sunset: and I did that every night. One evening, the sky was a typical orange… but the next, I was treated to an even more stunning purple vista.
And that's not all. From my bungalow's balcony, I can step straight down into the lagoon for a swim. The powered staircase raises and lowers on command. It's so very VIP.
Live the luxe overwater bungalow life in New Caledonia
AUD $3,649
What's included
3 or 5 nights at Doubletree by Hilton Illot Maitre Resort in a Deluxe Overwater Villa
2 nights at Hilton Noumea La Promenade Residences in a Studio Apartment
Full breakfast daily at both resorts
Daily dinner at Hilton Illot Maitre Resort
Return scheduled launch transfers from Port Moselle to Doubletree by Hilton Illot Maitre Resort
Exploring the resort and Îlot Maître
Speaking of swimming, there's a cute collection of marine life around the lagoon. I loan a complimentary snorkel from reception and marvel at the many fish that zip by. But the real highlight is swimming with the lagoon's turtles as they gently bask in the sunlight.
Îlot Maître, where the DoubleTree is located, is a small island (an 'islet', to be precise). I stretch my legs and explore it on foot, with a complete lap taking under an hour. Taking a stroll in the sand, dipping my toes in the water, living it up on the resort's own private beach… It's a nice way to relax, that's for sure.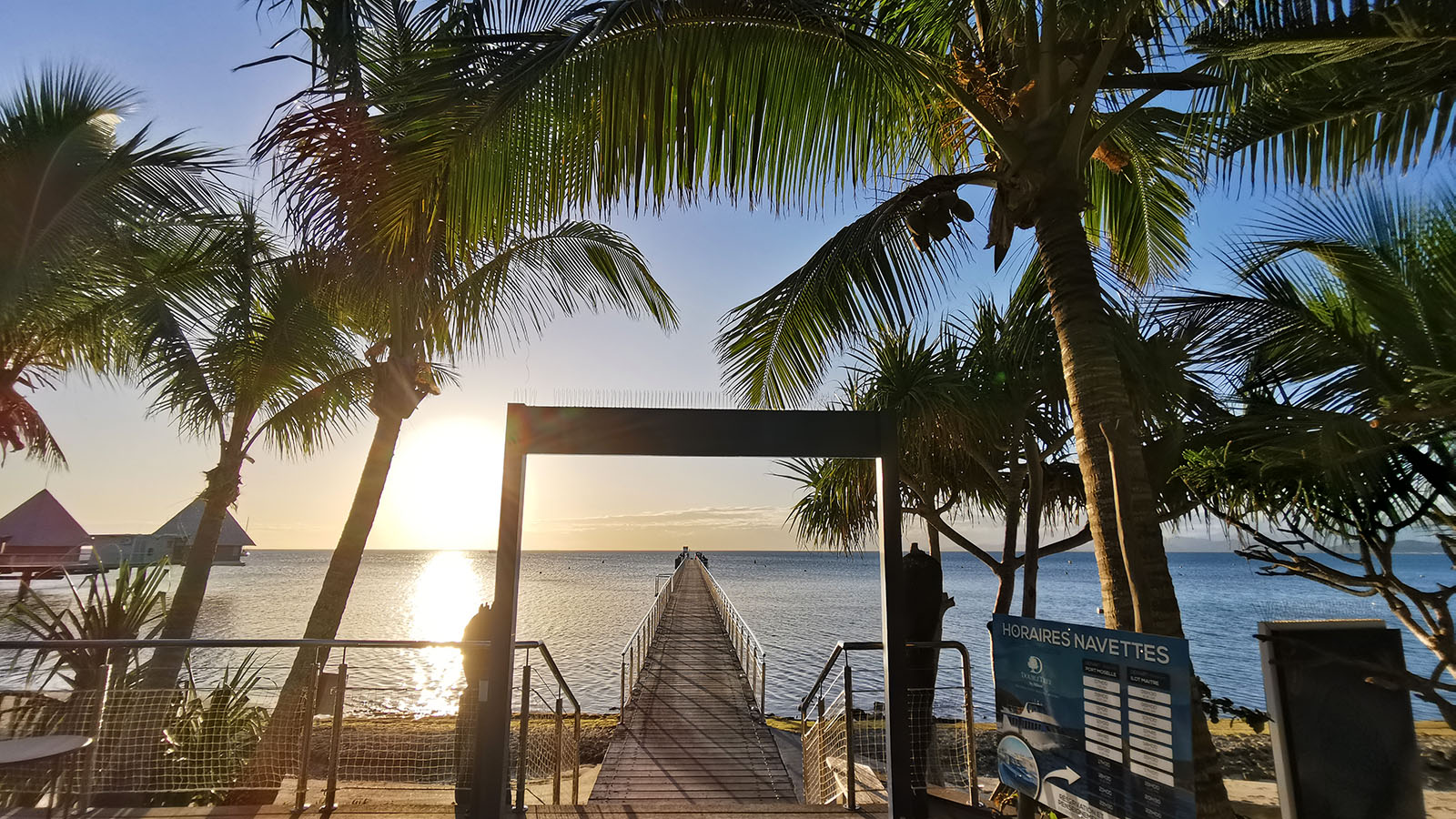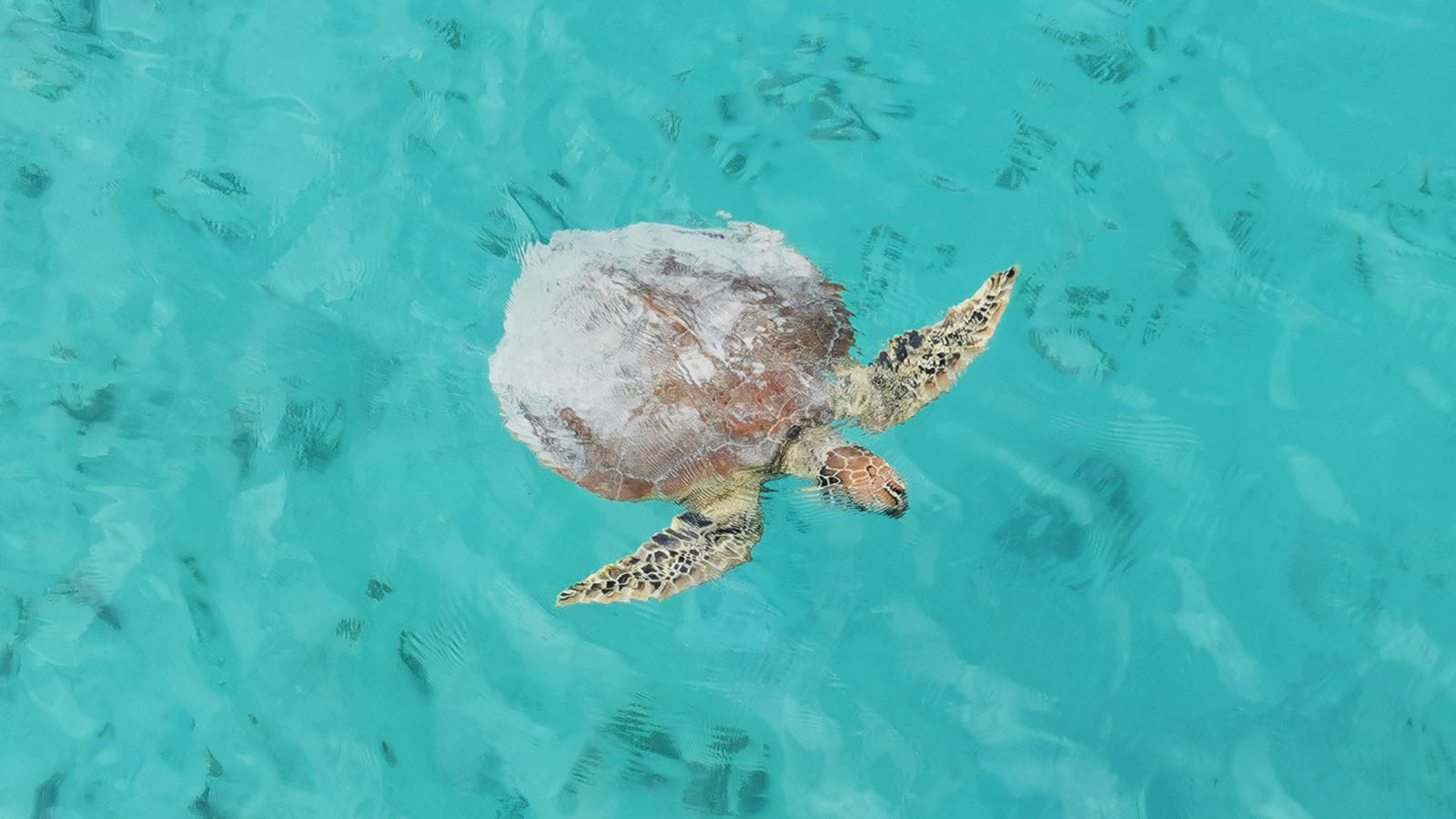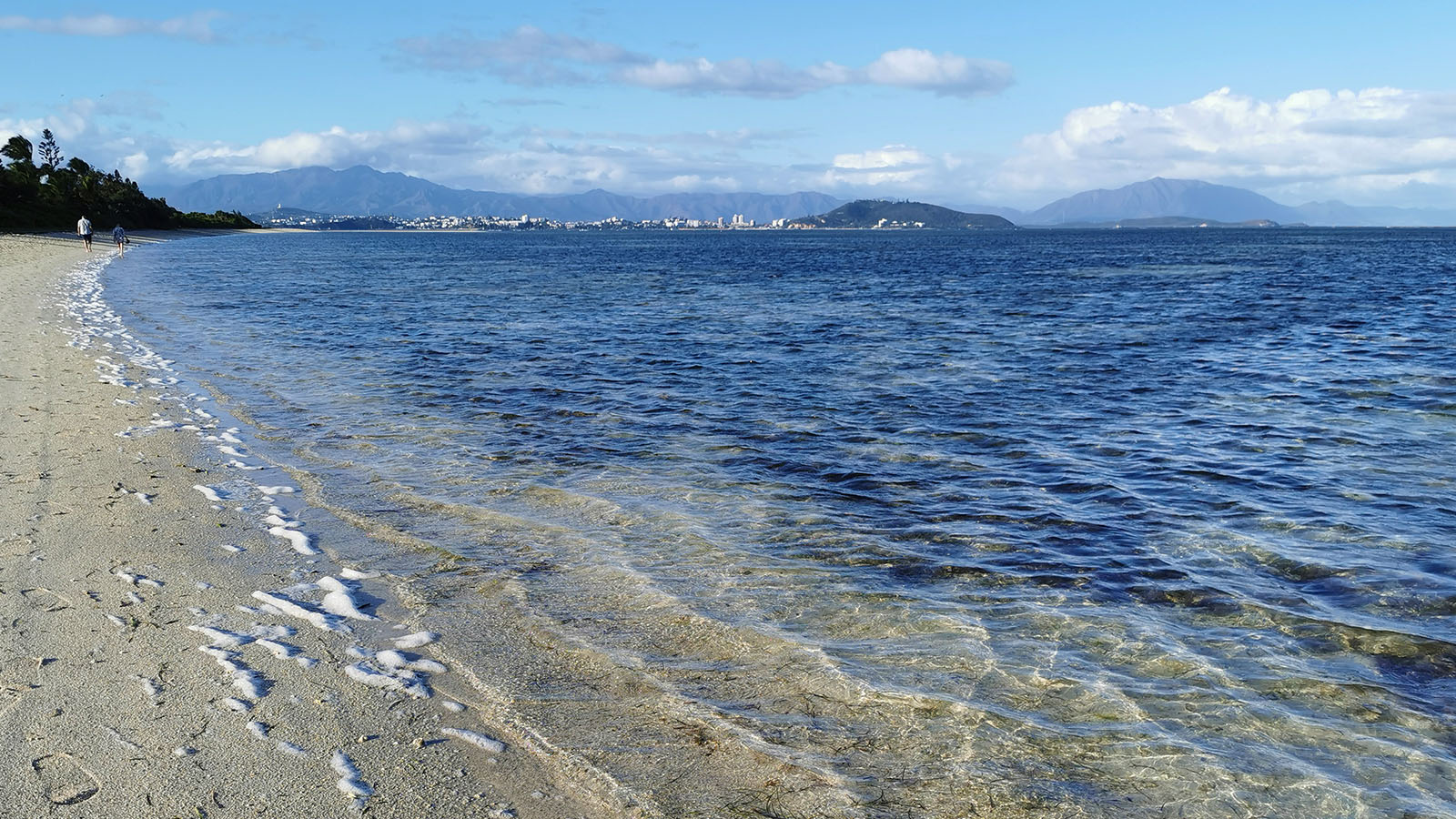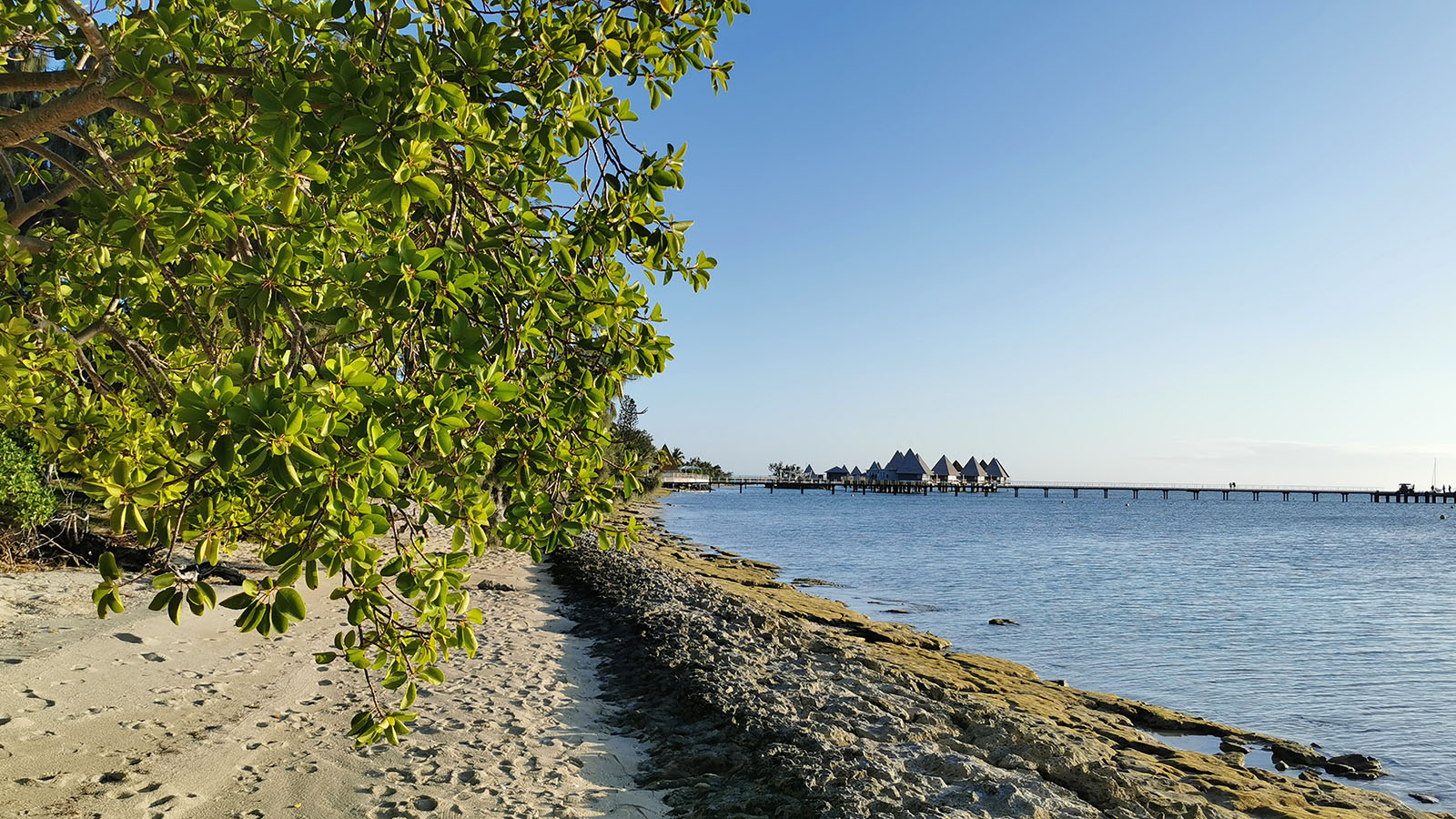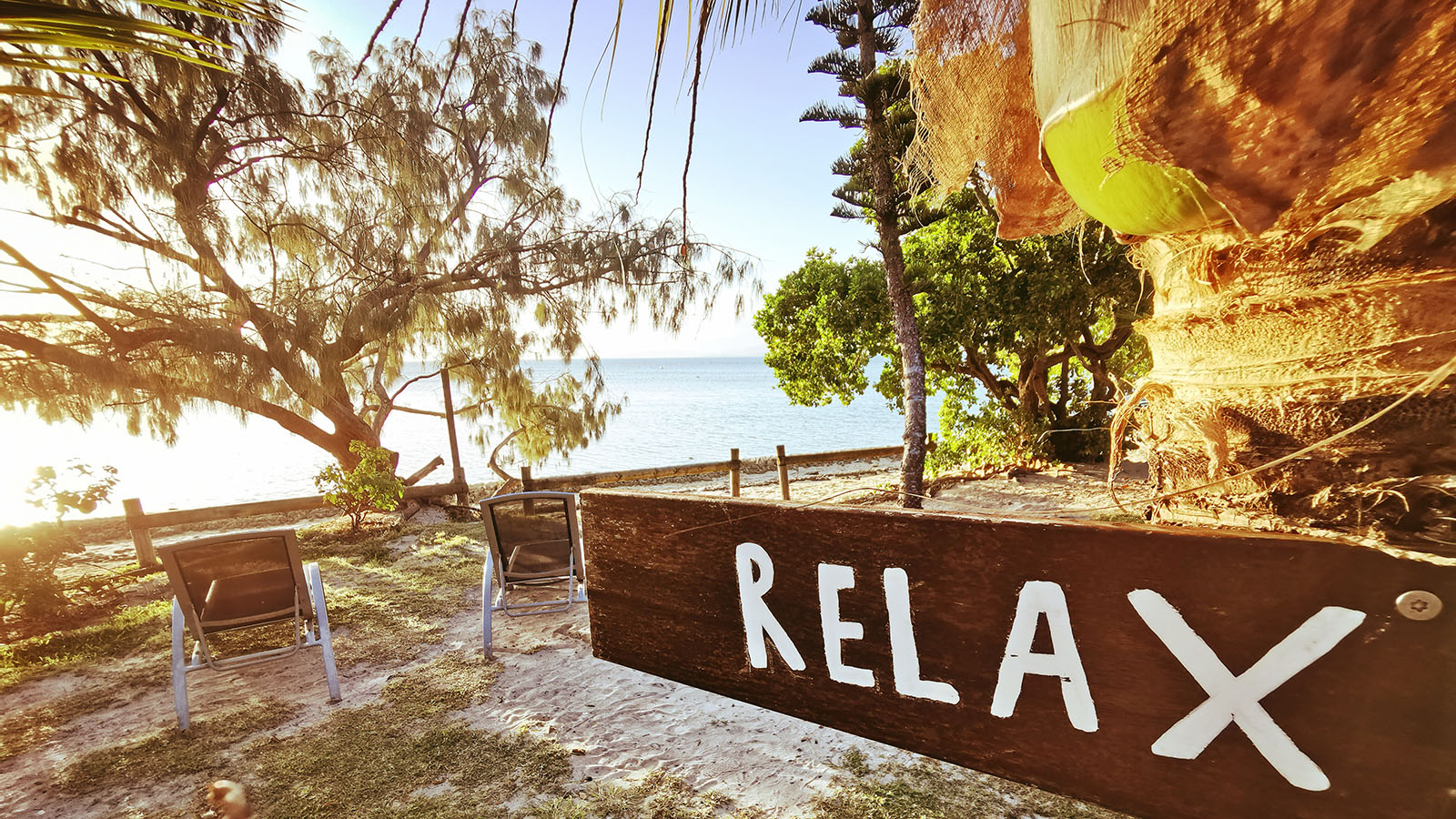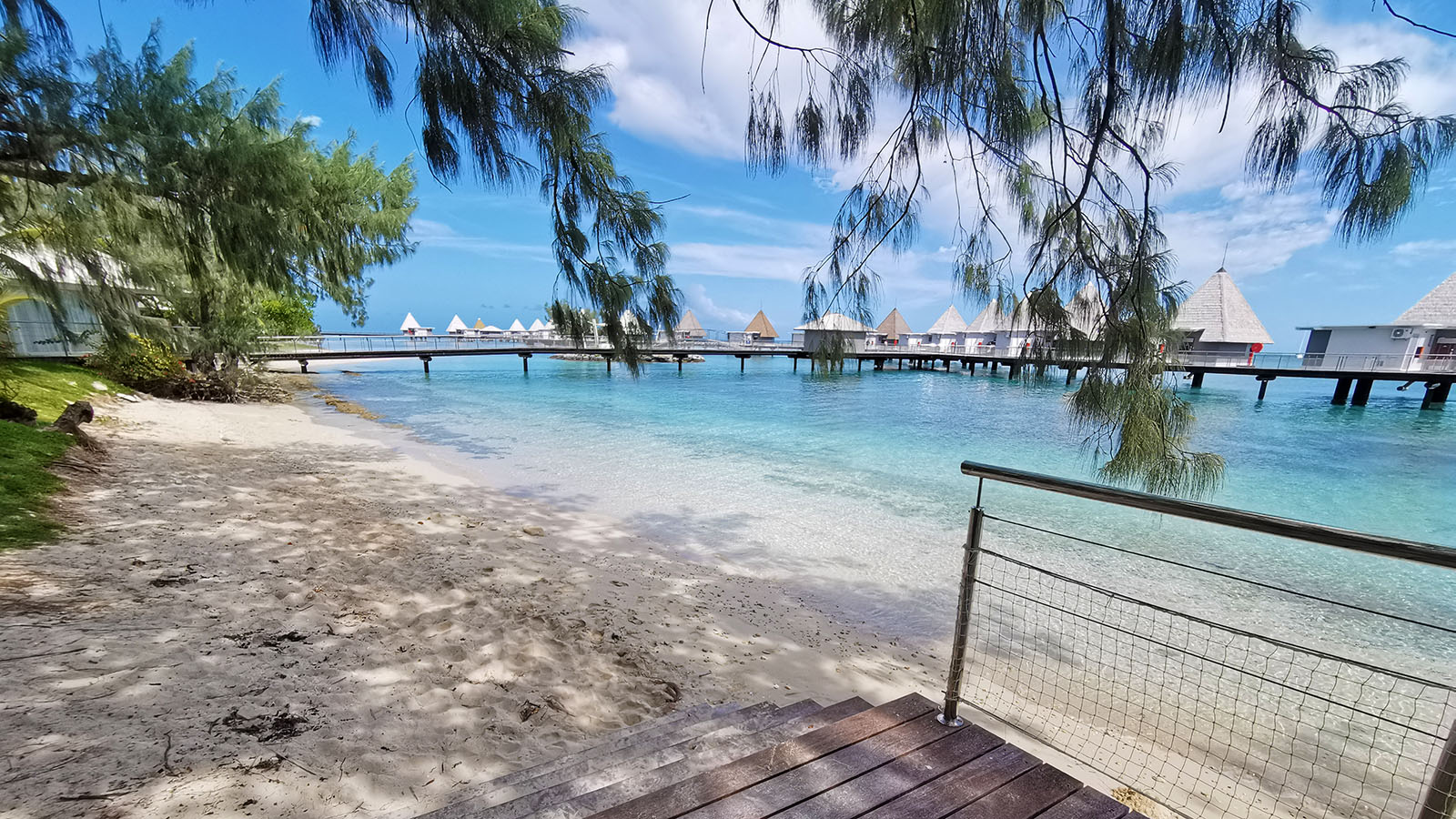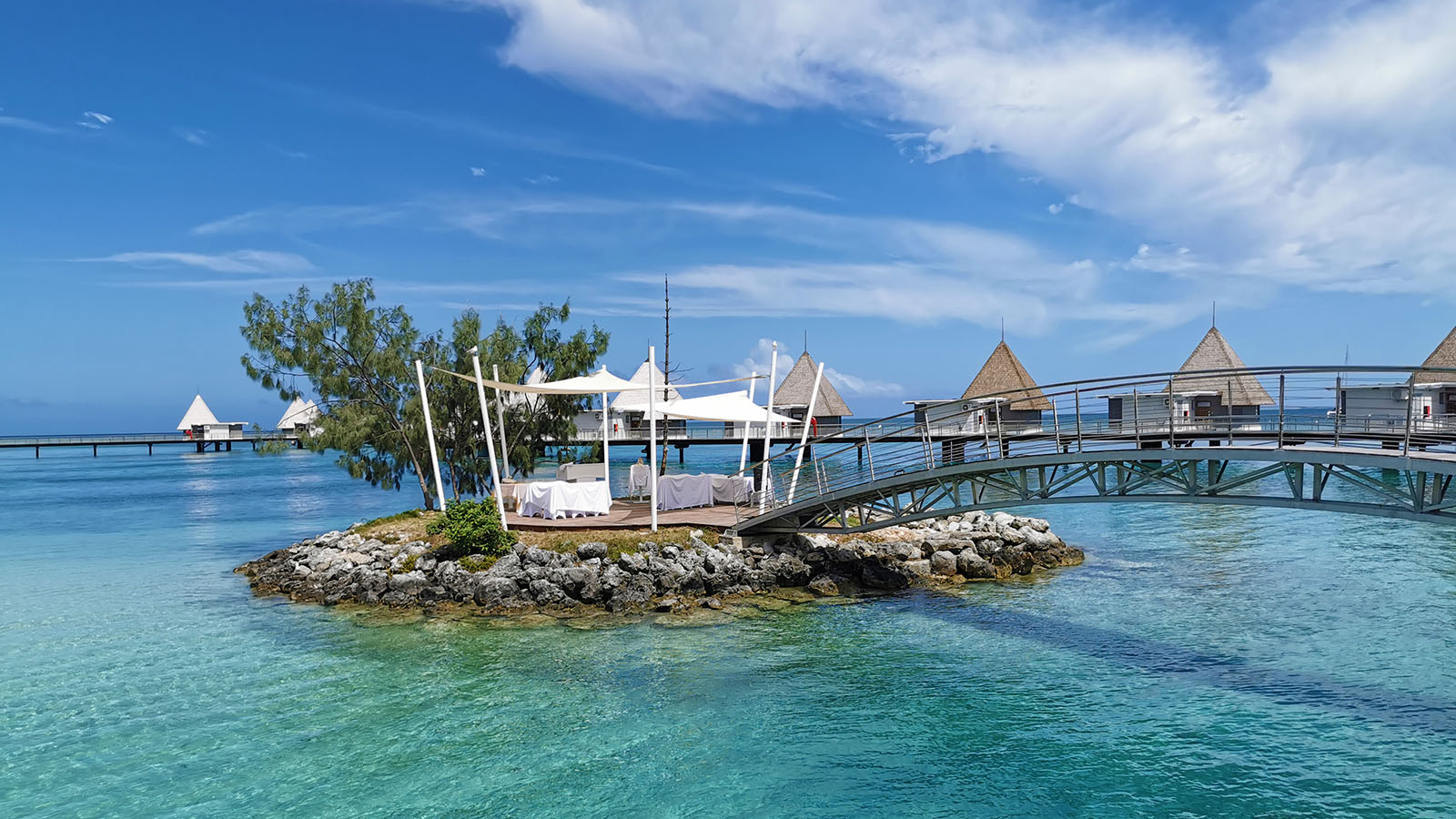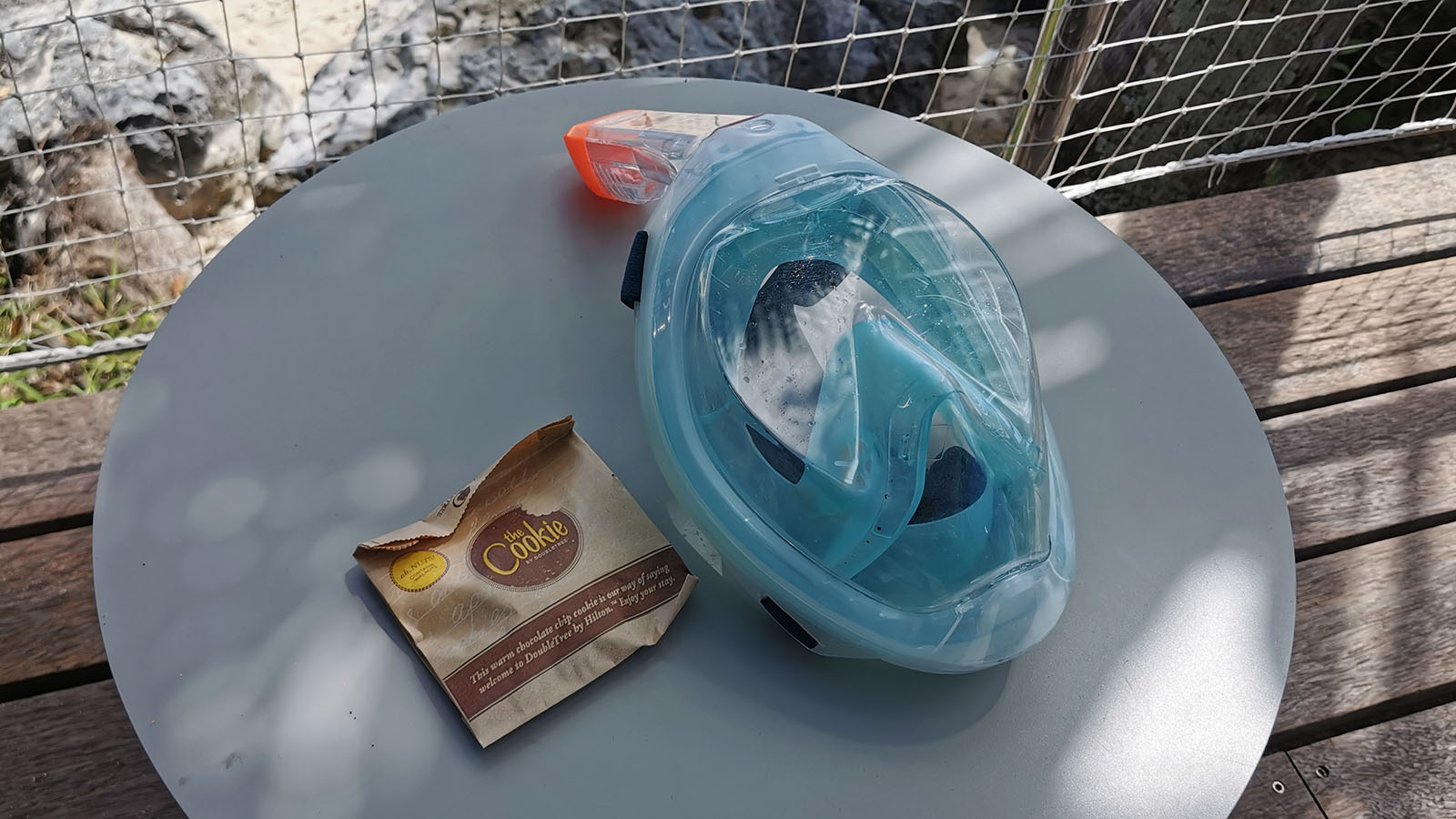 Speaking of private, Hilton Honors Gold and Diamond members have an exclusive retreat here. No, it's not an executive lounge. It's a little island of its own, nestled among the bungalows.
It's fair to say that if you're already staying in one of those bungalows, you'll want to relax at your own digs in greater privacy and with better views. That's exactly what I did. But if your budget didn't stretch to a bungalow this time, it's a way to enjoy the water vibes without breaking the bank.
Dining at the DoubleTree
Given its location, dining at the hotel is the only option without returning to the mainland. And much of the choices centre on buffets at breakfast, lunch and dinner.
That's great if you want a little of everything or are pressed for time, but it's not for everyone. So what do you do when you want something made to order? At dinner and breakfast, there's the chef's station.
I take my pick from bites such as rib steak (delicious with chips from the buffet), and later, order up BBQ prawns. At breakfast, favourites such as eggs your way and omelettes are also served in the same place.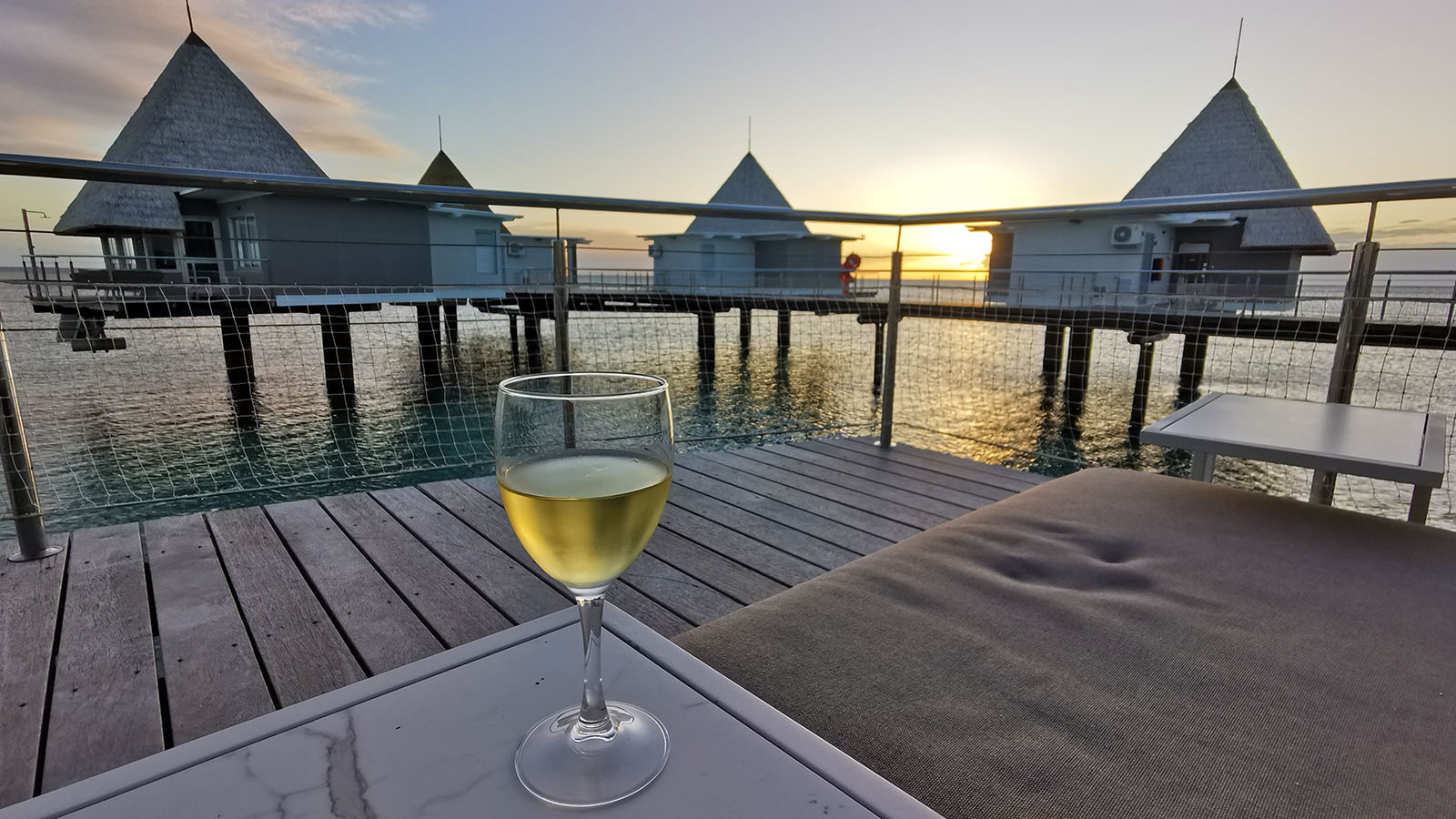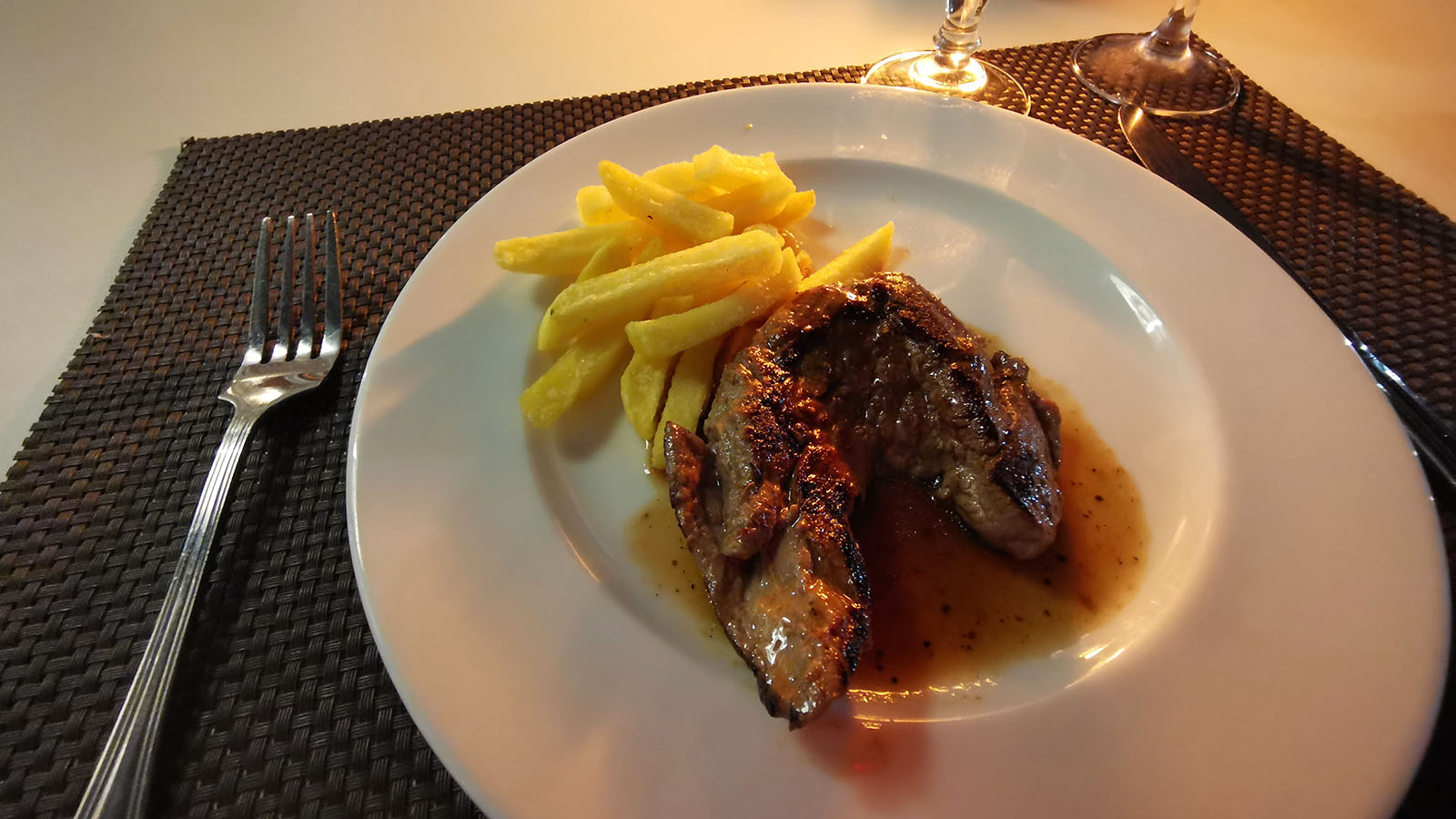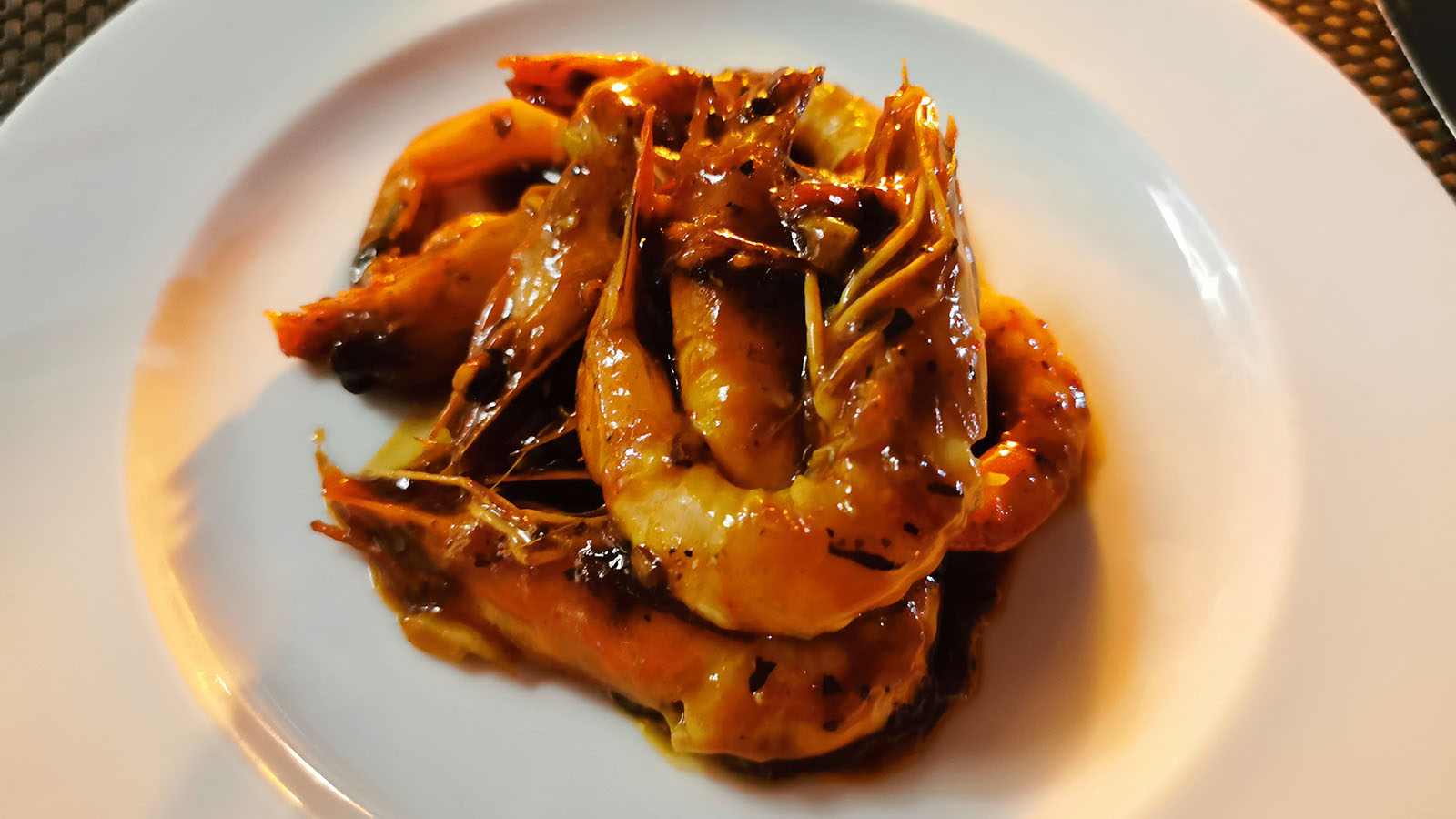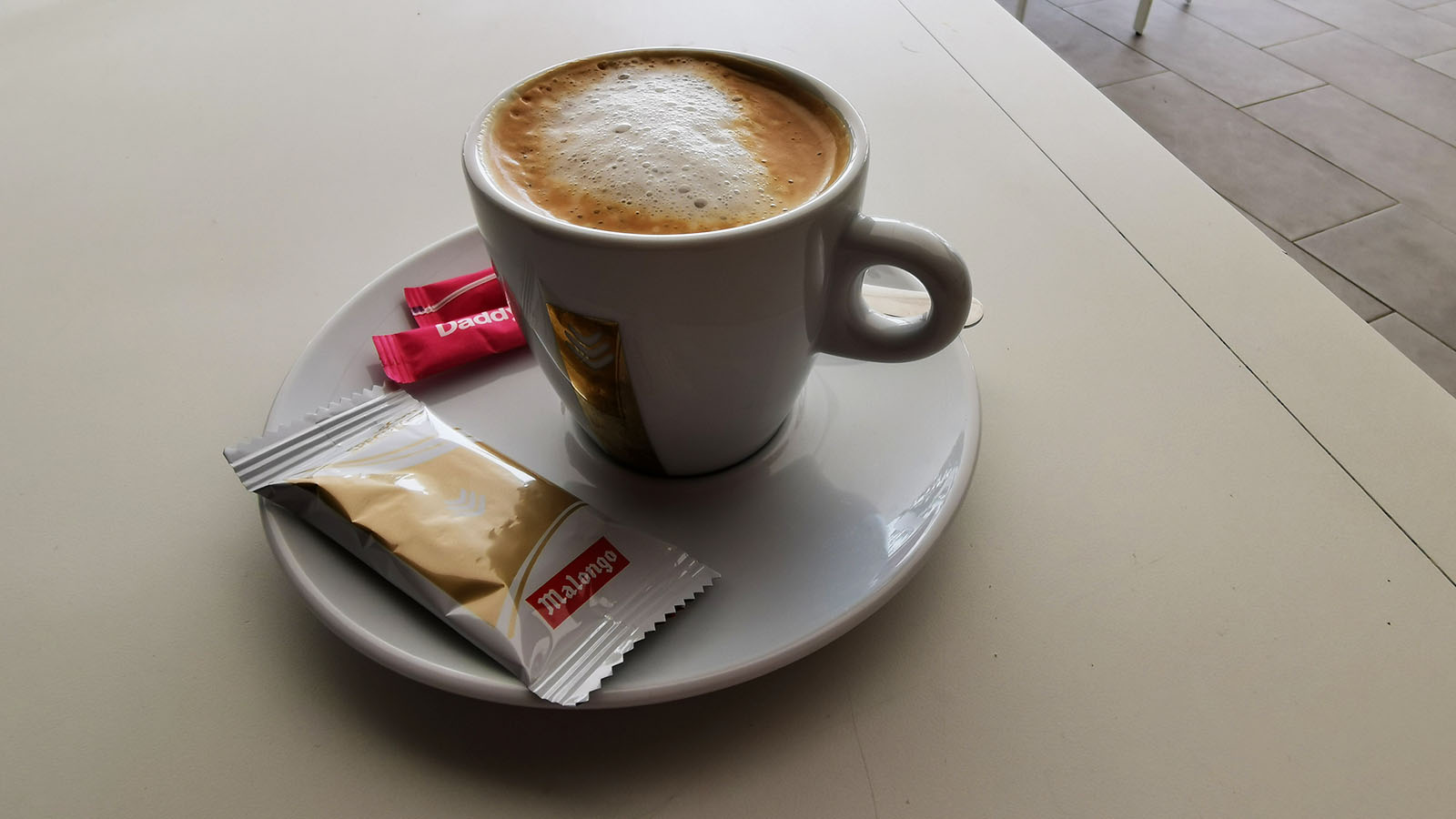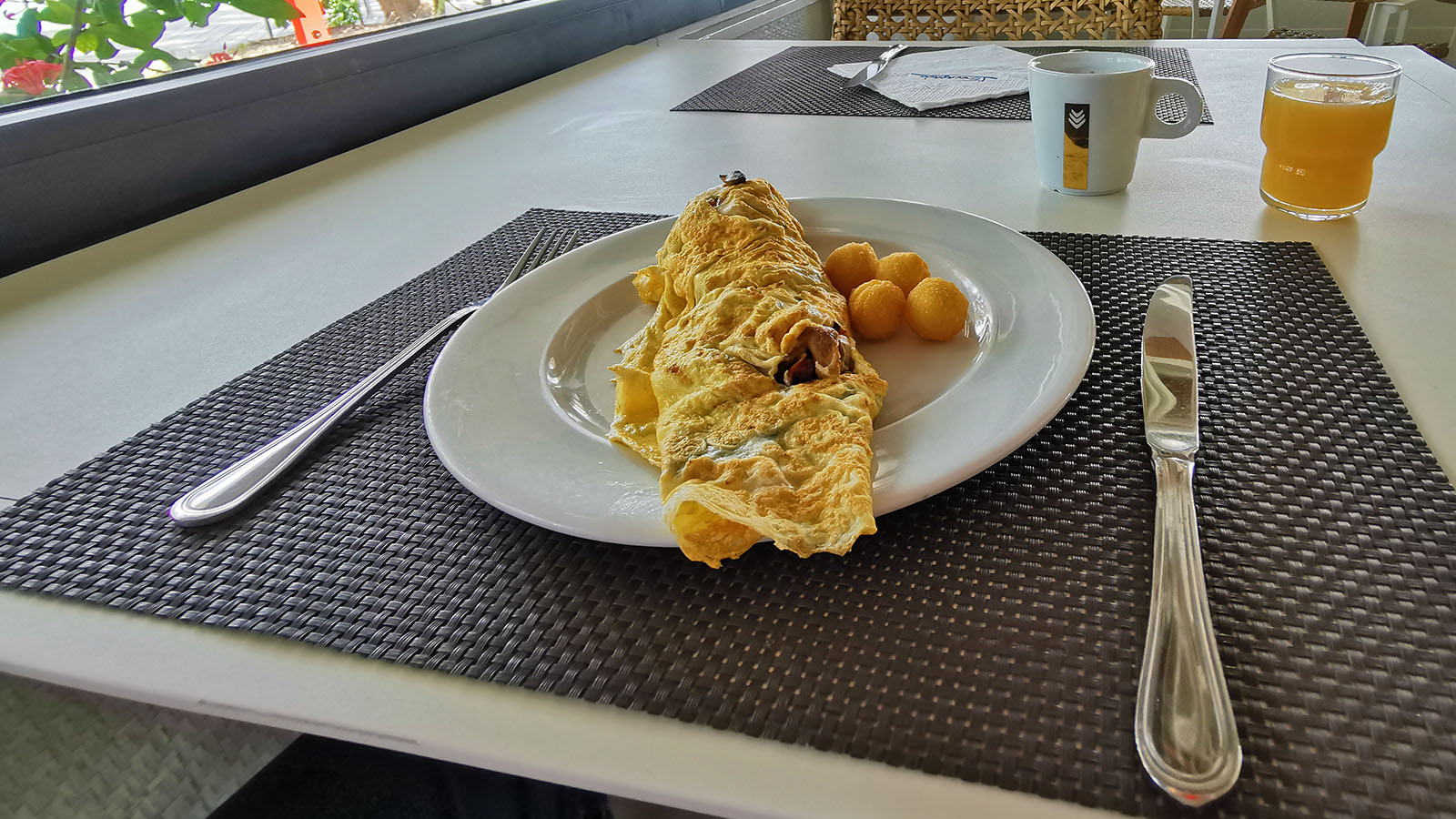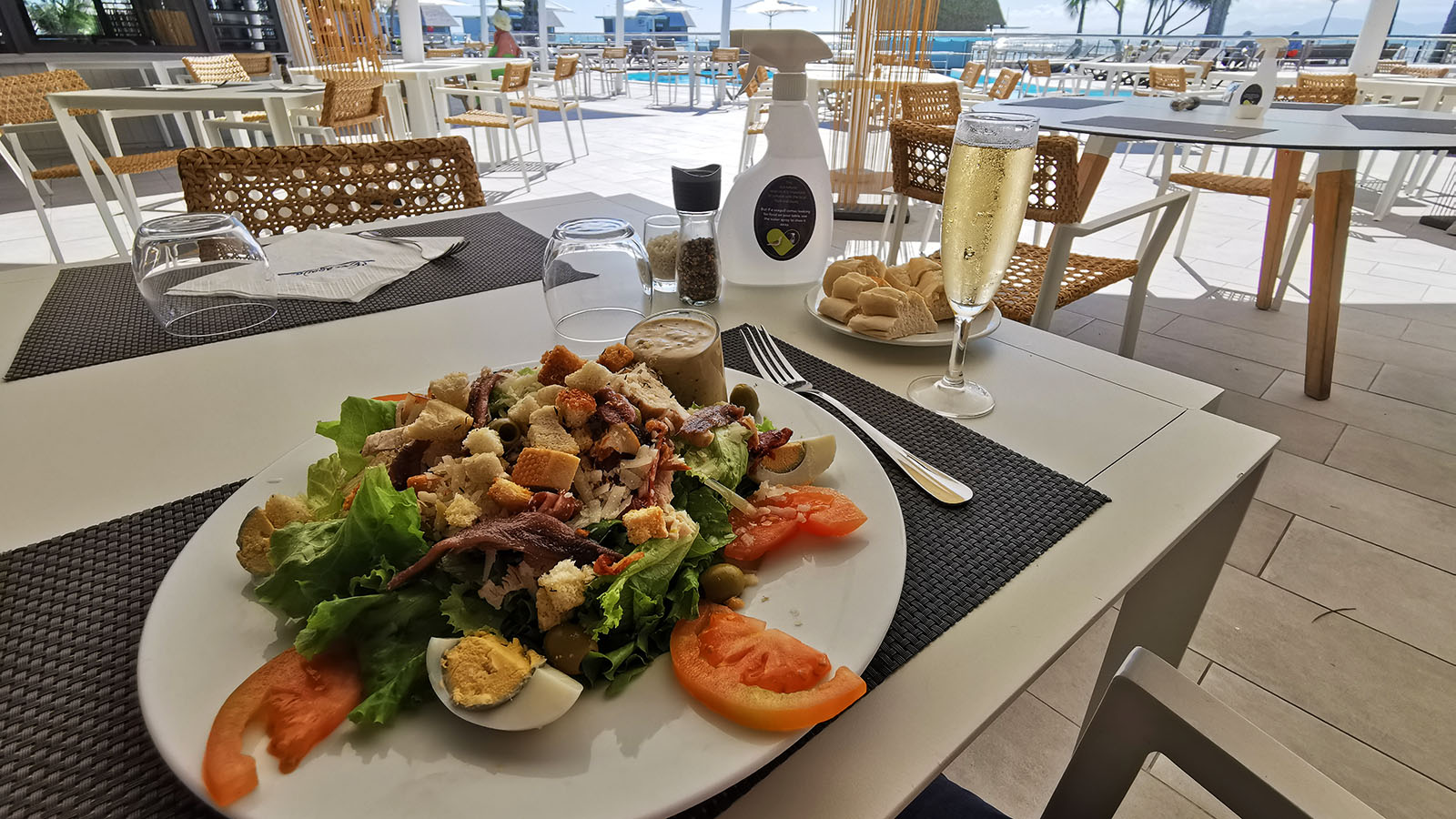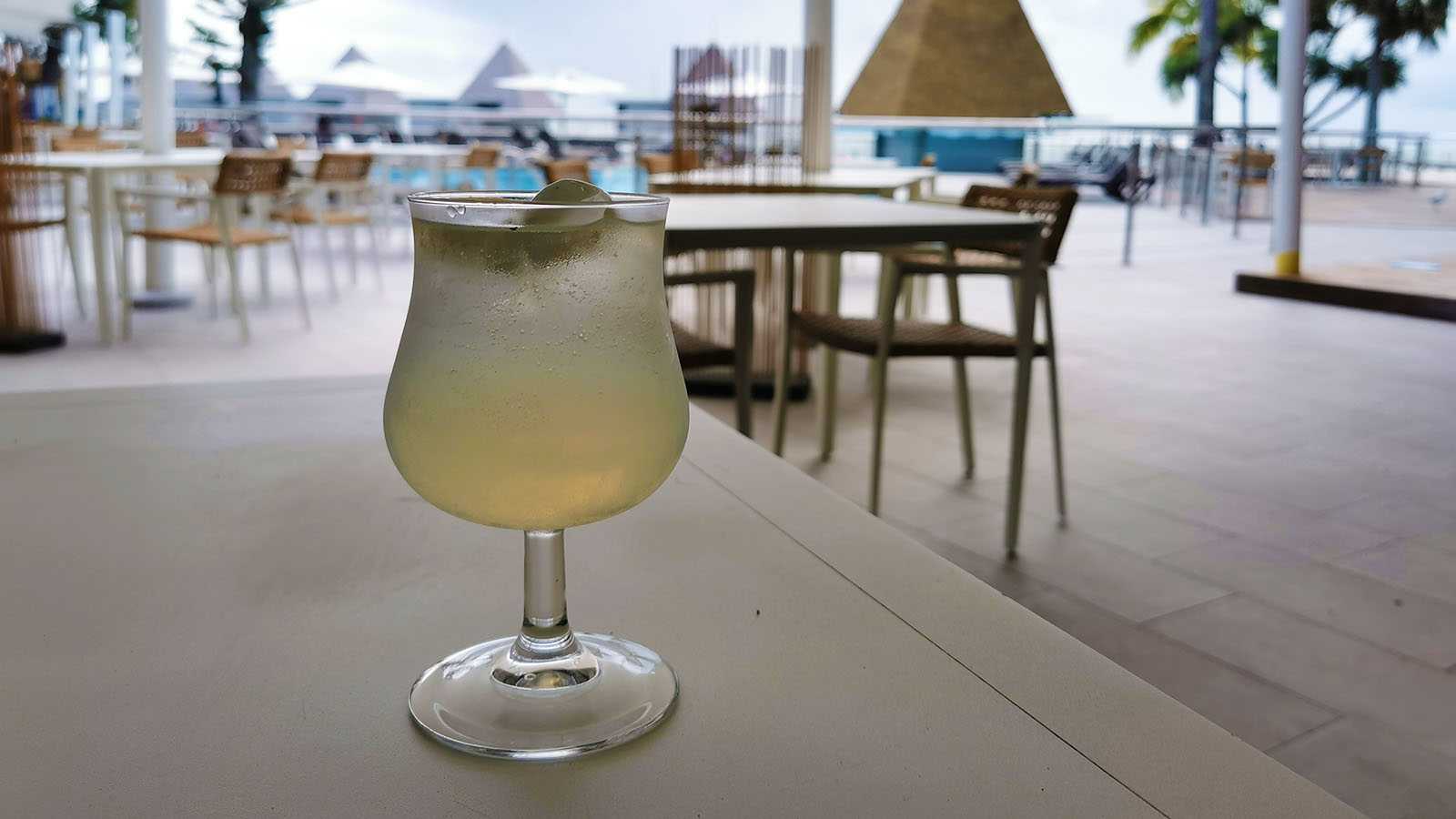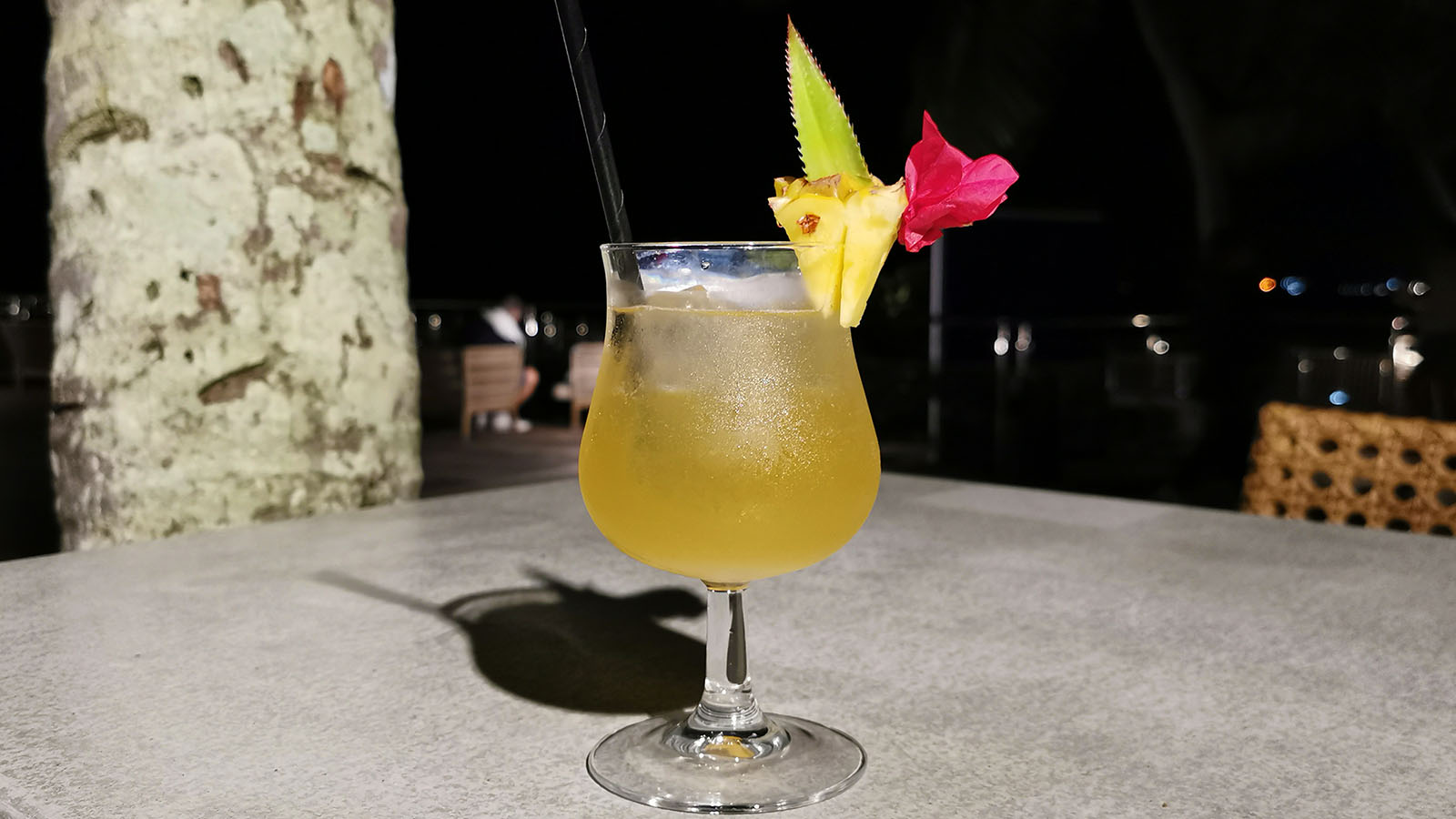 At lunch, the bar has a snacking menu with a very tasty Caesar salad. If you fancy 'bungalow service' of an evening, get a taste of French-style cuisine delivered straight to you: and of course, French red wine.
This wouldn't be a resort without a bar, and I'm pleased to say the cocktails are up to scratch. I rather enjoy my gin fizz in the afternoon sun by the pool, and my Mai Tai after dinner is boozily delicious.
Getting here on points
Again, my trip was possible thanks to the power of frequent flyer points. Best of all, I didn't need an astronomical balance to get here in style – which makes it easy for you to book, too!
Flying direct from Sydney, Nouméa is just 41,500 Qantas Points each way in Business Class. That's 83,000 Qantas Points round-trip, with only $217 to pay on the side in taxes and fees. Compare that to the cash cost of a similar trip – where Business sale fares begin at $1,503 – and that's a saving of at least $1,286. For the same seat, on the same flight.
The money kept in your pocket by booking flights on points certainly goes a long way to covering your bungalow in Nouméa.

In fact, I even managed to work in a 'points hack' on this trip. Beginning my journey in Brisbane, I was able to fly Brisbane to Sydney in Qantas Business, plus Sydney to Nouméa at the pointy end, for no extra points than Sydney-Nouméa itself. I just paid an extra $44 in fees and charges. Yes, only $44 (and zero extra points) for a peak-time Business Class flight from Brisbane to Sydney. Talk about a steal!
The same hack applies when travelling to or from many other Australian cities, including Melbourne, Adelaide, Canberra and Hobart. Other destinations such as Perth and Darwin nudge the points cost to 57,000 Qantas Points in each direction.
But perhaps you don't have as many points – or need to get more people on board a single flight – where flying Economy can make more sense. The same itinerary from Sydney to Nouméa costs just 36,000 Qantas Points return in Economy. That's just 18,000 Qantas Points each way. On the side, you'll again pay only $217 in total, round-trip.
Brisbane-Nouméa is another points hack
Queenslanders also have the option of direct Brisbane-Nouméa flights. These cost only 27,600 Qantas Points one-way in Business, or an easy 12,000 Qantas Points one-way in Economy.
But even being based in Brisbane, I appreciated being able to fly through Sydney this time. The travel dates I could secure with points via Sydney happened to be the best fit within my own busy schedule. Ultimately, that flexibility meant I could actually travel – and if your calendar is as packed as mine, that's a great option to have.
Still, if you're organised and can plan ahead, Brisbane-Nouméa is only 55,200 Qantas Points for a return Business Class ticket, or 24,000 Qantas Points return for Economy: certainly not to be sneezed at.
With Nouméa ready and waiting, don't let a shortage of Qantas Points stop you from enjoying this terrific Pacific holiday. You may even be able to pocket a cool serve of bonus Qantas Points via the great offers below. Explore these highlighted deals, or head to our main credit card page here for even more choices.
Also, don't forget to check Qantas Wine for even more bonus points deals. You can often earn up to 10,000 bonus Qantas Points per case – and for a destination like Nouméa, a few wine purchases could be all you need to earn the points for your trip.
After reviewing these great offers, continue scrolling down to learn what else you can see and do in Nouméa.
Featured deals
What to do in Nouméa
There's plenty to keep me busy at the resort, but Nouméa itself is also mine to explore. I don't miss the opportunity to experience more of France's pacific paradise. Hopping aboard the DoubleTree's complimentary boat transfer, I'm across to the mainland in 30 minutes.
Boats run back and forth throughout the day. I check the schedule in advance to plan my time and grab a free round-trip ticket from reception. Easy.
Explore and dine at Port Moselle
As the mainland stop of the DoubleTree's boat loop, Port Moselle itself is a great place to start my on-land exploration.
I take an afternoon stroll around the water itself, before wandering into Le bout du monde for an early dinner. I start with an excellent piña colada and continue with a simple food order: duck and potatoes. It's delicious – and worthy of the boat ride all by itself.
In fact, when I next return to Nouméa, that's exactly what I'll do for some more variety on the food front. After all, the restaurant is mere steps from the DoubleTree dock – it's super easy.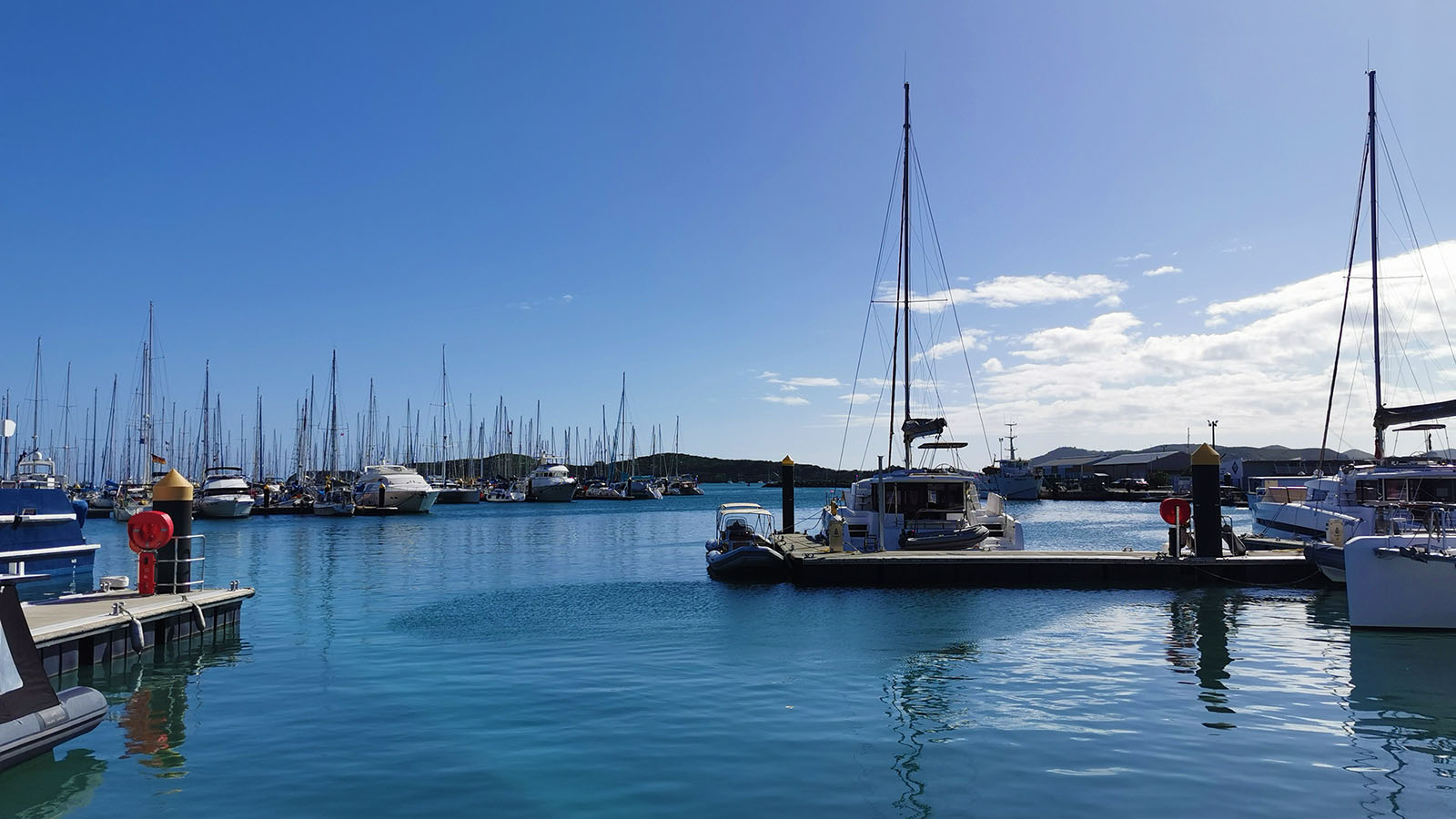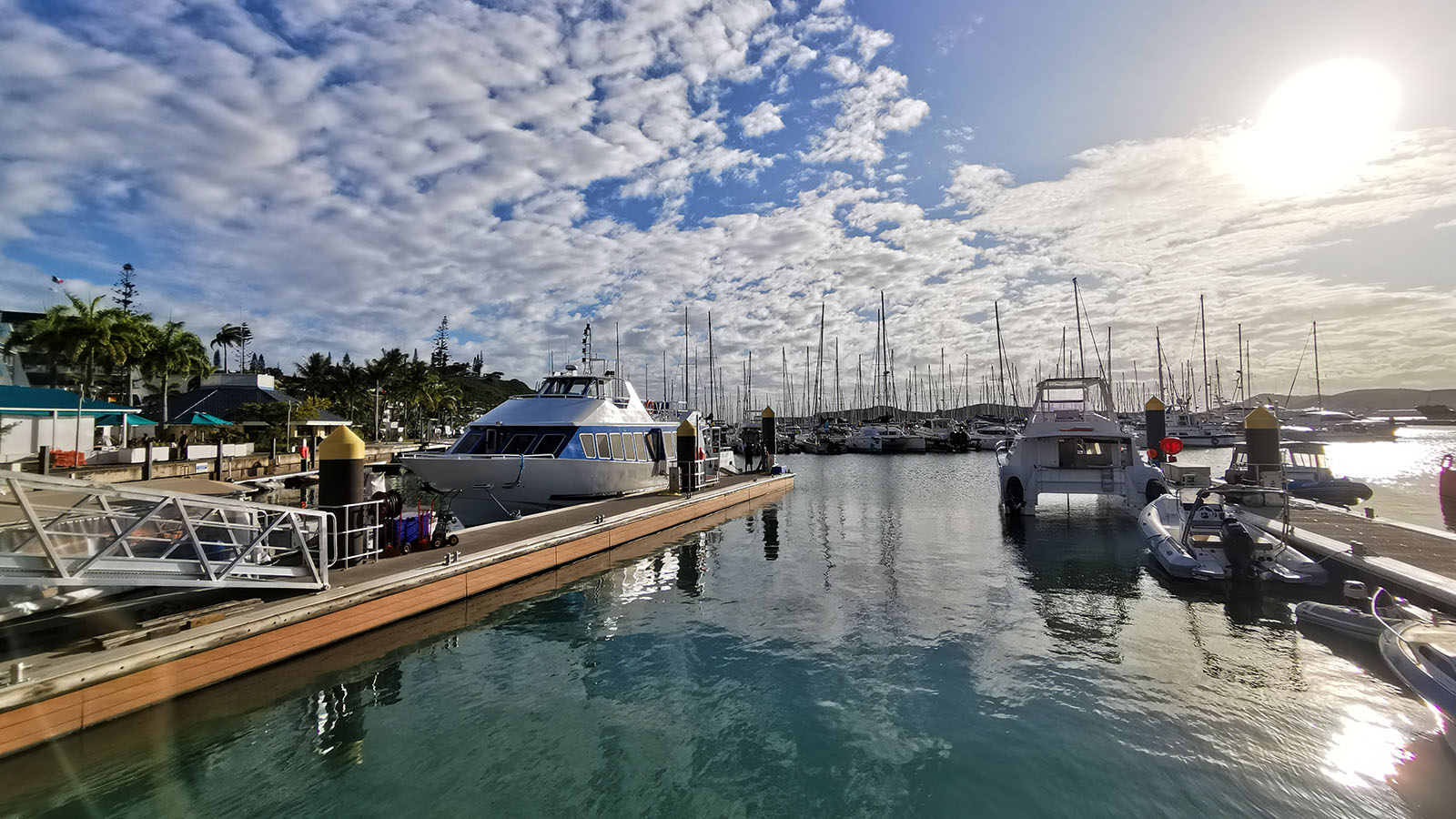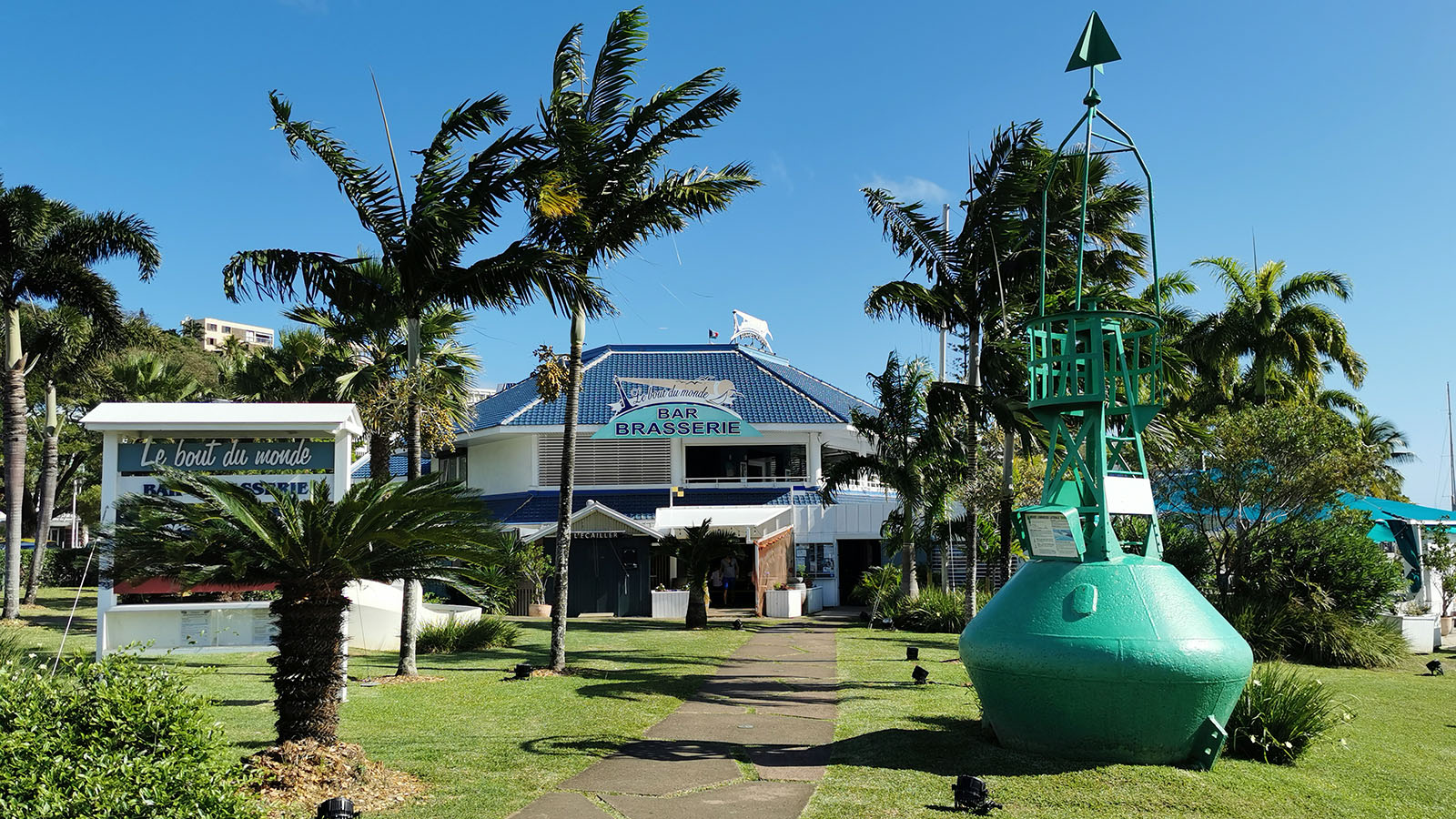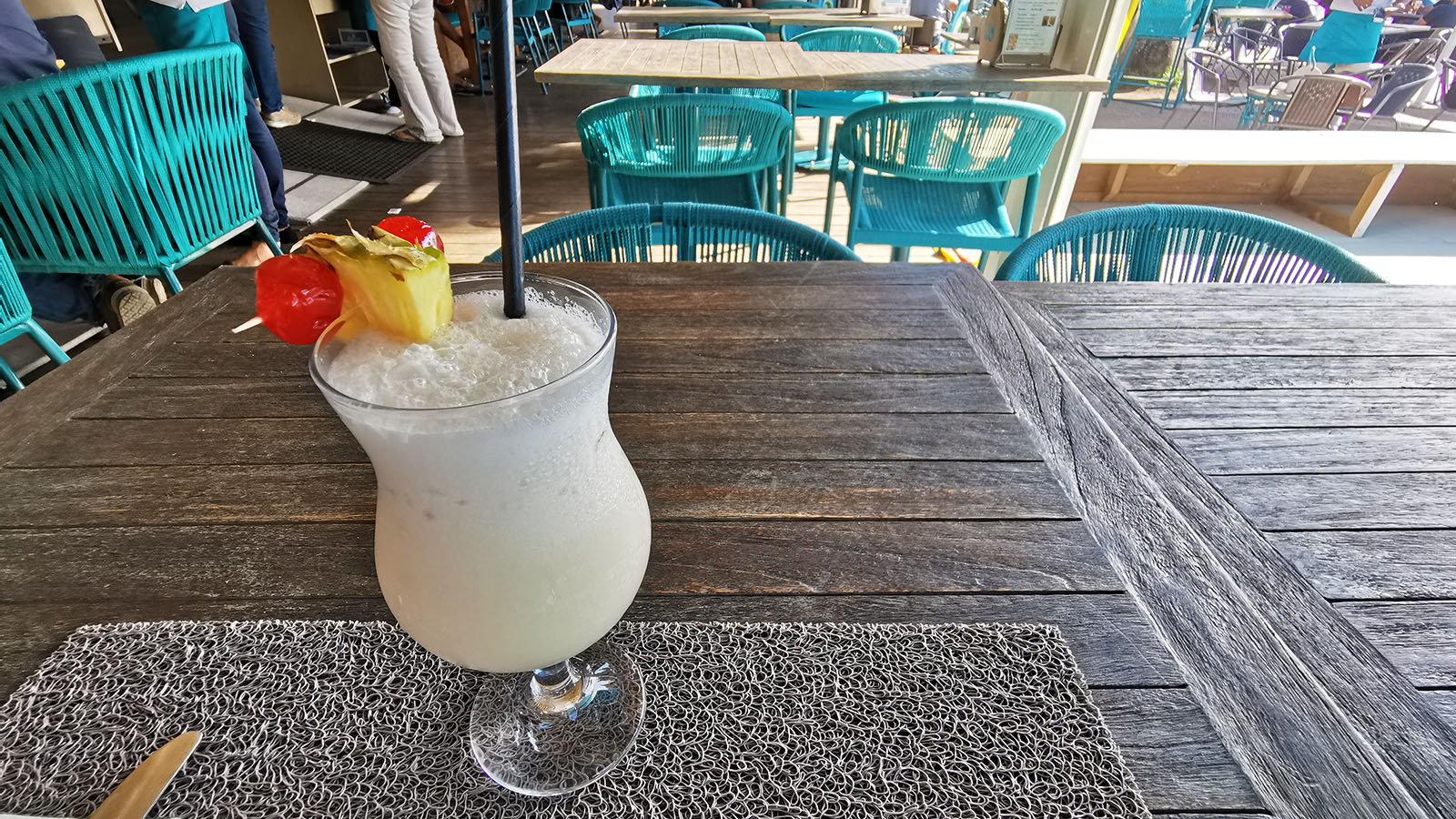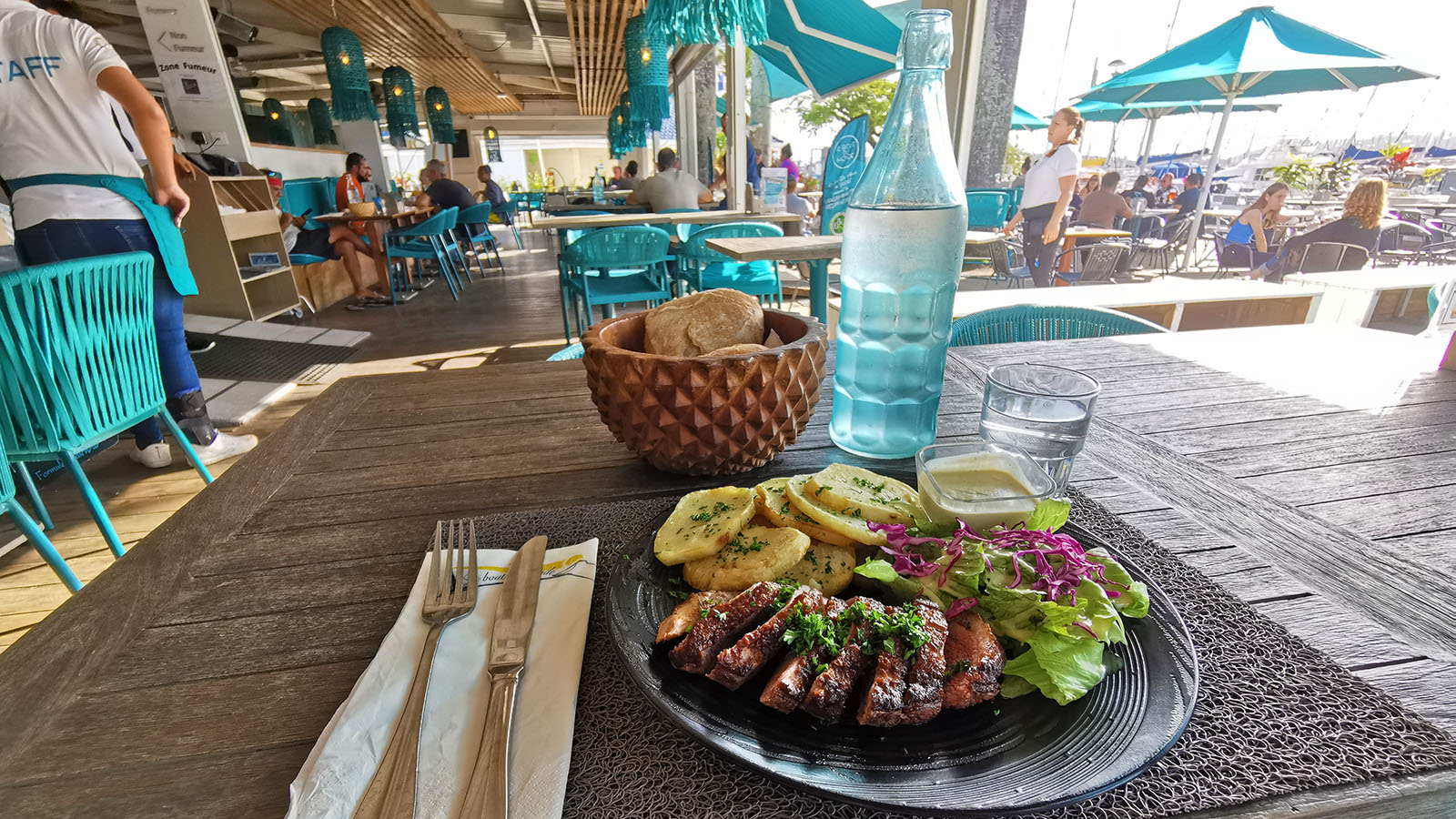 See more of Nouméa on foot
Even with a bungalow to return to, I didn't hop on an international flight to see just the hotel. With my walking shoes on, it's time to wander the streets of Nouméa itself.
Francophiles will love the many French flags flying high, along with smaller touches like the traditional street signs. Both make me smile, bringing back memories of my last visit to Paris. This stroll takes me past Place des Cocotiers. On a sunny day, it's relaxing to sit in the shade by Fontaine Céleste. Built in the 1890s, it marks the very centre of Nouméa.
Nearby, I spot a Fnac store. It's long been a favourite port of call for me in mainland France, often with its interesting range of CDs and international movies not easily found in Australia. This visit doesn't disappoint.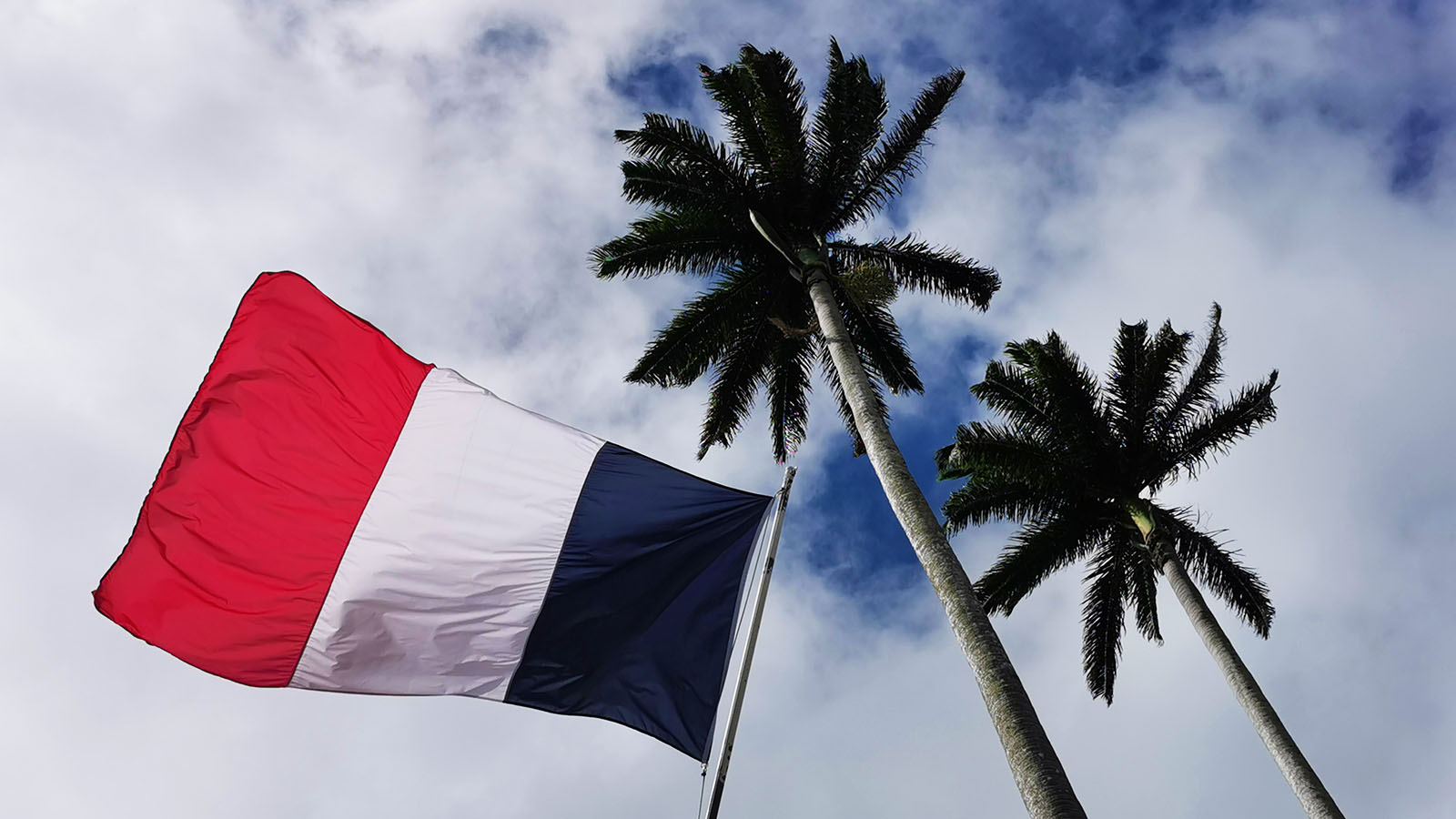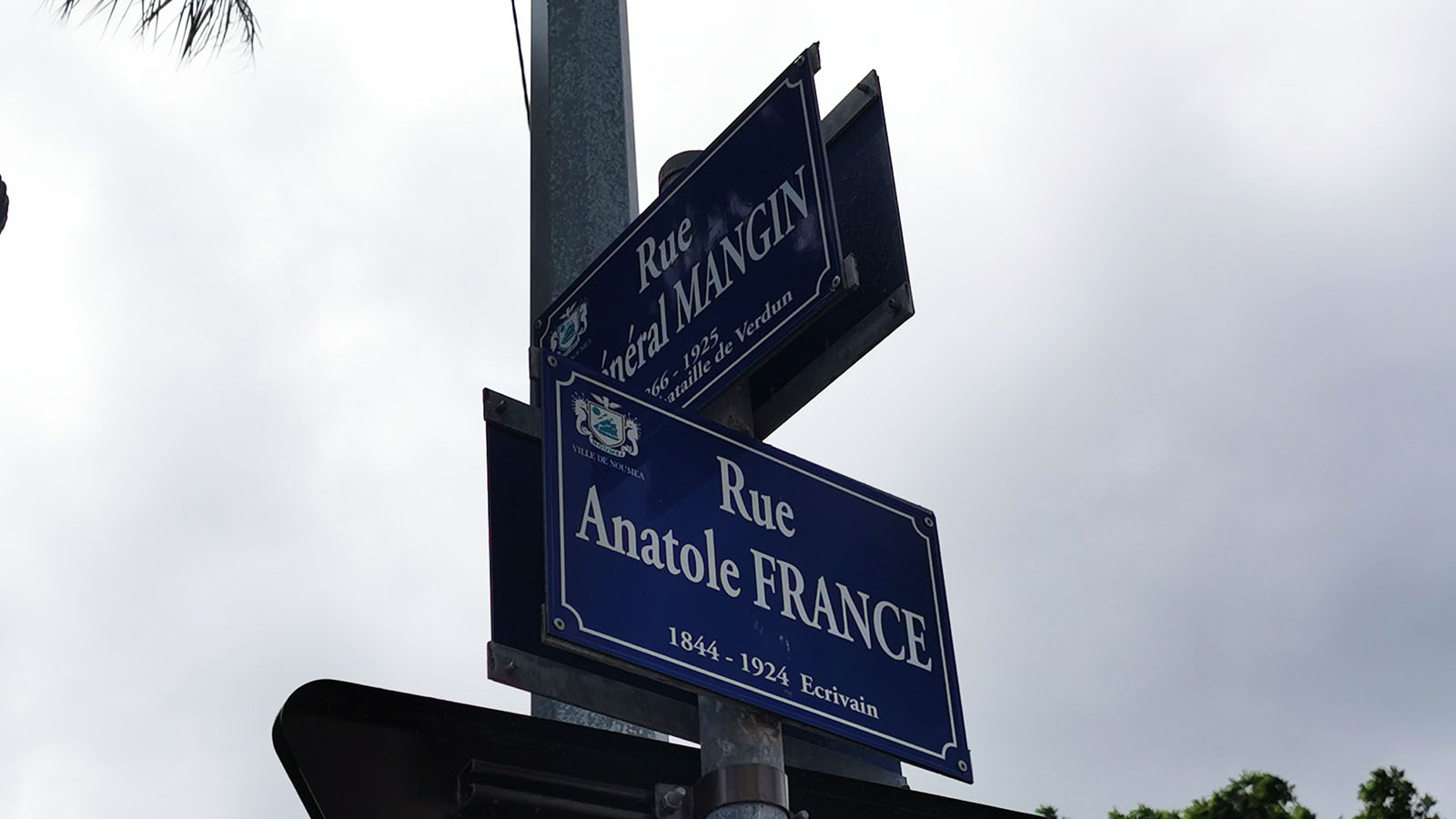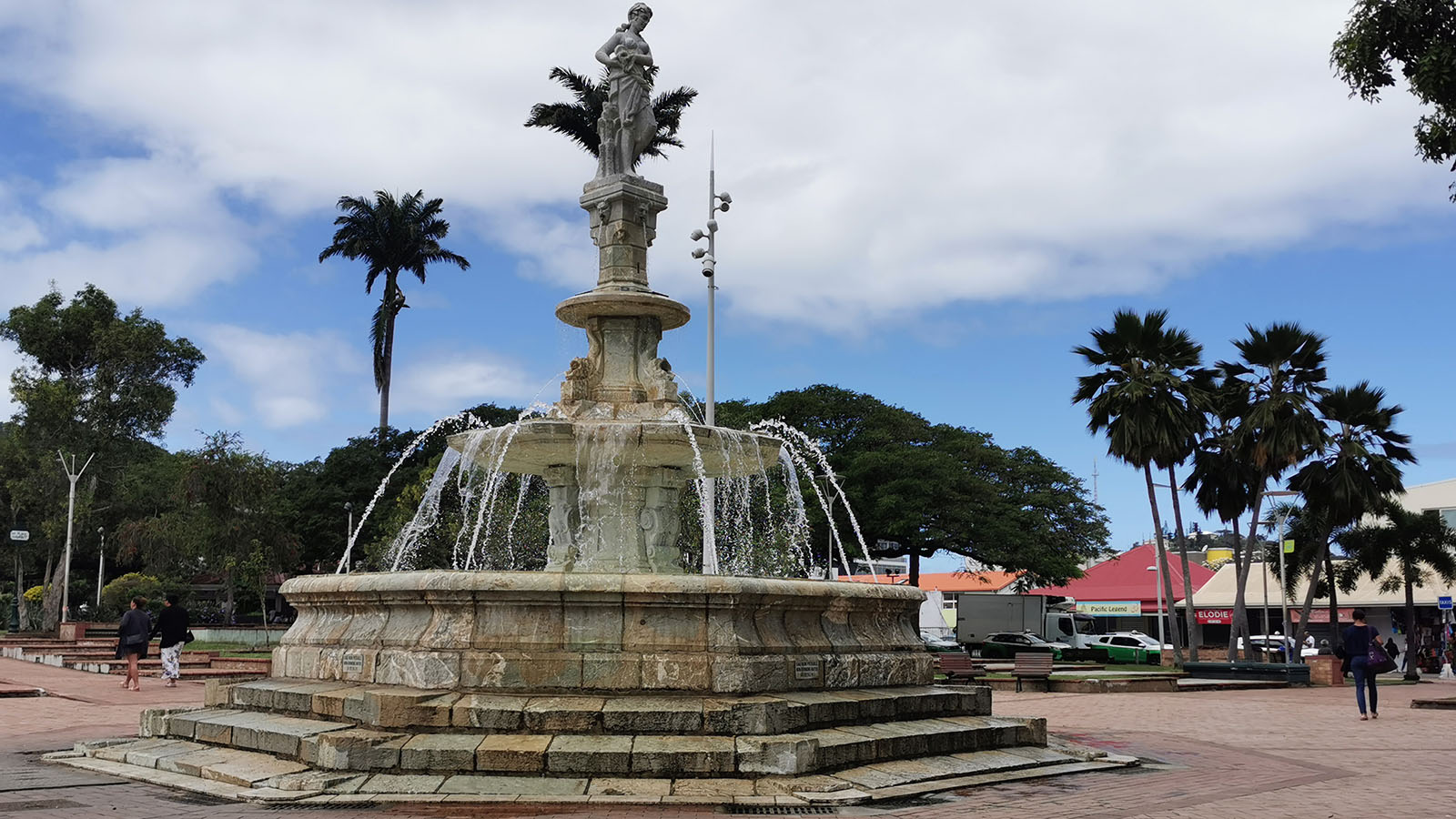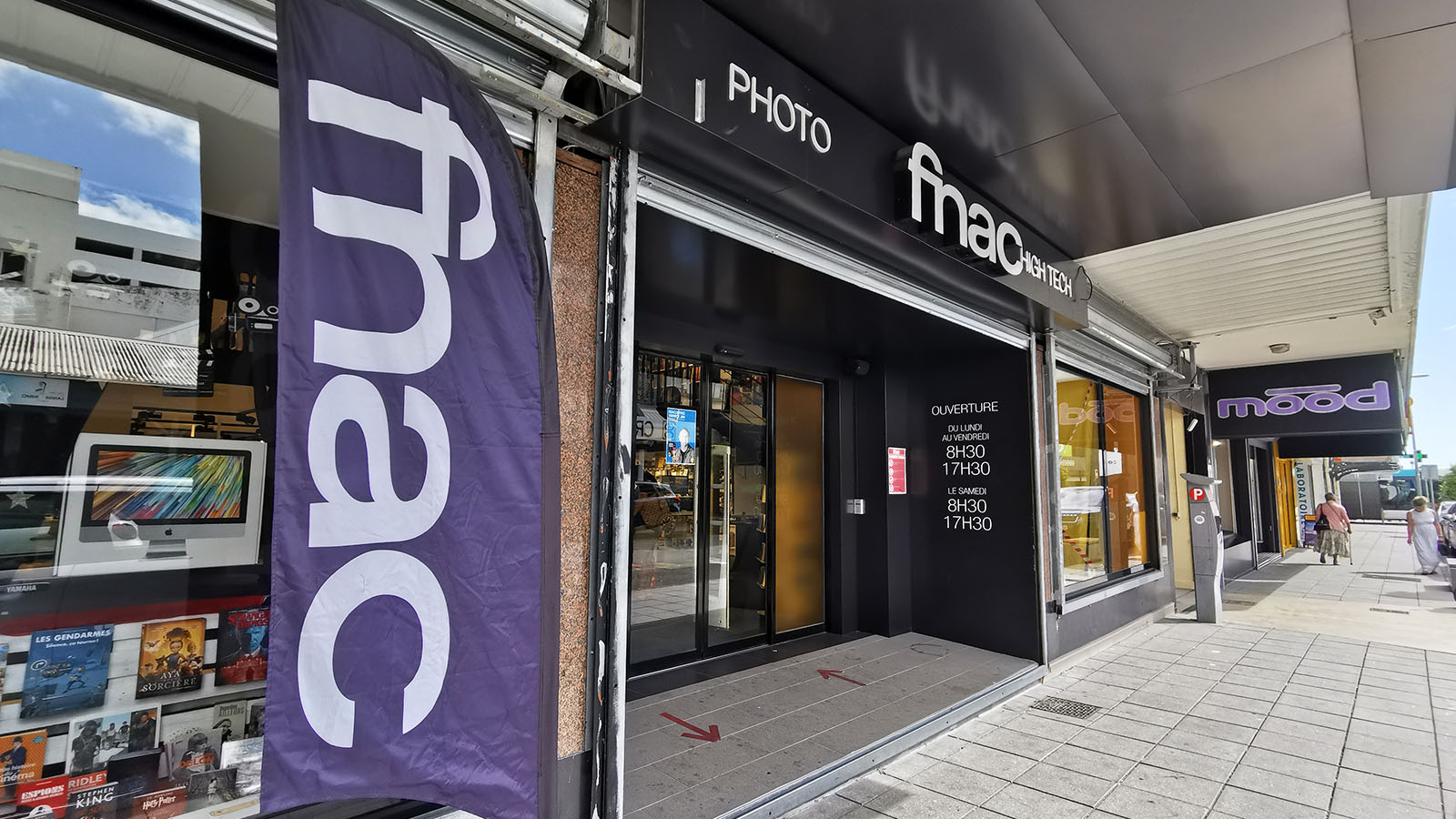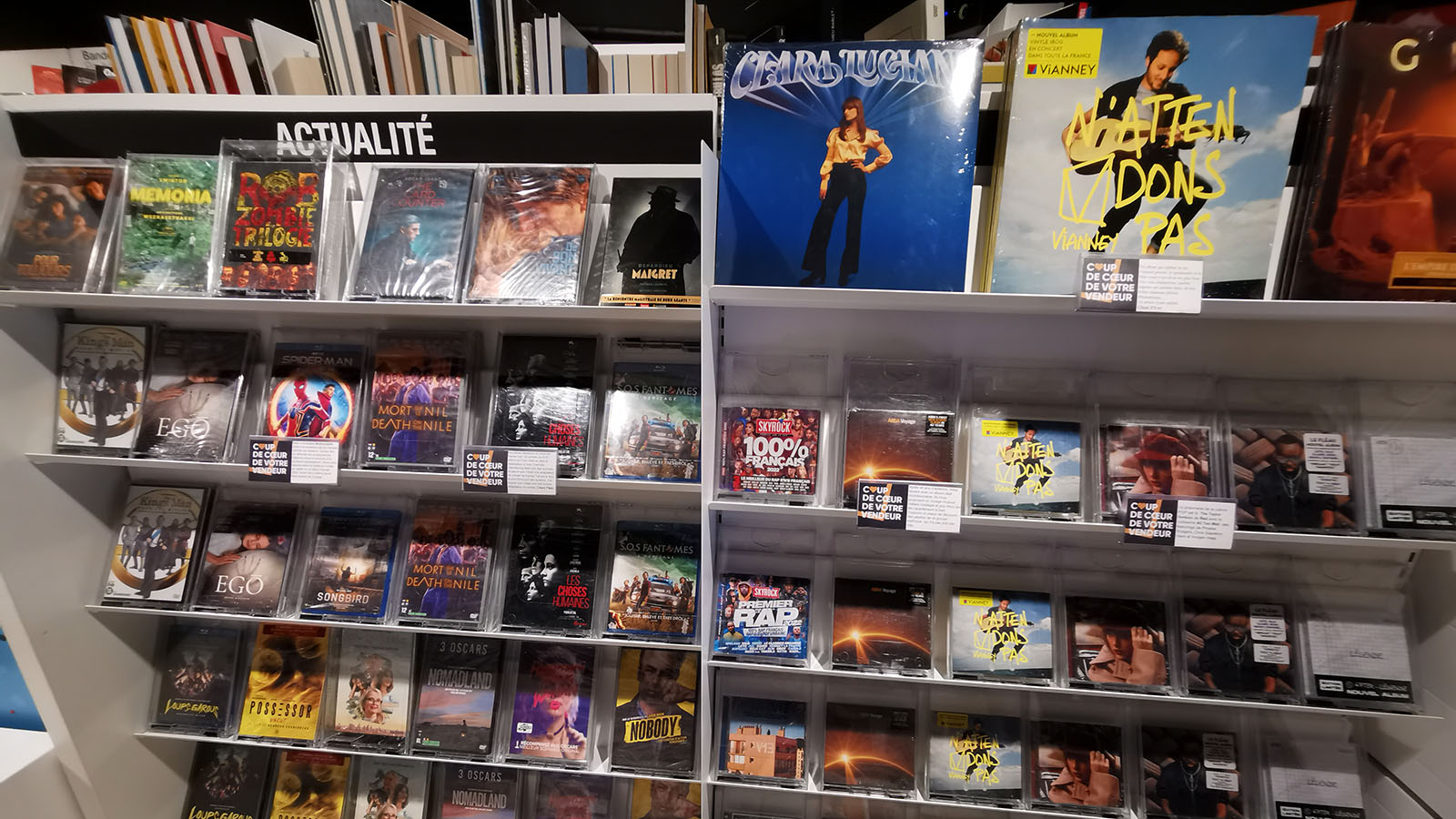 Musée de la Ville de Nouméa
To explore more of Nouméa's history and its ties to France, I also make time for a visit to Musée de la Ville de Nouméa. Conveniently, it's right across the road from Place des Cocotiers. This makes it an easy walk from Port Moselle, too.
A ticket costs just ₣300 (~AU$3.70), making it one of the most affordable activities in the city. Here, I learn about the origins of New Caledonia's local currency, the Pacific franc. Turns out, it emerged from the traditional French franc at the end of World War II when France's inflation was soaring. While France later migrated to the Euro, New Caledonia kept the franc: a fair call, given this part of France is far from Europe.
I wander through the exhibits and out to the museum's garden. The lamps reinforce that French vibe, and it's a nice spot to while away some time.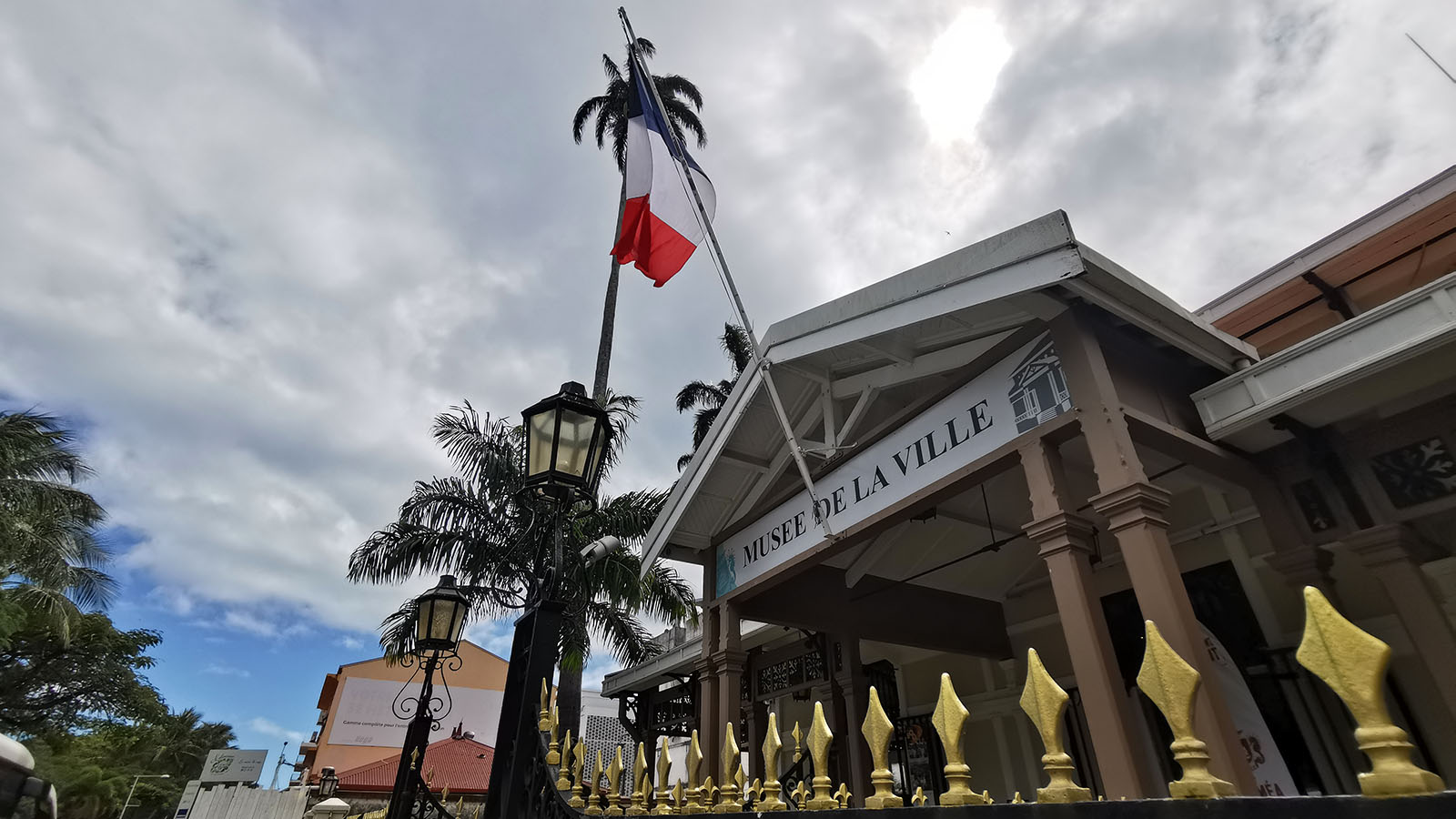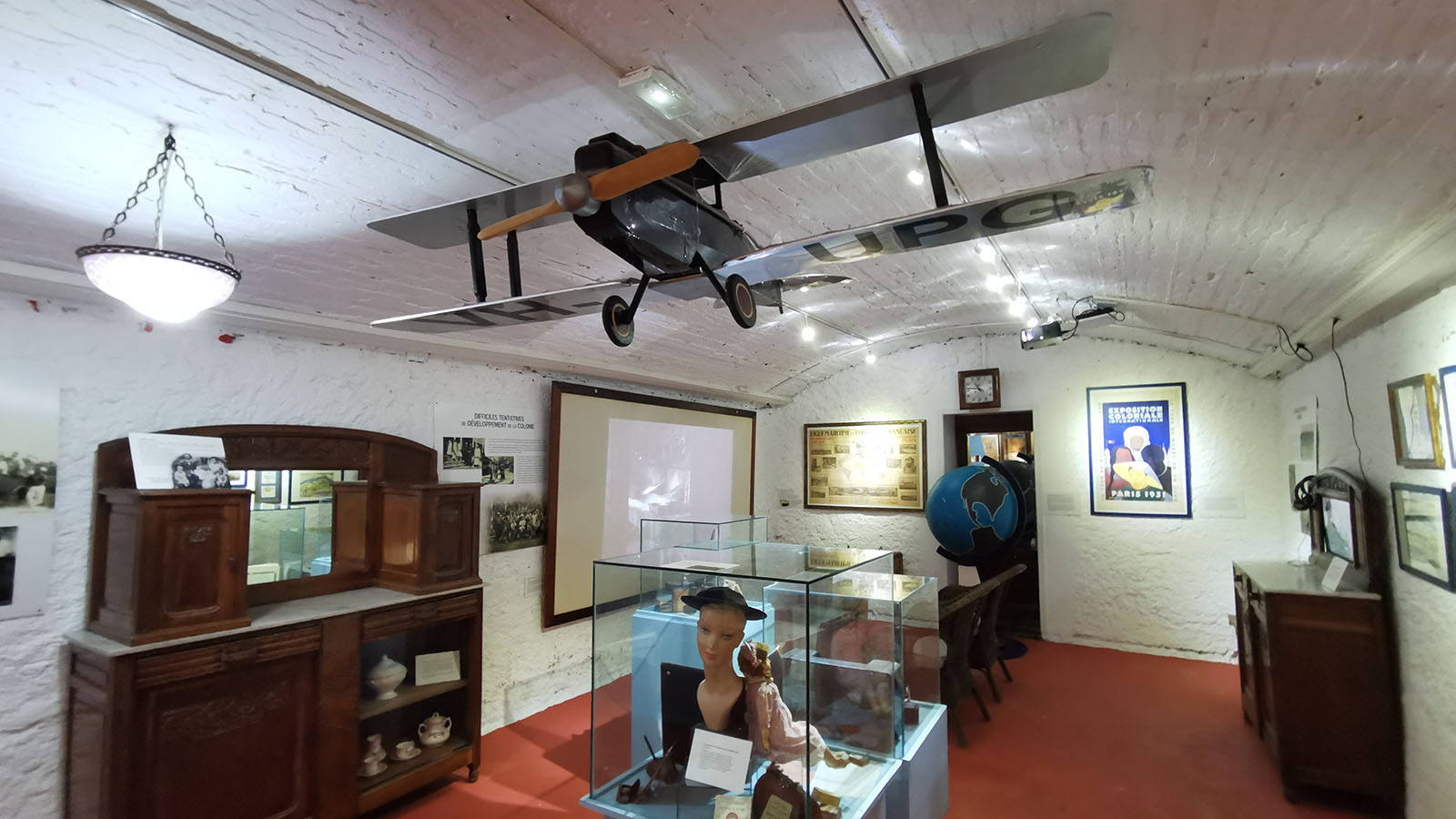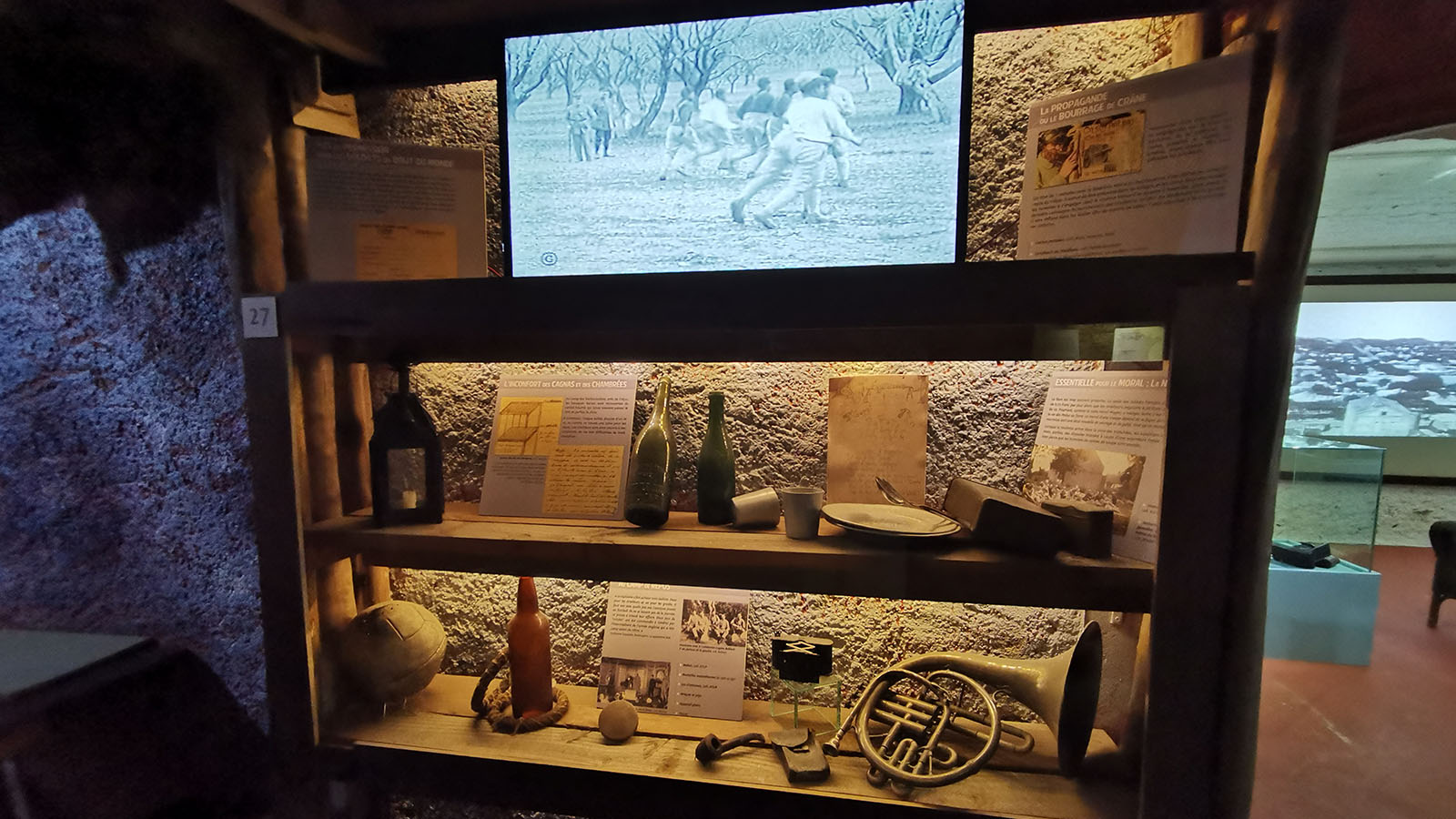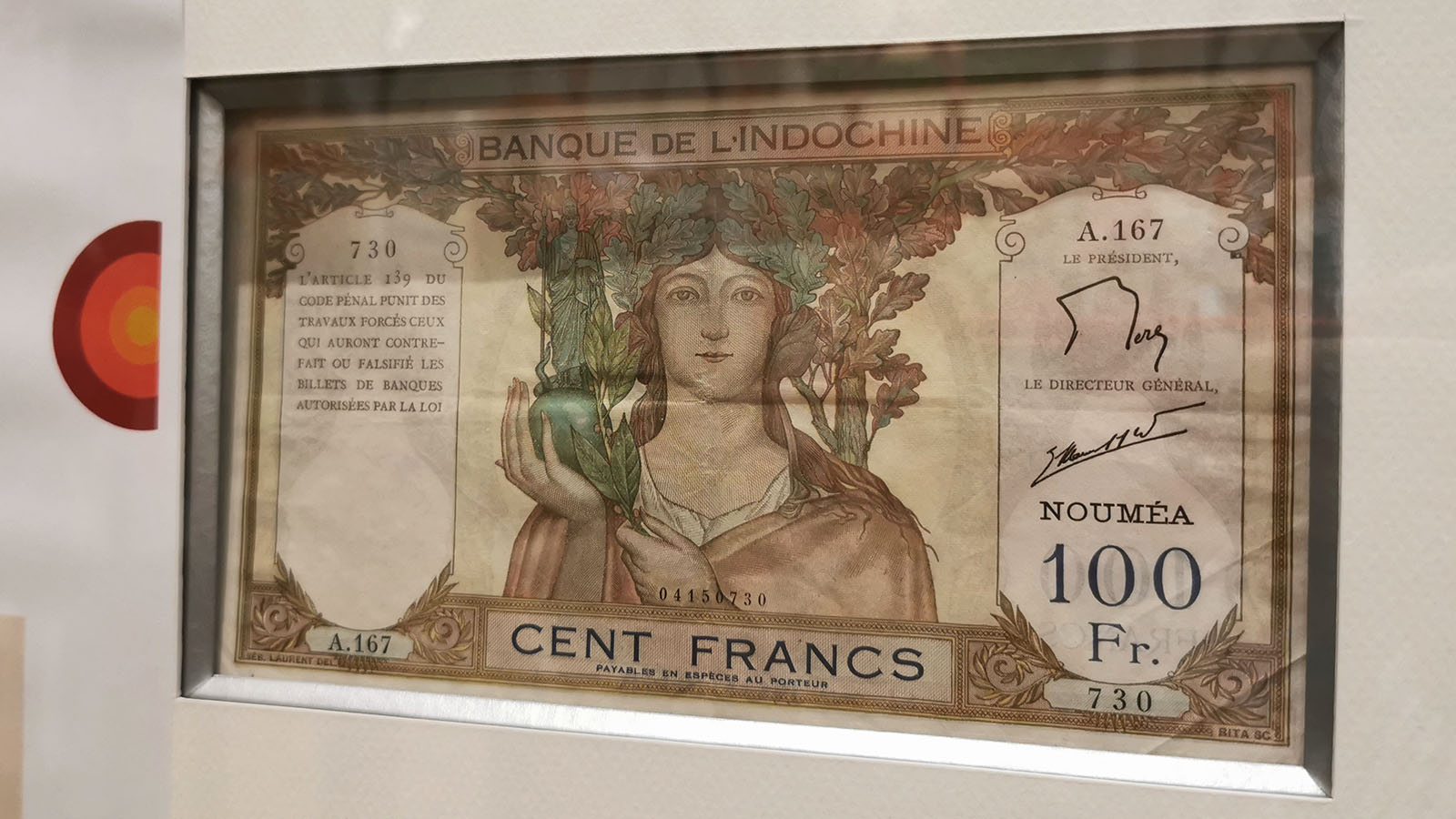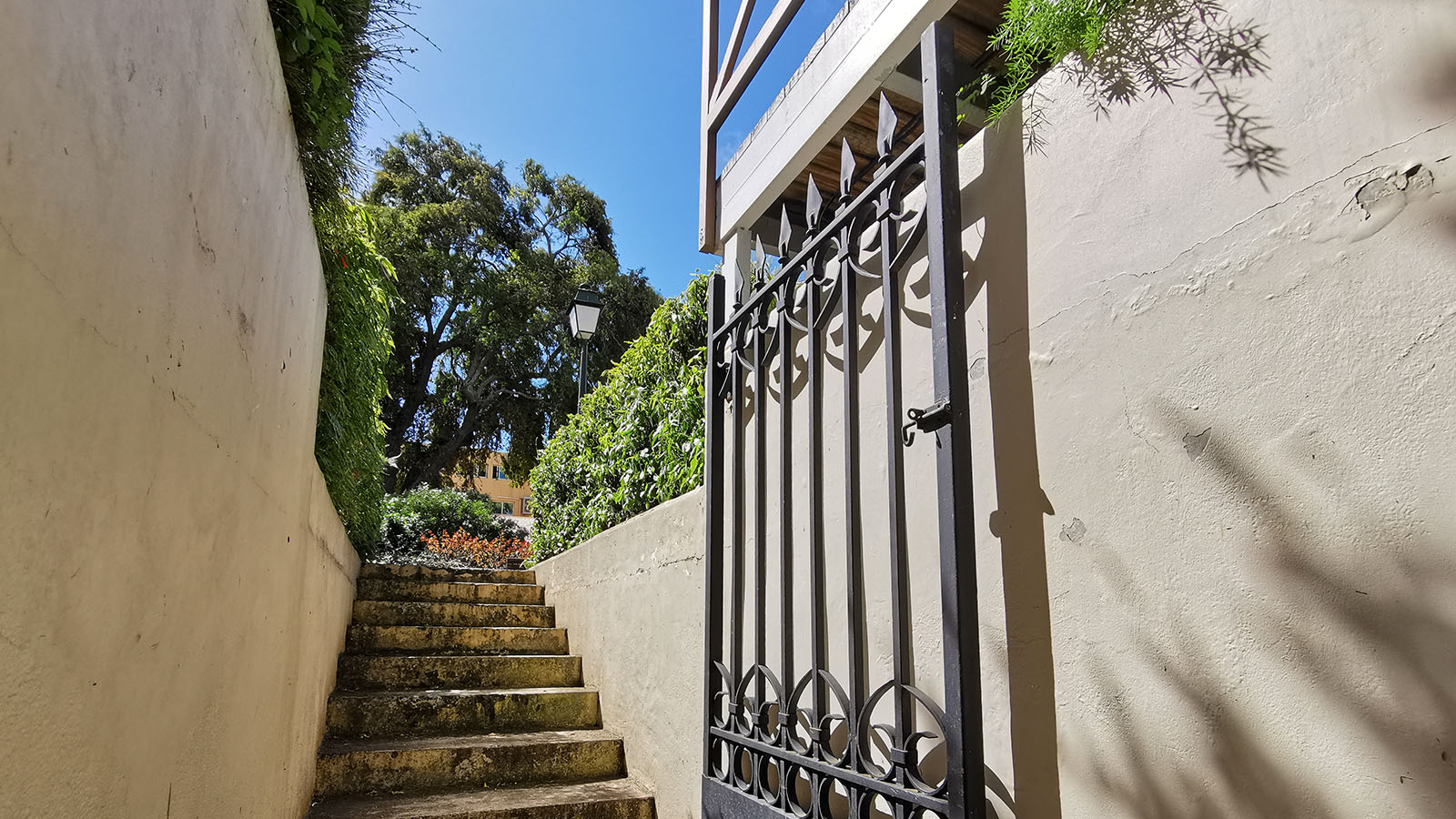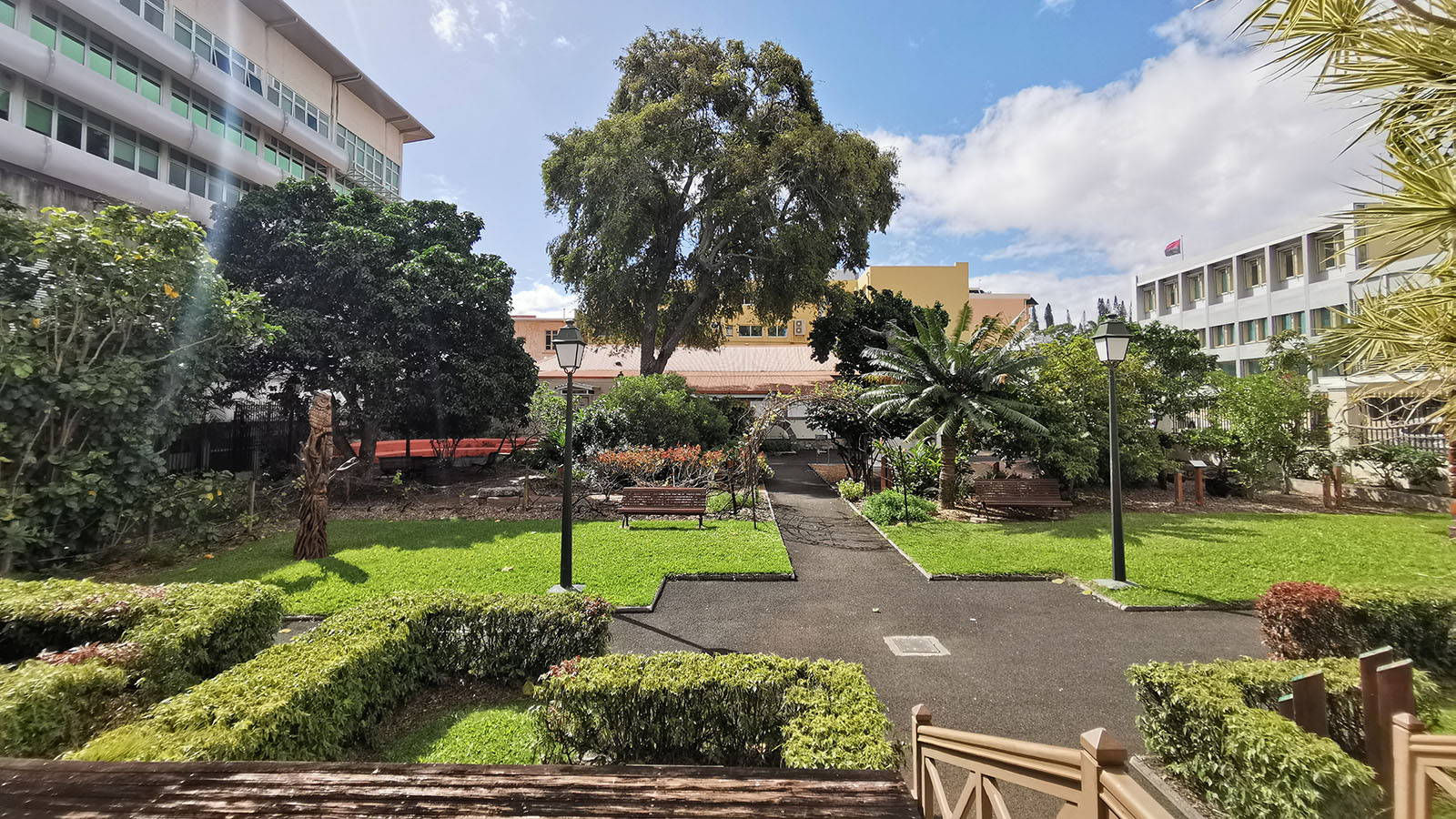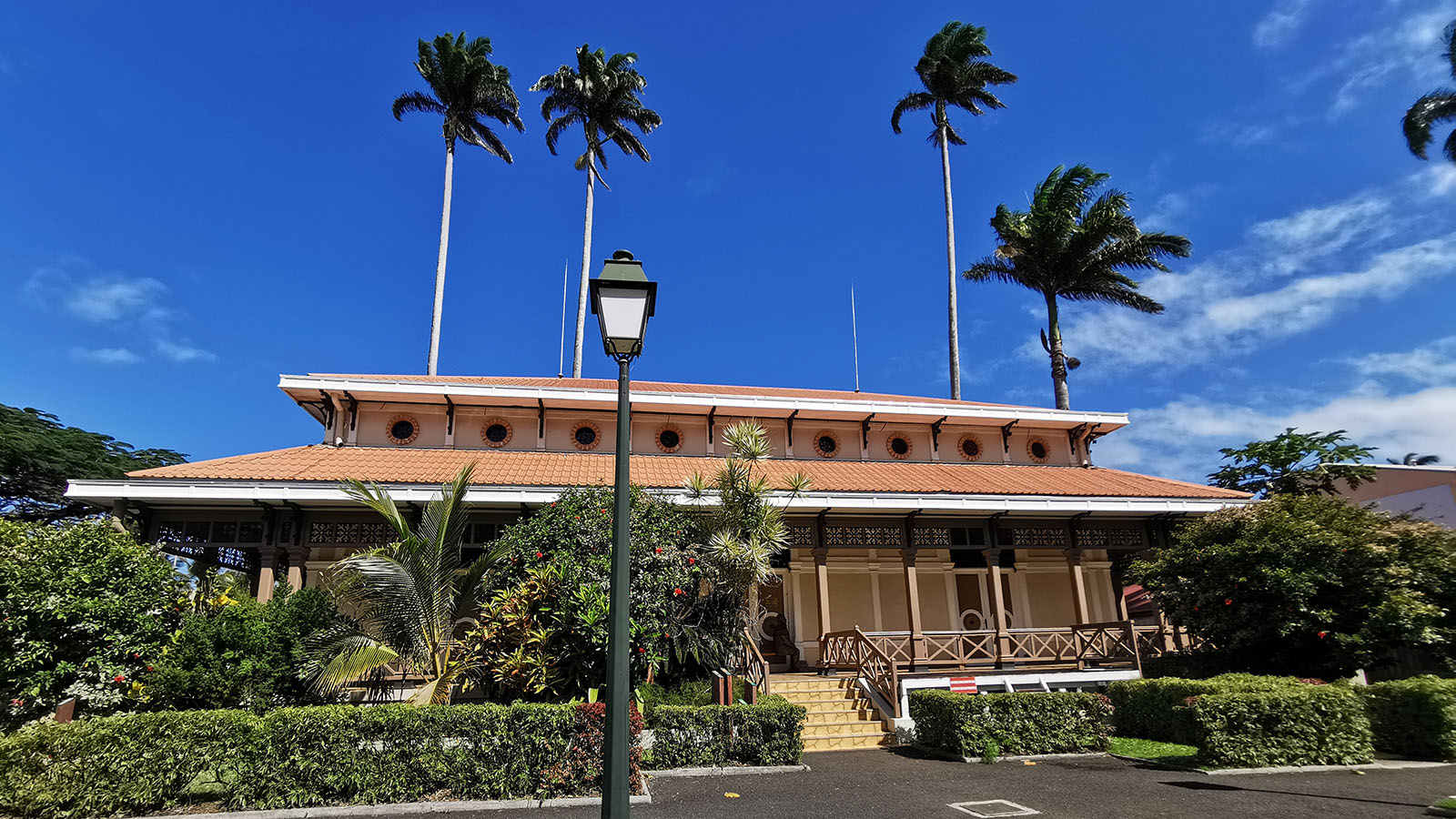 Time to get booking!
That was just a quick taste of my Nouméa adventure: a trip made possible courtesy of Qantas Points.
Wherever you begin your journey, flying to Nouméa really is achievable using those frequent flyer points. Seats in Business Class are much easier to secure than on longer international flights, and you can use Qantas Points to book the same routes with Aircalin too, for even more flexibility.
It's also a short flight, so if you choose to save some Qantas Points and travel in Economy, it's still a comfortable and affordable journey for yourself, with a partner or even the whole family.
However you choose to fly, turbocharge your points balance and you could be jetting off to Nouméa too.
While you're here, don't forget to subscribe to our Point Hacks newsletter. Subscribers can stay up to date with the latest news, reviews and adventures. Be sure to subscribe to our reward seat alerts as well. These are bound to help you secure the very best seats using points as soon as they become available.
Photography by Chris Chamberlin, who travelled, stayed and adventured at Point Hacks' expense.
Say 'bonjour' to Nouméa for just $217 return using Qantas Points
was last modified:
November 17th, 2023
by