Qatar Airways' highly anticipated Boeing 787-9 Dreamliner Business Class is now here; not quite as 'glam' as the original Qsuites which grace some Airbus A350s and Boeing 777s with double beds and family rooms, but still unmistakably 'Qatar Airways' in form and function.
It's a graceful design which combines the best of Business Class: uninterrupted aisle access and sliding doors, along with a generous (though not chart-topping) 79″ or 200cm-long fully-flat bed when reclined. Add to that wireless charging technology, international cuisine and name-brand amenities: you've got the complete package.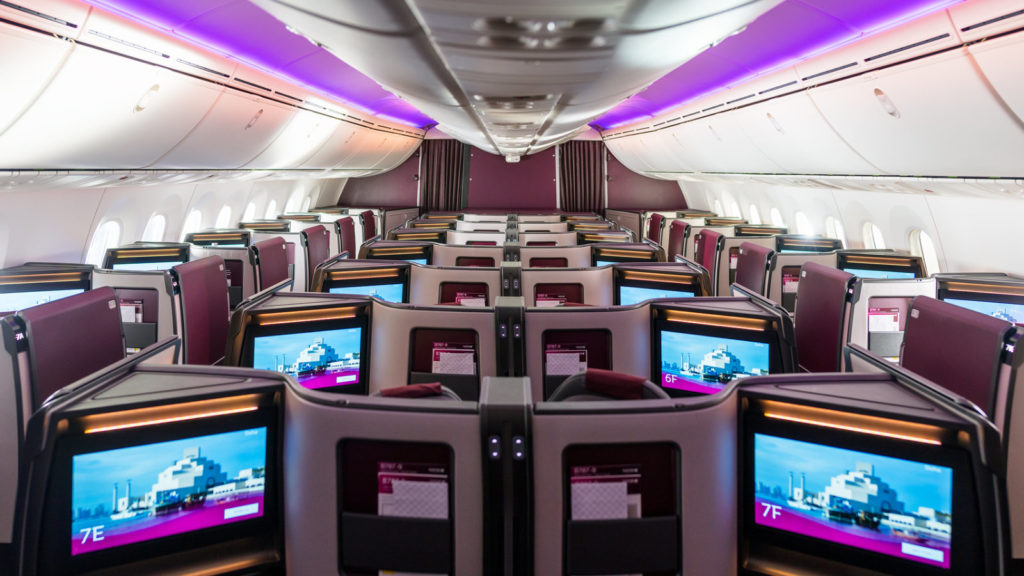 Created as an alternative Qsuites product due to the narrower width of the Boeing 787-9 fuselage, here's everything you need to know about Qatar Airways' latest Business Class product.
What is Qatar Airways' Boeing 787-9 Business Class seat?
For the plane geeks out there, Qatar Airways' newest seat is modelled off the Ascent Business Class Suite from Adient Aerospace. It boasts 'luxury automotive seating standards' and offers complete privacy for passengers travelling alone. Those travelling together can lower the privacy divider in the middle to create a 'Cabana Suite' shared space.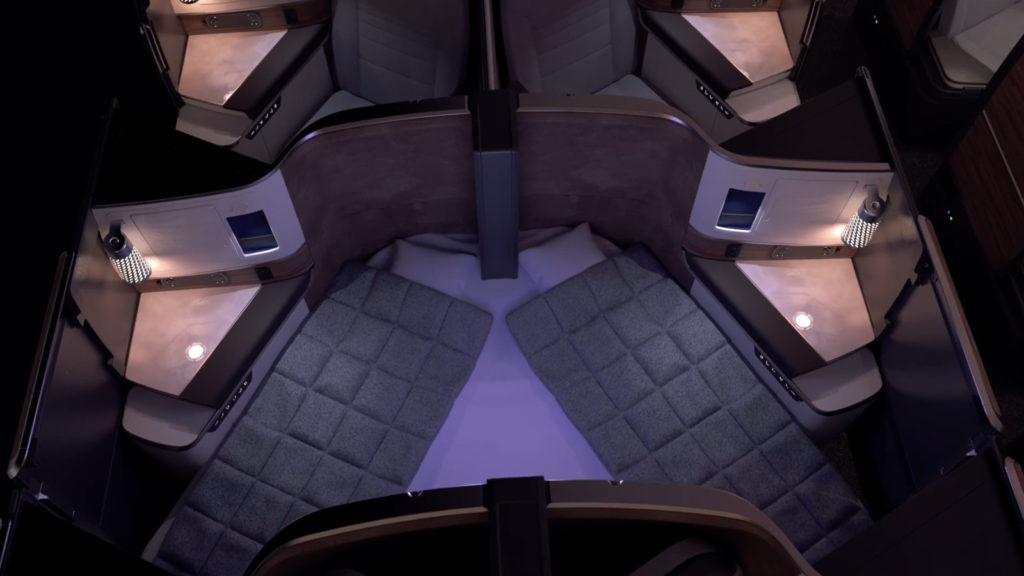 Of course, the seat is heavily customised for Qatar Airways to include its signature burgundy panelling on the sliding doors, which both create a sense of privacy and may help with being more isolated from other passengers from a COVID-19 standpoint.
Qatar Airways' Boeing 787-9 will features 30 of these Business Class pods nestled at the front of the jet, in a 1-2-1 configuration. Standard amenities including AC charging ports, a dedicated wireless phone charging nook, a wide slide-out dining/work table and adjustable lighting. Privacy dividers and seats can be electronically adjusted.
On-board amenities include products from Narumi, BRIC'S, TWG Tea and The White Company, so you know you'll be enjoying top-quality service onboard Qatar Airways Business Class.
Ad – Scroll down to continue reading.Minimum spend, terms & conditions apply.
Where can I fly the Qatar Airways Boeing 787-9?
Flights kicked off on Friday 25 June 2021 from Doha to Milan. Other key upcoming routes featuring this souped-up Dreamline include:
Doha to Athens
Doha to Barcelona
Doha to Dammam
Doha to Karachi
Doha to Kuala Lumpur
Doha to Madrid
Doha to Milan
Australia is unlikely to see the Qatar Airways Boeing Dreamliner 787-9 anytime soon; partially due to our COVID-19 border restrictions, but also because the jet is better suited for 'secondary' cities such as the above, and potentially places such as Adelaide and Brisbane in the future.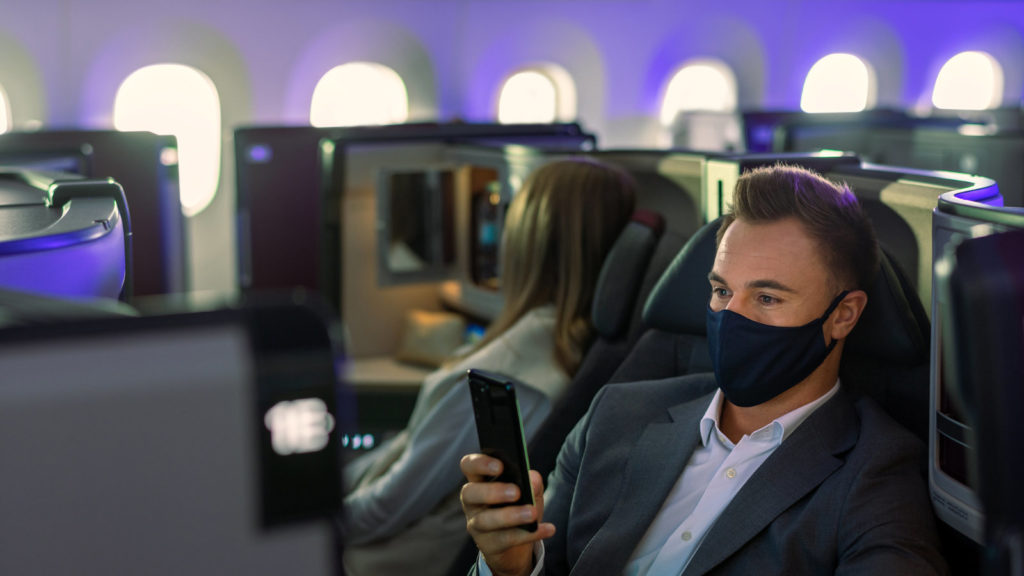 During normal times, Qatar Airways usually services its Australian ports with the larger Airbus A380s, Airbus A350s and Boeing 777s, which often features its original award-winning Qsuites Business Class.
How do I book Qatar Airways Boeing 787-9 with points?
If you're a reader currently living outside of Australia and able to do some travel, then you can certainly book the new Boeing 787-9 Dreamliner Business Class now. Options include using Privilege Club miles, which have better availability and no fuel surcharges anymore.
Otherwise, you could use Qantas Points, AAdvantage miles, Mileage Plan miles or Avios for flights, to name a few popular programs. This is because Qatar Airways and those listed partner frequent flyer programs are all part of the oneworld alliance.
When booking, be sure to check the aircraft type carefully. For example, a Qantas search from Milan to Doha turns up two Boeing 787 flights on this particular day. But at second glance, the first one is operated by the older Boeing 787-8, while the second flight is the newer Boeing 787-9 with these factory-fresh seats (flip through the images below).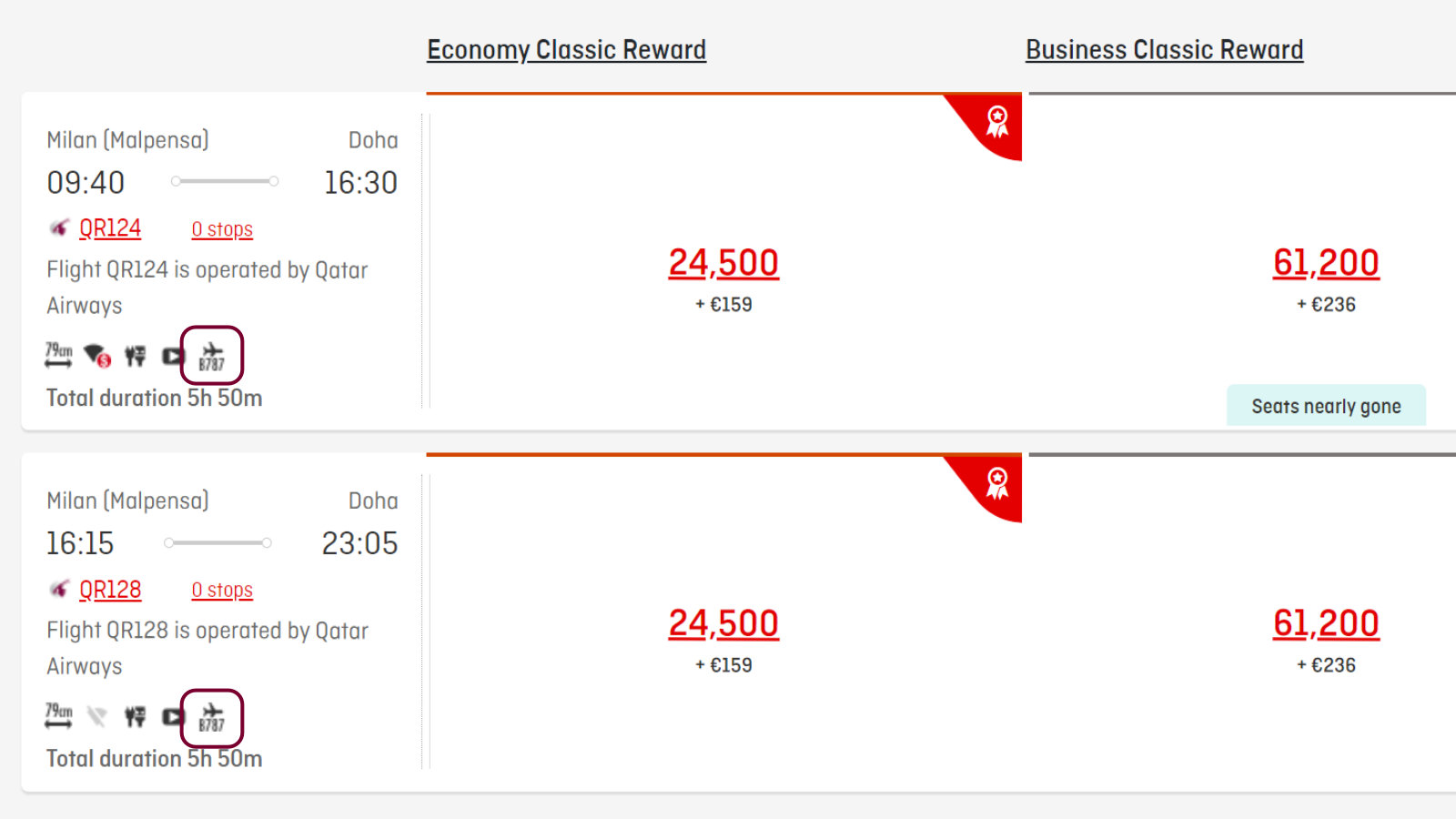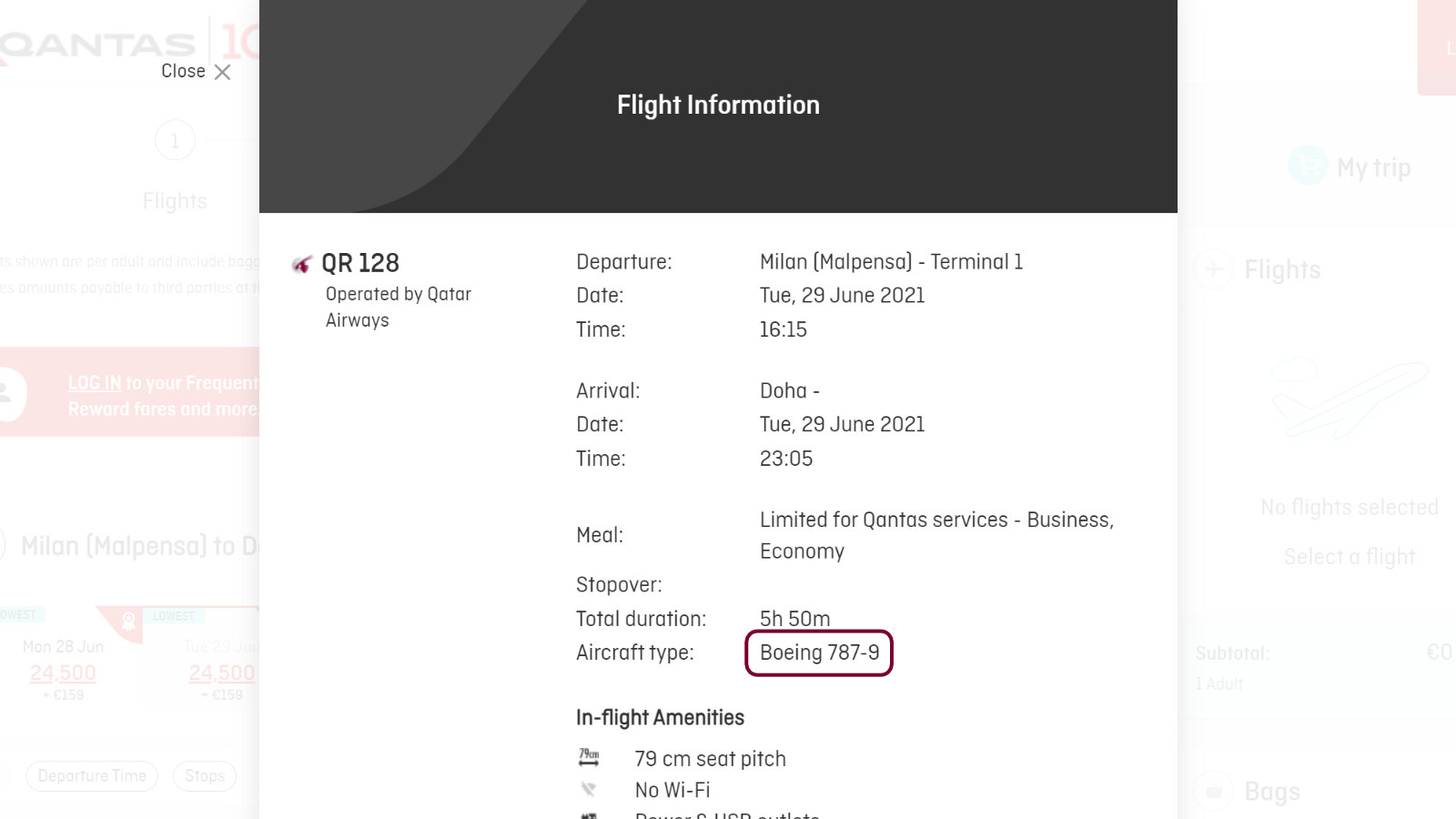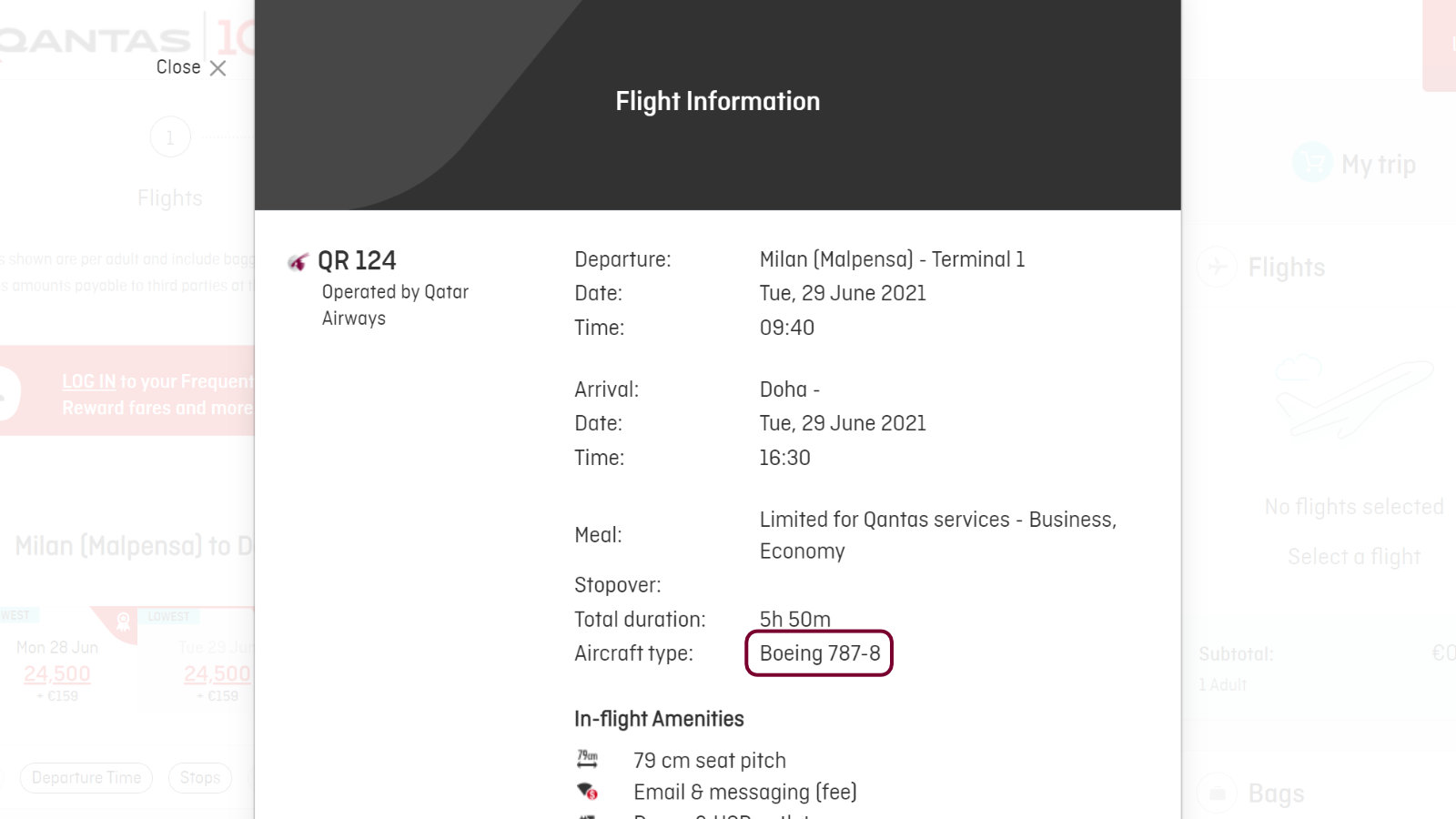 Using Qantas Points
Qantas Frequent Flyer passes on fuel surcharges and also requires more points than most other programs for reward flights. However, it's easier to earn Qantas Points in Australia.
| | | |
| --- | --- | --- |
| Route | Economy | Business |
| Milan-Doha | 24,500 pts + €159 | 61,200 pts + €236 |
| Kuala Lumpur-Doha | 30,200 pts + RM370 | 75,000 pts + RM1,063 |
Using Privilege Club miles
Privilege Club does not pass on fuel surcharges, so Qatar Airways flights have a low cash co-payment and relatively low mileage requirements. It's not easy getting your hands on Qmiles though, apart from buying them.
| | | |
| --- | --- | --- |
| Route | Economy | Business |
| Milan-Doha | 21,500 Qmiles + €28.73 | 43,000 Qmiles + €28.73 |
| Kuala Lumpur-Doha | 25,000 Qmiles + RM103 | 50,000 Qmiles + RM233 |
Using AAdvantage miles
AAdvantage miles are easy to buy on sale and Qatar Airways flights don't have fuel surcharges. This option is recommended. A quirk of its region charts means it's cheaper to fly Kuala Lumpur to Doha in Business Class than it is from Milan to Doha, despite the former flight being a few hours longer.
| | | |
| --- | --- | --- |
| Route | Economy | Business |
| Milan-Doha | 20,000 miles + US$34.45 | 42,500 miles + US$34.45 |
| Kuala Lumpur-Doha | 25,000 miles + US$24.55 | 40,000 miles + US$55.85 |
Using Executive Club Avios
Avios are generally great value for shorter flights, but these longer Qatar Airways routes demand increasingly higher amounts for longer journeys. Fuel surcharges are passed on for a hefty co-payment. Not recommended.
| | | |
| --- | --- | --- |
| Route | Economy | Business |
| Milan-Doha | 13,000 Avios + £135.50 | 38,750 Avios + £201.40 |
| Kuala Lumpur-Doha | 20,750 Avios + £63.60 | 62,000 Avios + £183 |
Summing up
Qatar Airways consistently ranks amongst the world's best airlines, and it's not hard to see why. It helps to have deep pockets, which means no expense is spared when designing and operating its flagship premium products. While the Dreamliner Qsuites aren't the same as the original Qsuites, it's still a solid offering that remains unmatched by many other airlines around the world.
Qatar Airways unveils Boeing 787-9 Business Class Qsuites
was last modified:
June 28th, 2021
by