Wyndham Rewards have shared a new promotion through which members and even new members, can earn Gold level membership instantly. This is something we haven't seen before, and the best part, expiry isn't till the end of 2021.
Current offer
Generally available after 5 nights stay, this current invitation allows you to get Gold level membership with Wyndham Rewards instantly.

How to get the offer:
Simply click this link
Follow the prompts, you will be redirected to a new page asking for a number
Check your emails, you will receive an email with your member number
Enter this into the space provided on the Wyndham Rewards website
And that's it – you're a Gold level member!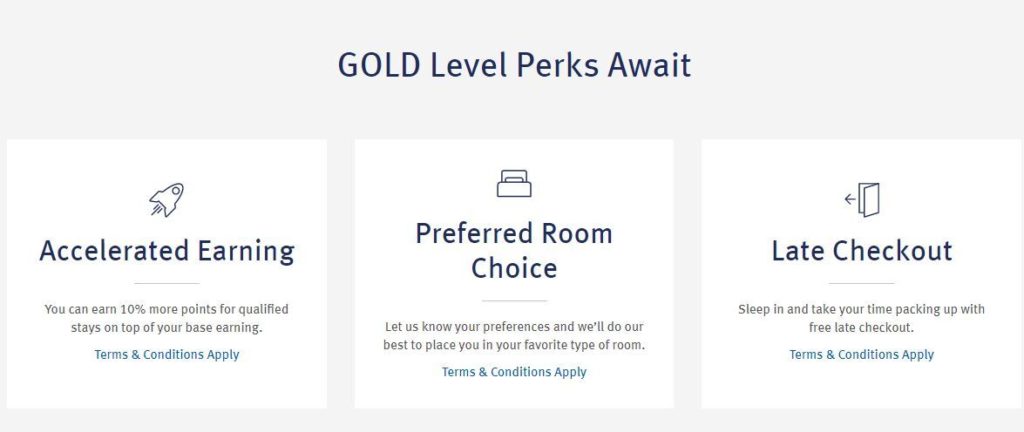 What does a Gold level membership include?
Dedicated Member Services: for more personalized service, your calls will be handled by a representative specific to your member level
Preferred Room Choice: let us know your preferences and we'll do our best to place you in your favourite type of room
Accelerated Earning: you can earn even more points on qualified stays once you reach GOLD level
Late Checkout: sleep in and take your time packing up with free late checkout – just ask
Scroll down to view other membership level benefits.
Why this offer is valuable
With travel plans in the air at the moment, the good news is, this offer looks to keep you at Gold level membership until the end of 2021. Wyndham announced earlier this year that they had extended all membership levels (status) globally through the end of 2021; which means you may not be able to use the benefits now, but hopefully in the coming months.
---
A guide to Wyndham Rewards point earning, frequent flyer partners and transfers
Wyndham Rewards points are a useful points currency to consider if you have an affinity for the Wyndham chain.
While quite US-centric, they do have a wide selection of hotels in Australia, New Zealand and other Asia-Pacific countries. Their rewards program is also very simple to understand and use.
In this guide, we cover key hotel locations, status benefits, how to earn frequent flyer points, and how to get the best value from earning and redeeming Wyndham points.
We have also updated this guide to cover the key changes to the program that were introduced at the start of April 2019. These changes mainly relate to point redemption rates.
Locations
Wyndham has a massive global reach of hotels, with over 8,000 properties under 21 brands. A full list of Asia-Pacific properties can be found here.
Over 25 of these properties are in Australia. Most are Ramadas and the largest amount can be found in coastal resort destinations such as the Gold Coast, Port Douglas and Coffs Harbour.
Status
Wyndham Rewards offer four status tiers in the following order (from lowest to highest): Blue, Gold, Platinum and Diamond. You can find more information about the status tiers and benefits on the Wyndham Rewards website.
It's worth it to join the program just to get free internet and a discount off the best available rate.
Blue
Requirement: just enrolment in the program
Complimentary Internet
Discount off best available rate
Rollover nights that never expire (e.g. if you stay one qualifying night each year for 5 years, you'll then receive Gold for your fifth year)
For every go fast, or go free award night you book in these destinations, you'll receive a $5 USD gift code providing savings on a local experience
Gold
Requirement: 5 nights
In addition to Blue benefits:
+10% points earning
Dedicated member services number
Choice of preferred room within same room category
Late check-out up to 2 hours after normal check-out time
For every go free award night you book, you'll receive a $10 USD gift code providing savings on a local experience; go fast award nights will see you receive a $5 USD gift code
Platinum
Requirement: 15 nights
In addition to Gold benefits:
+15% points earning
Early check-in up to two hours
3,000 bonus points
Avis and Budget car rental upgrade (US and Canada only)
Diamond
Requirement: 40 nights
In addition to Platinum benefits:
+20% points earning
Complimentary suite upgrade (where available at time of check-in), including on reward stays
Ability to gift Gold status to anyone, providing you have earned your status through stays
6,000 bonus points
One snack and/or beverage welcome amenity per stay
For every go free award night you book, you'll receive two free passes to a local experience; go fast award nights will see you receive a $10 USD gift code
As a bonus, any go free or go fast award night redemptions are included in your qualifying nights.
Ad – Scroll down to continue reading.Minimum spend, terms & conditions apply.
Status Match
Wyndham Rewards will match your status from other hotel loyalty programs so you can enjoy the perks of Gold, Platinum or Diamond status.
Intercontinental Ambassador members and American Express Platinum cardholders can use their status perks to get a straight match to Diamond for 90 days.
All you would then need is 14 qualifying nights— instead of the standard 40 —to keep your Diamond status until December in the following calendar year.
Earning points with Wyndham Rewards or with airline programs
When you join, you'll automatically be earning Wyndham Rewards points, though you do have the option to earn frequent flyer points instead. You can earn points for each stay with up to 3 rooms booked.
Your earning preference can be changed in your member profile, look out for this section:
This can be changed as often as you like, before any stay.
We would recommend that if you've only got a one-off stay at a Wyndham property, you opt to earn frequent flyer points instead.
However, if you think you'll stay regularly, there are often great bonus point promotions that let you earn a heap of Wyndham Rewards points. These can then either be used for free nights or transferred to select frequent flyer programs at better rates.
You'll earn Wyndham Rewards points on your stay based on how much you spend but with a guaranteed minimum 1,000 points per stay. For example, you'll either earn 10 points per $1 USD spent, or 1,000 points, whichever is more. Any promotional points earned will be added on top.
Points Expiry
Any accrued points will be forfeited if you have no account activity for a period of 18 consecutive months; otherwise, points will expire after four years.
Retrospective points
You can earn Wyndham Rewards points on stays that have occurred within 30 days before enrolling in the program, simply by contacting Wyndham Rewards within 12 months of the date of enrollment. You'll be asked to provide your hotel receipt and Wyndham Rewards member number, dates of applicable stay, and the name and address of the hotel.
Frequent flyer partners
Although Wyndham has a reasonable footprint in our region, there are unfortunately no local frequent flyer points partners. However, this doesn't mean you can't get value out of the programs that they are partnered with, especially if you frequently purchase miles with the likes of American Airlines AAdvantage, Avianca LifeMiles, and United MileagePlus.
If you opt to earn frequent flyer points for each stay, you'll receive the following:
Blue and Gold members: 1 mile for every $1 USD spent
Platinum and Diamond members: 2 miles for every $1 USD spent
You can see the Wyndham Rewards Travel Partner Currency page for more information, including a wider range of partners than those listed above.
Note that if you stay at any Super 8 properties in China or TRYP by Wyndham properties, you'll need to contact Wyndham to have your frequent flyer points credited.
Buying points
Buying Wyndham Rewards points can represent good value for topping up balances for specific redemptions, including the co-pay go fast redemption option, which we explore more below.
You can purchase a maximum of 10,000 points per calendar year, for a cost of $130 USD.
Redeeming points
There are three key redemption options that travellers can take advantage of. All award nights can be booked for others also, and not just yourself.
Go free award nights
A go free award is a redemption option that allows you to redeem between 7,500–30,000 Wyndham Rewards points for a free night at a participating hotel, or 15,000–30,000 points per bedroom at a participating club resort or vacation rental (e.g. Caesars properties, Landal GreenParks in Europe).
Obviously the aim is to use points for a stay at an aspirational property that may have more expensive rates, such as the Ramada Resort Port Vila in Vanuatu, where a standard room can cost at least $285 per night.
Remember that points bookings come with booking flexibility and free refunds, so this should be factored into any price comparisons that you do. There are also no blackout dates at any properties.
Go fast award nights
If you don't have at least 15,000 points to redeem for a free night, you can choose to redeem 1,500 points + cash instead.
These awards can also be combined with go free award nights if you have the minimum required for that redemption type.
If the difference between the normal rate and the go fast rate is more than $39 USD, then you could save by purchasing points specifically to redeem for a go fast award night.
Again, these award nights come with booking flexibility and free refunds, so factor this in when comparing rates.
Transfer points to frequent flyer programs
You can redeem 6,000 Wyndham Rewards points for 1,200 miles with programs like AAdvantage, Avianca LifeMiles, and United MileagePlus.
See this page for more information, including a wider range of partners than those listed above.
You should expect it to take at least 6-8 weeks for points to make it into your frequent flyer account.
Current offers
You can find the full list of Wyndham Rewards offers here.
Summing up
If you haven't already, start by joining the program for free here.
I personally think that the best value to be had from this program is saving up your Wyndham Rewards points for stays, particularly for use at more aspirational properties.
While the fixed-rate 15,000 point redemptions are gone, most properties have either stayed the same or dropped in price. The increase to 30,000 points for some more expensive properties actually seems quite fair to me, especially compared to the rates offered by other programmes.
Wyndham also continues to offer great points promotions that allow you to earn points very quickly and have a very generous ongoing status match promotion.
Unfortunately, Wyndham doesn't partner with any local frequent flyer programs, so you're largely restricted to transferring your points to US programs. However, this may be helpful if you're trying to save on the number of miles you'd otherwise need to purchase for redemption.
And, as always, keep an eye on your inbox and the Point Hacks website for current offers and bonus points promotions from Wyndham Rewards and other loyalty programs.
All images courtesy of Wyndham and associated brands.
Free Wyndham Rewards Gold Level Membership: extended expiry to 2021
was last modified:
June 17th, 2020
by