Point Hacks Sponsorship Opportunities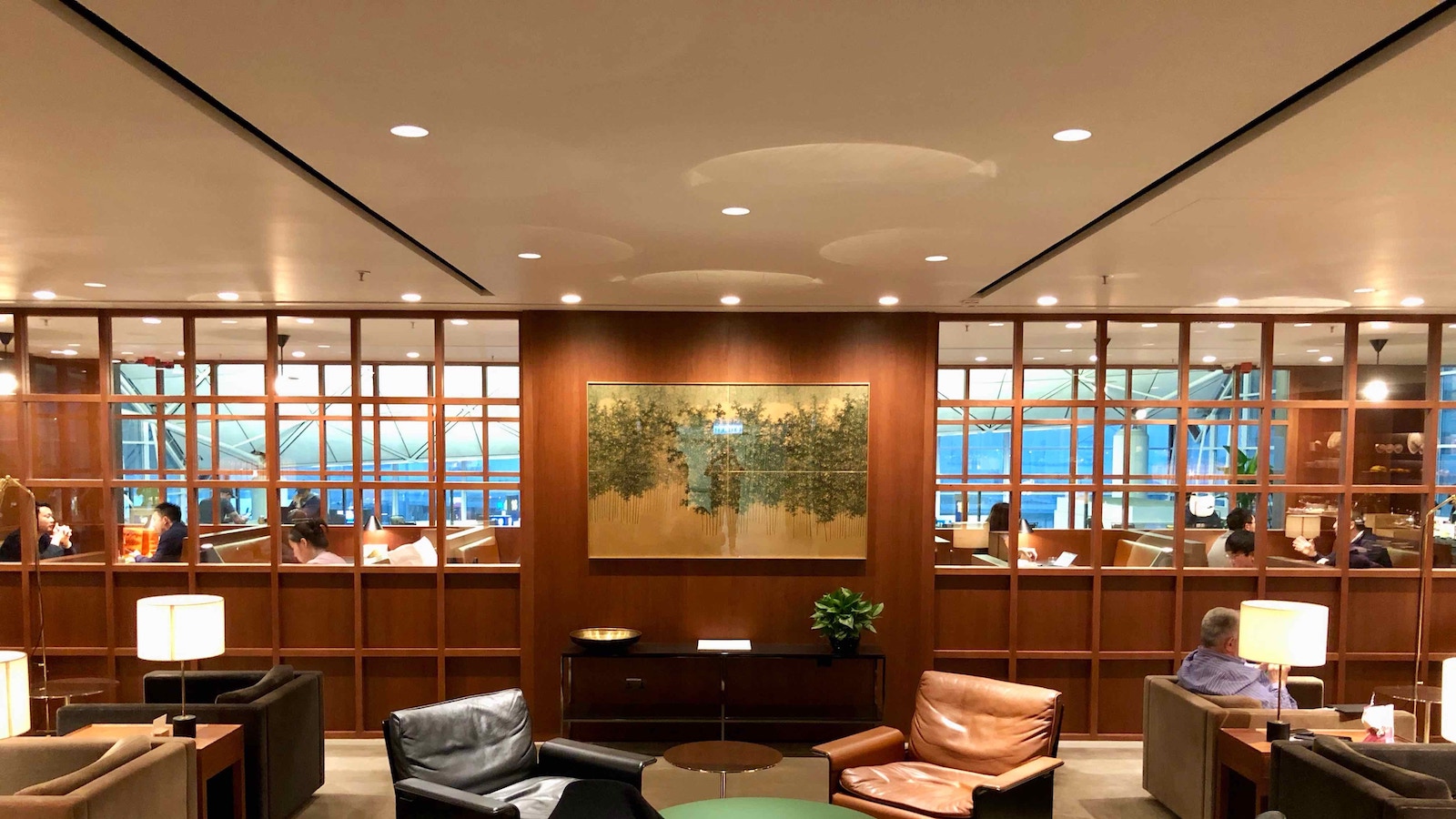 Introduction to Point Hacks
We publish a range of news, guides and travel reviews, all with a common purpose – helping the reader on how to earn more loyalty program (airline, credit card and hotel) points, and get the most value of out of their points when it comes time to use them.
Point Hacks' focus is the 'interested points beginner' – those who understand a little about the value in rewards points, and want help in earning more and using them well. We also try to help those who have deep loyalty program knowledge and connect them to great offers, products and services to help them earn more points. The content is aimed at Australians, with specific coverage of the most relevant credit card, airline and other loyalty programs to this market.
Often rewards points are best value when used for aspirational experiences – so Point Hacks covers the most impactful and interesting ways that points-lovers might want to use their points, such as First and Business Class airline travel, exclusive experiences or high-end hotel room redemptions.
The Point Hacks Audience
Monthly Sessions: ~300,000+
Monthly Users: ~200,000+
Monthly Page Views: ~500,000+
Repeat Visits: ~50%
Australian audience: 87%

---
Sponsorship Opportunities
Fortnightly Sponsorships
Point Hacks can work on both a sponsorship and performance basis for a range of finance partners. A range of custom placements can drive additional performance based activity for your product, and pricing on finance sponsorships of this nature are available on direct discussion.
Specifications:
We write the copy to suit the product or service on offer and submit for approval.
Client-supplied pixel tracking can be included if desired.
All link through to Point Hacks content such as an existing credit card guide, which then drives click through and conversion
Header

This unit is the most prominent placement available to drive action on the site. It's used to explain and promote a specific offer that's particularly noteworthy to the audience. 'Noteworthiness' is determined editorially, and this unit drives directly to editorial content explaining the offer in more detail – a guide or article on the product and offer.
Sidebar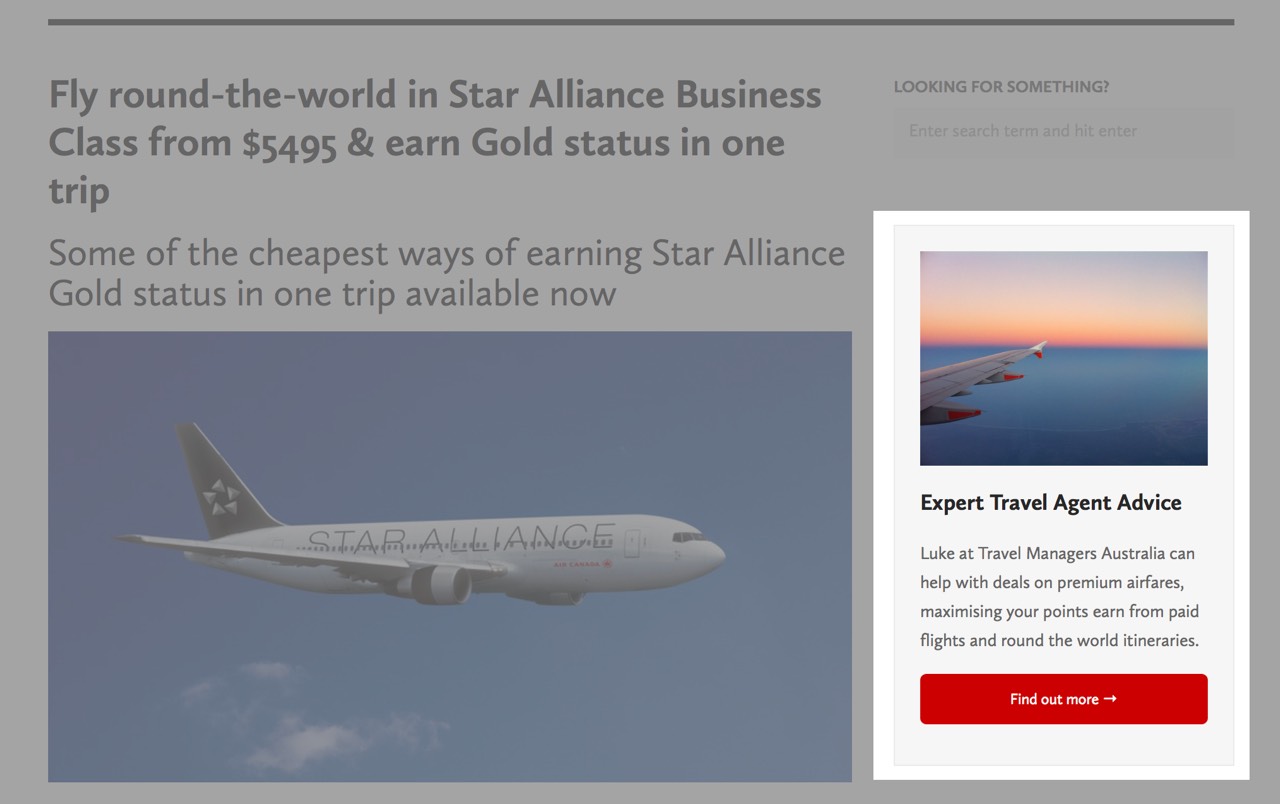 This unit appears at the top of the right hand column on around 70% of trafficked pages and adds offer visibility across the most read content.
Email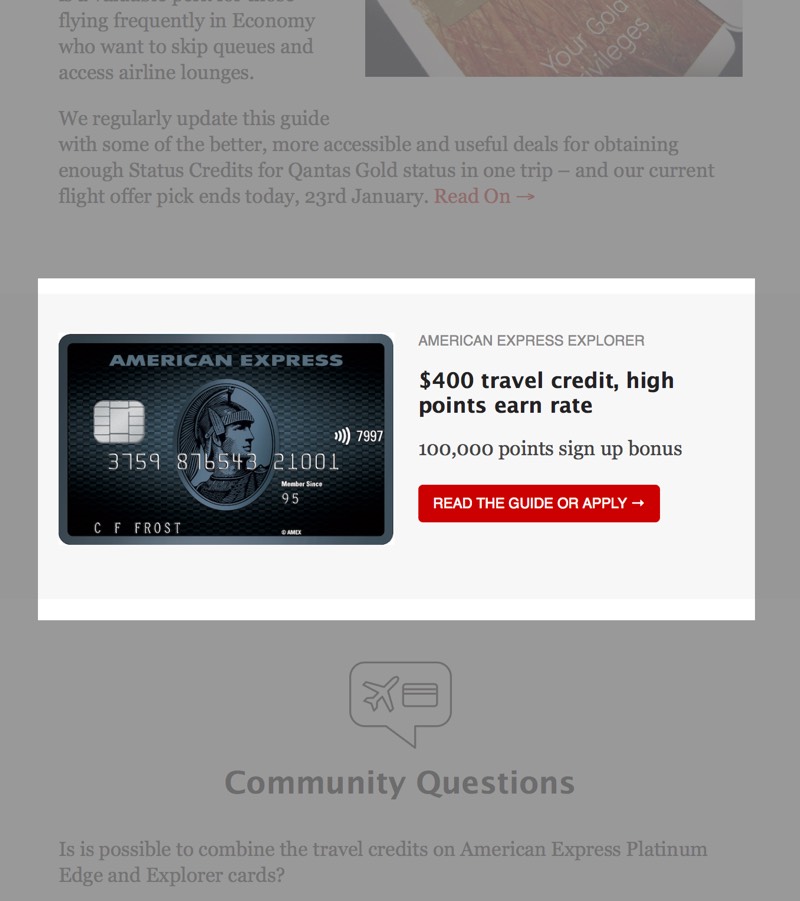 Emails are sent weekly to 15,000+ recipients and open rates >50%.
---
Sponsored Content
Sponsorships hinge on creating the right content about the right product or service for the Point Hacks audience. If we get that right, sponsor supported content is as good as editorial content.
Sponsored content will receive:
Repeated exposure on social media
Inclusion on email newsletters
Homepage and sitewide promotion
Ongoing awareness driven through evergreen, search-friendly content
The independent opinion of Point Hacks is important, yet there are smart, transparent ways to incorporate sponsored content in blogs that deliver value for both the sponsor and readers. A sponsored post (or series), product review, competition, or how-to guide can all inform and engage. Scope and cost of each campaign is tailored in terms of execution and cost to the client's objectives.
---
The Audience
Residents of the state capitals make up the majority of website traffic: Sydney at 38%, Melbourne 27%, Brisbane 12%, Perth 10%, Adelaide 5% and Canberra 3% of total site visits.
~55% of visits are on desktop, 35% mobile, and 10% tablet. Point Hacks is built and developed 'responsively' with all device users being treated as first class citizens.

History
Started in 2011, Point Hacks came about as a way to share my success in using points and loyalty programs on a round the world trip for myself, partner and newborn daughter. Travelling to the USA, UK, Germany, Singapore and back to Australia, we managed to secure flights in Business Class and Premium Economy for less than the cost of an Economy ticket for the same itinerary. I had been following the frequent flyer 'scene' in the US for a while, and realised that there wasn't a high-quality, comprehensive site offering information for Australians.
Several years and many trips later, the site's content and audience have grown, while maintaining focus on the original goal – to offer information for Australians on the best ways to earn and use travel-related loyalty program points.
Technical Approach
I continuously seek to optimise the site for user speed and convenience – it has been fully 'responsive' (an adaptable design from mobile, tablet up to desktop size browsers) since launch. This approach is taken for any partnership opportunities.
Interested?
Thanks for getting this far! Email us directly (at [email protected]) to start a conversation on the right pricing and timing for your campaign.