In Part 1 of this series, I took a look at the two methods of transferring your Citi Rewards points to Velocity Points, including details about the transfer rates.
In this part, I detail some things to consider before making the transfer, including promotional deals that may make one method more valuable than the other, as well as running through a specific example.
Things to consider before choosing a particular method of transfer
Part 1 showed that in majority of occasions, it is more valuable to transfer your Citi Rewards points directly to Velocity rather than going through flybuys. However, there are times when this may not be the case, especially during bonus points promotional periods.
I will take a look at some of the recent promotions, and the impact this has on your choice of method.
15+% bonus Velocity Points transfers: apply to Citi and flybuys transfers
Velocity is known to offer bonus points transfer offers, generally in May and November each year. Given that these bonuses generally include both Citi and flybuys, and apply equally to both, there is no impact on the default relationship shown in Part 1.
Verdict: Better to transfer directly to Velocity for all Citi cardholders.
20% bonus Velocity Points transfers: applies only to flybuys transfers
There have been occasions where Citi has not participated in the Velocity bonus transfer, or flybuys has broken the six-monthly offer cycle and gone it alone with Velocity for an exclusive 20% bonus. In this case, the transfer rates become:
| | Direct to Velocity | To flybuys | To Velocity via flybuys |
| --- | --- | --- | --- |
| Citi Premier & Prestige | 0.5 | 1 | 0.522 |
| Citi Platinum | 0.4 | 0.75 | 0.392 |
The above now shows that it is more advantageous to transfer via flybuys for Signature and Prestige cardholders but not for Platinum members.
Verdict: Transfer through flybuys for Signature/Prestige holders, and directly to Velocity for Platinum members.
Citi Booster Bonus
Recent Velocity promotions have included a Citi Booster promotion, which added a bonus 20% Velocity Points to transfers made from Citi Rewards directly to Velocity Frequent Flyer. This scenario is clear, as transfers directly to Velocity under no promotion were more valuable to all cardholders than via flybuys, and this 20% Citi Booster only applies to direct Velocity transfers, making to value gap between the two methods even more pronounced.
Here is an example of the Citi Booster promotional rates from June 2018: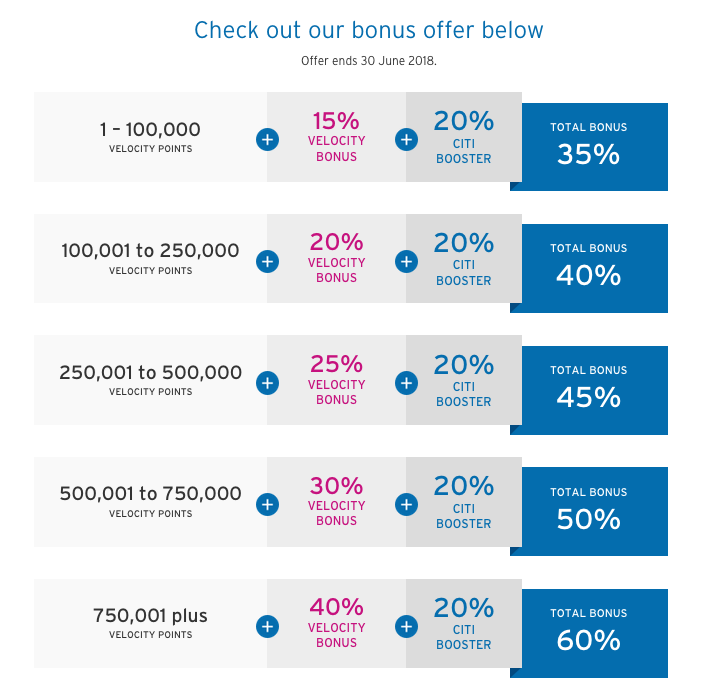 Verdict: Better to transfer directly to Velocity for all Citi cardholders
An example
If you are a Citi Premier and Prestige cardholder with 100,000 Citi Rewards points to transfer, you would normally receive 50,000 Velocity Points.
However, if you were to transfer them during a 15 or 20% Velocity bonus promotion, you will find yourself earning either 57,500 or 60,000 Velocity Points respectively. Throw in a 20% Citi Booster promotion on top, and that becomes 67,500 Velocity Points.
And if you were to transfer them during a 20% flybuys only promotion, your 100,000 Citi Rewards points transferred via flybuys to Velocity will become 52,200 Velocity Points.
Summing up
Which method of transfer between Citi Rewards and Velocity Frequent represents the better value is determined by a number of factors, including which Citi card you hold, whether a bonus point promotion is running at the time you wish to make your transfer and, if so, what type of promotion it is.
If you are not urgently requiring Velocity Points, it will always be best to hold out for a bonus points promotion. When one does come, however, make sure to understand how the promotion alters the overall effective Velocity Point transfer that you receive to determine which method provides the greatest points.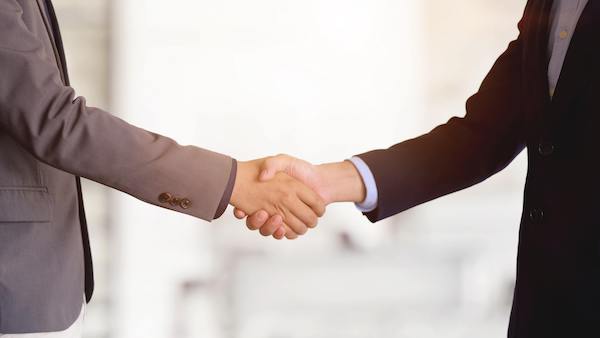 This content contains affiliate links from which Point Hacks may earn commissions from transactions generated from new customers, bookings and general enquiries
Why Citi cardholders seeking Velocity Points should not transfer to flybuys this month (Part 2)
was last modified:
August 31st, 2020
by
Why Citi cardholders seeking Velocity Points should not transfer to flybuys this month (Part 2)
was last modified:
August 31st, 2020
by