Qantas' health arm offers bonus points for being active, as well as earning opportunities for taking out a health, life, income protection or life insurance policy.
Offer 1: Get 150 Qantas Points for downloading the Qantas Assure app and connecting a fitness device
This offer earns you 150 bonus Qantas Points for downloading the Qantas Assure App for iOS or Android, logging in using your Qantas Frequent Flyer membership number and connecting a device.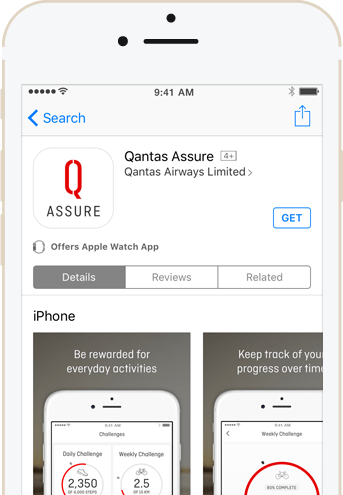 There does not seem to be an expiry date on this part of the offer.
As opposed to having to take out an insurance policy to regularly earn points through the Wellness Program, you do not need to do so to earn points from these two offers. The regular rules are explained later in this guide.
Offer 2: Get 600 Qantas Points for walking 8,000 steps each day for the rest of October
Qantas is encouraging people to beat the Australian average of 7,400 steps a day by awarding 30 Qantas Points for each day they walk 8,000 steps or more.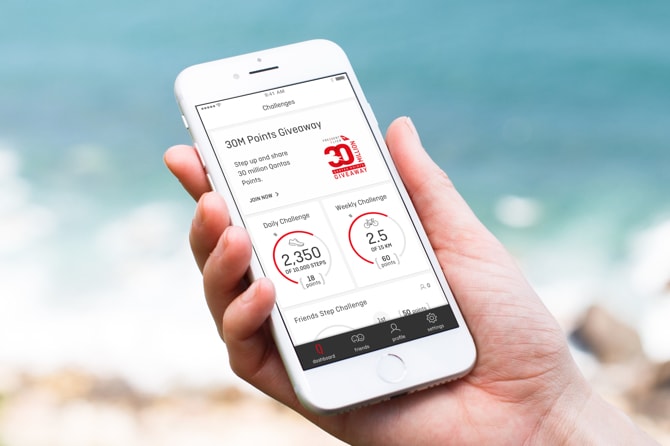 Apologies for publishing this almost halfway through October but if you download the app and connect your device starting today (12 October) and reach the target each day from now until the end of the month, you'll earn 30 Points x 20 days = 600 Qantas Points.
Check out John's comment in the Comments section for a potential way to increase your steps each day.
---
Guide to earning Qantas Points from Qantas Assure
There are four Qantas Assure products:
Health Insurance
Life Insurance
Income Protection Insurance
Travel Insurance
as well as a Wellness Program (powered by an app) that incentivises policyholders with points for being more active.
Note that nothing in this guide should be read as a recommendation for Qantas Assure's insurance products for you. You should read their PDS in detail and assess whether the cover and associated costs are appropriate for your personal circumstances.
Our commentary is around the ability to earn Qantas Points and whether their products are easily understood (hint, they aren't). It is not easy to make general comments on whether this is a good insurance policy, so that's not an area we'll be touching on.
Health, Life, Income Protection and Travel Insurance
Points can be earned from Qantas Assure by signing up to an insurance policy. 1 Qantas Point per $ spent on your premium is what you will earn, although there are often double points offers which are run, like during October 2017.
There is a cap on points depending on the type of insurance policy you take out, and that cap applies to both the points earned on the premium as well as the associated points earned through the Wellness program.
For Health Insurance policies, here are the caps from the terms and conditions, with a maximum of 20,000 per year for the top cover:
The total number of Qantas Points that you can earn for each Travel Product (underwritten by QBE) is 5,000. You'll earn an additional 1,000 points if you purchase an Annual Multi Trip Policy but note that no points are earned on Cancellation or Baggage cover.
This is probably (but we don't know for sure having not compared) the same set of Travel Insurance policies that were previously available from Qantas and QBE and rebranded under the Assure brand.
The maximum number of points that can be earned with a Qantas Assure Life product depends on the premium:
if the monthly premium is less than $160, 10,000 points; or
if the monthly premium is $160 or more, 20,000 points.
Paying with points
There is an option to pay your insurance premium with your existing Qantas Points.
By doing a quick mock sign-up, I found that a Family policy, with basic hospital and extras cover costs just over $200, or 30,000 points per month. That's not great points value in my book, and I can't imagine anyone actually going down that route.
If you're signing up through this portal, then earning points is important to you, and that sort of redemption value isn't doing you any favours.
Wellness Program
Big caveat: you can usually only earn points through the Wellness Program if you take out a Qantas Assure Health Insurance, Life Protect or Qantas Assure Annual Multi-Trip Travel Insurance Policy. However, there is a Qantas Assure Wellness Rewards 28-Day Trial during which you can earn points without holding a policy.
The Wellness Program is the interesting part of Qantas Assure. When Qantas launched the Assure business, they stated that around a quarter of Australians currently track their fitness through wearable technology and they are obviously trying to appeal to that growing market.
Using an (iOS or Android) Qantas Assure app linked to HealthKit data on your iOS device, Qantas Assure will see how many steps you take each day and reward you for meeting certain step goals and taking part and winning certain challenges.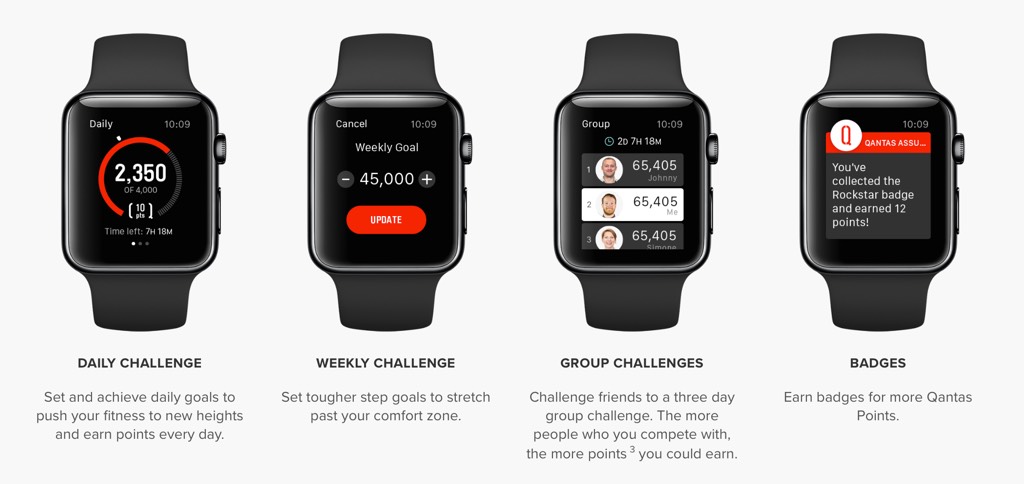 Currently, the app earns points as follows: from "everyday activities like walking, running, doing the grocery shopping and mowing the lawn … [and] … is exploring how members can be rewarded for other activities, such as swimming, cycling and yoga."
The 'step count only' aspect of fitness tracking is a limited way to assess activity, and Assure has also added the ability to track cycling activity too.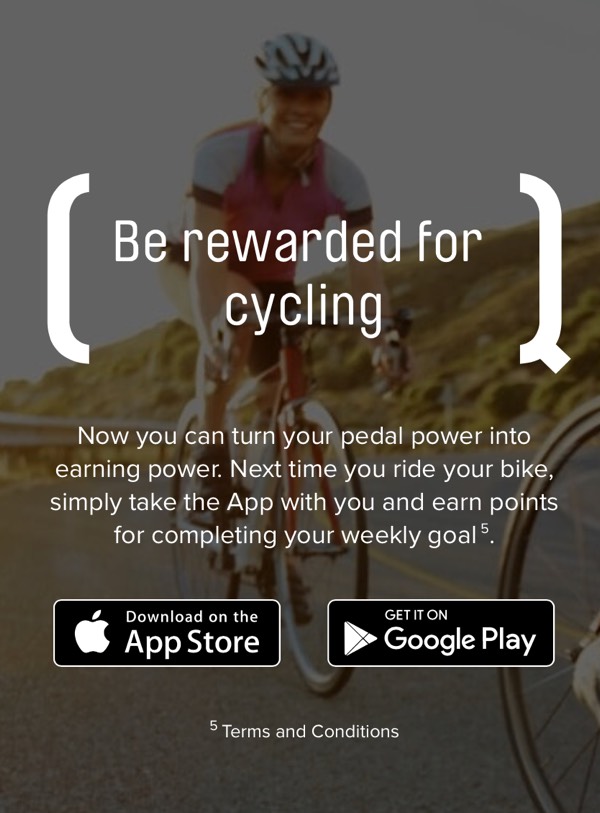 There are then challenges that can be chosen, with points earn potential increasing with the level of activity.
How many points can I earn with the app?
In varying parts of the site, as well as most Terms and Conditions sections, you are also told that you can "earn up to 20,000 Qantas Points through the Qantas Assure App per year." That cap is a theoretical maximum but it did increase from 15,000 to 20,000 in 2017. From the Assure terms:
You must participate in the highest daily and weekly challenges available through the Qantas Assure App and win every group challenge.
So there are two things going on here which will earn you points: daily and weekly challenges, which are personal to you, and group challenges, where you compete amongst friends.
From what we've seen, it looks like the highest challenges are 20,000 steps per day, and 150,000 steps per week. Frankly, you'd have to be a bit of a superhero or professional walker to hit those goals consistently, so the points most people could earn are likely to be substantially less.
You can download and test out the app before committing to the insurance product, and 'earn' up to 3,000 'locked' points by using the app to track your fitness.
If you then decide to purchase an eligible insurance product, those points will then be unlocked into your Qantas Frequent Flyer account.
In short, the app won't do anything for you points-wise unless you're committing to taking out or moving your insurance to Qantas. That's apart from the 28-day trial period.
Summing up
If you're one of the many already tracking your fitness, and your technology meets the requirements, then Qantas Assure could be worth looking at, even just to give it a test run with the locked points option (up to 3,000 points).
As far as whether an insurance policy is worth it – well, that's up to you. Obviously, with something as important as insurance, people shouldn't consider changing for a few bonus points – the coverage needs to be right for you.
Looking at these the app, you can see you'll have to be really on top of your game to keep challenging other users and picking up as many points as possible through all aspects of the app.
This also begs the question: people who are already digitally active with health-tracking apps and services are probably deeply embedded, in terms of data and habits, with other services.
Sure, on iOS HealthKit does make your data somewhat portable between services but if you already have challenges and friendship groups on fitbit or elsewhere, then having a whole other set of challenges to deal with via Qantas Assure to earn points with. The points payback could be too low to make this worthwhile but it is dependent on your personal situation.
Get 150 Qantas Points for connecting a fitness device to the Qantas Assure app + 600 extra points for reaching a walking target this month
was last modified:
October 13th, 2017
by