When it comes to flying across the Pacific in style, it's hard to top Qantas Airbus A380 First. Sure, there are no closing privacy doors – nor any inflight showers. But when you're taking Qantas' overnight flights from Los Angeles to Sydney, sleep is usually front of mind. And in this cabin, it's the main thing to look forward to.
Join me as I stretch out in row one aboard the longest Airbus A380 flight in Qantas' network. That is, until the superjumbo also returns to LA-Melbourne, which nudges LA-Sydney into second place.
Check-in and boarding
For today's journey, I'm arriving particularly early for QF12. That's because I've booked a separate flight over from New York, which has to be on a different ticket. Knowing I won't be able to tag my bag from New York through to Australia, I don't want to be rushed. Or for that matter, delayed out of JFK, which could risk missing this flight home.
I play things very safe, arriving from The Big Apple at 2:45 pm on Delta. By the time I get off the plane, pick up my checked bag and make my way to the Tom Bradley International Terminal for Qantas check-in, it's about 3:30 pm. My flight in Qantas Airbus A380 First isn't set to leave until 11:40 pm. See, I told you – very safe.
But here's a tip. 'Officially', the Qantas website advises that check-in only opens three hours before each Qantas flight from LAX. That'd be 8:40 pm, for QF12. But actually, Qantas operates an early check-in facility here. When I stroll past at 3:30 pm, it's open – and soon enough, my suitcase is tagged and on its way.
In fact, staff here go one better. I have LA-Sydney booked on one ticket, and an onward Sydney-Brisbane flight booked on a separate itinerary. With a few clicks of the keyboard, my flights are linked up. This also applies to my bag, now labelled as LAX-SYD-BNE. I still have to pick it up in Sydney to clear Customs, but it saves some hassle after those formalities. Once across the Australian border, I can just drop my bag off at flight connections, rather than lining up to check in again.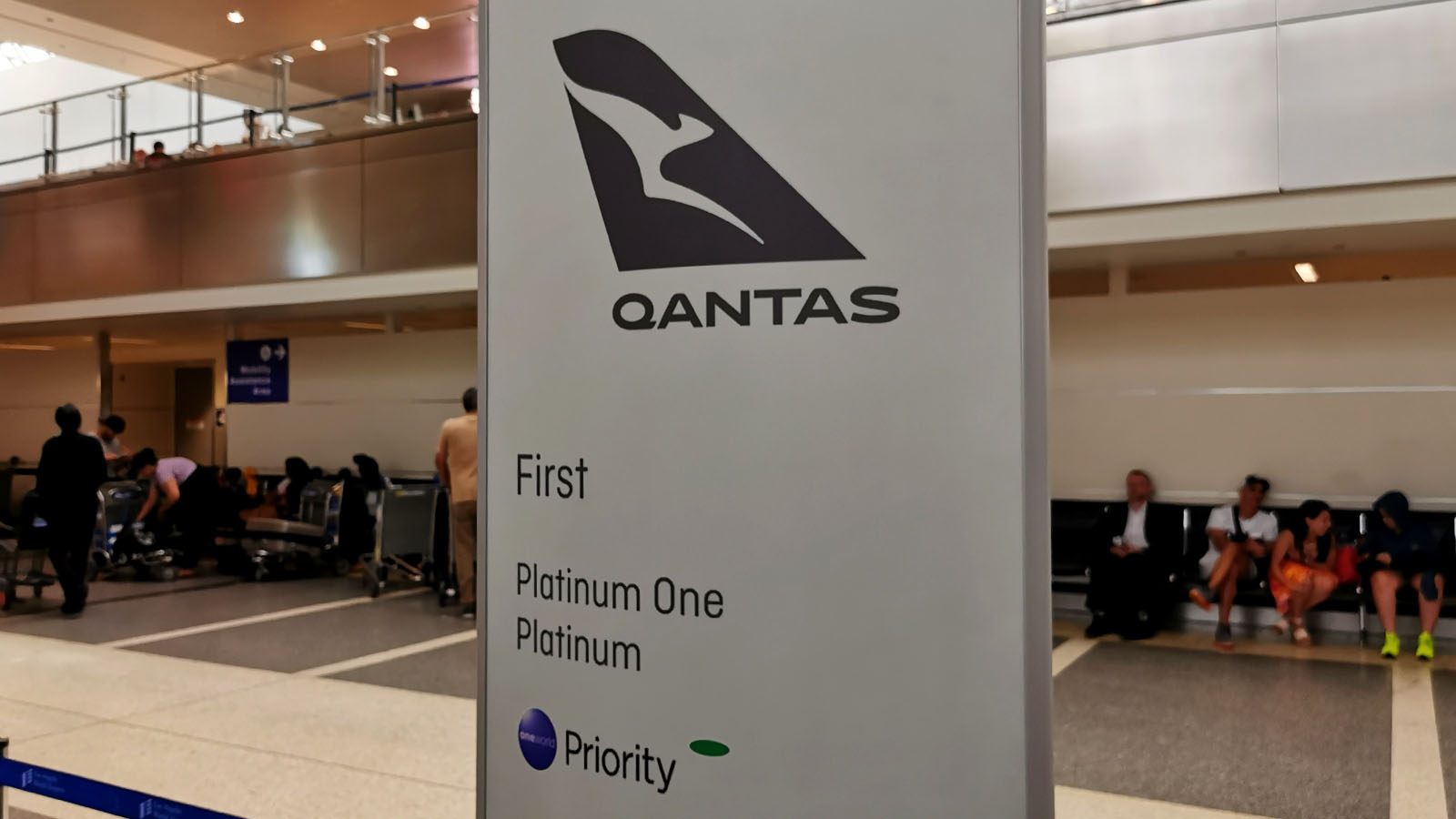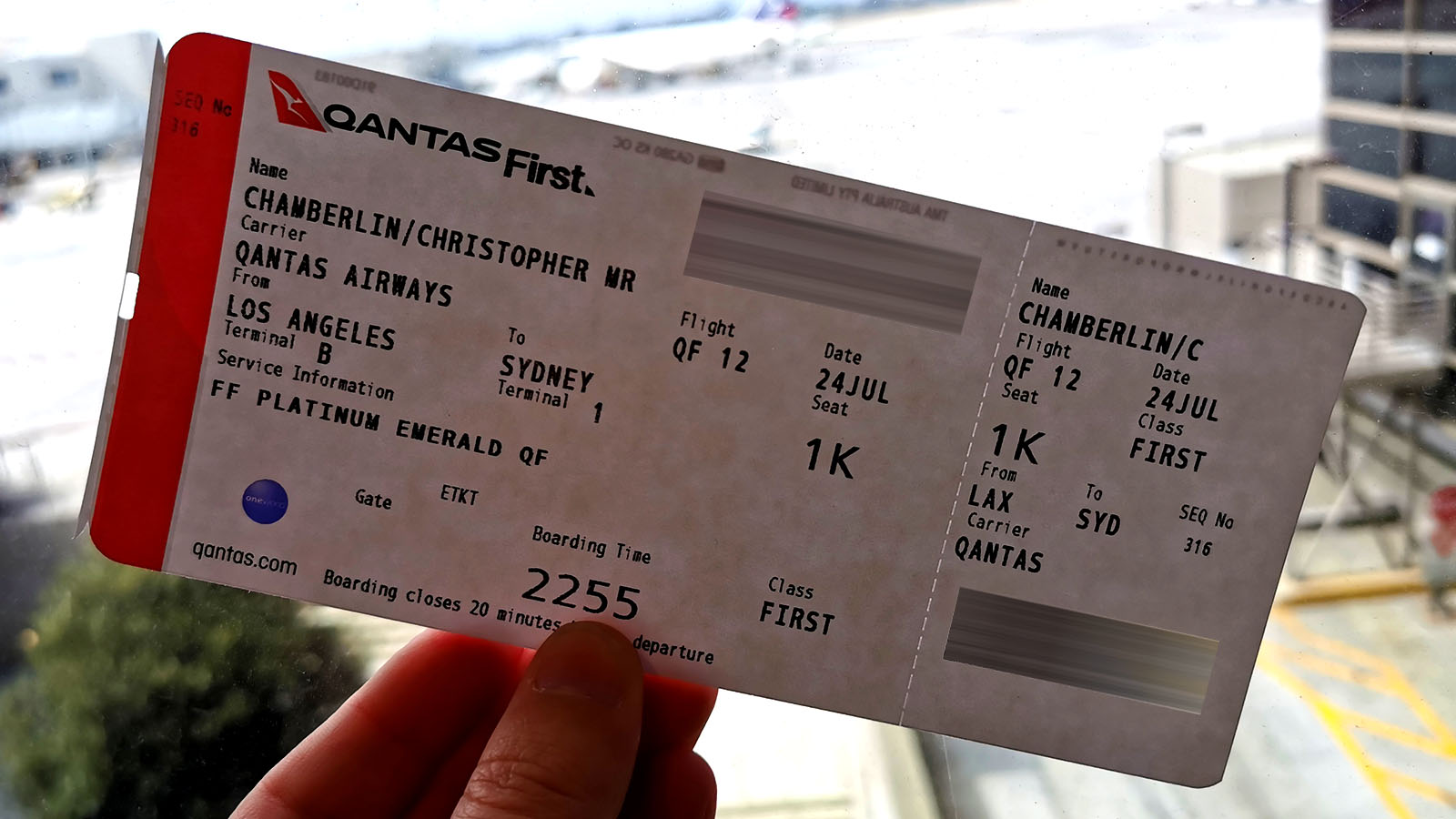 Back in LA, boarding is easy – and begins with Qantas First. On the A380, Qantas First also gets a dedicated aerobridge. There's even somebody standing guard at the entrance to that aerobridge, to make sure only eligible passengers enter the cabin. As privacy is one of the big amenities when flying First Class, it's a nice touch.
Lounging in Los Angeles
With the check-in formalities sorted, flying Qantas Airbus A380 First Class from Los Angeles comes with a great pre-flight perk. That's access to the dedicated Qantas Los Angeles International First Lounge. Without a First Class boarding pass, it's a privilege normally reserved only for Platinum-grade frequent flyers.
I'm at the airport many hours before QF12, but use much of that extra time to attend meetings in another lounge first. I amble over to the Qantas lounge at more of a 'normal' time – a couple of hours before the flight.
The highlight is the dining room, with an à la carte menu and table service. I know there'll be supper on the flight, so I treat this as more of a late lunch. It's impossible to go past the salt and pepper squid to start. For the main, my top pick remains the seared striped bass. It comes with a small herb salad, but adding a wild rocket and parmesan salad makes for a little more variety.
Of course, there's Champagne served too. Mumm Cordon Rouge Brut (NV) is the default pour, but if you know to ask, there's also Taittinger (Brut Reserve NV). Actually, I find it odd that Champagne isn't listed on the menu – you have to know to ask for bubbles in the first place. It's also a tad strange that even a seat in Qantas First doesn't grant access to the 'reserved' dining room in this lounge. As above, First Class is all about privacy – so you'd think that'd just be standard, especially when the menu in both dining areas is the same.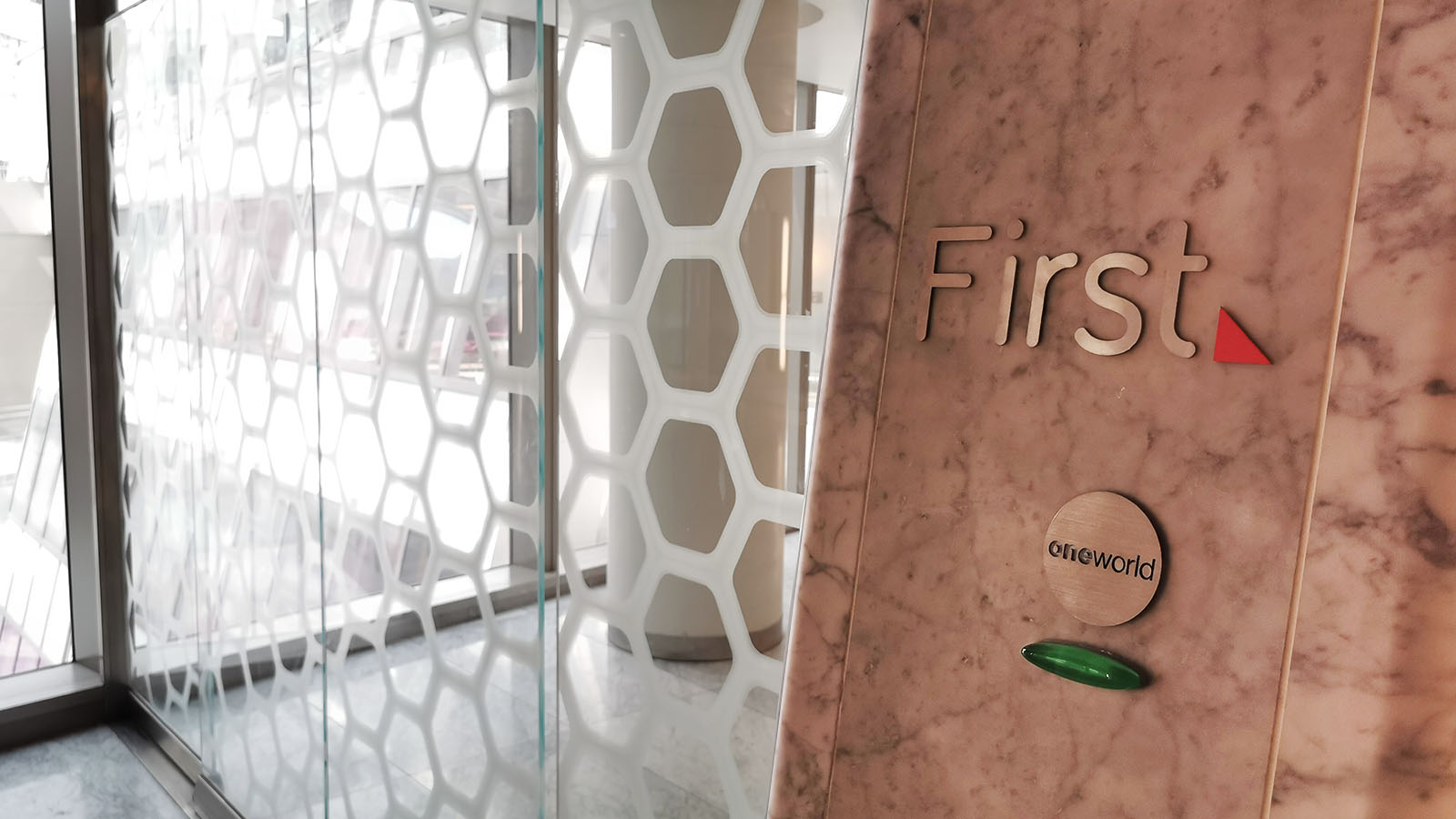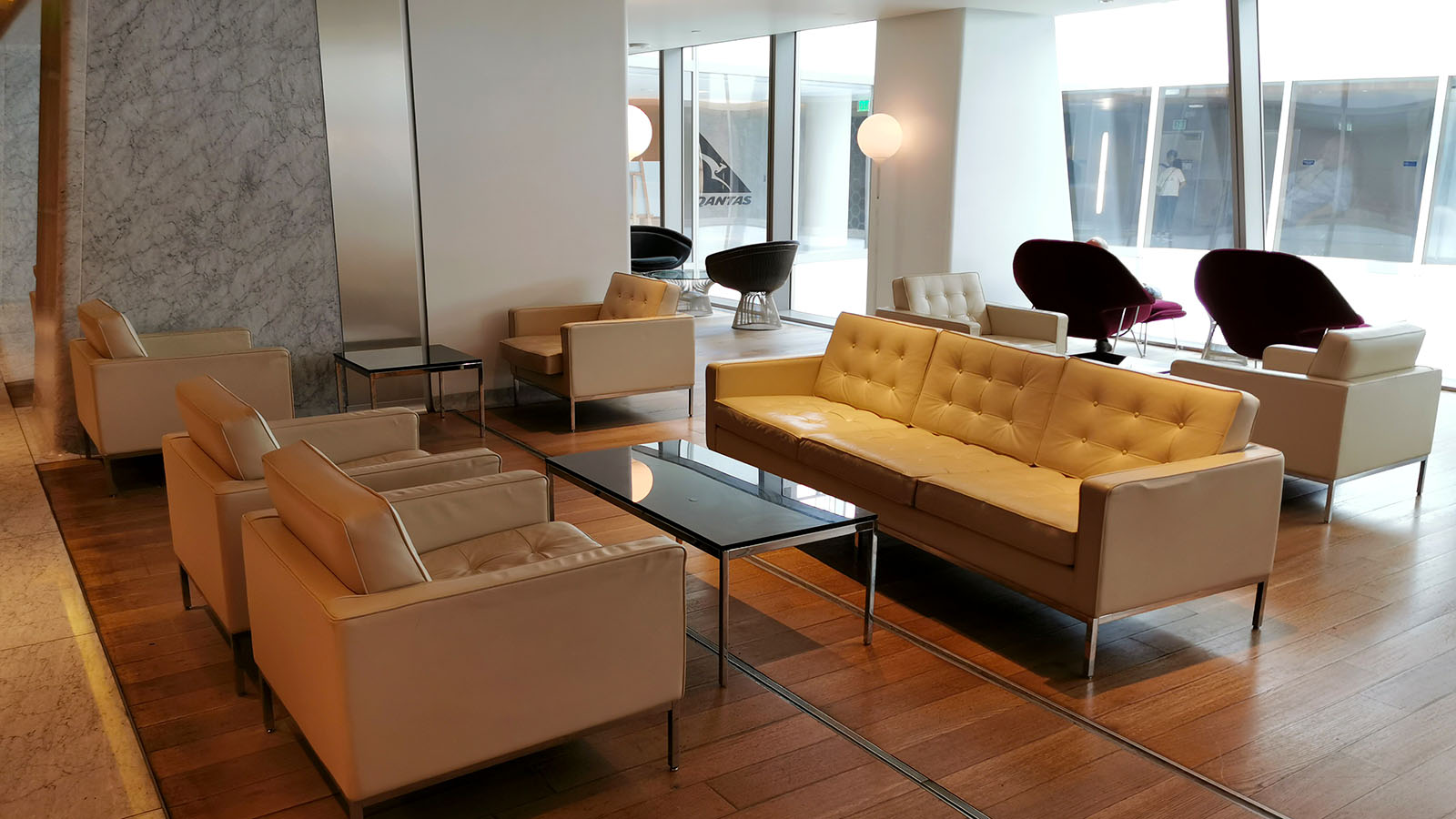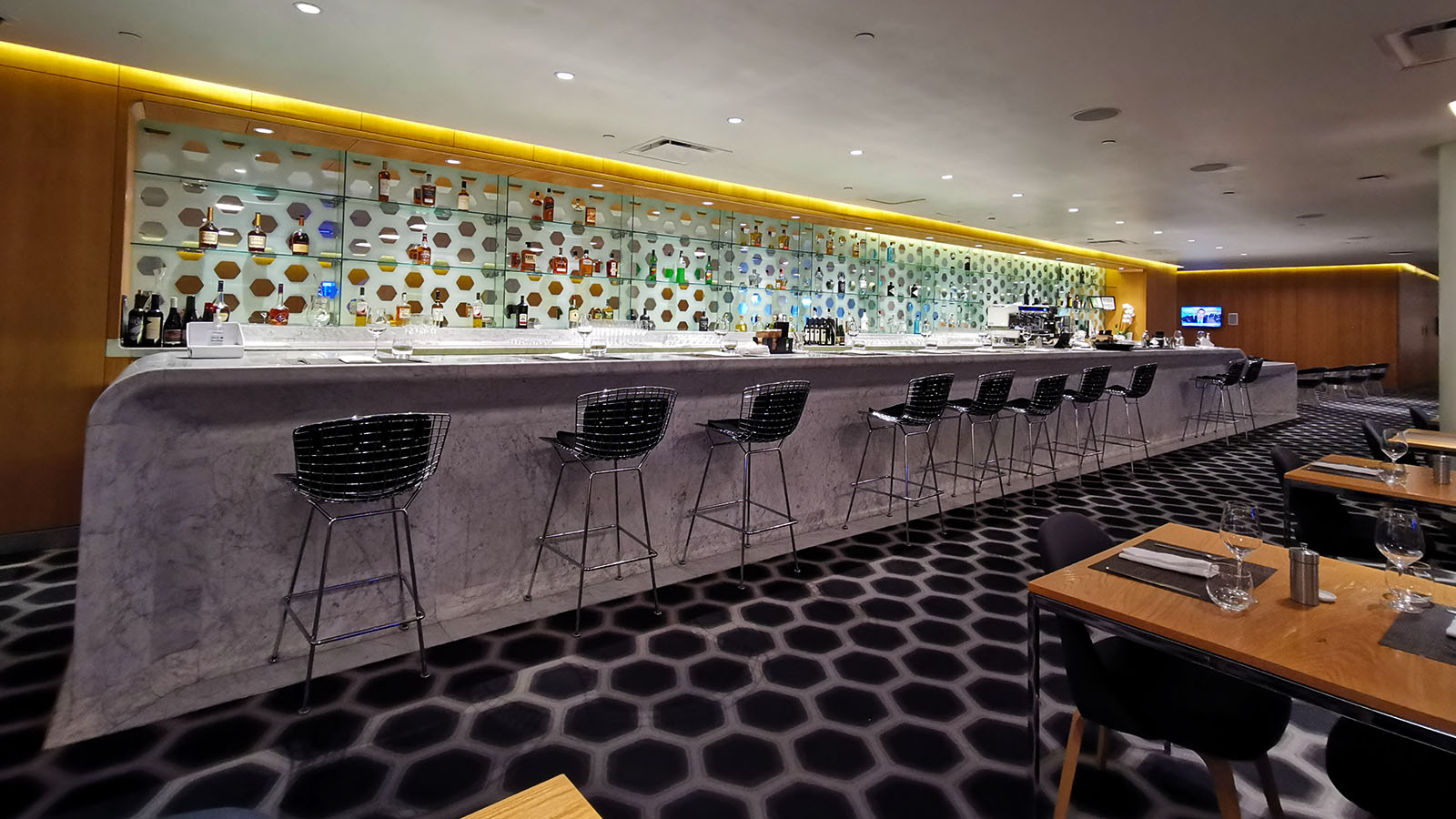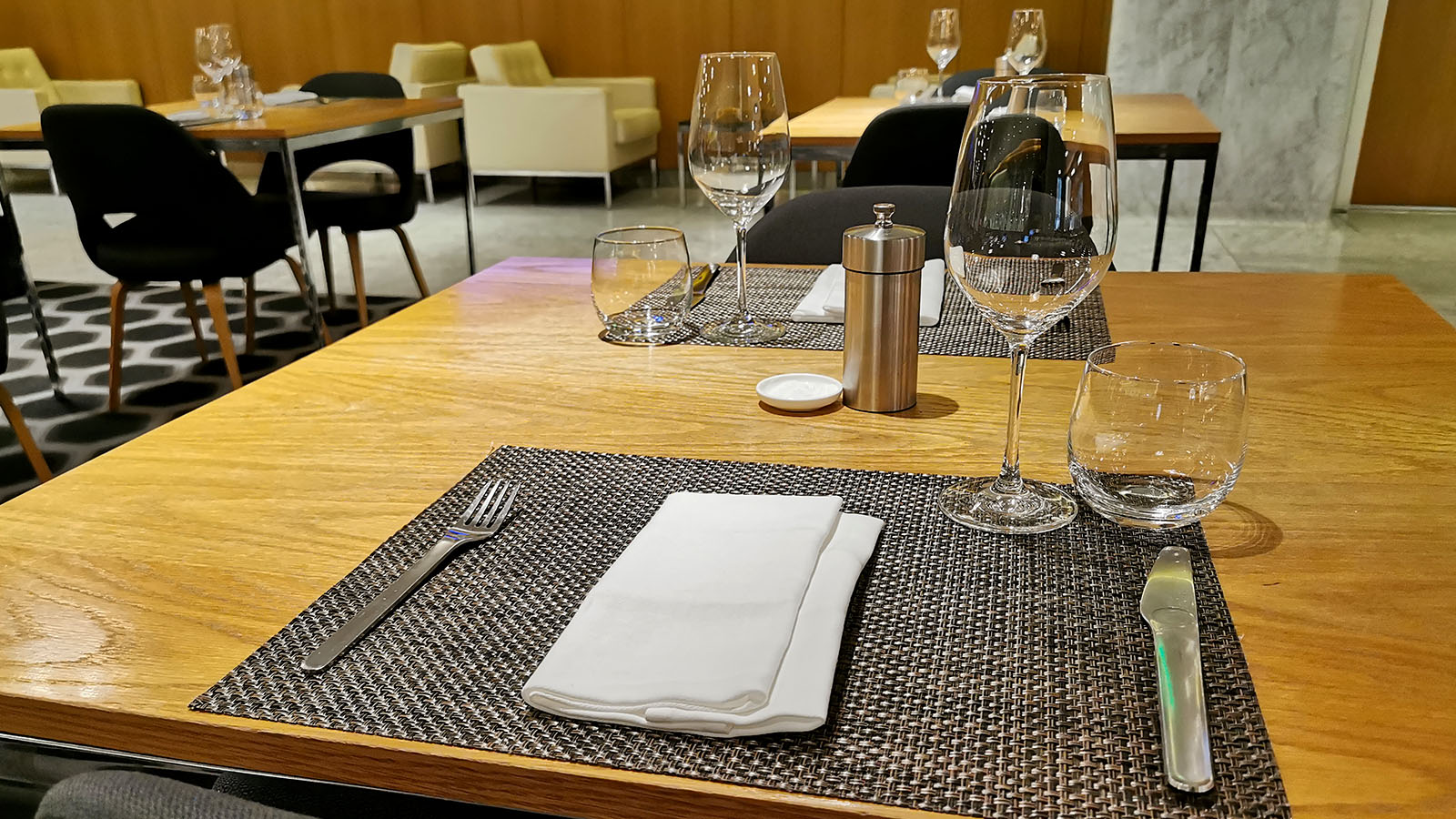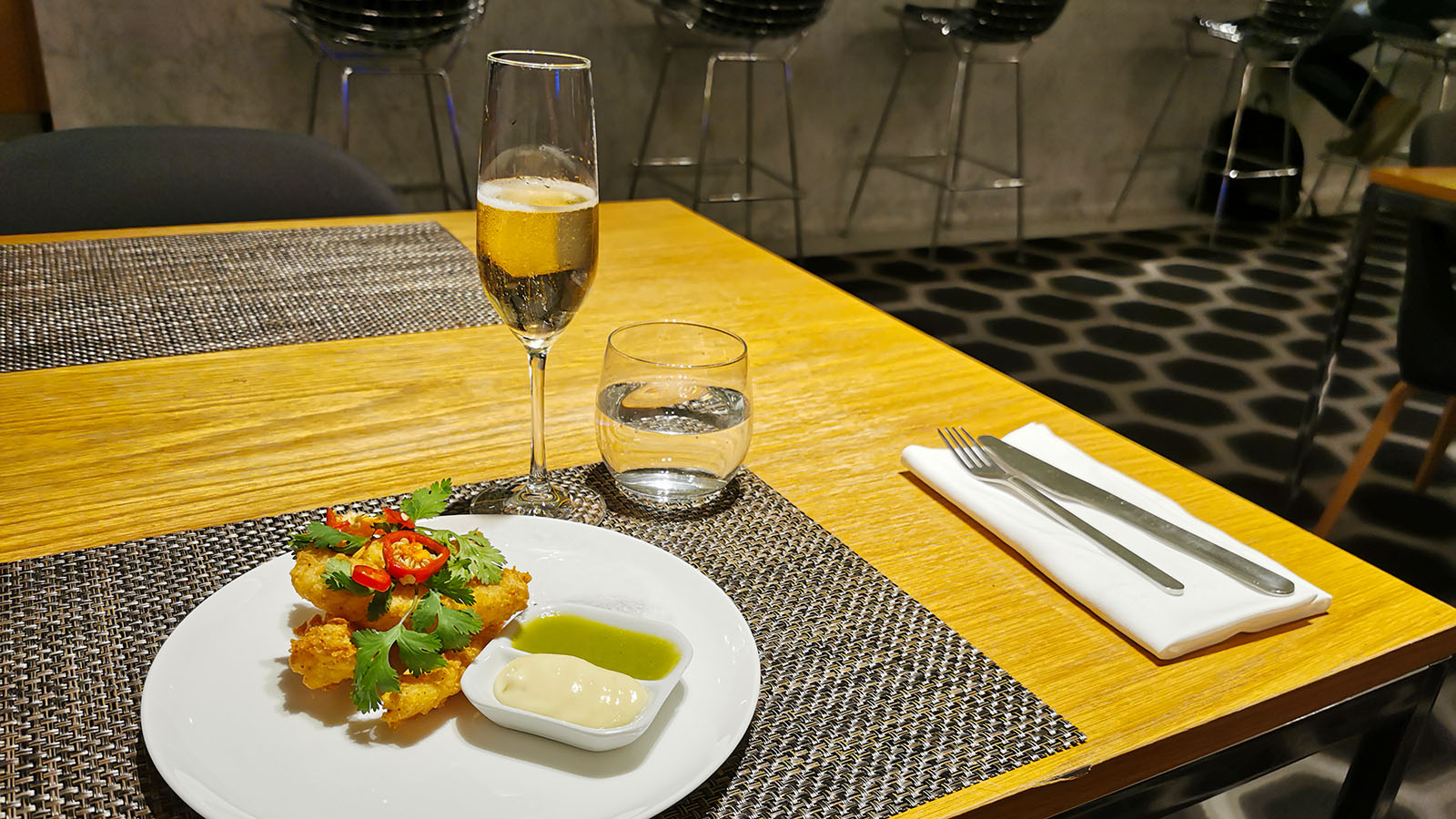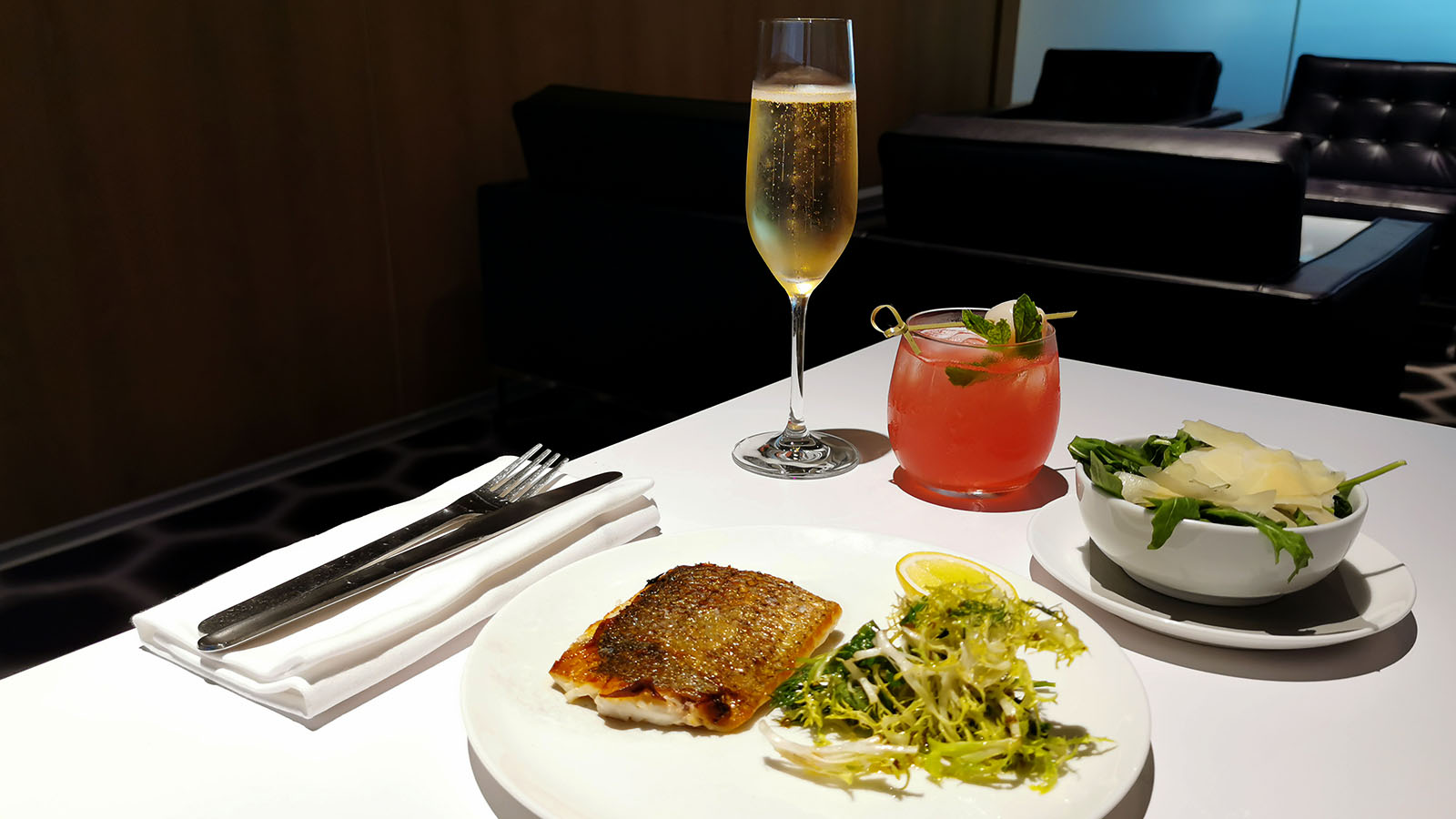 The lounge offers shower facilities too – handy before any 15-hour overnight flight.
Read more: Qantas Los Angeles International First Lounge review
Qantas Airbus A380 First Class seating
For some airlines, First Class is a signature, headlining product. It's a cabin that's as much a statement about the airline's brand as it is a premium travel experience in its own right. That's true of carriers such as Emirates, Etihad Airways and Singapore Airlines, with which First Class is both iconic and industry-leading. It's fair to say though, Qantas Airbus A380 First isn't quite held in the same esteem.
Now, this isn't to say that Qantas First is bad, by any stretch. In fact, I'd still rank it as the very best way to fly directly between Australia and the United States. But it comes down to having the right expectations. If you're looking for closing privacy doors, a shower on the plane and bottomless caviar, well, that's not Qantas First. But if you're seeking softer touches like a very comfortable bed and a great lounge to enjoy before the flight, you're off to a flying start.
So let's talk about what Qantas First does offer. Nestled right at the front of the Airbus A380's main deck, Qantas First adopts a 1-1-1 seating layout. And while there aren't any closing privacy doors, the cabin feels noticeably more spacious than Qantas Business on the same superjumbos.
Speaking of privacy, each Qantas First suite is wrapped in a shell that's again noticeably higher than in Business. The seat faces directly towards the front of the aircraft for take-off and landing. But once in the air, the chair swivels to angle away from the aisle. It makes the absence of a privacy door less noticeable. And by sitting in row one, that sense of privacy is even greater. You really don't feel that you're sharing a plane with 500 other people.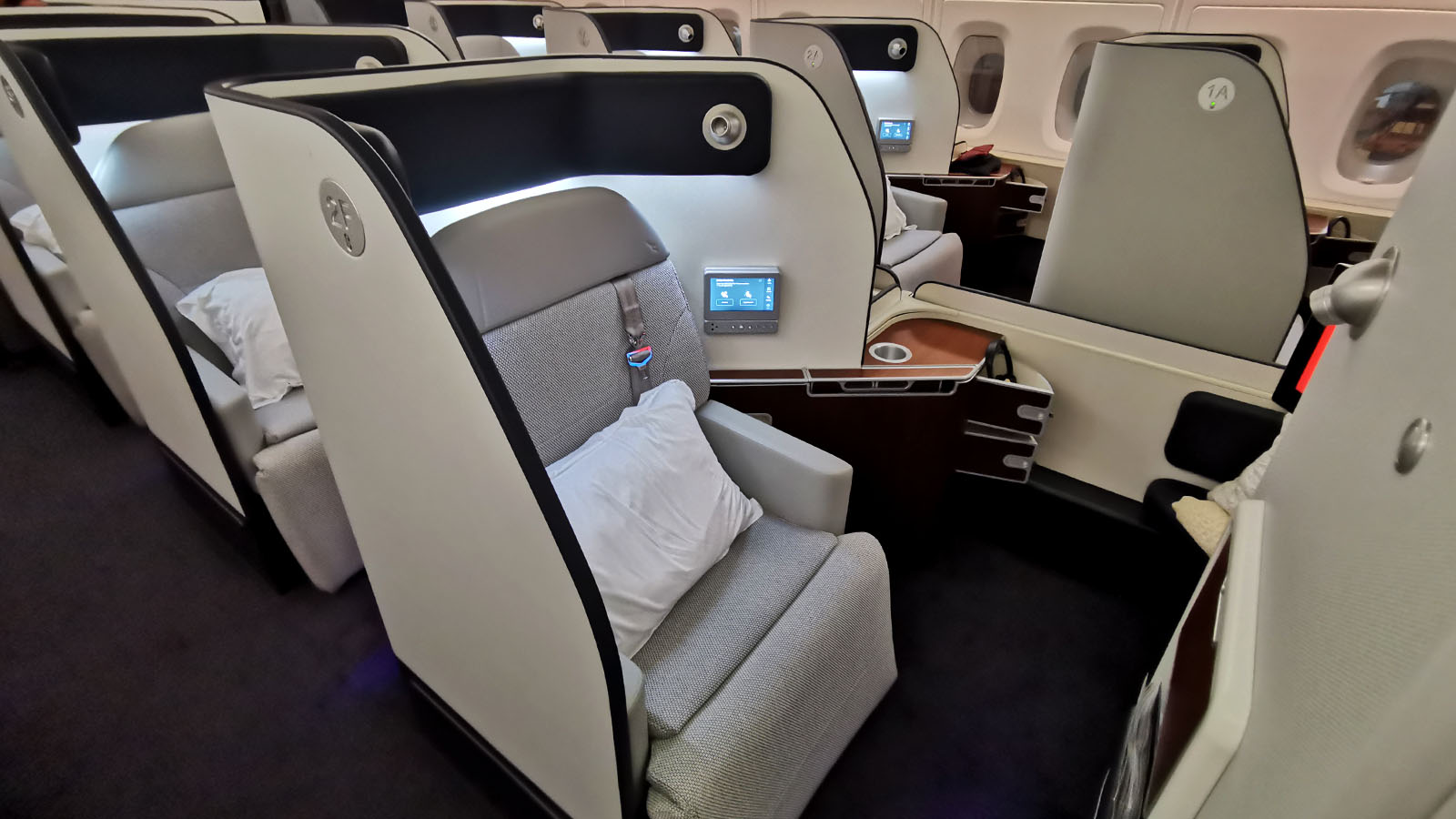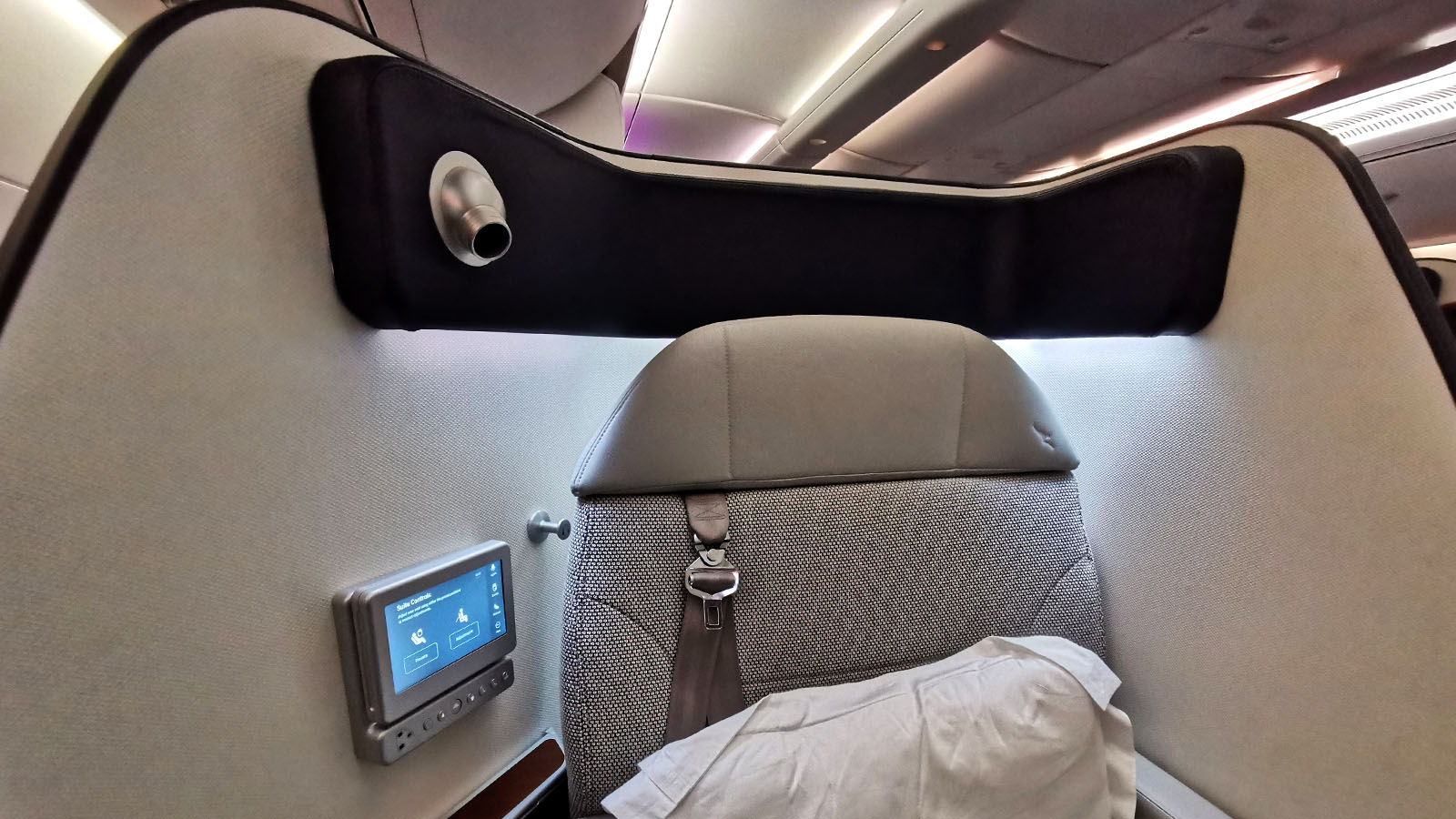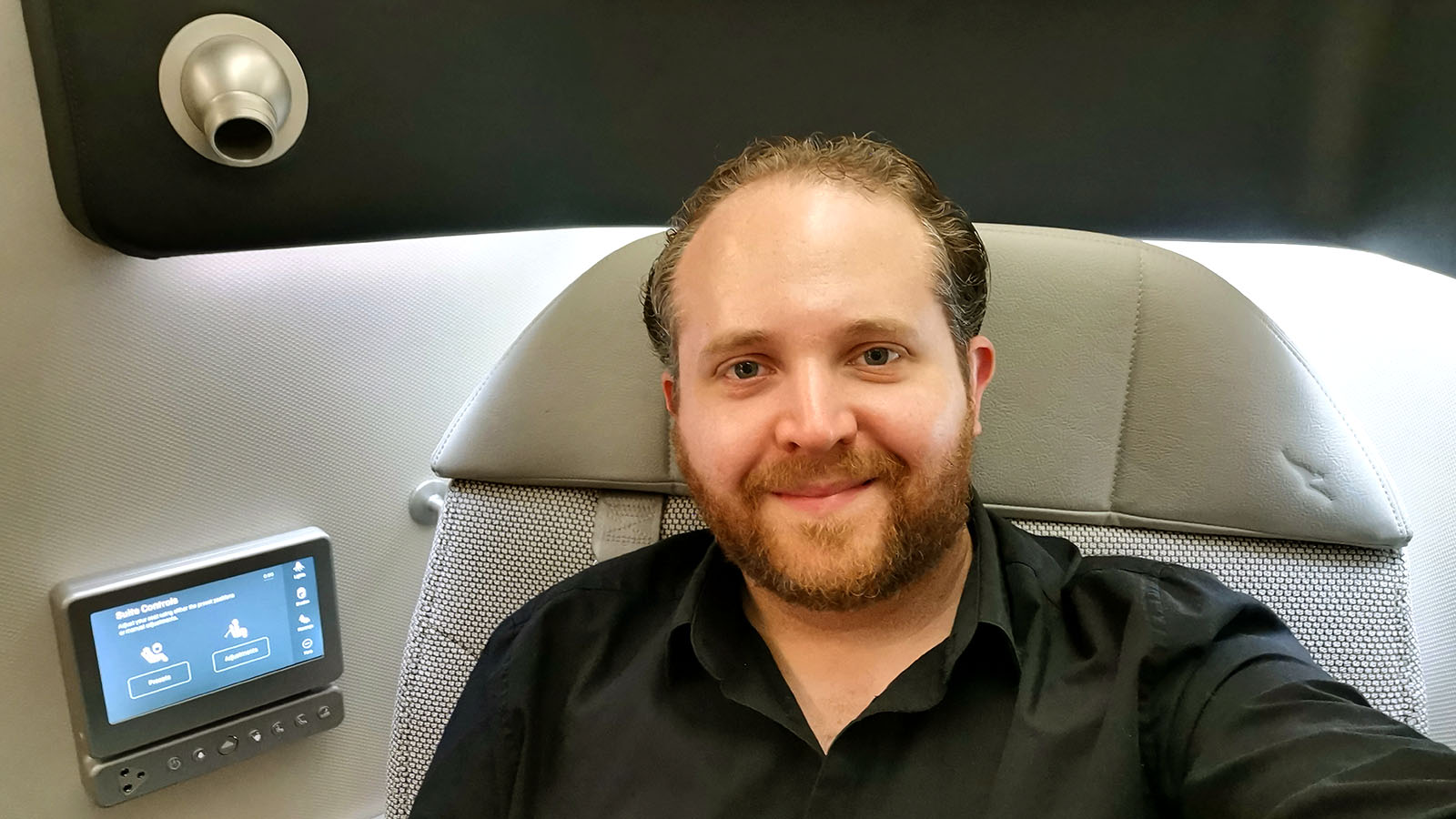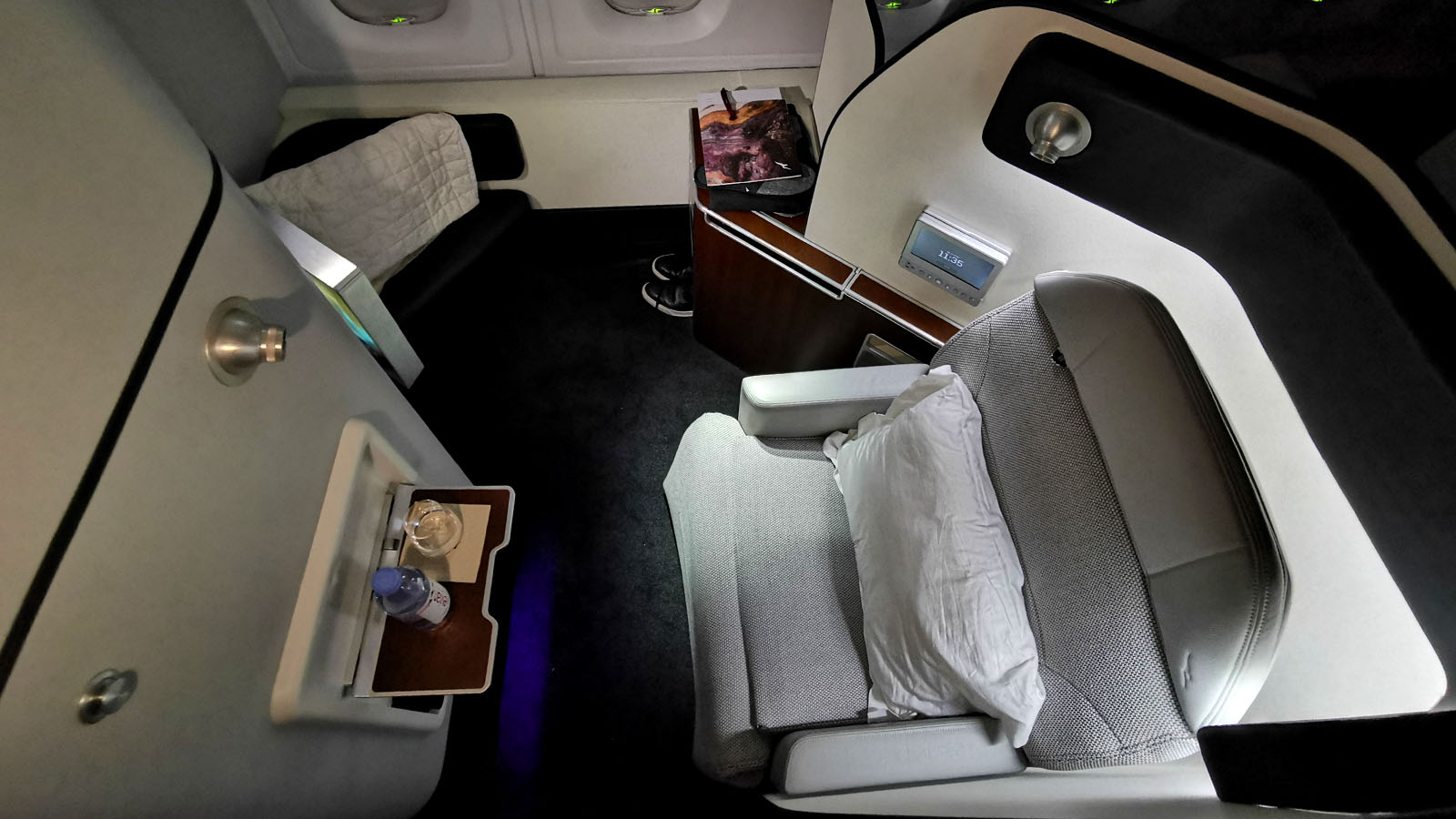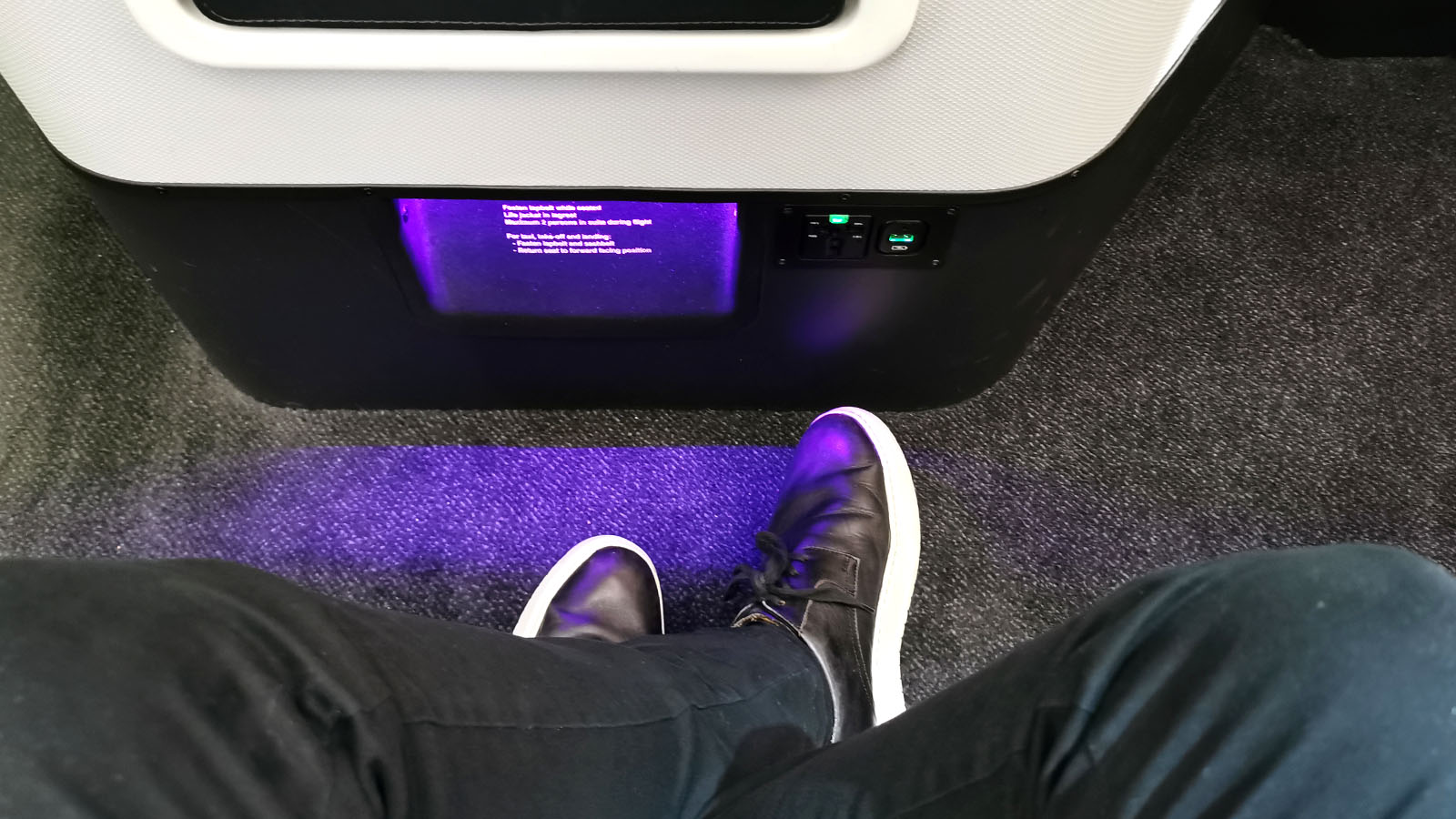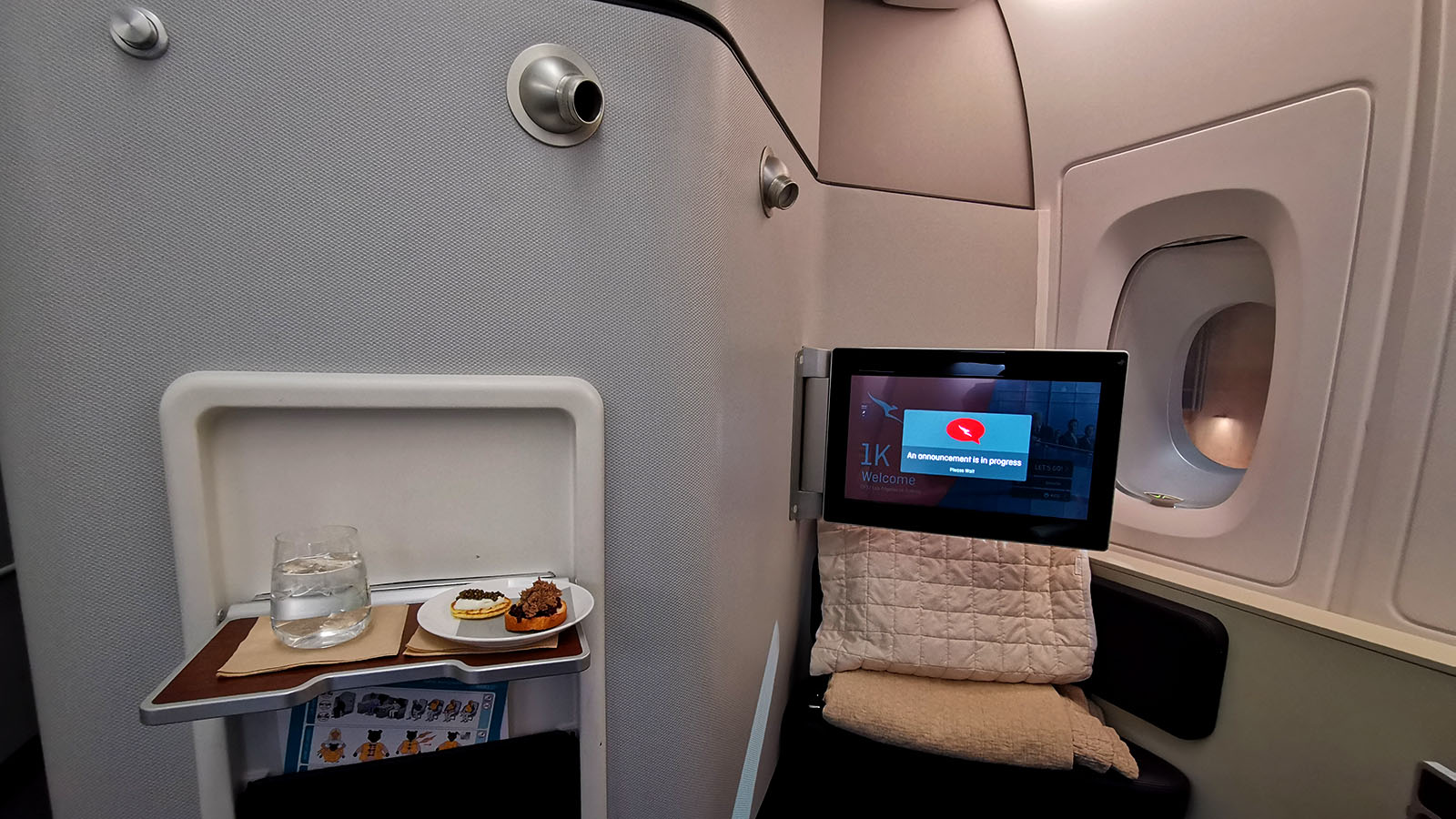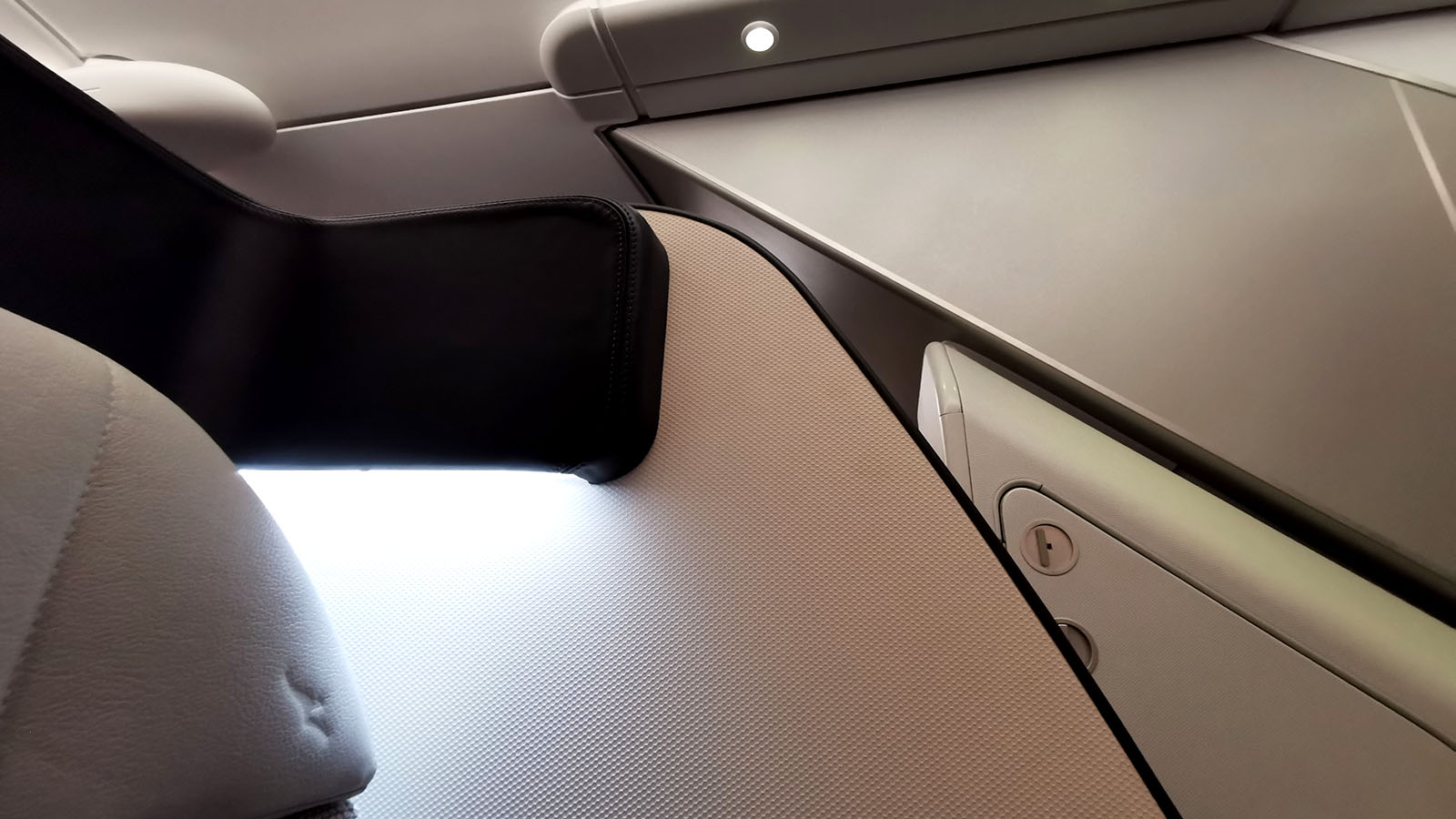 Meals, meetings and sleep in Qantas Airbus A380 First
As you settle in, you'll begin to observe the suite's broader list of features. For instance, there's a TV screen and footrest directly in front of you. But the monitor folds away and that footrest can become a second seat. Use it to dine with a companion, hold an impromptu inflight meeting or invite a friend around for drinks. There's even a built-in seatbelt for your companion, so turbulence won't disrupt the festivities.
When you're instead looking for some 'me time', that footrest forms the tail end of your spacious bed. And in fact, this bed is the very reason many people book Qantas First. Unlike in Business, you're not squeezing your feet underneath the seat in front. Here, you have wide open space – and that applies to the length as well. The bed measures up at 212cm, or just shy of seven feet. Better yet, the crew are always proactive in setting everything up.
Along with a mattress cover, duvet, blanket and dual pillows, Martin Grant pyjamas and slippers are provided – and an amenity kit too. All told, on this 15-hour flight, I doze for nine straight hours. It's the second-best sleep I've ever had on a plane (my record is 10 hours in Etihad First). And for me, that sleep couldn't have come at a better time.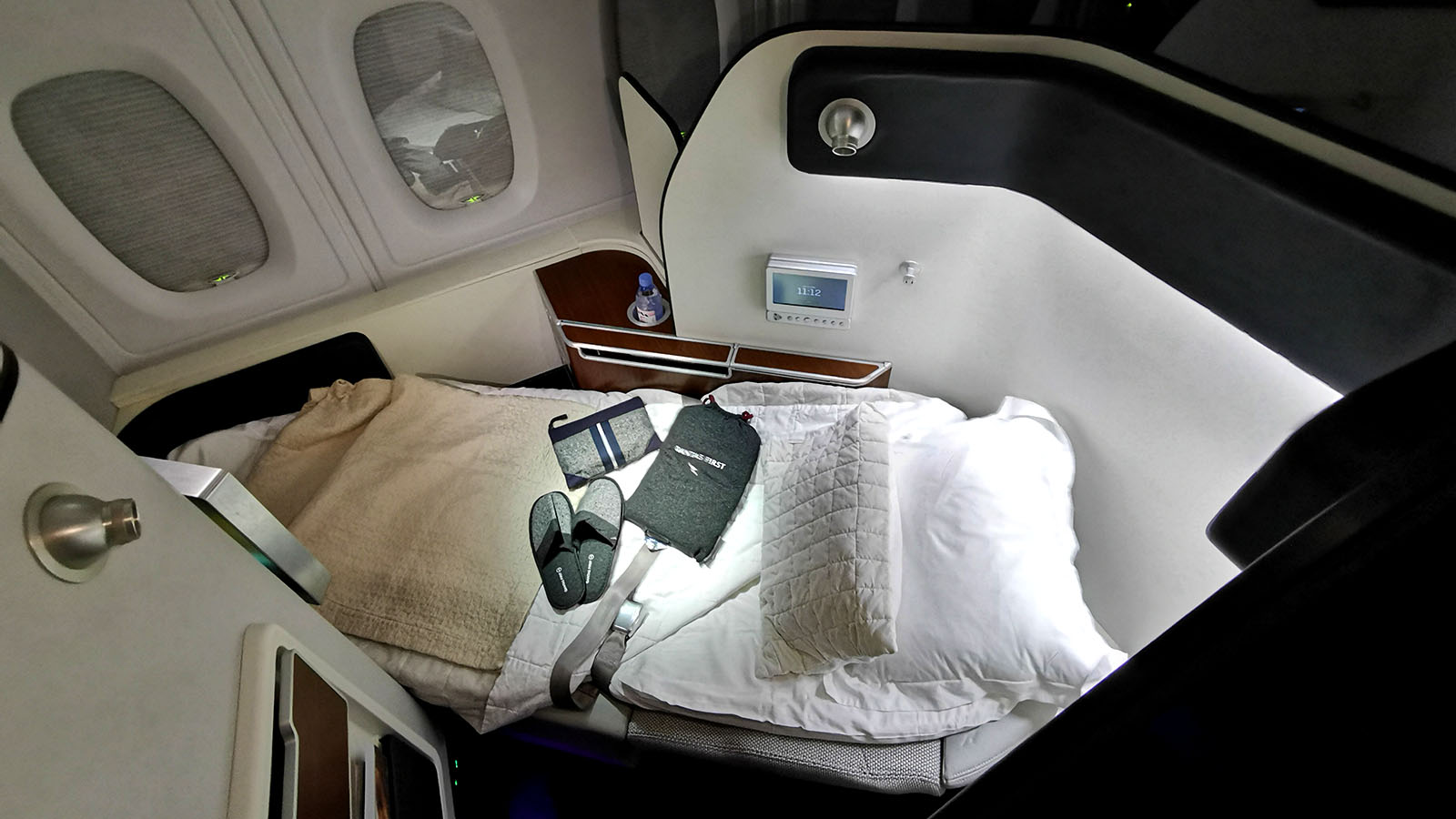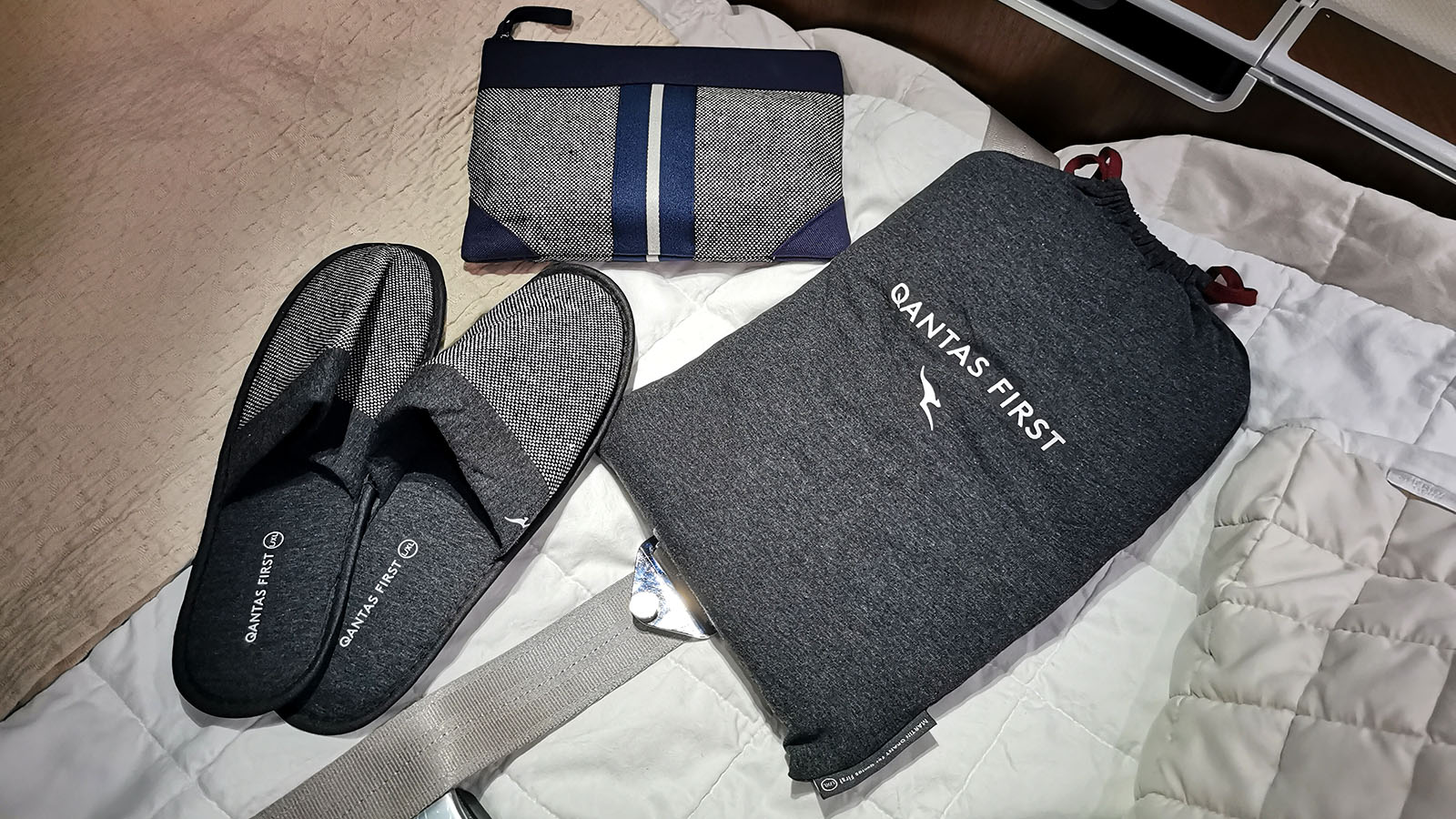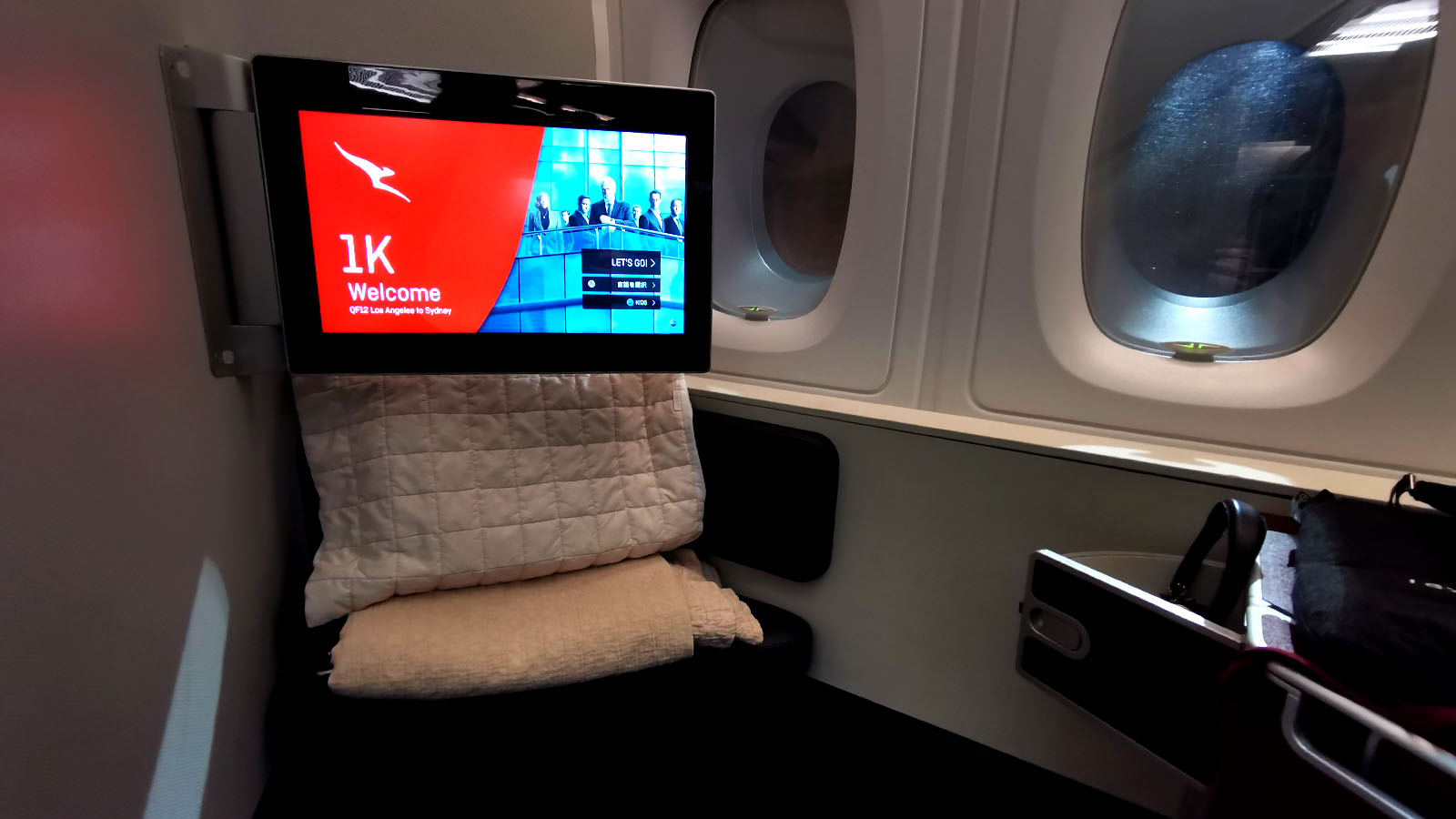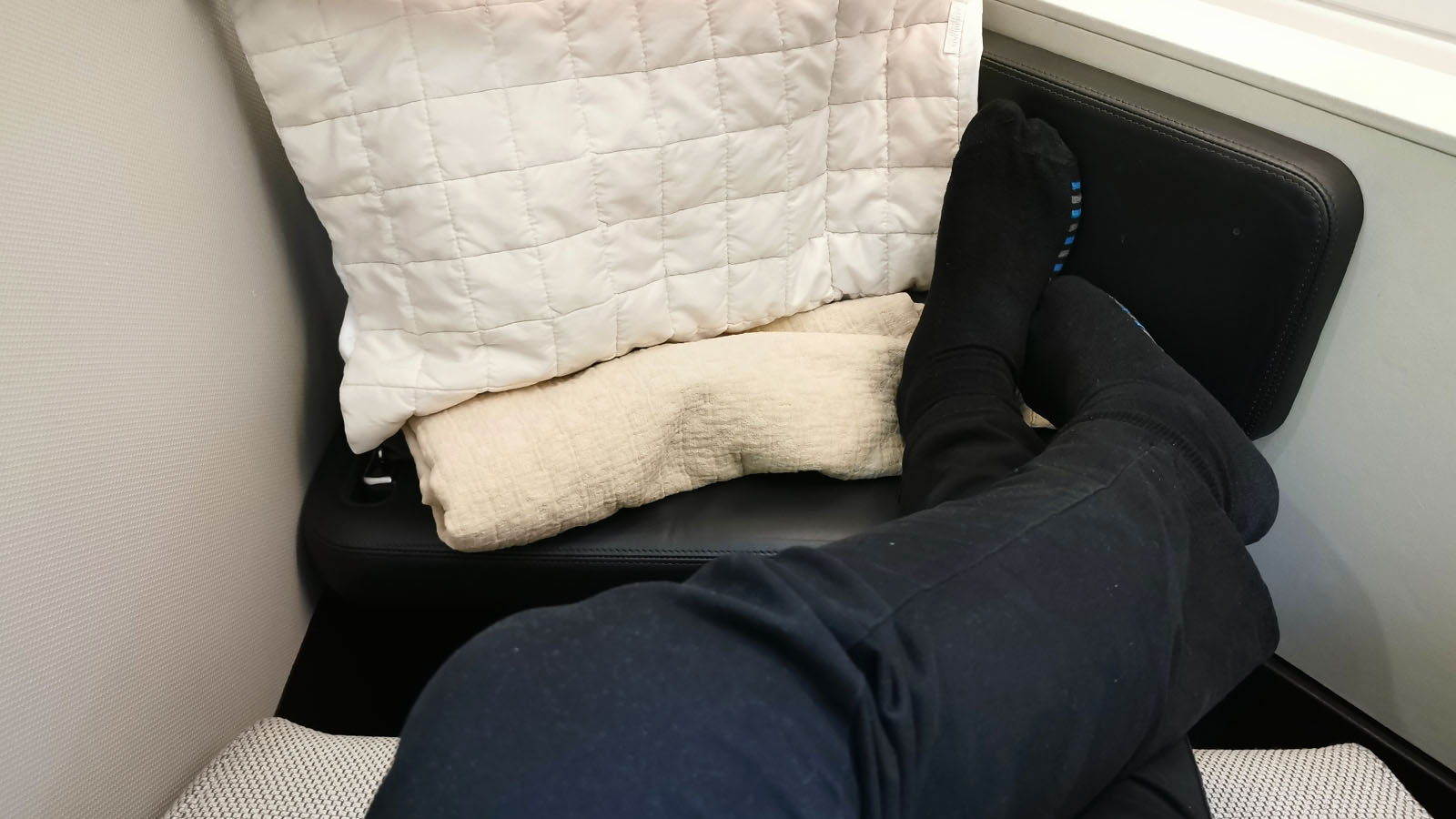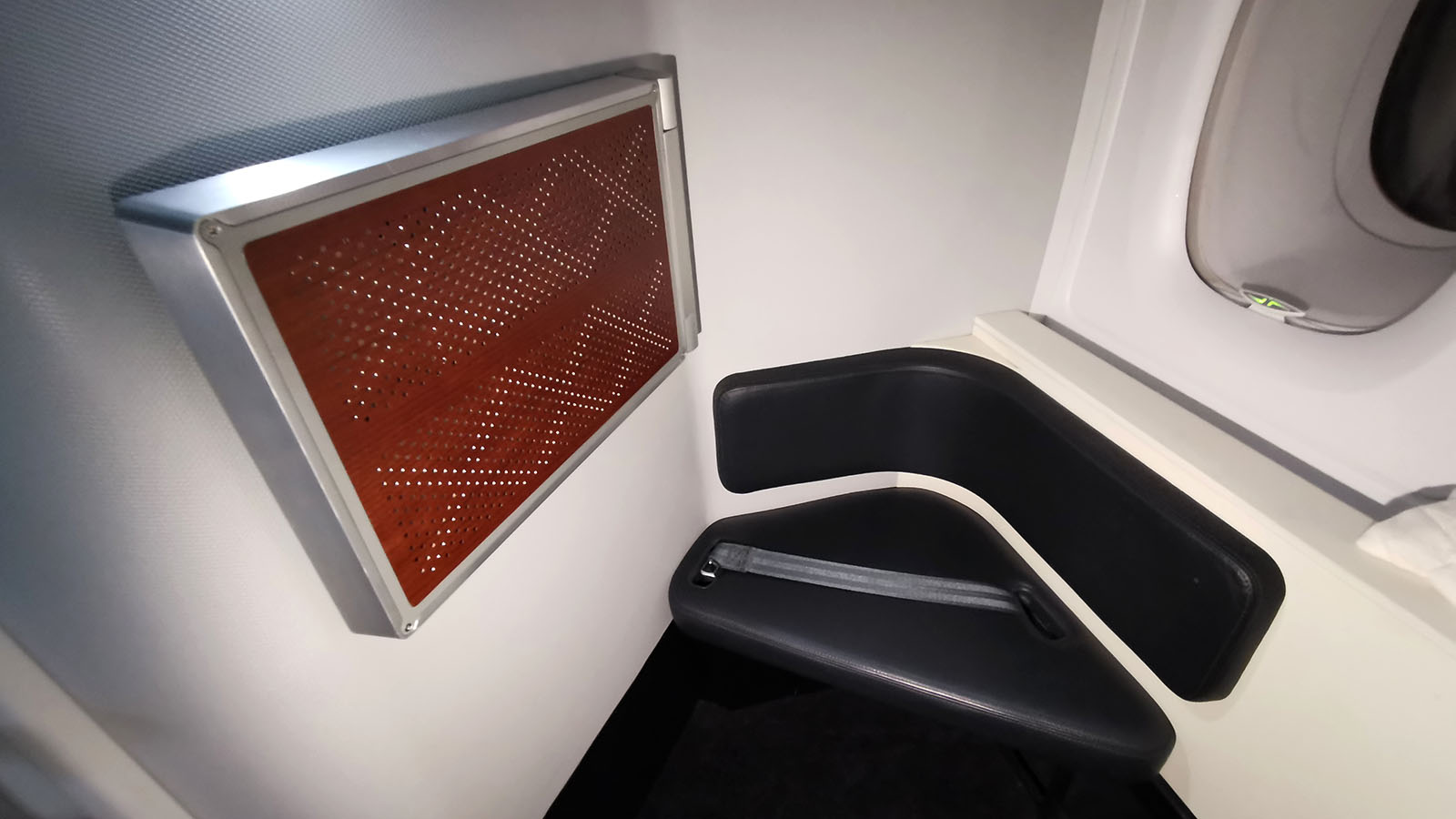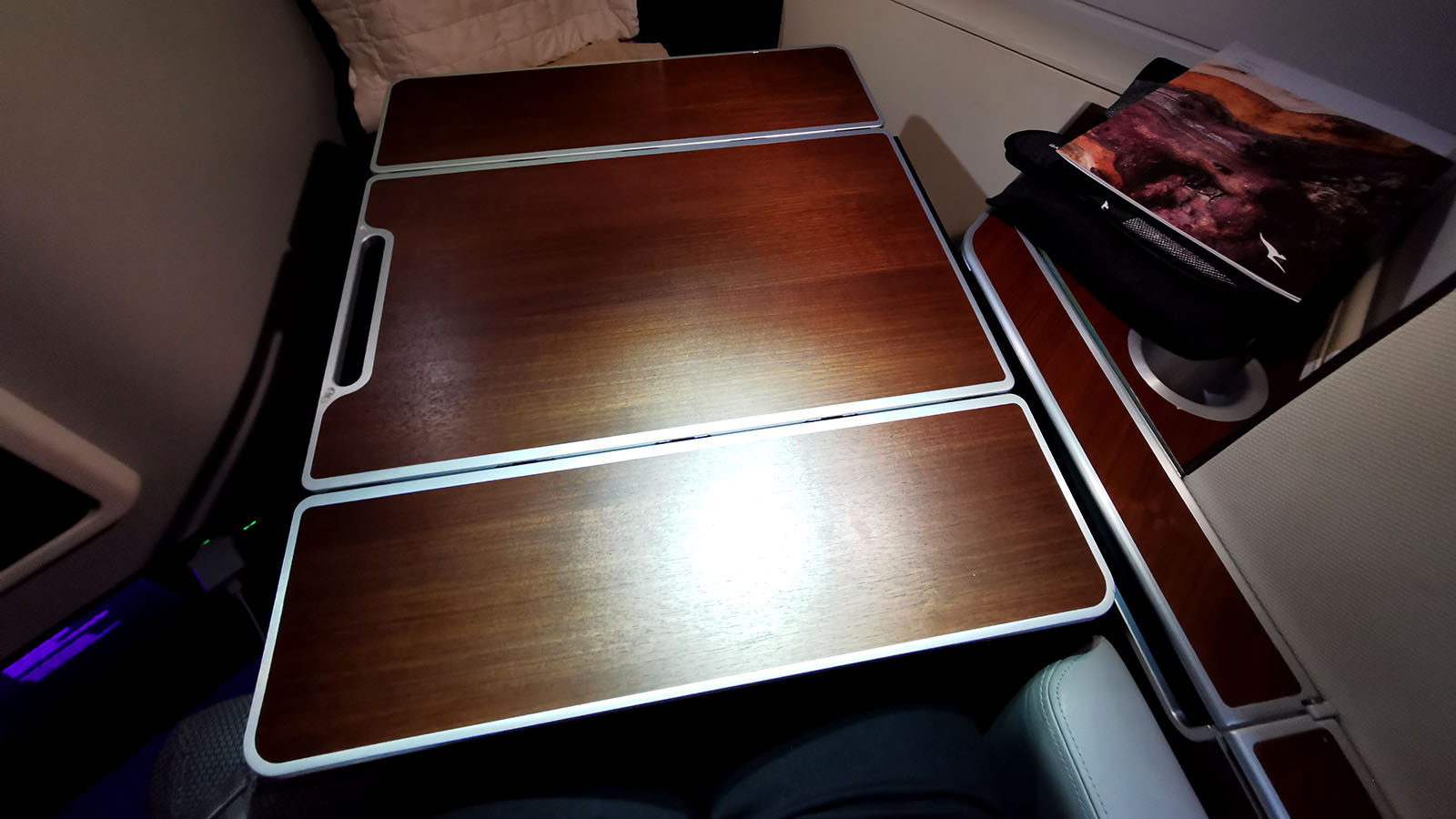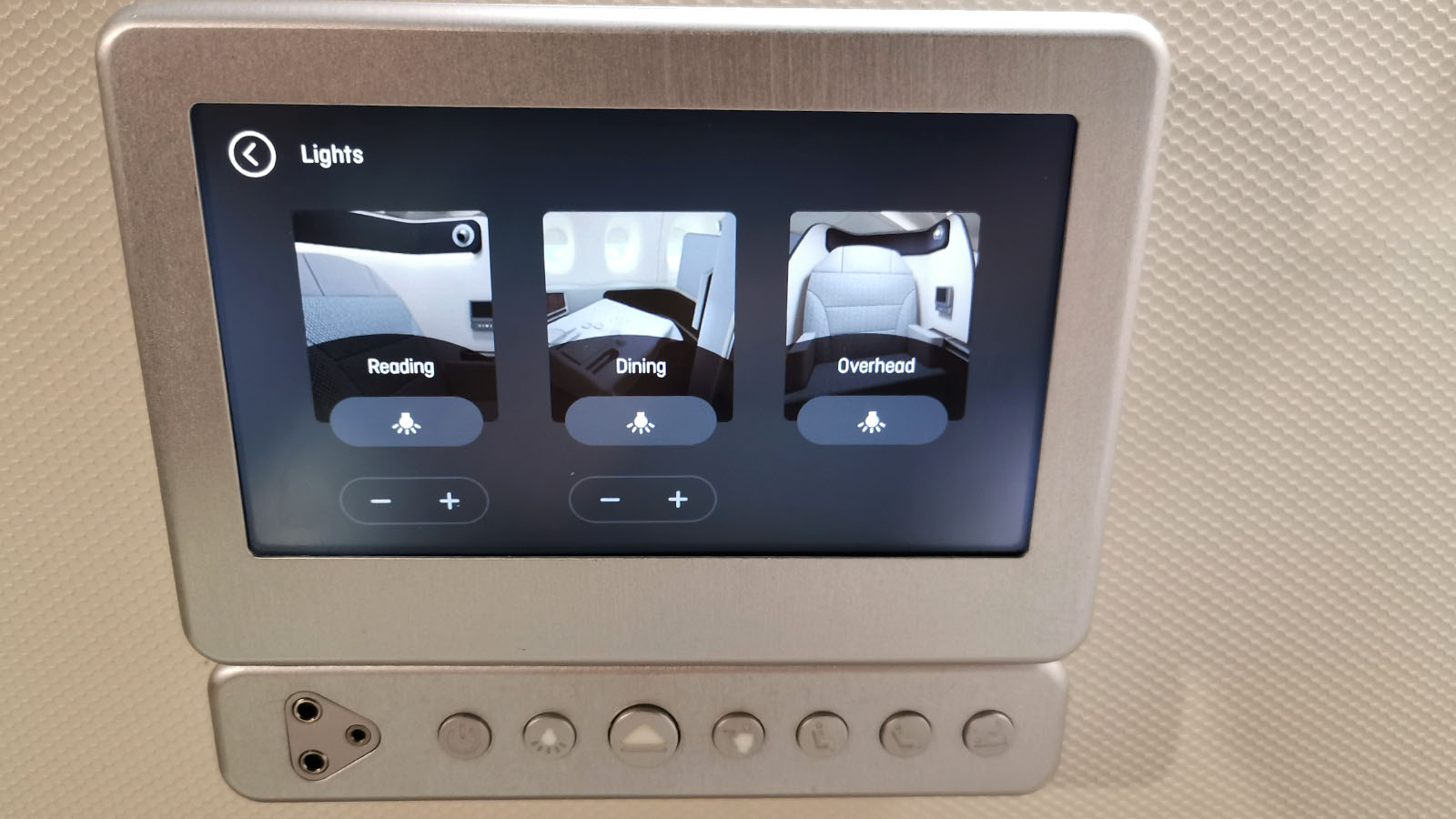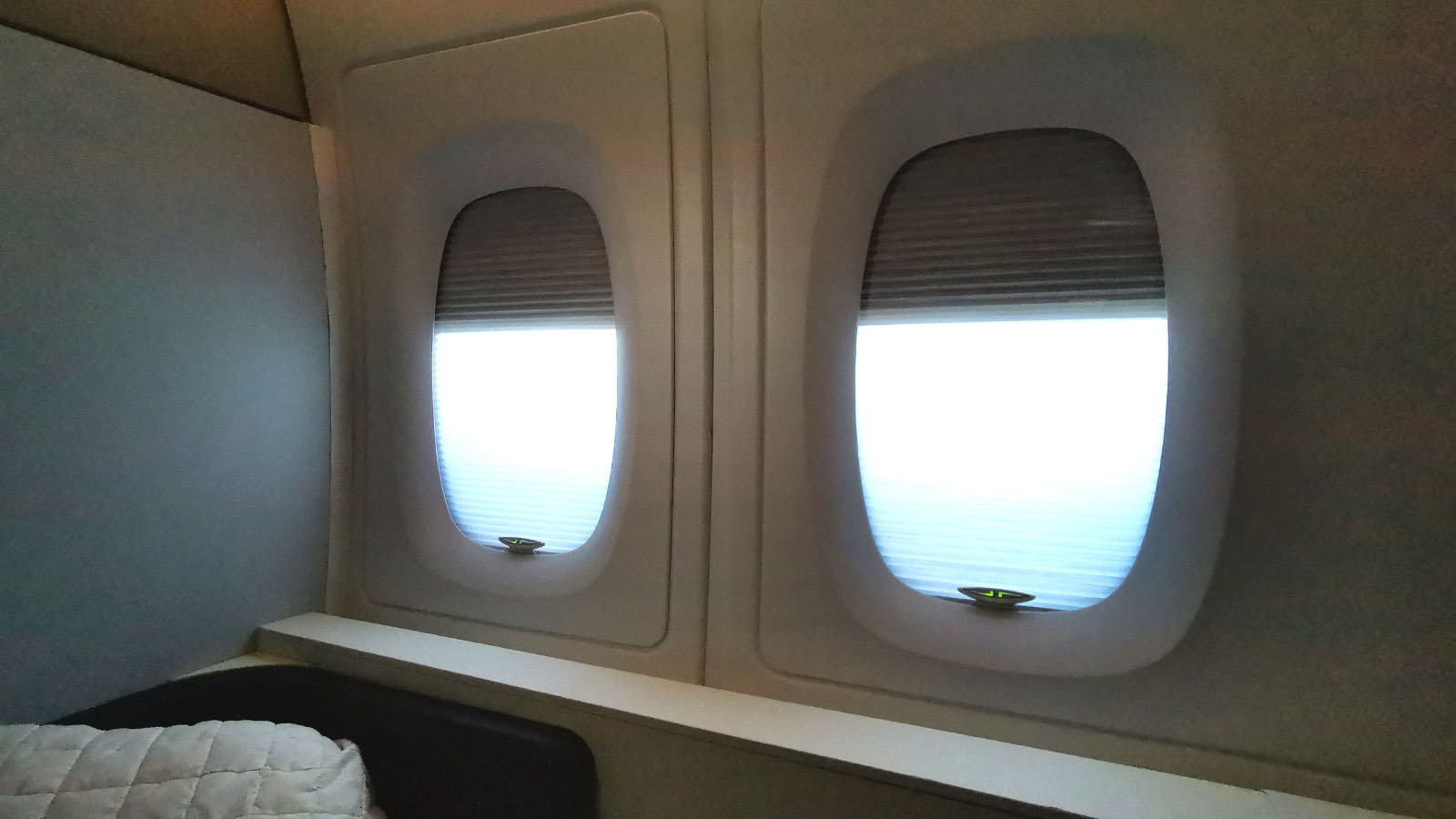 In the space of barely more than a week, I've done some serious travelling. On this journey alone, I jet through Los Angeles twice, London twice, plus Warsaw, Oslo and New York. Oh, and Sydney twice as well. This flight comes at the end of that hectic schedule. And given it's a morning arrival into Sydney, I return home with no jet lag whatsoever. That, alone, makes Qantas Airbus A380 First worth the premium over Qantas Business.
Food and beverage in Qantas Airbus A380 First
For me, overnight flights from Los Angeles to Australia are all about maximising sleep. But even if you get a good night's rest, that still leaves half the flight to enjoy the hospitality. Again though, it's all about having the right expectations. And that means recognising that dining in Qantas Airbus A380 First is a little more 'Business plus' than 'First Class'. In fact, many of the wines and dishes are served in Business too.
It starts on arrival with an offer of Champagne. To save money on tax, Qantas no longer opens 'the good stuff' on the ground. Instead, I'm offered a glass of Duval-Leroy Brut Reserve (NV) – the same Champagne as served in Business Class. Mindful to limit my alcohol, I decline the standard bubbles and just refresh with a glass of water for now, alongside a small bowl of nuts.
After take-off, I keep the water going with the canapés, which come before setting up for the meal. One bite is duck rillettes with beetroot relish on crostini, and the other is a single caviar blini with crème fraîche. They're both delicious, but this ends the caviar – one bite and it's gone.
I decide it's time to try the true Qantas First Champagne. Today's, it's Pommery Louise 2004 – or at least, it's meant to be. As it turns out, the '04 was never loaded onto the plane. Instead, there's a substitute: Duval-Leroy Femme de Champagne 2002. It's still a vintage drop, and I don't mind it. But I'm fussy about Champagne, and I decide one glass is enough. At least though, this isn't the NV Duval-Leroy from Business that pops up during boarding.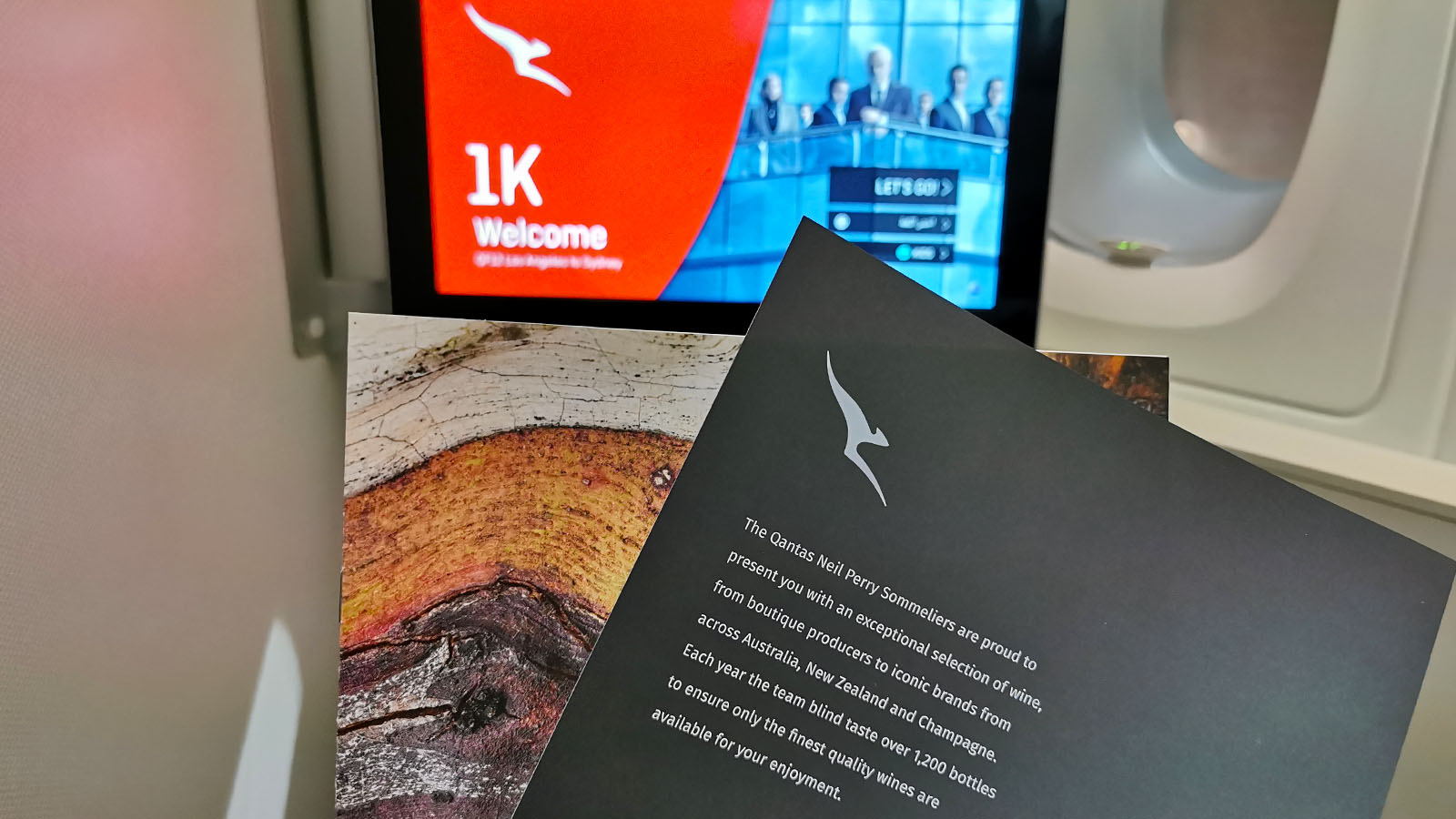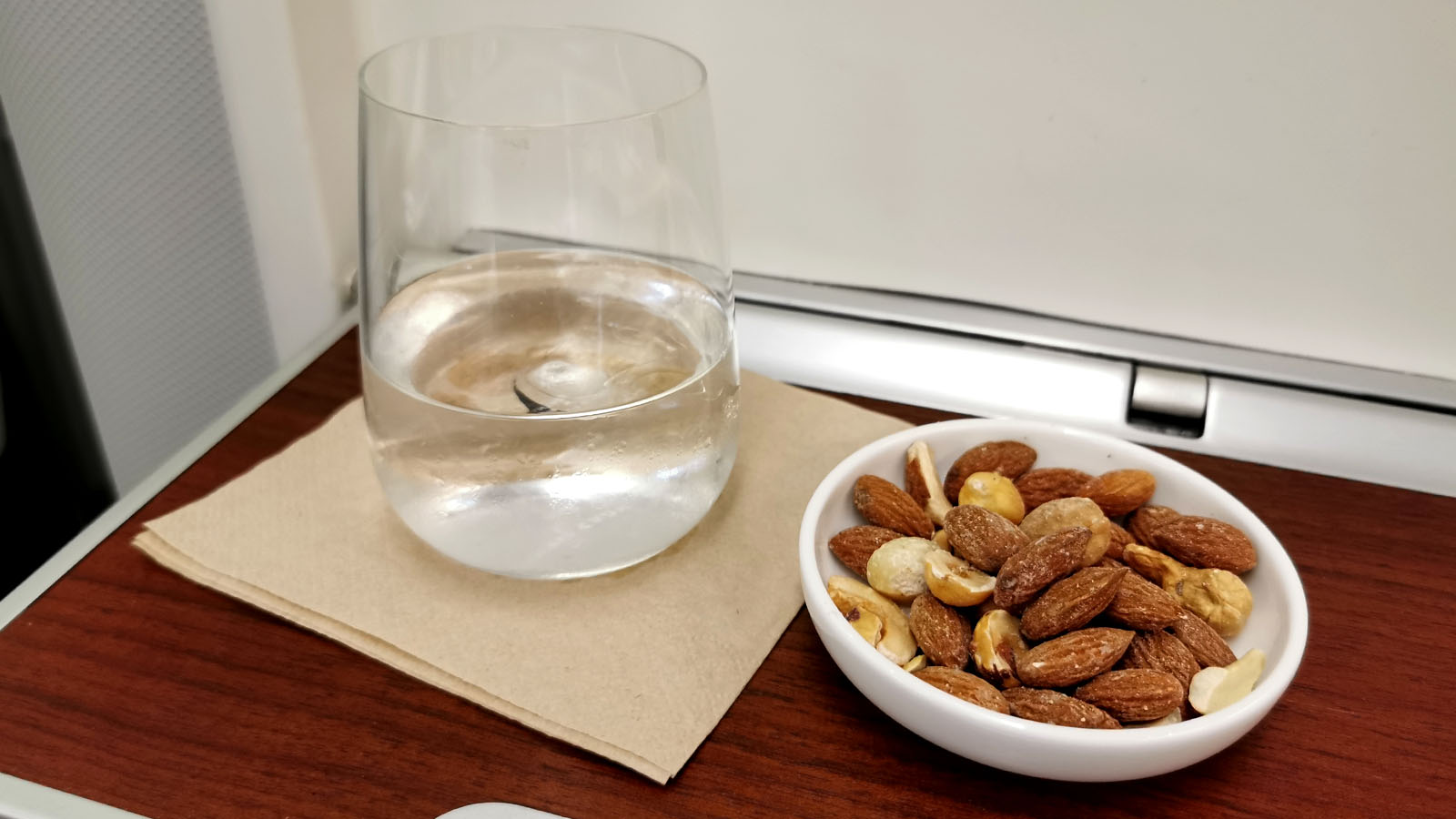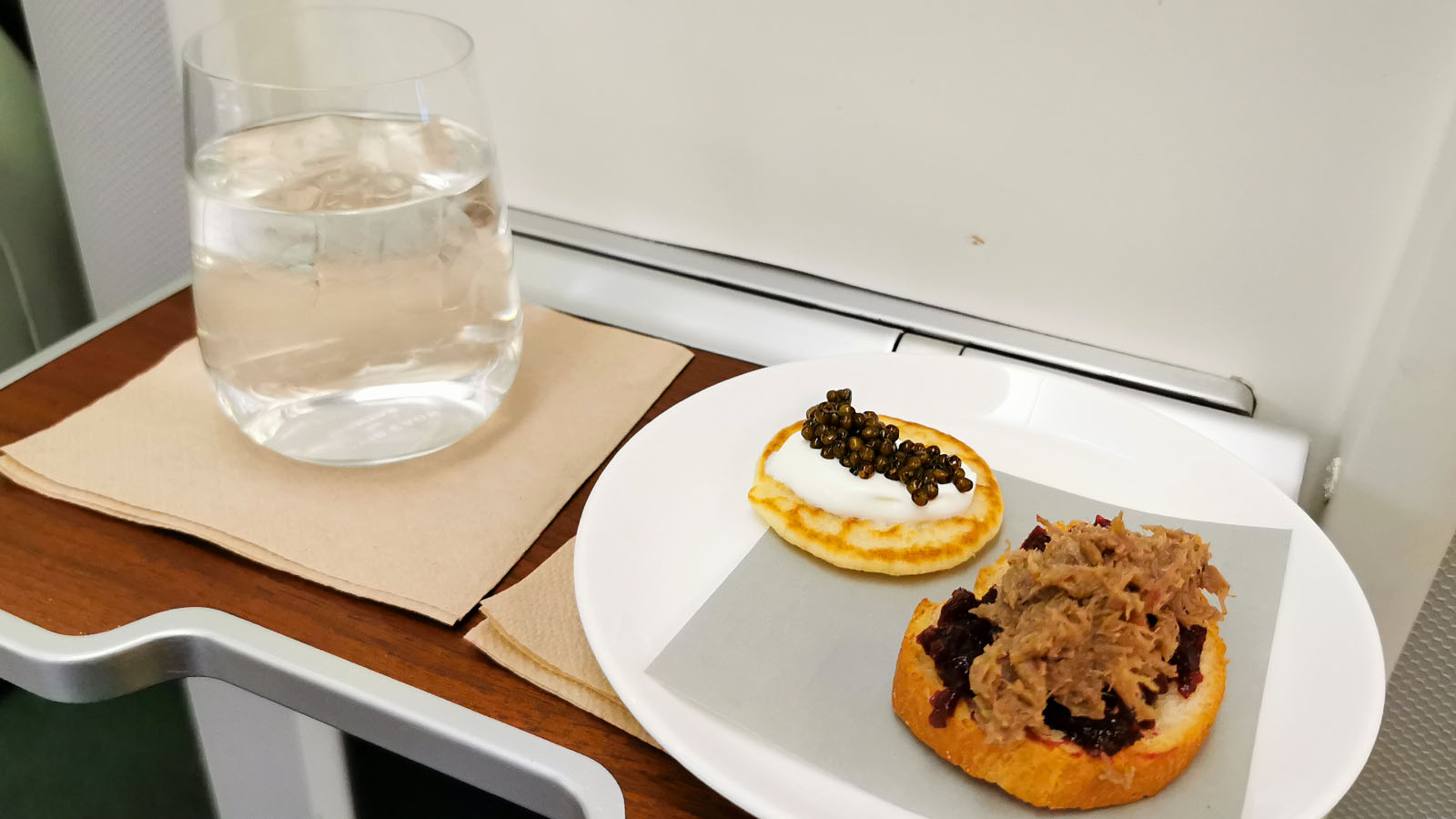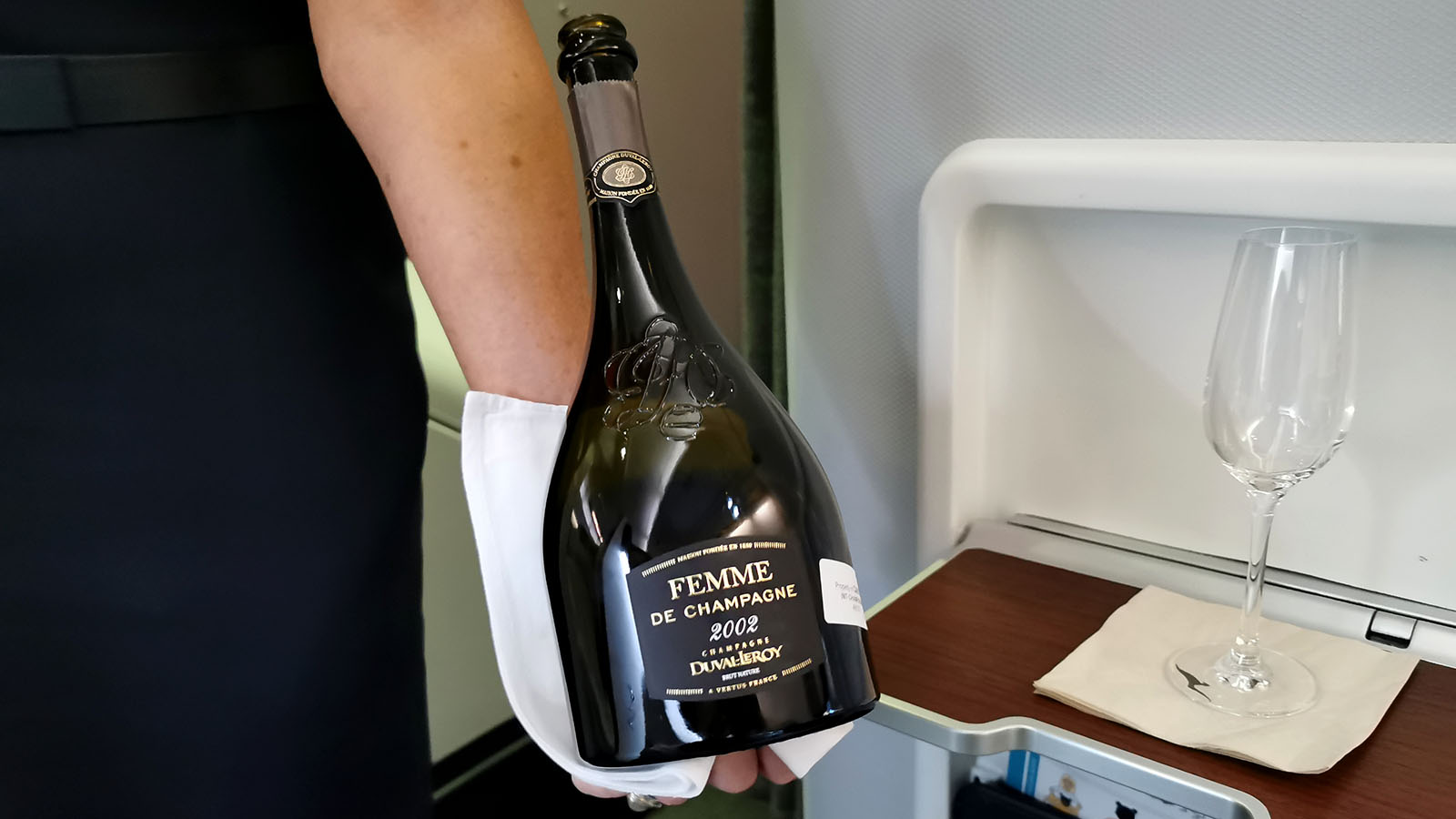 I can't help but notice though, the Qantas First wine list has at least 10 obvious typos – and that's just what I spot from a very quick skim. In First Class, attention to detail should be paramount, and for many of Qantas' competitors, it's priority one.
Supper in Qantas First
Given the late evening departure from Los Angeles, the first meal service is 'supper' rather than dinner. This also takes into account that passengers in Qantas Airbus A380 First can dine in the First Lounge before boarding. But equally, if you've not yet had a chance to dine, you won't go hungry.
To start, there's a choice between Moroccan carrot soup, tuna crudo or smoked chicken. I don't mind trying the plant-based dining options, so the soup is an easy choice. Dressed with coriander, it's perfectly flavourful – and gives me an excuse to enjoy two slices of bread on the side.
For the main, it's a choice between a chickpea penne, grilled Chilean sea bass, a roasted double lamb cutlet or Qantas' signature steak sandwich. Lamb isn't always an easy dish to get right in the air, so I take my chances. As it happens, it arrives perfectly cooked atop a port wine sauce. I spot a 20-year-old cabernet sauvignon on the menu (Howard Park '03), and it's a great pairing.
To finish, the chocolate mousse cake catches my eye. I'm curious to pair it with the Lillypilly Family Reserve Noble Blend 2016, as appears on the wine list. But for the second time on this flight, the wine I request hasn't been loaded. In its place, a drop that's perhaps more widely recognised: a 2018 De Bortoli Noble One. It still goes down a treat. A praline wraps things up, and then I'm off to doze for my nine-hour recharge.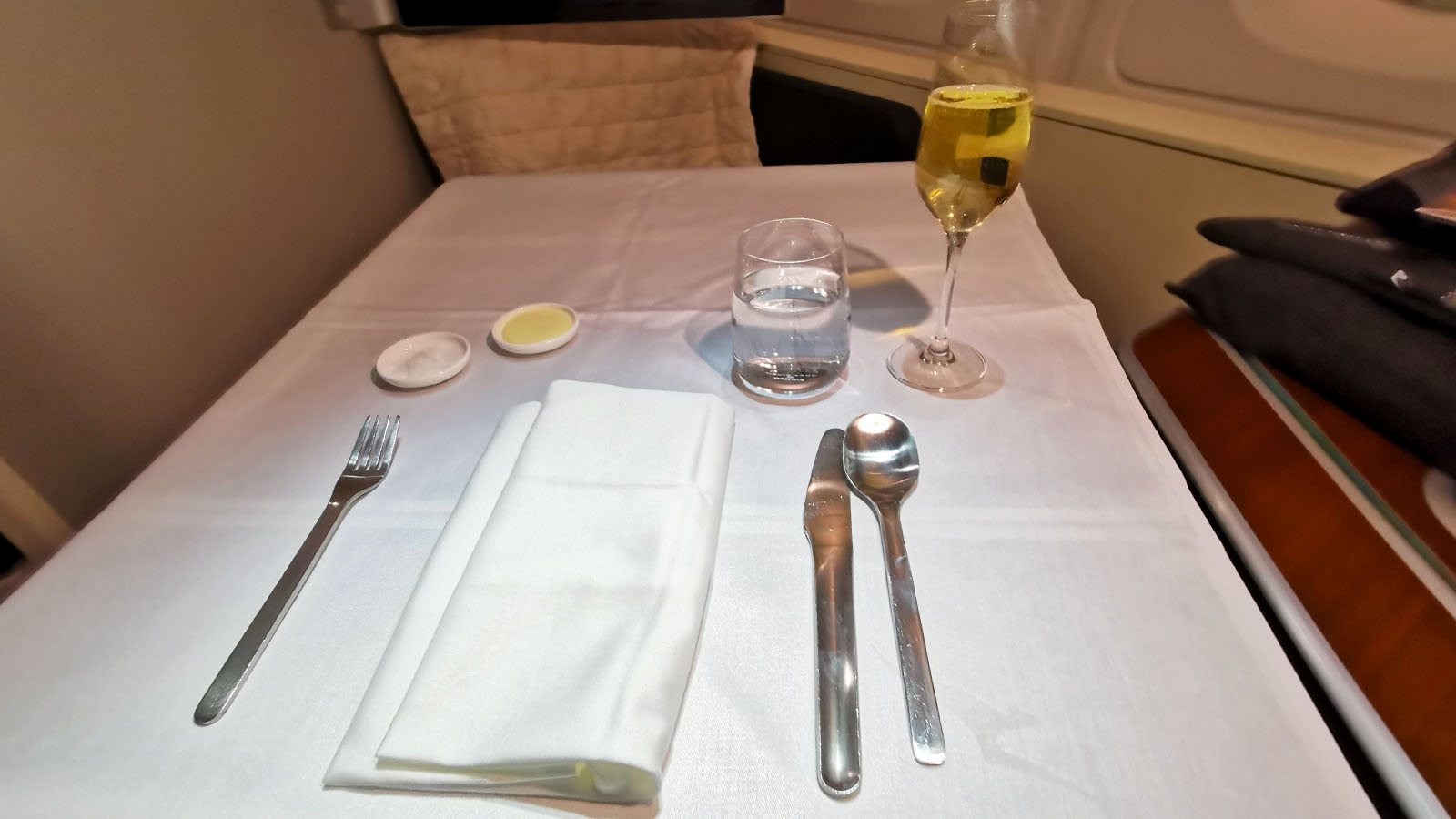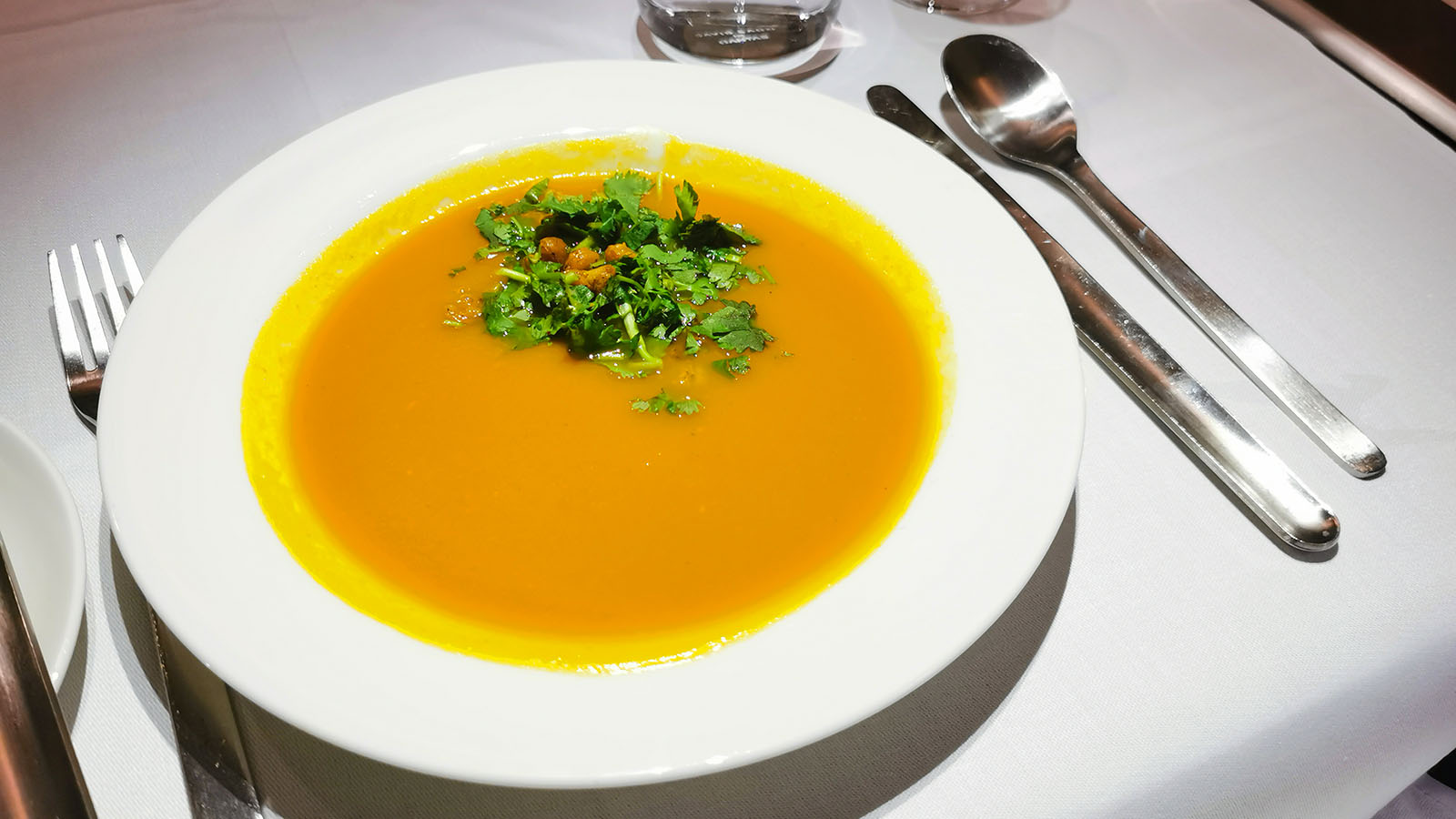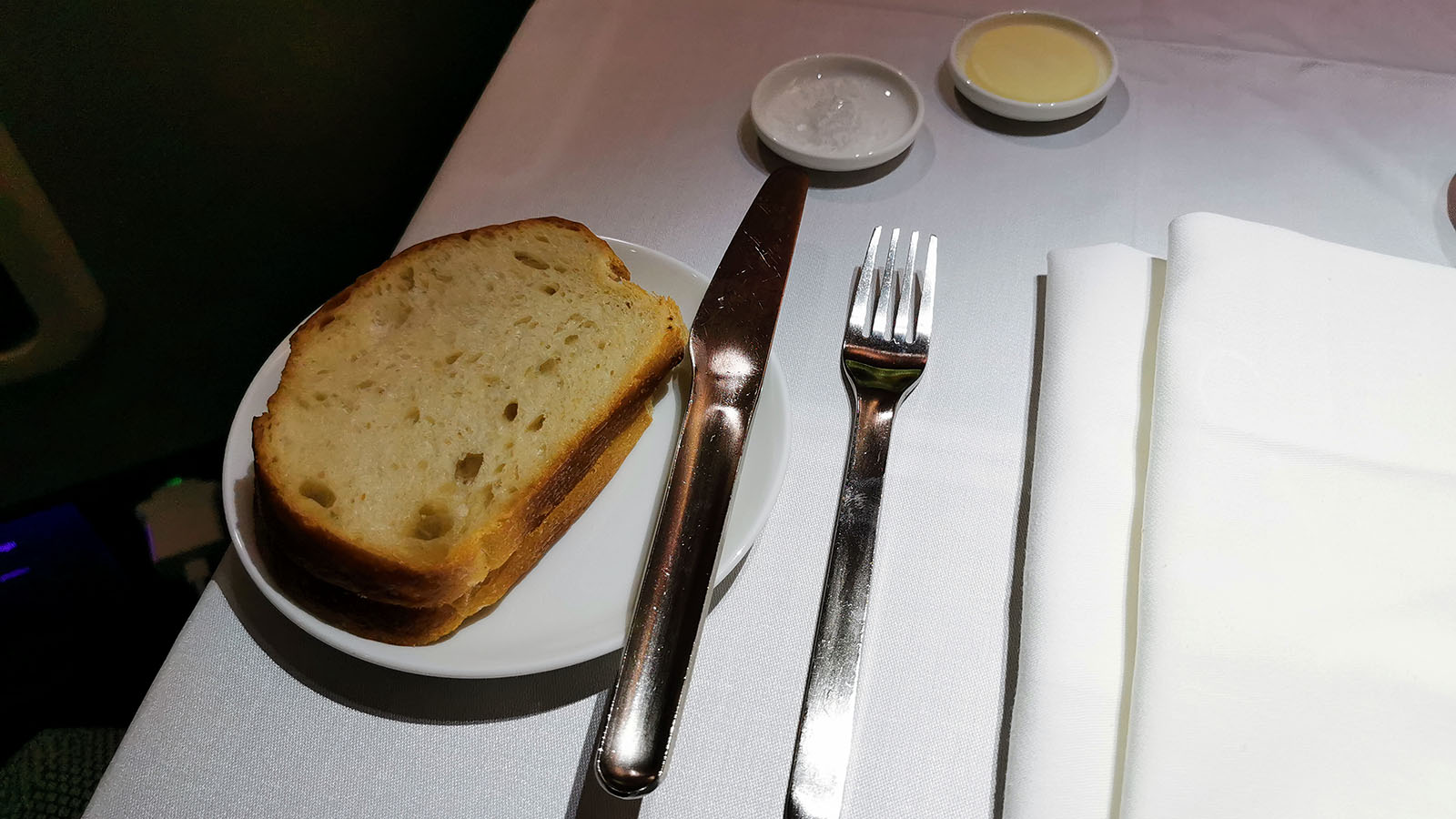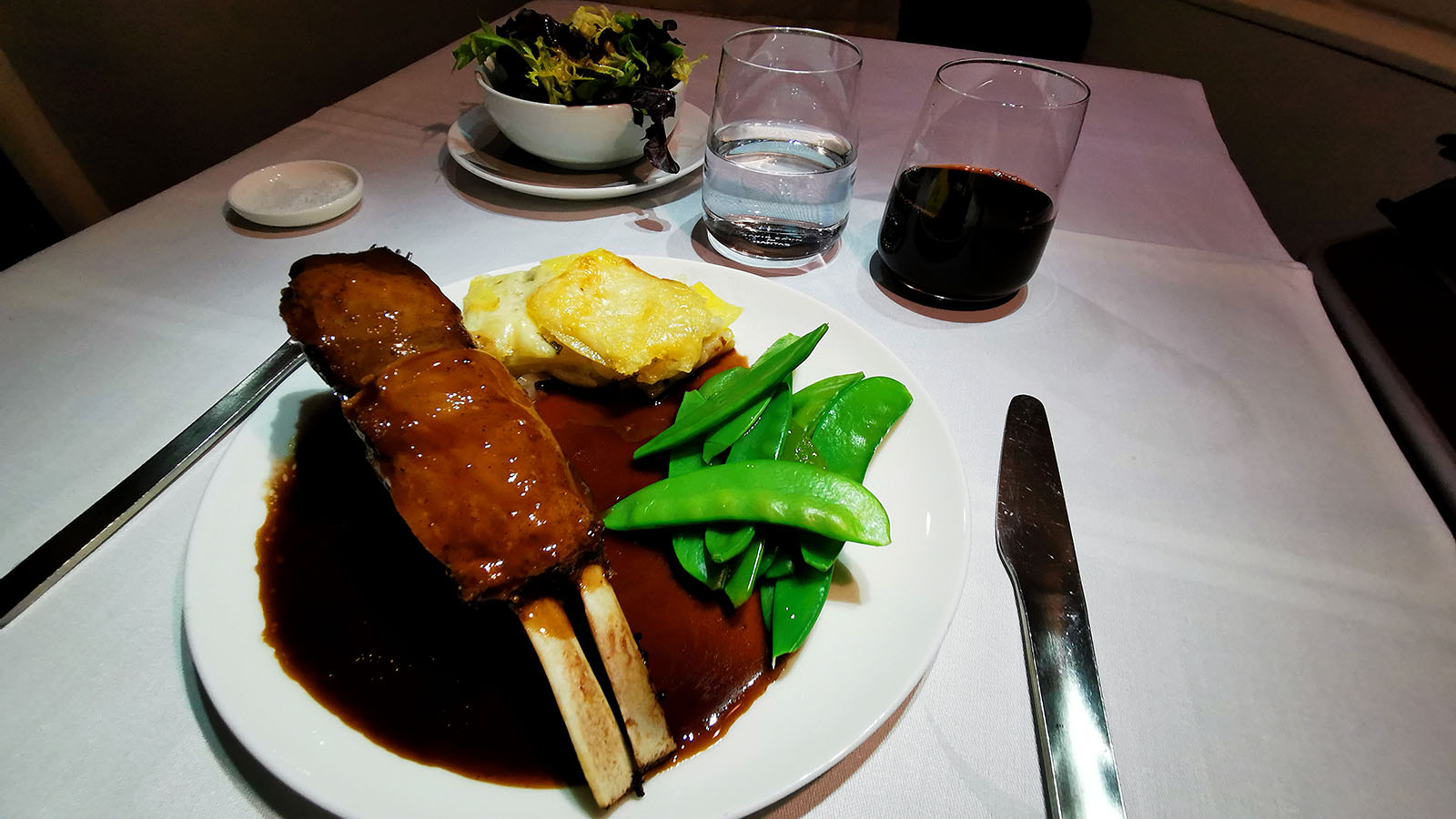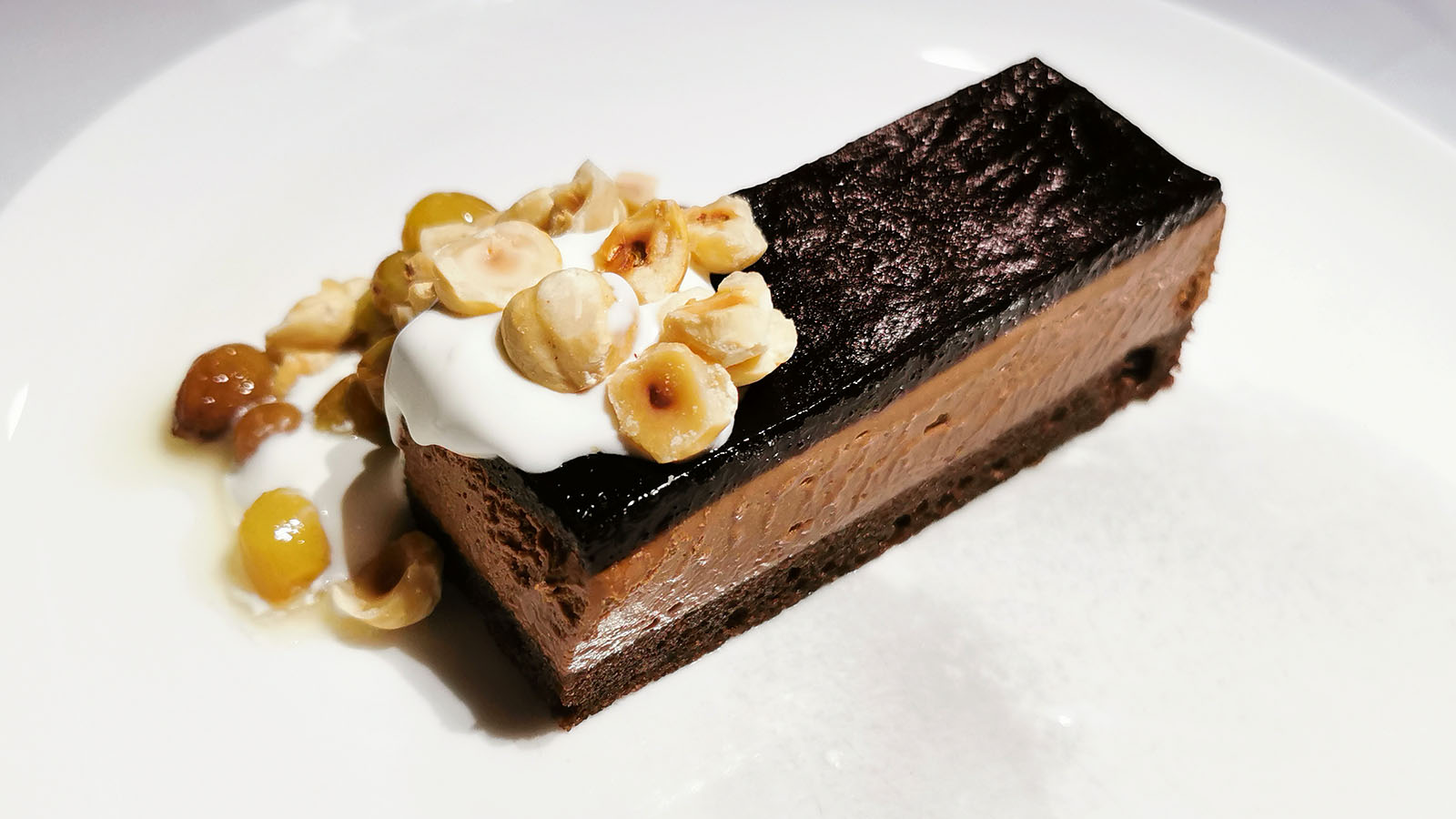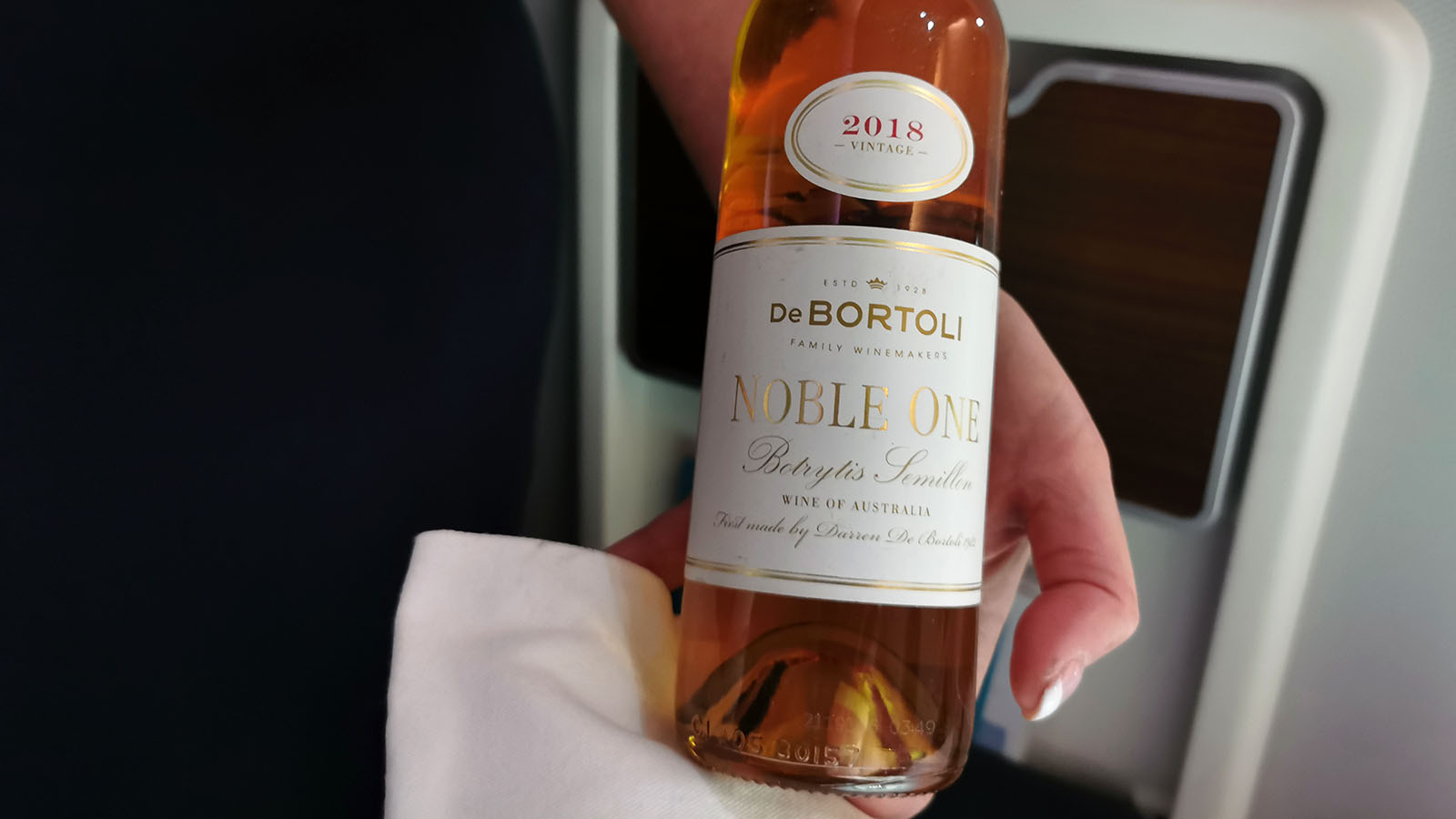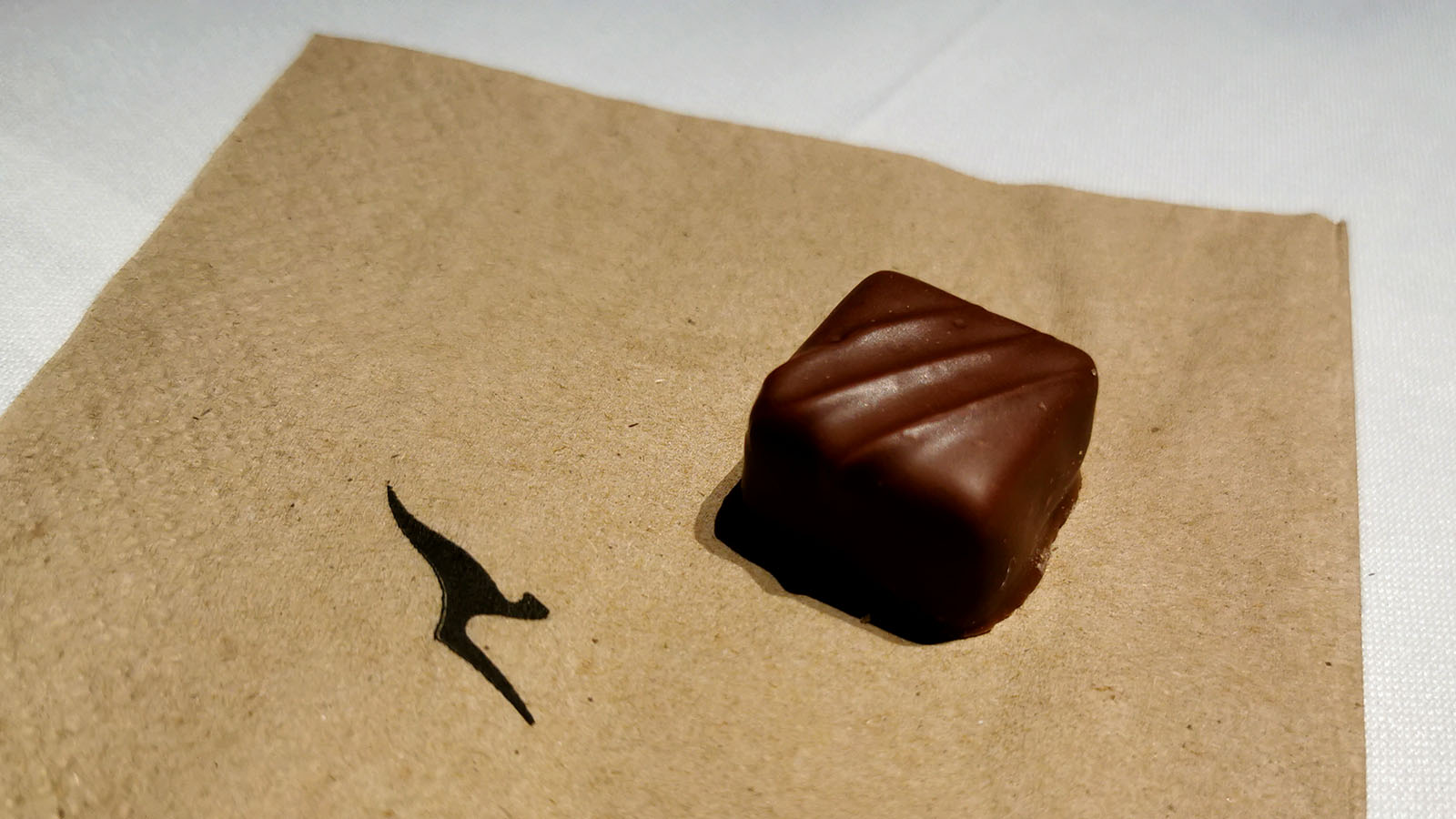 Just to note though, in years gone by, Qantas First was highly regarded for its inflight degustation menus. Sadly, those tasting samplers are no more – even on daytime flights like Sydney-Los Angeles.
Breakfast in Qantas First
Good morning from above the clouds over the Pacific! It's breakfast time – and for me, nothing beats a coffee first thing in the morning. I order a latte and it's delivered in no time.
For the meal itself, I begin with Neil Perry's healthy Bircher muesli. It comes artfully served in a glass, topped with apple and hazelnuts. On the side, a glass of cold-pressed juice with orange, apple, aloe vera, turmeric, lemon and black pepper. Sometimes though, you also appreciate the simple things. For instance, toast with butter and Vegemite.
As for the main, it's a choice between custom egg dishes or pancakes. Had I not already had the toast, I'd be inclined to order poached eggs with salmon on toast. But instead, I go for those pancakes. They're served with a strawberry compote, cinnamon yoghurt and toasted almonds. It's a tasty way to finish out the journey in Qantas First, even though pancakes are common staples of Business Class dining.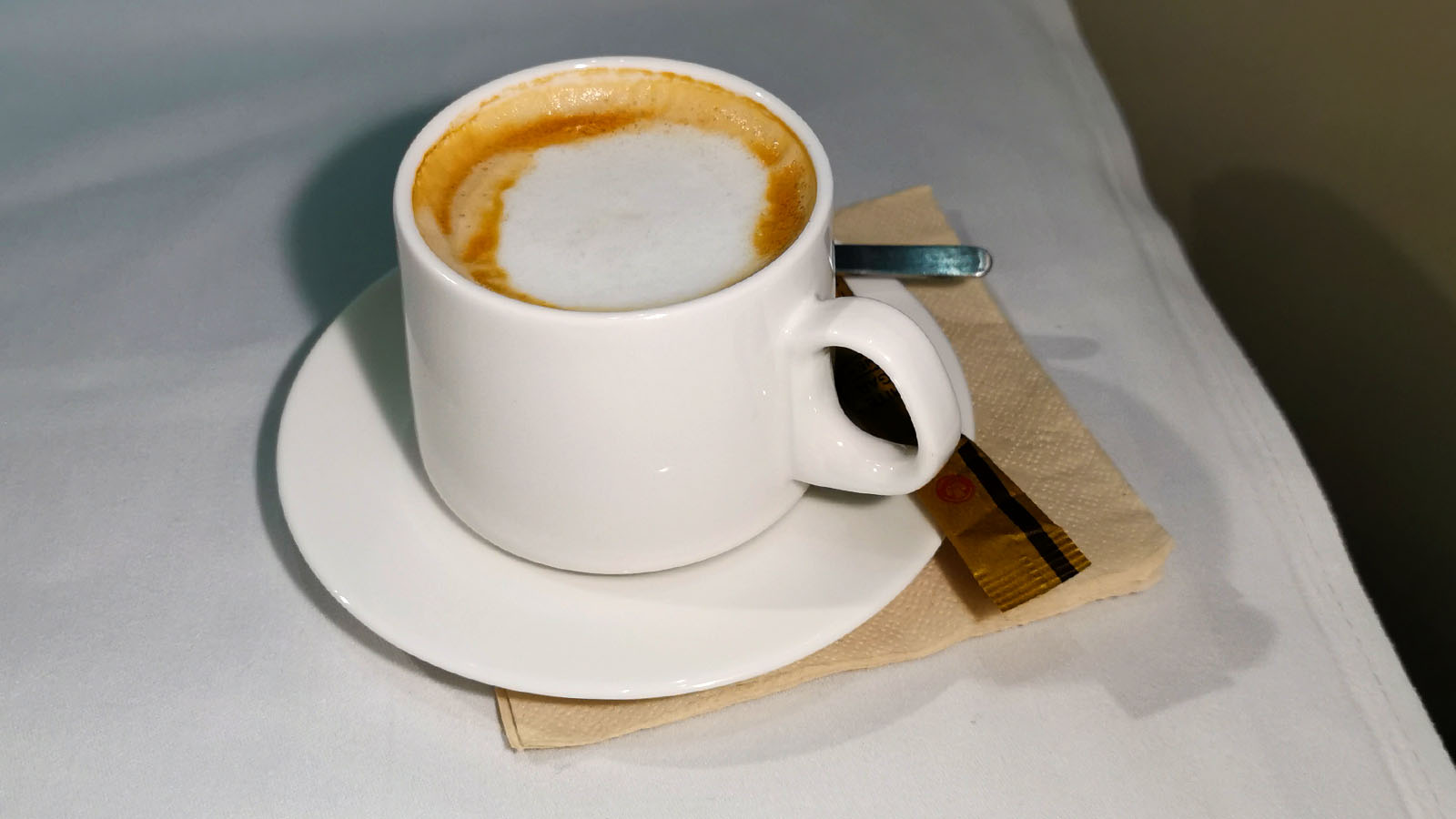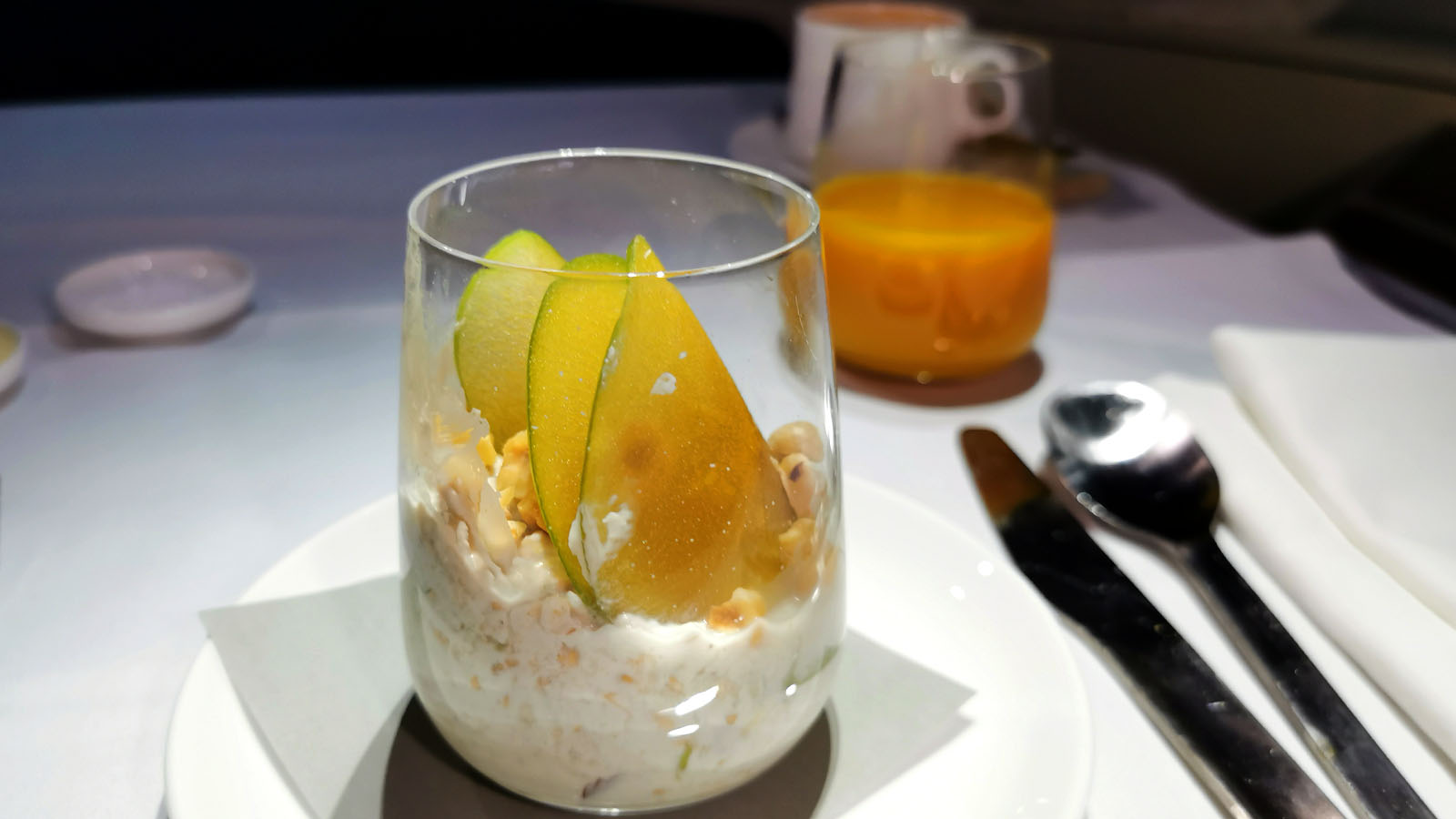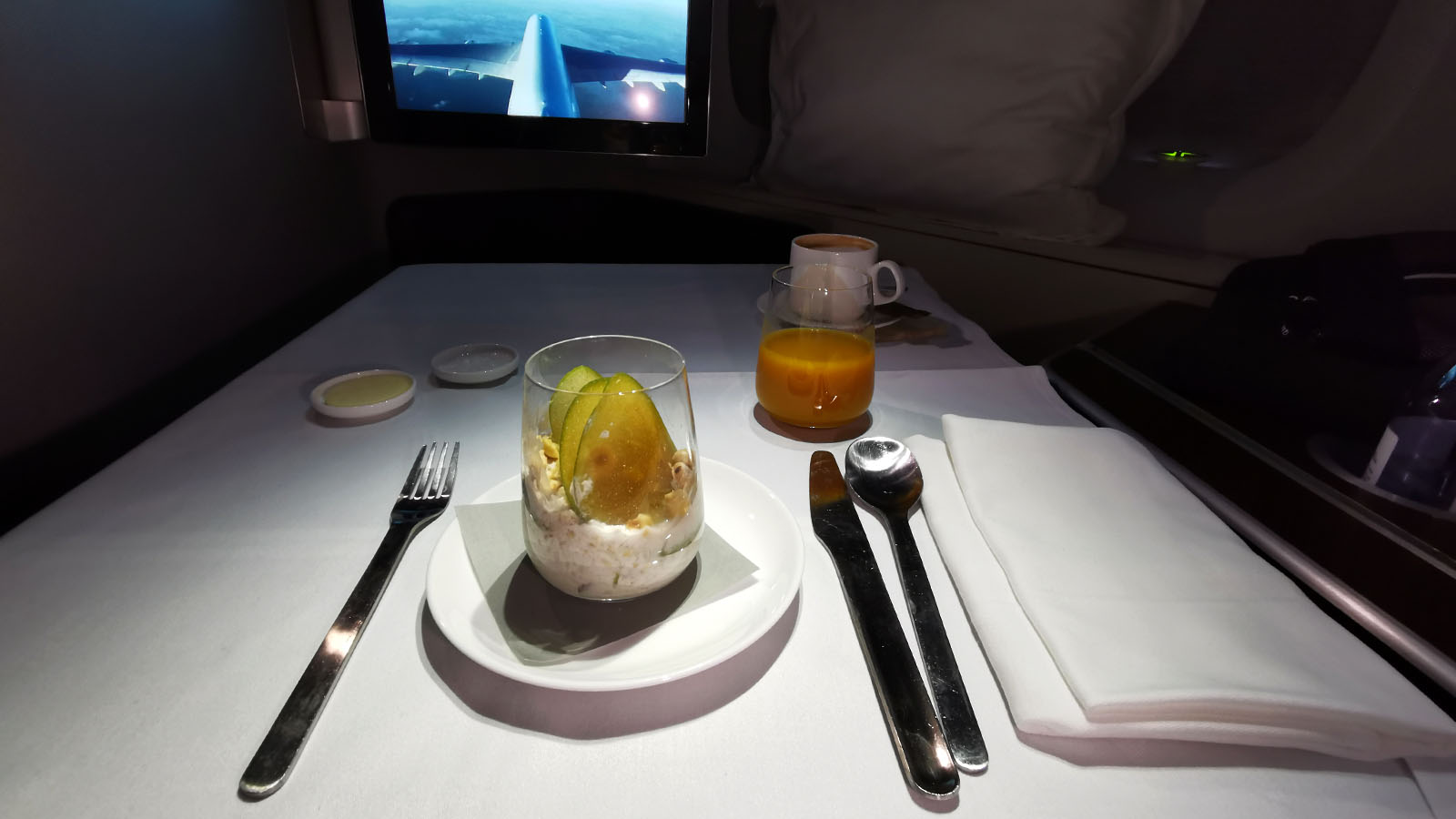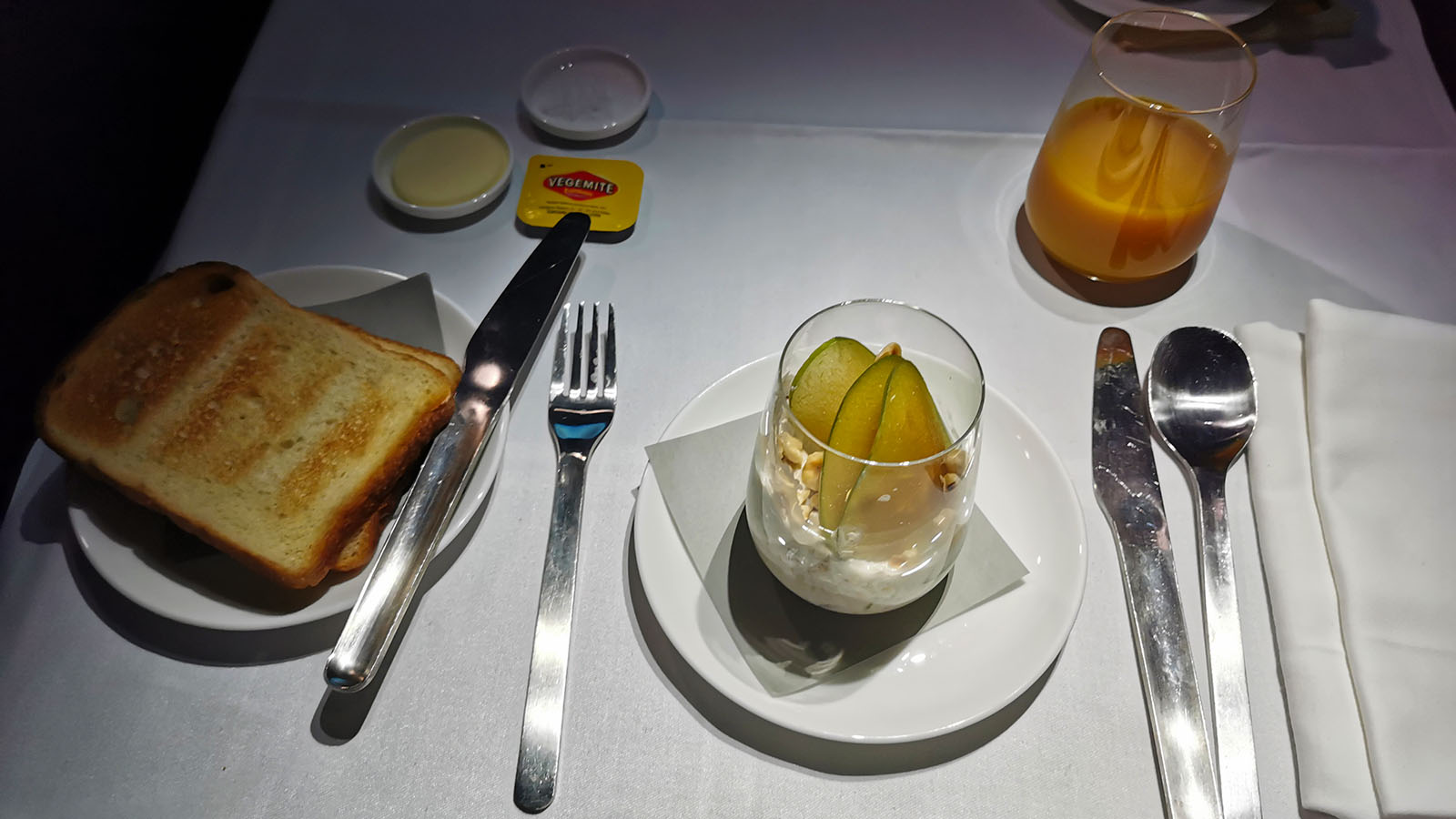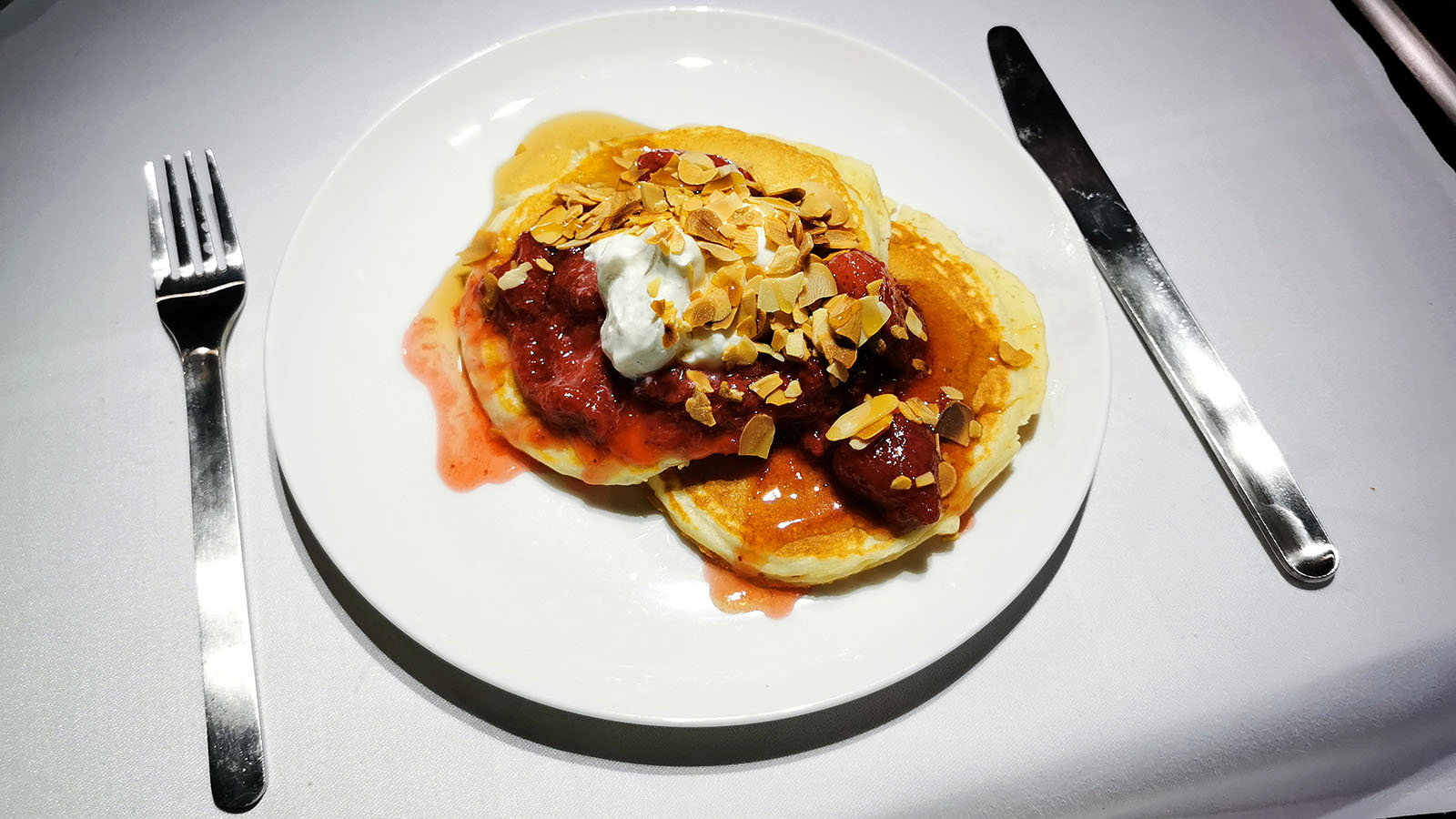 Inflight lounge for Qantas Airbus A380 First and Business
There's one more feature of Qantas Airbus A380 First that isn't as widely advertised. That's Qantas' inflight lounge aboard the superjumbo. In fact, crew on this flight don't even mention it as part of their welcome.
It's easily accessed from the front of the First cabin by taking the stairs to the upper deck. It's a pleasant space to relax, read, work, dine, mingle or just sit with a drink. But given it's a little more 'secret', I often find the lounge is quite empty. On this overnight flight, it's deserted. I pop by for a few photos – but like everybody else, I don't have a need to stay here this time.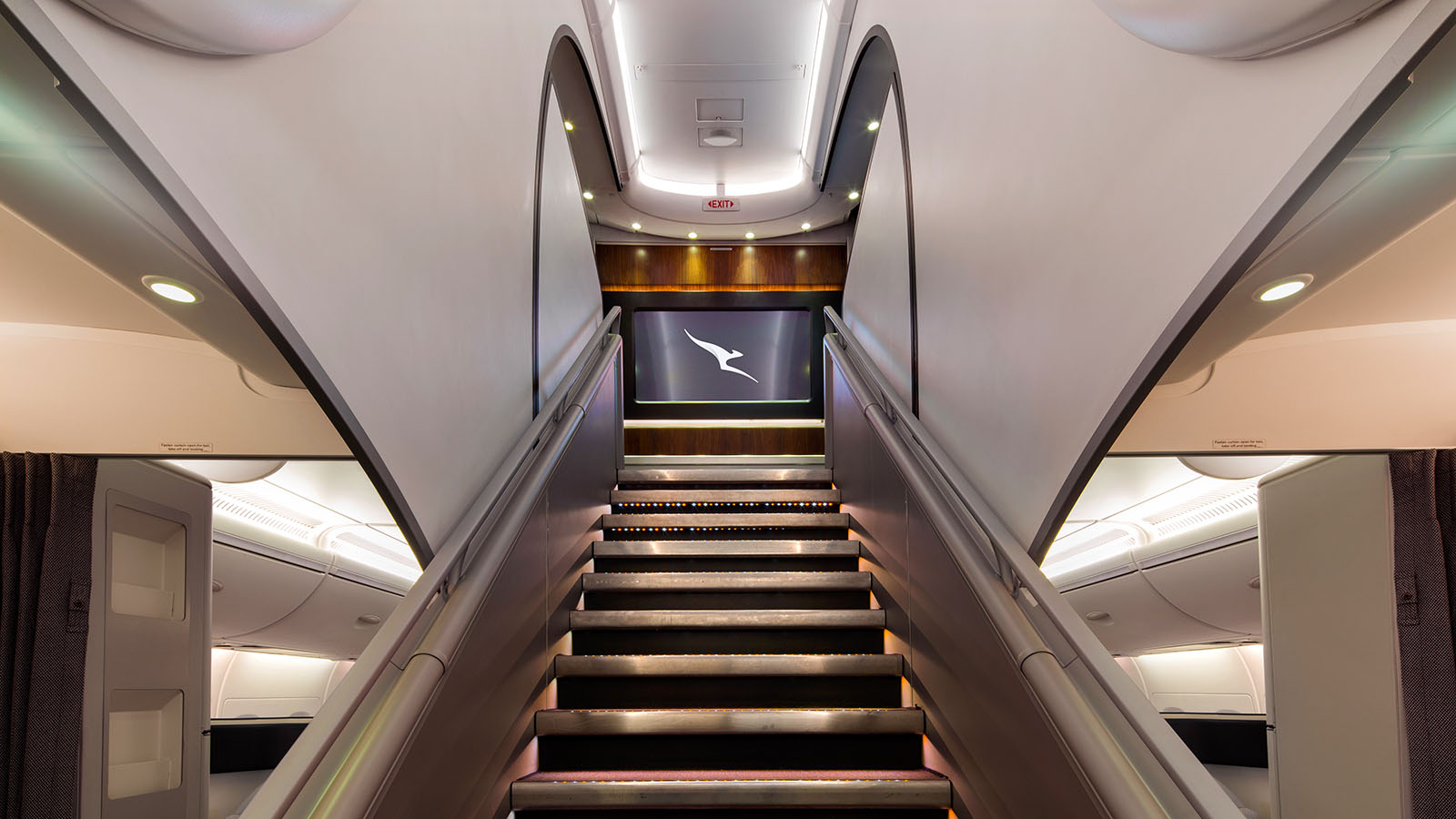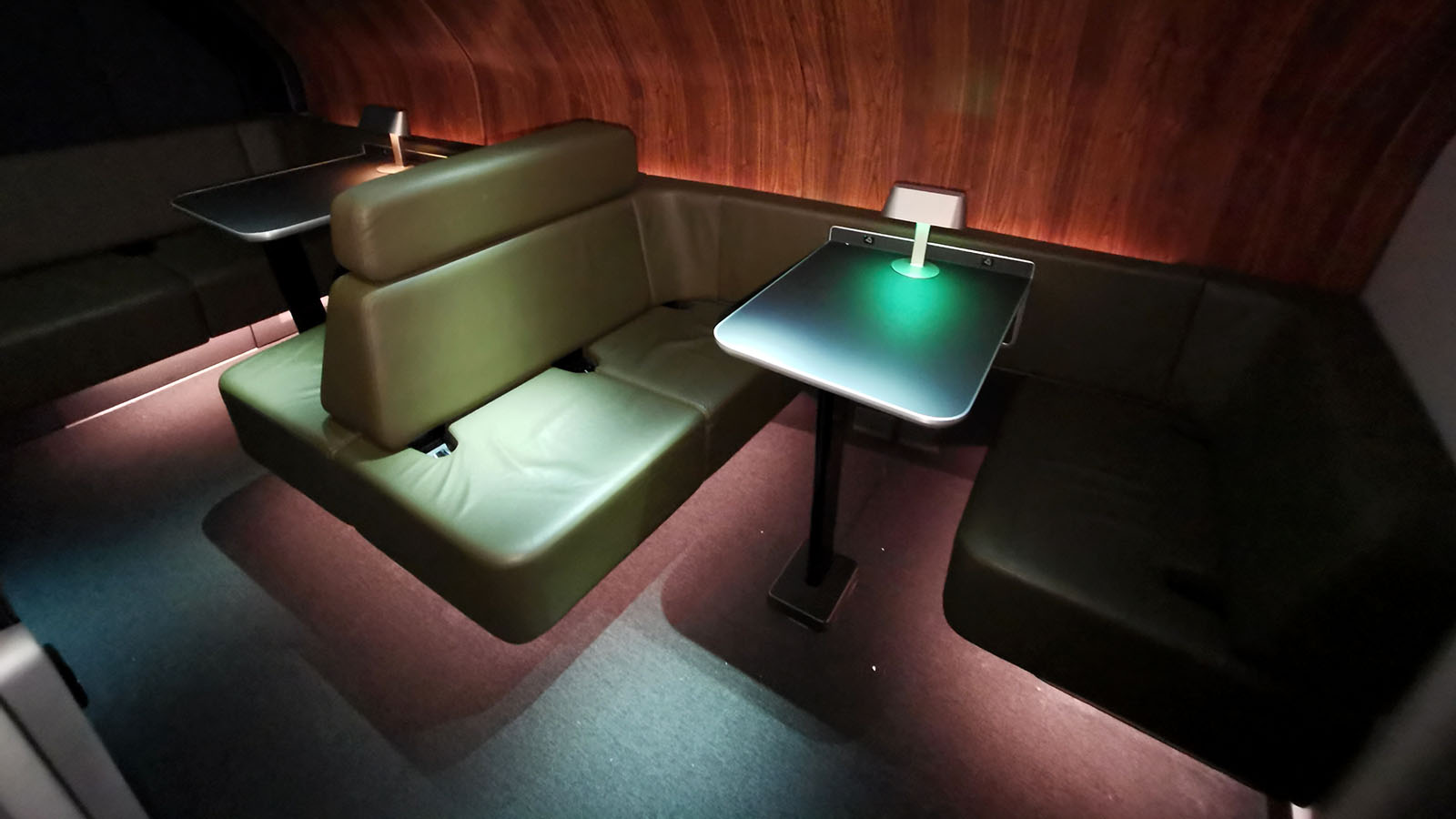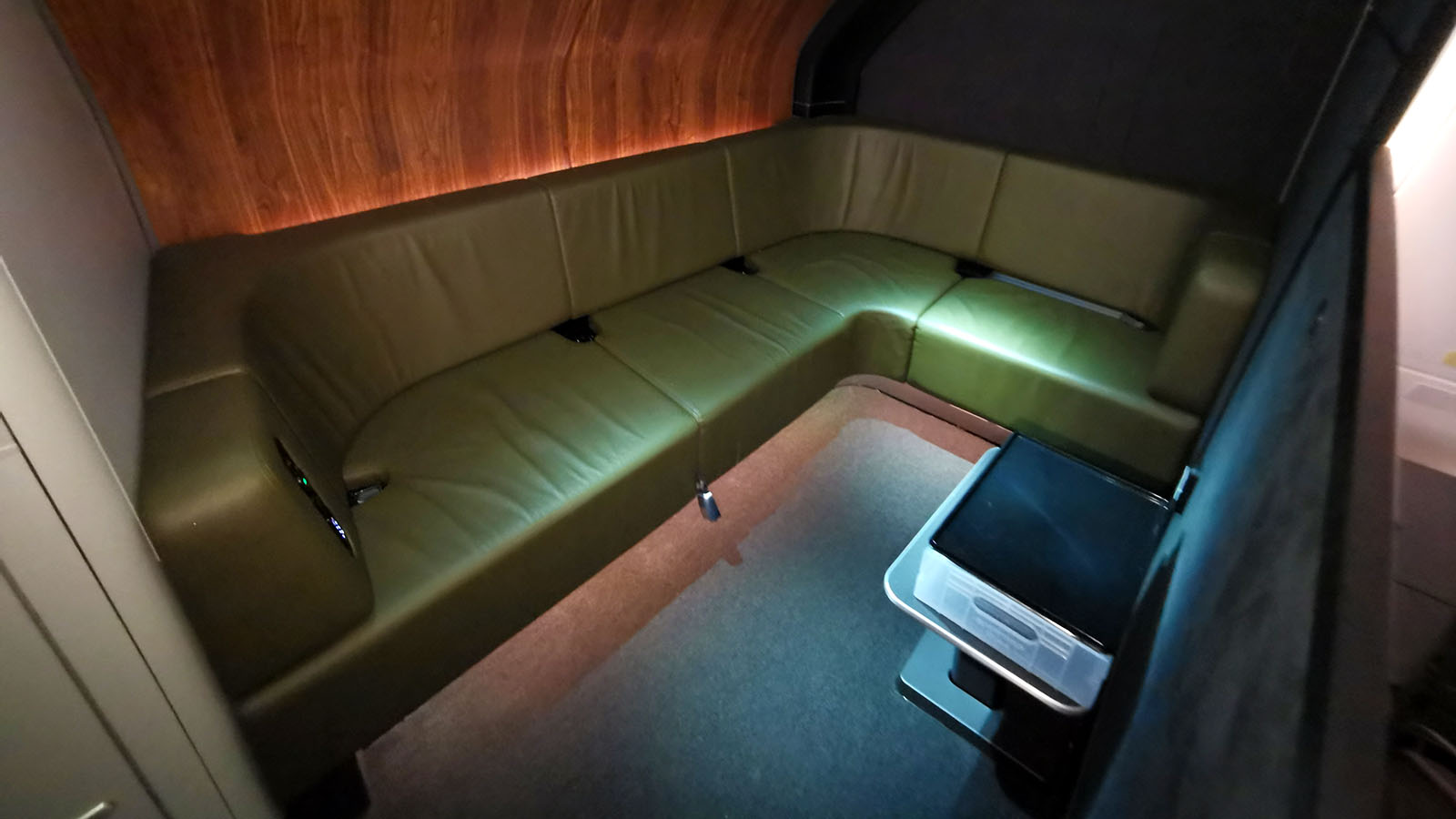 The space is also shared with passengers in Business Class. That's handy to remember in case you're travelling with colleagues and only one of you manages to snag an upgrade to First.
Service and entertainment in Qantas Airbus A380 First
Back downstairs in Qantas Airbus A380 First, the cabin service is a step above Qantas Business. While still delivered with the Roo's typical laidback vibe, crew members make more of an effort to engage in broader conversation around the service itself. For instance, when describing dishes, wines and the overall flight.
Having said that, I flew British Airways First from London to New York just two days before this Qantas flight. By comparison, the service on BA feels much more personalised. Qantas crew are still polite, but on this flight, are a tad more distant than I experienced on the airline's oneworld Alliance counterpart.
As for entertainment, there's plenty to watch. Over my meals, I catch a few episodes of The White Lotus (thanks for the recommendation, Katie!). Noise-cancelling headphones are provided, but they're of average quality – and the same given to passengers in Premium Economy too. I always pack my own and they work a treat.
The panel itself is a touchscreen, but given the spaciousness of the suite, it's usually out of reach while seated. To make things easier, there's a remote control tucked away to the side. There's also a separate screen that detaches from its housing in the shell of the seat. You can use it not only to view the moving map, but also to adjust the features and lighting of the seat.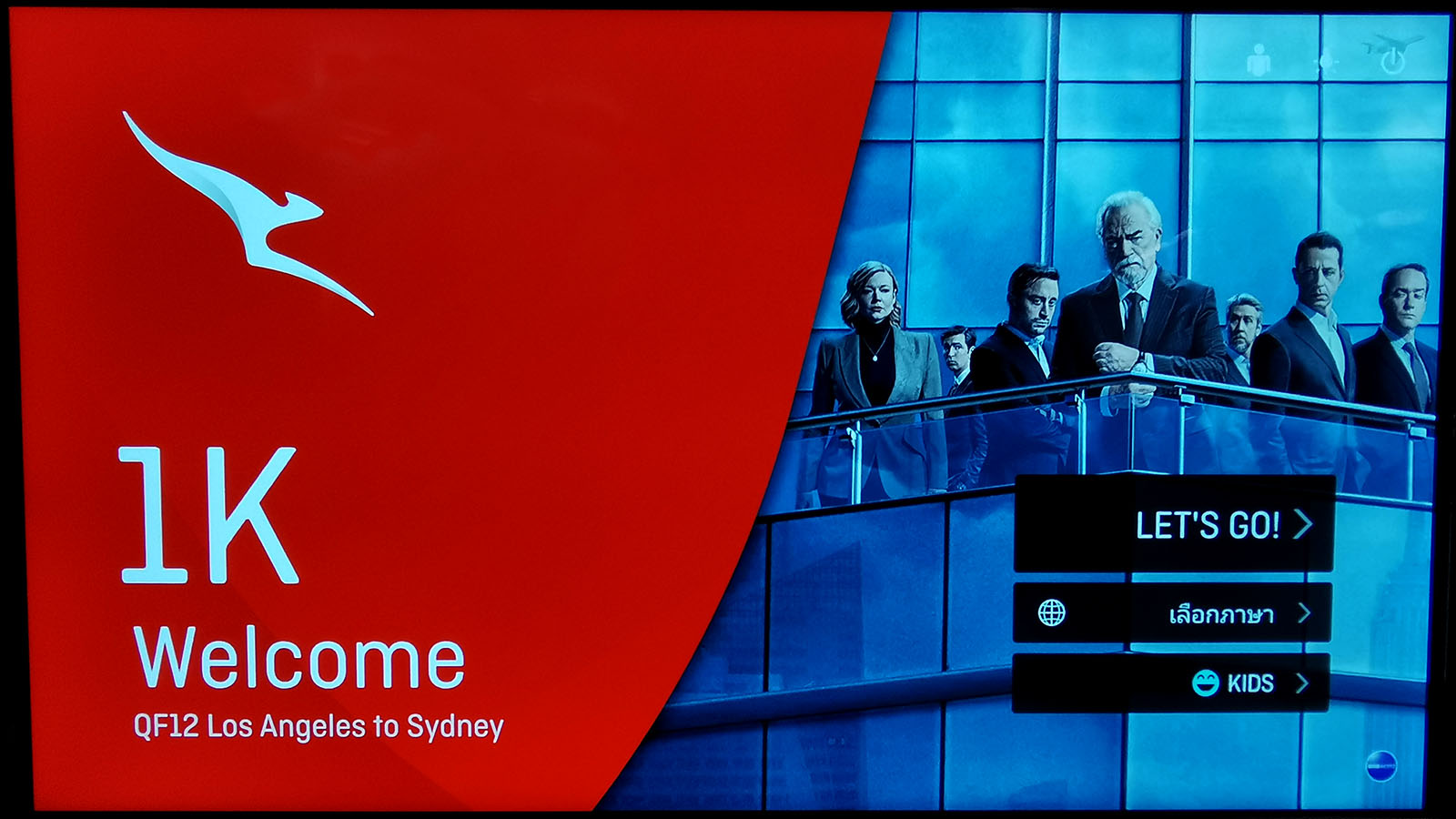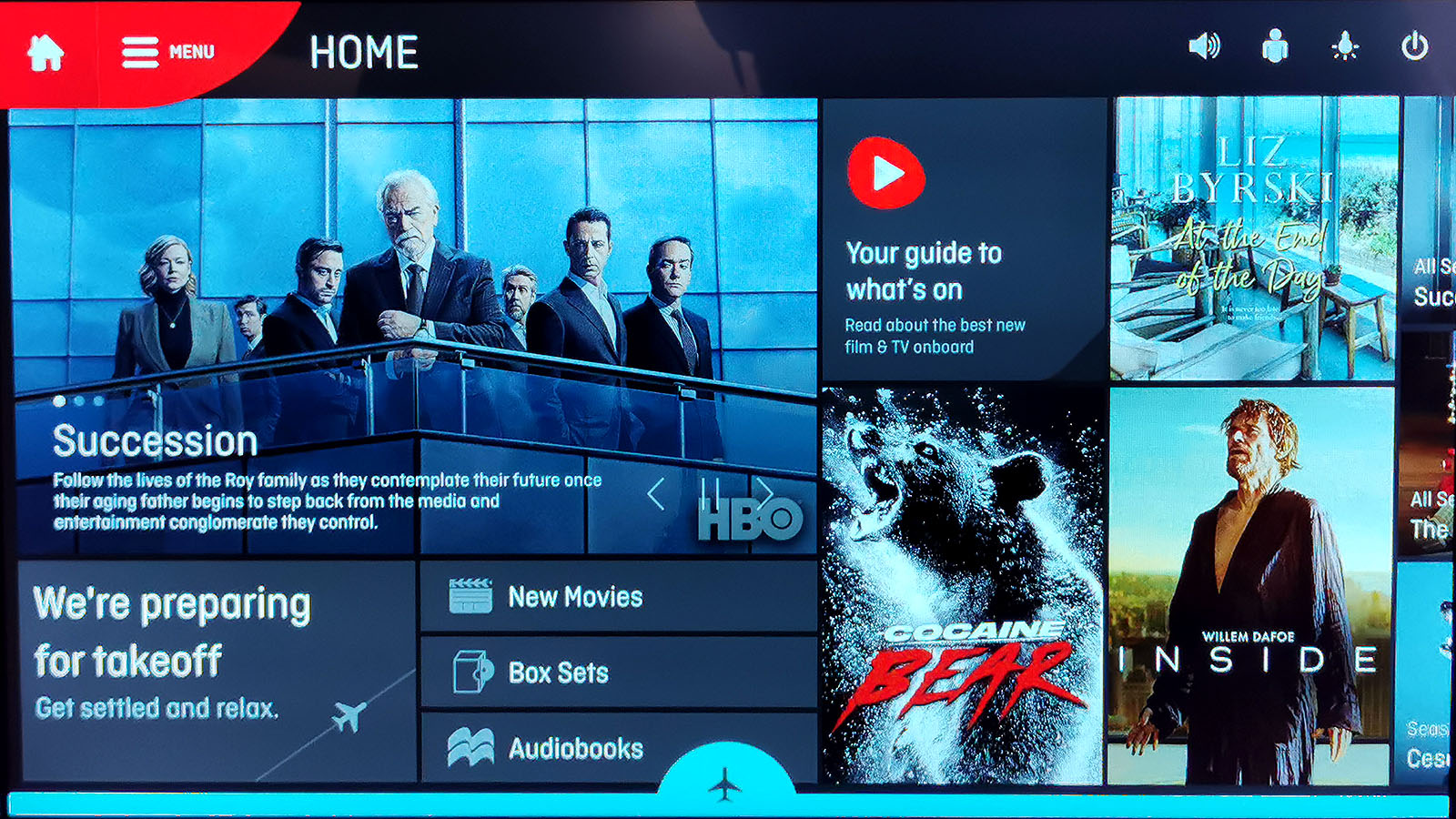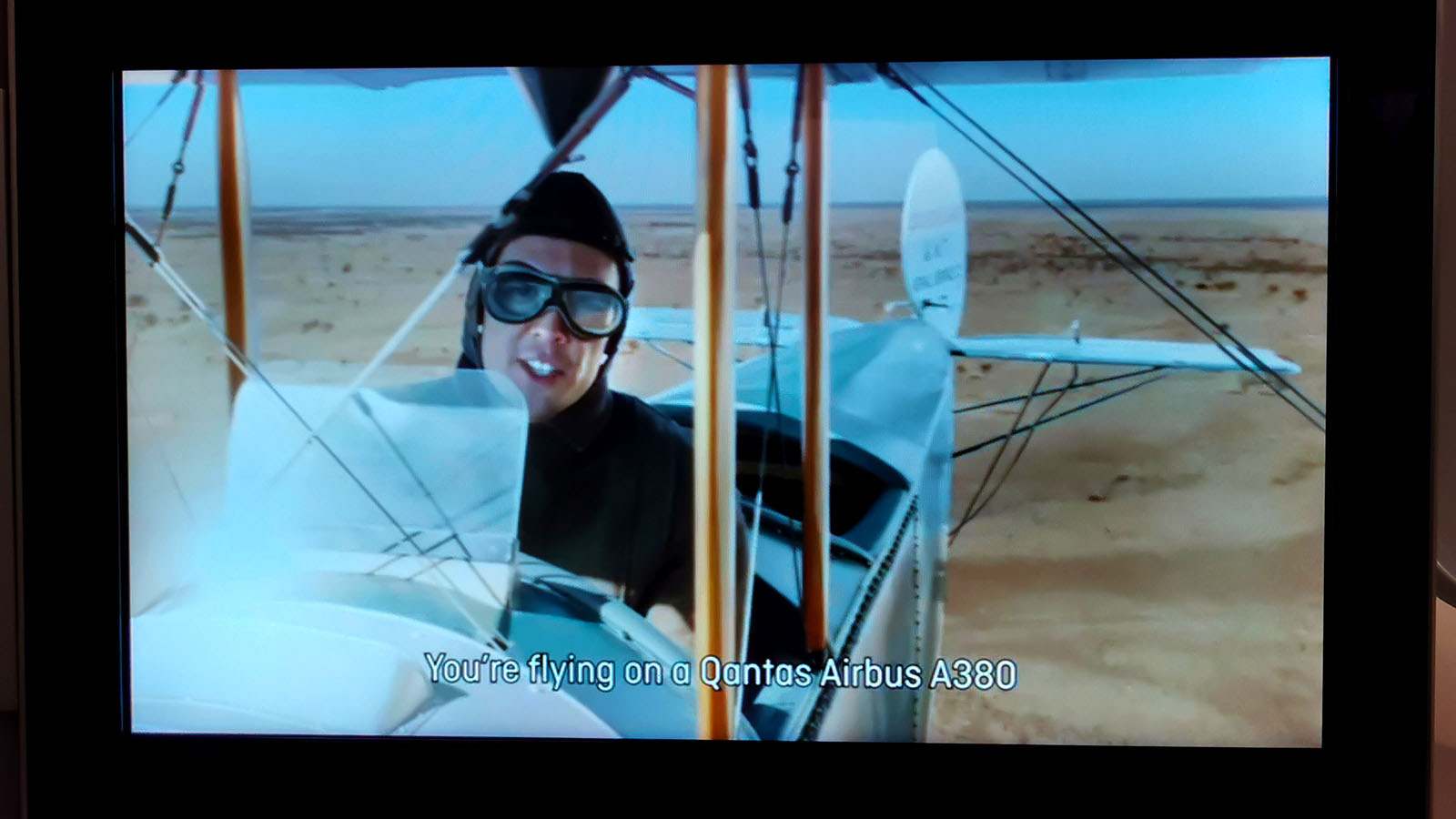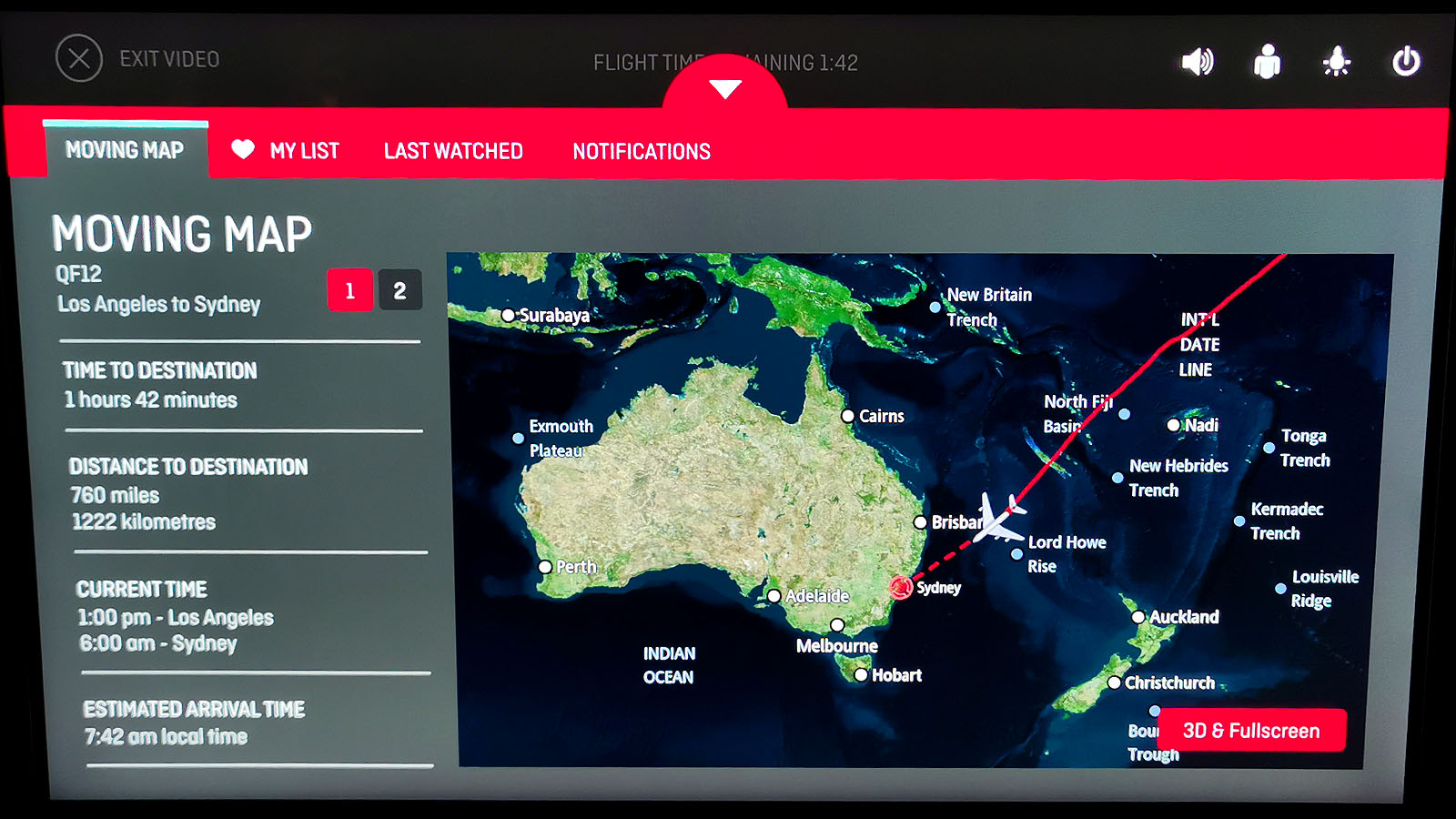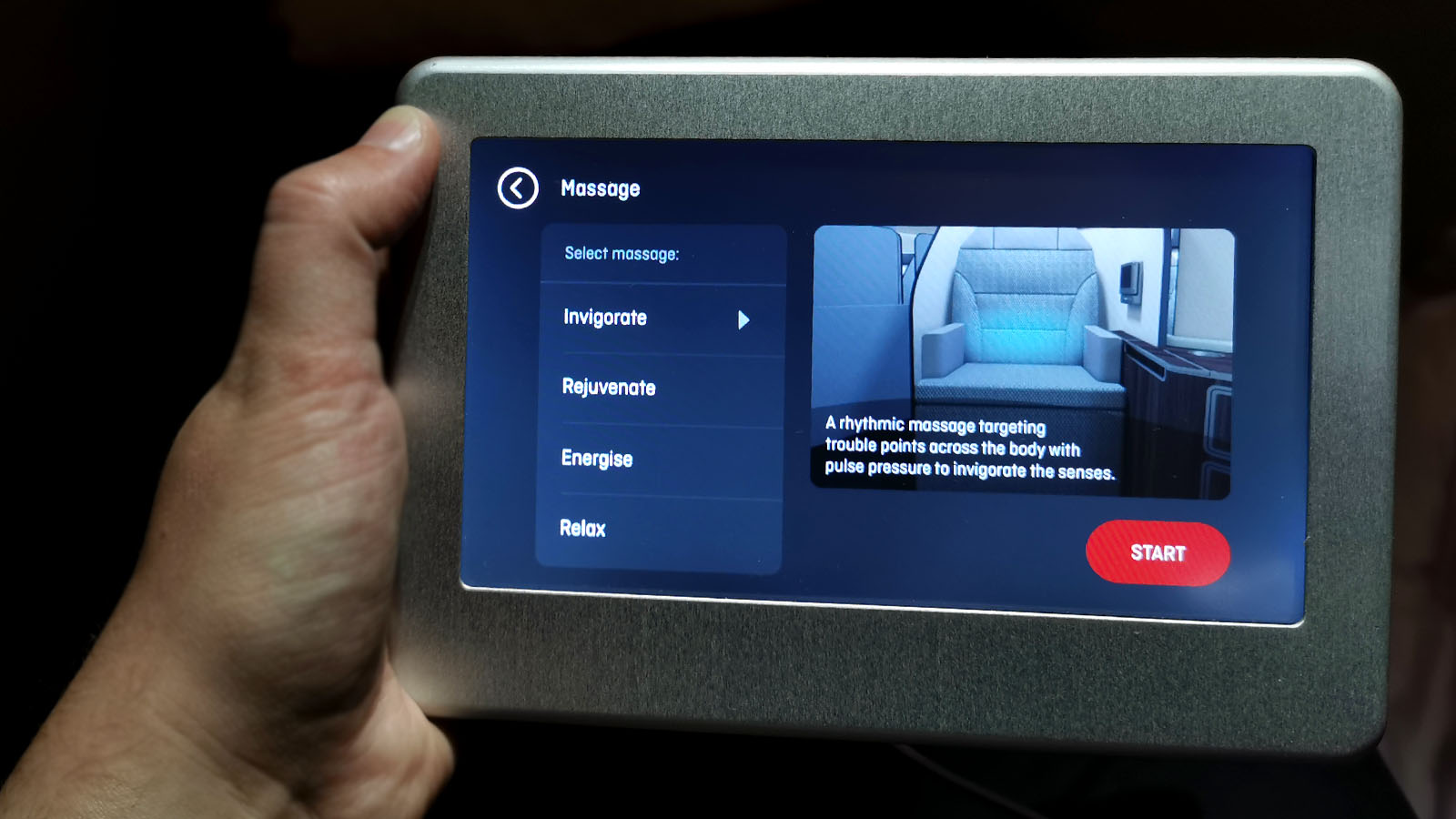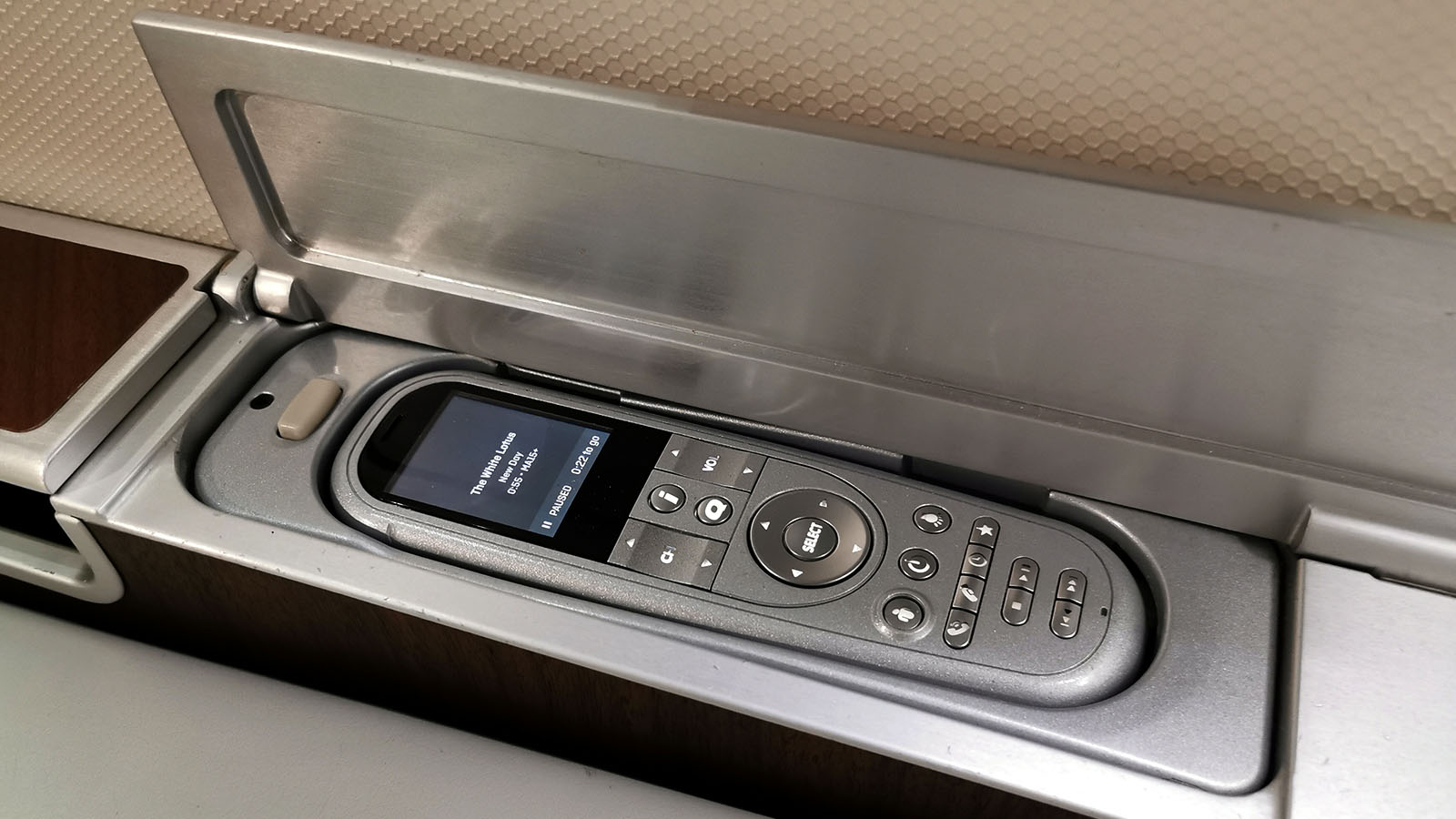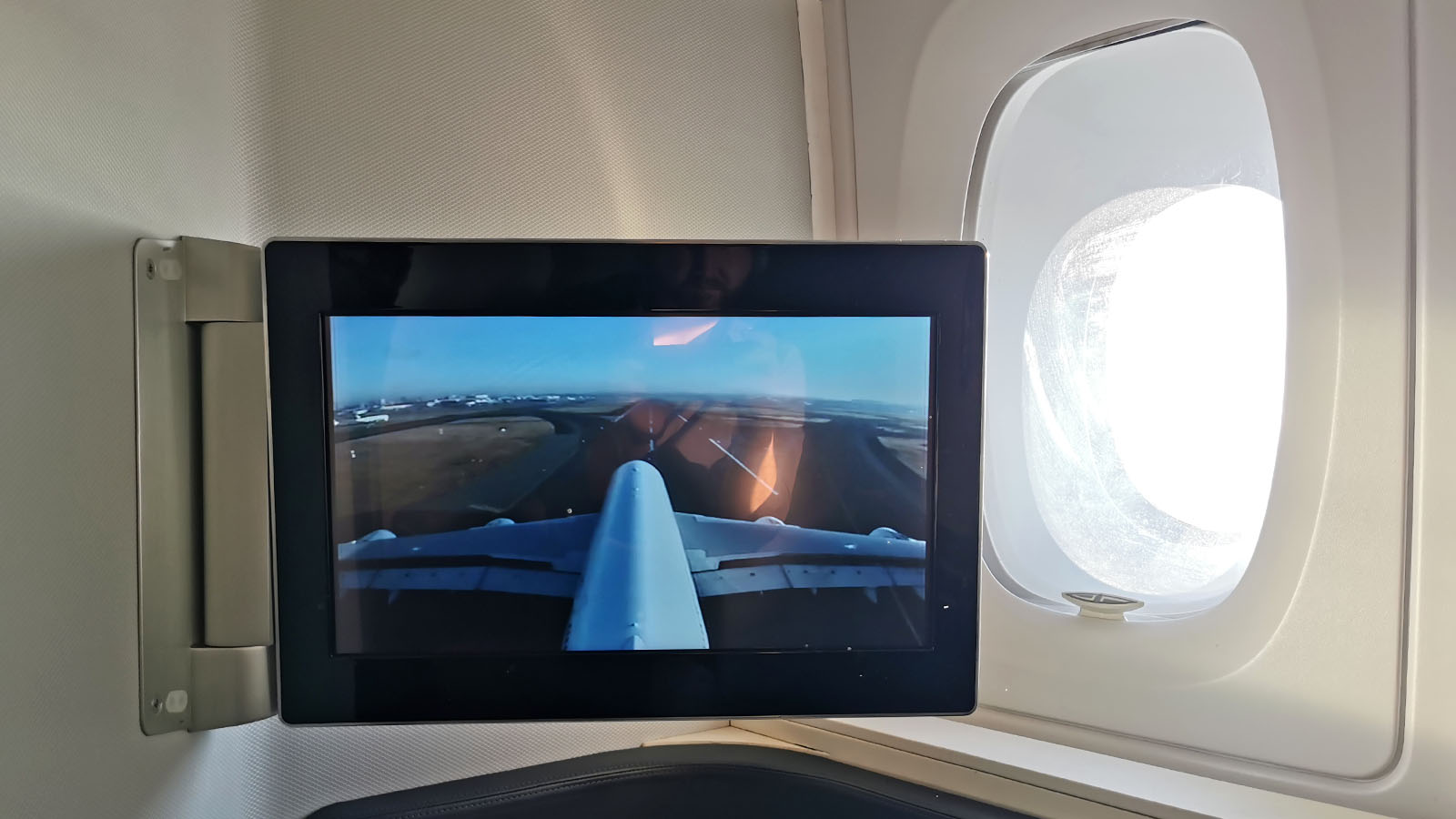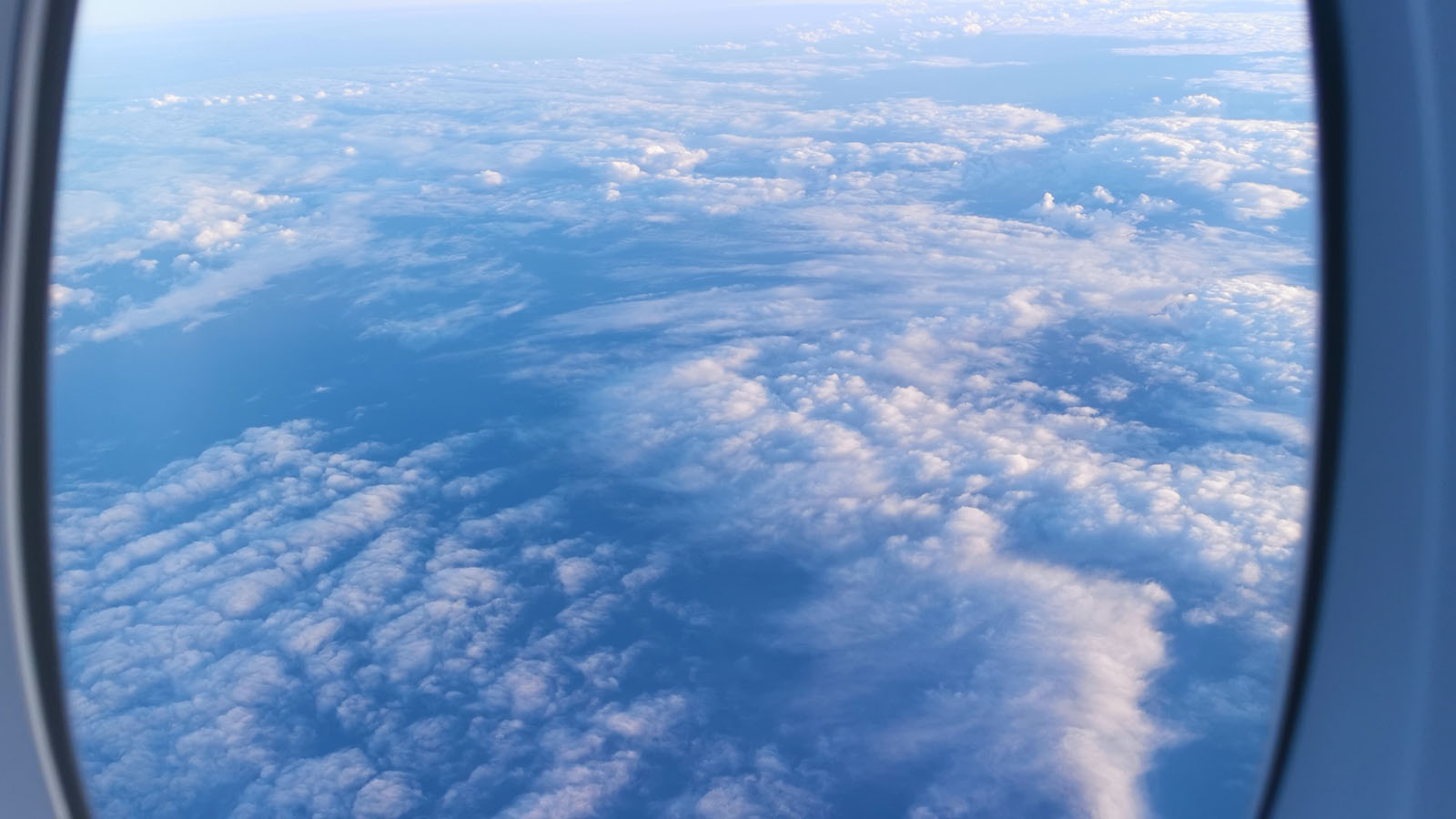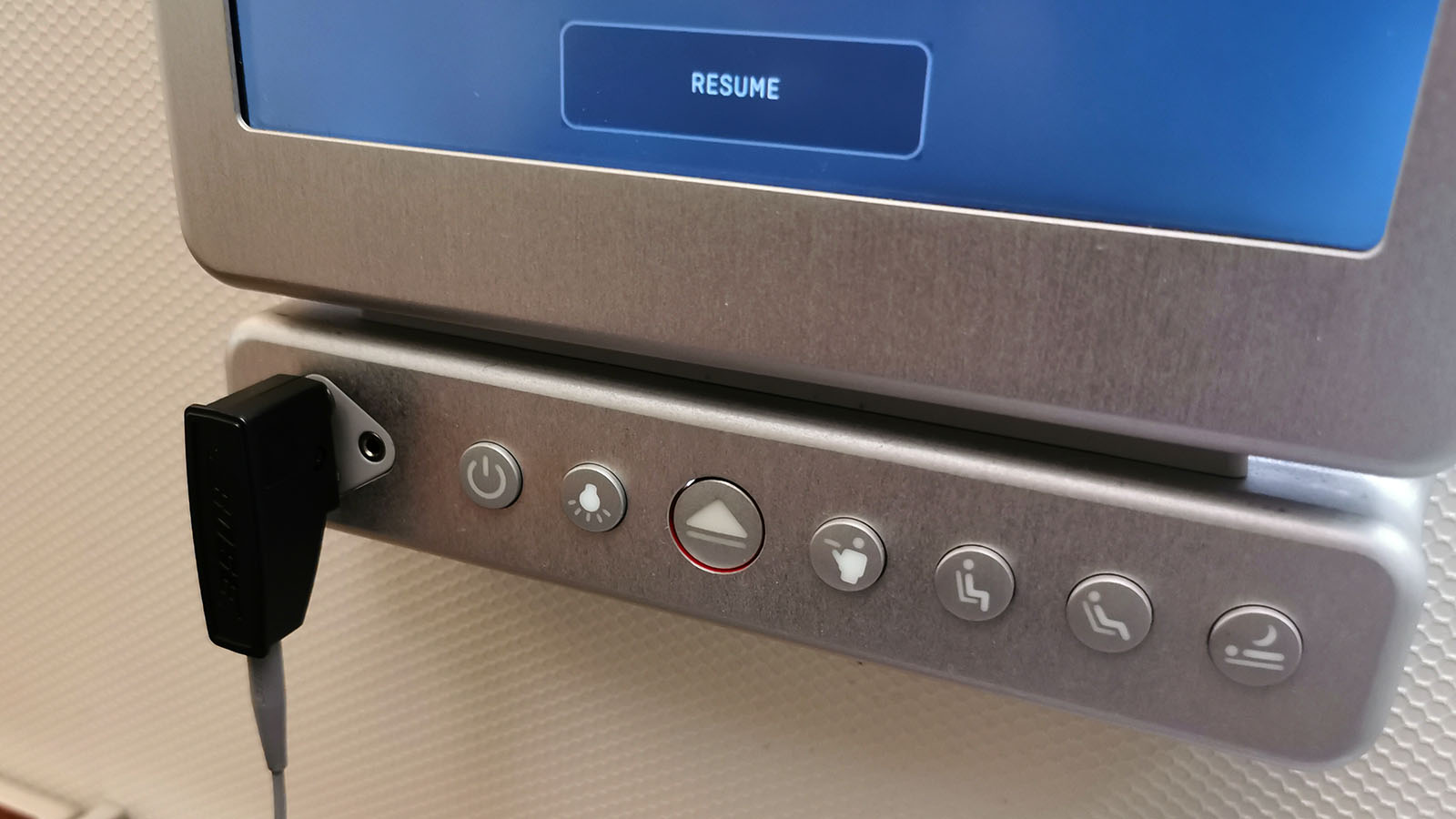 On the downside, Qantas doesn't offer inflight Wi-Fi on any of its flights between Australia and the United States. In fact, Qantas is the only airline flying between Sydney and Los Angeles without inflight connectivity. In the years gone by, passengers could use the Airbus A380's inflight entertainment system to send and receive text messages and make inflight calls – albeit at a cost. But even that's been switched off.
Even though Wi-Fi is less critical on a 'sleeping' flight like this, it's really time that Qantas caught up. After all, with near-ubiquitous Wi-Fi on the airline's domestic flights, many passengers are now conditioned to simply expect it – myself included.
The verdict
All things considered, there's no denying that Qantas Airbus A380 First is a significant step above Qantas Business. The seat is more spacious, the dining is elevated somewhat, and when they do indeed load them, the wines in Qantas First are better too. But remember, it's all about having the right expectations.
First is the best cabin and service that Qantas offers on any of its flights. But this isn't Suites on Singapore Airlines or First Class on Emirates. Rather than the glitz and the glam, the biggest reason to fly Qantas First, in my view, is the bed. On an overnight flight like LA-Sydney, what you really want is a good night's sleep. And on that front, it's okay to have very high expectations – this seat is very comfortable.
As for how Qantas stacks up against the competition, it really depends on the route. Between Sydney and LA, only two airlines offer First Class – American Airlines being the other. I've flown First on both, and know that I prefer Qantas on the whole. I do like how AA's seat becomes more of a window-facing office for those daytime Sydney-LA flights, though.
But more broadly, Qantas First is up against much tougher competition. Especially so on flights from Australia to Singapore and London. Our star rating for this journey (3.5 stars, equal to 7/10) reflects the fierce competition by other airlines for premium travellers, and the amenities and services offered that aren't provided by Qantas itself.
Still, if you're wondering whether Qantas First is 'worth it' versus Qantas Business, I'd say yes. For me, sleep in the air is everything on journeys like this. Being able to arrive back in Australia from a hectic trip with zero jet lag is reason enough to fly Qantas First again.
Also read: Qatar Airways Airbus A380 First Class review (Doha – Sydney)
Feature image courtesy of Qantas. Other photography by Chris Chamberlin, who travelled at Point Hacks' expense.
---
Stay up to date with the latest news, reviews and guides by subscribing to Point Hacks' email newsletter.
Qantas Airbus A380 First (Los Angeles – Sydney)
was last modified:
November 3rd, 2023
by