Qantas confirms Sydney-Perth-Paris flights ahead of Olympics
Another ultra-long-haul route and a non-stop connection from Perth to Europe.
Posted:
October 29, 2023 - 12:39 pm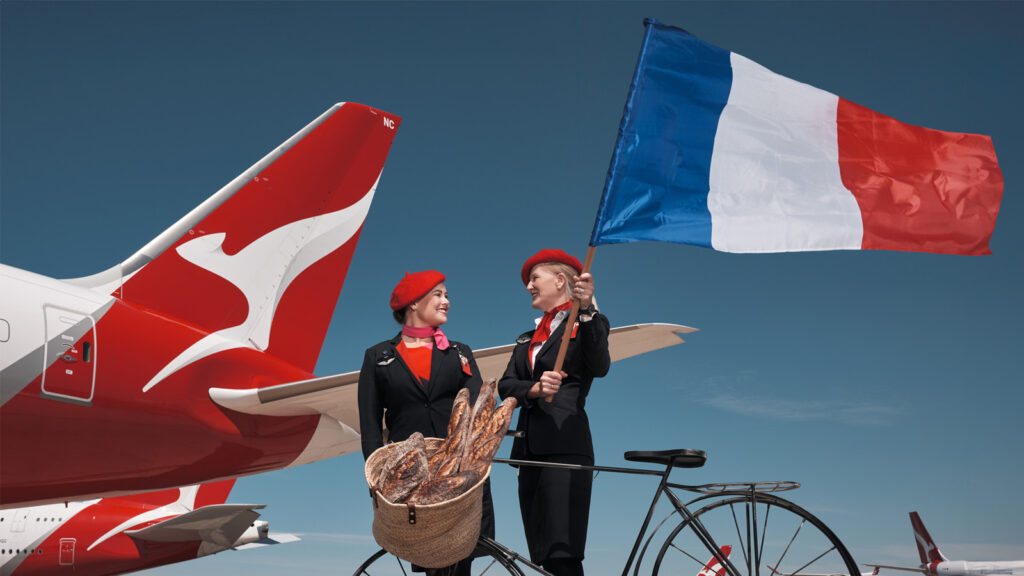 What we'll be covering
The Red Roo will bid 'Salut' to the French capital in July 2024 as Qantas gears up to launch non-stop flights between Perth and Paris ahead of the Olympics and European summer holidays.
Kicking off on 12 July 2024, the Boeing 787 flights will initially run four-weekly until mid-August, when Qantas will dial it down to a thrice-weekly, year-round service. This contrasts with the seasonal Perth-Rome flights, which run three times a week from June to October only.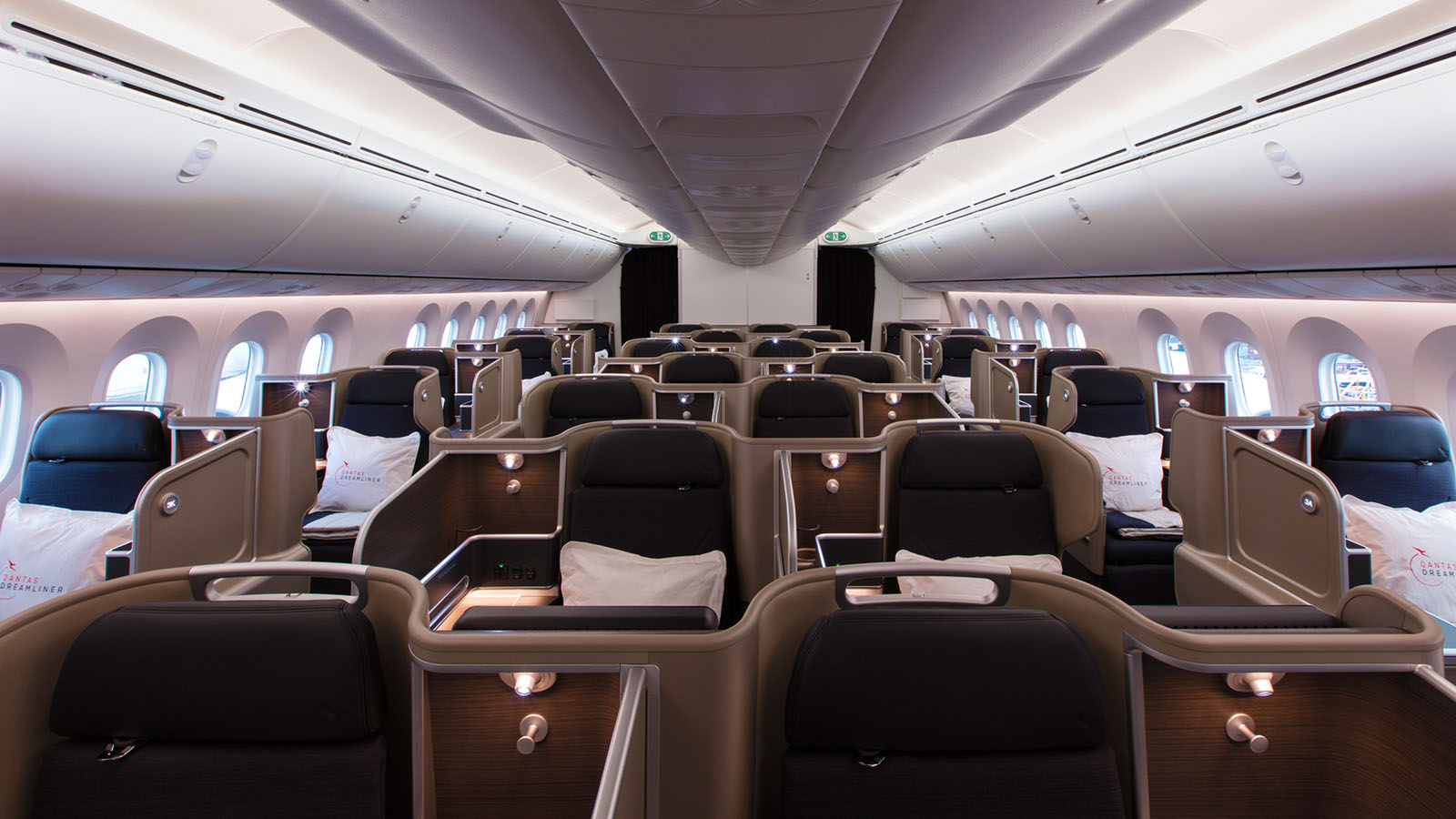 As expected, the flights will go via Qantas' international pier at Perth's Terminal 3/4, offering easy connections to and from Qantas' domestic flight network. Qantas CEO Vanessa Hudson says the airline is thrilled to put Paris back on the Qantas map.
Our direct flights to London and Rome have been hugely popular and Paris is the next most-requested destination, so we know the demand for this service will be strong as well. Some of the first customers on these flights will be Australian athletes heading to Paris to compete at the 2024 Olympic and Paralympic Games.

The schedule we've announced today will add more than 75,000 seats between Australia and Europe each year and we'll be working with Tourism WA to help make the most of the opportunity to bring tourists here, knowing that direct flights are a big factor in people deciding where to travel.

– Vanessa Hudson, Qantas CEO, 29 October 2023
Ad – Scroll down to continue reading.Minimum spend, terms & conditions apply.
QF33 and QF34 schedule
QF33 will depart from Sydney at 1:55 pm on Sunday, Monday, Wednesday and Fridays initially, calling into Perth at 5 pm local time. After a 155-minute stop, QF33 continues non-stop to Paris at 7:35 pm, arriving at 6:55 am the next day – a flight of 17 hours and 20 minutes.
The return flight, QF34, leaves Paris at 9:55 am on Mondays, Tuesdays, Thursdays and Saturdays. After flying for a shorter 16 hours and 35 minutes, it lands back into Perth at 8:30 am the following morning. QF34 then continues its final tag leg to Sydney, pushing back at 10:00 am and touching down in Sydney at 4:05 pm.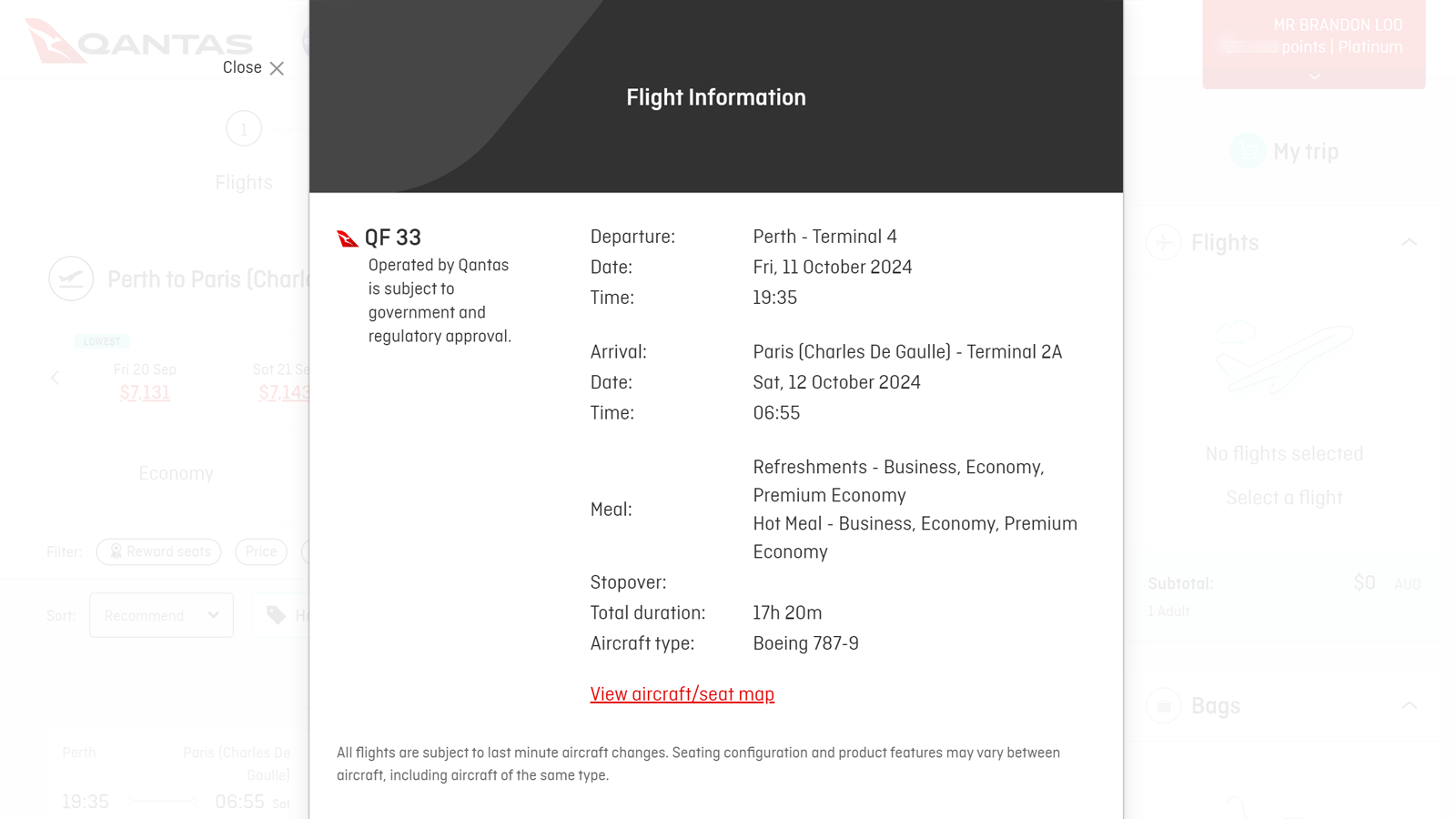 From mid-August, the Sunday departure from Australia (and the return Monday departure from Paris) will be trimmed. But the flights will continue on a year-round basis.
Qantas will fly into Paris CDG Terminal 2A. Unfortunately, the salubrious Qatar Airways Premium Lounge is in Terminal 1, so eligible Qantas customers will be restricted to options within Terminal 2, which will likely be a pay-per-use lounge. The American Airlines Admirals Club and the Cathay Pacific Lounge in Terminal 2 are closed until further notice.
Points needed for reward seats
When reward seats become available on this route, here's what you'll need to part with. All prices are on-way and per person. Fees and taxes apply on top as well.
| | | | |
| --- | --- | --- | --- |
| Route/Cabin | Economy | Premium Economy | Business |
| Sydney-Perth | 18,000 pts | 31,000 pts | 41,500 pts |
| Perth-Paris | 51,200 pts | 94,900 pts | 126,500 pts |
| Sydney-Perth-Paris | 55,200 pts | 108,400 pts | 144,600 pts |
If you connect to the Perth-Paris flight with a sector that's under 730 miles (e.g. from Kalgoorlie or Learmonth-Exmouth), then you'll still pay the same number of points as Perth-Paris. Essentially, that connecting flight is 'free' in points, and you pay extra fees and taxes.
But if you're connecting to the Perth-Paris flight from anywhere else, including Adelaide, Melbourne, Brisbane and Hobart, you'll pay the maximum capped number of points, the same as Sydney-Perth-Paris.
Those connecting flights can be up to 6,100 miles long, so you could connect from anywhere in Australia or the South Pacific (including New Zealand, Fiji and Vanuatu) to Paris via Perth and still only pay no more than 144,600 points + fees and charges in Business Class.
Summing up
At the time of writing, Qantas hasn't offered any major release of reward seats on the new Perth-Paris route. As it's launching just ahead of the Olympics, demand will be high, and Qantas is not putting on a Points Plane either. But you can now book these fares with cash, starting from $1,899 return in Economy from Perth.
Those looking to spice up their Perth-Sydney commute can book the domestic tag legs of QF33 and QF34 on the days they depart. The main benefit for Platinum frequent flyer members is access to the Qantas International First Lounge in Sydney. On the other end, Qantas Club members and Qantas Gold (and higher) frequent flyer members can enjoy breakfast in the Qantas International Lounge in Perth T3/T4.
However, the cost of this is that Qantas will trim back QF9/10 to become a Perth-London route only, scrapping the Melbourne-Perth and its return Perth-Melbourne domestic tag leg on the Boeing 787 Dreamliner.
Qantas' latest route is another high-profile launch amidst the backdrop of various PR battles. But now that Qantas and Perth Airport's relationship is on the mend, we could see the return of other important routes, such as Perth-Johannesburg, resulting in more options for its passengers.
---
We'll send you an email alert once Qantas releases premium cabin reward seats on the new Paris route. Sign up for our FREE seat alerts newsletter.
Qantas confirms Sydney-Perth-Paris flights ahead of Olympics
was last modified:
October 31st, 2023
by