We love to answer your questions, and sometimes the answers can be really useful for the rest of our community. Take this question, for example:
I fly between Melbourne and Dubai, then back to Brisbane, a few times a year in Economy Class. At some point, I want to use the points that I earn to travel in Business Class on one of these trips. Should I credit my miles to Emirates Skywards or Qantas Frequent Flyer?
The details and options
The matrix of options available to the traveller is pretty gnarly. You've got variables including the operating and marketing carriers, and the frequent flyer scheme you can accrue points in. All in all, the number of choices is bewildering.
Fly with an EK flight code on Qantas? Or with a QF flight number on Emirates? And then accrue points into which frequent flyer program? Argh.
The best way of comparing the options, in my opinion, is to work through the maths. Find out the comparison point of the number of return trips it will take in Economy to gain a flight, whether through an upgrade or redemption, in Business Class.
PIC
First, we need to know the difference between the operating and marketing carrier…
Operating vs marketing carrier
Operating carrier = the name of the airline on the aircraft
Marketing carrier = the airline you booked the flight through
On the Qantas website, you can see that both of these flights have QF flight numbers. However, the first is operated by Qantas and the second by Emirates.




Usually, the fewer digits (X, XX or XXX) in a flight number, the more likely that the operating and marketing carrier are the same (e.g. QF9). Conversely, if there are four digits (XXXX), it's probably a codeshare (e.g. QF8407 = EK407). That means it's marketed by Qantas and operated by Emirates).
Qantas flight numbers on Emirates-operated flights are only available when booking flights through Qantas. That means they will usually have to include a flight to or from Australia. You can't, for example, book Qantas flight numbers on Emirates flights into Europe from Dubai alone (without originating in Australia).
So, let's now break this question down into some assumptions to run the numbers on…
Our assumptions
For the analysis I'm about to run through, this is what I've considered:
You are generally paying for Discount Economy or Economy fare classes (rather than Flexible Economy, with more flexible fare conditions). There are a myriad of fare classes within Economy, so we have chosen the G class as it is one of the only classes that fits into the same earn category for QF and EK flights
We're looking at points for Business Class upgrades and redemptions (instead of Premium Economy or First Class)
While the question asks about Melbourne-Dubai returning to Brisbane, for simplicity I'm looking at a simpler Melbourne-Dubai return with Qantas operating one way and Emirates operating the other
You don't have a preference on whether you fly with Emirates or Qantas, i.e. you're happy to fly with whoever earns you the most points, however keep in mind that Qantas has just one flight a day from Sydney and Melbourne apiece (which then both fly on to London), whereas Emirates has eight daily flights from Australia, servicing Brisbane, Perth and Adelaide in addition to Sydney and Melbourne.
Ad – Scroll down to continue reading.Minimum spend, terms & conditions apply.
A comparison by numbers
| | Skywards | Qantas FF |
| --- | --- | --- |
| Emirates flight # | | |
| Points earned on paid N class Economy ticket | 4,500 | 2,600 |
| Miles/points for one-way upgrade to Business | 54,000+ | n/a |
| Miles/points for one-way Business redemption | 132,500 | 96,000 |
| Miles/points for return Business redemption | 192,000 | 192,000 |
| | | |
| Qantas flight # | | |
| Points earned on paid N class Economy ticket | 936 | 2,600 |
| Miles/points for one-way upgrade to Business | n/a | 72,000 |
| Miles/points for one-way Business redemption | 96,000 | 96,000 |
| Miles/points for return Business redemption | 192,000 | 192,000 |
| | | |
| Miles/points earned from return flight (one way EK, one way QF) | 8,122 | 13,500 |
Obviously, you're looking to earn the most points and redeem for the least points. You can see in the table above that Qantas wins on both fronts.
Earning points
Through Emirates Skywards
You earn Emirates Skywards points based on their zone chart when flying Emirates and based on actual miles flown (7,230 miles) when flying Qantas.
In a nutshell, you'll earn 4,500 Skywards miles when flying in G class on an Emirates-coded flight to Dubai from Melbourne, and 3,622 Skywards miles (0.5x the flown mileage) on Qantas-coded flights.
You can find more info on earning points through Skywards on Emirates flights and Qantas flights.
Through Qantas Frequent Flyer
For Qantas Frequent Flyers, you'll earn points based on the actual distance flown, which yields the same amount of points on Qantas and Emirates flight numbers for this fare class; we repeat, for this fare class.
Most fare classes offer differing earn values through Qantas FF and Skywards, so when booking your next flight, research earning points through Qantas FF on Qantas flights and Emirates flights.
Redeeming points for Business Class
So, given the points earned on a Melbourne-Dubai-Melbourne return flight, how many return Economy trips would it take to earn enough miles to fly in Business?
| Summary - For 50% mixed operating carriers | Booked through Skywards | Booked through Qantas FF |
| --- | --- | --- |
| Return trips required for one-way Business upgrade on parent carrier | 7 | 5 |
| | | |
| Return trips required for one-way Business redemption on EK | 16 | 7 |
| Return trips required for return Business redemption on EK | 24 | 14 |
| | | |
| Return trips required for one-way Business redemption on QF | 12 | 7 |
| Return trips required for return Business redemption on QF | 24 | 14 |
Using our example, it would take you:
5 paid return trips in Economy to earn enough points for a one-way Business Class upgrade through Qantas FF flying Qantas (vs 7 through Skywards flying Emirates)
7 return trips to earn enough points for a one-way Business Class ticket through Qantas FF flying Qantas (vs 12 through Skywards)
14 return trips to earn enough points for a return Business Class ticket through Qantas FF flying Qantas or Emirates (vs 24 through Skywards)
Upgrades
First, neither carrier offers reciprocal upgrades to its partner Frequent Flyer scheme. Have a bucketload of Qantas points but flying on an Emirates plane? Out of luck, my friend.
Qantas Frequent Flyer would charge 72,000 points to upgrade on the Melbourne-Dubai route (same cost for Sydney), while Skywards upgrade pricing is from 54,000 miles.
Through Qantas, you'll also need to have a eligible ticket to be able to upgrade (see rules here), while Emirates allows upgrades on all Economy tickets (upgrade calculator is here with tiered pricing based on Saver vs Flex etc tickets).
Also, do keep in mind that the Sydney and Melbourne to Dubai and onward London flights are some of the hardest to get upgrades on.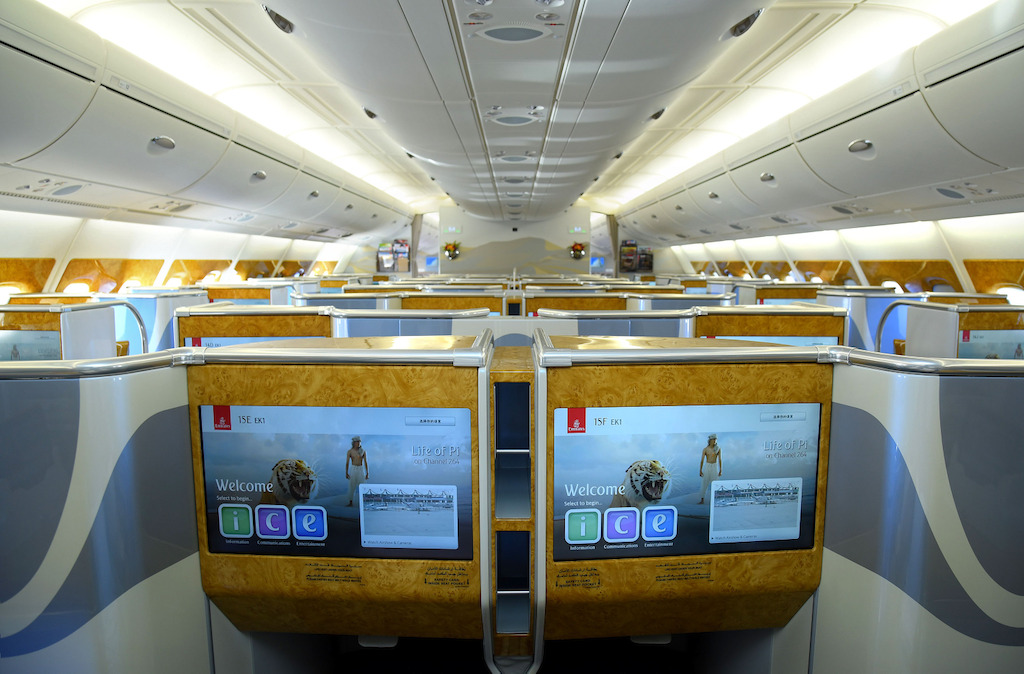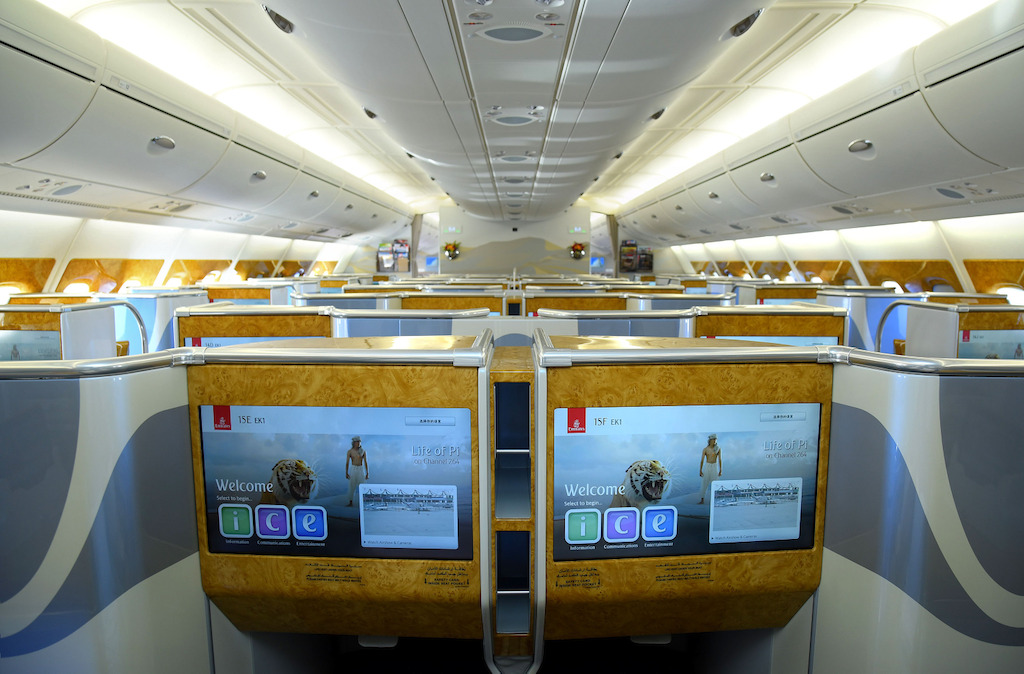 An upgrade from Economy to Business on this Emirates A380 from Melbourne to Dubai would set you back 54,000 Skywards miles
Redemptions
The other option is to redeem more points for a ticket in Business Class outright, paying the taxes and charges that go with it (which should be comparable when booking with either loyalty program). This offers more flexibility as you'll be able to redeem Skywards points on Qantas flights, and vice versa, which is not possible with upgrades.
Through Skywards
Skywards redemption costs for Emirates-operated flights are again tiered by ticket conditions and availability. You can redeem points for a Saver fare or a Flex fare, with reduced availability and less flexibility in the former, at a reduced cost. I'm assuming we're targeting a saver fare for this exercise, but these are not available for a one-way redemption, so the cost for a one-way flex Business Class redemption for Melbourne-Dubai on Emirates is 132,500 miles, while a return at Saver level comes in at 192,000 miles. You can check out the calculator here (being sure to select Business Class).
Redemption costs for Qantas-operated flights, are much simpler – 96,000 miles one-way, and double that for return (192,000). This is one of those odd cases in that redeeming your Skywards miles on a Qantas flight would cost less than if you redeemed them for an Emirates flight on the same route.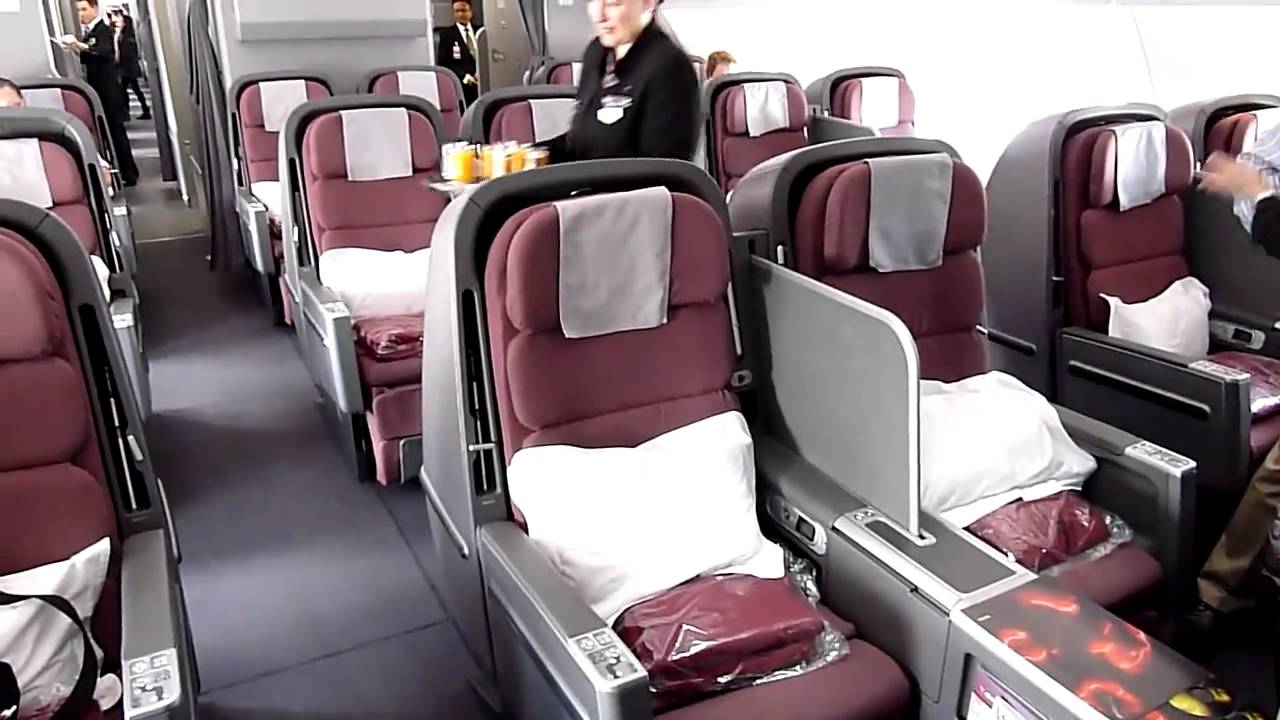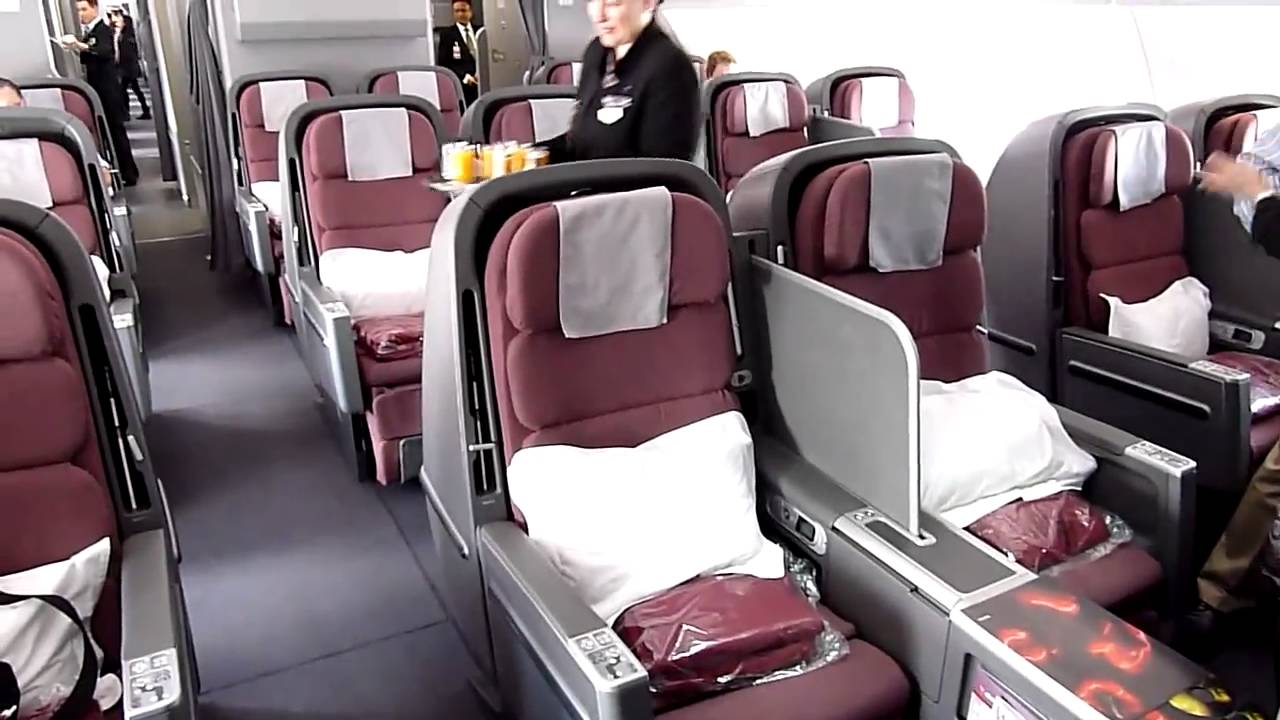 If you are going to redeem your Skywards miles for a one-way flight from Melbourne to Dubai, you would save 36,500 miles by flying on a Qantas rather than Emirates flight
Through Qantas
Qantas Frequent Flyer redemption costs are much simpler. Again, 96,000 points one-way and 192,000 return regardless of which carrier operates the flight. You can check this on the Qantas calculator here.
Important notes
Mixed carriers: we actually consider our half Qantas/half Emirates itinerary to be probably pretty close to the real world. Many Australians choose to fly Qantas over Emirates to Dubai when they can, but also fly as directly as possible to their destination, so if that's outside of the UK, half their flights will be operated by Emirates. Emirates' greater frequency of flights and flight times also means that often the Qantas flights aren't as appealing as those offered by Emirates.
Changes and cancellations: Qantas and Emirates ticket change fees work differently. Emirates charges $25 USD per passenger for a date change and $75 USD for a cancellation and redeposit of your miles. Qantas charges 3,500 points per passenger for a change and 5,000 points for a cancellation.
Infants: Qantas don't charge additional points for an infant on the same ticket as an adult. Emirates do, but don't state what this is, saying it's at a 'Discounted points level'. We haven't dug into this further – please let us know in the comments below if you have.
Premium Economy: Qantas offer Premium Economy, Emirates don't. Premium Economy redemptions on Qantas with Qantas points could enable you to redeem for a more premium seat even more quickly still than with Emirates.
Family travel: if travelling as a family, Qantas allow family transfers between accounts up to four times a year, for free. Emirates charge $25 USD for a minimum transfer of 1,000 miles. Emirates has an interesting Family Bonus program which allows you to nominate up to 8 relatives, and whenever they fly with Emirates, the head of family account gets credited with 20% of the mileage they earned, but then they don't earn any miles. That's not a great deal at all compared to Qantas.
Status Credits only on QF flight numbers: You'll also earn status credits with Qantas Frequent Flyer by booking with Qantas codeshares, which doesn't happen with Emirates flight numbers.
Our simple conclusion
Most Australian travellers flying with Qantas and Emirates will be better off ensuring that:
When paying for a ticket, booking Qantas-operated or -marketed (codeshare) flights flights whenever possible
They credit their flights to Qantas Frequent Flyer
Qantas Frequent Flyer vs Emirates Skywards: which should you choose?
was last modified:
February 3rd, 2022
by