The Coles Rewards Mastercard is a no-frills card designed for the everyday shopper—there are no travel perks such as lounge access — as it's a supermarket-branded card after all.
However, when it comes to standalone Visa/Mastercard credit cards that earn points into flexible points programs with decent points earn rates, the options are very limited, and the Coles Rewards Mastercard deserves to be considered for its relatively low annual fee, a solid points earn rate from spend, and no international transaction fee on purchases when shopping online or overseas.
This makes the card appealing to points collectors looking for a solid Visa/Mastercard with a number of good value features and flexibility in redeeming points.
In particular, flybuys' tie-up with Velocity makes this card appealing for those interested in frequent flyer points, especially with the reasonable annual fee of $99. The card makes an appearance on both our highest earning Velocity credit cards guides.
Note: The flybuys and Etihad Guest partnership came to an end on 31st July 2018. Which means linked members are no longer able to redeem flybuys points for Etihad Guest Miles, collect flybuys points via the flybuys-Etihad booking portal or link flybuys and Etihad Guest memberships after this date. This is the final blow to a relationship that has been suspended since December 2017.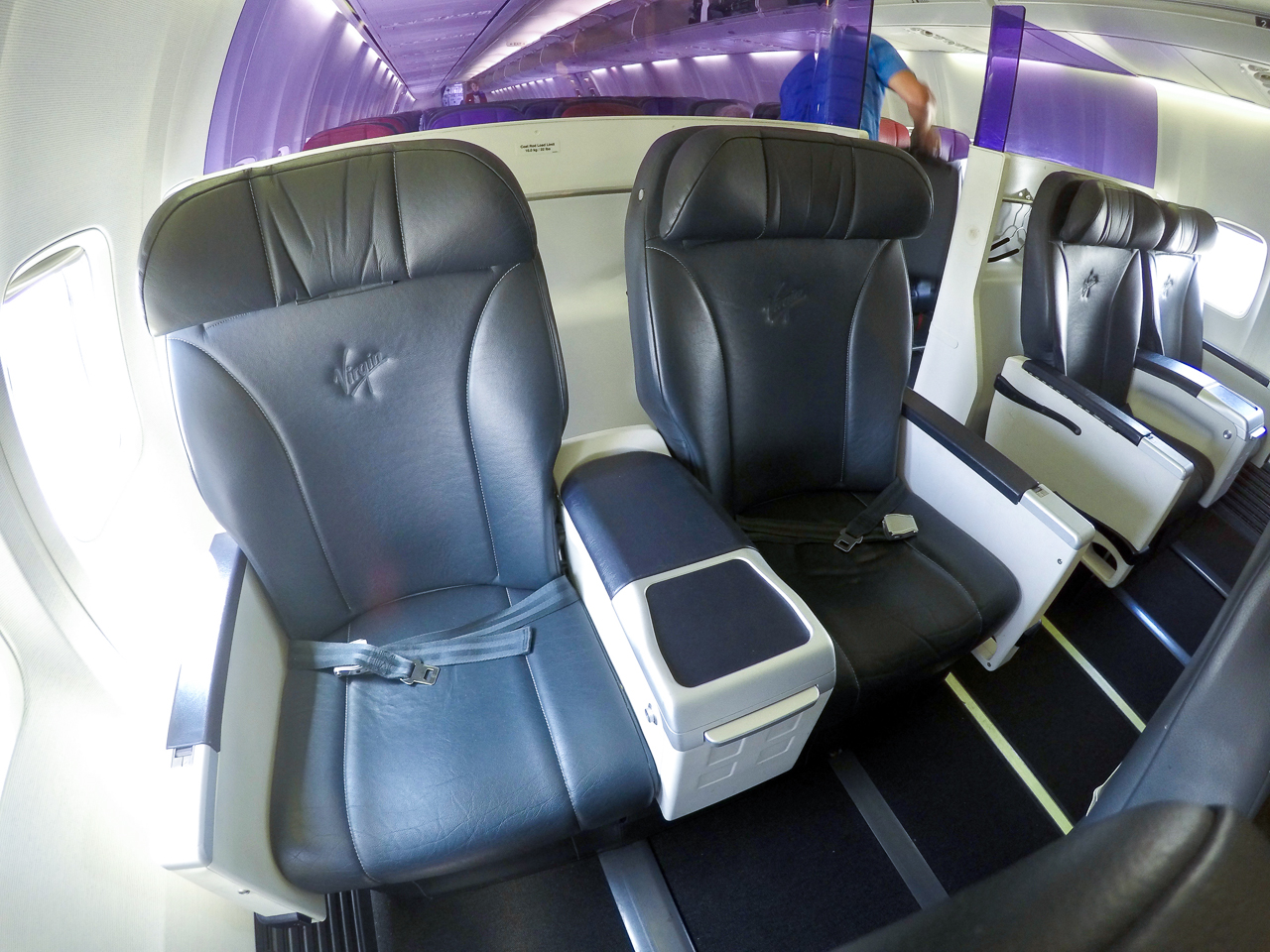 flybuys can be transferred to Velocity for cheap Virgin Australia Business Class redemptions
Card Details
| | |
| --- | --- |
| Card | Coles Rewards Mastercard |
| Loyalty Program | flybuys |
| Points earned from spend | 2 flybuys points per $1 spent on eligible purchases |
| Overseas transaction fee | None for purchases |
| Minimum Income | $25,000 p.a. |
| Minimum credit limit | $6,000 |
| Annual fee | $99 p.a. |
Effective Frequent Flyer Program Point Earn Rates
| Partner Frequent Flyer Program | Equivalent partner points earned |
| --- | --- |
| Velocity Points | 0.87 points / $ spent |
Earning flybuys points with the Coles Rewards Mastercard
You'll collect 2 flybuys points for every $1 on eligible spend. This is equivalent to a 1 cent discount on groceries or when redeemed for gift cards.
If you choose instead to transfer flybuys points to Velocity, you'll pick up 870 Velocity Points for every 2,000 flybuys points transferred.
Reduced to a point per $1 earn rate, this equates to 0.87 Velocity Points per dollar, and you can transfer flybuys points to Velocity at any time you choose, just keep in mind the points increments and limits apply.
In my experience points from purchases show almost instantly in my flybuys account as a daily sweep the day after purchases clear, rather than a monthly sweep which makes it easier to access the points for a redemption more quickly without having to wait.
No international transaction fee on purchases when shopping online or overseas
With the Coles Rewards Mastercard you'll save on foreign exchange fee (whilst still earning points), where this fee can be up to 3.5% on overseas purchases on cards which apply them.
It's worth understanding that the no transaction fee on purchases are on offer for purchases made that aren't in Australian dollars – whether that's online or overseas. Additional fees apply when you withdraw funds outside of Australia or in a foreign currency, for example at an ATM or as a cash advance.
Combined flybuys and credit card
Not so much a feature of the account, but a nifty convenience. Your credit card comes with your flybuys barcode printed on the back, so one less card to carry around in your wallet.
Insurances and interest fee period on purchases
Another feature of the Coles Rewards Mastercard is the included limited Merchandise Protection insurance, which covers items you buy with your card in case they are lost, stolen or damaged. You'll need to read the PDS yourself to assess its suitability for you.
The card also offers up to 55 days interest-free on purchases, inline with most cards in Australia.
Note that you can't use this card for business purposes
The Conditions of Use for the Coles Rewards Mastercard does state clearly that points won't be earned for transactions deemed to be partially or wholly for business purposes as this is a card targeted at consumers for personal use.
Summing up: Coles Rewards Mastercard
If you're not in need of travel benefits such as lounge access from a Visa / MasterCard, and want to use a card that offers a solid rate of return in points from your day to day spend, the Coles Rewards Mastercard can make a fantastic addition to your wallet and offer you a solid alternative to the big bank offerings.
This is especially true for overseas transactions where the lack of international transaction fee on purchases when shopping online or overseas could save a significant amount, whilst still earning your points.
And on top of that, flybuys are becoming an increasingly valuable currency that can be used for a vast range of redemptions, including your groceries, for flybuys travel, gift vouchers and, of course, for transfers to Velocity.
Terms and conditions
Terms and conditions and exclusions apply. Click here to find out more.
Designed for the everyday shopper, the Coles Rewards Mastercard has a low annual fee and good flybuys earn rate
was last modified:
March 14th, 2019
by
Point Hacks Credit Card Information
Point Hacks is published by Point Hacks Australia Pty Ltd (ACN 622 987 160), a corporate authorised credit representative (Number: 504786) of MSC Advisory Pty Ltd ACN 607 459 441 (Australian Credit License: 480649). In some instances, Point Hacks Australia Pty Ltd receives a commission or benefit for referring you to the services of a credit provider. This commission or benefit is disclosed at the point of referral to the credit provider. This website does not provide credit, assist you in obtaining credit, or advise you to apply for any particular product from a provider.
We have not taken into consideration your personal circumstances or financial situation when providing the information on this website. It is important you read the relevant PDS from the product issuer and seek the independent advice of an appropriately qualified professional before making a decision on a product.
While we invest a great deal of time and energy into ensuring we provide with you with the most up to date and accurate information, we do not warrant the accuracy of statements or information contained on the Website relating to third party goods and services, including credit card information, loyalty schemes and rewards. You acknowledge that such information and materials may contain inaccuracies or errors and we expressly exclude liability arising from any person acting on those statements or information to the fullest extent permitted by law. Where conditions or warranties are implied by law and cannot be excluded, our liability will be limited to the re-supply of information. You should confirm the accuracy of information provided on this Website with the third party product provider before acting on it.