During this pandemic, those who love cooking at home are positively thriving, and those who don't are probably browsing takeaway delivery apps for their next hit of comfort food.
That's where meal delivery services like HelloFresh step in — it's the best of both worlds where you can get fresh pre-portioned ingredients delivered right to your door each week, which you can then whip up into gourmet meals in the comfort of your own kitchen.
Best of all, you can earn 20,000 Qantas Points over 10 weeks while enjoying a range of wholesome winter-warmer meals. Here's how to make this work, and double-dip both on Qantas Points and delicious sauces.
What is HelloFresh?
HelloFresh is a national meal delivery service, where weekly boxes of fresh ingredients are sent out to subscribers along with recipe cards. The idea is it takes the hassle out of meal planning and buying ingredients from the shops.
The subscription is flexible and you can pause or cancel weekly deliveries as you please. Unfortunately, Tasmania isn't included yet and some regional areas (including Perth) may have an extra delivery fee on top.
If you aren't familiar with HelloFresh, see this video which explains how it works:
Ad – Scroll down to continue reading.Minimum spend, terms & conditions apply.
How do I earn Qantas Points at HelloFresh?
By starting a new subscription
For new subscribers only, HelloFresh is offering 2,000 Qantas Points per box on your first ten deliveries when you subscribe to a weekly Classic, Veggie or Family Plan. Here's how to sign up for HelloFresh and earn points:
Visit the HelloFresh sign-up page
Select your meal preferences, including variety and number of people
Under the current menu options, use the code QANTAS20K in the promo field if not already filled out
Sign-in or create a new HelloFresh account
Enter your address and choose a delivery timeslot
Checkout with your payment details
Choose the actual meals you want in the delivery after checkout
Earn up to 2,000 Qantas Points per weekly box, up to 10 boxes (20,000 Qantas Points maximum).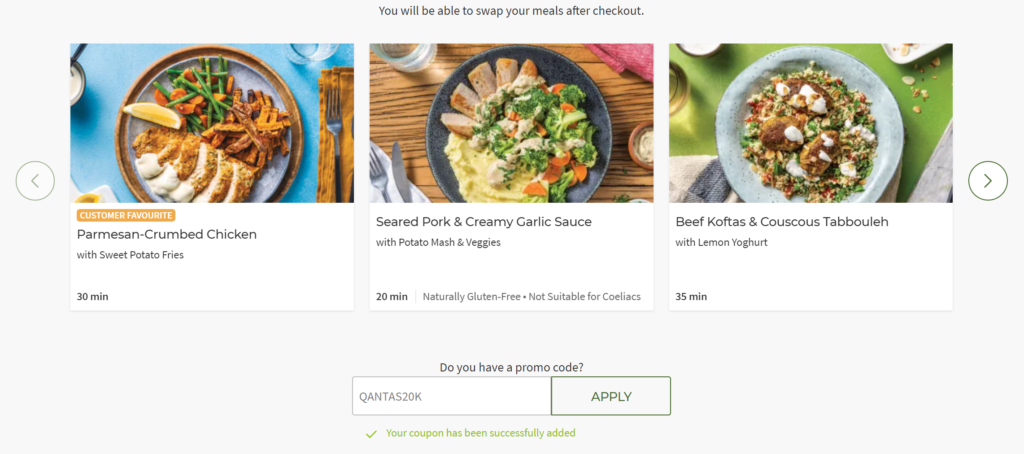 By referring new customers to HelloFresh
If you want to refer friends and family, you'll earn 1,000 bonus Qantas Points and $50 off your next order for each one — plus they'll get $50 credit towards their first box.
To refer a friend, log in to your HelloFresh account and share your HelloShare code under 'Treat Friends'.
Are there any catches?
The deal terms and conditions can be viewed on the Qantas offer page. This offer does not appear to have an end date yet. We've included some excerpts below:
You'll receive $1 off your first box order and 2,000 bonus Qantas Points on each of your first 10 boxes. In order for the offer to be valid, members must order their first box within 4 weeks of signing up and receive up to 10 boxes within 20 weeks of receiving their first box. Qantas Points may not be awarded on boxes ordered after 20 weeks.

Qantas Points will be credited to your Qantas Frequent Flyer account within 60 days of receiving each box. Changes to box types or box subscriptions can be made before Tuesday 11:59PM AEST/AEDT (for WA, SA, NT) or by Wednesday 11:59PM AEST/AEDT (for QLD, NSW, ACT, VIC) prior to the week of your next scheduled delivery.
Summing up
HelloFresh is a handy service to test out during the lockdown period, as more people are staying at home and not venturing out to the shops where possible. With the offer in this guide, you can also earn up to 20,000 Qantas Points on top.
HelloFresh does run lots of new customer promotions and you may come across different offers which deducts a certain amount from a new subscription, instead of giving frequent flyer points — an example is '40% off your first box' through that link.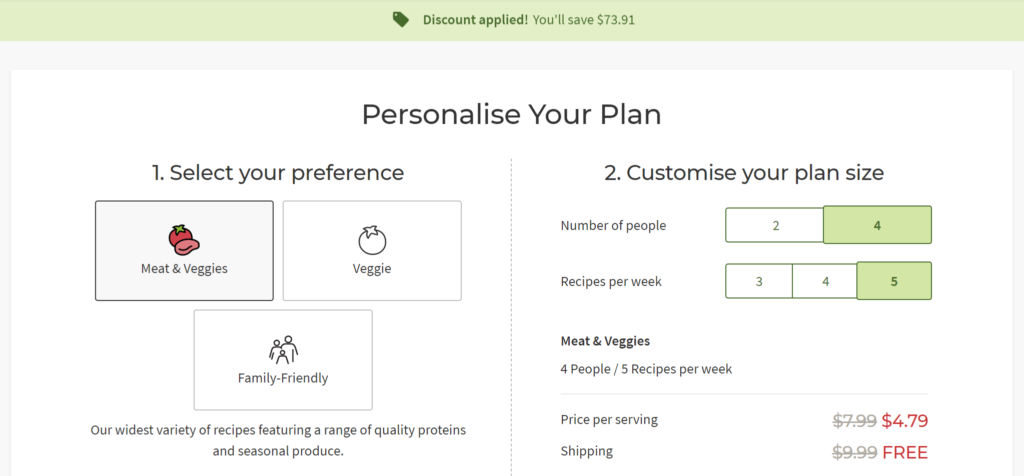 In that case, you may need to weigh up whether you prefer an immediate cash saving on a few boxes or Qantas Points over a longer-term. We value 20,000 points to be worth roughly $380 if used on flights, so that may be better than our '40% off' deal in some cases.
Frequently asked questions
How much is HelloFresh Australia?
The cost is quite variable as it depends on the number of portions you want each week, any promo codes you apply to the order, and any delivery fees.
Where is HelloFresh based in Australia?
HelloFresh has multiple production facilities around the country. Its head office is based in Sydney.
Is HelloFresh really worth it?
HelloFresh is designed to save you time and effort by delivering pre-portioned meal kits to you. This does come at a price, so it's up to you whether the time savings and reduced need to visit the supermarkets is worth the price of HelloFresh meal kits.
This content contains affiliate links from which Point Hacks may earn commissions from transactions generated from new customers, bookings and general enquiries. Find out more here.
Our guide to earning Qantas Points with HelloFresh
was last modified:
December 20th, 2021
by