Did you know you could use your Qantas Points with 25 other airlines?
In this guide, we explain who they are, how much they cost, where to search and where to book.
Which airline partners can I use my Qantas Points with?
oneworld partners
Qantas is part of the 13-member oneworld alliance, the smallest of the three major alliances; the others are Star Alliance (27 members) and SkyTeam (20).
Here is a list of them, with the airlines most likely to be used by travellers from Australia and New Zealand in bold:
Morrocan airline Royal Air Maroc is slated to join the alliance in mid-2020.
Fiji Airways is a oneworld connect member, meaning travellers with elite oneworld status enjoy priority boarding and check-in on Fiji Airways flights.
Non-alliance partners
Qantas has a surprisingly large amount of partners outside the oneworld alliance, numbering 13:
Aer Lingus (partnership ends 30 June 2019; Qantas website sometimes has trouble seeing Aer Lingus Business Class seats)
Air Niugini
Air Vanuatu
Airnorth
Alaska Airlines
EL AL
Jet Airways (all flights suspended effective 18 April 2019)
Qantas commenced a codesharing partnership with Air New Zealand from 28 October 2018.
How do I know how many points each airline charges?
There are four different points tables (in order below of cheapest to most expensive), depending on which airline you want to fly with:
Jetstar Classic Flight Rewards: Jetstar and its subsidiaries in Singapore, Japan and Vietnam. These prices are 20% lower than the next tier, but you're usually better off buying Jetstar flights with cash
Qantas Classic Flight Reward: Qantas, Airnorth, Air Vanuatu, American Airlines, Emirates and Fiji Airways
Partner Classic Flight Rewards: all other airlines (Aer Lingus, Air Niugini, Alaska Airlines, British Airways, Cathay Pacific, China Eastern, Cathay Dragon, EL AL, Finnair, Iberia, Japan Airlines, Jet Airways, LATAM, Malaysia Airlines, Qatar Airways, Royal Jordanian, S7 Airlines and SriLankan Airlines)
oneworld Classic Flight Rewards: when travelling on at least two oneworld airlines other than Qantas
You can view the four points tables here.
Which airlines can you search for and book through the Qantas website?
qantas.com can be used to search for availability on Qantas and its preferred partners, including American Airlines, British Airways, Cathay Pacific, Emirates, Fiji Airways, Jetstar and Qatar Airways.
Like other award redemptions, seats are subject to availability and there is a decent chance you might not be able to fly on the date you desire, so you need to be flexible on dates and routes (as always when using points to travel).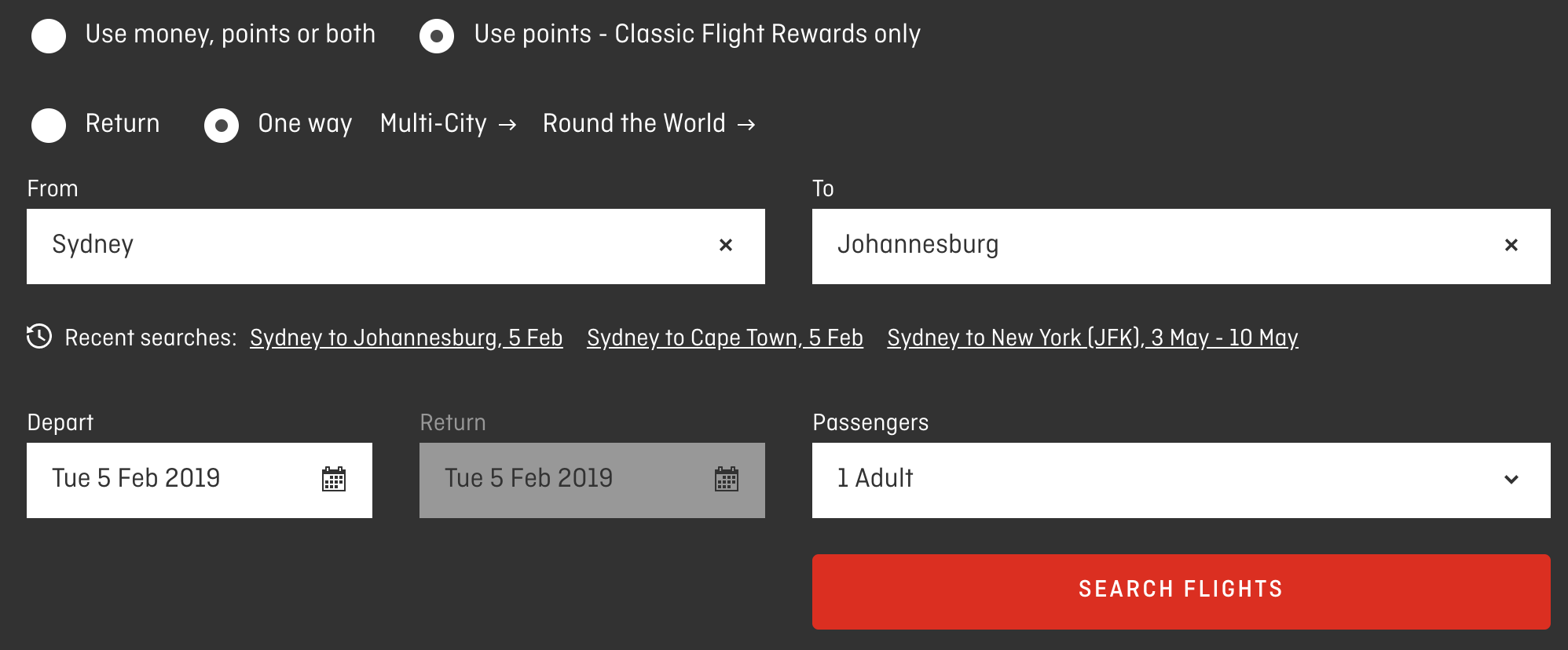 Search for your flight using the home page, making sure to select searching for a reward flight rather than paying with cash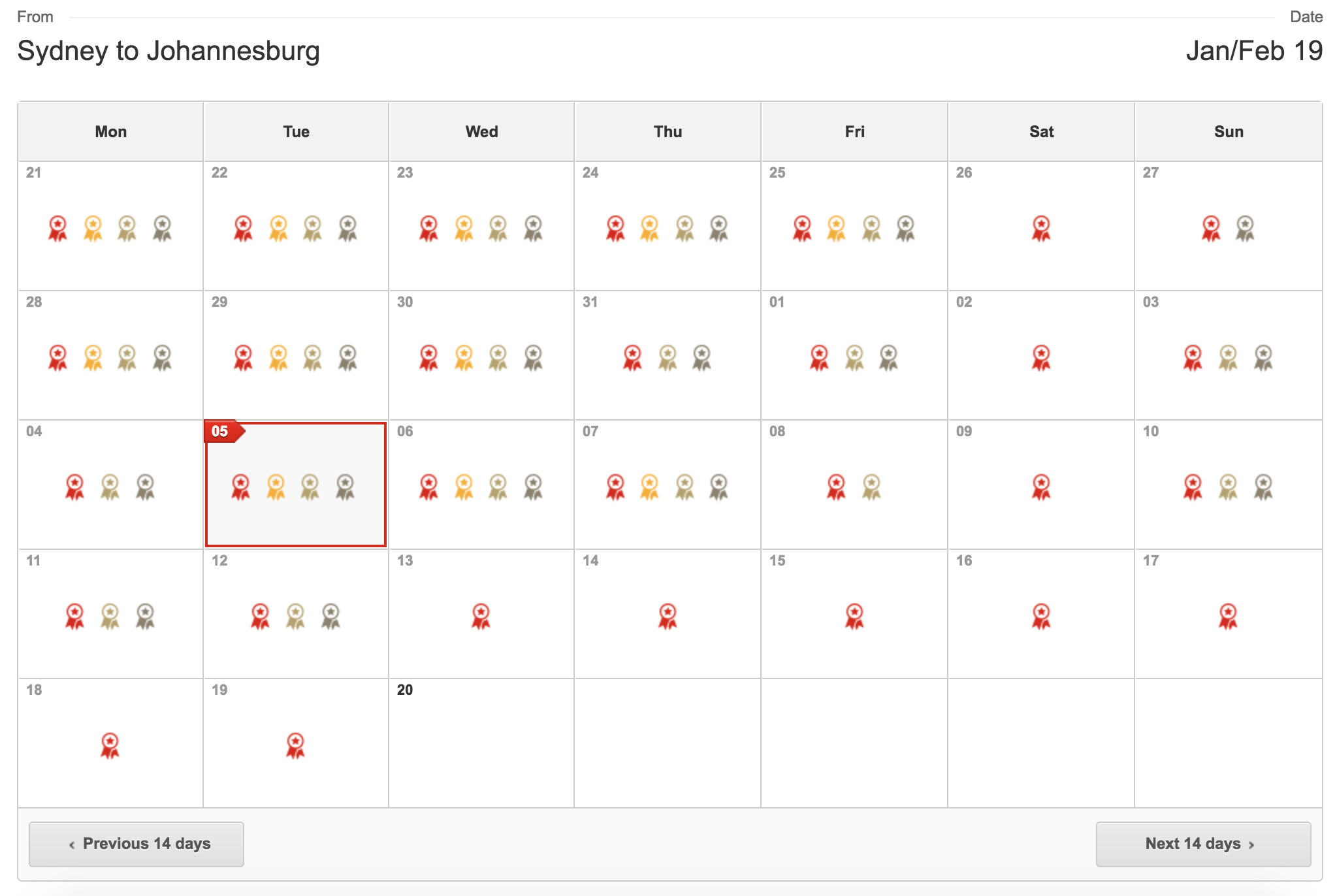 The calendar will show you availability in the different cabins (Economy, Premium Economy, Business and First Class)


You can see results for Qantas, Cathay Pacific and Emirates for this search
You can book flights on these airlines through the Qantas website without having to call them on the phone.
What about the other airlines?
British Airways is the most reliable source for finding seats on most oneworld airlines, like Japan Airlines, which Qantas may not have access to.
Unfortunately, you can only register (for free) if you use a non-Australian address, but use a friend or family member (or make up an address) and you'll be set.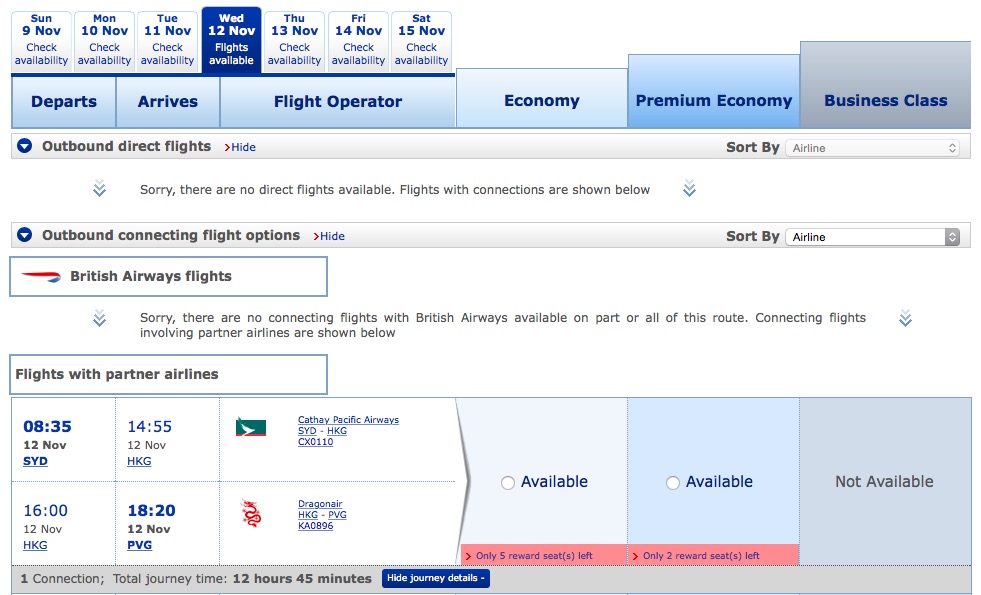 Oh, try to avoid redeeming your points on British Airways flights themselves as the fuel surcharges are usually very high 😉
As for the non-alliance partners, such as Alaska Air, you can either try their own website or there are a number of search engines that will do the work for you.
Once you are done selecting your preferred flights, call Qantas Frequent Flyer (Australia 13 11 31 / New Zealand 0800 101 500) between 8am and 7pm AEST Monday to Friday and give them the flight numbers and dates you have found availability for to book your award flight!
If you cannot book the award online and have to call instead, then ask the phone agent to waive the phone booking fee.
Summing up
Using Qantas Points with partner airlines is one of the best uses of Qantas Points – if you didn't realise you don't just have to use your Qantas Points for Qantas flights, you've been missing out.
Understanding the different partners that Qantas Frequent Flyer have as well as how their points redemptions are priced is key to getting the most from your Qantas Points – so now you know!
Beginner's guide to using Qantas Points for flights with Qantas' partners
was last modified:
October 8th, 2019
by