On a recent flight through Canberra, I had the opportunity to stop by the Canberra Qantas Club for a quick refresher and to grab a morning coffee before my short flight to Sydney. Here is my take on the lounge.
Lounge details & location
The lounge is located after security on the main departures level, with access via escalators between gates 10 and 11.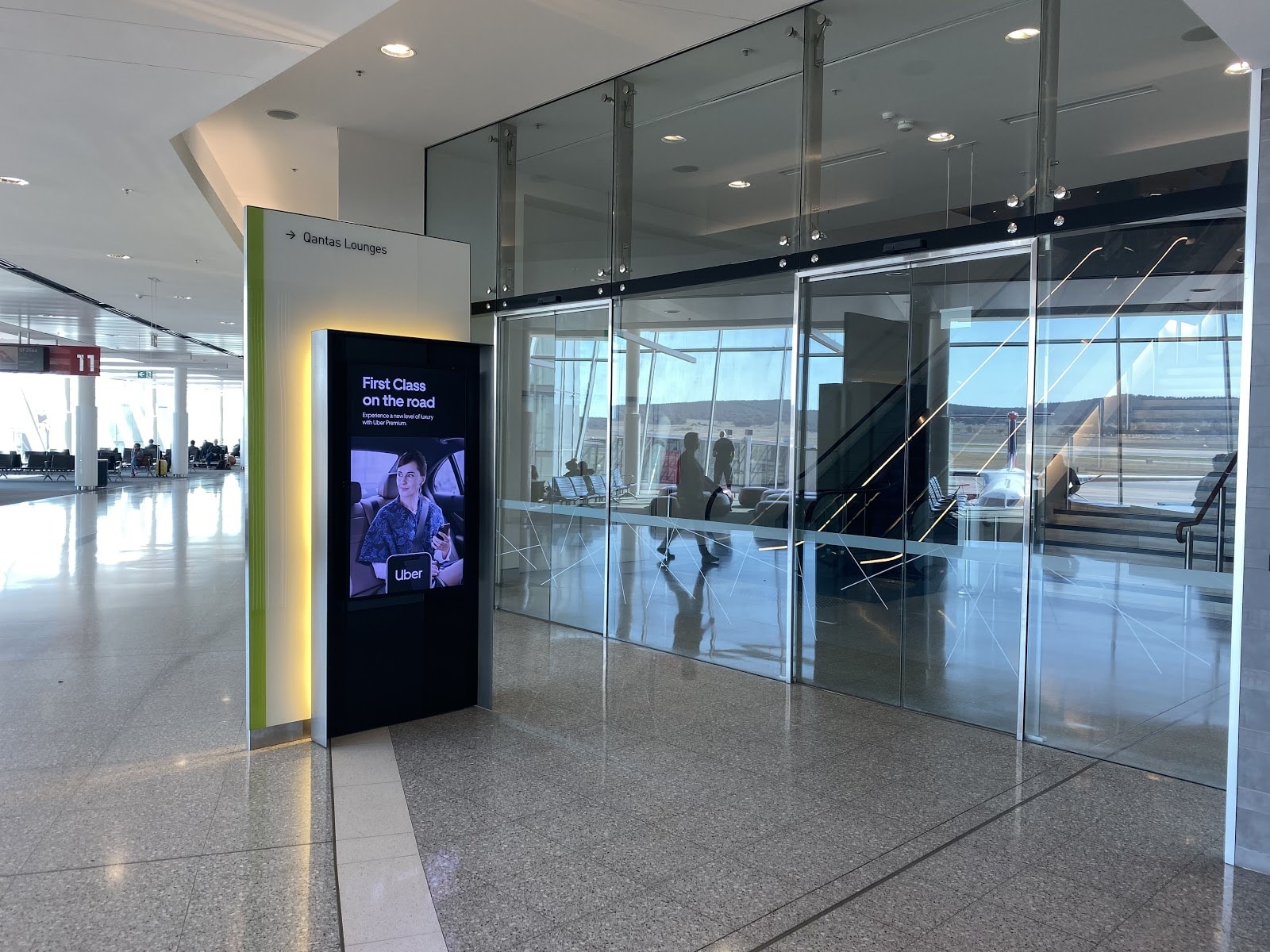 You will find the entrance to the Qantas Club on the right-hand side (and if eligible, the Qantas Business Lounge on the left). Self-service check-in kiosks sit between the two lounges.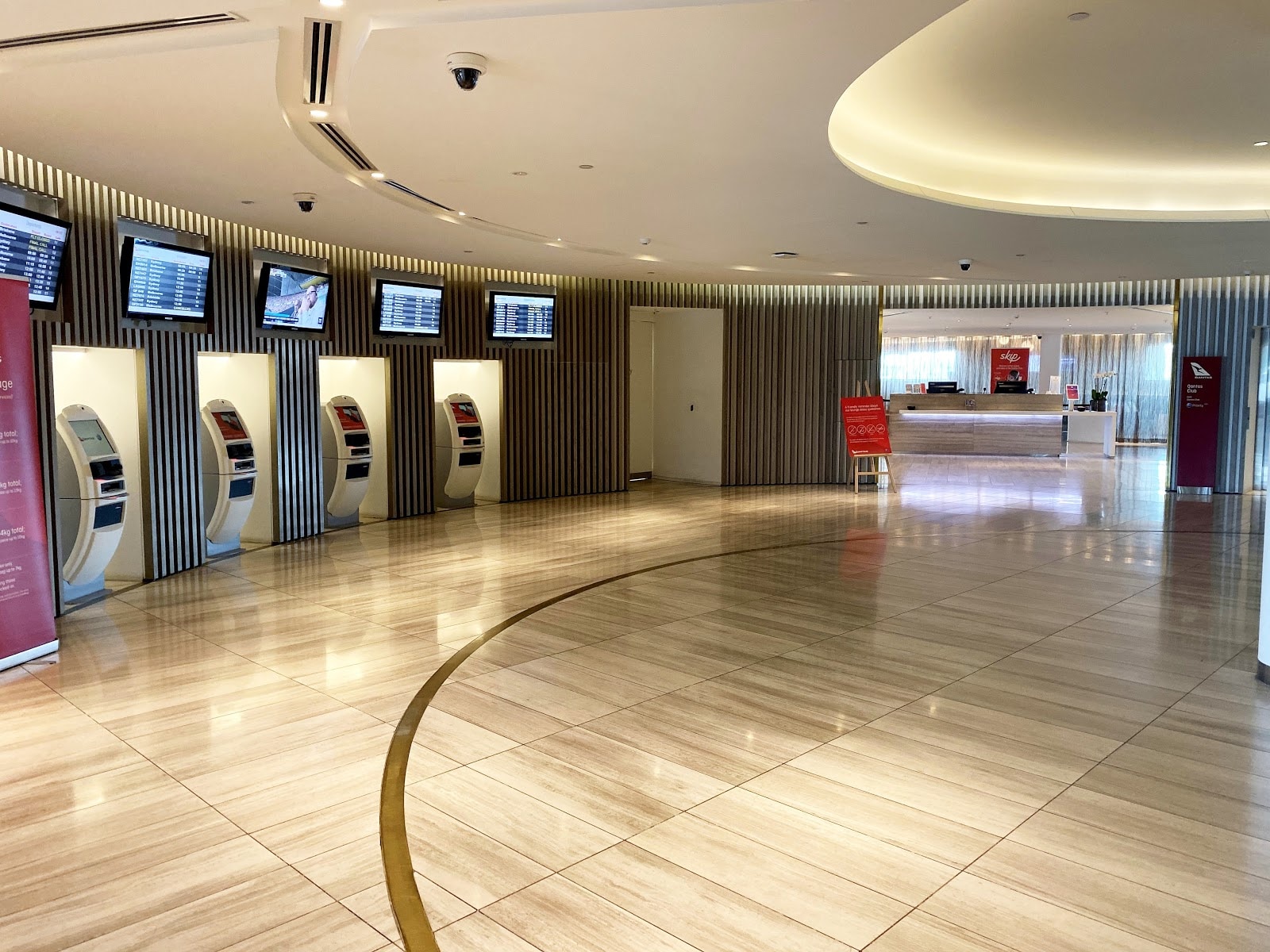 The lounge is open one hour prior to the first Qantas operated service until the last Qantas departure, seven days a week.
Lounge Seating
As you enter the lounge, you will find the service desk straight ahead. You can pre-order your coffee using a tablet on the right-hand side of the desk.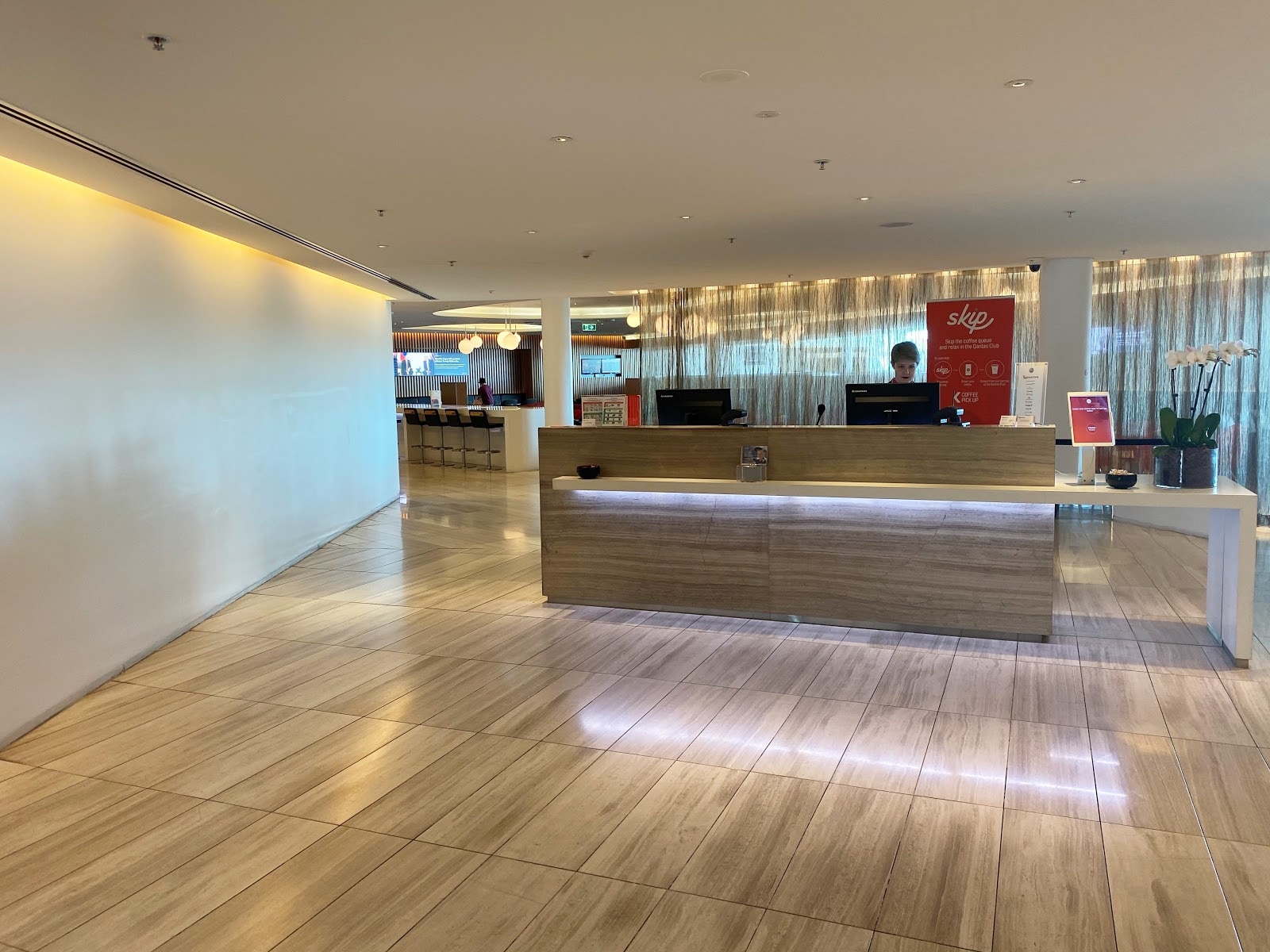 The lounge is essentially one large space which has been divided into several zones using mid-rise walls. With a seating capacity of 482, the lounge feels spacious and relaxed.
Seating is mostly armchairs surrounding small tables, however, there is barstool seating next to the buffet.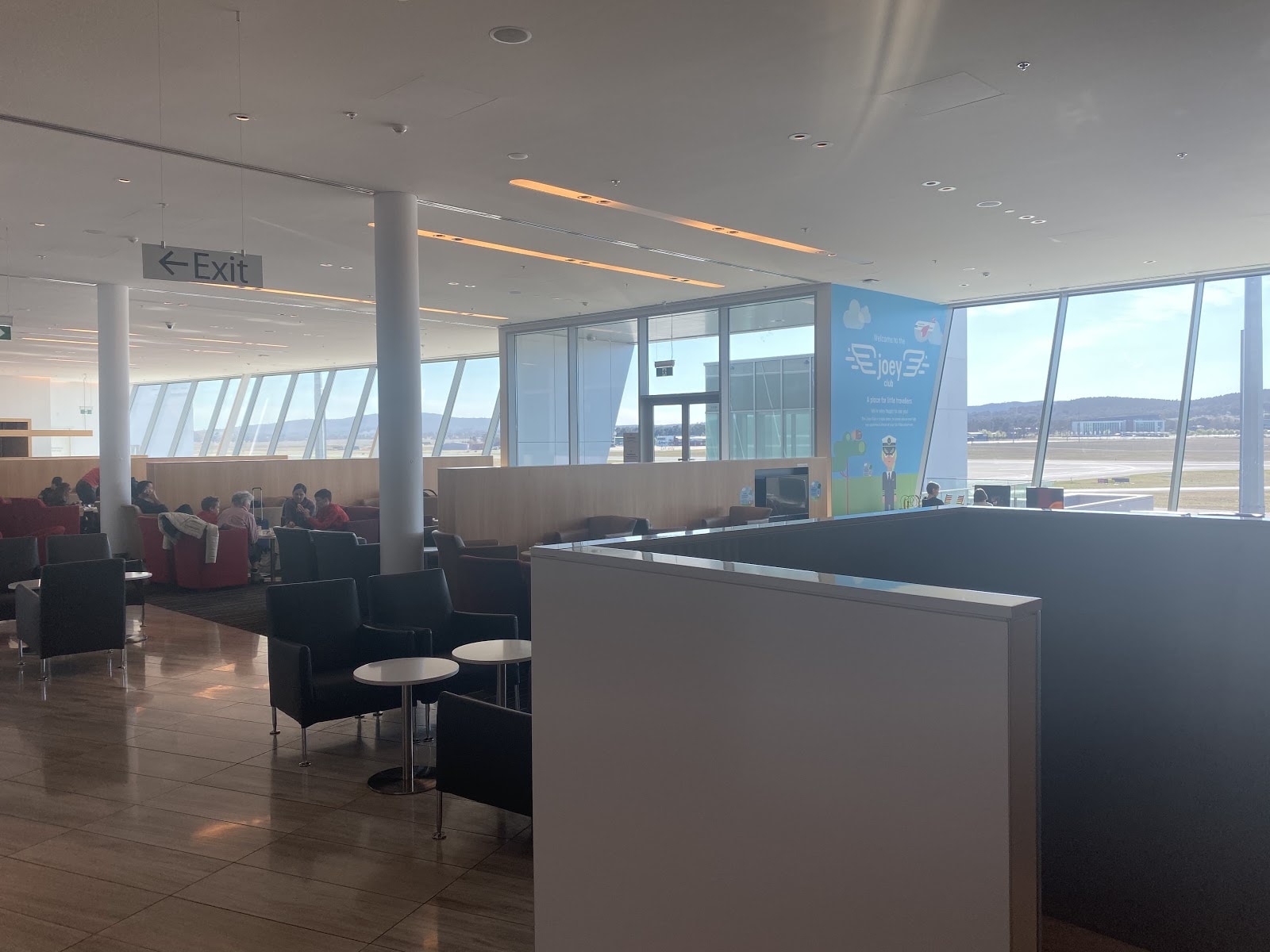 There is an abundance of natural light thanks to angled floor to ceiling windows at the far end of the lounge.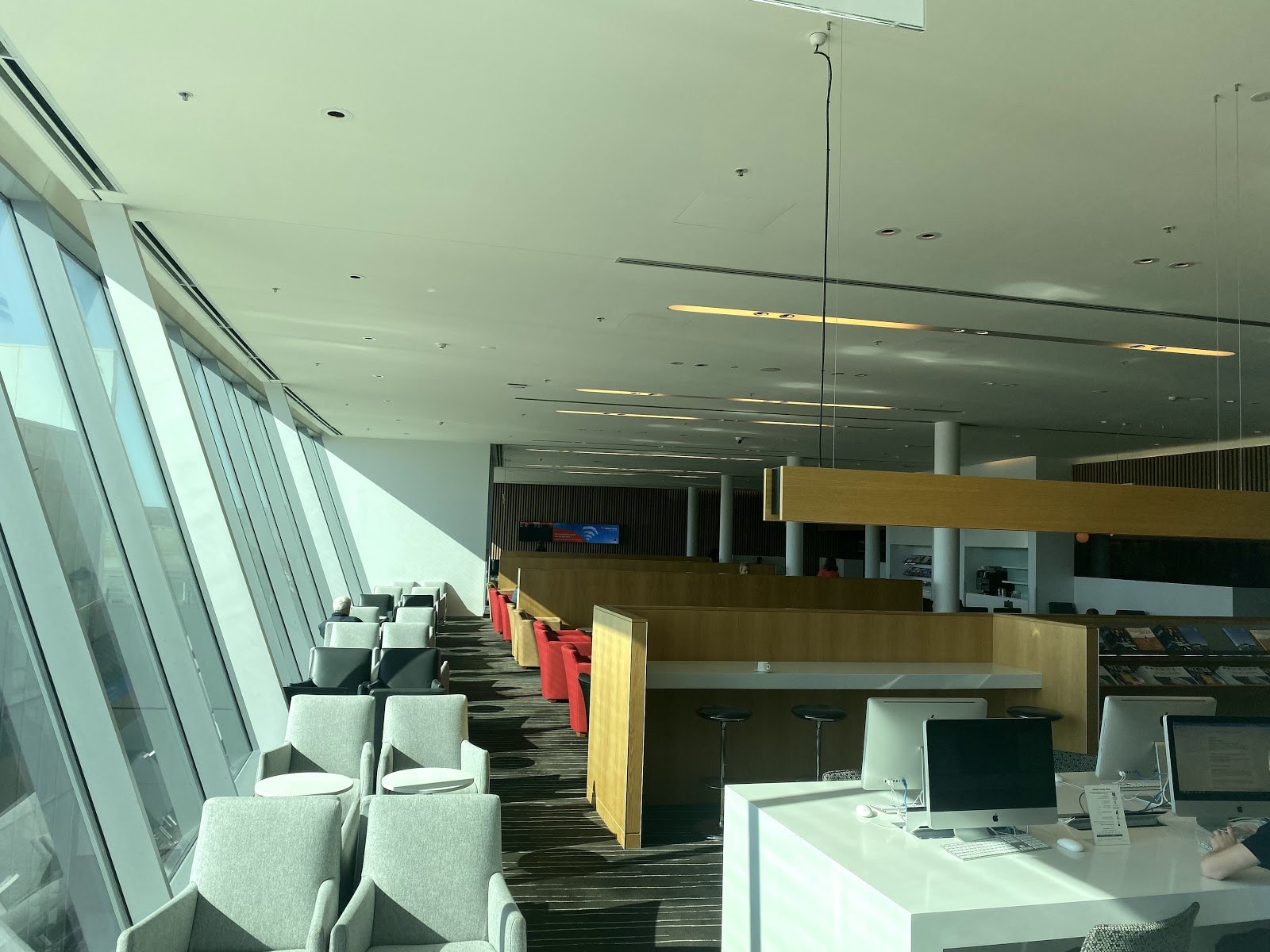 The view over the apron and perpendicular runway is impressive, and notably more appealing than that of the adjacent Qantas Business Lounge. Aviation enthusiasts will be at home in a seat by the window, where you can watch ground crew service aircraft as they arrive and depart.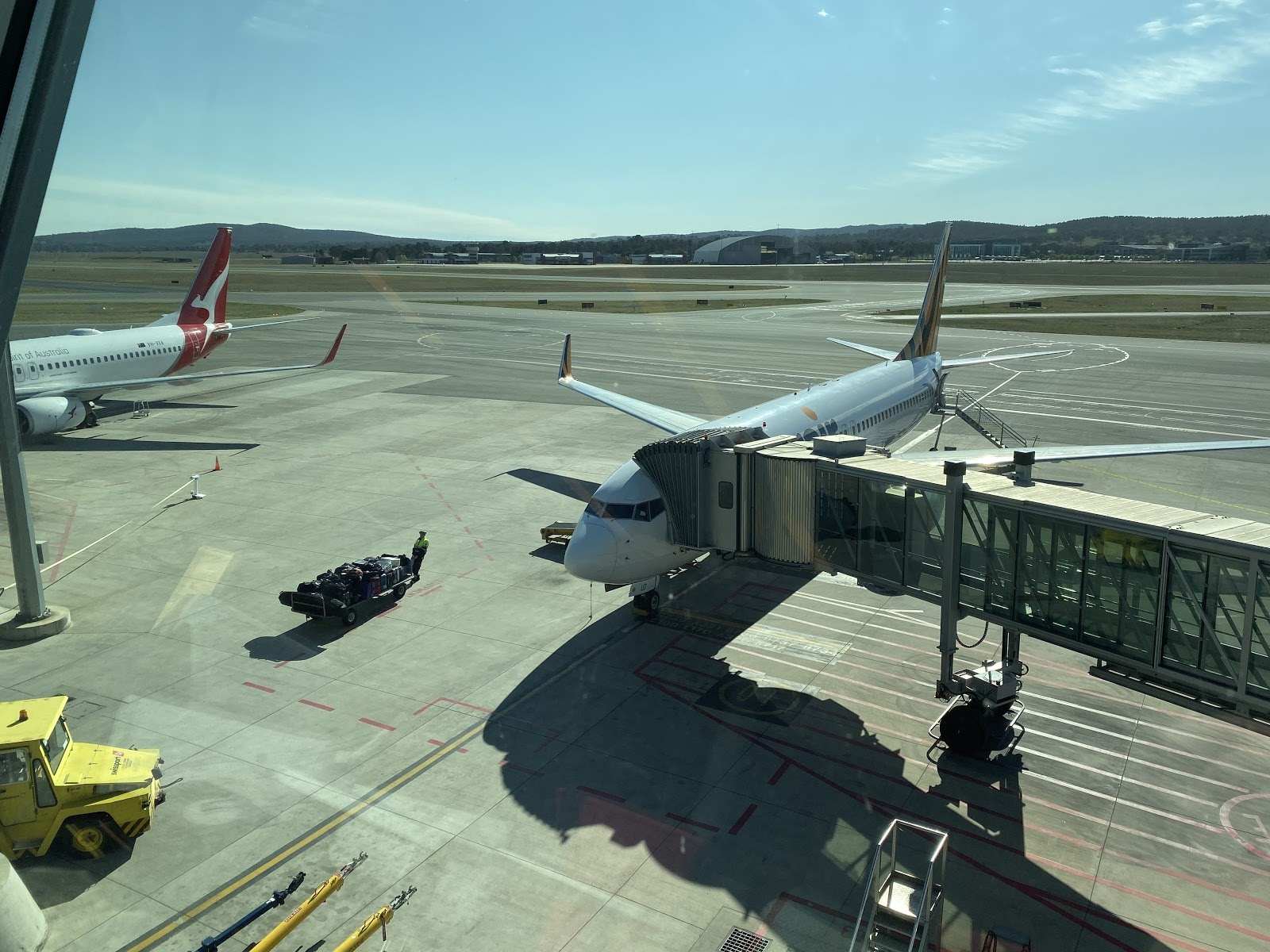 Close to the buffet is a workstation bench which features AC and Ethernet ports, along with free WIFI throughout the lounge. Perhaps a poor placement as this area tends to get a lot of traffic from both the entrance and those visiting the buffet or bar.
A quieter space to get work done is at the other end of the lounge where there are 12 iMacs available plus a charging station and printer.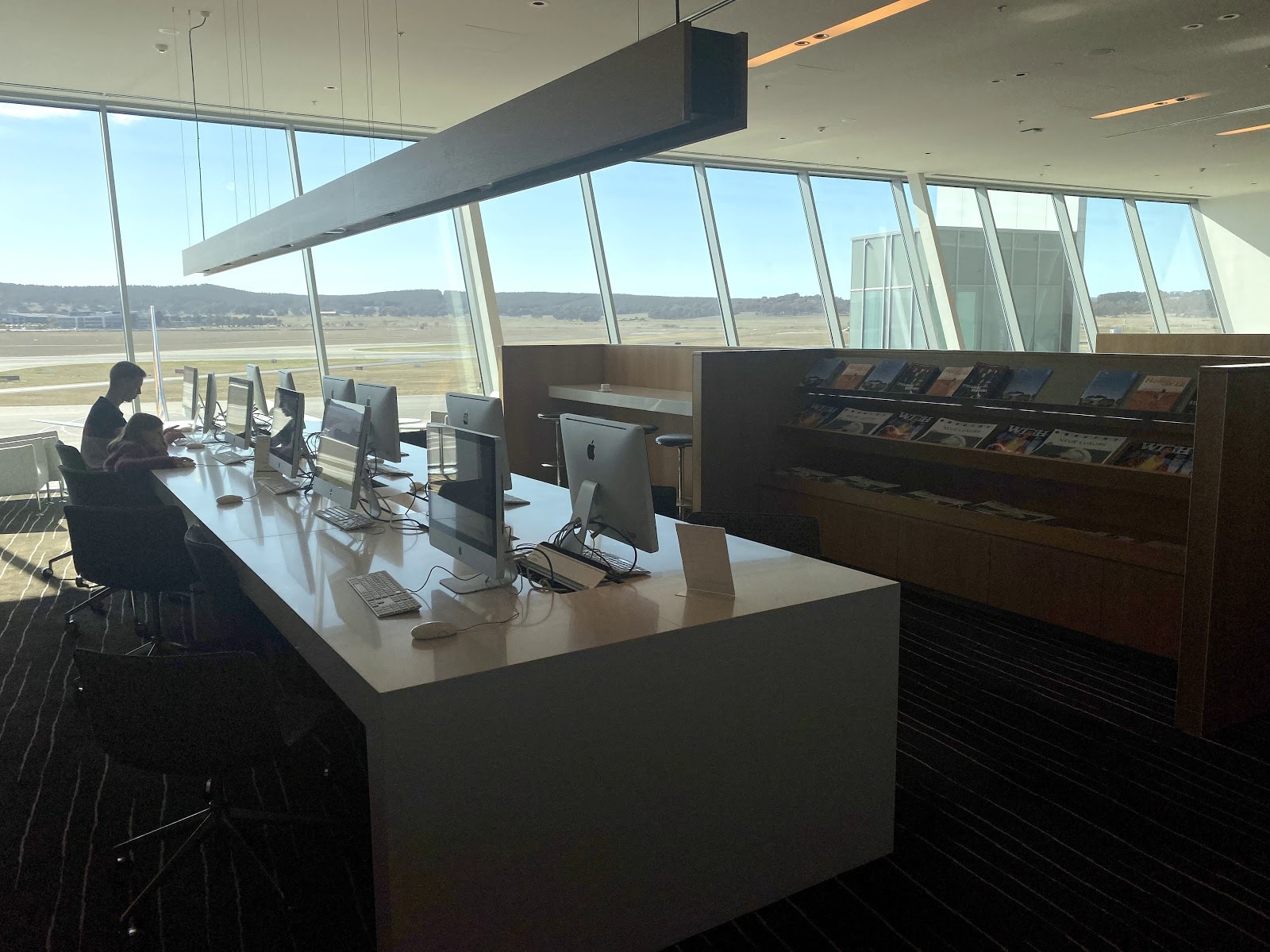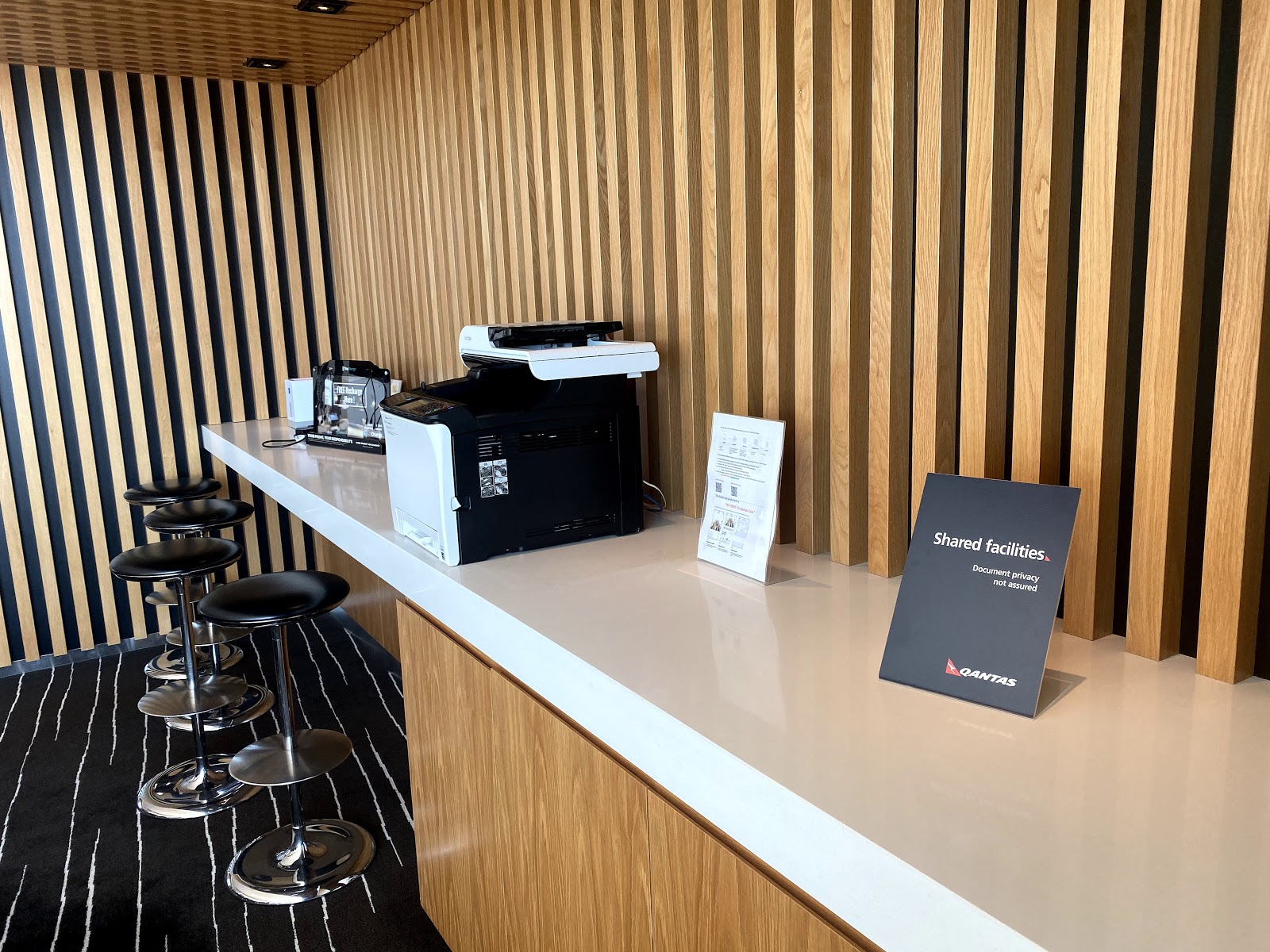 A dedicated kids zone is set in the far corner of the lounge and is equipped with two iMacs, toys, books and armchair seating.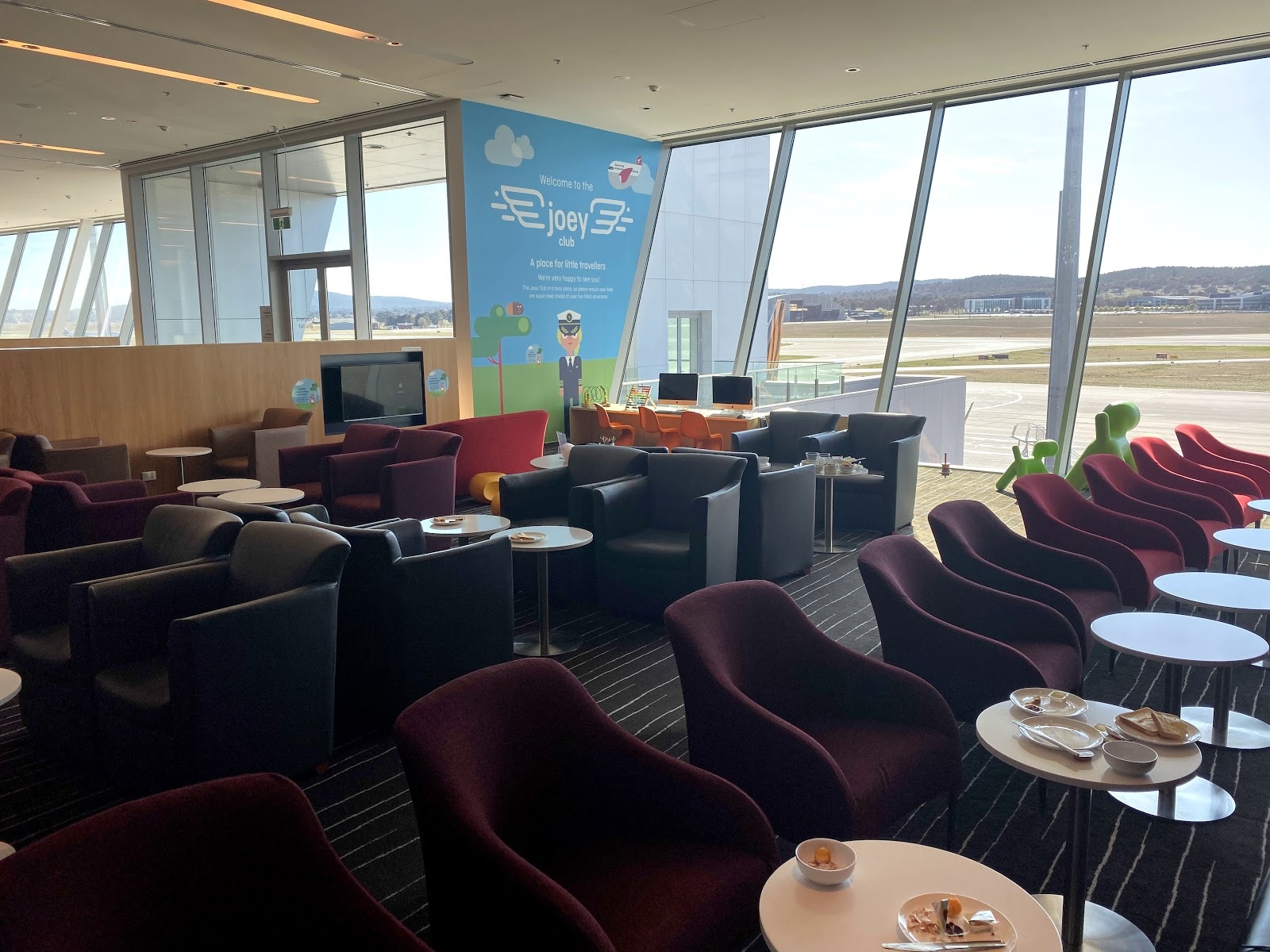 Food & drink
The food and drink area runs along an entire wall of the lounge and includes a self-serve buffet, as well as a bar and barista coffee.
For my morning visit, a selection of breakfast items was available including eggs, baked beans, bakery items, muesli, yogurt, mixed fruit, toast, and assorted cereals.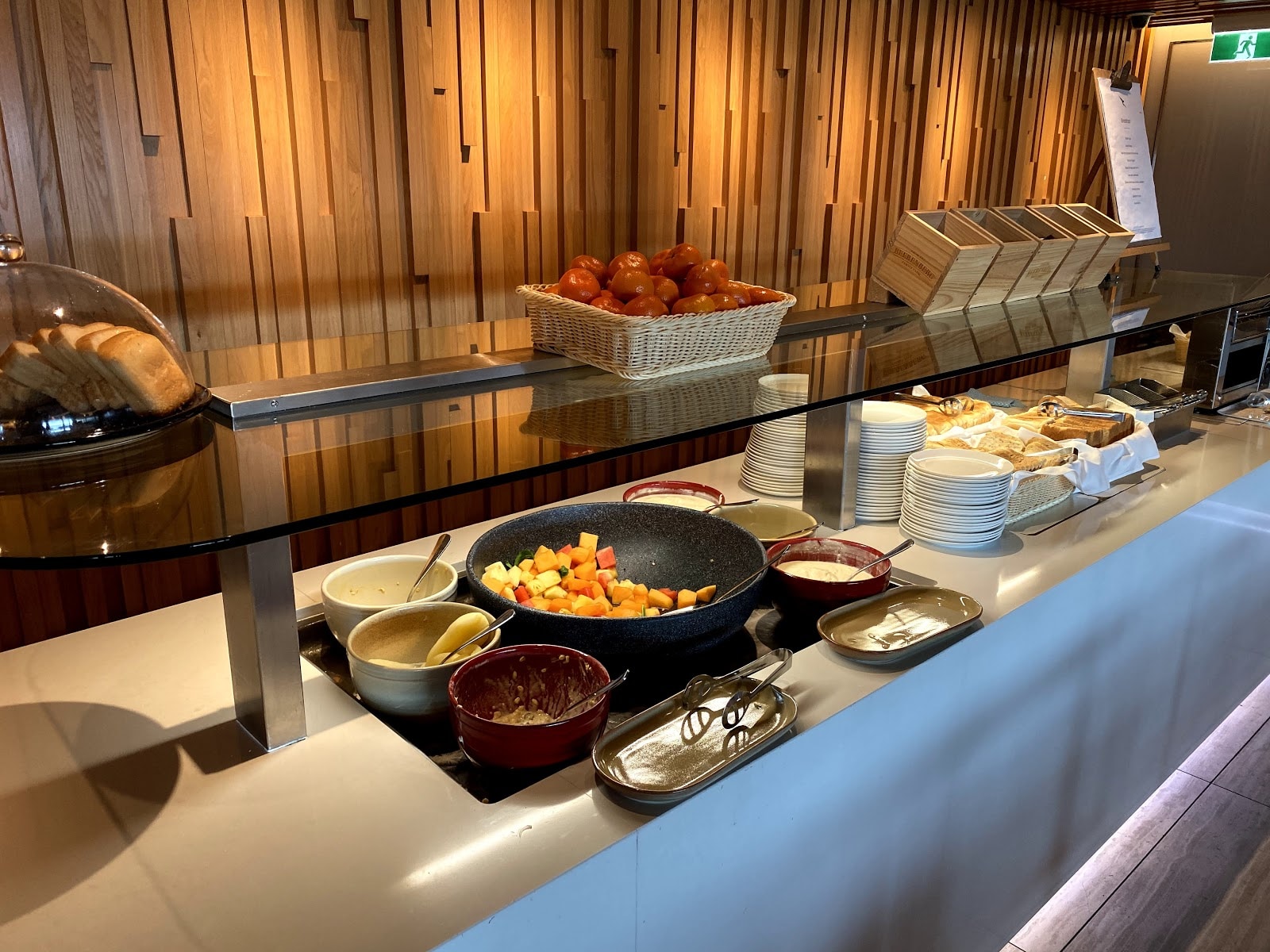 There is also a pancake machine and two sandwich presses available.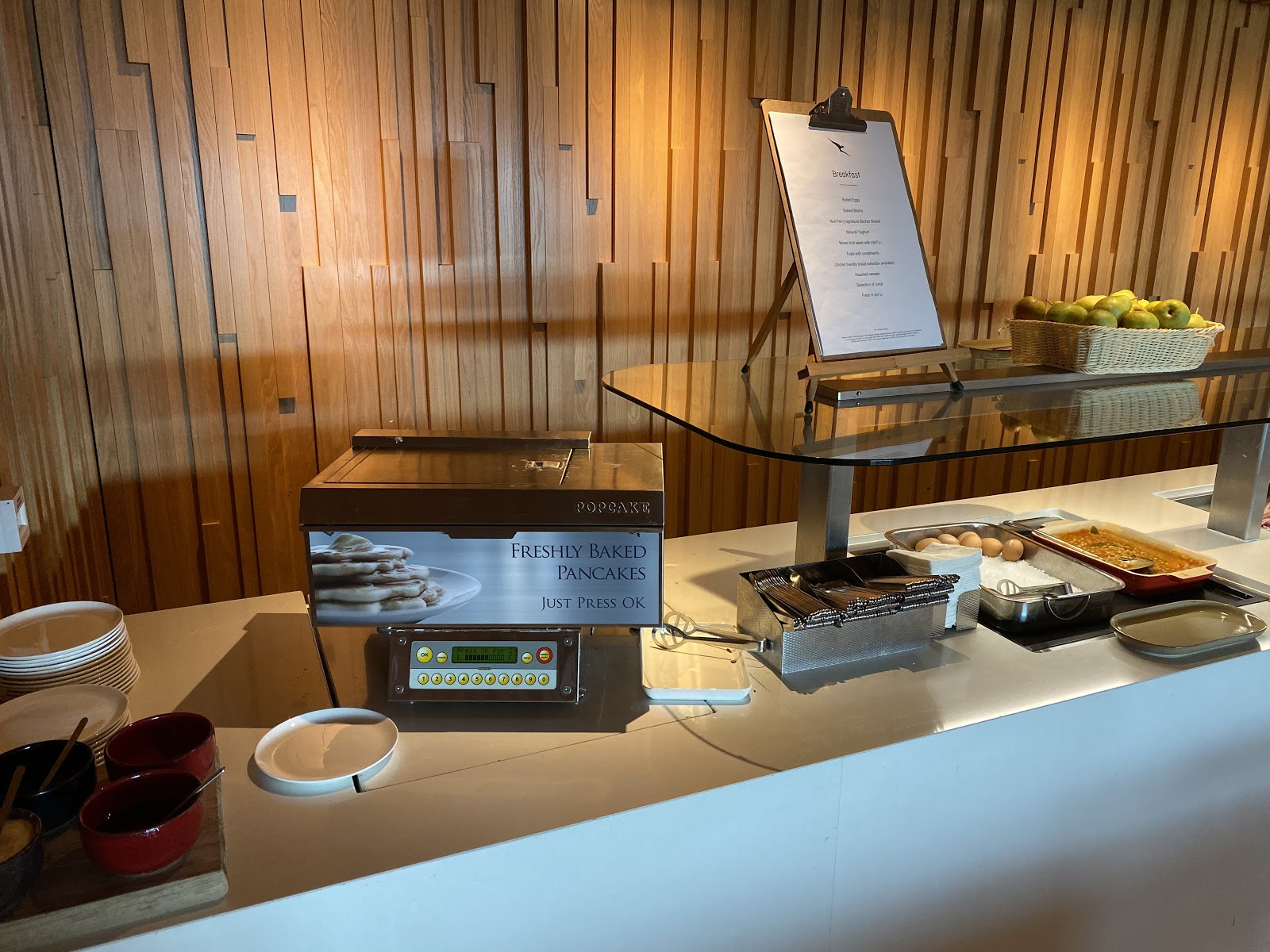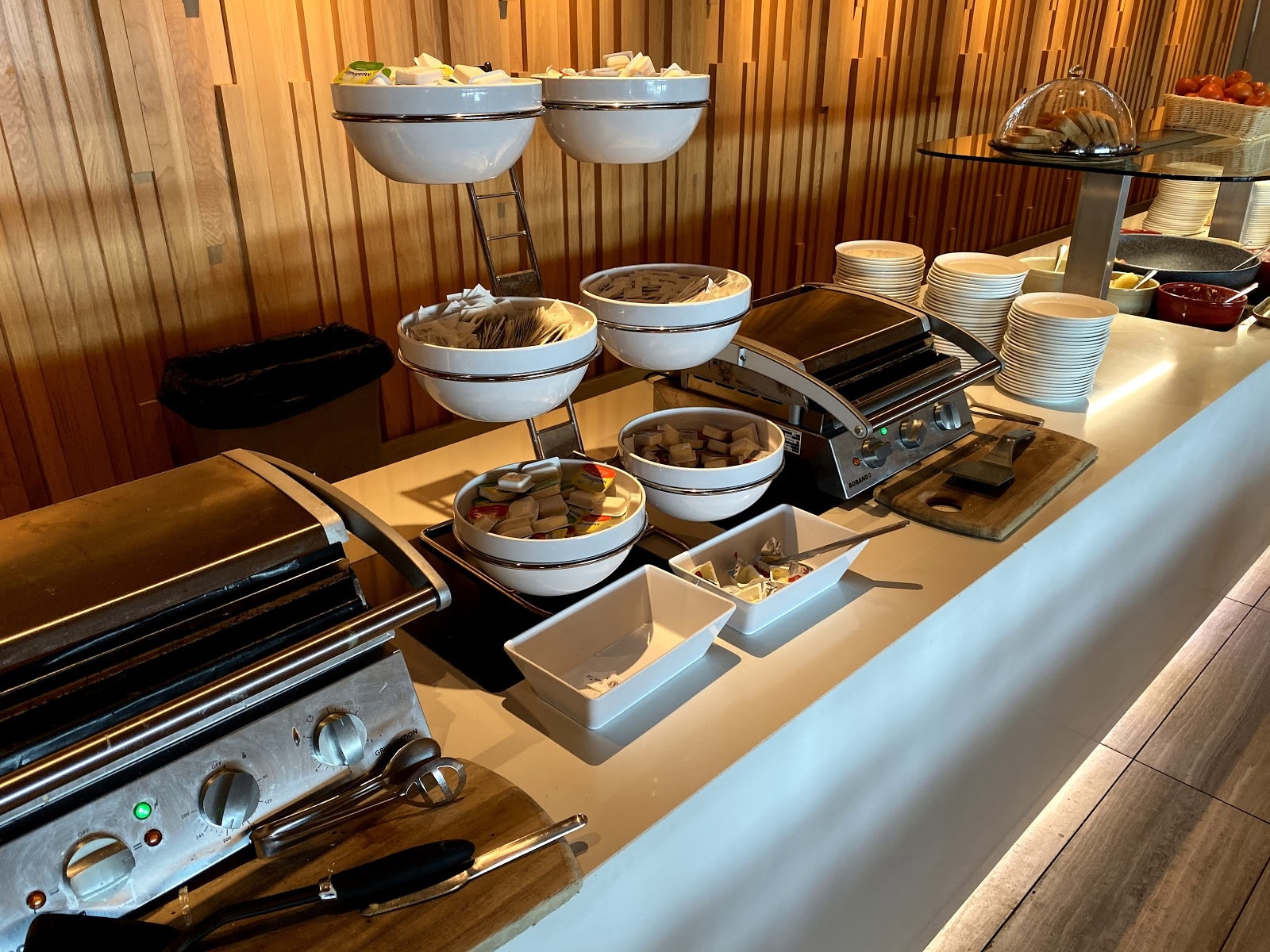 There is also a variety of self-serve drinks available including juice and soft drink.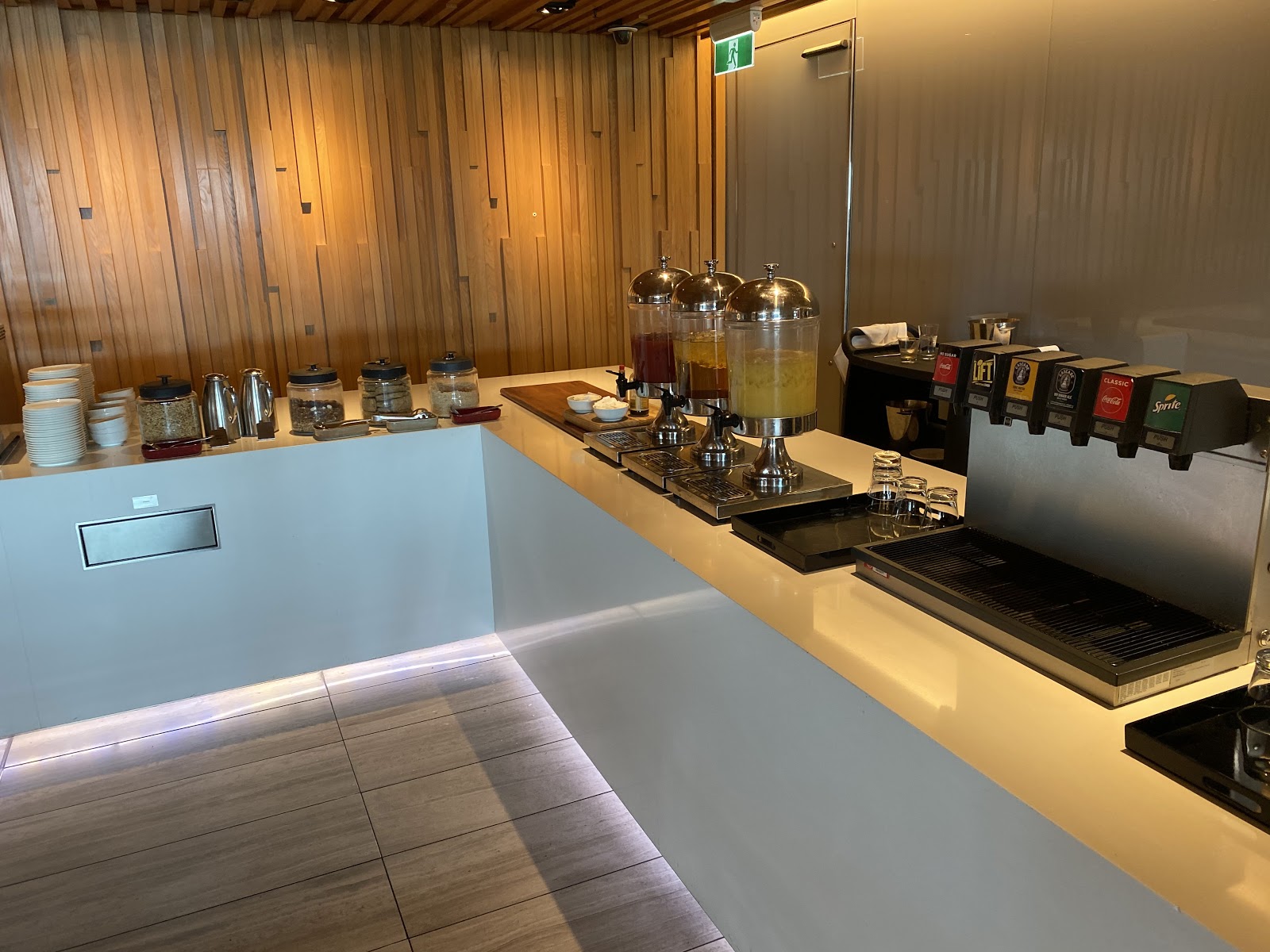 The bar opens at noon, however, it looked to have a reasonable choice of beer, wine and spirits. Barista coffee and other hot beverages are made to order.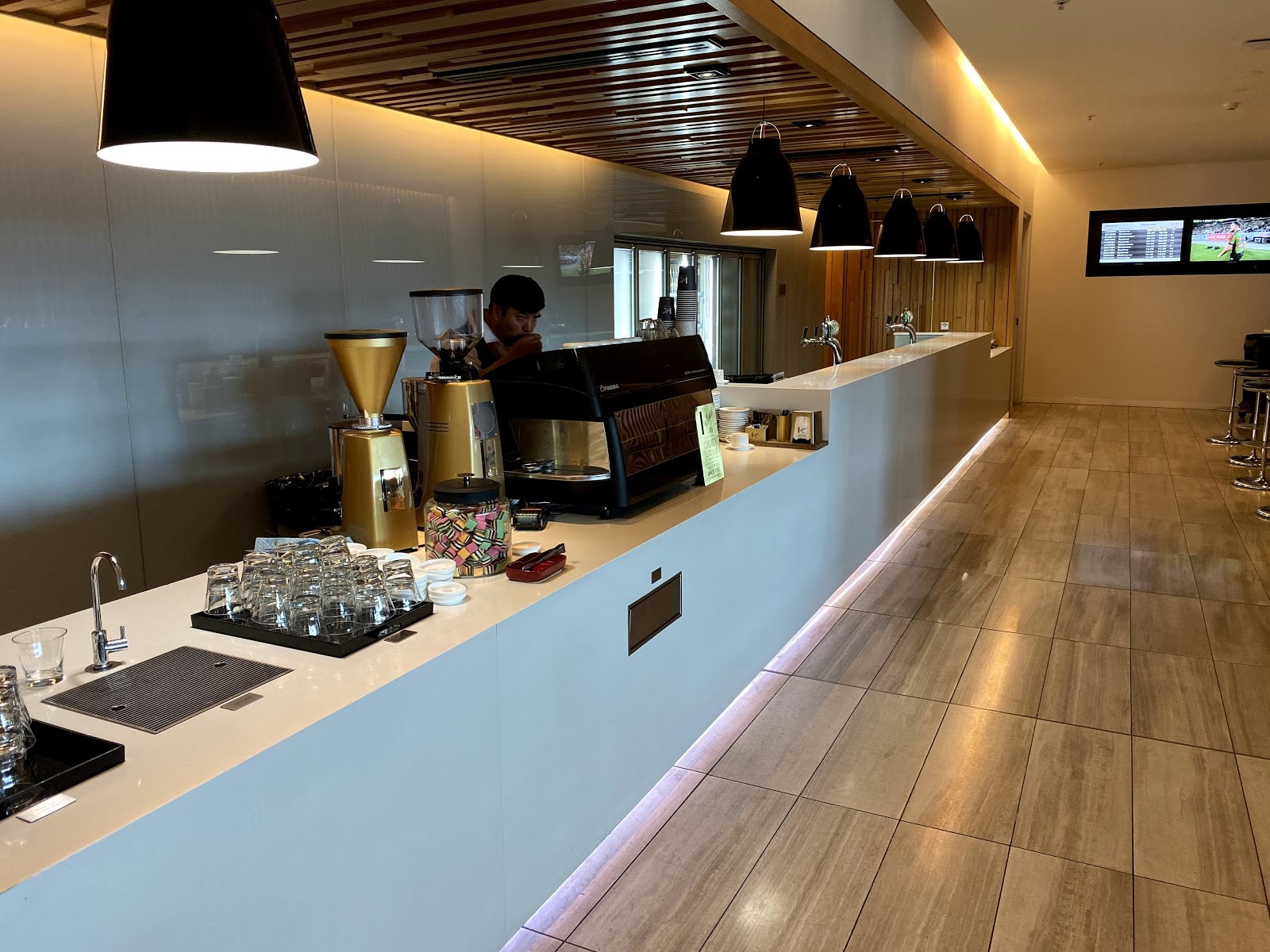 Amenities
The bathrooms are within the lounge and are clean and basic, although you will have to leave the lounge to access the showers which are located outside the reception area.
There are three magazine and newspaper stands which feature a comprehensive selection covering business, sport and lifestyle.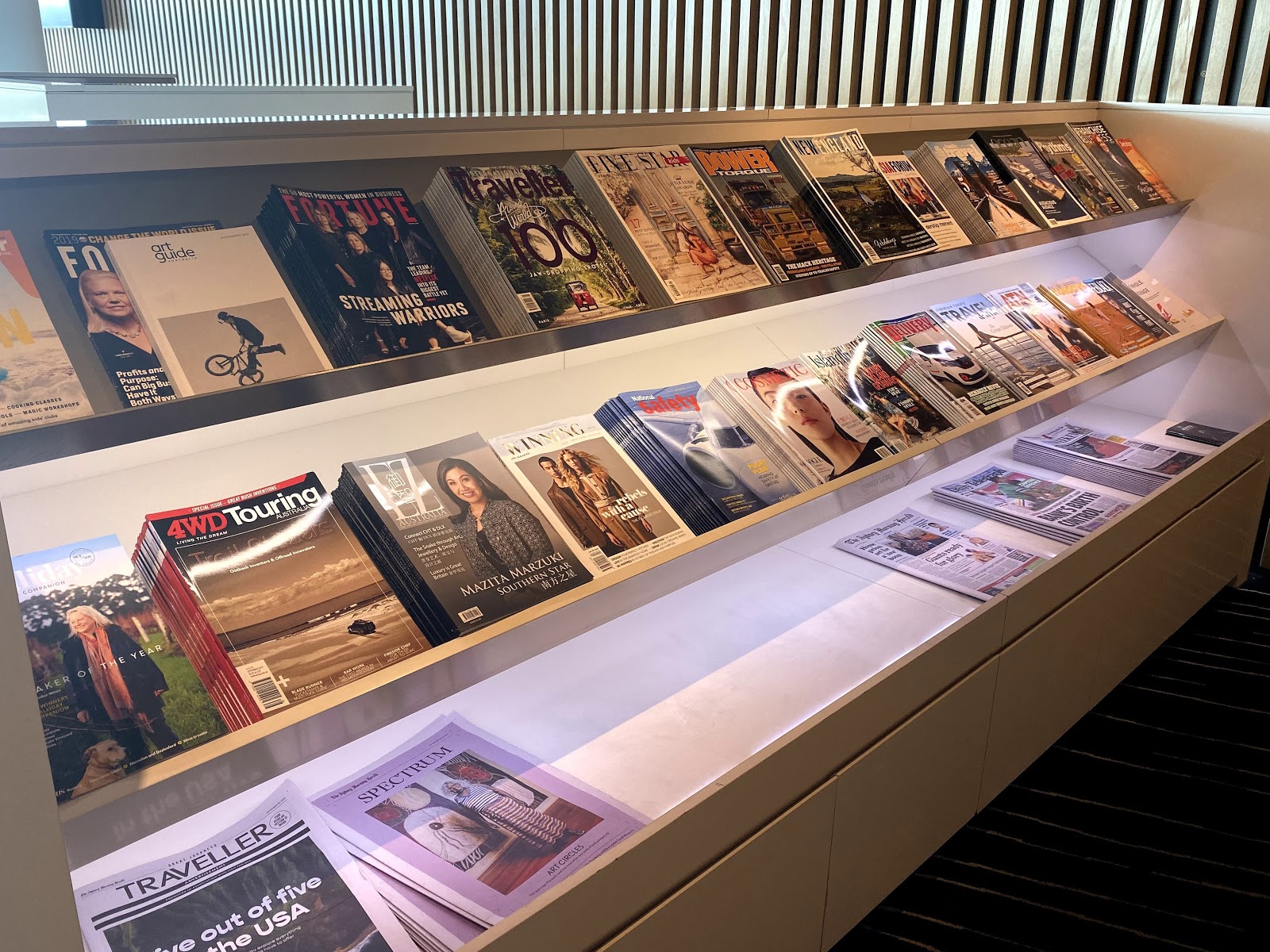 WiFi was relatively fast at around 30/18 Mbps download/upload.
Lounge access options
You can access this lounge:
By class of travel: Business Class passengers – can also access the neighbouring Business Lounge (+1 guest)
By Qantas status: Qantas Gold (+1 guest) and higher (+2 guests) travelling on Qantas or QantasLink
By partner frequent flyer status: Emirates Gold and higher (+1 guest); China Eastern Gold and higher (+1 guest)
By Oneworld frequent flyer status: Sapphire and Emerald oneworld members travelling on a oneworld flight number (+1 guest); International First (+1 guest) or International Business passengers travelling on Qantas or QantasLink
By credit card: read our definitive guide to Qantas lounges for credit cards that offer lounge access
By Qantas Club membership: Qantas Club members and Annual Guest Card holders (+1 guest)
By day pass: Offered via email after achieving Silver Qantas status
Our Take
Although not quite as impressive as its modern siblings in Melbourne and Brisbane, the Qantas Club at Canberra is still a good option for both business and leisure travellers.
A standout feature of the lounge is its size, being the second-largest Qantas Club in the network. The location of the lounge is especially convenient, situated only a few minutes walk to the gates. This means you can stay in the lounge longer than you normally would at larger airports.
Improvements to the food selection would be welcome, although the offering is still acceptable for a lounge of this distinction. The beverage selection is excellent, with self-serve soft drink and juice, barista pulled coffee and a tendered bar.
Overall, a relatively modern and spacious lounge that provides a comfortable place to wait before your flight.
Related Articles
Qantas Club Canberra Lounge Overview
was last modified:
February 23rd, 2022
by