Under a new partnership, Qantas Frequent Flyer and Rockpool are offering double points earn on dining until May 2018.
In this guide, we also look at how to earn Qantas and Velocity points when making restaurant bookings.
How to earn Qantas Points at Rockpool restaurants
You can now earn Qantas Points on every dollar spent at over 60 Rockpool Dining Group restaurants around Australia.

The regular rate is 2 Qantas Points per $ spent at 'Premium' and 'Casual' restaurants such as Jade Temple, and 1 point per $ spent at 'Fast Casual' restaurants like Burger Project.
Until 31 May 2018, you'll earn double points.
You just need to provide your Qantas Frequent Flyer number when settling up your bill.
You also have the option to redeem 4,000 Qantas Points for each $20 off your bill, however, that will only give you 0.5c per-point value, which is just a quarter of the value we aim to get from each Qantas Point.
---
How to earn Qantas or Velocity points when making restaurant bookings
Both Qantas Restaurants anfd Velocity's OpenTable partnership allow you to earn points on restaurant bookings simply by booking through their online portals.
You'll be picking up 100 Qantas points per person if booking through Qantas Restaurants and 300 Velocity points through Velocity's portal. This is a pretty good deal given that no extra cash need otherwise be spent if you were going to eat out anyway.
This is ideal for those making team lunch or dinner bookings at work—book via Qantas Restaurants (or Velocity's OpenTable partnership) and you can pick up a haul of points easily.
Frequent Flyer-linked dining portals are similar to online malls – an easy way to top up your points balances from everyday activities. Both Velocity and Qantas have restaurant booking options with a wide range of restaurants included.
Here's an example—if you dine out with one other person an average of once a week and are not making your reservation using a free service provided by one of these two frequent flyer programs, you could be missing out on up to 15,600 points a year, enough for a Business Class flight between Sydney and Melbourne or Brisbane.
A note and disclaimer: the name on the reservation must match exactly the frequent flyer's name for the points to be credited, however as you don't need to show membership card or verify your identity at the host stand, technically you could make reservations for other people under your own name as long as they check-in with your name.
300 points per booking with Velocity
Booking partner: OpenTable
Points earn: 300 points per 'honoured reservation' (i.e. you cannot cancel or modify or be a no-show)
Points credit time: up to four weeks for points to appear on statement
Booking link (you cannot book through the OpenTable app or regular website)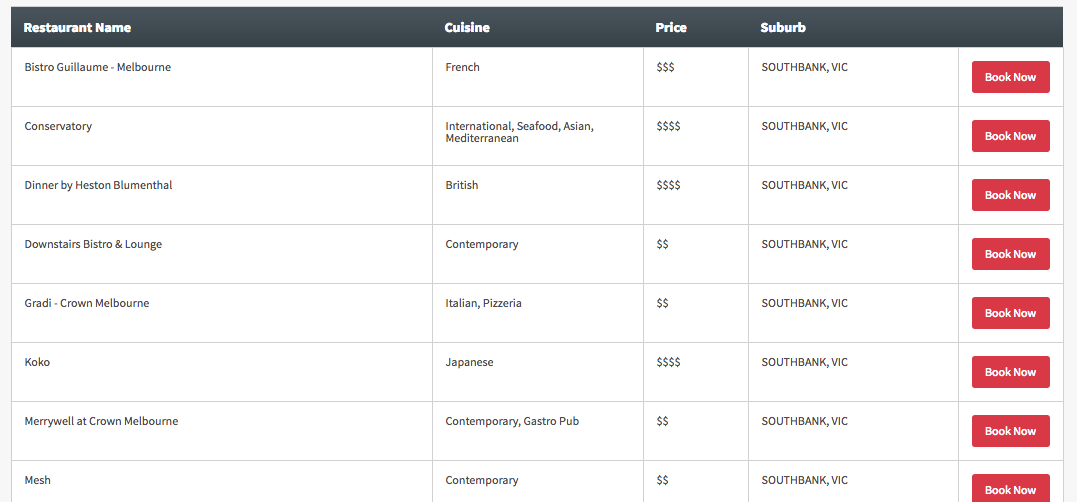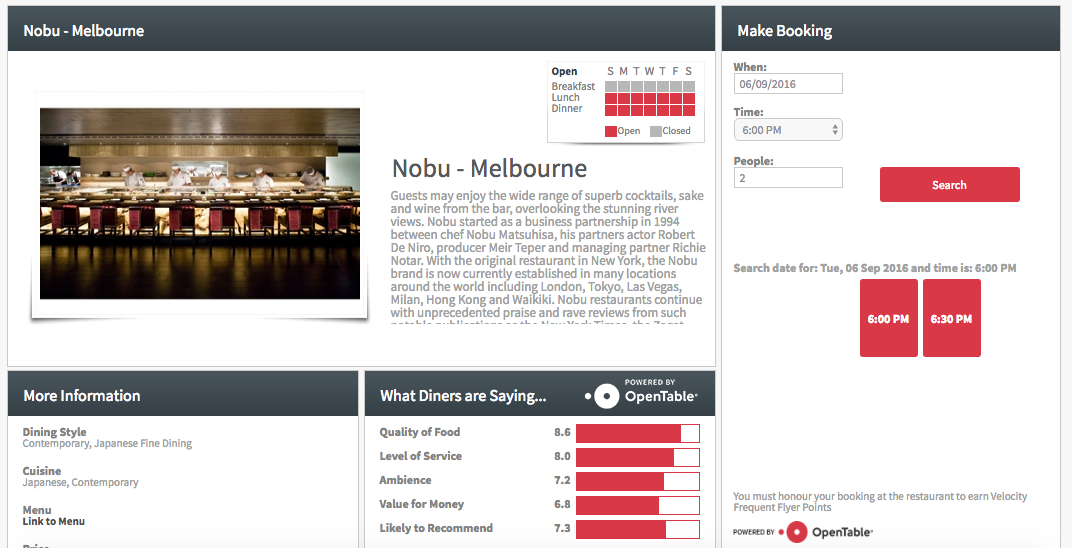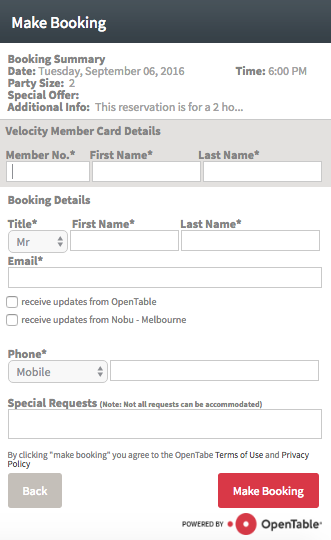 100+ points per booking with Qantas Frequent Flyer
Booking partner: Dimmi
Points earn: 100 points per diner (doesn't mention maximum, but it is counted on diners who actually show up, not on number on reservation)
Points credit time: up to eight weeks for points to appear on statement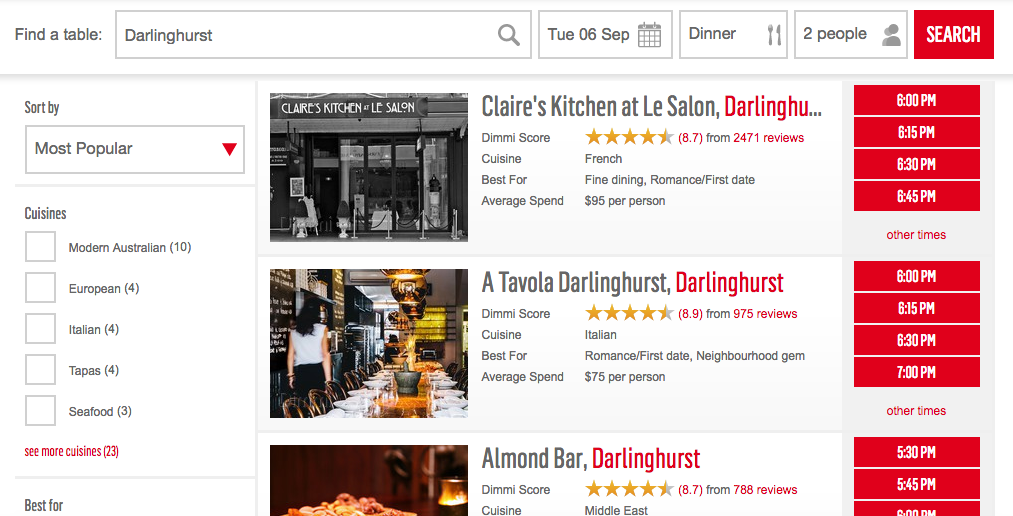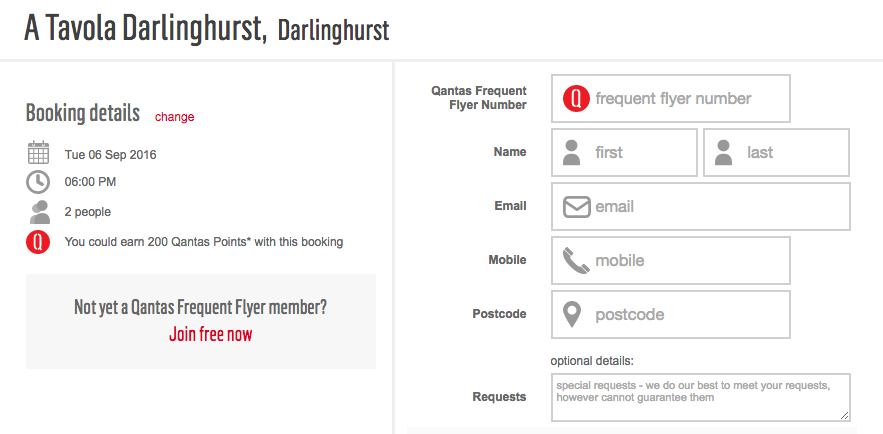 Maximising points earn at restaurants
Let's compare the points earn through Velocity and Qantas, which depends on the party size:
| Party size | Velocity points earn | Qantas points earn |
| --- | --- | --- |
| 1 person | 300 | 100 |
| 2 people | 300 | 200 |
| 3 people | 300 | 300 |
| 4 people | 300 | 400 |
| 5 people | 300 | 500 |
Assuming you have no preference between earning Velocity and Qantas Frequent Flyer points, you can see that if you are dining alone or with just one other person, you will earn more with Velocity; the same amount (300 points) if there are three people eating; and Qantas wins for any party of 4+ people.
Other ways to earn points when dining
Get a free bottle of wine if you are a Citi cardholder
Bon appétit and bon points earning!
You can now earn up to 4 Qantas Points per $ spent at Rockpool restaurants
was last modified:
December 5th, 2017
by