There is now another way to earn Qantas Points on purchases in 2020; AfterPay is trialling a partnership with Qantas Frequent Flyer.
Find out how to earn 500 Qantas Points as a new AfterPay customer, or link your accounts and start earning your way up to a maximum of 5,000 points.
---
As a partnership launch promo, Qantas is offering 500 points on first-time users of AfterPay, while existing AfterPay customers who link their accounts to Qantas will potentially be able to start earning points.
This offer is valid for those who link their accounts between 8 July 2020 to 8 September 2020 and then spend with AfterPay up to 8 March 2021.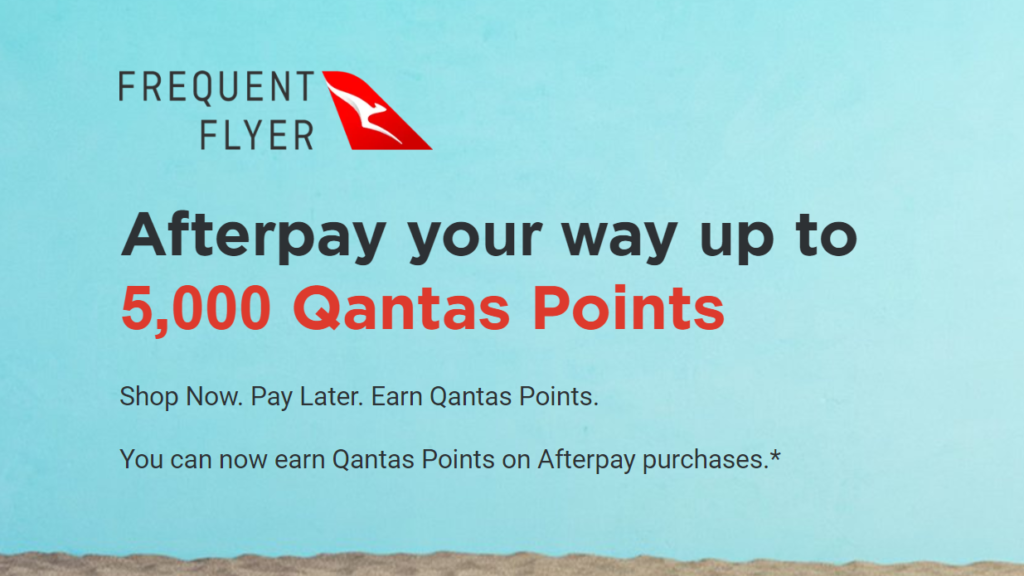 Promotion: join AfterPay and earn 500 Qantas Points
This new user promo includes anyone who signed up for AfterPay in the 12 months prior to 8 July 2020 without making a purchase yet. If that's you, skip ahead to the next section to link your accounts.
If you don't have an existing account, here are the steps to join AfterPay as a new member and earn 500 bonus Qantas Points in the process.
Head to the AfterPay registration page.
Enter your email address and mobile number.
Verify the SMS code sent to your number.
Continue with entering the rest of your details.
Verify your ID with an Australian driver's license, passport, Medicare card or international passport.
When approved, you're free to start spending. However,

add your Qantas Frequent Flyer number to your new AfterPay account first

, if you want to earn points. The instructions are below.
Link your AfterPay and Qantas accounts to start earning points
Both new and existing AfterPay account holders will need to add their Qantas Frequent Flyer number to their AfterPay profile, before being able to earn Qantas Points.
Log in to your AfterPay account on the website or app.
Navigate to 'My Account' at the top-right corner (website), or 'Profile' at the bottom right corner (app).
Click on 'Link Account', then enter your Qantas Frequent Flyer number in the field.
You will receive Qantas Points up to 45 days after each purchase.

Differences for new users vs existing users
Note that after linking your Qantas Frequent Flyer account, different rules on earning Qantas Points will apply to new Afterpay users and existing customers.
New users who haven't made a purchase in the 12 months prior to 8 July 2020 will be able to earn 1 Qantas Point per $1 spent, immediately. The 500 bonus points will be awarded 8-10 weeks after the first order is placed.
Existing users are defined as 'individuals who have made a purchase using the Afterpay Service in the 12 months prior to 6 July 2020.'
After linking their Qantas account, existing users will have to spend $1,000 before unlocking the ability to earn 1 Qantas Point per $1 spent, which then only applies to further purchases.
Unfortunately, it seems current loyal AfterPay customers get the short end of the stick here, with a much higher spend threshold to overcome before being able to start earning Qantas Points.
What is AfterPay? Does it have fees?
For the uninitiated, AfterPay is a 'buy now, pay later' scheme that breaks down purchases into four equal instalments.
The idea is that having the instalments spaced out every fortnight helps with budgeting and cash flow, especially with bigger-ticket items.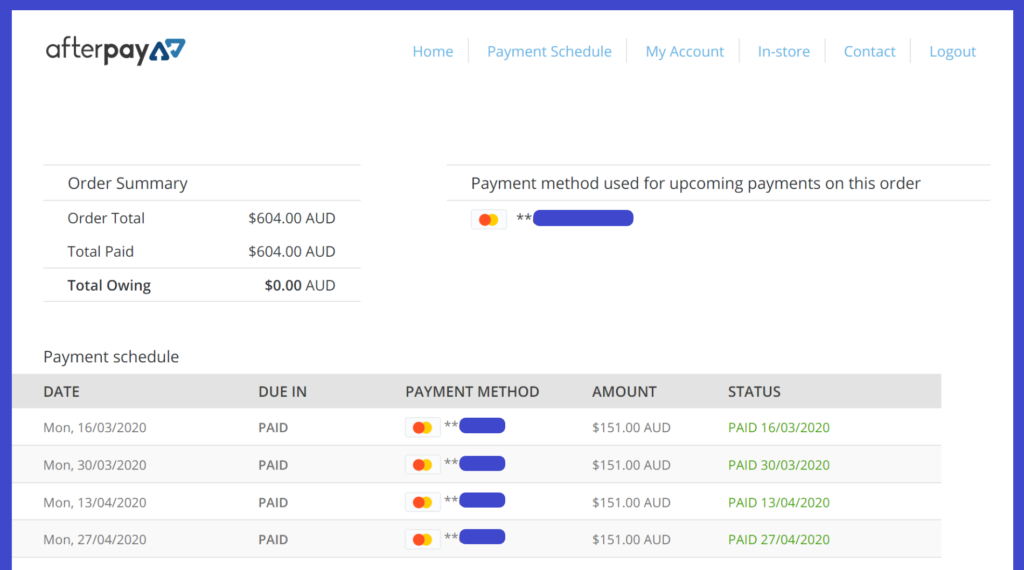 AfterPay is regarded as 'credit neutral' — using the service normally will not affect your credit score positively or negatively — but any missed payments and chargebacks may be reported to credit agencies.
Credit checks are not usually performed upon sign-up — great for most people, but admittedly it could allow those with a history of bad debt to take on additional credit beyond their repayment ability.
All users must be the authorised holder or a debit or credit card, and a pre-authorisation may be placed upon your first order.
You won't have to worry about any fees if you pay your instalments off in time — indeed, the company makes money from its cut of merchant sales.
However, late payment charges will apply if you're unable to pay on the due date, so make sure your card has enough funds in advance. AfterPay does not charge additional interest on outstanding payments.
| | |
| --- | --- |
| AfterPay late fees, charged per missed instalment | |
| Initial late fee (charged on initial non-payment) | $10 |
| Second late fee (charged 7 days after non-payment) | $7 |
Late fees are capped, so you won't pay more than the amounts below on unpaid instalments. However, you will not be able to make new AfterPay purchases while current payments are overdue.
| | |
| --- | --- |
| AfterPay fee caps | |
| Orders under $40 | Capped at $10 |
| Orders between $40 and $272 | Capped at 25% of the order value |
| Orders above $272 | Capped at $68 |
Since late fees are charged per missed instalment, the largest penalty you can pay per order — for missing each instalment by more than a week — is $68 (4 × $17), on orders worth over $272.
Ad – Scroll down to continue reading.Minimum spend, terms & conditions apply.
Triple-dipping on Qantas Points with Qantas Shopping and AfterPay
With AfterPay now thrown in the mix, there are some opportunities to triple-dip on Qantas Points from one purchase. You could earn points by:
Say you spent $600 from Catch, after clicking through the Qantas Shopping (3 points per $1), checking out with AfterPay (1 point per $1) and paying the instalments with a Qantas Titanium Card (1.25 points per $1). You could earn up to 3,150 Qantas Points from that purchase alone, using this triple-dip tip!
To ensure this strategy works, check that your preferred retailer is listed both through Qantas Shopping and AfterPay websites.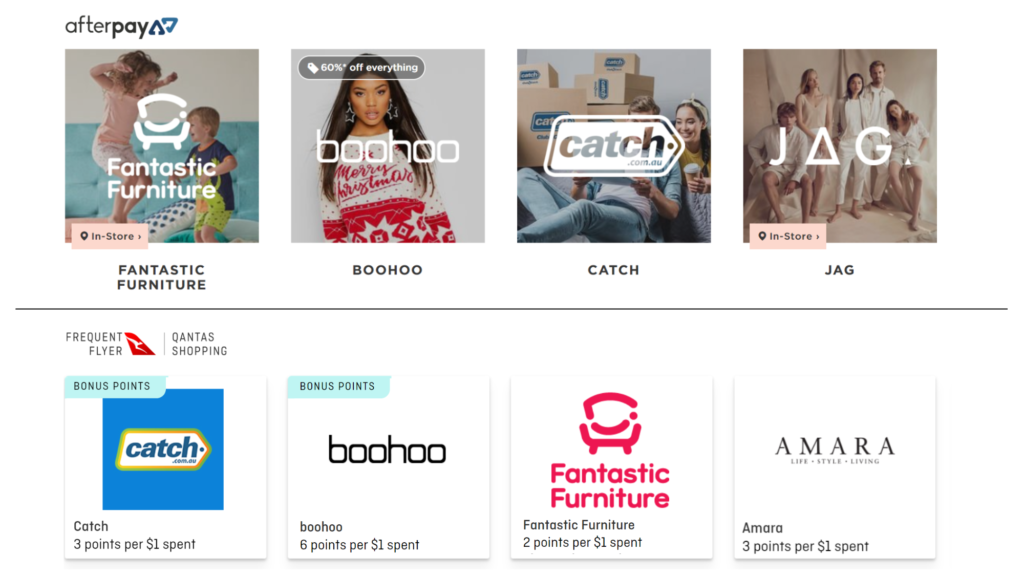 What are the Qantas Points worth?
We estimate the worth of Qantas Points to be roughly 1.9c each in our current valuations.
As there is no additional cost of acquisition for bonus Qantas Points through AfterPay (assuming you don't rack up late fees, of course), this partnership is a great opportunity to accelerate your points earn.
Do note that the current cap of 5,000 Qantas Points earned through AfterPay means you won't get a free standalone flight out of this, but it will still be a useful balance boost for most people.
Can I close my AfterPay account?
Yes, you are definitely able to shut your AfterPay account for any reason. The only requirement is to have all outstanding instalments paid first. Then, simply submit an account closure request here.
If you're applying for a big loan, such as a mortgage, make sure to disclose if you have an AfterPay account. In some cases, lenders will be fine with you keeping the account if you can demonstrate a $0 balance, but others may want you to close the account down before progressing.
Summing Up
The Qantas and AfterPay partnership is another great addition to the frequent flyer portfolio, but the points-earning opportunities remain limited to 5,000 Qantas Points per person and up to 8 March 2021 for now.
It's also discouraging for existing AfterPay users to have a $1,000-spend hurdle placed in front of them before being able to earn a single Qantas Point, whereas new users get 500 bonus points off the bat.
Hopefully, the arrangement will gradually evolve into something more permanent and equitable down the track, as AfterPay can be a useful cash flow tool if used properly. Be sure to only spend what you can comfortably repay every fortnight!
Frequently Asked Questions
Does AfterPay run a credit check?
Not usually. However, the company does reserve the right to perform a credit check on you if it needs to. See Section 6.2, Clause E.
Can I AfterPay flights?
Right now, only Jetstar Australia allows this payment method for its flights. Bookings can't exceed $1,200 AUD, including a 1.5% payment surcharge. You could also go through third-party travel agent Webjet, which allows AfterPay for bookings up to $2,000.
Who qualifies for AfterPay?
To use AfterPay in Australia, you must be living in Australia, be at least 18 years old, have a valid and verifiable email address and phone number, use an Australian bank payment card, be capable of entering into a legally binding contract and have a verifiable and valid ID.
How does AfterPay work?
AfterPay splits purchases into four fortnightly instalments, without interest. It helps manage cash flow and does not incur any fees if payments are made on time.
What happens to my Qantas Points if I get a refund on an AfterPay order?
Qantas Points are only awarded in the month following a transaction. If any full or partial refunds occur, then the equivalent number of Qantas Points will be deducted from your points earned.
Ultimate guide to the Qantas & AfterPay partnership
was last modified:
August 24th, 2023
by