With long-haul flights to four Australian capitals, Emirates is one of the largest foreign airlines serving Australia. And better yet, Emirates flights are among the many options for spending your Qantas Points.
Those Qantas Points can take you across the Tasman aboard Emirates' upcoming Sydney-Christchurch flights. Or further afield to Dubai and beyond to destinations across Europe, and many other points around the world.
In this guide, we explore how to use your Qantas Points on Emirates flights – and pleasingly, it isn't hard.
The Emirates route network and fleet
From Australia, Emirates offers non-stop flights between the following cities:
Sydney and Dubai
Sydney and Christchurch (resumes 1 December 2022)
Melbourne and Dubai
Brisbane and Dubai
Perth and Dubai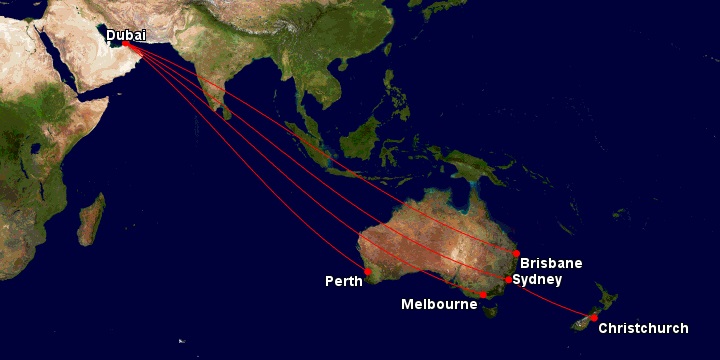 From Dubai, Emirates offers onward connections to many major airports around the world. You can explore the carrier's full global network on its website.
These are operated by a mix of Emirates' Airbus A380 and Boeing 777 jets. Business Class is available on every flight, while First Class is available on most departures – including all flights from Australia. You just won't find First Class on the refreshed Boeing 777-200LRs, or a small collection of two-class Airbus A380s.
Emirates First and Business Class products
Emirates First Class remains among the best in the world. There isn't much difference between the physical suite on the Airbus A380 and standard Boeing 777 . However, the latter does lack an onboard shower and bar.
The trade-off is that there are only eight First Class seats on most Boeing 777s, compared to almost double that (14) on the A380. So it can be common to receive more attentive service on older aircraft.
But having said that, Emirates' newest First Class experience is found only on selected Boeing 777 flights. This entails a private suite with a door stretching from the floor right up to the ceiling. The catch? It flies to very few destinations, and with only six First Class suites on these flights, securing one with points can be tough.
On the whole though, Business Class is where there's the biggest difference. The Airbus A380 is set up in a 1-2-1 configuration, and all beds are lie-flat.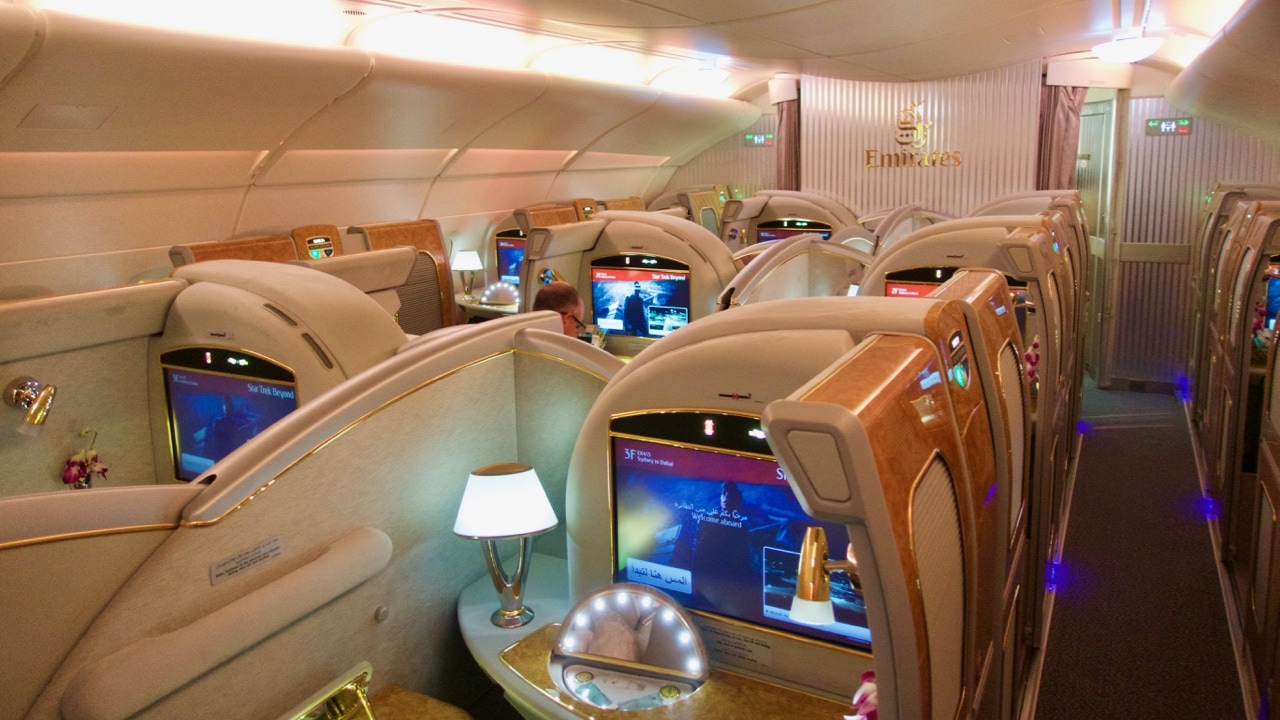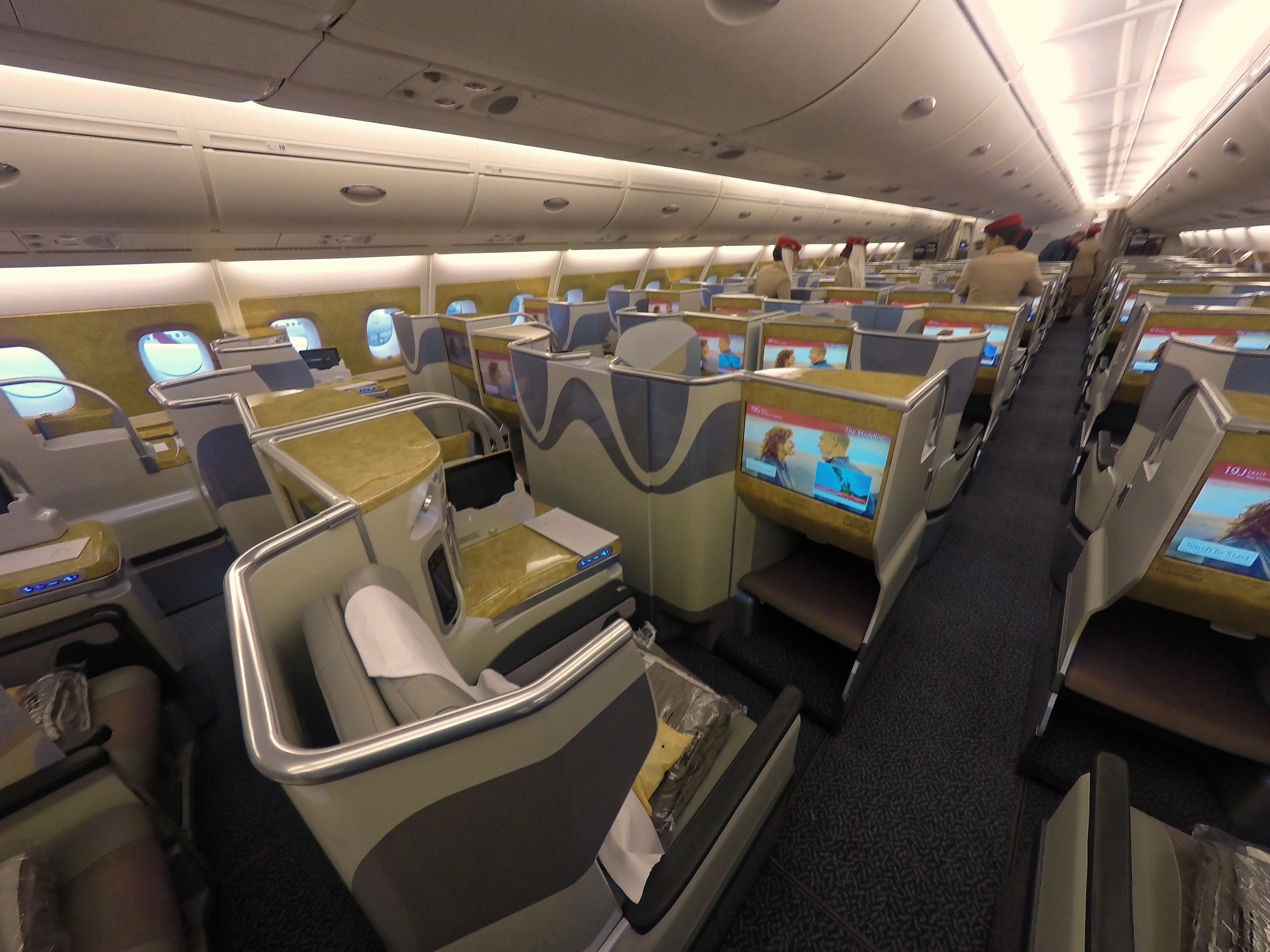 Conversely, most Boeing 777s have angled-flat seats in a much more cramped 2-3-2 configuration. Some do have a refreshed 2-2-2 layout in Business, but that's hardly industry-leading. If you're aiming for Business Class, the Airbus A380 is certainly the way to go.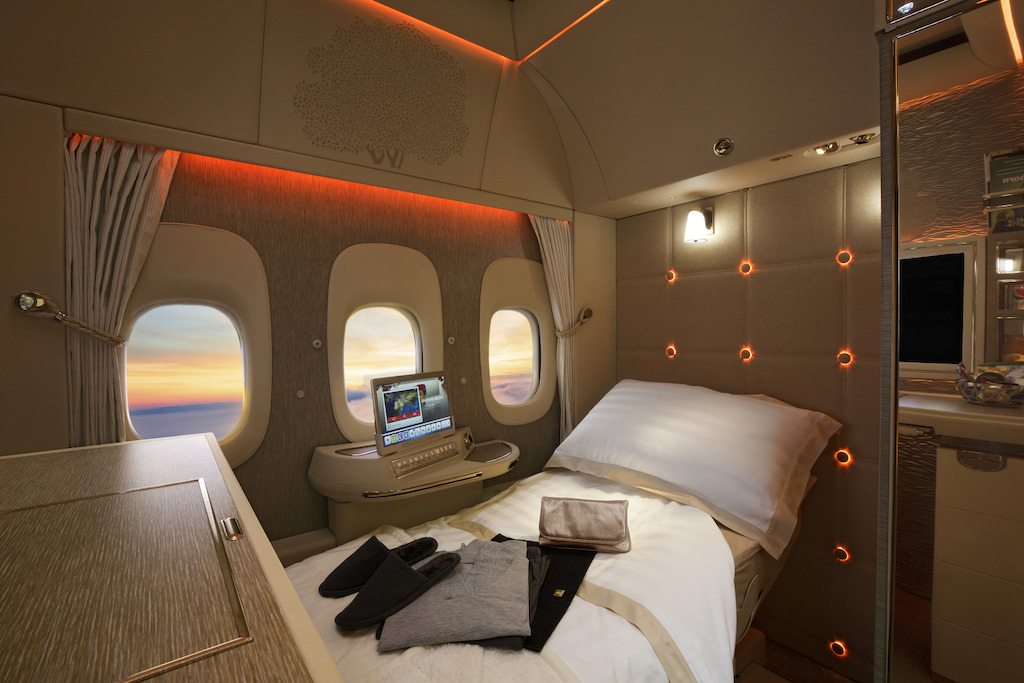 Complimentary Chauffeur Drive no longer available
If you haven't travelled overseas in recent years, here's a handy reminder. Emirates' complimentary Chauffeur Drive service is no longer offered when travelling on a reward ticket. That is, on a flight booked using Qantas Points – or other reward points such as Emirates' own Skywards Miles.
This was previously a great perk of booking Emirates compared to other airlines. But since March 2019, Emirates has restricted this to passengers travelling on eligible cash fares only.
Qantas Points pricing for Emirates flights
Emirates is a key joint venture partner for Qantas. Previously, the points pricing for Emirates flights when using Qantas Points was the same as if you were flying with Qantas on the same route.
However, this is no longer the case. From September 2020, Emirates moved to a more-expensive 'partner' award table, meaning you need more points per flight.
You'll need to look at the Qantas Points Classic Flight Rewards tables to see the full list of prices. Our link takes you directly to the 'partner' pricing section where Emirates now sits.
The simpler way to calculate points pricing though is to use Qantas' own points calculator, which you can find here. Here are some of the price-points for the key routes mentioned above:
Route
Economy Class
Business Class
First Class
Sydney-Christchurch
20,000
43,800
64,500
Perth-Dubai
37,800
90,000
129,300
East Coast-Dubai
Perth-Dubai-Rome
50,300
119,200
170,800
With Emirates, it can absolutely make sense — in terms of travel time and routings — to fly beyond Dubai. That's true for connections to Europe and Africa (especially North and Central African countries). From Australia's east coast in particular, connections to North or South America can also be logical.
For the longest multi-flight itineraries (9,601-15,000 miles), you will spend a maximum of 159,000 Qantas Points in Business Class or 227,500 Qantas Points for Emirates First Class.
That includes itineraries (with only transits under 24 hrs, not stopovers) such as:
Sydney – Dubai – New York
Melbourne – Dubai – London
Perth – Dubai – Rio de Janeiro
Taxes and fees are, unfortunately, rather on the high side. But compared to paying full fare for a Business or First Class ticket, these redemptions still deliver some effective savings.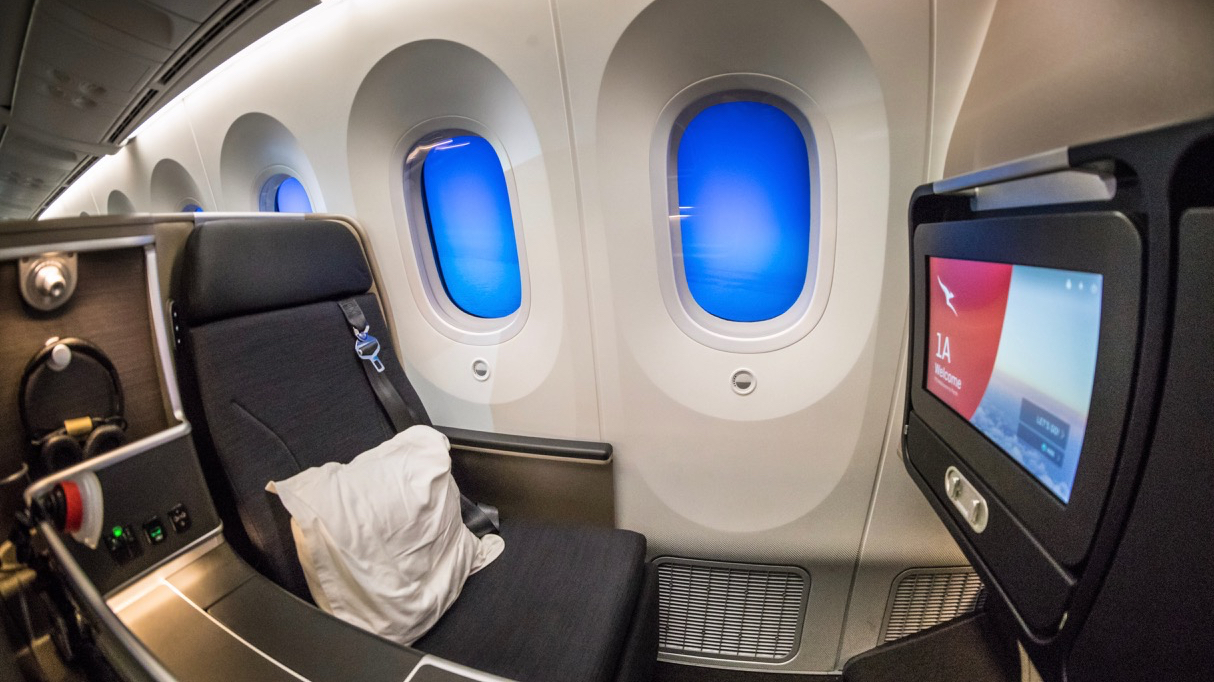 Ad – Scroll down to continue reading.Minimum spend, terms & conditions apply.
When shouldn't you use Qantas Points to fly with Emirates?
Depending on the route
While booking reward flights on Emirates can be a great experience, it may not always be the best option.
A good example is on flights between Australia's east coast capitals and the US west coast. Journeys from Sydney to Los Angeles, for instance, are much more efficient straight over the Pacific, rather than backtracking across the globe via the Middle East.
Depending on the cash price
There are certainly times when it can make sense to use your points for an Economy Class flight. But if that's your goal, it always pays to check the asking price of an equivalent paid fare to match your itinerary.
You may find times when Economy Class tickets are on sale at a very generous price. And as paid fares include all taxes, fees and surcharges, the price you see is the price you pay. Whereas when spending Qantas Points, you always part with those points, plus a separate payment for taxes, fees and surcharges.
A quick mental sum can help you decide whether a specific Economy Class redemption is worth it. Look at the price it'd cost to buy that itinerary with cash, and subtract the dollars you'd need to pay on the side if booking the same thing using points.
The difference between those two figures becomes your 'cash saving' when using points. Are the points you're spending worth saving that amount, or do you feel it isn't worth it, and your points could be better spent another time? Only you can decide!
At Point Hacks, we usually focus our efforts on using points for Business and First Class instead. That's because while Business Class reward flights often cost around double the points of Economy, the equivalent cash fares are generally more than twice as expensive.
That means you're getting greater value out of each point. And certainly, flying up front is leaps and bounds more enjoyable than travelling down the back.
When other partner airlines cost less
Speaking of cash, the carrier charges levied on reward bookings with Emirates are among the highest in the industry. Of course, if Emirates is the only airline with available reward seats when and where you need to travel, you won't have much choice if you're booking using points.
But when you do have a choice, don't just look at how many points it might cost to fly with a different airline. Also look at how many dollars you'll need to pay on the side.
For example, from Australia to Europe, it costs the same number of Qantas Points to fly with Emirates as it does to book with Qatar Airways. And while Qatar Airways levies carrier charges of its own, they're generally less than you'd pay with Emirates on a comparable itinerary.
Depending on your journey, other airlines might bring even greater savings. Using Qantas Points with airlines such as Finnair and Japan Airlines will often attracted less in fees on the side. But again, the options available will depend on where you're flying, when, and what reward seats are on offer.
If you have a choice, that's great – but when you don't, Emirates is still an option, albeit with the higher carrier charges.
Can I use my Qantas Points to upgrade my Emirates ticket?
No, you cannot use Qantas Points to upgrade Emirates flights purchased with cash. You also can't use Qantas Points to 'upgrade' a reward ticket.
But when you are flying on a reward booking, don't forget that you may be able to change your ticket instead.
For instance, in the past, I've booked Emirates Business Class using Qantas Points, when I couldn't find a First Class reward seat. Yet when I later noticed a First Class reward seat open up on the same flight, I was able to call Qantas and have the ticket repriced and reissued in First Class.
This meant spending extra Qantas Points, of course – but only the difference between the Business Class and First Class Classic Reward rates. While it's not a true 'upgrade', it's an option when you've booked one cabin using Qantas Points and a higher cabin becomes available before you fly.
How to research and book Emirates flights using Qantas Points
Ready to search for and book your Emirates flight using Qantas Points? Thankfully, Qantas.com is generally an excellent way to find and book Emirates reward flights.
Emirates reward seats generally appear online up to 330 days before departure. Occasionally, they may appear even further in advance. Qantas' website can technically display flights up to 353 days before departure, after all. But as Emirates uses a different backend booking system, it's generally closer to 330.
To save time, we prefer searching by going straight to the Qantas.com multi-city search tool here, regardless of whether we're searching for a multi-city itinerary. Make sure you check the box Use points – Classic Flight Rewards only.

You'll also be prompted to log in with Qantas Frequent Flyer account credentials. Then you can start seeing flight results.
In this example, I am looking at Sydney to Dubai. On this date, both daily flights have Economy Class availability (not surprising) and only the earlier departure has Business Class seats. (First Class is missing, meaning there is no award availability in that cabin).

From here, if you have enough Qantas Points in your account, you can then get a quote for the taxes and fees along with the required points. If you don't have enough points in your account yet, give Qantas a call to find out and scope out the additional costs so you're fully prepped.
Summing up
It's very easy to use Qantas Points for Emirates flights. The Gulf carrier has steadily been removing the ability to redeem points and miles for its First Class cabins, with its partners Alaska Airlines and Japan Airlines being cut out. But you can still use Qantas Points for First Class: albeit with high carrier surcharges.
Targeting your points-earning strategies and redemption goals towards Emirates flights to New Zealand, Europe or even the US can be a great way to go. Again, while the fees can be high, Emirates can be quite generous with its reward seat availability.
Although many of Qantas' other partners have lower carrier fees, the breadth of Emirates' network and the wide availability of reward seats in its premium cabins makes it worth considering for your next trip.
That said, if you can find a reward seat on another airline with lower fees to pay on the side, even better.
Have you had any great experiences using your Qantas Points on Emirates? Let us know in the comments!
This article was originally written by Matt Moffit, with subsequent updates by Brandon Loo and Chris Chamberlin. Supplementary images courtesy Emirates.
How to book Emirates flights using Qantas Points
was last modified:
July 13th, 2022
by