If you have a decent Qantas Point balance of 100,000 points and no immediate plans to use them, then we're here to help!
This post outlines some of the best-value redemptions when it comes to using Qantas Points at or around the six-figure mark.
One key thing to note is that the best value redemptions are to be had by redeeming for Premium Economy, Business or First Class flights. To understand why, consider joining the Point Hacks 'earning more points' email course.
---
Sydney/Melbourne/Brisbane to New Zealand in Emirates First and Business (90,000 Qantas Points return)
Arguably one of the best and quickest redemptions to use Qantas Points for glamorous travel, Emirates flies from Melbourne and Brisbane to Auckland (being discontinued from 25 March 2018) and Sydney to Christchurch daily on their A380 fleet, which features an onboard shower for First Class passengers.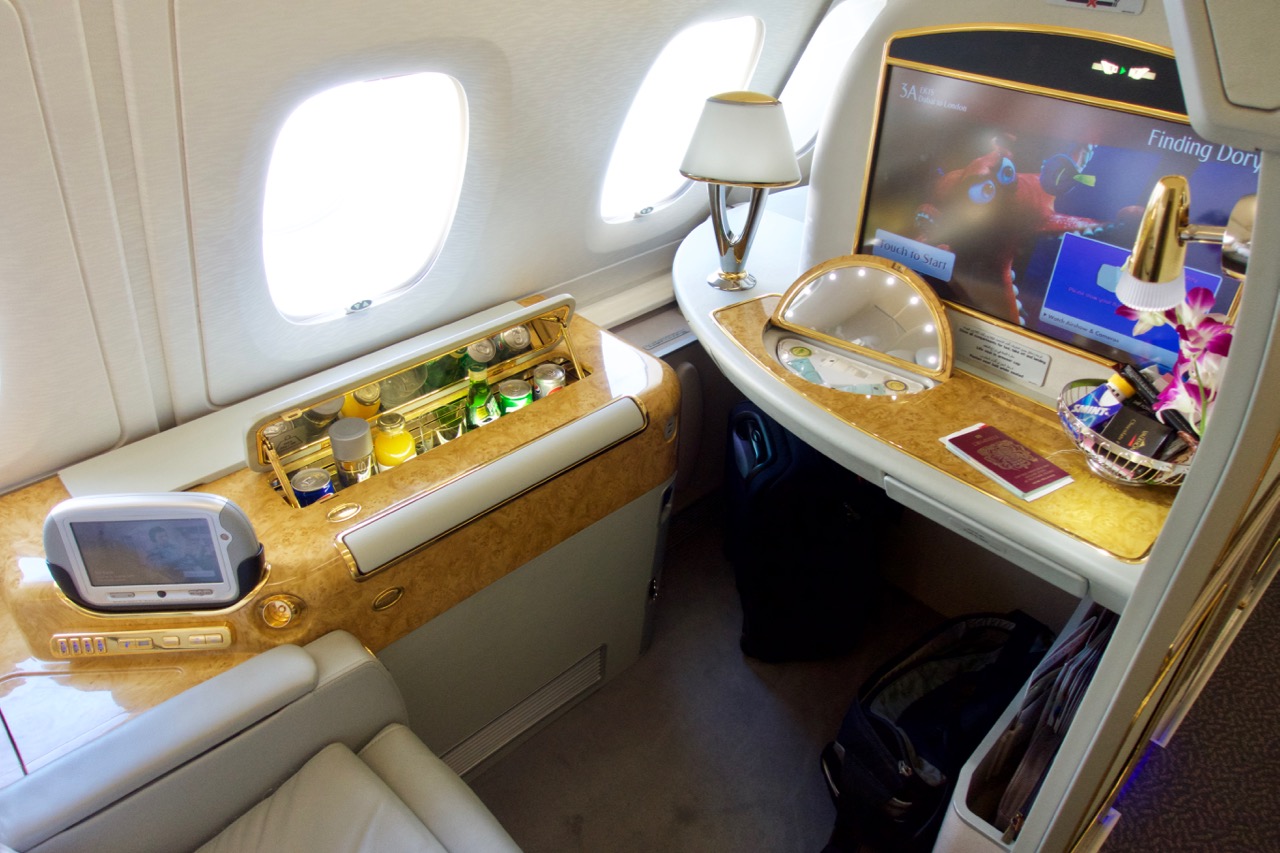 Emirates A380 Trans-Tasman First Class overview
A one-way First Class redemption costs 54,000 and Business Class 36,000, so you could fly First in one direction and Business the other for a total of 90,000, but if you have some more points, you might as well fly in First both ways for 18,000 more (108,000 in total).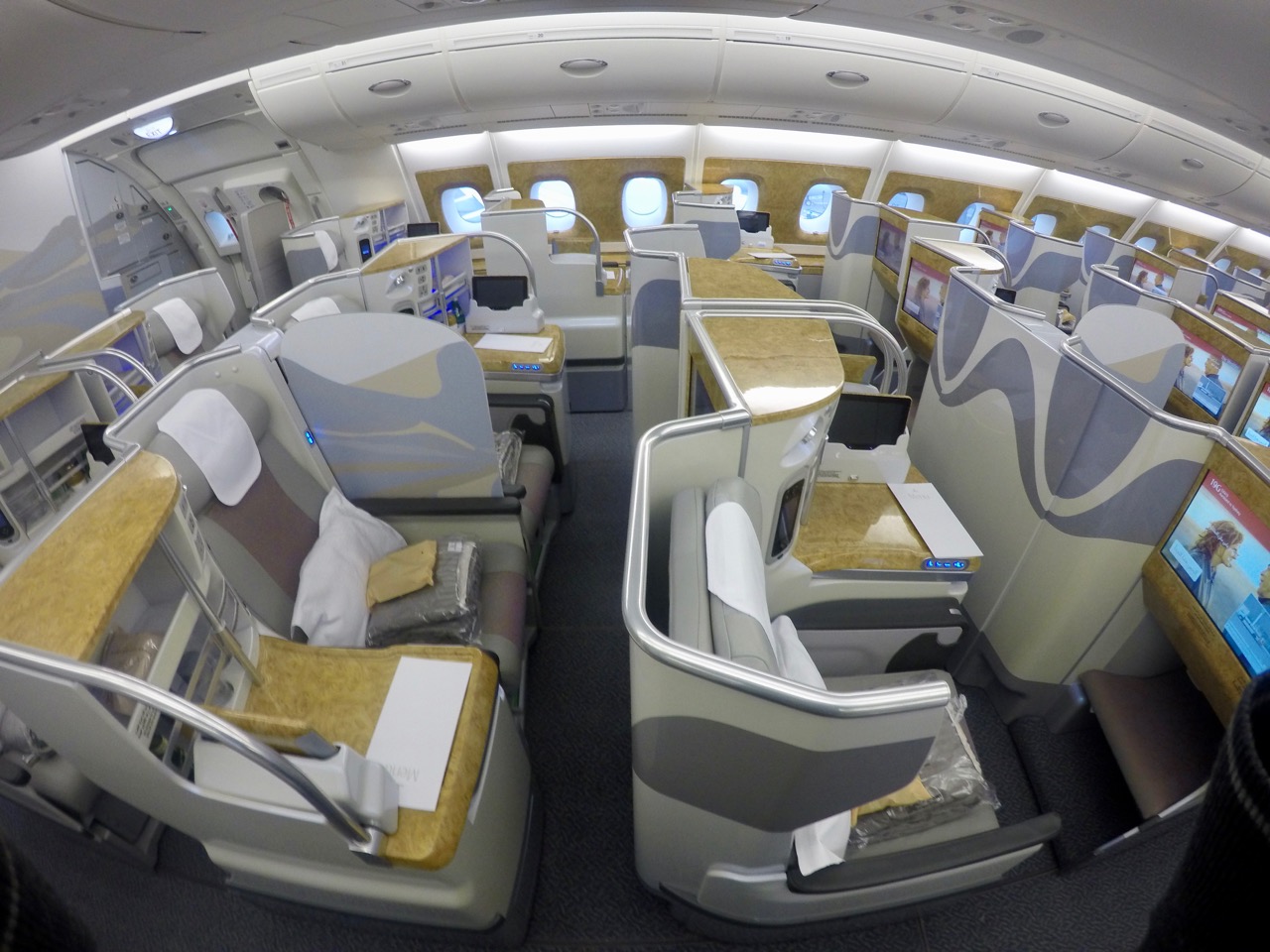 Emirates A380 Trans-Tasman Business Class overview
When flying First out of Sydney or Melbourne, you'll get access to the excellent Qantas International First Lounges; Brisbane also has a new shared lounge for First and Business passengers.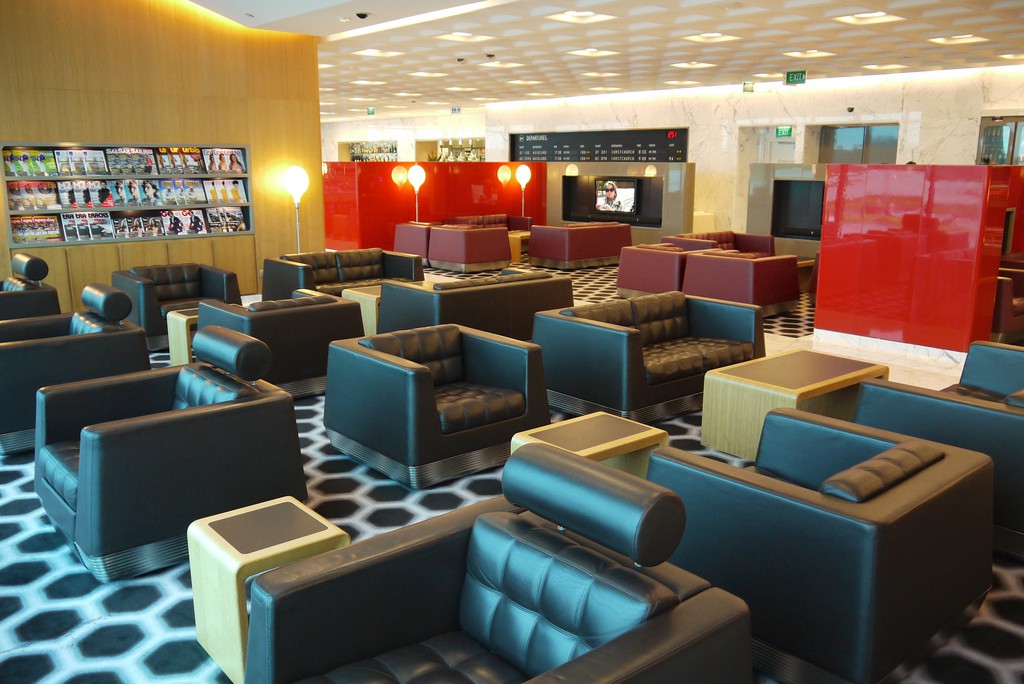 Qantas International First Lounge, Melbourne overview
Fly between the East and West Coast return in a modern Qantas A330 Business Suite (72,000)
Qantas has been refurbishing its large fleet of Airbus A330 aircraft with their new Business Class seating and it has now been introduced on most East-West Coast flights.
All seats have direct-aisle access in the 1-2-1 configuration.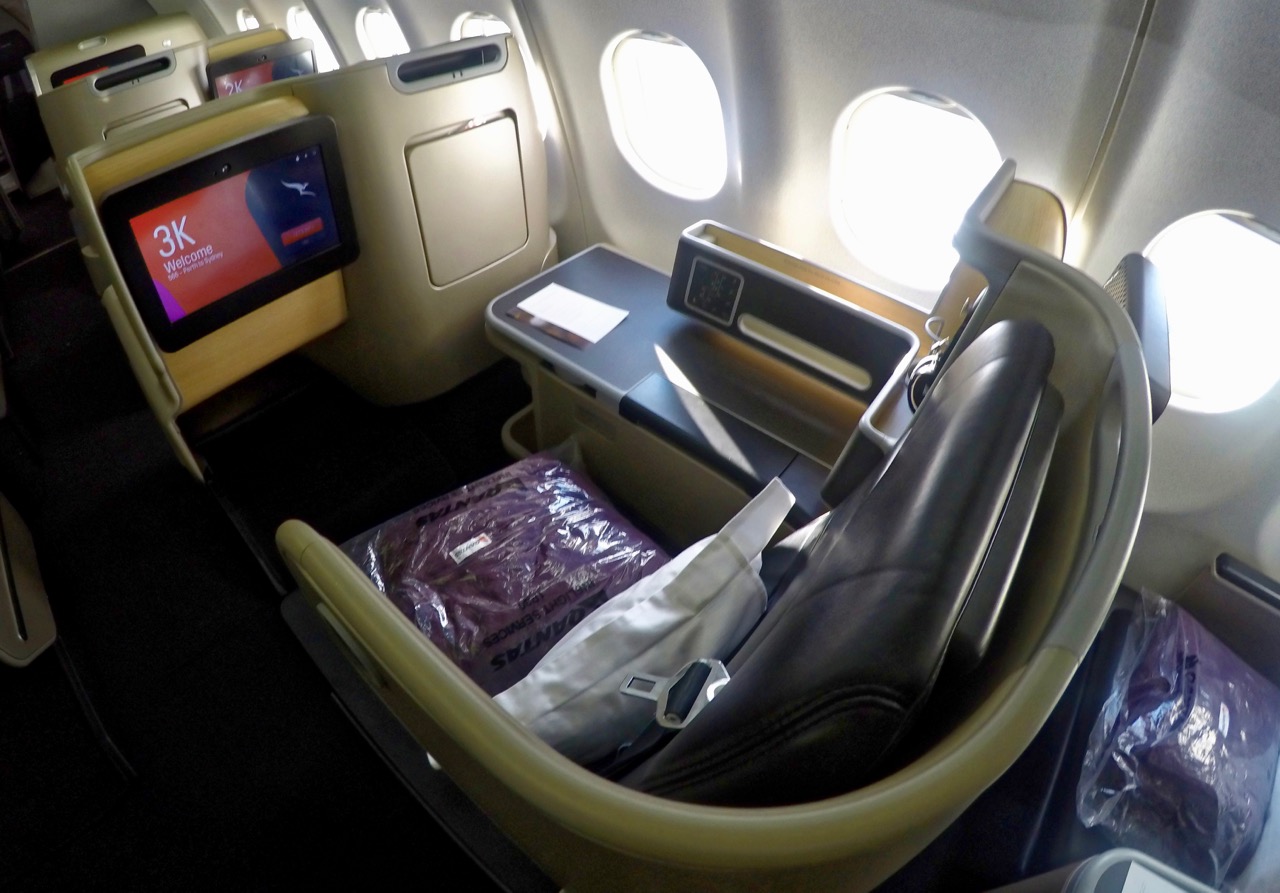 Qantas A330 domestic Business Class overview
We are ridiculously lucky with the quality of Business Class cabins in the market here in Australia, with both Qantas and Virgin Australia on another level to many other carriers globally. This is the cream of the world's domestic Business Class crop.
Do also note that two of Qantas' daily flights between Sydney and Auckland are now serviced by the Airbus A330, giving you another opportunity to fly this product.
Jump around Asia in Cathay Pacific First Class (from 26,000 one-way)
This cabin is flown exclusively on the Boeing 777-300ER, with six open suites in a private 1-1-1 configuration.
It is renowned for its wide seat and excellent lounge access options, including The Wing and The Pier lounges when departing from Hong Kong Airport.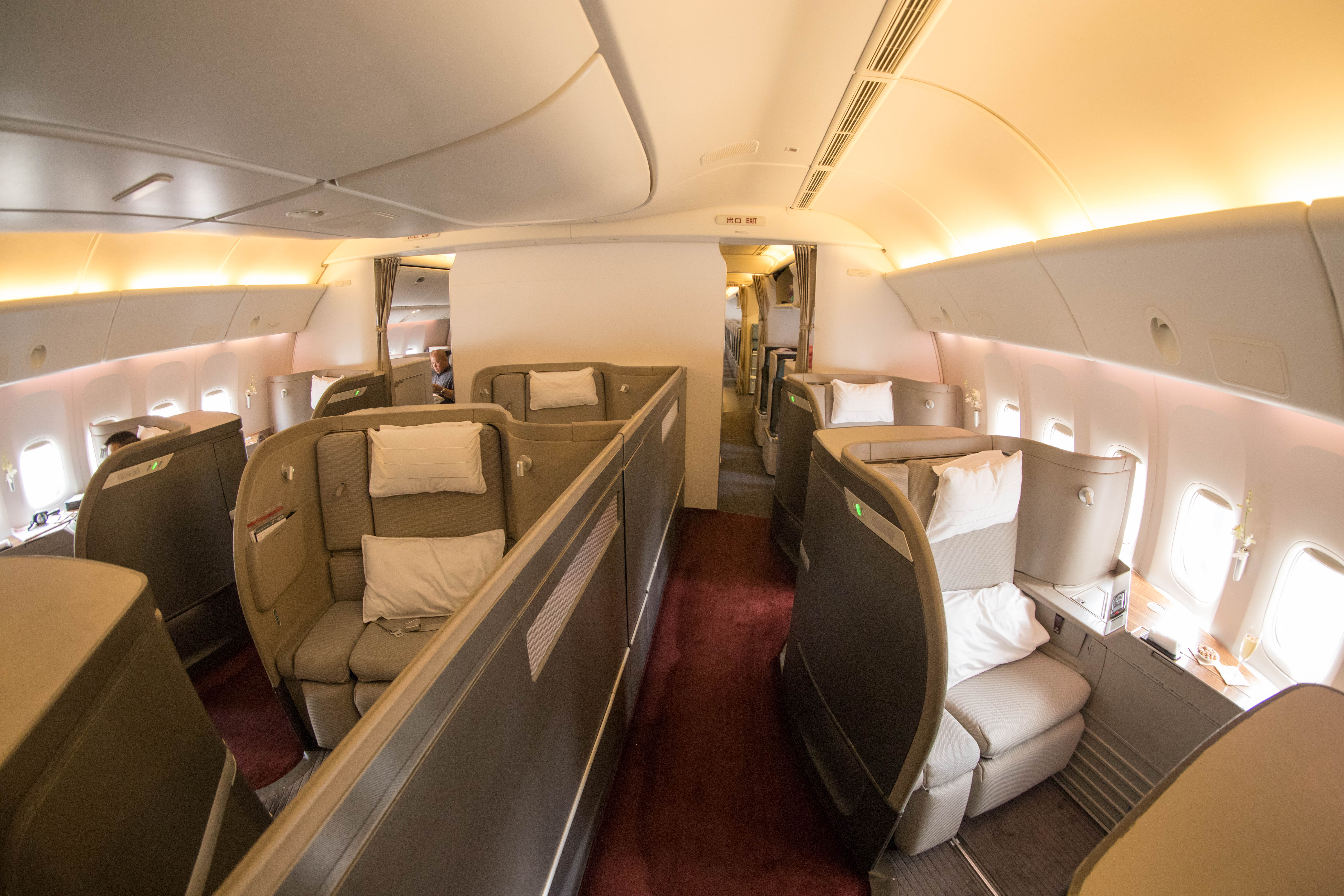 The oneworld carrier operates this product mostly on long-haul flights between Hong Kong and North America/Europe, but it also puts it on services to select Asian cities, with the cheapest redemption being the two-hour flight to Taipei for just 26,000 points!
Bangkok and Manila are a little further away at 38,000 points, and Singapore and Tokyo at 56,000 points, which is still great value given the latter flights retail from $3,000.
Another nifty option is the five-hour fifth-freedom flight that Cathay operate between Vancouver and New York, costing 78,000 points.
Learn how to make a booking in our beginner's guide to using points on Cathay Pacific flights.
Adelaide/Sydney/Melbourne to Doha in Qatar Airways Business Class (104,000 one-way)
On Qatar flights from Adelaide, Sydney and Melbourne, you'll get a fully-flat bed stretching to 203cm with a 17-inch personal entertainment screen, as well as an onboard bar.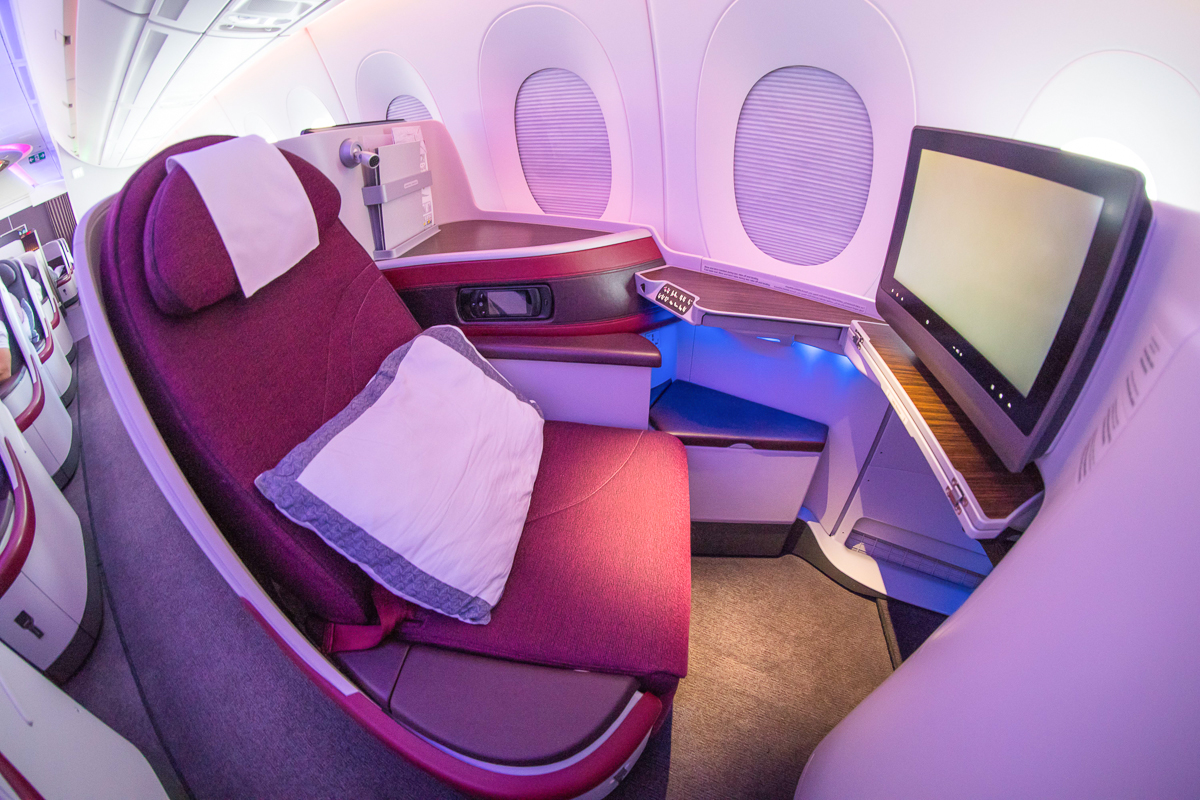 Qatar Airways A350 Business Class overview
Qatar also operates flights to Perth and a new one to Canberra via Sydney, but they use the older 777 product.
Read more about the offerings in our guide to using points on Qatar Airways flights.
Routes monopolised by one airline, such as Sydney/Brisbane to Lord Howe Island in Qantas Economy (16,000 return)
When flying in and out of smaller airports with little competition, whether in Australia or overseas, tickets bought with cash can be very expensive.
Say you want to fly to Lord Howe Island. The only direct flights (which are two hours or less) are from Sydney and Brisbane on Qantas, and cost upwards of $1000 return.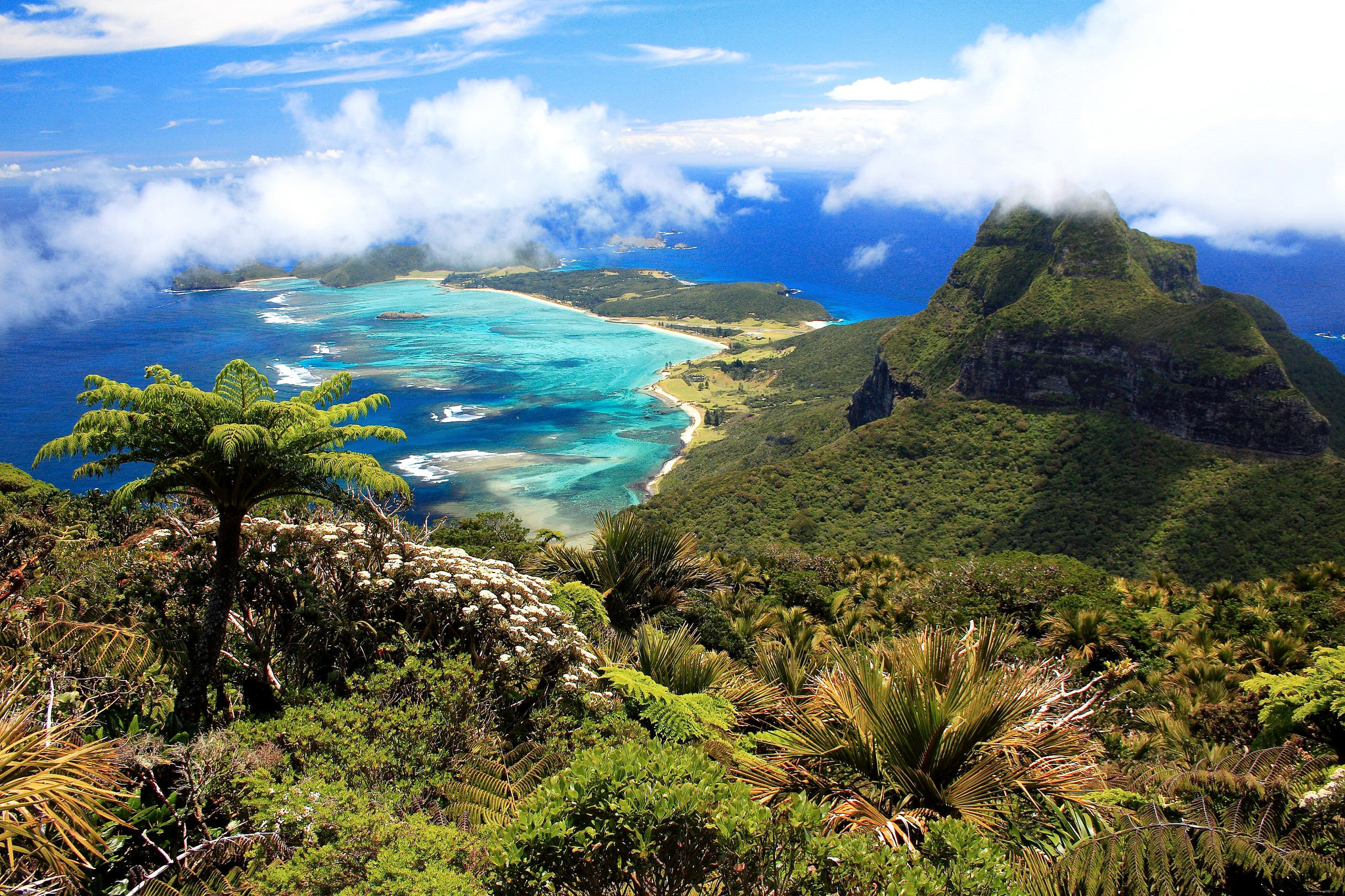 Beautiful Lord Howe Island
Compare that to the similarly-distanced Sydney-Adelaide flight, which with more competition, can cost as little as $280 return on Qantas.
Forking out just 16,000 points vs $1,000 cash for a return Economy ticket to Lord Howe Island (the Bombardier Dash 8 that operates these routes only has 36-50 all-Economy seats) would represent 6.25c per-point value, which is absolutely great. You could take yourself and five family members/friends for less than 100,000 points!
Note that it can be hard to find award availability on these monopolised routes, as there isn't much incentive for Qantas to prioritise award seats over cash ones, but sometimes you can find open seats when the calendar first opens up (see below) or last-minute in the two weeks before departure.
Perth to New Zealand in Qantas/Emirates/LATAM Business (100,000 return)
With prices for a return flight from Perth-Auckland (with a stop on the East Coast) on Qantas and its partners topping $1,000 return (and that's in Economy!), this can be a good-value redemption.
With most services between Perth and the East Coast on the new A330s with lie-flat seats in Business Class (as mentioned above), you could then transfer to:
another Qantas flight to any of the four major airports in NZ
one of Emirates' A380 services to Auckland or Christchurch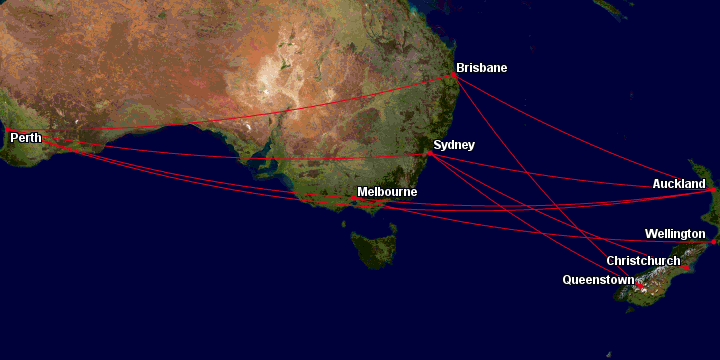 There is usually acceptable Business Class availability if you are flexible about your travel dates and times and look early enough for an award seat.
Explore further with our guide on how to use your points to fly between Perth and New Zealand.
If you live out west, you may be interested in our custom guide to the best uses of Qantas Points from Perth.
Sydney to Hong Kong in Qantas Premium Economy (90,000 return)
For the nine-or-so-hour flight from Sydney to Hong Kong, having some more legroom and better food choices than in Economy is a good way to make your flight more comfortable without breaking your points bank.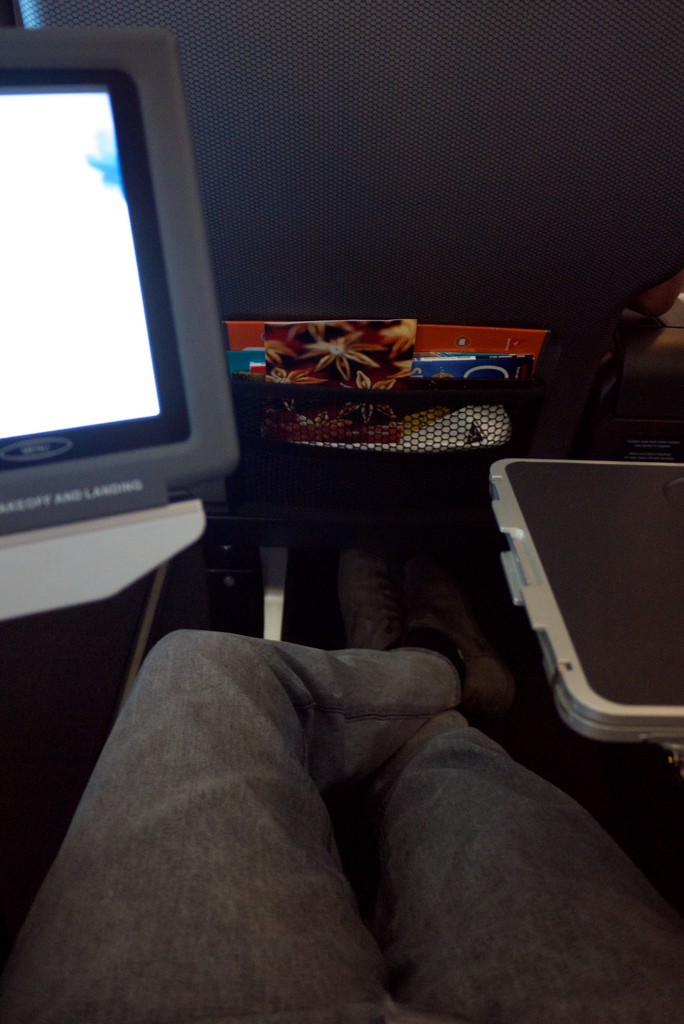 Unfortunately, whilst Qantas flies to Hong Kong from Melbourne and Brisbane also, they are on an Airbus A330, which does not have Premium Economy as on the 747 service from Sydney.
Sydney/Melbourne/Brisbane to Los Angeles in Qantas Economy (96,000 return)
Whilst Economy Class redemptions often do not represent the best value, at least you may be on the jetlag-reducing A380 on Qantas to the US.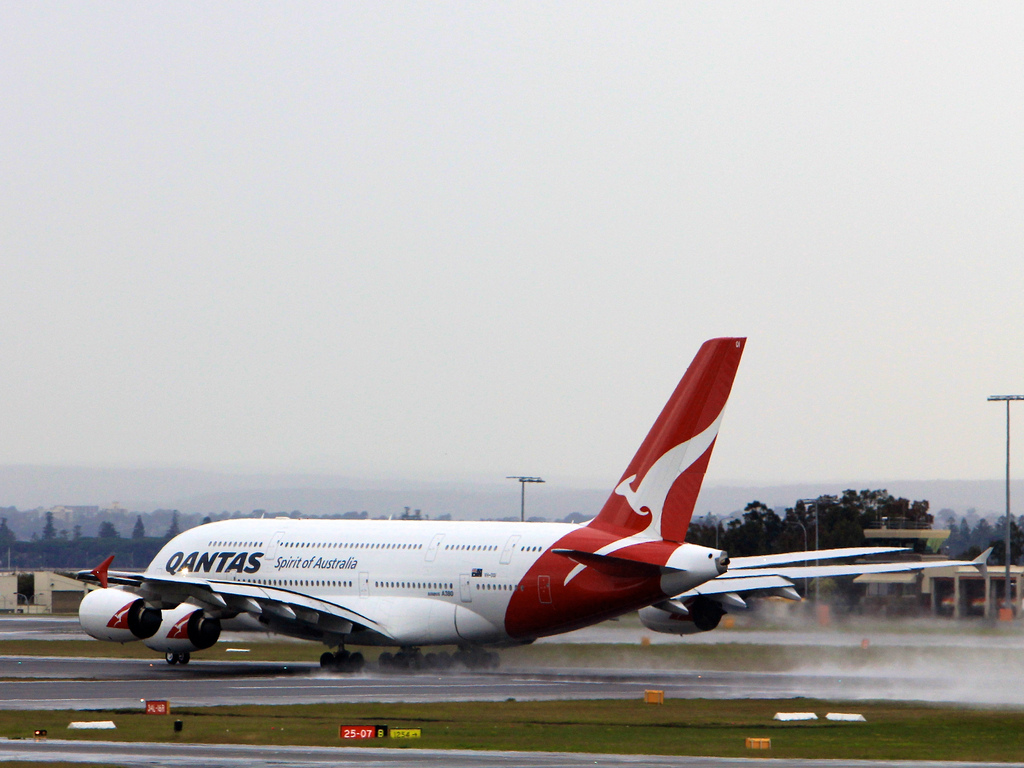 This redemption may make more sense during peak periods or if booking last-minute, when tickets paid with cash are more expensive, but the amount of required points remains the same.
Summing up: increase your chances of using your Qantas Points by planning ahead
Qantas Frequent Flyer members have access to the redemption seats made available by Qantas earlier than their oneworld partners, at 353 days out from travel.
Compared to some of the other programs that compete for Qantas award availability, like Asia Miles and American Airlines AAdvantage, this gives us a three-week head-start to snag any award seats on Qantas flights at nearly a year out from travel.
What has been your best-value redemption for 100,000 Qantas Points or less? We'd love to hear about it in the comments.
Supplementary images courtesy Flickr.
---
Looking for more inspiration for how to spend your hard-earned frequent flyer points?
Here is a comprehensive list of all of our Best Uses of Points guides. There may be some overlap but each guide has its own twist.
Qantas Frequent Flyer
Velocity Frequent Flyer
Asia Miles
KrisFlyer
Etihad Guest
Emirates Skywards
American Express Membership Rewards
How to get the most out of 100,000 Qantas Points
was last modified:
March 13th, 2019
by
How to get the most out of 100,000 Qantas Points
was last modified:
March 13th, 2019
by