First of all, China Airlines is not Air China nor is it from the mainland—it's one of the two big Taiwanese airlines, along with EVA Air (part of Star Alliance).
Australia-based travellers are most likely to fly them when using Qantas Points for travel between Australia and Taipei—other routings are not permitted for redemptions.
Given China Airlines is a SkyTeam alliance member, there are no easy point redemption avenues for Australia-based travellers travelling on other routes. This means that you are most likely to fly this product long-haul when you find a good-value cash fare to North America or Europe.
I booked my one-way Business Class flight from Taipei to Sapporo using 30,000 Delta SkyMiles + US$16 taxes.
Fleet & routes
China Airlines uses a combination of Airbus A350-900 and Boeing 777-300ER aircraft for its longest flights, including those from Sydney, Melbourne and Brisbane. You are most likely to be on an A350 but that depends on the route and season.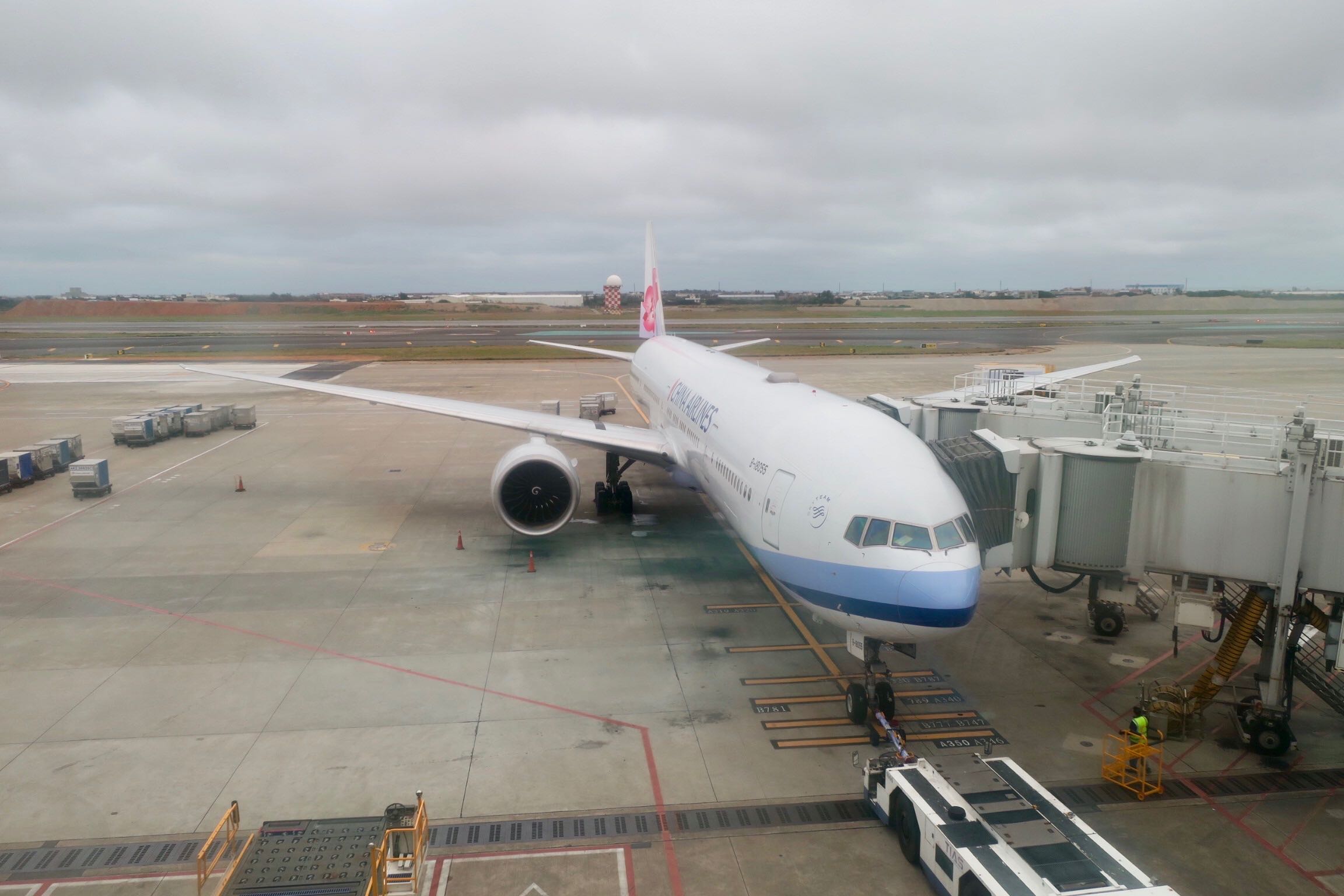 The seat and service are essentially the same on both aircraft. However, on the A350:
you'll feel more refreshed as the cabin has more oxygen flowing through
there are only eight rows of Business Class, all in one cabin
whilst on the 777-300ER (which I took):
the cabin is split, meaning you can be in the main cabin of six rows, or the mini cabin of four rows (more intimate but more baby bassinets are located here)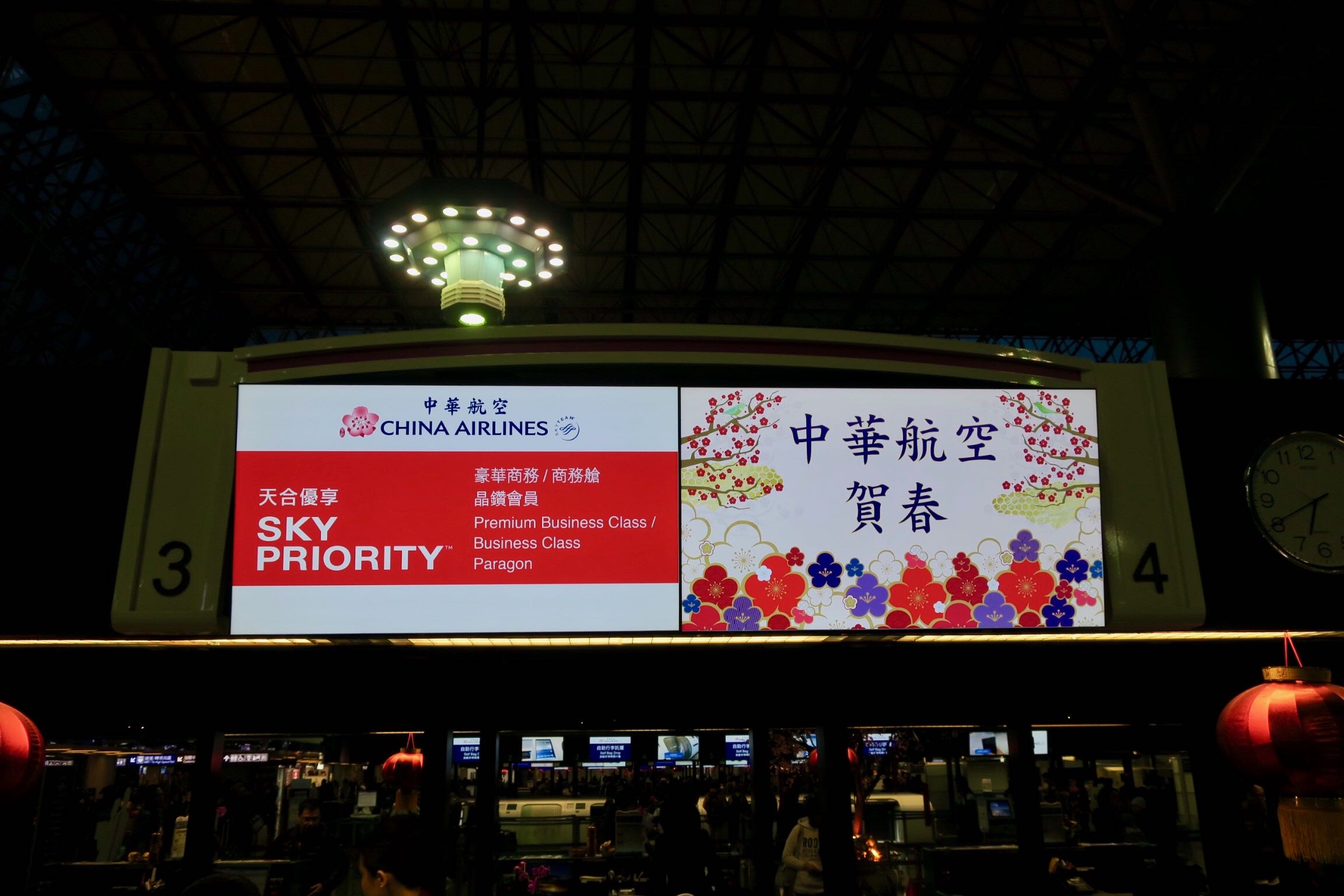 The cabin & seats
The cabin is set up in a 1-2-1 configuration, providing direct aisle access to all passengers. Here is the seat map for the A350 (one cabin):
and the 777 (split into two cabins):
For the rest of the overview, I'll treat both products as the same. Here is the gorgeous cabin: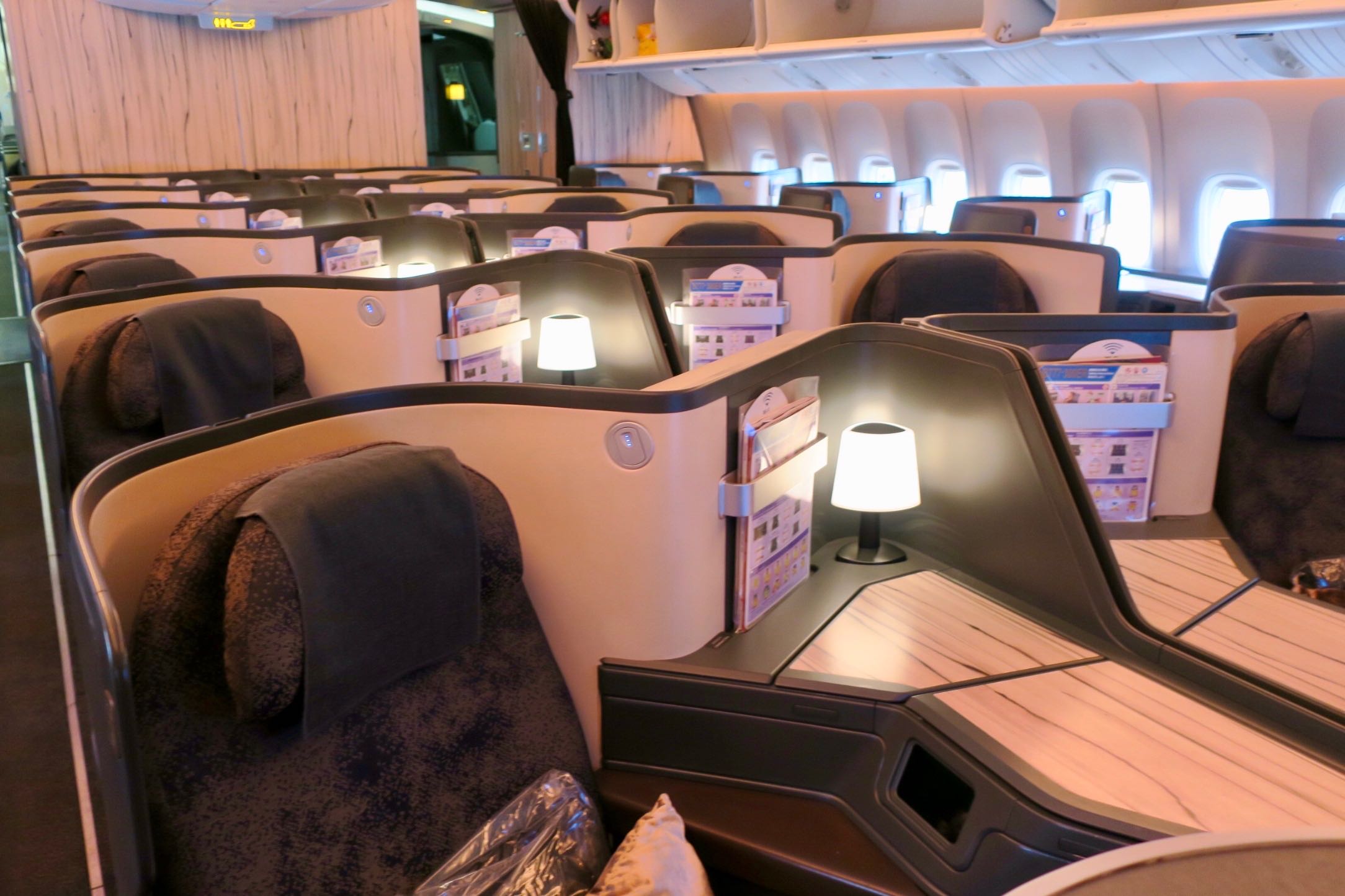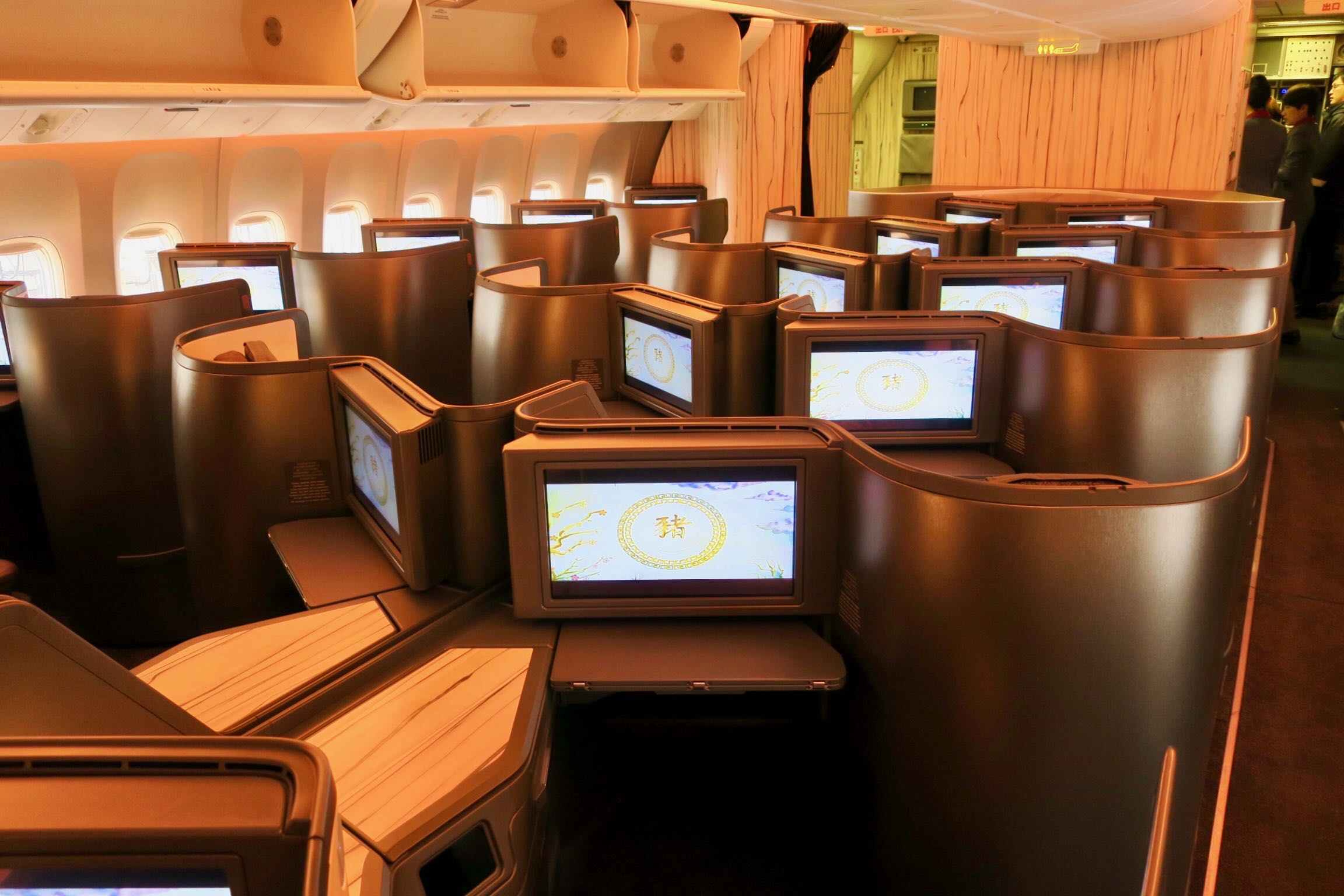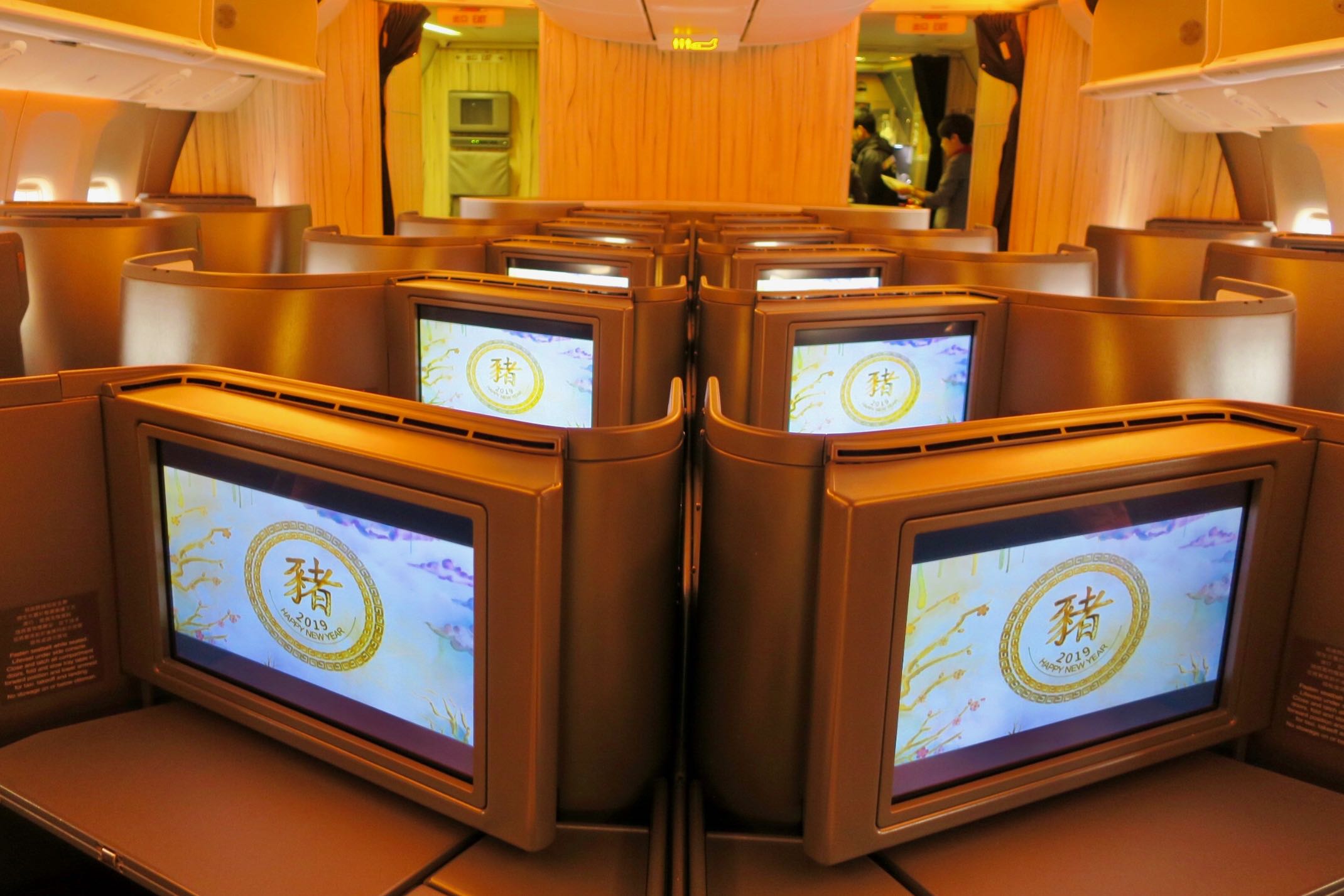 If you've flown Virgin Australia A330 or 777 Business Class, you'll be familiar with this reverse herringbone seat. I found the China Airlines version to be less cramped and more comfortable.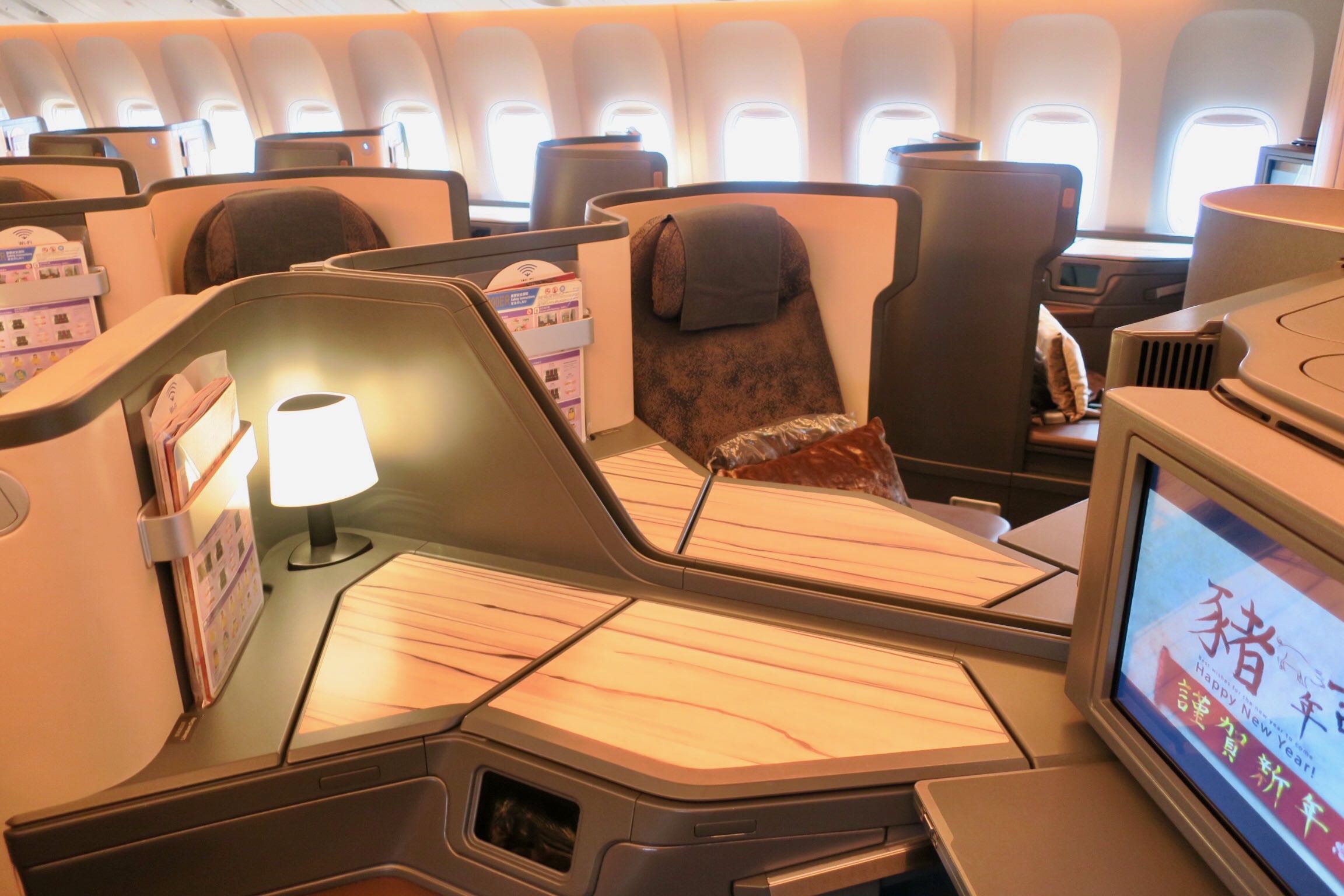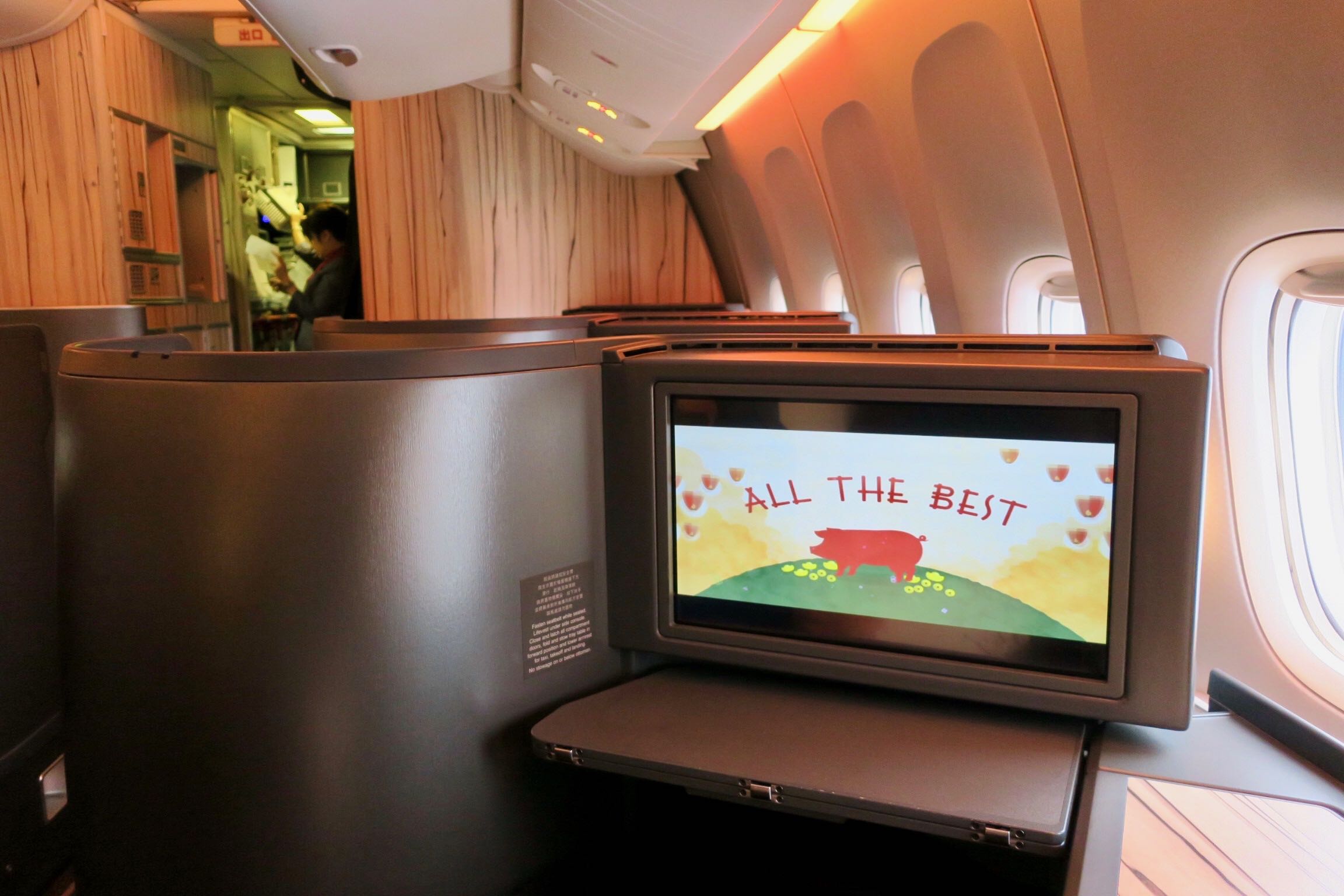 As you can see, the seat is plush, and the carpeting throughout the cabin provides the same feeling of warmth.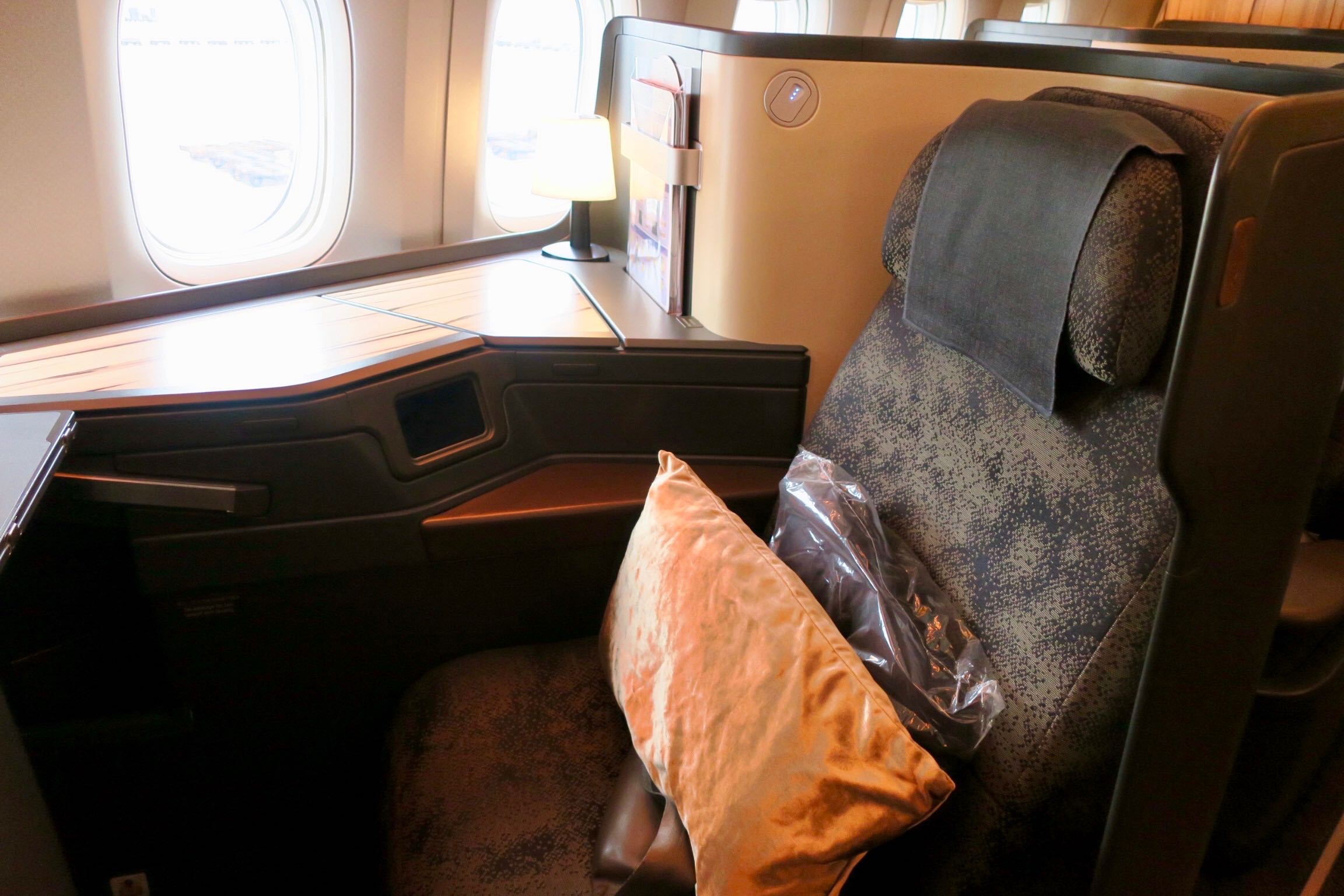 Style is upped with an individual table lamp at each seat: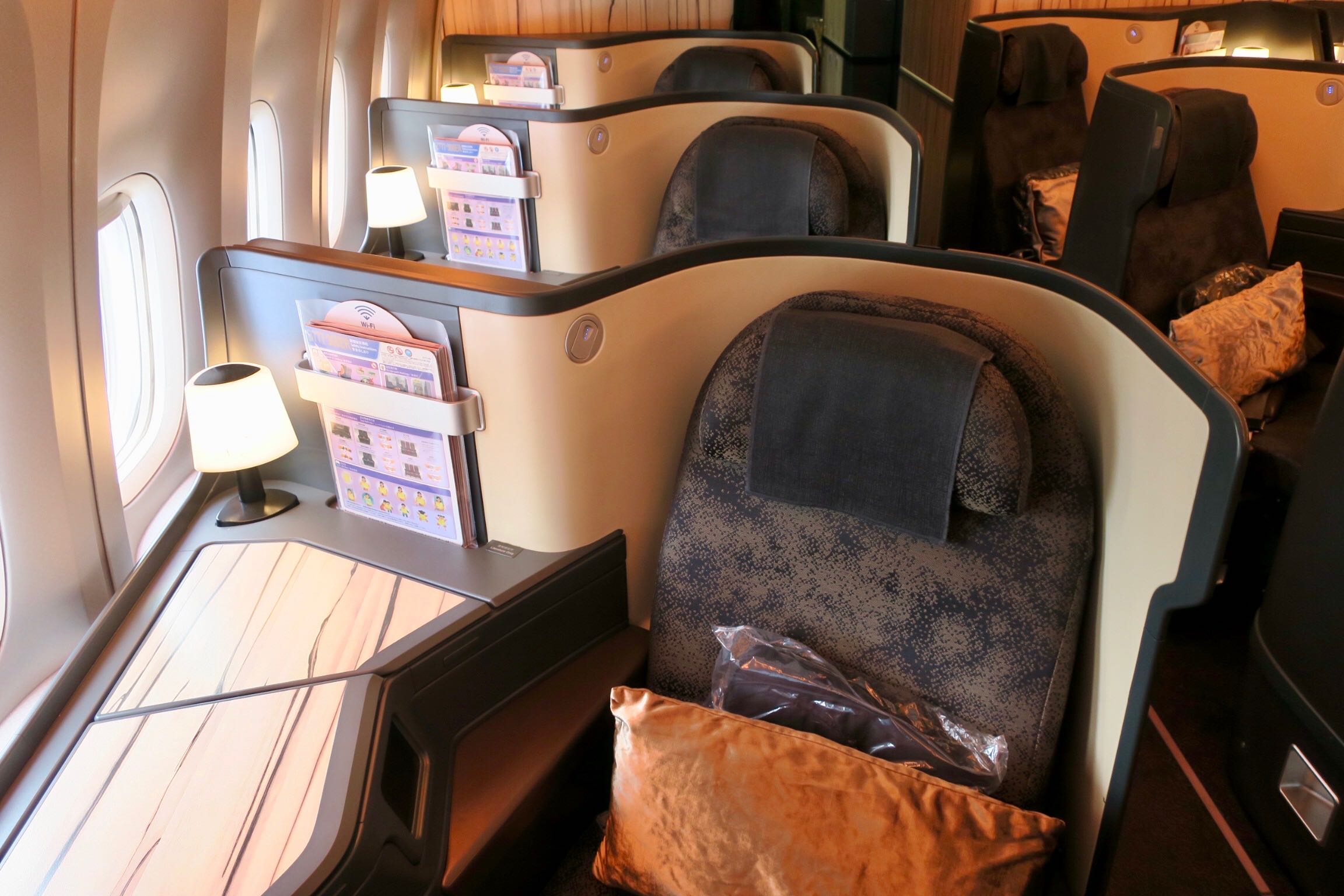 and beautiful wood pannelling throughout the cabin.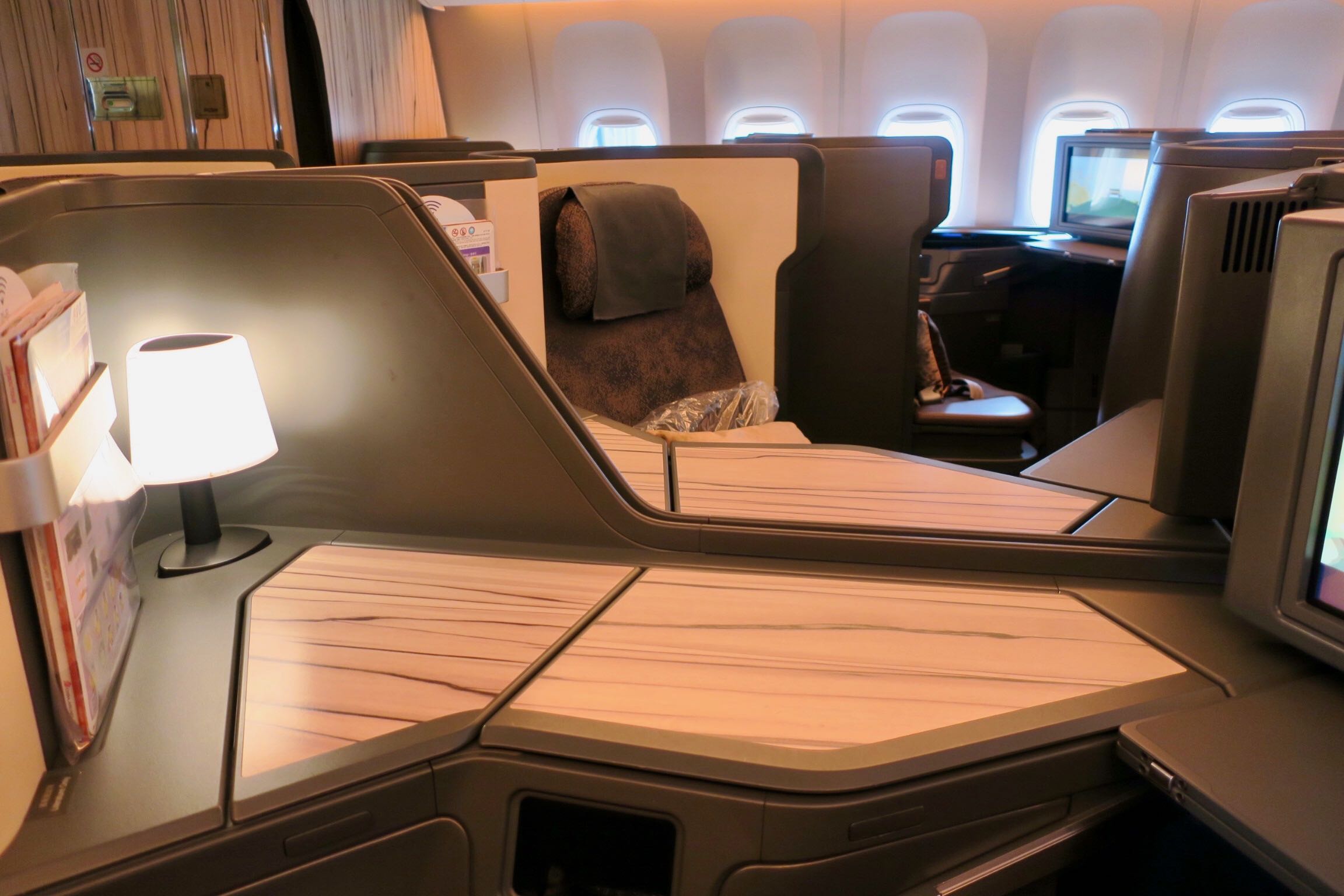 The footwell is large and long: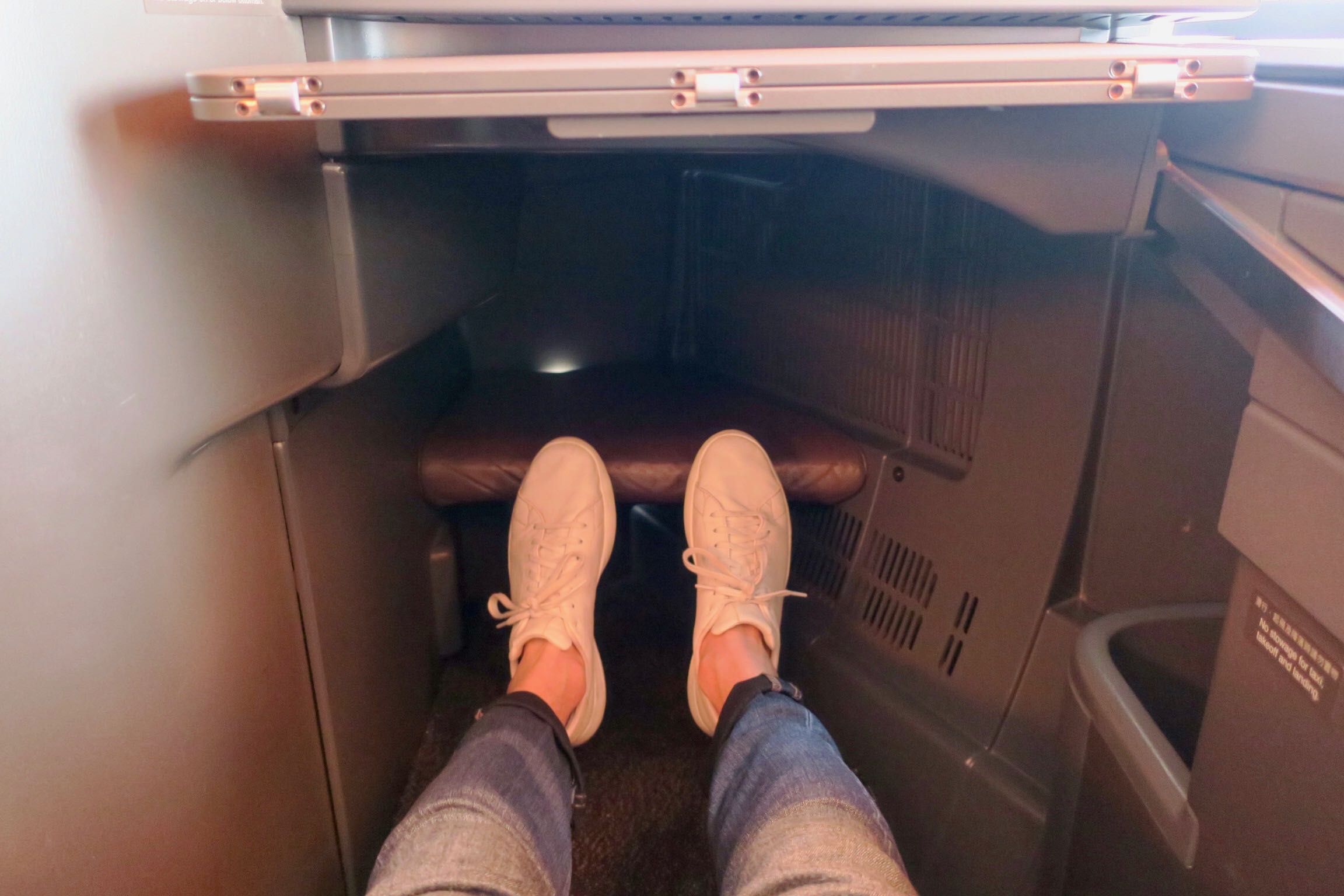 and you'll be provided with a plush and comfy pillow and blanket for when you want to take a nap in lie-flat mode.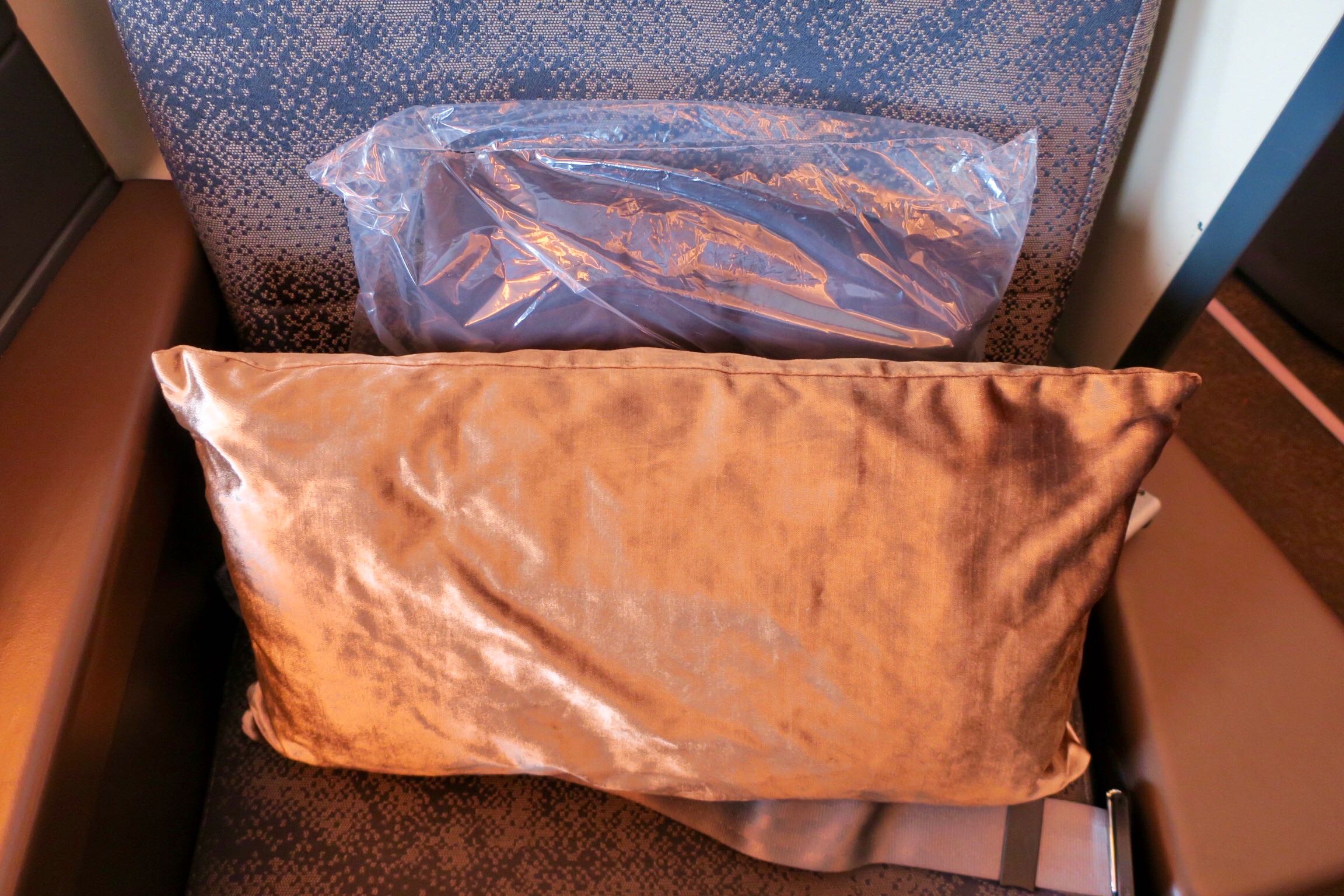 Note that the cabin is kept quite warm and there are no individual air vents, so make sure to dress lightly.
The seat controls are easy-to-use: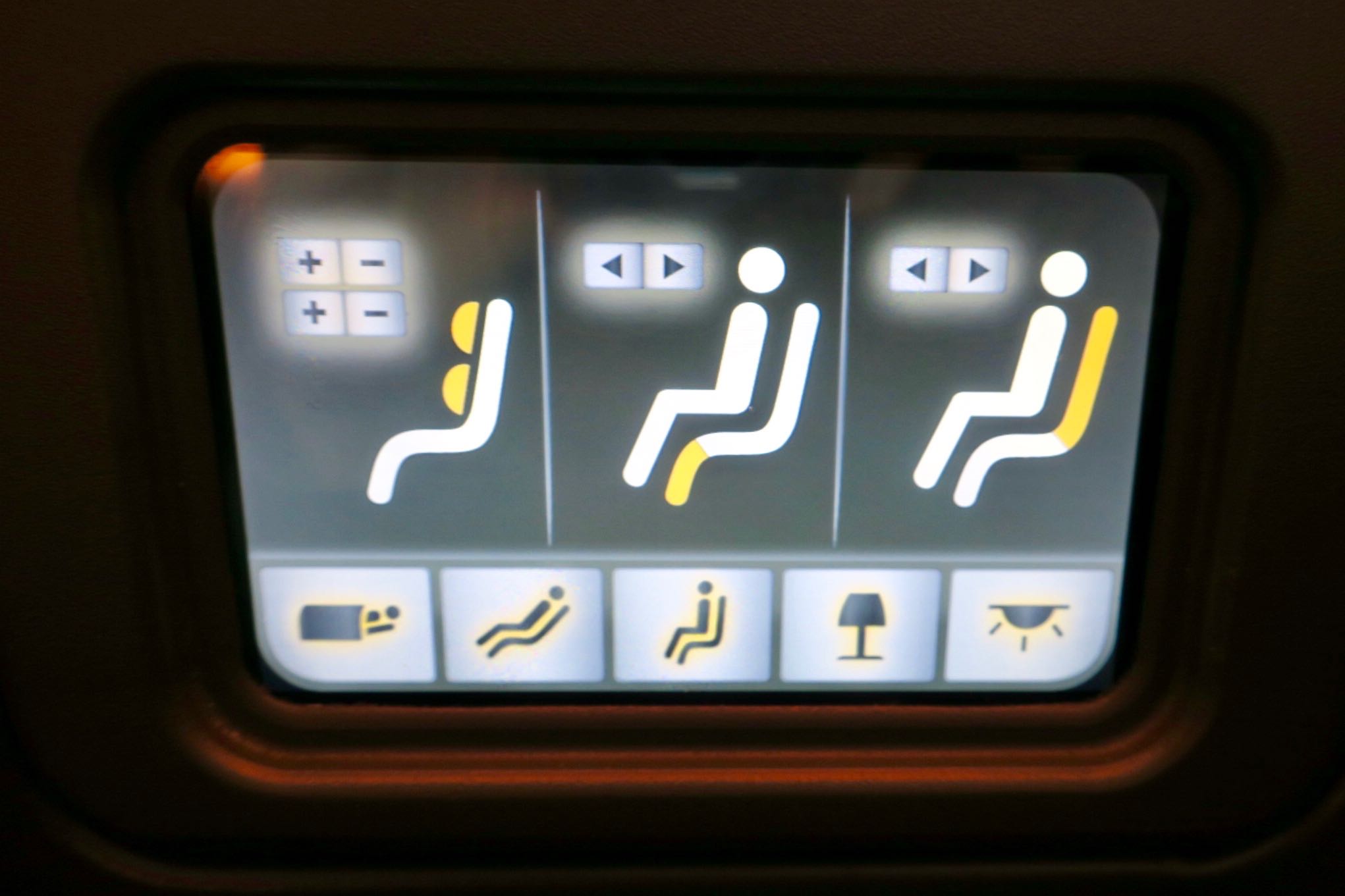 and there is quite a lot of storage space, including deep compartments.
There is a space at the rear of the cabin (or between the two cabins on the 777) for self-service snacks and drinks.
Seat choice
Just the normal advice here: avoid the first and last rows to reduce noise. Solo travellers will want a window seat in A or K, and those travelling with someone else probably the two centre seats of D and G.
Read the Point Hacks guide on how to choose the best set for your flight here.
Food & drink
I was really impressed with the dining on this flight, from the attractive menus: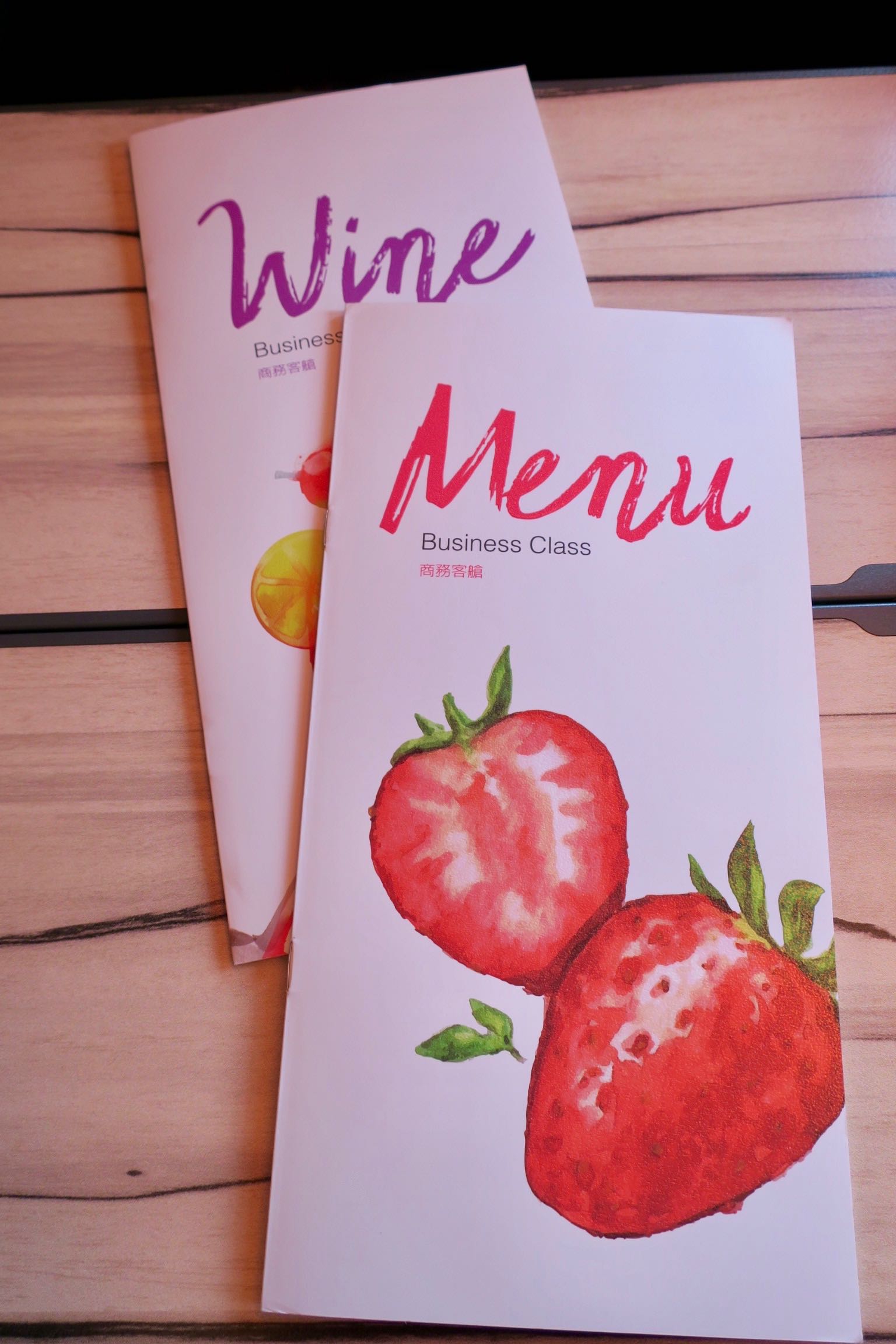 to the combination of Taiwanese, Japanese and fusion cuisine.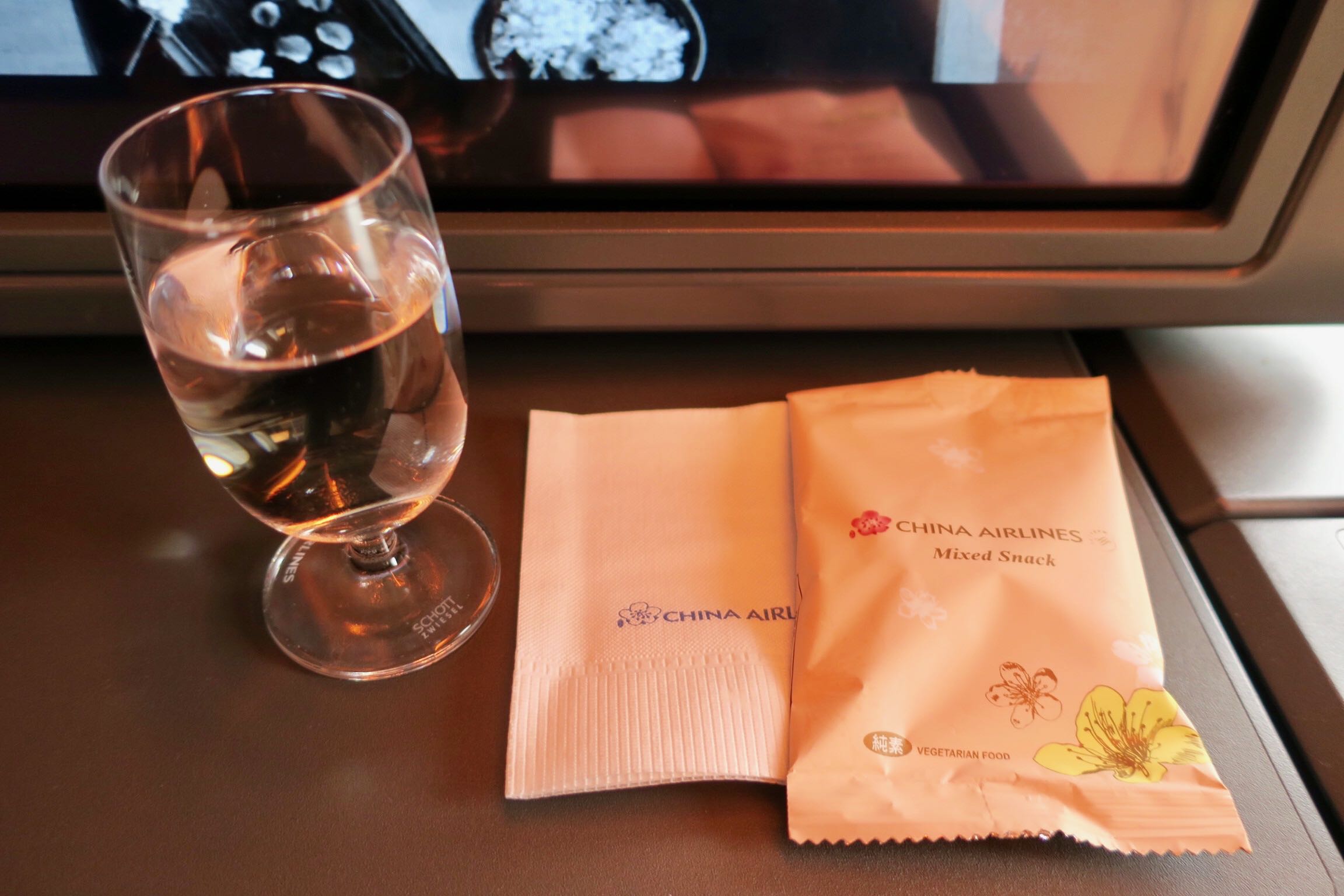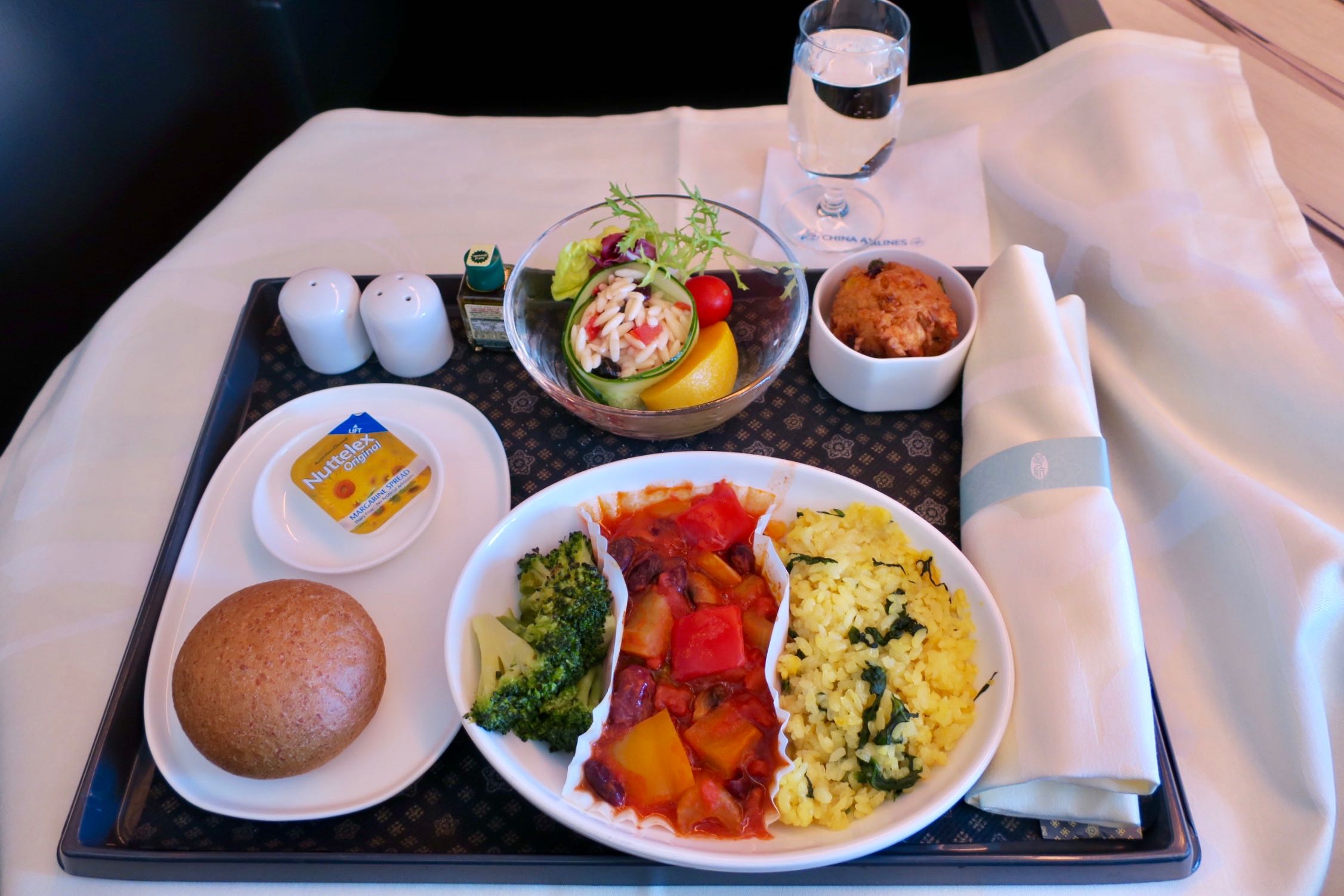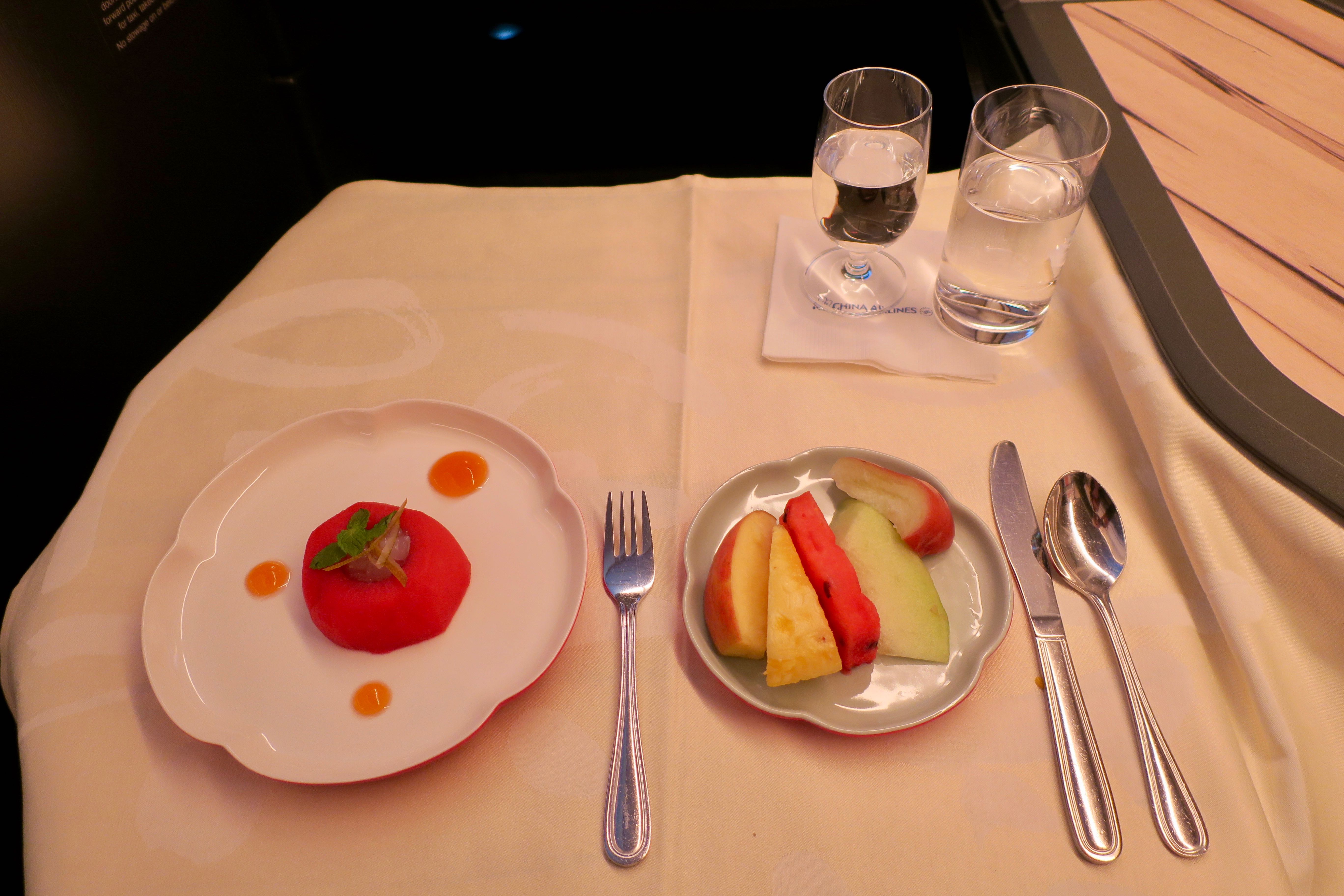 Meal service was prompt on my flight.
You can pre-order your meal between 21 days and 24 hours before departure in Manage My Booking. China Airlines has a notoriously clunky website and mobile app, so it may be difficult to do so.
Here is the full food and drinks menu from my flight:
Customer service
This was mixed but overall very good.
Check-in was friendly and quick, as was getting into the lounge.
Upon boarding, there was trash from a previous passenger one of my seat compartments and the bathroom cupboard was left open with supplies spilling out.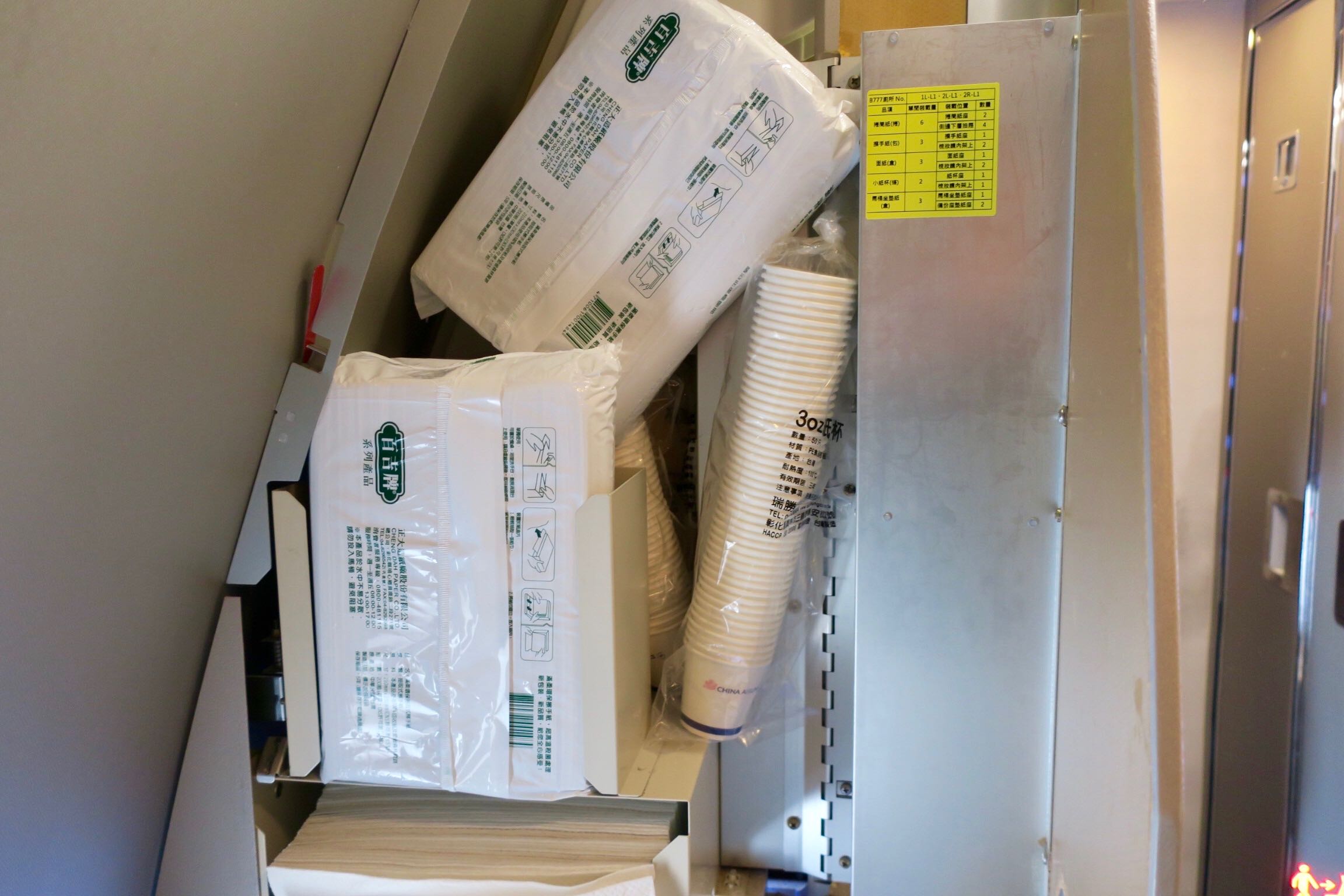 During the actual flight, I found the cabin crew to be warm and professional. Something I really enjoyed was that they passed through the cabin on a frequent basis to clear away plates and top up drinks.
I received no personalised farewell from the purser, which would've been a nice way to finish.
Inflight entertainment
The touchscreen is easy-to-reach but has two negatives—it doesn't tilt down for when you're sleeping, and it is frustrating that the most used buttons (home, go back and settings) are small and placed in the corner of the screen, making navigation difficult.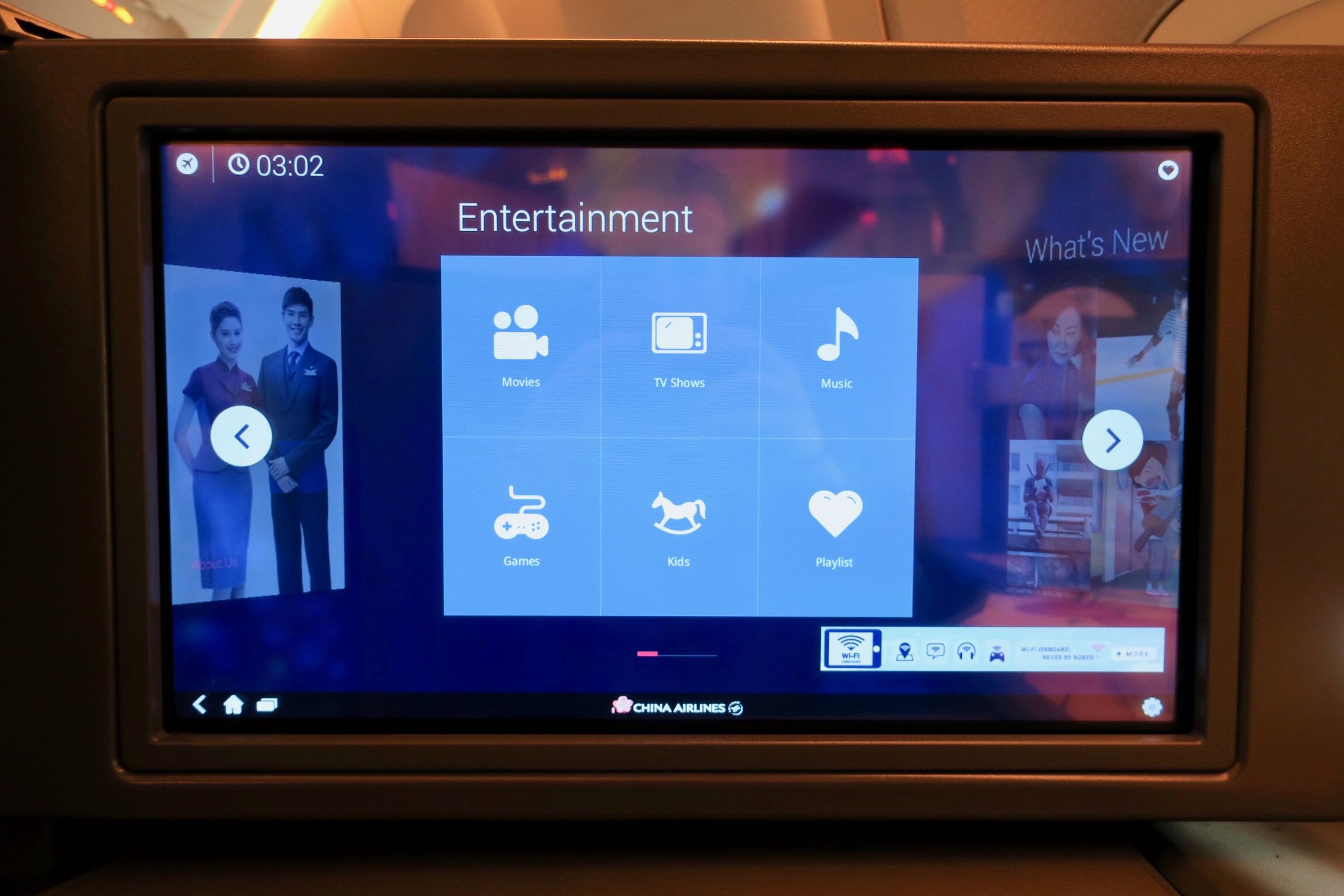 There is an excellent range of English-language movies but TV shows are lacking.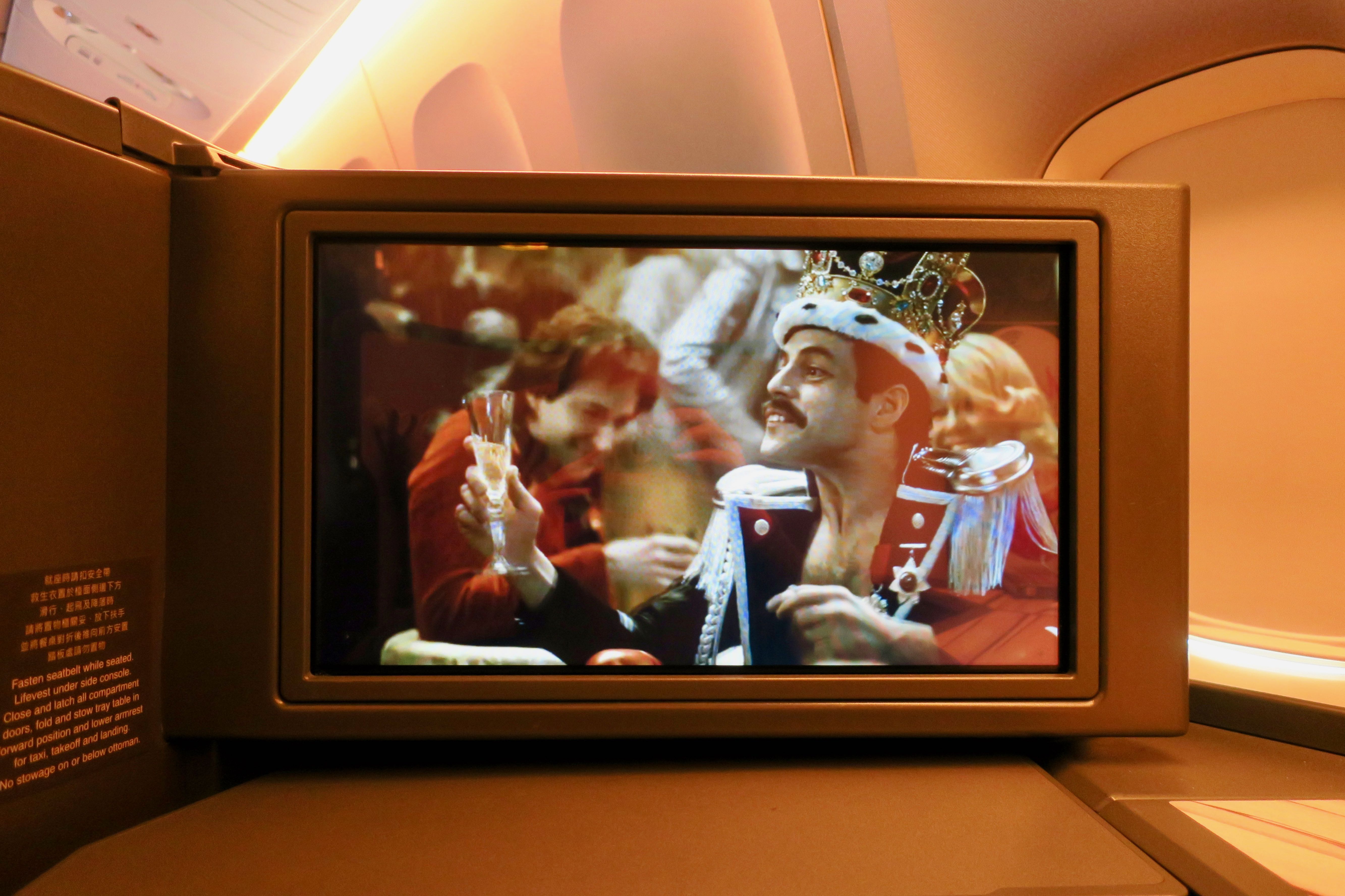 Amenities
There are three lavatories for Business Class passengers, which is not enough for a full cabin, in my opinion. They're of average size.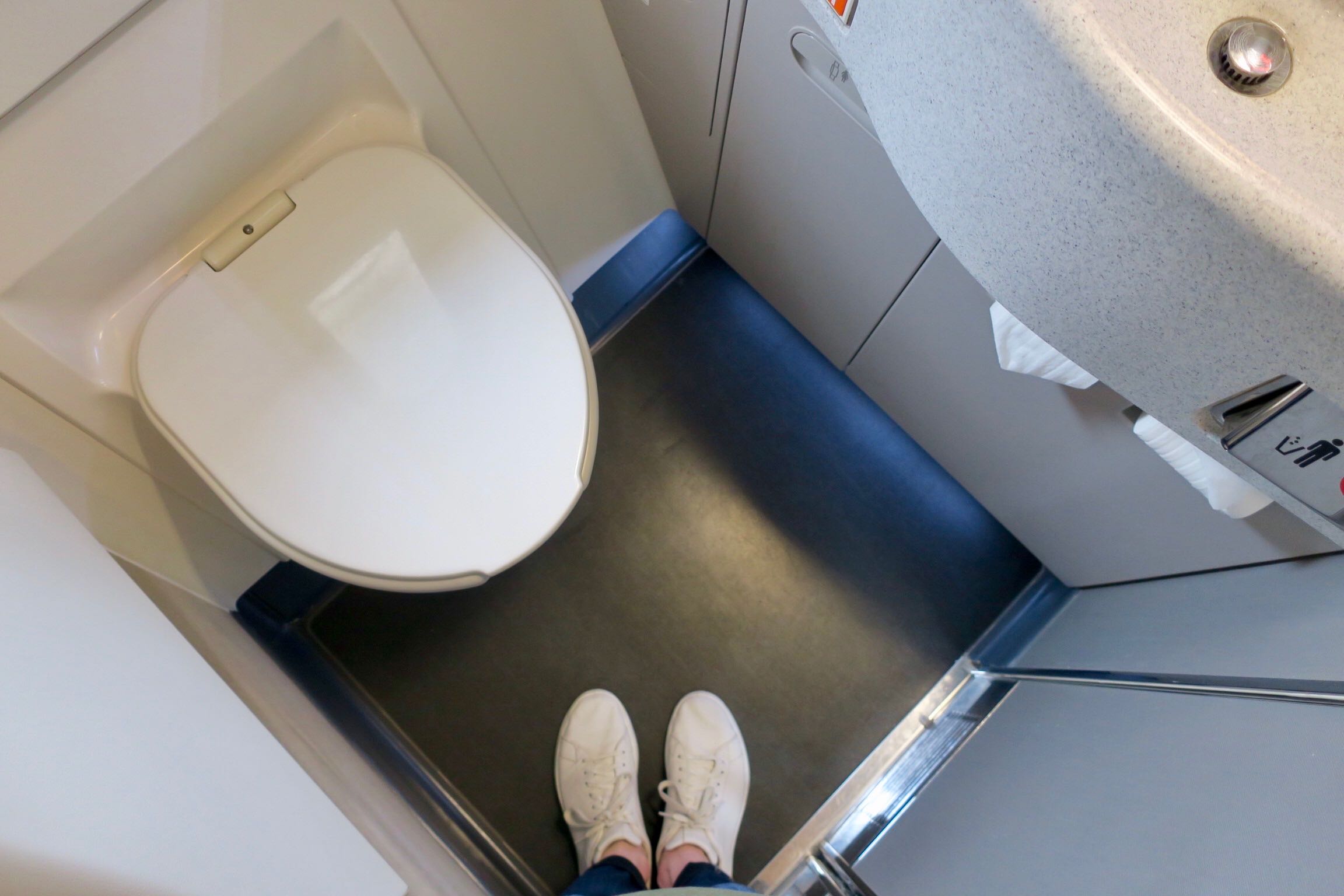 However, the window in each lavatory helps to expand the feeling of space.
The slippers you are given are very comfortable.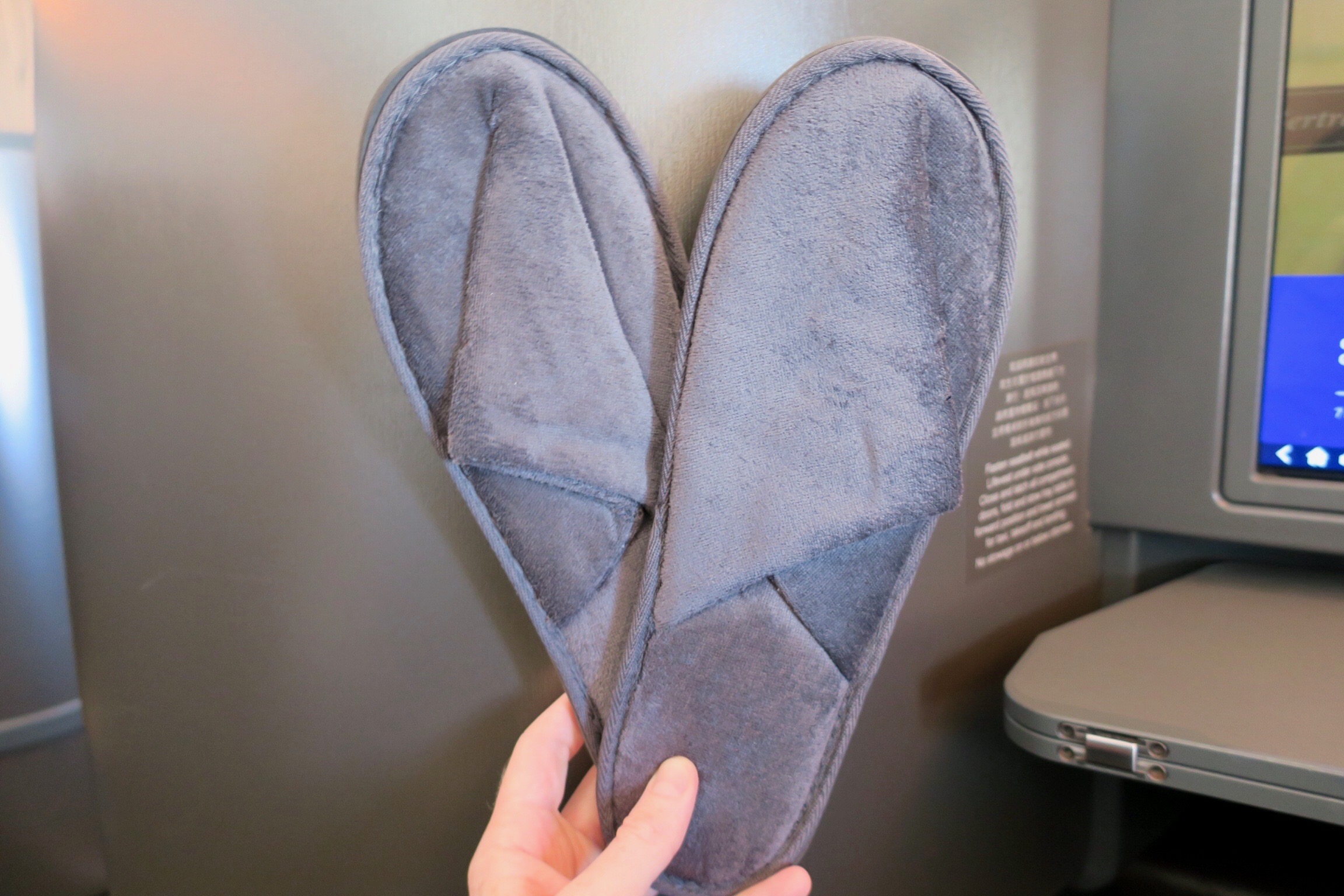 You'll receive an amenities kit on longer flights but no pyjamas. I didn't get a kit on my three-hour flight but here is one from Evin's flight in Premium Economy for informational purposes: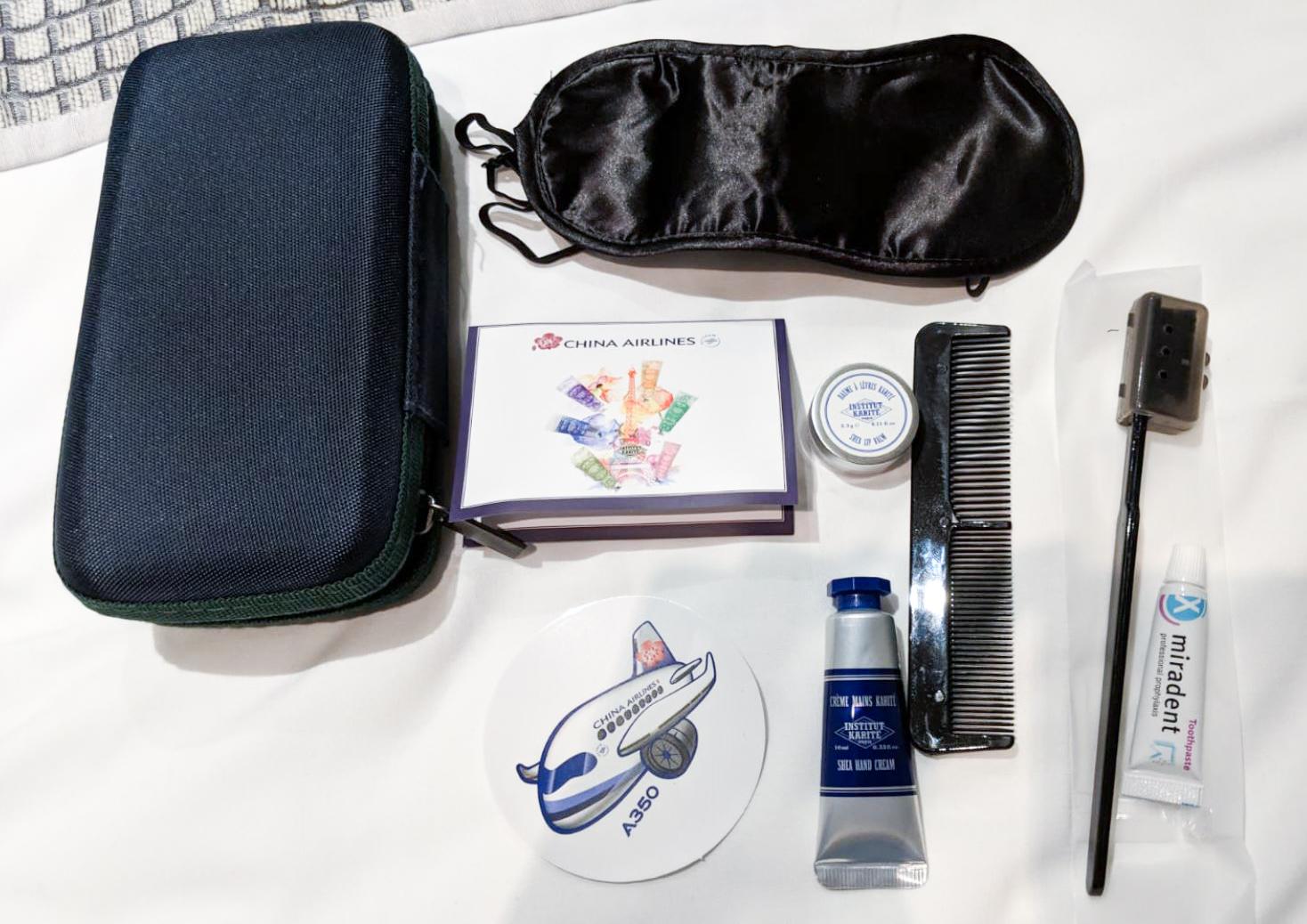 The noise-cancelling headphones sit loose on your head but are effective.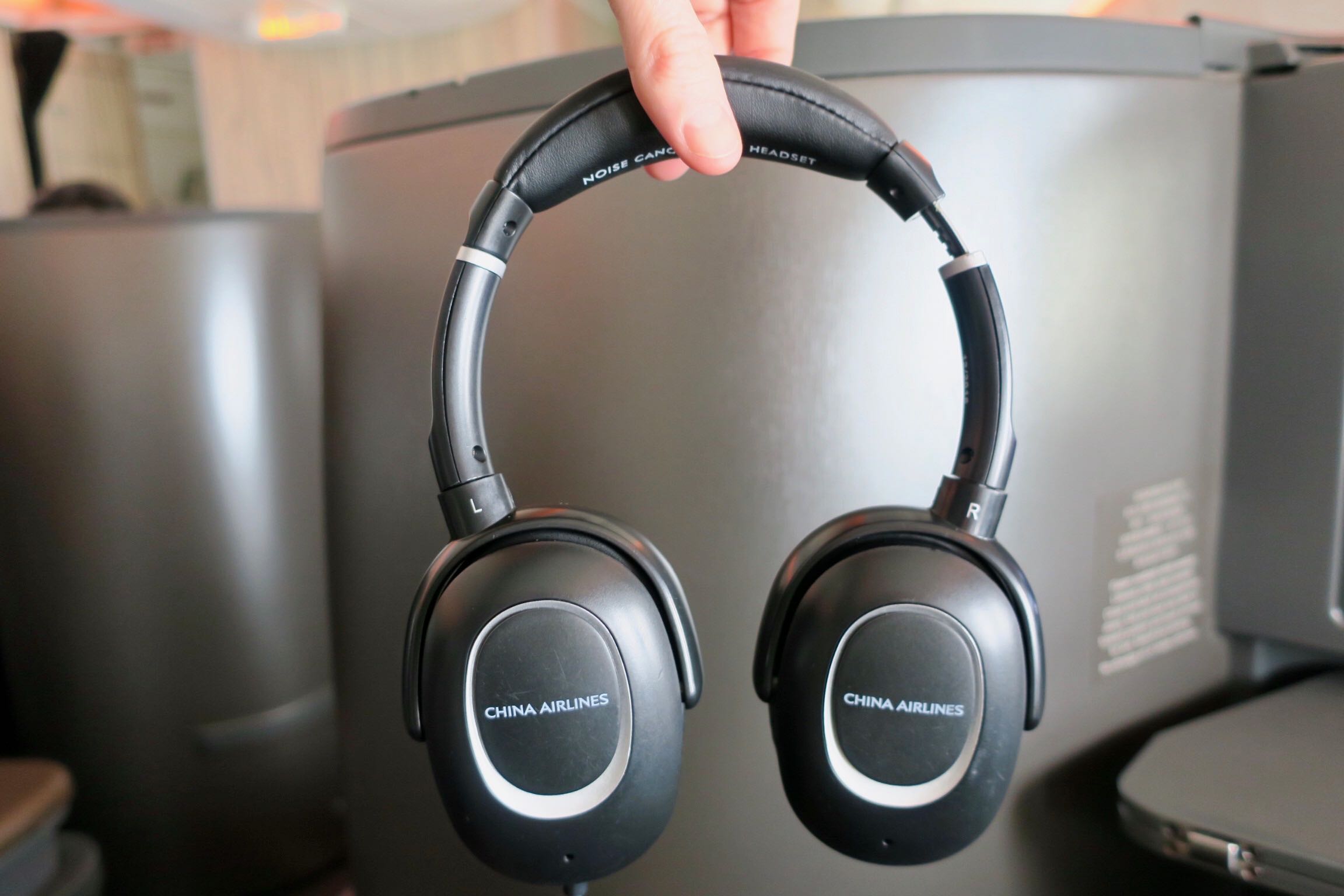 On long-haul flights between Taipei and Australia, New Zealand, North America and Europe, Business Class passengers can get a complimentary 24-hour wifi pass (with seemingly no data limit) but you have to register here first. Note you can only log in to one device at a time, so you'd have to switch the connection between your phone and laptop or tablet if using multiple devices.
On shorter flights, wifi is available from US$11.95/hour.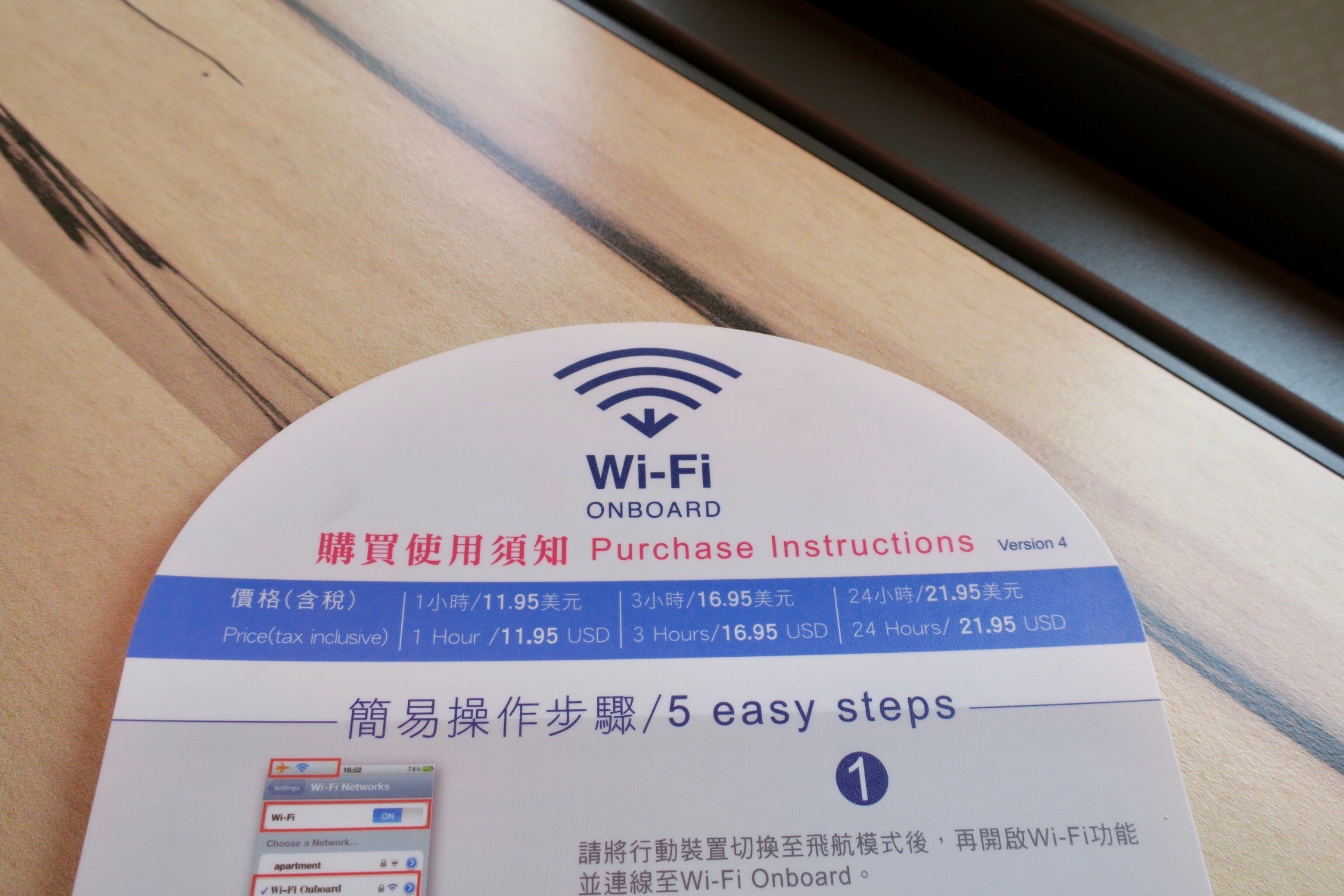 How to redeem points for this flight
Between Australia and Taipei
We cover this in our guide to using Qantas Points for China Airlines flights here.
Other routes, e.g. to Europe and North America
As previously mentioned, China Airlines is not a mainstream airline to redeem points on for an Australia-based traveller. The easiest method is most likely to be through Delta SkyMiles, which you can earn on Virgin Australia and SkyTeam partner flights.
Rather, cash is probably the way to go. There are often great sale fares for travel on China Airlines. I consider anything under $4,000 to Europe or North America return to be a good deal for this product.
When crediting your flights, I recommend:
Delta SkyMiles: easy online interface, redemptions on Virgin Australia
Air France-KLM Flying Blue: also easy online interface, sometimes superior redemption rates to Delta
Korean Air SKYPASS: more complicated interface but good-value travel on Korean Air (must be roundtrip for partners)
Lounge access
In Sydney, you'll get access to the relatively good SkyTeam lounge. In Melbourne, the substandard Marhabaha lounge is used.
And in Brisbane, the beautiful but often busy Plaza Premium Lounge is what you'll have access to.
In Taipei, there are four China Airlines lounges. There are two in Terminal 2, which you are most likely to fly in and out of. Try to avoid the one near Gate D4—it is a bunker with no natural light. At least the food is good.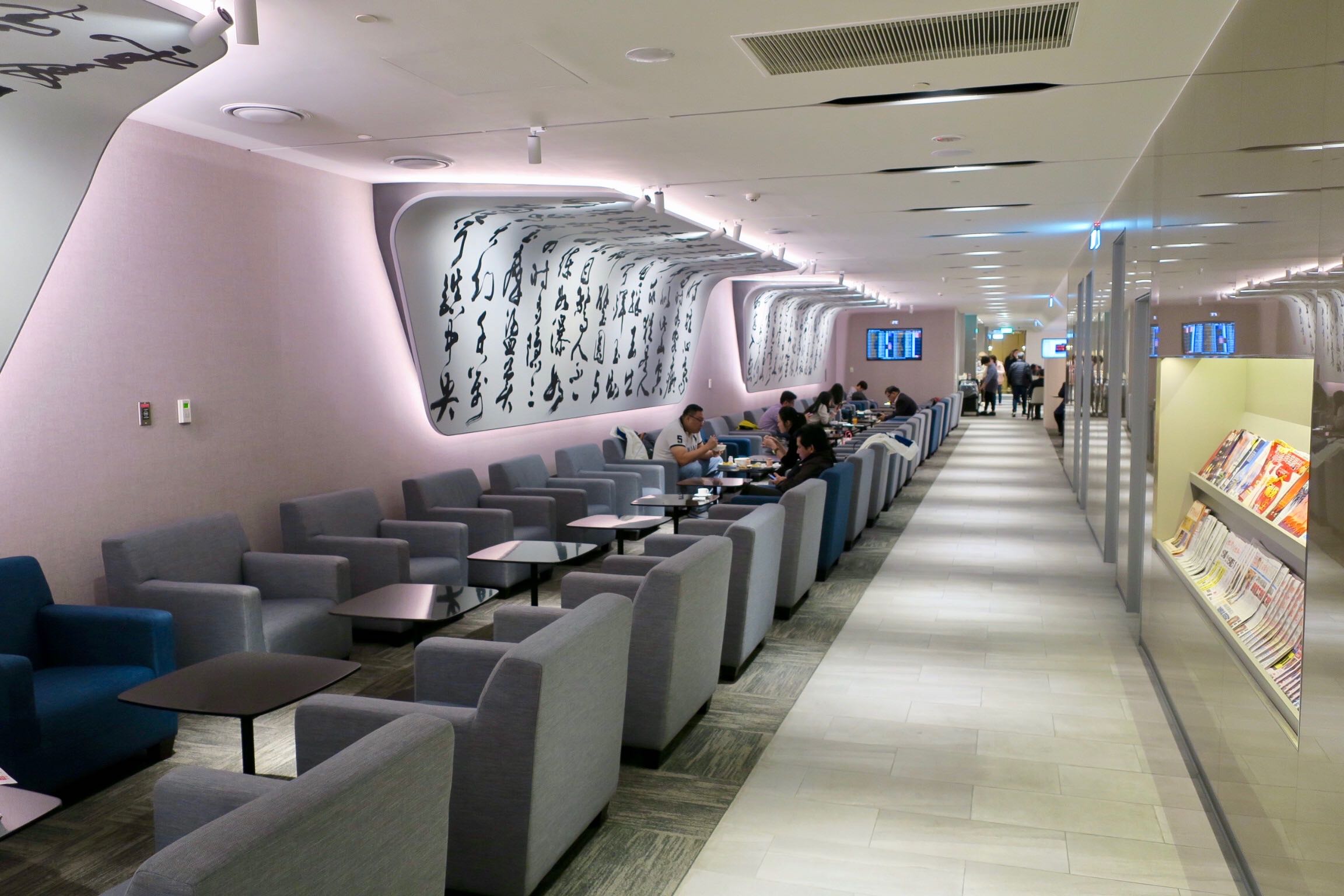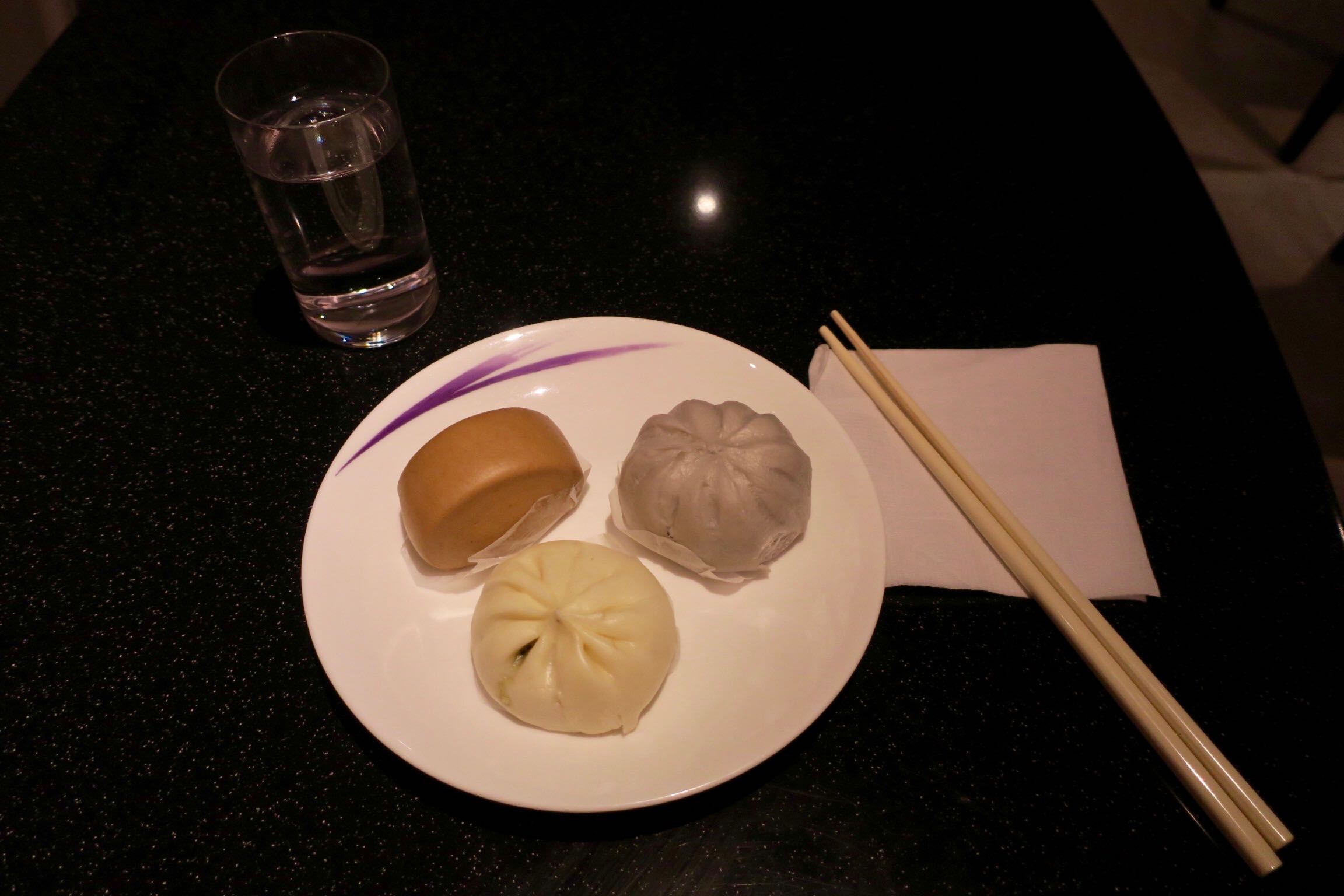 The one that is closer to security and located on Level 4 is probably a better shot, even though I didn't have time to backtrack to visit.
Terminal 1 is used for flights to Europe and the best lounge there is the one closer to the A gates (not the B ones).
In overseas ports, a combination of partner lounges are used, the best of which are the SkyTeam Lounge in Vancouver and the No1 Lounge at London Gatwick.
Other reviews
Summing up: why choose this flight?
If you can find a cash fare to Europe or North America for under $4,000, then I would not hesitate to recommend this product. If you're heading just to Taiwan, then this is a fantastic use of Qantas Points.
Whilst the lounges aren't the best, you'll have a very comfortable journey onboard a plush seat in a beautiful cabin with great customer service.
Just note that some flights between Australia and North America/Europe have long layovers when travelling through Taipei, so make sure to factor that into your plans. Luckily, Taipei's main airport is well-connected to the city by public transport if you want to visit. My two top tips are to see the giant Taipei 101 building and to ride the Maokong Gondola for a view of the sprawling metropolis.
For comparison purposes, China Airlines' rival EVA Air generally has a better reputation for its Business Class product. It's regularly ranked as one of the best in the world by travel bloggers and is easily accessible to us in Australia as it's part of Star Alliance, opening up the opportunity to use KrisFlyer miles for redemptions.
What is great
Very comfortable seat
Friendly service
Delicious food
Beautiful cabin
Unique touch of individual table lamp
Wide movie selection
Wifi
What is not great
Substandard lounge offerings
Warm cabin
Difficult touchscreen navigation
No pyjamas
Here are the things to expect on your first Business Class flight.
China Airlines A350 & 777-300ER Business Class overview
was last modified:
February 15th, 2022
by