Frequent flyers in Australia are blessed with access to some of the top Business Class products in the world. So which ones are the very best?
In this guide, I take a look at the top ten Business Class products flying from Australian airports and, crucially, how to book an award seat using frequent flyer points.
What makes for a good Business Class product?
I've judged these products based on the:
comfort of the seat
privacy of the seat
food and drinks you'll enjoy onboard
service you are likely to receive
I've narrowed the list by only including seats that go lie-flat and provide direct aisle access to all passengers. This is especially important for travellers in Australia, who tend to endure long flight times to get to other countries.
Ad – Scroll down to continue reading.Minimum spend, terms & conditions apply.
A ranking of the top 10 Business Class products flying from Australia
United doesn't have the best overall reputation but this summer, they upgraded their Sydney to San Francisco route from a 787 to a 777-300ER. This means that it got the latest Polaris Business Class product, which is a huge improvement over the older one.
You'll finally get direct aisle access, along with plush bedding from Saks Fifth Avenue. Remember to take advantage of the ice cream sundae cart that comes around for dessert.
Sydney to San Francisco has the upgraded product on the 777 until 28 March 2020, then it's back to the 787. All other Australian flights from Sydney and Melbourne to Los Angeles, San Francisco and Houston are also operated by 787s.
However, these aircraft are due to be retrofitted with the Polaris product. I expect this to happen in 2020 (2021 at the latest). Sydney – Houston will be the next route to get the upgraded product, probably in the first half of this year.
Qantas' flagship Business Class product can be found on a good chunk of its international flights. That includes to places like Auckland, Singapore, Hong Kong, Tokyo, Los Angeles, New York and London. It can also be found on coast-to-coast flights within Australia.
You'll enjoy modern finishes and friendly customer service, with comfortable pyjamas provided.
The food can be a bit hit-or-miss, though.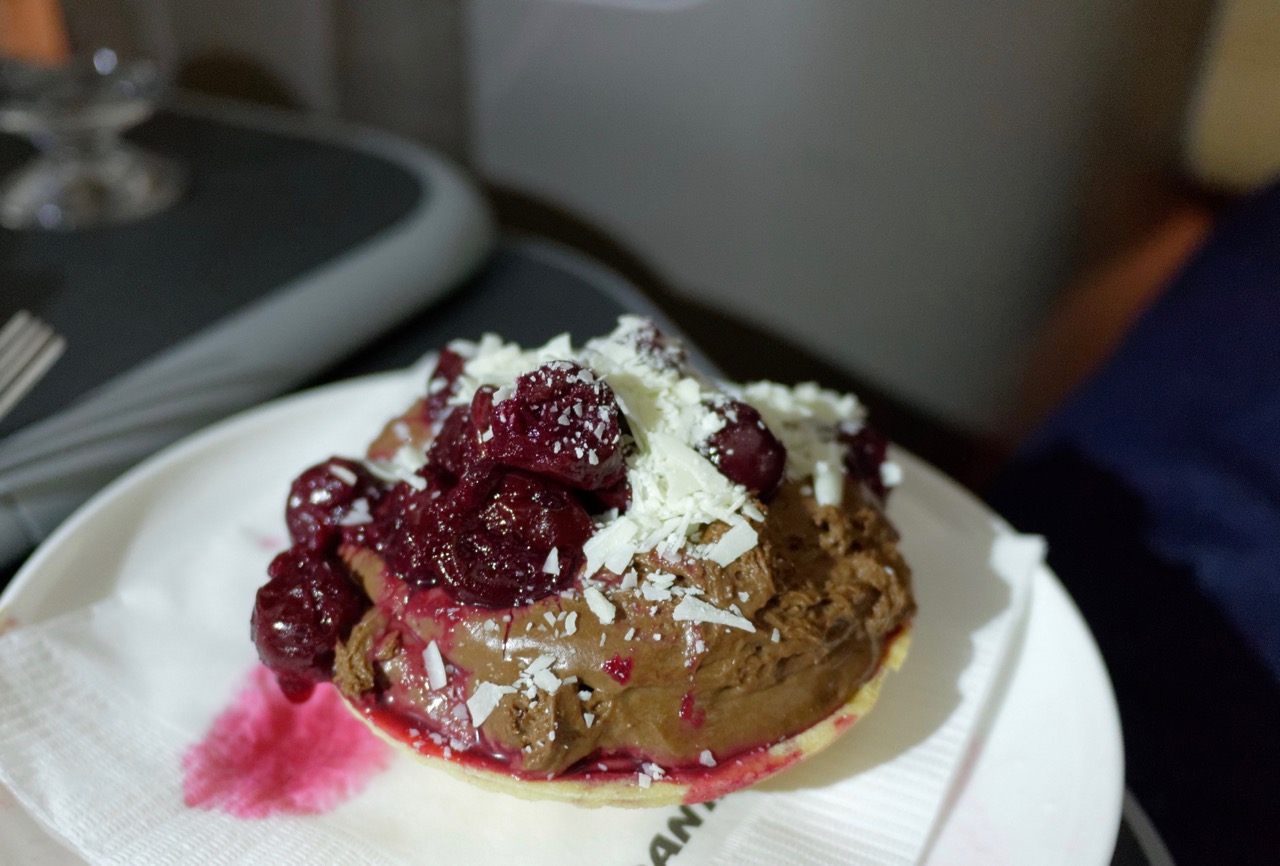 You can use your Qantas Points or Asia Miles for an award redemption. You are much more likely to find award availability on flights within Australia and to Asia than those to the US or London.
Note that all A330s and 787s have this product. However, the A380 fleet is in the process of getting refurbished, which is expected to be complete by the end of this year. Until then, you could be on the newer product or this inferior one—and there is no rhyme or reason as to which routes you'll find them on.
This product flies from Sydney, Melbourne, Brisbane and Perth to Dubai and onwards to many destinations throughout Emirates' network. It's also available on their fifth-freedom flight from Sydney to Christchurch.
Emirates' onboard experience tends to be very consistent, with well-trained crews and excellent dining options. You'll get a comfortable, lie-flat seat with glitzy finishes and arguably the best inflight entertainment system of any airline.
Plus, you can head to the back of the plane for a drink at the onboard bar, reserved exclusively for Business and First Class passengers.
The most accessible way for travellers in Australia to access these seats is by using Qantas Points, but Emirates Skywards miles (an American Express Membership Rewards transfer partner) can also be redeemed.
This is an underrated product and one that should be on your radar, given that it flies from Sydney, Melbourne and Brisbane to Taipei. (From there, you can enjoy Taiwan or connect onto North Asia, Europe or North America.)
The Business Class cabin is just beautiful, with comfortable seats featuring wood-centric finishes.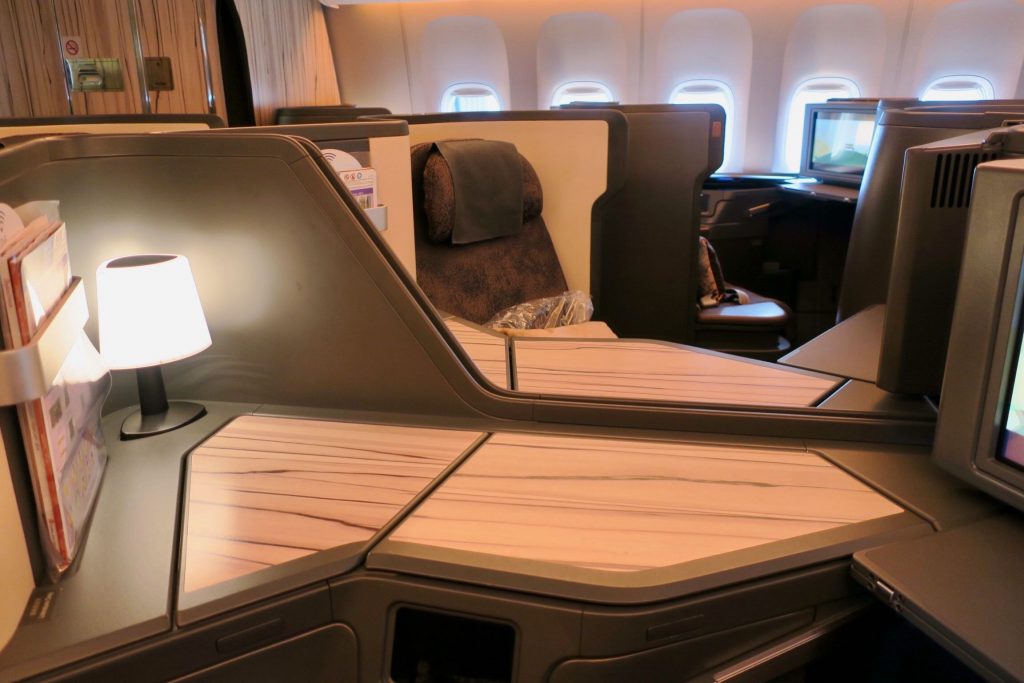 The customer service is generally really good. However, food options can be limited, so make sure to take advantage of eating in the lounge before your flight.
You can use your Qantas Points to book China Airlines flights.
You can find a similar seat on:
American Airlines from Sydney to Los Angeles (a good low-surcharge option using Qantas Points)
Air Canada from Sydney, Melbourne and Brisbane to Vancouver
Fiji Airways from Sydney to Nadi
Vietnam Airlines from Sydney and Melbourne to Ho Chi Minh City and Hanoi
China Airlines' main competitor EVA Air only flies from Brisbane to Taipei. However, this route got the airline's newest Business Class product back in October last year.
This is the same seat as Qantas has on its Dreamliner fleet. However, EVA shines with:
excellent customer service
delicious dining options (including pre-ordering meals)
pyjamas and Ferragamo amenities kits
Being part of Star Alliance, you can book EVA Air flights with Singapore Airlines KrisFlyer and THAI Royal Orchid Plus miles.
This is an often-overlooked option that you can find on some flights from Sydney, Melbourne and Brisbane to Abu Dhabi. (Note the 777 flights from Sydney and Melbourne have an older product.)
This cabin is elegant, with lamps at every seat and faux-gold finishes.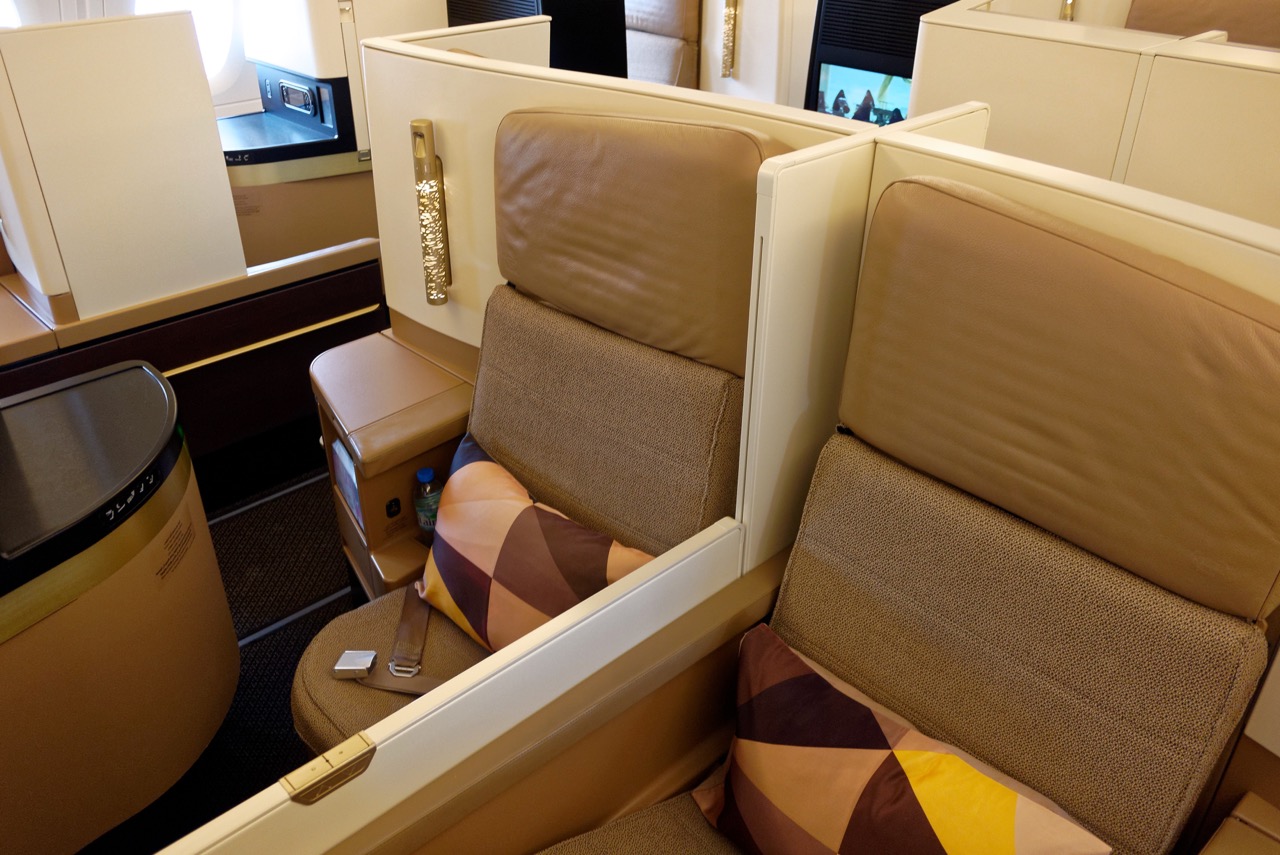 Seat choice is important and will vary whether you are travelling by yourself or with other people—this review can help you decide.
As opposed to Emirates, you'll get to eat whenever you want, not when the crew decides. (Qatar Airways also has dine-on-demand.)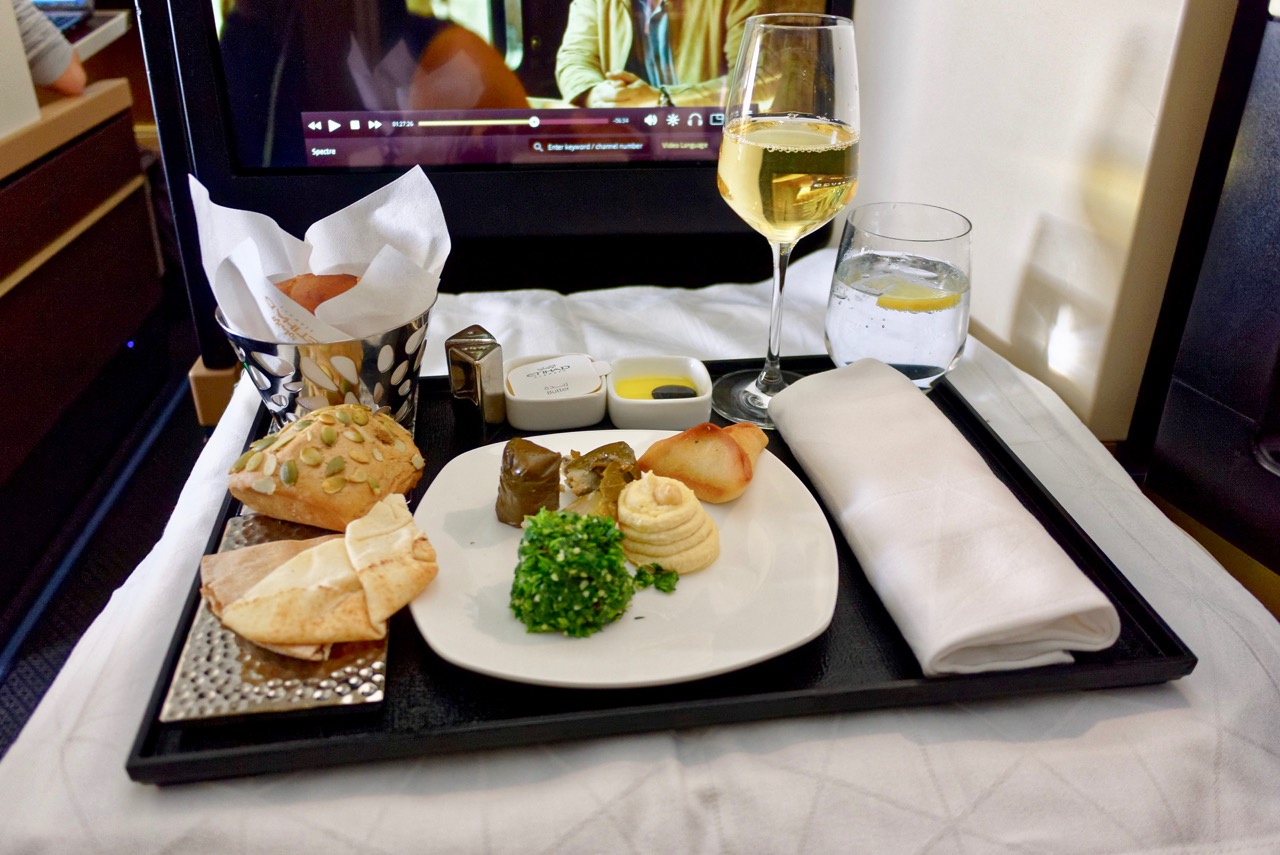 On the A380 Sydney flight, you can stretch your legs and head to the onboard bar.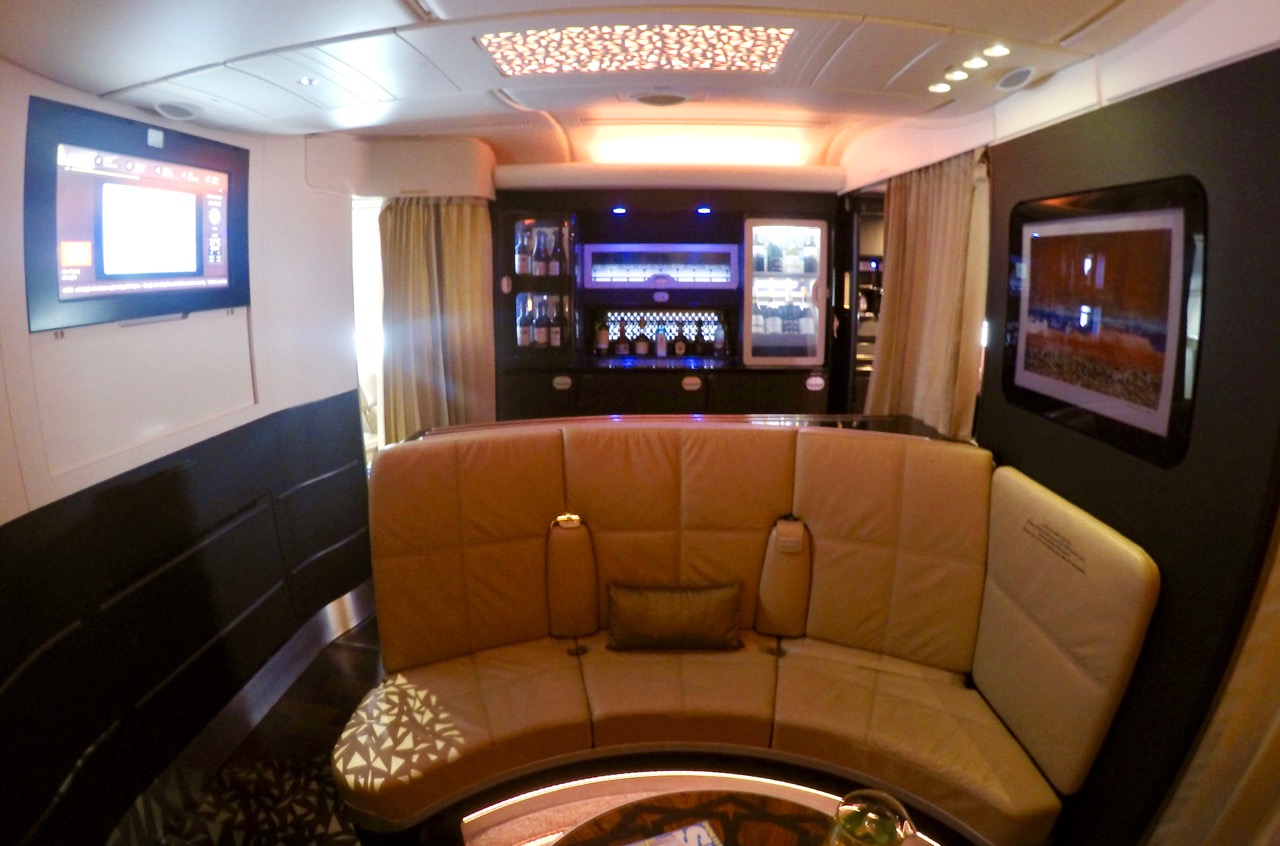 You can use Velocity Points for an award flight, but you'll get slugged with a hefty cash co-payment. If you have access to Etihad Guest or AAdvantage miles, you'll save on taxes and surcharges.
Australia's second-largest carrier flies its flagship premium cabin product from Sydney, Melbourne and Brisbane to Los Angeles. You'll get an extremely cushy reverse herringbone seat: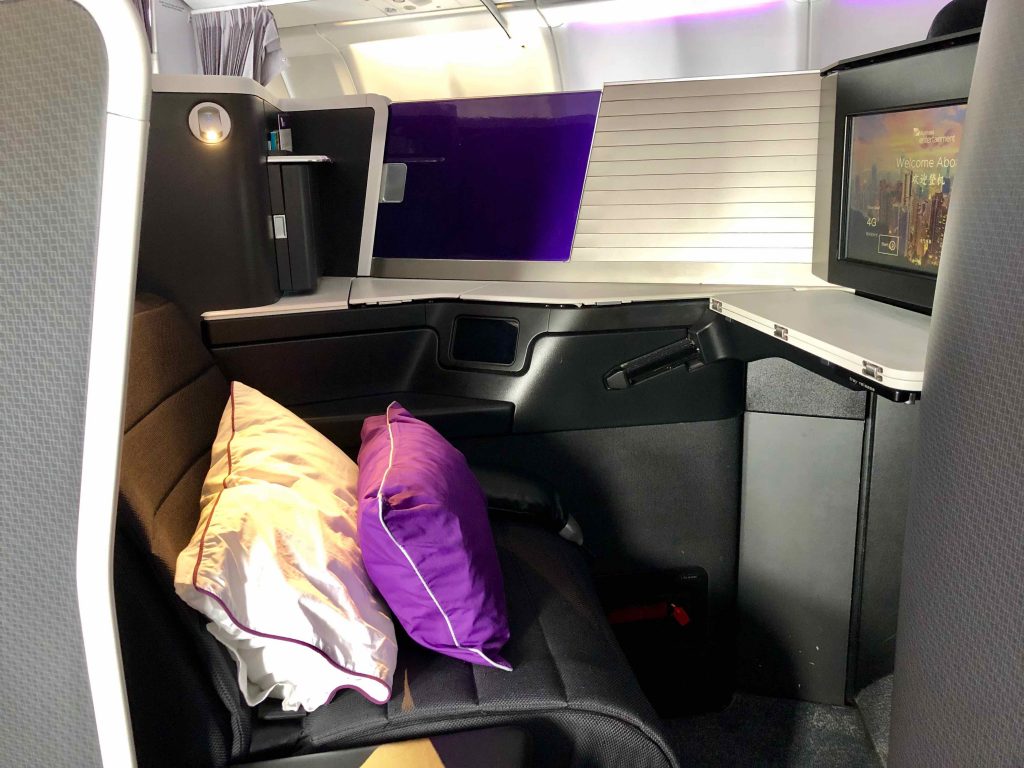 and exceptional food (something that I think Virgin Australia beats Qantas at).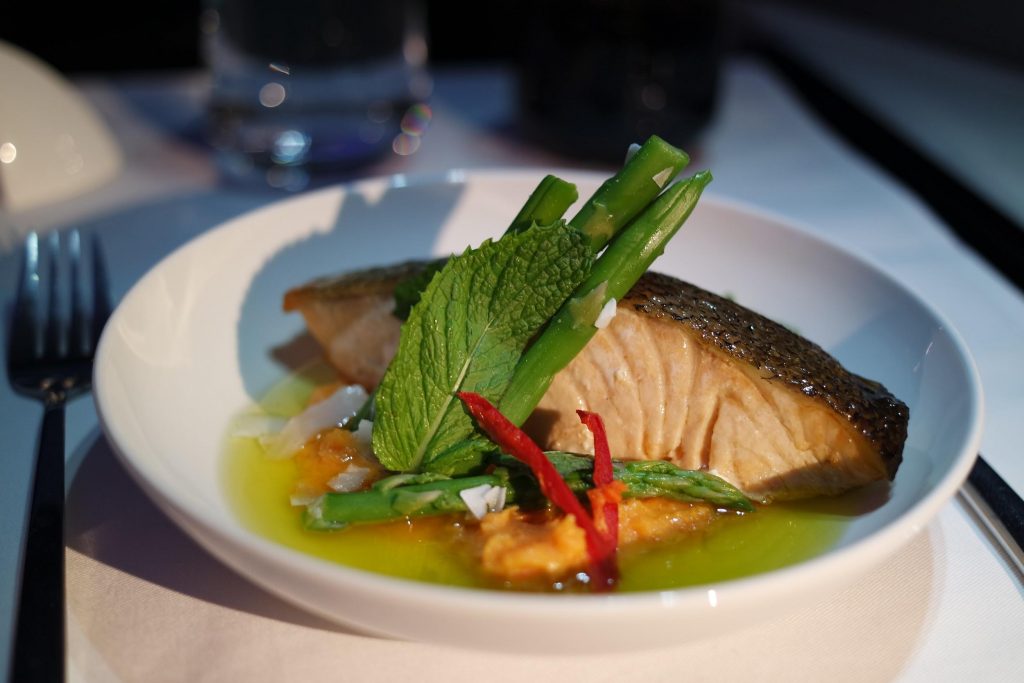 On these long Transpacific flights, you can enjoy a drink at the sit-down bar, with a dedicated bartender serving you.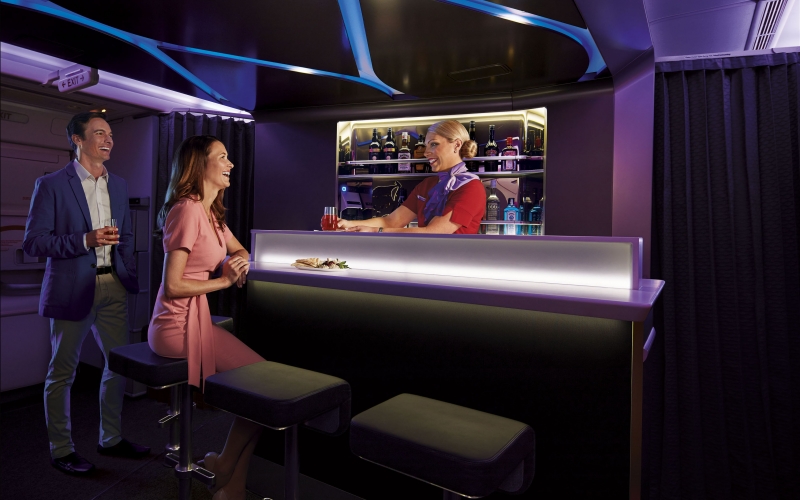 You can also enjoy the same seat on Airbus A330 flights from Sydney and Melbourne to Perth, Fiji and Hong Kong. These planes just don't have an onboard bar.
Singapore's flag carrier operates a myriad of seat types on its Australian flights. The flagship version is on A380 flights to Sydney (and soon to Melbourne).
This product is a huge improvement over its older A380, A350 and 777-300ER seats. You'll enjoy extra privacy and storage, and beautiful styling. Plus, you can convert two centre seats into a double bed.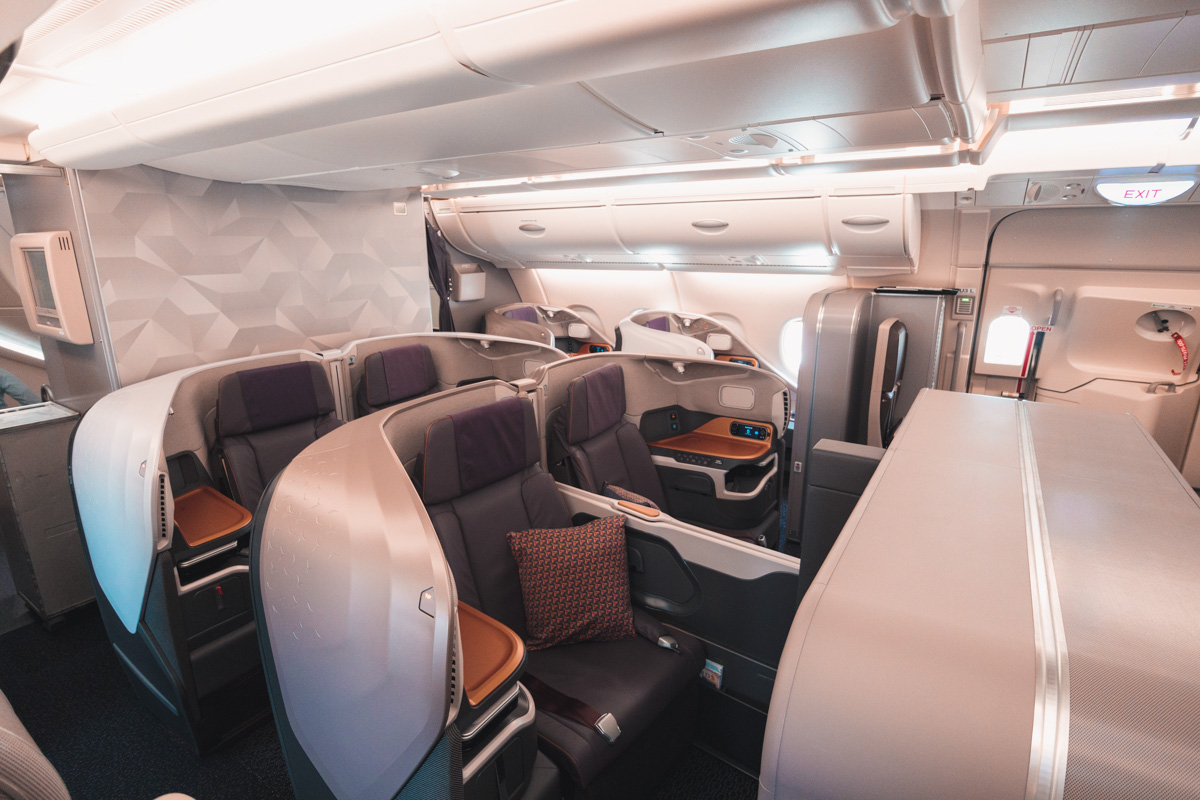 You'll also enjoy Singapore Airlines' renowned customer service, which is consistently excellent. The dining and drink options are top-notch, too.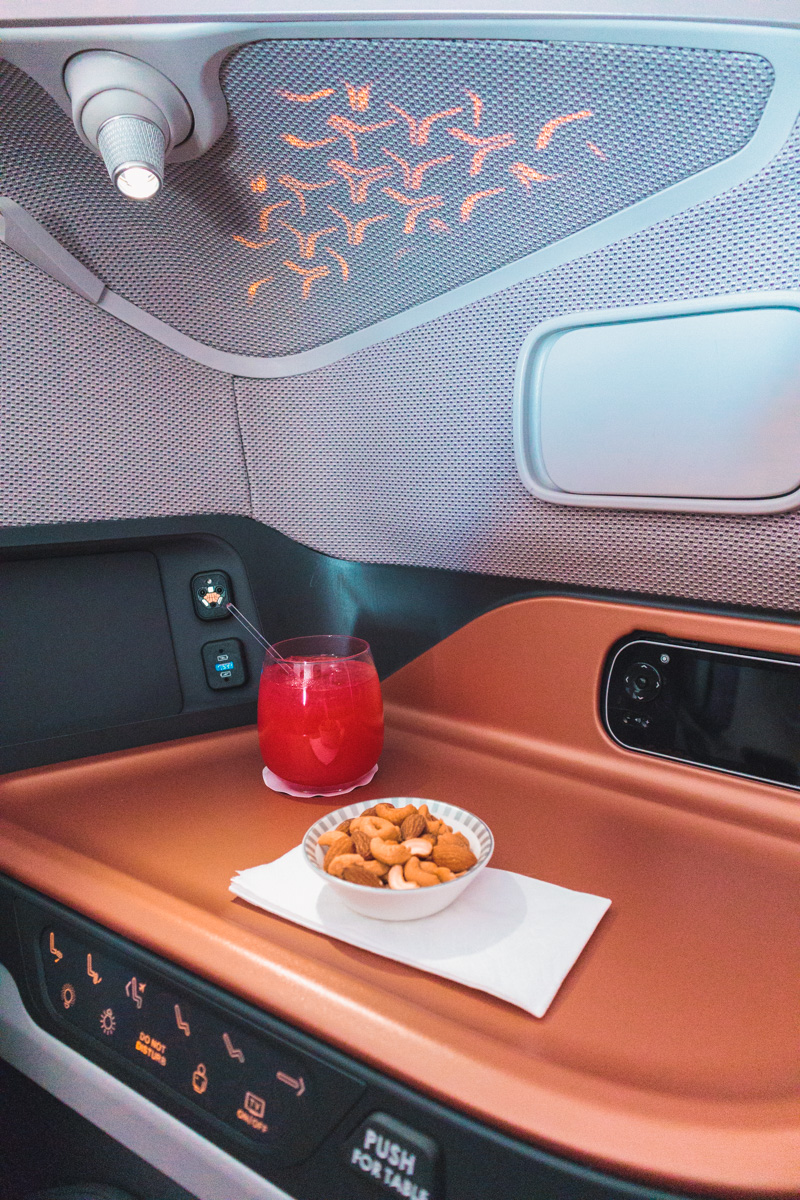 However, unless you have a bulkhead seat, you may find the sleeping space to be cramped, hence why this product is not rated more highly.
You'll need access to Singapore Airlines KrisFlyer miles to fly this product. The good news is that fuel surcharges are not applied to KrisFlyer redemptions on Singapore Airlines flights.
Whilst the aesthetics of this product are getting dated, it receives such high marks as all passengers enjoy great privacy and a lot of space. Whilst set up in a 2-2-2 configuration, these Sky Suites have been cleverly designed to allow window passengers to slip in and out without impeding aisle guests.
You'll also get superb customer service and delicious Japanese food onboard your flight.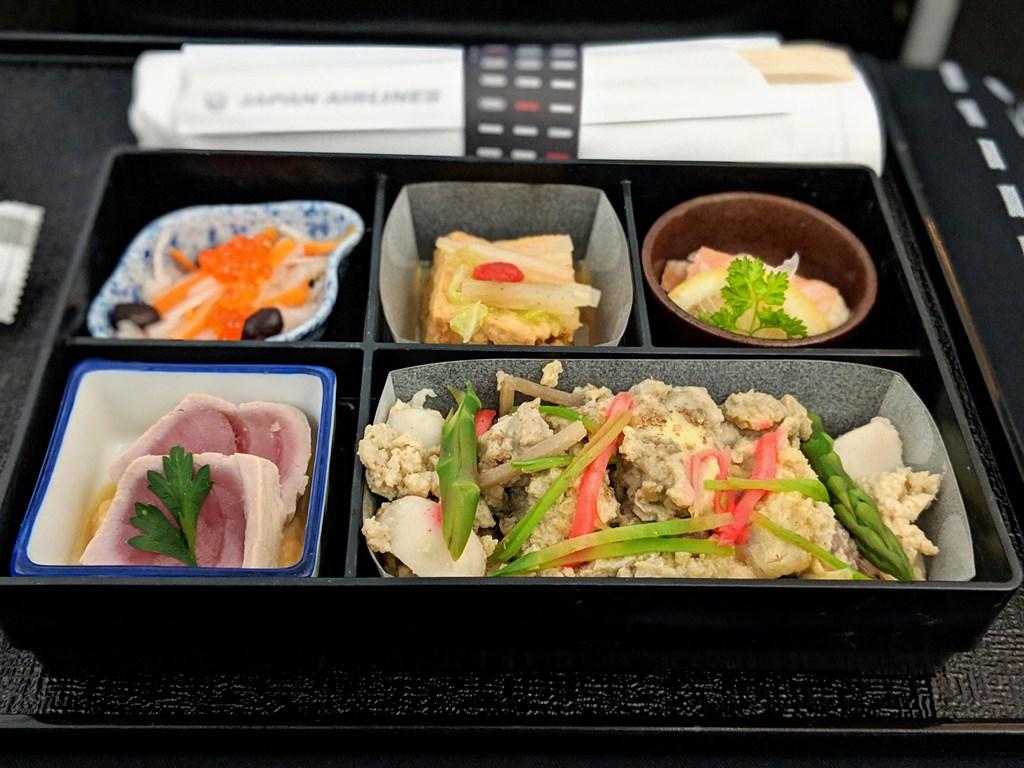 You can find this product flying from Sydney and Melbourne to Tokyo and you can use your Qantas Points or Asia Miles to book an award seat. You'll want to get in early as award space is snapped up quickly.
Korean Air also flies a version of this product (Apex Suites) from Sydney and Brisbane to Seoul when the 747-8i and 787 are operating, respectively.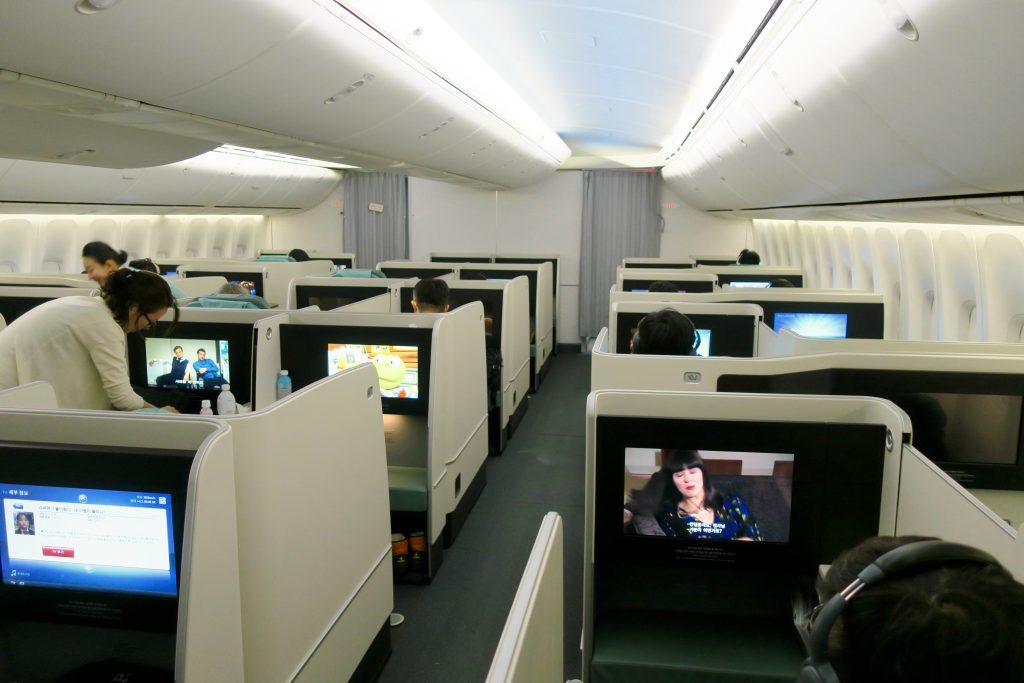 This is arguably the world's best Business Class product and we're lucky to see it on flights from Sydney, Adelaide and Canberra to Doha.
As a solo traveller, you'll enjoy a high degree of privacy with a sliding door.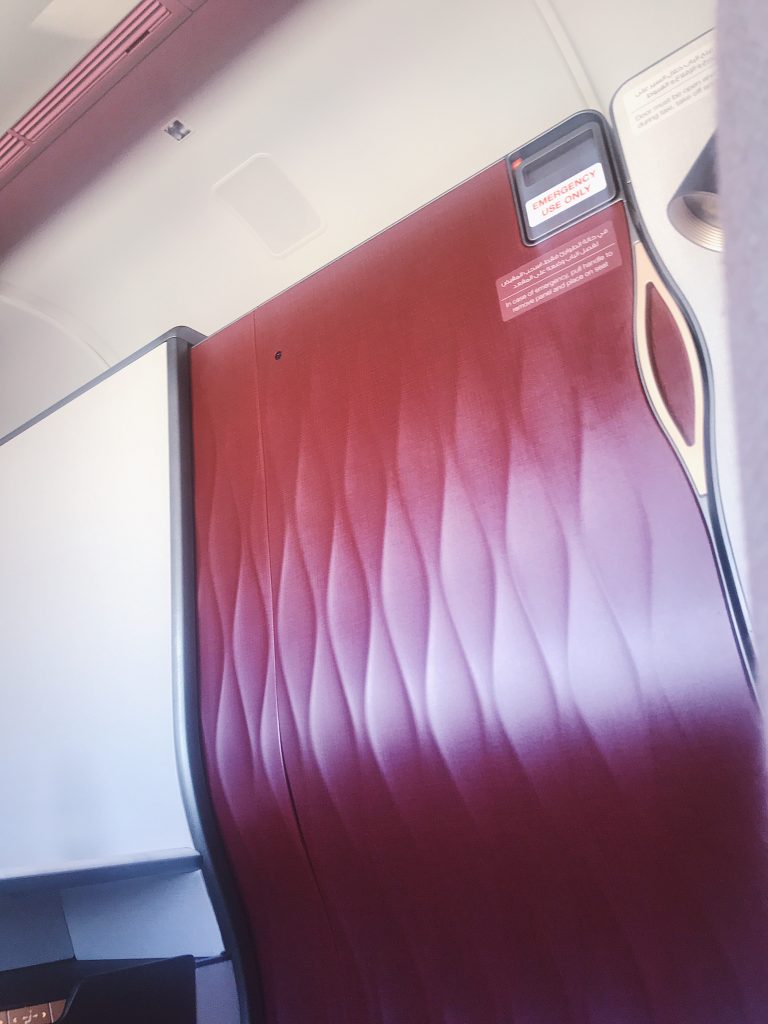 However, if you are travelling with a partner, you can turn two centre seats into a double bed.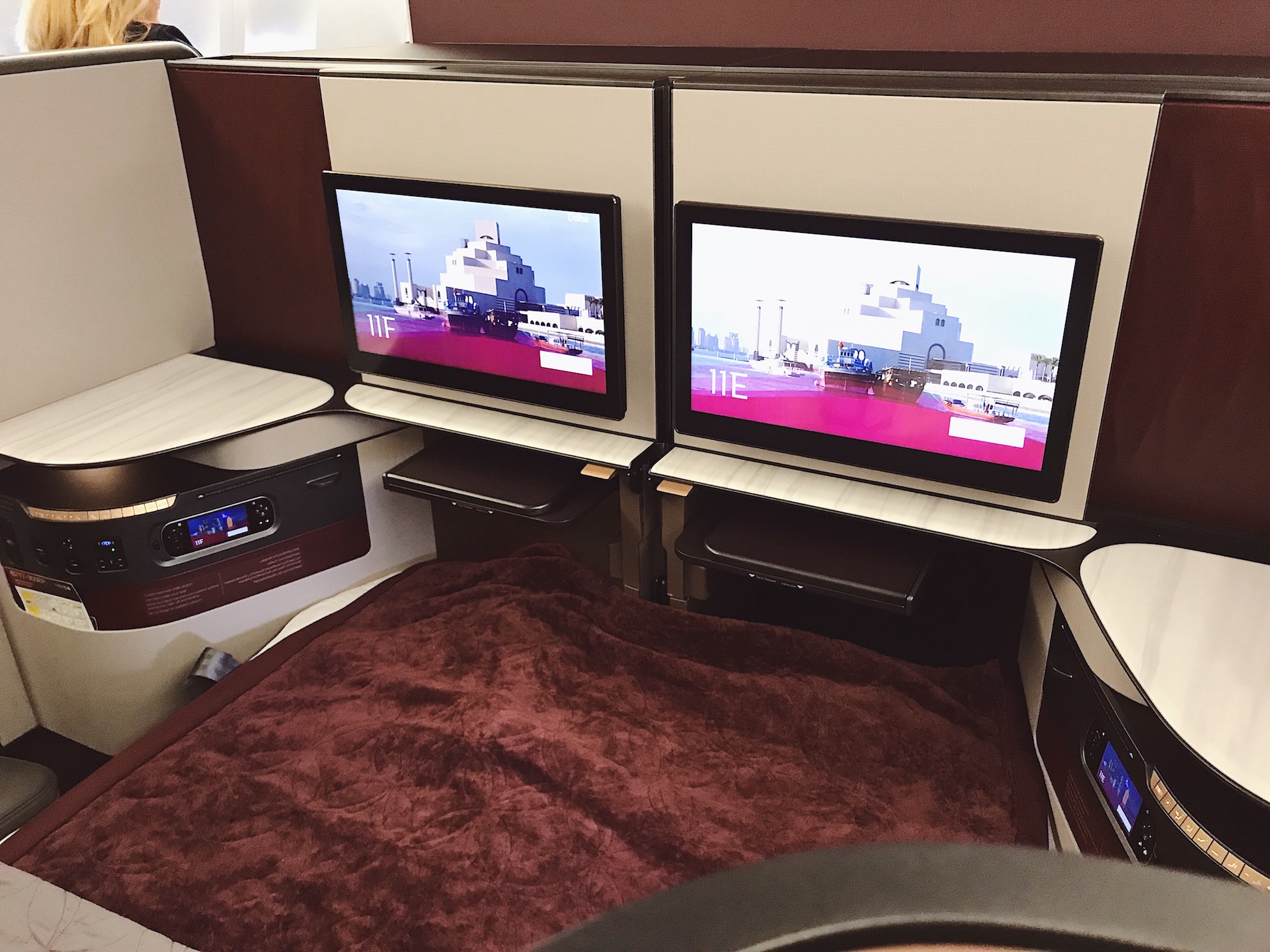 Or if you are travelling as a group, you can convert four centre seats into a family room.
You can use your Qantas Points or Asia Miles to book an award flight, with the best availability usually found on Adelaide flights.
Summing up
You'll see that some notable products are missing from this list. Air Canada, American Airlines and Cathay Pacific and all have the same solid reverse herringbone seat but little else to make them stand out.
Fiji Airways has upgraded its Business Class product on their A350s but the customer service leaves something to be desired. The same goes for China Eastern.
Air New Zealand is still stuck in the past with its herringbone seat on its 777 and 787s. Finally, sleeping in the Delta One Suites flying from Sydney to Los Angeles can be cramped.
Whichever flight you book, make sure to check the aircraft type and seatmap to make sure it matches the one you had in mind. Note that equipment swaps can happen in the leadup to departure, so it helps to check your booking every so often before your trip.
You can check out all of our Business Class reviews here and the top 10 First Class products flying to and from Australia here.
I would love to hear from you. Do you agree with my rankings? Why or why not? Please share your thoughts in the comments below.
Supplementary images courtesy respective airlines.
The top 10 Business Class products flying from Australia [2020]
was last modified:
February 11th, 2020
by