When it comes to flying Business Class, travellers from Australia are truly spoiled for choice. All of the 'Big Three' Middle Eastern carriers fly here – as do the 'Big Three' US airlines. Almost every premium Asian airline serves Australia too: not to mention airlines based closer to home, as well as further afield.
On most long-haul flights, two things in Business Class are relatively standard. One is direct aisle access from every seat – meaning there's nobody to step over, or stepping over you. The other is a fully flat bed: the second magic ingredient for a good night's sleep. Give travellers those two staples, and most are happy.
But a small number of Business Class seats stand out from the rest. They have a real X-factor about them: features that few other airlines can rival in Australian skies. You might even say that the very best Business Class seats meet – if not, exceed – the standards some other airlines follow in First Class.
So what are these high-performing Business Class cabins? We've ranked our top five favourites in Australian skies based solely on the seat. This isn't about lounges or loyalty, and it's not about meals, service or entertainment. It's not even about onboard bars, which are often shared between Business and First Class. It's about that seat on your boarding pass: where most travellers spend most of their time.
Without further ado, here are our picks for the top five Business Class seats flying from Australia in 2023.
1. Qatar Airways' Airbus A350 and Boeing 777 Qsuite
When it comes to X-factors like closing privacy doors and double beds in Business Class, the Qatar Airways Qsuite has both. And let's be honest – even in First Class, you don't always get a door: or a double bed. Qatar knew that when designing Qsuite, and even now, still cheekily describes the experience as 'First in Business'.
What's interesting about this pick is that Qsuite is over six years old. But in our book, it's still the world's leading Business Class seat. Since its initial unveiling in March 2017, we're yet to see another Business Class product leapfrog Qsuite.
In fact, I still remember the sheer awe throughout the room when Qsuite was unveiled. I'd flown to Germany for the big reveal at ITB Berlin, on a flight from Doha with Qatar Airways' CEO. I knew it'd be a big event… but once the display was open, you could barely get within 10 metres of the mock-up. Everybody was crowding around to see the next big thing in aviation.
Qsuite wasn't – and still isn't – like anything else in Business Class, anywhere in the world.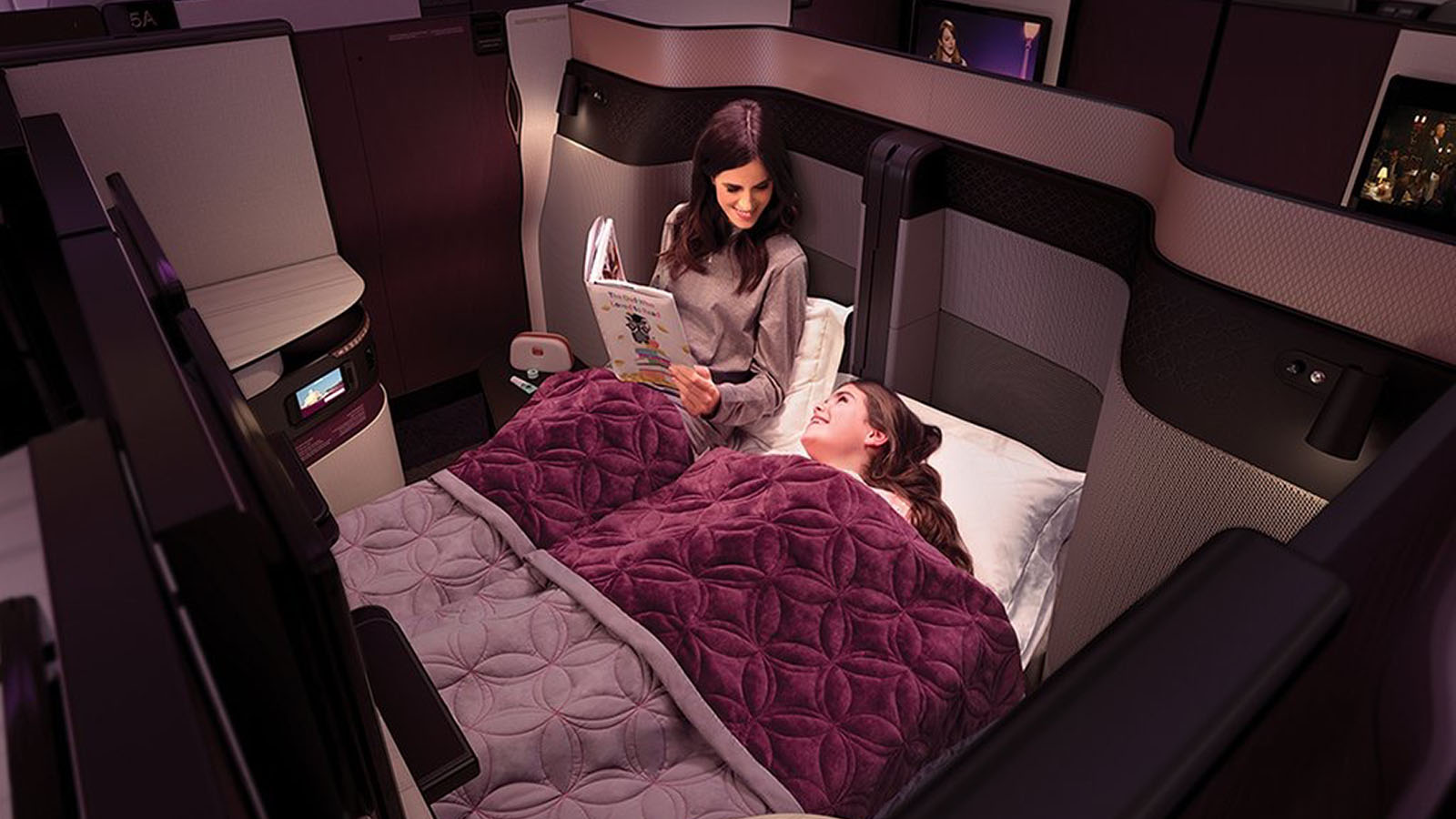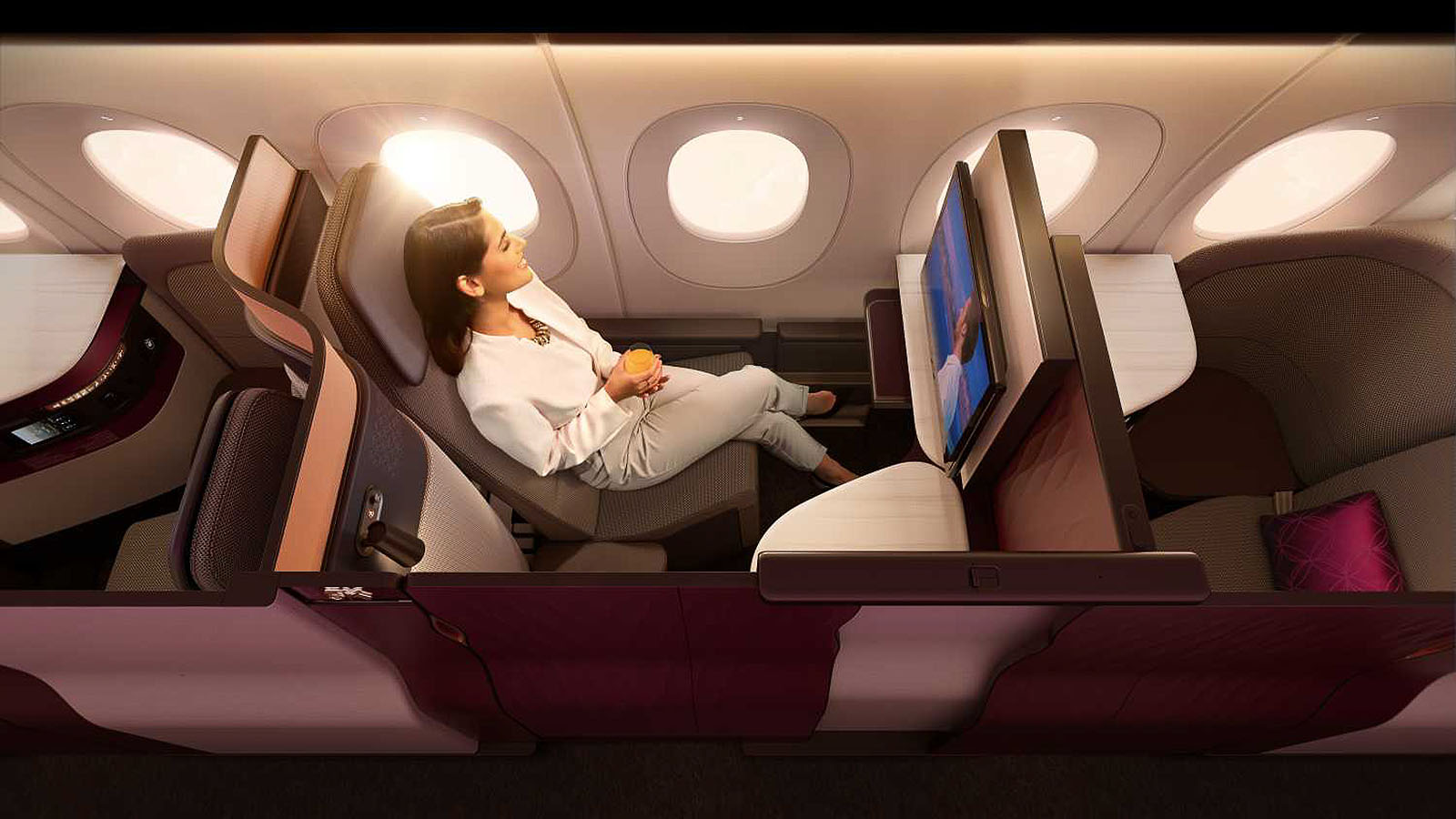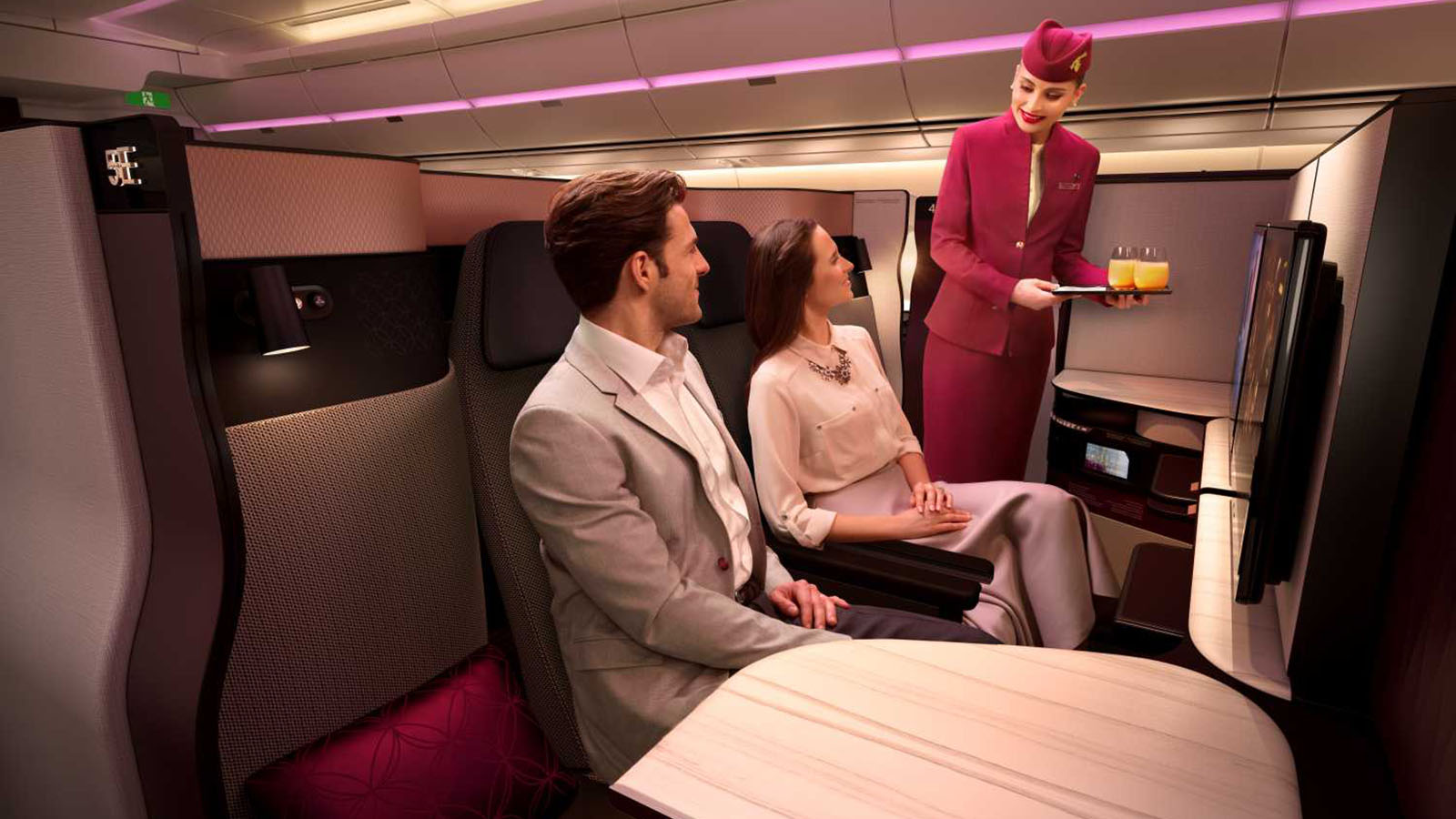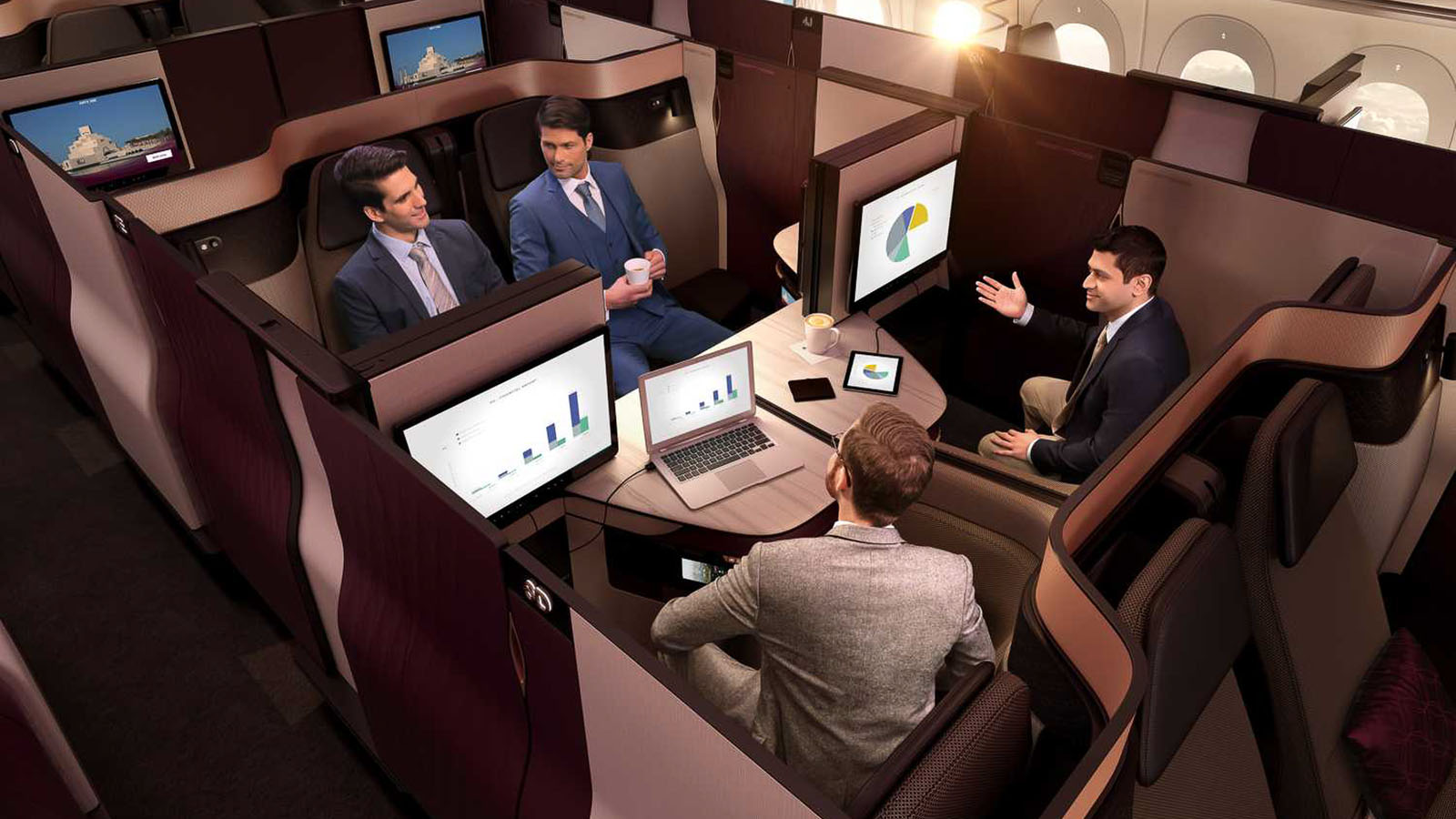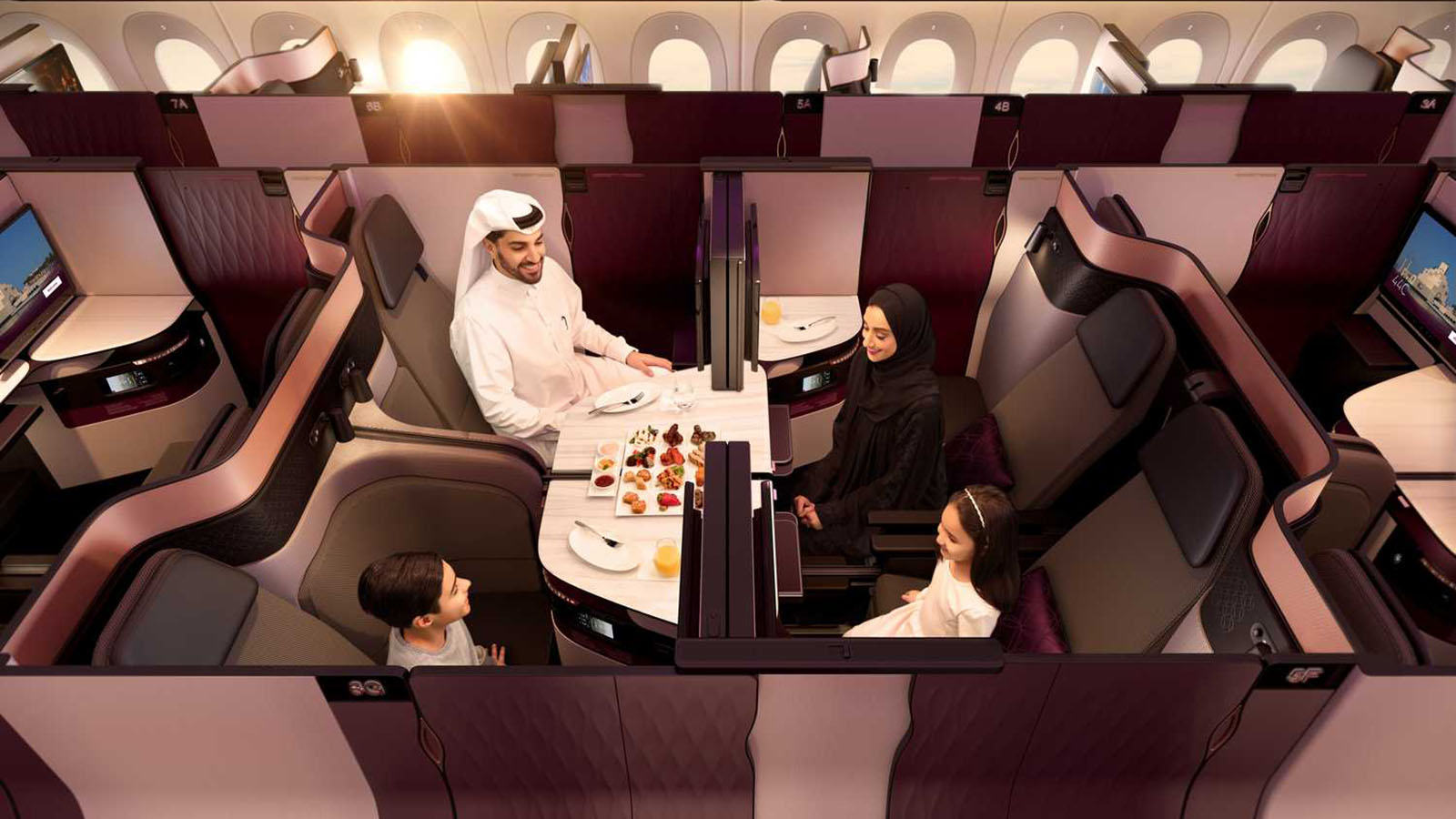 Where Qsuite exceeds the rest is in its versatility. Flying solo? Grab a window seat, close the door and you're in your own little world. Have a companion? Perhaps, snooze together in a big double bed – and close the doors. Or keep things professional, sit further apart and raise the central privacy wall when you want some 'me time'.
There's also 'The Quad': groups of four Qsuites that can become an open, shared space. While Sydney and Perth may get Qatar's Airbus A380s, travellers from other cities get Qsuite instead. As a Brisbane resident, I'm quite okay with that 'compromise'.
Point Hacks review: Qatar Airways Boeing 777 Qsuite Business Class (Melbourne – Doha)
2. Delta Air Lines' Airbus A350 Delta One Suite
Of the other Business Class seats travelling Down Under, the Delta One Suite also stands out. It's modern, luxe, private, and easily the best Business Class seat flying between Australia and the United States.
Now, there are no double beds or 'quads', as with Qsuite. But the Delta One Suite comes into its own with a closing privacy door at every seat. Given flights between Sydney and Los Angeles run overnight and land in the mornings, it makes getting a good night's sleep that much easier. And when you're flying across the Pacific, that's usually the goal.
Unlike Qatar's proprietary Qsuite, Delta One Suite is a heavily modified version of Thompson Aero Seating's VantageXL seat. Pops of red, white and blue make the product distinctly American – or should I say, distinctly on-brand for Delta.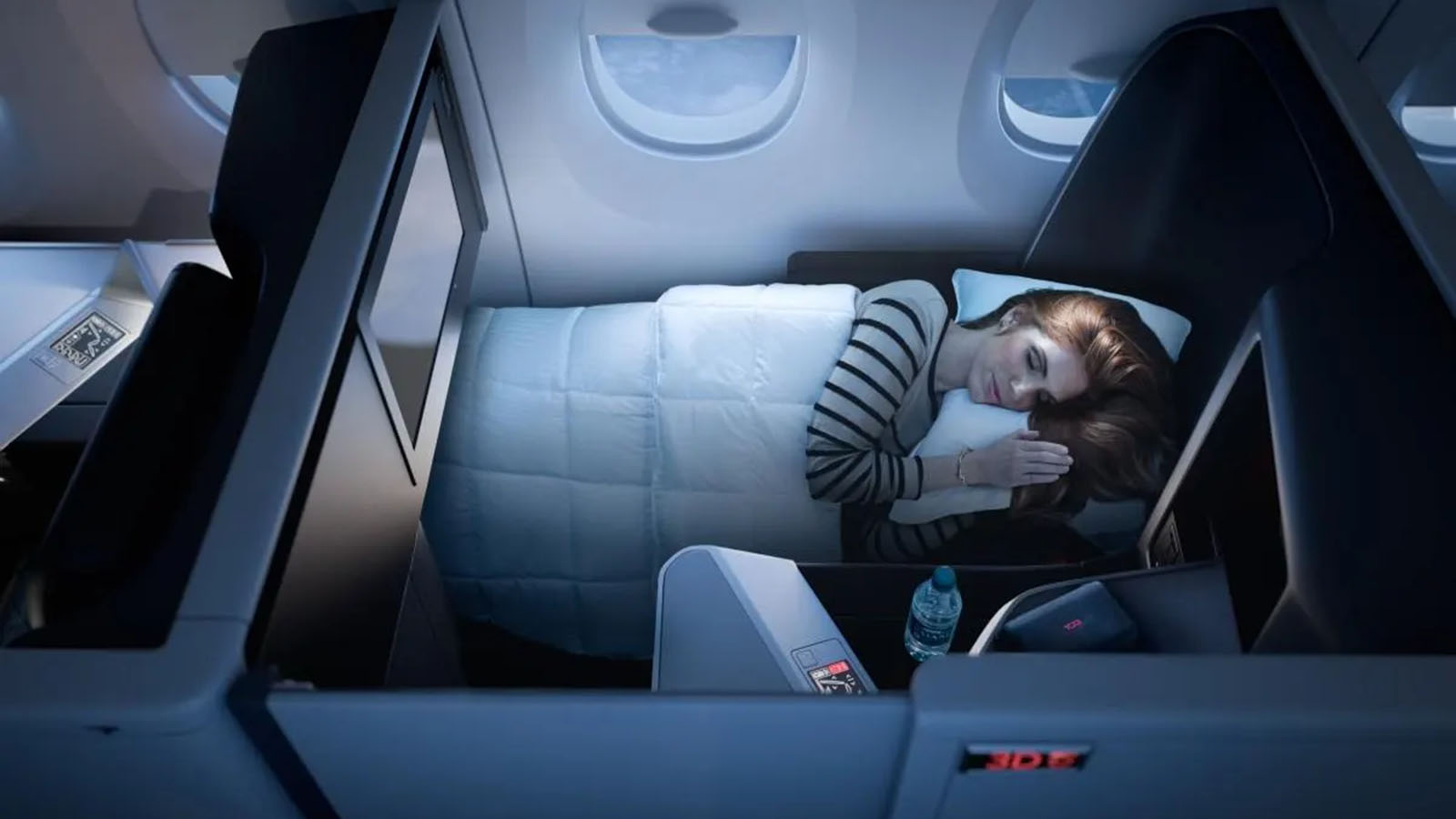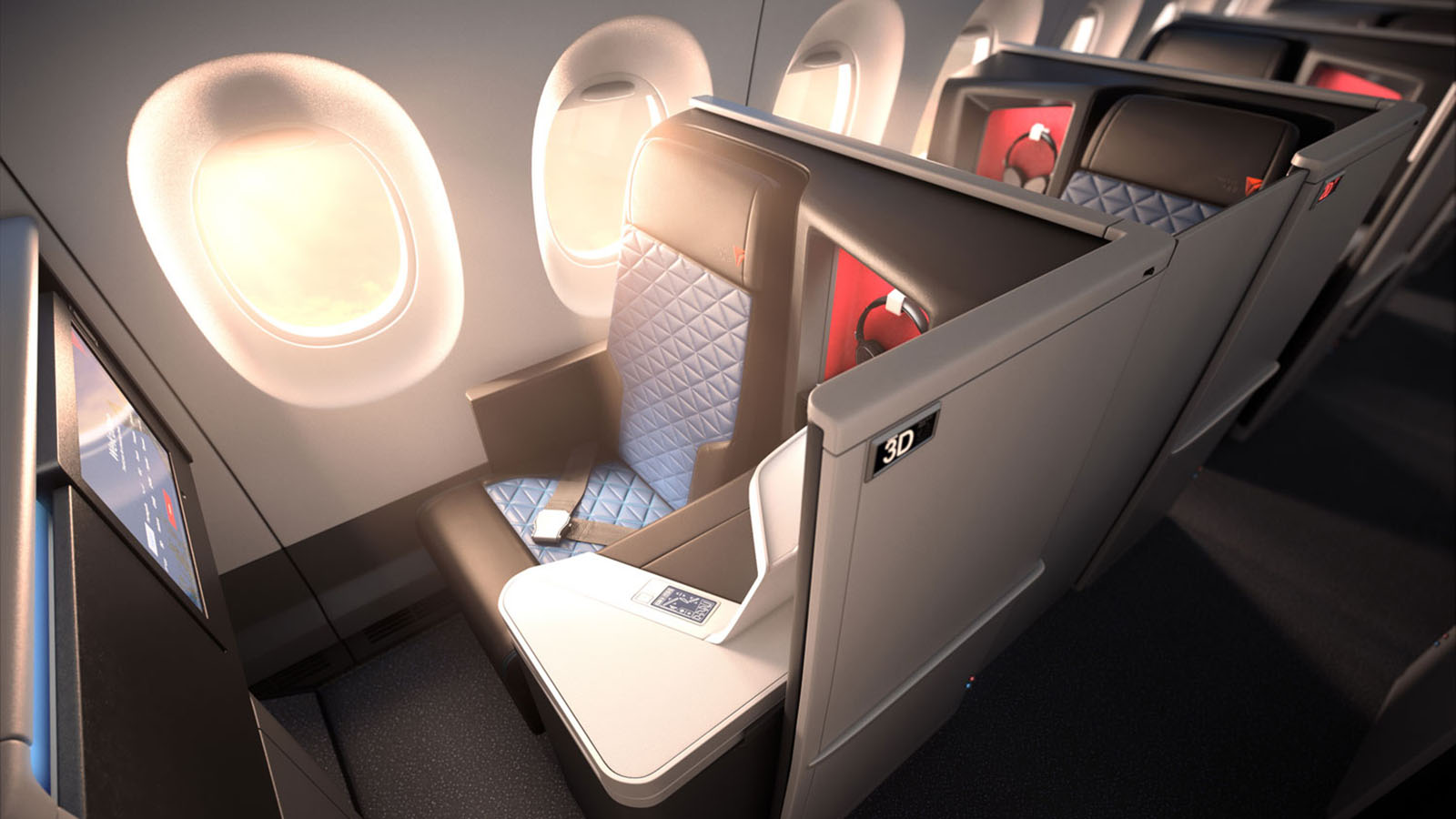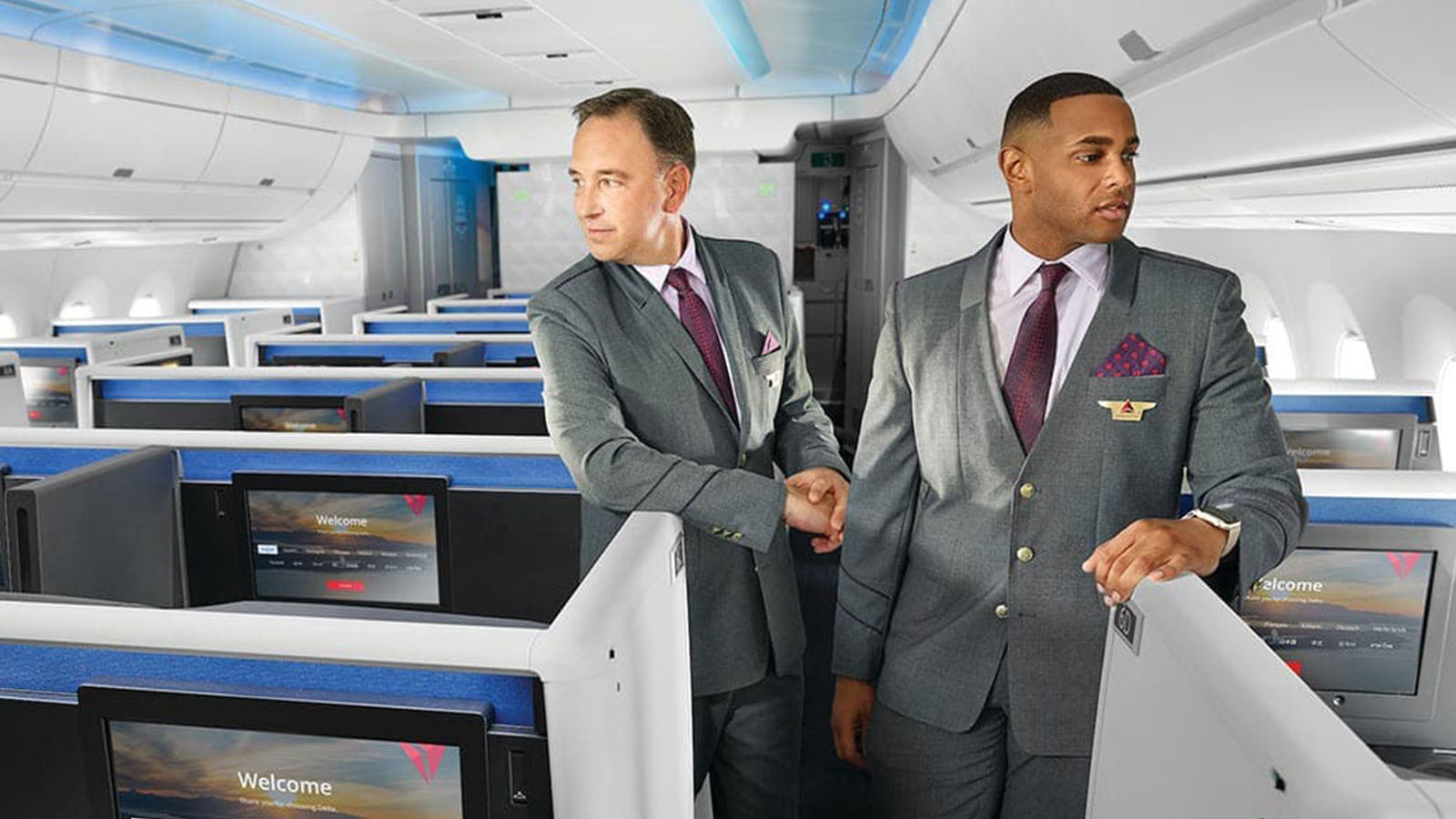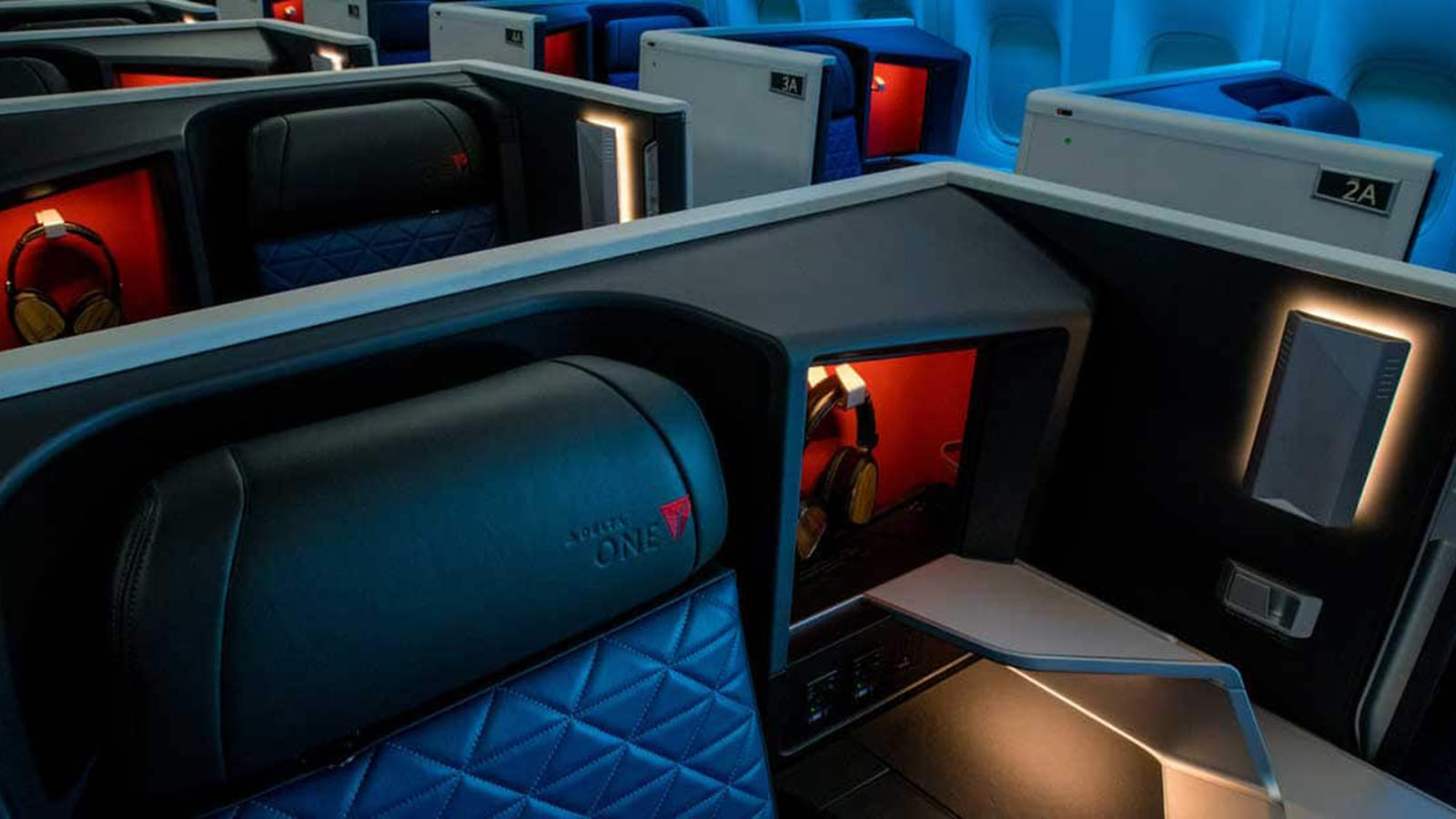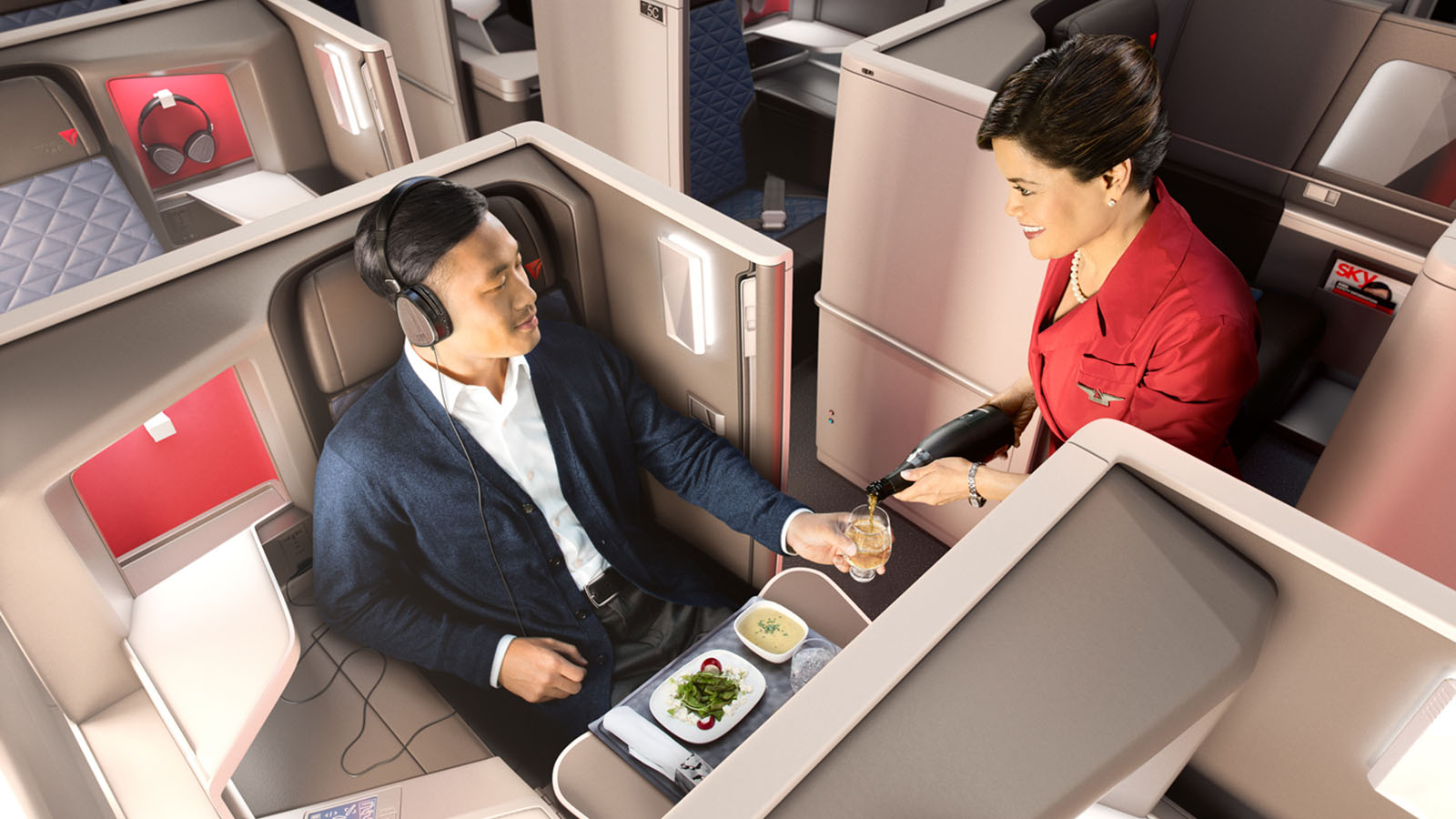 It's not all about the bling. Small touches like stylish adjustable ambient lighting really give the seat a premium feel. Storage options are plentiful, the seat is blissfully comfortable and the 'do not disturb' feature is a favourite when it's time to nod off.
Point Hacks review: Delta Air Lines' Airbus A350 Delta One Suite (Los Angeles – Sydney)
Ad – Scroll down to continue reading.Minimum spend, terms & conditions apply.
3. British Airways' Boeing 777 Club Suite
It's fair to say that British Airways hasn't always been regarded for its long-haul Business Class. After all, the carrier still operates many flights with very outdated Club World seats. In those cabins, you literally face another passenger during take-off and landing – almost like sitting on a train. But for those patient enough to wait, along came Club Suite.
Practically a chalk and cheese change for BA, Club Suite goes big on privacy. Forget that public transport feeling. In Club Suite, you can close the door, and the space is your own. And if you're sitting in the centre of the cabin, a second divider also provides reprieve from your neighbouring flyer.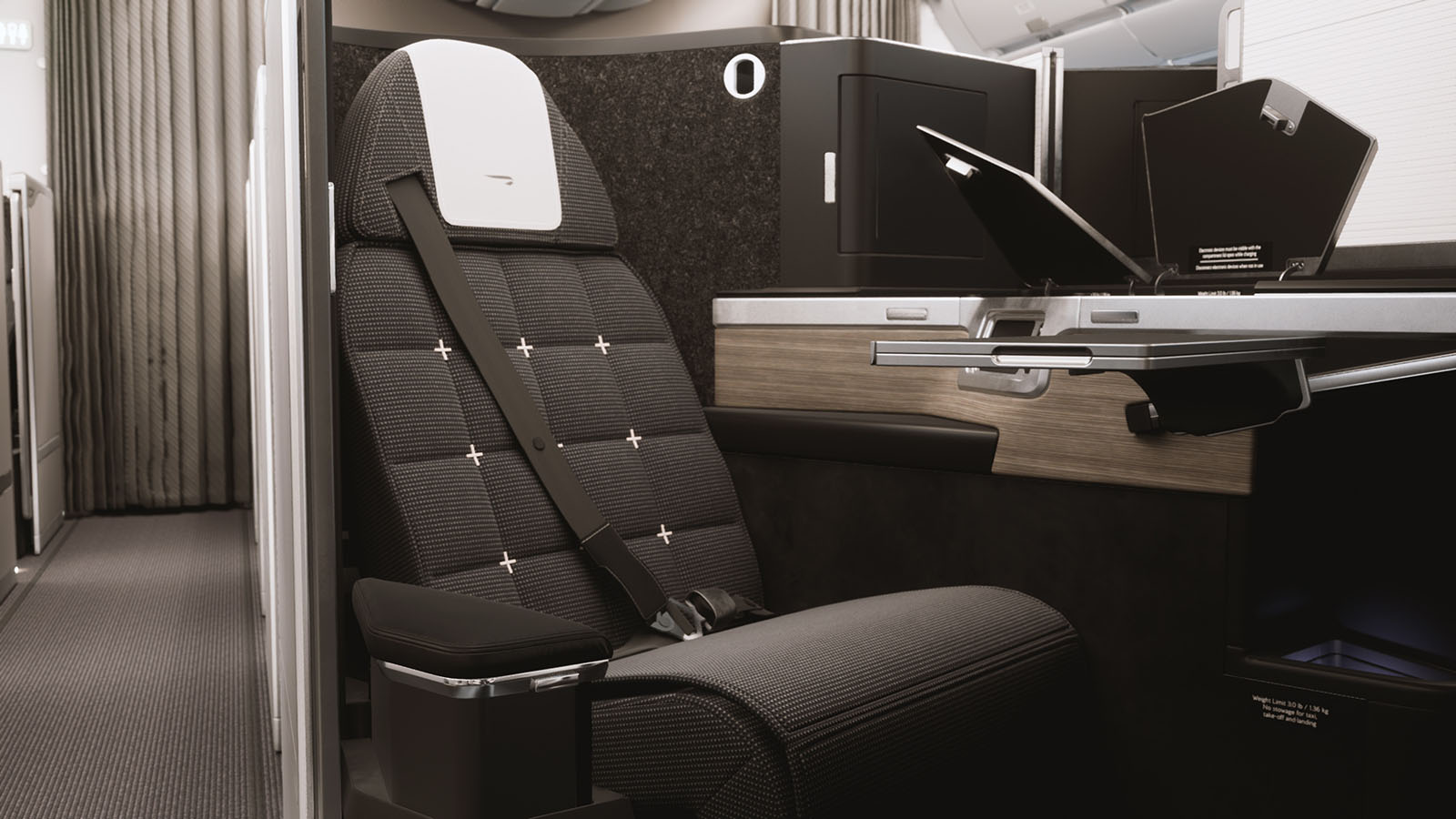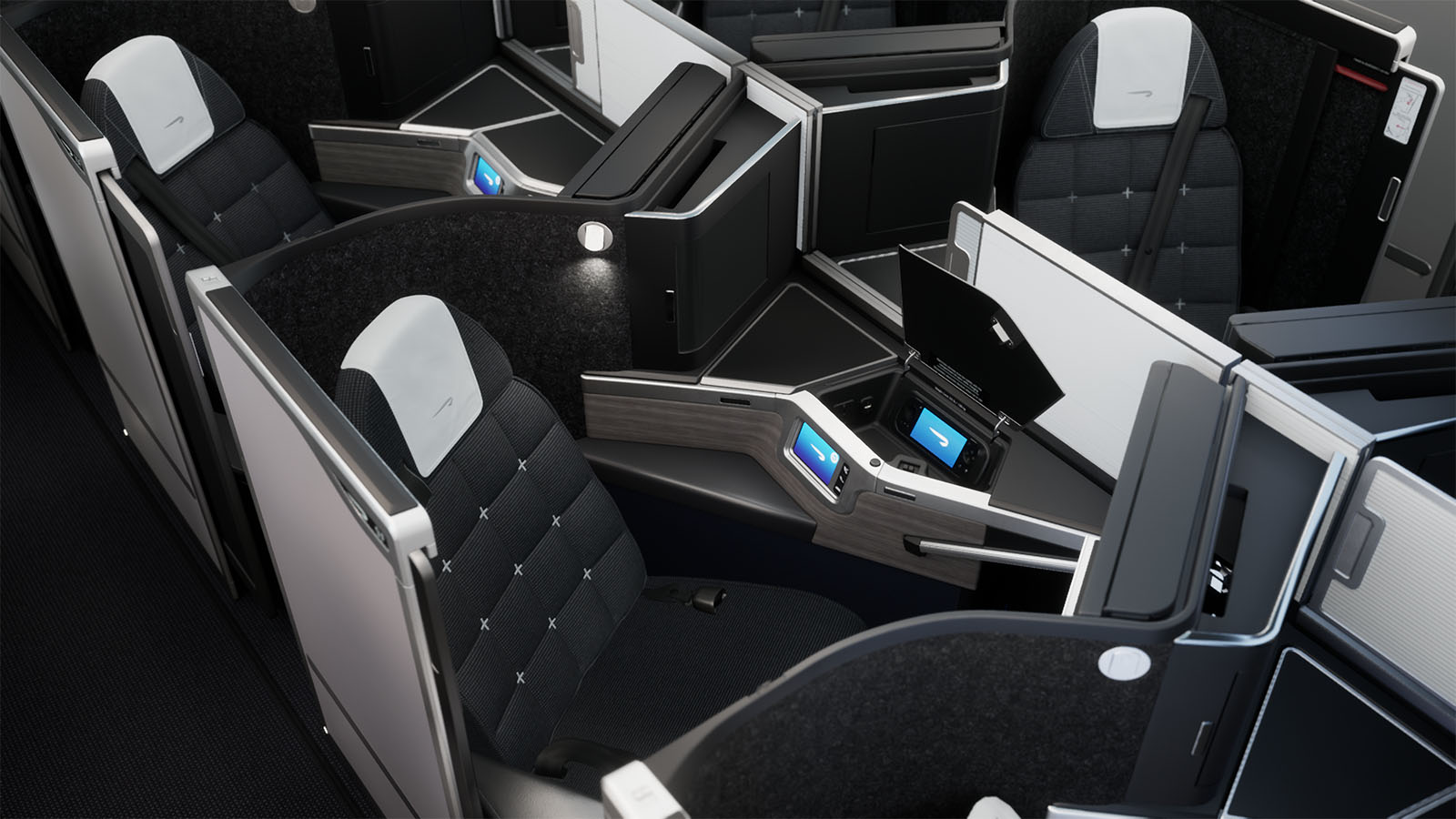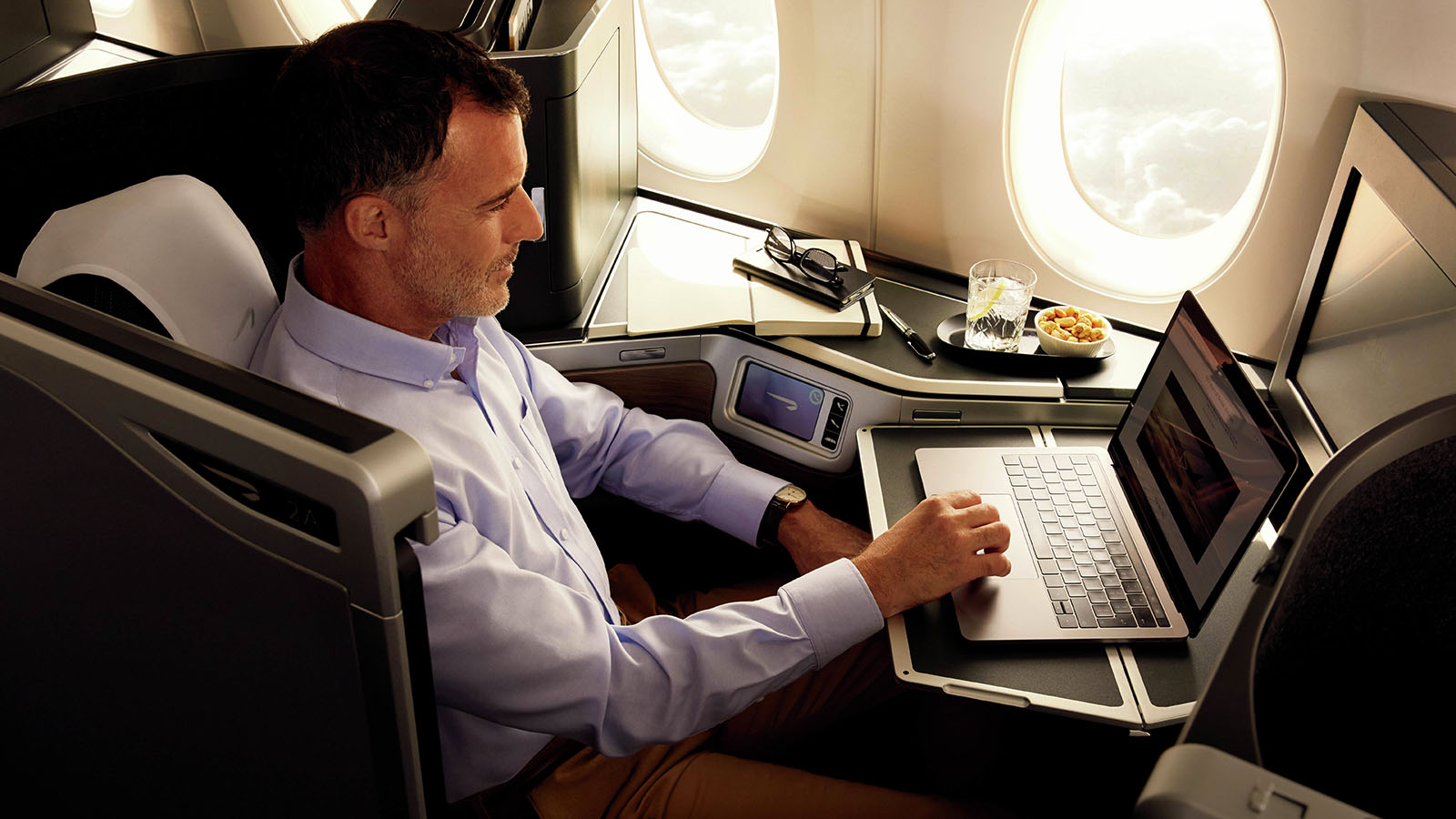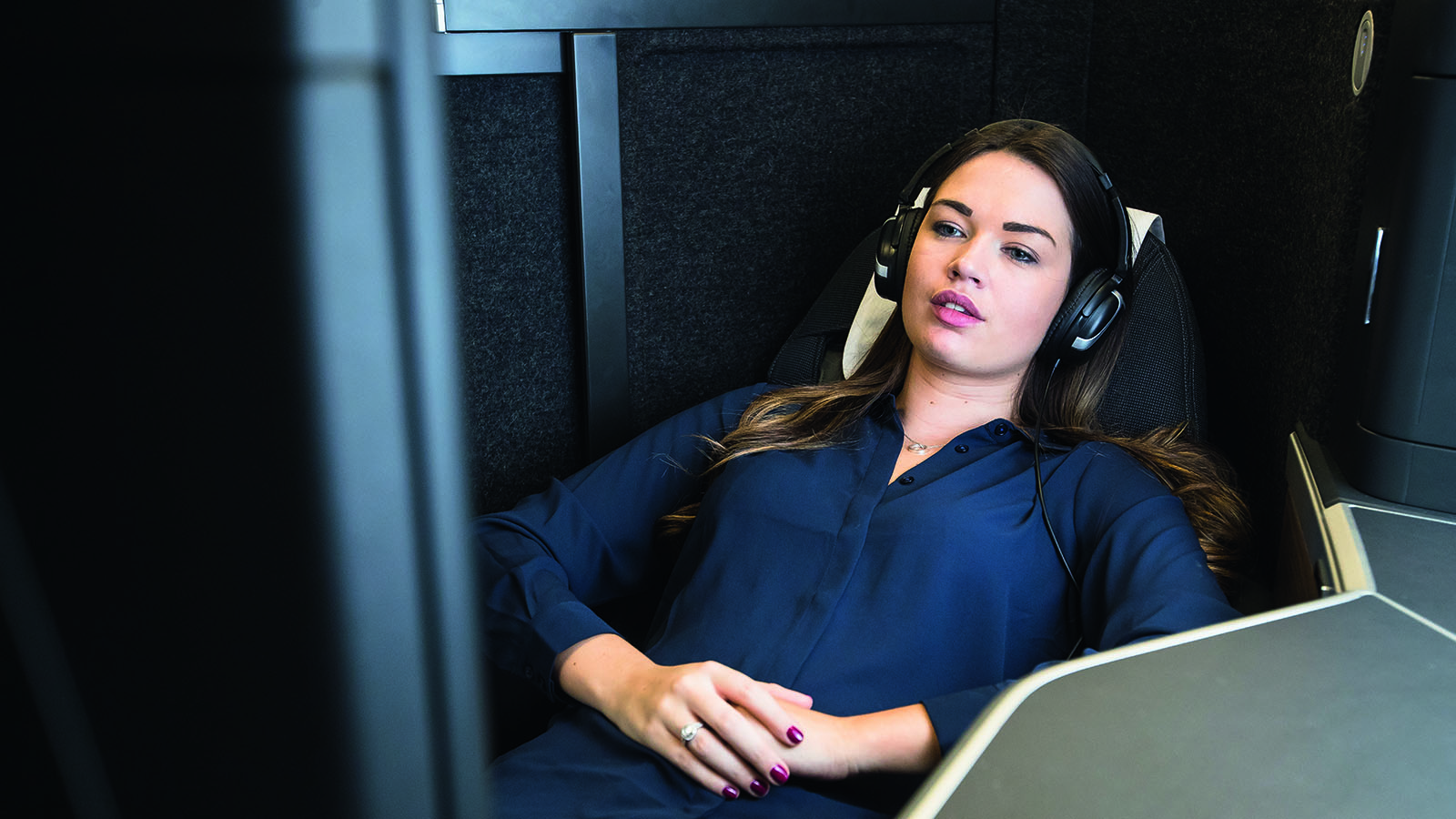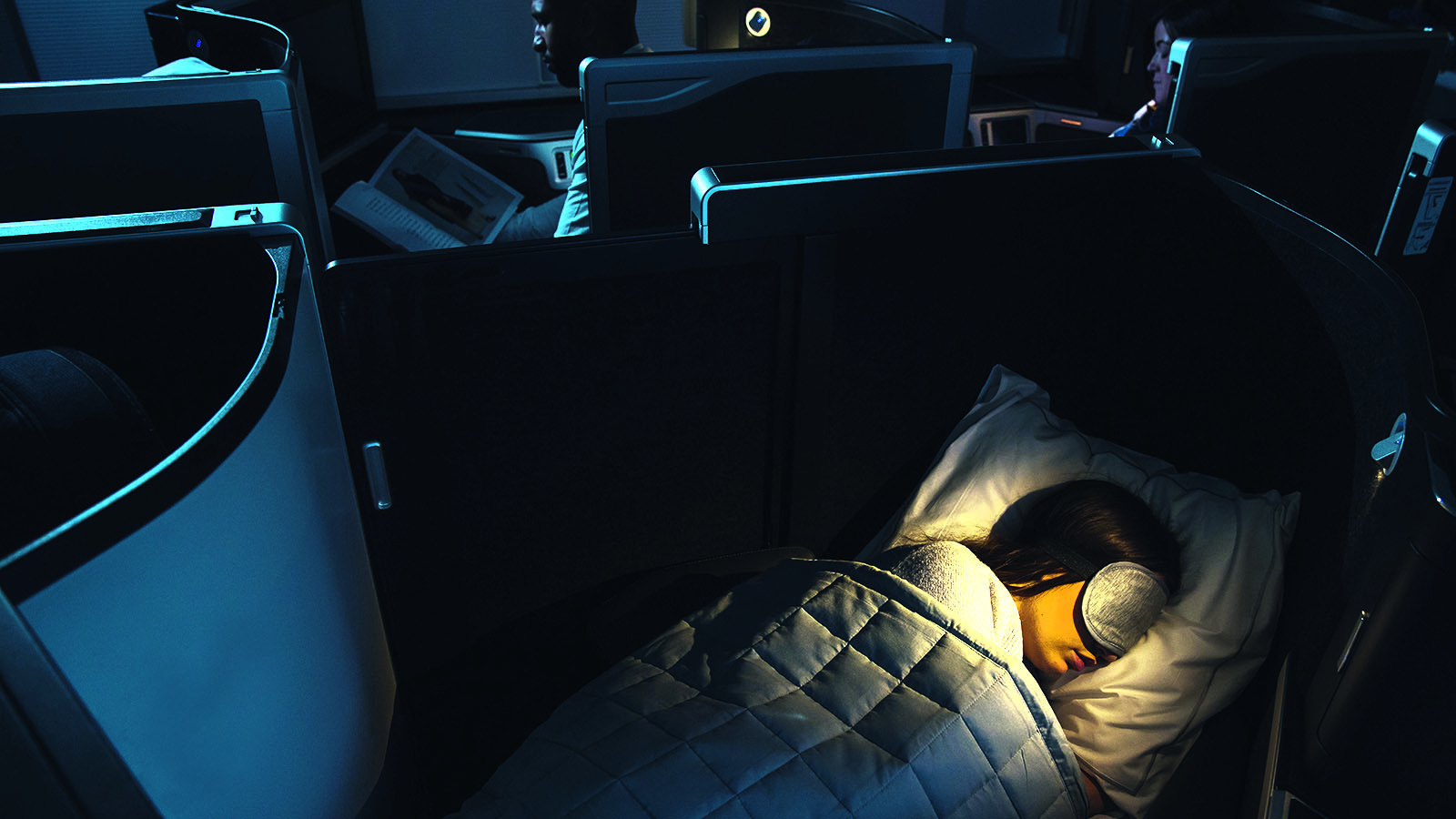 Club Suite is a customised version of the Super Diamond seat by Collins Aerospace. Most airlines using the same seat tend to leave the door off – but that added level of privacy is what separates BA from the pack.
Even without the door, Super Diamond is a superbly comfortable seat. I recently flew it from Vancouver to Brisbane with Air Canada, and enjoyed a solid eight-hour rest. Those with an eye for detail might also see the similarities with Virgin Australia's now-defunct 'The Business' seat. But of that trio, only BA brings the door.
Just note, on flights to Sydney, BA tends to offer Club Suites only over the busier 'northern winter' airline scheduling period. That's late October through late March. In other months, the Boeing 787 often appears – for now, with those less favourable Business Class seats.
Also read: How to book British Airways' Club Suites from Australia using Qantas Points
4. Singapore Airlines' new Airbus A380 Business Class
Where it flies: Selected flights from Sydney and Melbourne to Singapore.
Popular ways to book using points: Singapore Airlines KrisFlyer and Velocity Frequent Flyer.
Many travellers really value privacy in Business Class. After all, that's a key reason our podium rankings above all go to seats with closing doors. But for others, a Business Class experience is less about being closed off from everyone. Instead, it's about sharing a special flight with a special someone.
That's where Singapore Airlines' newest Airbus A380 Business Class seats come into play. You won't find doors, as in Qsuite, Delta One Suite or Club Suite. Instead, three lucky pairs on every flight can combine their seats to form a double bed. These are found only at the bulkhead rows – thus, three couples per flight.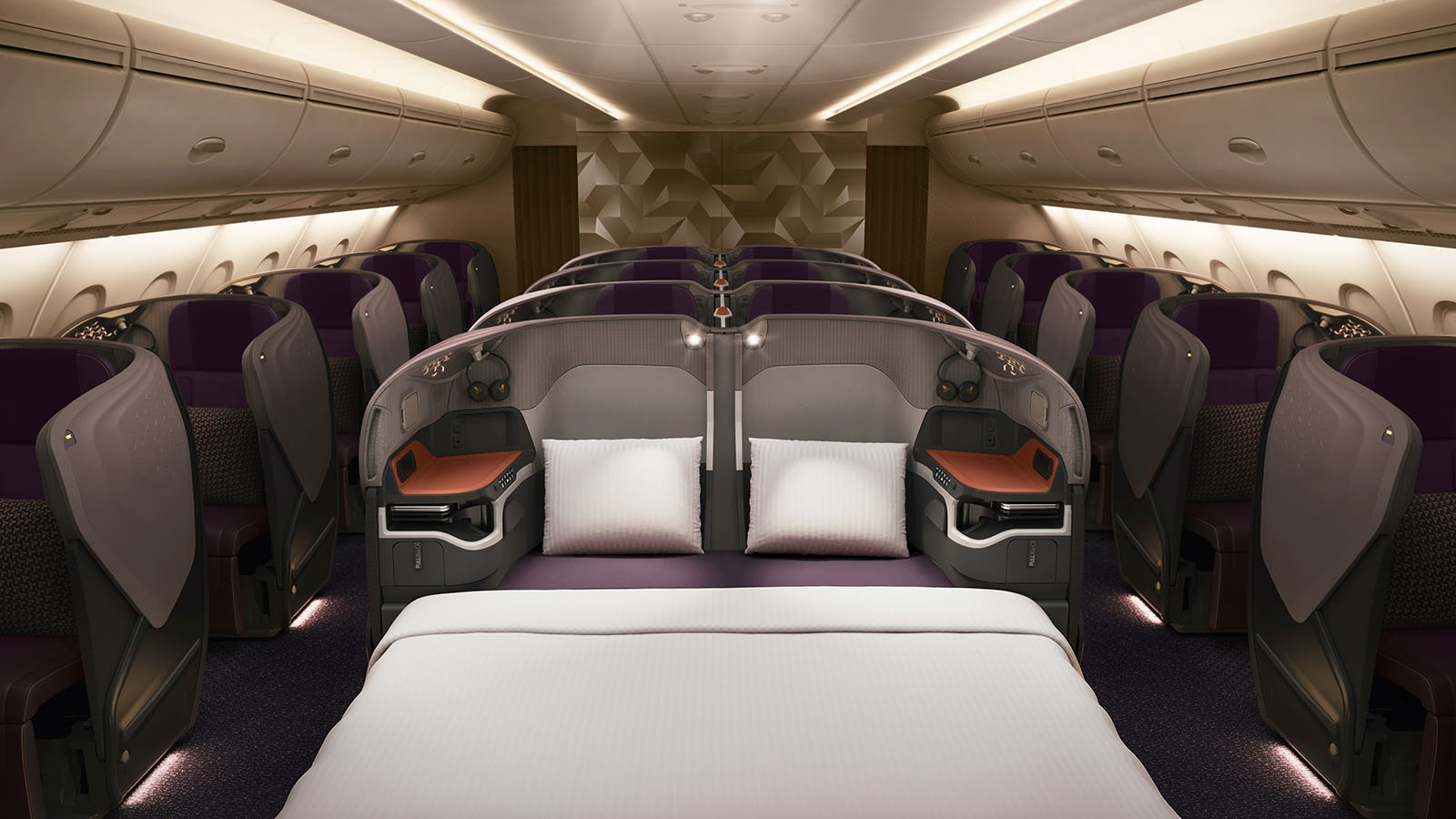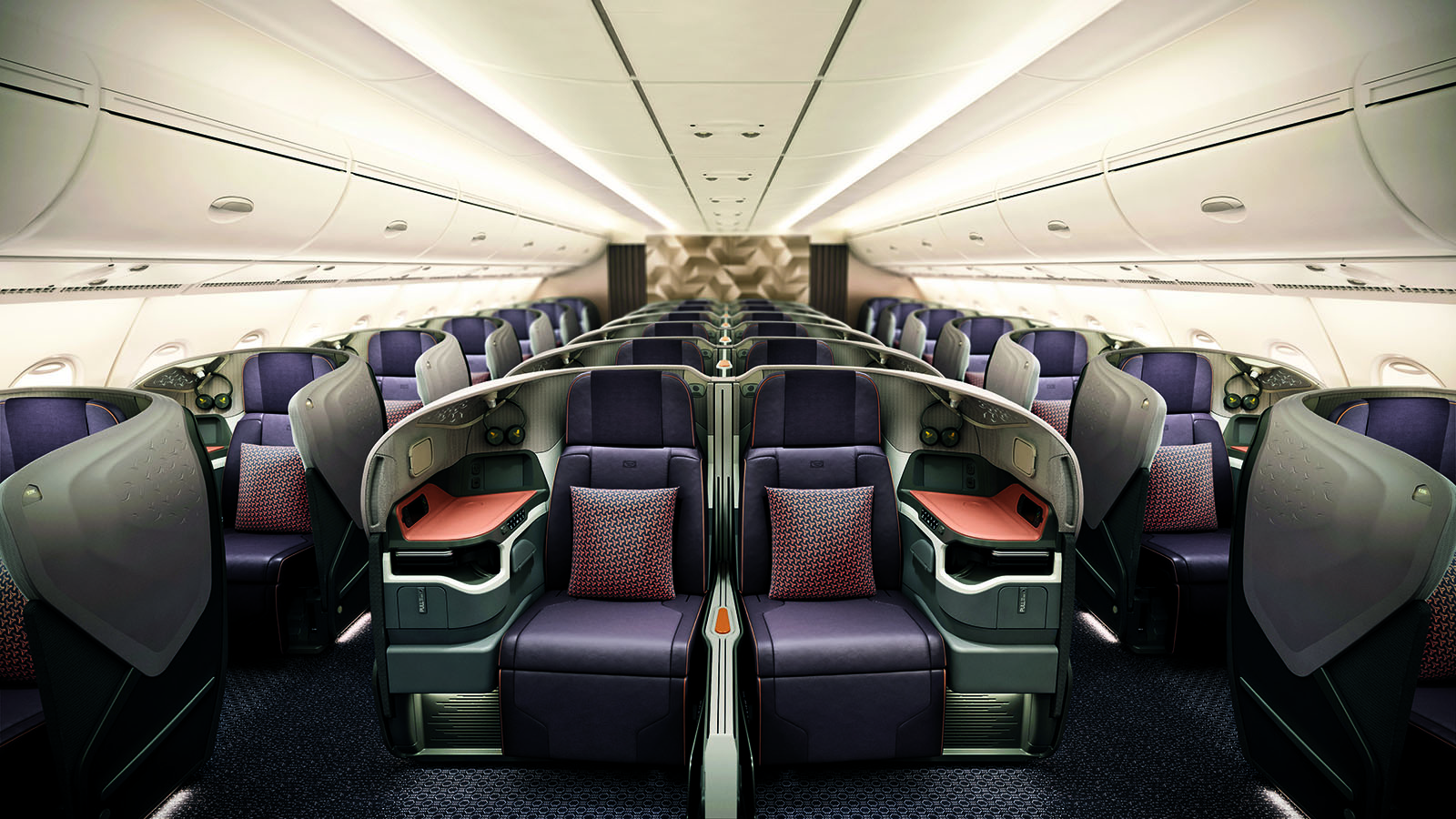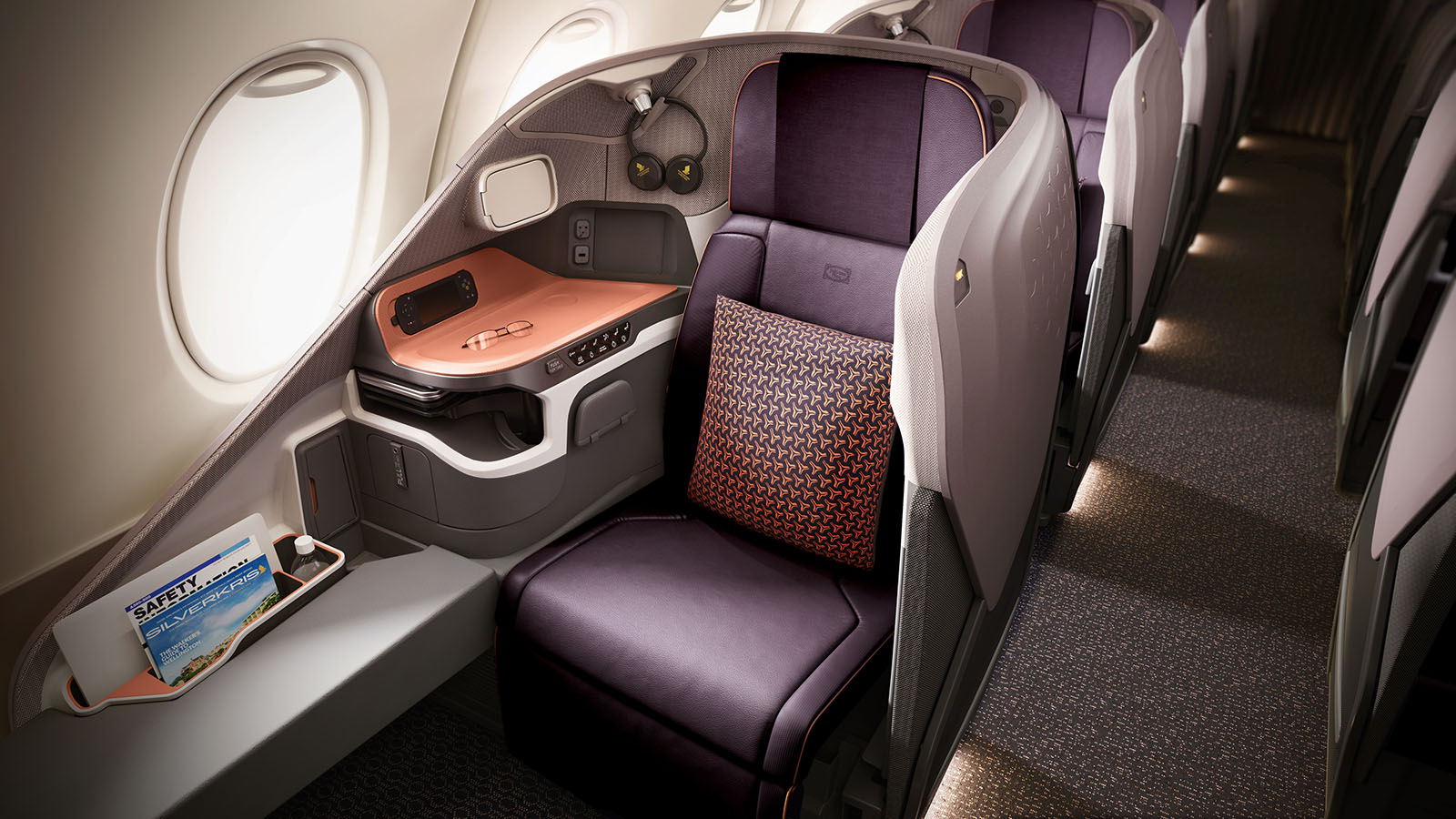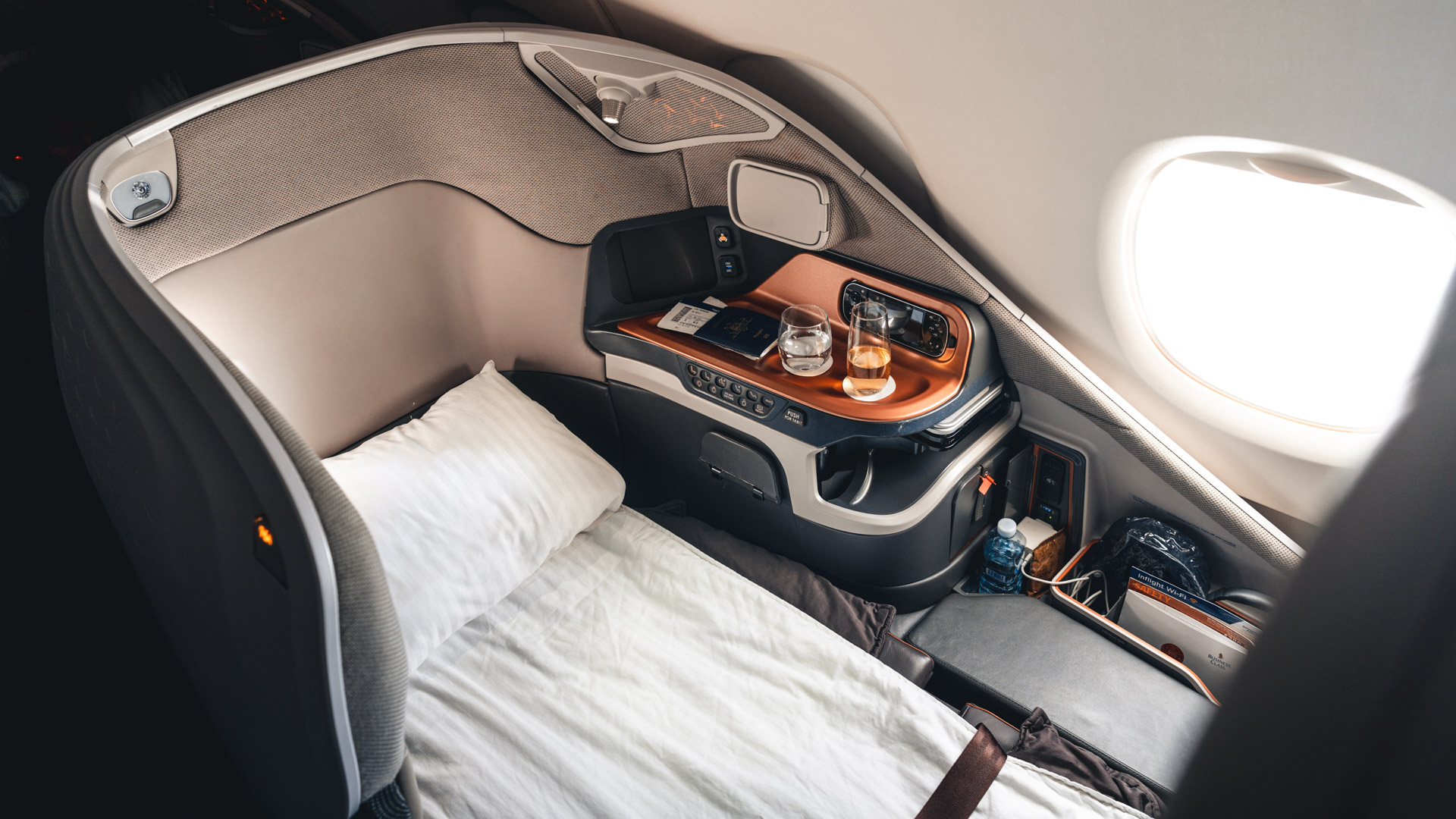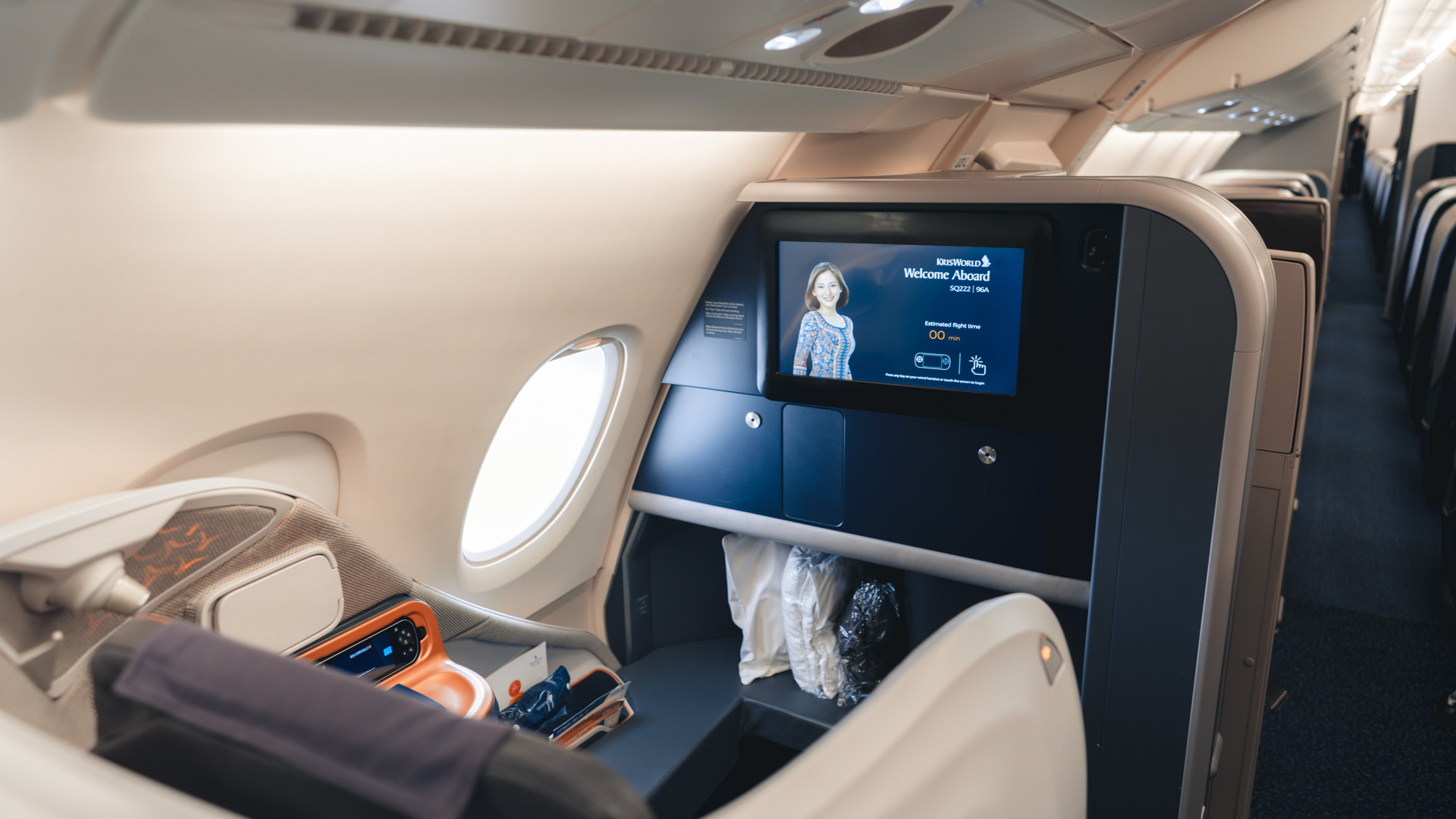 If you're wanting to cosy up, the seats to book are 11D + 11F, 91D + 91F and 96D + 96F. In these magic rows, just ask the crew to make up your bed, and it's done. During waking hours, you can sit together too – something possible at every centre pair of seats.
While having double beds secures Singapore Airlines' place in this rundown, the seat is still a solid pick on daytime flights. The design is premium, yet understated. The bold purples you see in images are, of course, out of view once seated. Instead, you feel cocooned by the seat's shell, and have all your bits and pieces within easy reach.
We recognise that some travellers may favour this seat even more highly than those above – particularly when flying with a partner. For others, especially for those beyond six feet tall taking an overnight flight, choosing a bulkhead seat can maximise comfort. Even if that's just a solo seat by the window.
Point Hacks review: Singapore Airlines Airbus A380 Business Class (Sydney – Singapore)
5. China Eastern's Airbus A350 and Boeing 787 Business Class
Where it flies: Sydney and Melbourne to Shanghai (Pudong).
Popular ways to book using points: Qantas Frequent Flyer and Delta SkyMiles.
I can almost guarantee, you're just as surprised to see China Eastern in our top five as some of my Point Hacks colleagues were. But the Business Class seat on China Eastern's Airbus A350s and Boeing 787s is surprisingly good.
This isn't any regular Business Class seat. It's based on the same Thompson VantageXL seat as the Delta One Suite. Okay, I know you're still shocked. But go on – scroll back up, look at Delta One Suite, then scroll back down and look at China Eastern. See what I mean?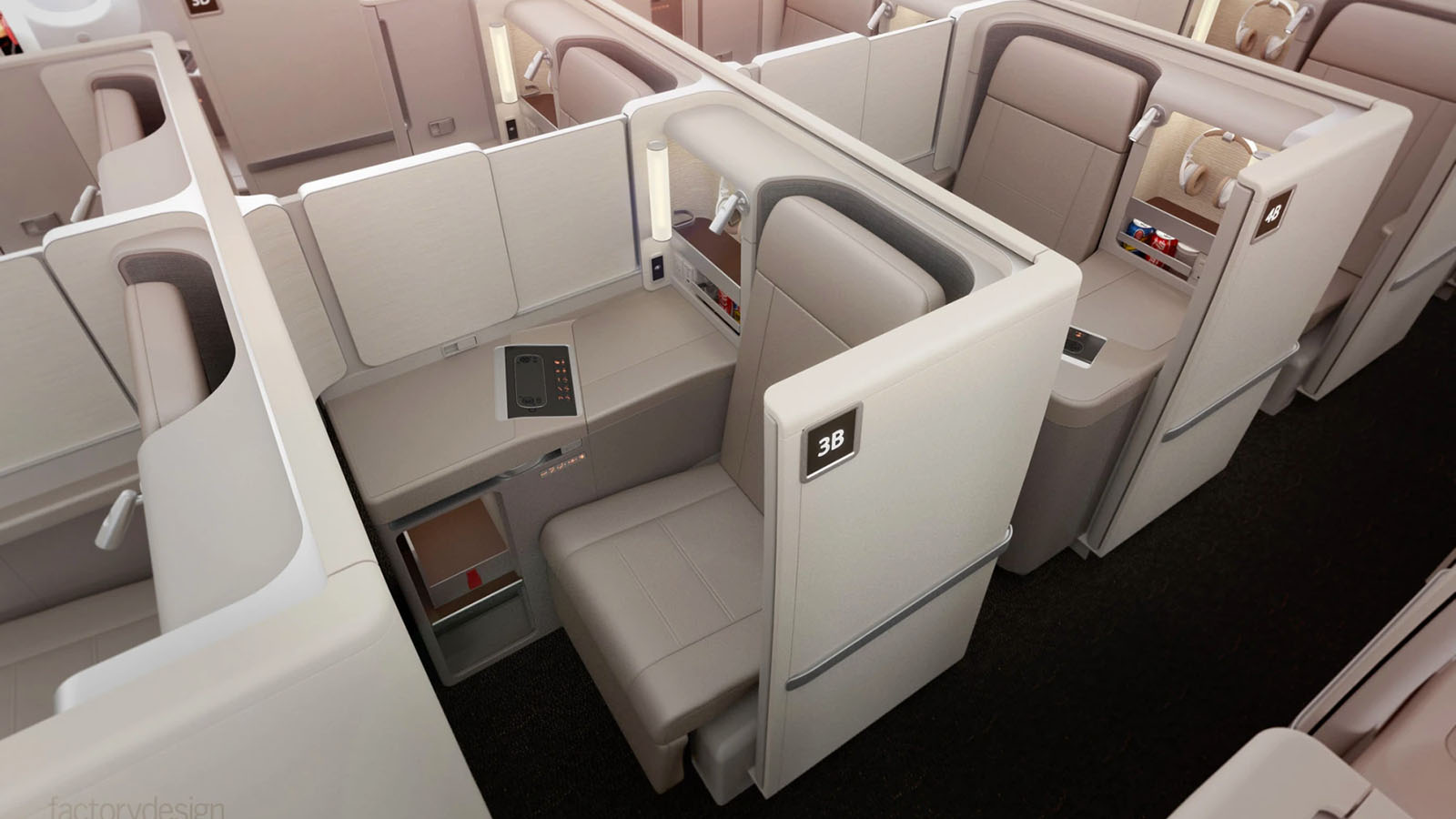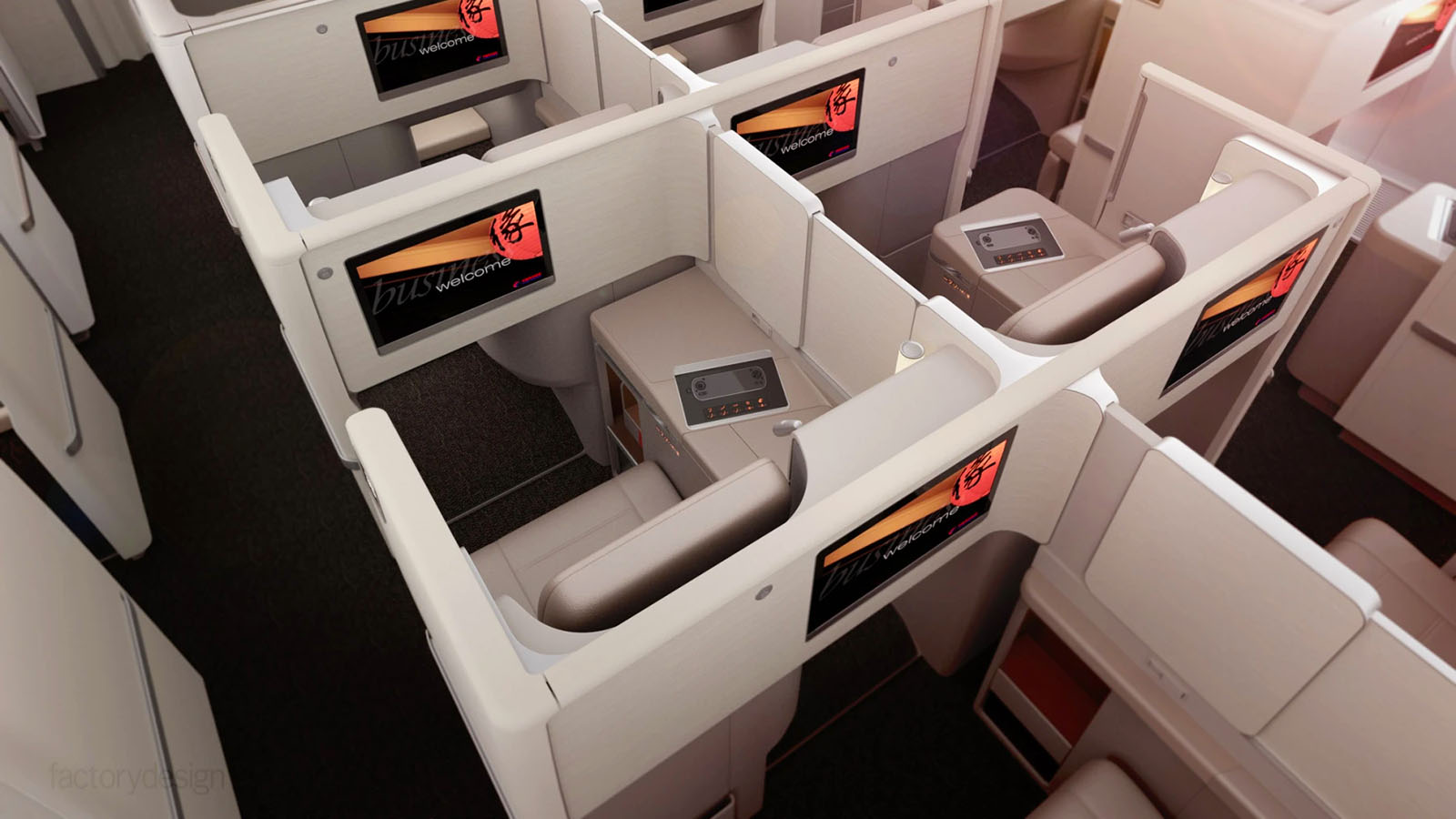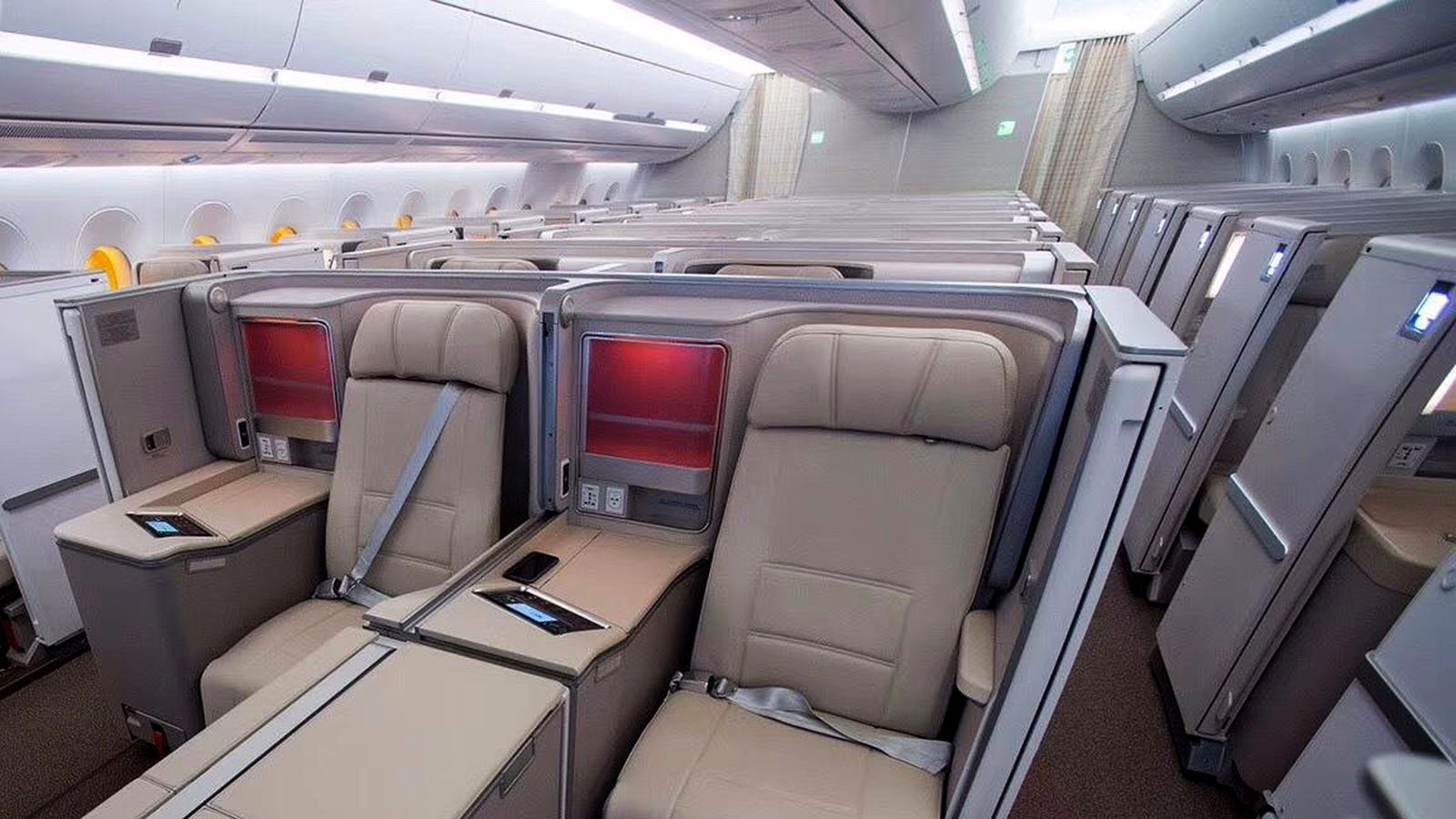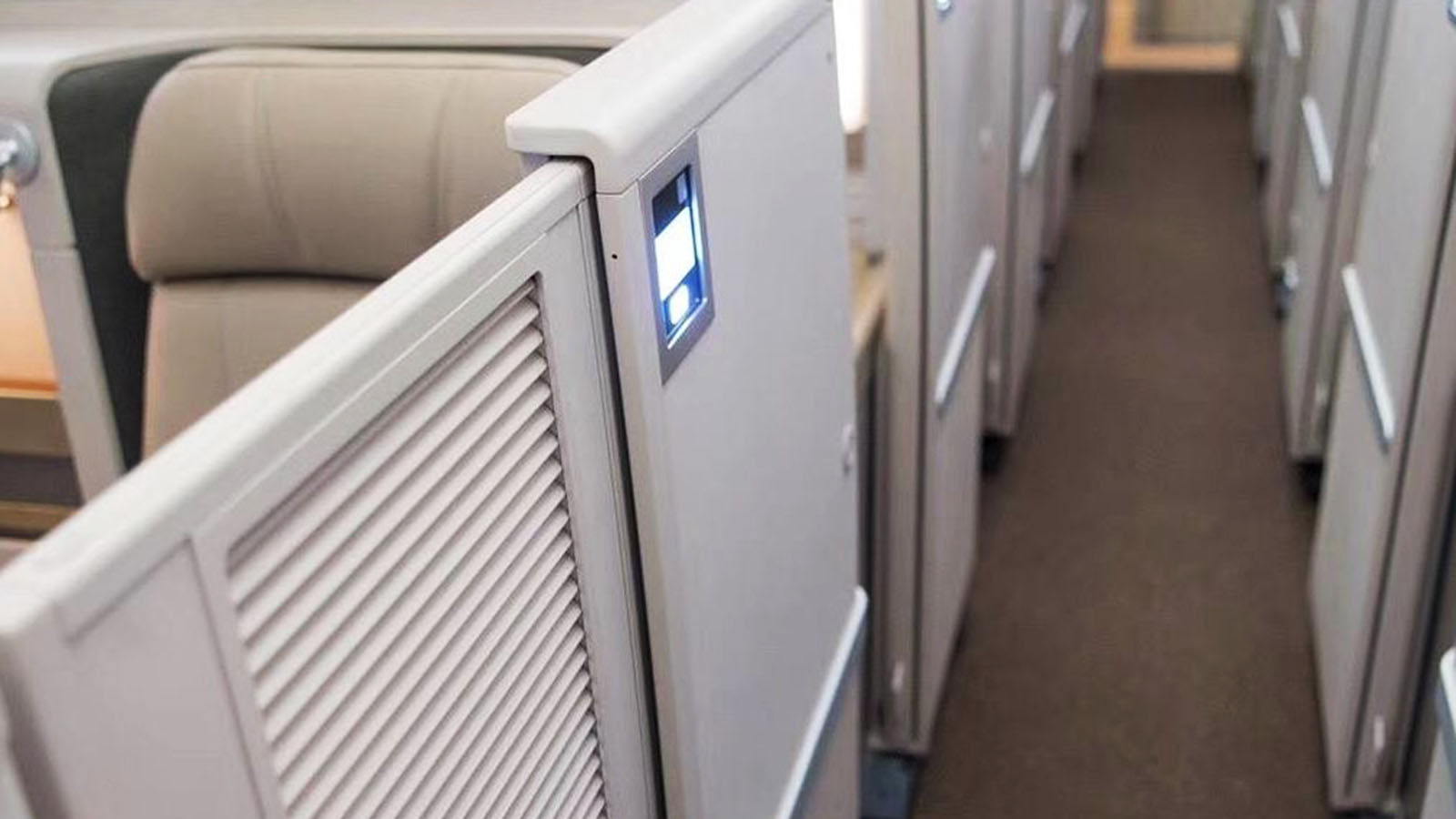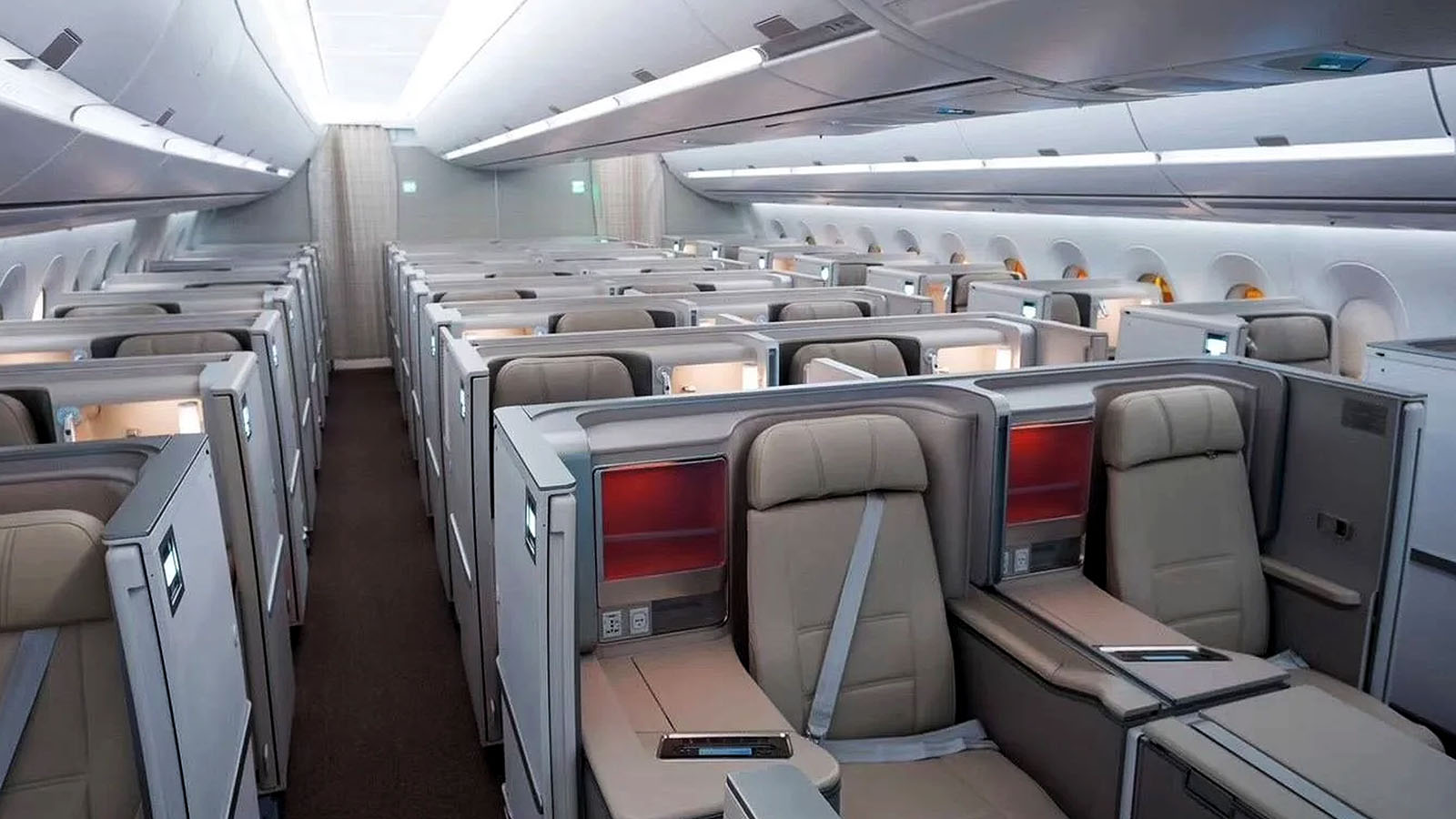 We've ranked China Eastern here for a few reasons. Chiefly, it's the only other Business Class seat flying to Australia with a closing privacy door. The others are already ranked above. And of course, these rankings are all about seats that go above and beyond the usual and expected pairing of a fully flat bed with direct aisle access.
After X-factor, design style also plays a role in these rankings. That's why the similar (but much less plasticky) Delta One Suite is second, and China Eastern's more plainly coloured seat places fifth. But still, if you're taking a direct flight to China, there's no better Business Class seat to travel on.
For the record, yes, I've flown on it. In fact, I was one of the first Australians to experience it, aboard China Eastern's inaugural Airbus A350 flight from Sydney to Shanghai back in 2019. And the two things that remain in my mind are the sense of space and the feeling of privacy. When you're comparing seat to seat, those aspects always stand out.
Also read: A guide to redeeming Qantas Points for China Eastern flights
Summing up
Our picks for the top five Business Class seats all go beyond the more conventional. And of course, different travellers have different priorities – such as whether a double bed or a closing door is more important, if you can't have both.
It's also true that there are many excellent Business Class experiences available on flights from Australia. For me, two others that stand out are the Taiwanese carriers China Airlines and EVA Air. Both fly immaculate Business Class cabins to the east coast: but, with neither a door nor a double bed.
Other airlines with the Airbus A380 – particularly Emirates, Qantas and Qatar Airways – also elevate the experience by offering somewhere else you can sit. That is, an inflight bar or lounge: and yes, I've experienced all of these too, to compare. But again, these rankings are all about the Business Class seat.
Whether you place as much importance on the seat – or instead choose an airline based on the food, drinks, service, lounge experience, loyalty or anything else – is your call. But if all of these elements were considered, any rankings would be highly subjective. And of course, everybody has their own favourite.
On that note, what's your favourite Business Class seat? Vote for your favourite from our top five, and let us know your thoughts via the comments below.
Also read: The five best First Class seats flying from Australia
Except where otherwise credited, all imagery courtesy of the respective airline.
---
Stay up to date with the latest news, reviews and guides by subscribing to Point Hacks' email newsletter.
The five best Business Class seats flying from Australia
was last modified:
August 9th, 2023
by