Hong Kong's flag carrier will end its four-times-a-week service to Far North Queensland on 27 October 2019.
According to Routesonline:
The oneworld member launched Cairns service in 1993.
The airline will still serve the five major Australian airports (Sydney, Melbourne, Brisbane, Perth and Adelaide). Some of Cathay's Brisbane services currently connect through Cairns during off-peak dates, so they will become nonstop flights moving forward. This is good news for Brisbanites.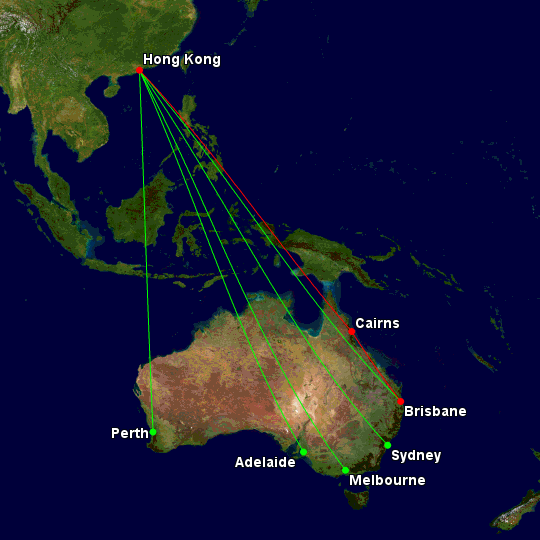 Currently, the Cairns flight is operated by an Airbus A330 with three cabins—Business, Premium Economy and Economy Class.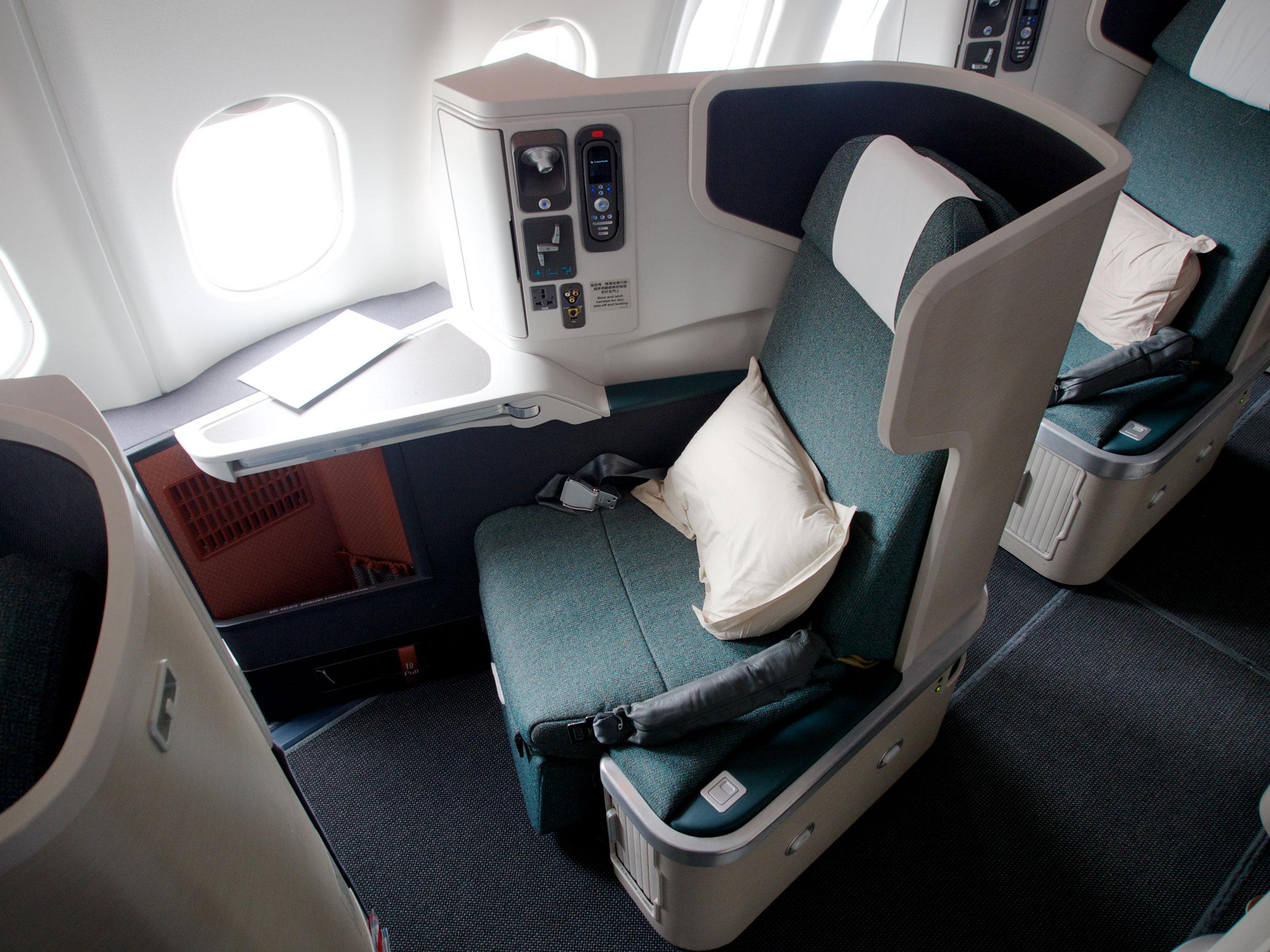 Reports from frequent flyers are that the flights are usually full or close to full. However, there are indications that the economics of the flight weren't working out.
This announcement follows competitor Hong Kong Airlines' cancellation of its Cairns service in October 2018.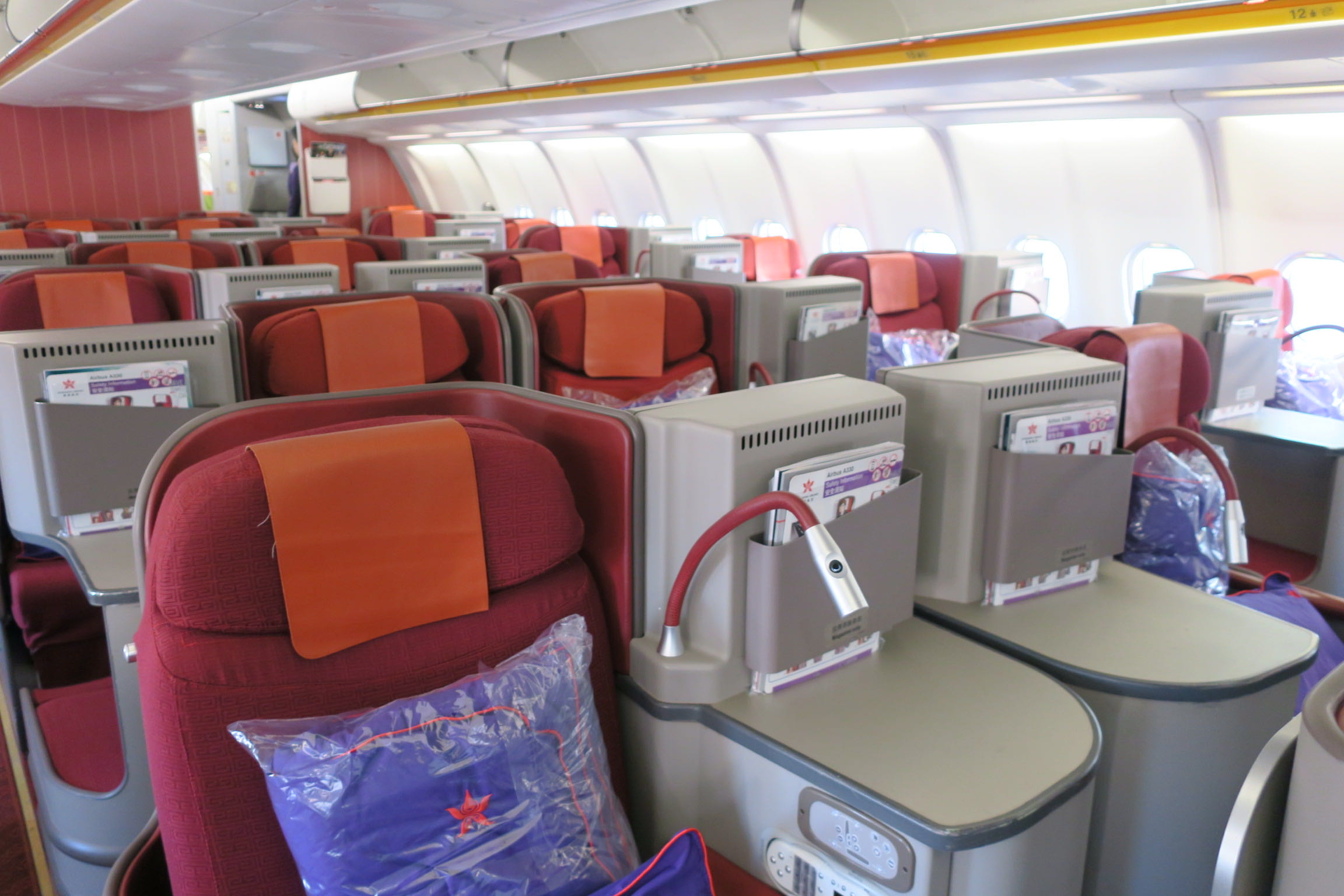 If you are a passenger affected by these changes, contact Cathay Pacific or the frequent flyer program through which you booked.
What's next for Cairns?
Following Cathay's acquisition of low-cost carrier HK Express, due to be completed by the end of this year, we may see their flights replaced by the incorporated brand. Or Cathay's regional subsidiary Cathay Dragon may launch flights.
As far as I can tell, this cancellation leaves Air New Zealand's Auckland and Hainan's Shenzhen flights as the only two remaining services with lie-flat Business Class seats operating out of Cairns.
---
In this guide
Hong Kong-based oneworld alliance member Cathay Pacific is a favourite carrier of ours here at Point Hacks, offering one of the most superior and consistent First and Business Class experiences of any premium carrier in the world.
The airline offers a high-frequency schedule between Australia and Hong Kong and onto a wide network of destinations, comfortable lie-flat Business Class seats, and generous award availability.
In this guide, I explore Cathay Pacific's routes, aircraft and premium cabin products, teach you how to calculate how many points you need for your next trip on the airline, analyse which frequent flyer programs offer the best value, advise how and when to book an award seat, and provide links to Point Hacks reviews of Cathay Pacific flights.
Cathay Pacific routes, aircraft and cabins
Cathay Pacific has one of the most extensive offerings of any international airline servicing Australia, with flights between its Hong Kong hub and:
Adelaide
Brisbane
Cairns (ends 27 October 2019)
Melbourne
Perth
Sydney
Further afield, here are Cathay Pacific's destinations (as of April 2019), concentrated on Asia, North America, Europe, the Middle East and South Africa (in order of most to least destinations):

Its full-service subsidiary Cathay Dragon destinations operates exclusively within Asia:

Cathay also operates a number of fifth-freedom flights (services that do not originate or terminate in Hong Kong) between:
Vancouver and New York JFK (an excellent transcontinental option in First or Business Class)
Taipei and Seoul, Tokyo, Osaka, Nagoya and Fukuoka
Bangkok and Singapore
First Class
This cabin is flown exclusively by the Boeing 777-300ER mostly on long-haul flights with six open suites in a 1-1-1 configuration. It is renowned for its wide seat and excellent lounge access options.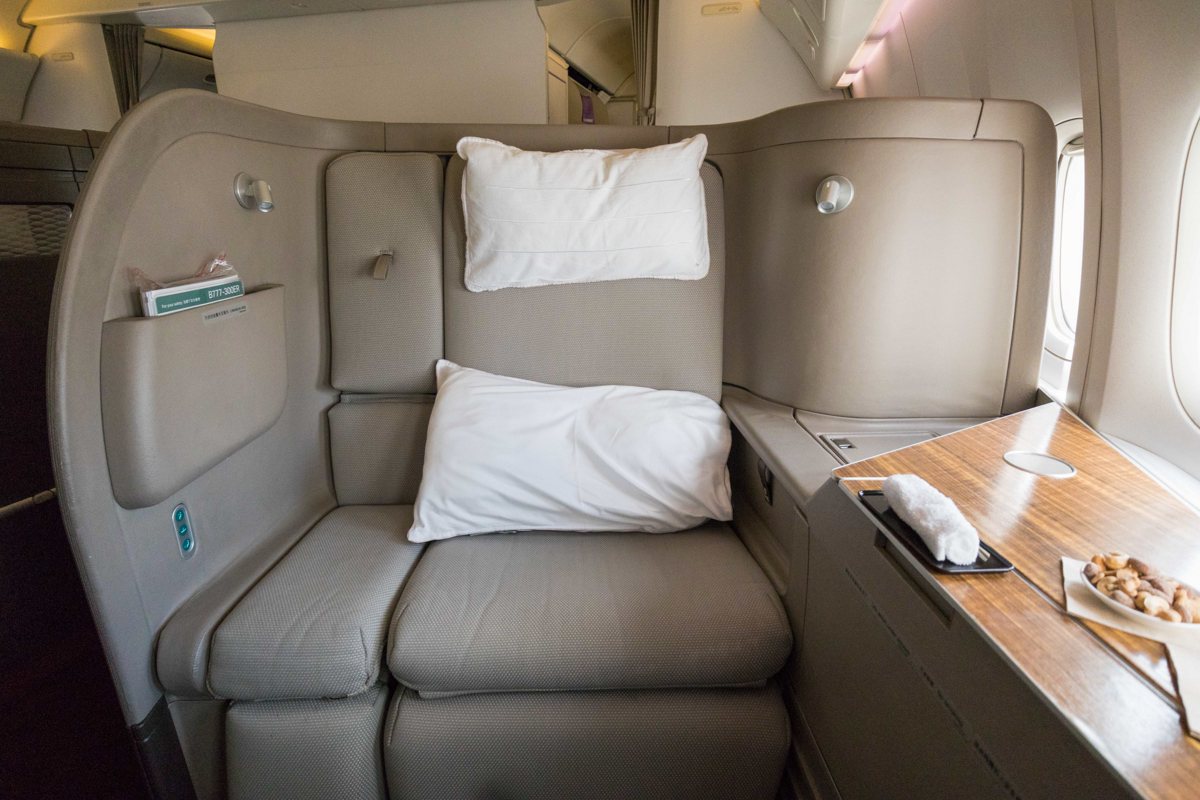 Here are the routes with the First Class product:
North America
Boston
Chicago
Los Angeles
New York
San Francisco
Vancouver
Europe
Frankfurt
London Heathrow
Milan
Paris
Zurich
Asia
The airline used to operate First Class on intra-Asia routes to Taipei, Manila, Bangkok, Singapore, Shanghai and Seoul, but stopped selling these tickets in June 2019.
These are the cheapest ways to experience Cathay Pacific First Class using Qantas Points, with Hong Kong – Beijing/Tokyo and New York – Vancouver being two highlights.
Departing Hong Kong, you'll have access to two excellent First Class lounges. Which one is better?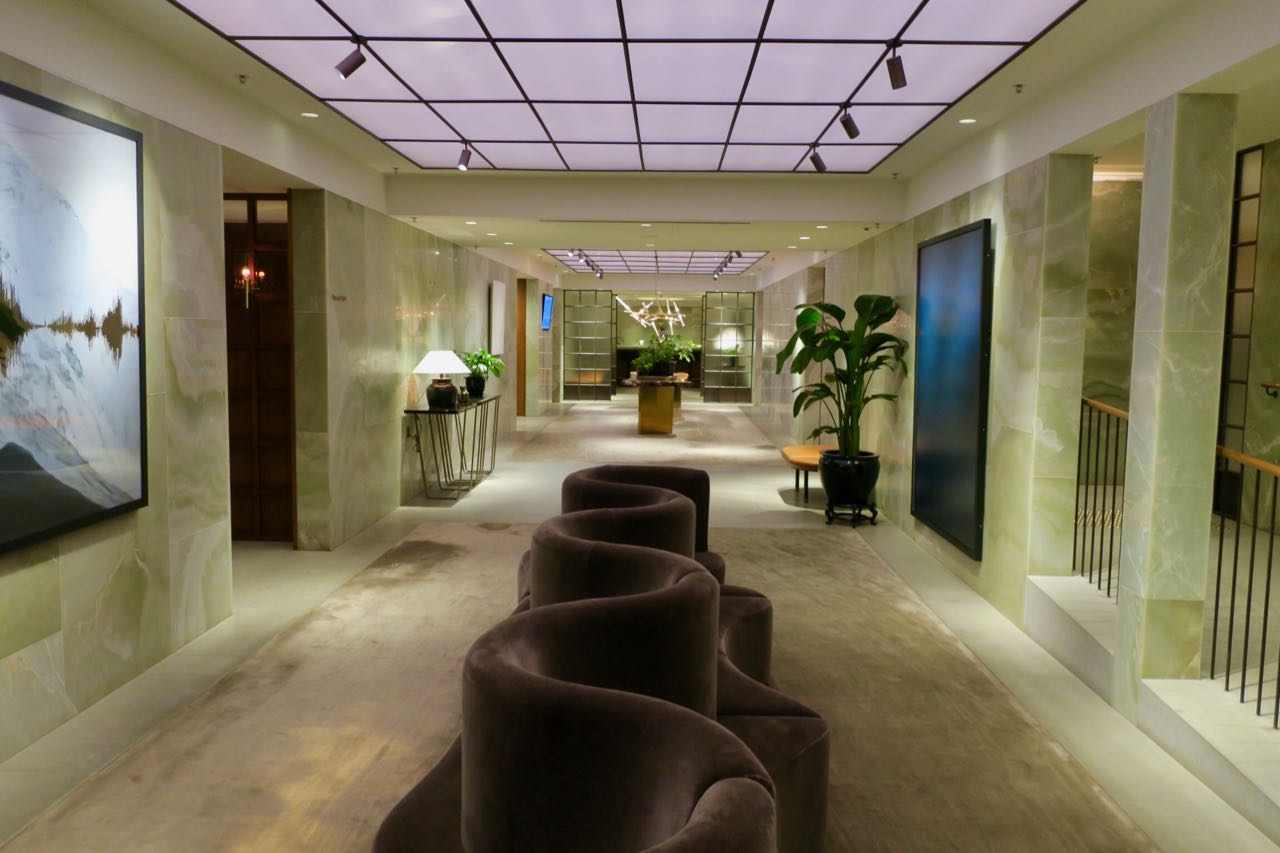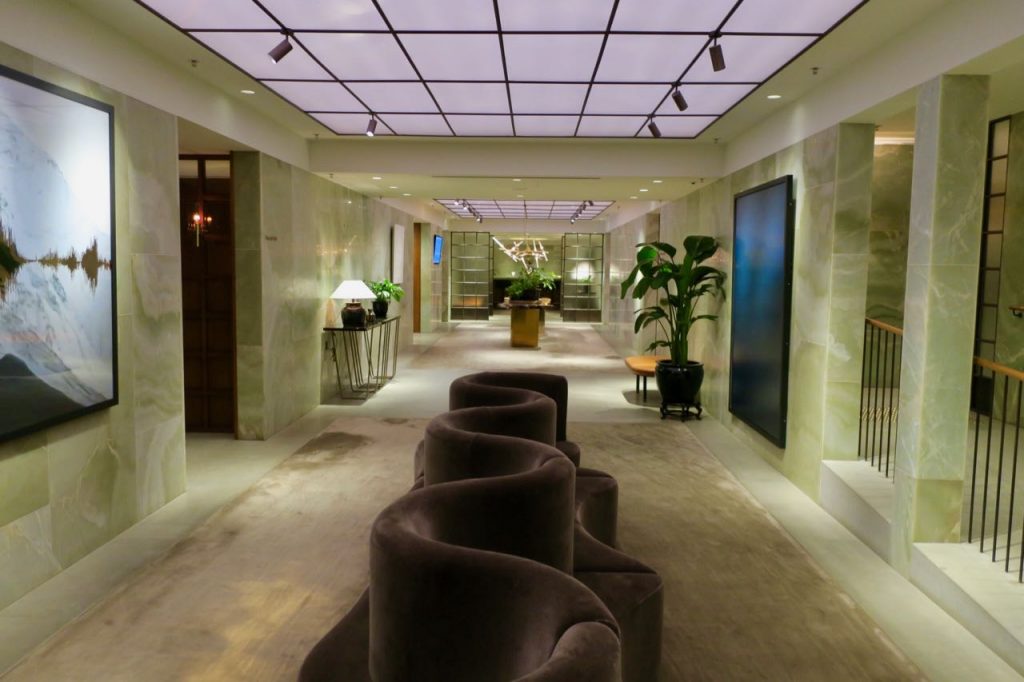 Business Class
The majority of Cathay's medium- and long-haul routes are serviced by a combination of Boeing 777-300ER and Airbus A330 and A350 aircraft, featuring lie-flat Business Class seats in a 1-2-1 configuration.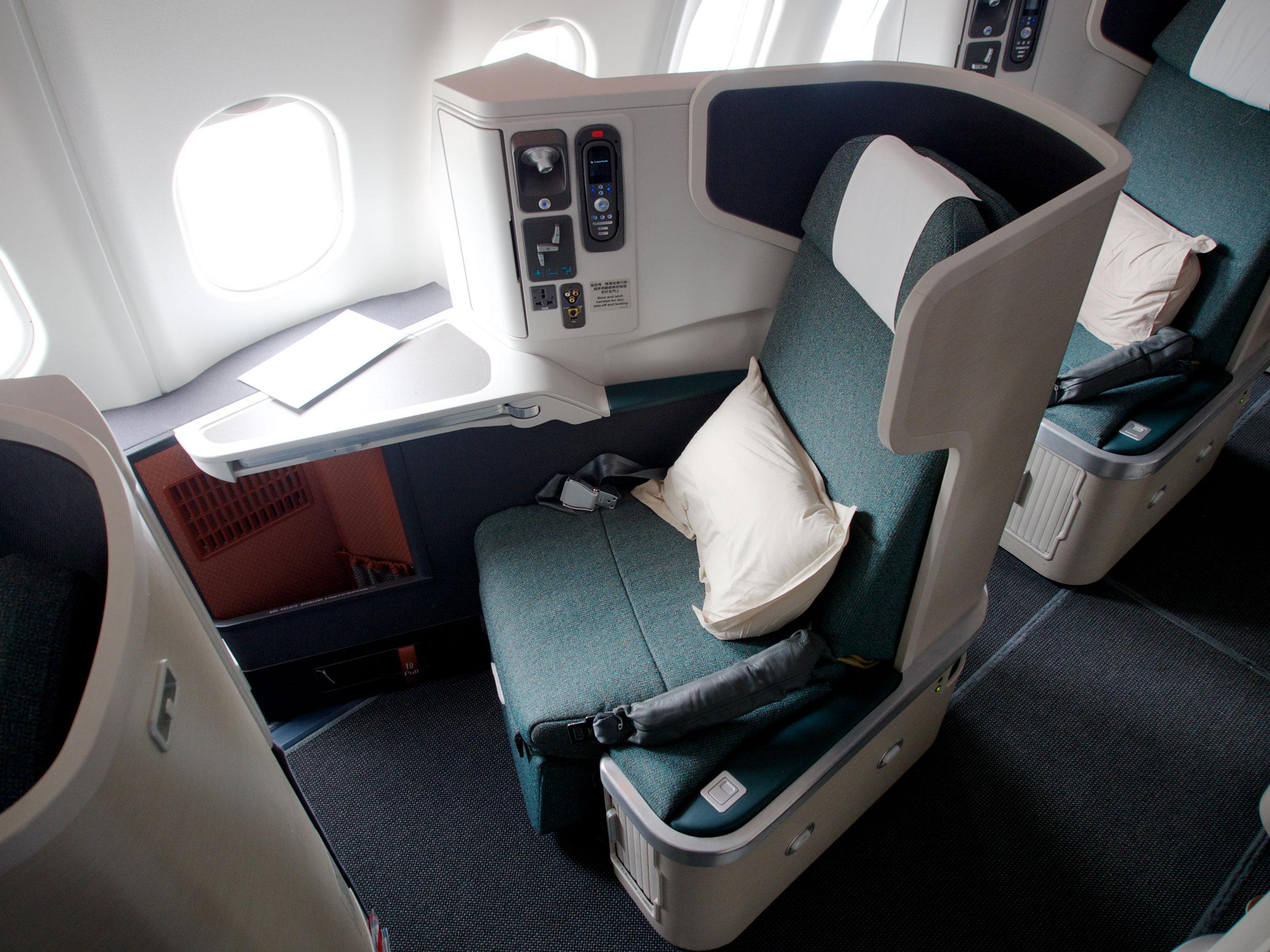 There are two exceptions to this:
Routes serviced by the Airbus A340 also have a lie-flat seat but in a 1-1-1 setup
Regional routes serviced by some Airbus A330 and Boeing 777-200 and -300 aicraft have angled seats in a 2-2-2 or 2-3-2 layout—try to avoid this aircraft if you can
The most modern aircraft in the fleet, the A350, is gradually replacing the older A330s. It has been introduced between Hong Kong and Melbourne, Brisbane and Perth, with Sydney to follow from 27 October 2019.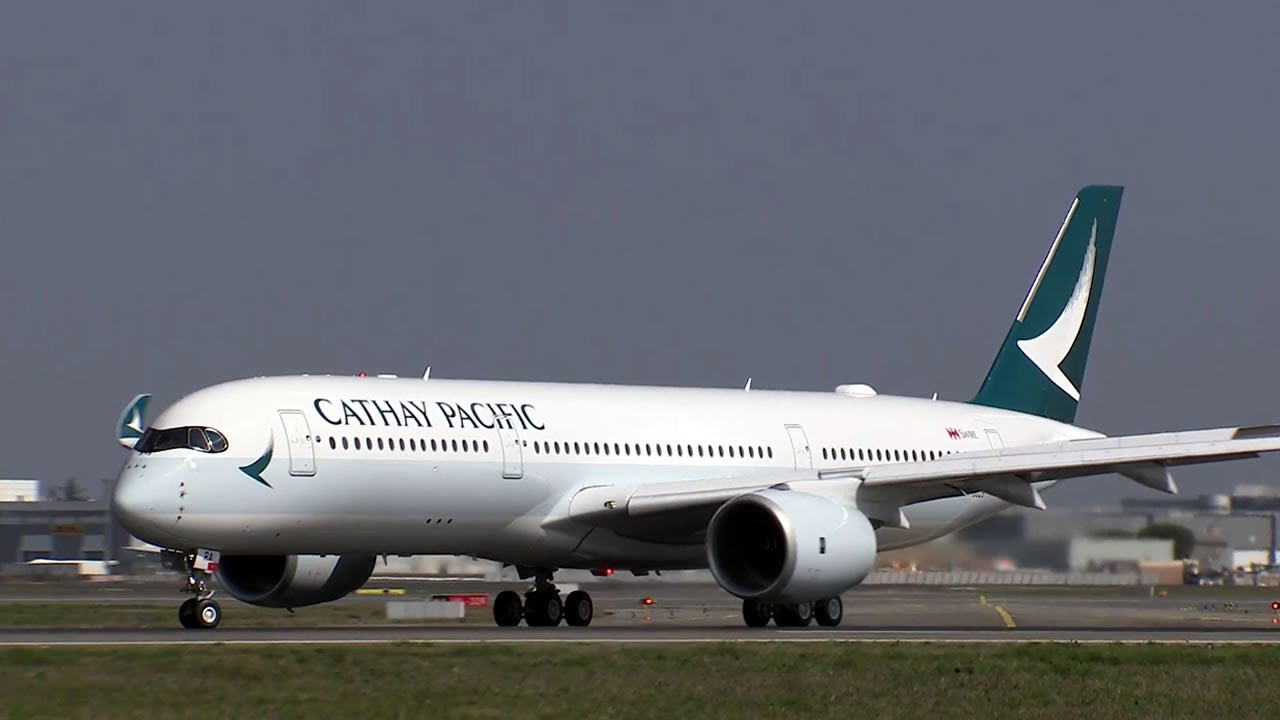 Premium Economy
Premium Economy can be found mostly on medium- and long-haul routes in a 2-3-2 or 2-4-2 configuration.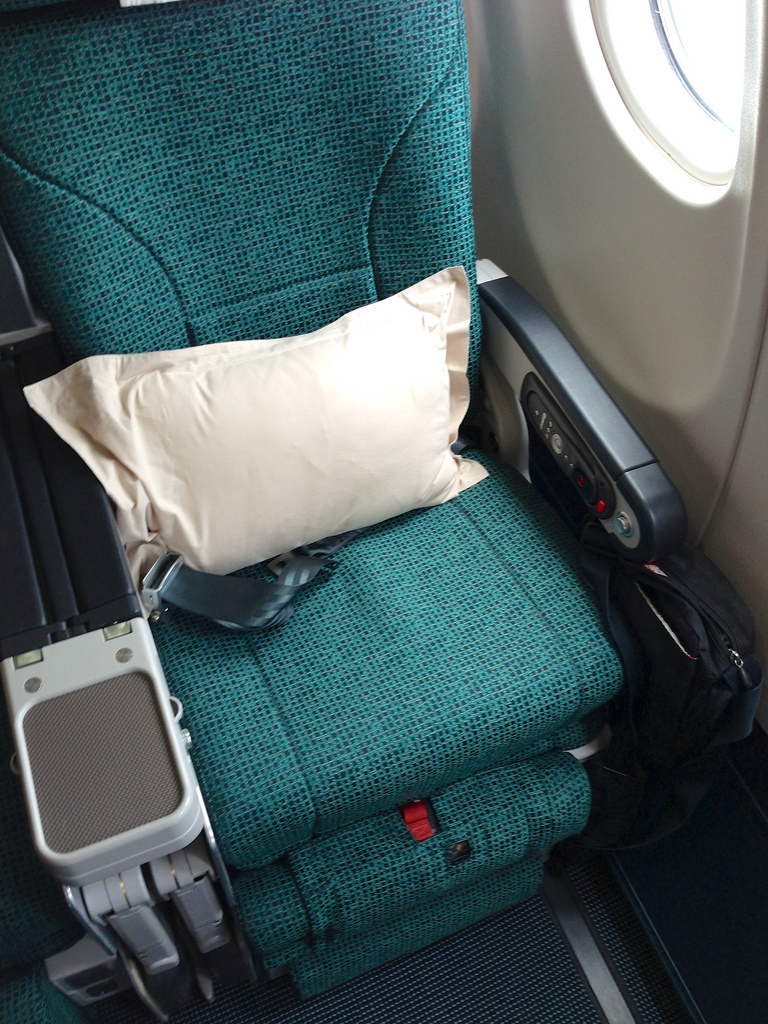 To understand why we focus on premium cabin redemptions rather than Economy Class ones, check out our guide to maximising value from points.
How to calculate points pricing and taxes
Say you want to book an award flight from Hong Kong to London Heathrow.
Step 1: To calculate the distance between the two airports, go to Great Circle Mapper and enter the airport codes HKG-LHR in the search box (Google 'Hong Kong airport code' if you don't know the code). We measure distance for frequent flyer programs in miles, not kilometres: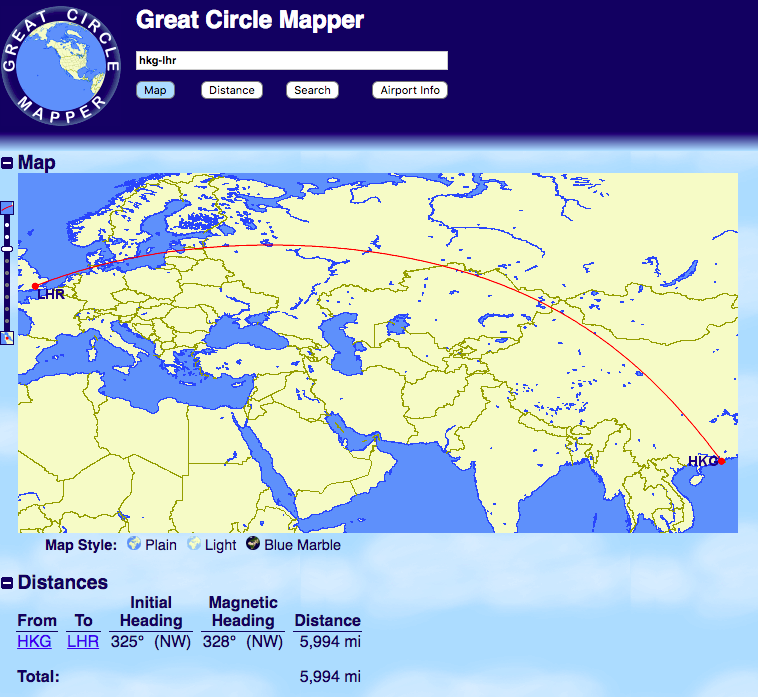 When clicking through to the Asia Miles award chart, I can see my 5,994-mile trip to London Heathrow would cost 65,000 one-way/130,000 return in Business Class.
Step 3: To calculate the taxes payable on your award flight, you have a few different options:
If you are an Asia Miles member, go to the Asia Miles online booking tool, enter the flight details and if there are open seats, you will see the taxes displayed on the results page (in this case, HK$345 = ~AU$60):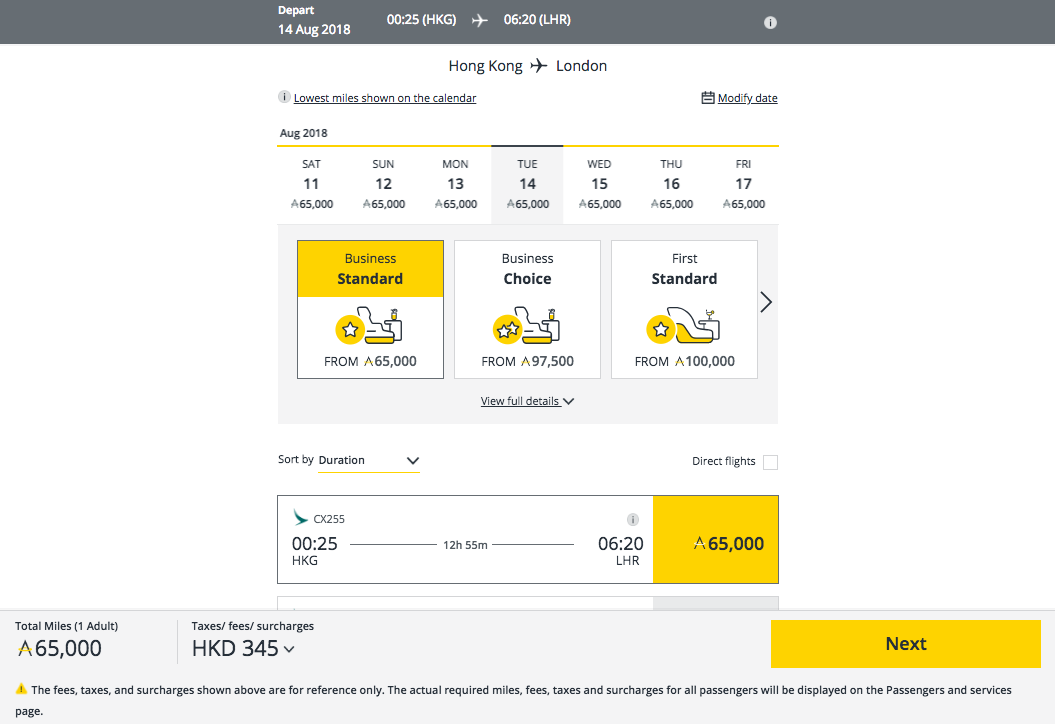 If you are using another frequent flyer program like Qantas or AAdvantage, the taxes will show on the results page there (again, as long as there is award availability).
If there is no award availability, you might consider using the more advanced ITA Matrix method.
A comparison of points pricing
Here is a side-by-side comparison of one-way redemption values for five easily-accessible frequent flyer programs for Australia-based travellers aiming to book awards on Cathay Pacific:
| Route and cabin | Asia Miles | Qantas FF | Alaska Mileage Plan | AAdvantage | BA Exec Club |
| --- | --- | --- | --- | --- | --- |
| Any Australian city to Hong Kong | 45,000 | 65,000 (53,000 for Cairns) | 30,000 | 40,000 | 75,000 (60,000 for Cairns & Perth) |
| Hong Kong to Bangkok Business | 25,000 | 26,000 | 22,500 | 20,000 | 16,500 |
| Hong Kong to Johannesburg Premium Economy | 40,000 | 75,000 | 35,000 | Cabin N/A | 72,250 |
| Melbourne to Tokyo Business | 65,000 | 92,000 | 30,000 | 40,000 | 92,750 |
| Sydney to Vancouver Business | 85,000 | 139,000 | 60,000 | Route N/A | 154,500 |
| Brisbane to London Business | 85,000 | 139,000 | Route N/A | 85,000 | 154,500 |
| Hong Kong to New York First | 125,000 | 152,000 | 70,000 | 80,000 | 206,000 |
Sweet spots
Alaska Mileage Plan: offers overall the best value redemptions on Cathay Pacific but you'll probably have to buy miles to get a hold of them; no fuel surcharges; redemptions from Australia to Africa, Europe, India and the Middle East via Hong Kong with Cathay Pacific must be booked as two separate awards; all other redemptions can be booked as one award with a free stopover; you cannot use Mileage Plans miles for redemptions on Cathay Dragon—only Cathay Pacific
AAdvantage: this program offers the second best value overall, especially when travelling from the extreme of one region to another, e.g. Perth to New York, Melbourne to London; no fuel surcharges; only layovers up to 24 hours permitted for free, otherwise, two separate awards needed
British Airways Executive Club: offers good value for intra-Asia trips; as BA calculates cost based on each leg, you may as well book two one-way segments and have a stopover in Hong Kong (if that is not your final destination); fuel surcharges applied
Asia Miles: allows one stopover on one-way and two on roundtrip awards; fuel surcharges applied
Qantas Frequent Flyer: not much good news here—amongst the highest redemption rates and fuel surcharges applied; only layovers up to 24 hours permitted for free, otherwise, two separate awards needed
How to search for award availability
See our guide to searching for award space most efficiently.
Do you need to call to book or can you do it online?
When does award calendar availability open up?
Cathay will release award seats to its own Asia Miles members 360 days before departure for its Choice and Tailored awards, and 353 days before departure for its Saver awards.
British Airways and Qantas get next dibs at 354 and 353 days, respectively.
And then AAdvantage and Mileage Plan members can access Cathay award seats 331 days before the flight.
Historically, Cathay will also then release most unsold First Class seats 24-48 hours before departure.
Summing up
If you've got access to Asia Miles, Qantas Points, Avios, AAdvantage or Mileage Plan miles, then a Business or First Class redemption on Cathay Pacific will most likely get you good value out of your points, as well as a professional and comfortable experience both on the ground and in the air.
Do try to line up your flights so they provide you with a modern aircraft and product, and take advantage of free stopovers with Asia Miles and Mileage Plan redemptions.
Links to related guides and reviews
Guides
Flight reviews
Lounge reviews
Supplementary images courtesy Cathay Pacific.
Cathay Pacific cutting Cairns service from October
was last modified:
June 25th, 2019
by