Even with the changes affecting Amex cards in April 2019, the American Express Qantas Ultimate card still remains to be one of the highest-earning Qantas Points cards in the market.
In addition to our 7 'Ultimate' ways to use Qantas Points, we wanted to hear from you, so we put a shout out asking our readers to share real-life stories of how they had chosen to use Qantas Points for a trip that was new, different, or otherwise one that they wouldn't have taken in the same way. For us, that's what points are all about. Here are a few of those stories…

Our take on the 'Ultimate' uses of Qantas Points is here – it looks like readers agree!
This article was produced in partnership with American Express.
---
Win 1: Chris & Erin fly to Auckland in First Class for their ten-year wedding anniversary
Qantas Points used: 216,000 points (jumps to 248,800 from 18 September 2019) + $399 in taxes
Route: Melbourne – Auckland – Melbourne
Airline: Emirates
Cabin: First Class
Neither of us had ever flown international First or Business Class before, so we were both very much looking forward to seeing how things were 'at the pointy end' or more appropriately 'upstairs at the pointy end' in Emirates A380 First Class Suites.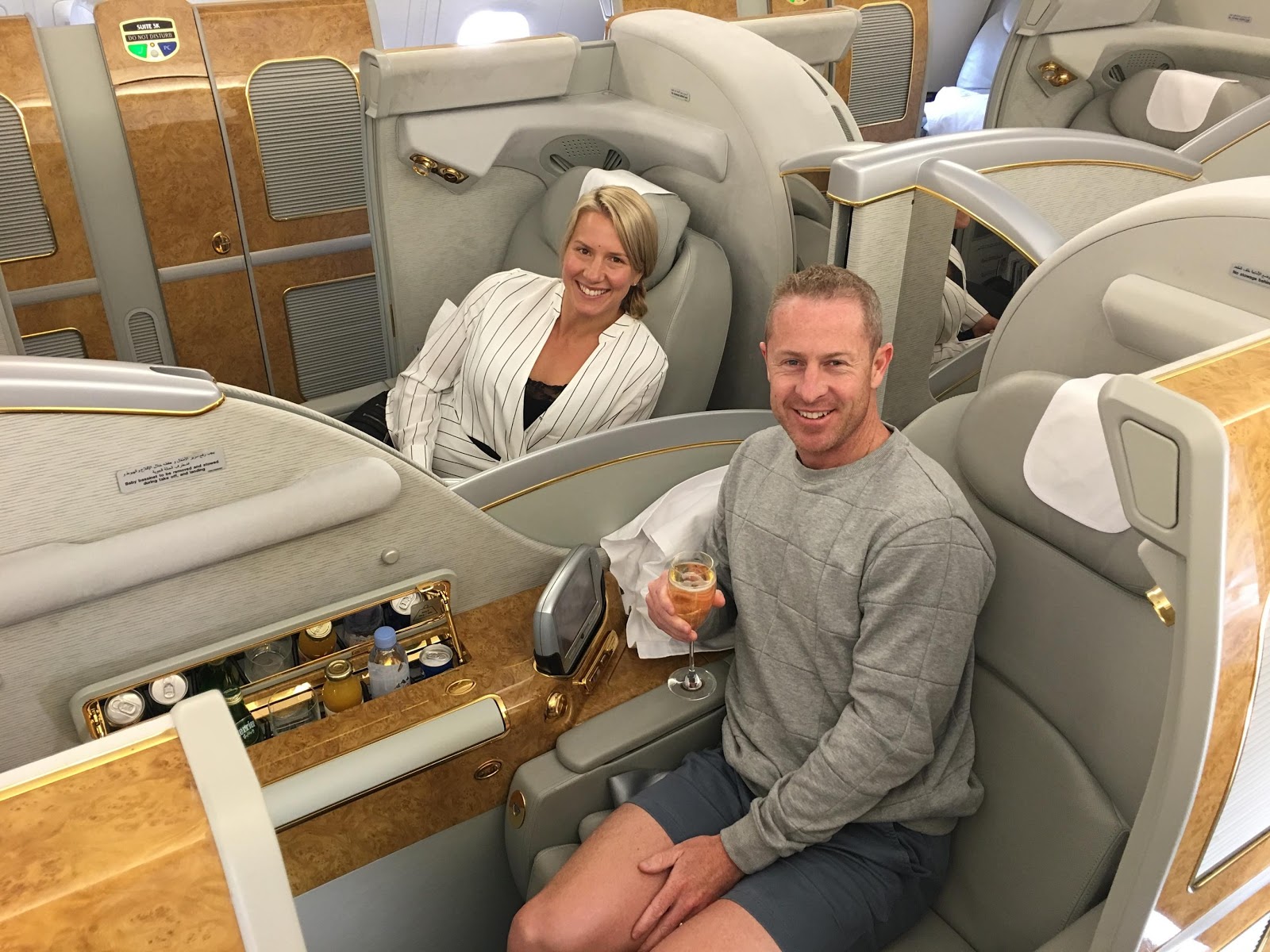 Our departing flight left Melbourne at 8am, which coincided nicely with the 6am opening time of the Qantas First Class Lounge (which Point Hacks has reviewed here). Erin and I were the first customers for the day and this gave us the opportunity to test out the à la carte breakfast menu.
We tested the famed Dom Perignon 2006, which was fantastic, and took a walk through the Business Class cabin to order a drink at the onboard bar. After a few glasses of Dom, it was time to test the quality of the lie-flat bed – I can confirm that it was indeed extremely comfortable.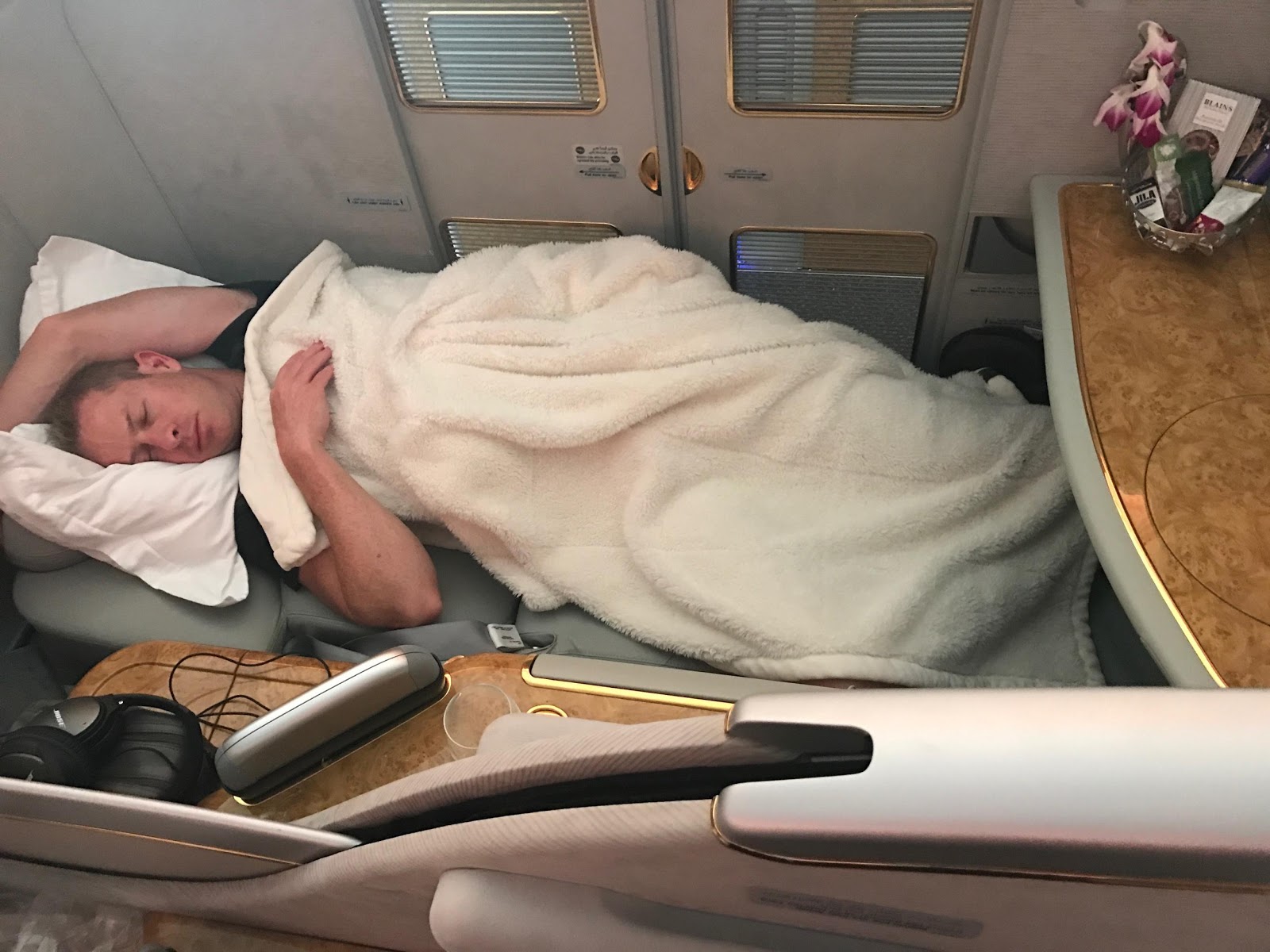 The flight itself was a fantastic experience with wonderful service and friendly staff who were only too keen to help. We were treated to our own excellent quality pyjamas and amenity kits which we were told were 'available upon request' on the short trans-Tasman flight.
We really could have done with another few hours on board but, all in all, it was a wonderful experience.
I'd thoroughly recommend testing out the Emirates A380 First Class Suite, even if only one way for the paltry sum of 54,000 Qantas points each way plus minimal taxes flying from (now only) Sydney to Christchurch. We felt like royalty for a few hours and it certainly set the scene for a wonderful ten-year wedding anniversary celebration.
---
Win 2: Marcus flies oneworld Business Class to Europe to experience his first (snowy) European winter
Qantas Points used: 280,000 points (jumps to 318,000 from 18 September 2019) + $1,200 in taxes
Route: Sydney – Kuala Lumpur – Frankfurt – Helsinki – Copenhagen – made his own way to Stockholm and Prague – Dublin – London – Kuala Lumpur – Sydney
Airline: Malaysia Airlines, Finnair and British Airways
Cabin: Business Class
In the northern winter of December 2015-January 2015, I was able to utilise my Qantas Points for a oneworld Business Class redemption, taking me to places I had only ever dreamed of spending a snowy European winter.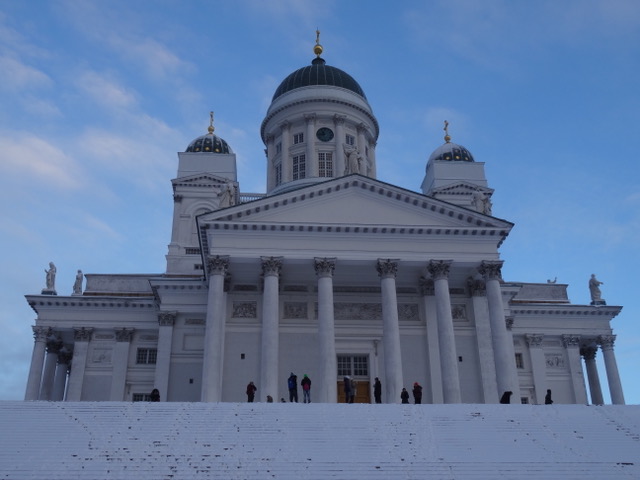 To be able to get the following amazing schedule, I had to book my trip the ten months in advance.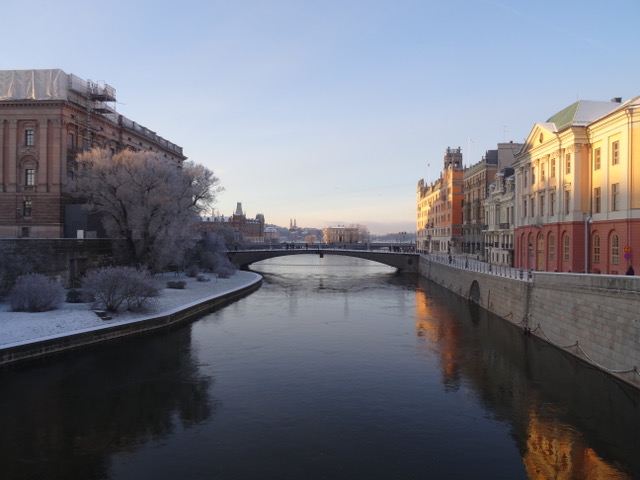 First, I positioned myself in Frankfurt, flying Malaysia Airlines via Kuala Lumpur, making my way to Helsinki as my first city to visit.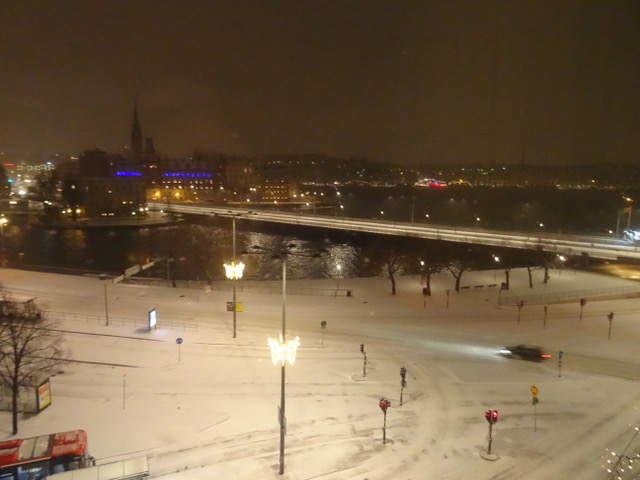 I was then able to visit Copenhagen, Stockholm, Prague and Dublin, before spending seven nights in London as the last leg of my trip before heading home to Sydney via Kuala Lumpur again.
---
Ad – Scroll down to continue reading.Minimum spend, terms & conditions apply.
Win 3: Adele heads from Auckland to Sydney in First Class after introducing her 3 month old to his grandparents
Qantas Points used: 54,000 points (jumps to 62,200 from 18 September 2019)
Route: Auckland – Sydney
Airline: Emirates
Cabin: First Class Suite
Another A380 First Class redemption!
Emirates A380 first class is arguably one of the most ostentatious airline experiences out there, and I've always been keen to try it.
Recently, I got my chance. My family and I spent Christmas in New Zealand introducing our infant son to his grandparents.
I was booked to fly home on an economy redeye with Qantas. As luck would have it, a seat on Emirates flight from Auckland to Sydney opened up a few days before we were due to fly home, and I jumped at the opportunity to redeem just 54,000 Qantas Frequent Flyer points for the 3 hour 20 minute trip. I was able to book my three month old son an infant ticket for no extra charge.
The flight was incredible!
Upon boarding, I was shown to my spacious suite and welcomed with a glass of Dom Perignon vintage 2006 champagne.

Glass of Dom Perignon vintage 2006
Around 30 minutes following take off, a three course meal was served, and I enjoyed a seafood trio starter, beef fillet main course, and a decadent cheese plate to finish. I capped my meal off with a nip of Hennessy Paradis – one of the most expensive cognacs in the world.

Hennessy Paradis Extra Rare Cognac, which retails for almost $1000 AUD per bottle
All in all, it was a flight to remember, and I was grateful for the opportunity to use my points to travel in comfort with my young son.
---
My own personal win – from a few years ago, a trip to Malaysia to spend time with my sister
Qantas Points used: 90,000 Qantas Points (jumps to 102,600 from 18 September 2019)
Route: Melbourne – Singapore
Airline: Qantas
Cabin: First Class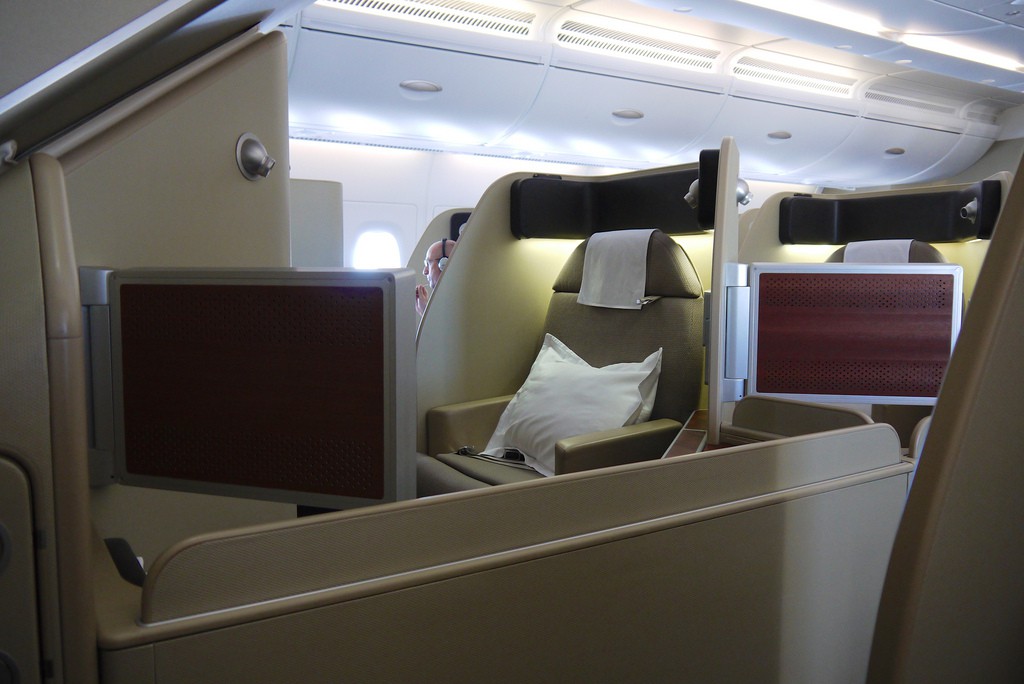 I had to include one of my own too. This was around 4 years ago now, but the trip as a whole really meant a lot – it was the first time I'd been able to spend some significant time with my sister in some time, and we managed to meet halfway (kind of) between Australia (me) and the UK (her), in Malaysia.
The flight costs in both directions were massively offset by using points, which I covered in this review of Qantas' A380 flight between Melbourne and Singapore at the time here.
The flight itself was not remarkable – well, of course First Class is always good, but it didn't totally blow me away. That said, without those points I wouldn't have been able to take such a memorable trip, so for that, I'm very grateful.
---
Summing up
Qantas Points are, for good reason, some of the most popular for travellers in our region. Qantas Frequent Flyer has it's downsides too – but there's no escaping how prevalent the program is in Australia, and how many people manage to use them to travel more, further or better than they would have otherwise.
If you need more ideas on how to use Qantas Points, check out our guide to the ultimate uses of Qantas Points for some inspiration.
Hopefully this gives you some ideas how you might be able to use your own Qantas Points balance in future.
---
Looking for more inspiration for how to spend your hard-earned frequent flyer points?
Here is a comprehensive list of all of our Best Uses of Points guides. There may be some overlap but each guide has its own twist.
Qantas Frequent Flyer
Velocity Frequent Flyer
American Express Membership Rewards
Asia Miles
KrisFlyer
Etihad Guest
Emirates Skywards
Woolworths Rewards
Your 'Ultimate' uses of Qantas Points: Point Hacks reader wins for their best trips made
was last modified:
May 16th, 2022
by