We're launching a free weekly email newsletter in collaboration with award search and booking service iFLYflat to inspire you to use your points more spontaneously.
The aim of Impulse Points is to help people with higher points balances (read: over 100,000 points), with a bit of flexibility in your travel planning, to use them on long weekend getaways to some of the best leisure destinations in the Asia-Pacific region including (but not limited to) New Zealand, Fiji, Singapore, Hong Kong and Tokyo.
The more regular readers among you will know that we teased you with this before – well, I'm pleased to say that we have been running Impulse Points emails for the last couple of months to the first 1,000 people that signed up as bit of a test, and we'd love to open the doors to more subscribers.
We take the guesswork and research out for you in our search:
for the most interesting award seats available
departing from Australia's five largest airports: Sydney, Melbourne, Brisbane, Perth and Adelaide
for travel two weeks from when you receive the email, for a long weekend of between two and five nights
for two passengers in Business or First Class
across a range of airlines and alliances: Qantas and oneworld, Emirates, Virgin Australia, Singapore Airlines and Star Alliance
using the major points currencies for travellers from Australia
delivered to your inbox every Wednesday
Here's a snapshot of what this week's newsletter looks like: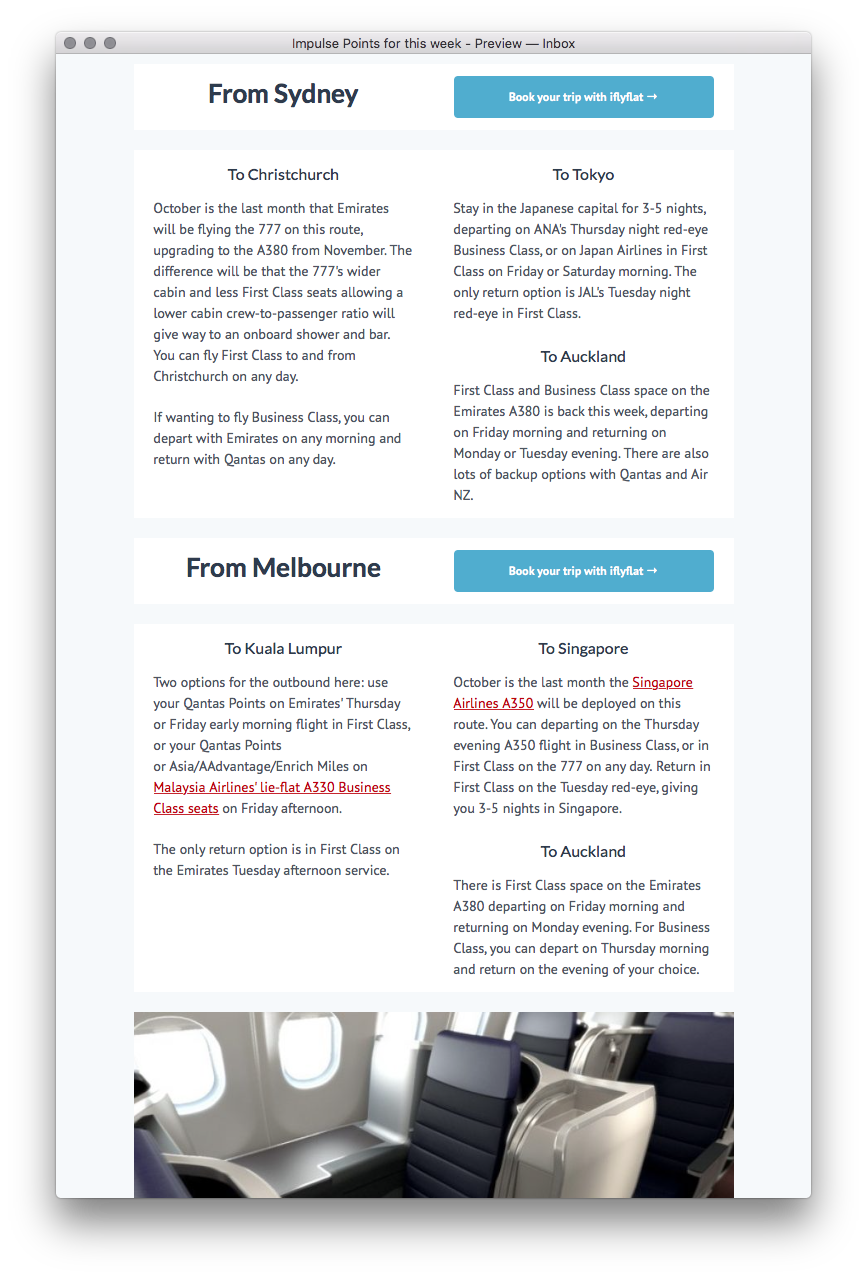 The newsletter is optimised both for desktop and mobile viewing: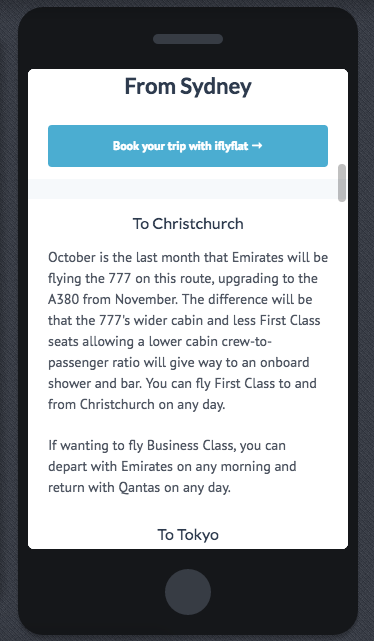 You'll then have the information to be able to either research the redemptions yourself or use iFLYflat's award booking service.
Points aren't worth anything unless you use them. Here's hoping this will help you kick-start a new trip in the future!
Do you have points to burn? Sign up to our free weekly Impulse Points newsletter for ideas on how to use them!
was last modified:
May 25th, 2022
by