The Hong Kong-based oneworld carrier has built a solid reputation for taking care of premium passengers departing from and transiting through its busy Southeast Asian megahub.
Here is what to expect flying at the pointy end on one of their First Class flights within Asia or to Europe or North America.
Cathay Pacific First Class fleet & routes
This cabin is found exclusively on the Boeing 777-300ER, mostly on long-haul flights from Hong Kong to North America and Europe.
First Class service to Chicago will not be offered from 1 June 2020.
However, there are also a couple of Asian destinations, being Beijing and Tokyo Haneda. You can fly these routes from 64,500 Qantas Points + ~$70 taxes. Read more about the cheapest ways to experience Cathay Pacific First Class using Qantas Points.
Cathay Pacific's New York – Vancouver fifth freedom route is, unfortunately, ending on 18 February 2020.
You can read our beginner's guide about Cathay Pacific's routes here.
Cathay Pacific First Class cabin & seat
Although the Cathay Pacific First Class cabins received a refresh in 2014, there is no hiding the fact that this is an old seat. However, it is still one of the most comfortable beds and seats in the sky.
There are only six First Class seats in a 1-1-1 configuration: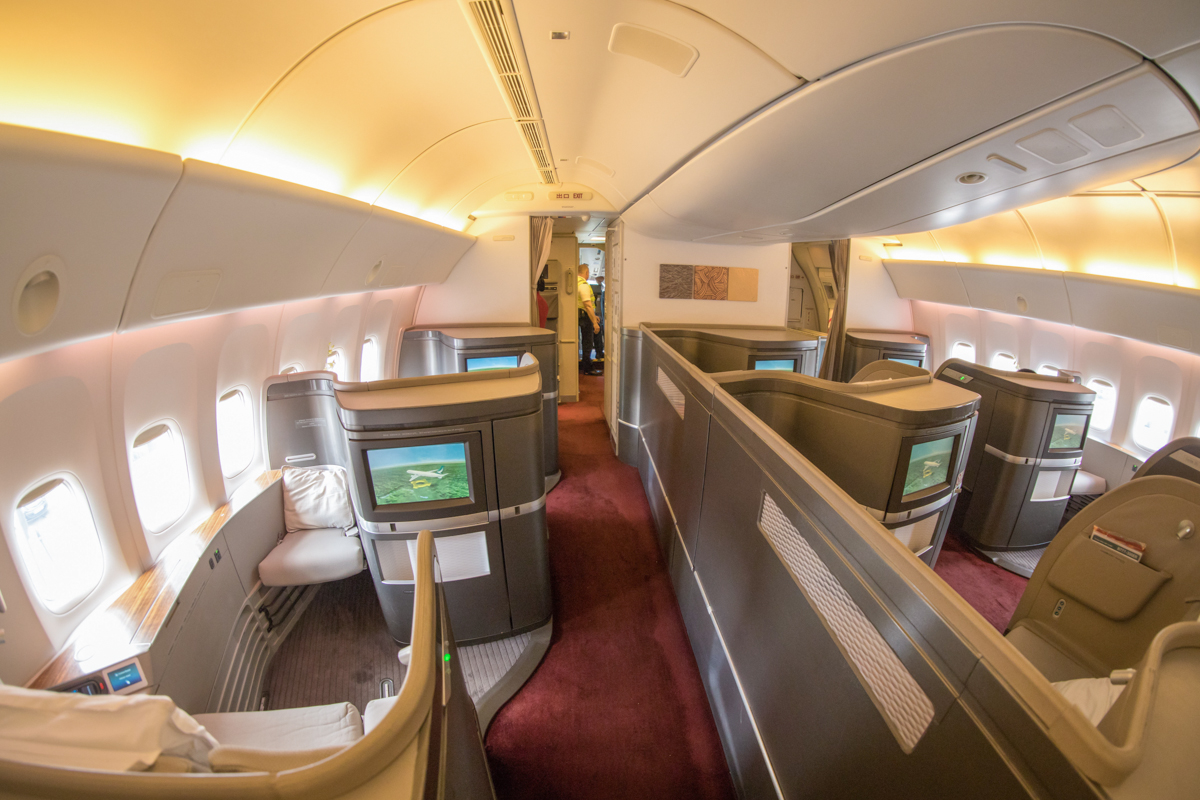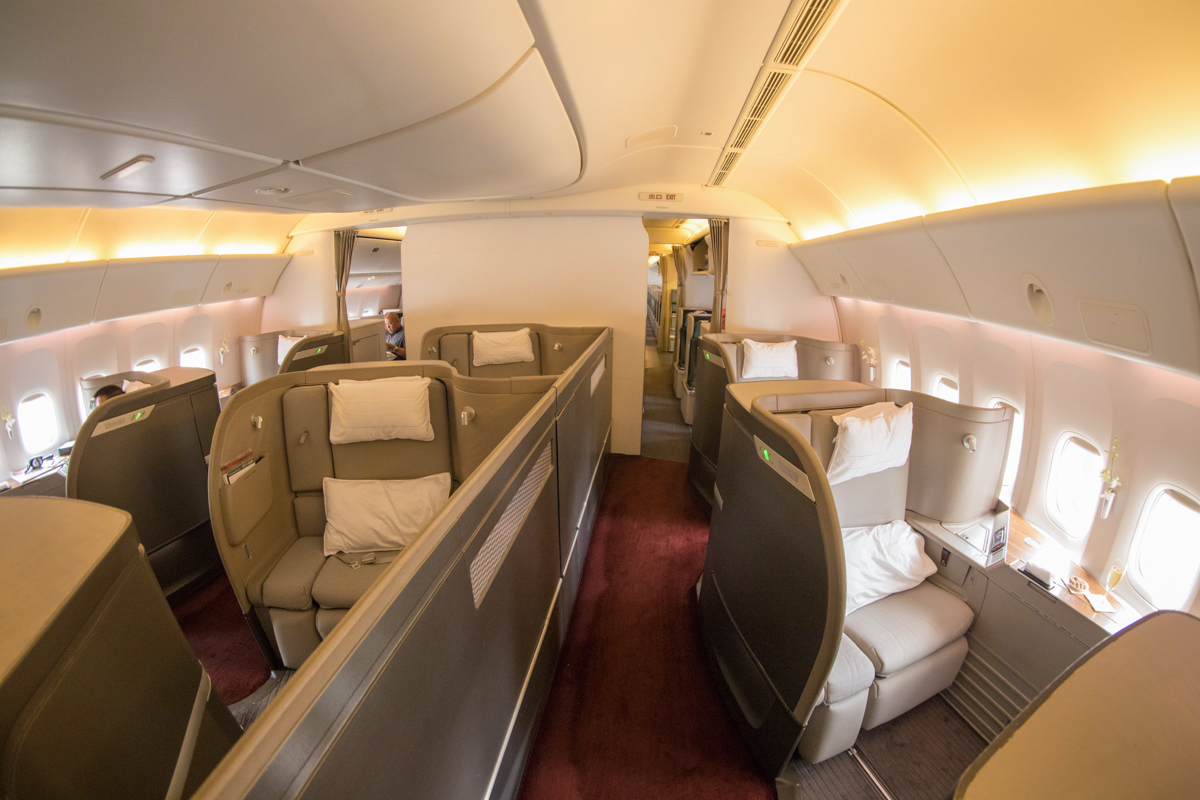 Often the cabins are not full, meaning they can feel very peaceful and private.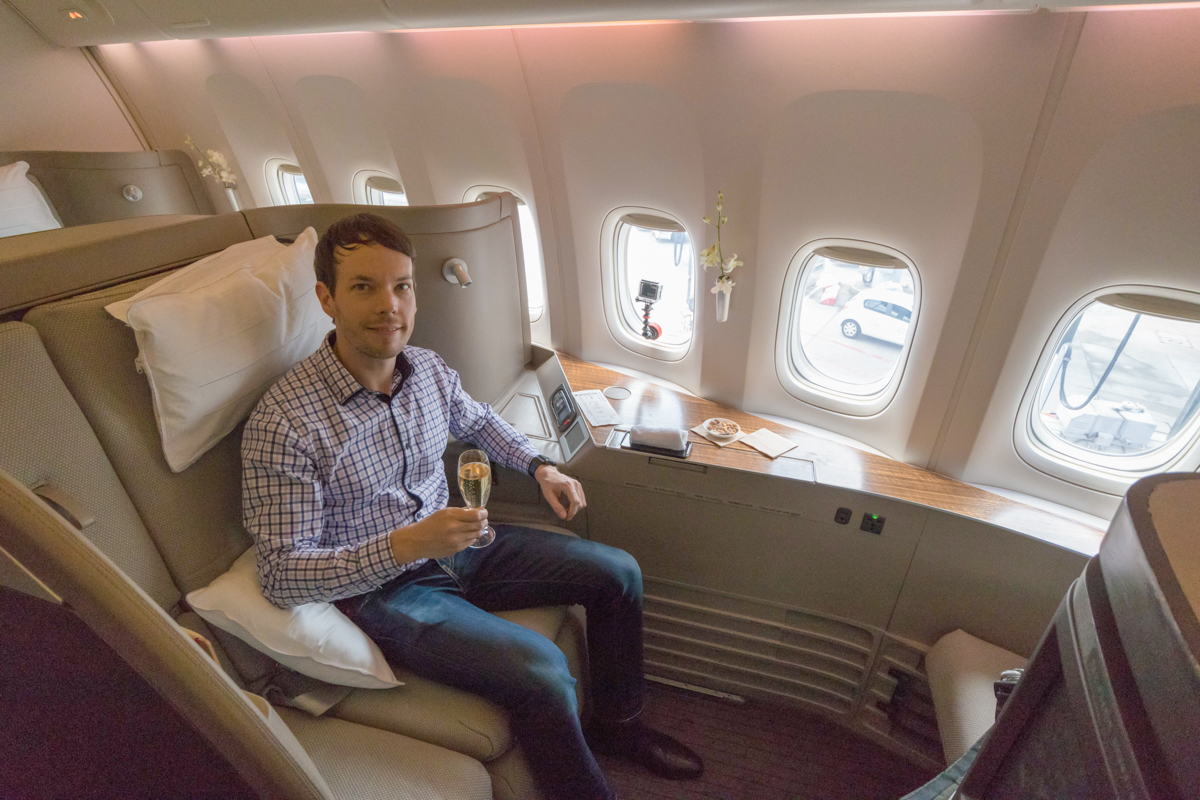 The seat is incredibly comfortable for long-haul flights. There is a pillow attached to the headrest and an extra pillow for lumbar support. Although the seat is very wide, there is a fold-down armrest which reduces the width for smaller-framed bodies.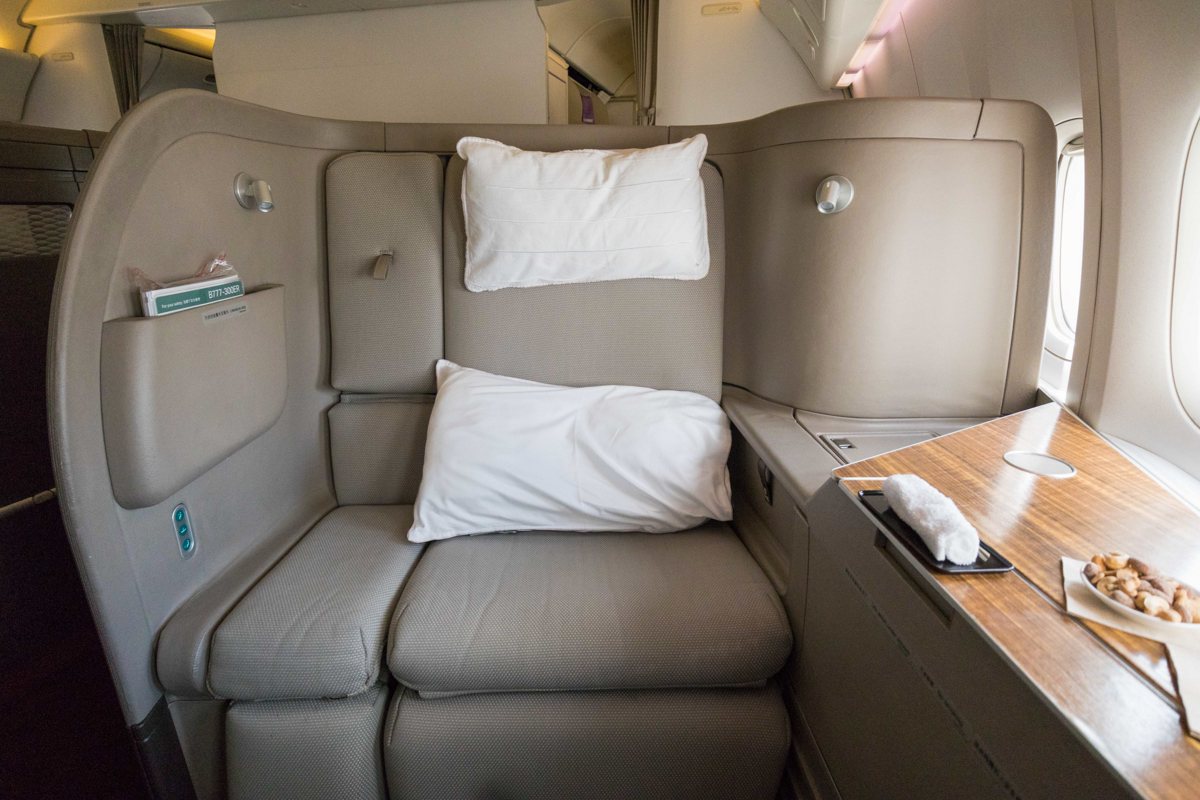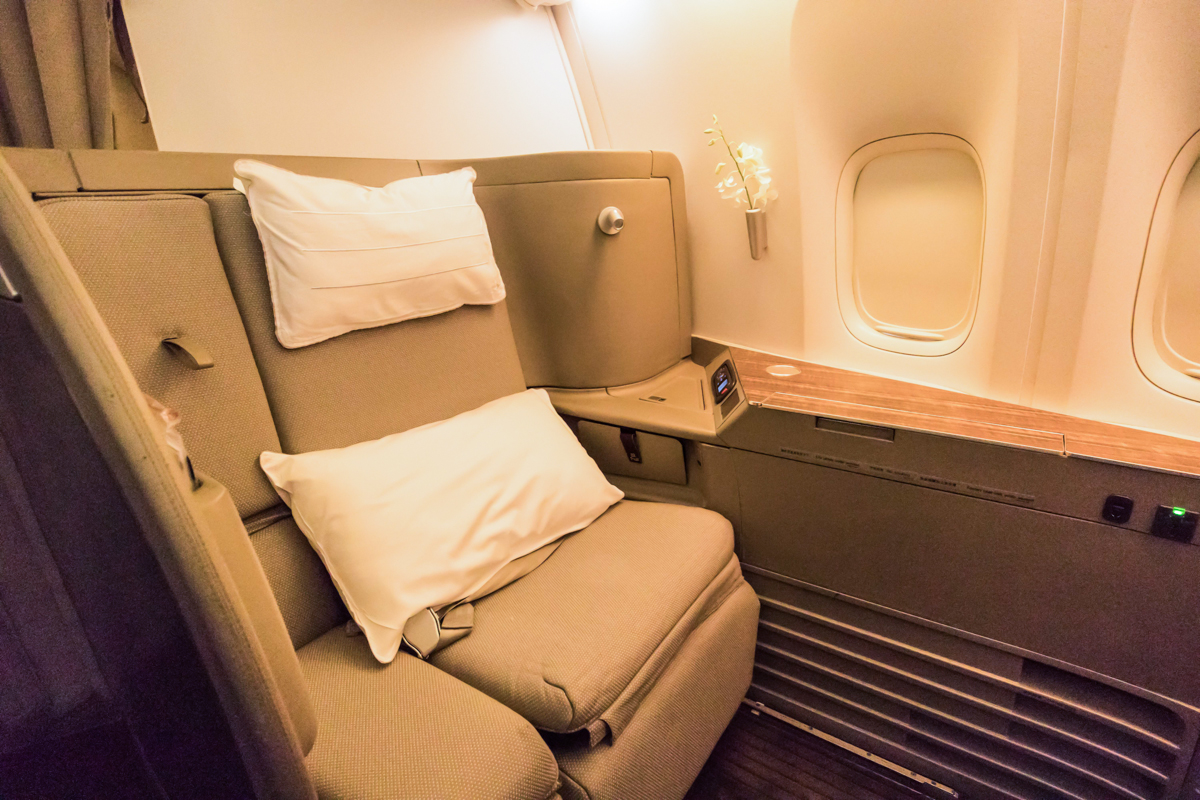 There is not a great deal of storage space around the seat except for a decent-sized pocket under the TV and a storage cupboard behind the TV to store a cabin bag. The ottoman can be used as a seat if you want to dine with a guest and it also has a seatbelt in case of turbulence.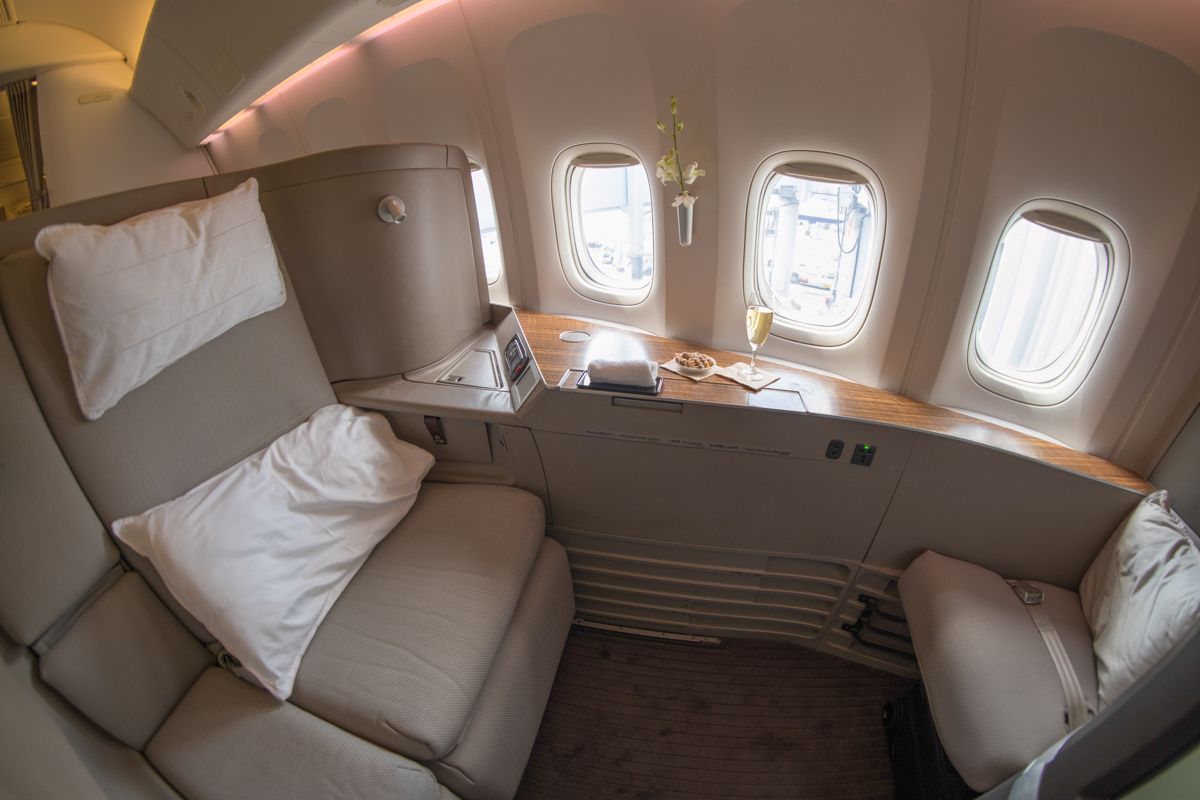 There are no overhead bins in the First Class cabin.
Although the suites do not have doors, they feel very private. When converted into a bed, it is easily the most comfortable bed I have ever slept in on a plane (judged by the quality of sleep I got).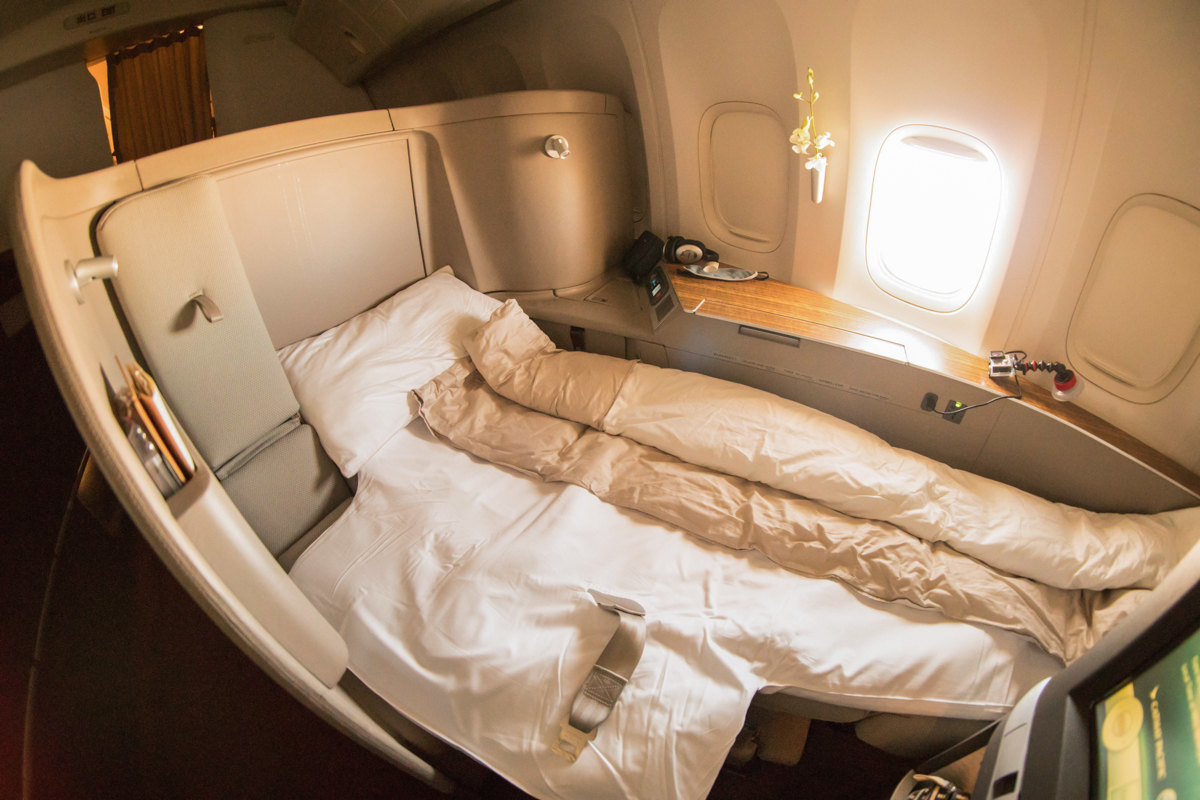 The cabin can become quite warm. Considering the luxuriously thick cotton pyjamas and beautiful warm bed linen, it can be uncomfortable if you tend to overheat. Make sure to let the cabin crew know if it is too hot—they may be able to adjust the cabin temperature for you.
Cathay Pacific First Class seat choice
The A and K window seats are the picks in this cabin. The A seats are slightly more private, as there are only two seats that share the aisle, whereas the four D and K seats share the right aisle.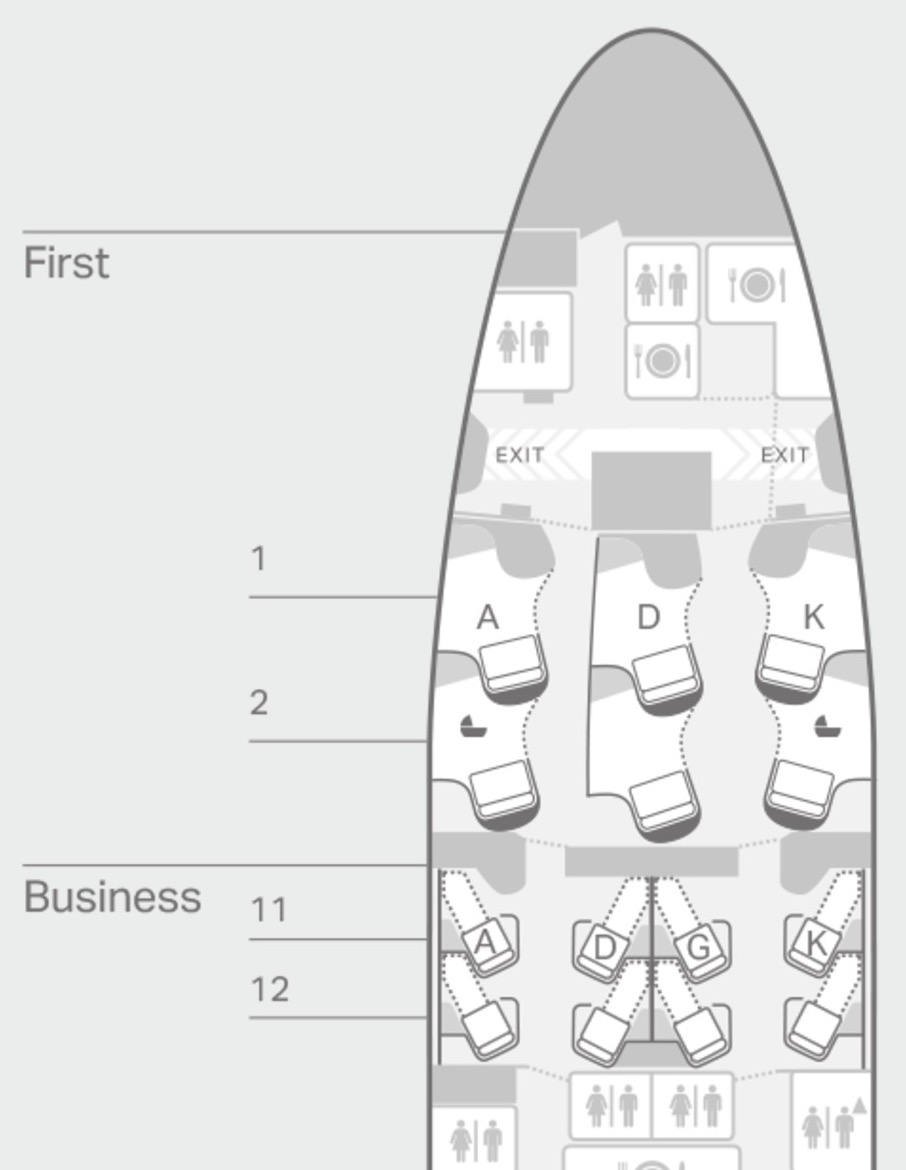 That being said, if you are travelling with a companion, you may want to choose a D and K combination so you can more easily converse during your flight.
Row 2 receives less noise than Row 1.
If you want to know how to choose the best seat for your flight you can read our guide here.
Cathay Pacific First Class food & drink
Here are the food and drink menus from my flight:
Although the caviar and Krug offerings are top-shelf: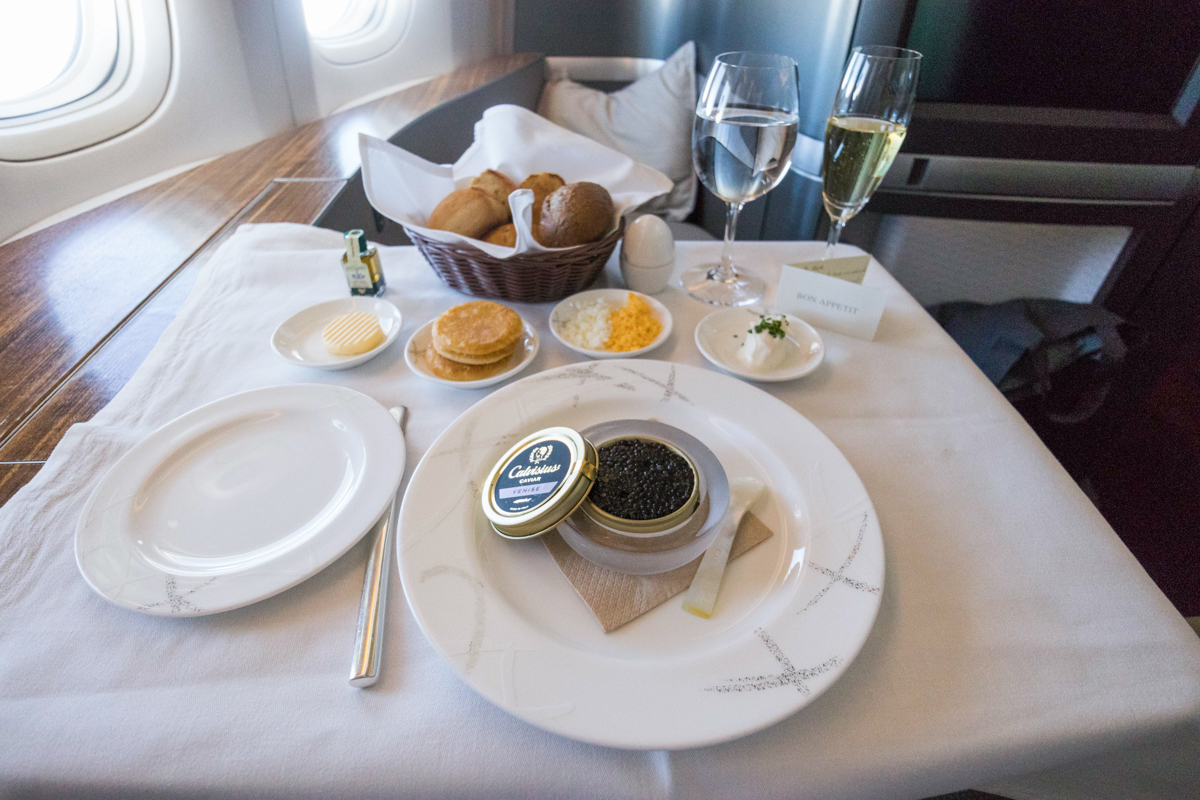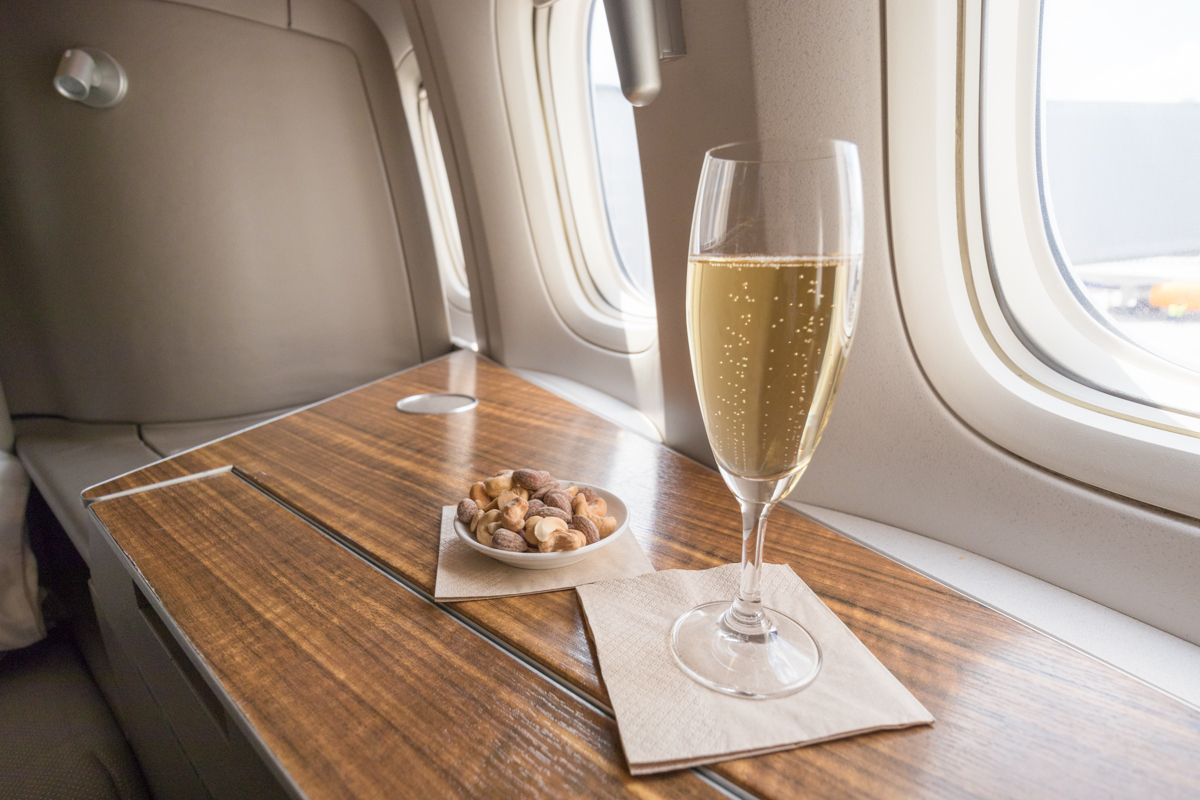 the rest of the food (on my flight at least) tends to be beautifully presented but lacks flavour.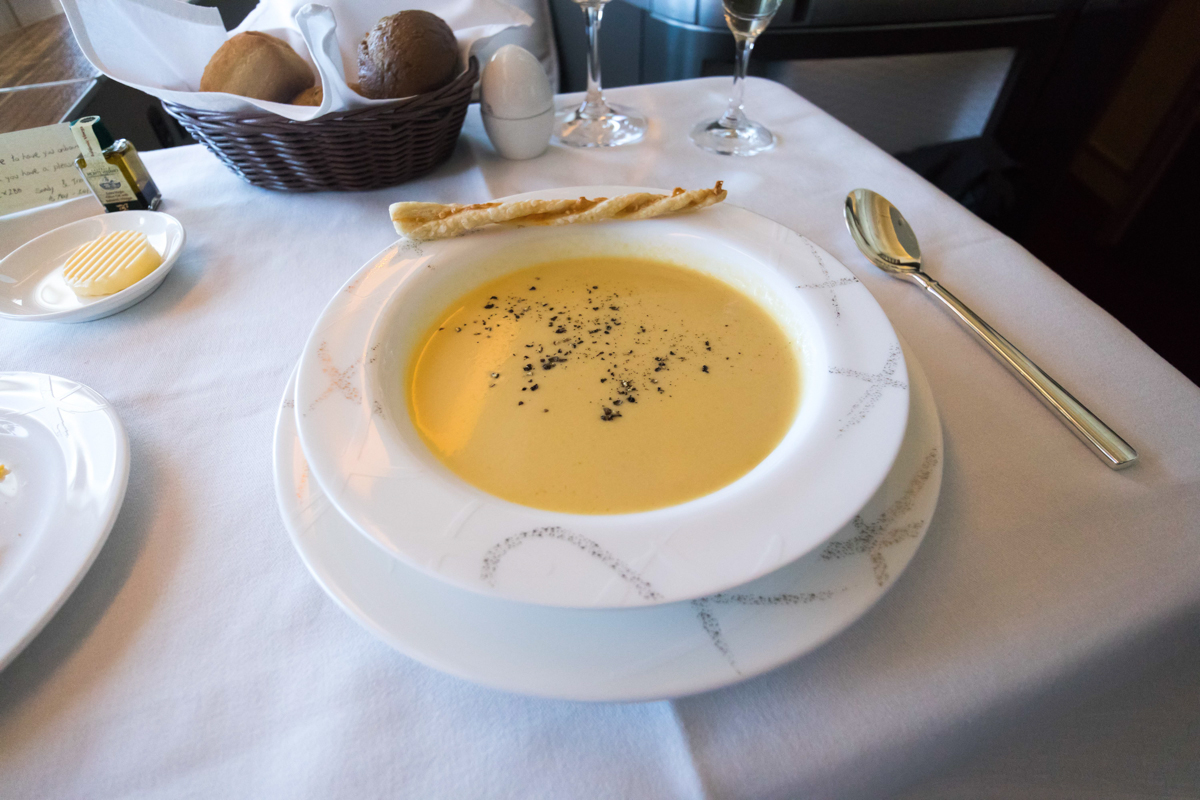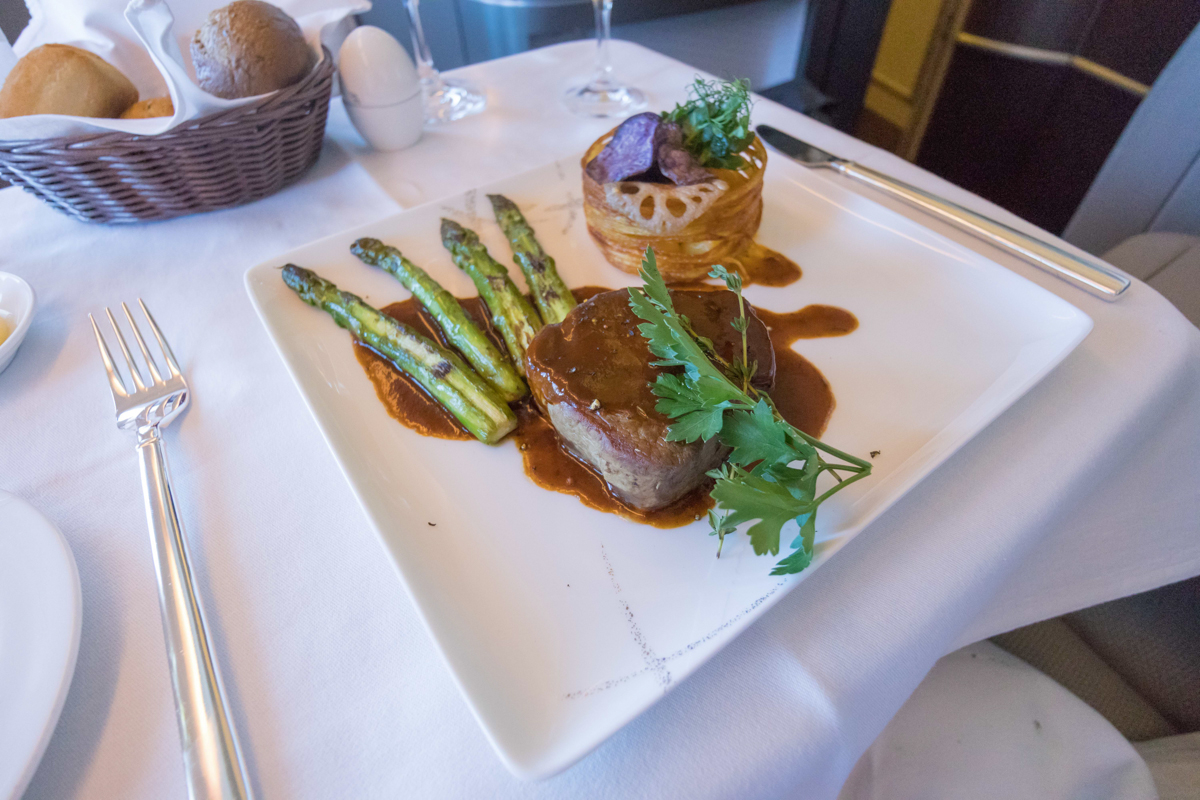 My breakfast was unremarkable, too.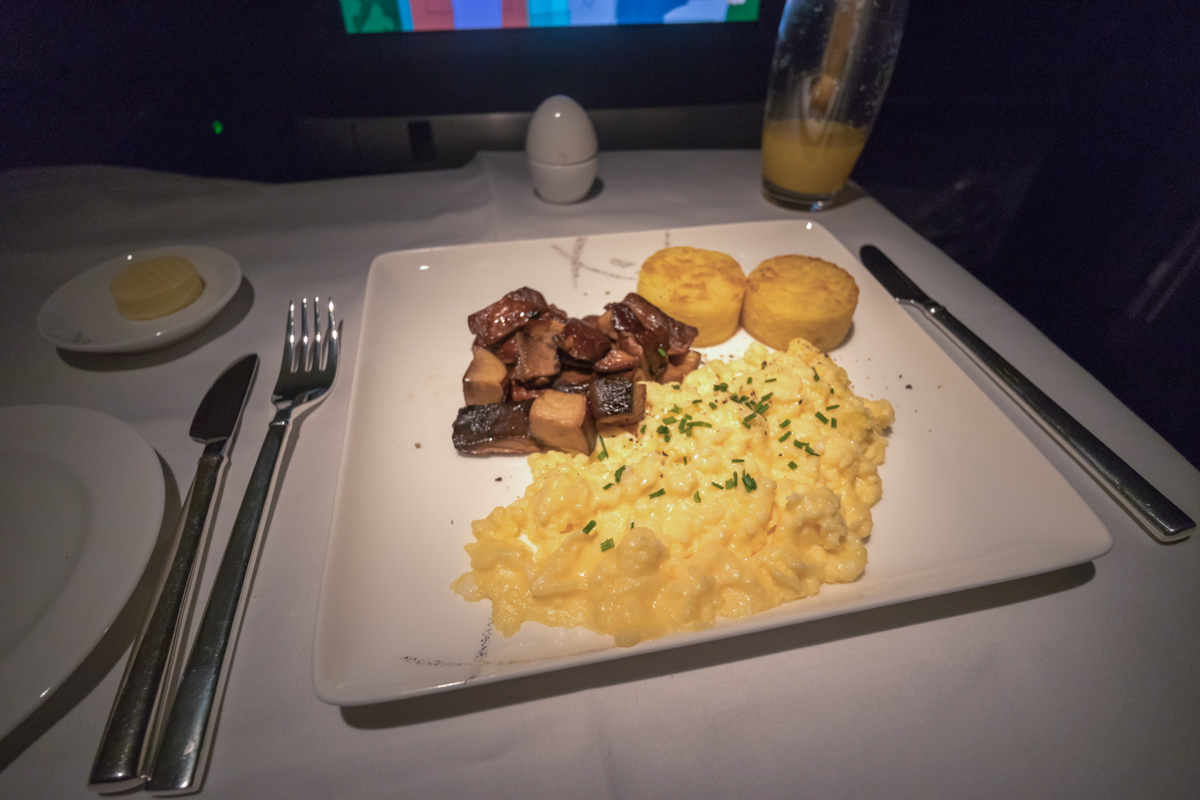 Cathay Pacific First Class customer service
The service delivery on Cathay Pacific is professional but with little of the general chit-chat you would usually experience on an Australian carrier.
On my flight, the two cabin crew were impeccable and very efficient, with friendly touches like the handwritten note given to me along with the caviar service.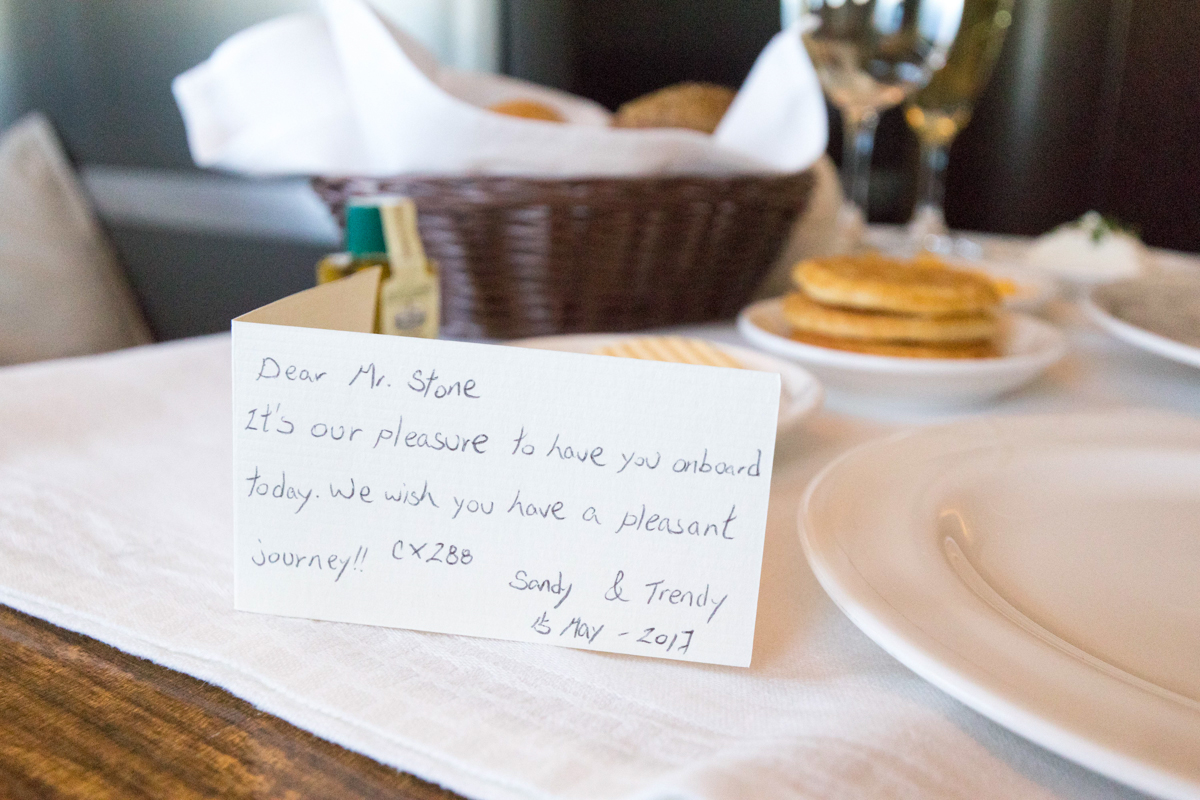 Cathay Pacific First Class inflight entertainment
The screen measures only 15 inches, which is pretty small compared to other First Class products (Singapore Airlines' screen is more than double the size). Thankfully, it can be adjusted to any angle, which is great if you want to watch something whilst laying down.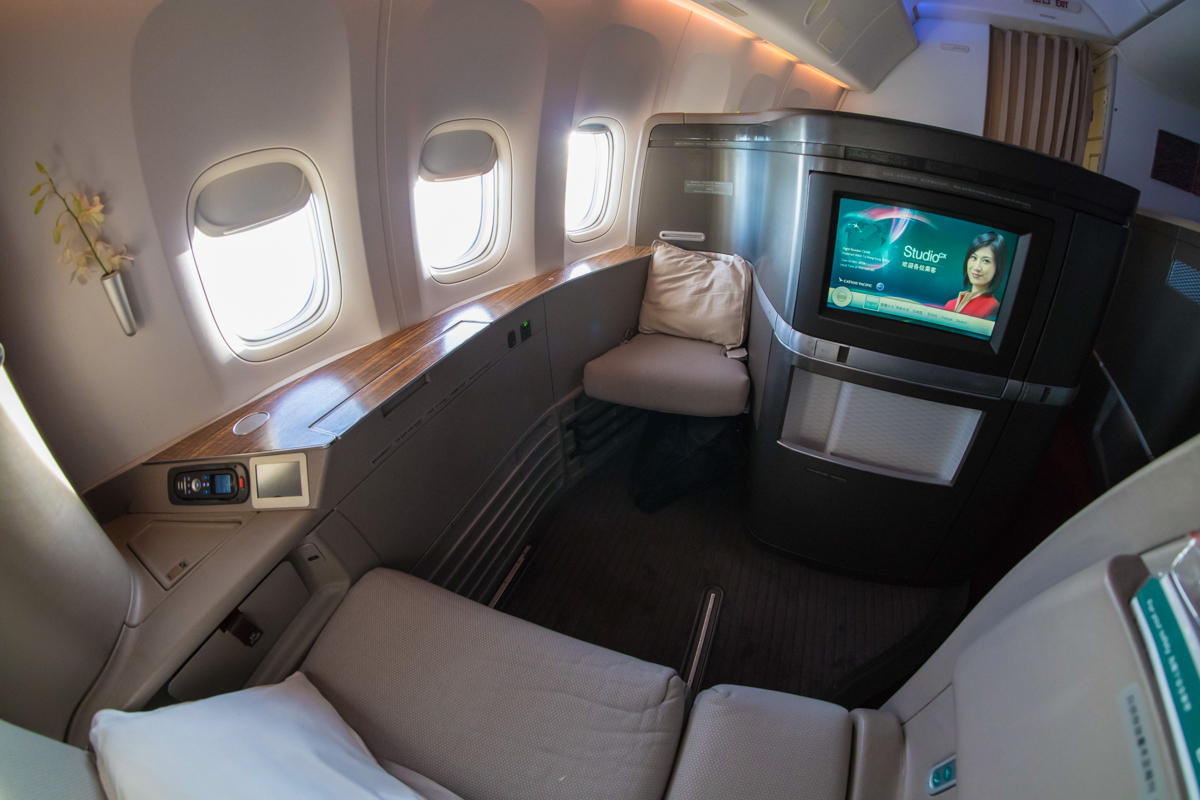 The system has a huge variety of content and you are provided with excellent Bose noise-cancelling headphones.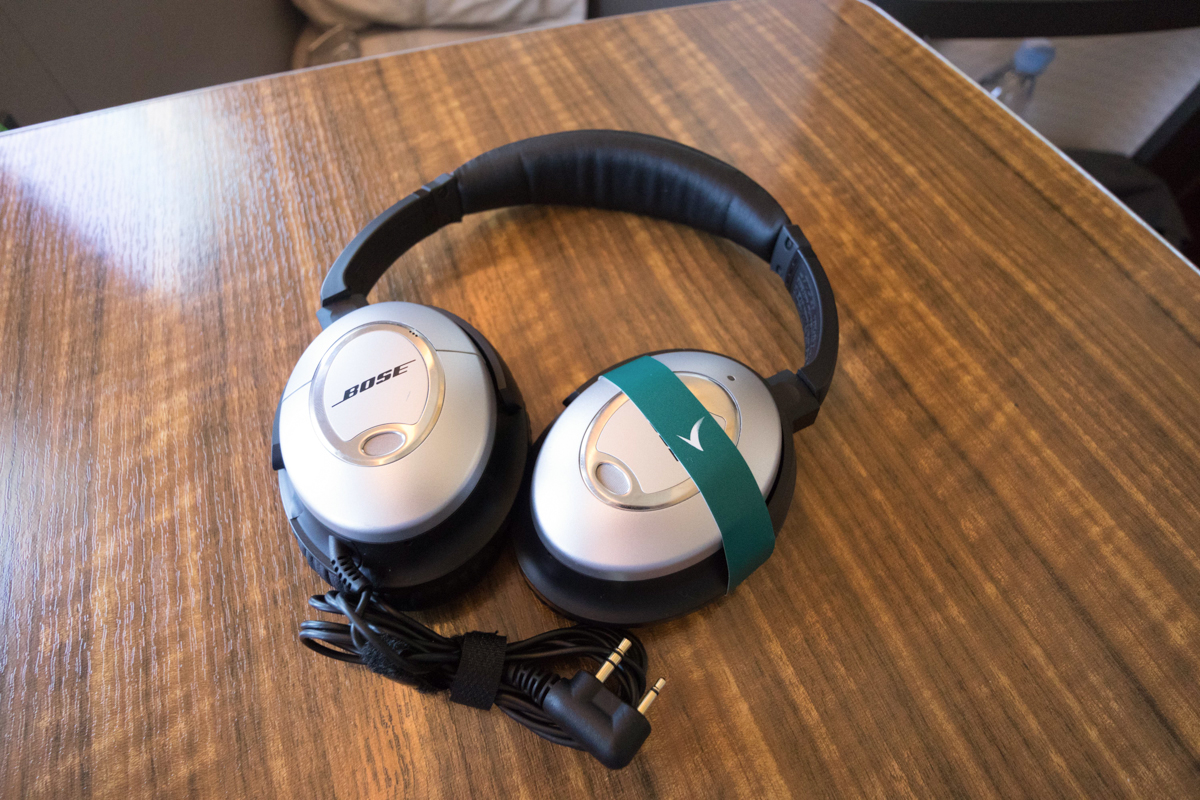 Cathay Pacific First Class amenities
There are two bathrooms at the front of the cabin, which is generous for a maximum six-passenger cabin (compared to only one for 12 passengers on Korean Air's A380).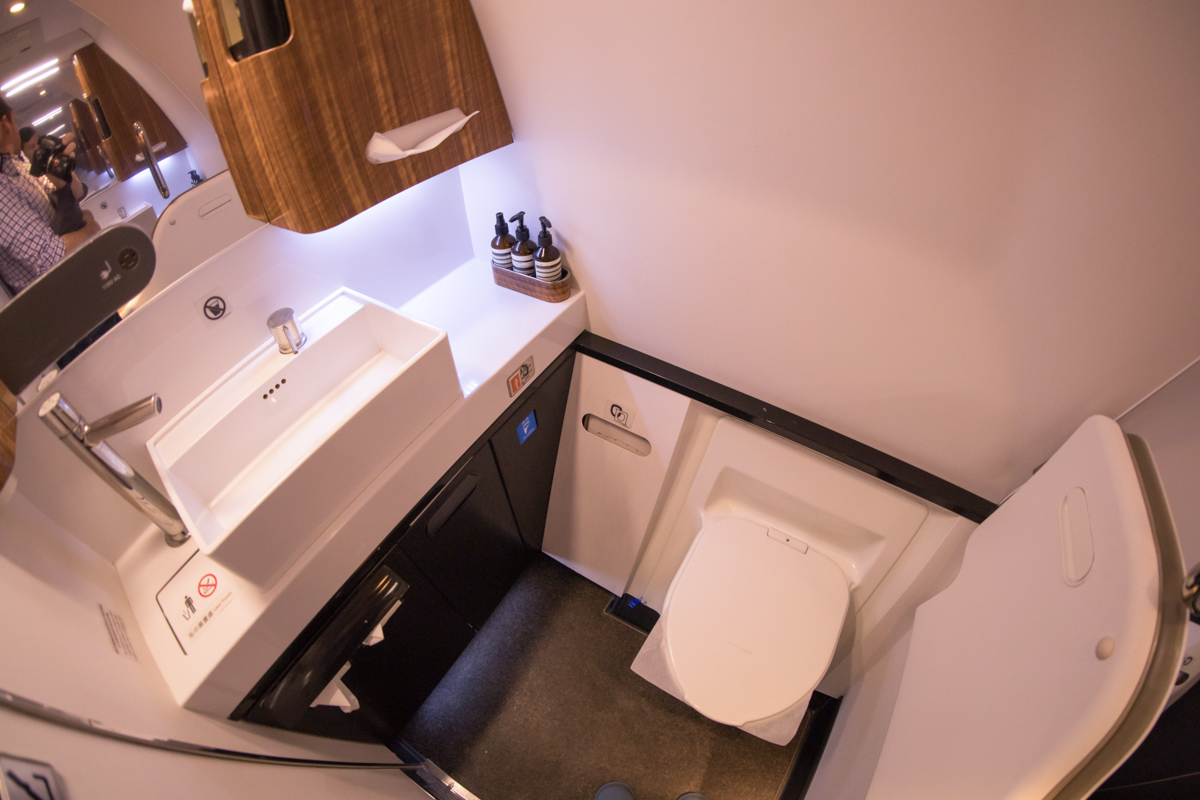 Each First Class passenger receives a bag with high-quality PYE pyjamas, an eyemask and slippers: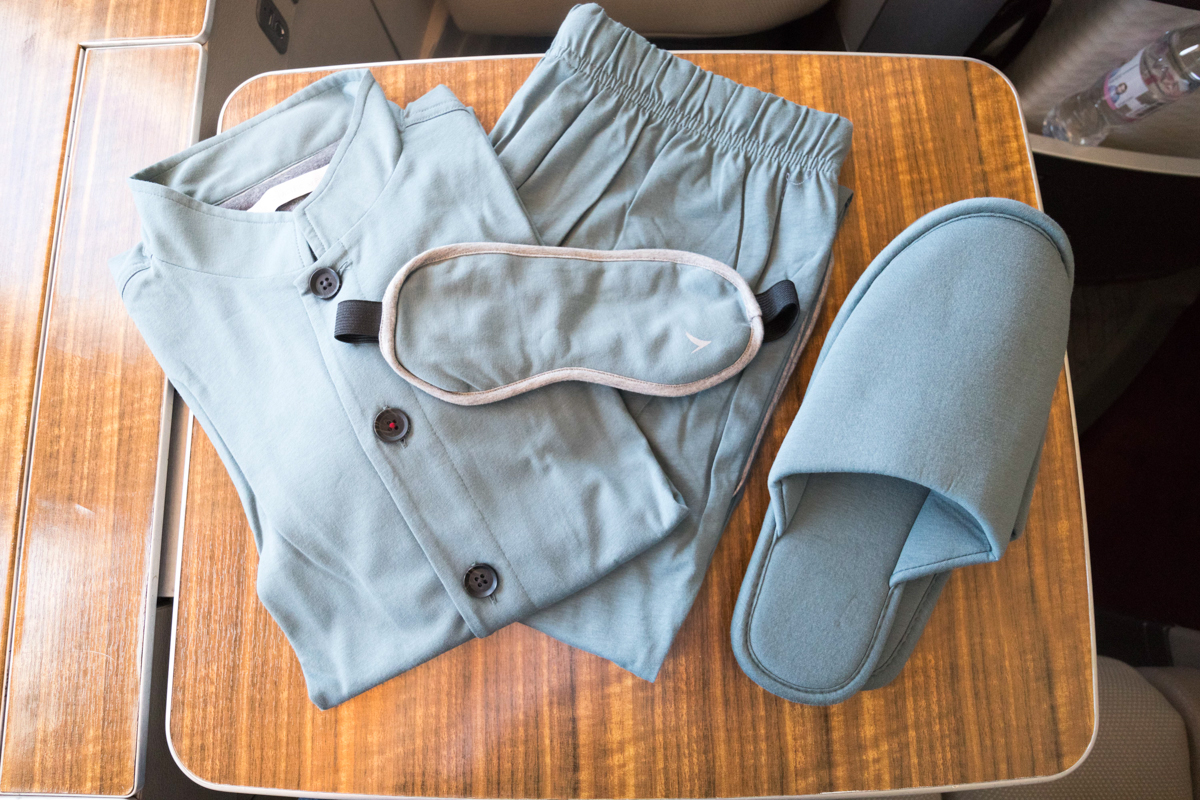 and the Aesop amenity kit includes all the essentials.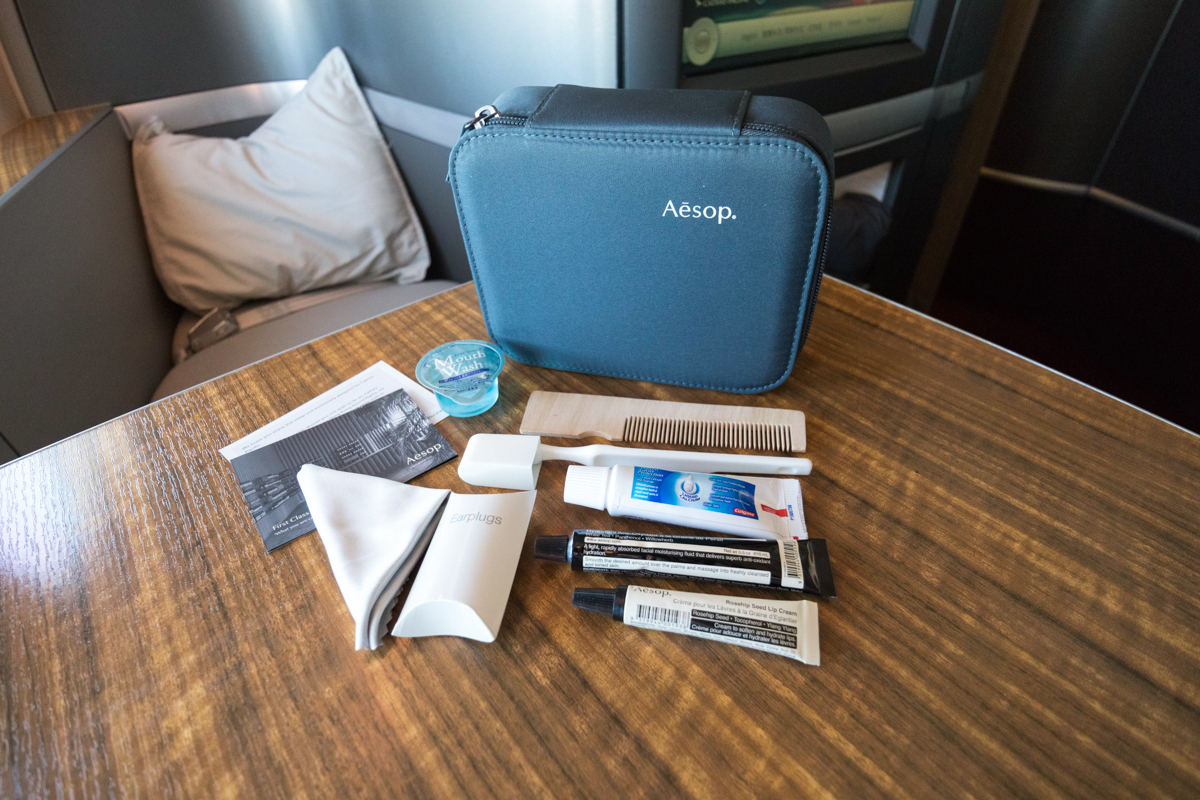 First Class passengers on wifi-equipped aircraft receive complimentary unlimited wifi. As of December 2019, two-thirds of Cathay Pacific's 777-300ER aircraft are wifi-enabled. You can check if your flight has wifi here. Your chances are increased if your aircraft has 10 (rather than 9) seats a row in Economy Class.
How to redeem points for Cathay Pacific First Class
The five main programs Australia-based travellers can use for redemptions on Cathay Pacific are:
Qantas Points
Cathay Pacific Asia Miles
Alaska Airlines Mileage Plan
American Airlines AAdvantage
British Airways Executive Club
You'll find award space in First Class to be limited, peaking when the calendar opens up about a year before departure. You may find last-minute availability when unsold First Class seats are converted into award inventory. Note that sometimes it can be difficult to find more than one First Class award seat on some flights, so this redemption may be more easily accessed by solo travellers.
As of February 2018, it has become a lot harder to redeem Alaska miles for Cathay Pacific First Class seats on intra-Asia flights. Therefore, your efforts are best directed to flying First Class to/from North America and Europe.
I personally booked this as part of oneworld return First Class redemption through Asia Miles.
The segments of my trip were:
Cathay Pacific First Class lounge access
One big perk of flying Cathay Pacific First Class through Hong Kong is that you'll get access to the excellent The Wing and The Pier First Class lounges (even if your onward flight is in Business Class).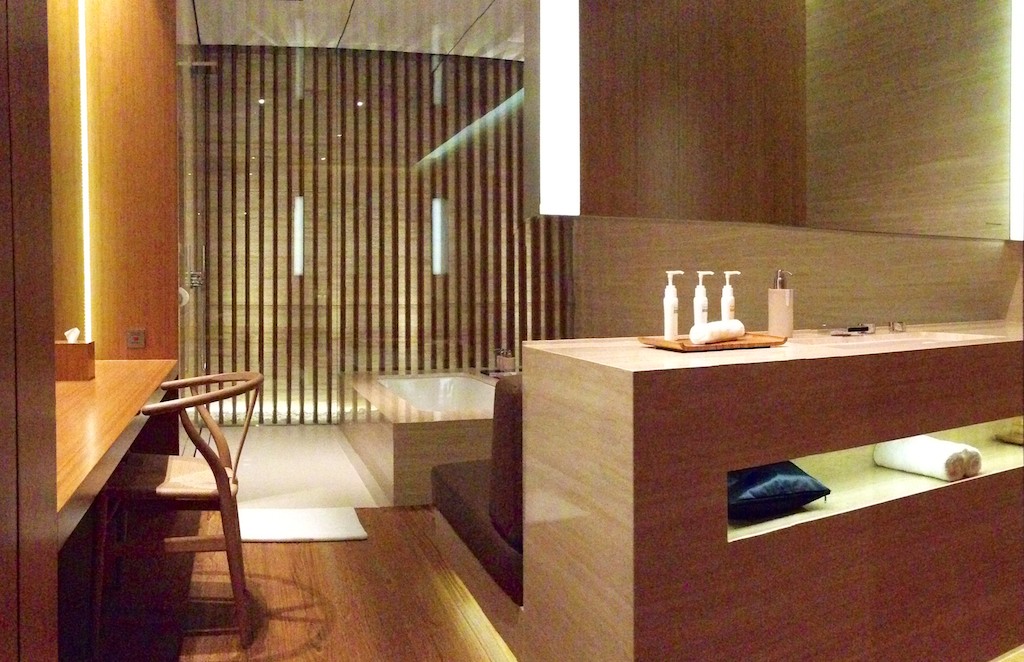 Outside of Hong Kong, you will get access to either a Cathay Pacific-operated lounge or a oneworld partner lounge. They can vary in quality, from the excellent American Airlines Flagship Lounge at New York JFK to the lacklustre Cathay Pacific Lounge at Frankfurt.
Summing up: why choose Cathay Pacific First Class?
Book Cathay Pacific First Class if you want to experience one of the most comfortable beds in the sky, a very private cabin and impeccable Cathay Pacific service—as long as you can find the award space in the first place.
What's great
Most comfortable bed in commercial aviation
Lots of space
Low number of fellow passengers
Caviar service
Krug champagne
Easily-adjustable inflight entertainment screen
Comfortable pyjamas
Professional service
Access to excellent lounges in Hong Kong
What's not great
Food and drink can be lacklustre
No sliding privacy doors
No onboard shower or bar
Poor quality of some overseas lounges
Limited award availability
Related guides
Review: Cathay Pacific 777-300ER First Class (Hong Kong – Frankfurt)
was last modified:
February 11th, 2022
by