As Jason shared in his success story of using Etihad Guest miles transferred from flybuys to fly him and his wife from Perth to Melbourne return, one of the best uses of Etihad Guest miles is for Virgin Australia redemptions, especially within Australia and to New Zealand.
Given that flybuys partners with both Etihad Guest and Velocity, along with Etihad's links with Membership Rewards and Citi Rewards, you have a choice about which program you can redeem with for your next Virgin Australia Business Class redemption – and in many cases, Etihad Guest's pricing is more competitive than if you redeemed for the same Virgin Australia flight through Velocity.
In this guide, we compare pricing on a range of Virgin Australia flights; teach you how to compare redemption pricing yourself; and share tips on how to build your Etihad Guest balance.
Note: Etihad Guest redemptions on partner airlines such as Virgin Australia must be booked at least 14 days prior to departure. So if you are booking a last-minute flight, you will want to use Velocity Points or cash.
Comparing redemption rates: Etihad Guest vs Velocity
The table below may seem a bit complex at first but basically compares the amount of Velocity Points and Etihad Guest miles needed for a number of flights of various distances, as well as how many flybuys are needed if transferring to either program.
The most important columns are the second (Velocity Points needed), fourth (Etihad Guest miles needed) and last (savings from transferring flybuys to Etihad instead of Velocity) ones, with the lowest values in bold:
| Route | Velocity points for Business | flybuys points transferred to Velocity | Etihad Guest miles for Business | flybuys points transferred to Etihad Guest |
| --- | --- | --- | --- | --- |
| Sydney - Melbourne | 15500 | 35650 | 13800 | 34500 |
| Adelaide - Alice Springs | 23500 | 54050 | 13800 | 34500 |
| Melbourne - Brisbane | 23500 | 54050 | 13800 | 34500 |
| Adelaide - Perth | 35500 | 81650 | 21800 | 54500 |
| Gold Coast - Auckland | 35500 | 81650 | 21800 | 54500 |
| Melbourne - Cairns | 35500 | 81650 | 21800 | 54500 |
| Brisbane - Queenstown | 35500 | 81650 | 21800 | 54500 |
| Melbourne - Nadi | 35500 | 81650 | 33800 | 84500 |
| Sydney - Perth | 35500 | 81650 | 33800 | 84500 |
| Brisbane - Bali | 49500 | 113850 | 33800 | 84500 |
| Brisbane/Sydney - Los Angeles | 95500 | 219650 | 120000 | 300000 |
Results: Whether comparing Etihad Guest and Velocity side-by-side, or comparing how many flybuys to transfer to either program, Etihad Guest redemptions are cheaper than Velocity redemptions on almost all Virgin Australia flights.
The exceptions are:
How to compare Etihad Guest and Velocity pricing yourself
Step 1: Go to the Velocity Points Table, calculate the mileage of your desired route (e.g. Sydney to Bali), and see which zone it falls into for Virgin Australia flights in Table 1 (Zone 4 = 49,500 Velocity Points for a one-way Business ticket):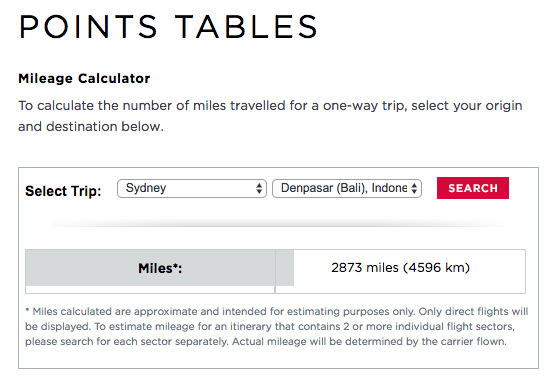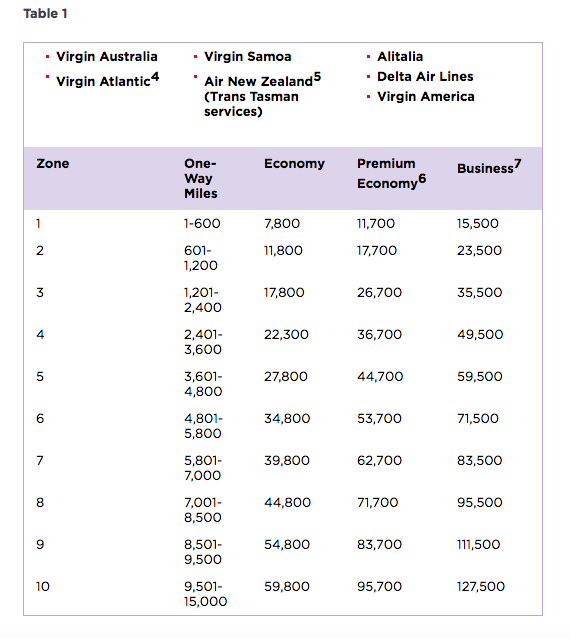 Step 2: Go to the Etihad Guest Virgin Australia Redemption Table PDF to search for your desired route and corresponding pricing (33,800 Etihad Guest miles):

Step 3a (for simple Etihad Guest-Velocity comparisons): if you are comparing raw Velocity and Etihad Guest numbers, then you can see that in this example you will save 15,700 points/miles by choosing to book through Etihad Guest rather than Velocity (33,800 Etihad Guest miles vs 49,500 Velocity Points).
Step 3a (for flybuys comparisons): to calculate the amount of flybuys needed for the Velocity redemption, multiply the Velocity number by 2.3 (in this case, 49,500 x 2.3 = 113,850. To calculate flybuys needed for the Etihad Guest option, multiply by 2.5 (33,800 x 2.5 = 84,500). Then substract the Etihad Guest figure from the Velocity figure to work out your flybuys savings (113,850 – 84,500 = 29,350).
Comparing taxes and surcharges: Etihad Guest vs Velocity
Surcharges applied by Etihad Guest and Velocity are very similar for domestic redemptions, usually $5, meaning this is not a significant factor in redemption decision. Taxes and fees are generally low, often under $30.
We haven't run a comparison for longer-haul flights – but would assume that these would be booked through Velocity (for lower points pricing) anyway.
Etihad Guest transfer partners
There are three main ways to get your hands on Etihad Guest miles:
If none of the above options work for you or you need more miles, then you can also buy Etihad Guest miles. Read more about it here.
How to redeem Etihad Guest miles on Virgin Australia flights
See our guide to using Etihad Guest miles for travel on Virgin Australia for instructions on how to search for award space and book your redemption.
Summing up
If you have access to both programs, you are most likely going to get better value from using Etihad Guest miles rather than Velocity points for a Virgin Australia redemption, especially on flights up to about three hours in duration.
However, for long-haul flights between Australia and the US or Middle East, Velocity redemptions are the way to go.
And for medium-haul flights like Melbourne to Nadi or Sydney to Perth, it pays to follow the steps above to compare pricing through Etihad Guest and Velocity, as it could go either way.
---
Looking for more inspiration for how to spend your hard-earned frequent flyer points?
Here is a comprehensive list of all of our Best Uses of Points guides. There may be some overlap but each guide has its own twist.
Qantas Frequent Flyer
Velocity Frequent Flyer
Asia Miles
KrisFlyer
Etihad Guest
Emirates Skywards
American Express Membership Rewards
Etihad Guest miles vs Velocity Points for your next Virgin Australia flight redemption
was last modified:
May 8th, 2017
by
Etihad Guest miles vs Velocity Points for your next Virgin Australia flight redemption
was last modified:
May 8th, 2017
by