EVER walked past Business Class on your way to your Economy seat and wondered what life would be like at the pointy end of the plane?
It doesn't have to be a far-fetched dream to fly in First or Business Class, or even to stay in a fancy hotel during peak holiday season. In fact, it is quite easy to do if you know how to efficiently collect airline and hotel points and miles.
In the past two years, I've managed to rack almost 1 million points with airlines and hotel chains – the vast majority from the ground.
Here's how I did it and how you can too.
CREDIT CARDS – 519,112 Qantas and Velocity points
In some circles, credit cards have a bad name.
But if you use them effectively and manage your finances well, you can leverage plenty of points from them – and never pay a cent of interest or a pesky late fee.
Over the past two years, I've signed up to five new rewards credit cards with varying banks and financial institutions.
All have had sign-up bonuses of between 60,000 and 130,000 airline points, with two being linked to the Velocity program and three with the Qantas Frequent Flyer program.
Generally, I sign up to a new card about every six months, regularly checking Point Hacks for the best new deals.
Most cards require a spend of $3,000 to $4,000 within the first three months to trigger the sign-up bonus, which I've done by changing all my direct debits to the new card and putting all my everyday expenses on it.
If I'm ever short and the sign-up bonus cut-off is approaching, I've done things like paying some extra money in advance on my electricity and gas bills or my phone bill.
When assessing which new card to sign up for, I always look for ones with either no annual fee in the first year or a heavily discounted annual fee.
Or – in the case of American Express – it is worth considering cards that have an annual fee fully or partially offset by a travel credit or other perks.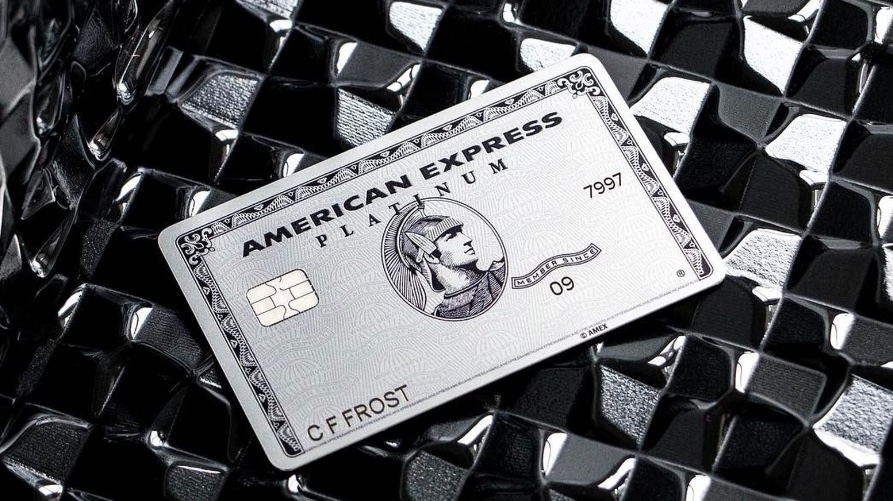 You also have to make sure you abide by the rules around how often you can receive a new sign up bonus with a bank or other financial institution.
Often a sign-up bonus will only be triggered if you have not held an open credit card account with the same bank or financial institution in the previous 12 or 18 months.
But there are enough different companies offering credit cards to rotate around a little over a few years.
In addition to sign-up bonuses, most cards offer between 0.75 and 1.25 points per dollar spent, so make sure to put all expenses possible on a points-earning card year-round.
This can net thousands upon thousands more points each year. Here is how I did it.
FLYING – 135,654 Qantas, Velocity, United MileagePlus, Delta SkyMiles and HawaiianMiles points
I have done a significant amount of personal travel in the past two years, which has netted a substantial number of points. Unfortunately in the near-term, this will be curtailed due to the COVID-19 pandemic, but once international travel restrictions eventually get lifted, you can also earn a substantial number of frequent flyer points in the same way.
When flying with Qantas internationally, I have sometimes booked paid economy or flexible economy flights and then applied to upgrade them to Business Class using Frequent Flyer points.
More often than not, my requests have been successful.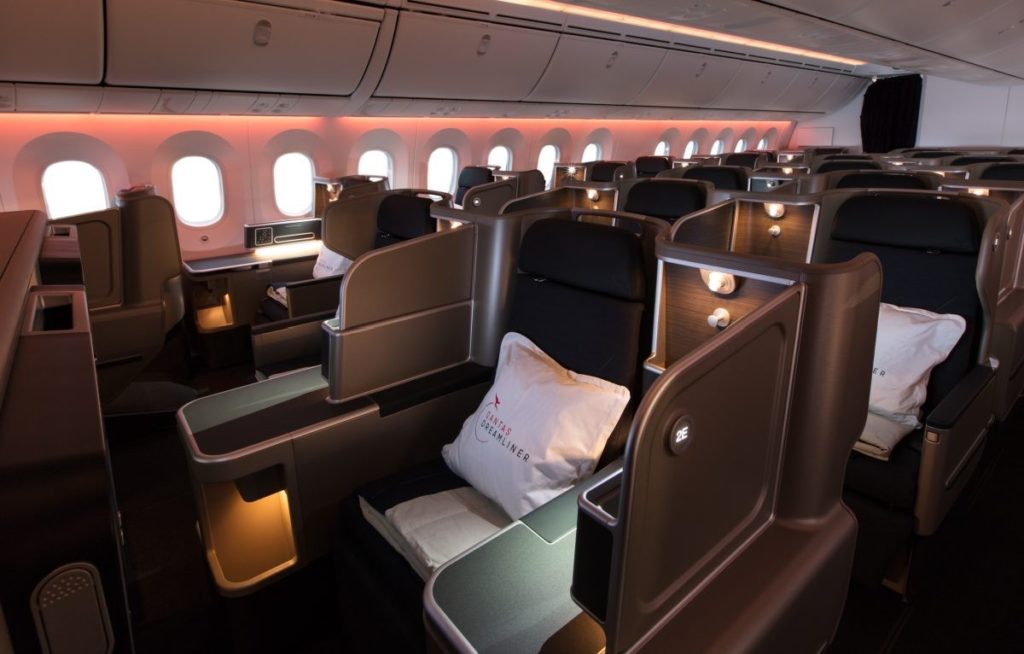 When flying Jetstar, I have always bought the bundle packs – which include checked bags and a meal as well as allowing you to earn Qantas Frequent Flyer points on your fare.
I have also travelled other airlines internationally including Air New Zealand, United, Delta and Hawaiian Airlines on paid fares and have signed up to each airline's loyalty program which is generally best to credit points to – unless you are chasing status with a partner airline.
FLYBUYS – 80,080 Velocity points
This has been a fairly big points-spinner for me in recent years to build up by Velocity points with everyday spend.
The Flybuys program allows you to earn points with Coles, Coles Express, Kmart and Target – among many other brands – and transfer them to a linked Velocity account.
Most of my Flybuys points have been earnt through grocery purchases at Coles, but I have also earned some points with Coles Express, Kmart, Mycar, Target and Liquorland.
Regular earn rates aren't overly enticing, however regular special offers are.
I often receive emails offering 10,000 bonus Flybuys points if I spend $50 per week at Coles for four weeks.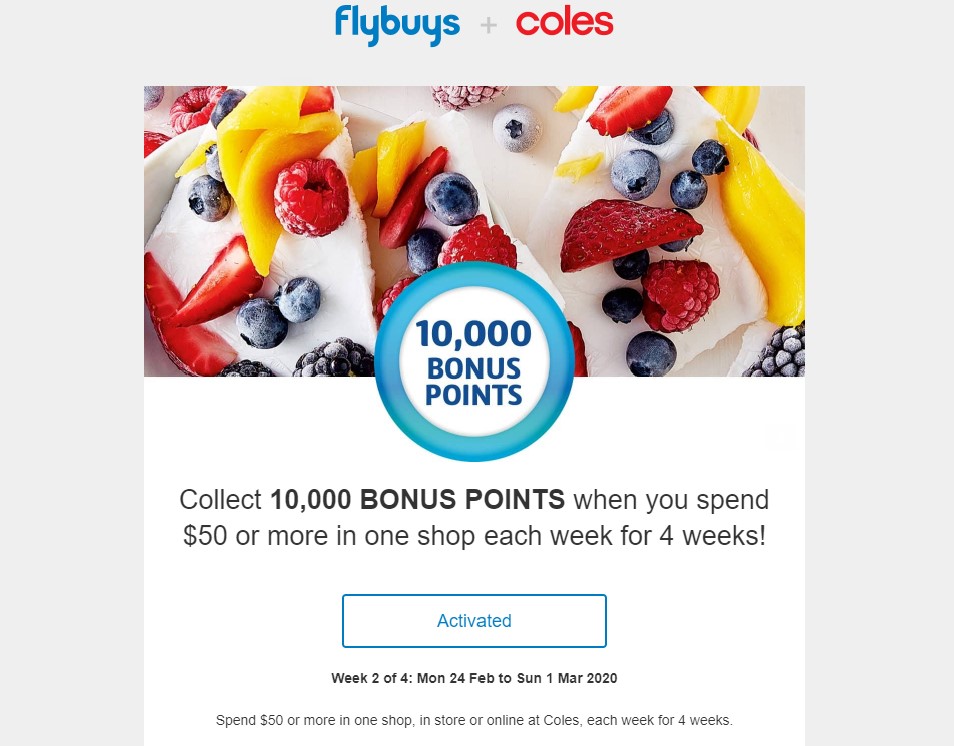 These can be combined with coupons sent out in the mail or accessible via the Flybuys app offering things like 1000 bonus Flybuys points for spending $40 at Coles in a given week or triple Flybuys points on your biggest purchase at Coles.
Using these, it's not uncommon to be able to earn 14,000 Flybuys points for spending just $200 at Coles over a four-week period.
Flybuys points can be transferred to Velocity at a rate of 2000 to 870 points.
However, I always transfer my points during regular bonus promotions, where you can receive 15 per cent more points – making 2000 Flybuys points worth 1000 Velocity points.
EVERYDAY REWARDS – 14,920 Qantas Points
Being disloyal to supermarkets is the best way to earn more loyalty points.
I often rotate between shopping at Coles for 6-8 weeks and then shopping at Woolworths for the next 6-8 weeks, where practical.
This way, the Flybuys and Everyday Rewards programs often offer you bonus points promotions to entice you back.
Everyday Rewards also emails me regular promotions to earn bonus points for spending $50 each week for four weeks or earning triple points on my biggest shop in a week.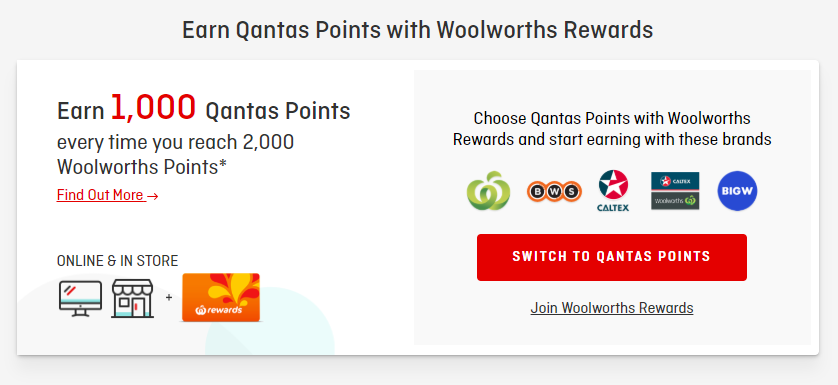 I also earn points using my Everyday Rewards card at Woolworths Caltex service stations when filling up on petrol.
Everyday Rewards points can be automatically set up to convert to Qantas Frequent Flyer points at a rate of 2000 points to 1000 Qantas Points.
GAS AND ELECTRICITY – 26,902 Qantas and Velocity points
I had been with Energy Australia as my provider of gas and electricity for the past few years.
They offered 2000 bonus Velocity points on each of the two accounts per anniversary year.
Unfortunately, this deal has ended and no longer available to new customers.
However, I have recently moved to Red Energy, where I found a better deal than I was on and received 15,000 Qantas Frequent Flyer points as a sign-up bonus for switching my electricity and gas accounts.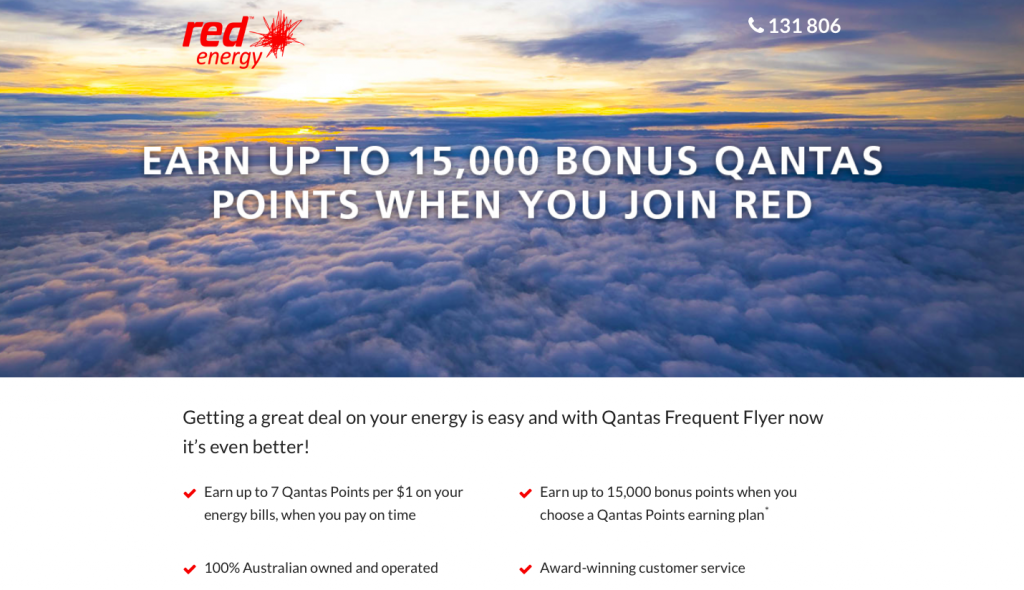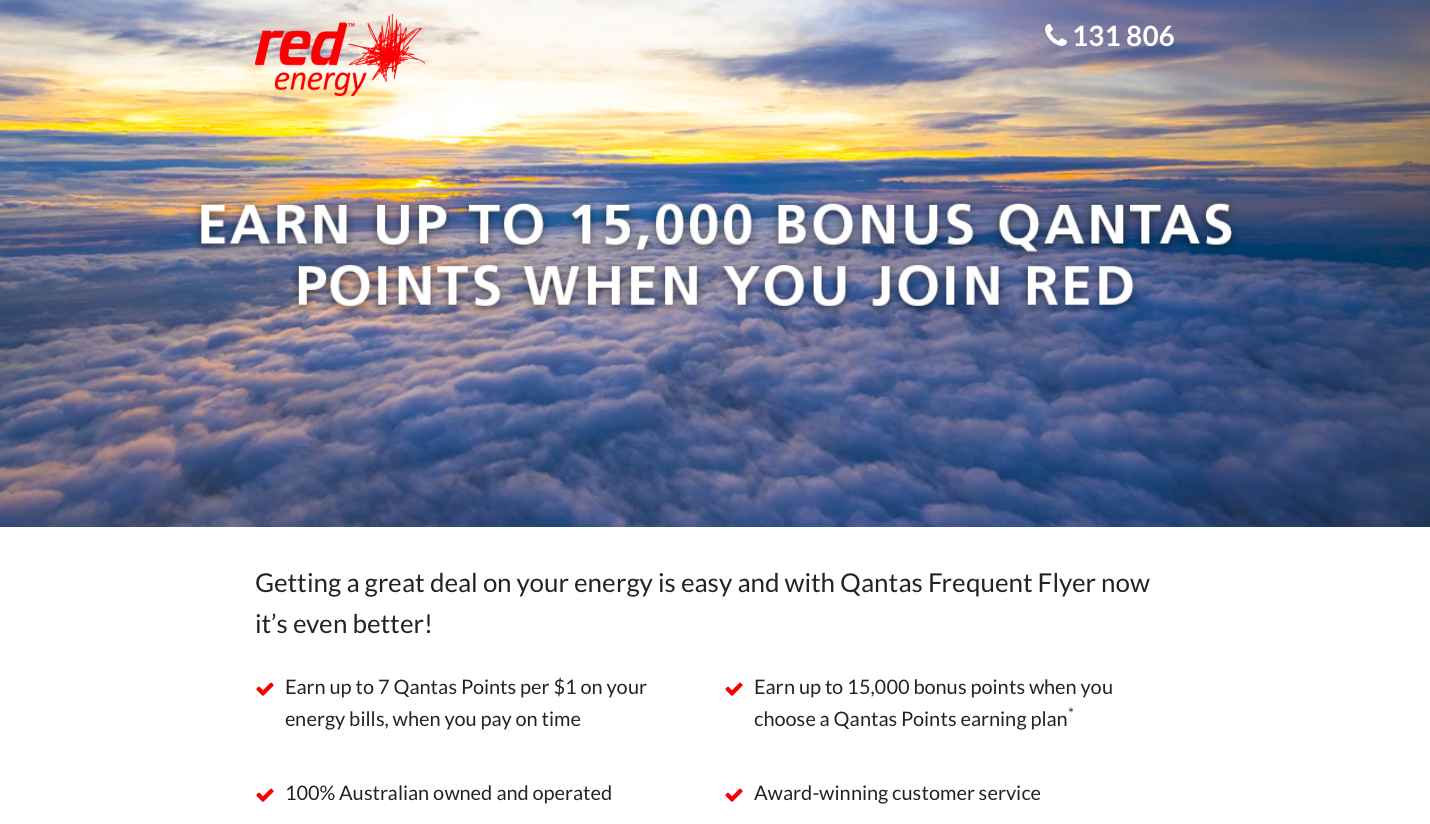 If you are referred by a friend who provides you with a link, you can even earn an additional 3,500 Qantas Frequent Flyer points.
Depending on which Red Energy plan you select, and which state you reside in, you can also earn up to 7 Qantas Frequent Flyer points on every dollar spent on each bill.
ONLINE SHOPPING – 18,930 Qantas and Velocity points
It is possible to triple-dip on points earned when shopping with some online retailers.
Take Kogan.com for example.
Kogan has a partnership with Qantas Frequent Flyer, which allows you to earn 1 point per $2 spent on eligible purchases.
You can get a further 2 points per $1 spent by using the Qantas Shopping online mall to access the Kogan website and make your purchase.
Then, you can earn up to 1.25 points per $1 using a Qantas Frequent Flyer-earning credit card to complete those purchases.
In total, you've earnt 3.75 points per $1 on your Kogan purchase.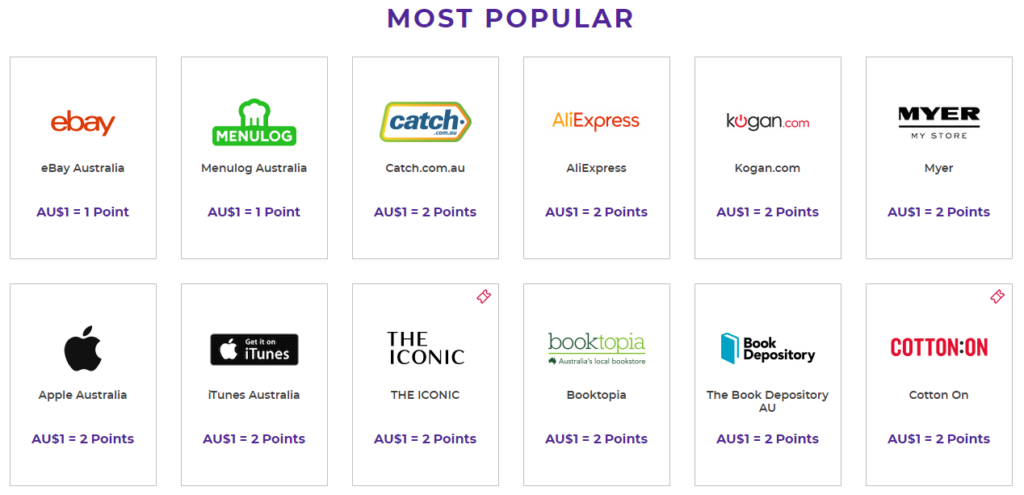 I've used both Qantas Shopping and Velocity eStore online shopping malls plenty of times to earn points on purchases with eBay, Apple, Catch, Scoopon, Kogan and Menulog to name just a few.
Often these malls also have bonus points promotions where you can earn as many as 8 points per $1 spent with retailers.
Use the Bonus Points Finder to compare points earn rates at hundreds of retailers in Australia here.
Ad – Scroll down to continue reading.Minimum spend, terms & conditions apply.
HOTELS – 140,824 Hilton, Marriott and Velocity points
I have status with Hilton, Marriott and Accor and therefore stay with one of the three chains on most of my travels.
All three programs allow points to be credited to either Qantas Frequent Flyer or Velocity Frequent Flyer.
However, with Hilton and Marriott I normally credit points to their own programs to use for high-value hotel redemptions.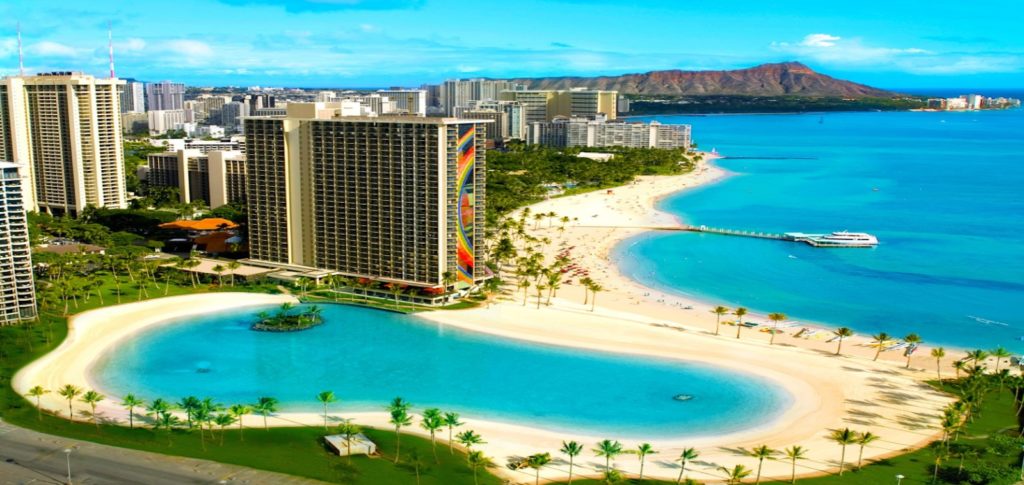 When staying at other smaller chains or non-chain hotels, I have used the Agoda PointsMAX program to earn Qantas Frequent Flyer or Velocity points on stays.
PETROL – 8,658 Velocity and Qantas points
These points had been primarily earnt through the Velocity partnership with BP service stations, which allowed points to be earned on each litre of fuel purchases as well as in-store purchases.
I also took advantage of regular promotions emailed to be through this program, which included things like earning 600 bonus points for filling up twice in a two-week period at BP.
BP has now partnered with Qantas, and I have signed up with the BP Rewards program and begun earning Qantas Frequent Flyer points on my petrol purchases instead.
MOBILE PHONE PLAN – 30,000 Velocity points
I recently switched my mobile phone plan to Optus and collected a handy 30,000 Velocity points for signing up and staying connected for three months.
Optus has been doing a few of these deals in recent months with both Velocity and Flybuys.
Current Optus customers who reconnect on a 12-month plan can also be eligible for bonus points.
CAR RENTAL – 11,552 Velocity points
My preferred car rental company is Hertz, which I have used multiple times over the past two years for rentals both in Australia and the United States.
Having held status with Velocity, I have credited points to that program, which provide bonus points if you are a Velocity Silver, Gold or Platinum member and hire a car with Hertz.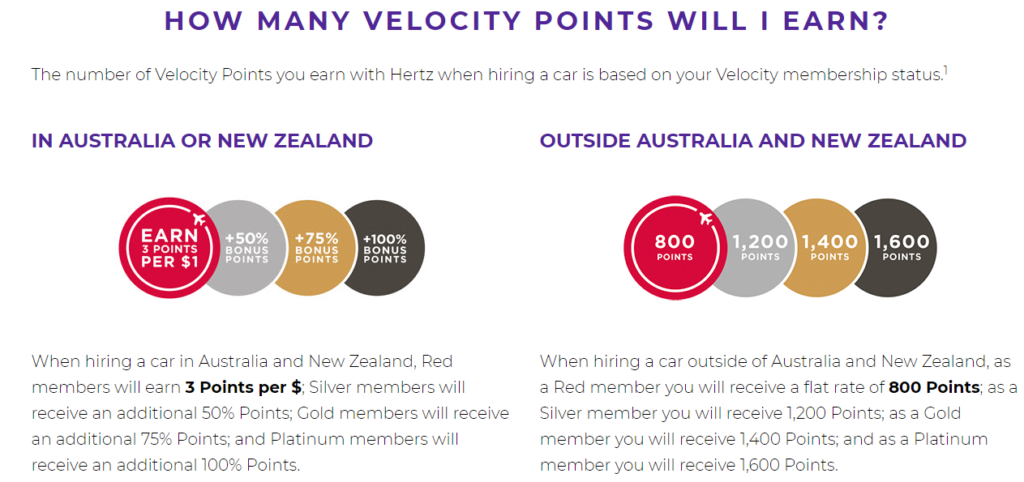 RIDE SHARING – 2,198 Qantas and Velocity points
I've used Uber to take me to the airport when travelling, which earns 1 Qantas Frequent Flyer point per $1 spent on trips to and from eligible Australian airports.
I also cashed in on the 1000 Velocity points sign-up bonus offered by Ola and have used that service at times for an ongoing earn of 1 Velocity point per $1 spent on all Ola rides.
MISCELLANEOUS – 1,986 Qantas and Velocity points
From time-to-time Qantas and Velocity have offered extra points for completing short surveys or as part of a birthday bonus promotion, which I have sometimes taken up.
Free points? Why not.
SUMMARY
Using a large variety of ways, I've managed to earn a handy 990,816 loyalty points with airlines and hotels over the past 24 months – just shy of the magical 1,000,000 points mark. Credit cards have made up more than half of this total thanks to some lucrative sign-up bonuses as well as putting all household and personal expenses on points-earning cards.
I have done a significant amount of travel in the past two years which has earnt me points from flying with airlines, staying at hotels and renting cars. However, simple things at home like buying groceries, purchasing petrol, changing phone or electricity and gas suppliers and using ride-share services have also netted me plenty of points.

How to earn 1 million points in two years
was last modified:
November 2nd, 2022
by