In the last couple of years the options for earning points outside of travel has opened up considerably.
There are now a few different way to earn points from your gas and electricity bills, and I thought I'd run through the different options for Velocity and Qantas Point earn, as well as some different payment options to consider.
I'm not doing any price comparisons in this post given how personal the options can be – you'll need to look at the different providers and figure out which works for your needs.
Earn Velocity Points with Lumo Energy – 10,000 points on signup, 6 points per $ on spend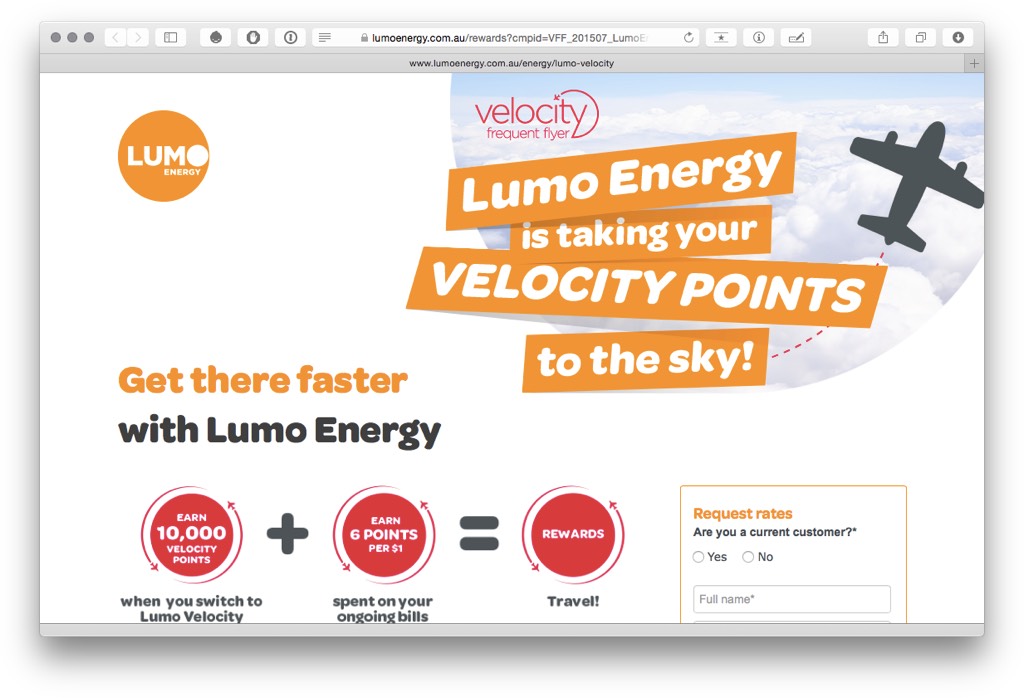 Lumo Energy and Velocity have been working together for some time, as the only partnership between a utility supplier and Velocity frequent flyer.
Lumo will offer you 10,000 Velocity points to sign up for either electricity or electricity and gas plans, and a further 6 points per $ on ongoing spend.
Lumo only operates in New South Wales, Queensland, Victoria, and South Australia though – so the Northern Territory, Western Australia, ACT and Tasmania are out of luck.
You'll also need to take up a 24 month contract.
Earn Qantas Points with iSelect – up to 2,000 Qantas Points from a range of providers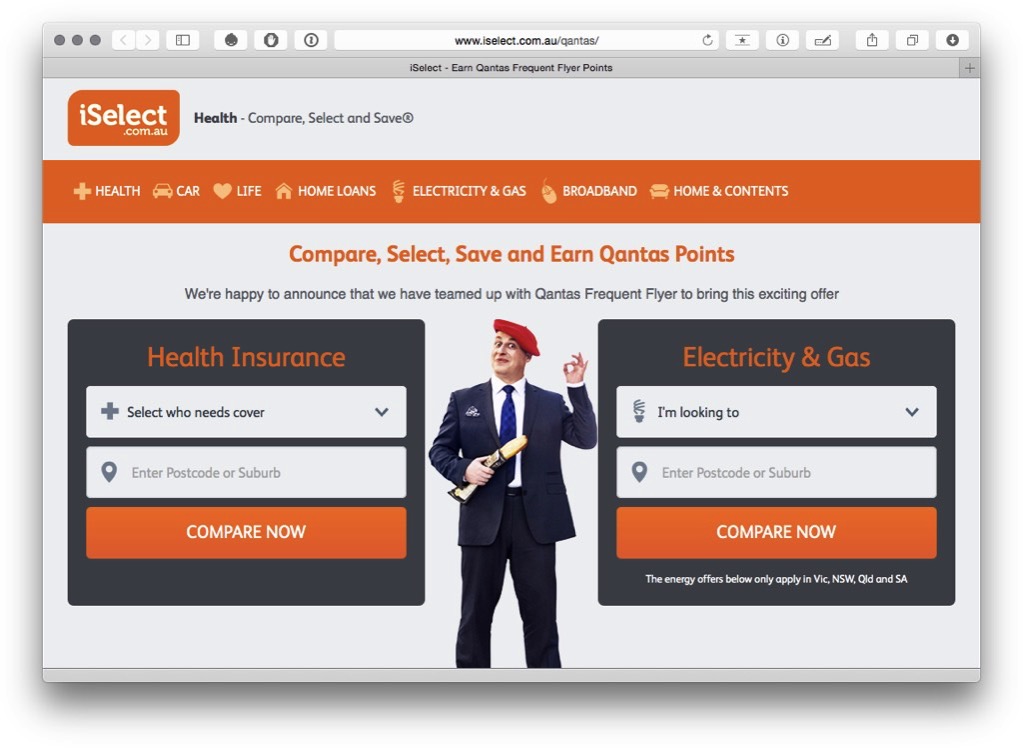 In what's quite a different model to Velocity's partnership, Qantas teamed up with iSelect, a comparison website, to offer points across a range of providers that iSelect work with.
There's a 2,000 Qantas Point bonus when you purchase an electricity and a gas product, or 1,500 Qantas Points for an electricity product only, or 1,000 Qantas Points for a gas product only.
There are once again only in New South Wales, Queensland, Victoria, and South Australia, and there's a 2,000 point earn limit per address each year.
Earn Flybuys points with AGL – 10,000 Flybuys points for a new account
I don't talk about Flybuys much here on Point Hacks – they have a pretty fixed redemption value of 0.5c, and I think you can do better out of frequent flyer points.
Regardless, AGL will offer you 10,000 Flybuys points (worth $50.00) to switch your business to them, as well as a further 500 points apiece to sign up to Direct Debit or My Monthly Bill.
You'll also earn 1 flybuys point per $1 spent ongoing.
The AGL flybuys option I think is only worth considering if you are already with AGL and haven't yet linked your accounts – you may as well pick up the points.
Honourable mention – Appliances Online and Velocity Points
It's not a utilities provider, but Appliances Online are worth a mention – often when moving house you might want to change white goods too.
You can earn 2 Velocity points per $ at Appliances Online through the Velocity eStore.
Paying using the right credit card and other payment options
You should also, of course, earn points by paying your bills with a points earning credit card.
Most cards will allow you to earn points at the same rate as other purchases, with the notable exception of American Express Membership Rewards cards which reduce the earn rate to 0.5 points per $ on utility bills.
You may also want to look at using the Australia Post 'Digital Mailbox' service which offers an additional 50 Velocity Points per bill payment, and an option to save your credit card in their account for future bill payments.
My take – do I earn points with my electricity account?
I spent some time looking at iSelect some time ago and found that while they have a broad range of providers, they didn't actually offer all the available plans from those providers.
In my case, when I went to look at my preferred energy supplier, the plan I actually wanted (which had some specific benefits and a reduced price) didn't show on iSelect. iSelect, understandably, didn't show that plans were missing from their line-up either – as they wouldn't earn a commission from them.
Key takeaway: as always, take time to shop around and verify you are getting an acceptable deal before you commit to earning points from either Lumo or via iSelect.
Up to 10,000 Velocity points for switching energy providers – Guide to earning Qantas & Velocity points from energy and utilities
was last modified:
February 6th, 2019
by