In the last decade, the options for earning points outside of travel has opened up considerably.
There are now numerous ways to earn points from our day-to-day expenses including topping-up fuel, shopping through Qantas Shopping or Velocity eStore, dining reservation as well as booking accommodation for your next getaway. Check out our guides to earning more Qantas Points or Velocity Points to learn more.

In this article, we will run through your options for earning Qantas and Velocity Points from your gas and electricity bills as well as some different payment options to consider.
We will not be doing any price comparisons in this post given how personal the options can be – you will need to look at the different providers and determine which works for your needs.
Earn Qantas Points with Red Energy
Up to 15,000 Qantas points and 30 Status Credits with signup, plus 2 points per $1 spent ongoing
Expiry: Bonus Status Credits awarded until 10 Jan 2021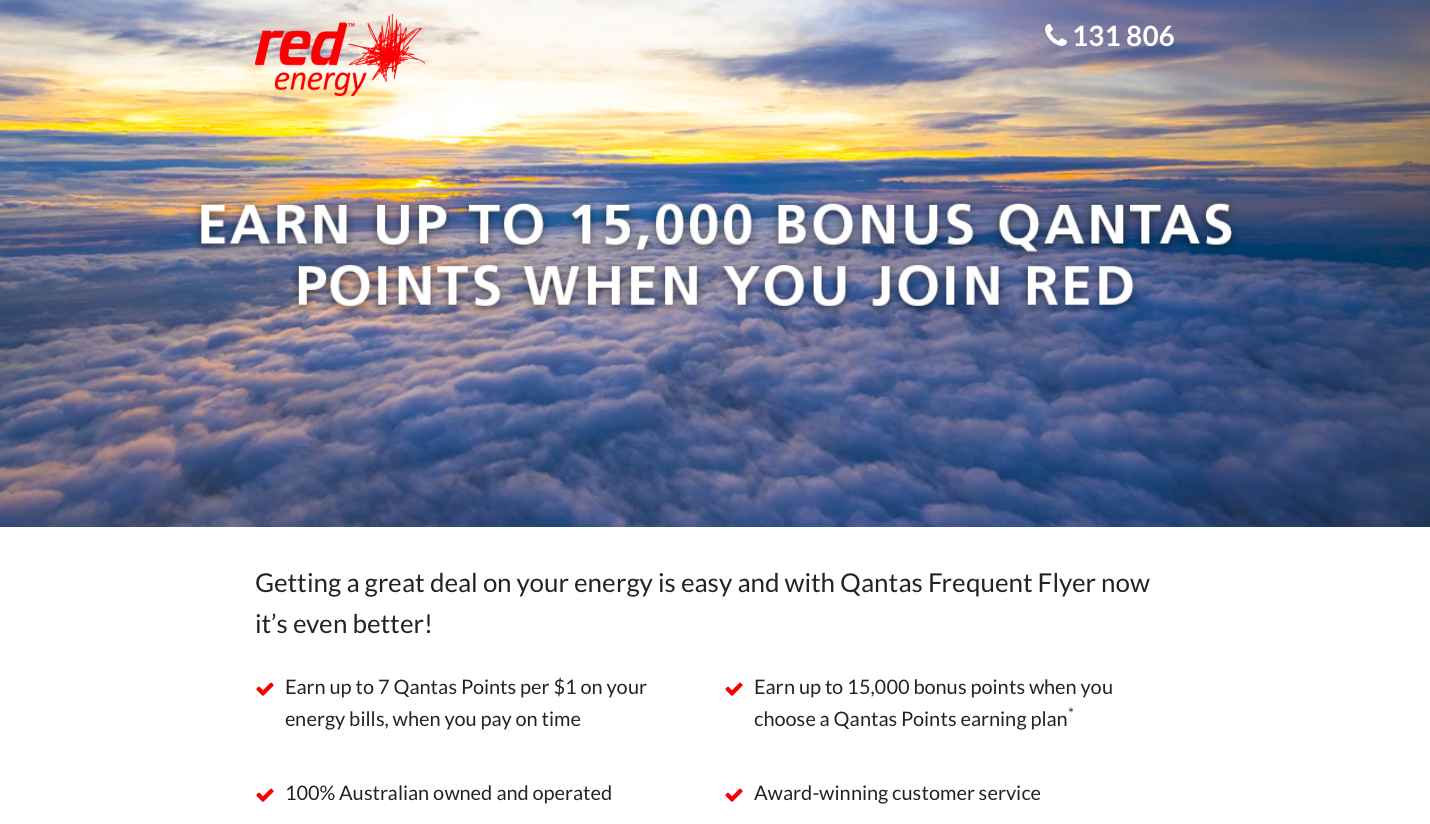 Red Energy is offering 10,000 bonus points and 20 Status Credits for starting a new electricity contract or 5,000 bonus points and 10 Status Credits for a new gas contract. The Qantas Red Saver plan earns 2 points per $1 spent on your combined electricity/gas bills, ongoing.
However, it is clearly stated that points earned through usage will only be awarded if the bill is paid on time, so be sure to set reminders.
Both plans have no contract term for electricity or gas and a cooling-off period of 10 business days, in case you change your mind. If you are an existing Red Energy customer, simply make sure you switch to the Qantas Red Saver plan to earn ongoing points.
Not a Qantas Frequent Flyer member yet? Sign up through Red Energy for free (instead of paying AU$99.50). Or, check out our article on how to sign up for Qantas Frequent Flyer membership for free.
Earn flybuys points with AGL
10,000 flybuys points for a new account
AGL will offer you 5,000-10,000 flybuys points (worth $25-50) to switch your business to them. However, this promotion can change from time to time, so check this page for the latest offer.
You can also earn a further 500 points for signing up to Direct Debit or My Monthly Bill. To do that, login to My Account and sign up to Direct Debit using your bank account, Paypal or credit card.


You will also earn 1 flybuys point per $1 spent ongoing on AGL gas and/or electricity bills (although this gets halved if you still get paper bills instead of electronic).
Each block of 2,000 flybuys points can be converted to at least 870 Velocity Points (even more when there are transfer bonuses). At this time, it's the only way to get Velocity Points from an electricity provider.
The AGL flybuys option is worth considering if you are already with AGL and haven't yet linked your accounts – you may as well pick up the points. You can do that through this link.
Click here to read more about flybuys-Velocity partnership.
Ad – Scroll down to continue reading.Minimum spend, terms & conditions apply.
Honourable mentions
Appliances Online and Velocity Frequent Flyer
It's not a utility provider, but Appliances Online is worth a mention, as you might want to update your whitegoods when moving house or changing plans too.
You can earn 2 Velocity Points per $1 spent at Appliances Online through the Velocity e-Store.
Solargain and Qantas Frequent Flyer
If you're thinking of switching to solar energy, it might be worth getting a quote from Solargain as part of your research. You can earn from 500 to 5,000 Qantas Points on eligible orders which include routine maintenance to solar hot water systems.
See the full earning list through Qantas Frequent Flyer.
Terminated partnerships
Energy Australia and Velocity Frequent Flyer
As of April 1st 2019, Velocity has ended their partnership with Energy Australia. Velocity members will no longer be able to receive a sign-up bonus of Velocity Points or link their Velocity membership to their Energy Australia account.
However, existing Energy Australia users who have previously linked their Velocity account will continue to receive their annual 2,000 bonus Velocity Points on their anniversary date until 31 March 2021.
Lumo and Velocity Frequent Flyer
Velocity also parted ways with Lumo, with contracts created up to 31 October 2016 honoured. However, it's no longer possible to earn Velocity Points with them.
iSelect and Qantas Frequent Flyer
Qantas have terminated their partnership with iSelect. Only members who took out an eligible policy before 27 October 2016 will earn Qantas Points if their Qantas Frequent Flyer number was provided to iSelect within the first month of purchase.
Paying using the right credit card and other payment options
You should aim to pay your bills with a points-earning credit card in order to earn additional points on top of those that you earn with your electricity or gas provider.
Most cards will allow you to earn points at the same rate as other purchases, with the notable exception of American Express Membership Rewards cards, which reduced the earn rate to 1 American Express point per $1 spent on utilities (which equates to 0.5 frequent flyer points per $1 spent).
Summing up
Make sure to take time to shop around and verify you are getting good value from a plan before you commit to earning points.
In particular, you should check if going for a competitive non-points earning plan might save you more money than one with bonus points included, as I generally don't think it's a good idea to be wasting extra money in the quest for more points.
This updated guide was originally written by Keith Mason.
Guide to earning Qantas & Velocity Points from energy and utilities
was last modified:
December 15th, 2020
by