Since 2016, Agoda customers have had the ability to earn points on hotel stays with PointsMAX. There's a range of frequent flyer program partners to boost your points earn, including Velocity, KrisFlyer and Asia Miles.
This guide will explore the different partners with Agoda PointsMAX and what you need to look out for when making a booking.
What is Agoda PointsMAX?
PointsMAX is a way to earn benefits when booking accommodation on Agoda.com. Rather than operating its own frequent guest program, Agoda PointsMAX taps into existing loyalty schemes so members can earn points in to accounts that they already have.
At the time of writing, these were the programs associated with PointsMAX:

How do I earn points with Agoda PointsMAX?
Here are the steps to earn points on your next getaway:
Visit the Agoda website and log in or sign up
On the PointsMAX page, click on the loyalty program you want to earn points with
Search for your desired destination and dates
Review the different rates on offer (not all include points)
Complete the check-out process, including entering your loyalty program member number at the bottom
You will earn you points 6-8 weeks after the completion of the stay
Ad – Scroll down to continue reading.Minimum spend, terms & conditions apply.
Is it worth earning points with Agoda PointsMAX?
Unfortunately, Agoda PointsMAX isn't a program that automatically awards points on any rate you book. Only certain room rates are eligible to earn points, which will be highlighted during the booking process. This almost always means you may be paying more for your points.
Take a look at the example below. All other aspects being equal, the main difference is paying A$90 more (over three nights) to earn 6,250 Velocity Points, which we'd value at roughly $112.50.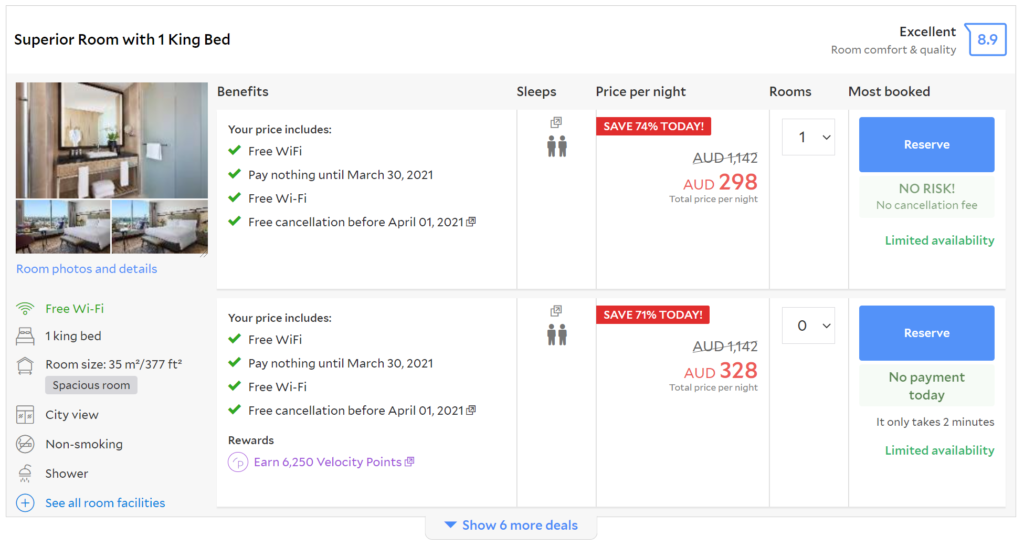 Is it worth it? That decision depends on whether those points will helpful for any short-term goals you may have.
What else needs to be considered?
Of course, you should also compare with booking with the property directly. This is especially true if you're an elite status member of a particular hotel chain — you generally won't be able to earn points or use status benefits when you book through a third-party such as Agoda.
Hotel chains may also offer member-only rates which may be cheaper than rates offered by other online travel agents.
Finally, there is a myriad of other options for earning points from hotel stays, like Kaligo and RocketMiles.
Summing Up
Agoda PointsMAX is great in that it encompasses a wide range of loyalty programs such as Velocity Frequent Flyer, United MileagePlus and Qatar Airways Privilege Club.
However, be aware that PointsMAX rates usually comes at an extra cost compared to room rates that don't offer points, so shop around accordingly and make sure you're not paying more than you need just to earn points.
This content contains affiliate links from which Point Hacks may earn commissions from transactions generated from new customers, bookings and general enquiries. Find out more here.
Supplementary images courtesy Agoda. This article was originally written by Todd.
Introduction to the Agoda PointsMAX program
was last modified:
August 25th, 2023
by