You'll never have a dull moment at Singapore Changi Airport. But once you've hit up the shops and visited the butterfly garden, it's nice to kick back before your flight. The Plaza Premium lounge might fit the bill. It even has sleeping pods and hotel-style rooms if you're looking to splurge on comfort.
While the Plaza Premium Lounge is best suited for travellers jetting out of Changi Terminal 1, it's relatively simple to visit from Terminals 2 and 3 too. So if some lounge time beckons, here's what awaits at the Plaza Premium.
Lounge location and details
Changi Airport may be vast, but it's easy to get around. Look for the 'Transfer C' area at the junction of Terminals 1 and 3. The Plaza Premium lounge is located upstairs, along with the Emirates and Qatar Airways lounges. Dedicated signage will point you in the right direction.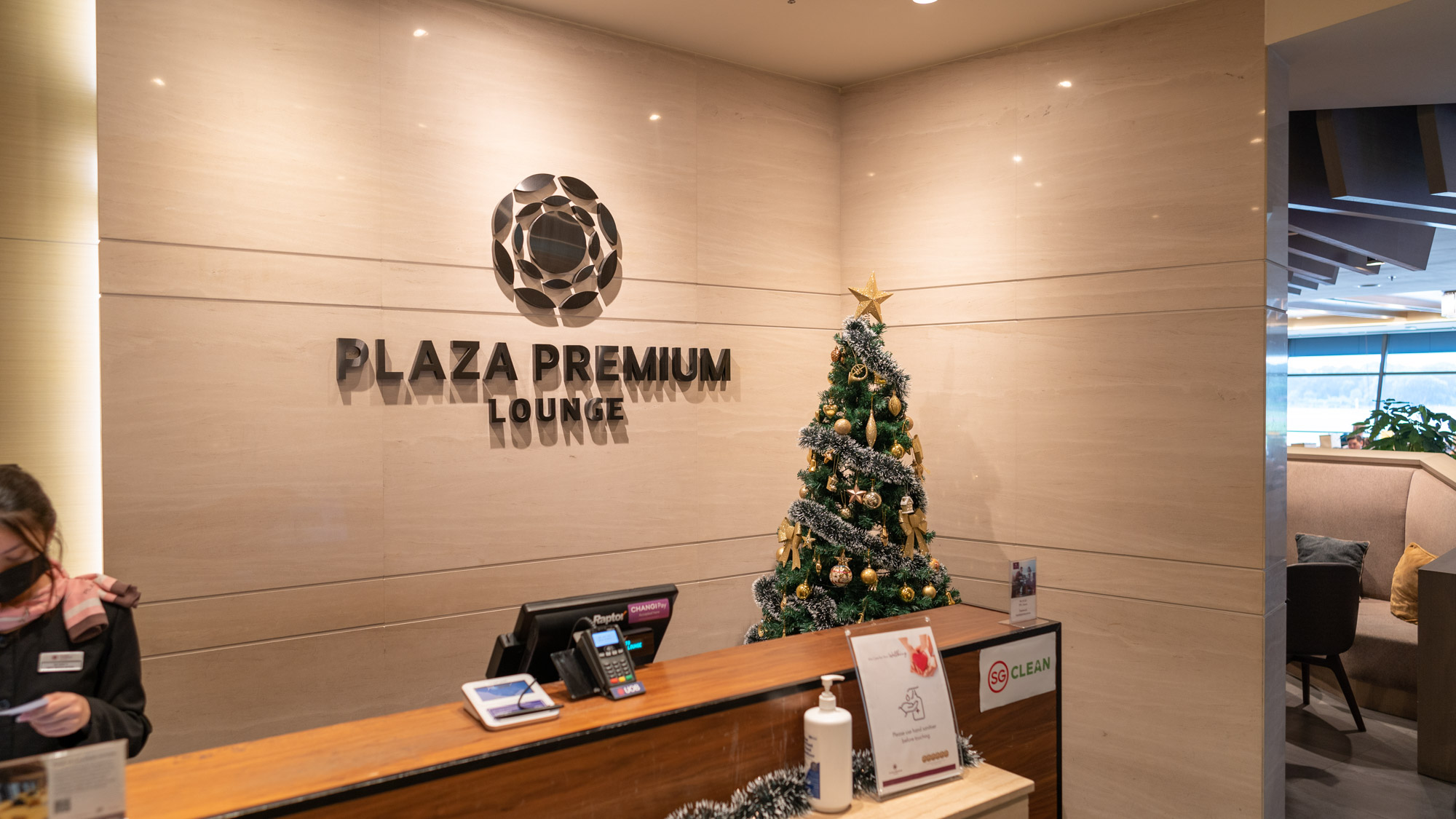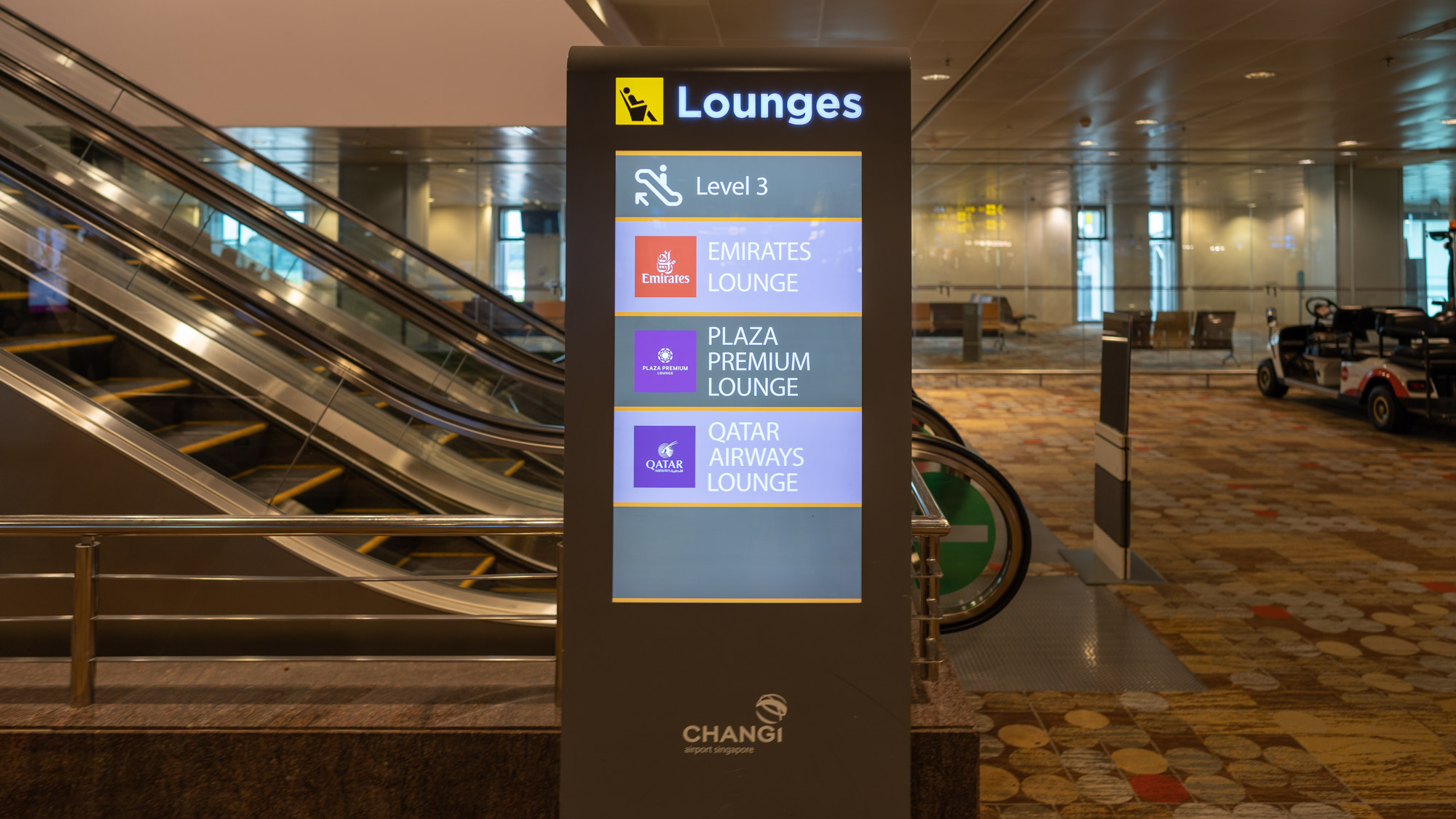 The Plaza Premium lounge welcomes passengers at all hours of the day and night.
Lounge layout and seating
The main lounge area
Many major airport lounges at Changi Airport have one shared flaw – limited or no window views and natural lighting. But that's not an issue here, with the Plaza Premium lounge occupying a prime slice of panoramic real estate. There are certainly worse places to perch, and I spot a few Qantas planes landing ahead of the daily Red Roo evening rush.
It's best to get here as early as you can because this lounge is a bit on the smaller side and was quite busy when I visited in the late afternoon. I'm sure Plaza Premium Lounge would love to have a larger footprint at one of their most important airports, but new lounge space is hard to come by at Changi.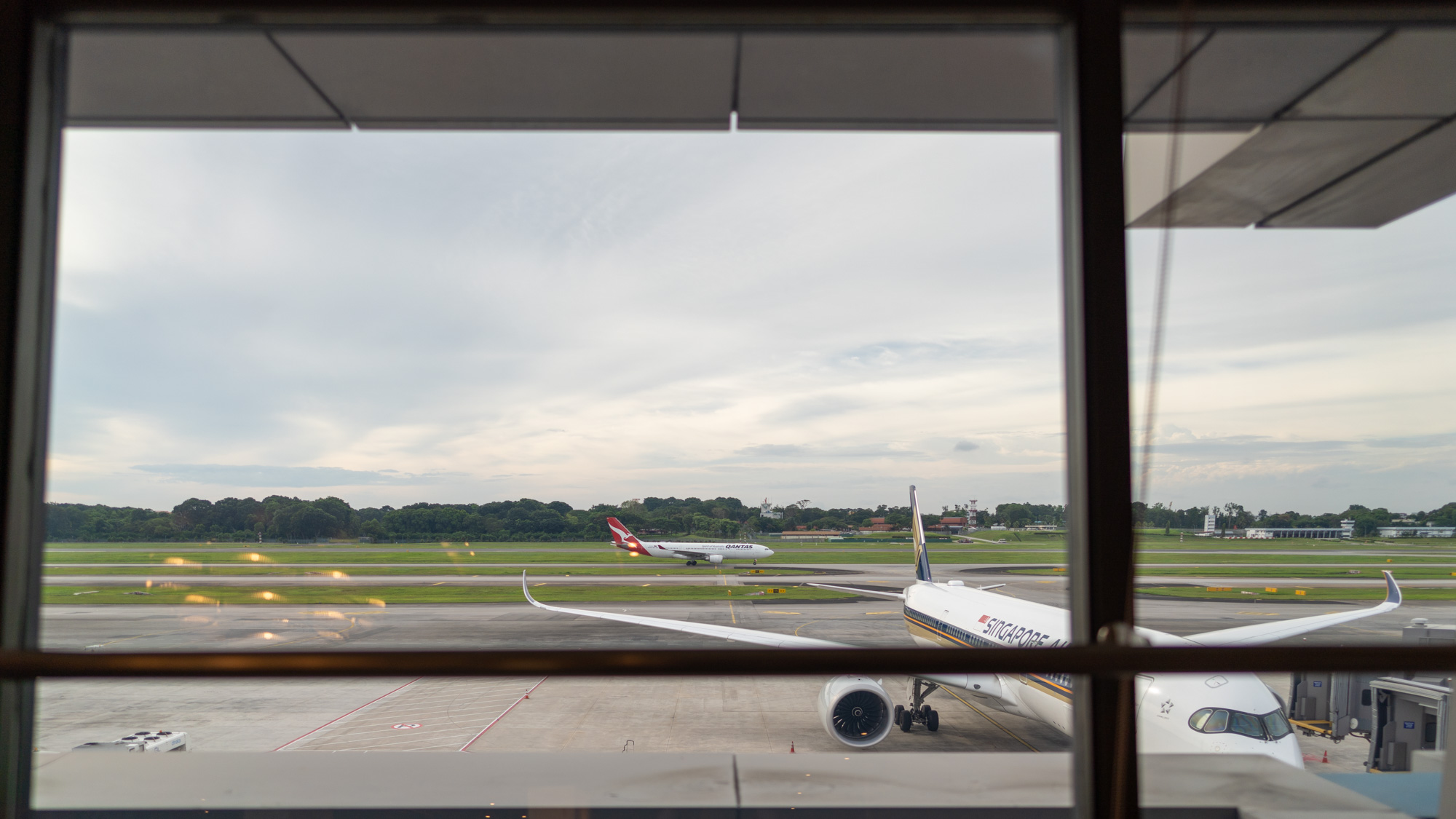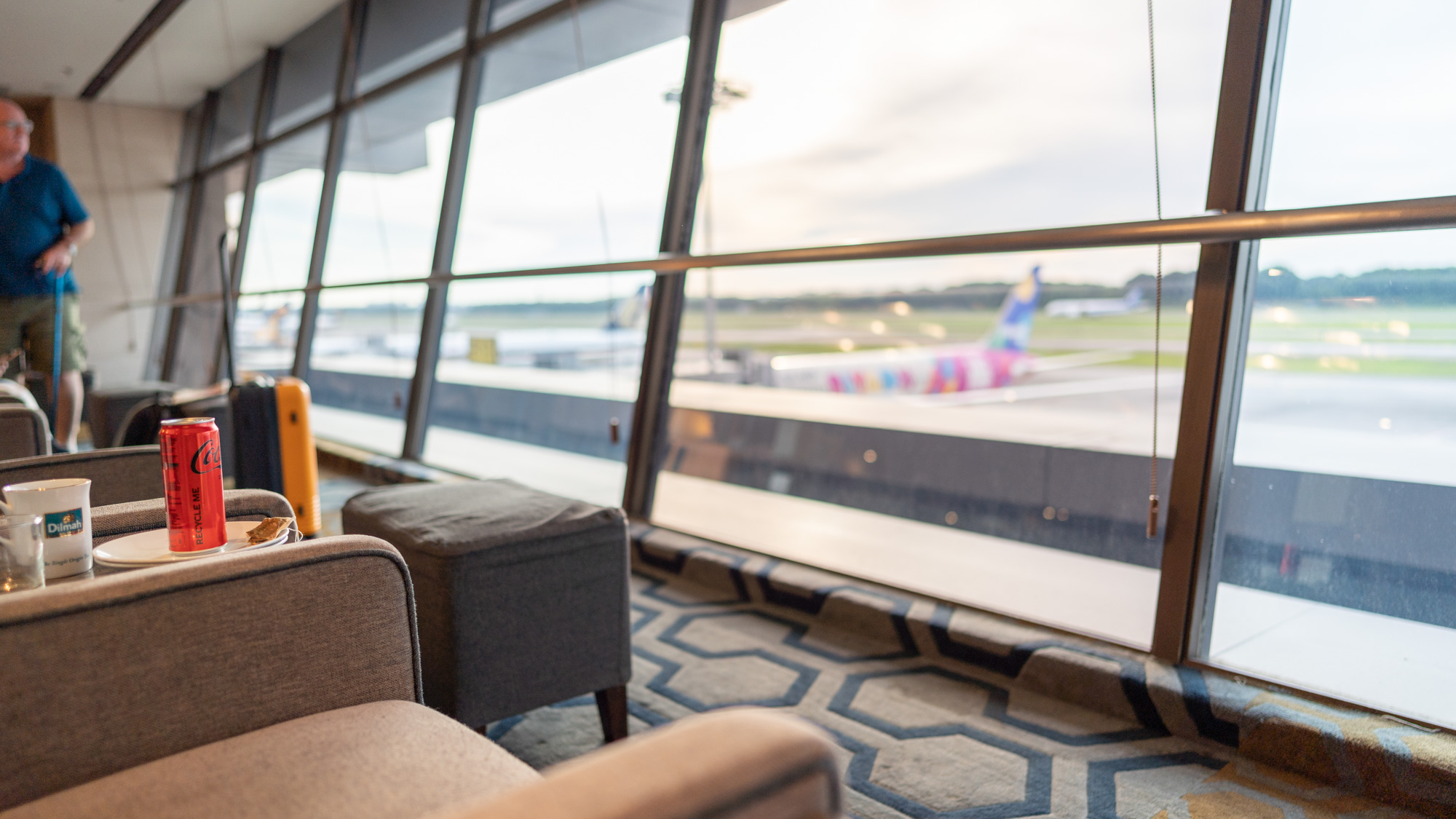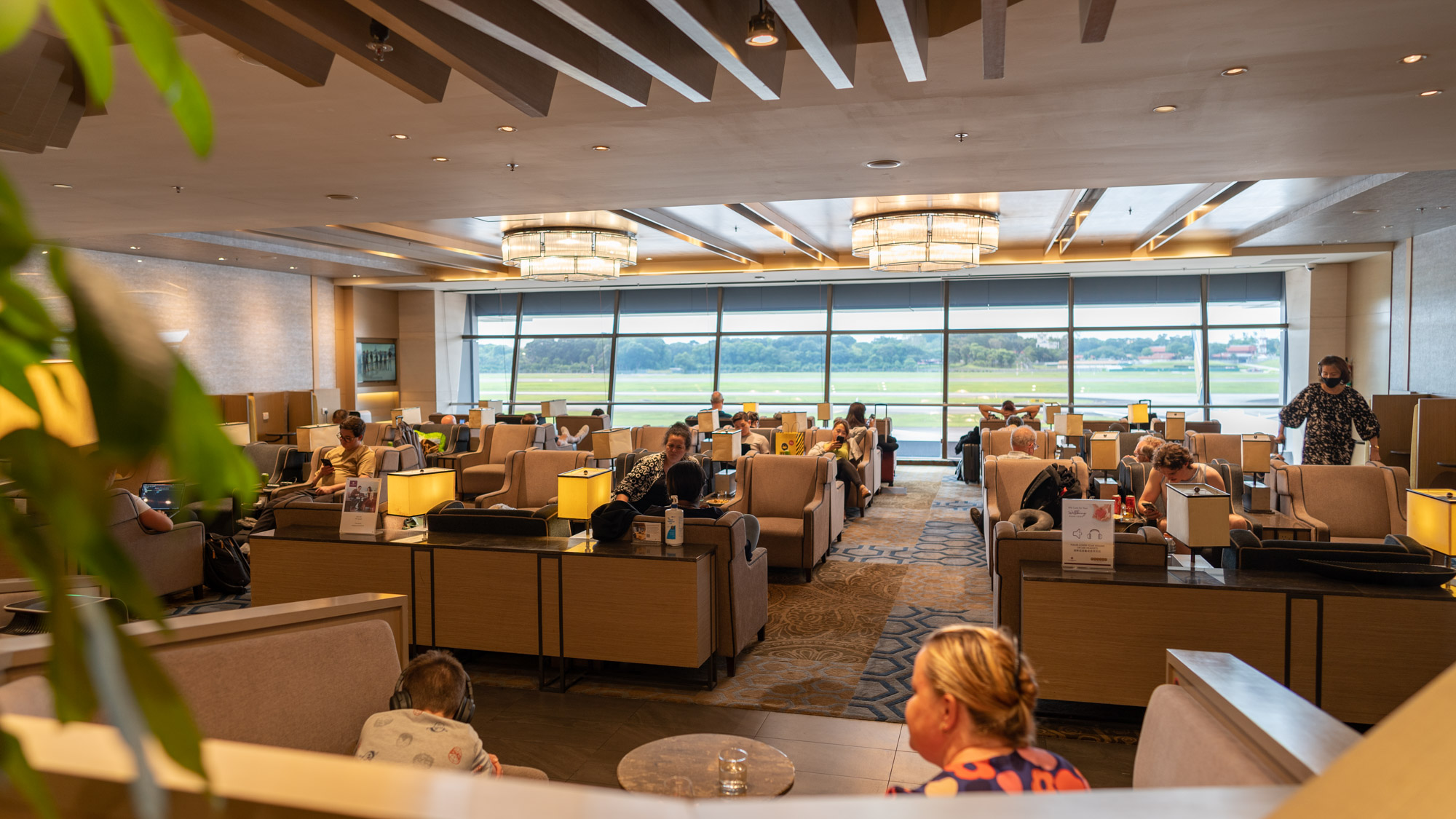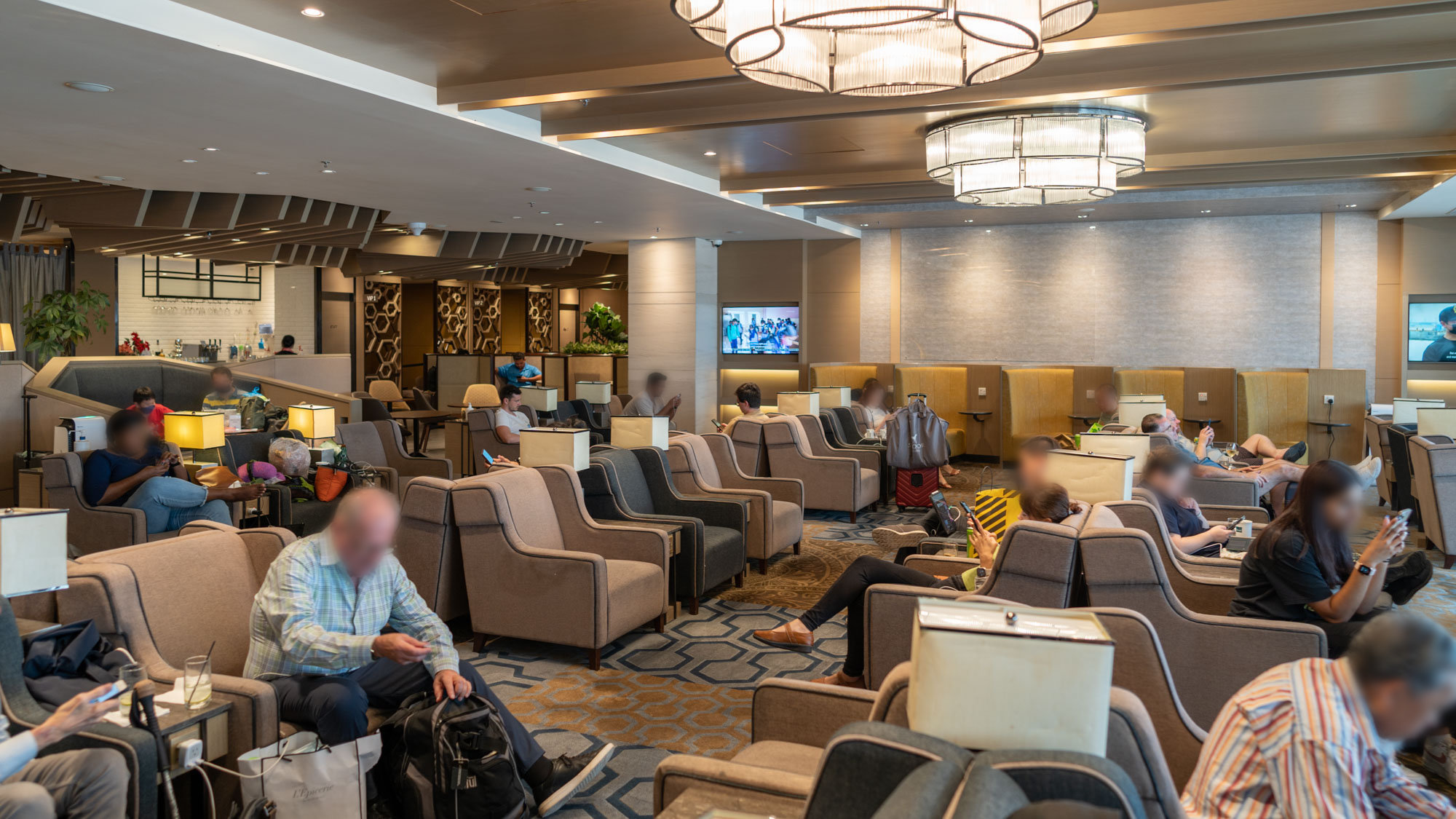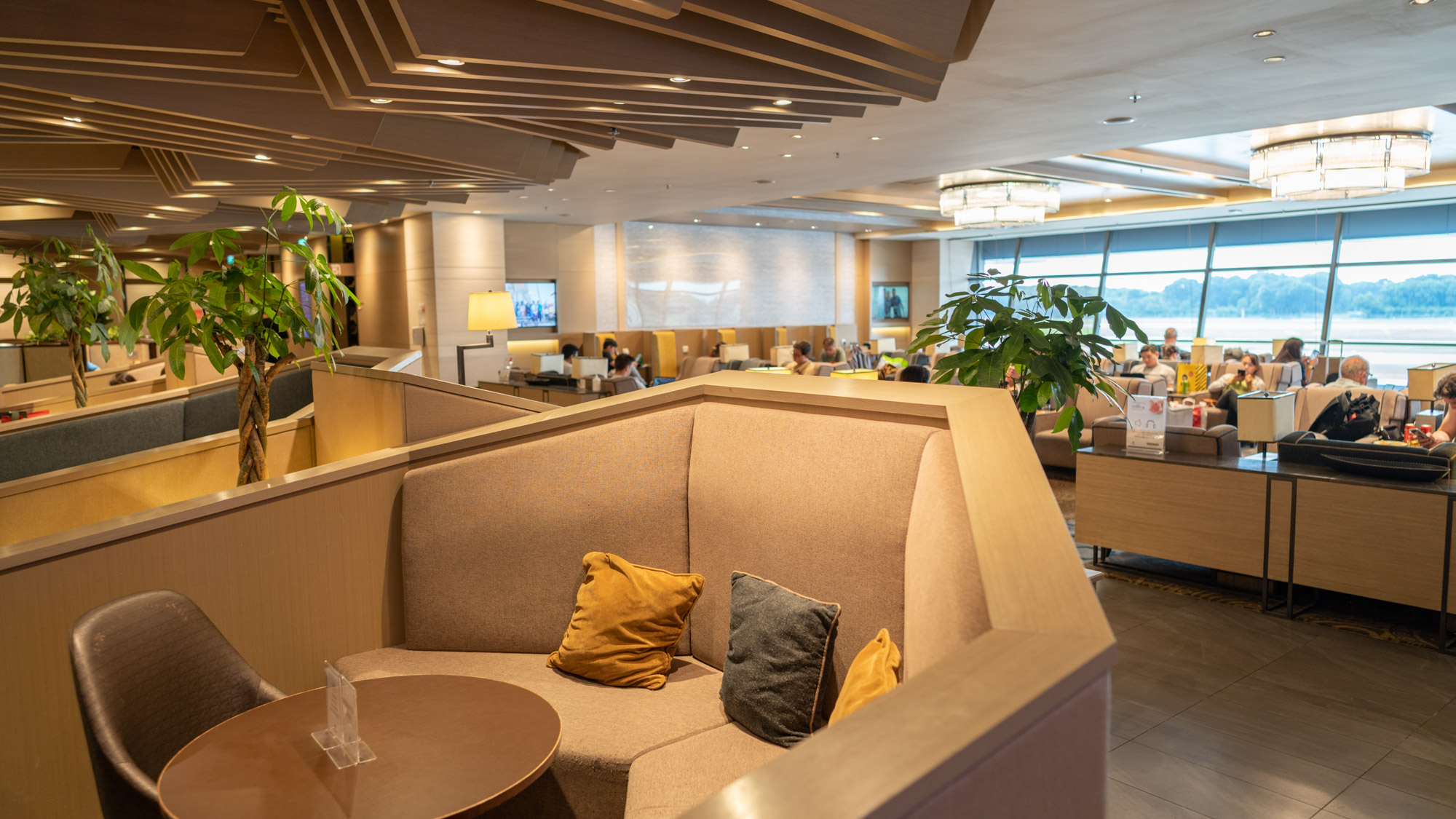 The main lounge area overlooks the apron and has a few rows of traditional paired sofas with lamps and charging ports in between. There's also some solo seating along the side walls, plus a few booths usually reserved for larger family groups.
Dining and working zones
Moving along, the lounge offers more café-style seating in the dining area. But if you'd rather find somewhere quiet to get some work done, then head down a bit further to find a 'hive' of Plaza Premium's signature 'honeycomb' solo seats – each decked out with individual lighting and power outlets.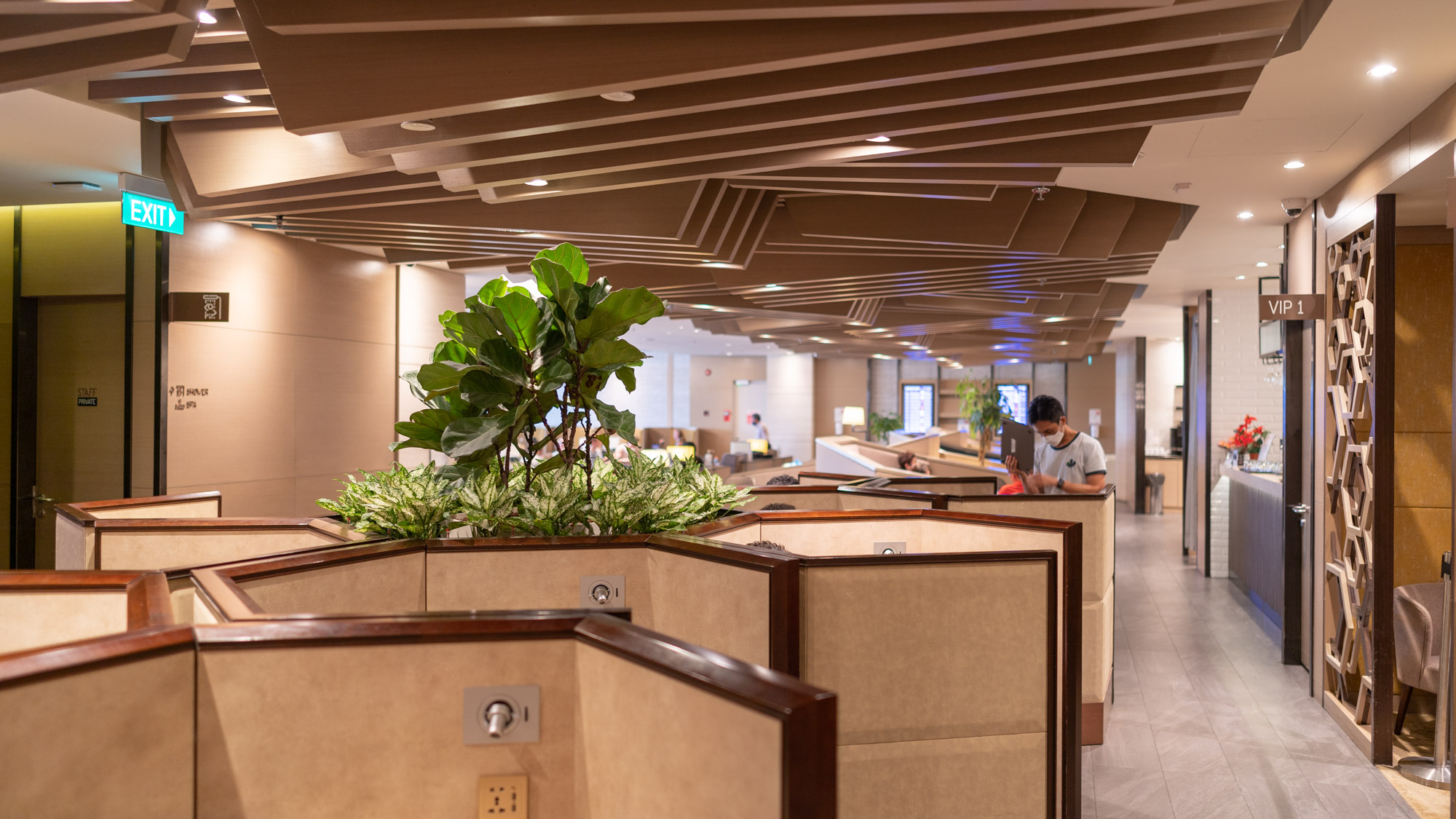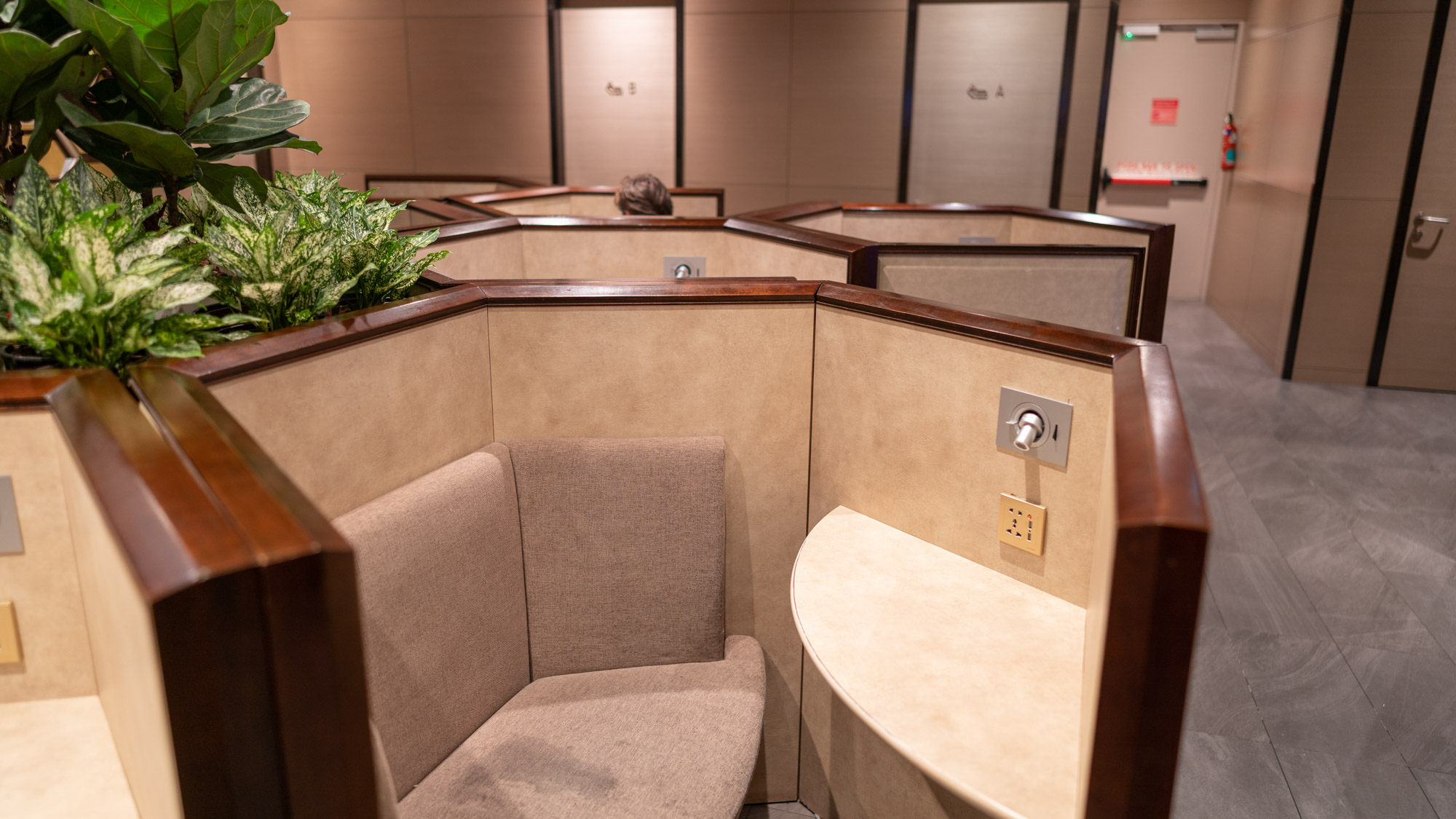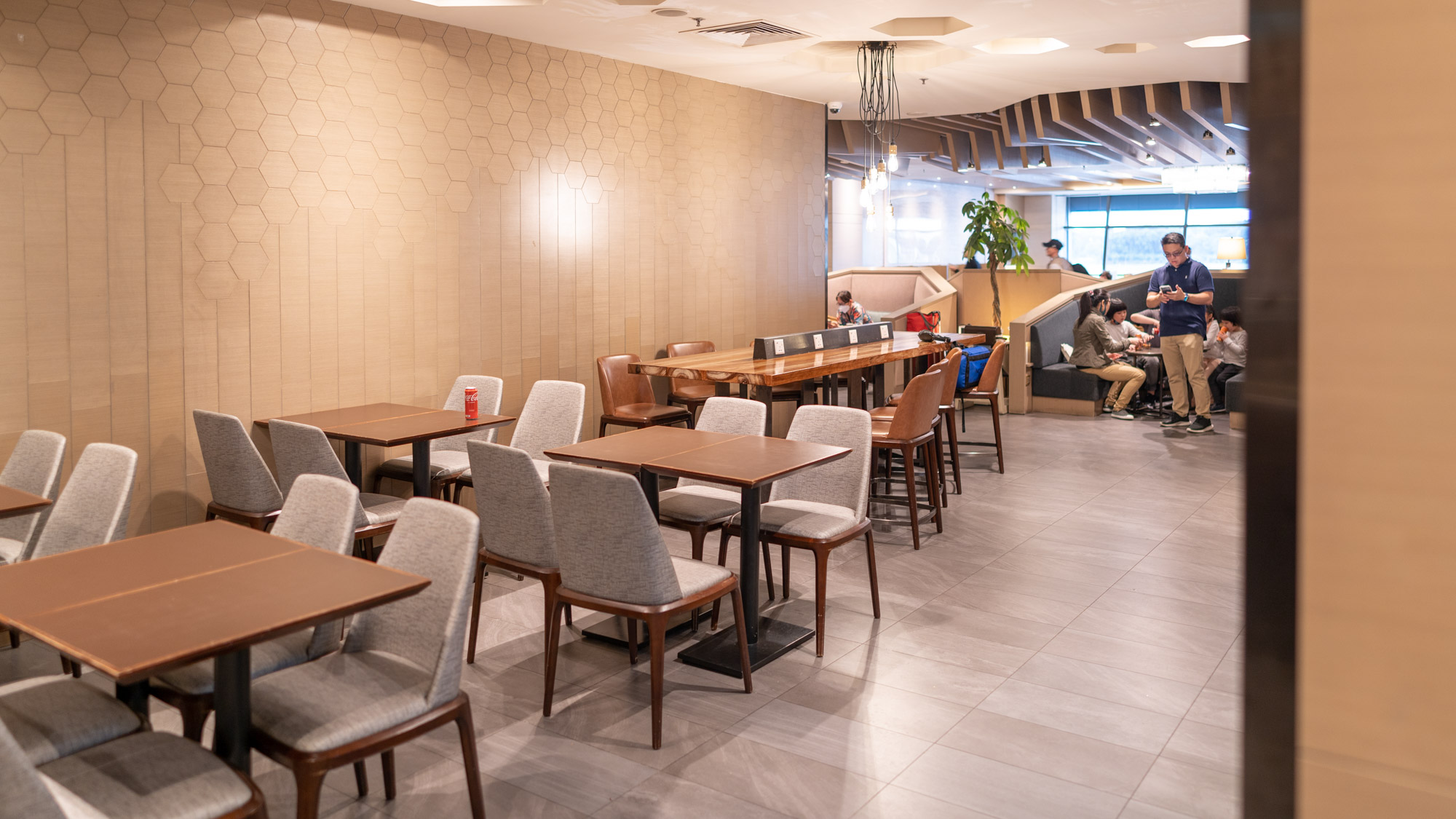 In short, Plaza Premium Lounge makes the most of the space it has and offers three distinct zones depending on what you feel like at the time.
Food and beverage
A taste of Singapore before departure
I visited the Plaza Premium Singapore lounge before the pandemic and distinctly remember enjoying the chicken rice and laksa. So I'm delighted to see that both dishes remain on the menu.
When freshly steamed, the chicken is tender and best eaten with the accompanying fragrant pandan rice, soy sauce and chilli. While I didn't try the laksa again on this occasion, it's available to order at the counter from 11:00 am to 11:00 pm daily.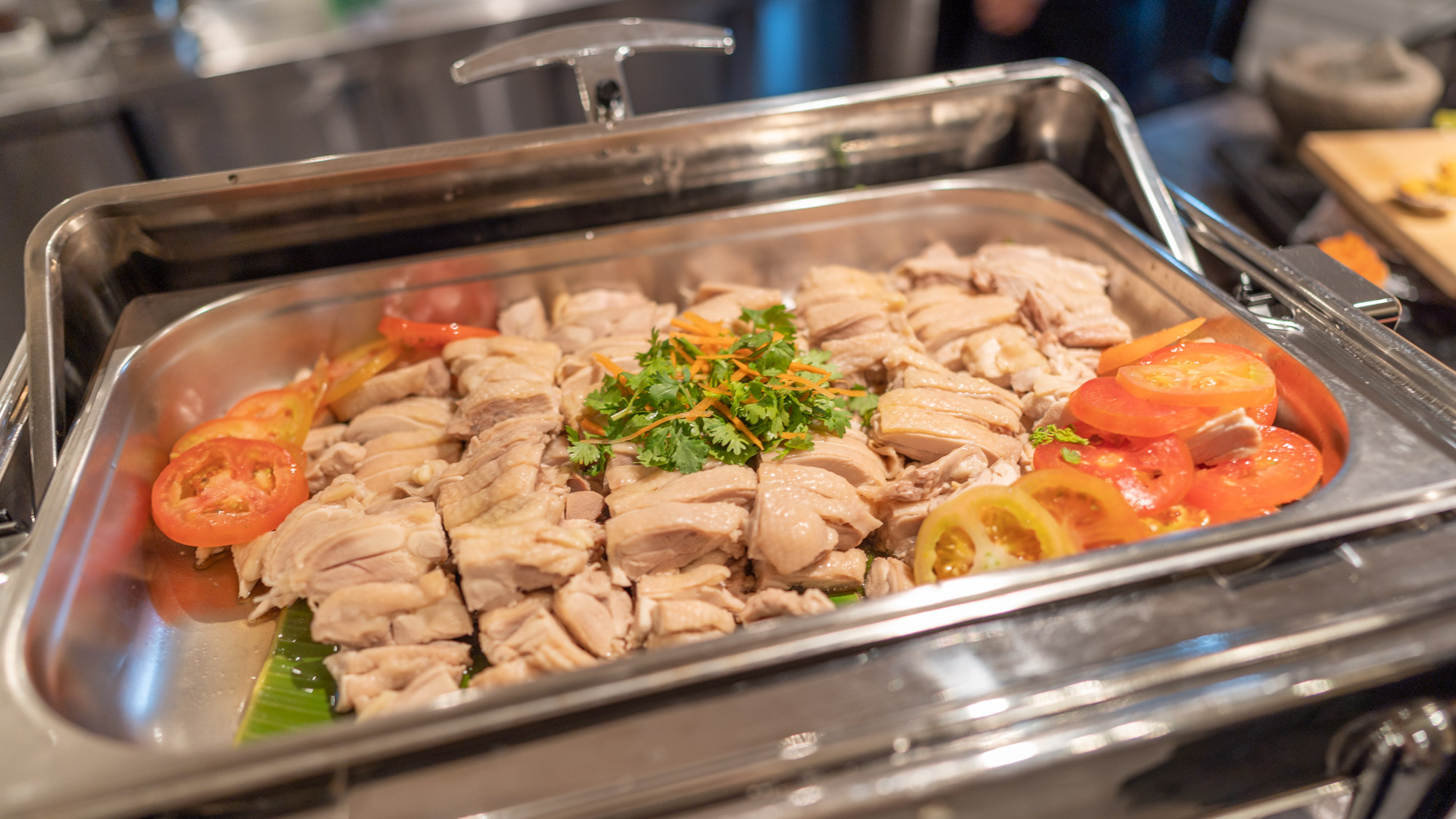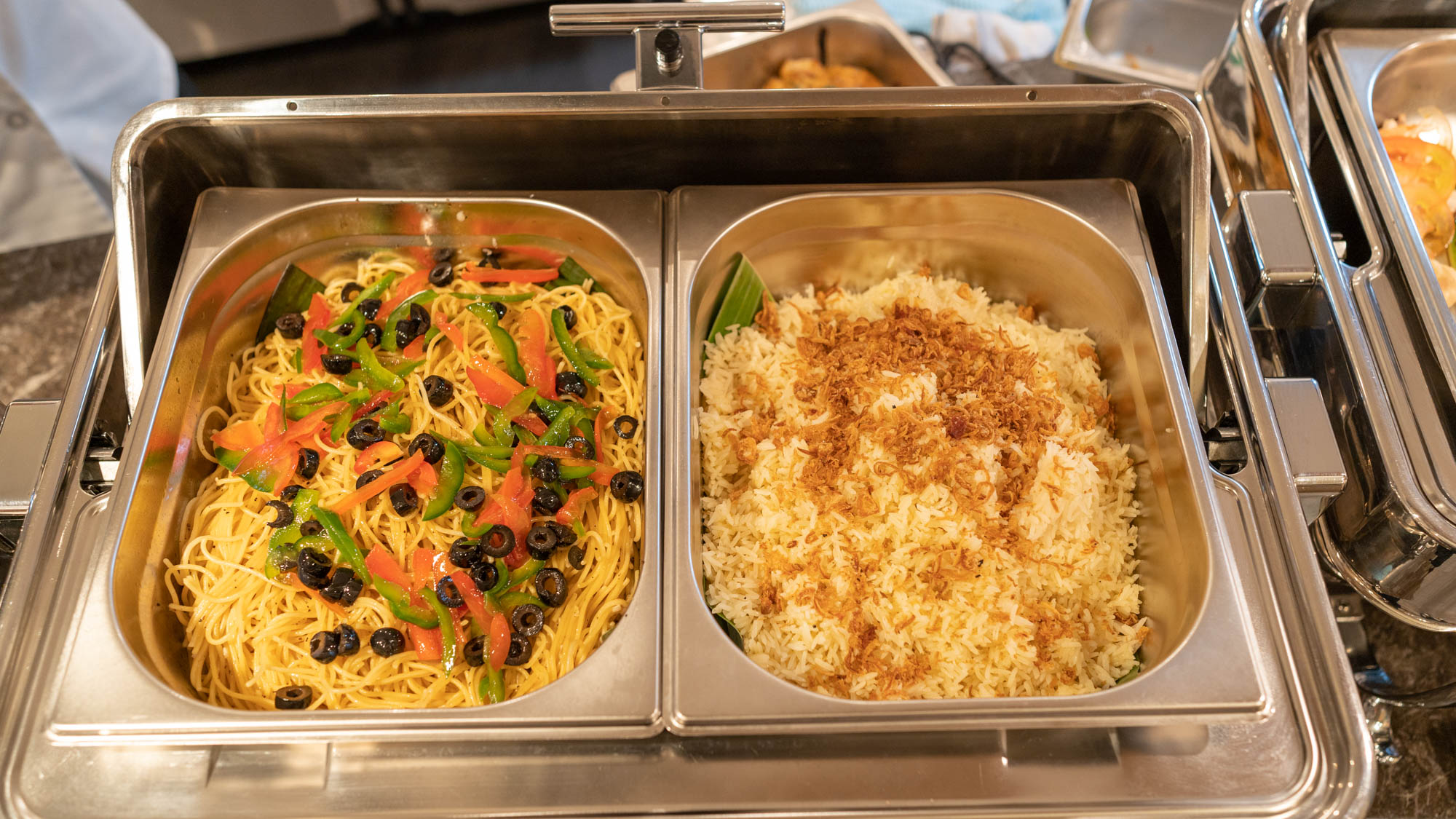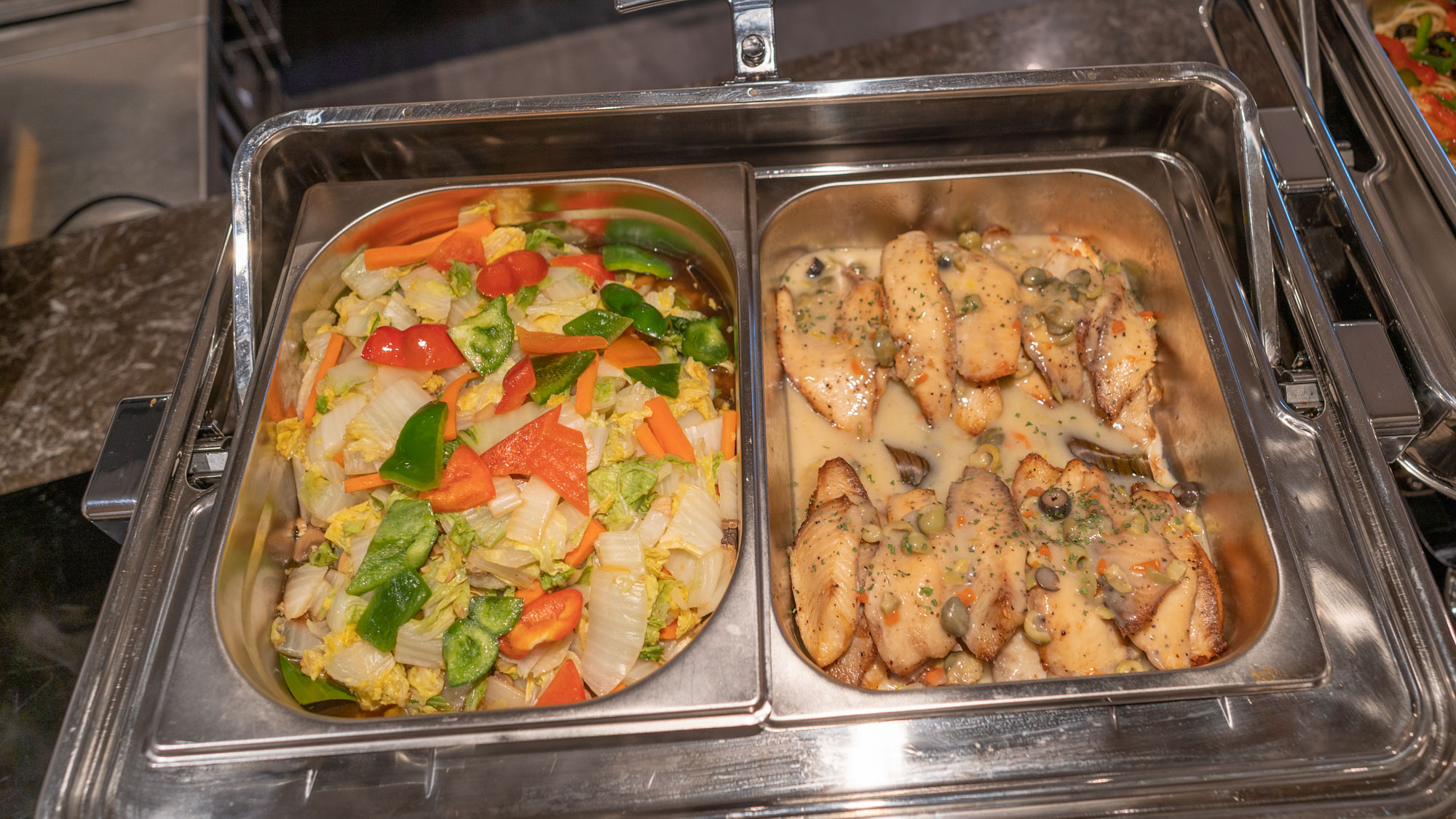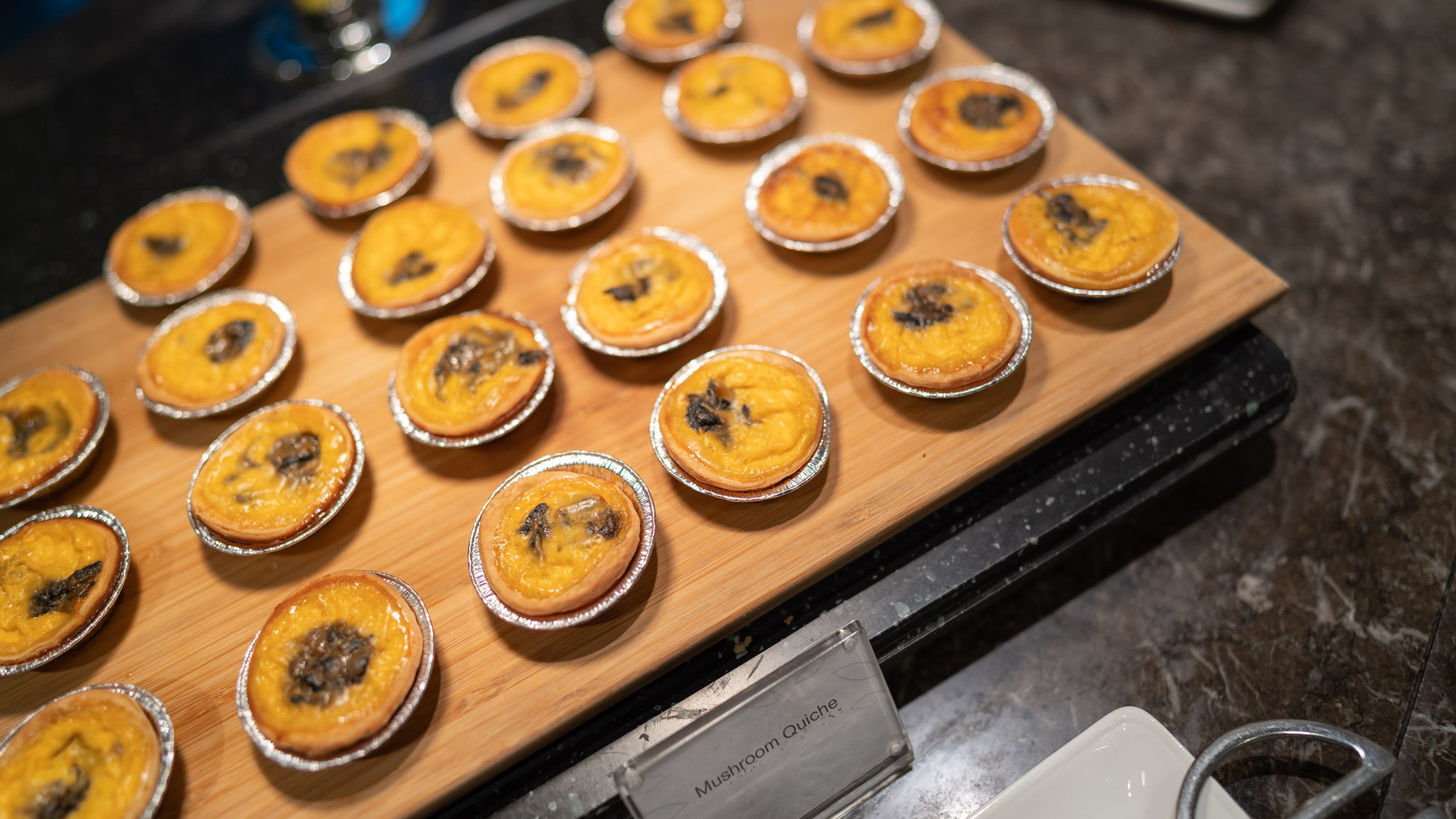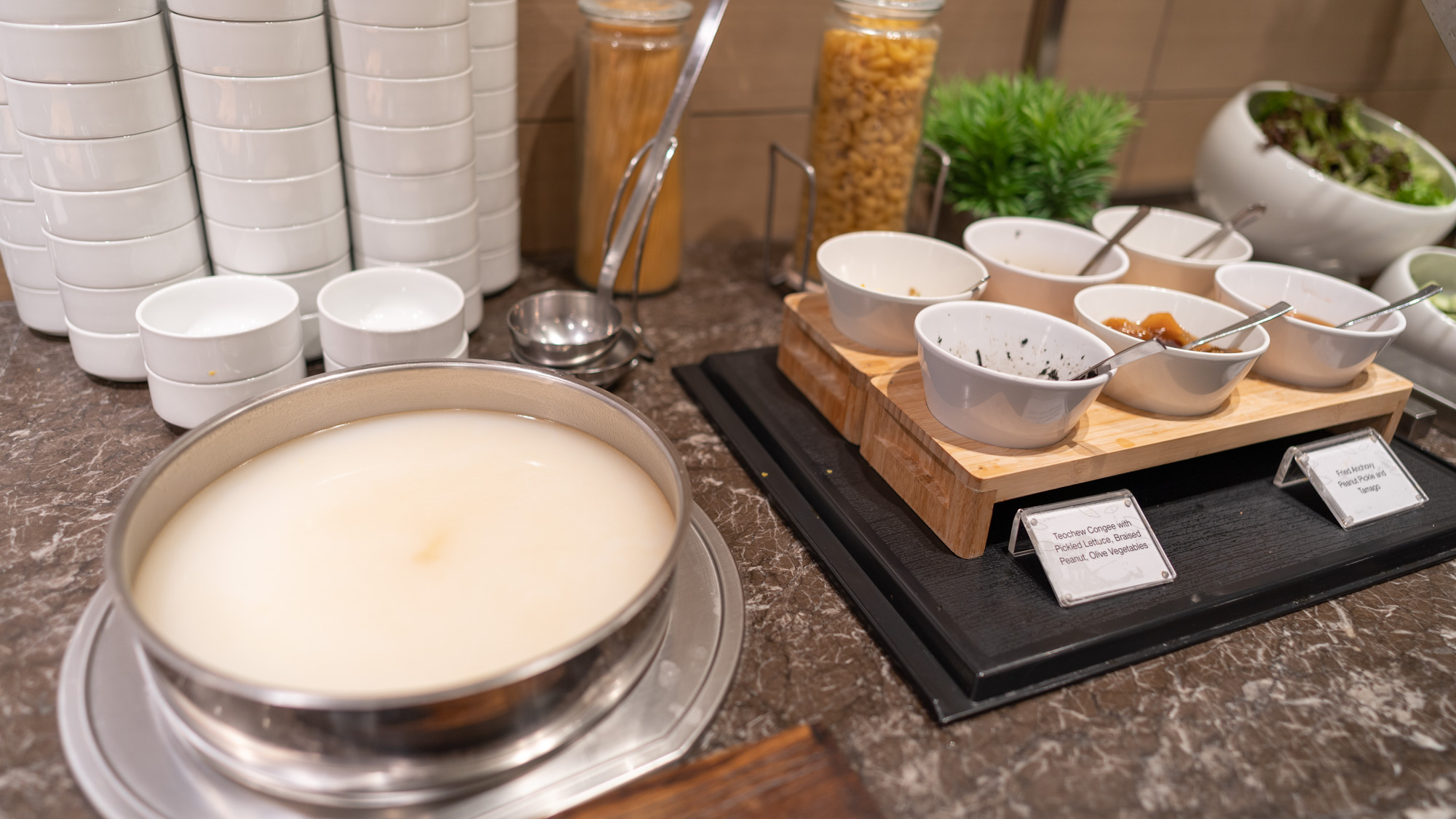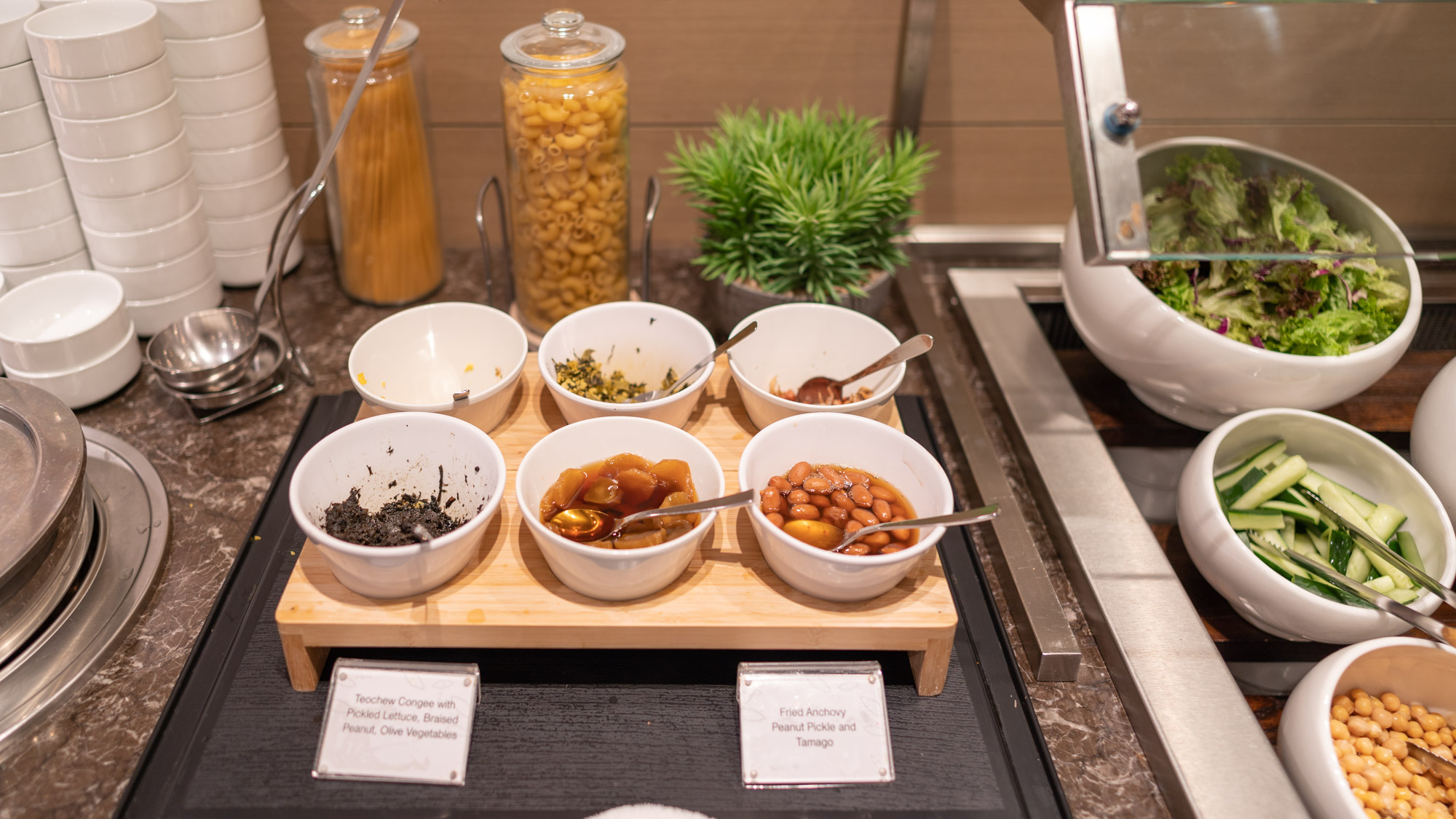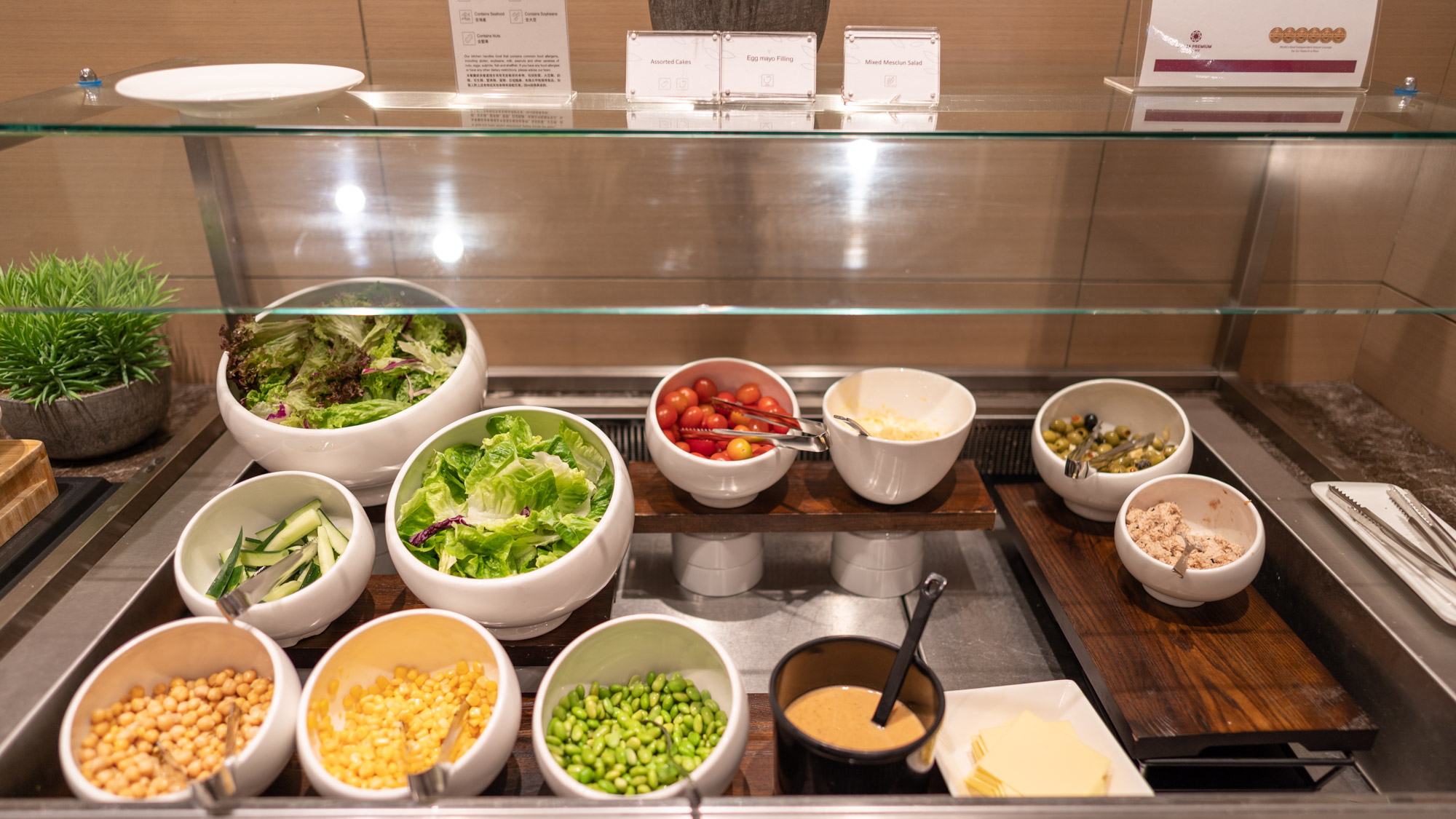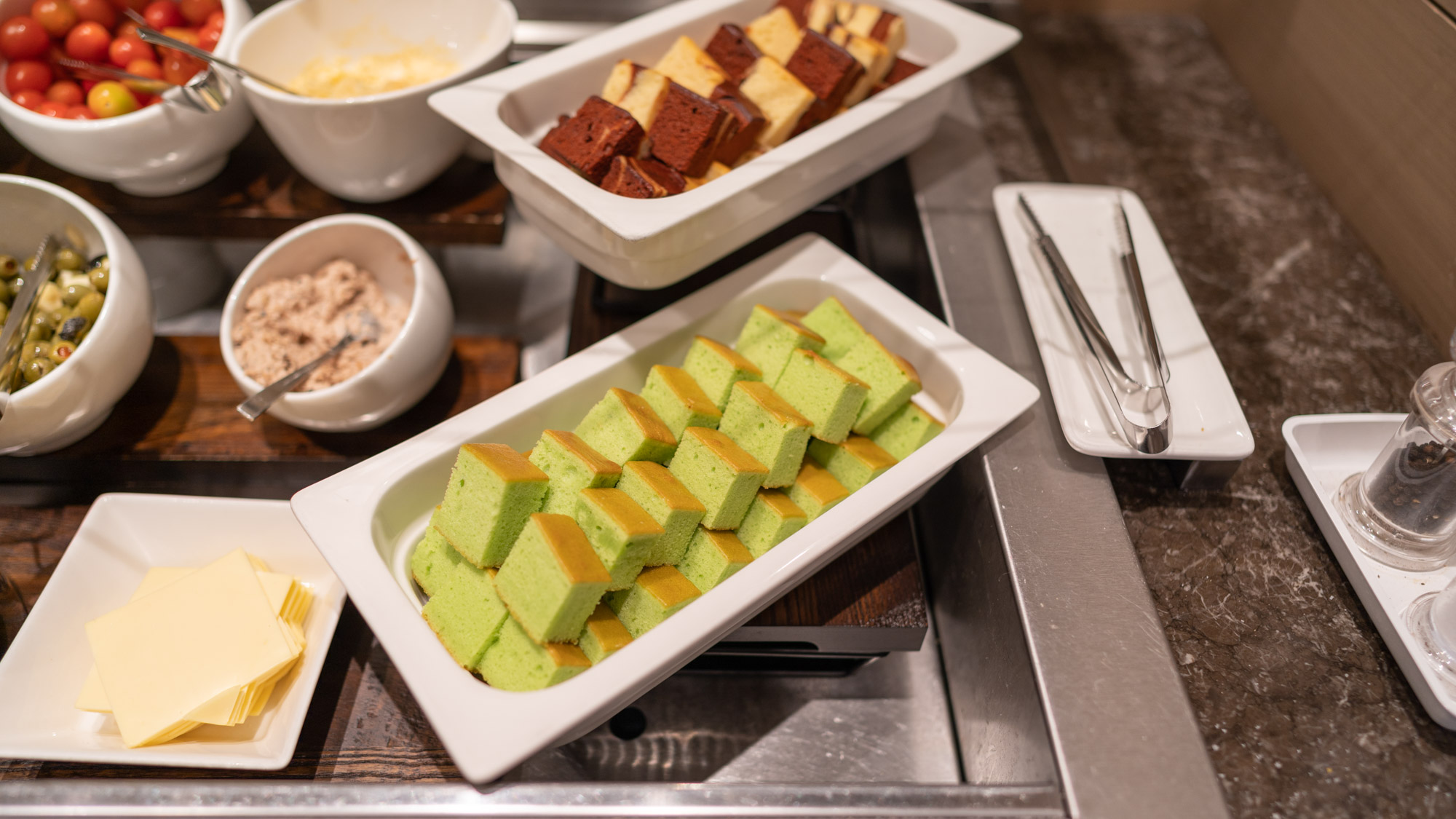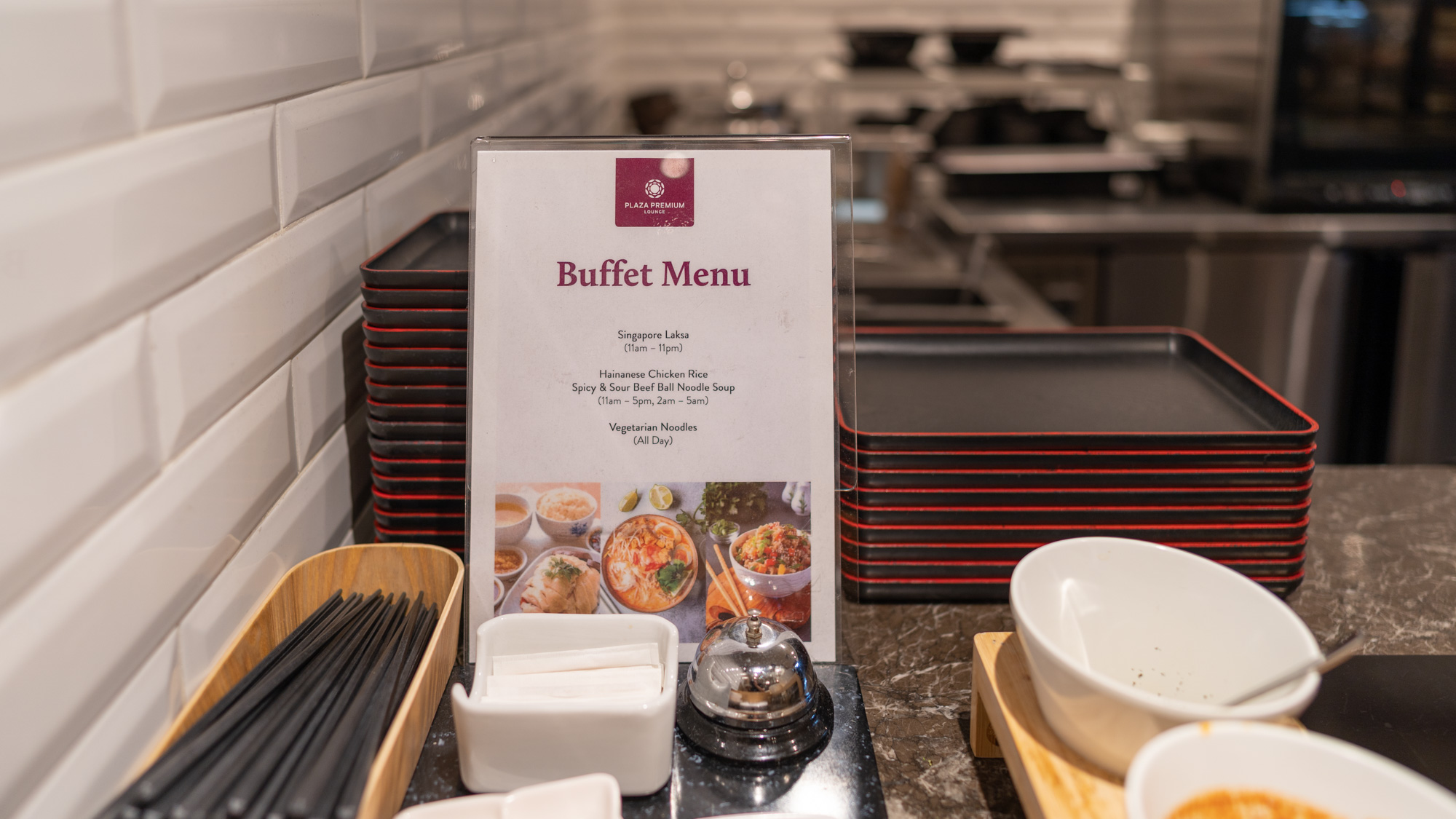 Other hot buffet dishes during my visit include seasonal vegetables in vegetarian oyster sauce, tomato chutney baked fish fillets and aglio olio pasta. You can also create your own hot congee or fresh green salad with accompaniments. Finally, hot delights such as mushroom quiche and dessert bites such as sliced pandan chiffon cake round out the offerings.
Standard beverages included
No matter how you access the lounge, you'll find a complimentary range of draught beer, house wines, soft drinks, tea and coffee. The bar is open from 6:00 am to 3:00 am daily, and Singapore's own Tiger Beer is currently on tap.
For something a bit harder-hitting, you'll need to pay per drink at the bar. A shot of something stronger starts from SG$12. Cocktails, such as the Singapore Sling, are priced at SG$20 (both plus prevailing GST and service charge).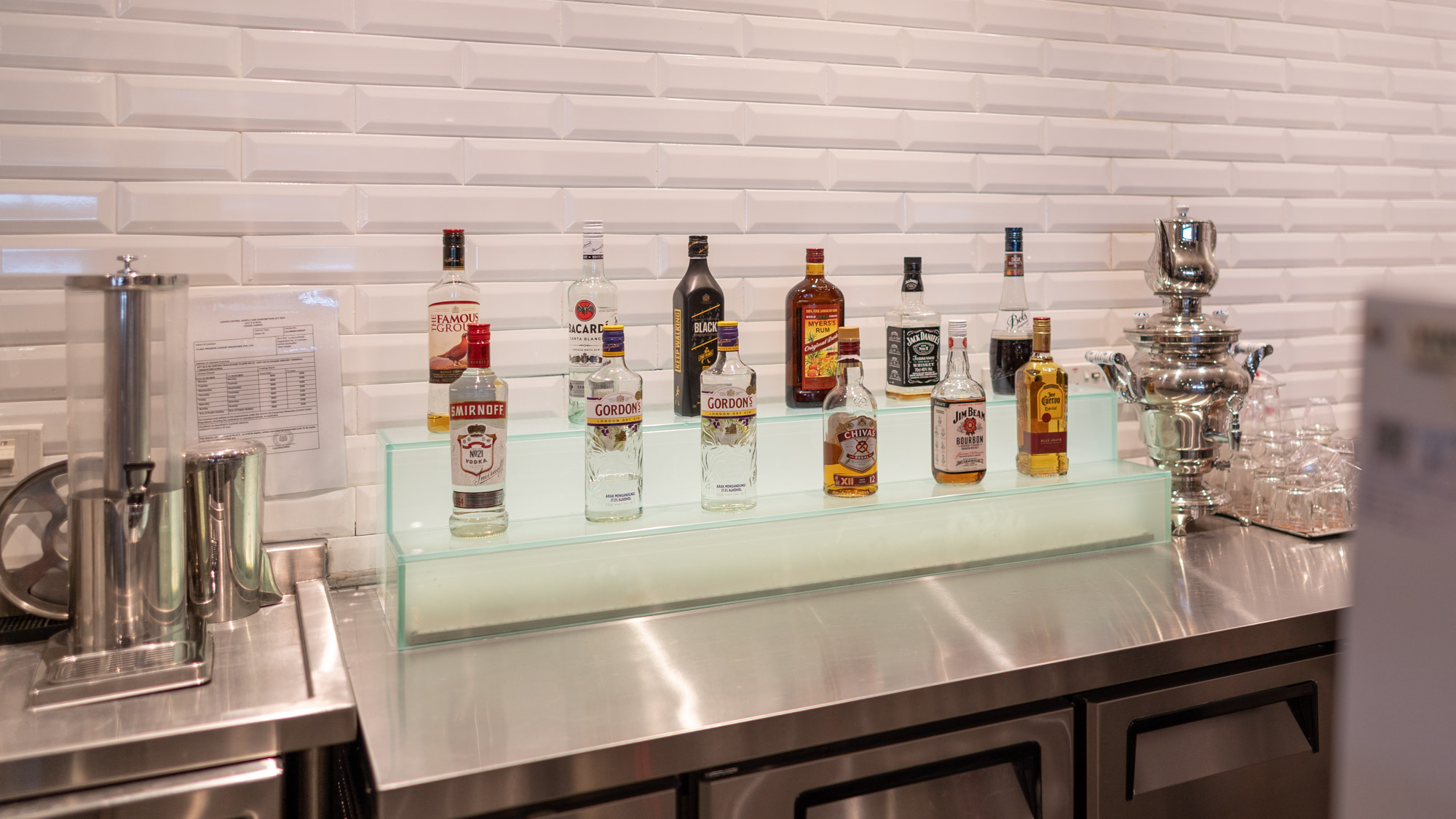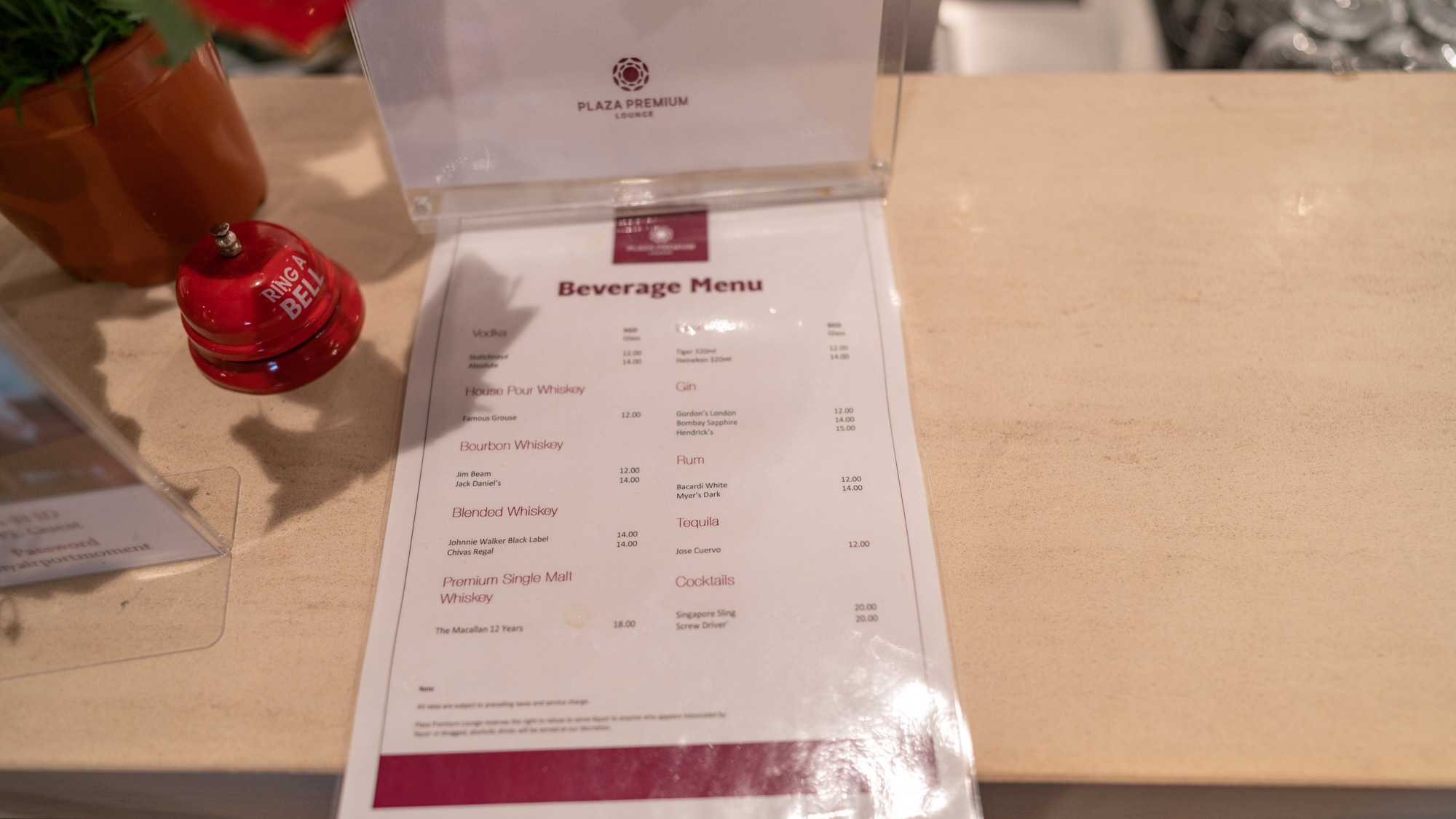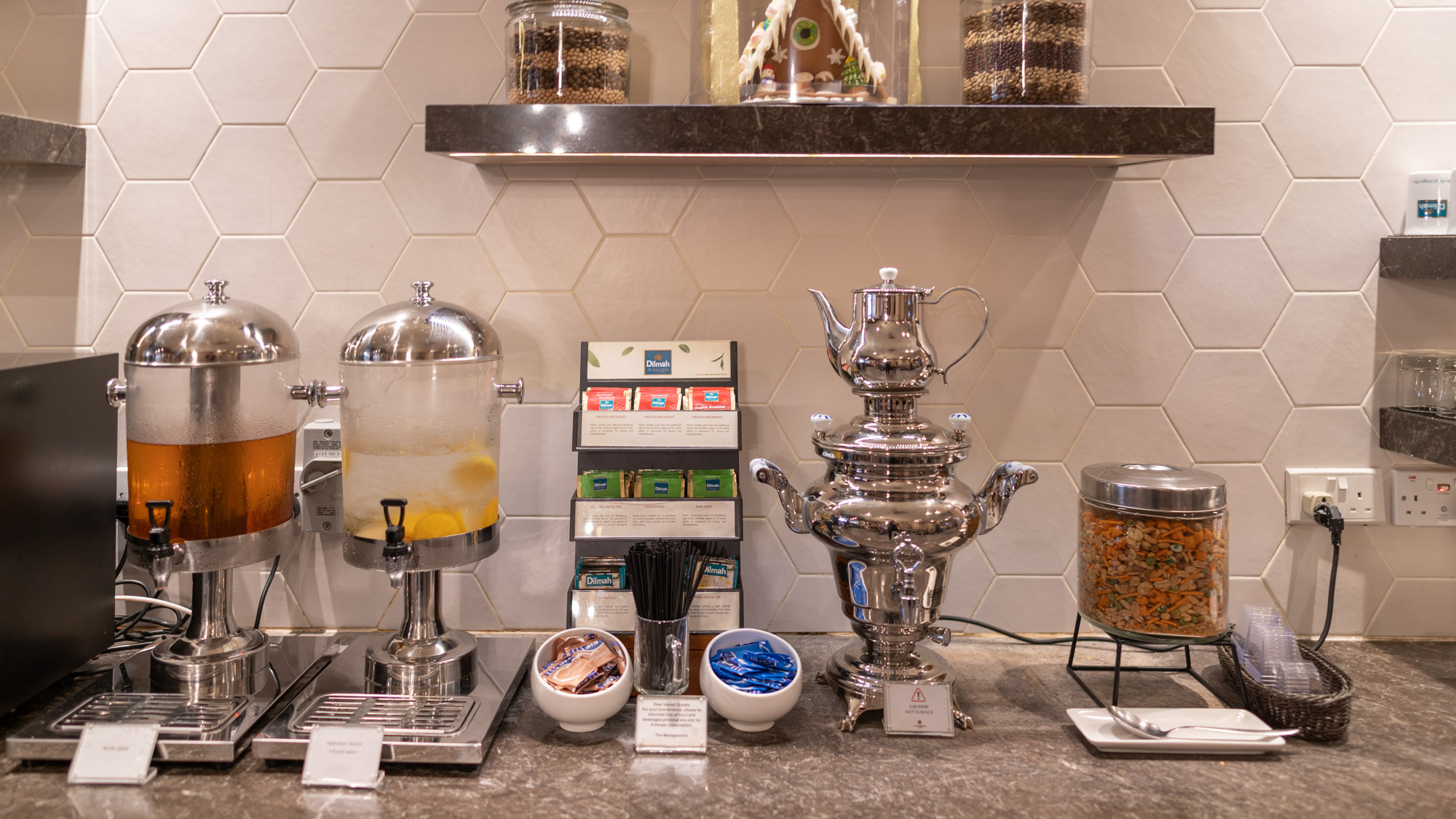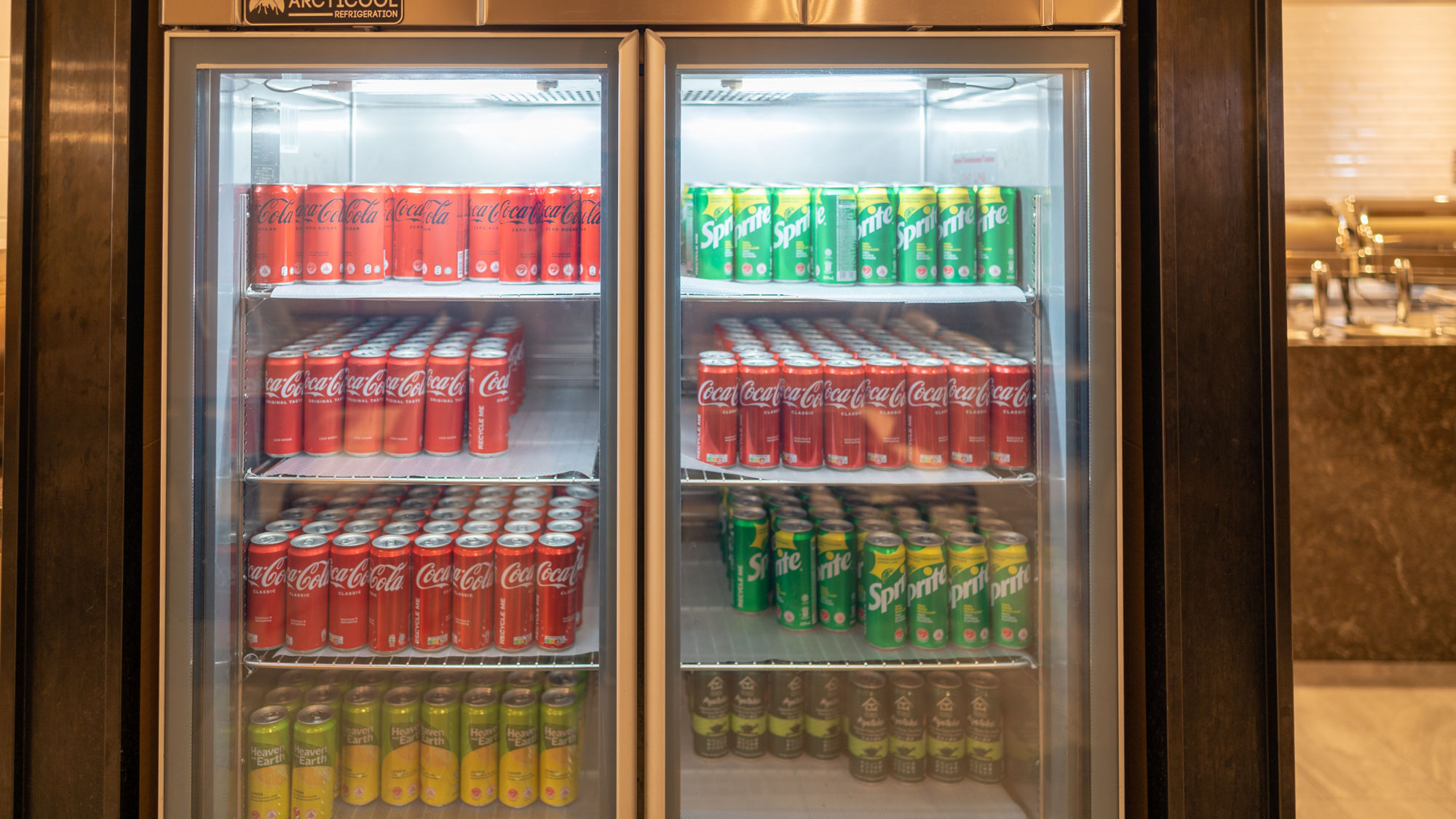 Lounge amenities
Much like a low-cost carrier, where you pick and choose your upgrades, Plaza Premium in Singapore offers additional upgrades to the lounge experience.
Shower suites
Showers are generally complimentary in airline lounges, but this isn't the case for the Plaza Premium Lounge. As of 1 January 2023, shower packages can't be booked on its own – you also have to combine it with a lounge visit. For example, a standard lounge visit starts from SG$55, while a lounge visit plus a shower starts from SG$75, both inclusive of local taxes.
Don't worry – restrooms are available to all and are kept clean. On that note, each of the six shower suites is also cleaned and refreshed after each booking. Having seen the state of the showers at some other pay-per-use lounges, I firmly believe that's worth the fee itself.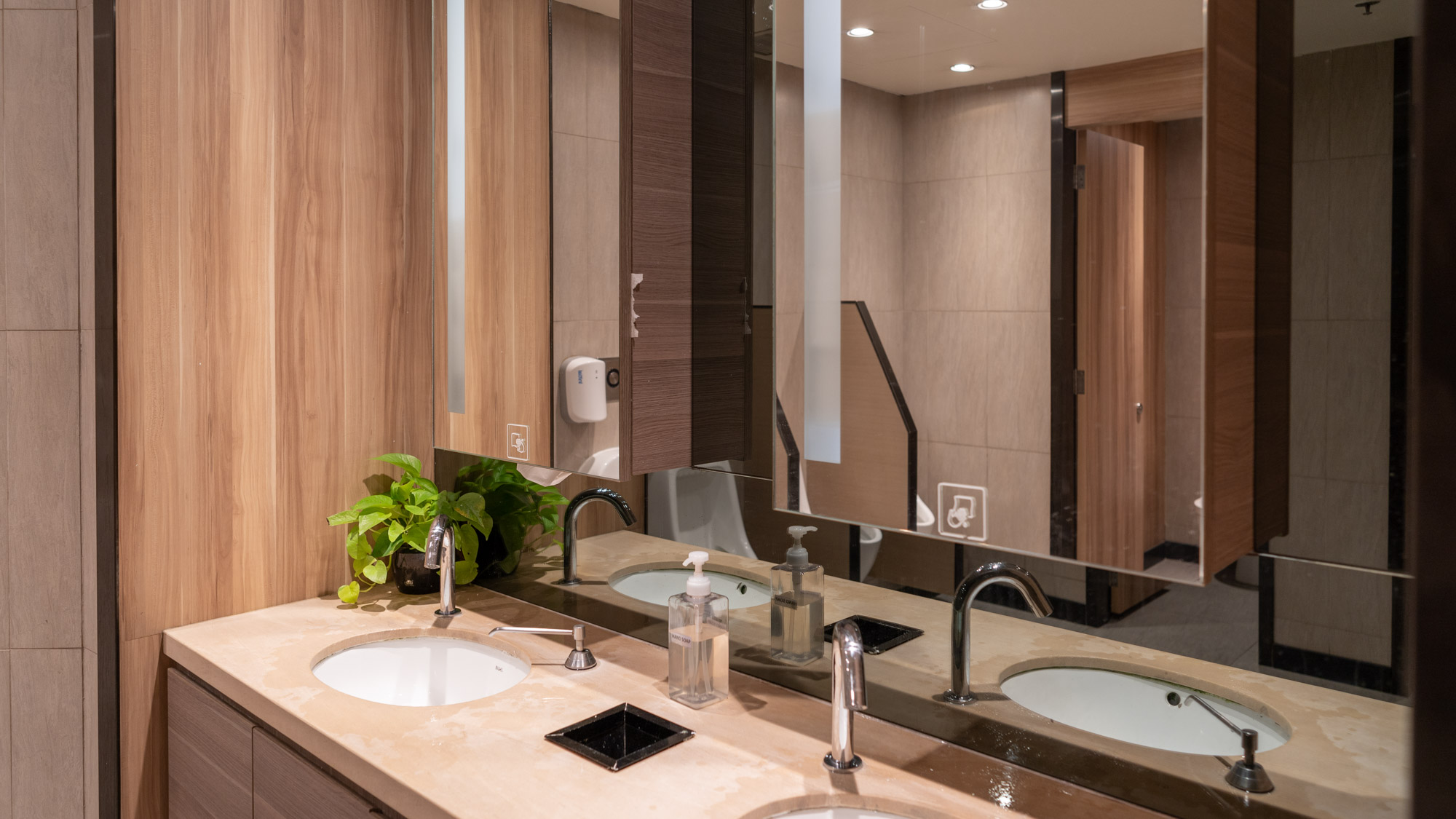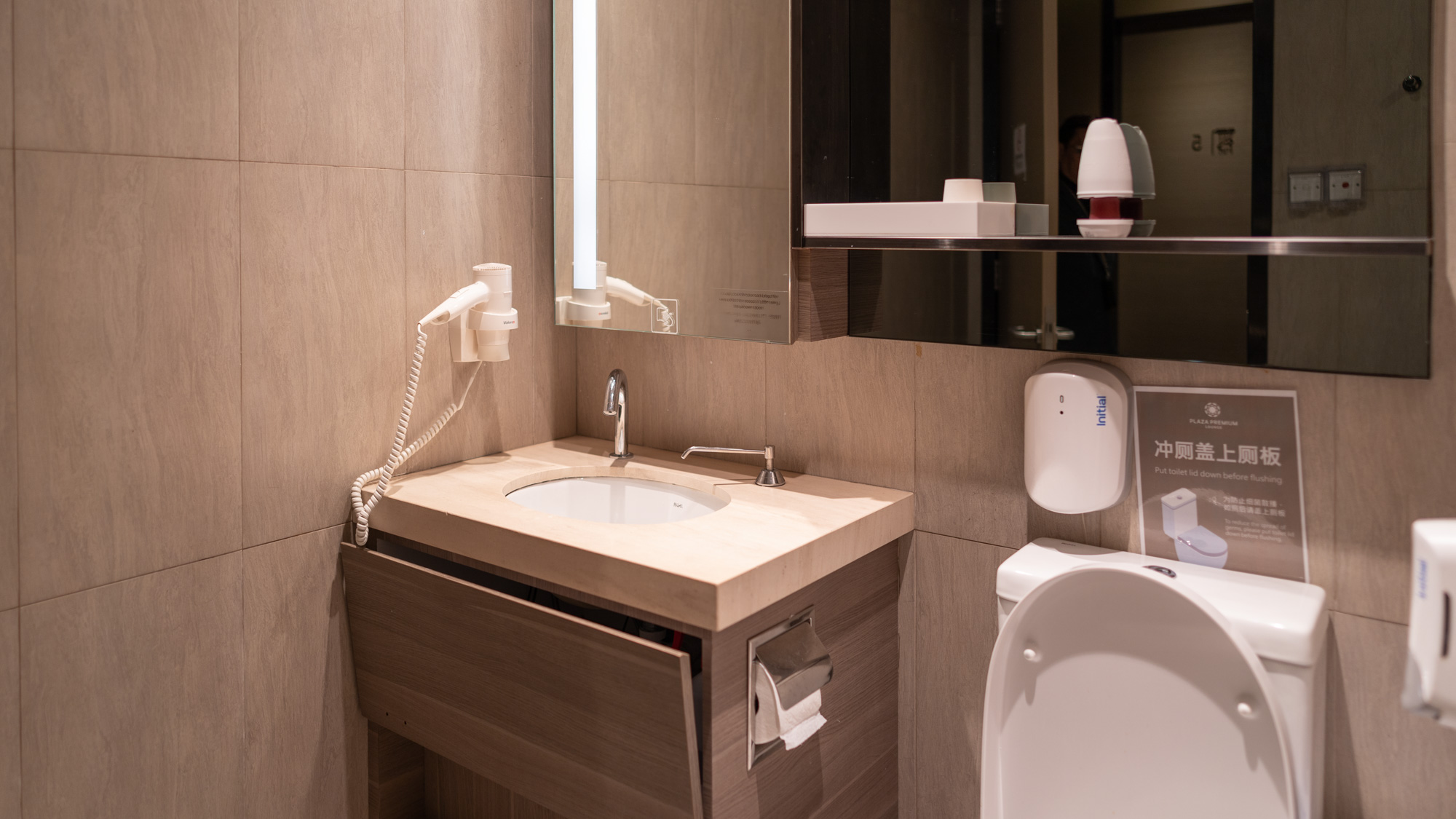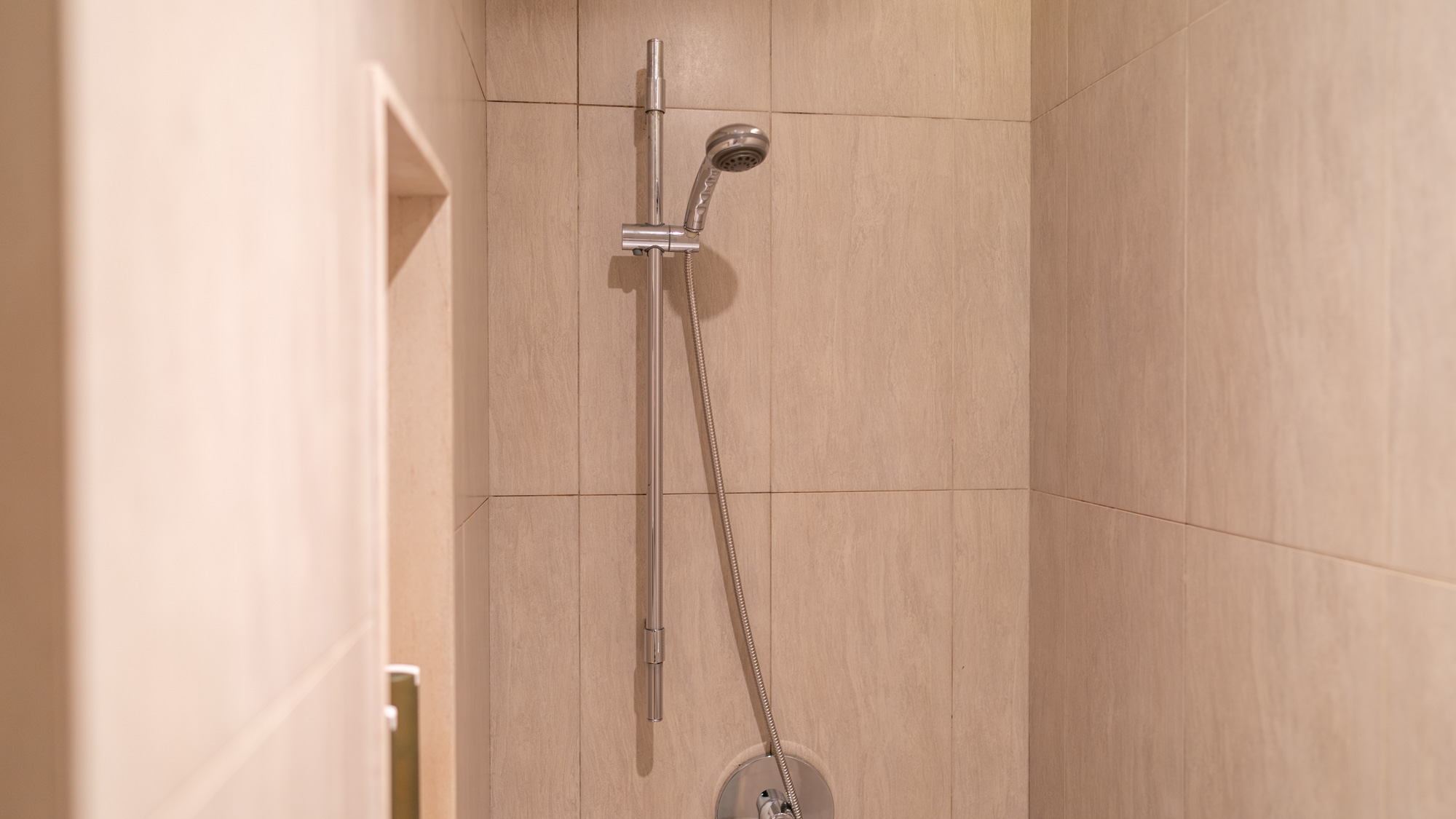 It's worth noting that the Ambassador Transit Lounges at Changi Airport also charge an additional fee to use the shower. But other third-party lounges, such as the Marhaba lounge, don't appear to.
Sleeping Pods
Want somewhere dark and quiet for a nap? You can reserve a comfortable reclining armchair – Plaza Premium Lounge call them sleeping pods – in a cordoned-off area of the lounge, near the working zone.
Your slumber space starts from SG$121.23 for a six-hour block, with additional hours costing SG$120.01 (all prices inclusive of local taxes). There isn't a door so other people can still see you, but with the curtains drawn and lights off, it's definitely a small slice of privacy.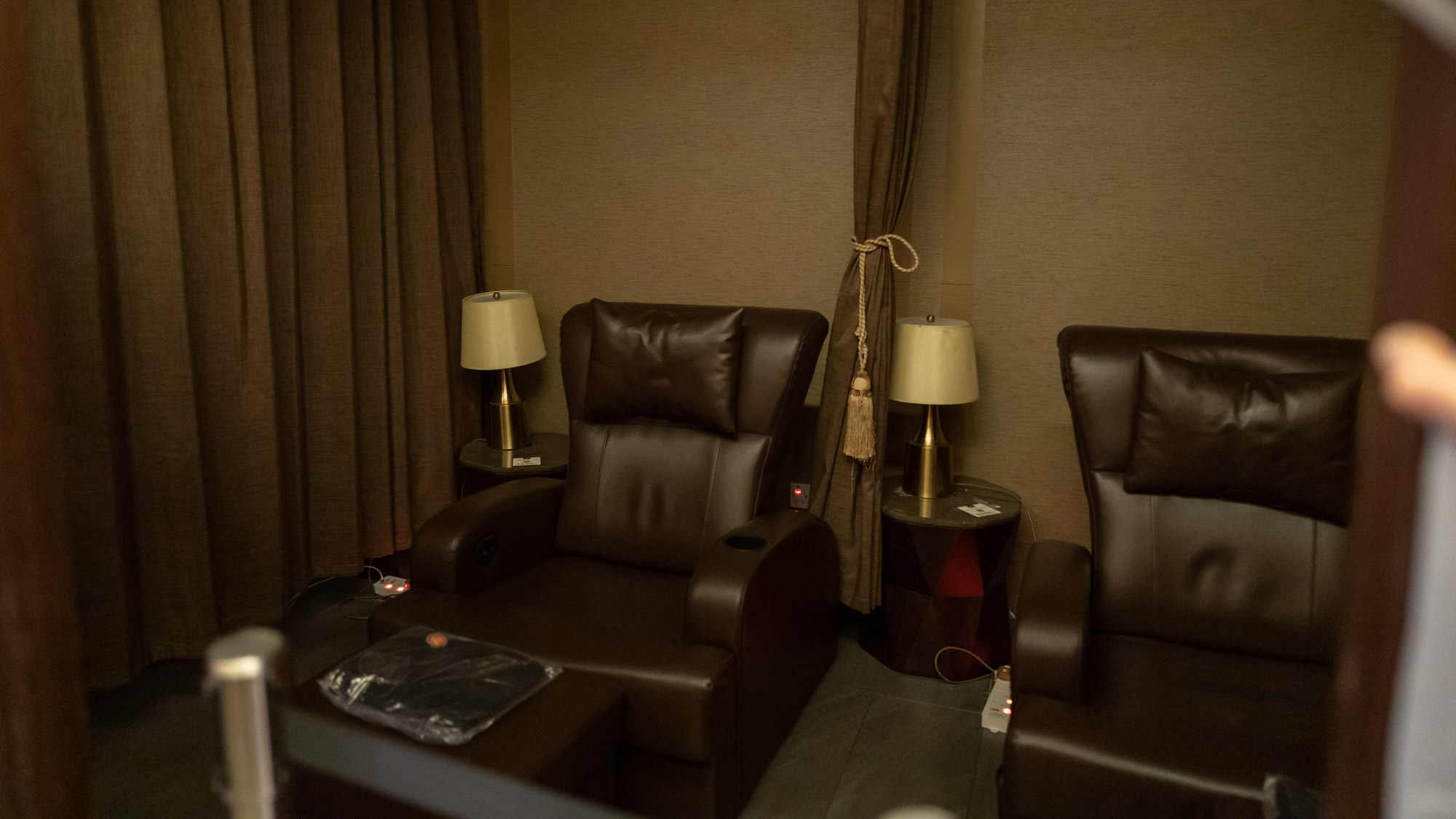 Private Resting Suites
For an experience that's more like a hotel than a lounge, look no further than one of the Plaza Premium Lounge's Private Resting Suites. You get a comfortable full-size double and/or single bed, but sans en-suite. It's the perfect solution to get a refreshing bout of sleep without any interruptions.
The lounge features three such suites – two have single beds, and one has room for three (pictured below). A six-hour reservation starts from SG$154.19 for the single room and SG$223.63 for the family room, and extensions are only SG$23.54 per hour thereafter.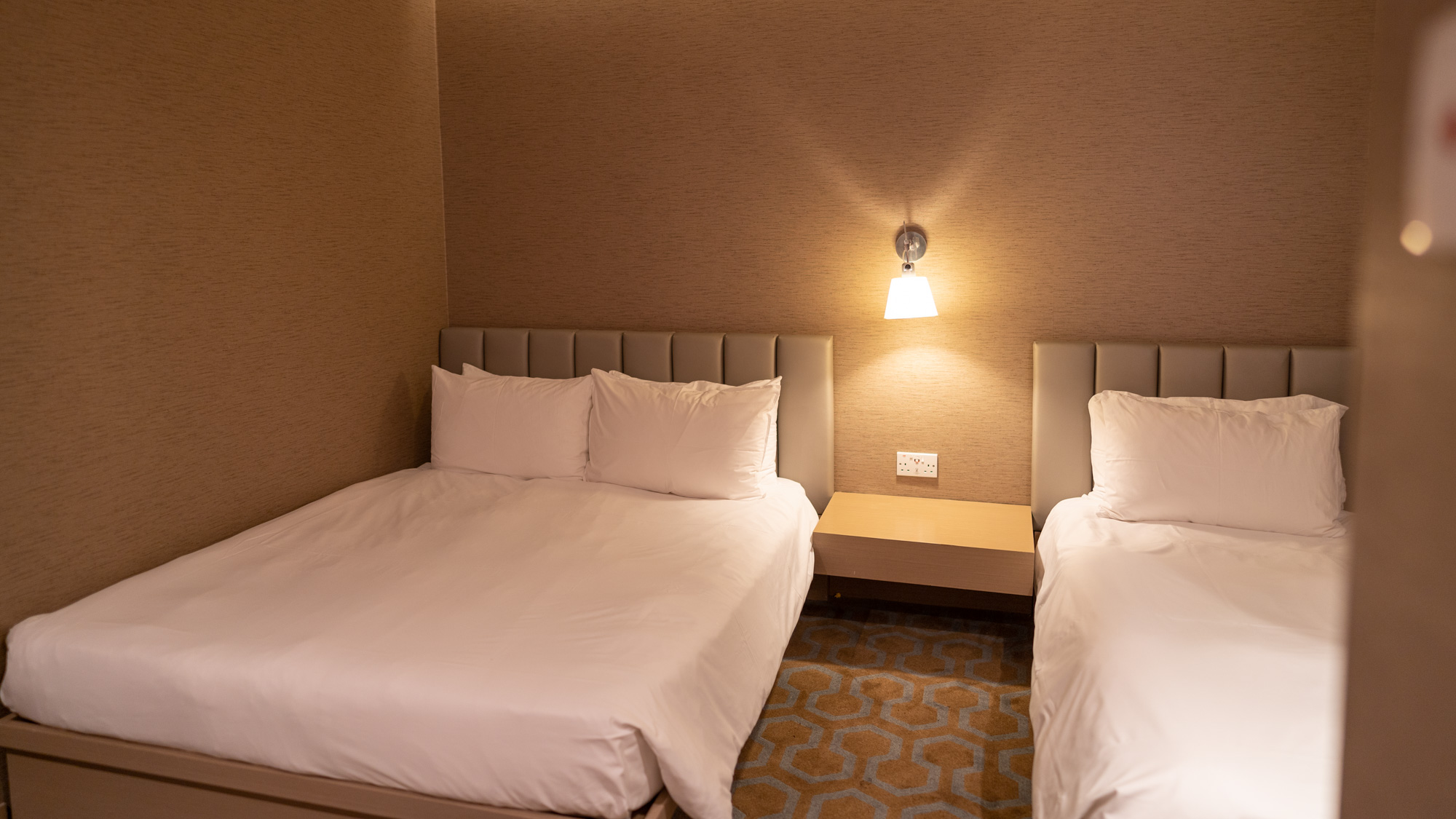 It's a bit cheaper than a full-service hotel room at the nearby Aerotel, so Plaza Premium Lounge's Private Resting Suites are a competitive offering.
VIP Rooms
Finally, there are two VIP rooms which have four seats in each. Like the sleeping pods, these are open-air. But this privacy comes at a cost, and it's a steep SG$250 for three hours. It's not something I'd entertain at that price, but it might come in handy for a cashed-up family looking for a quiet corner.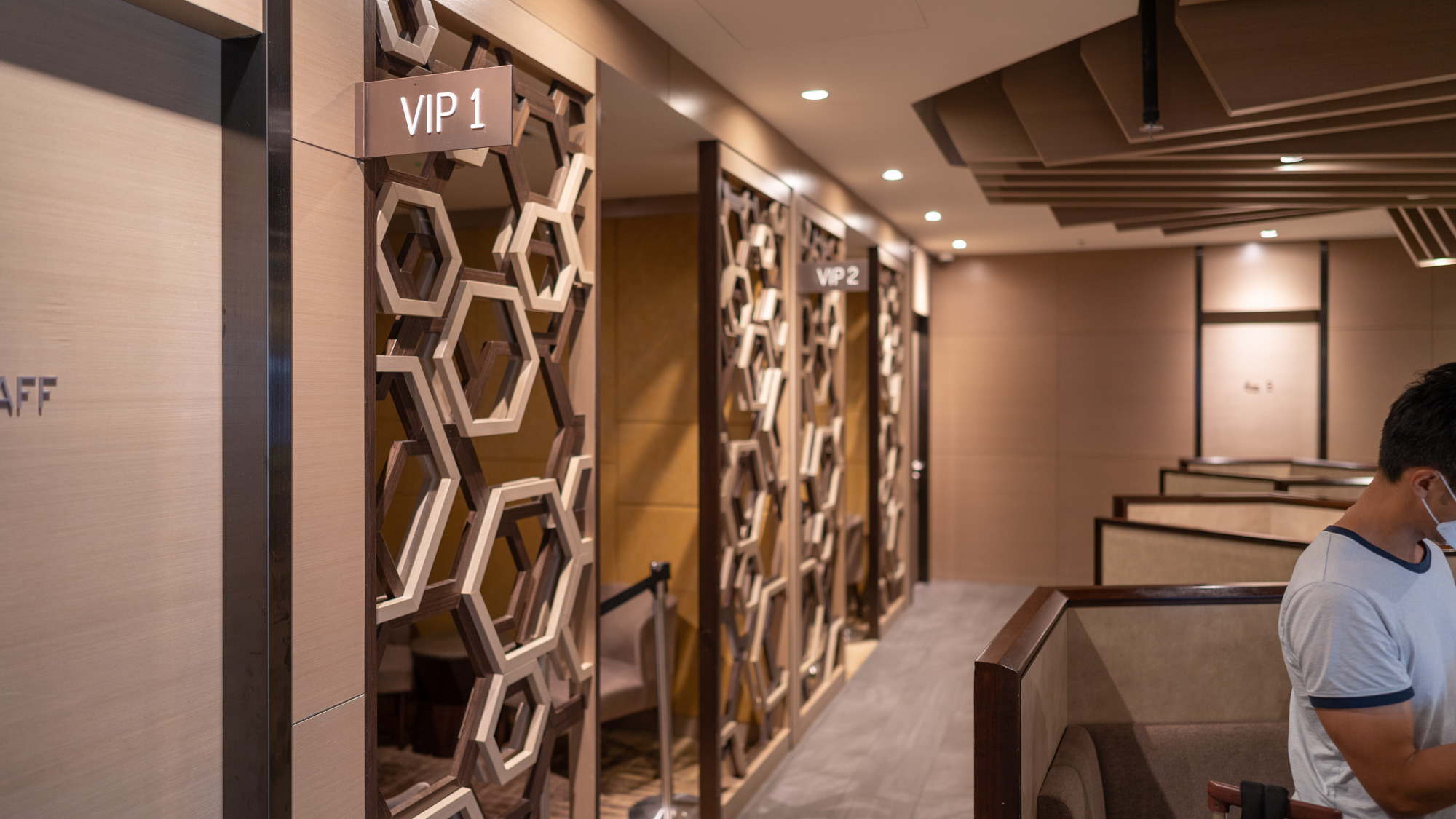 Power and Wi-Fi
Ample international AC power points are located throughout, so running out of charge shouldn't be a worry. The free Wi-Fi could definitely be better – but at 4.96 Mbps in download speeds and 1.55 Mbps in upload speeds, you'll be able to get basic tasks done.
Lounge Access Options
Pay-per-entry: Access can be purchased on the Plaza Premium website. Walk-in rates start from SG$55 for three hours to SG$195 for ten hours, including local taxes. Showers and premium amenities cost extra. Plaza Premium's Smart Traveller members can get up to 20% off by booking through the app.
Single-entry passes: Pre-purchased passes from the Smart Traveller program can be used here, or you can redeem 2,800 Arrture Points for a pass.
Lounge membership program: DragonPass members can access this lounge within their membership limits (if any). LoungeKey and Priority Pass are no longer accepted at Plaza Premium lounges.
Credit card: Through the American Express Platinum Card. You have unlimited access to Plaza Premium-operated lounges as part of the card perks.
Summing up
Having visited most of the independent lounges at Singapore Changi Airport, I can say that the Plaza Premium Lounge is still the cream of the crop. Particular stand-outs include the food and the location, with great window views. On-site sleeping pods and resting suites are a nice touch for those who need them and are priced reasonably. (Well, as reasonable as you can get in a busy city like Singapore).
The main problem I can see is that because of its popularity and relatively small footprint, the lounge does fill up in the evenings. It can be difficult to find a seat in the main lounge room, so you may need to retreat to the working area. But perhaps that's just a sign that Plaza Premium is doing things right.
---
Get unlimited access to Plaza Premium lounges with the American Express Platinum Card.
---
Photography by Brandon Loo, who travelled at Point Hacks' expense and visited the lounge as a guest of Plaza Premium.
Plaza Premium Lounge, Singapore
was last modified:
January 22nd, 2023
by