When a lounge is built from the ground up for one specific flight, you know it's going to be a good one. After all, it boasts a dedicated wellness studio. And an outdoor open-air terrace.
Opening back in 2018, the Qantas International Transit Lounge in Perth is tailor-made for passengers travelling on the 17-hour long trek to London and back.
But the guest list is much longer these days. The lounge also welcomes passengers jetting between Perth and Rome. And unusually, those darting off to Singapore on QF71 will also enjoy access, for now. (But the full lounge offering, such as the wellbeing classes, might not be available before Singapore flights).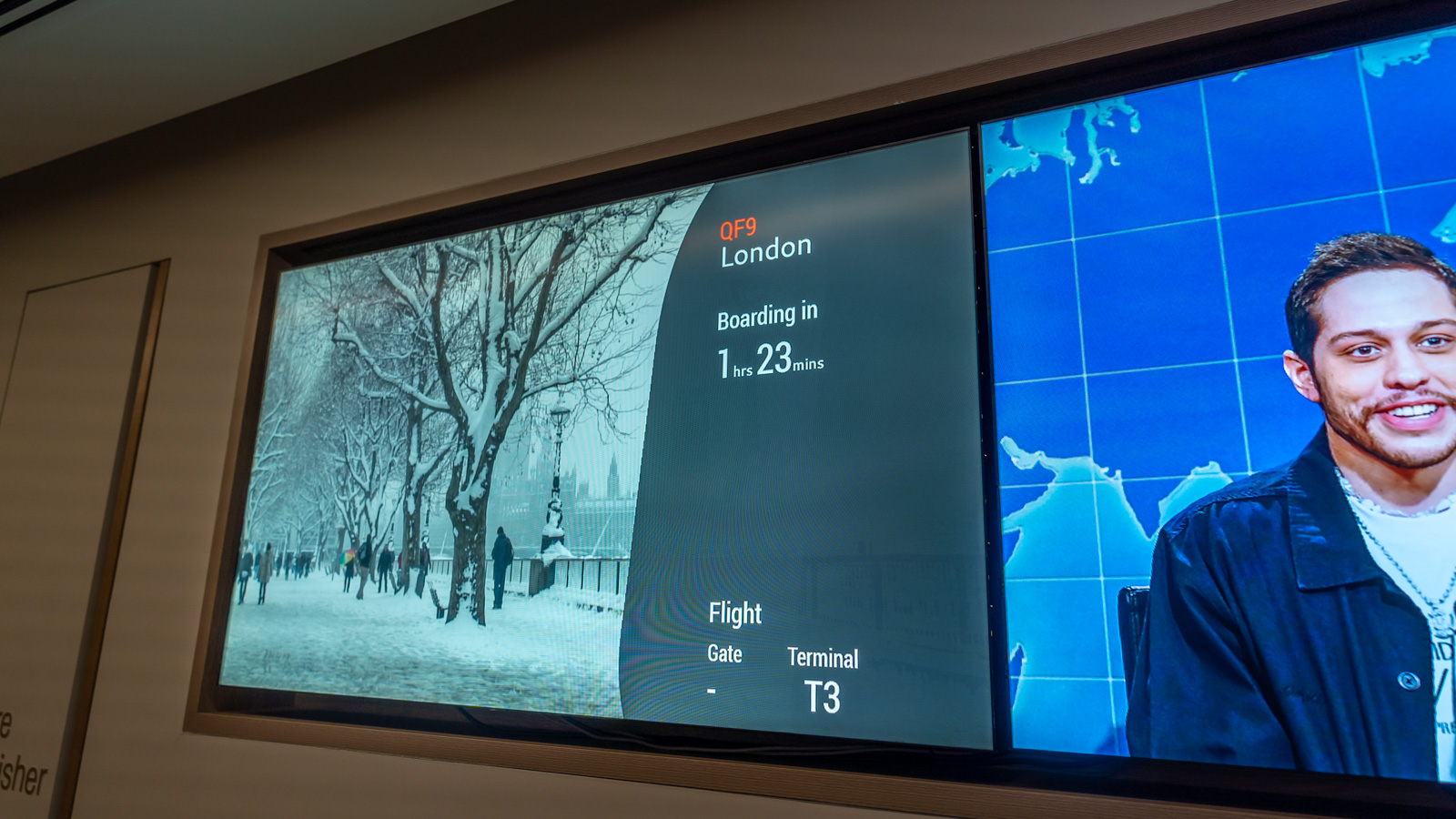 Here's our experience of the full-service offering at the Qantas International Transit Lounge, on the night of the first Perth-London departure in the post-COVID era.
Lounge location and details
Perth Airport's Terminal 3 was originally a domestic-only affair before Qantas converted part of it for its international operations. So even though you might walk past this lounge before an early-morning domestic flight, the doors will only swing open when that side of the terminal cleverly switches to 'international mode'.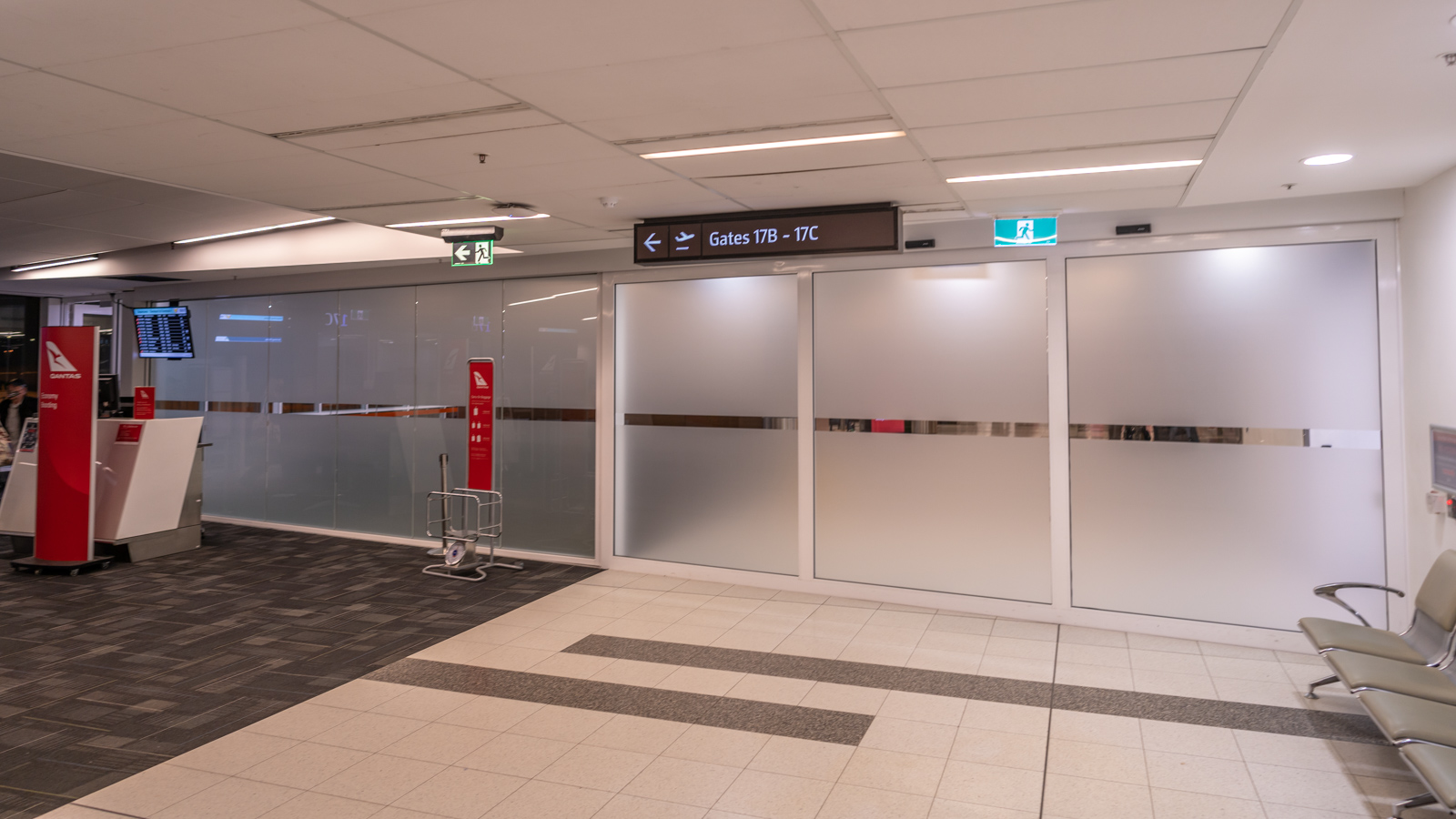 You'll still need to check-in at Terminal 4, which is just next door. While domestic flights are self-serve, you should check-in for Qantas' London, Rome and Singapore flights at the staffed counters on the right. We suggest clearing domestic security at Terminal 3, which has next-gen CT baggage scanners.
Once you're through, keep an eye out for the International Departures sign, which will take you through immigration and a second security check for liquids, aerosols and gels. (Those need to remain under 100mL or 100g for international flights).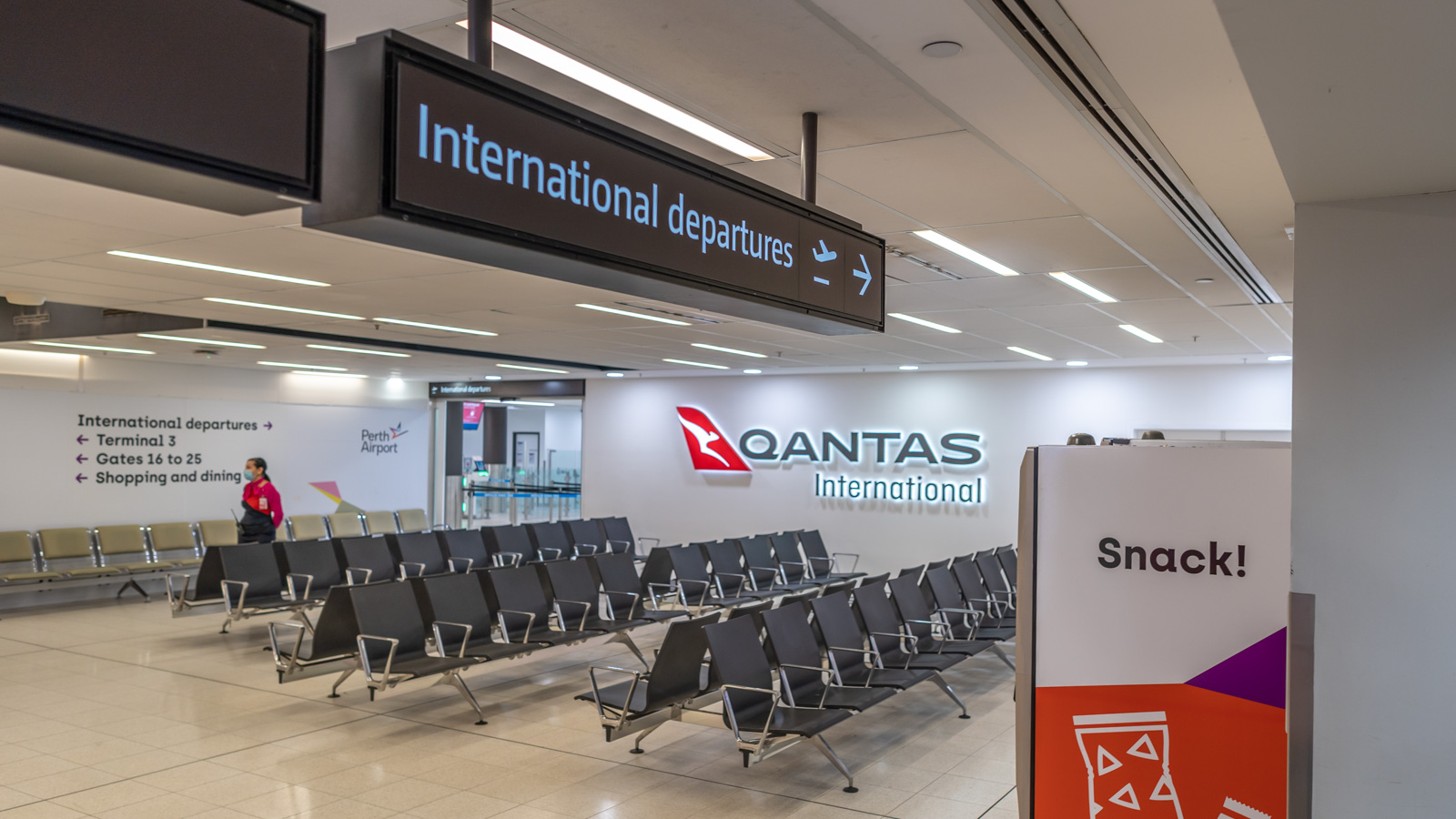 Pop out the other end and look to your right – the gleaming entrance to the Qantas International Transit Lounge will be there. Just head down the stairs or take the gilded lift one floor below to arrive at the lounge properly. Your overseas journey begins in style here.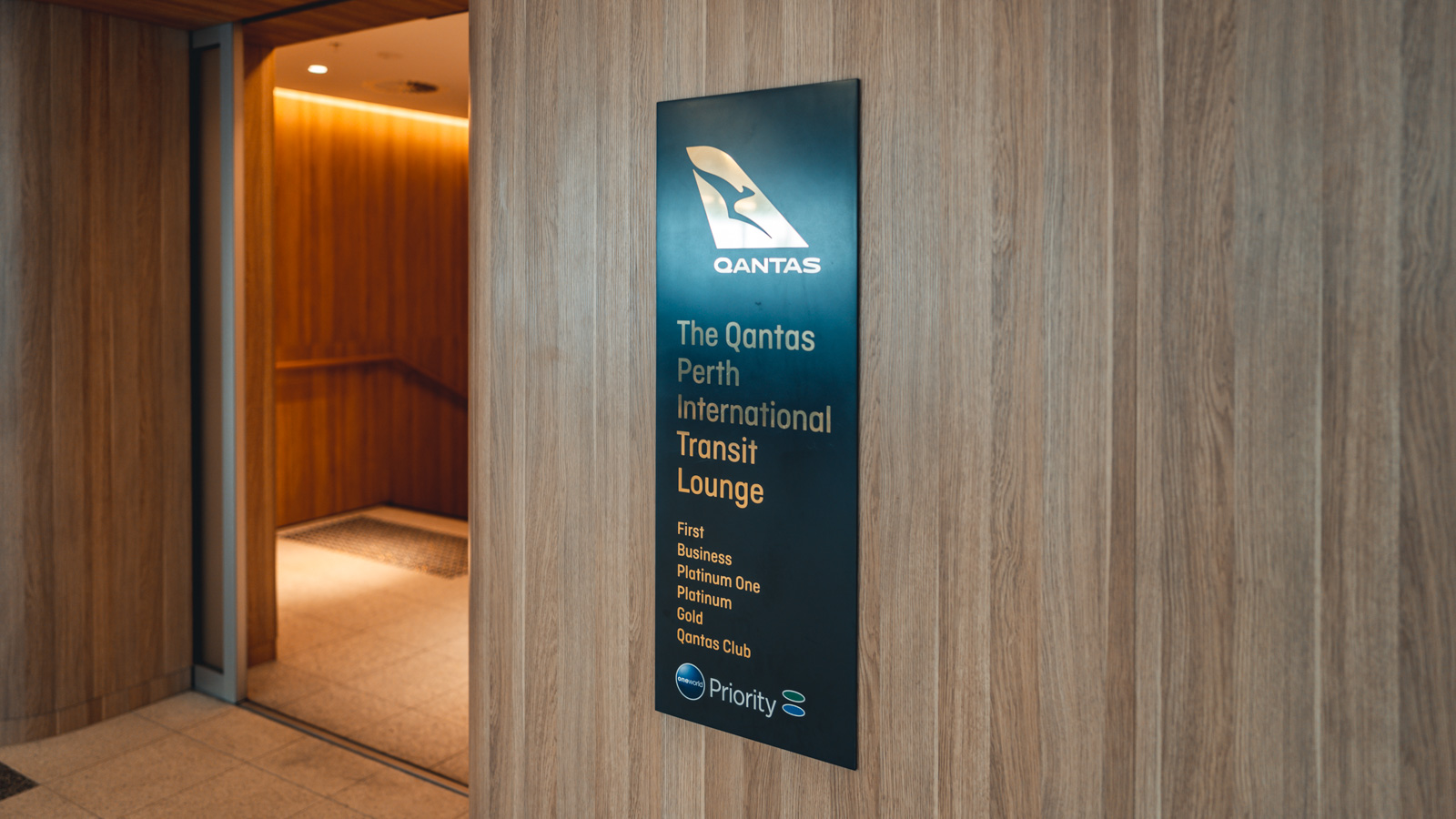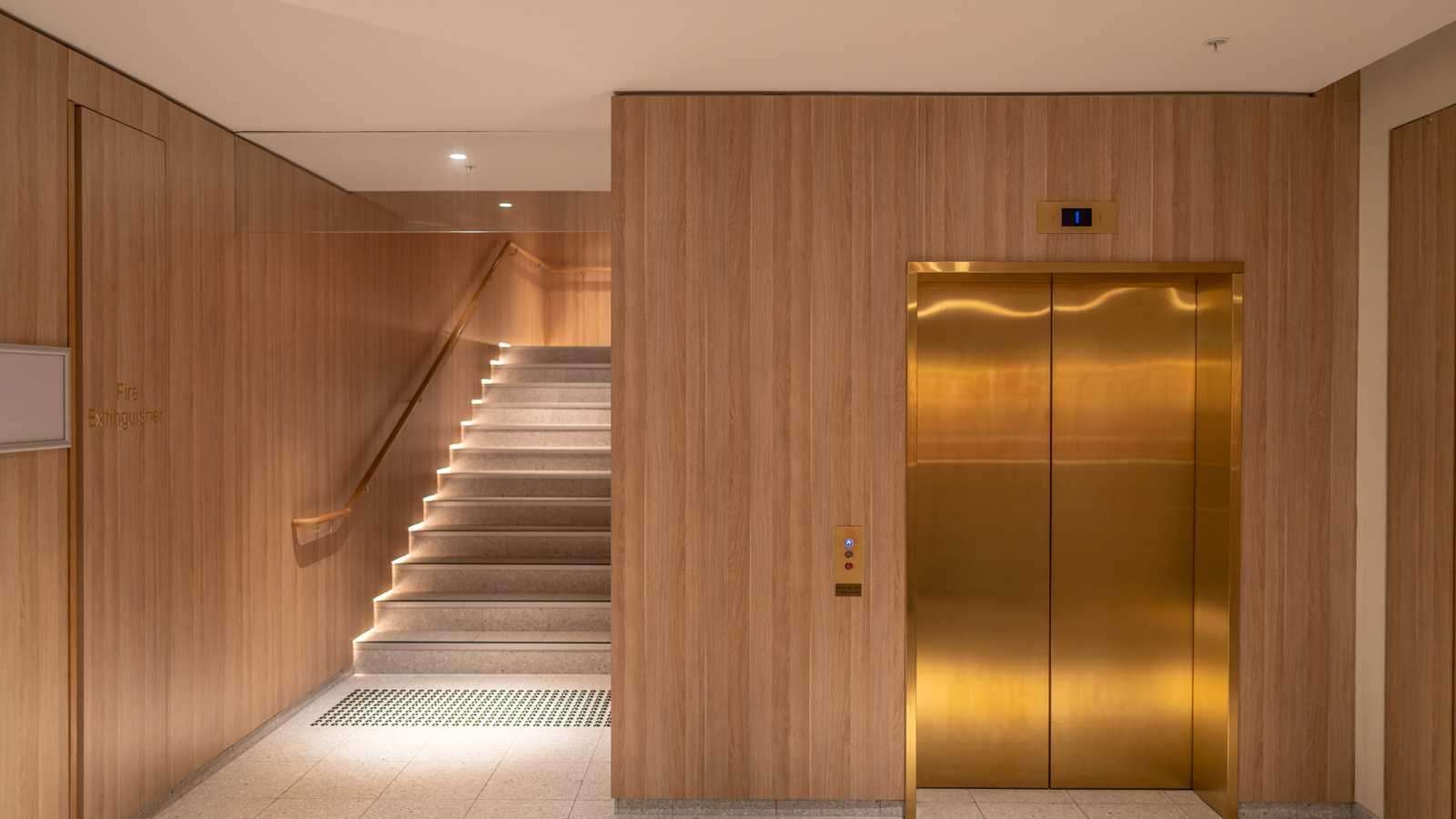 If you're starting your journey in Perth, the Qantas International Transit Lounge is open roughly three hours before QF71 to Singapore, QF9 to London and QF5 to Rome. And if you're transiting in Perth on the London or Rome flights, then the space will already be in full swing when you arrive.
You won't have access if you're solely flying the domestic legs on QF6 to Sydney or QF10 to Melbourne. Instead, make a beeline for the Qantas Domestic Business Lounge.
Lounge layout and seating
The signature lounge service starts the moment I arrive. As the lift doors glide open, I'm offered a refreshing cold towel and a tasty mocktail, based on the 'Top End Lemonade' crafted for the temporary Darwin transit lounge. As far as first impressions go, the Transit Lounge sets that bar sky-high.
Point Hacks understands that this elevated welcome will remain in place for Qantas' flagship London and Rome flights.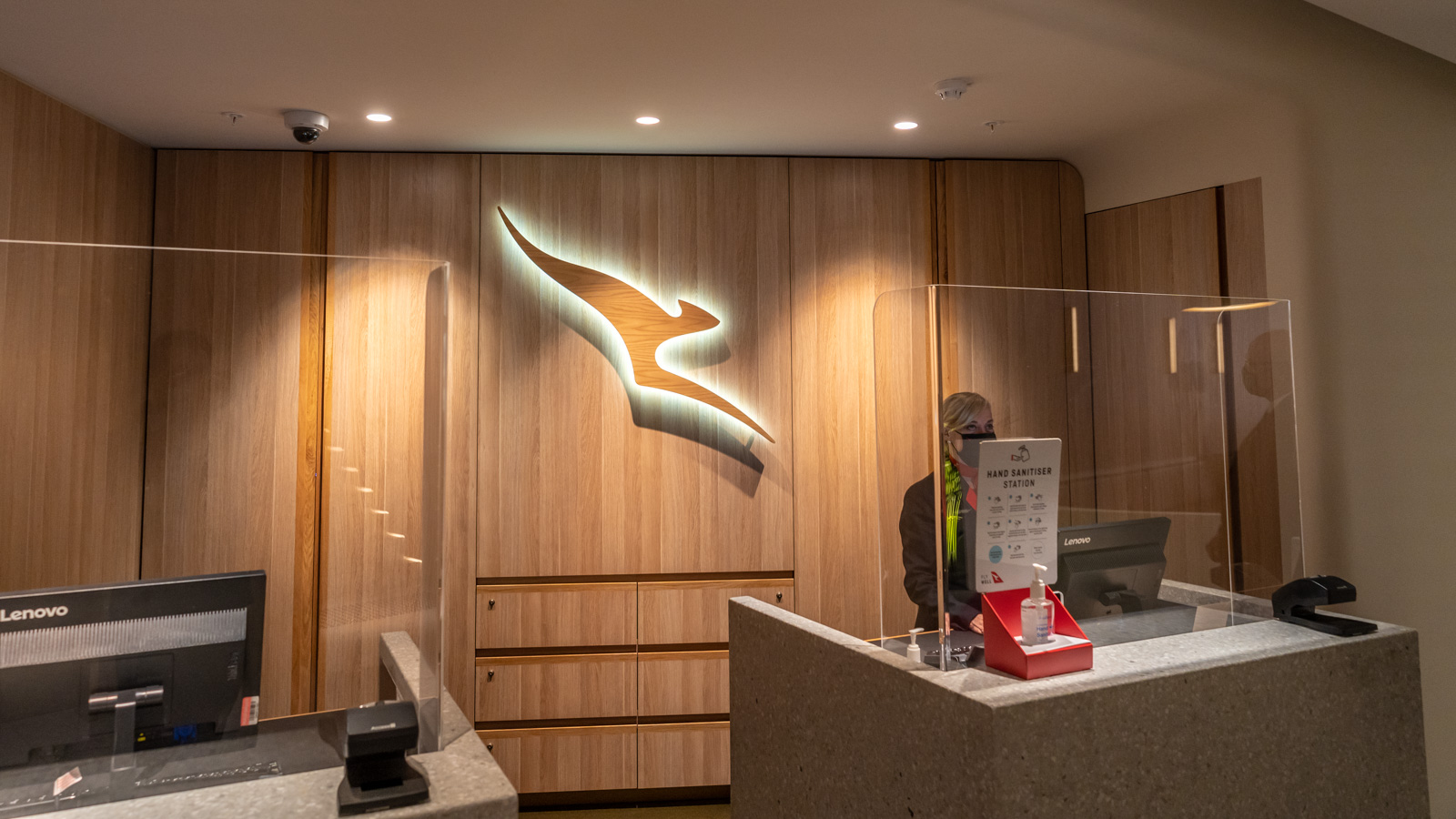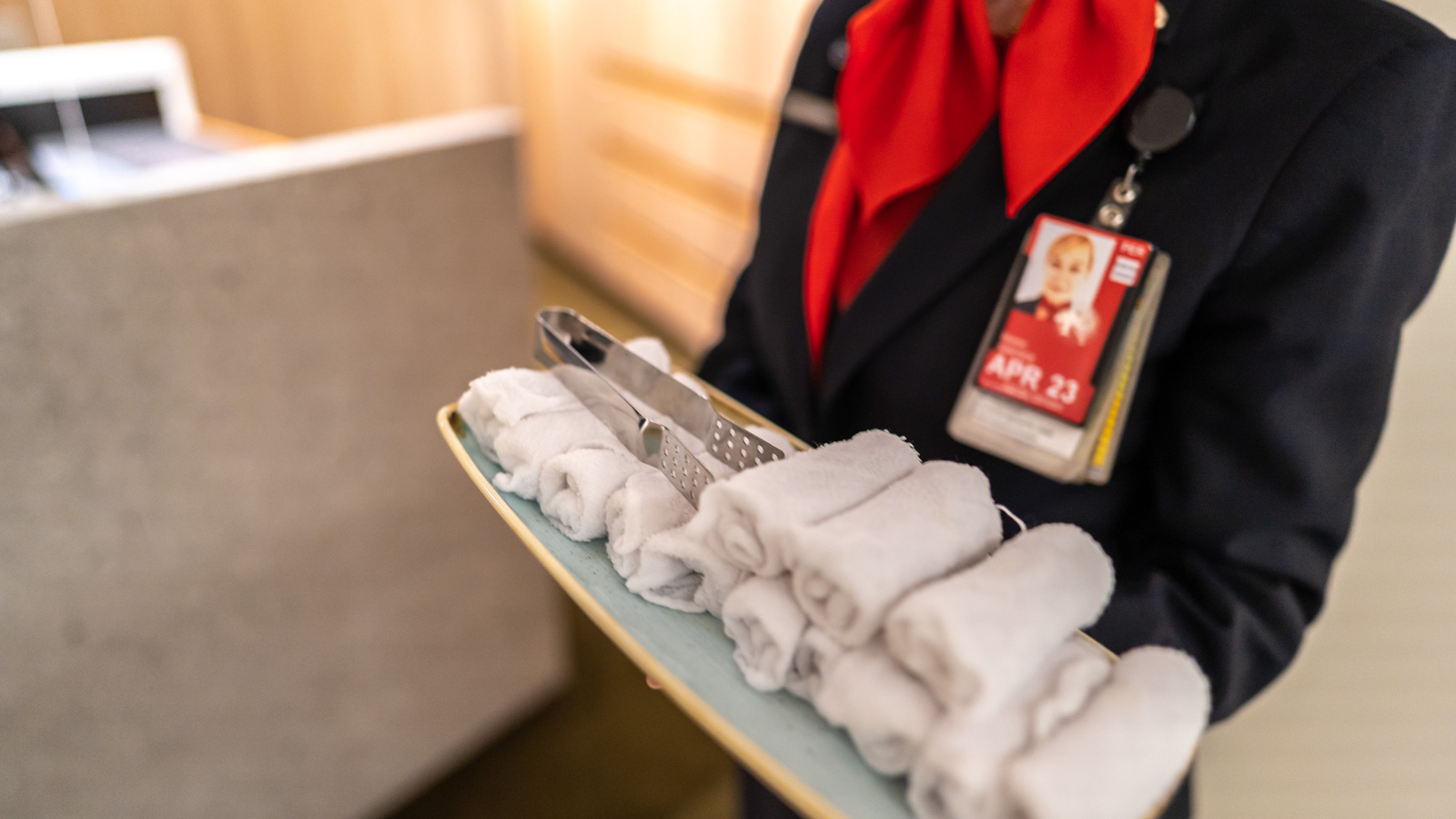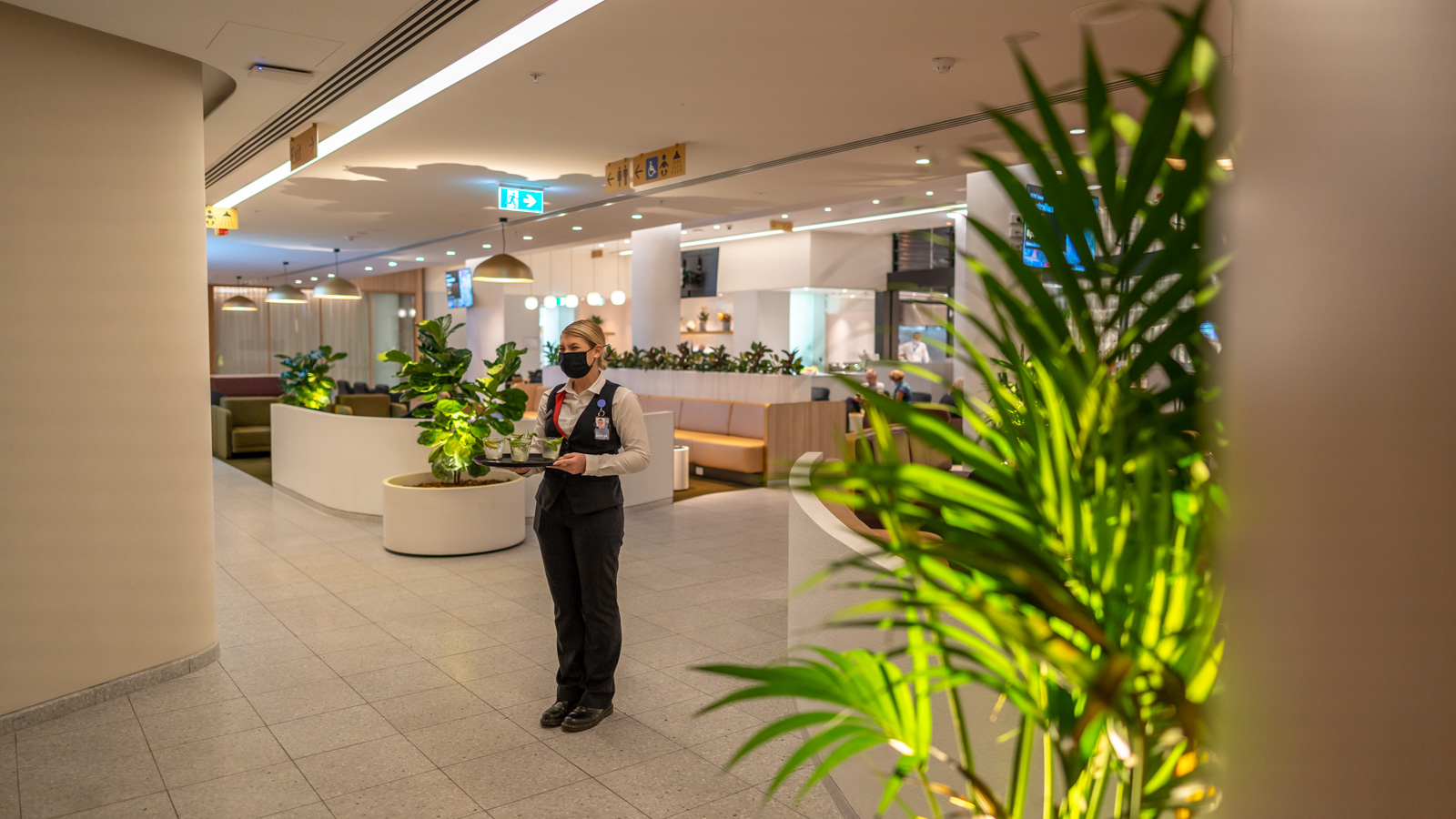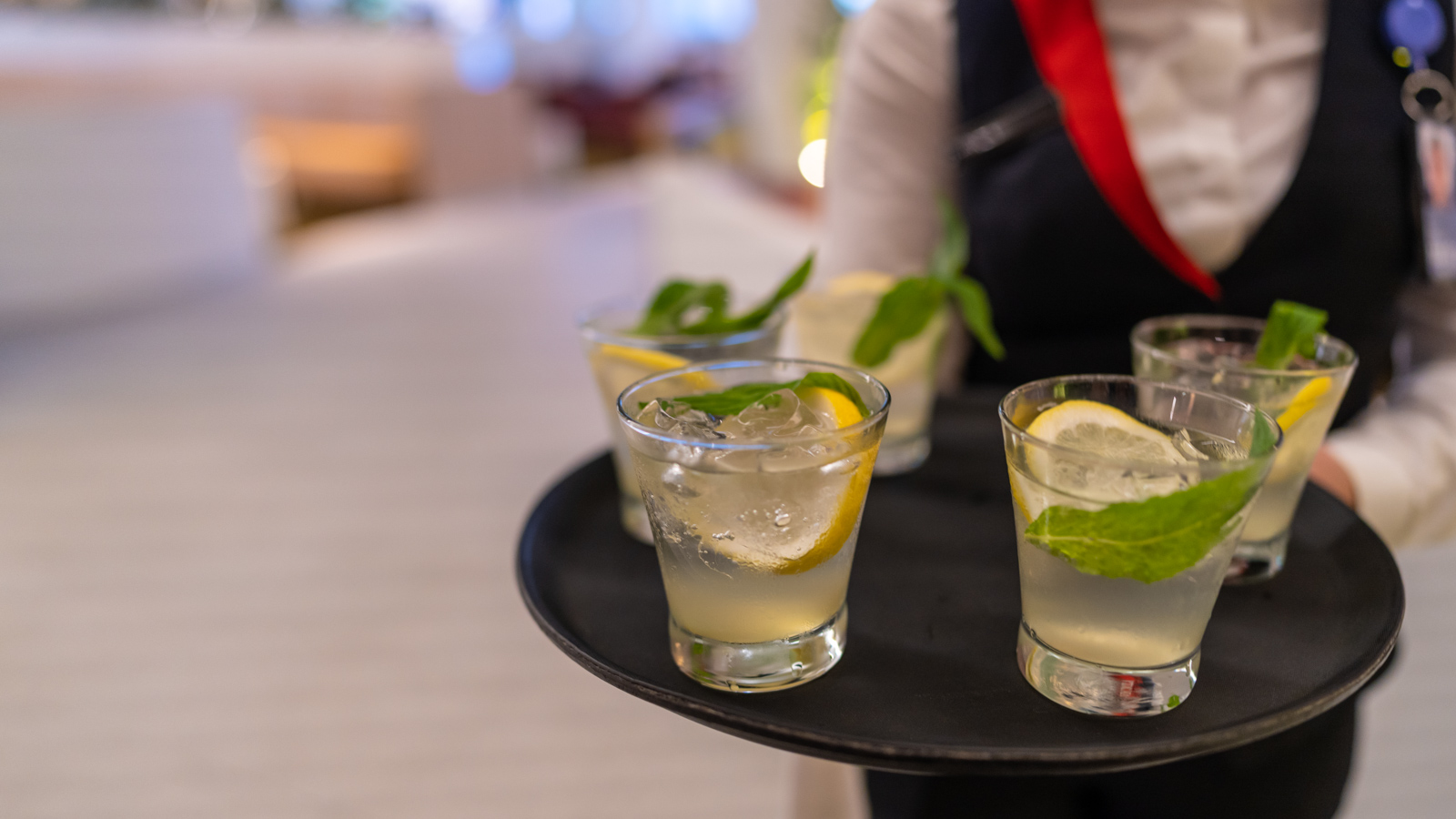 The main lounge room is one large space, subtly divided into smaller sections by a variety of seating. I'll let the photos speak for themselves – there are communal and individual sofas, bar stools, dining tables and more. Fresh greenery, light wood tones and deep colours give a modern and sophisticated look to the space.
It's a testament to Australian designer David Caon and Sydney-based SUMU Design, which both spearheaded the fit-out of this lounge. As Caon's website explains, the lounge is designed with a 'light, yet vibrant palette' to 'celebrate the laid back, joyful Western Australian lifestyle'.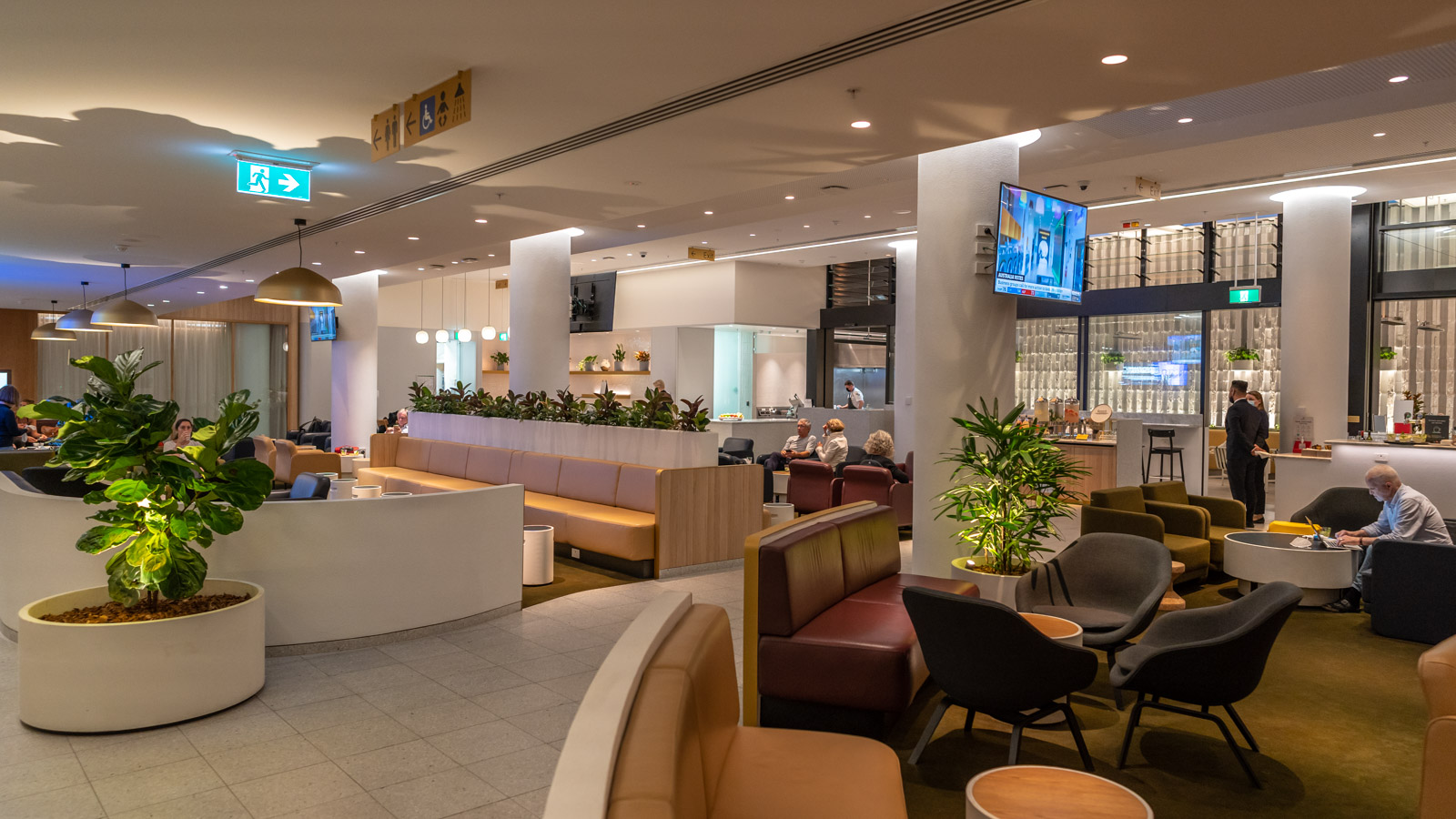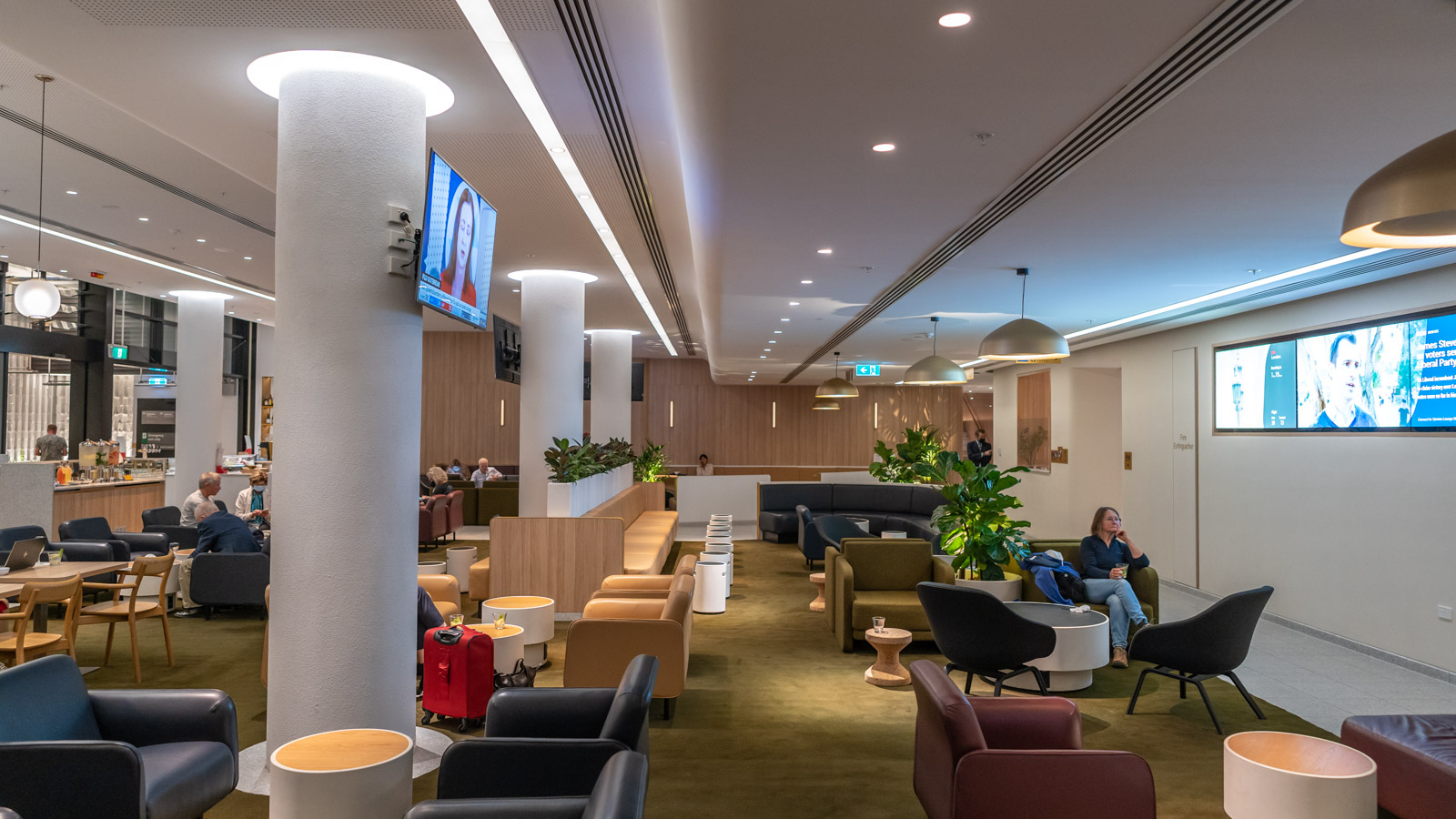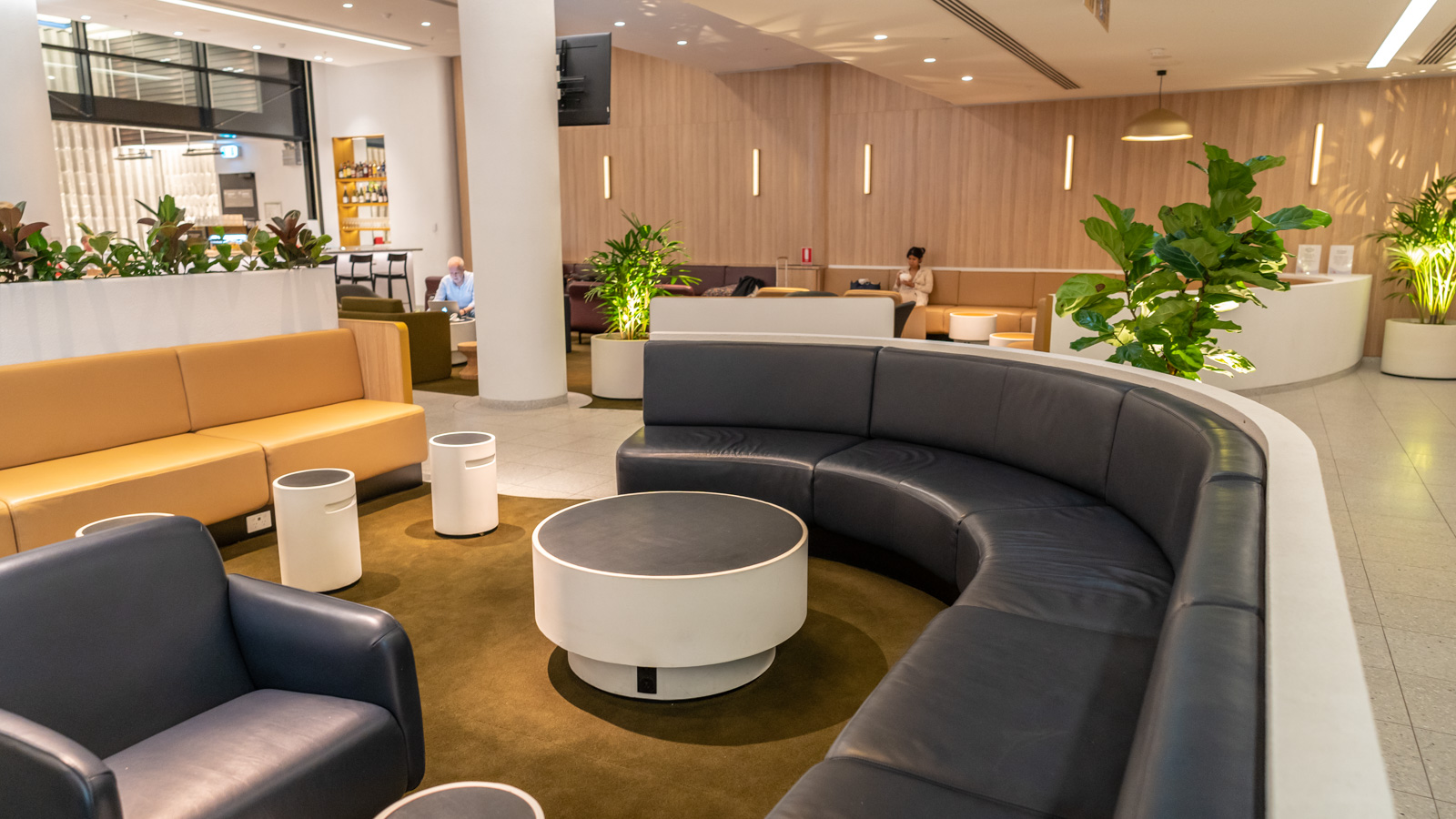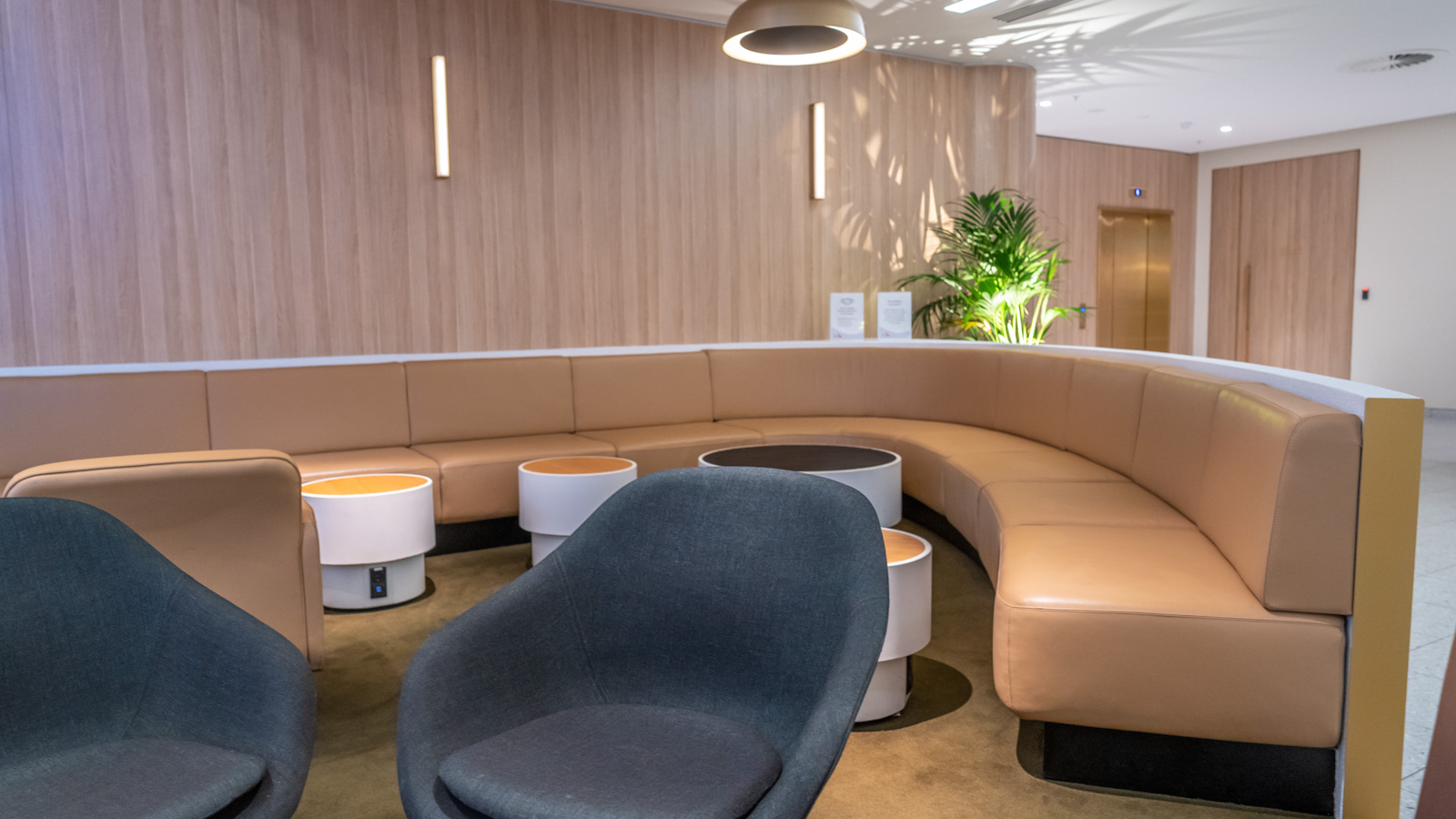 And if the thought of spending up to 17 hours on a plane has left you feeling breathless, you can recharge on the outdoor terrace – a first for an Australian international lounge. I'm impressed by the roof, which is made of clever louvres which will shut at the first hint of rain. And trust me, there was plenty of rain on this day.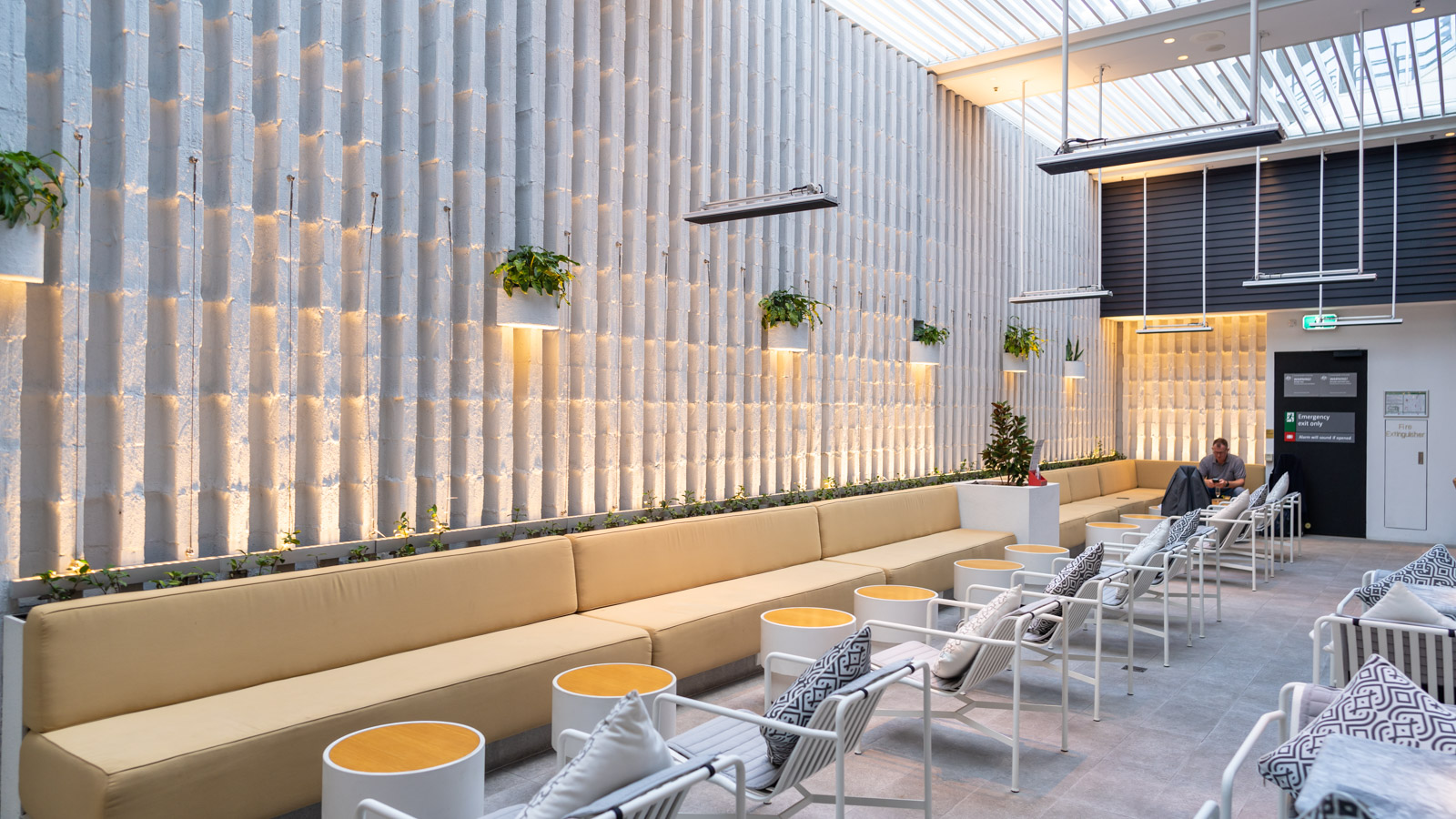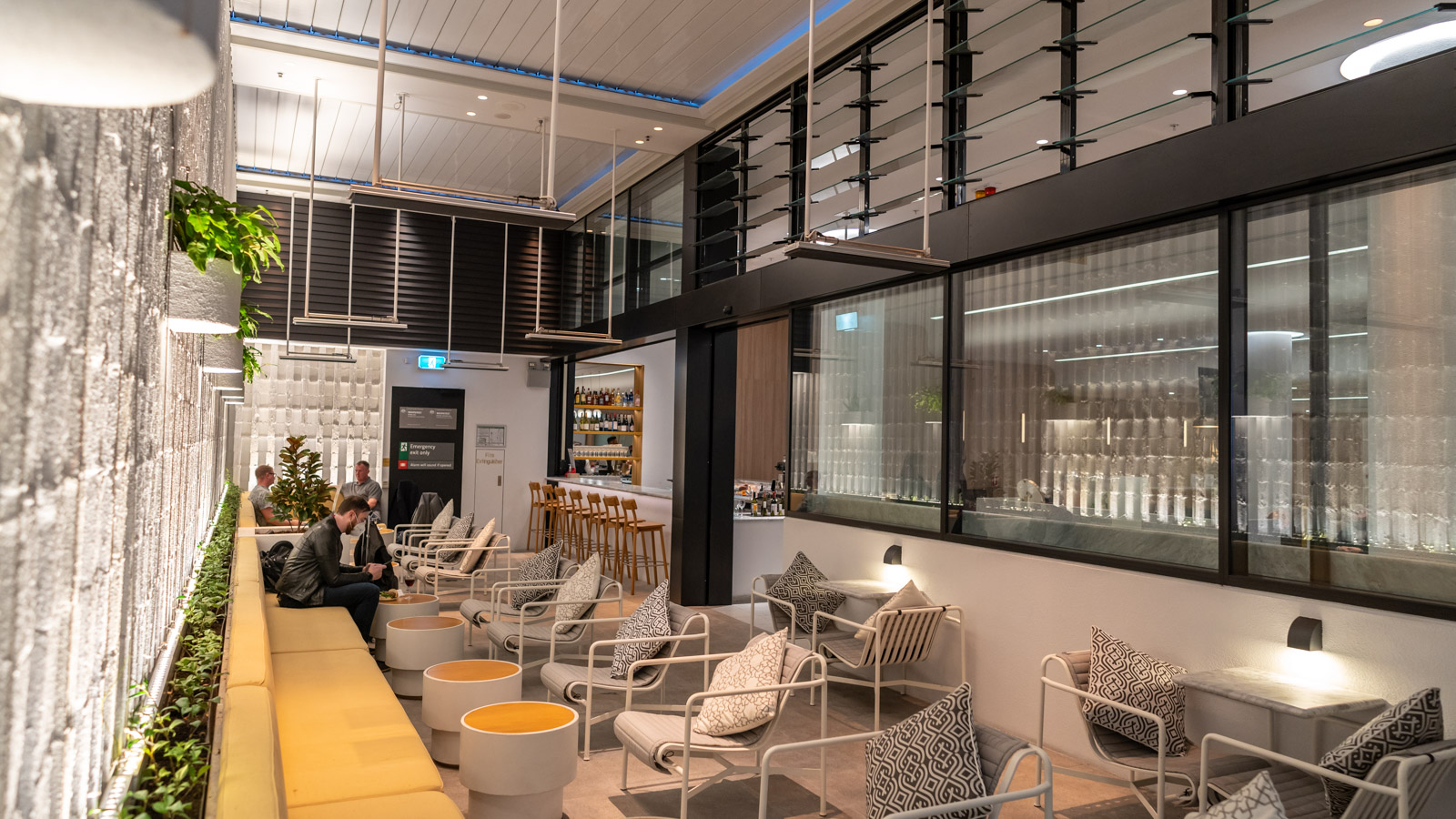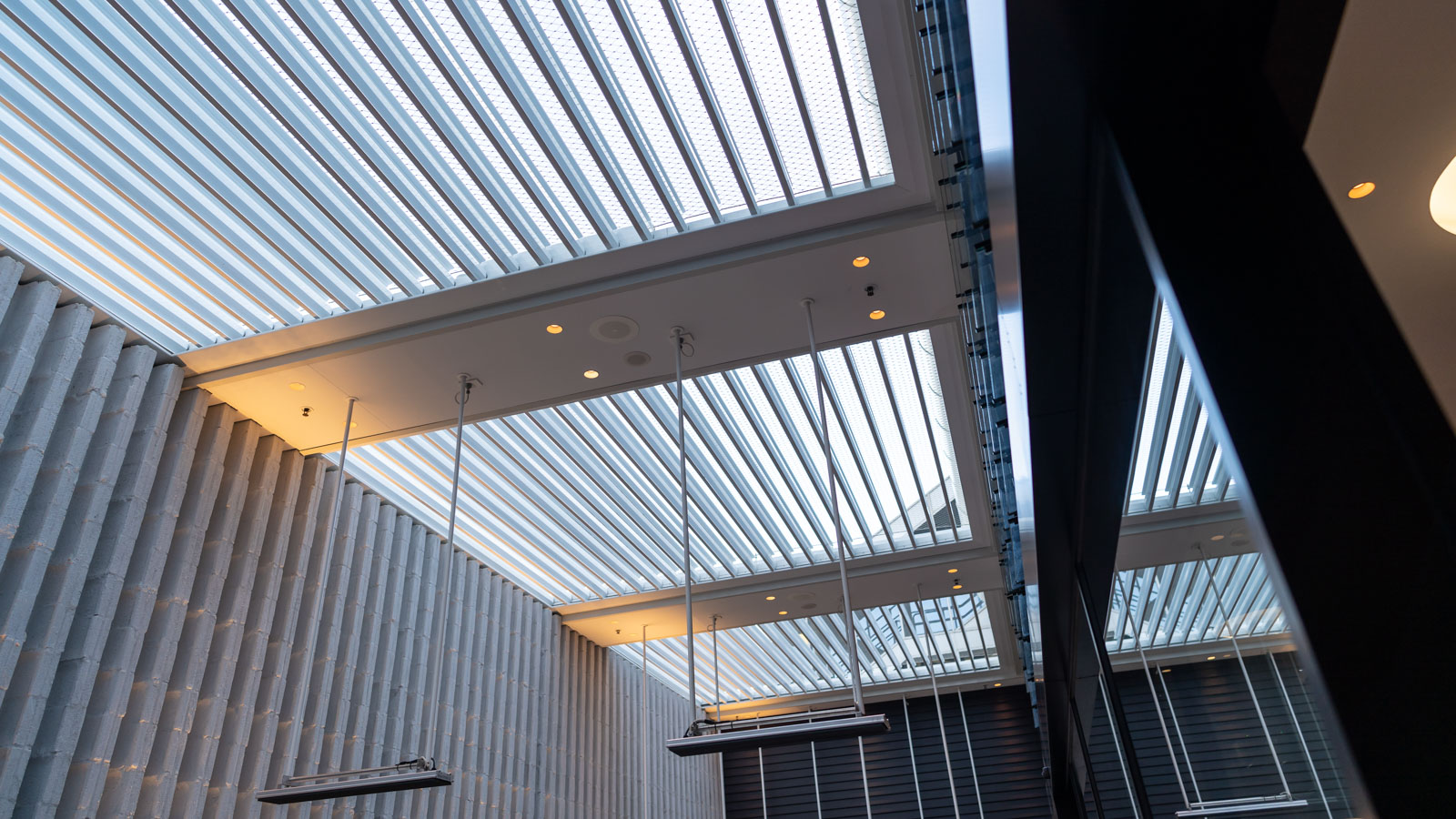 The opposite side of the lounge houses shower suites, a 'Refresh' bathroom area, and a Wellness Studio. But I'll go over those in more detail later. Because right now, my eye's caught the food buffet and it looks superb. Time to eat!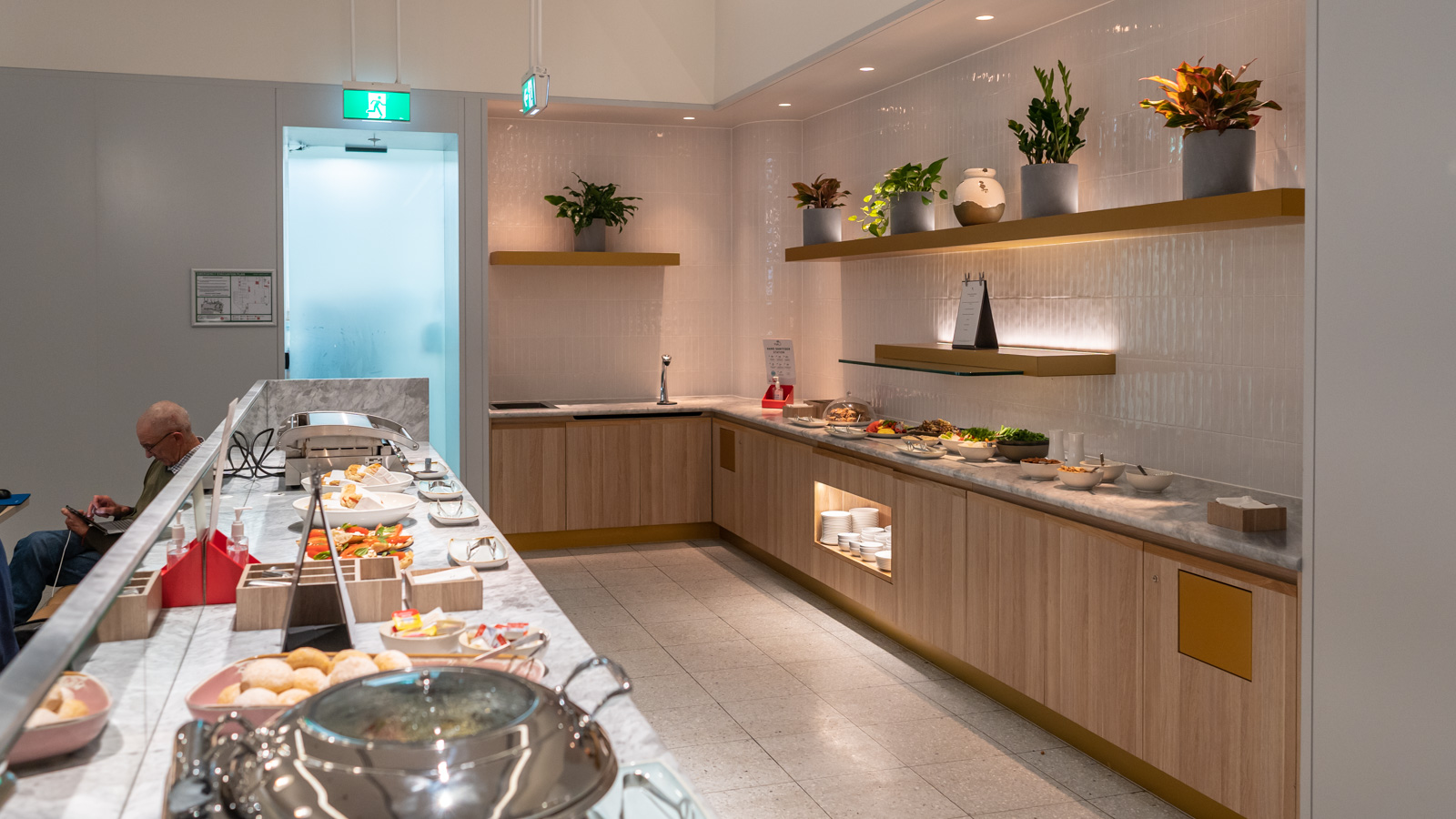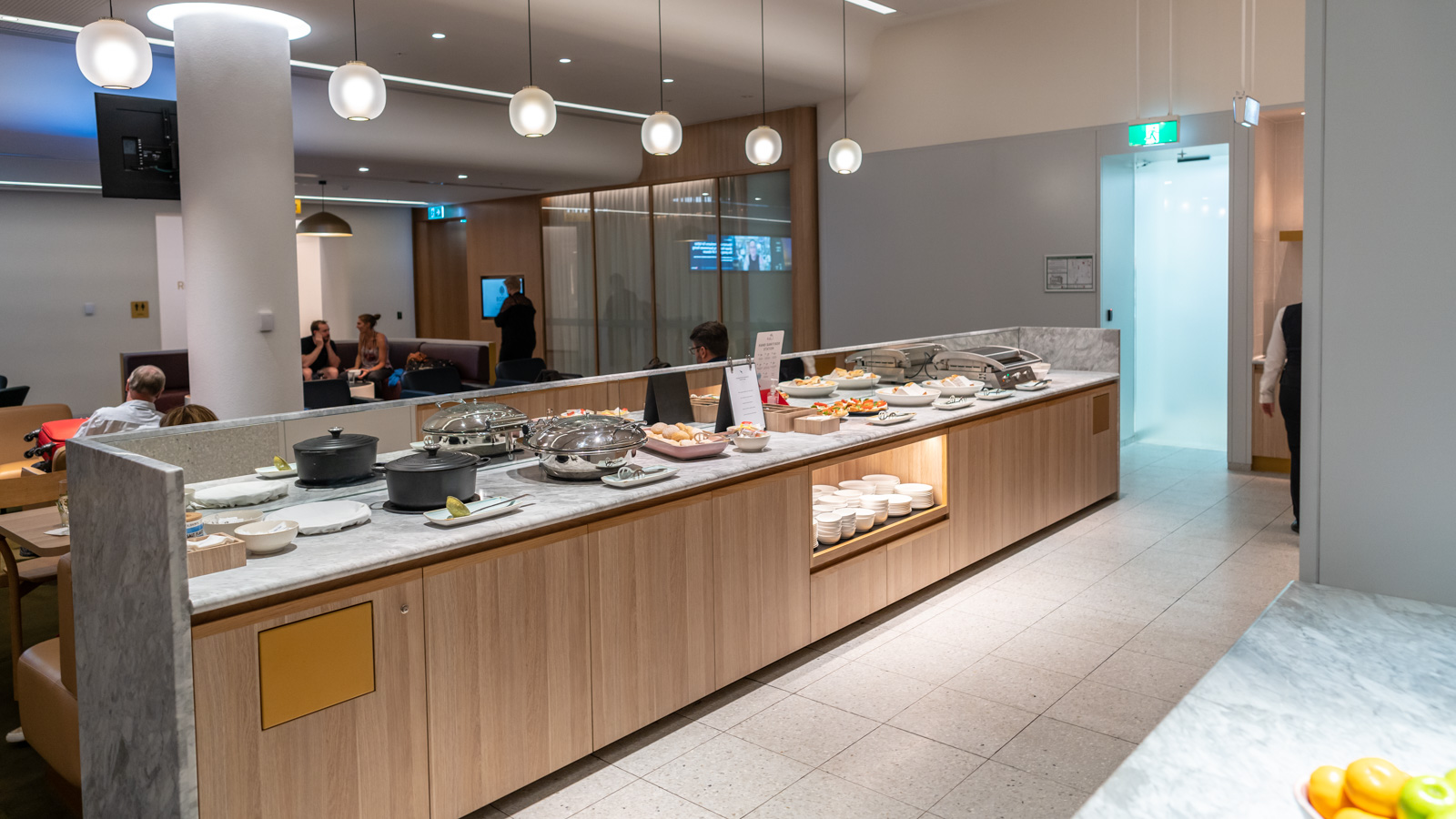 Food & beverage
The dining
I find that the dining options in the Transit Lounge are thoughtful. Sure, it's not the same as a Qantas International First Lounge with fancy a la carte menus. But the choices here – designed in collaboration with the Charles Perkins Centre – are fresh, healthy, and utterly delicious.
The 'light bites' bar includes roast cauliflower with chickpeas, veggie dips with baba ganoush and more. If you want to eat well before heading to London, this is the place to do it. I also spot a plate of sinful lamingtons, which are smothered in chocolate. So good.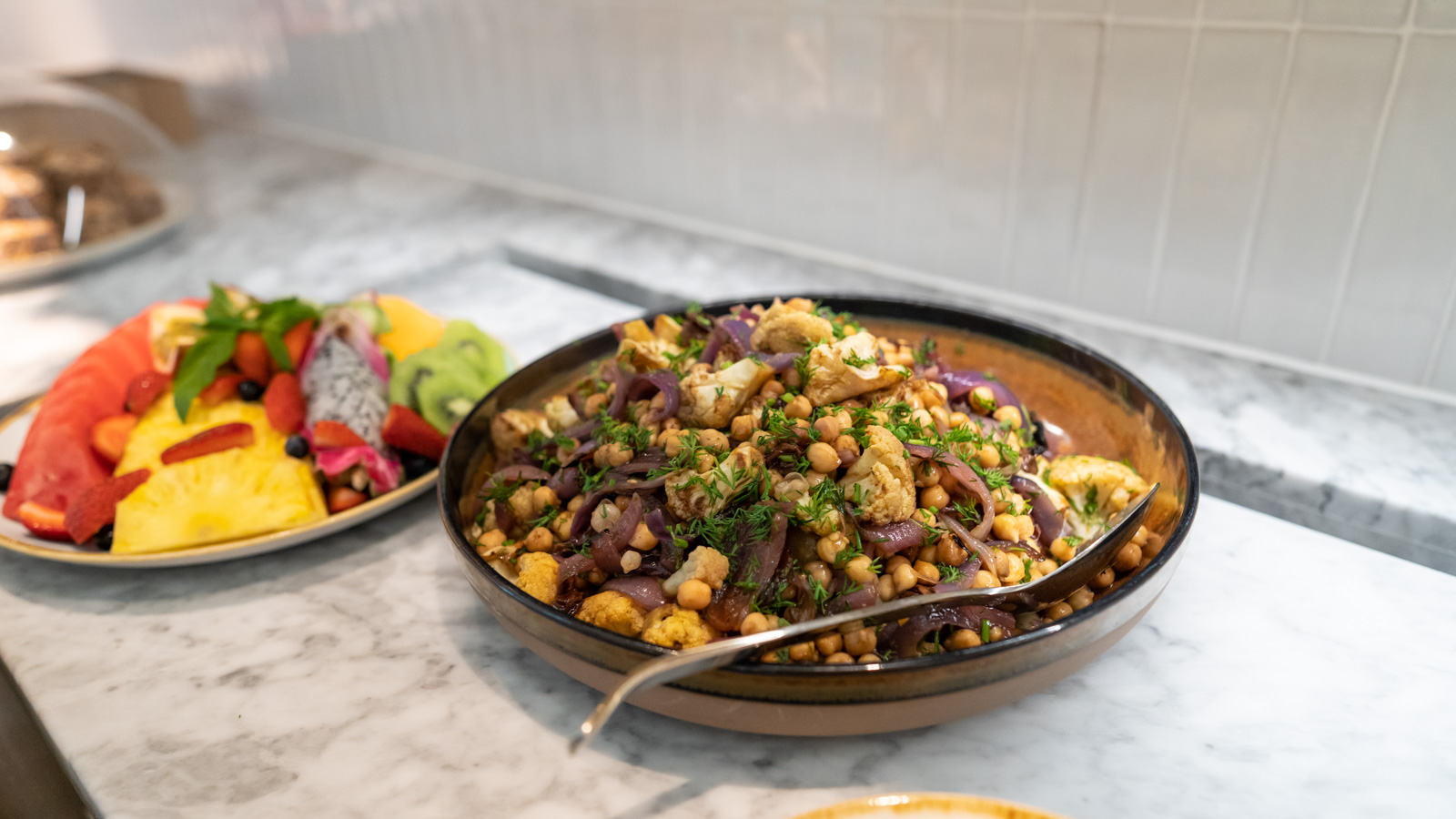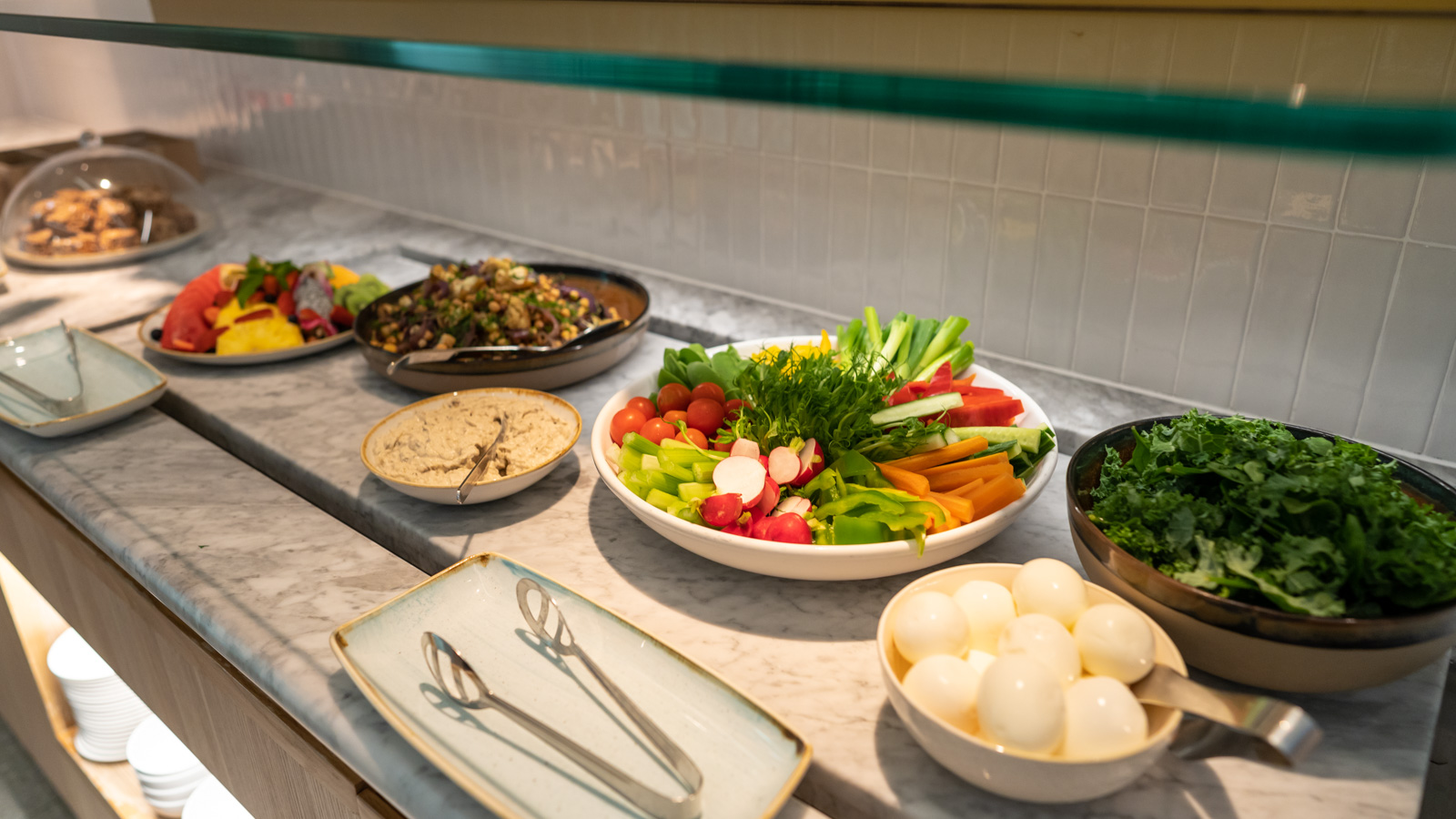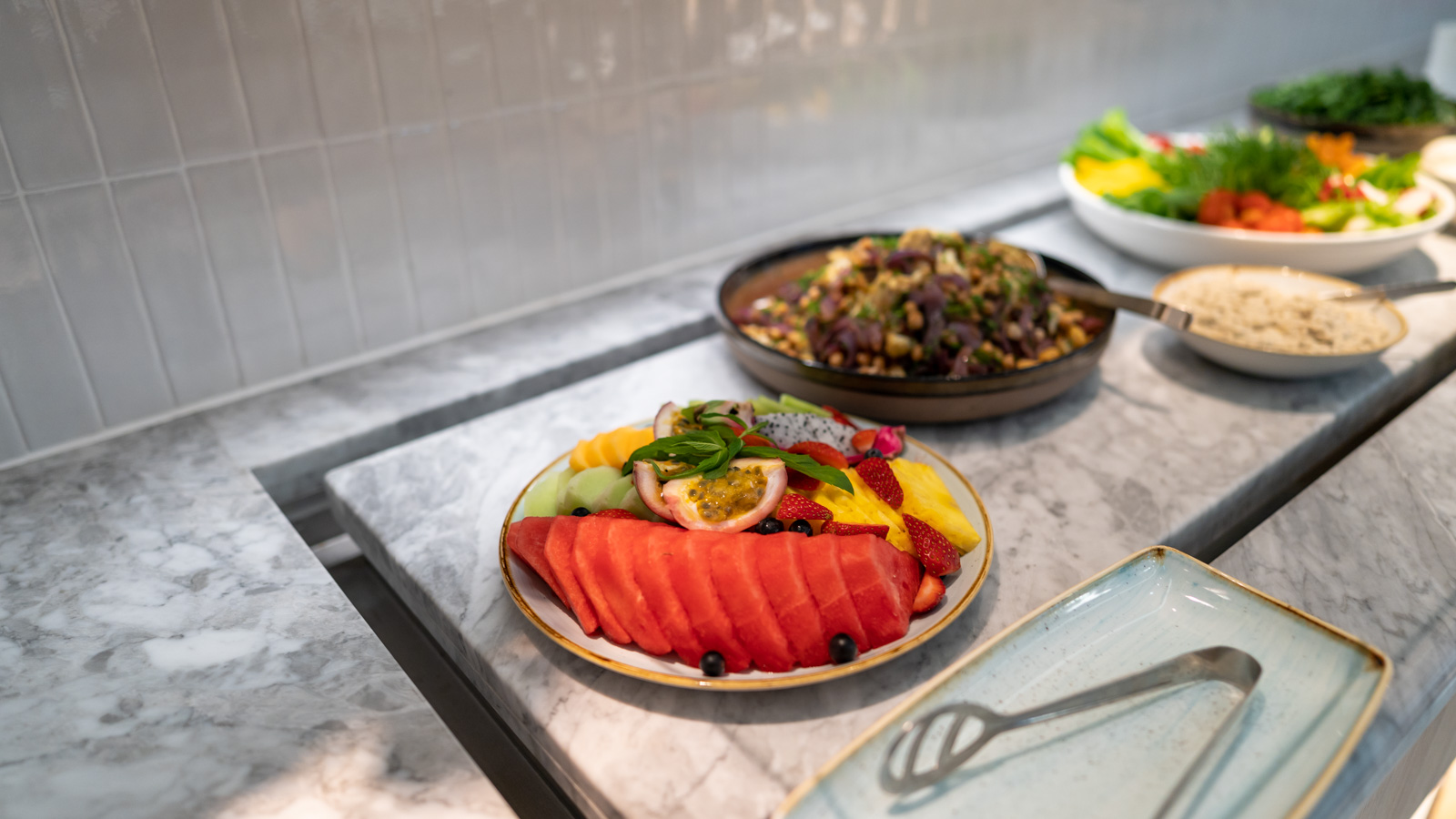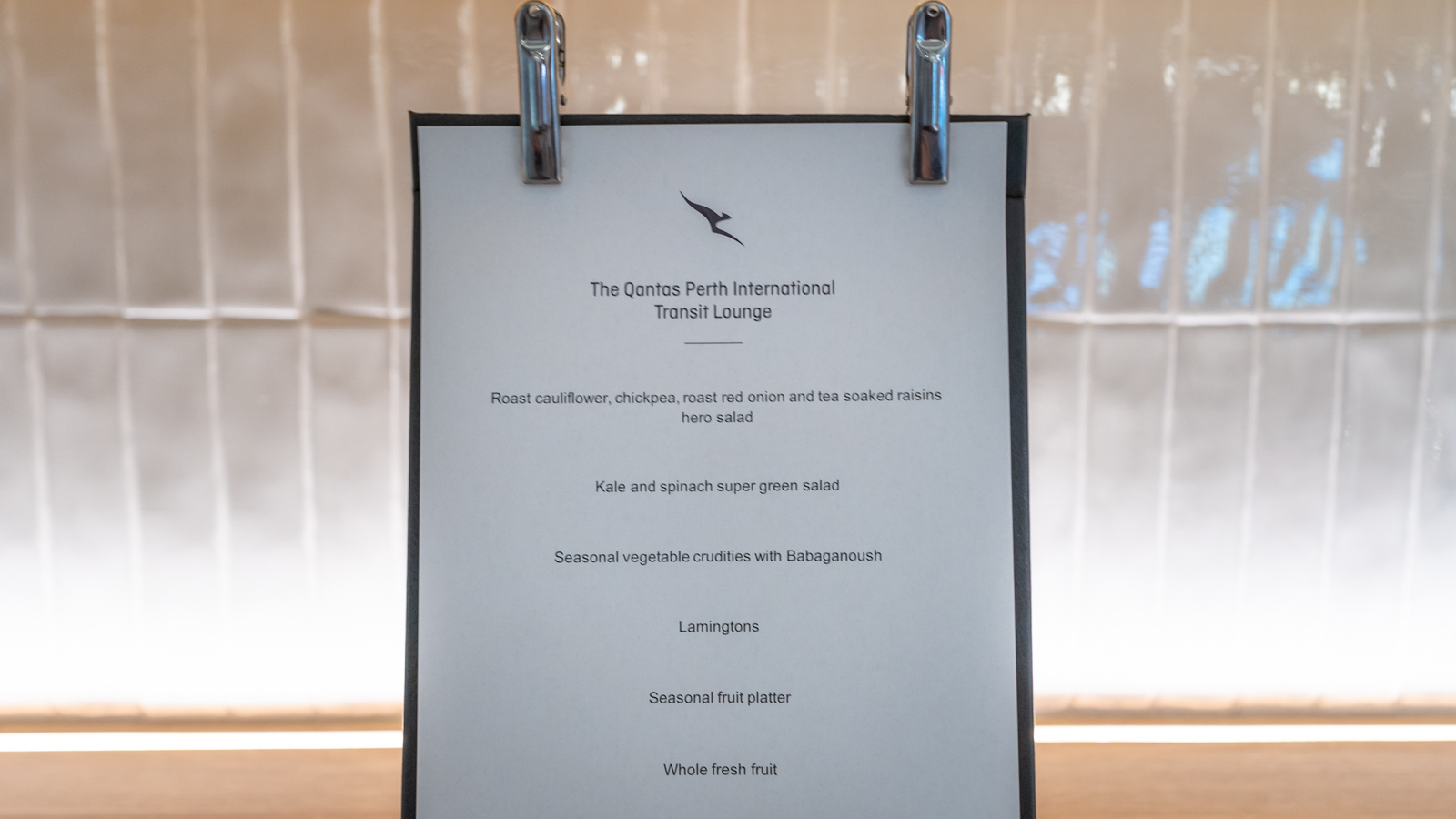 Of course, I'm more interested in the next station. There are more substantial bites here, including toasted sandwiches and a divine bruschetta with goat's cheese. For something warmer, there's a cannellini soup and grilled vegetable skewers with salsa, which I regrettably forgot to take a picture of. Out of this lot, the bruschetta is the star.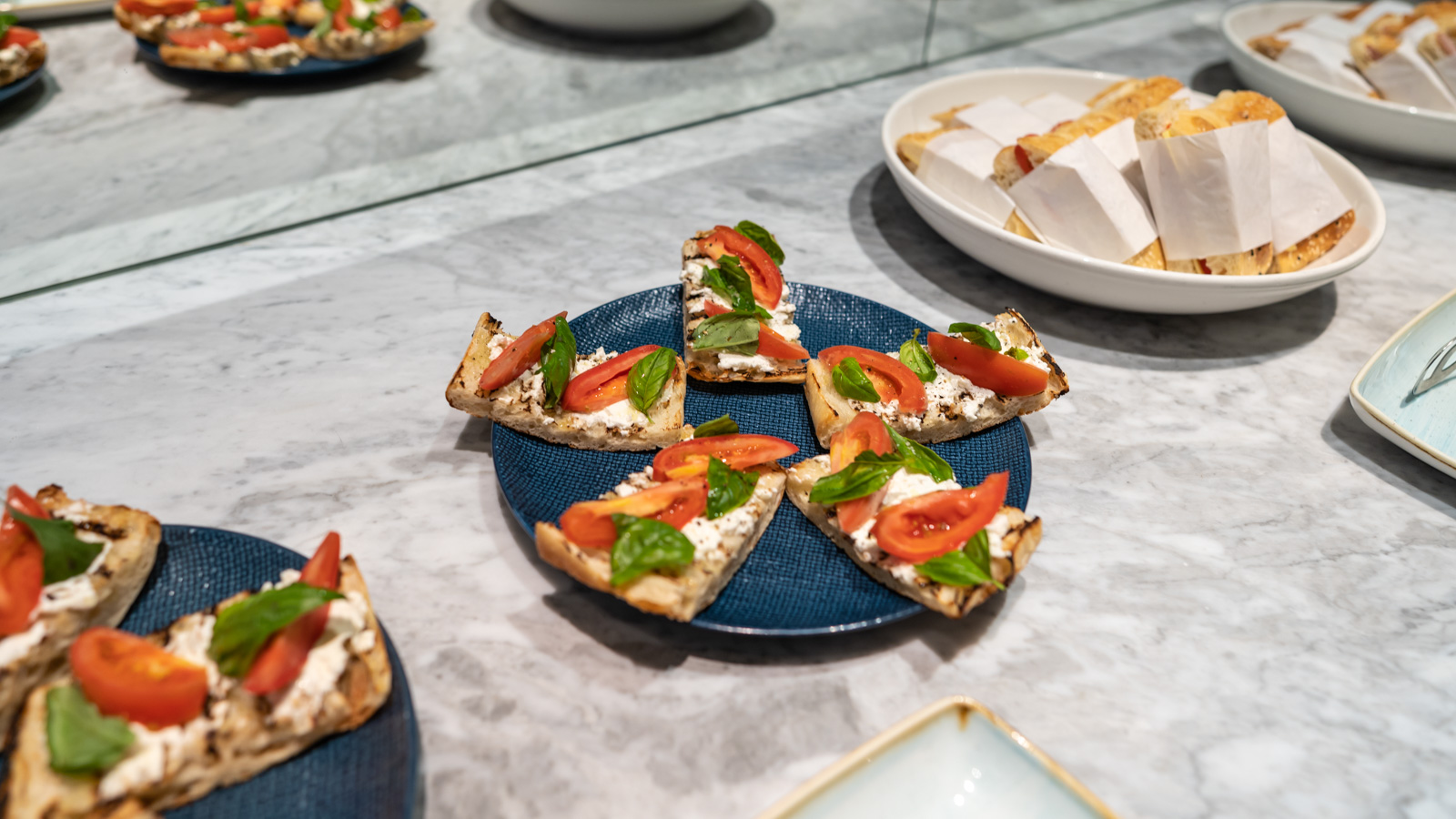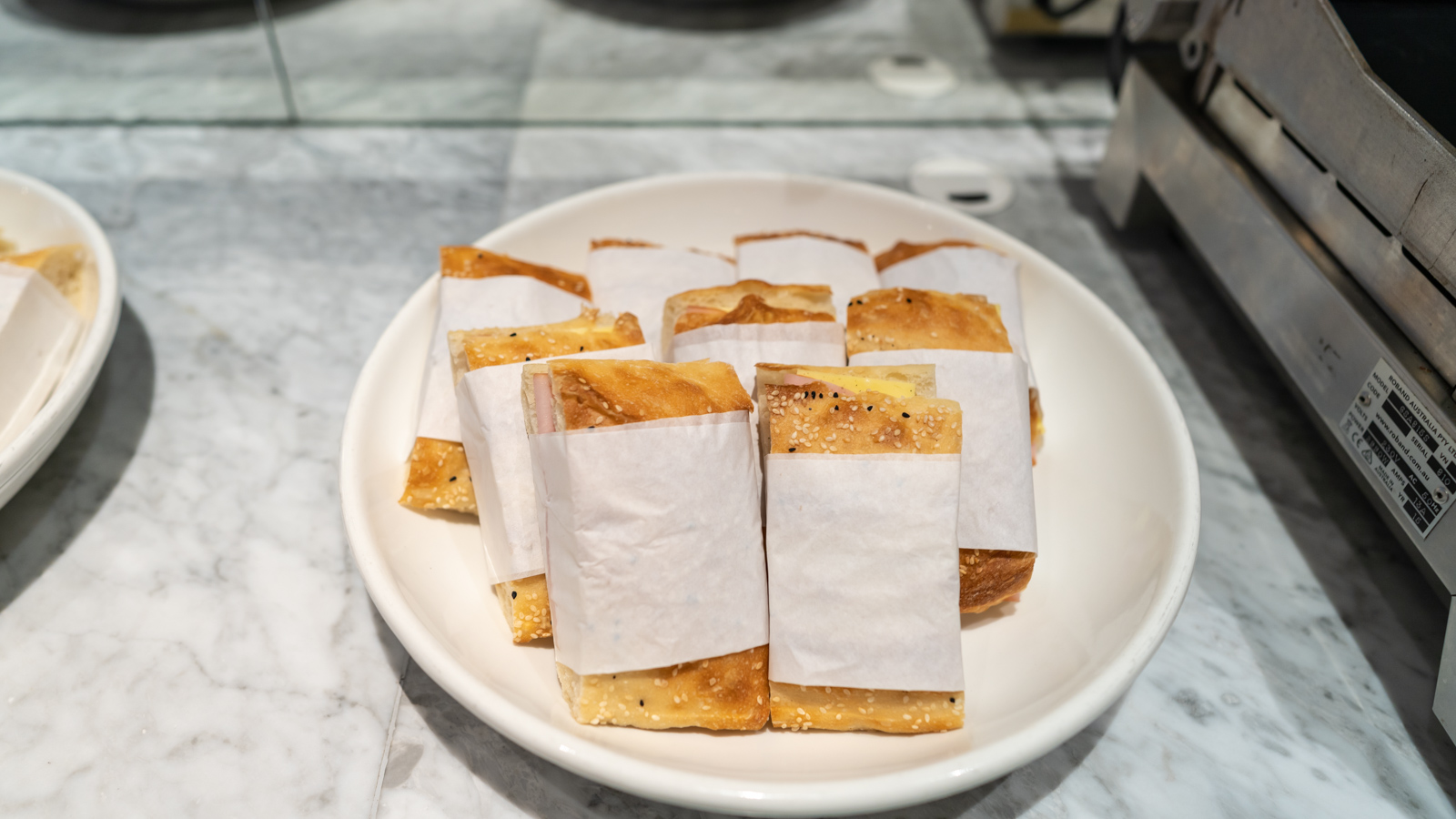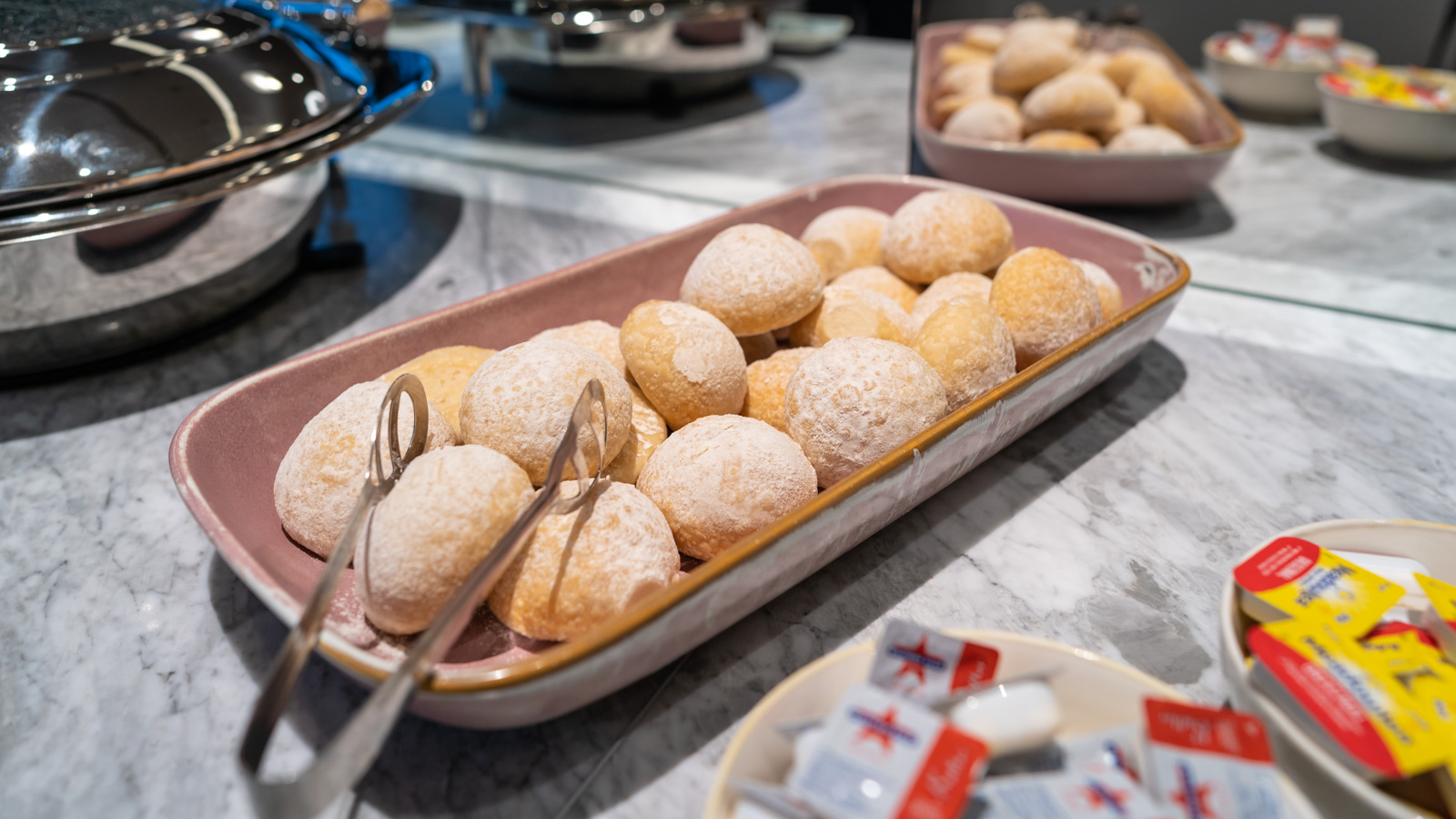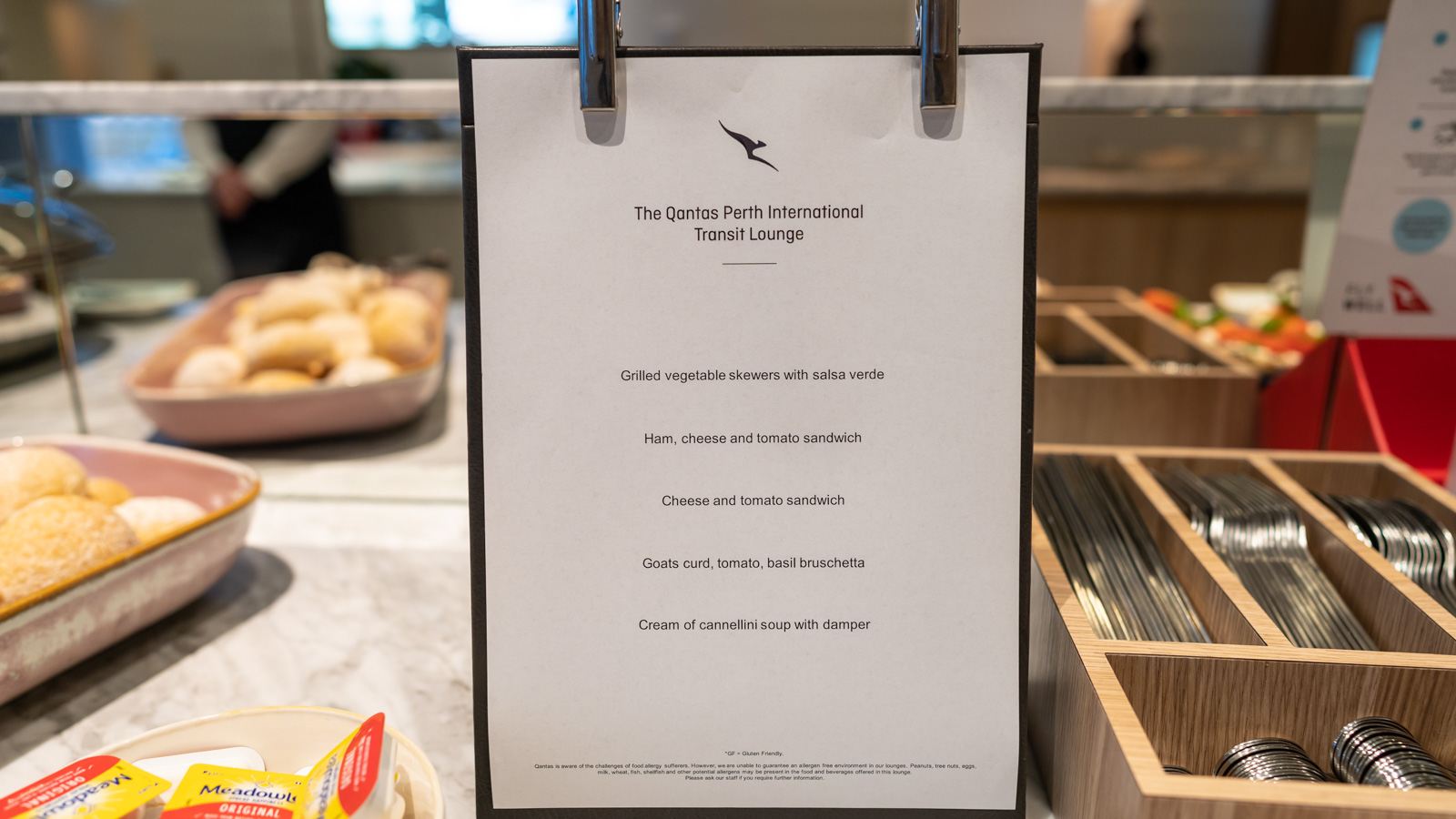 For something even more substantial, head outside. The BBQ bar plates up a delicious gourmet 'sausage sandwich' (i.e. a hot dog). Today's offering is a pork and fennel snag with caramelised onion and relish. You can also add seeded or Dijon mustard, along with Tabasco. Step aside, democracy sausage – this is a hot dog.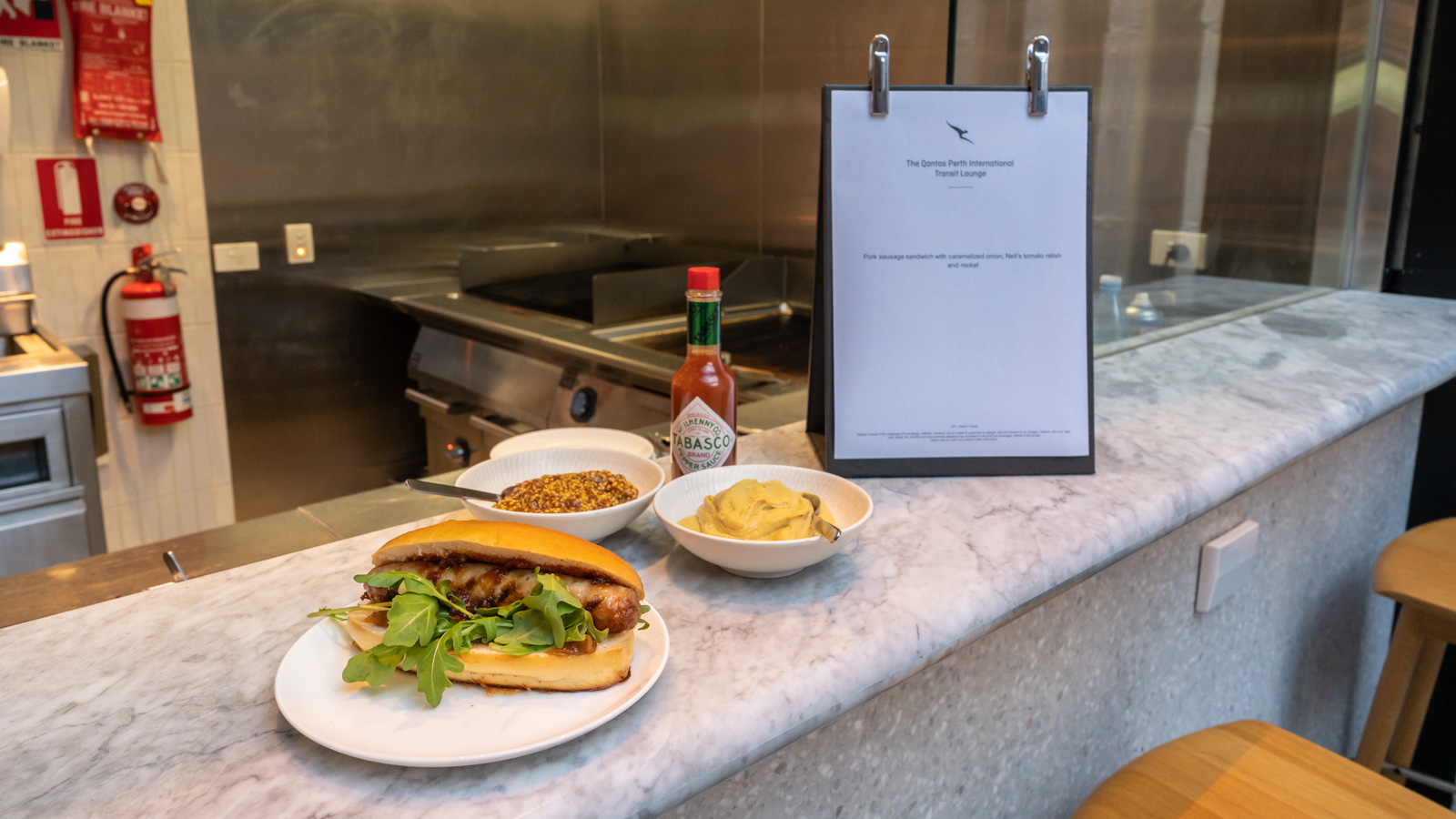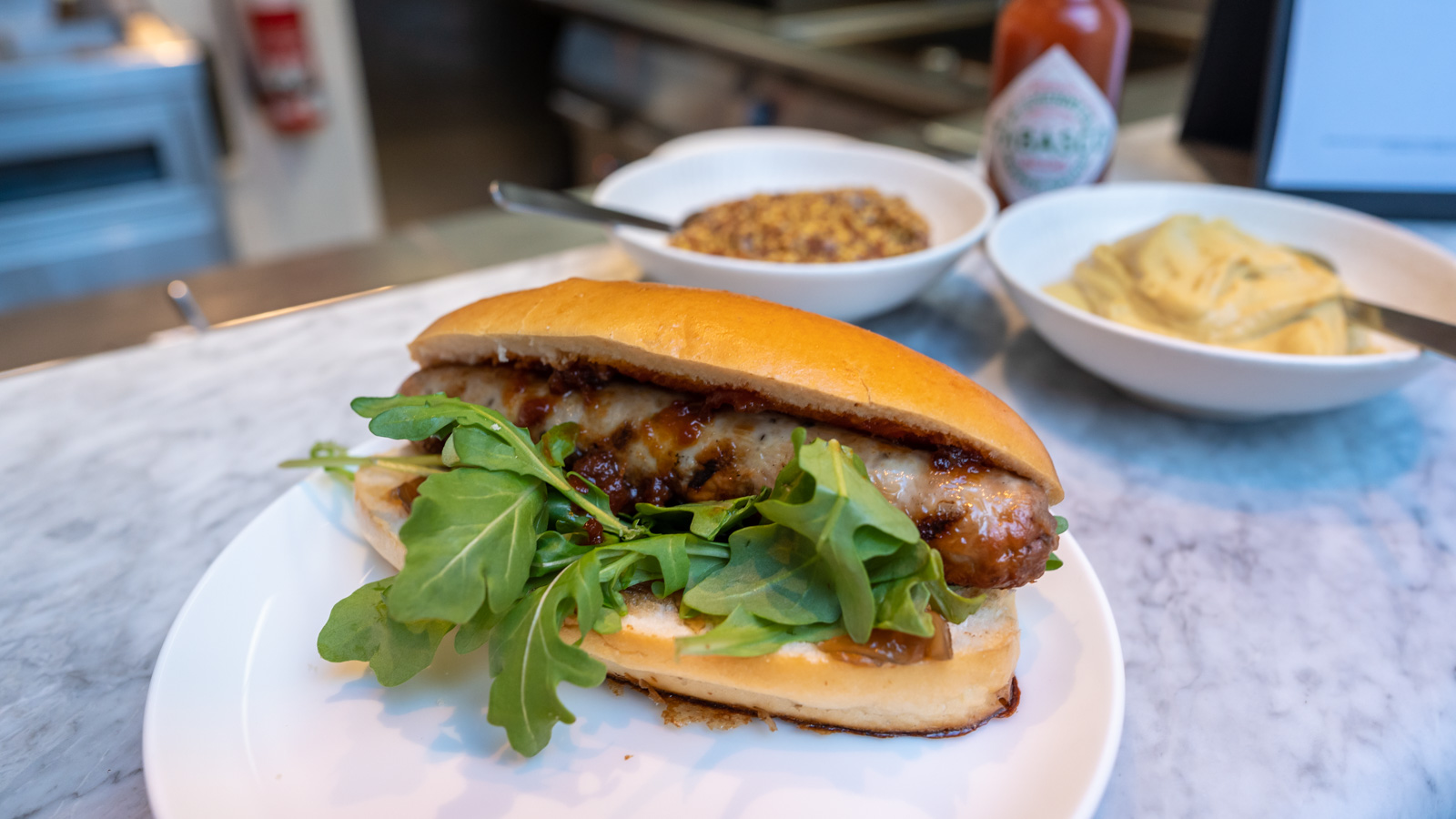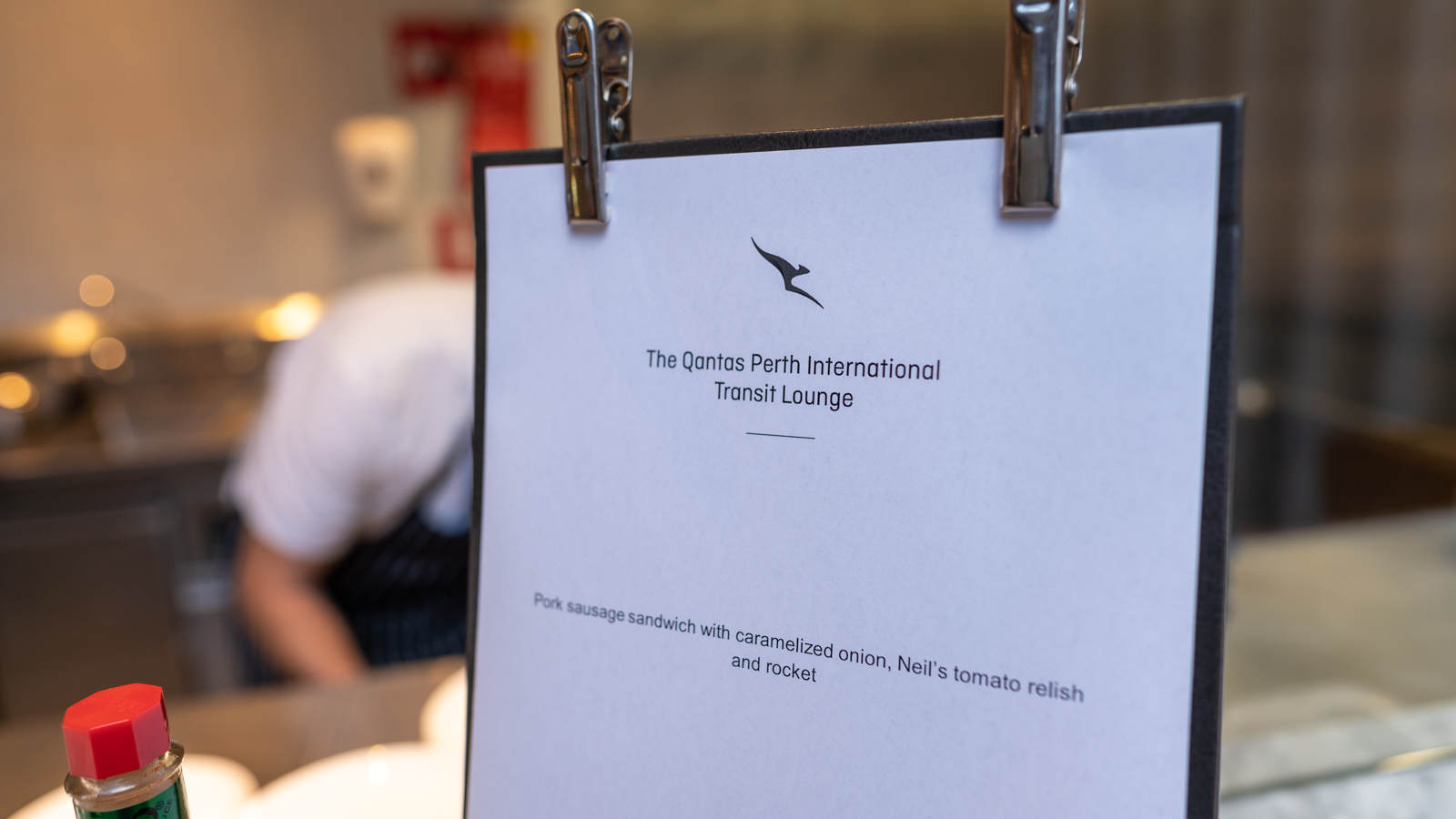 For all its strengths, I do wonder if the menu could still offer some 'heavier' hot options for those who want that. But I suppose one could just eat multiple sausage sandwiches.
The drinks
The beverages side is equally thought out. Qantas' popular 'Quench' station is a mainstay here, featuring the usual assortment of Bickford's cordials. But one standout unique to this lounge is the addition of kombucha and coconut water, for those who want to enjoy a lighter non-alcoholic drink. As someone who loves both concoctions, this goes down well with me.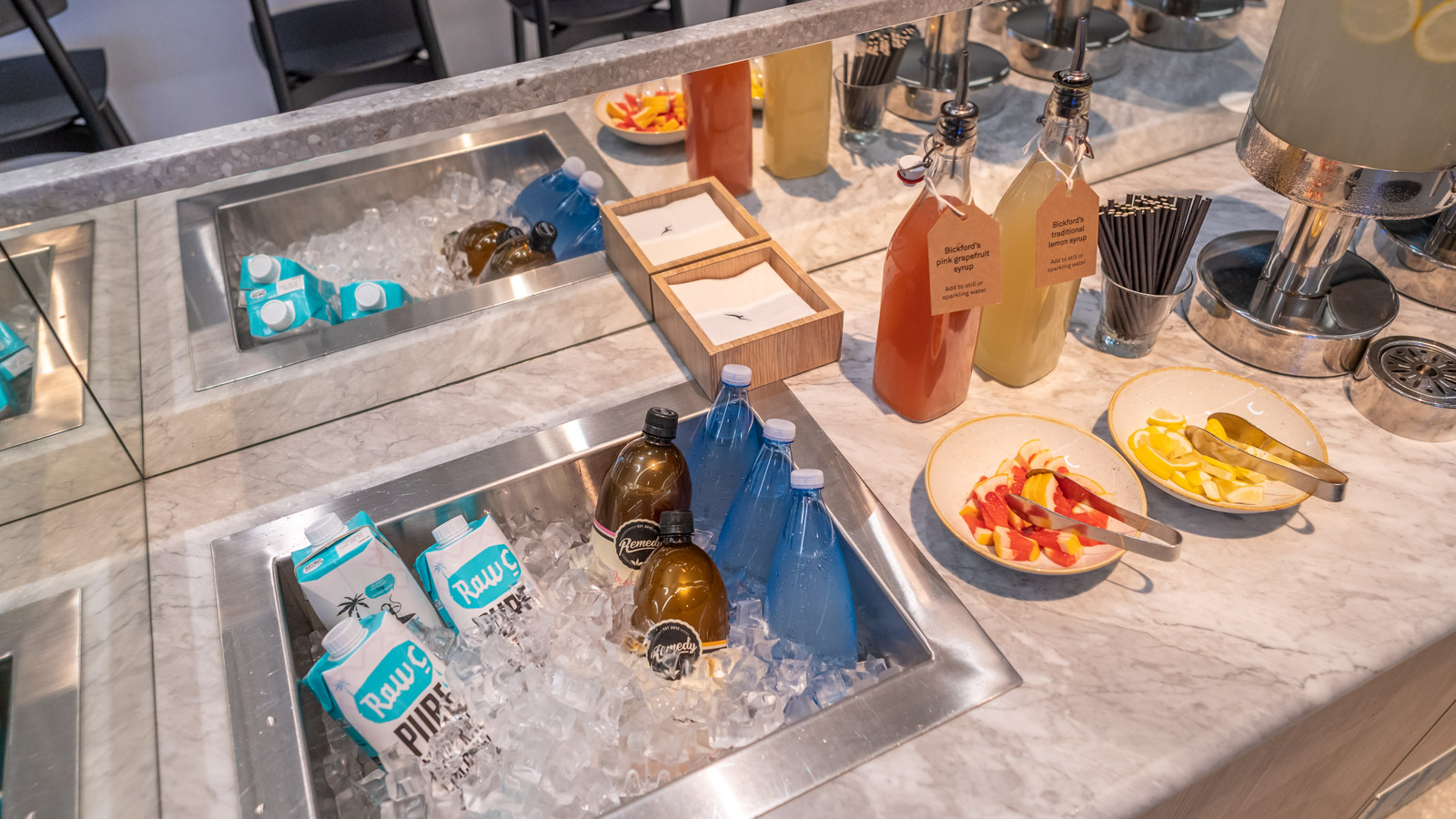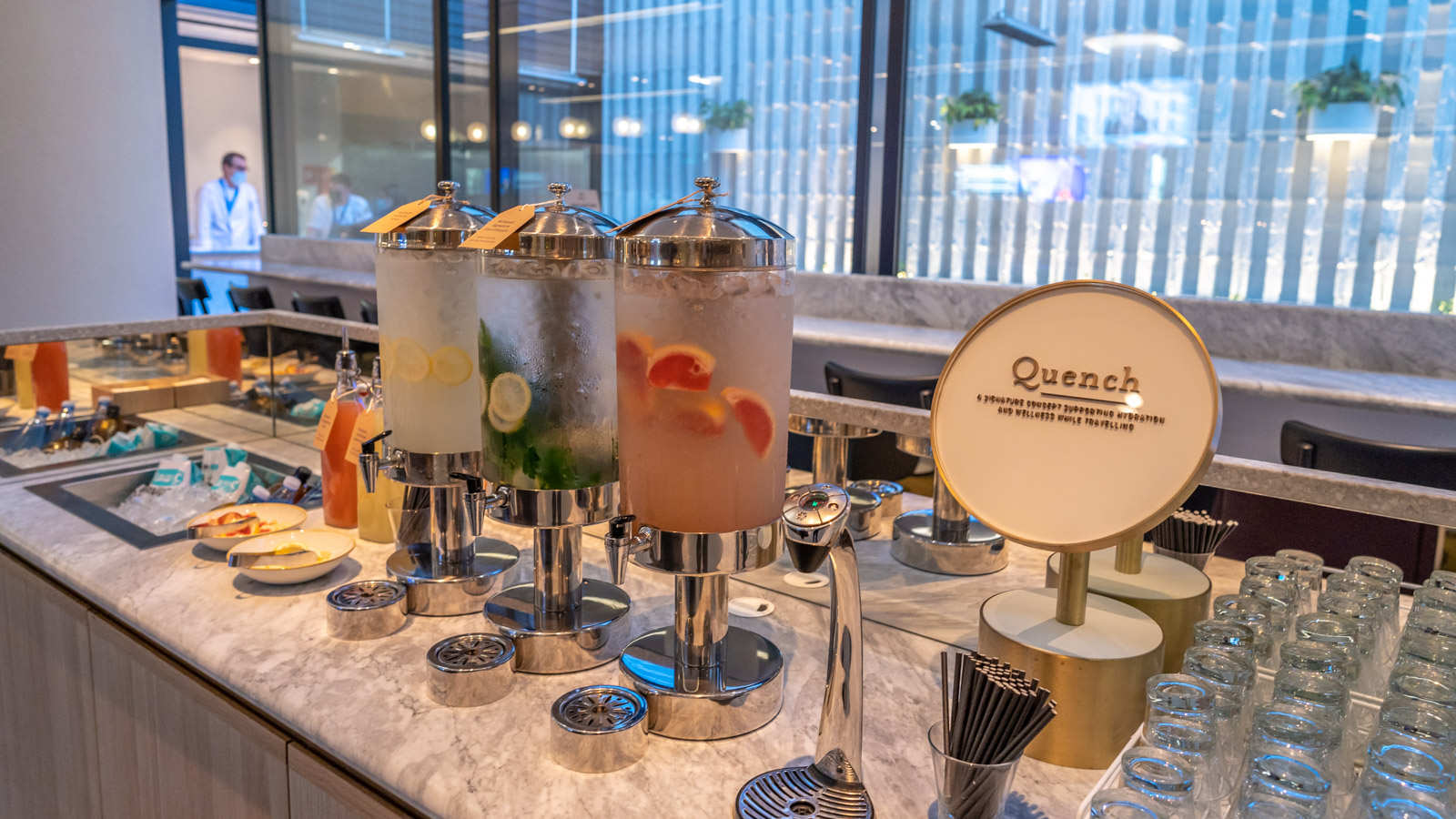 Of course, the tended bar is still very much alive and kicking. The red and white wines are familiar labels, though on the inexpensive side. Still, I'm quite partial to Penfolds Koonunga Hill. Seppelt The Drives is the sparkling wine of choice here.
A full array of spirits is offered – West Winds gin, Havana Club Anejo Especial and Martell Cordon Bleu Extra Old Cognac are some of the more unusual bottles on display, along with the 'usual suspects' such as Absolut Vodka and Beefeater gin.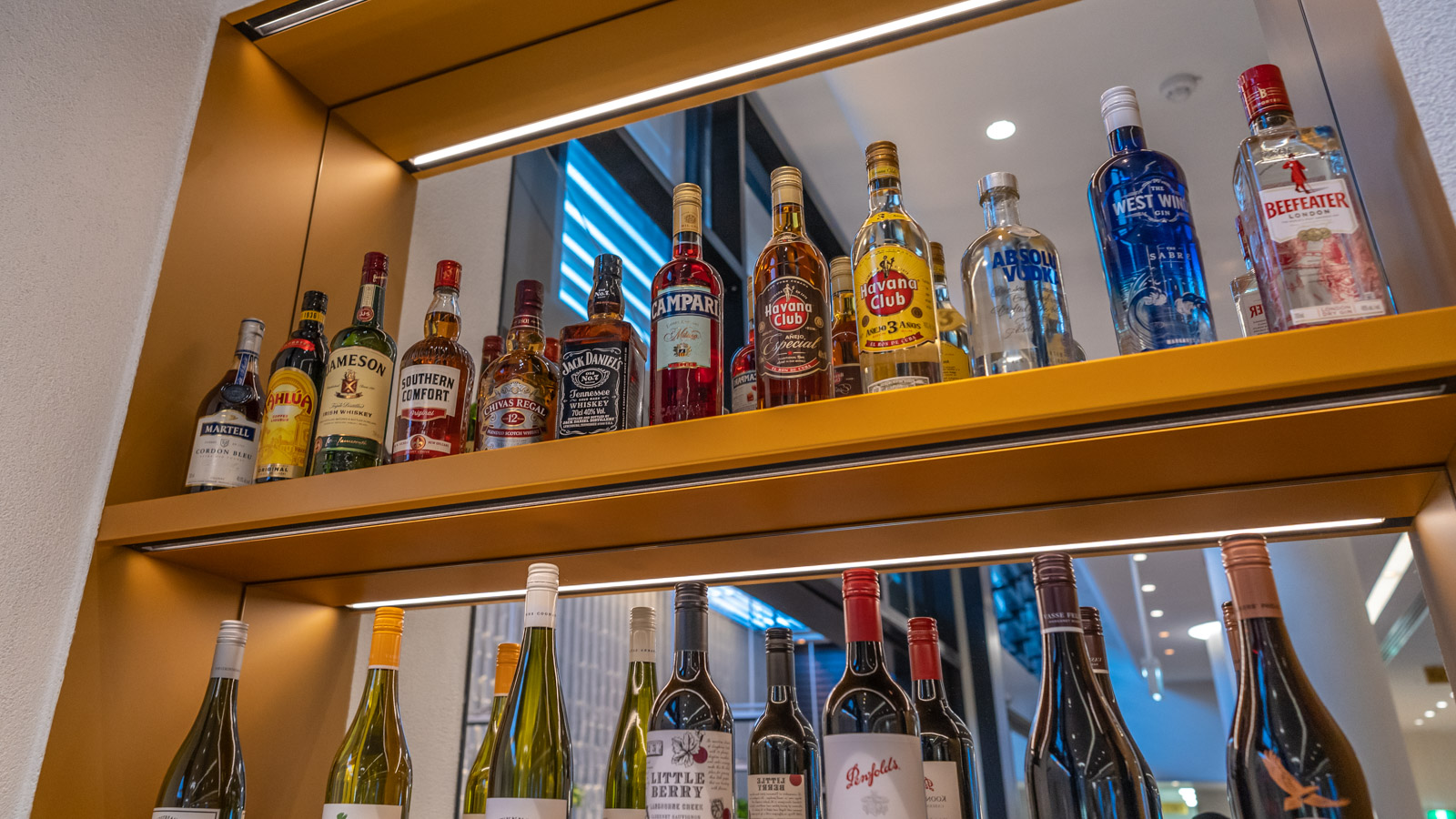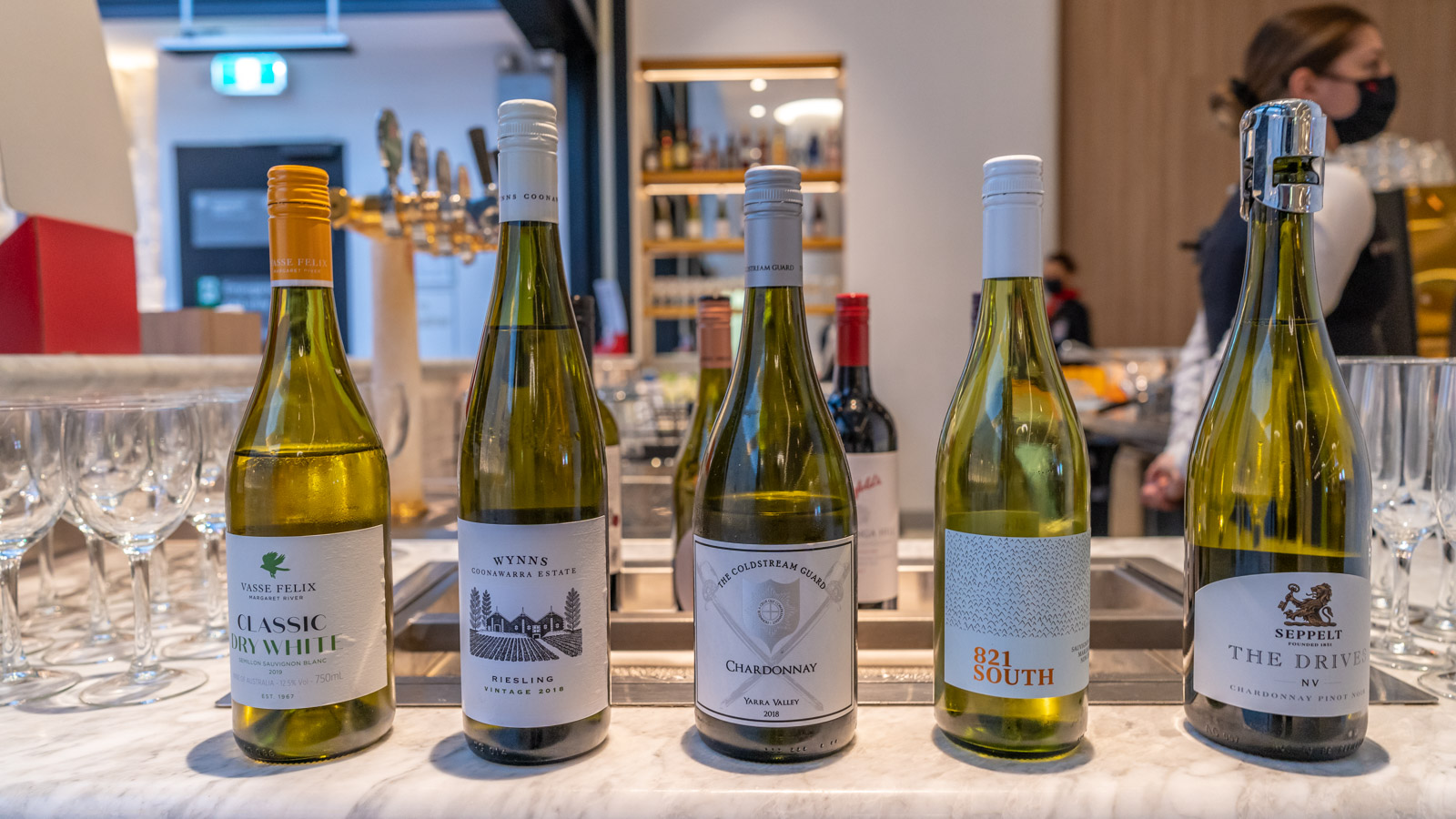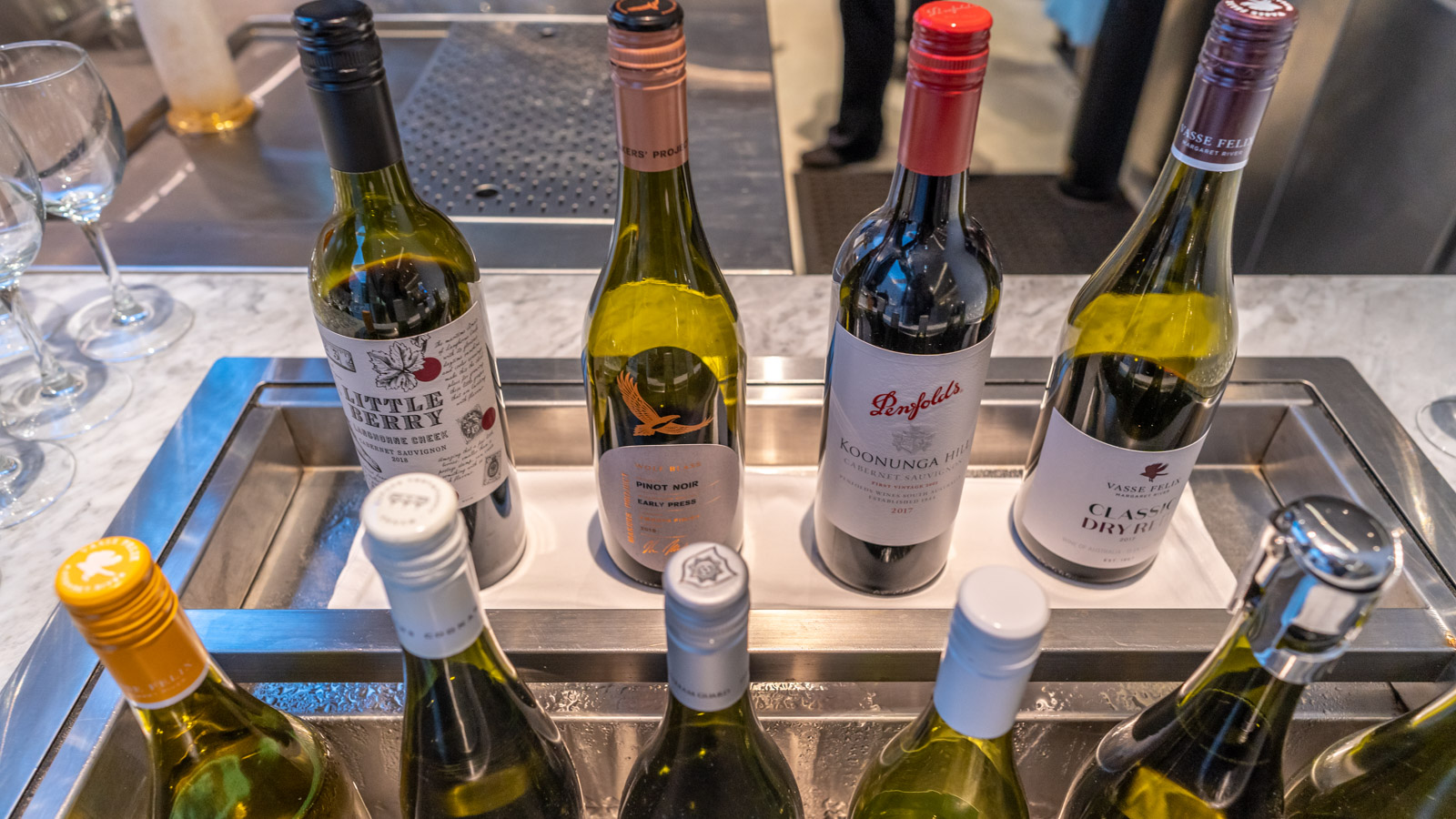 Amenities and service
Wellbeing studio
Where else will you find a wellbeing studio in a lounge, with classes led by a yoga teacher? Here, the space is operated by Perth luxe spa group, Bodhi Wellness Spa Retreats. During my visit, Michelle takes the reins, leading passengers through a number of stretching and meditation exercises to prepare for the flight. Even though I'm not travelling, I can't help feeling calmer by the end.
But maybe that's just from the second cold towel we're offered, infused with essential oils such as lavender, geranium and rosewood.
Classes are voluntary, of course, and go for 10-15 minutes. The teacher will roam the lounge beforehand, taking sign-ups from interested passengers.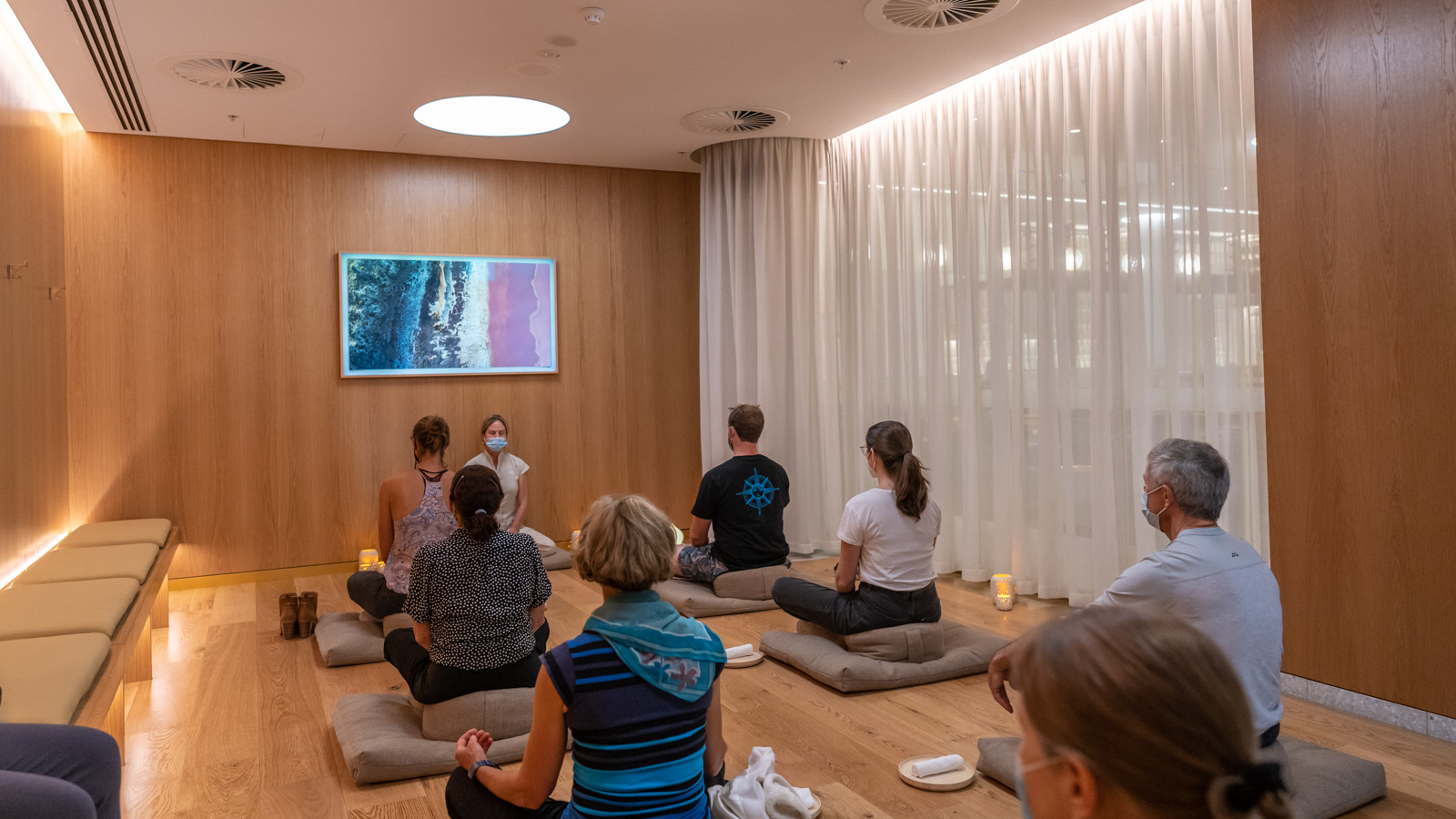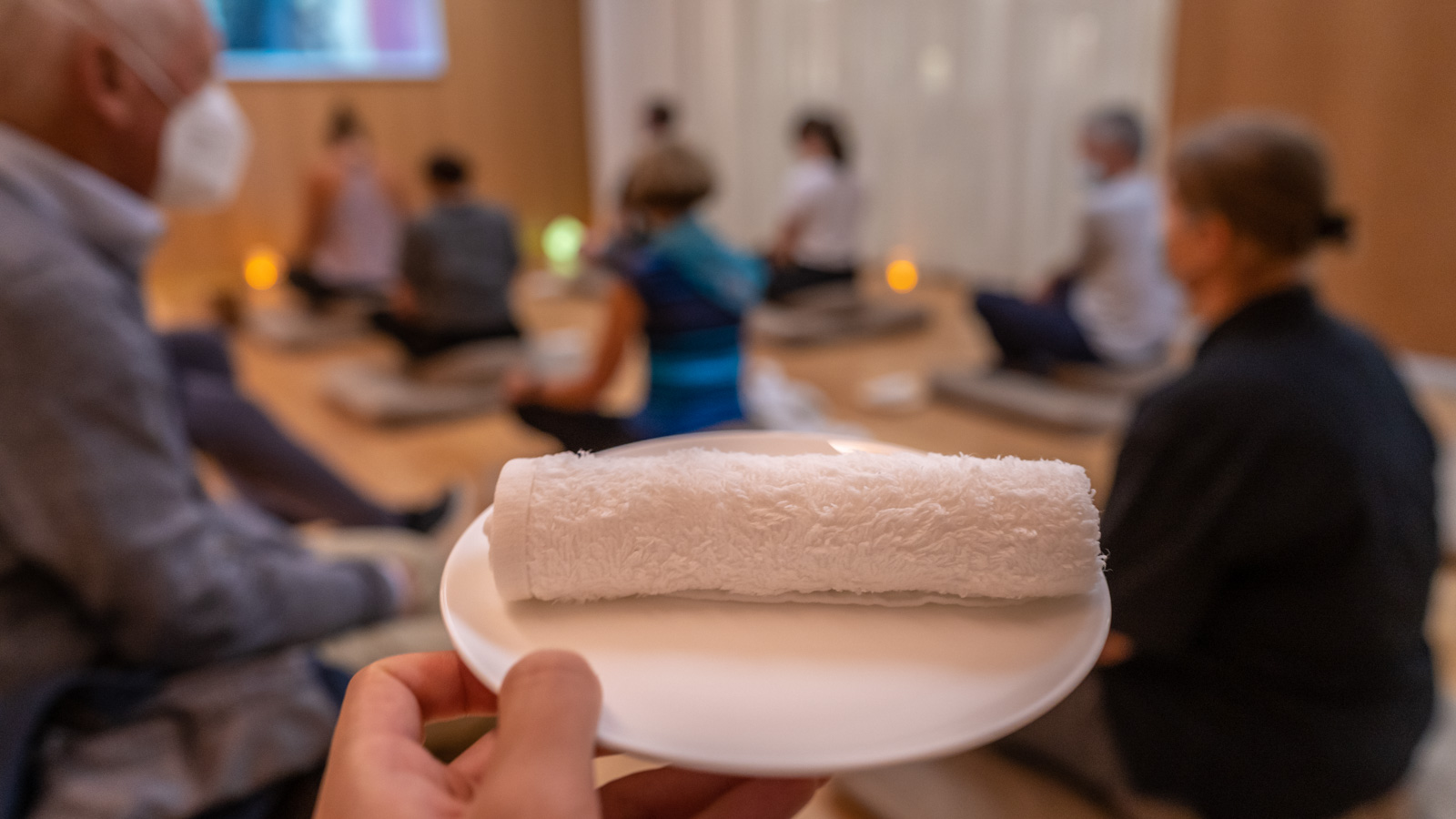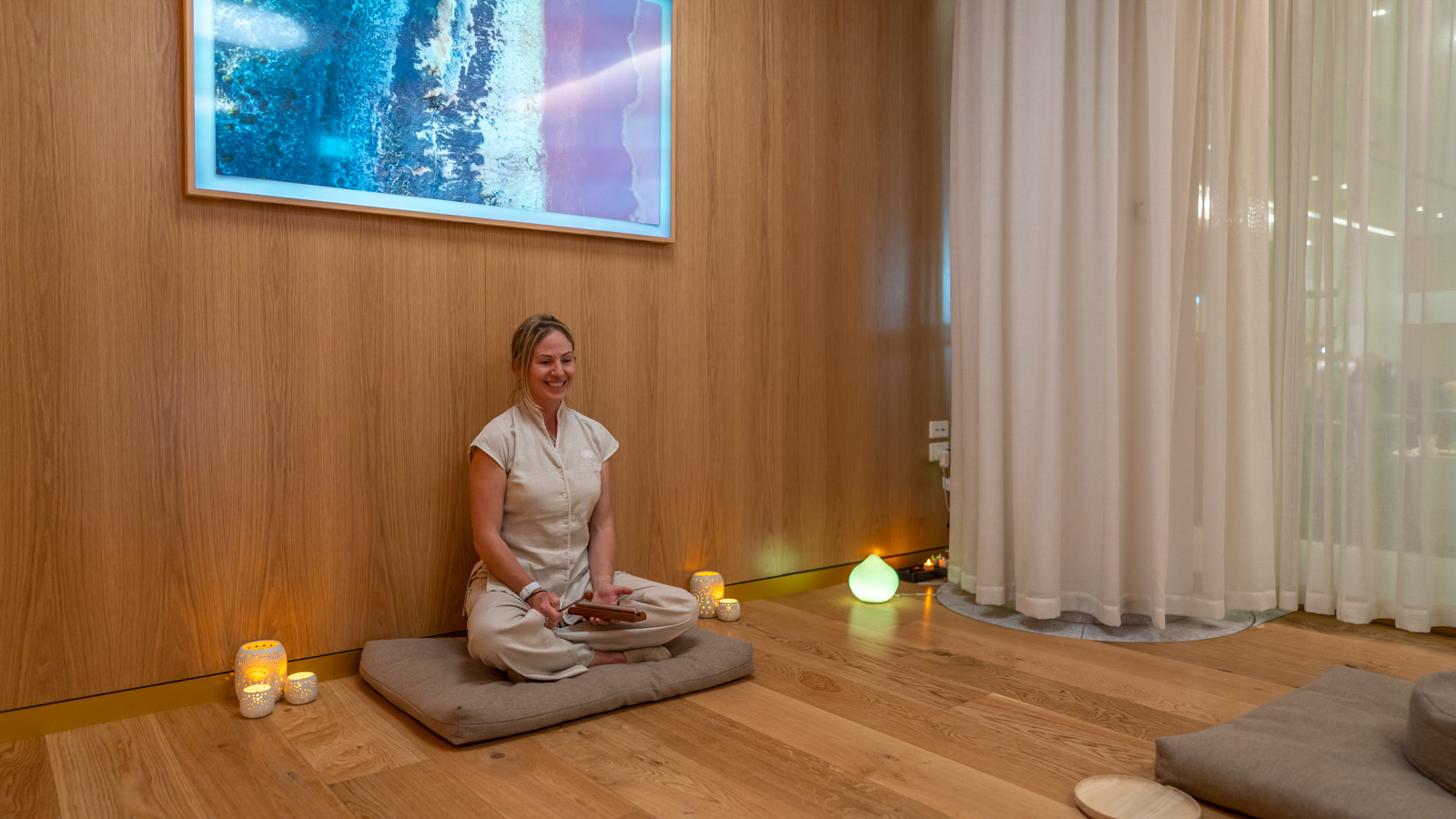 Shower suites
For a fairly small lounge, there are an astounding 15 shower suites available at the Perth Transit Lounge. For reference, the Qantas Singapore Business Lounge is far larger, and it has 20 shower rooms.
Here's an exclusive Point Hacks insider tip – shower room six is the biggest! But all of the well-appointed rooms have a strong showerhead with premium Li'tya amenities. But most interestingly, each room also boasts 'light therapy' to help adjust your body clock to an earlier timezone. With a press of a button, the lighting transforms from muted yellow to a brighter white, infused with a ring of blue.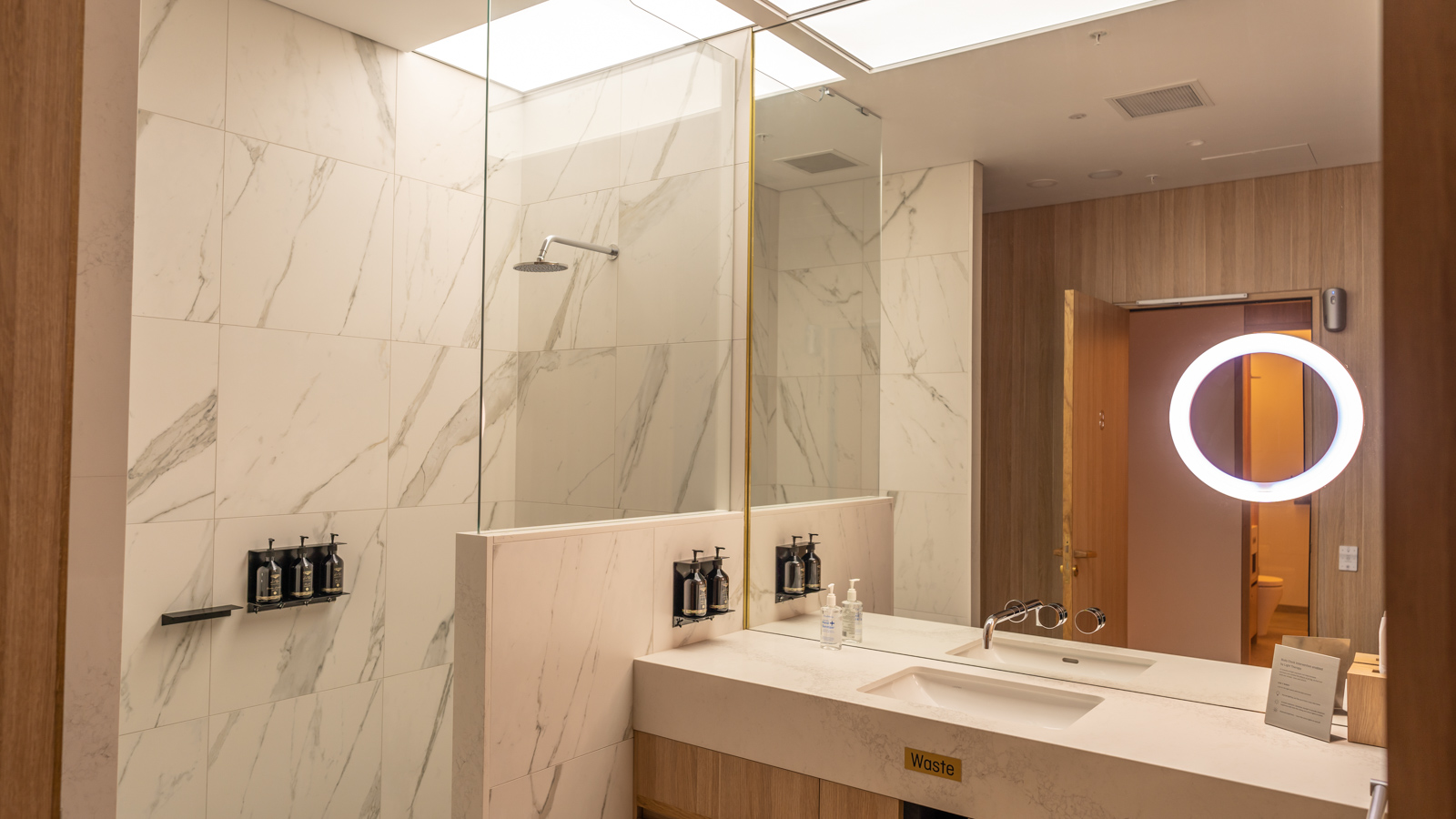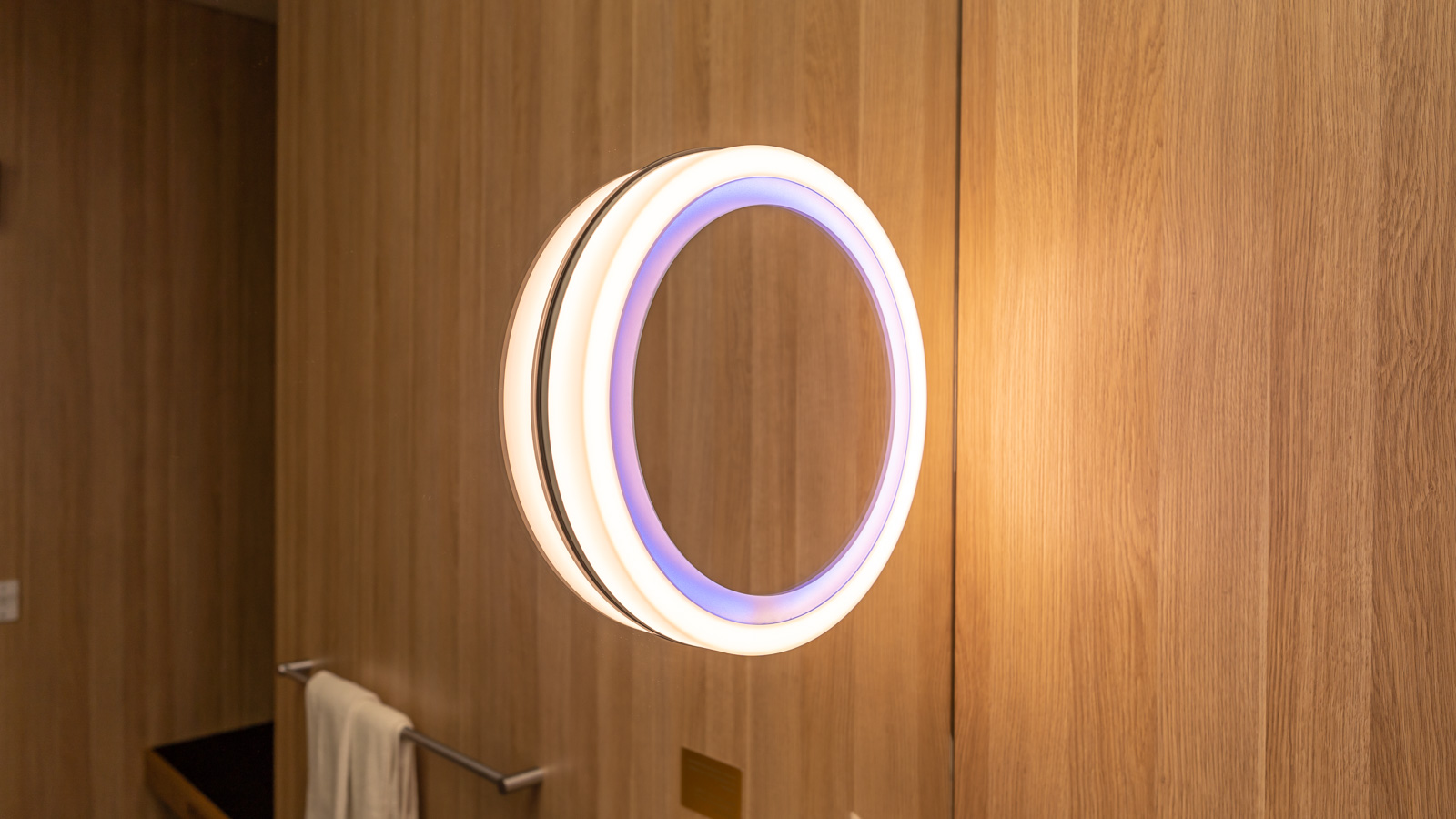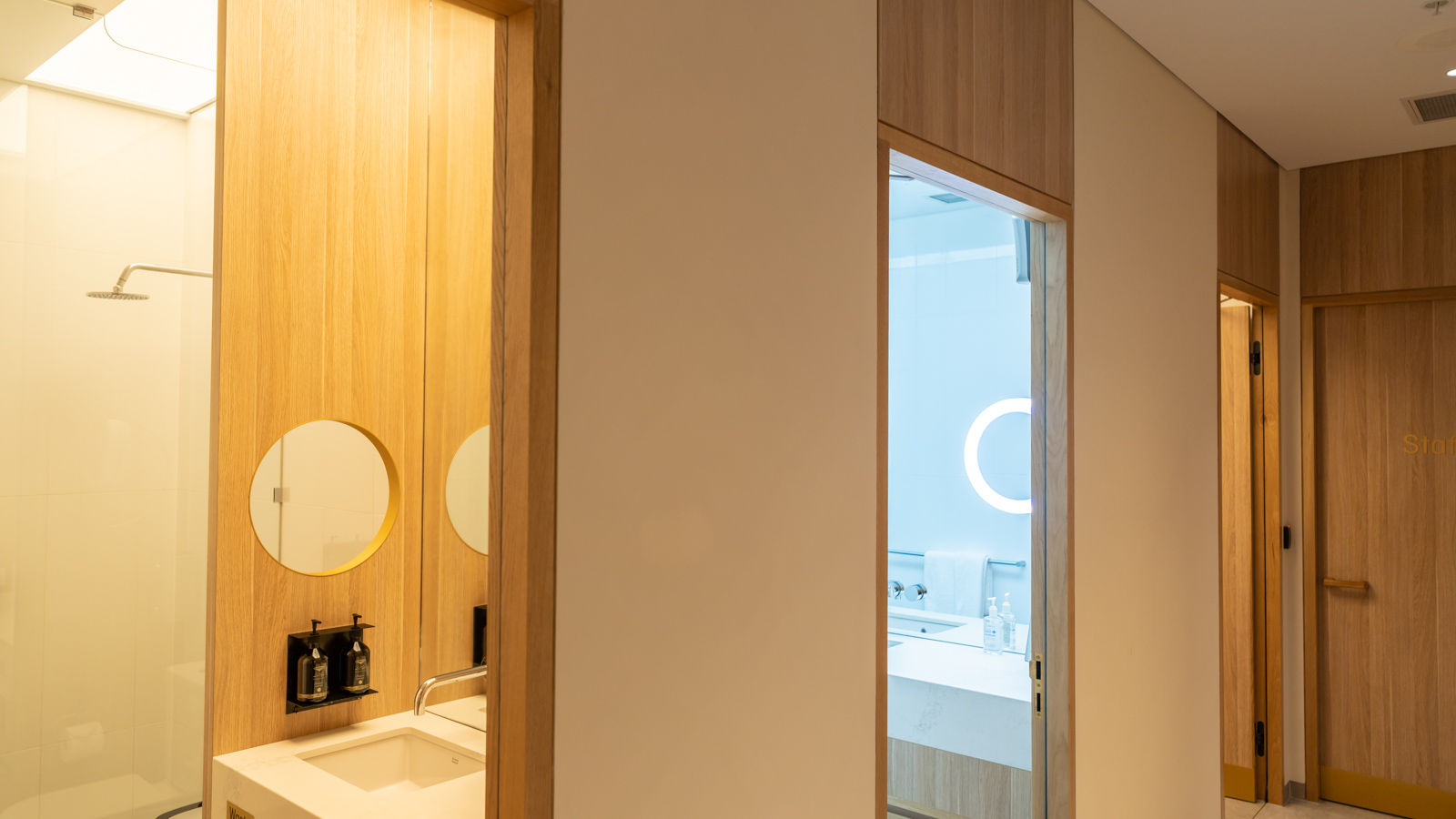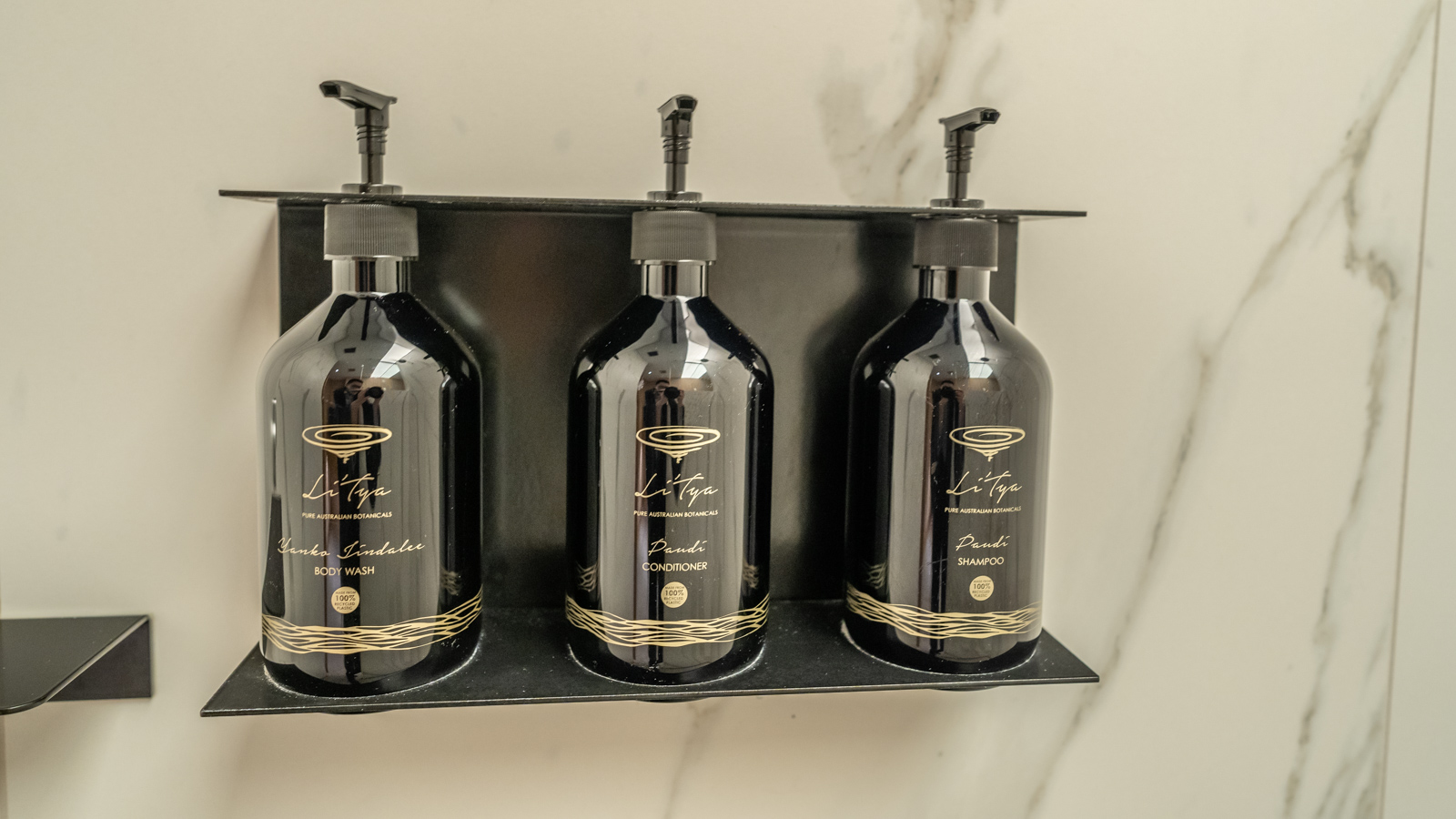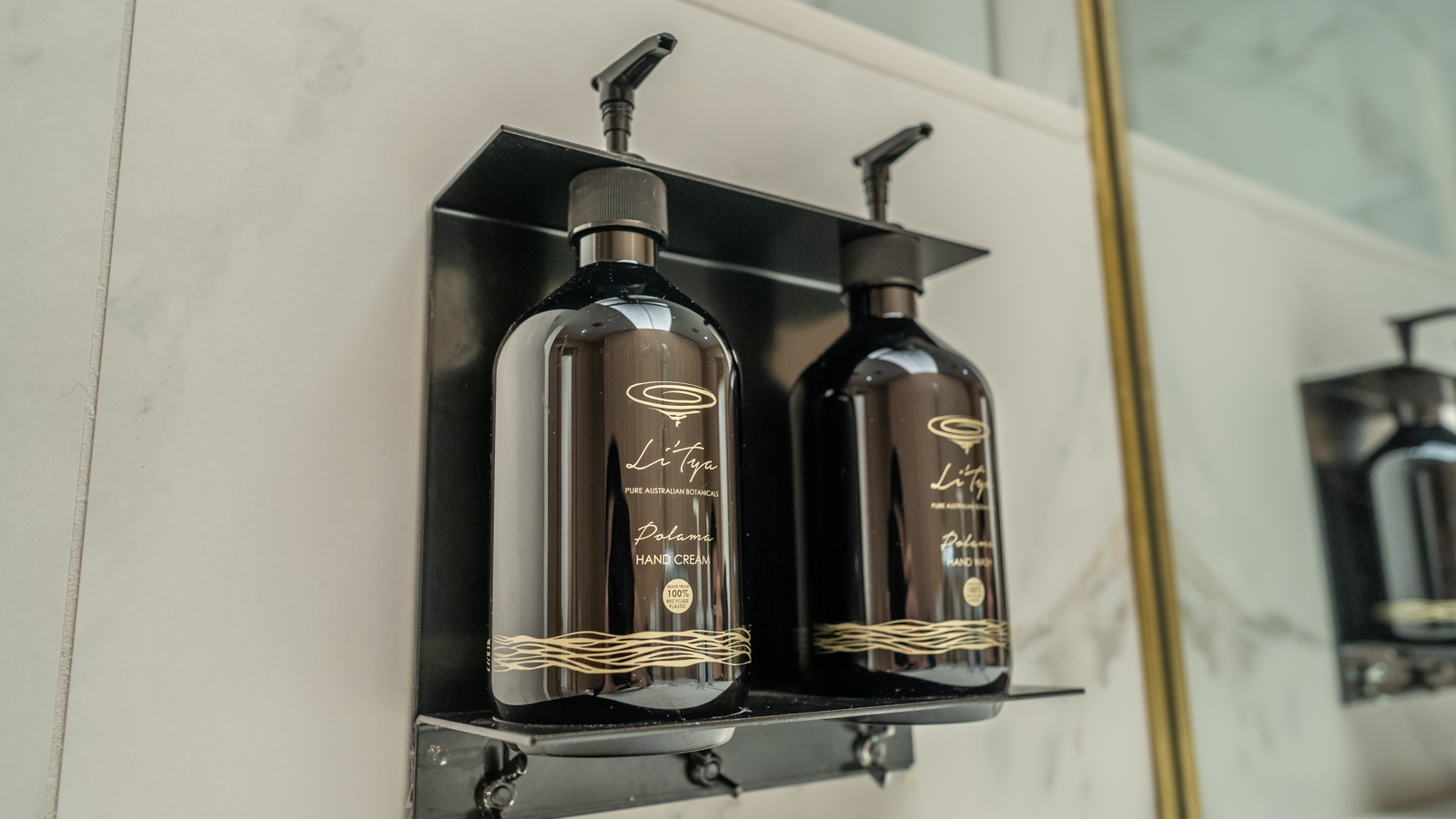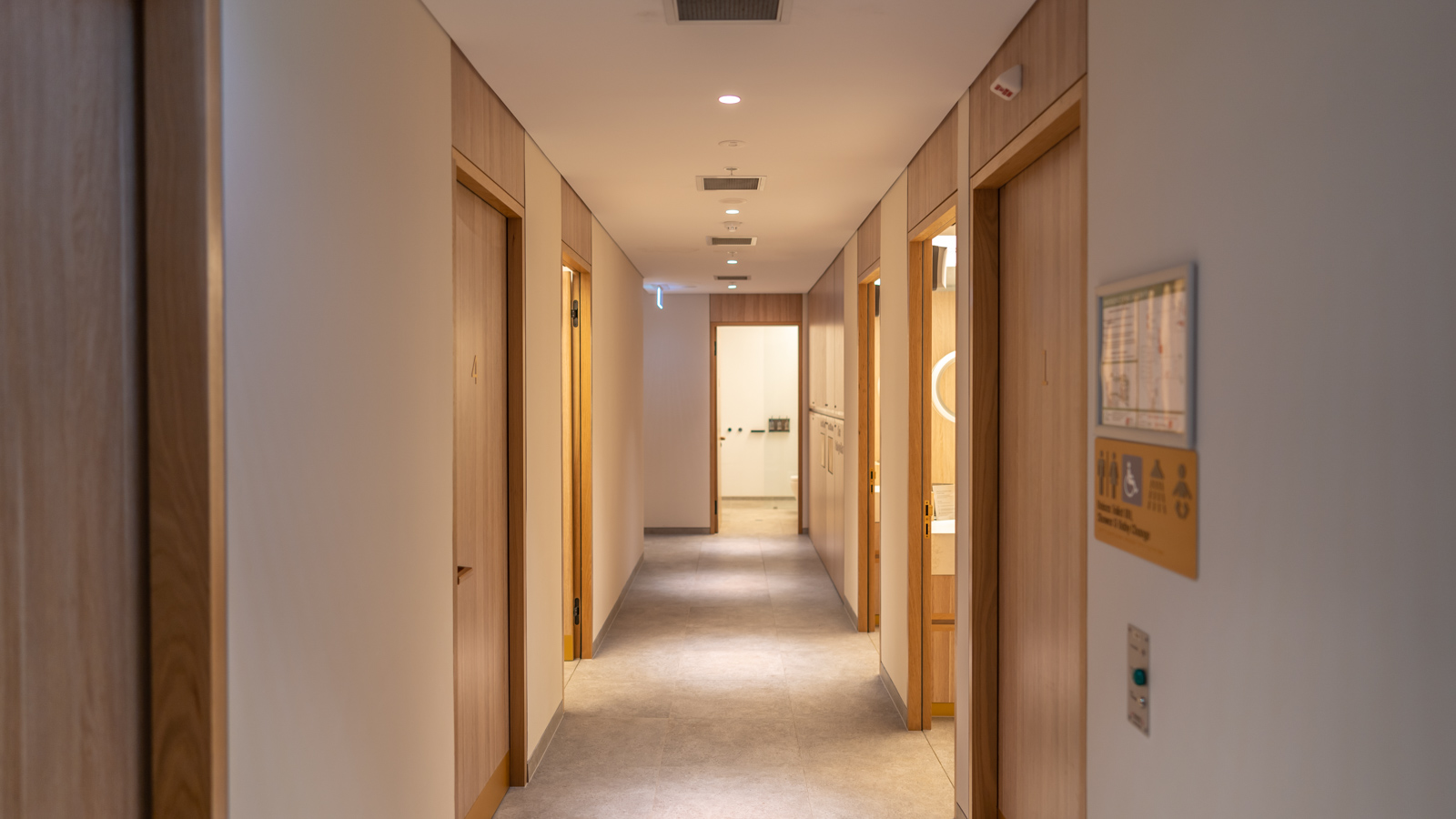 'Refresh' zone
If you just need to freshen up before the flight, the 'Refresh' zone is your one-stop shot. In the centre is a communal area with individual cubicles. Separate ladies' and men's toilets are located on either side.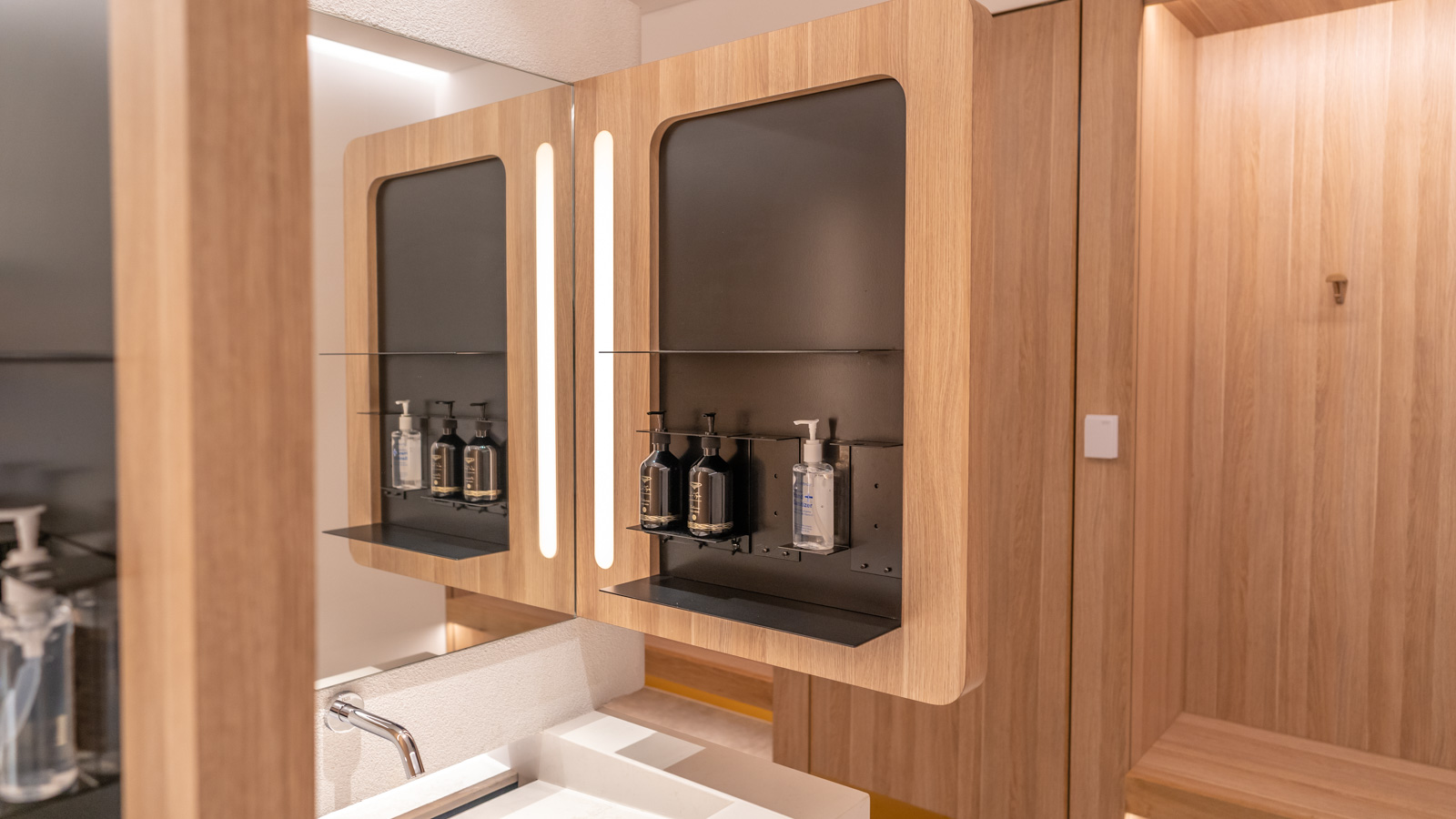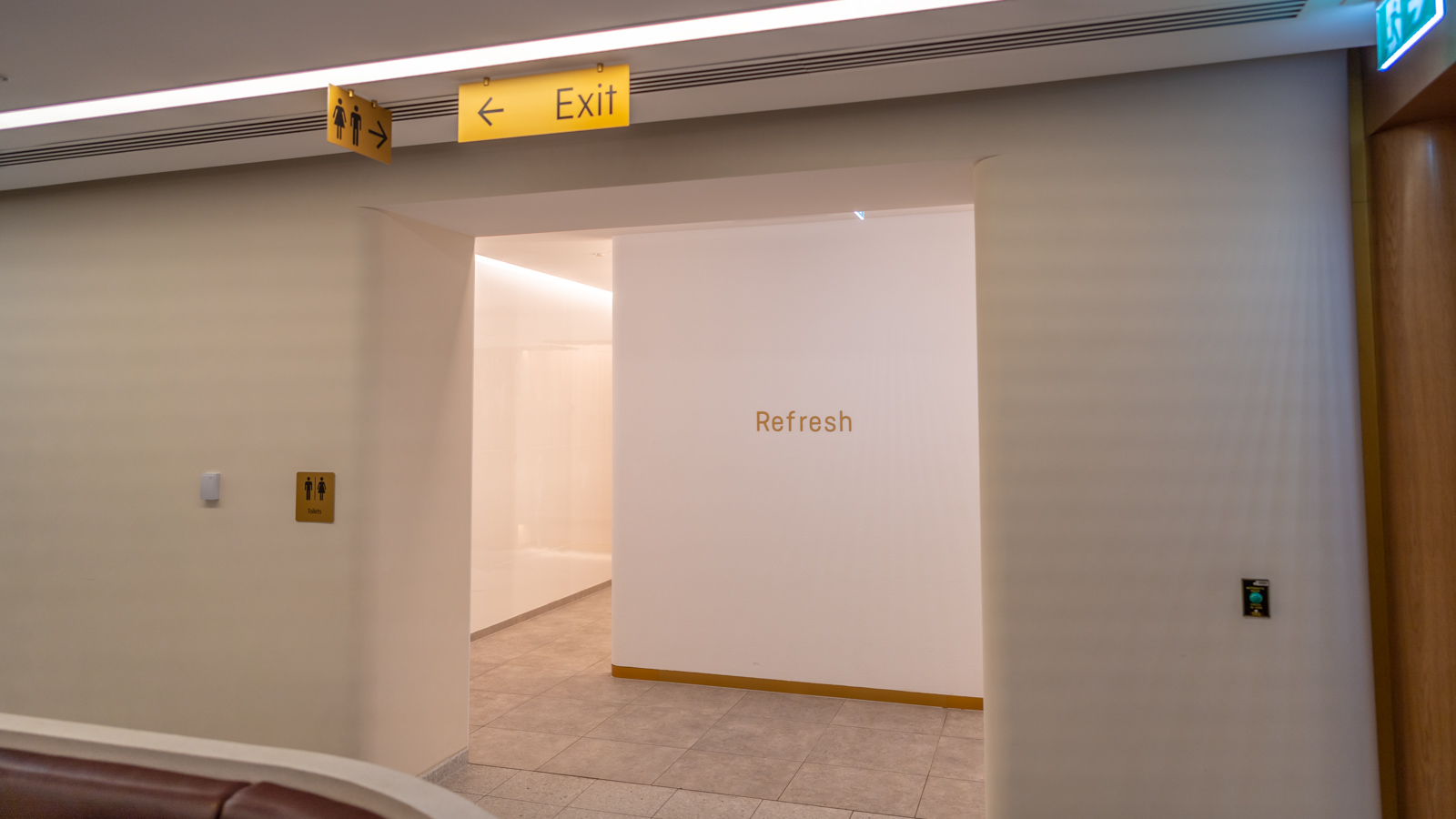 Power and Wi-Fi
One minor downside I see is that this lounge doesn't have a dedicated area for travellers to bunker down and get some work done if duty calls. But you can set up pretty much anywhere around the lounge, with plenty of power points hidden throughout. For example, most cocktail tables have an AC and USB plug at the bottom.
Qantas Lounge Wi-Fi is easy to connect to. Like the neighbouring Domestic Business Lounge, the speeds here are also very fast. I easily measure more than 50 Mbps both up and down. The story I post on the Point Hacks Instagram account uploads in seconds. You shouldn't have problems with more serious work, either.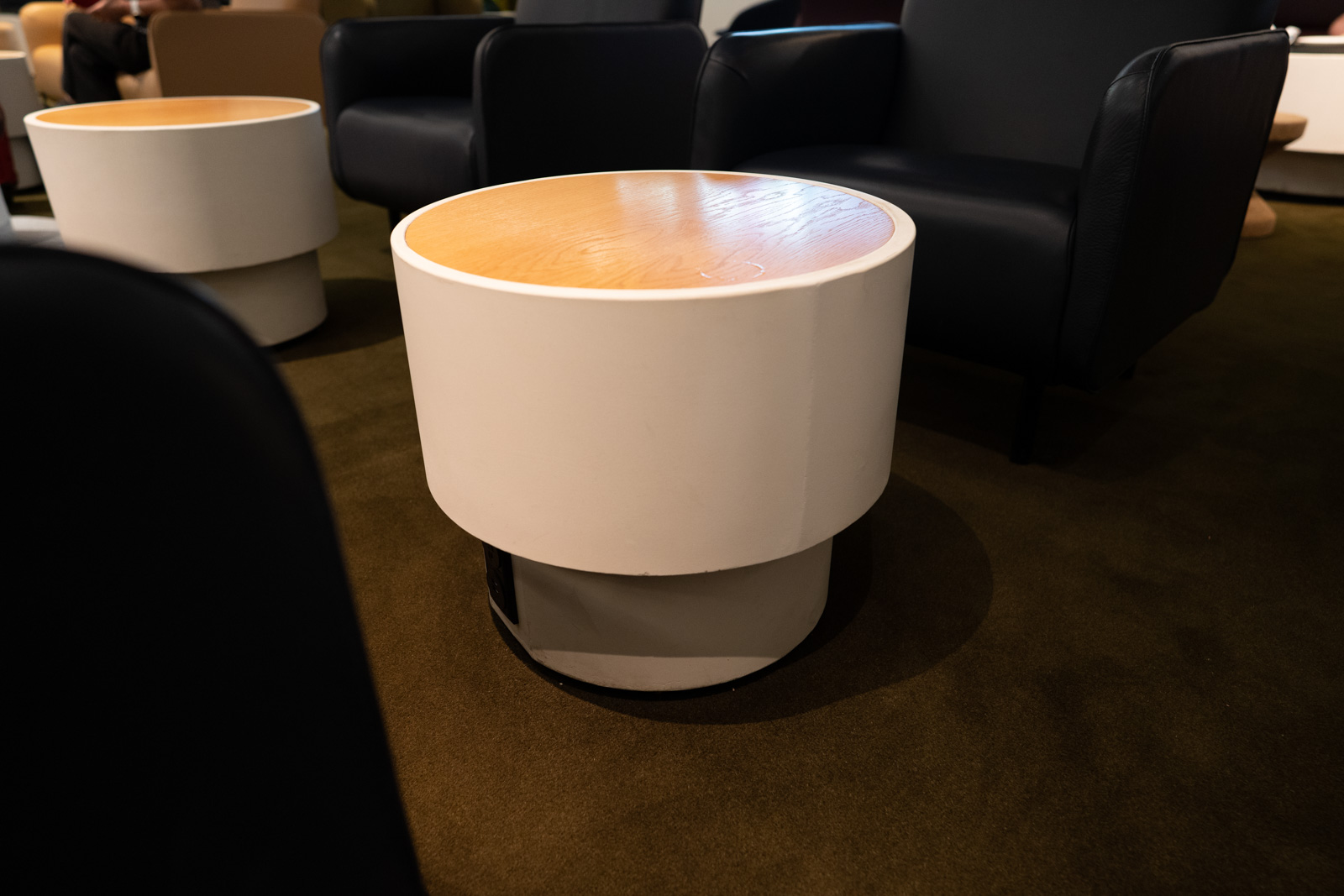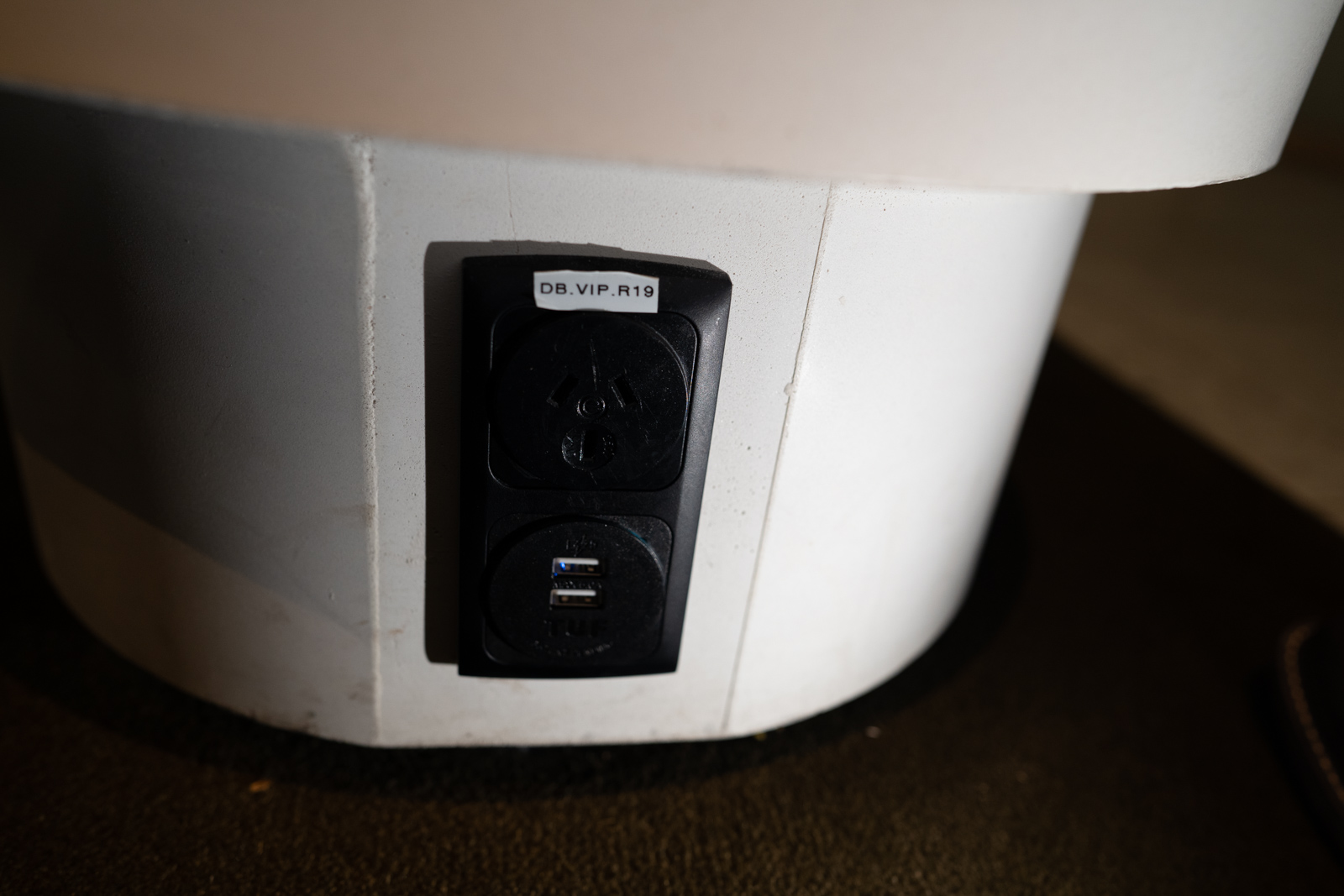 Service with a smile
On this re-opening day, the 'Sofitel service' is slick and friendly, with the lounge service being delivered by the hotel chain, Accor. Hopefully, it remains this way down the track.
How do I access the Perth Transit Lounge?
The Perth Transit Lounge is an international Business Class-grade lounge when it comes to access. As long as you're on the right flights, you'll be able to enter through quite a few ways. First of all, you must be doing one of the following:
Departing Perth on QF9 to London, QF5 to Rome or QF71 to Singapore.
Transiting Perth on QF9 to London or QF5 to Rome.
Transiting Perth on QF10 to Melbourne or QF6 to Sydney.
Next, you need to meet one of the usual Qantas lounge access criteria:
Eligible class of travel: Business Class on one of those Qantas flights.
Qantas frequent flyer status: Qantas Gold, Platinum, Platinum One and Chairman's Lounge members (+1 guest) travelling on one of those Qantas flights.
Airline partner frequent flyer status: Emirates Skywards Gold and Platinum members (+1 guest) travelling on one of those Qantas flights.
Alliance frequent flyer status: Sapphire and Emerald oneworld members (+1 guest) travelling on one of those Qantas flights.
Qantas Club membership: Qantas Club members including from Points Club Plus (+1 guest) and Annual Guest Card holders (in the company of a member) travelling on one of those Qantas flights.
Summing up
The Perth Transit Lounge might just be one of Qantas' best international premium lounges in Australia. Certainly compared to Sydney and Melbourne, the Perth lounge is far more modern and functional. And the benefit of being located in a smaller city, serving specific (and flagship) flights, is that the service is very tailored.
I find the food and beverage execution is top-notch, hitting the trifecta of fresh, healthy and tasty. And there's certainly nothing to complain about the amenities, with 15 shower suites, a 'Refresh' zone and even a Wellbeing Studio for preflight stretches.
The lounge could benefit from a quieter area to work or relax in, and perhaps more hot food variety at the buffet. But overall, the Qantas International Transit Lounge in Perth goes above and beyond merely 'ticking the boxes'.
All photography by Brandon Loo, who visited the lounge as a guest of Qantas.
Qantas International Transit Lounge, Perth
was last modified:
December 9th, 2022
by