The new Marhaba Lounge in Singapore Changi Terminal 3 recently opened in May 2019. It was later announced to be the temporary KrisFlyer Gold Lounge until 2021, while Singapore Airlines renovates its own SilverKris lounges nearby.
During a stopover in Singapore, I was able to check out this lounge through Priority Pass and see what lies in store for KrisFlyer Gold and Velocity Gold and Platinum members for the next two years. In a nutshell: it's an improvement over the old lounge.
Lounge location & details
It is easy to find this lounge after immigration in Terminal 3. Just look for the huge Louis Vuitton store and head to the right of it, where there is an escalator up with the Marhaba lounge clearly signed (the red box in the image below).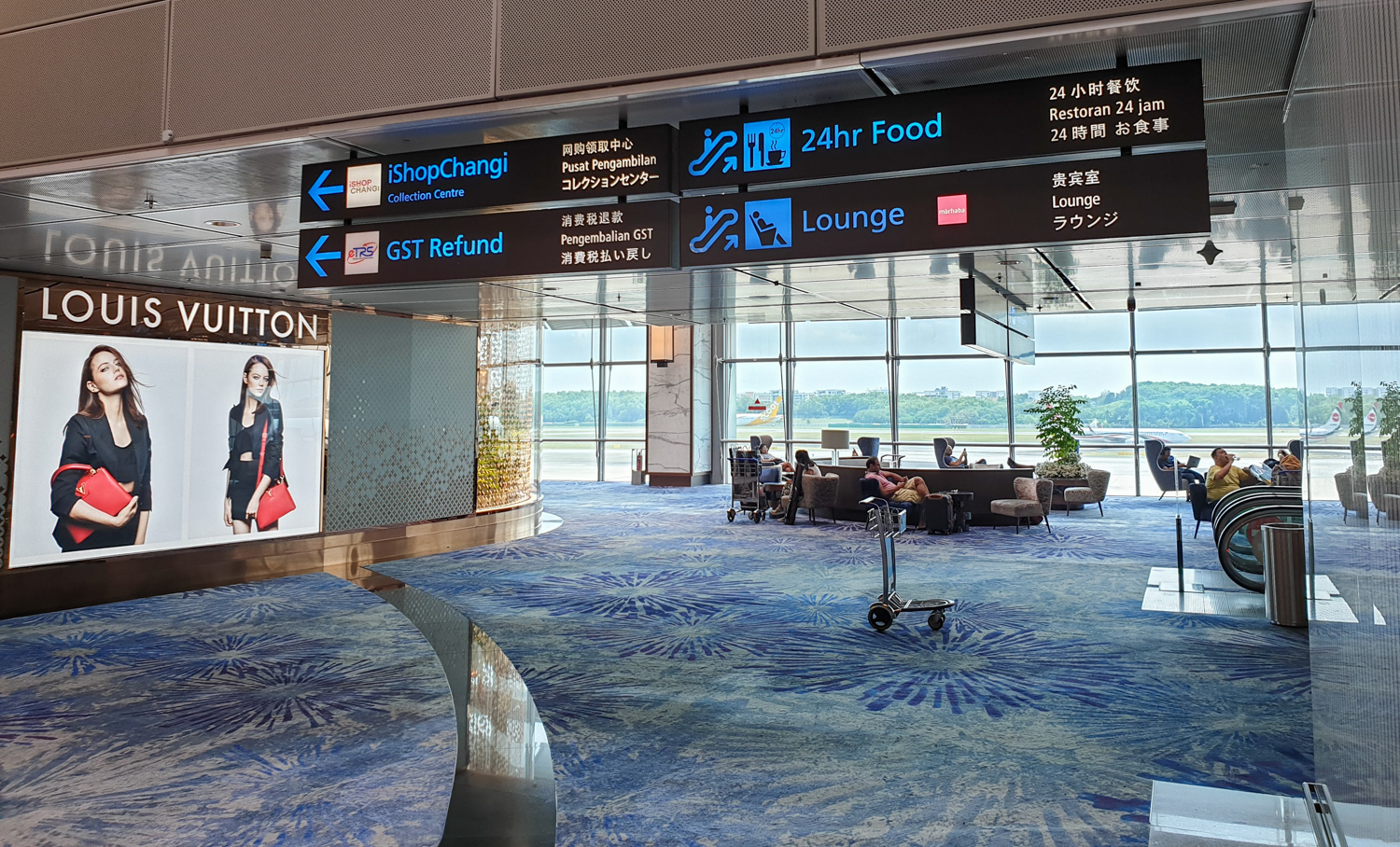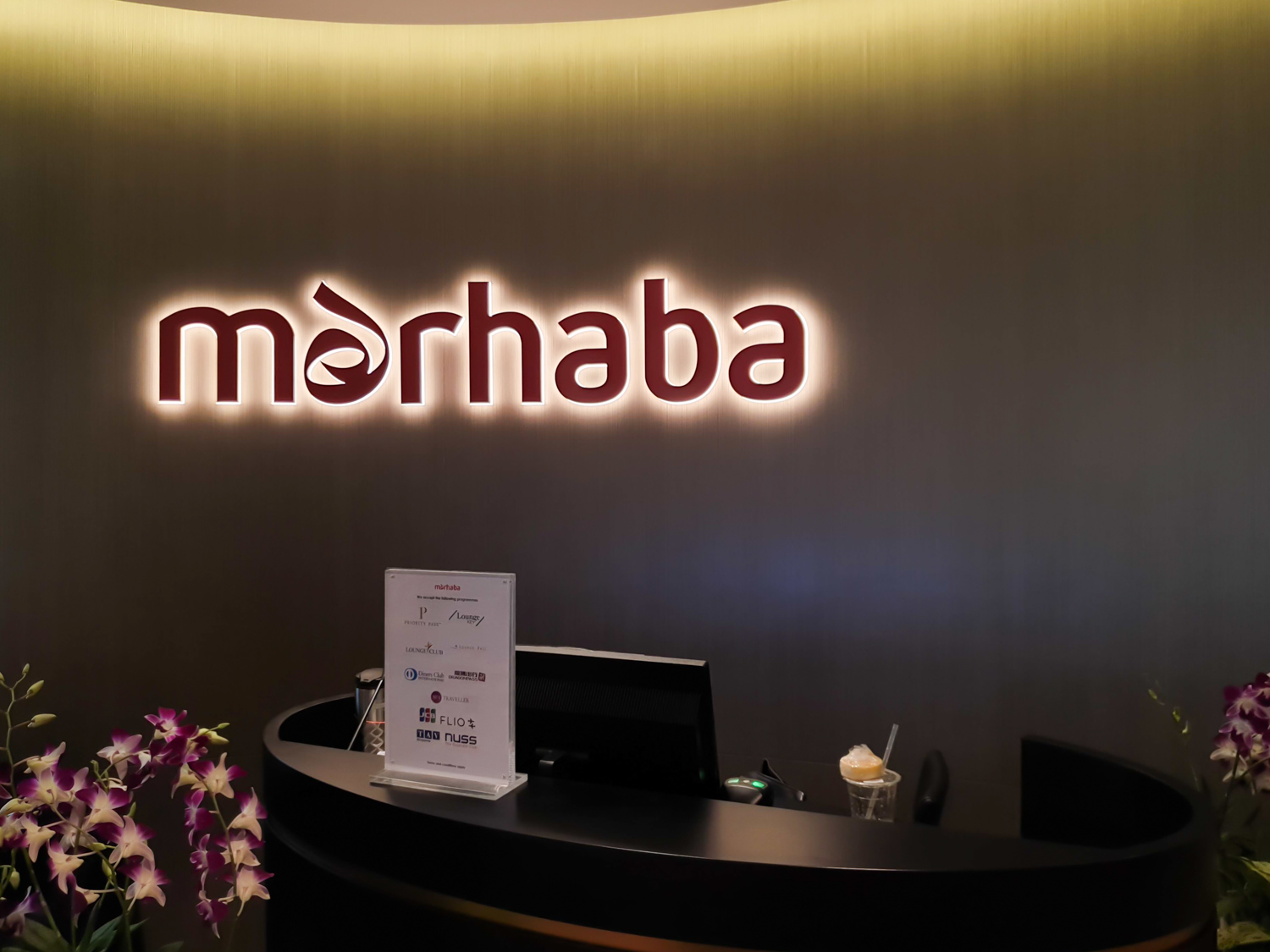 The Marhaba Lounge is open 24/7 all year round, which is pretty much in line with the rest of Changi Airport.
Lounge layout & seating
Past the reception area is a space with plenty of chairs and two televisions. It was also completely empty throughout my stay, so this would be a good place to relax.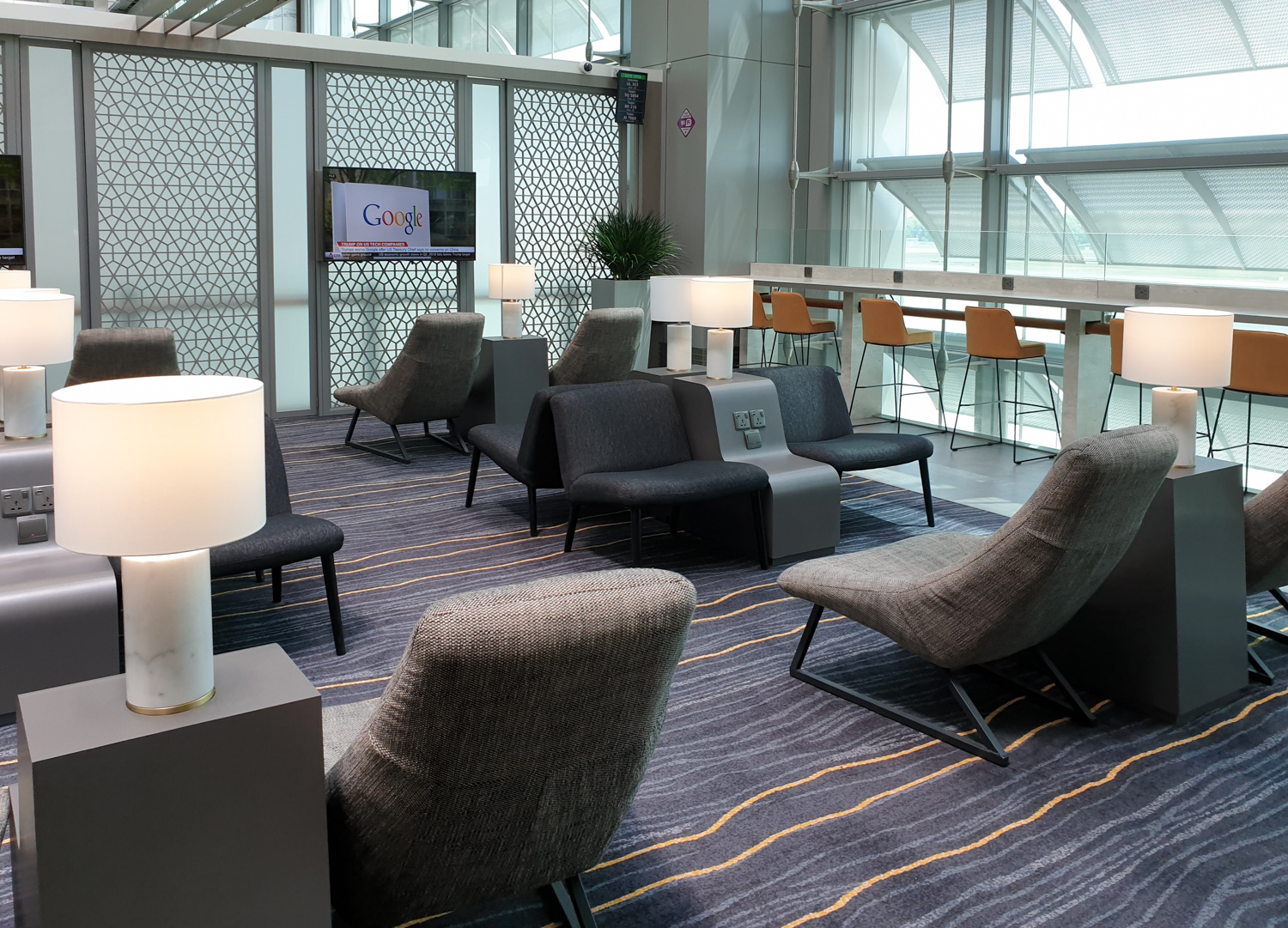 The chairs are comfortable and there are plenty of charging ports around the lights.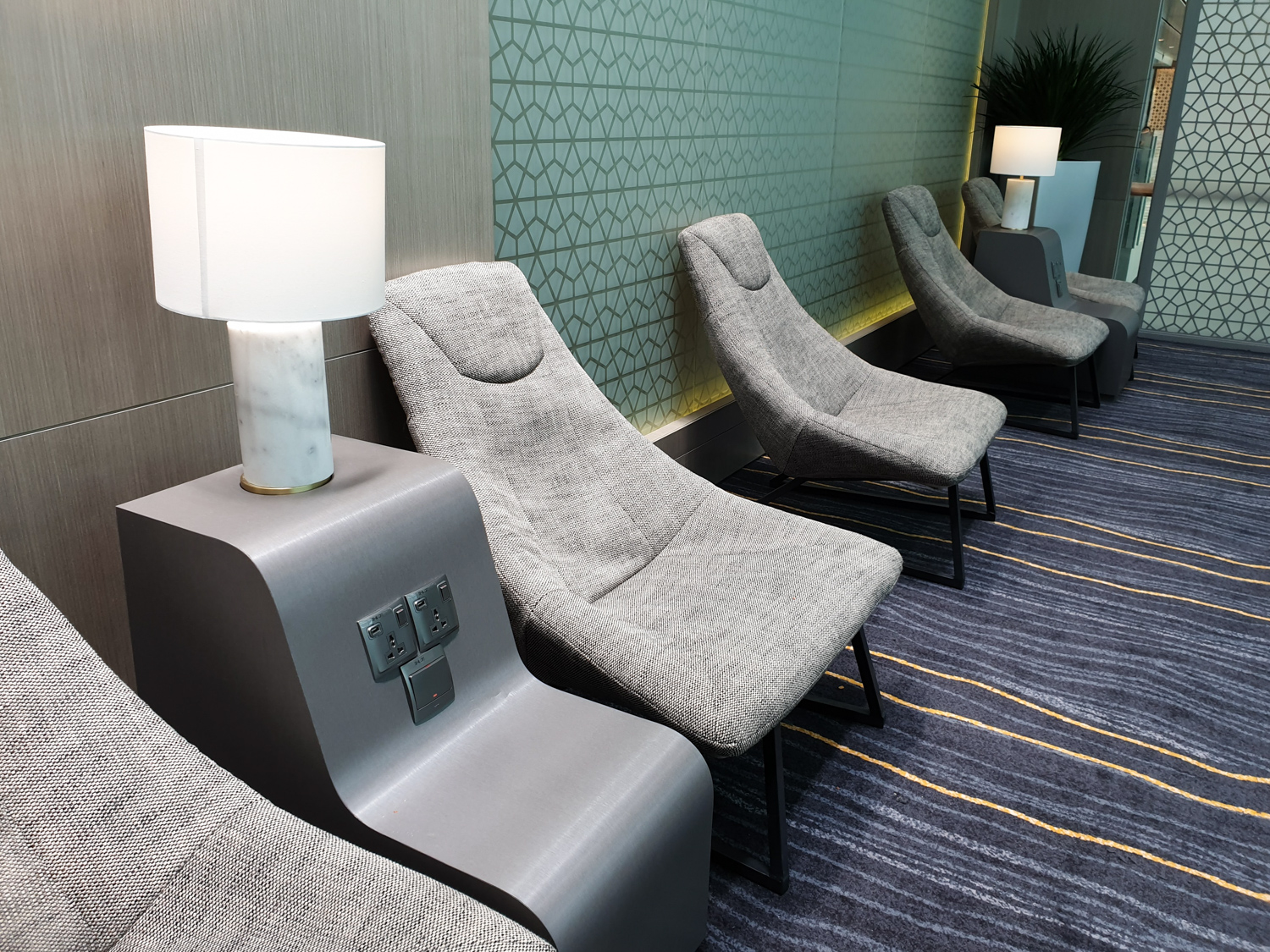 Immediately behind the reception is a narrow hallway leading to the bathrooms and showers.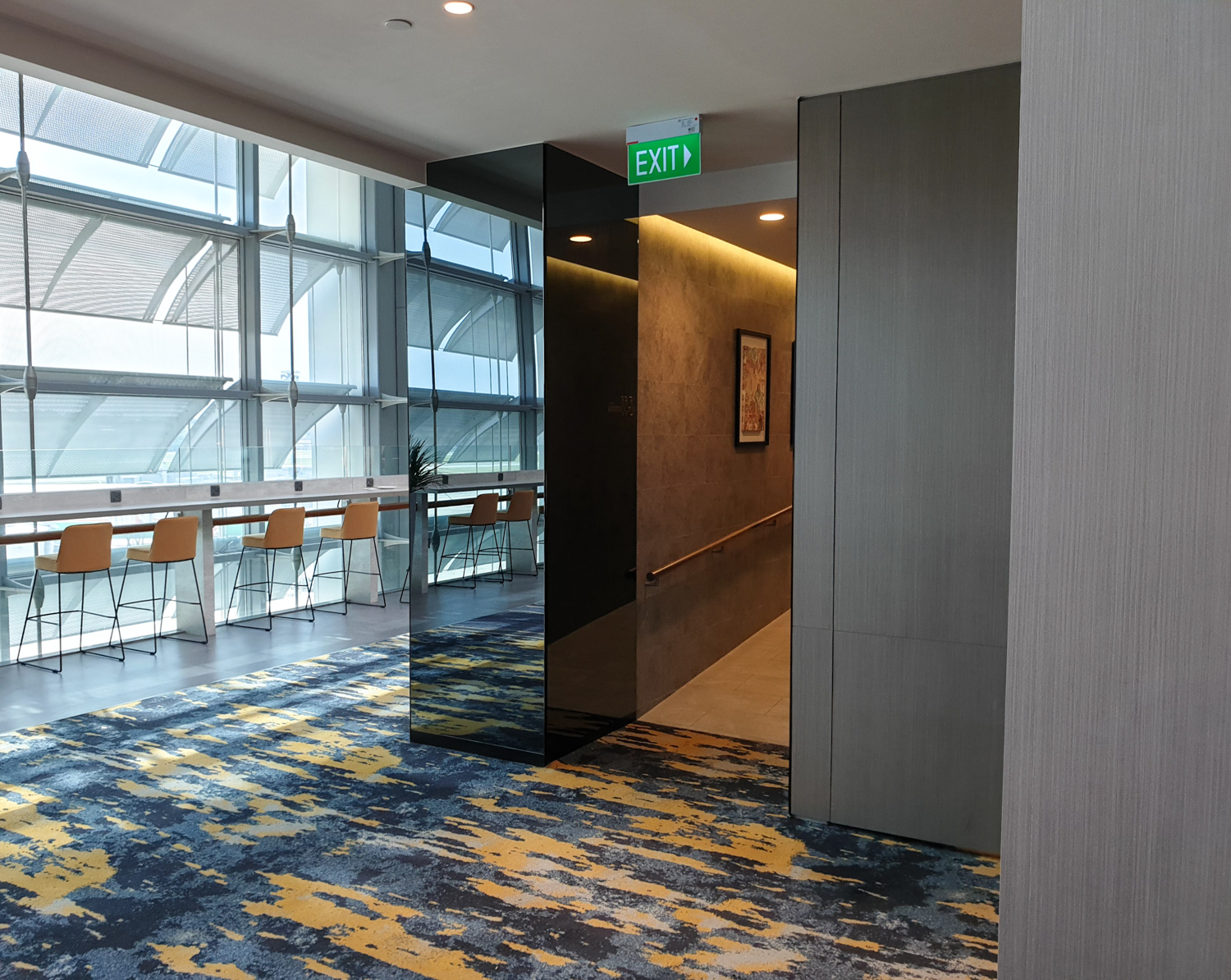 Heading around the L-shaped bend reveals a long hallway where the food and beverages are. Dining tables line the sides and you can see the windows let in plenty of natural light.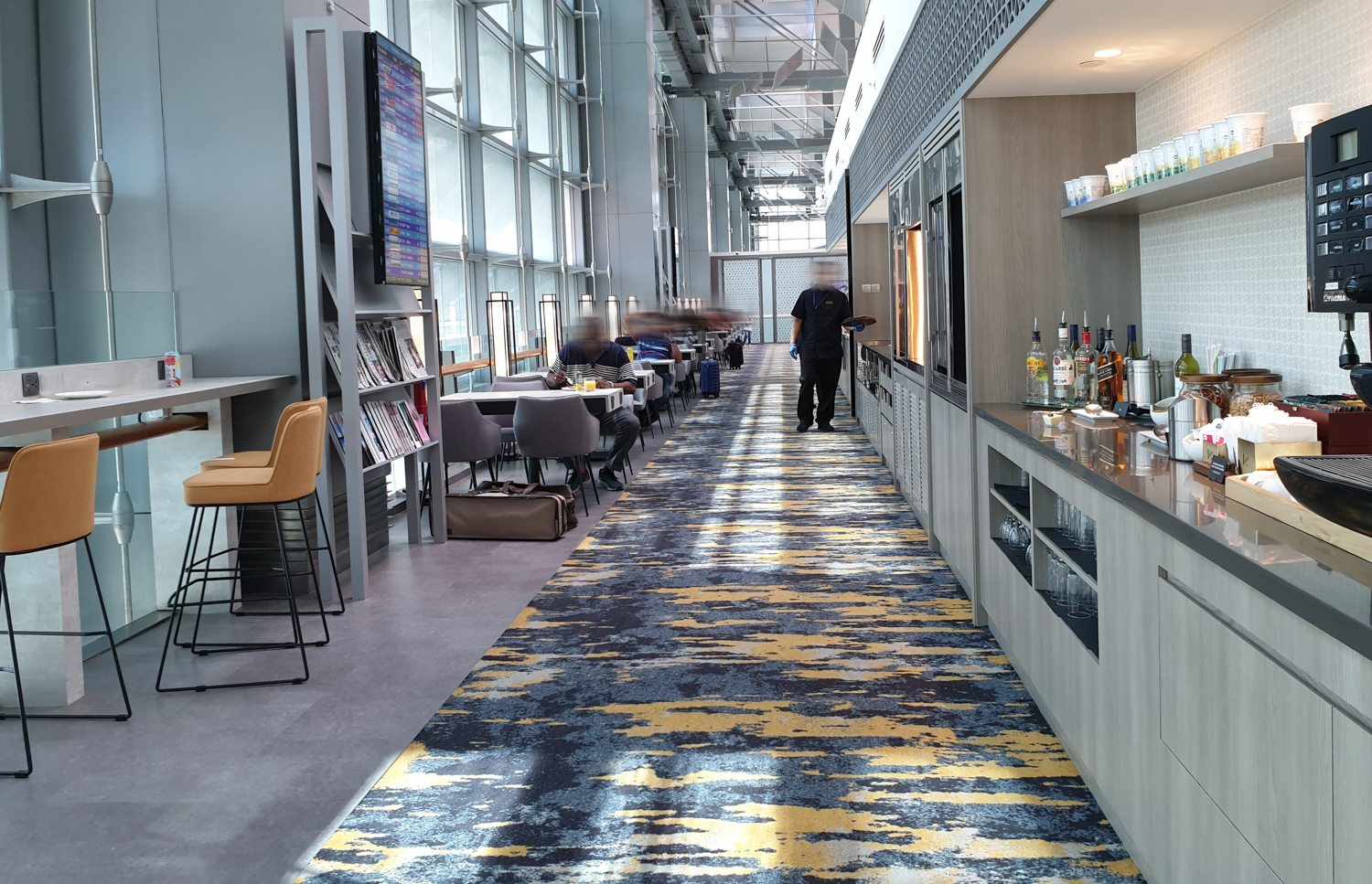 Even these dining tables have multiple power ports on the side.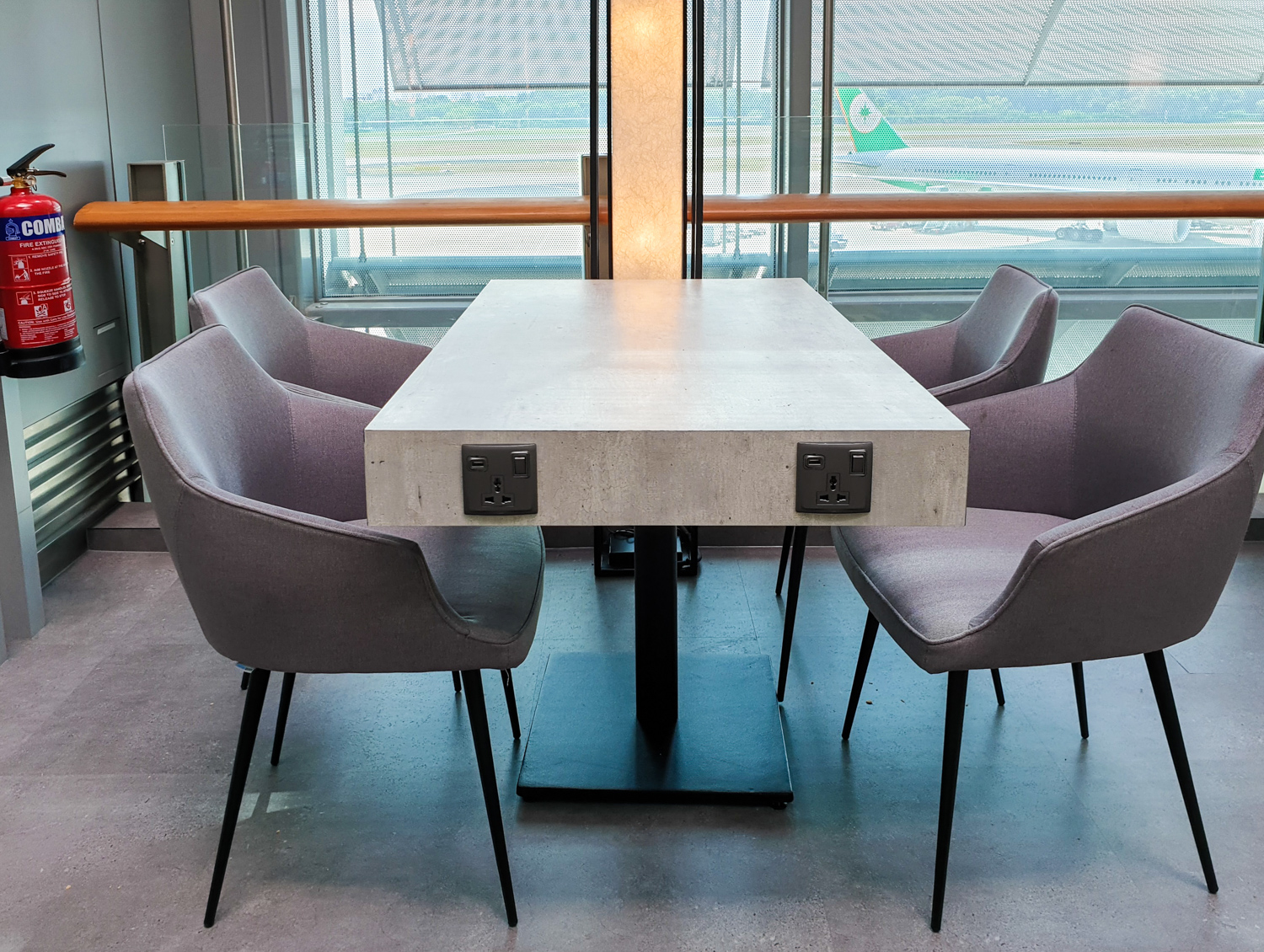 The final section of the lounge is another general seating area with long benches and individual seats. There are lots of power ports at both.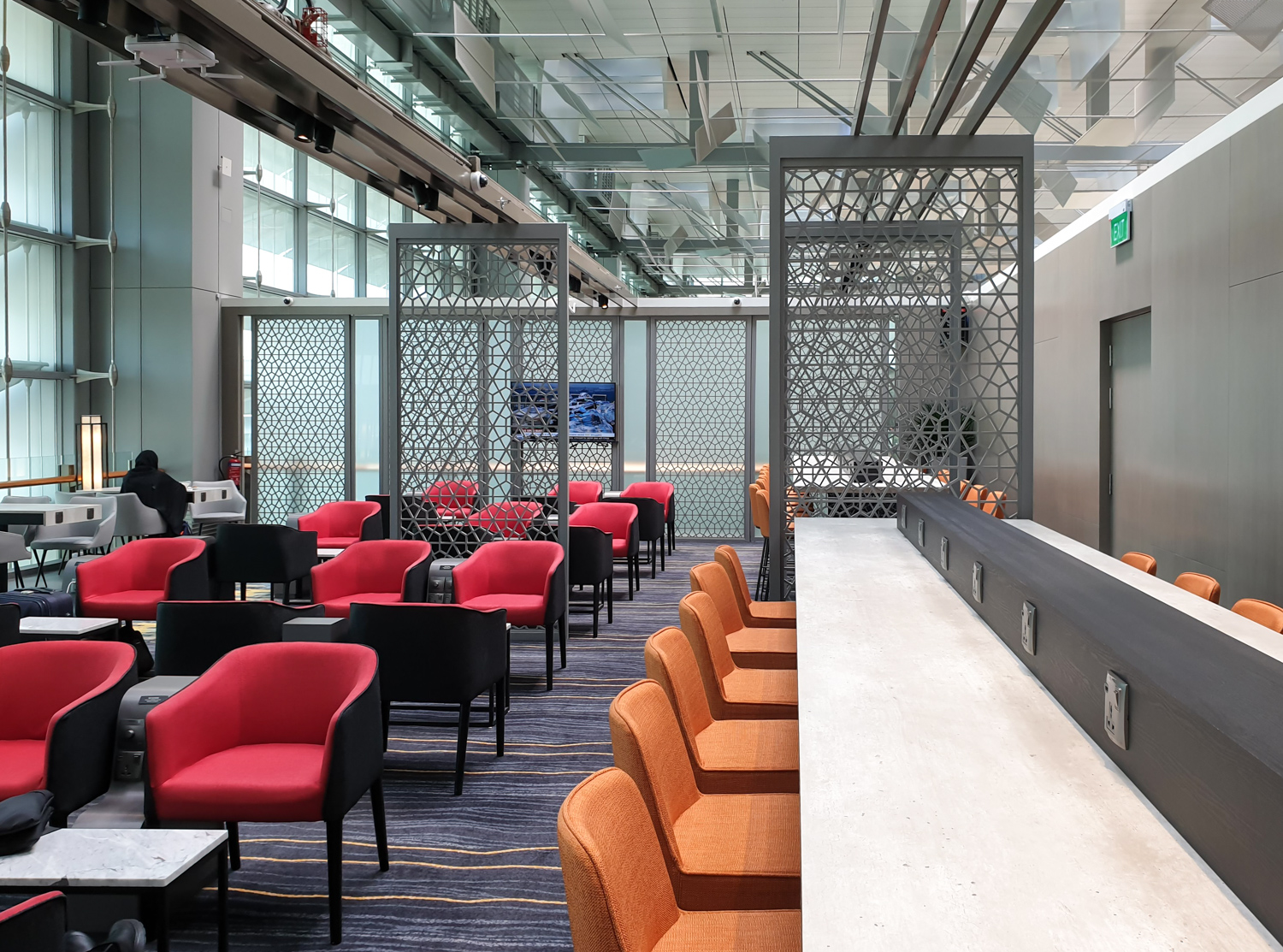 Just behind this section is a wall that is currently being renovated. From what I've heard, this will become a separate entrance for Singapore Airlines KrisFlyer Gold passengers, so the airline retains some of its own branding at this temporary third-party lounge.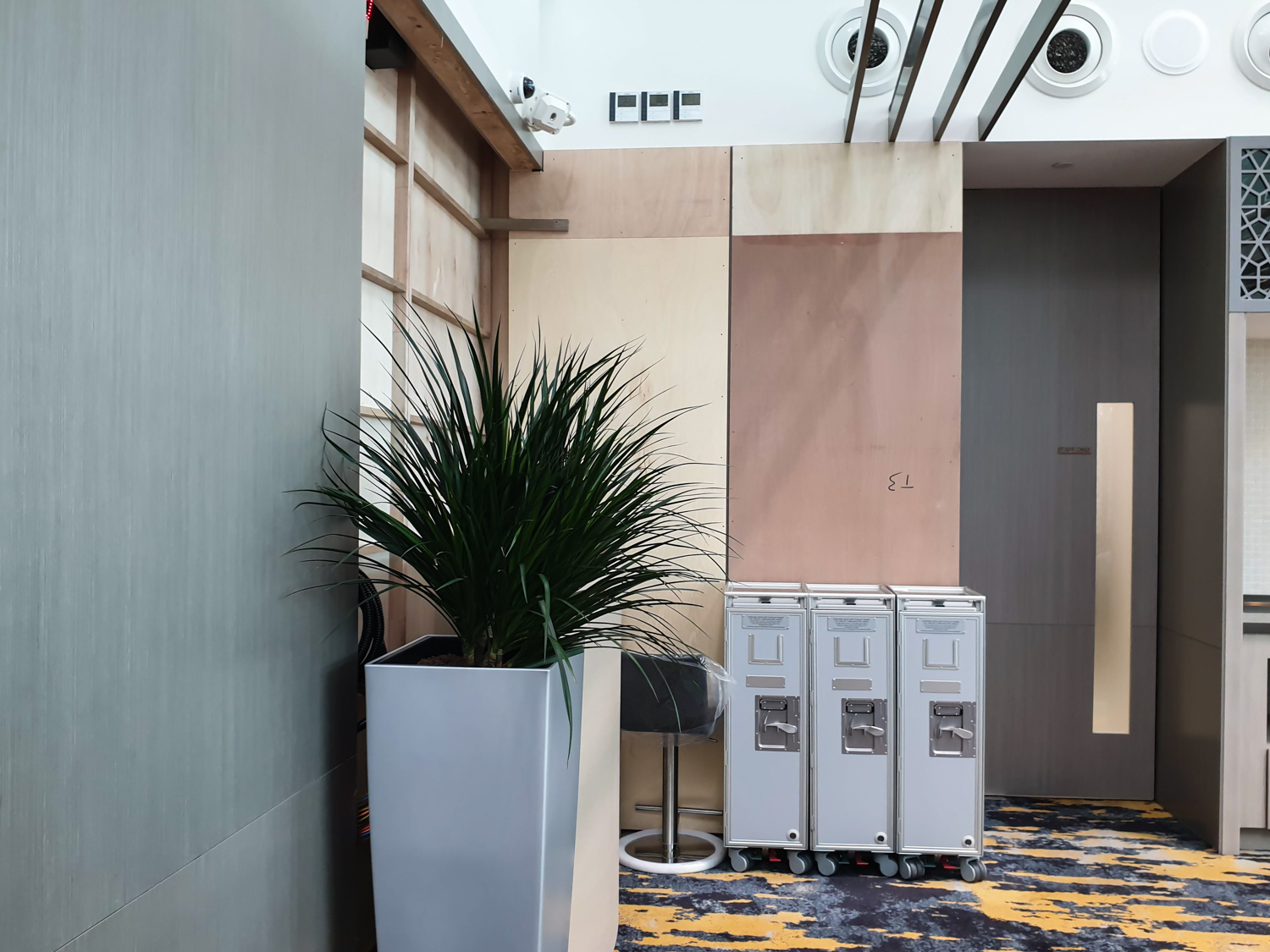 The Marhaba Lounge is well outfitted with good window views, but it does seem rather small to me. Time will tell to see if the influx of Singapore Airlines passengers will cause this lounge to become very crowded during the late evening peak periods.
Food & drink
There is a good variety of food and drinks here, although the quality is fairly basic. Chilled options include salads and brownies. There were a few western and Asian hot options too.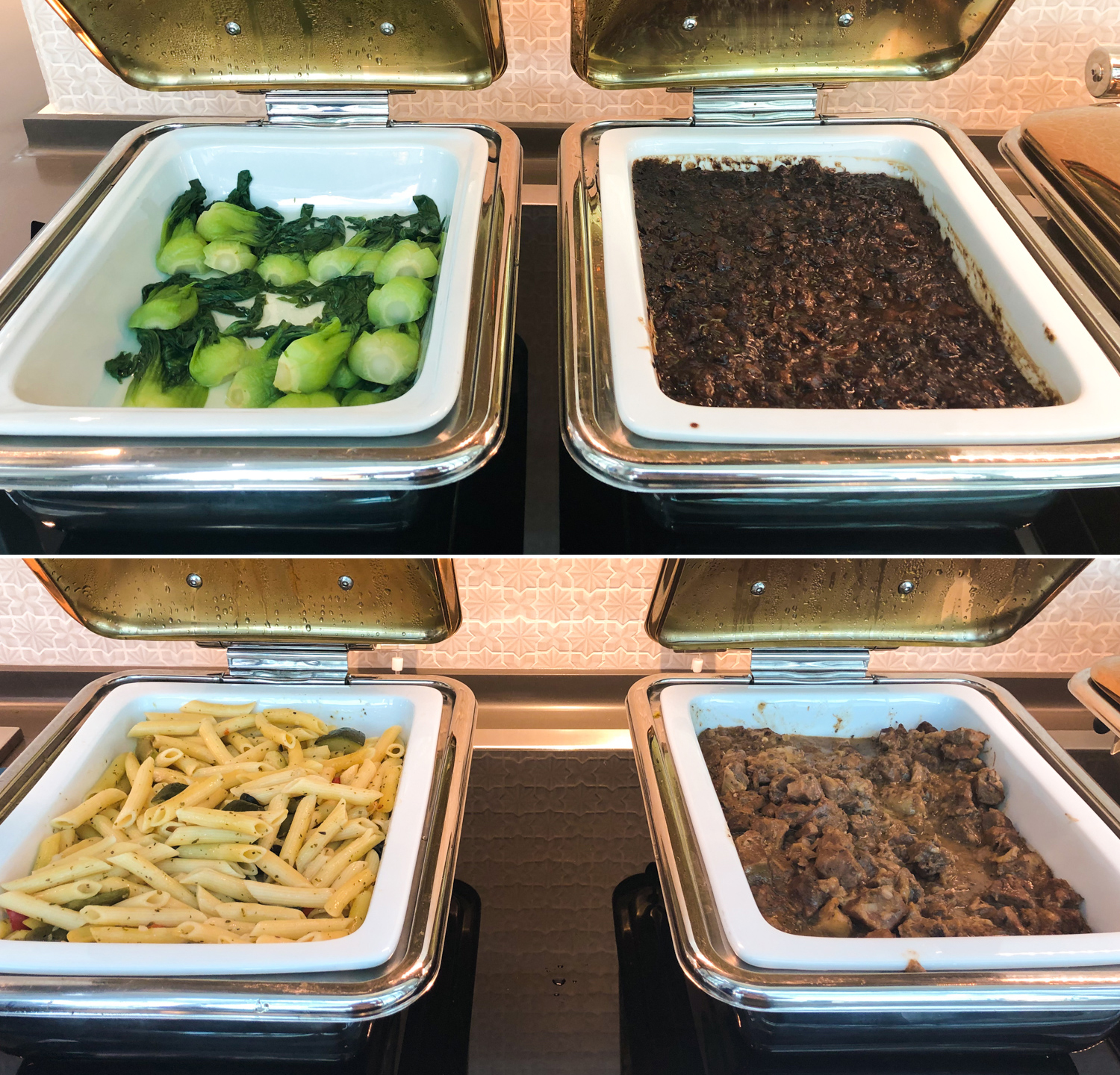 The chicken satay sticks with sides were a far more interesting option. Combined with some braised egg and noodles, I fixed myself a rather reasonable afternoon tea plate.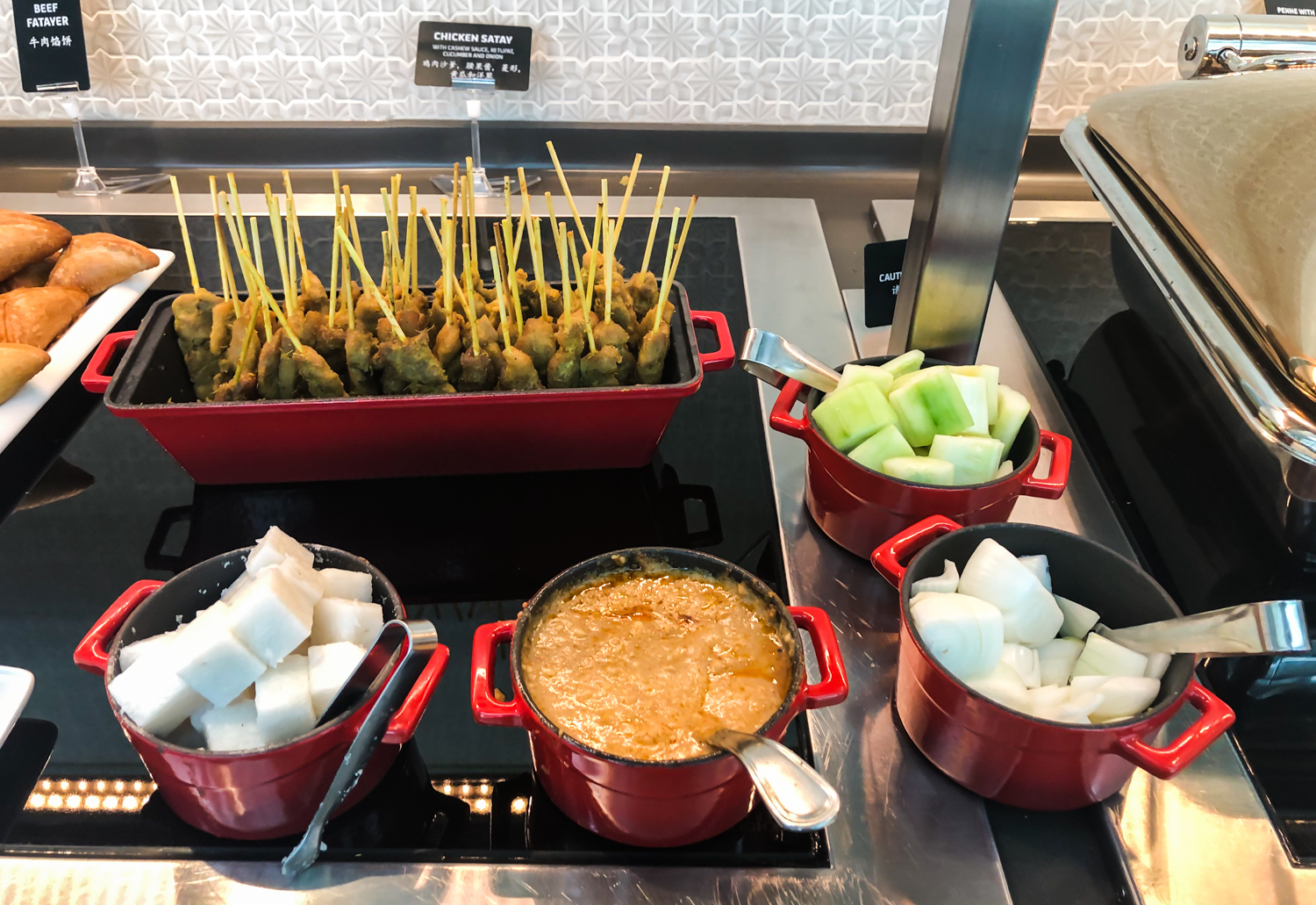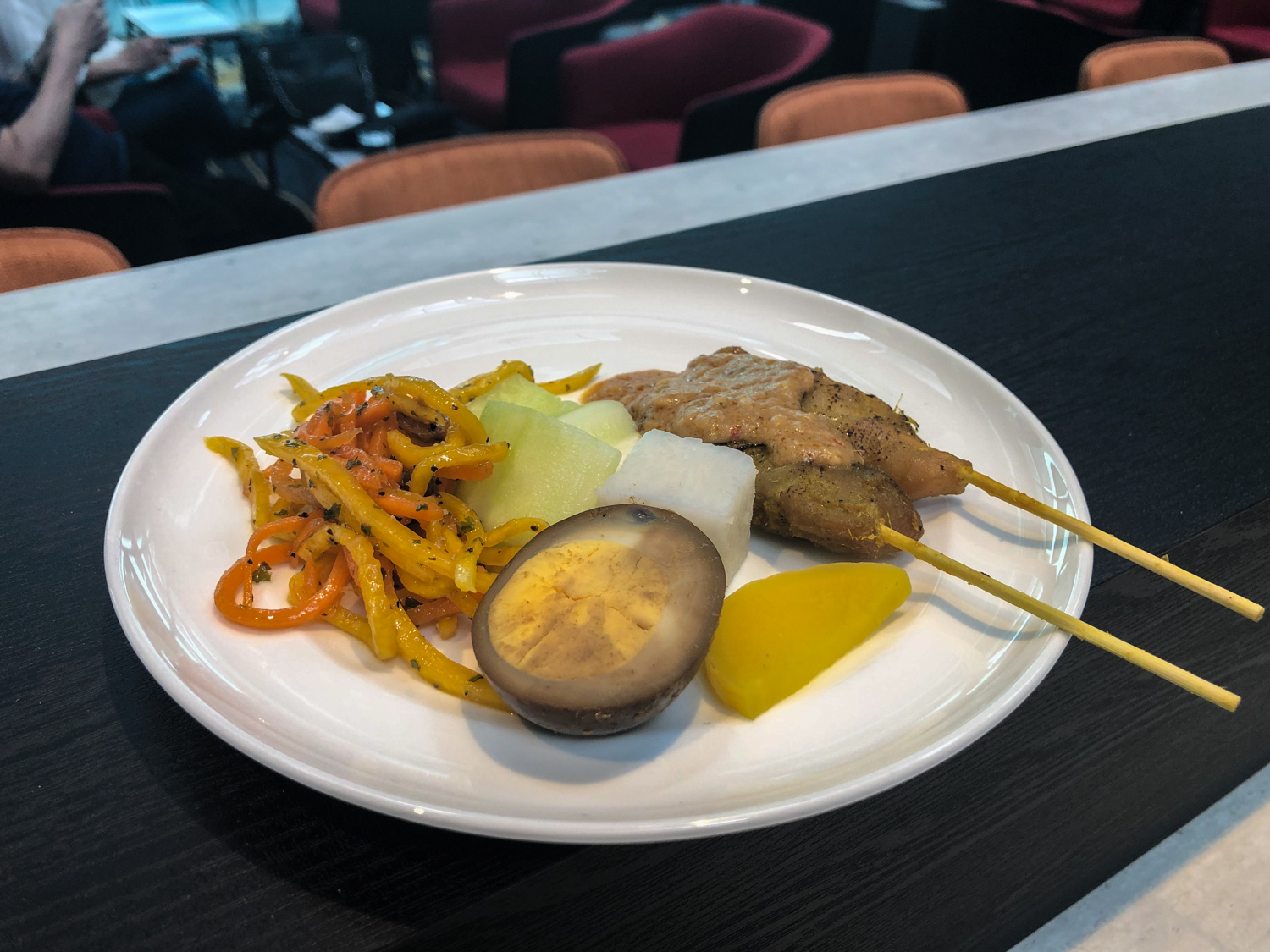 There are four spirits, plus some red and white wines on offer.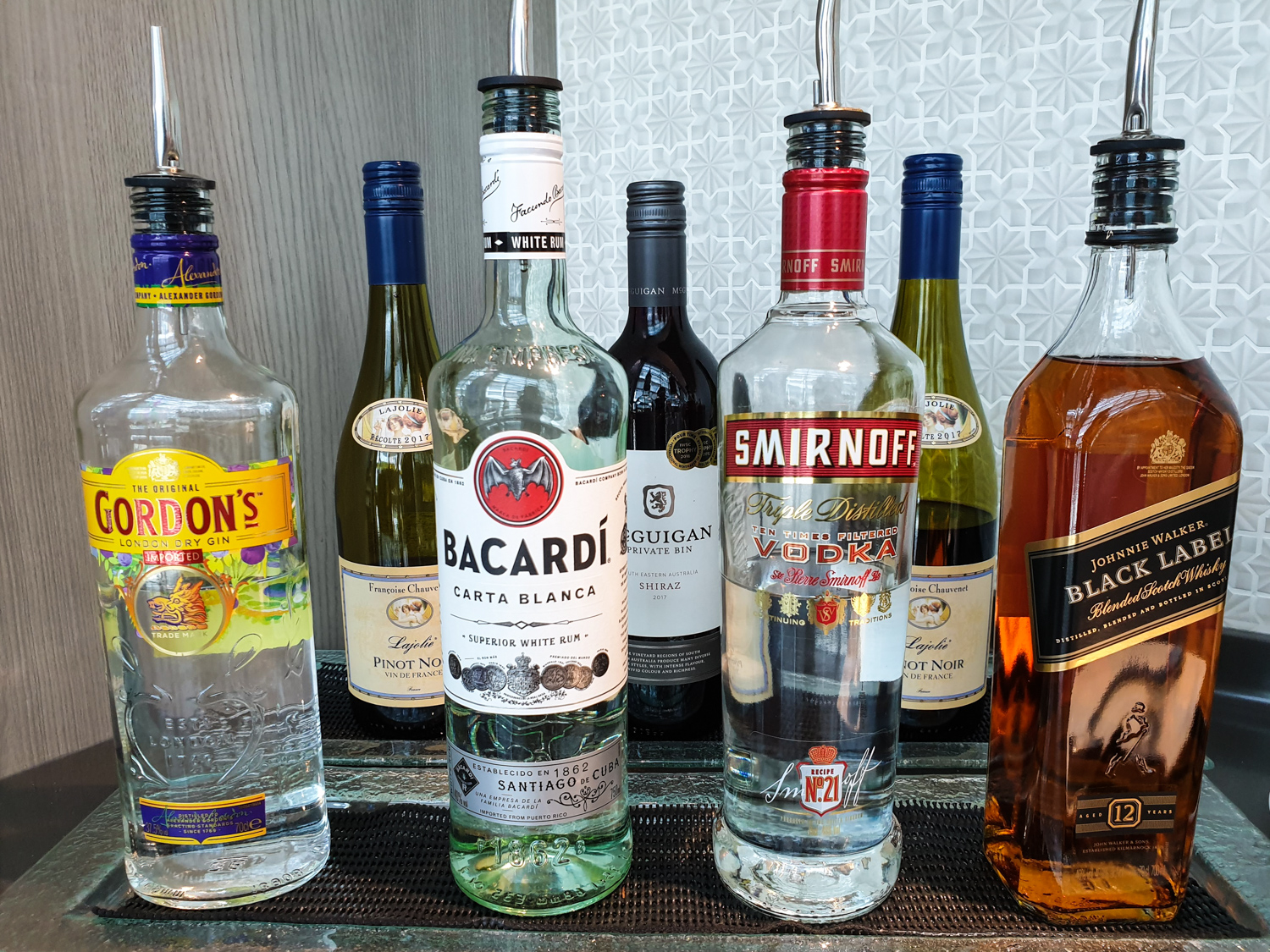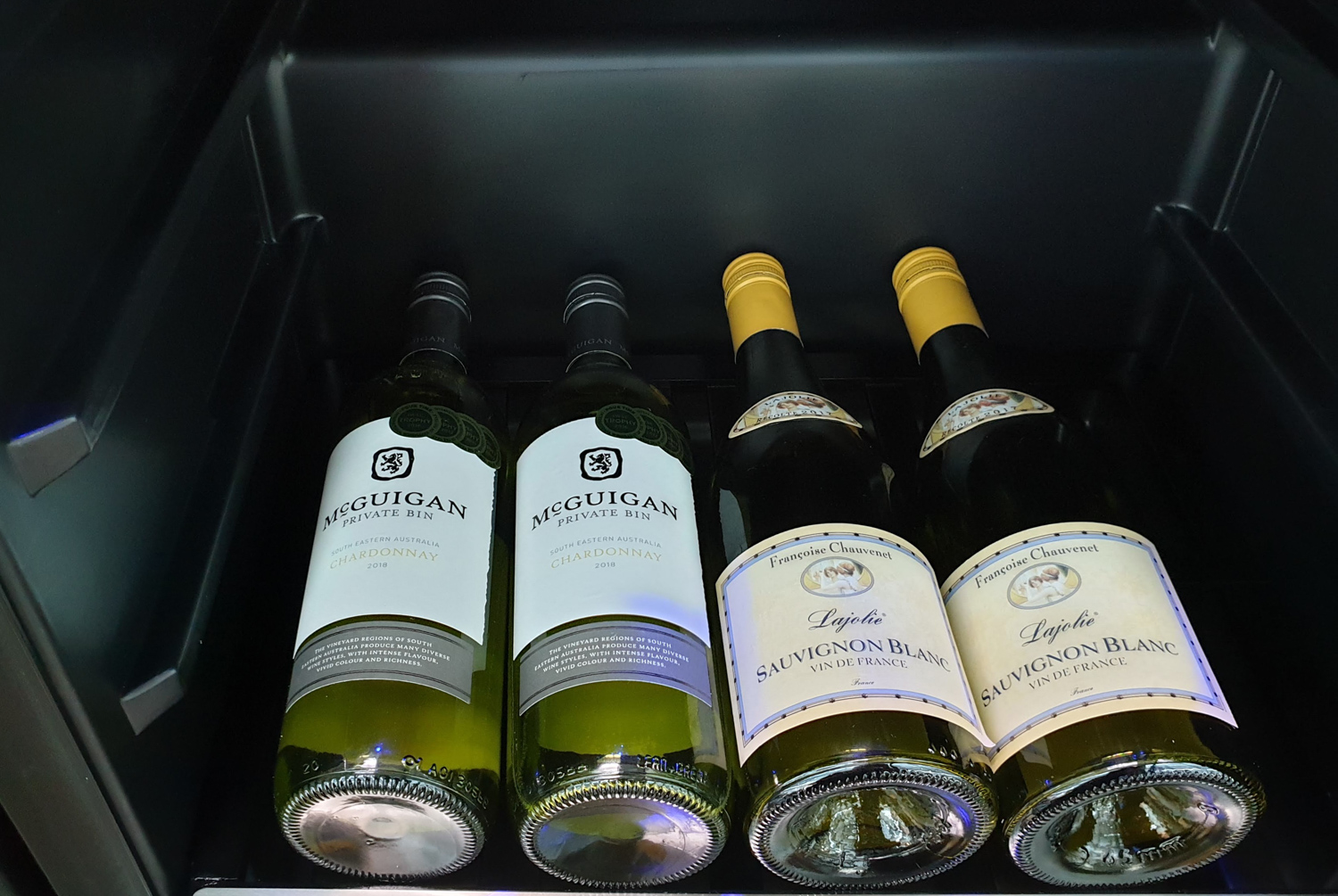 Heineken and Singapore's Tiger beer round up the alcoholic options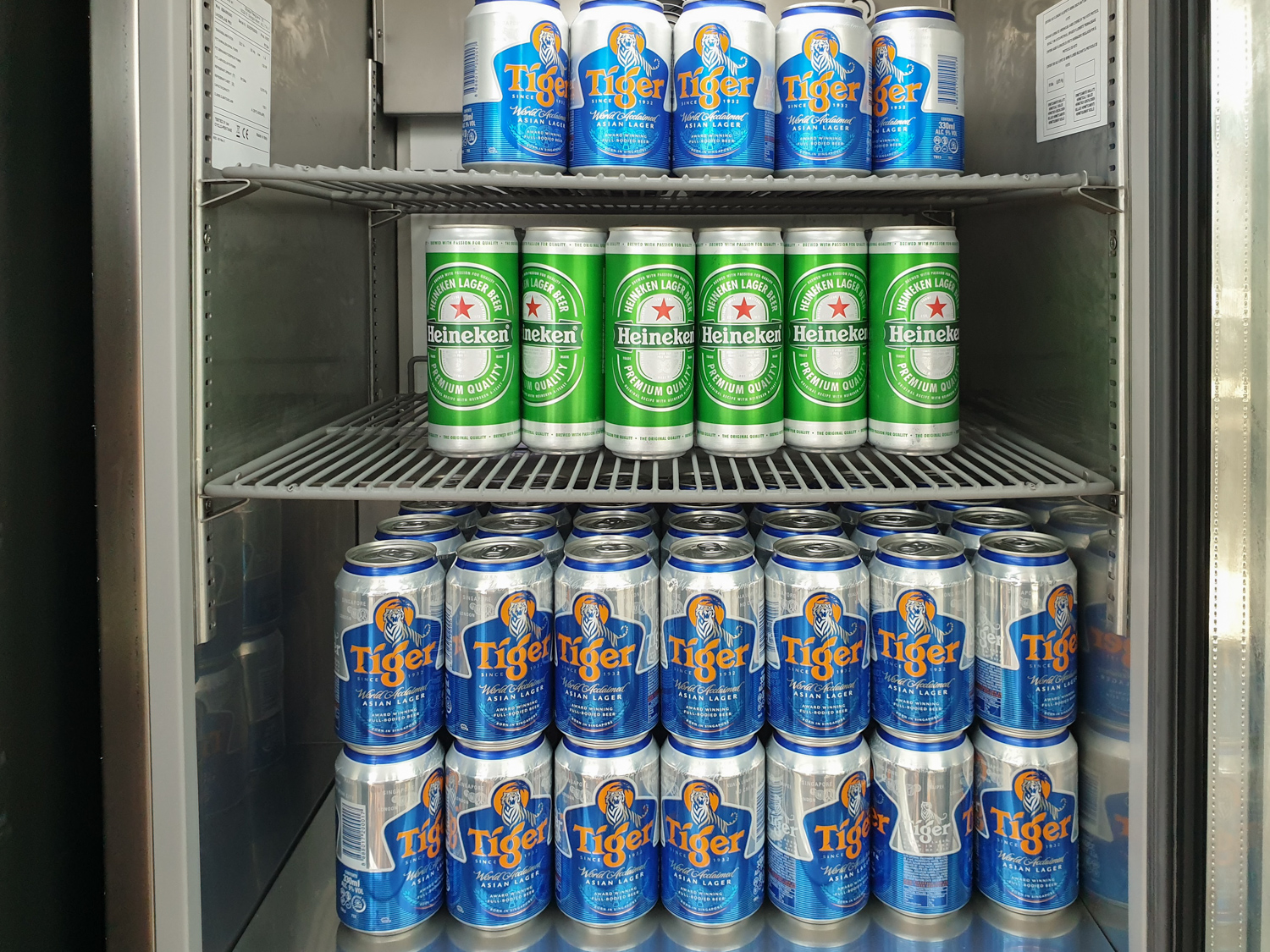 Non-alcoholic options include the usual soft drinks, juices and mixers. There are two coffee machines and Dilmah teas available.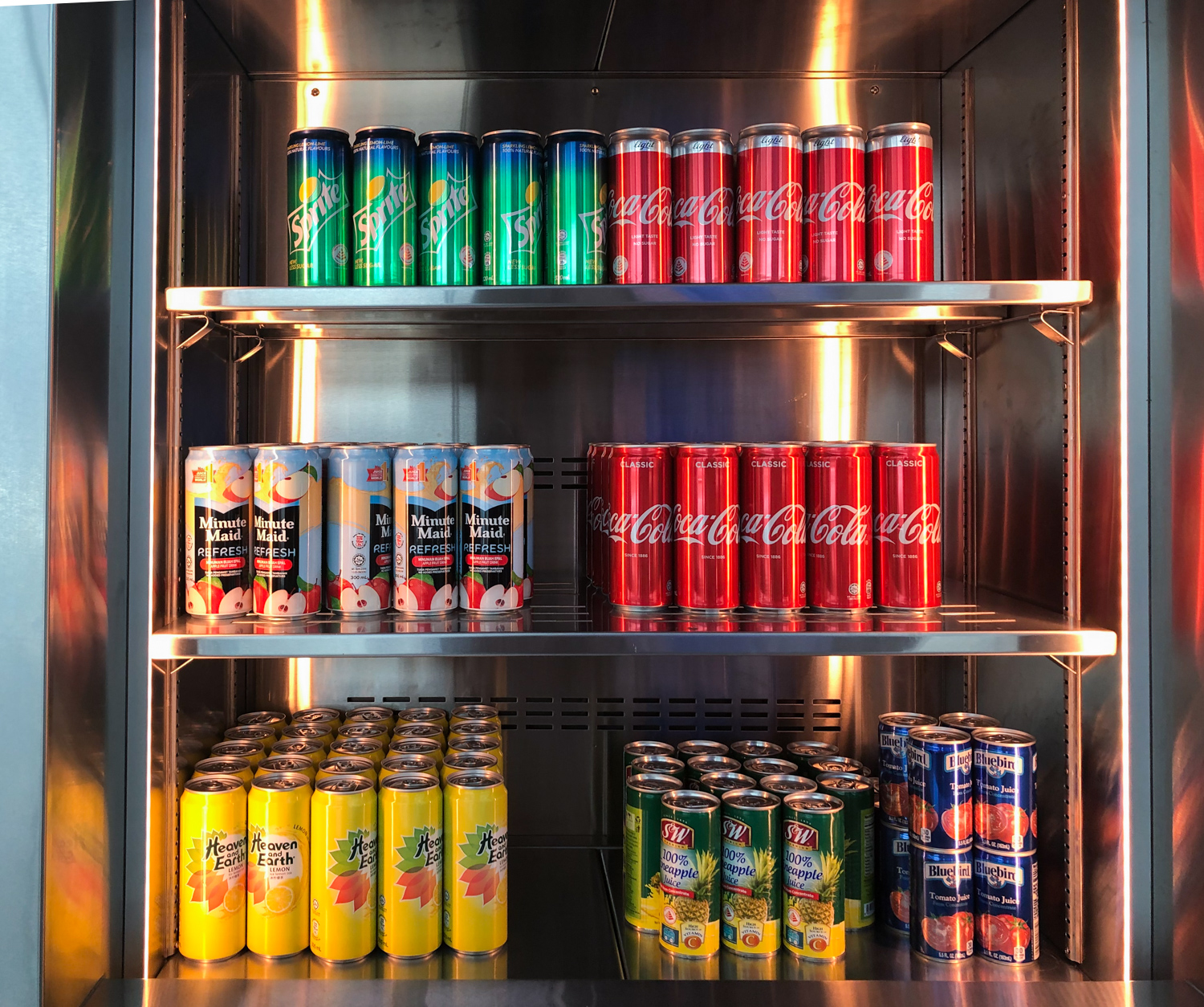 Amenities
There are a few well-appointed bathrooms and showers in the lounge, which certainly beats the old KrisFlyer Gold Lounge which didn't have either!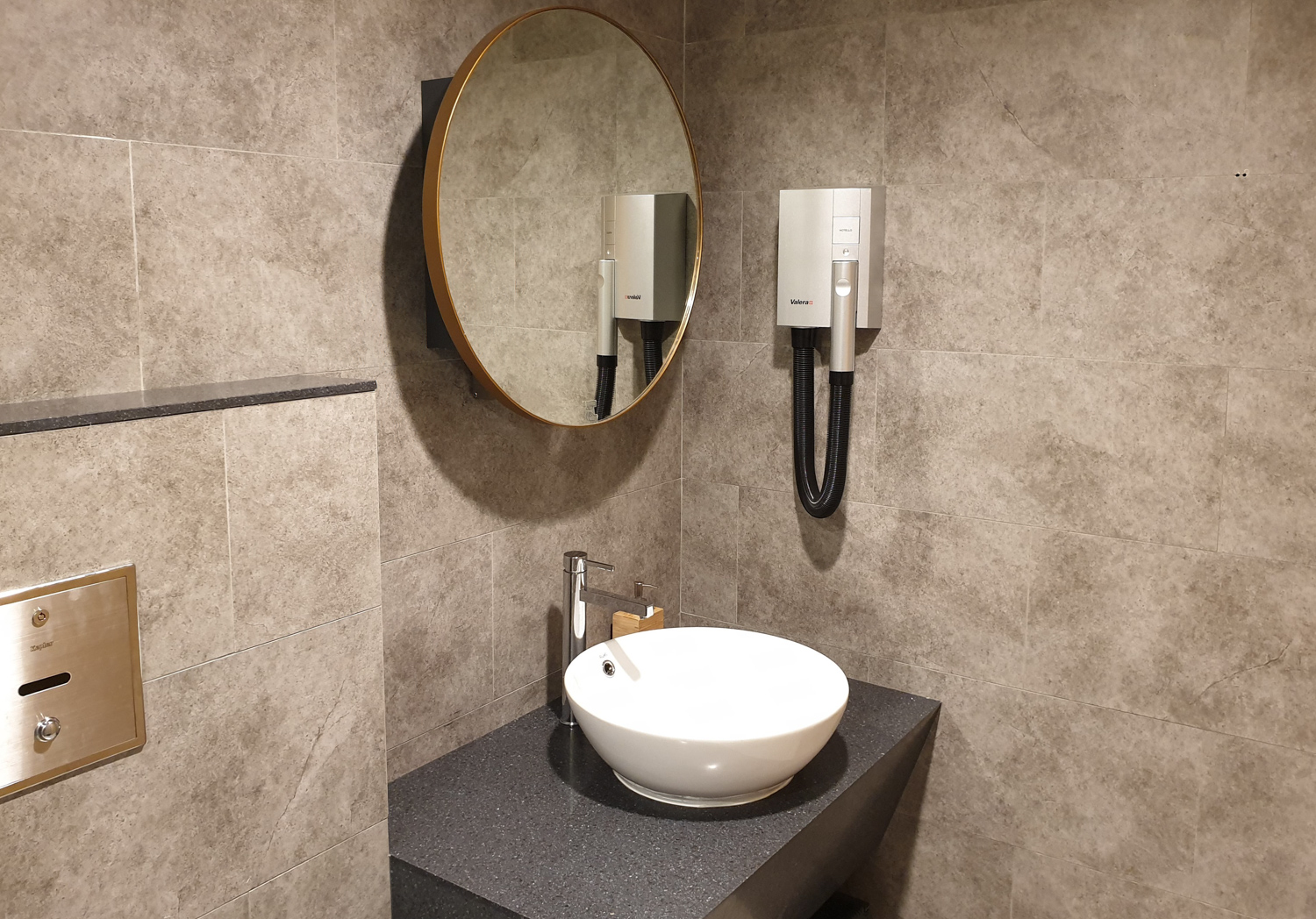 Towels and other amenities can be fetched from the reception area.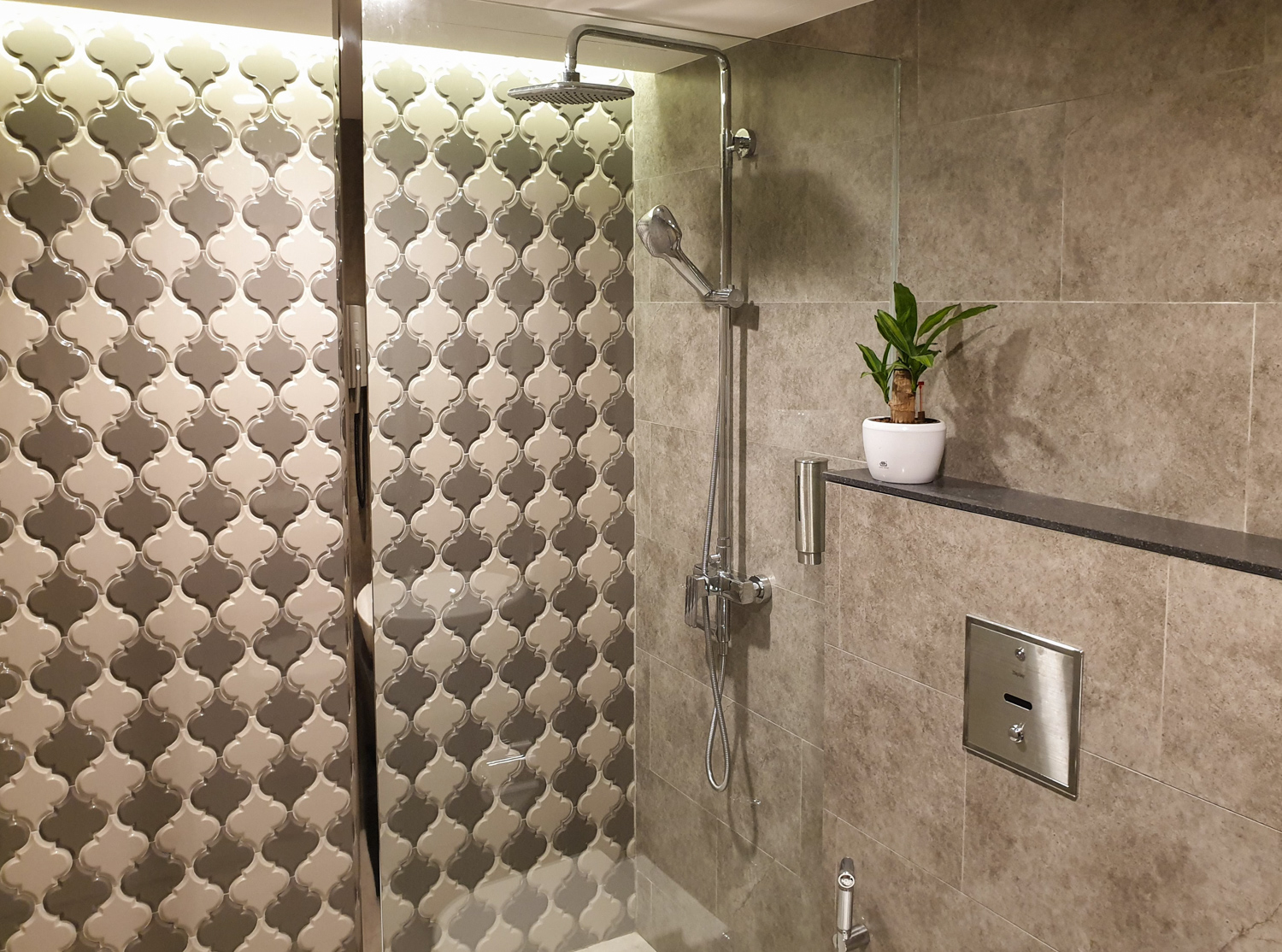 I liked the nifty aeroplane-like signs that illuminate whenever a room is being used!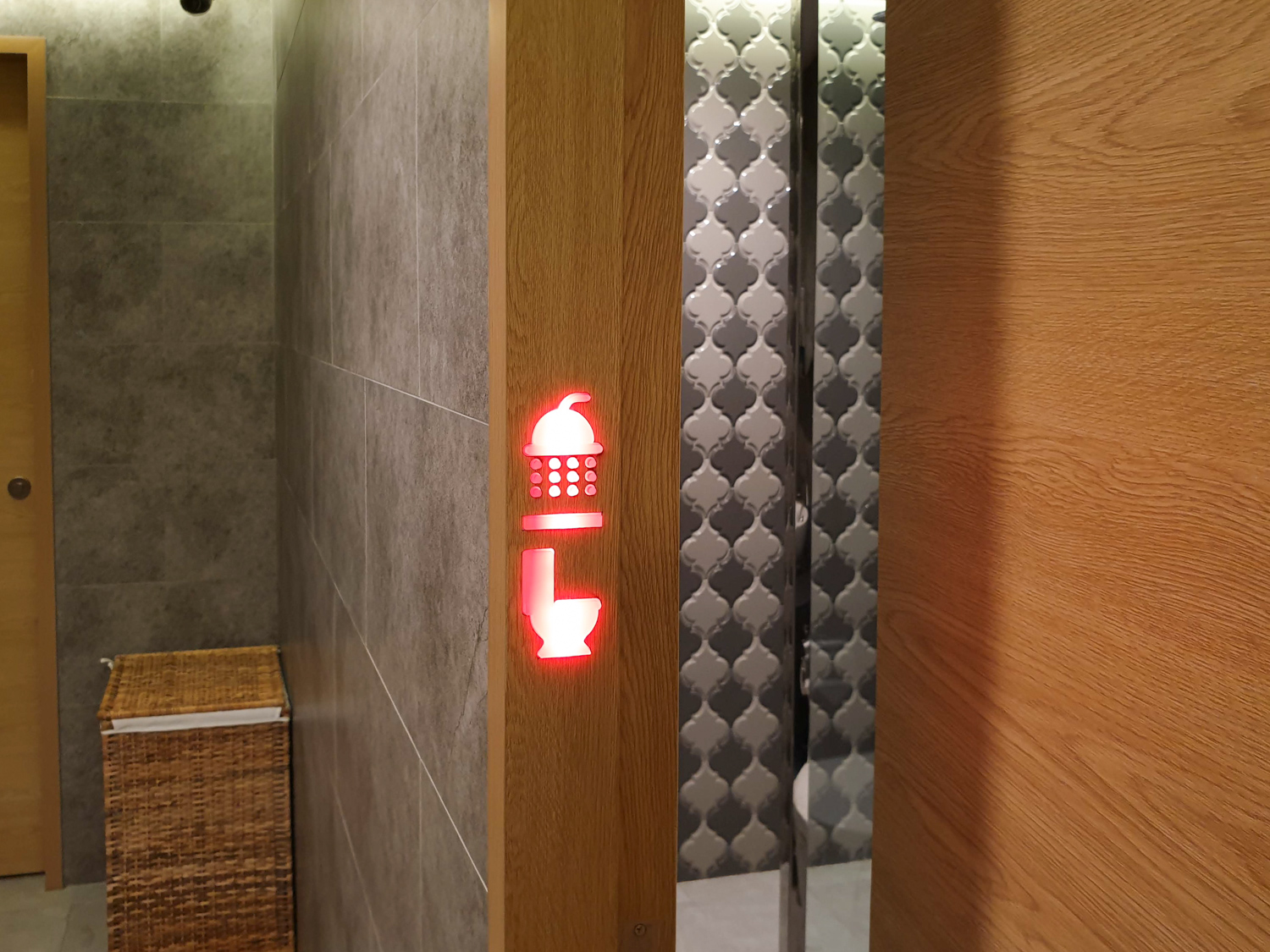 There is not much else in the lounge apart from flight information screens, some newspapers and magazines. WiFi is available but rather slow at under 10 Mbps both ways. The Changi Airport free WiFi is also accessible as an alternative.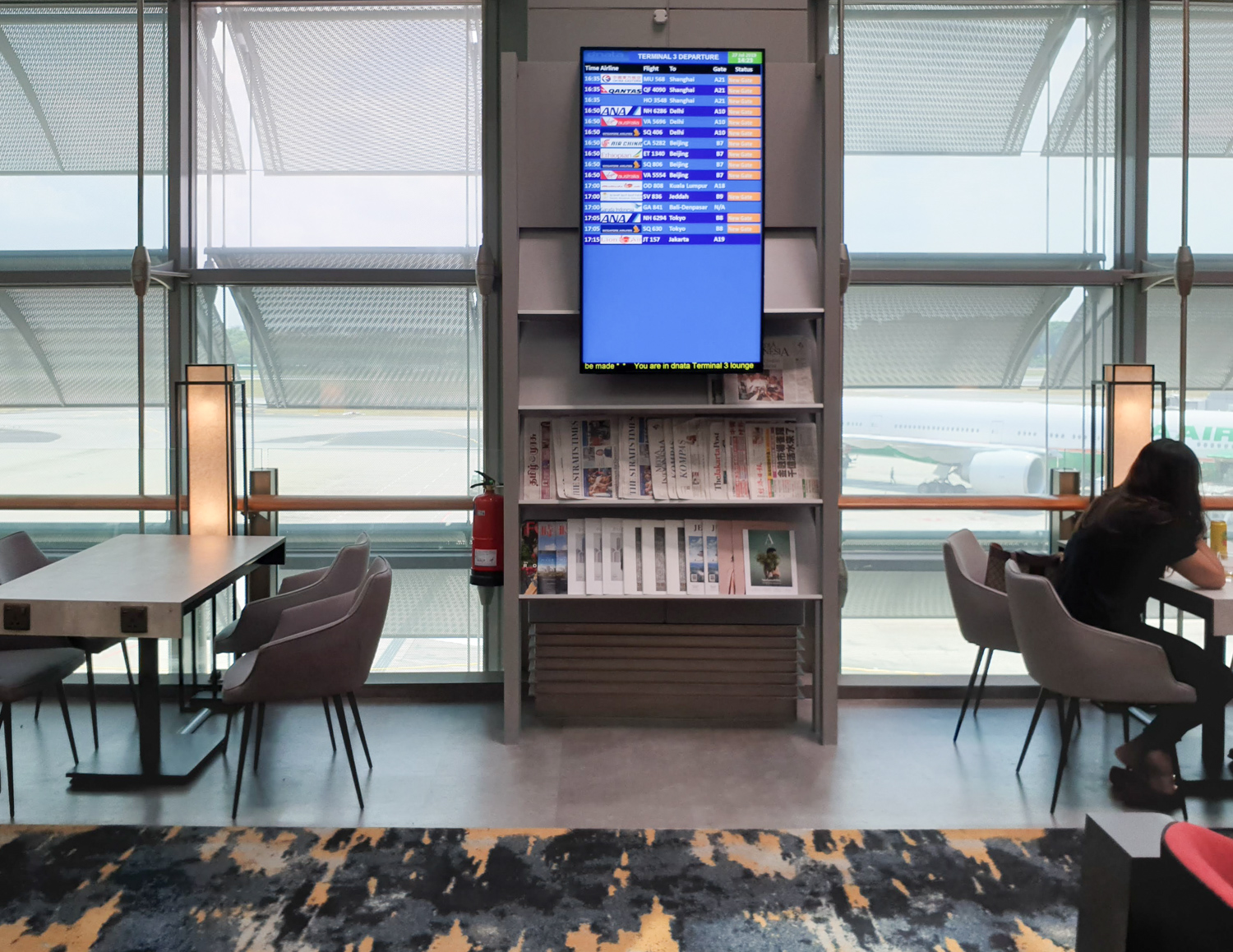 Lounge access options
By class of travel: Business Class passengers of China Airlines, Garuda Indonesia, SriLankan Airlines and Myanmar National Airlines
By frequent flyer status: Eligible elite frequent flyers of the airlines above (e.g. Emerald and Paragon members for China Airlines or Gold and Platinum FlysmiLes Club members for SriLankan). Singapore Airlines KrisFlyer Gold, Star Alliance Gold and Virgin Australia Gold + Platinum before Singapore Airlines Economy Class flights, until the new KrisFlyer Gold Lounge opens in 2021.
By lounge membership program: Priority Pass, DragonPass, Lounge Club and LoungeKey members can use a visit here.
Summing up: my take
The new Marhaba Lounge is a great new option for Priority Pass users and a big leap up for KrisFlyer Gold and Velocity Gold and Platinum members flying in Economy. Bathrooms and shower facilities within the lounge will be welcome before long flights back to Australia.
My main concern is the size of this lounge, and whether it will be able to cope with the number of Gold members who will be accessing it. At the time of my visit, the changeover hadn't happened yet and it was very quiet.
We will update this review once we visit this lounge again during a busy period and as a Velocity Gold member flying Singapore Airlines Economy.
What's great
Open-air design and windows mean plenty of light
Shower and bathroom facilities
Comfortable seating and lots of charging ports
Food and beverage variety
What's not great
Food and beverage quality a bit more on the basic side
Small space means potential for overcrowding soon
Marhaba Lounge, Singapore
was last modified:
August 11th, 2023
by