Flying First Class is the ultimate goal of any frequent flyer aficionado. After all, who doesn't like having a suite or even a private 'room' on a plane, with Champagne practically on tap?
If you've been stocking up on frequent flyer points during the pandemic, First Class is one of the best ways you can spend them.
With First Class redemptions from Australia slowly coming back online, here are your options for jetting abroad at the very front of the plane. With some airlines, that means flying First Class from your home city. Others may instead begin the journey in Business Class, with First Class available through an onward connection.
First Class flights direct from Australia
What better way to settle in for a long journey than by flying First Class from the moment you leave home?
A handful of airlines will offer First Class on Australian routes by the end of 2022. We expect more to follow, but for now, these four carriers are ready for booking using points.
Qantas First
Qantas First is now something of a rare breed, but it's an experience that's more than worthy of your hard-earned Qantas Points. You'll find it exclusively aboard the airline's Airbus A380s.
Ferrying you from continent to continent in style, a voyage in Qantas First unlocks pre-flight access to some of the world's best First Class havens. Found in Sydney, Melbourne, Singapore and Los Angeles, the Qantas First lounges serve delicious restaurant meals designed by Neil Perry's Rockpool team. The menus change seasonally, but I'd be remiss if I didn't recommend the perfectly seasoned salt and pepper squid to greet your arrival.
When departing Australia, add a complimentary day spa treatment into the mix, and you'll be well relaxed before boarding.
Traverse the aerobridge and you'll find yourself ensconced in the spacious Qantas First cabin, home to 14 First Class pods. Friendly service, with a typically-Australian laidback vibe, is certainly the order of the day.
The hardest part? Choosing which Champagne to savour first. Your next challenge is also a tough one – whether to enjoy a lovely three-course meal or settle in for a full degustation. Personally, I'm in the degustation camp. Trying a little of everything is one of the great indulgences of flying First Class, after all. Each Qantas First suite also features a 'companion seat', allowing travellers to dine together with their partners.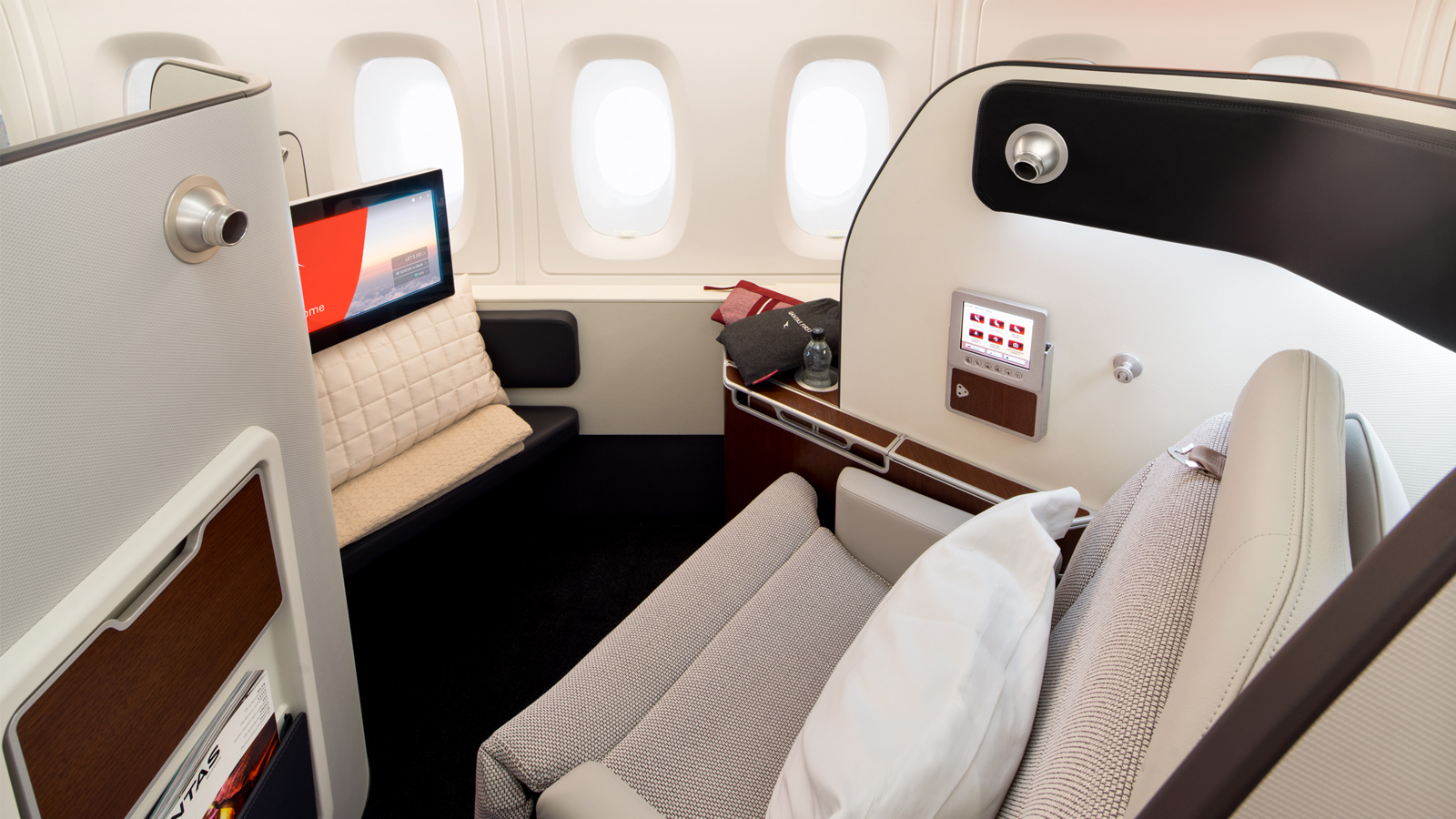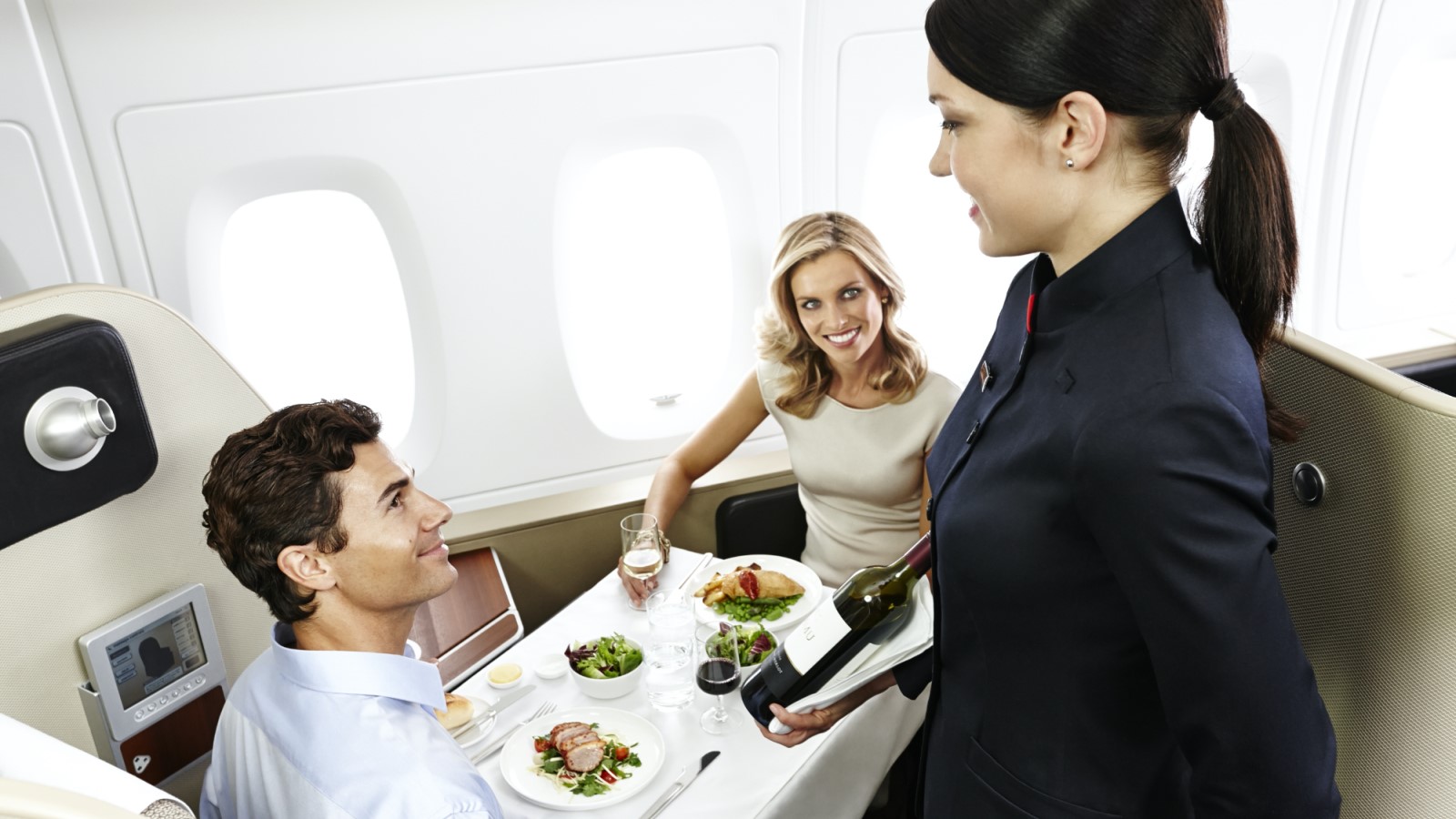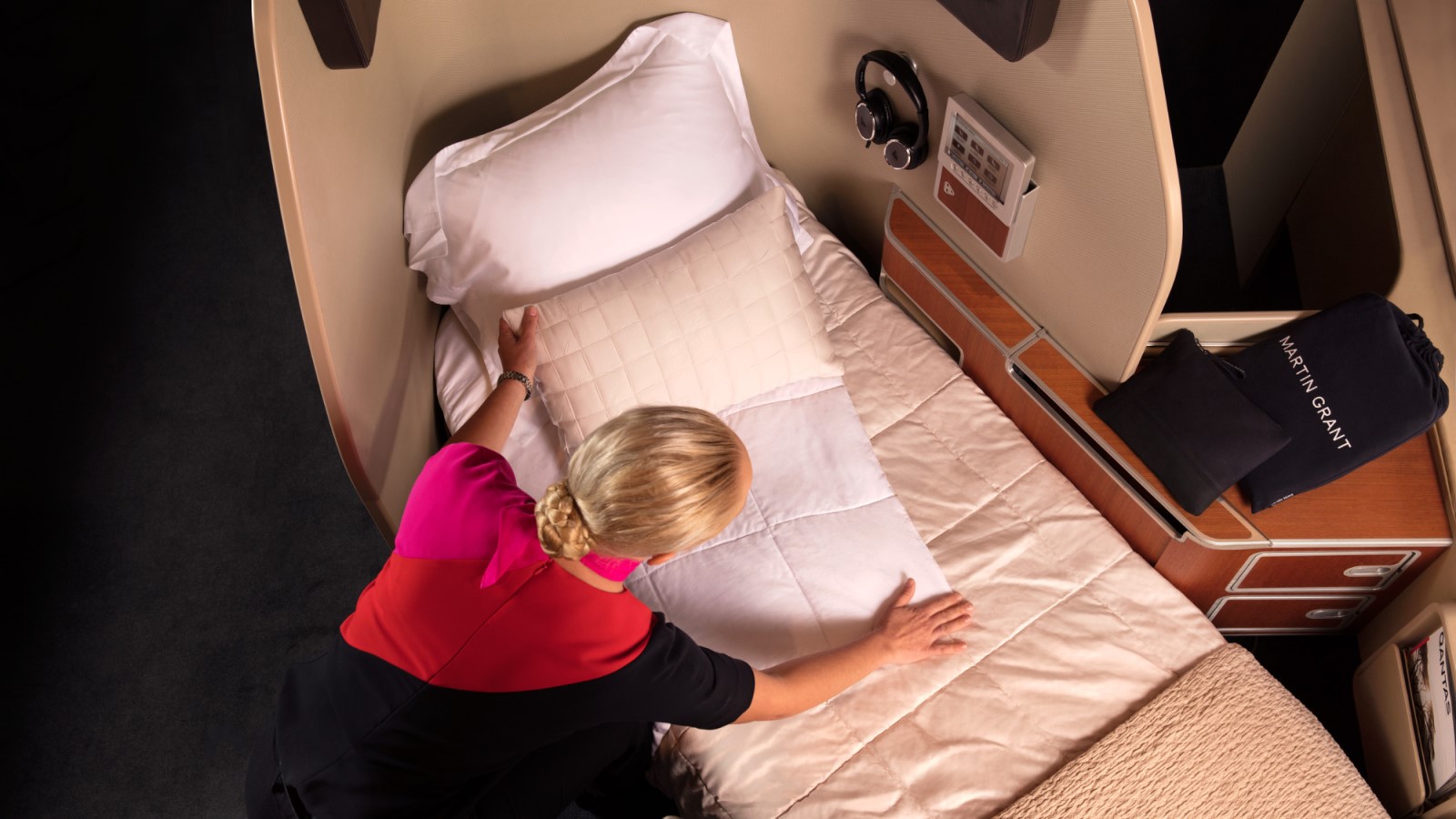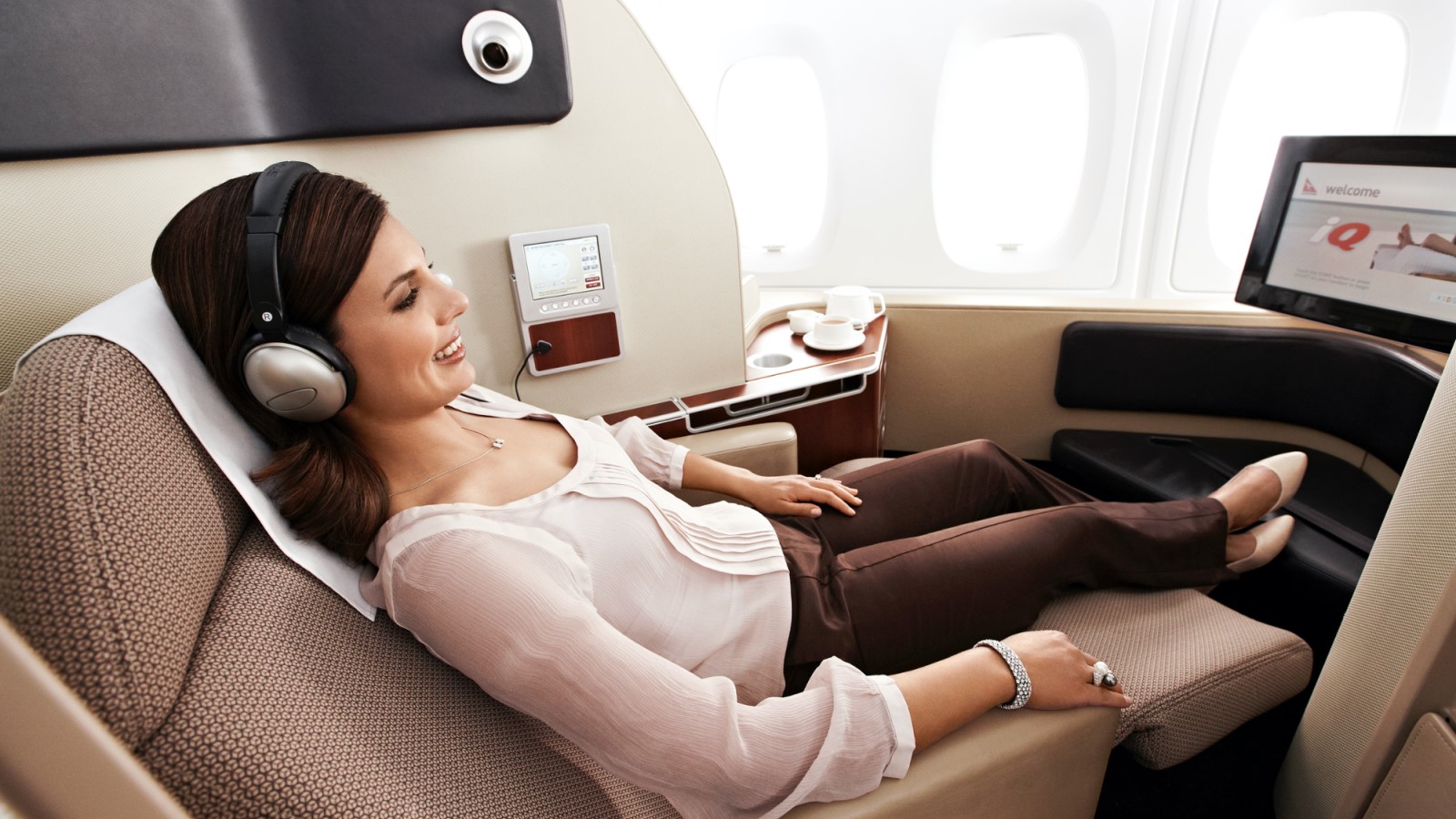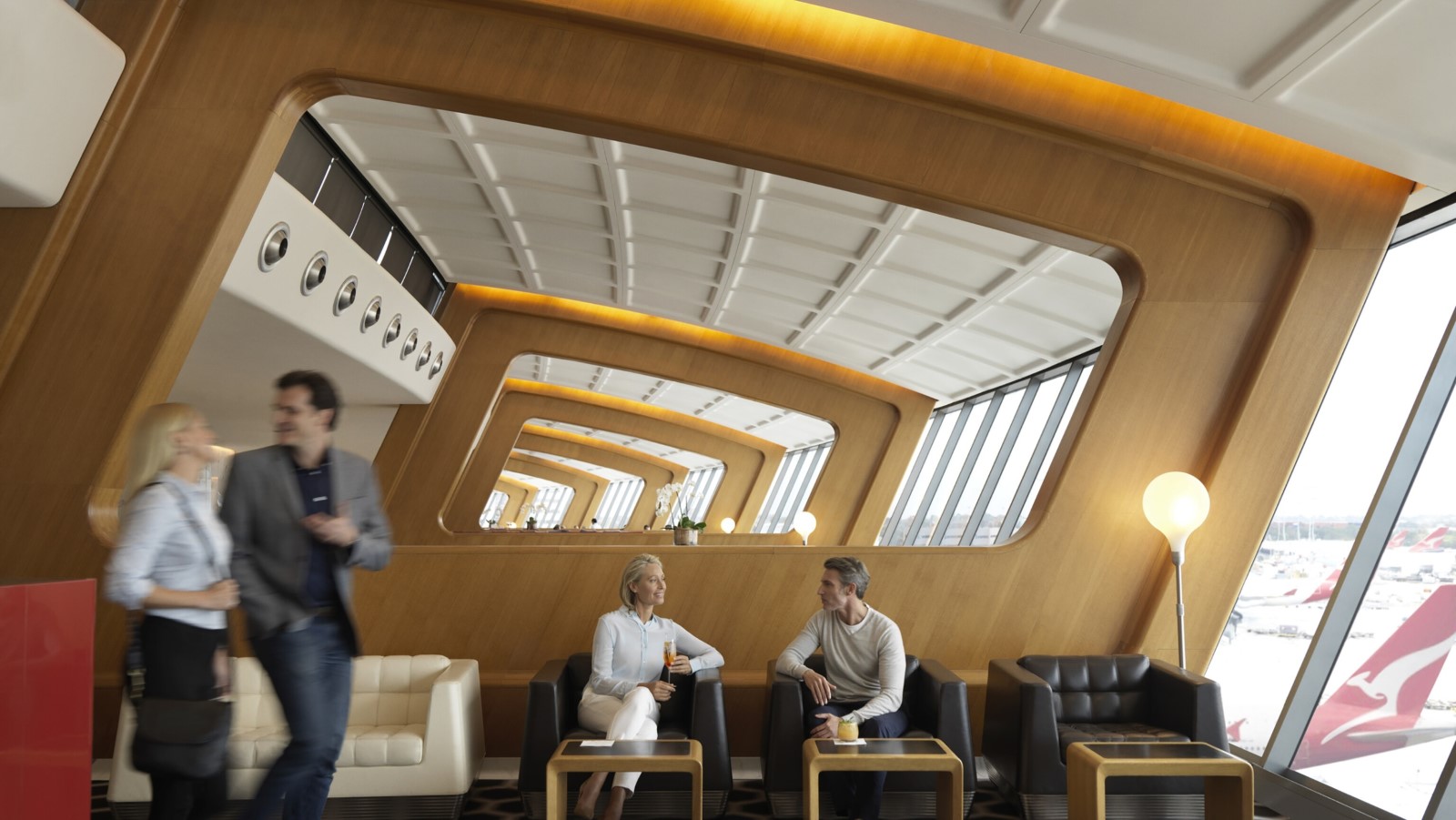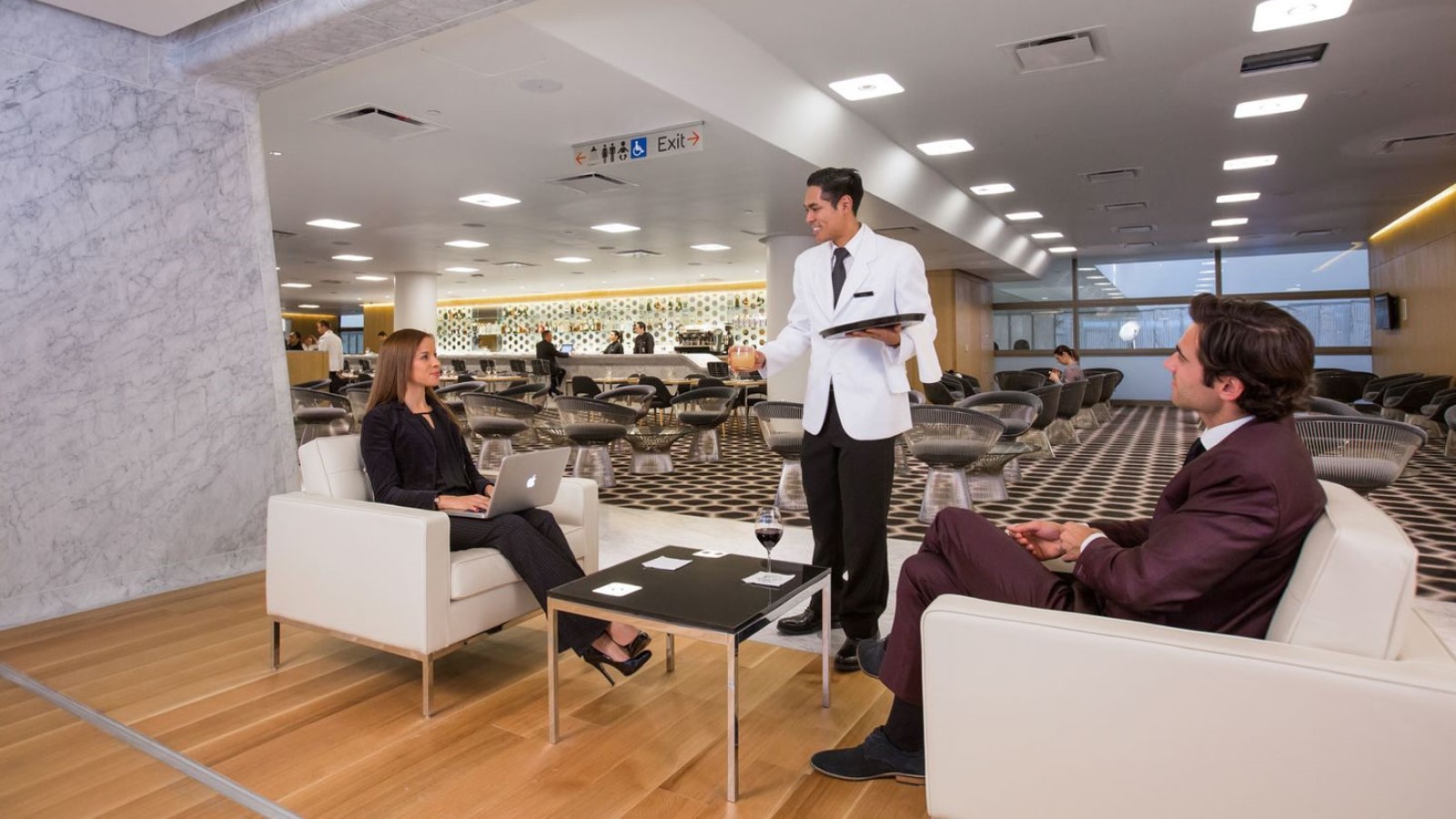 Once dinner is done, just ask the crew to transform your suite into a comfortable bed, or kick back and enjoy a movie. And if you get restless, there's also an inflight lounge to explore on the Airbus A380's upper deck, shared with Business Class. It's a great place to stretch your legs, chat with fellow travellers, or while away the hours.
Qantas First is available on selected Sydney-Los Angeles flights, as well as Sydney-Singapore-London. Finding Classic Reward availability can be tough, but it's not impossible. To Los Angeles, expect to part with 162,800 Qantas Points plus $350 in fees and taxes per person, one way.
Qantas First will expand to other routes and destinations later in the year as more Qantas Airbus A380s return from long-term storage.
Emirates First Class
Never one to shy away from luxury, Emirates offers First Class on most flights across its global network. Better yet, reward seats aren't difficult to come by when spending Qantas Points or Emirates Skywards Miles.
Whether you book a Boeing 777 jaunt or an Airbus A380 sojourn, you're guaranteed a private suite with closing doors. There really is no 'wrong' choice, but different planes have different appeals. On the Airbus A380, for instance, Emirates adds an inflight bar and lounge into the mix. It's a great alternative to the cosy suite, and you can mingle here with fellow First Class flyers – and Business Class passengers, too.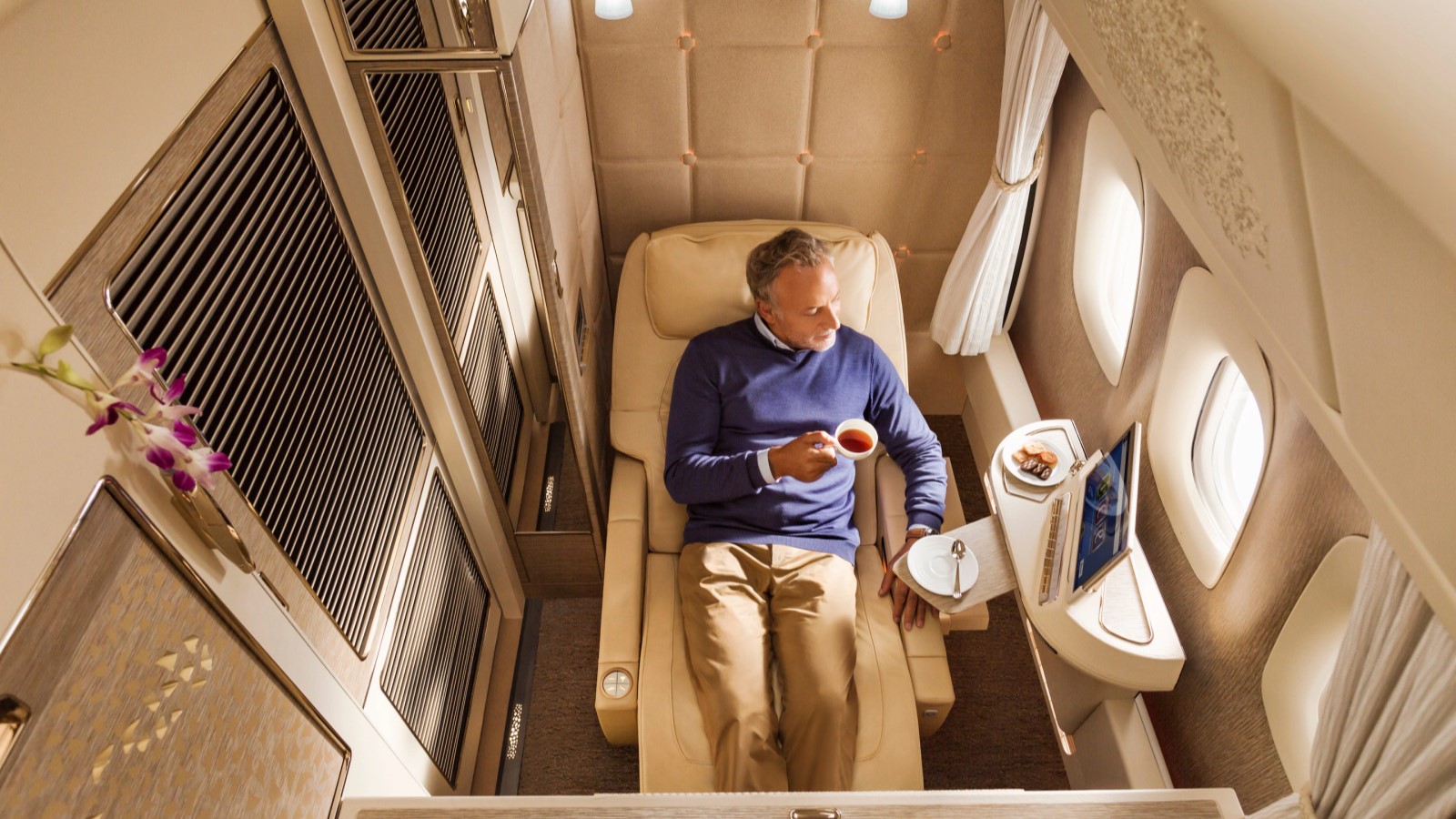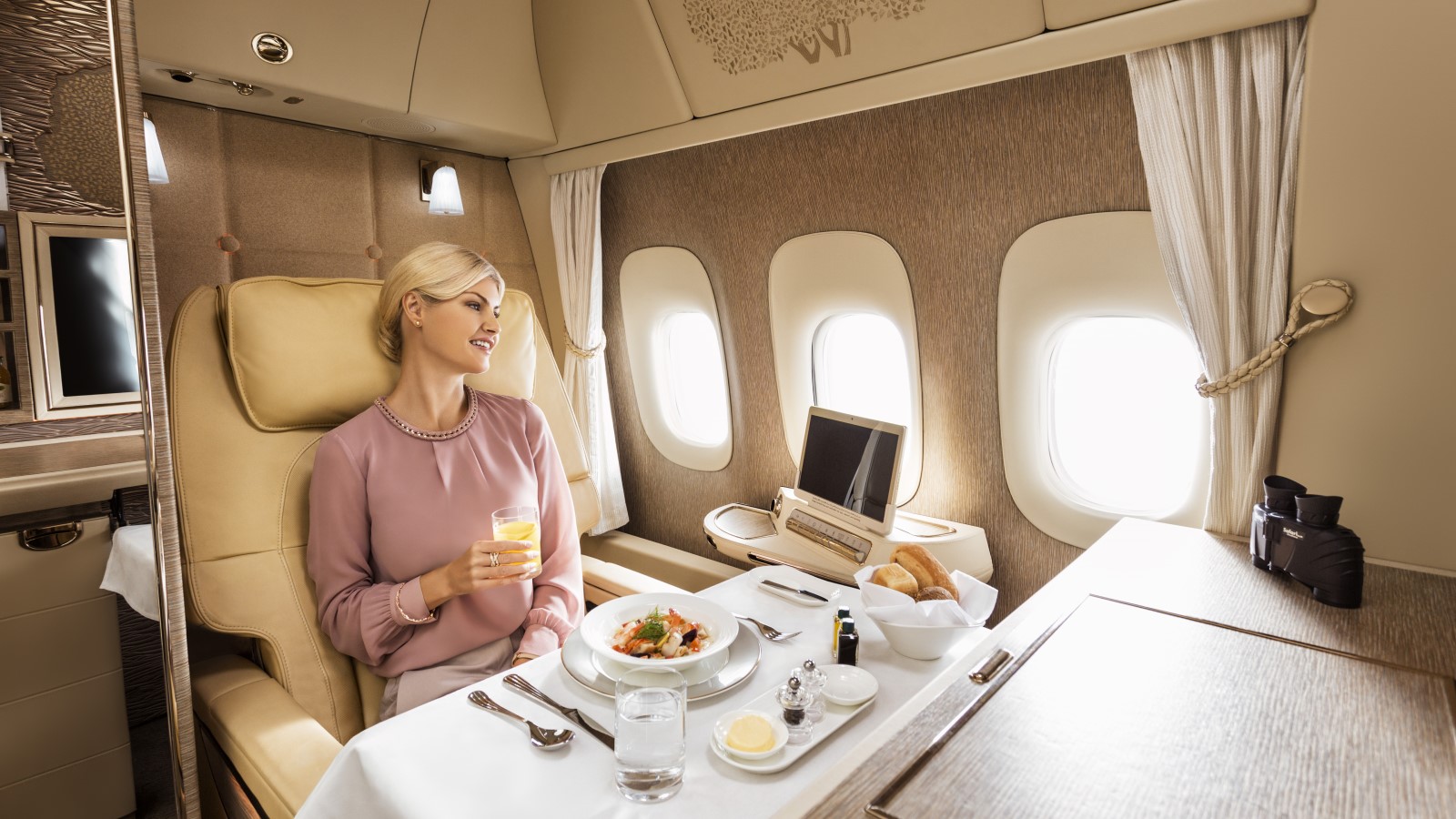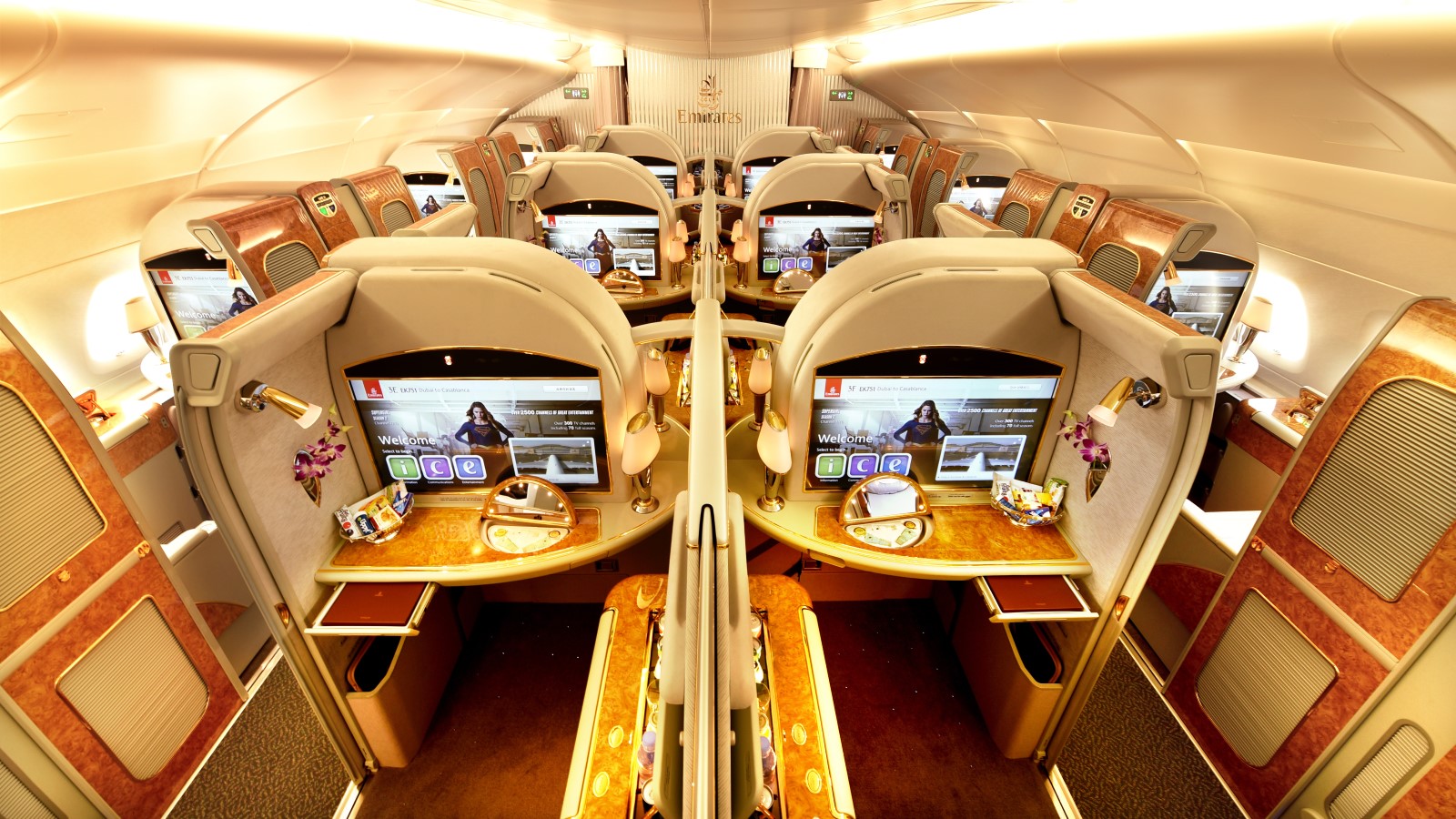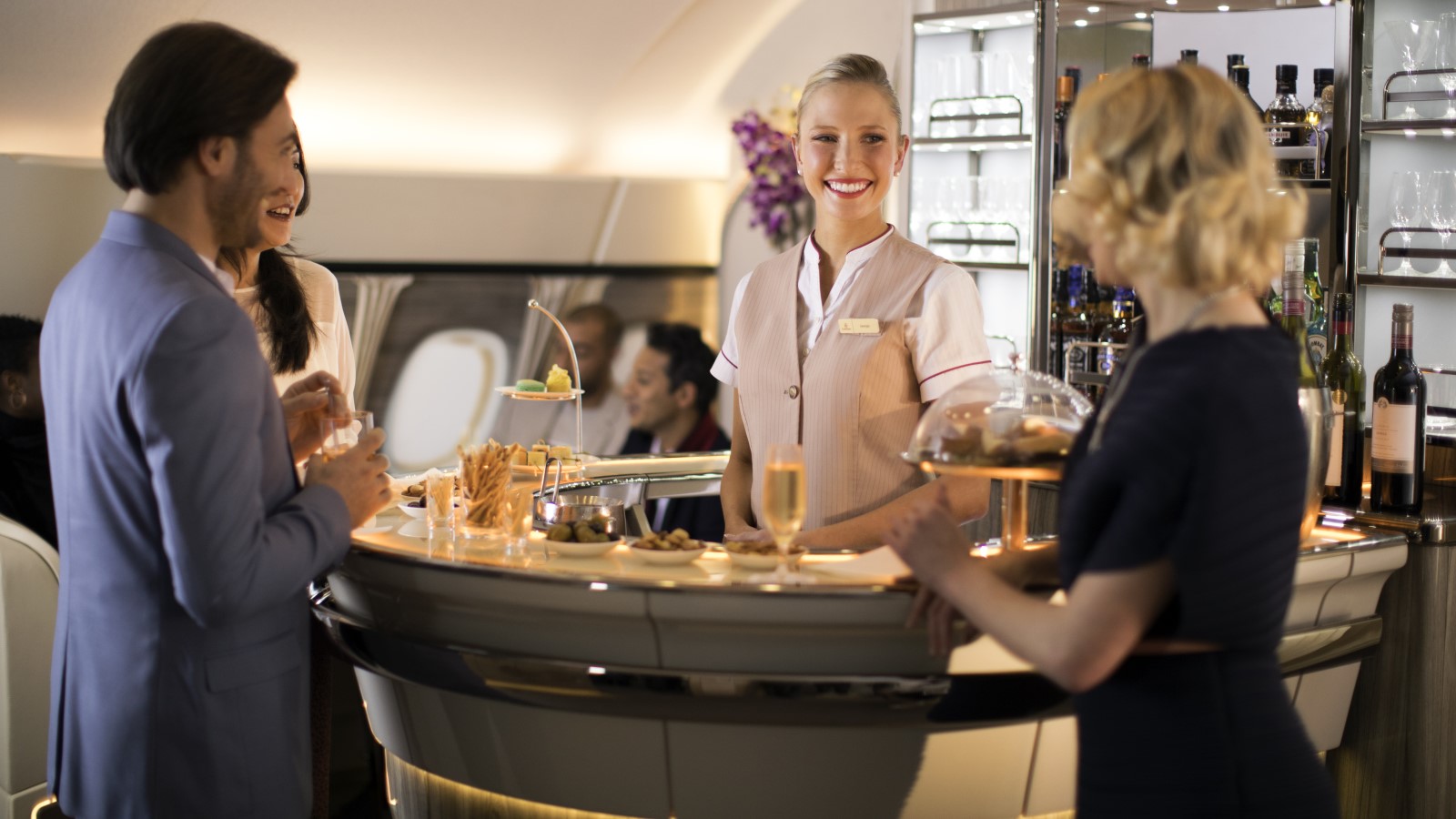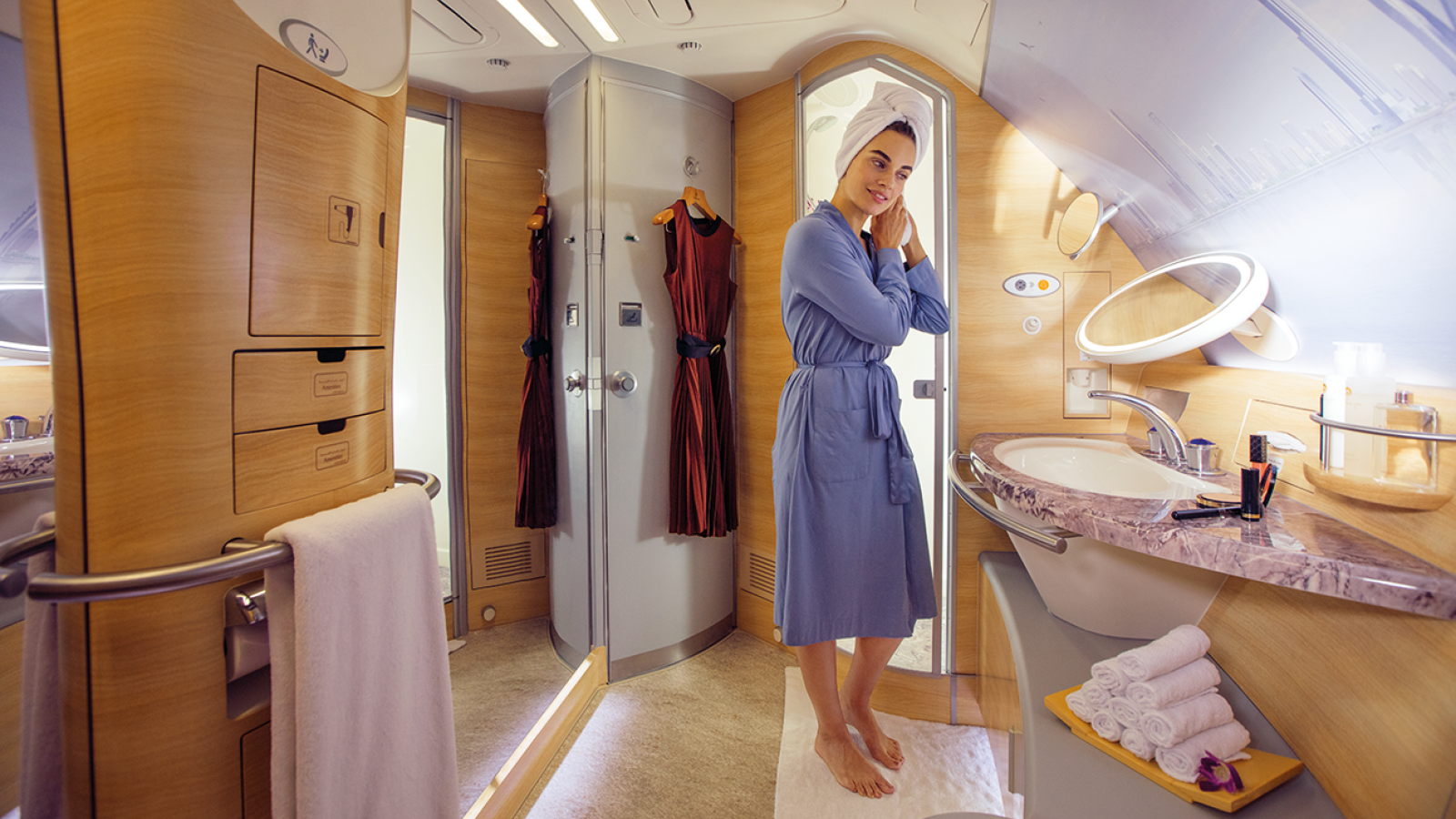 The Airbus A380 also brings its A game with two flying 'shower spas', exclusively for First Class. For many travellers, that's reason enough to seek out the superjumbo. Having showered at 40,000 feet myself, it's an experience not to be missed. Whichever frequent flyer program you use, there are a few better ways to spend your points.
Having said that, don't discount Emirates' Boeing 777. As the Airbus A380s can be very popular with paying passengers, Boeing 777 flights can often be easier to secure on points. The suites on most of Emirates' Boeing birds are also very similar to those on the A380: just without the bar and shower. The newest Boeing 777s, however, arguably provide the airline's very best First Class experience – even sans shower.
These "Game Changer" First Class cabins offer the highest degree of inflight privacy. Not only do they have a sliding door, but that door – and the walls around it – run right up to the ceiling. Inside the suite, the feeling is very much that you're in your own little world.
Thirsty? A quick call to room service and a glass of Dom Pérignon is mere moments away. Having flown in every type of Emirates First Class suite, "Game Changer" is the clear winner in my book. When that's not available, the Airbus A380 is still a great way to fly (and shower), and the standard Boeing 777 provides a comfortable experience too.
Singapore Airlines First Class, Suites
Singapore Airlines is a favourite of many high flyers, with First Class the very reason some collect KrisFlyer miles. Those miles can get you a seat – or should we say, a palatial Suite – aboard the airline's Airbus A380s. They're also your ticket to travelling First Class on selected Boeing 777 flights.
So, what's the difference? Given the choice, Suites should be your ultimate goal. It's the airline's flagship experience, combining the privacy you expect with the amenities you deserve. On Singapore Airlines' latest and refurbished Airbus A380s, your Suite is more so an apartment. Offering a dedicated chair aside a separate bed, there's even room enough to walk about.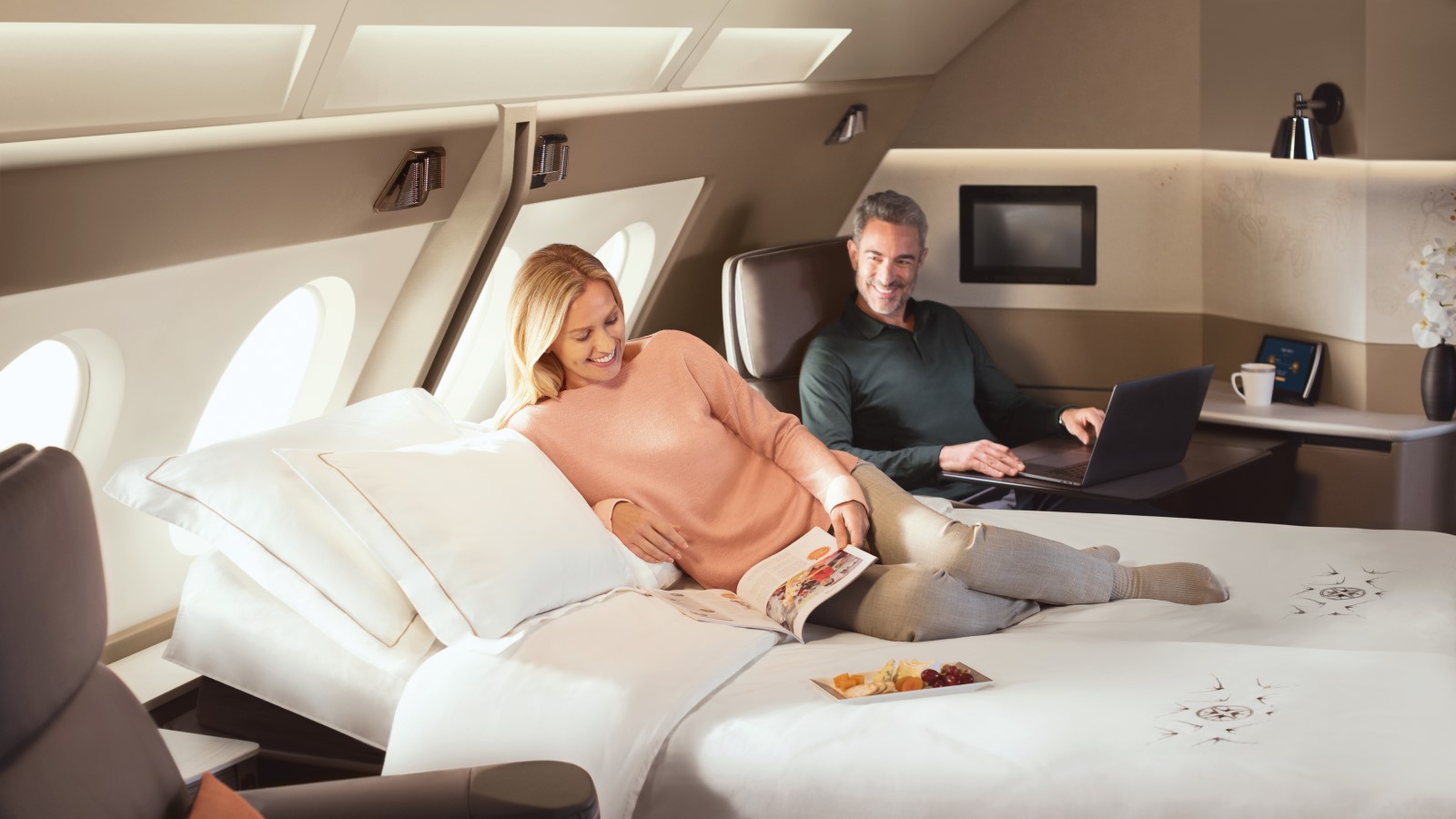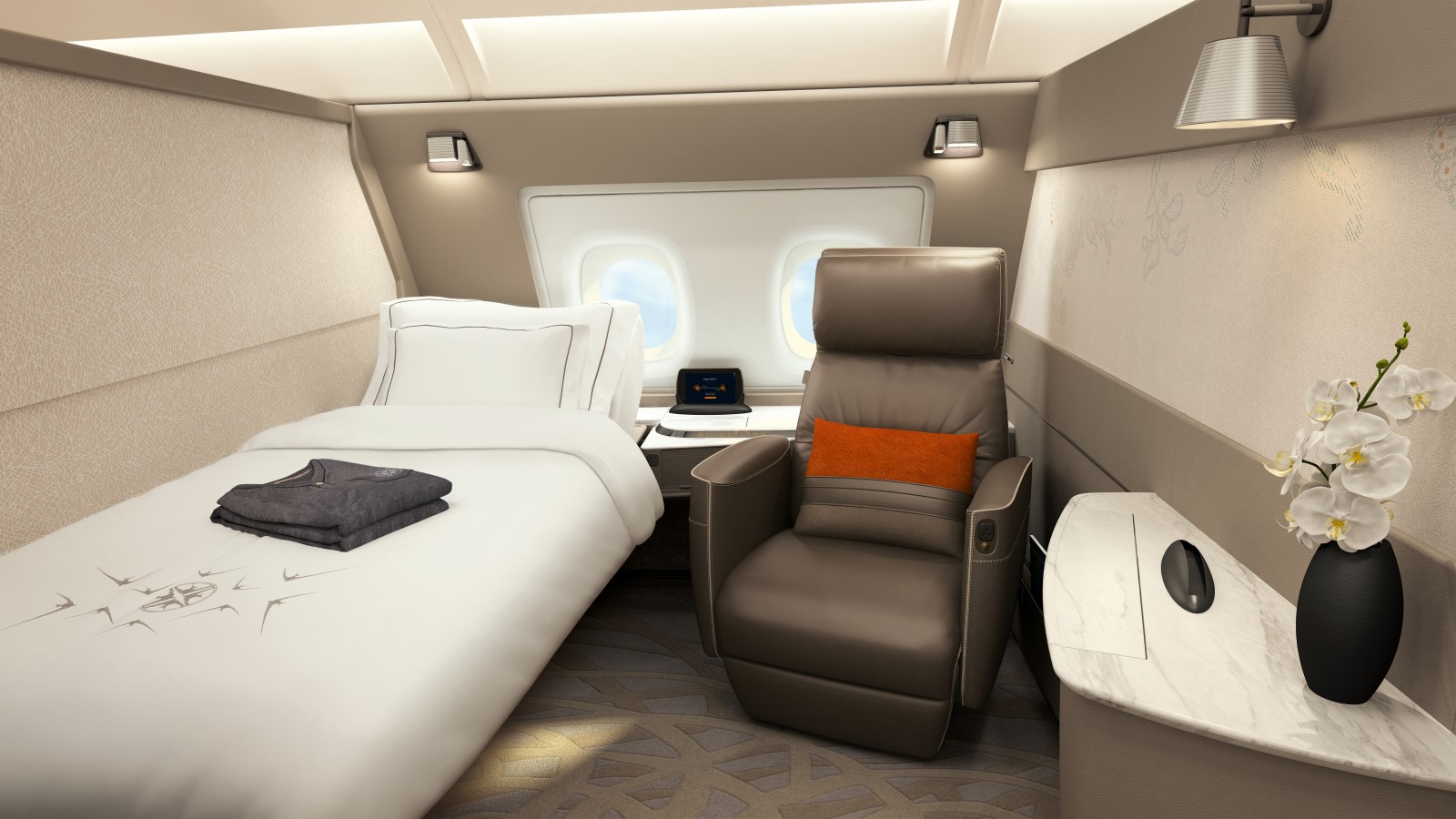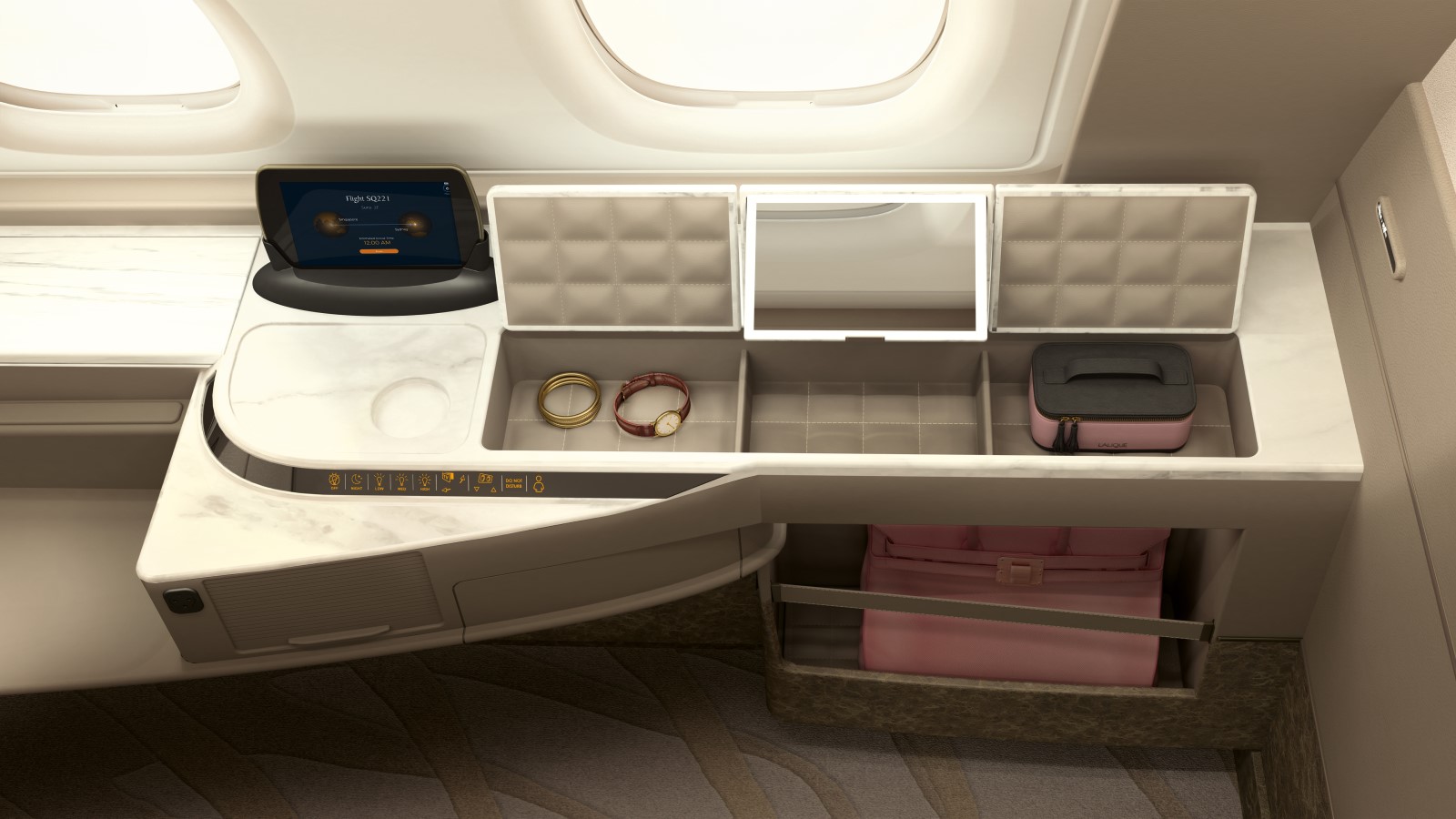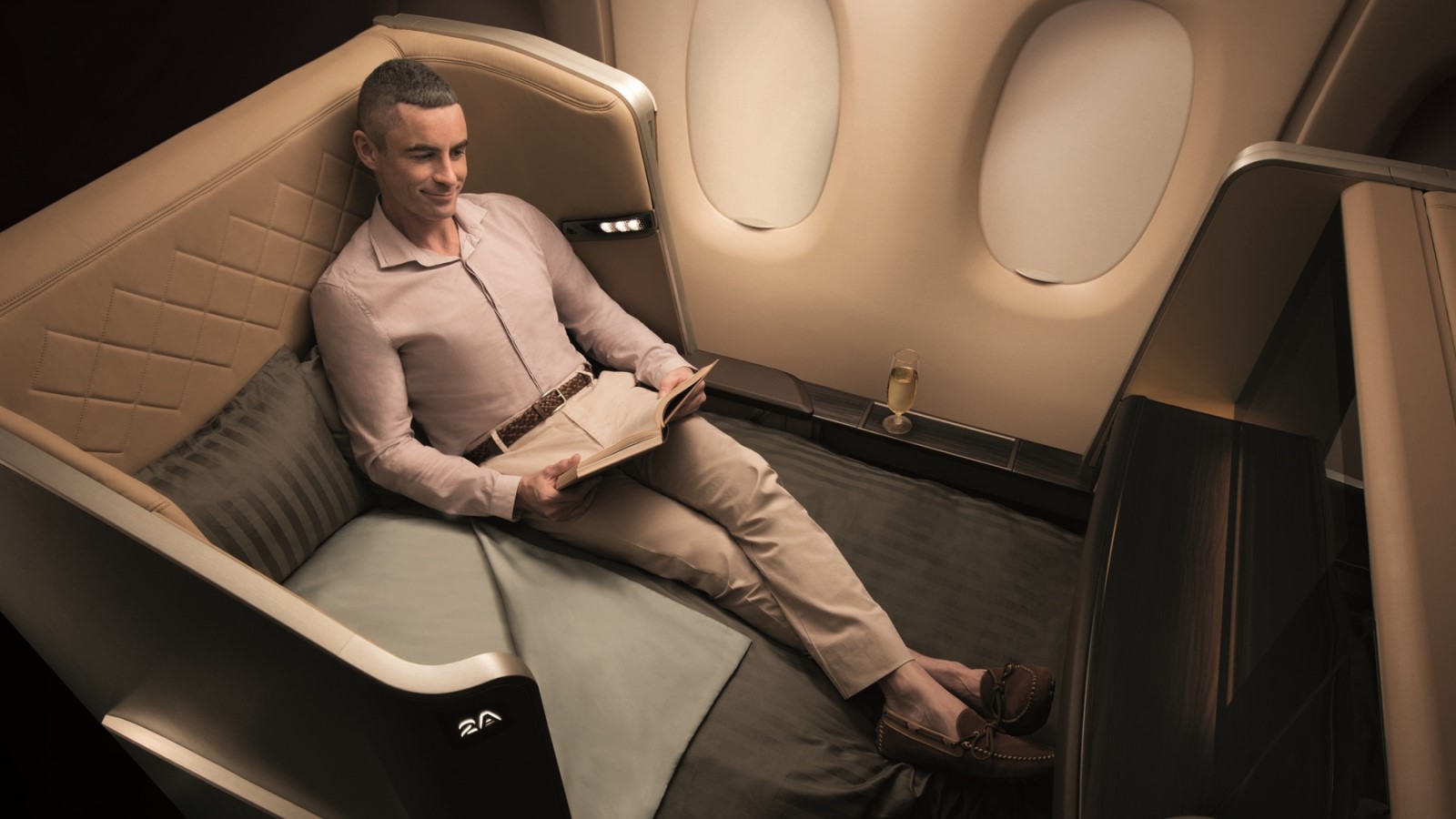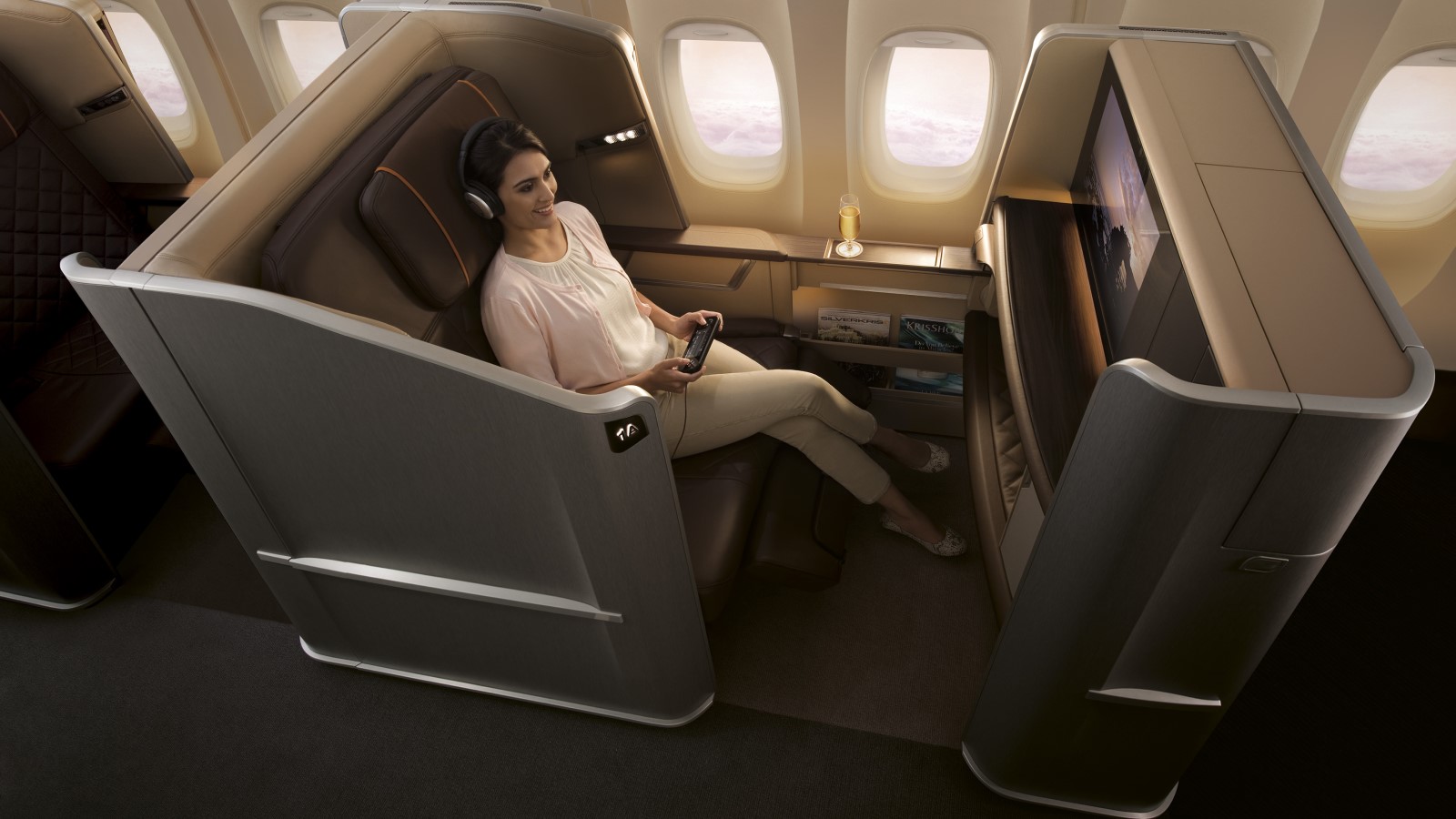 Singapore Airlines' First Class costs the same number of KrisFlyer miles as Suites, and it's what you'll instead find on the carrier's four-class Boeing 777 flights. These First Class seats adopt a more open style – no closing doors here. But with only four passengers in the cabin, privacy is still top-notch. Lounge access, inflight meals and beverage choices are mirrored across both First Class and Suites.
On flights from Australia, Singapore Airlines' better-than-business experiences are normally found from both Sydney and Melbourne to Singapore. Onward from there, First Class and Suites are often seen on routes to London, across Europe, the USA – and occasionally within Asia.
British Airways First
British Airways presents another option in First. Back flying its previous Sydney-Singapore-London route, BA's Boeing 787s ensconce eight First Class passengers. It's yet another way to spend your Qantas Points – or perhaps, any Avios you may have acquired.
You don't have to fly to London to take this flight, either. Sydney to Singapore can be booked as a standalone trip, as can Singapore to London. The full Sydney to London trek (via Singapore) is an option too. Whichever route you're taking, your ticket in First grants you access to the Qantas First lounges in Sydney and Singapore. You're also welcome to visit the British Airways lounge in Singapore – and of course, The Concorde Room when departing London Heathrow.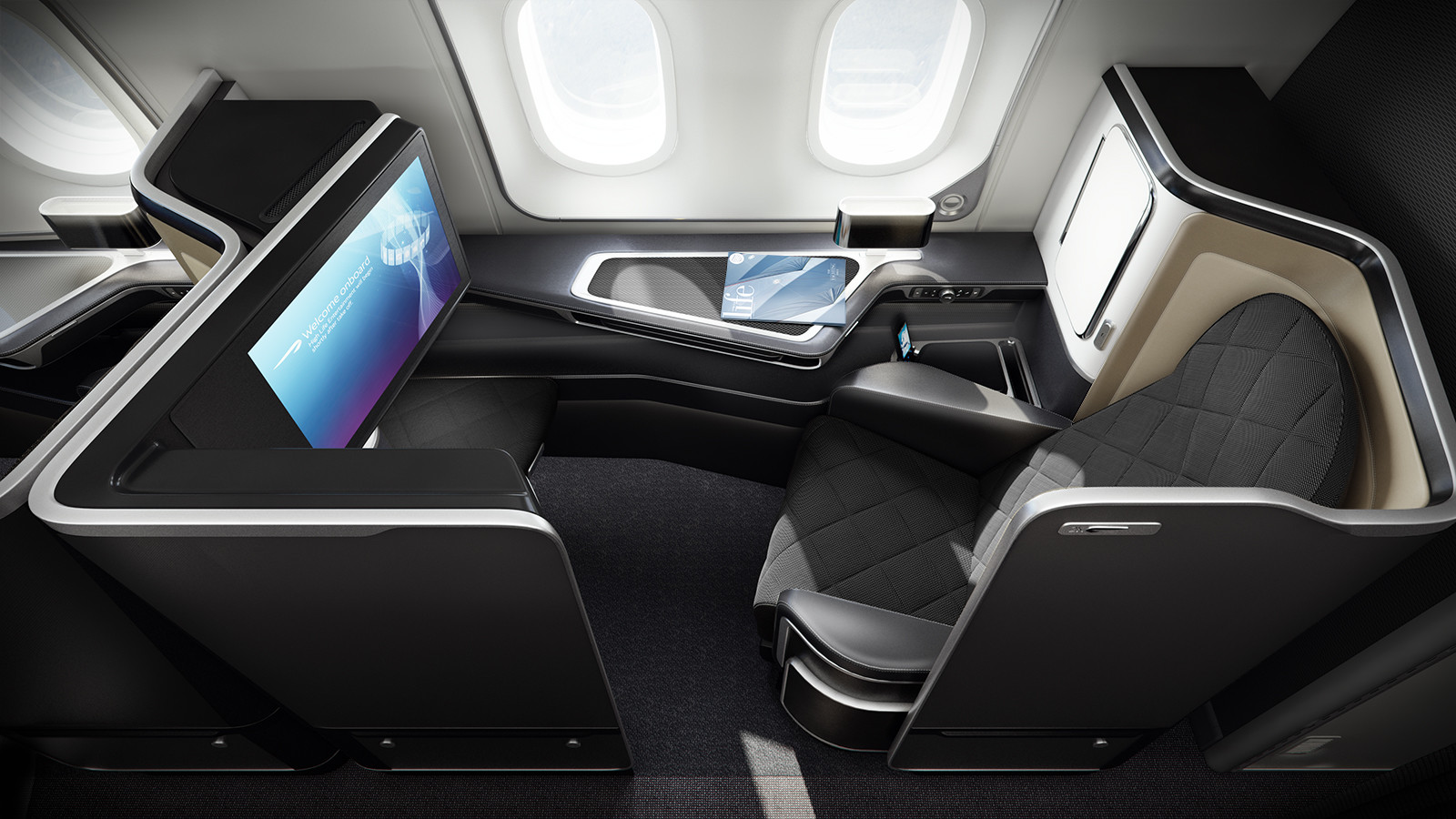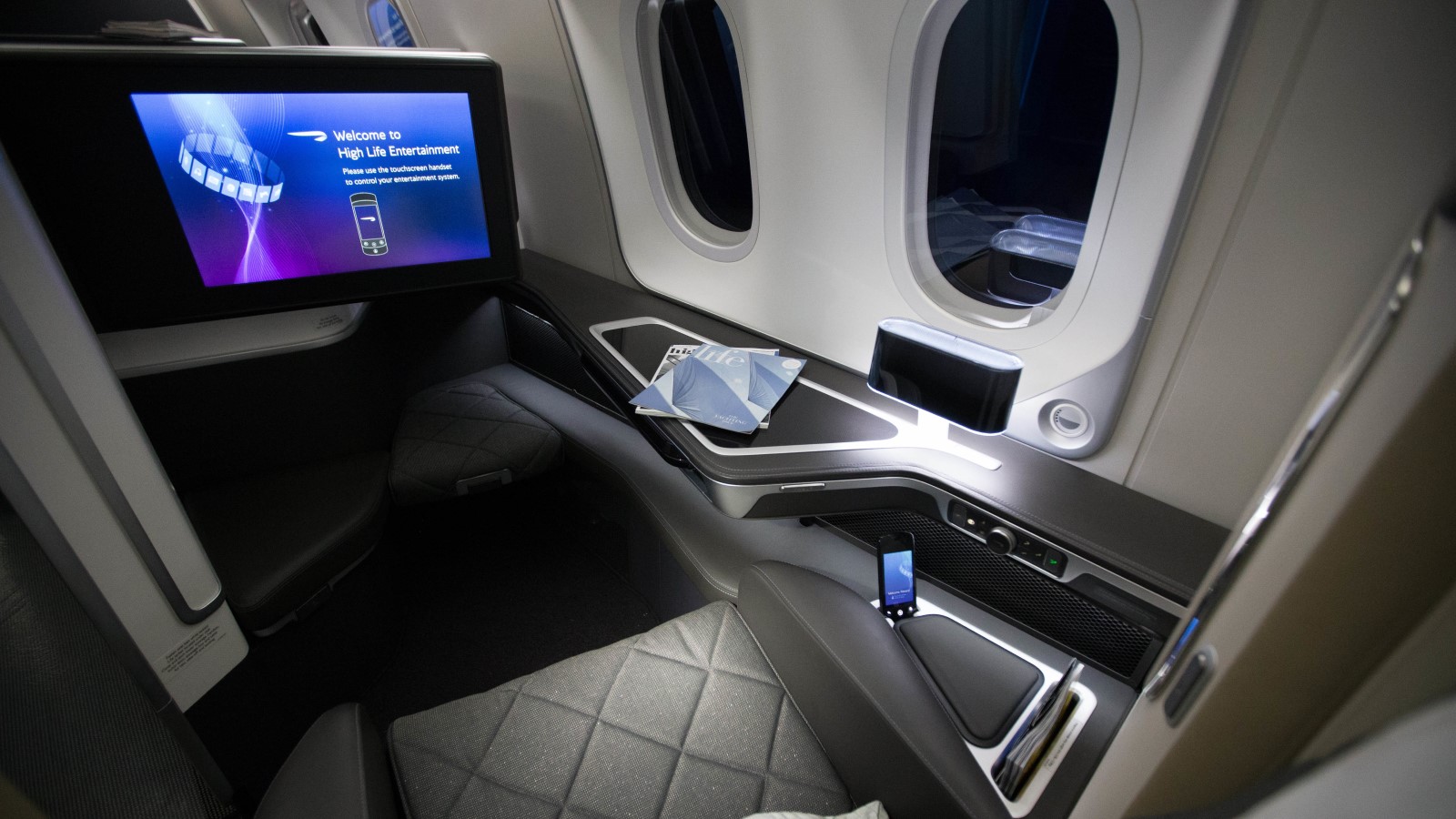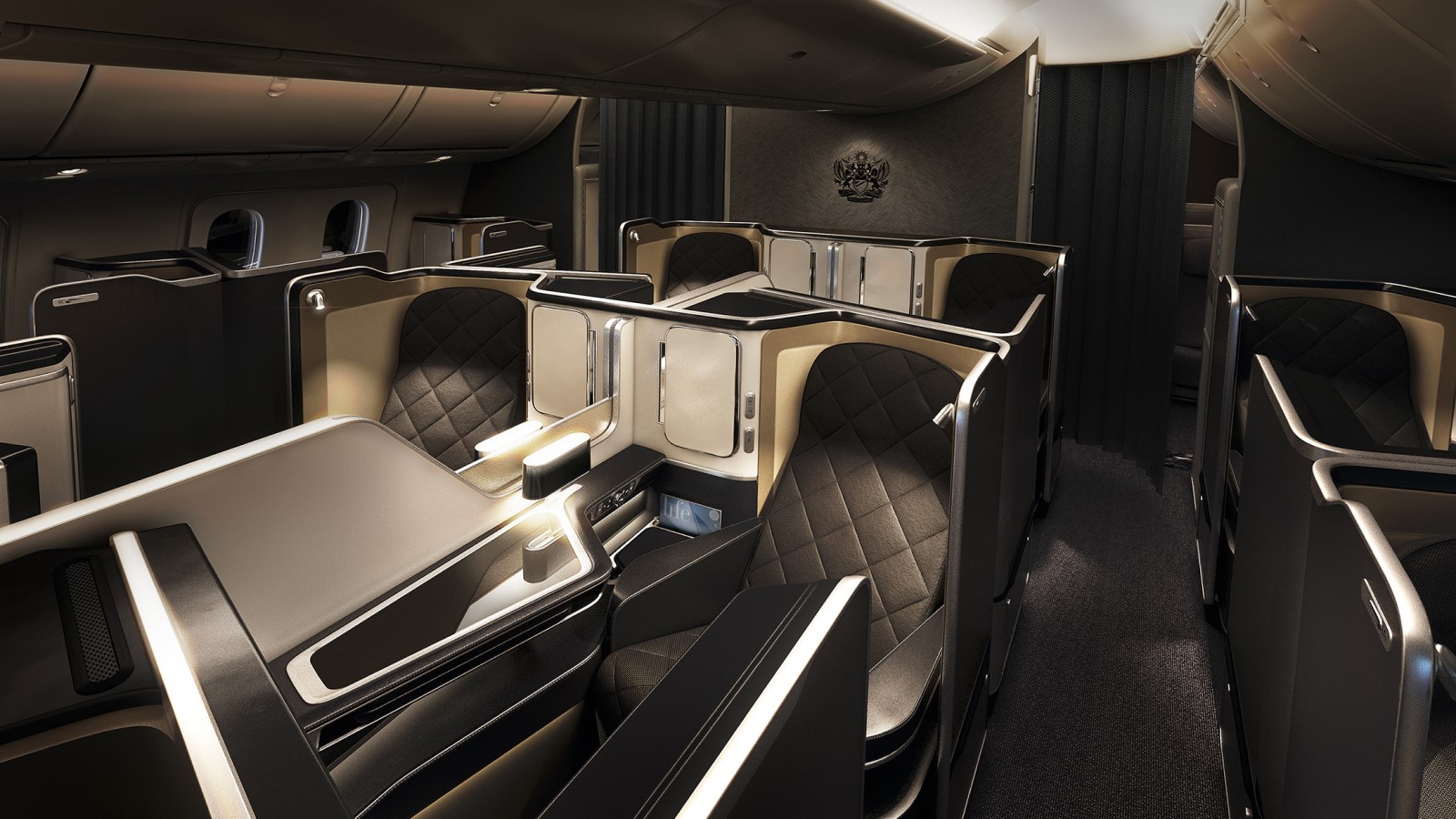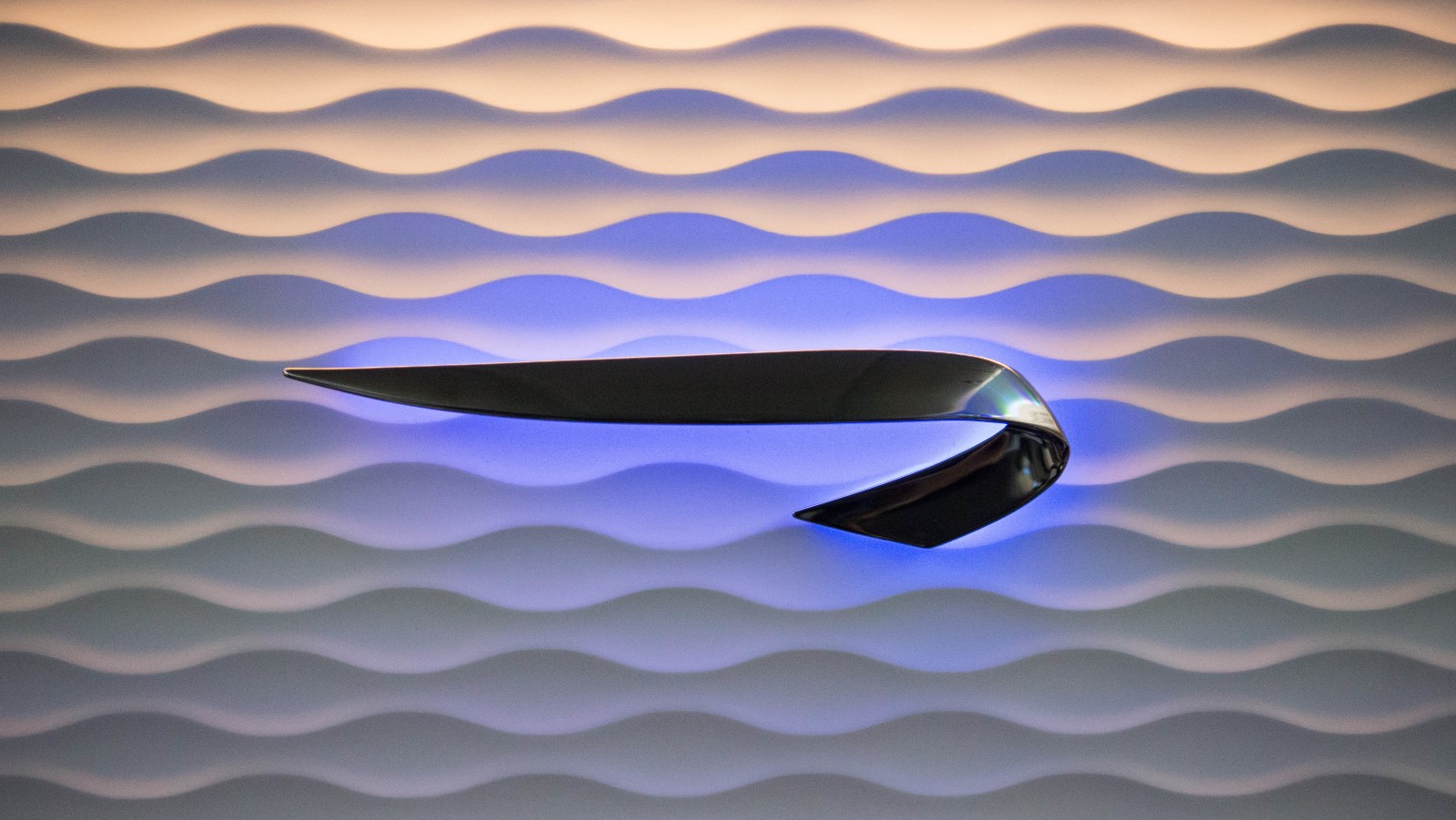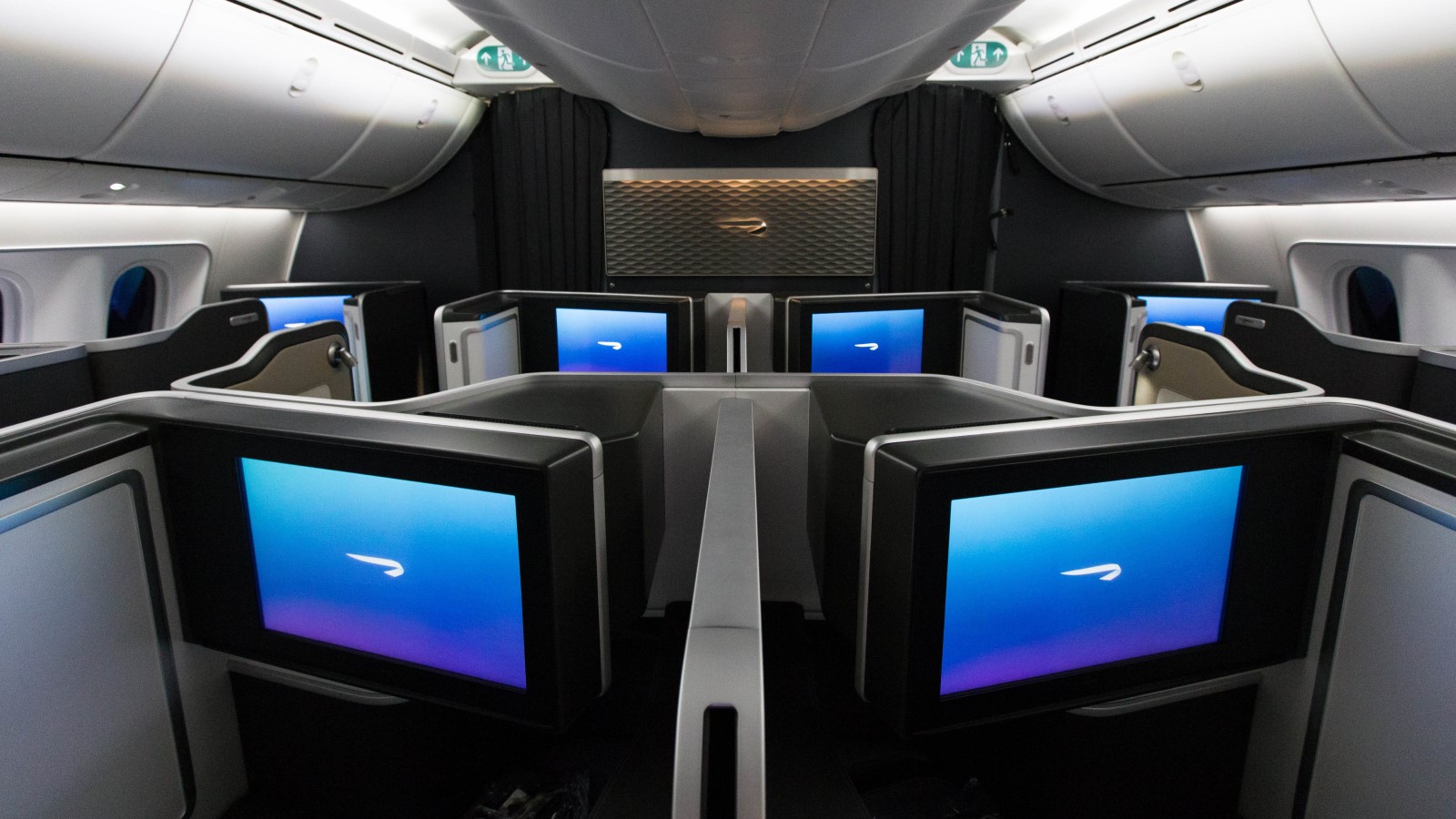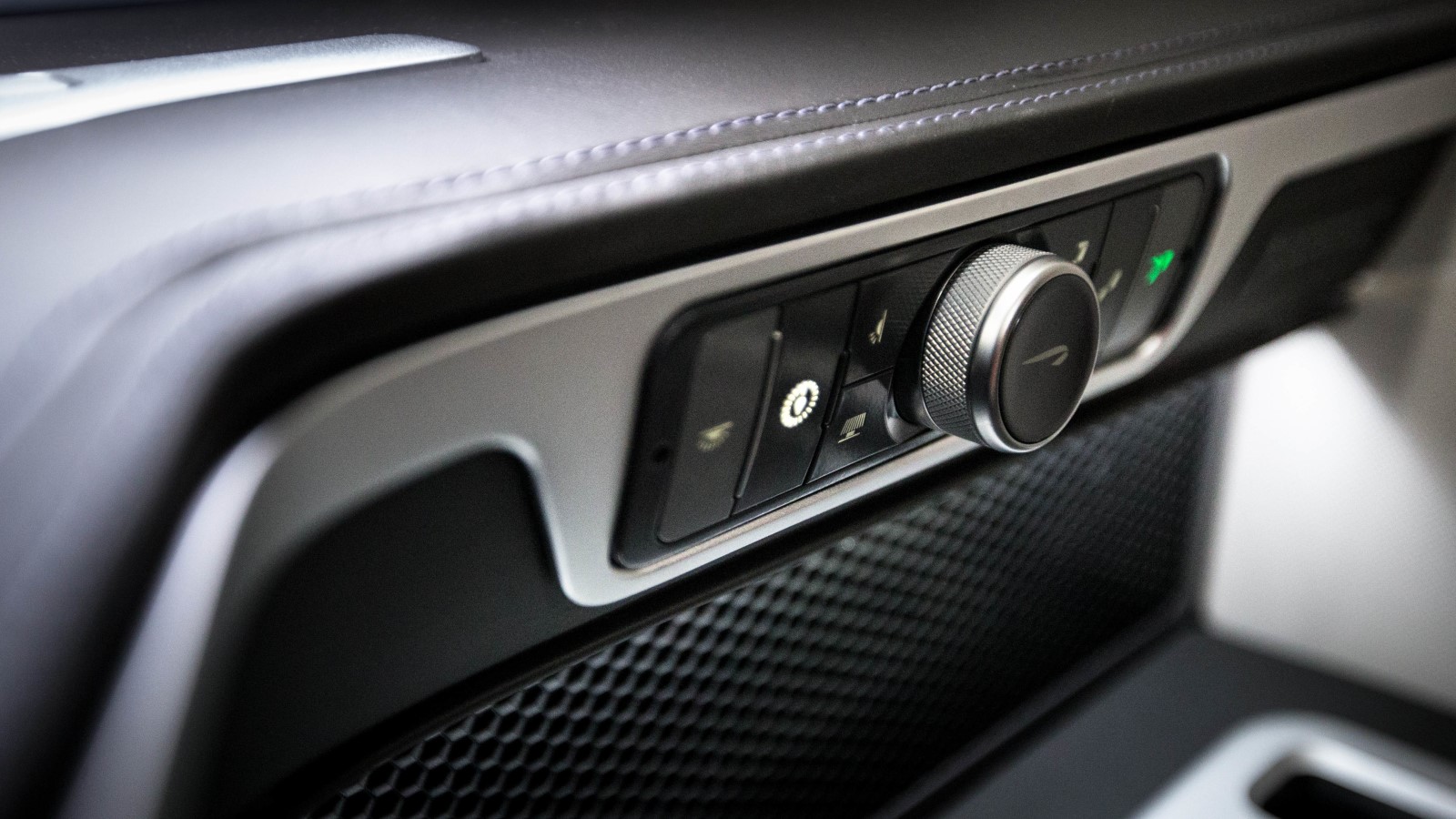 If you haven't flown BA First before, the seat might still be familiar to you. It's a customised version of the Cirrus Business Class seat used by airlines such as Cathay Pacific and Finnair. BA's version adds extra privacy to reflect the First experience, as well as BA branding. Though it's certainly more of a 'seat' than a 'suite'. British Airways contrasts that by going strong on inflight dining, beverages and service, which some travellers may appreciate more.
It's not always easy to find reward seats in BA First, but here's a tip. Quite often, British Airways unlocks extra reward seats in the days leading up to each flight. If you're able to book and travel at a few days' notice, it's a solid option to keep up your sleeve.
Ad – Scroll down to continue reading.Minimum spend, terms & conditions apply.
Connect to a First Class flight from Australia
Many airlines offer First Class, but not always on the aircraft flying to Australia. Still, you may be able to snag a First Class seat on your travels if your itinerary includes a connecting flight.
This opens the door to booking First Class on a wider range of airlines. Here are five of our favourites for Australian travellers, all bookable using frequent flyer points.
Cathay Pacific First Class
First Class most often greets Cathay Pacific passengers on the airline's longest flights. These include Hong Kong to London, Paris and other key points in Europe, and ports across the United States. Occasionally, it can appear on short hops too, like Hong Kong-Manila.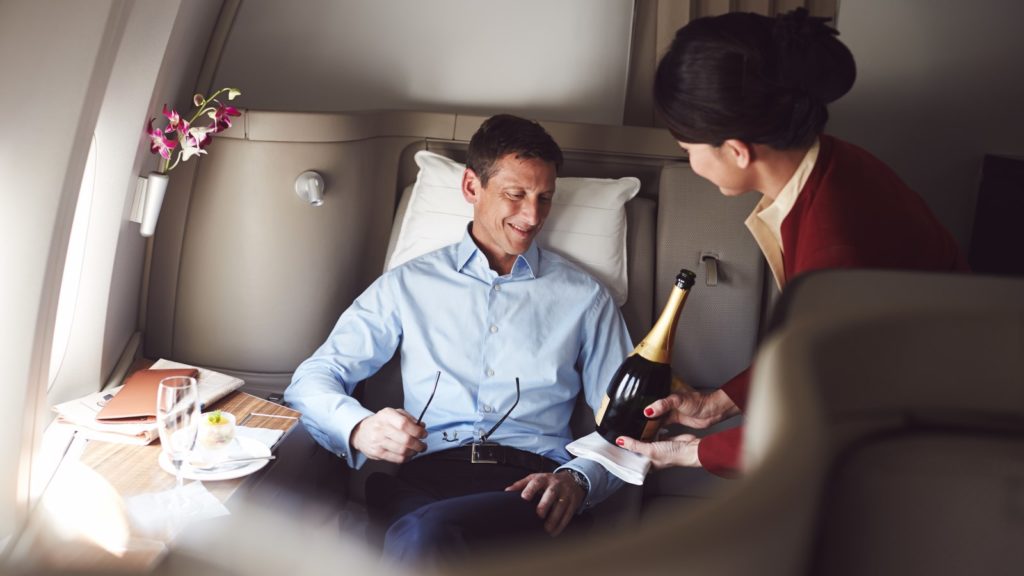 Cathay Pacific's Boeing 777s come equipped with six First Class suites. They're wide, and they're spacious, and oh so comfortable. They're yours to enjoy after living the high life in a Cathay Pacific First Class lounge. With time to spare, I typically head to The Pier First Class in Hong Kong for its terrific restaurant and relaxing spa treatment. However, The Champagne Bar within The Wing First Class is a close second!
You can book your Cathay Pacific First Class travels using Qantas Points, Cathay Pacific Asia Miles, or points from any other oneworld program.
But do note, due to travel restrictions in Hong Kong, Cathay Pacific doesn't open its full suite of lounges right now. Flights to Australia and other global destinations are also reduced – even while international transit passengers are allowed back through Hong Kong.
Our advice? Keep this one up your sleeve for a later date.
Etihad Airways First Class
Prior to COVID-19, Etihad Airways offered regular First Class flights to Australia. But right now, the airline's services to Sydney and Melbourne top out at Business Class. This means you'd fly Business Class on the first leg of your journey to Abu Dhabi but may then be able to connect onto a First Class flight.
Flying First Class was previously possible on the airline's Airbus A380s and its Boeing 777s. However, the A380s remain in long-term storage, and the Boeing 777s are soon to be retired. Etihad is currently flying Boeing 777s on its Australian routes but doesn't appear to be selling First Class, even on planes where the seats are fitted.
This leaves Etihad's Boeing 787 Dreamliners – some of which offer a First Class cabin.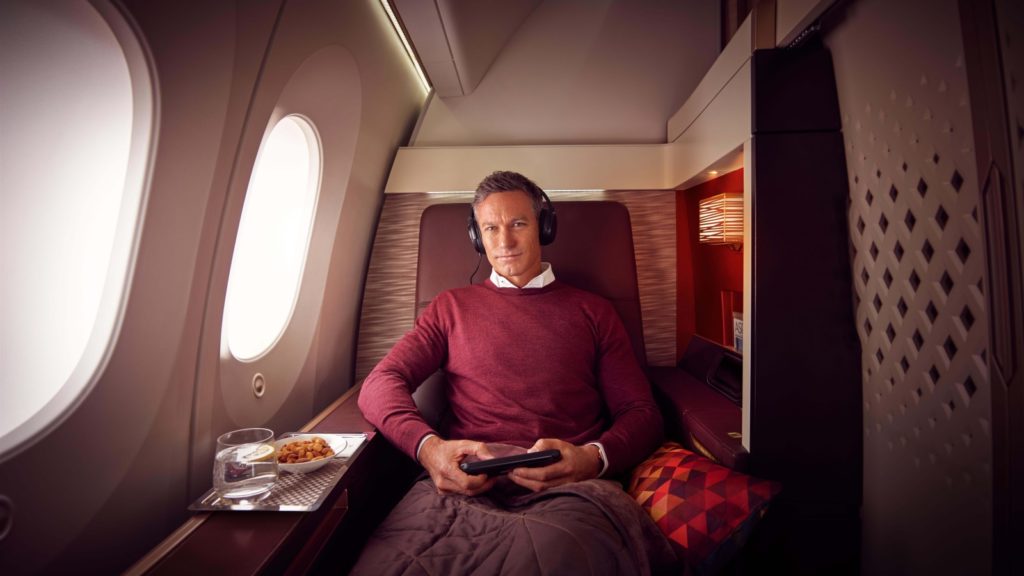 With closing privacy doors and plenty of storage, Etihad's Boeing 777 First Class seats tick most of the boxes. The best way to book your experience is to use Etihad Guest Miles or Virgin Australia Velocity Points. Within Australia, Etihad Miles is easy to earn through credit cards partnered with Etihad Guest, such as those attached to American Express Membership Rewards.
Qatar Airways First Class
Qatar Airways exclusively offers First Class aboard its Airbus A380s. These had been flying to Australia pre-COVID and have now returned to the Sydney-Doha route. They also fly from Doha to destinations such as London (Heathrow) and Paris (Charles de Gaulle).
First Class lives on the upper deck of Qatar's A380s. These are more 'seats', as opposed to private 'suites', without the closing doors of its competitors. But still, with a cabin of just eight passengers, your voyage will be an enjoyable one. It also includes access to Qatar Airways' famed Al Safwa First Class Lounge in Doha. One of the world's most spacious First Class lounges, Al Safwa offers restaurant dining, spa services – and above all else, peace and quiet.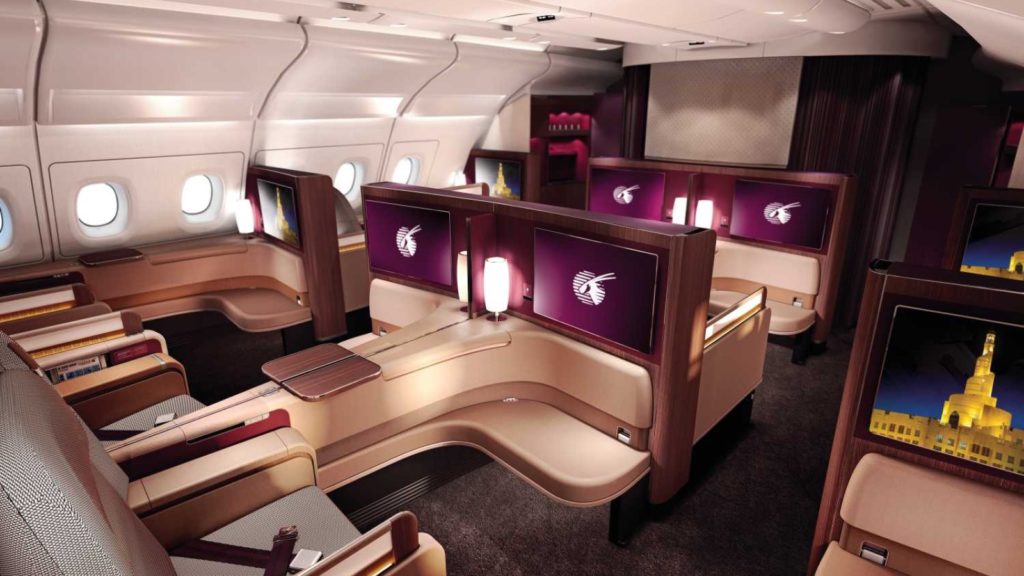 Qmiles earned through the Qatar Airways Privilege Club program can help secure your First Class seat. You can also use Qantas Points. However, you'll need to call Qantas to book any itineraries that commence in Doha, as these can't be booked online. Points and miles from other oneworld programs – like Cathay Pacific Asia Miles – are useful here too.
All Nippon Airways (ANA) First Class
With Boeing 787 flights between Sydney and Tokyo, ANA's Australian services are again capped at Business Class. But the airline offers First Class on many of its Boeing 777 routes. You'll find these onwards from Tokyo to places like New York and London.
Occupying just two rows, First Class on ANA is a secluded affair. Seats against the windows are ideal for solo flyers. Those in the centre are instead great for pairs, particularly with the dividing wall opened in between. Wherever you sit, you're treated to on-demand dining. This means you can eat what you like – yum! – and dine when it suits your schedule, not that of the airline. ANA also offers First Class on its small fleet of Airbus A380s.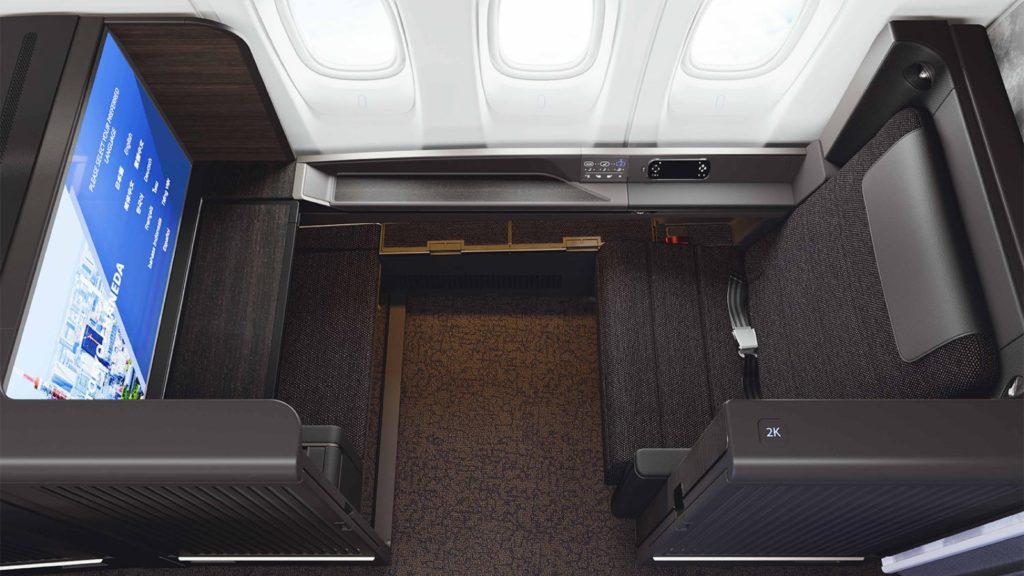 ANA maintains a multitude of frequent flyer partnerships. Certainly, you can use miles from Star Alliance programs like Singapore Airlines KrisFlyer and United MileagePlus. But you can also spend Virgin Atlantic Flying Club points, and Etihad Guest Miles, on ANA. Flying Club and Etihad Guest are both conversion partners of American Express Membership Rewards. This makes it easier to book your First Class jaunt from points accrued through credit card spending.
Japan Airlines First Class
Like its local competitor, Japan Airlines (JAL) saves First Class for its Boeing 777 routes. Sydney was previously among that roster but has reverted to Boeing 787 services instead, sans First Class. But from Tokyo (Haneda), those Boeing 777s regularly fly to places like New York, London and Paris.
With eight open seats, JAL First Class covers the first two rows of these Boeing 777s. A 1-2-1 layout offers similar attributes as ANA. That means window seats suit solo flyers, and the middle pairs are sure to be appreciated by couples. On the ground, your JAL First Class ticket grants you access to JAL's First Class lounges. It also unlocks various oneworld First Class lounges, when flying from other airports.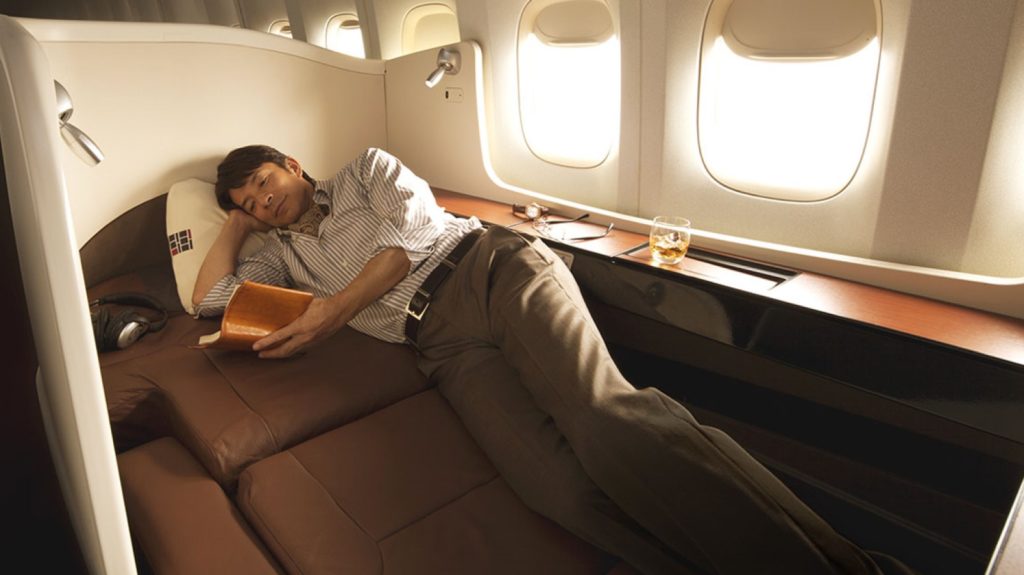 For Australian travellers, JAL First Class is the easiest to secure using Qantas Points. Other oneworld programs like Alaska Airlines Mileage Plan and Cathay Pacific Asia Miles can also get you into First Class. Just note, JAL's partnership with Emirates' popular Skywards scheme only covers earning Miles in First Class. When spending Skywards Miles on JAL, travel can only be in Business Class or Economy Class – not up front in First Class.
Summing up
Your hard-earned points can be your ticket to flying First Class on a host of airlines – the dream of any avid frequent flyer. Even with many carriers suspending First Class on Australian routes, First may be available when taking a connecting flight. Sometimes, you just need to be creative or to search a little harder for options.
Still, we expect to see even more First Class seats flying into Australia by the end of 2022. That's particularly true as other countries ease travel restrictions, and airlines get their larger flagship planes back into the skies.
Given Australia's location on the map, long international flights are the norm Down Under. And what better way to spend 24 hours in the sky than in the luxury of First Class?
---
Stay up to date with the latest news, reviews and guides by subscribing to Point Hacks' email newsletter.
Which airlines offer First Class in 2022?
was last modified:
August 29th, 2022
by