I have been fortunate to experience both the new Singapore Airlines A380 Suites and Business Class products over the last year, so when the airline took delivery of its newest aircraft type, the Boeing 787-10 with an all-new regional Business Class product, I had to find a way to fly it.
The Boeing 787-10 is set to replace the aging Airbus A330 used on flights up to eight hours.
I recently took advantage of a great value fare on Finnair from Bangkok to Europe, meaning I had to position to Bangkok from Sydney. This was the perfect opportunity to experience the new aircraft between Singapore and Bangkok.
Aircraft
Singapore Airlines was the launch customer for the Boeing 787-10 variant and it currently has 14 in its fleet with 35 more on order.
The aircraft features 36 Business Class seats in a single cabin with seats configured 1-2-1 and 301 economy class seats split over two cabins in a tight, but common, 3-3-3.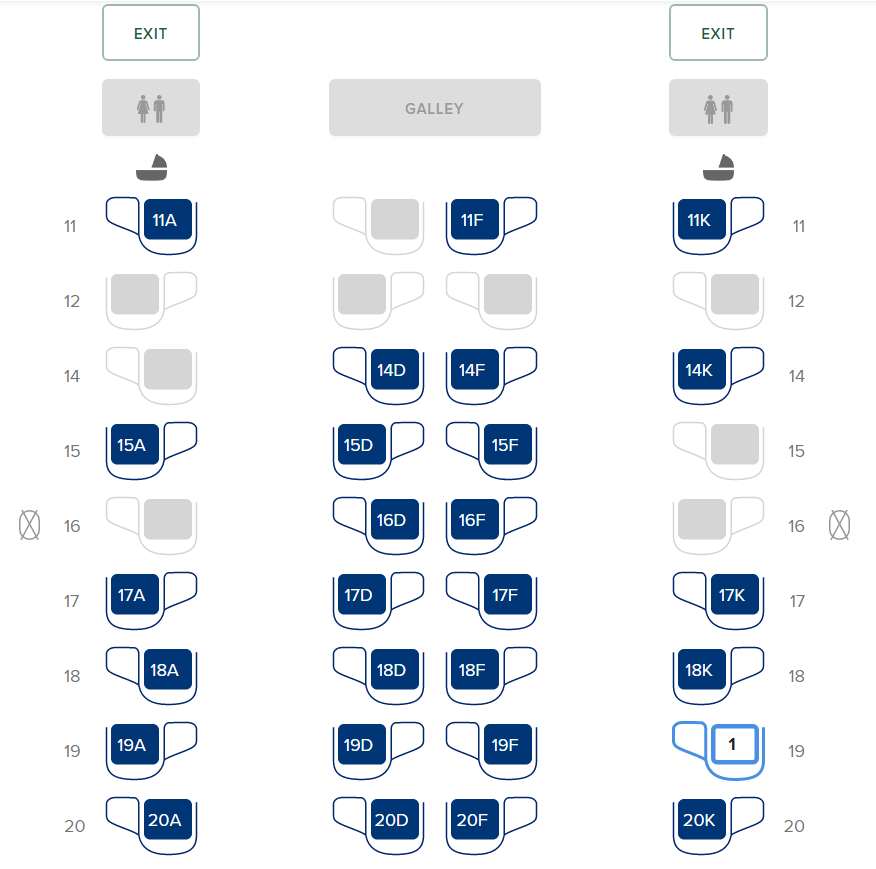 With 14 already in service, they're currently operating between Singapore and places like Perth, Osaka, Seoul and Taipei.
The aircraft, 9V-SCH, is Singapore Airlines fourth-delivered Boeing 787-10 and was just six months old.
Business Class cabin & seats
The new Boeing 787-10 aircraft debuts Singapore Airlines new regional cabin products and it looks fantastic boarding.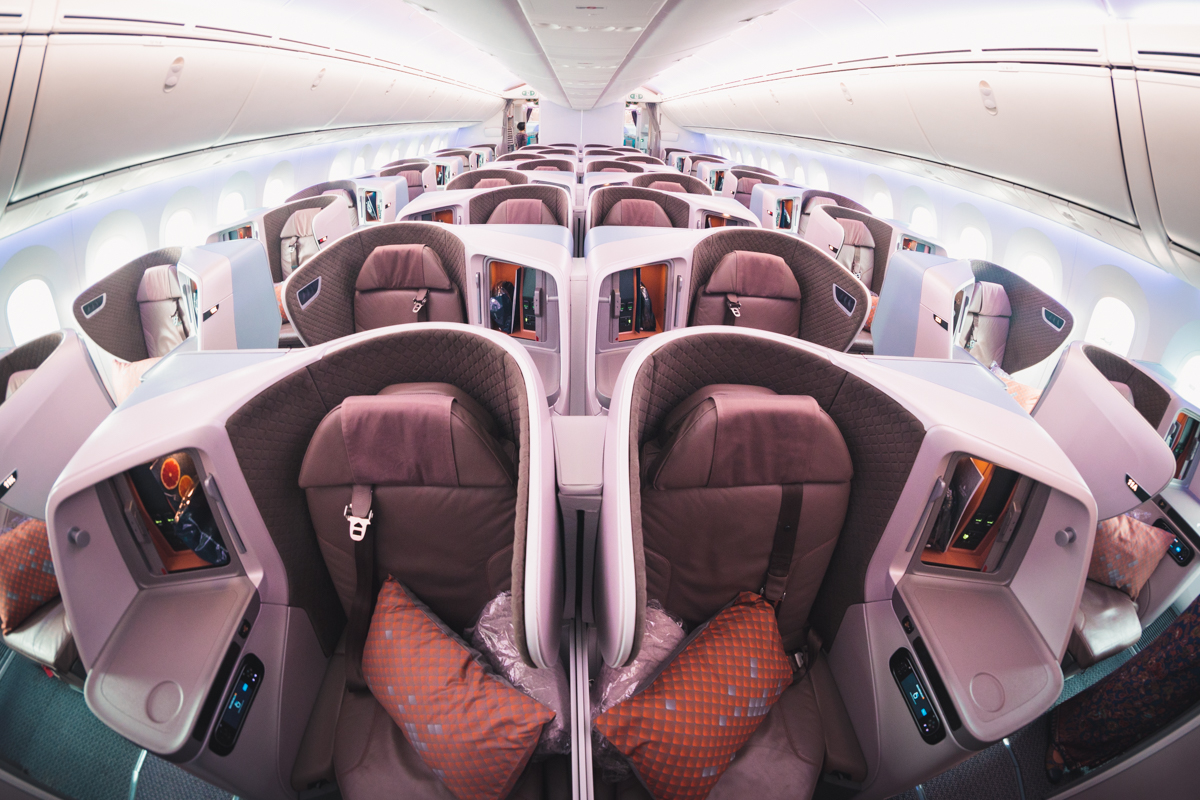 The dark leather seats contrast against the light colour seat shells, with bursts of orange from the pillow and storage compartment. Soft blue overhead LED lighting completes the look.
The airline selected the off-the-shelf Symphony seat from Stelia Aerospace which features a forward-facing staggered configuration that differs from the custom seat design on the carriers A350 and A380 aircraft.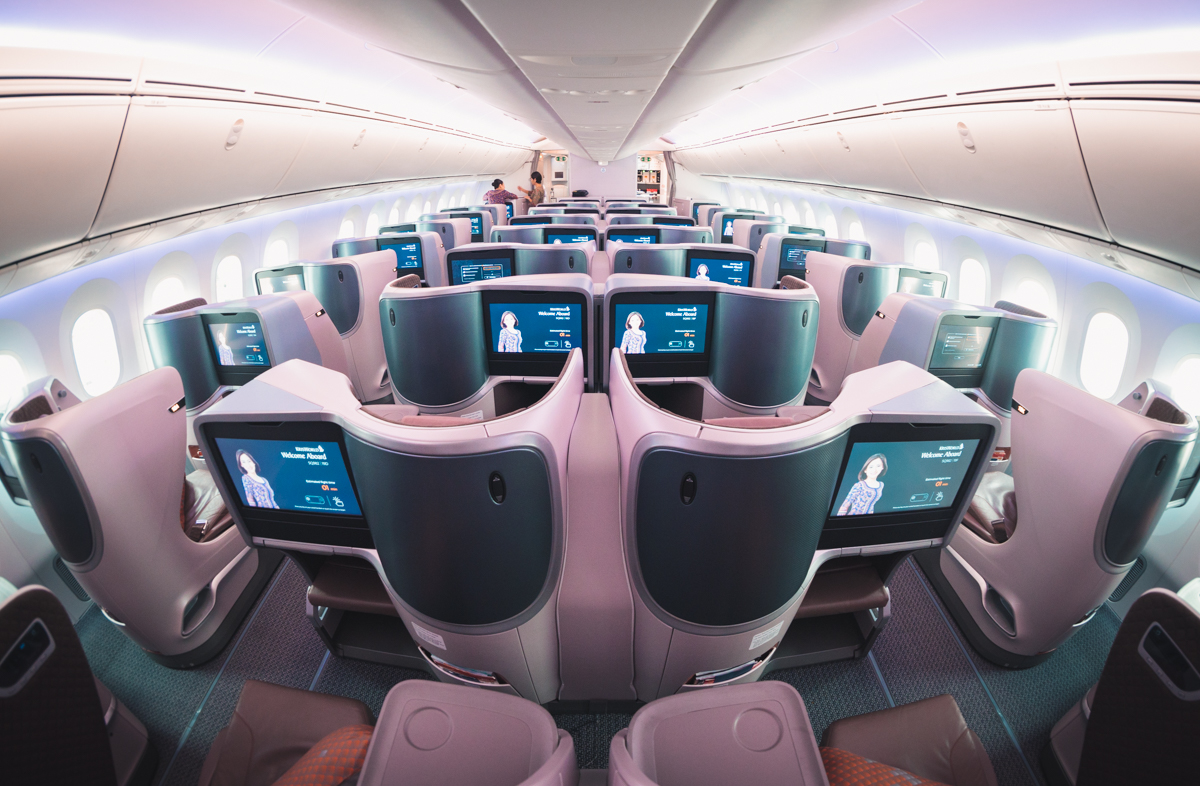 The staggered seats ensure each passenger has direct aisle access, which is a welcome departure from the 2-2-2 product it replaces.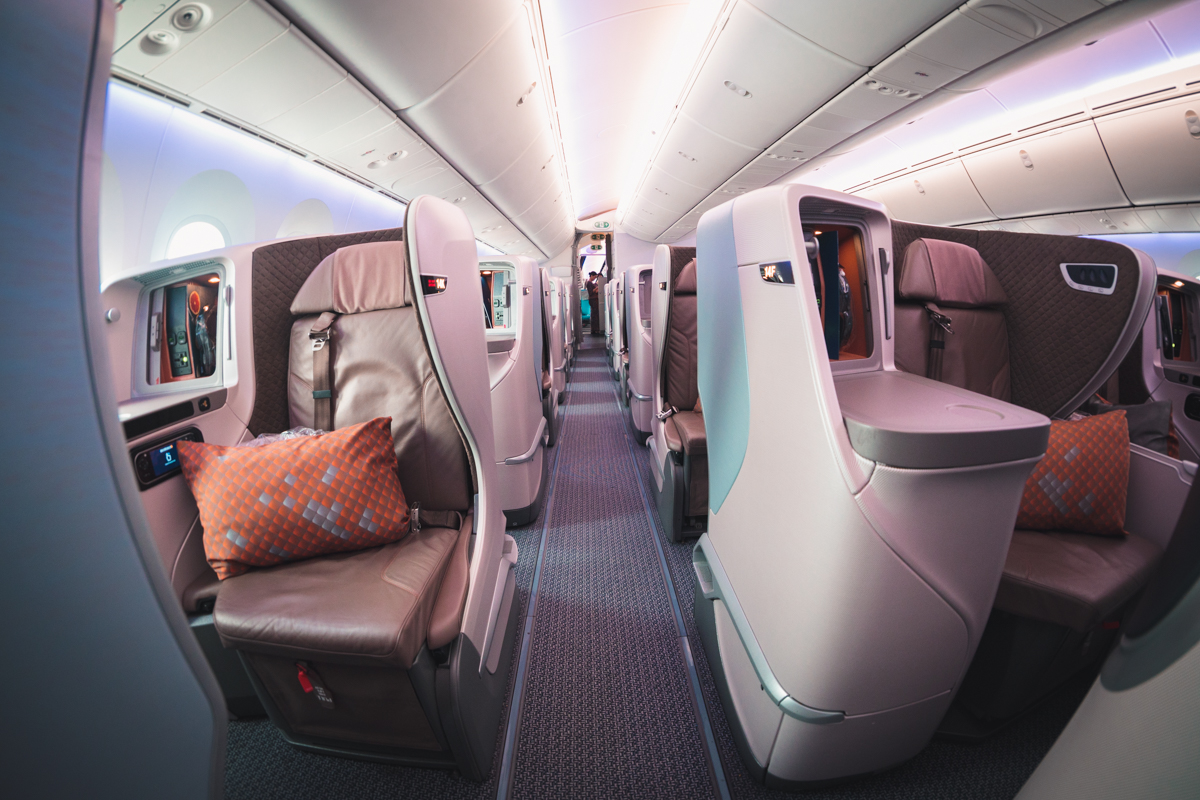 Under the 18-inch HD monitor, the tray table slides out in half and then unfolds to full size.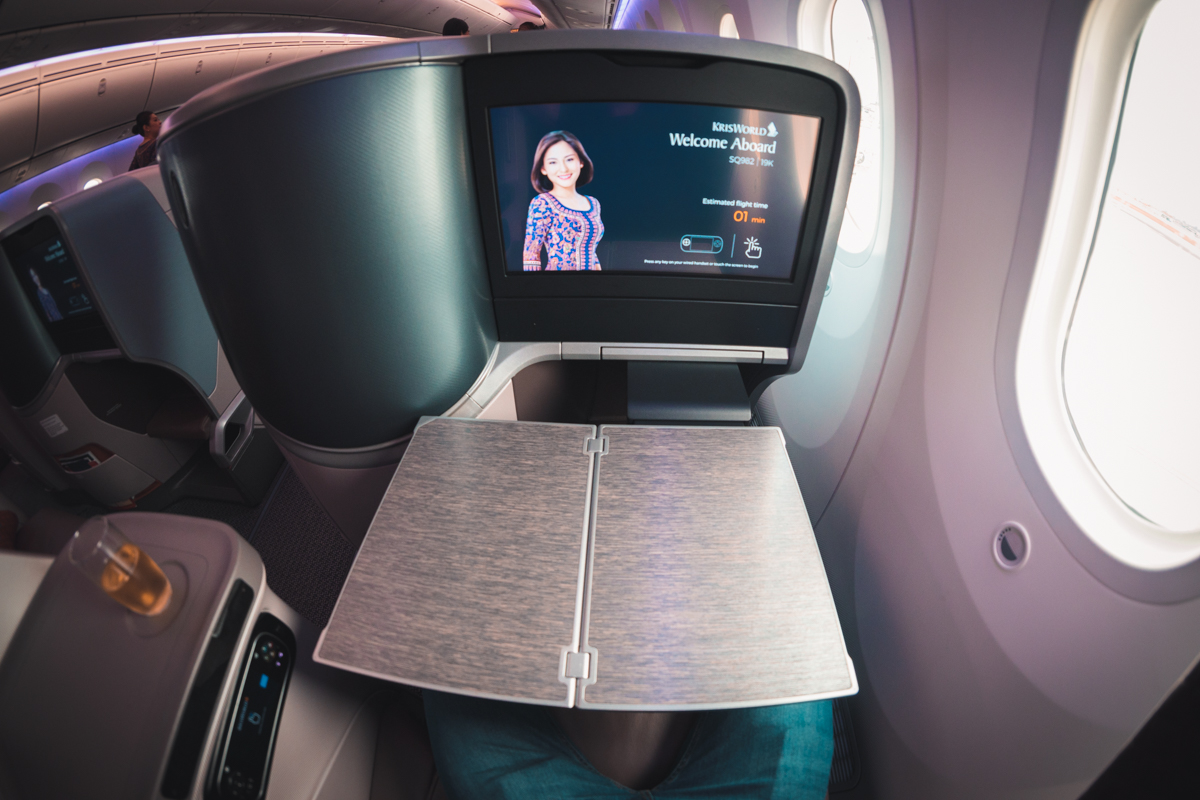 I was really surprised by the size of the foot cubby for a 'regional' seat. I actually had less space in the connecting Finnair long-haul Airbus A350 Business Class seat!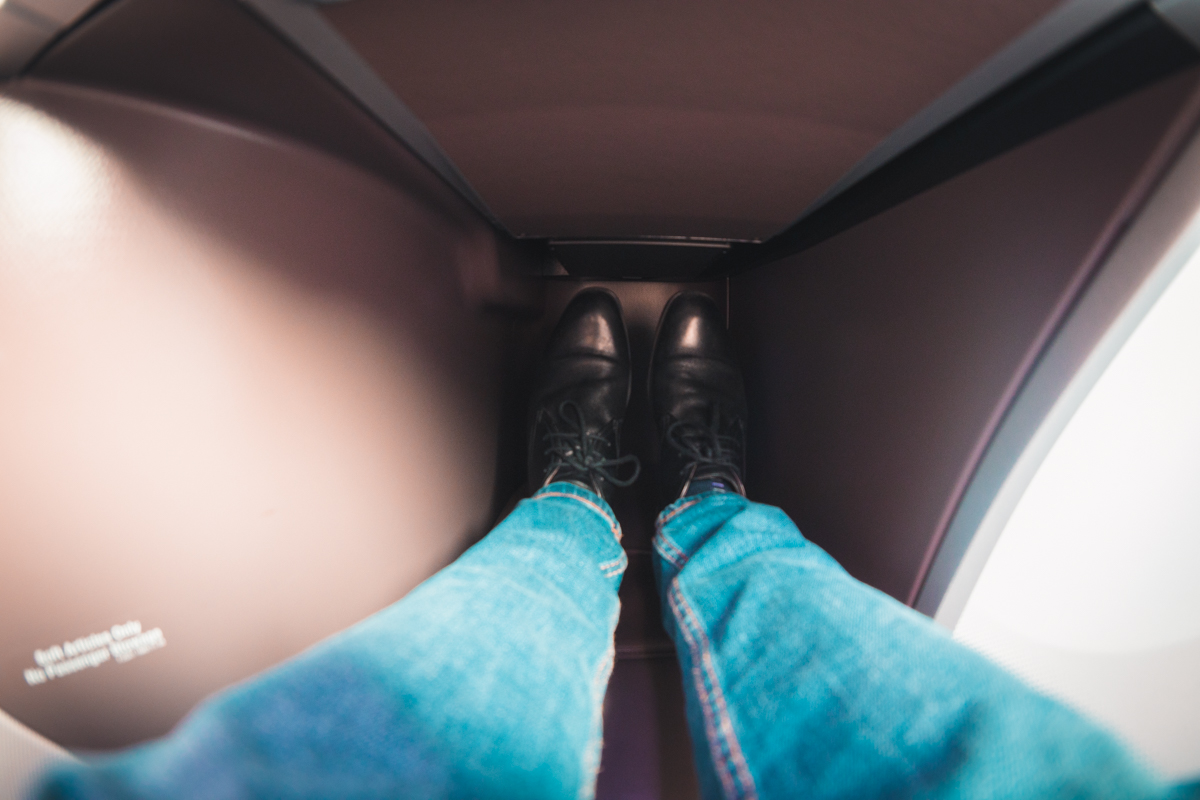 Under this is a storage compartment for either your shoes or a small backpack/bag.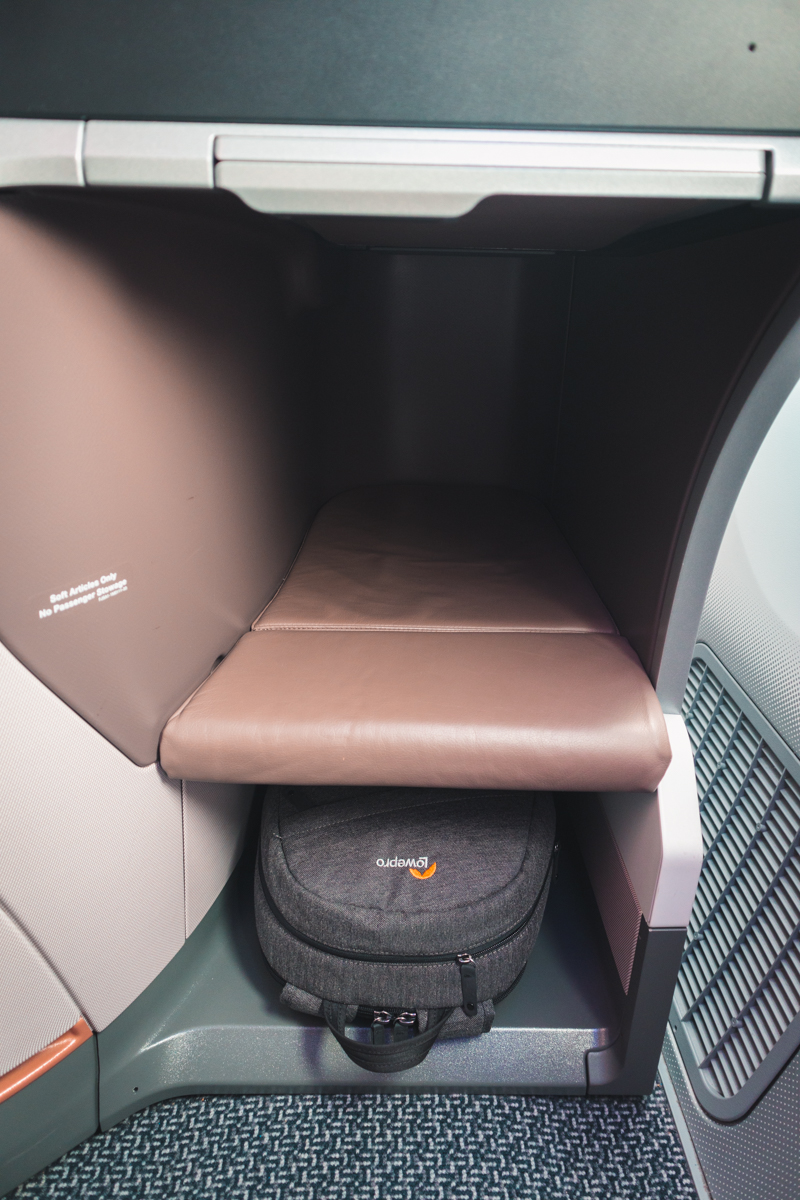 The literature pocket is on the aisle.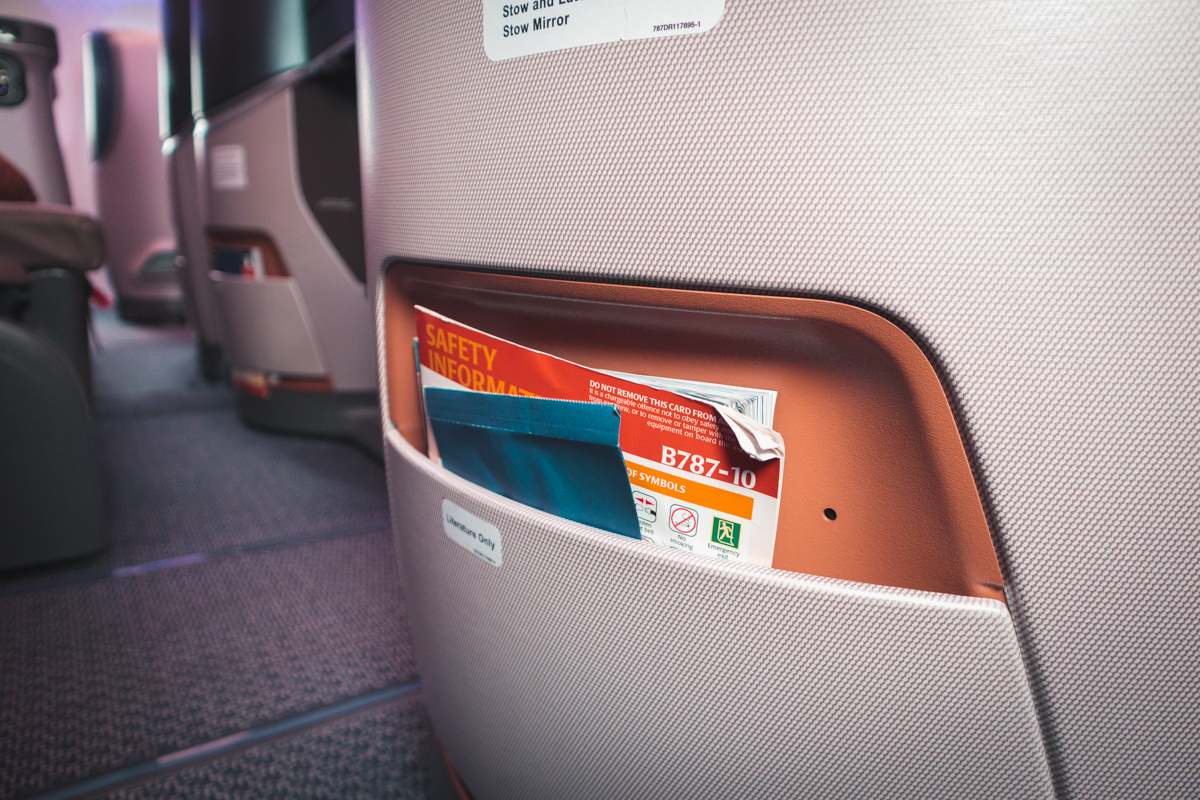 Over your shoulder is a storage compartment which is open upon boarding and houses the noise-cancelling headphones and dining menu.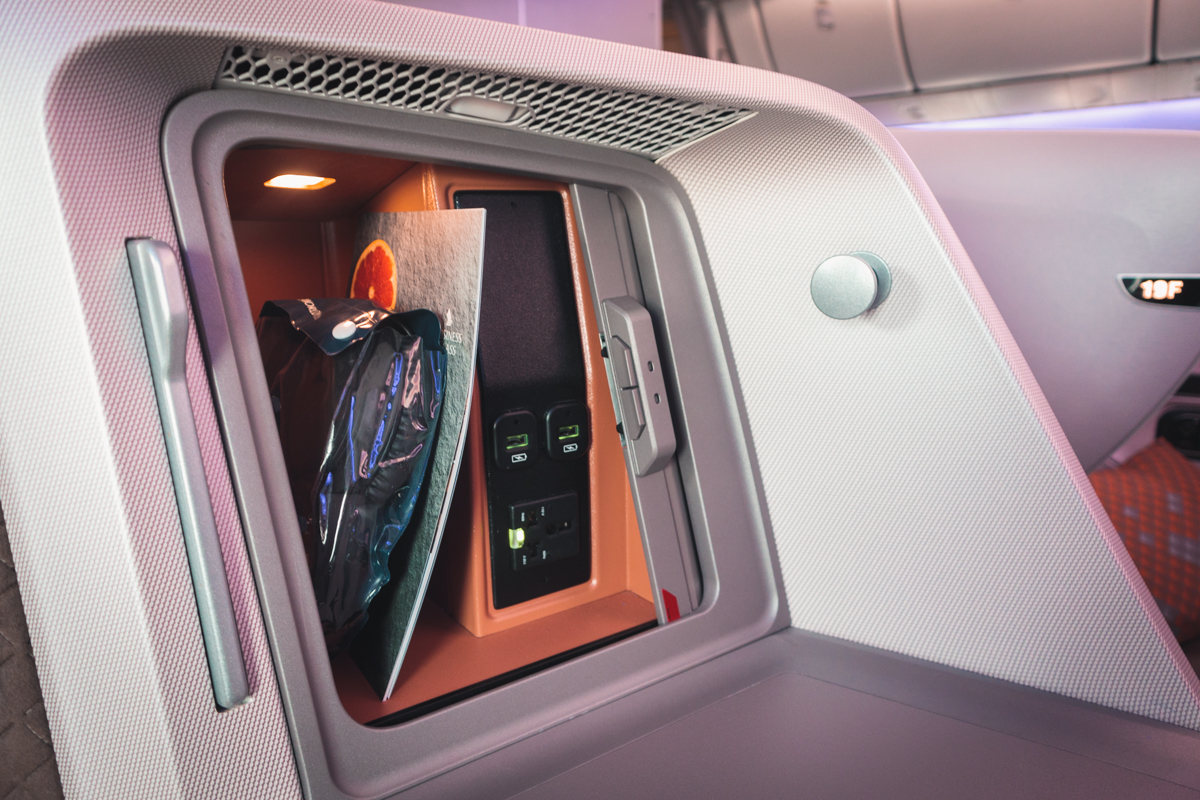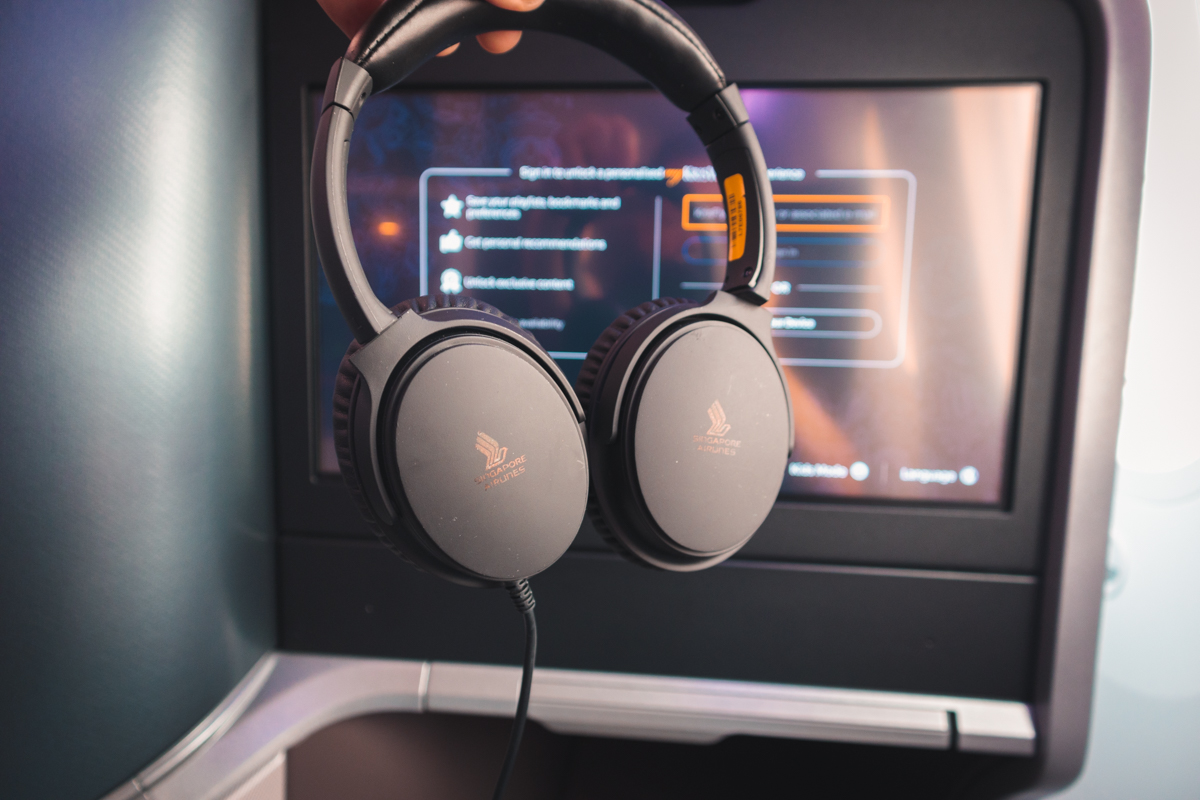 Also inside are two high-speed USB ports and a universal power adapter. This compartment must be closed for taxi, take-off and landing.
On the leading edge of the console is the headphone adapter and touch-sensitive buttons for all key seat features including lighting, seat position, crew calling and the do not disturb function.
Under this is the touchscreen IFE remote.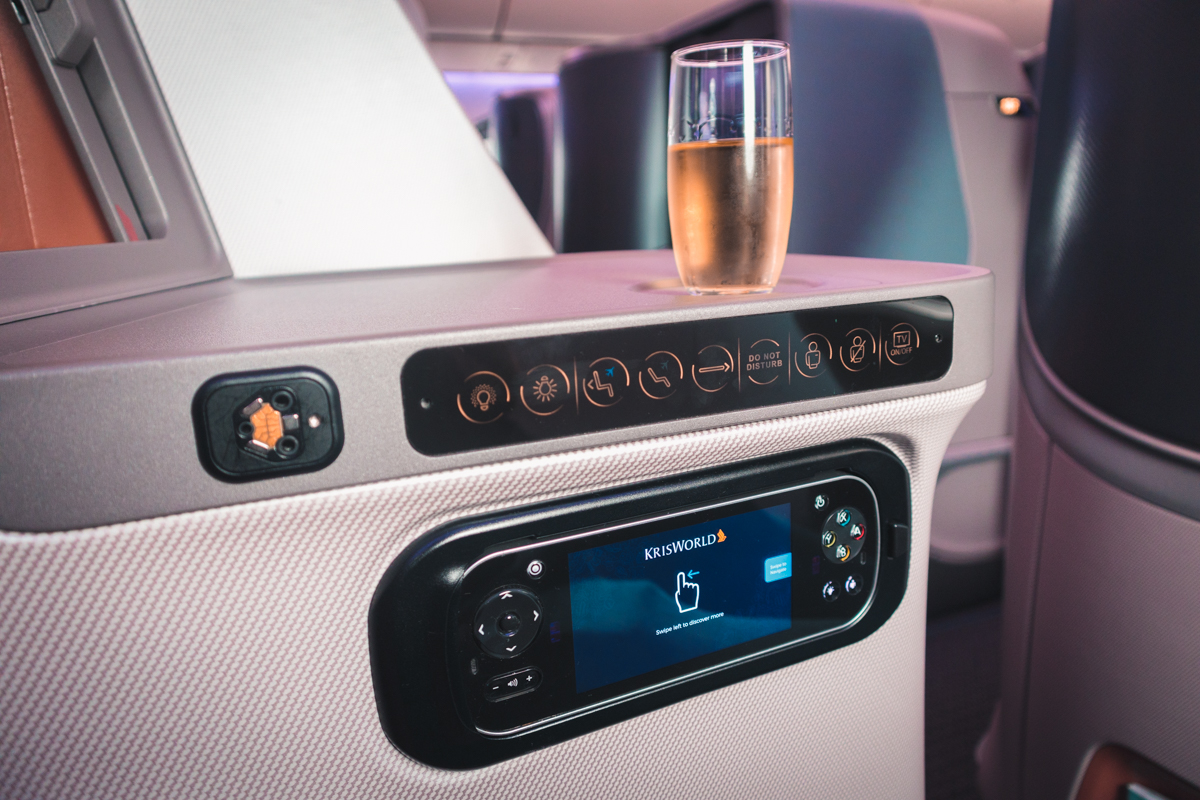 Over your other shoulder, on the seat shell is a three-spot light with adjustable brightness.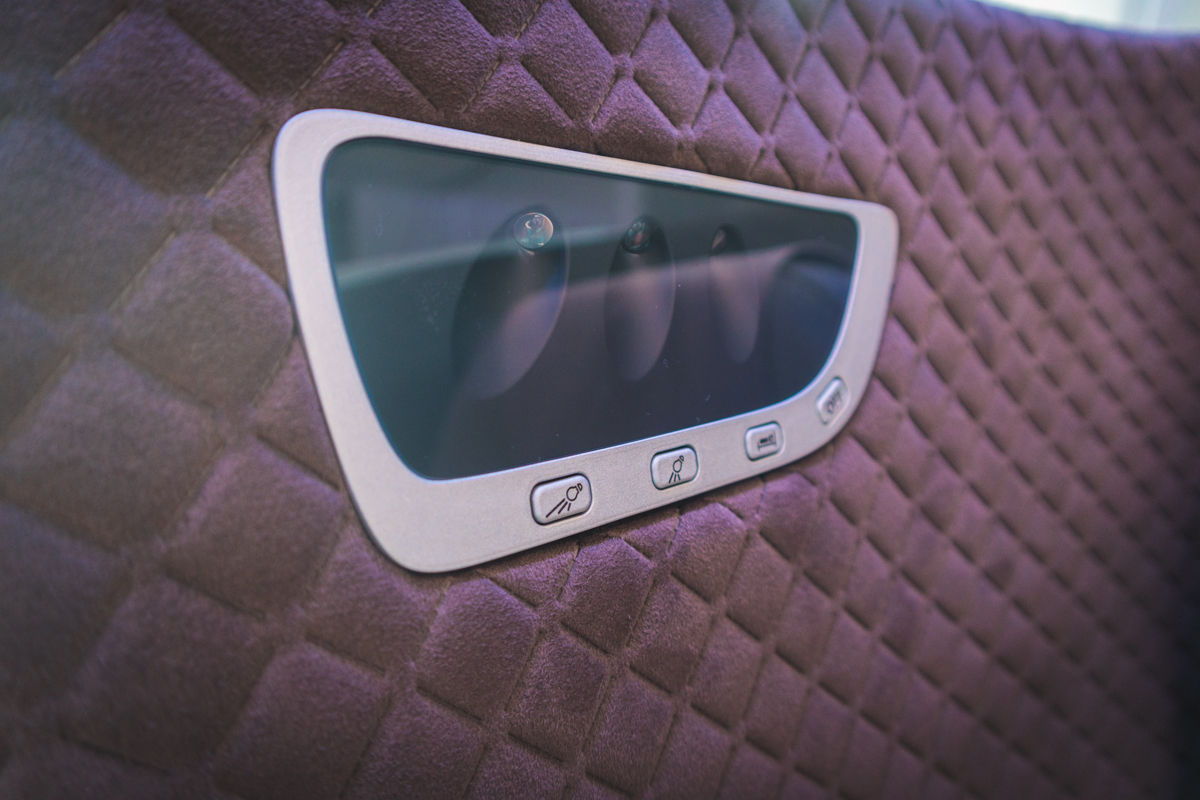 The padded and quilted alcantara feels luxurious and helps with noise insulation.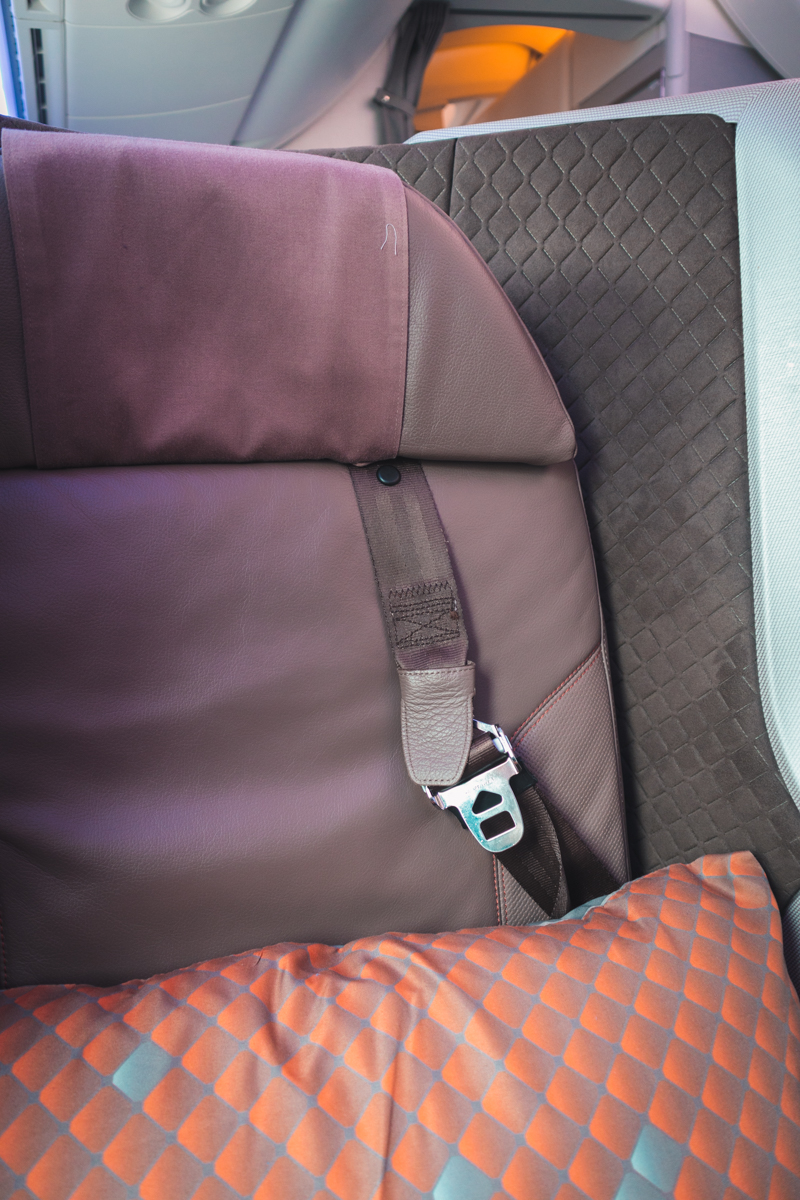 The seats measure 20 inches in width which was fine for me but will be tight for larger passengers.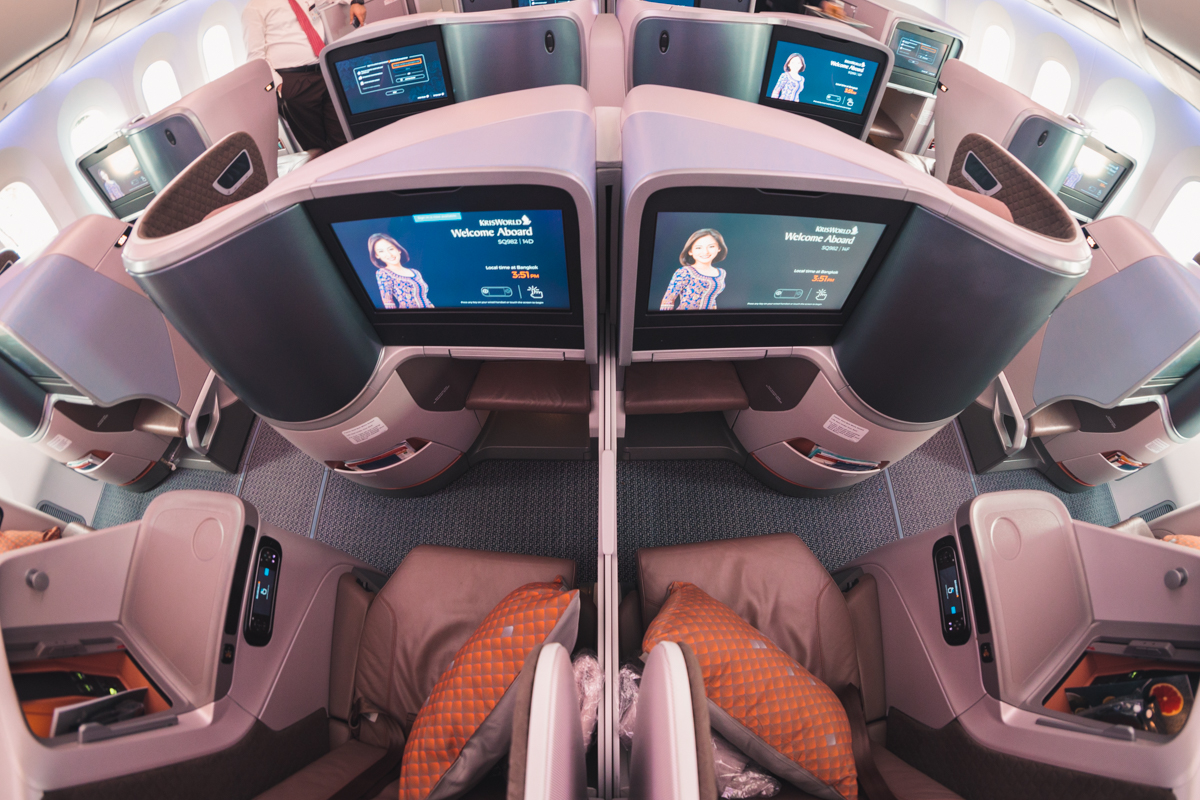 Both armrests can be lowered to add 6 inches extra width when you're ready to sleep or if you just need extra room.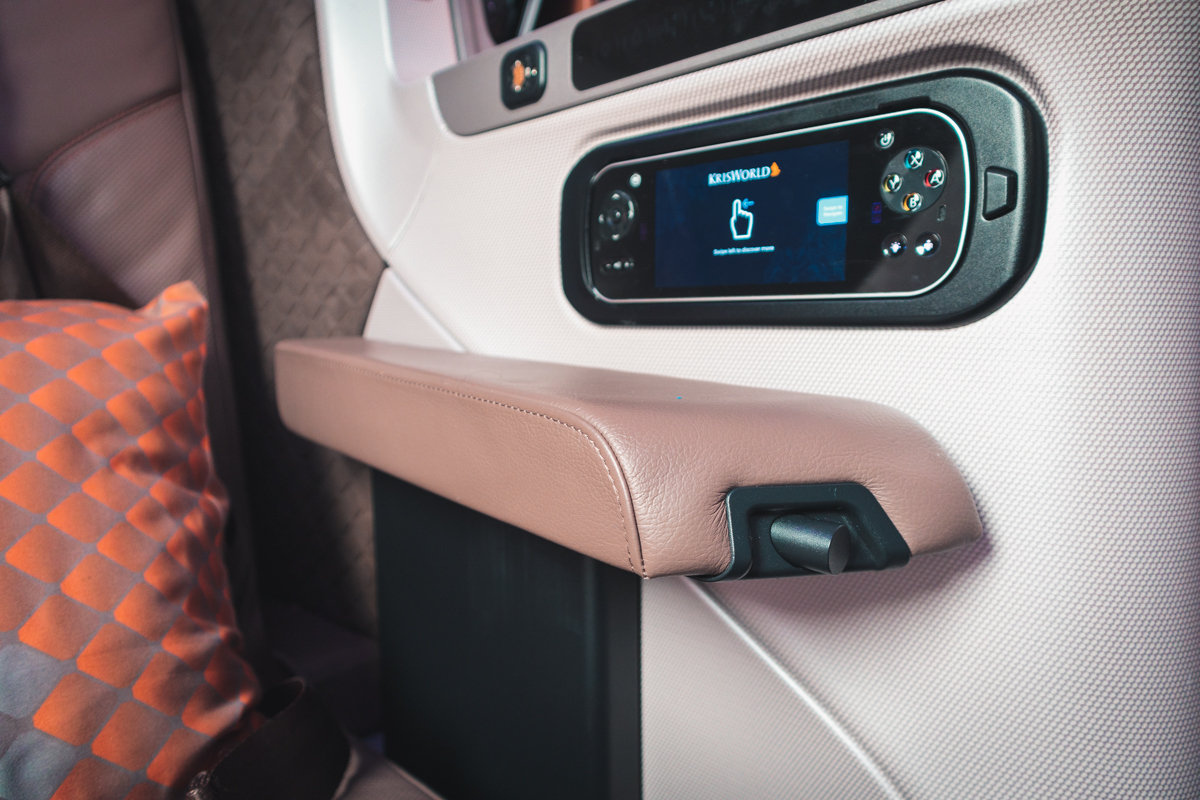 I wear an XS shirt size to put these photos into perspective.
Each seat reclines into a 76-inch (1.93m) fully flat-bed which is also a huge improvement over the existing recliner seats.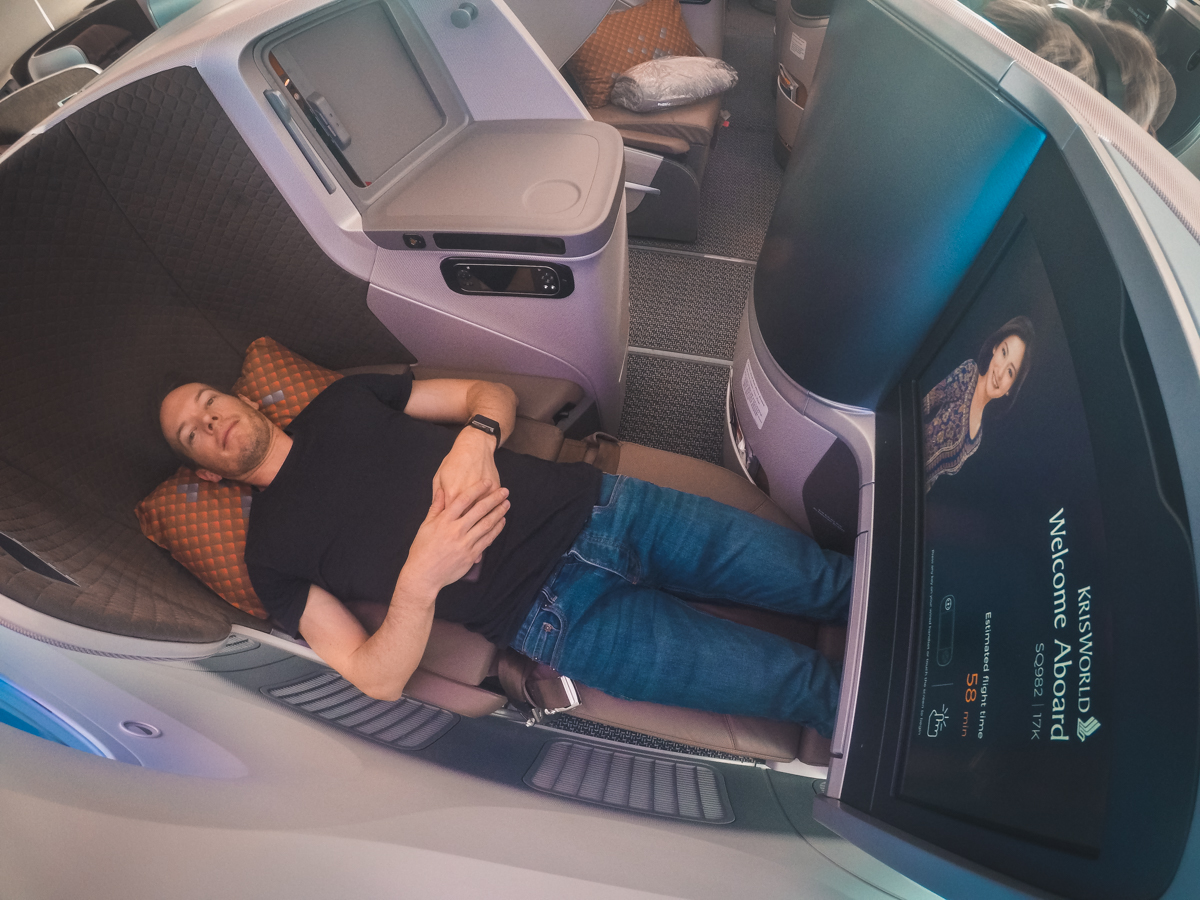 Although there are no individual air nozzles, the cabin temperature was acceptable. The newest-generation 787 windows also didn't have a blue-cast when there were dimmed.
Two lavatories are located up the front of the aircraft and two behind the Business Class cabin, providing an excellent passenger to toilet ratio of 9:1.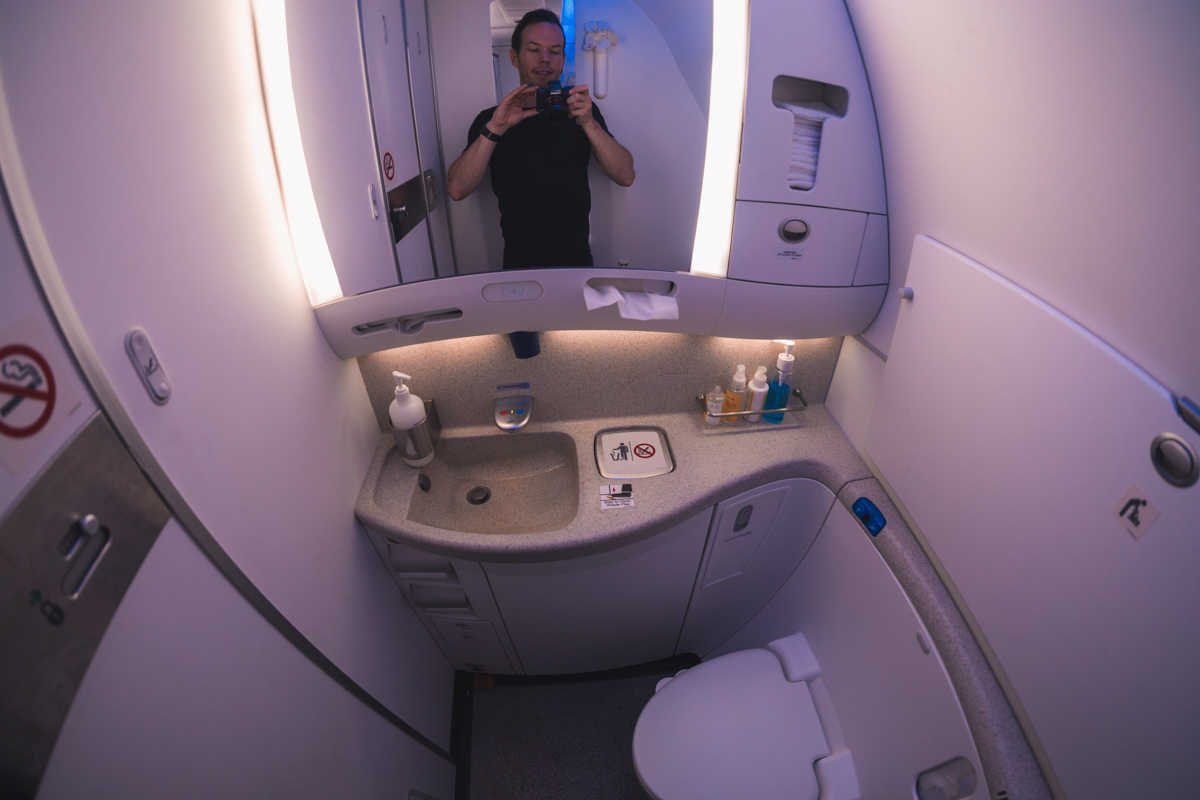 Seat choice
There are four different types of seats; those directly next to the windows, those with a console next to the window; middle seat directly next to each other in the centre of the cabin or seats next to the aisle with the console in the centre of the cabin.
Confusingly, Singapore Airlines doesn't distinguish between these two window variants and label them both A or K seats but thankfully the seat map is very clear if the seat is directly by the window or the aisle.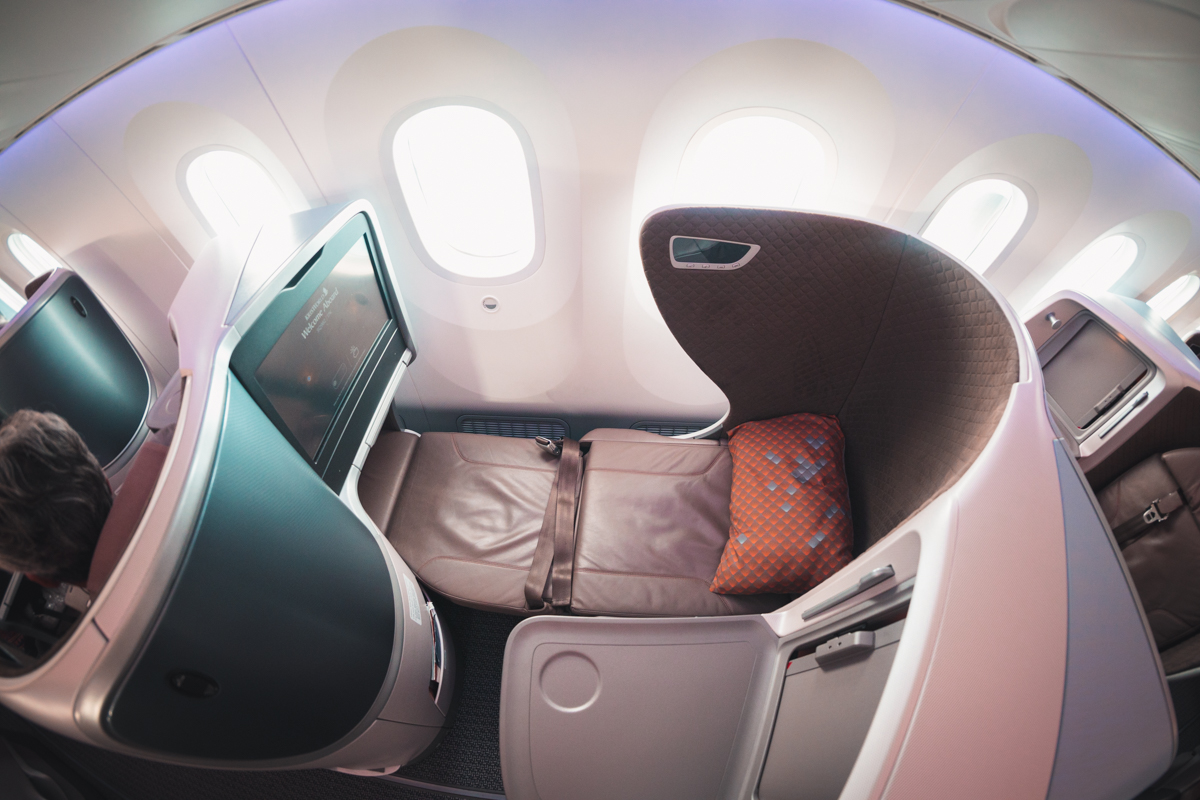 It also clearly shows that seats 16A and 16K both miss out on an enormous 787 window due to the join in the fuselage. You'll want to avoid these seats if you like a window view.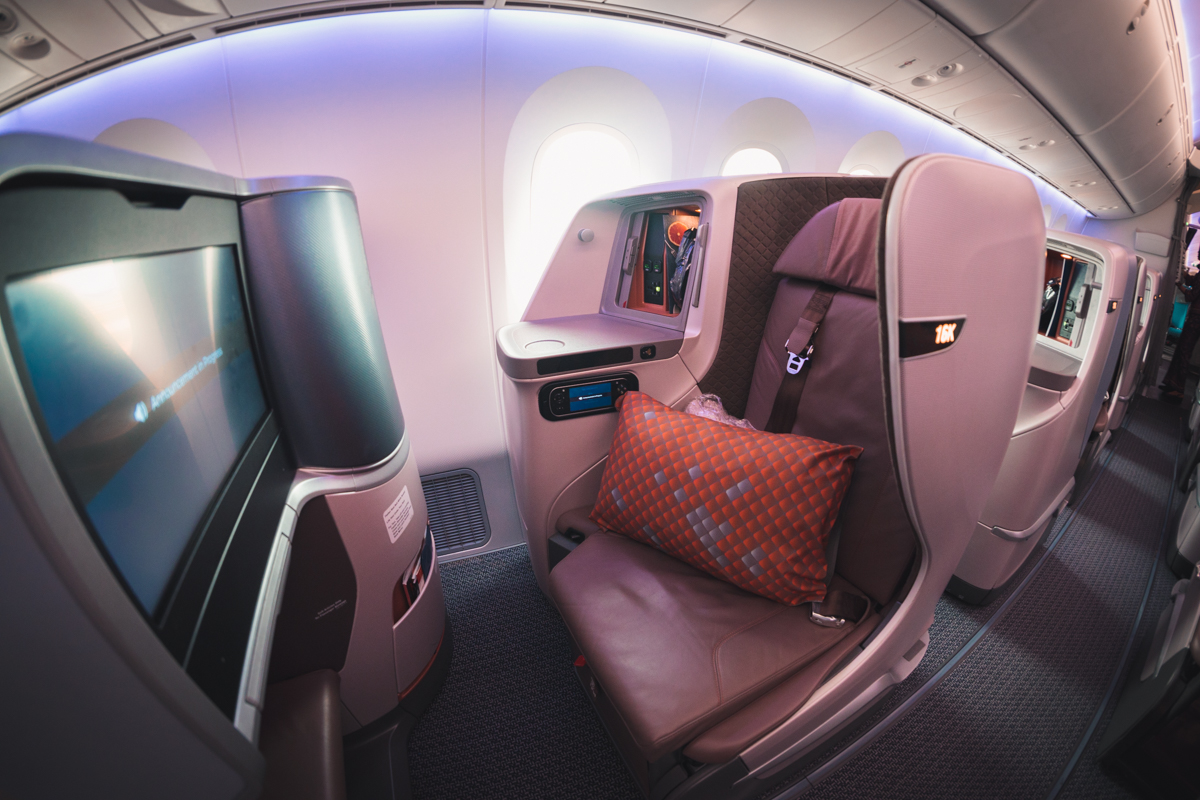 Seats 11A and 11K have a shelf suitable for a bassinette.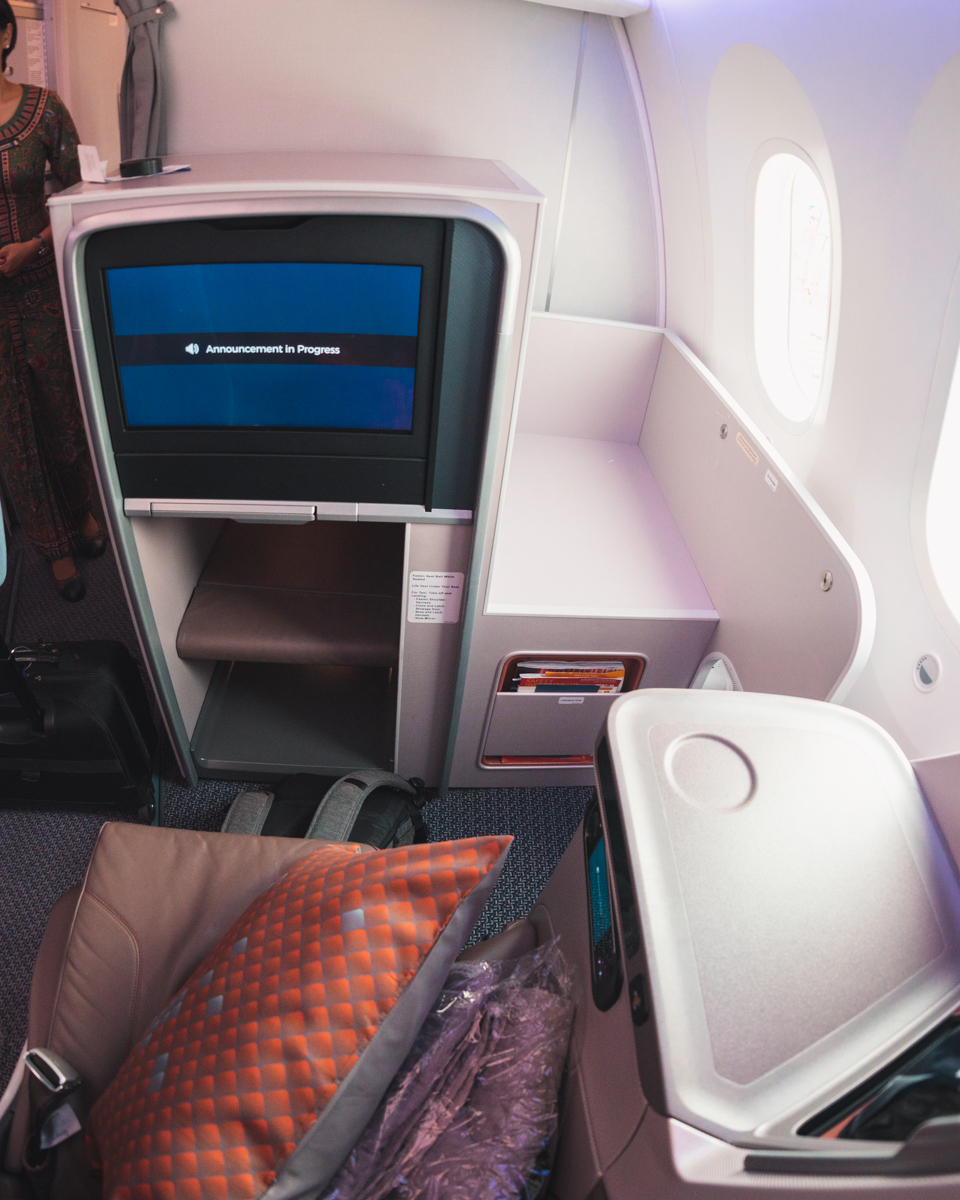 The middle seats have an adjustable-height divider but it doesn't drop to the seat pan to create a double bed. That is reserved for the new Airbus A380 Business Class seats.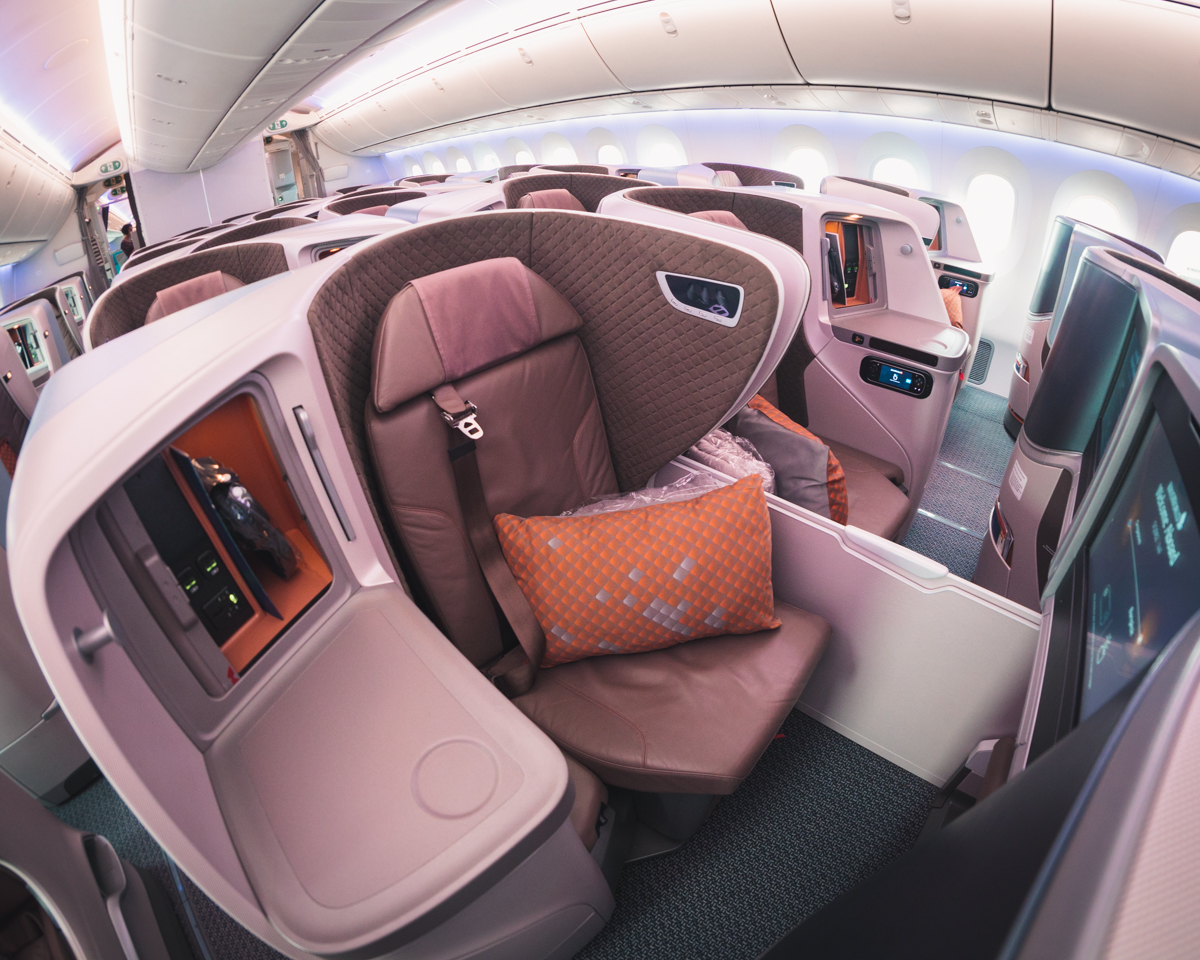 I selected 19K to be my home on this three-hour flight, primarily so I could be seated far enough back to get a great view of that gorgeous 787 wing and engine. It didn't disappoint!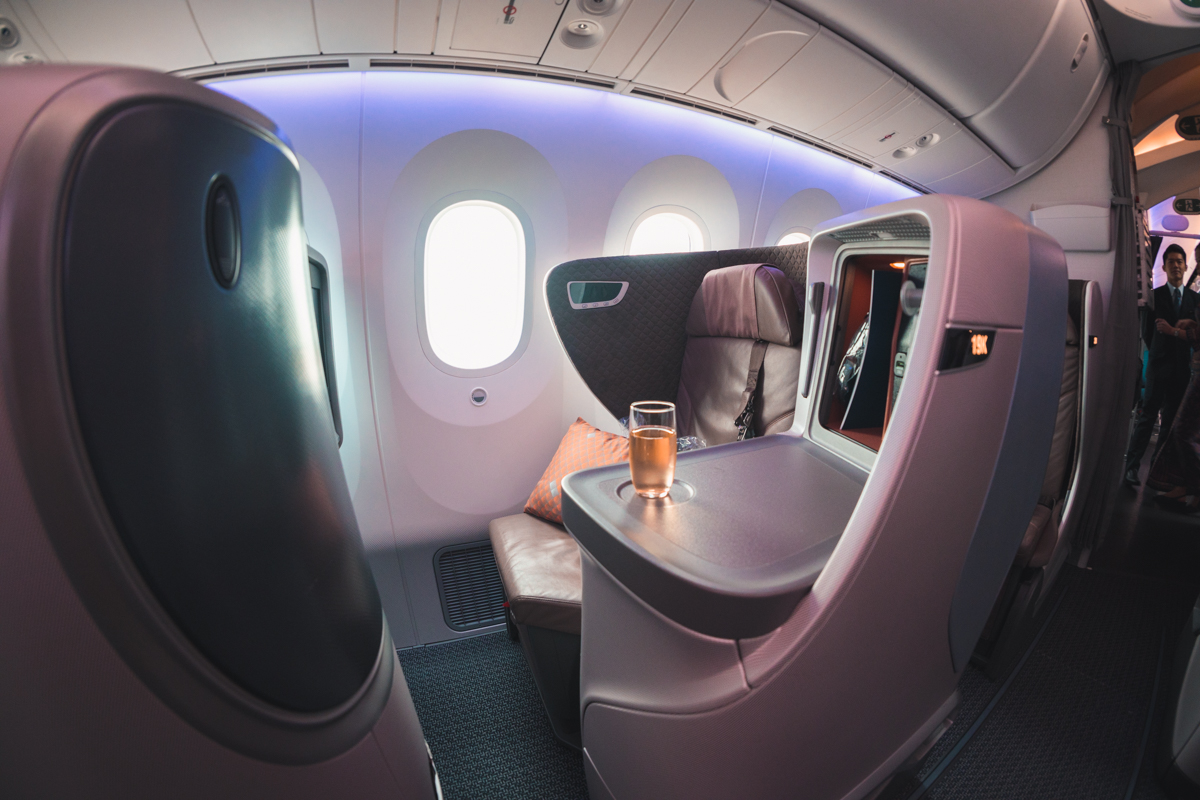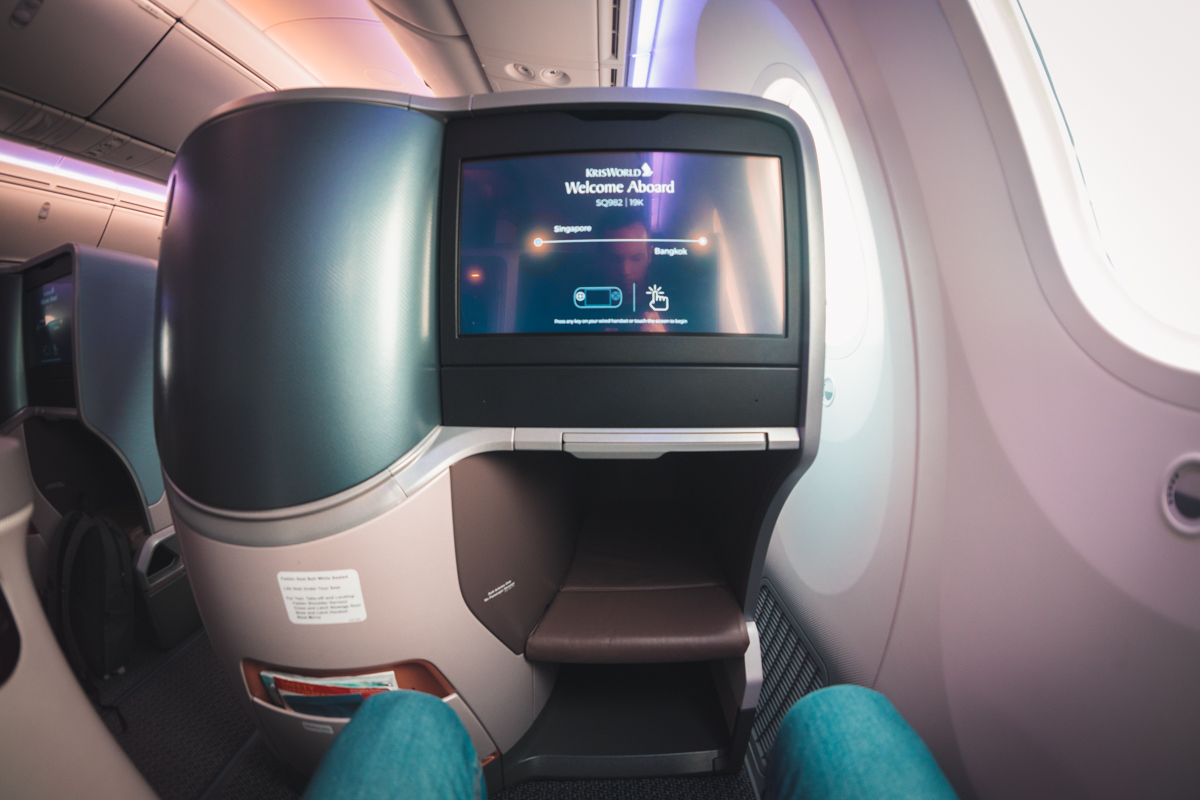 Food & drink
Before take-off, I was offered a choice of a glass of either Charles Heidsieck Brut Reserve Champagne (averages AU$100 a bottle on the ground), water or orange juice.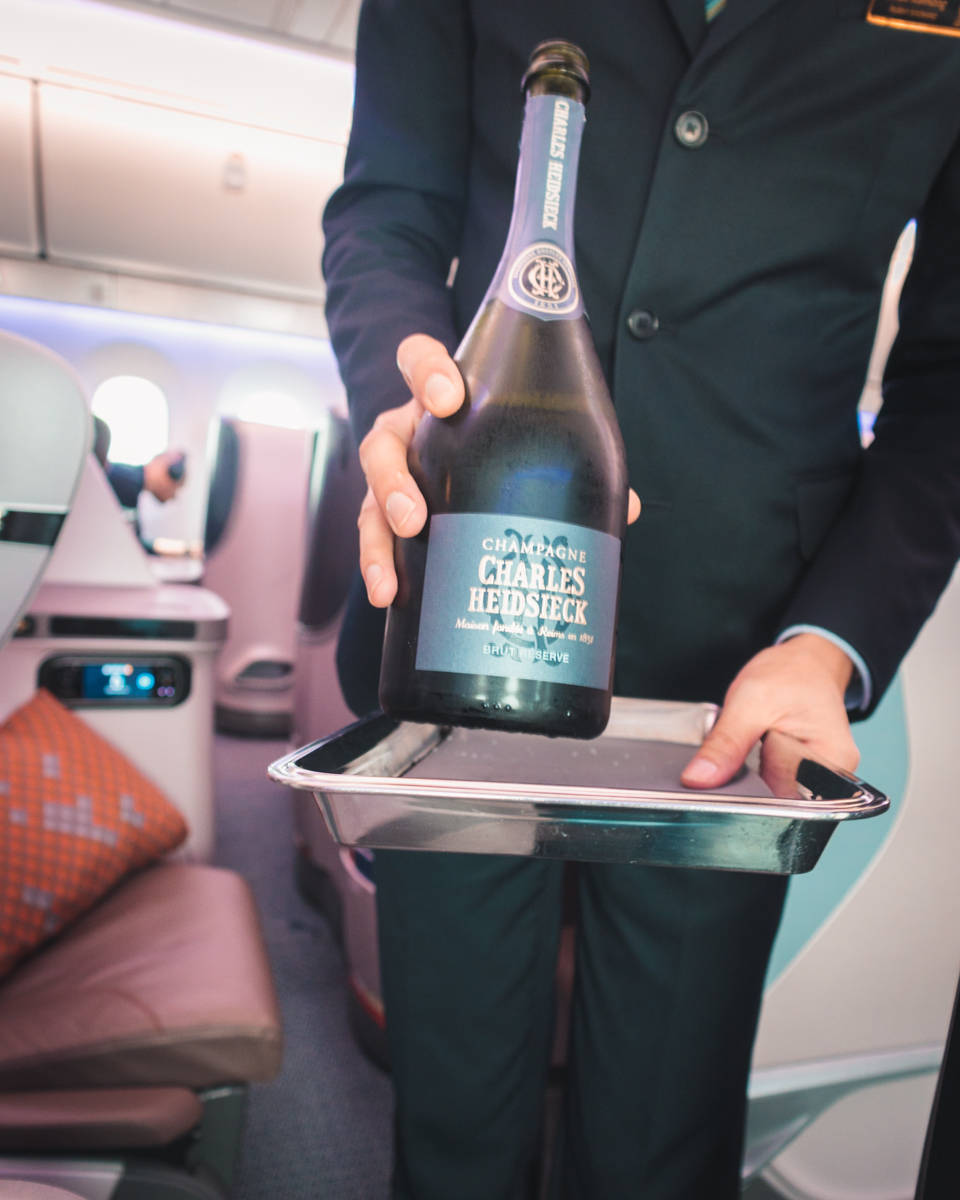 After take-off, I ordered my go-to Singapore Sling.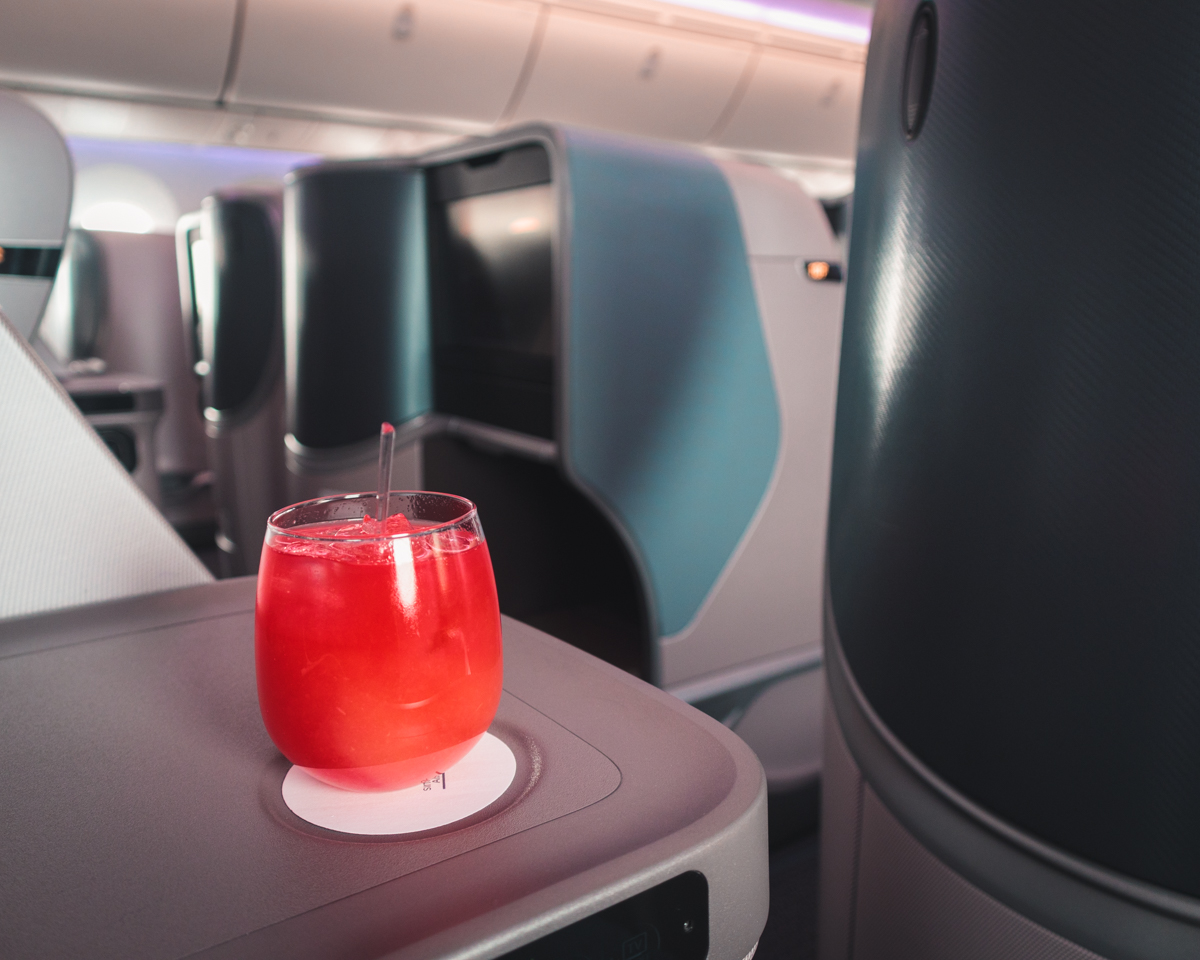 Singapore Airlines does not offer a choice for appetiser and on this flight a Nicoise Salad with Smoked Salmon with potato, green beans, olives, tomatoes and quail egg and herb vinaigrette was served just 17 mins after take-off.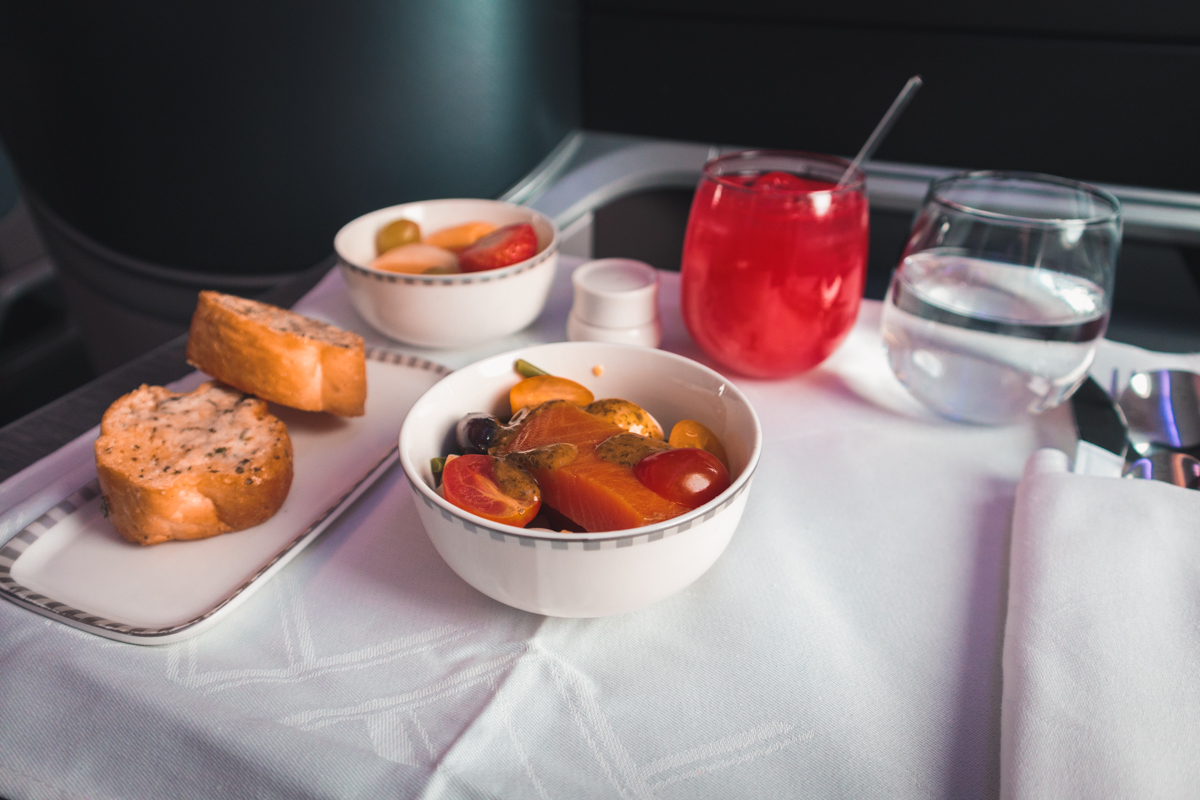 Then there was a choice a bread. For me, it's always garlic bread if it's on offer and these were the most garlicy I have had on an aircraft before. Yum!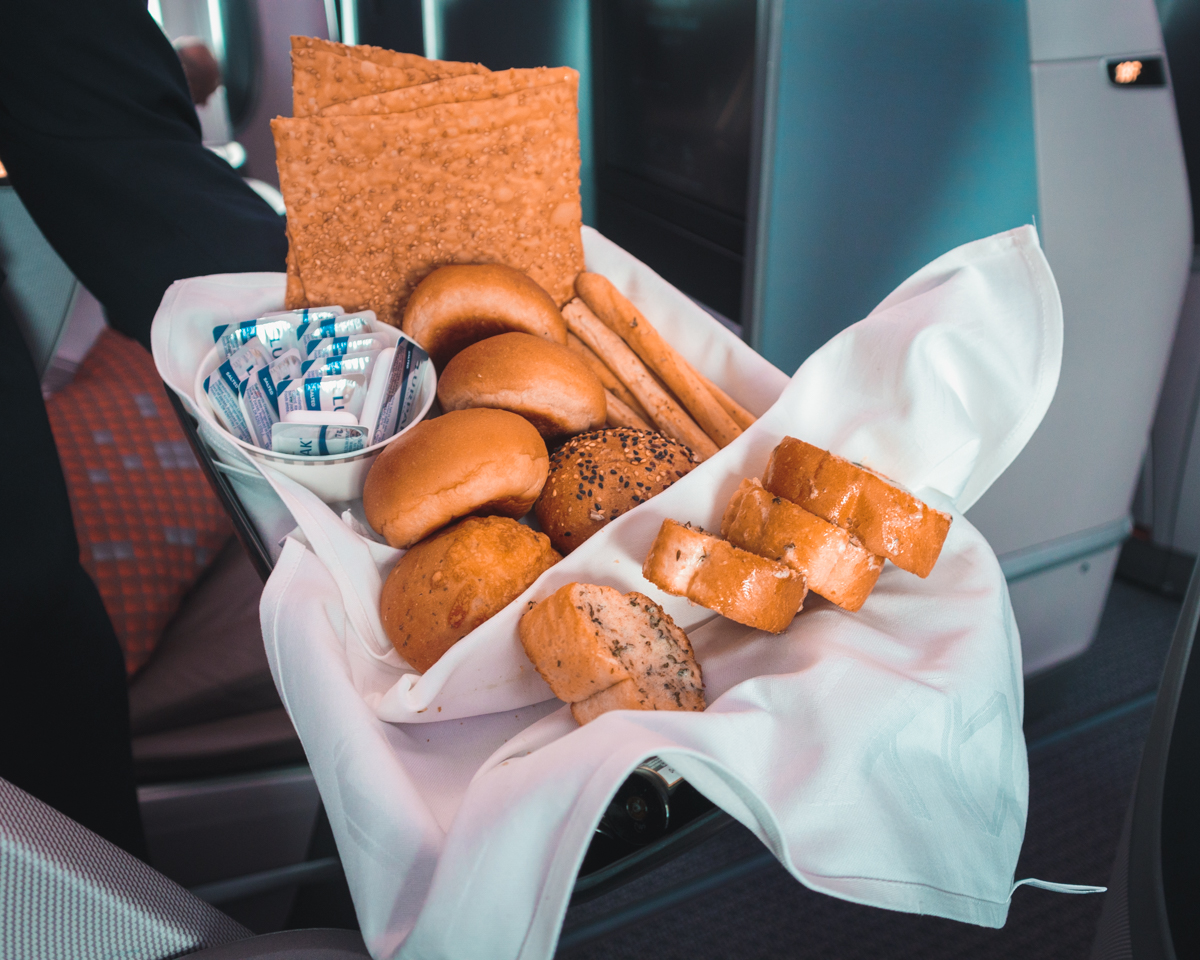 A week before departure I viewed the inflight menu and Book the Cook options via the Singapore Airlines website and decided to pre-select the Seared Nut Veal Fillet with a crust of crumbed hazelnuts and served with veal jus. Delicious!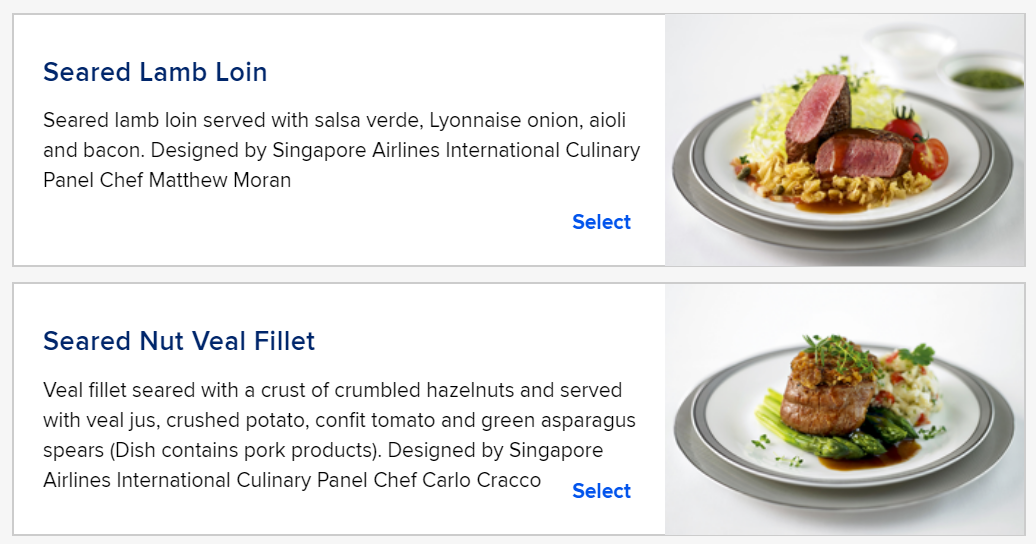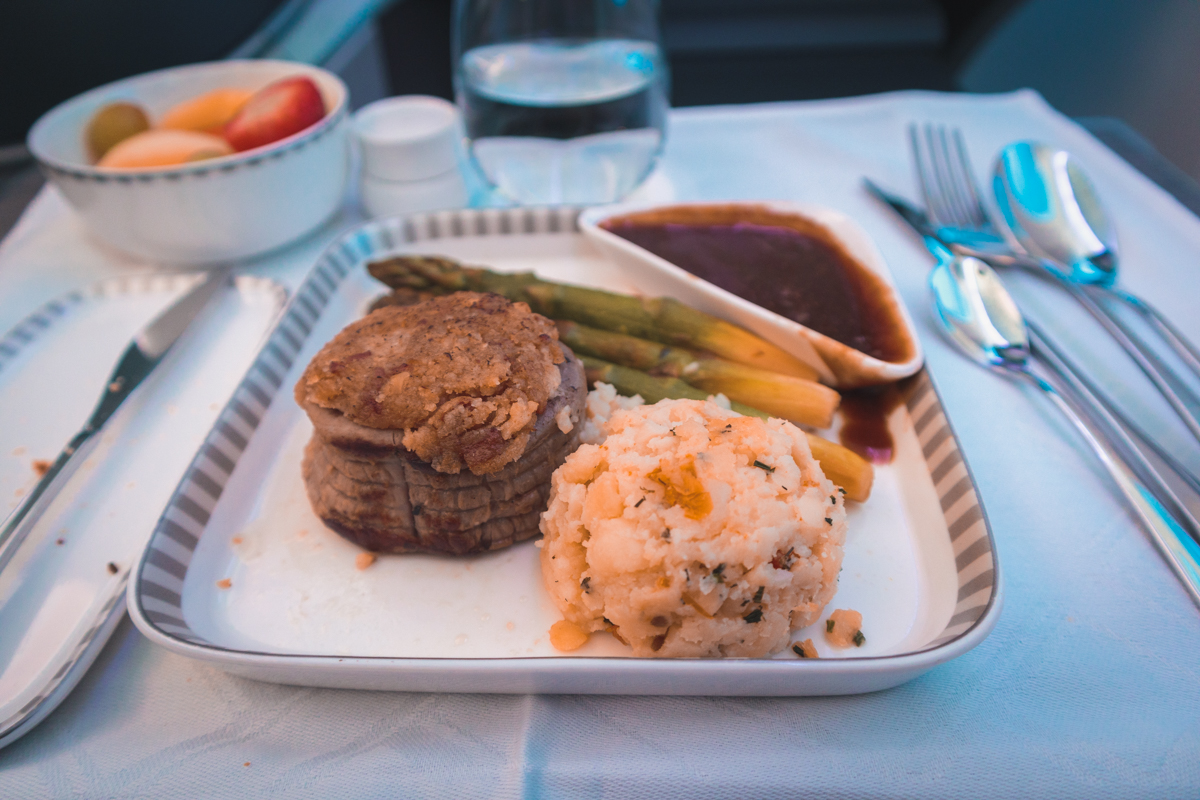 Which I paired with a McLaren Vale Shiraz ($20 a bottle).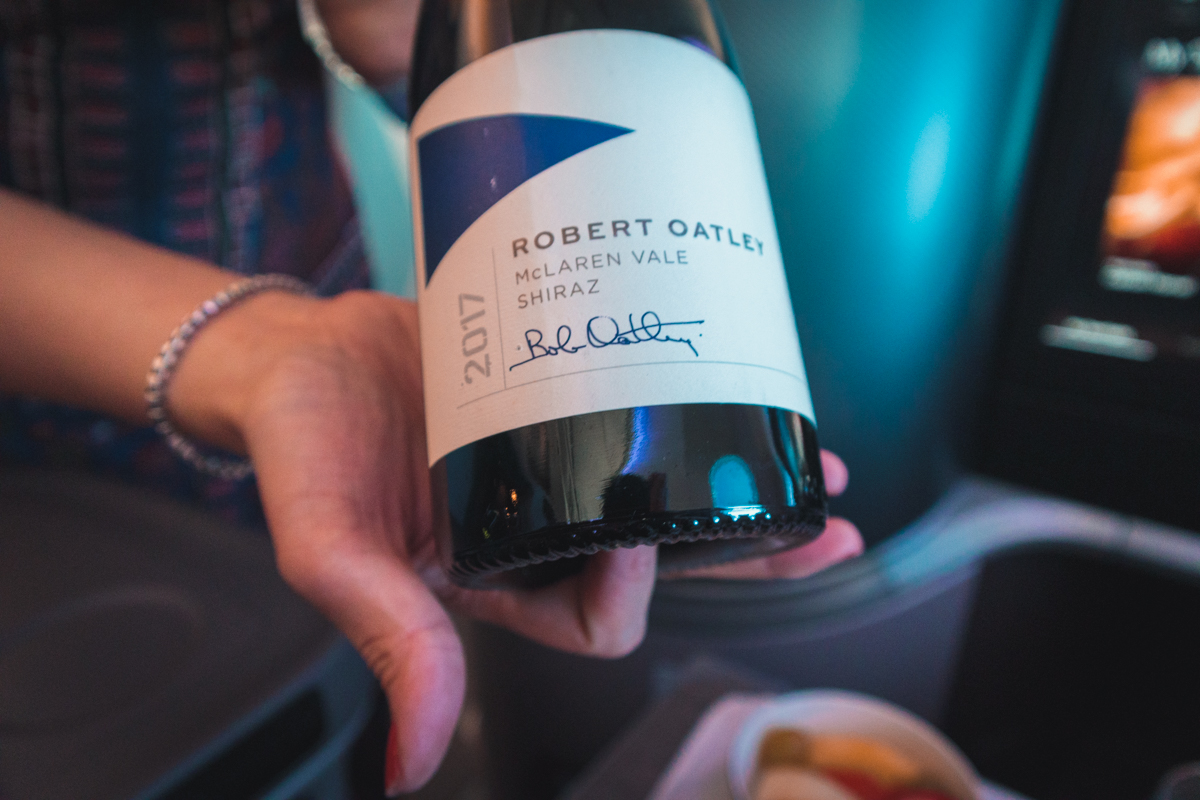 For dessert, there was only one option, fresh fruit, which I decided to skip as I filled up on too many garlic bread pieces.
Customer service
The entire Business Class crew were very welcoming upon boarding and continued to address me by name throughout the flight. They were very proud of their new aircraft type and provided me with a tour of all the seat features.
There was a very light load on this flight, so the service remained very personable throughout the duration.
Inflight entertainment
A large 18-inch high-definition touchscreen monitor, powered by Panasonic's eX3 system is fixed directly in front of each passenger which has a wide selection of movies, TV shows, audiobooks, music tracks, podcasts and a moving map.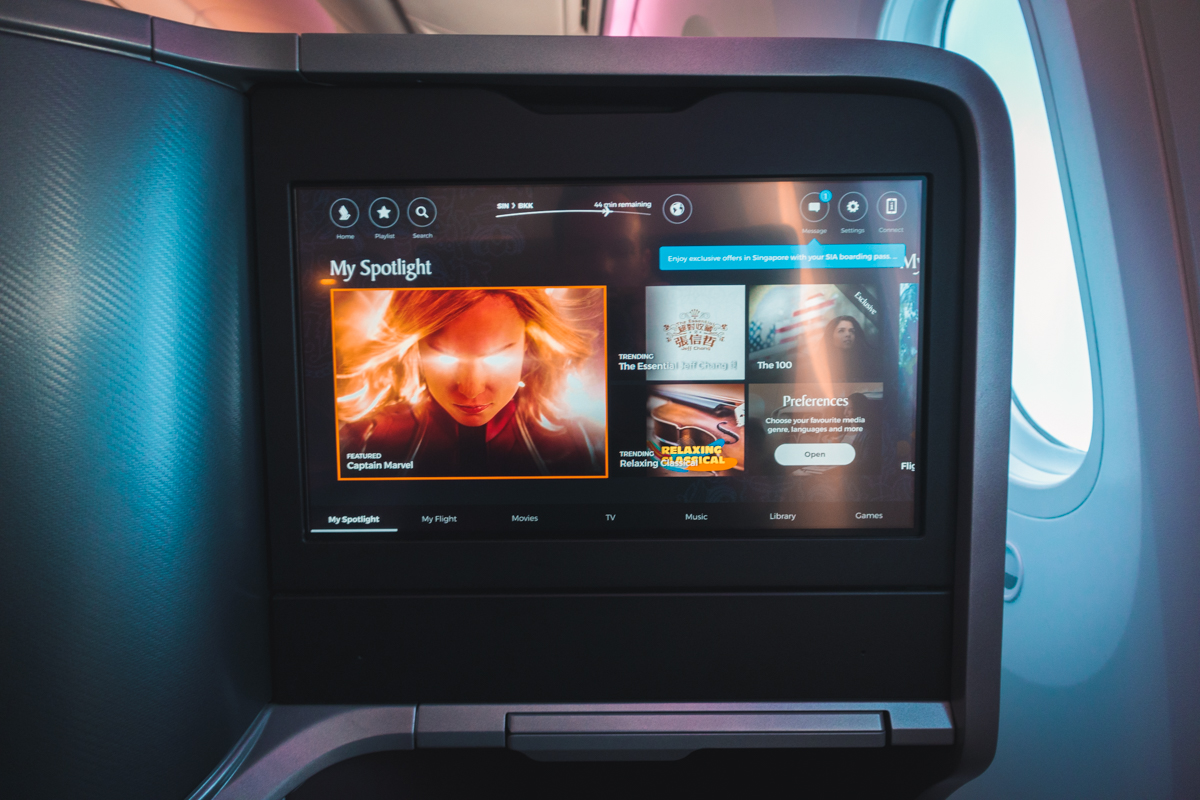 You can control the IFE using either the touchscreen, remote or the latest Singapore Airlines smartphone app which can be linked to your seat number.
Business Class passengers receive 30 MB of complimentary internet (which has since been increased to 100 MB) which was used up in a blink of an eye.
I purchased an additional 200 MB for US$28, but the internet cut out about an hour before arriving into Bangkok.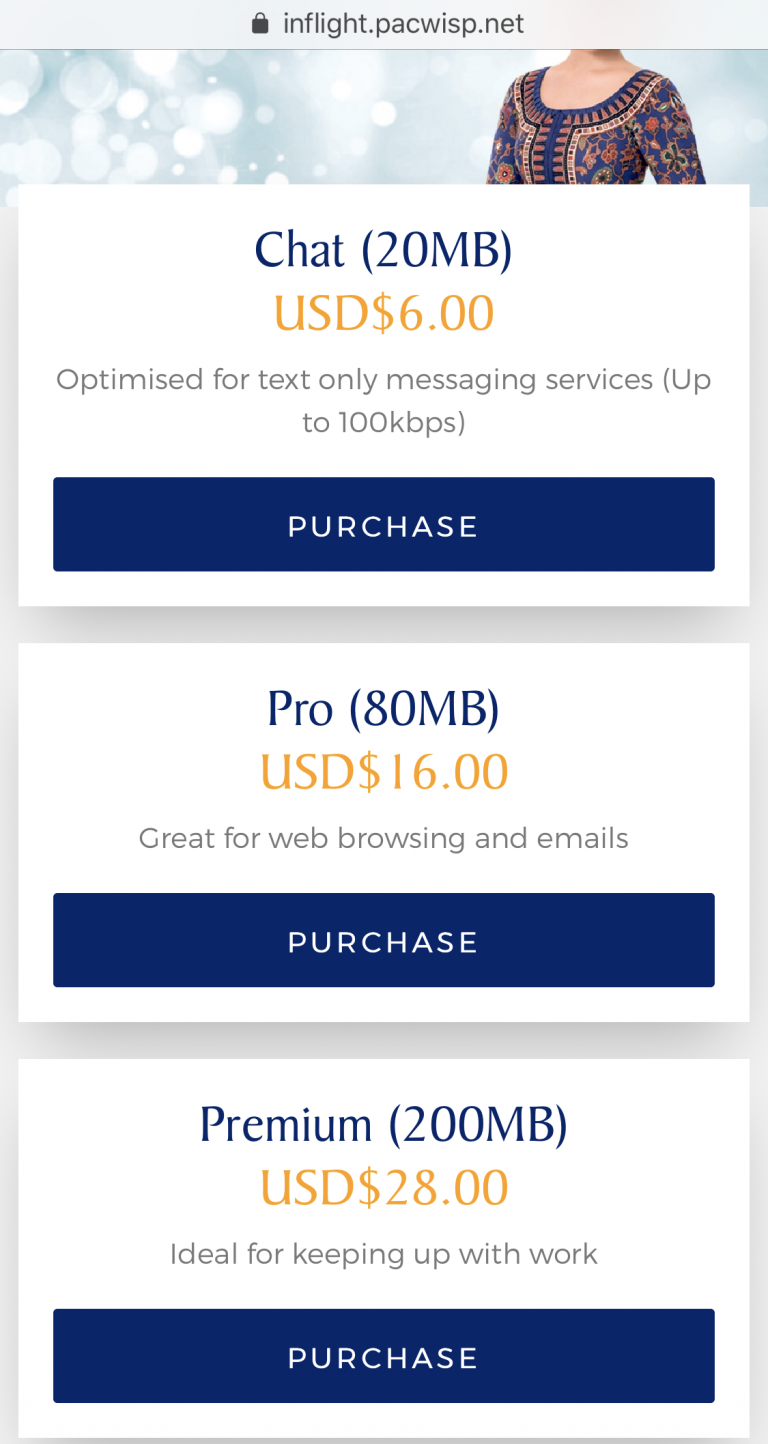 Amenities
Singapore Airlines do not provide amenity kits on this short 2½-hour flight.
How to redeem points for this flight
For this flight, award seats were available six months before departure and I used 58,000 KrisFlyer miles (now 62,000) and just SG$102 in taxes for the flights from Sydney to Bangkok via Singapore.
Australia-based travellers can also use Velocity Points to redeem for Singapore Airlines flights.
However, Singapore Airlines gives preference to its own members over partners like Velocity. If the flight you want is only available through KrisFlyer and not Velocity (which sometimes happens), then you can transfer 96,100 Velocity Points to KrisFlyer, which you can then use to book through KrisFlyer. That's not a great use of points, though.
Lounge access
All Business Class passengers can access the Singapore Airlines SilverKris Lounge at Changi Airport before departure.
Summing up
The new regional Business Class seat is a huge improvement over the seat it replaces. It not only looks great, but it is also functional, has a huge IFE screen, a decent tray-table for your laptop and a flat-bed if there is time to nap.
The seat is quite narrow, and it is snug squeezing past the console to get in and out of the true window seats or those in the very middle of the cabin. But when you consider its use on flights up to eight hours—it's totally fit for purpose.
In fact, it's quite phenomenal to receive a flatbed on a 2½-hour flight. That's basically the distance between Brisbane and Adelaide.
Other Singapore Airlines reviews
Singapore Airlines Boeing 787-10 Regional Business Class overview
was last modified:
April 19th, 2022
by