New Caledonia is less than three hours from Australia's east coast, making it a perfect holiday spot without the long-haul jet lag. Its capital, Nouméa, is also served by Qantas from Sydney and Brisbane – offering Business on its Boeing 737 jets.
Here's what to expect on the relatively quick hop home from Nouméa.
Check-in, lounge and boarding
Nouméa's La Tontouta International Airport is quite far from the city itself, so I allow plenty of time. After a pleasant drive, I head through to Qantas check-in exactly three hours before departure. There's nobody else in the Business queue, so I get my boarding pass quick smart for my Nouméa-Brisbane Boeing 737 flight.
I wasn't sure the counter would even be open this early, so I'd held onto a portable Wi-Fi hotspot I'd hired at the start of the trip. I figured I could at least stay connected if I needed to wait around. But with that boarding pass in hand, I zipped out and returned the gadget to the store. After all, I was about to clear immigration, right?
Wrong.
It turns out that security and passport control only let people through two hours before departure. Now, I'd arrived three hours early. Had the Qantas check-in agent mentioned the timings, I could have at least made better use of the spare hour by returning my hotspot later. Alas, after 60 minutes of barely usable Wi-Fi over the airport's own network, I'm through immigration. There's a fast-track channel for Qantas Business, at least. And here's where the fun really begins!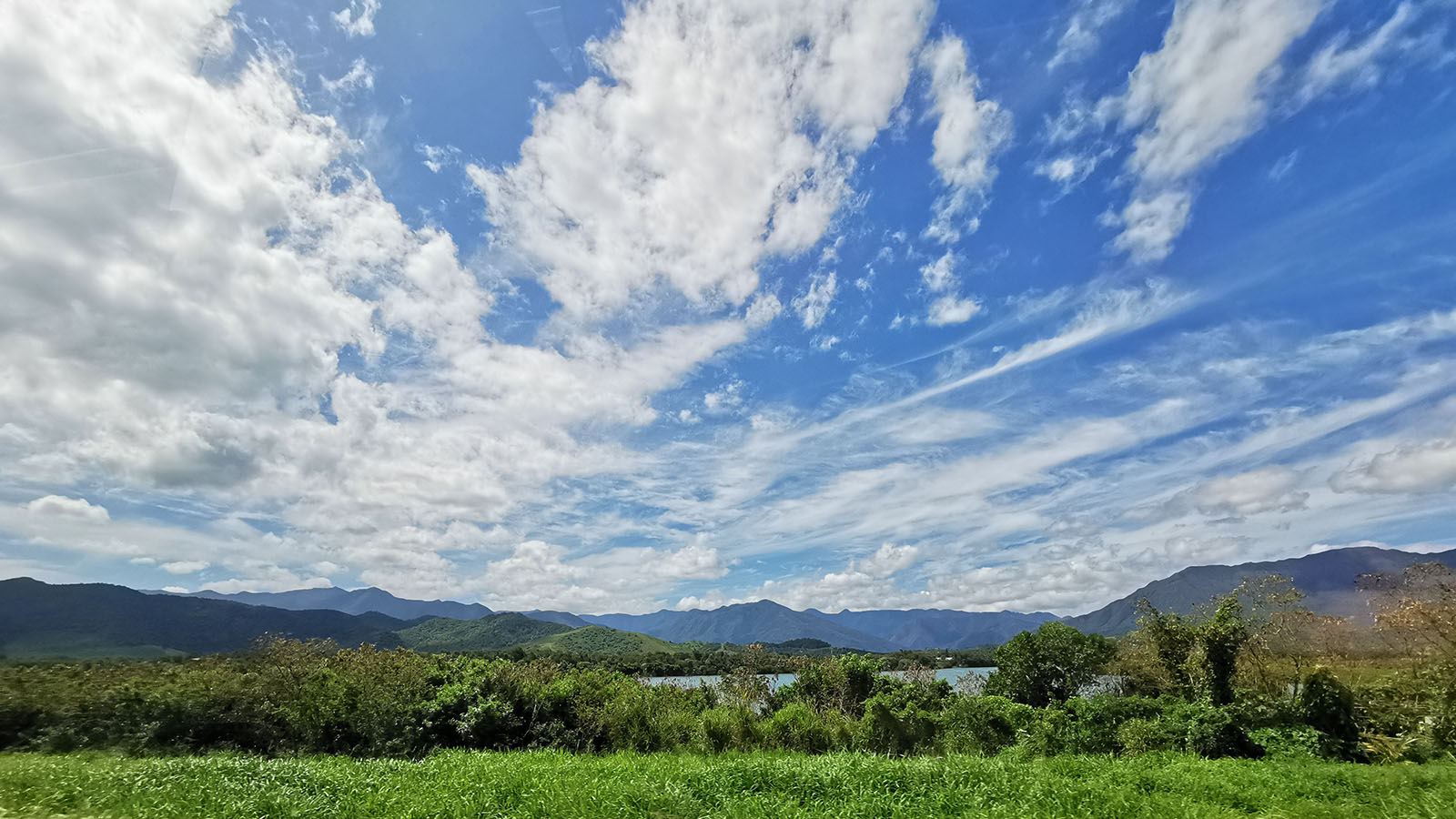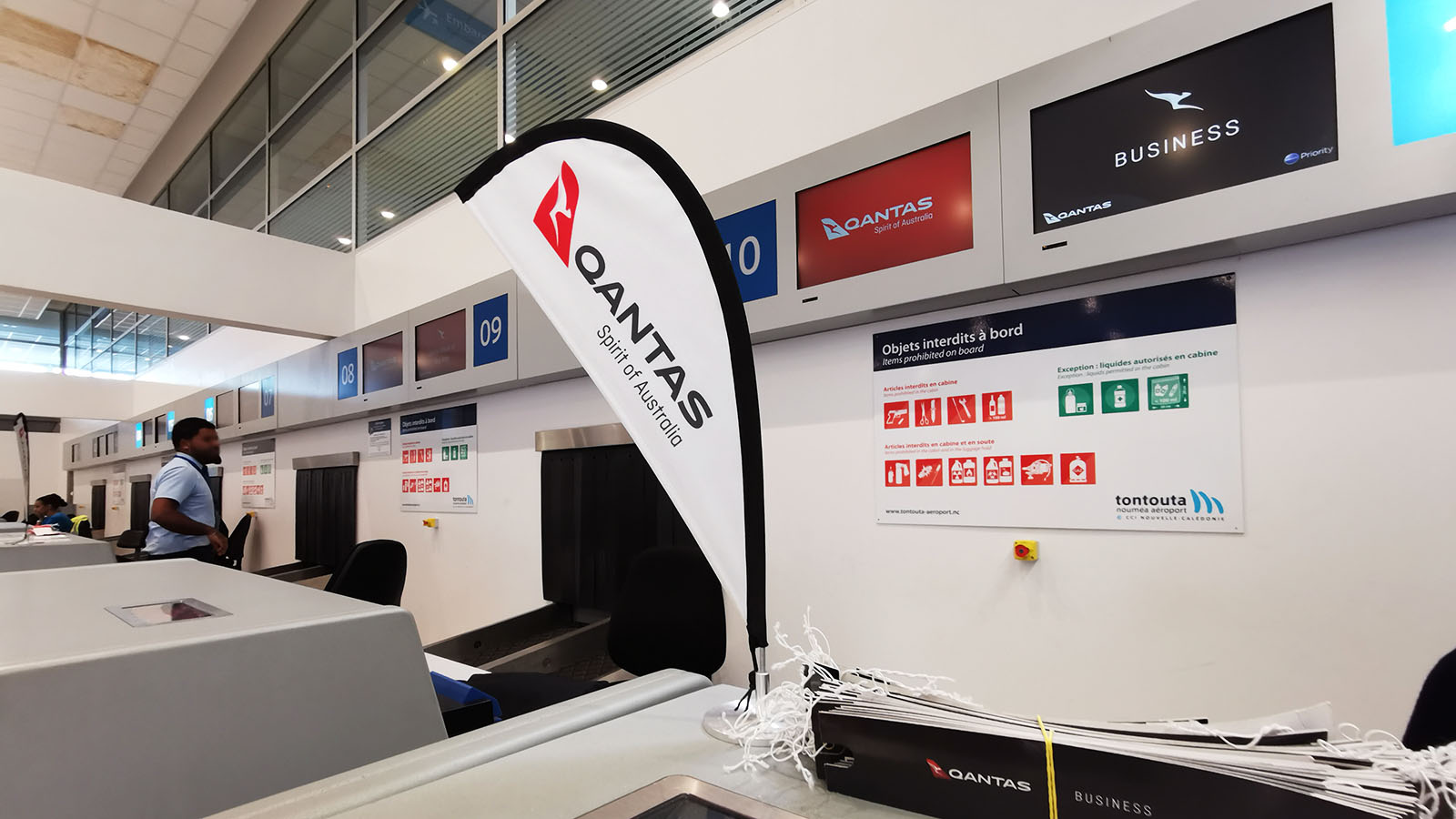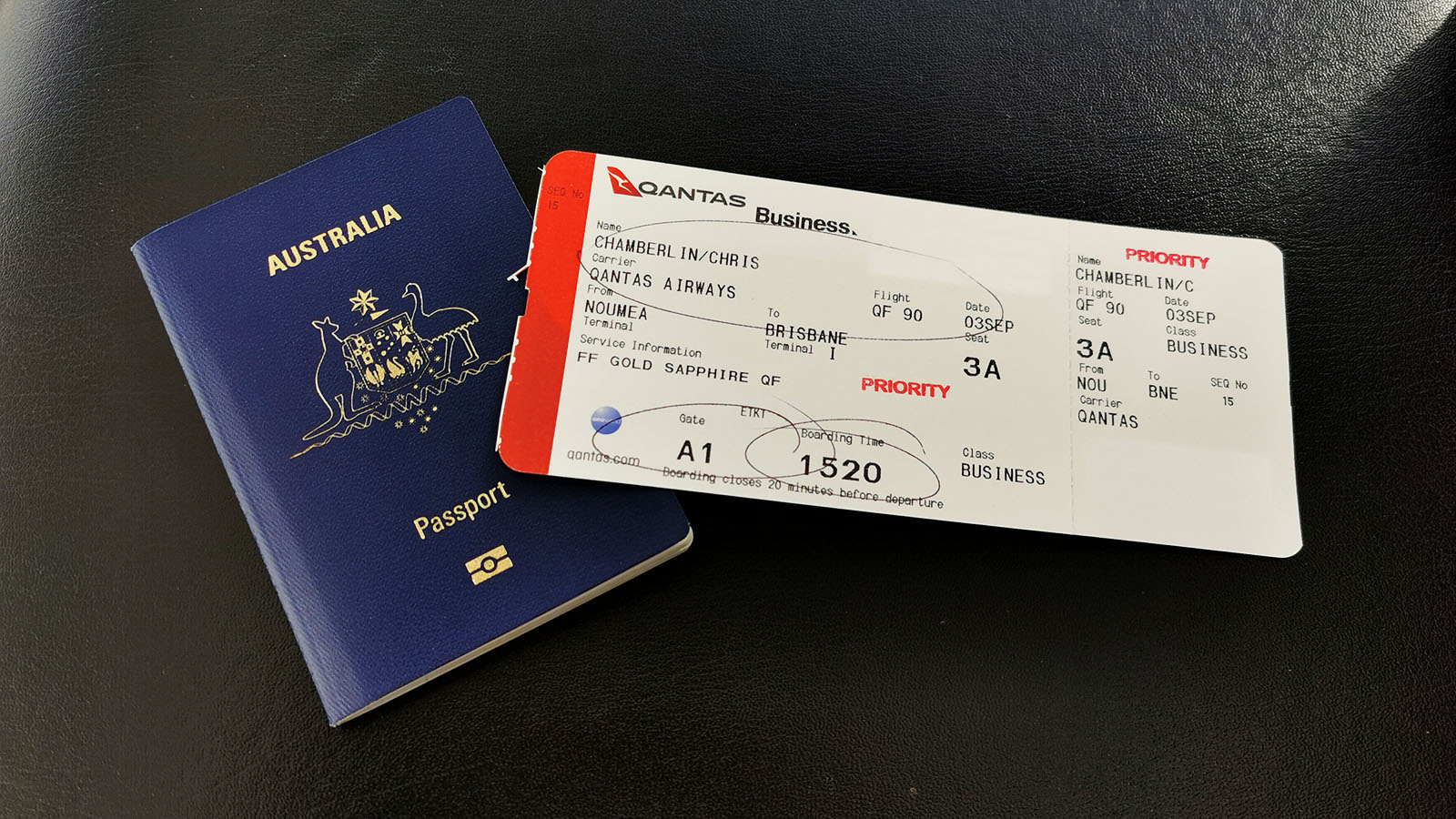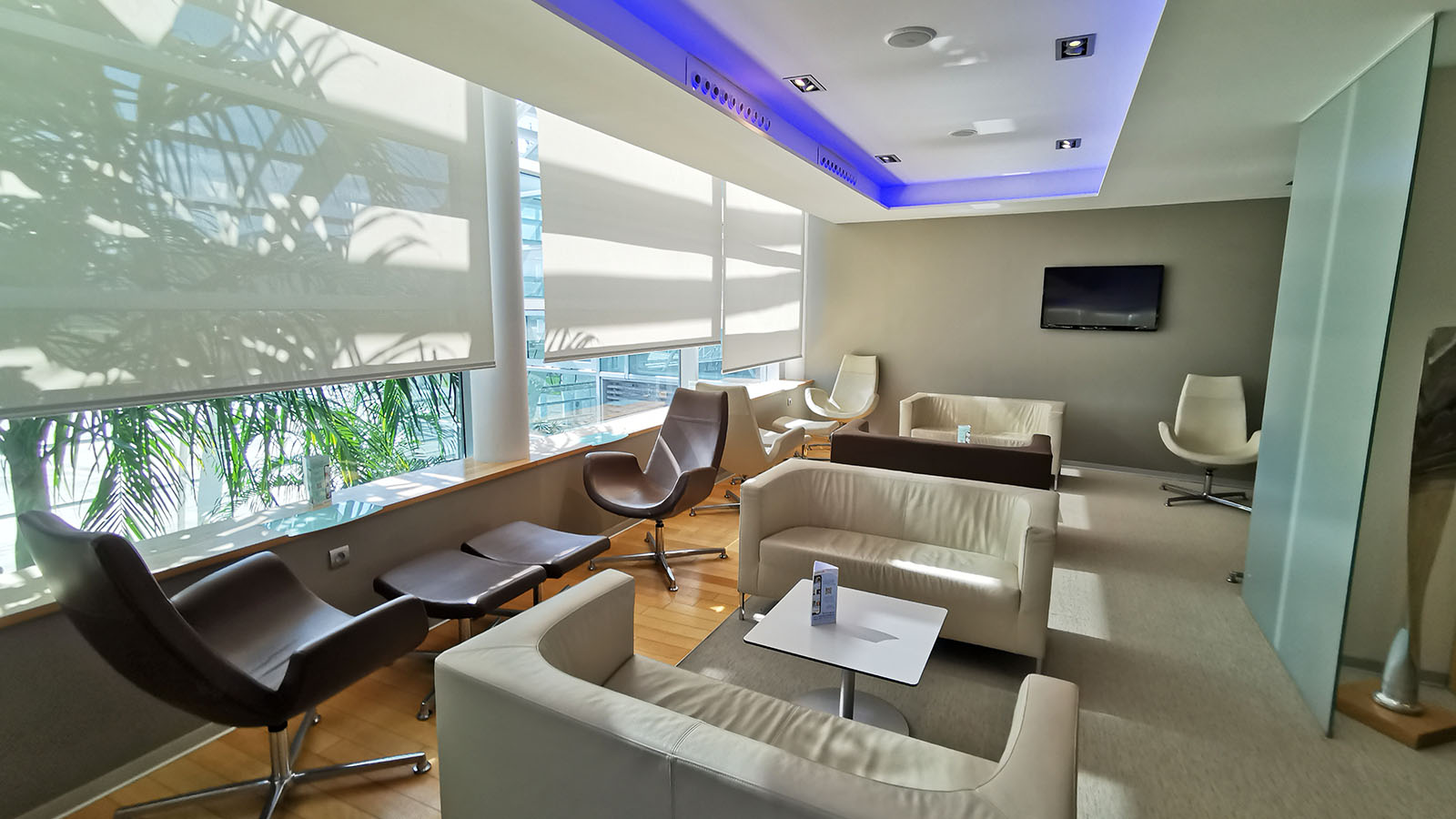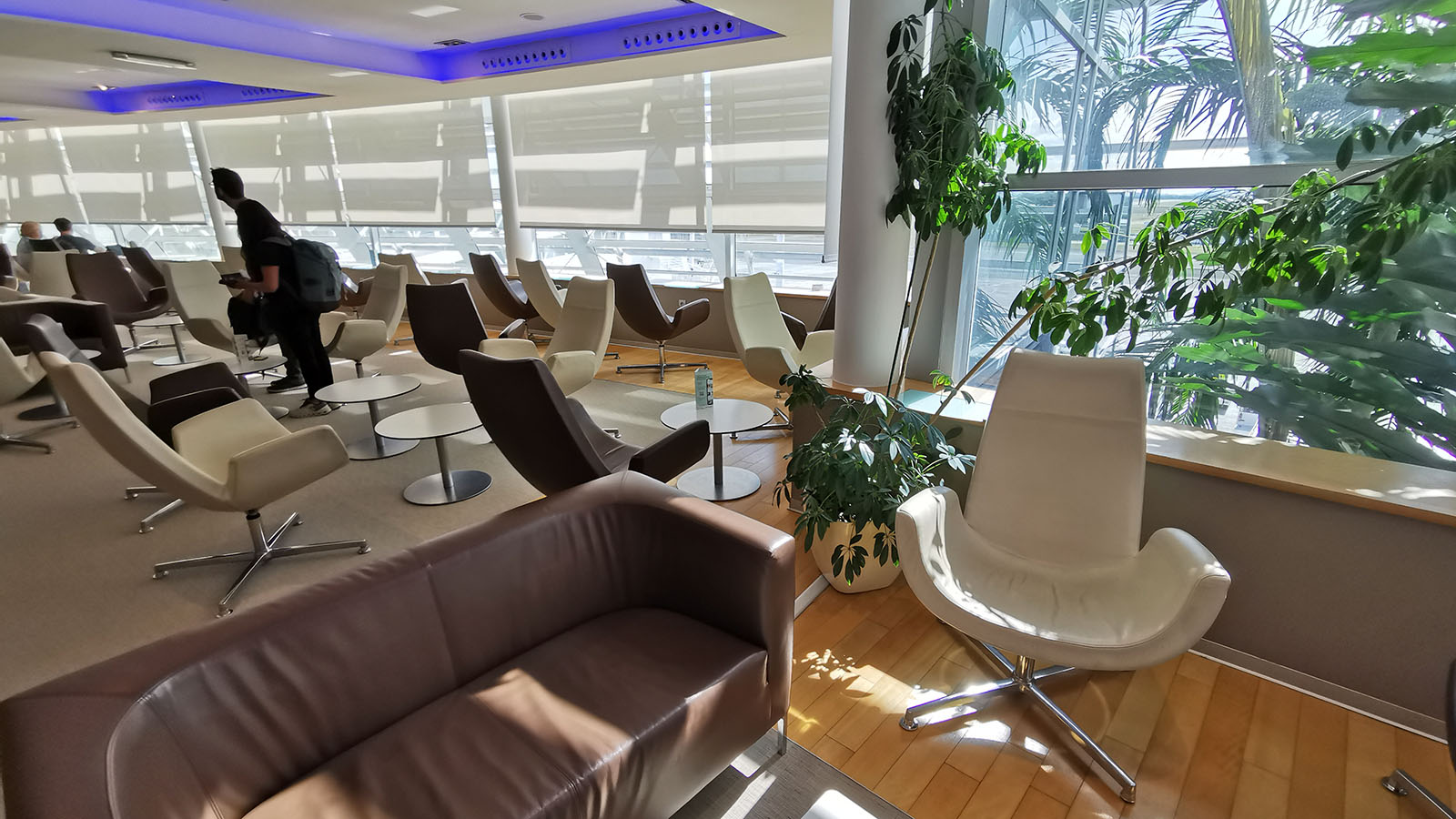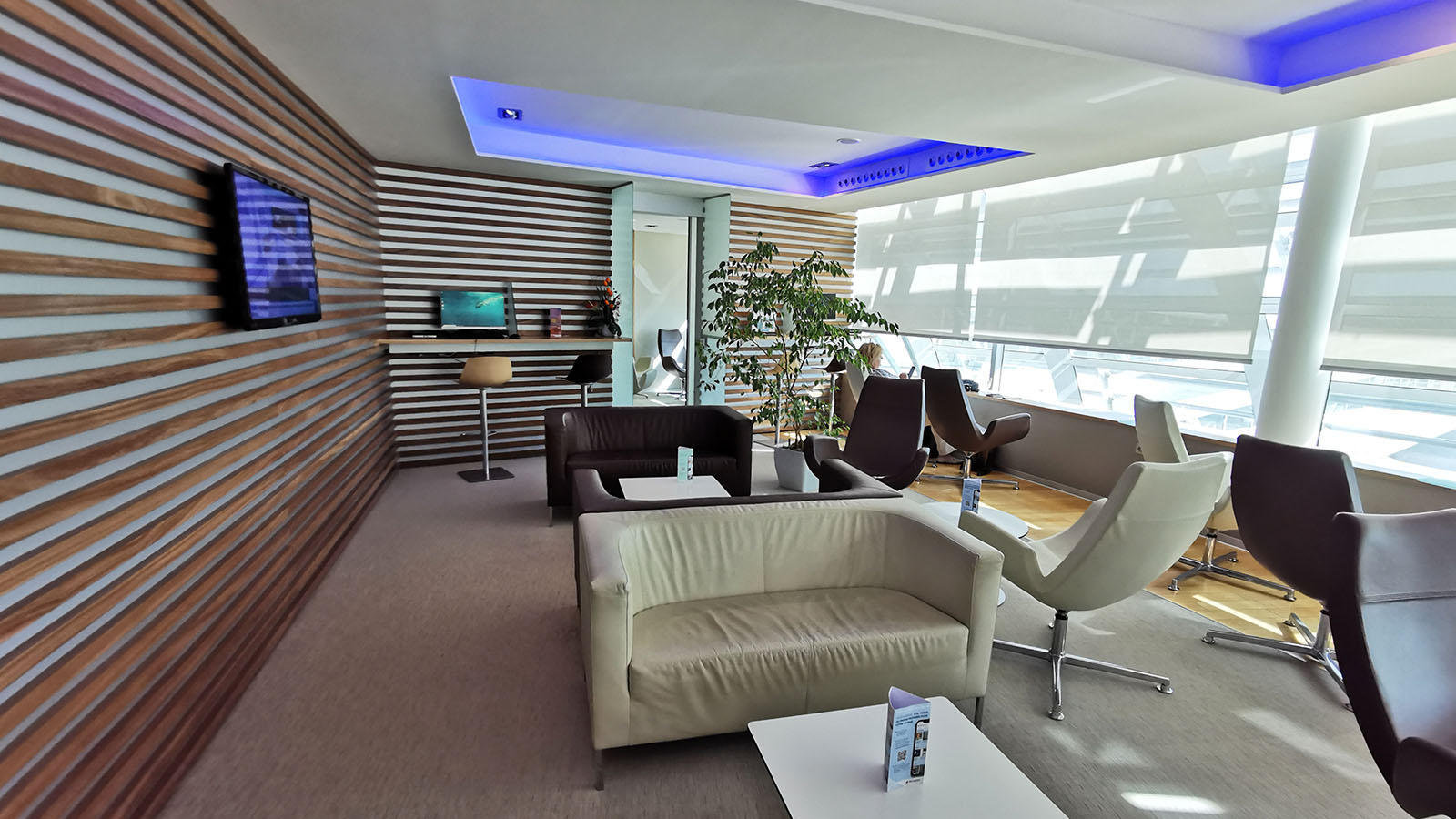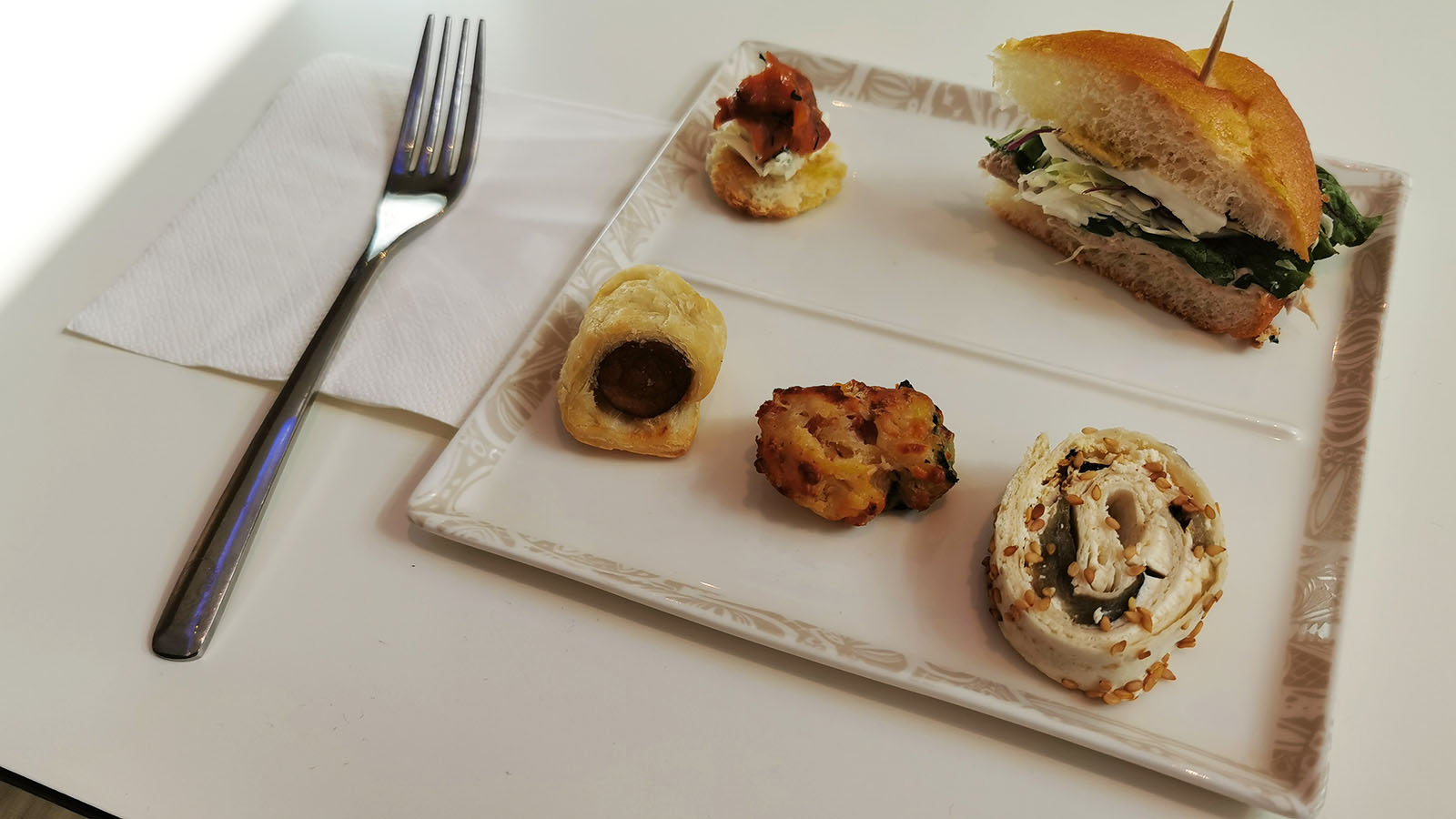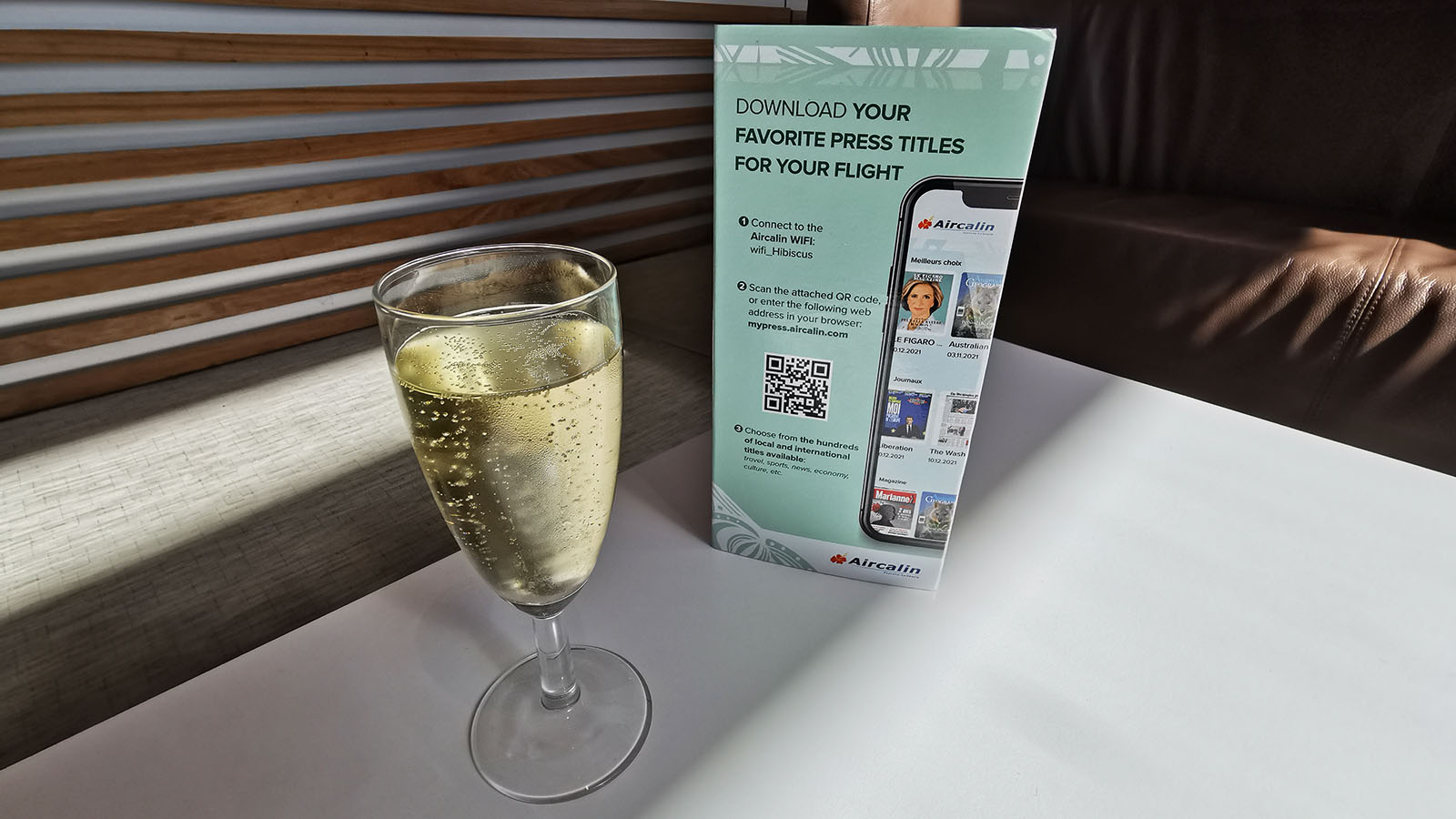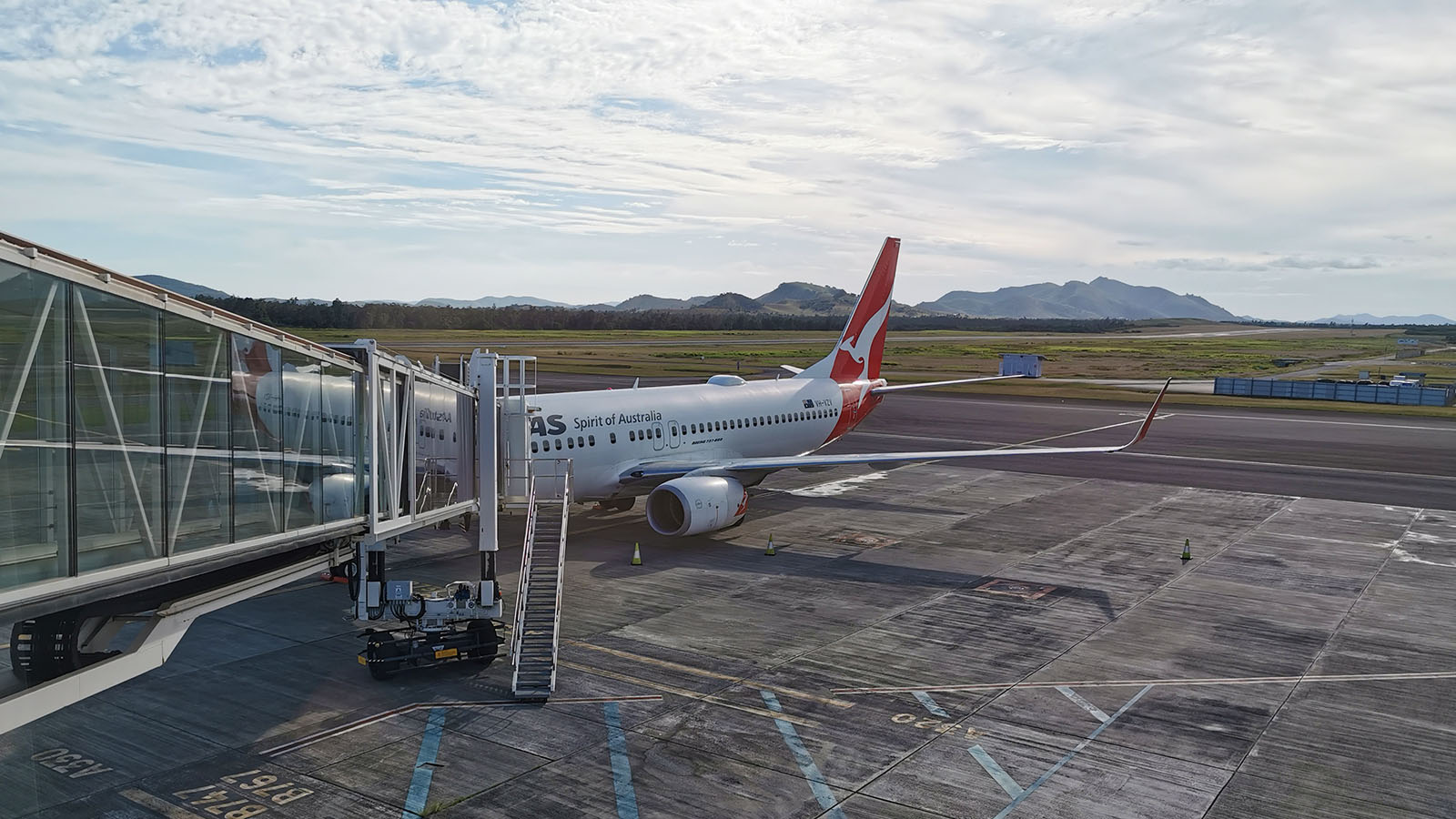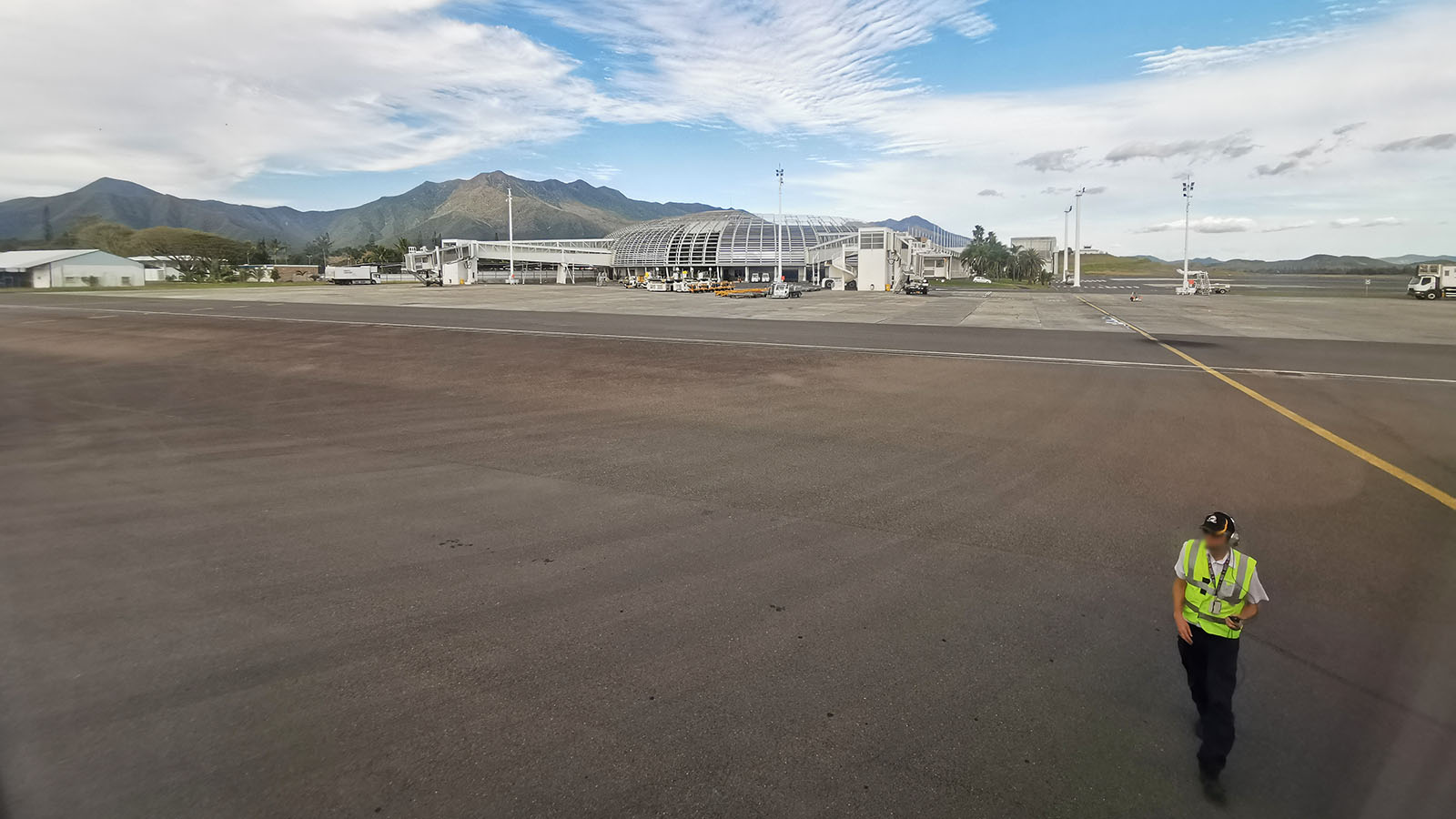 Qantas uses Aircalin's Hibiscus Lounge in Nouméa, and it's a lovely space. I would have liked to spend more time here, but it is what it is. Airport screens and the Qantas app say my flight is on time, so I leave the lounge a few minutes early to avoid rushing.
Boarding is ultimately delayed by about 10 minutes, but with the priority queue served first, I'm settling into my seat soon enough.
Qantas Boeing 737 Business seating
With Nouméa-Brisbane flights a similar distance as Cairns-Brisbane, Qantas uses its Boeing 737s on this route. After all, being a daytime flight of fewer than three hours, nobody (reasonably) expects a bed.
So how's the Boeing 737 seat? In a word, it's comfortable. With 12 seats across three rows in Qantas Business, everybody gets either a window view or an aisle seat. But take it from me – this is one flight where you'll want the window to enjoy the view.
Qantas has a few different styles of Boeing 737 cabins. While I could get technical for you, here's the drill in simple terms:
There is what I'll call the older plane, blending fluorescent lighting with tablet holders in the seatback instead of personal TVs.
Then there's better plane, with the same older-style lighting but TVs at every row.
Nicest of all, there's aptly best plane, with TVs for all and nice mood lighting. These jets – the 'Boeing Sky Interior' birds, to be precise – also have more modern and spacious overhead lockers.
While I often see the 'older plane' style on my regular hops between Brisbane and Sydney, my flights to and from Nouméa were on Boeing Sky Interior jets. Calming blues, later turning into warmer colours to match the sunset, really make the cabin experience feel nicer.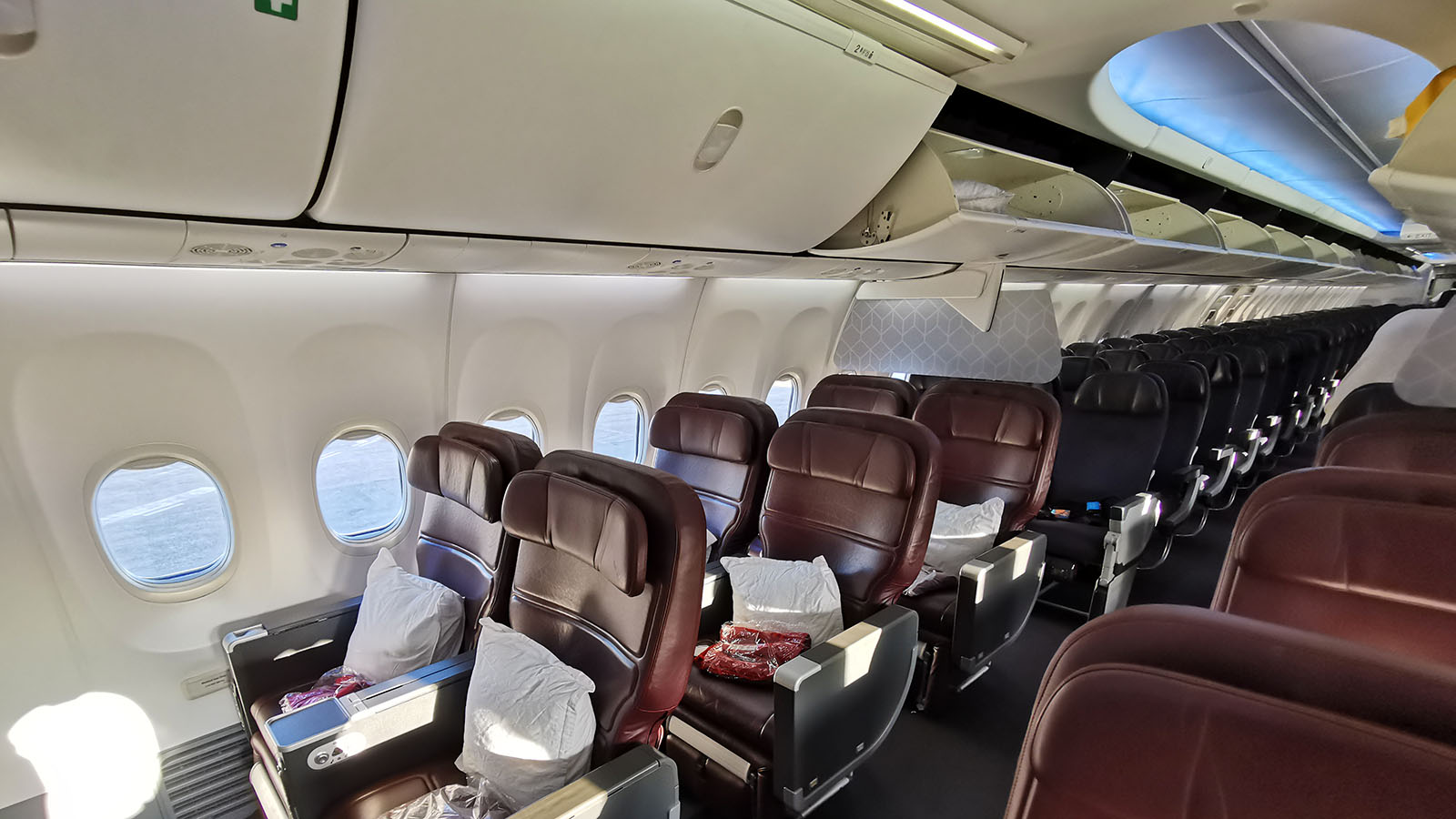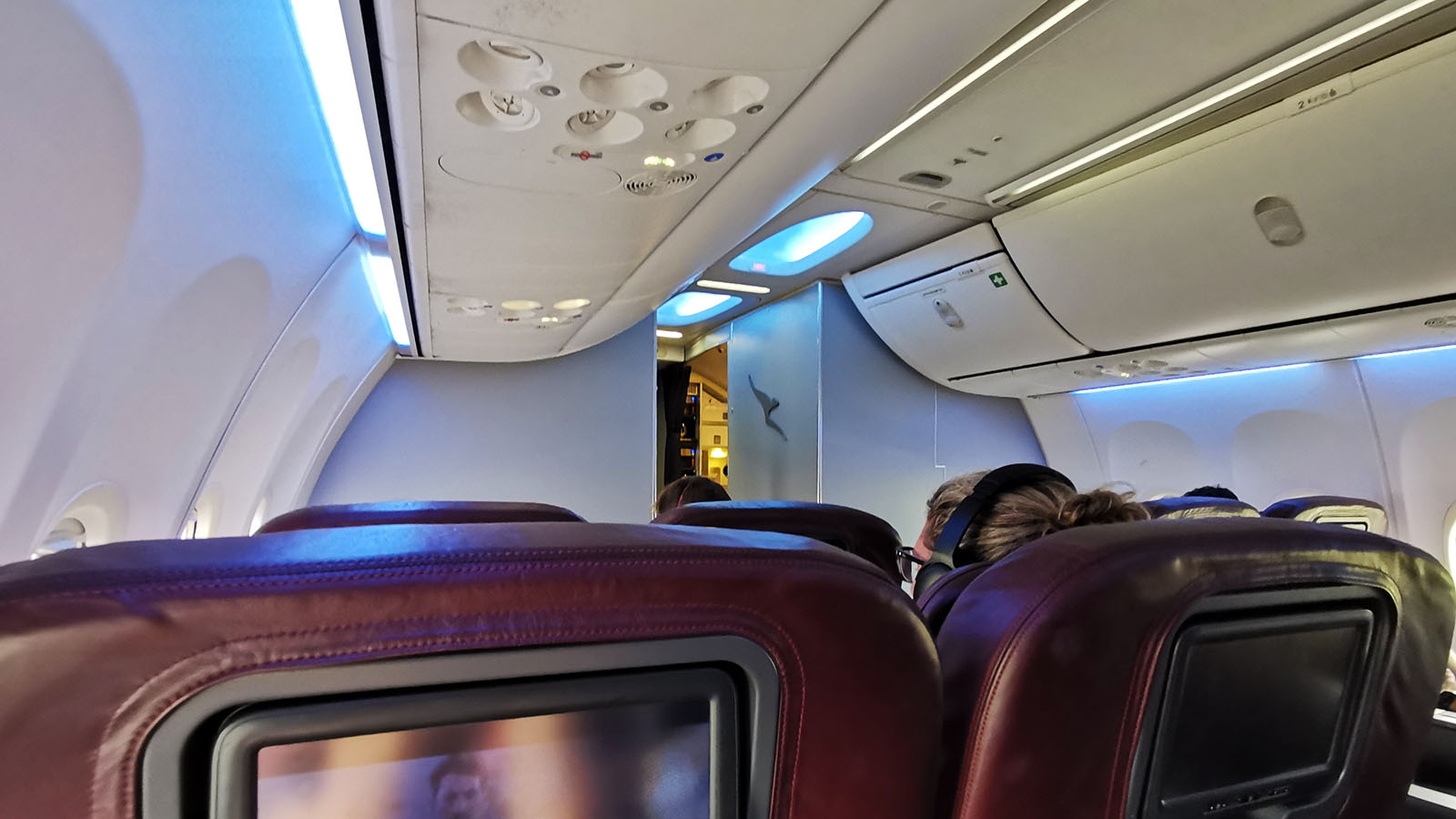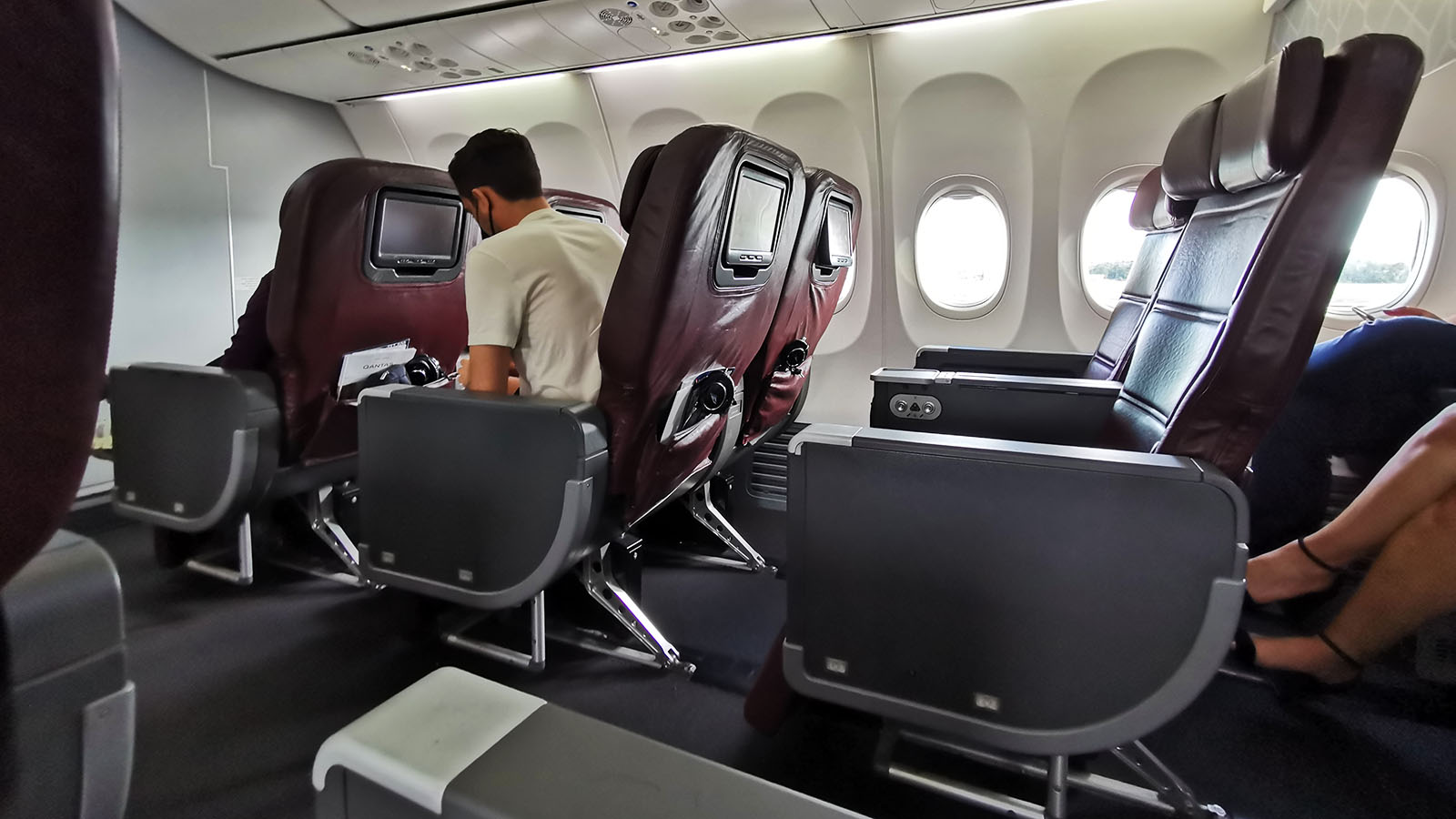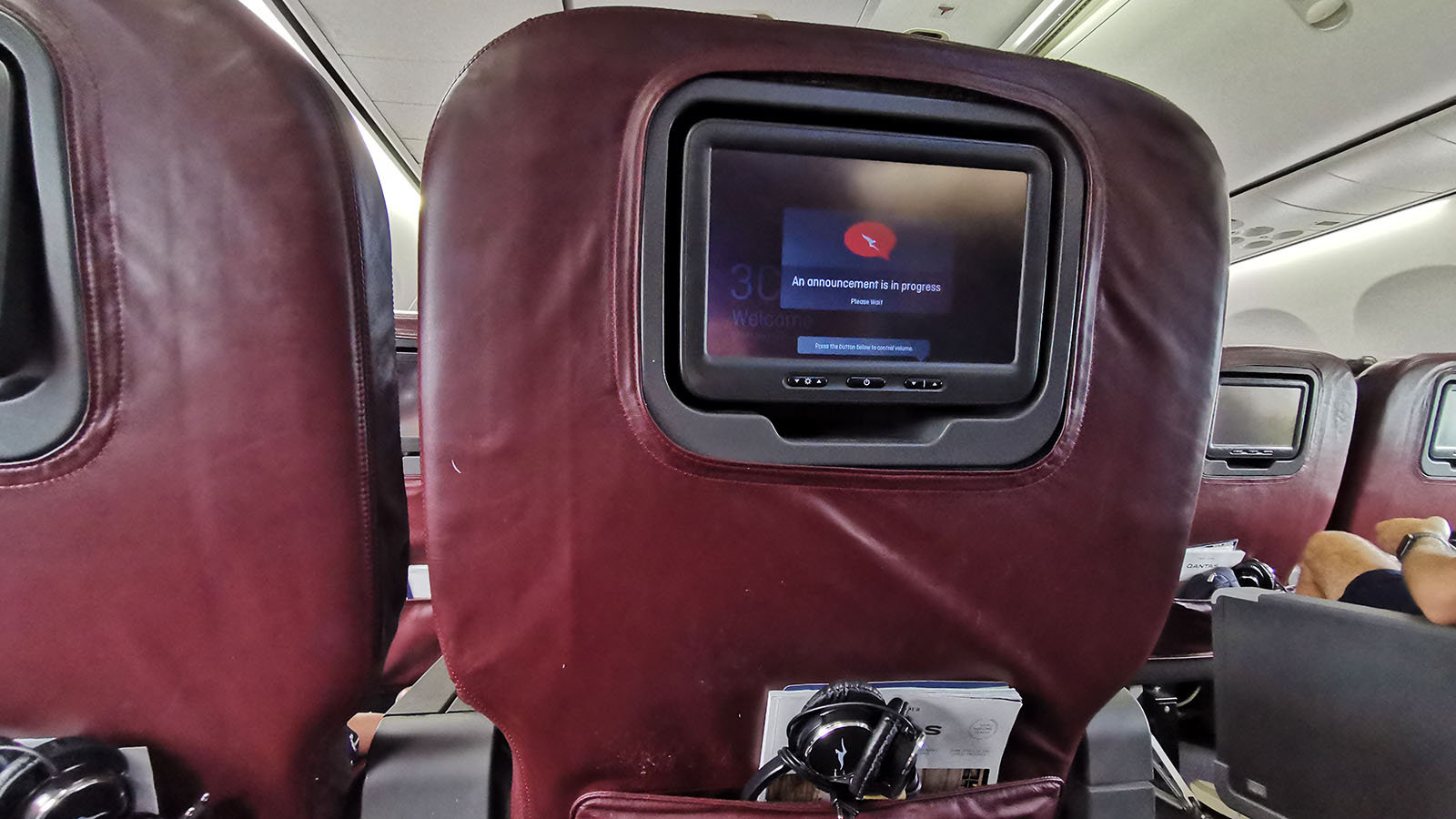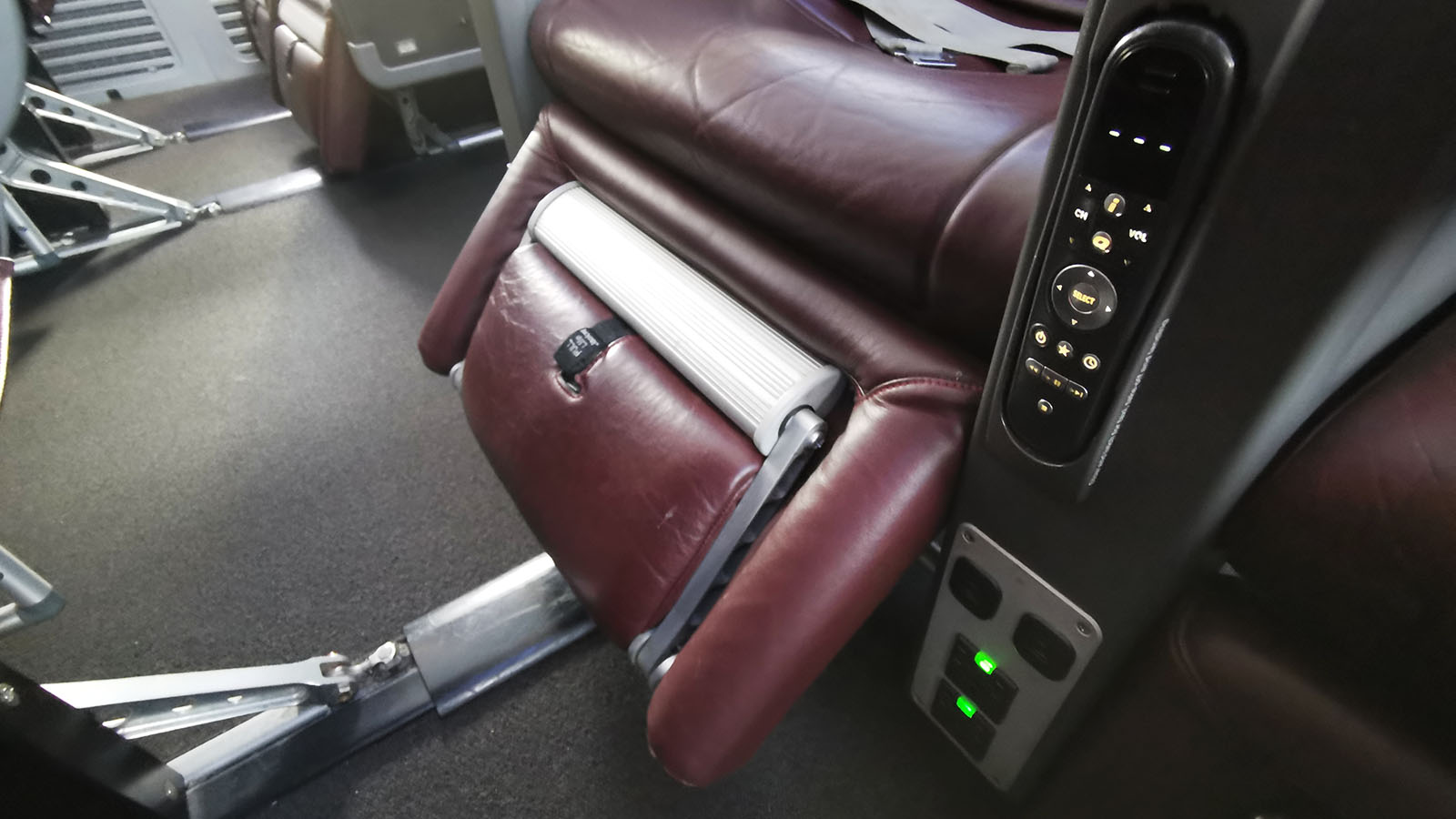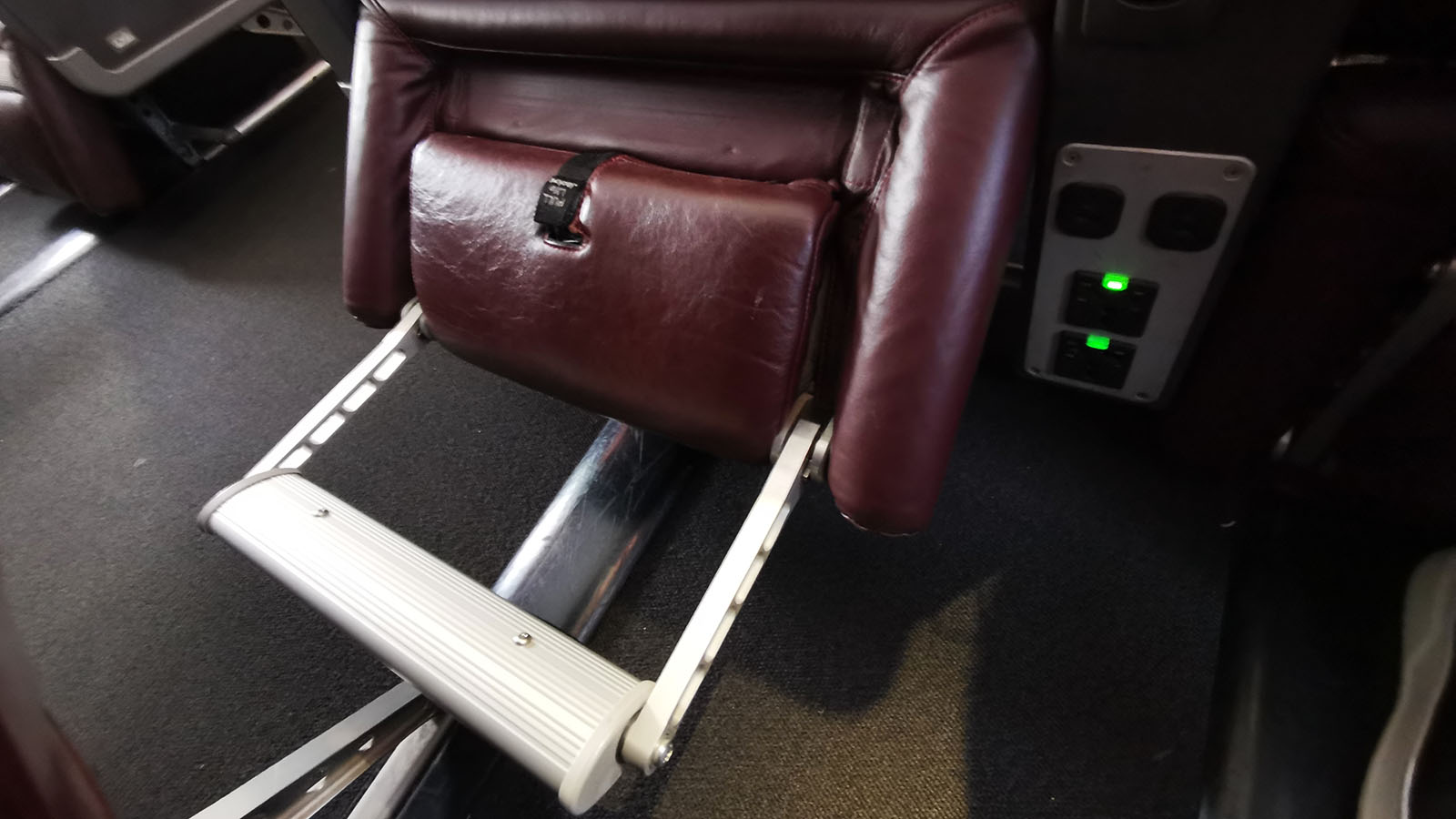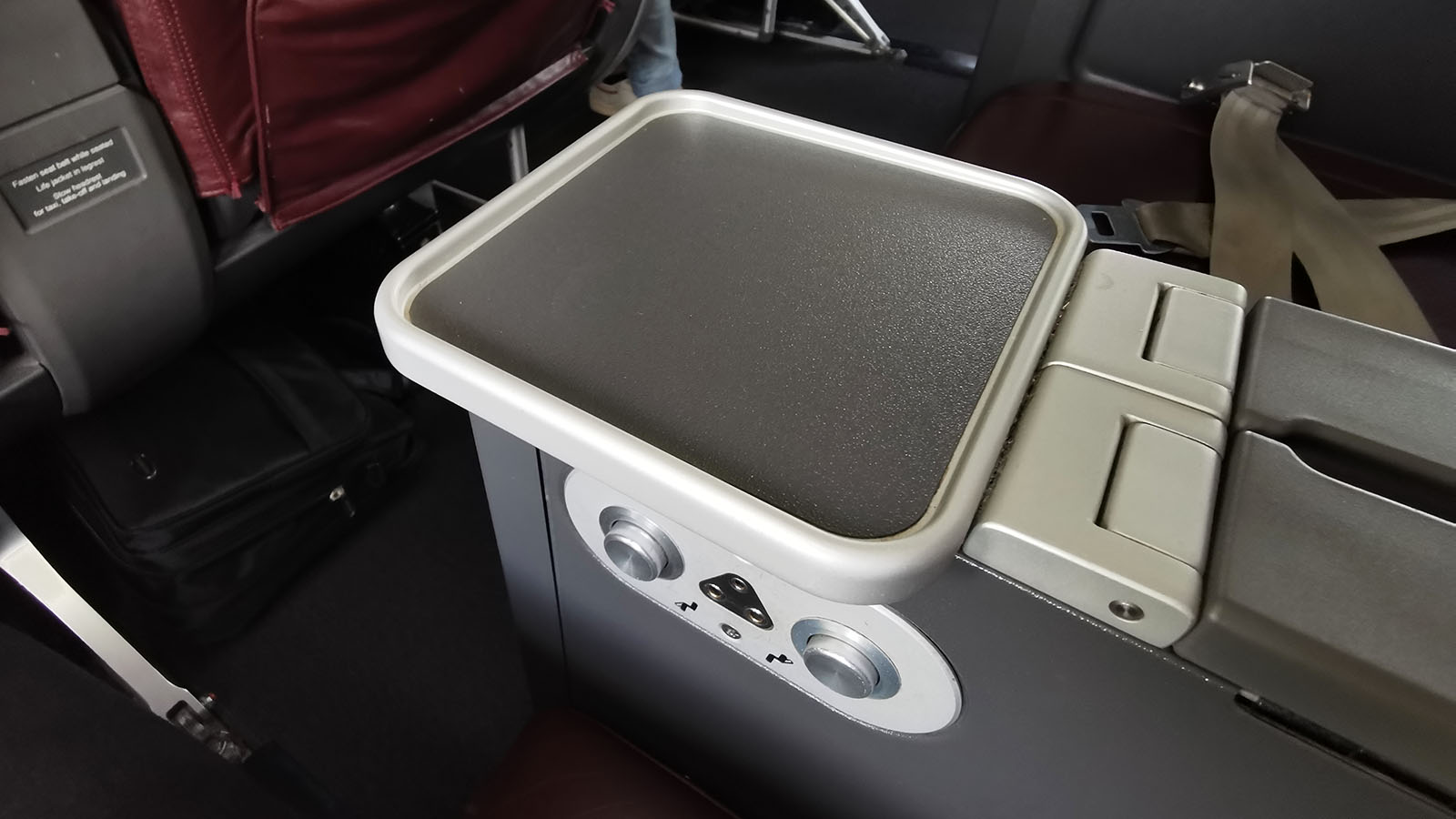 To the hardware itself, each seat adopts a generous recline. Headrests are adjustable in height, with the edges folding in to provide sturdy wings – great for supporting your head while taking a nap.
A leg rest appears at the press of a button, with a metal frame folding out to provide an additional footrest. There's also a handy central table for beverages, an international-style AC power outlet, and a USB-A charging socket for each Business passenger.
Qantas Boeing 737 Business food and beverage
With Qantas scheduling its best short-haul plane for this departure, it's a shame the airline isn't also delivering its best short-haul service.
Fancy a glass of bubbles after you board this late afternoon flight or even a simple glass of water? Sorry, not until after take-off – and even then, only as part of the meal. Because I was one of the first to board, this meant sitting in Business for over 70 minutes before the first interaction with the crew past the boarding door.
That chat wasn't to serve a pre-dinner refreshment: just to request my meal preference for dinner. The two choices were:
Black pepper beef with rice
Chicken with mushroom and cream sauce
I went for the beef, and while the presentation could have been nicer, it was still quite tasty. On the side, a tea cake – which was again delicious, but would have looked nicer on a plate rather than on cardboard.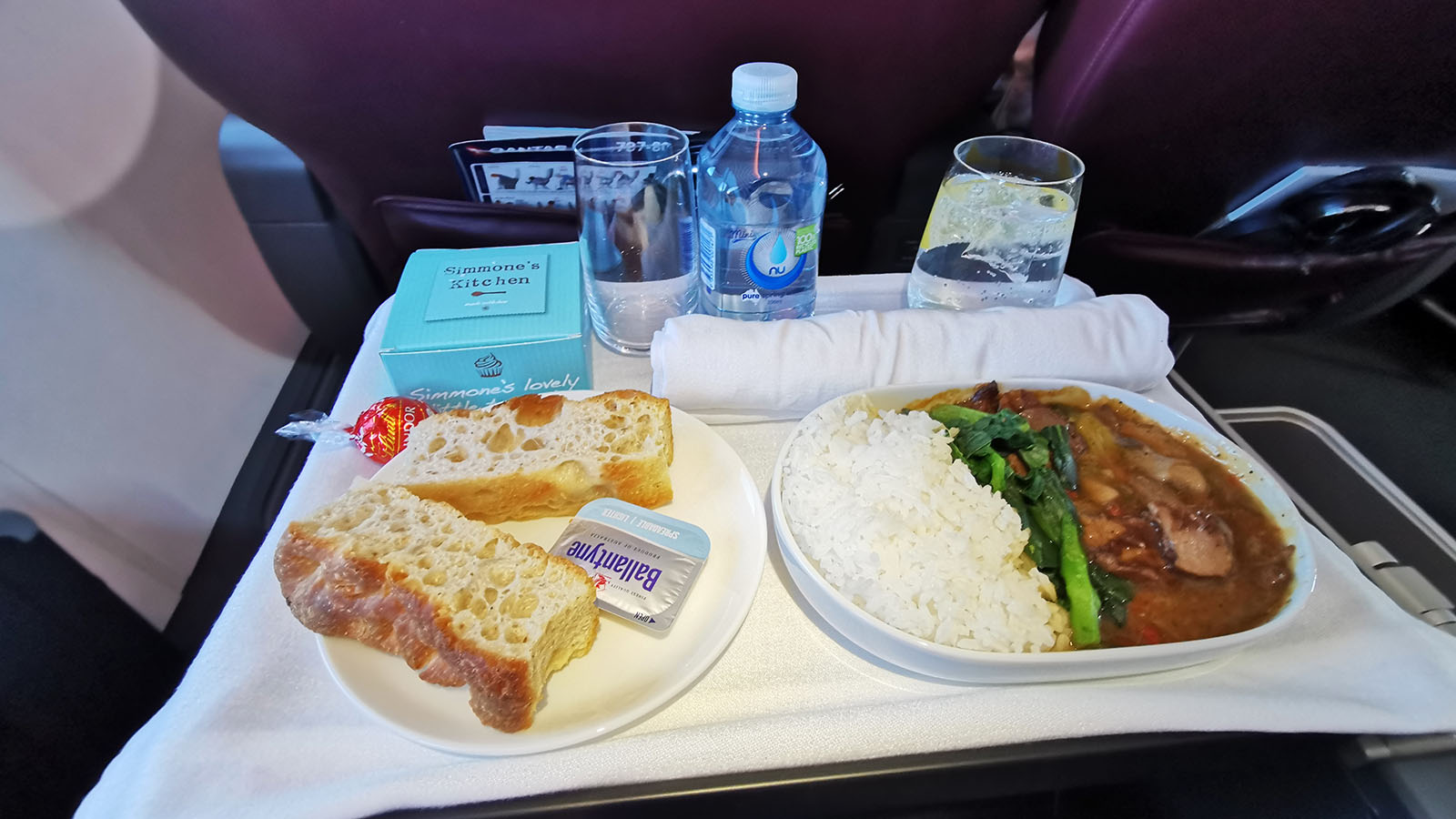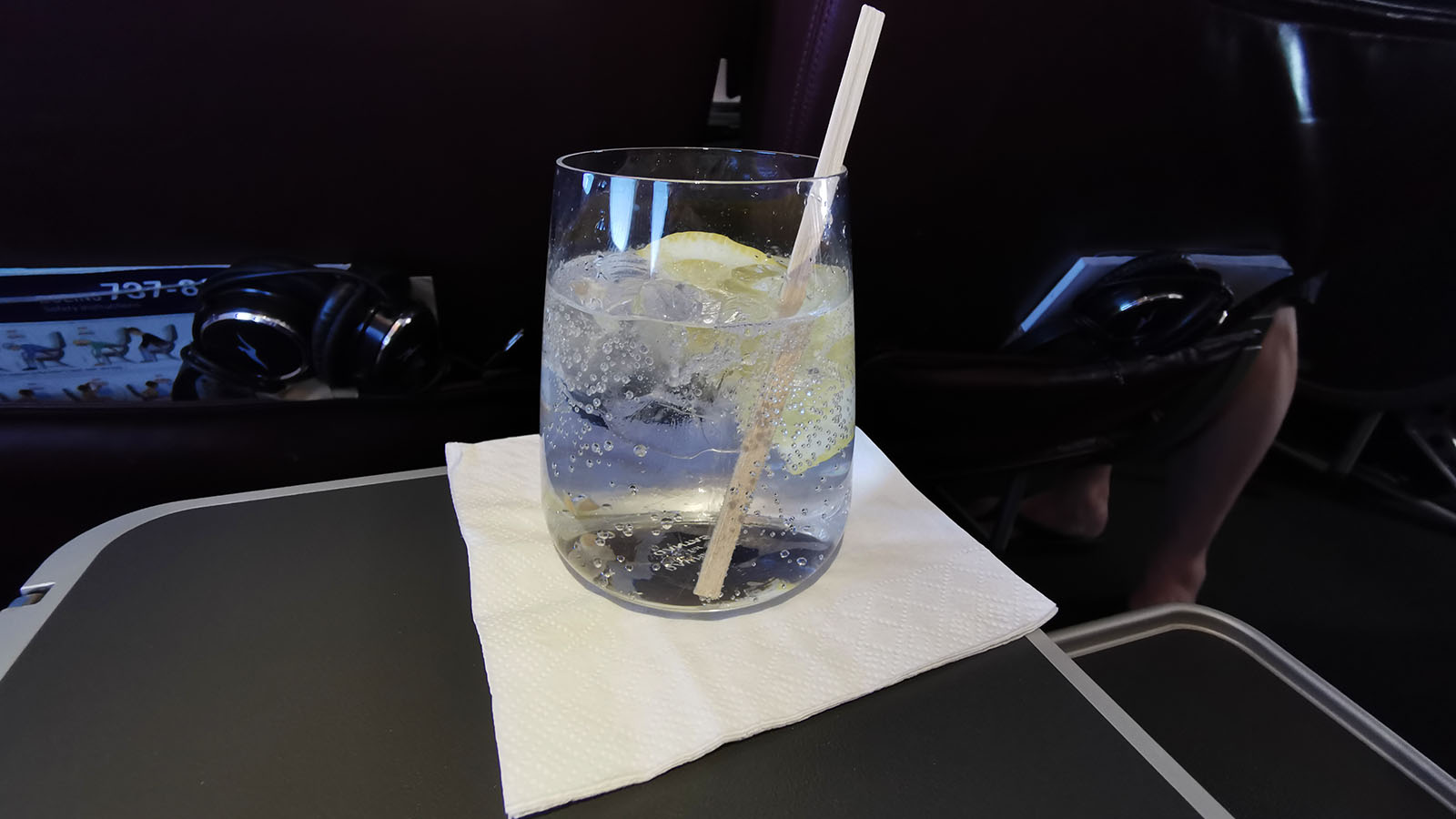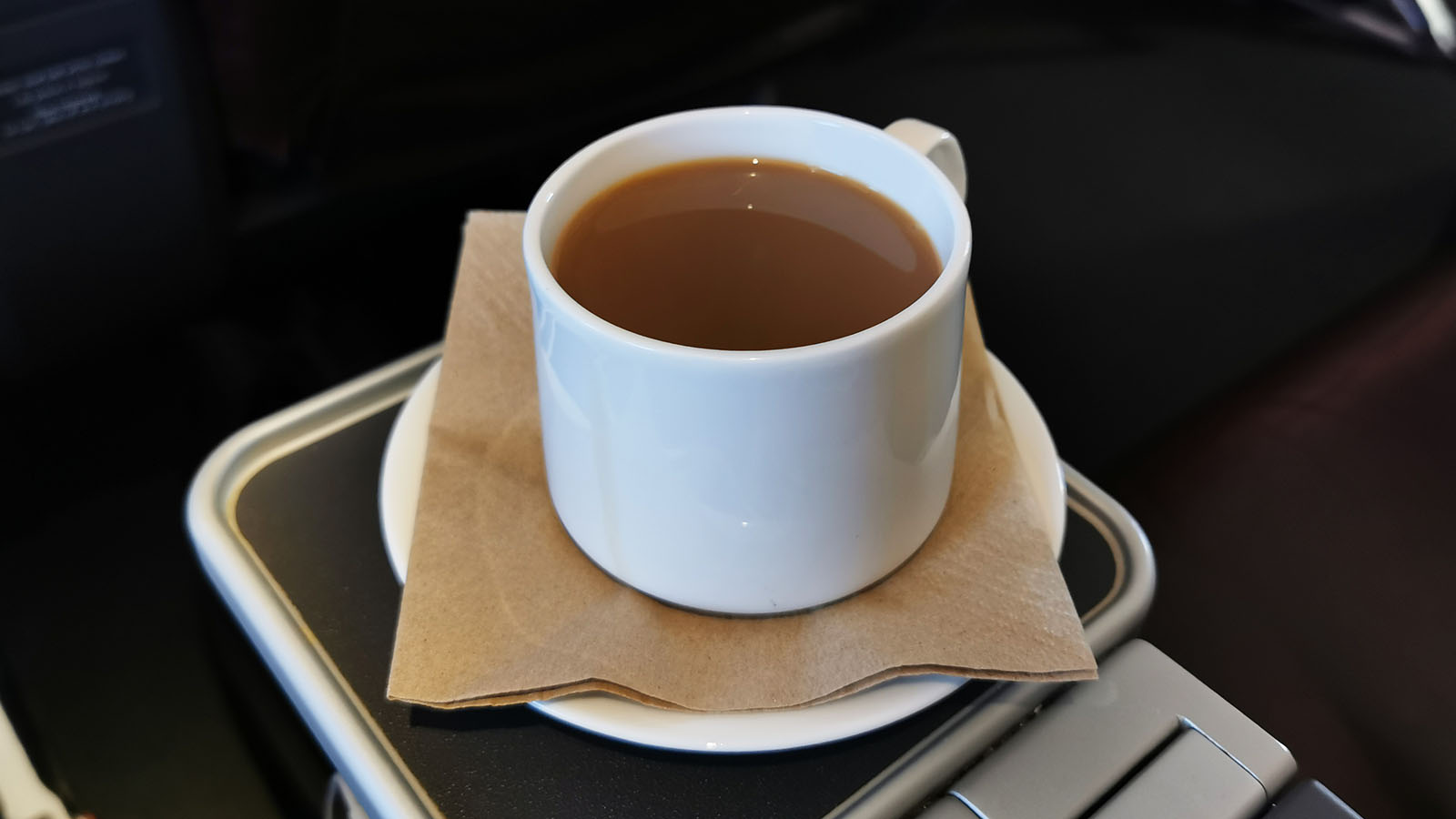 I'd asked for a glass of water, too. This was, unusually for Qantas Business, served as an empty glass with a glass-sized plastic bottle beside it. Fortunately, my gin and tonic came as expected!
With a couple of hours to go, there was more than enough time for a second G&T. Closer to landing, I finished with a simple white coffee, as there's no espresso maker in the galleys here.
Qantas Boeing 737 Business service and entertainment
Service on this flight was unfortunately rather perfunctory. While this flight certainly wasn't bad, 'fine' is the most accurate summary.
It's odd, because my outbound journey to Nouméa was the polar opposite. Even with boarding at 7 am, the crew on that leg had Champagne ready to go: before take-off and again ahead of the meal.
On this evening flight back to Australia, however, nothing was offered to any Business passenger until the meal arrived. Even some water beforehand would have been nice.
Nonetheless, the crew were at least friendly when there was some interaction, but without personalisation. Passengers weren't addressed by name, and what's normally a 'welcome back' at the boarding door for status holders was simplified to the standard 'welcome'. There was also no chit-chat to be had – but it wasn't a problem when something was requested, like that second G&T.
The seatback TV provided the entertainment instead, with a selection of movies and TV shows. It's hard to resist finishing Top Gun: Maverick, which I'd started on an earlier flight, even if the small screen doesn't do it justice. I'd packed my noise-cancelling headphones, at least!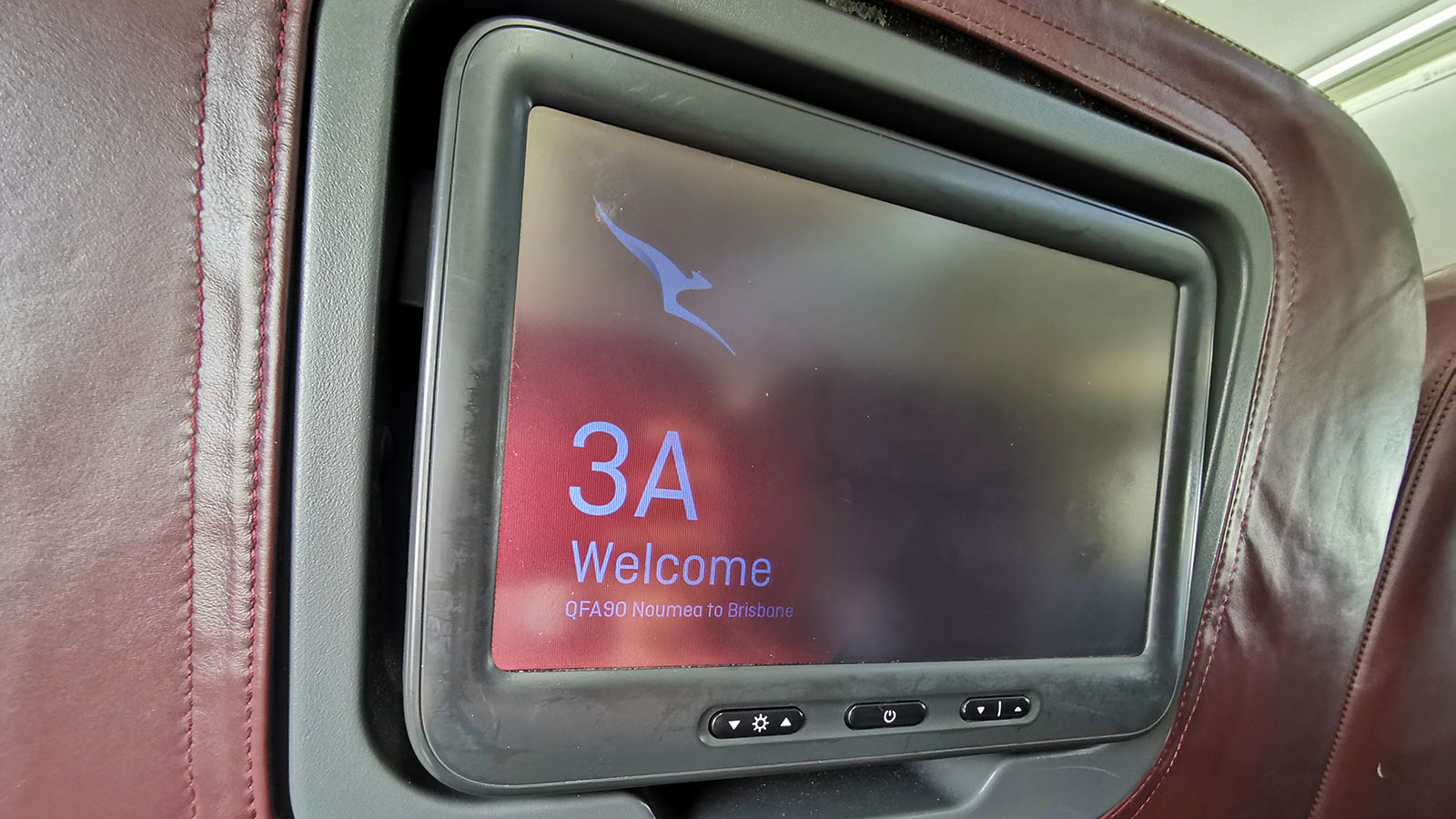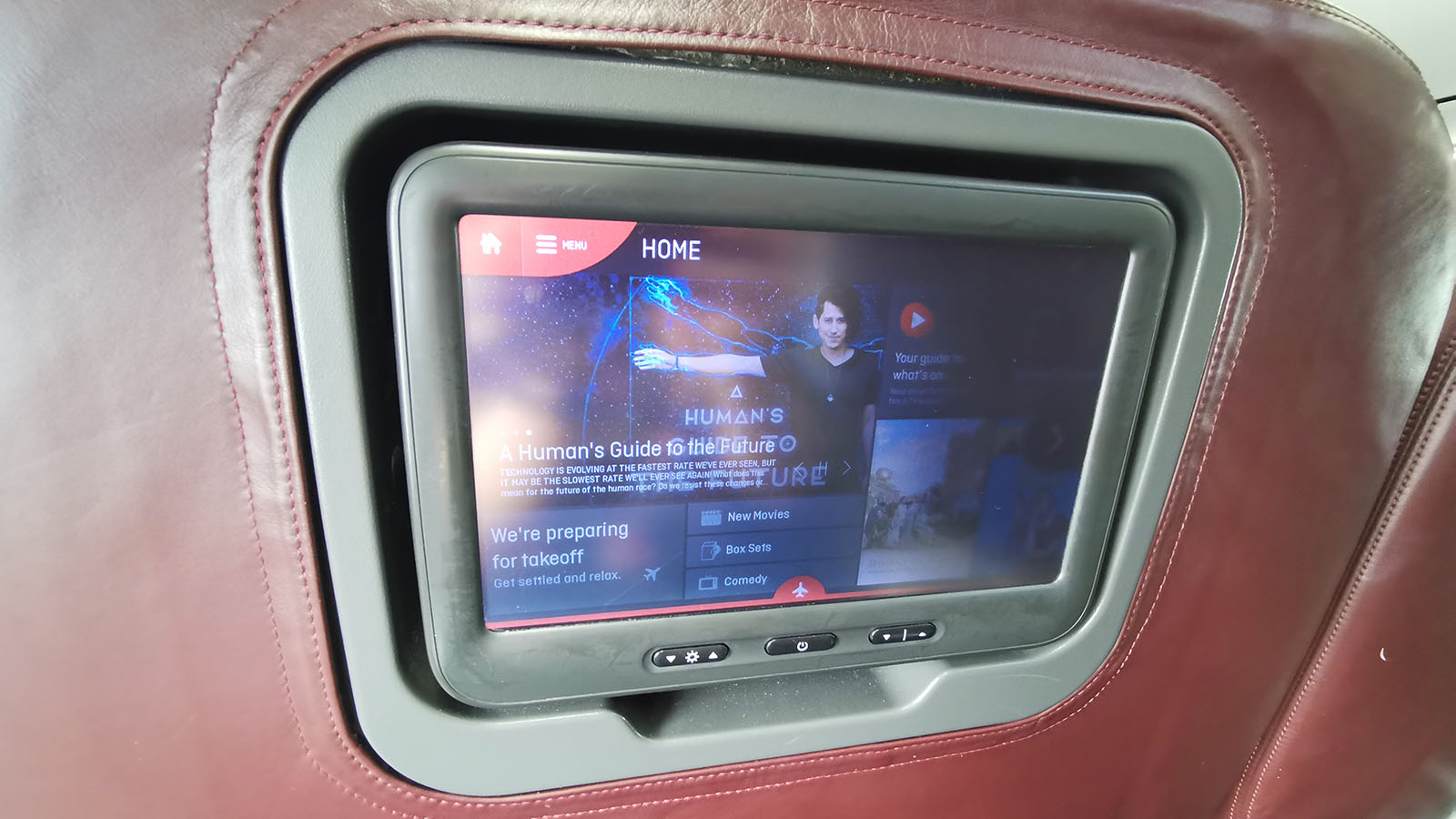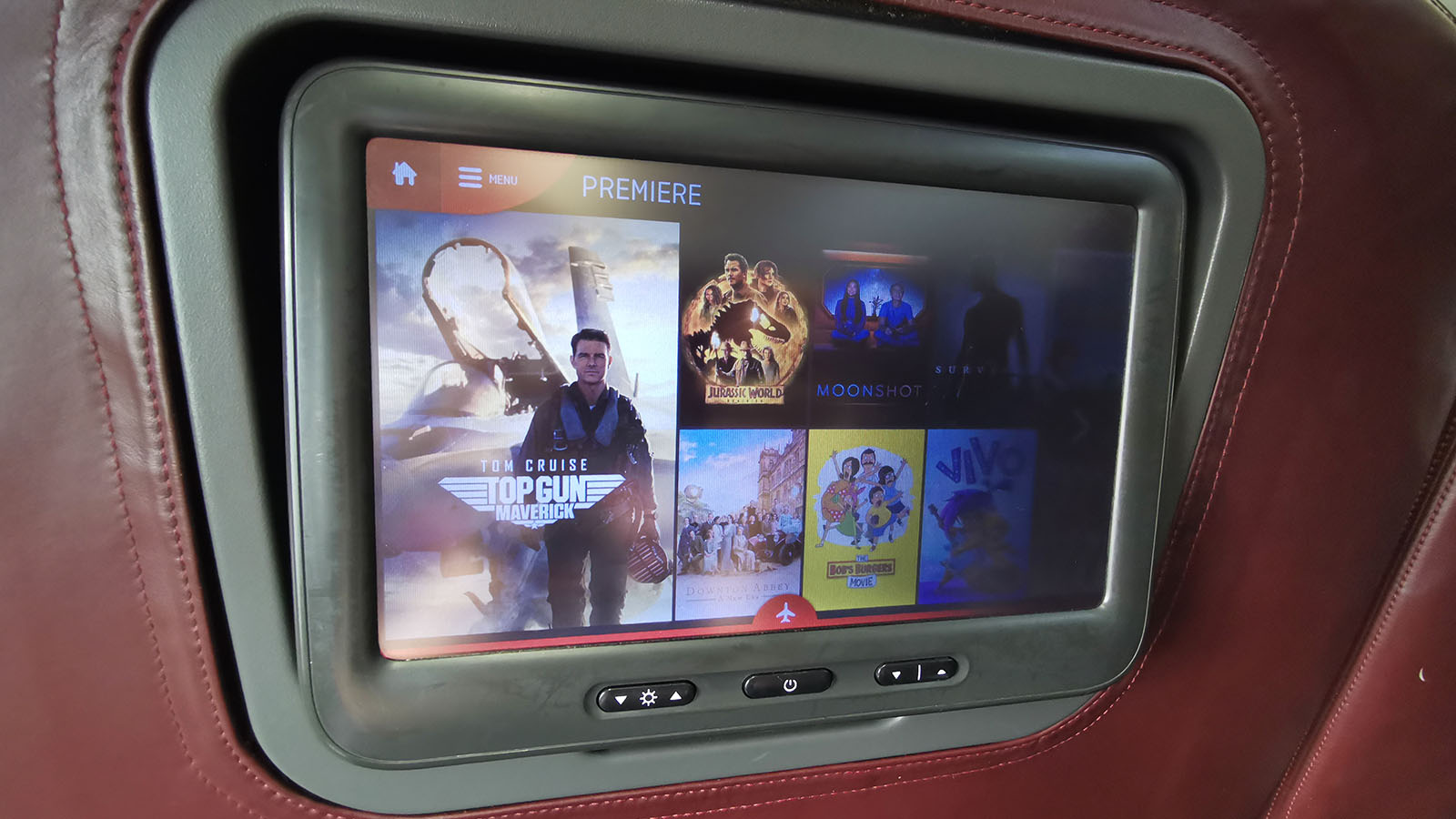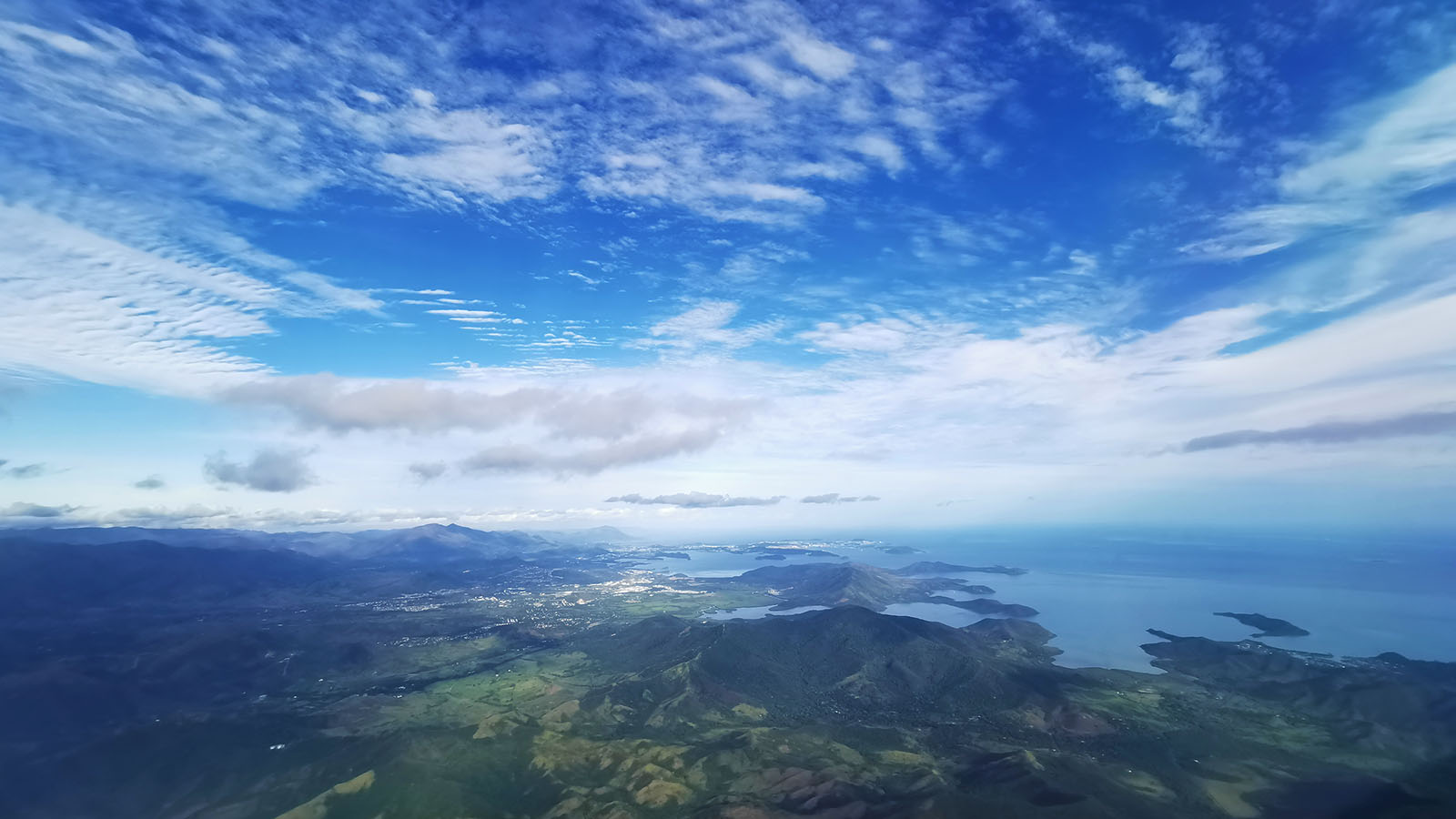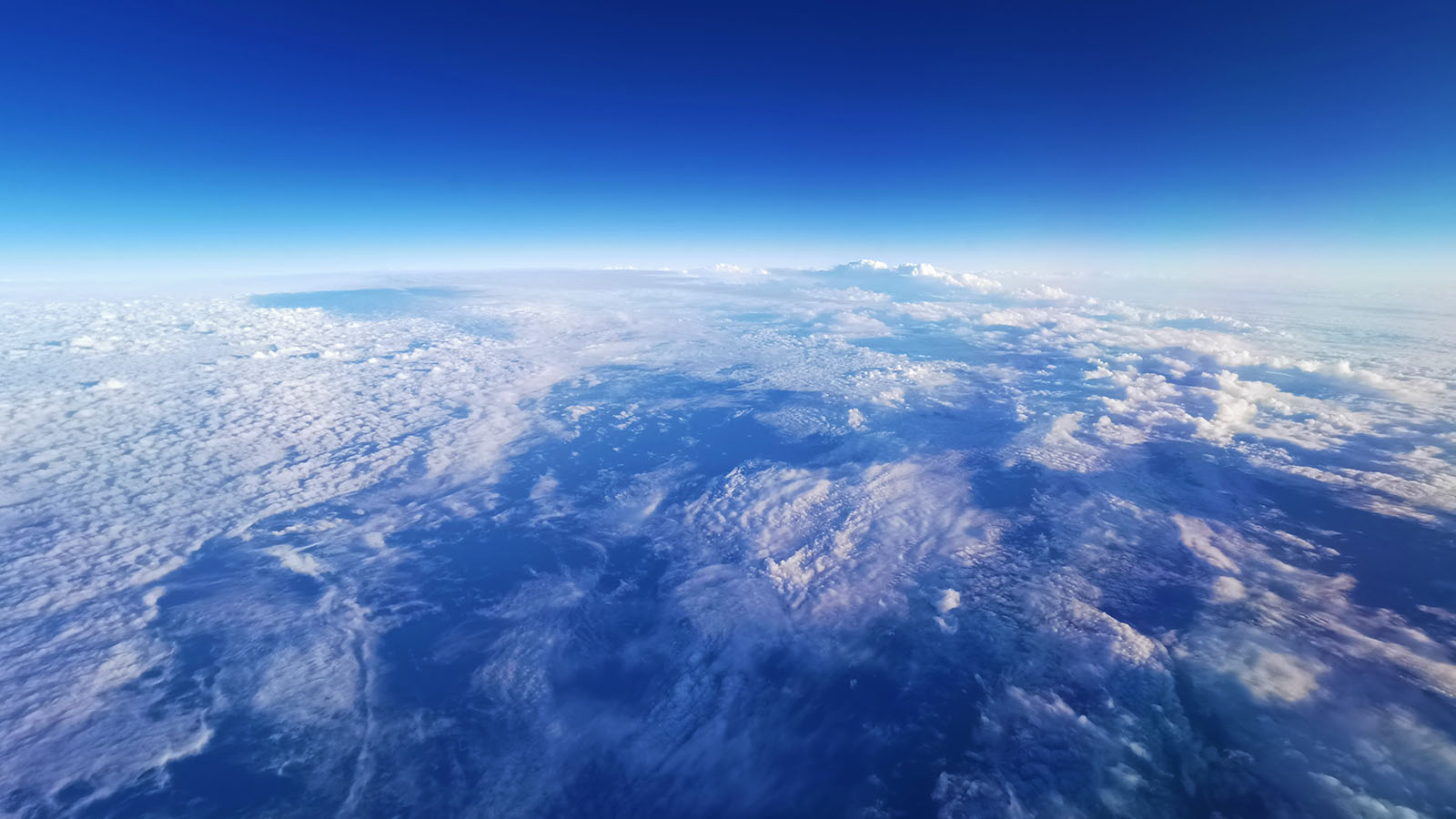 It's always nice to have a seatback screen, but the display could have been much brighter. Even with the brightness setting cranked right up, the panel was still quite dark overall. This made it hard to read some of the descriptions, and of course, to enjoy the content properly.
Shutting the window blind improves things as it reduces glare. But on a Qantas Boeing 737 route like Nouméa-Brisbane, the views aren't to be missed. I keep my blind open until we're well into the journey to enjoy the sights – even if that means squinting at my movie in between!
Summing up
All in all, I still had a comfortable flight. I just wish that the crew on this Nouméa-Brisbane hop had the same energy and enthusiasm as the great staff working on my outbound Sydney-Nouméa service. That really makes the difference between a 'fine' inflight experience and a 'great' one.
Still, these Nouméa-Brisbane flights are a steal when booking using Qantas Points. They're only 27,600 Qantas Points one-way in Business, which is no greater than a domestic journey between Melbourne and Brisbane. You just pay the taxes, fees and charges on the side, which are around AU$110 one-way for Nouméa.
If you're happy to fly Qantas Economy, you can even travel for just 12,000 Qantas Points one-way on this route (plus the same taxes and fees). Substantial meals are served in Economy, too. This flight gave passengers a choice between pork sausages with mash or teriyaki chicken with noodles.
But when Business is only 15,600 Qantas Points more, that's a small premium to pay for the extra comfort alone. And on a three-hour flight like this, it was still nice being able to stretch out and watch a movie with my gin and tonic.
Also read: The Point Hacker's pocket guide to Nouméa
Photography by Chris Chamberlin, who travelled at Point Hacks' expense.
---
Stay up to date with the latest news, reviews and guides by subscribing to Point Hacks' email newsletter.
Qantas Boeing 737 Business (Nouméa – Brisbane)
was last modified:
September 30th, 2022
by