It's probably no surprise that Air Canada is a solid choice when jetting between Australia and the airline's homeland. But Air Canada also specialises in swift connections between the United States and both Sydney and Brisbane. In fact, the fastest flight time between Brisbane and New York is on Air Canada via Vancouver – not via a US airport.
With that in mind, and with a well-timed Business Class reward seat available using my Velocity Points, I thought I'd try things in reverse. Beginning my trip in San Francisco, I hopped on up to Vancouver. Then after a speedy transit, continued to Brisbane in Air Canada's Boeing 787 Signature Class cabin.
Sure, you need a Canadian Electronic Travel Authorisation (eTA) on top of your US ESTA or visa. But an eTA costs just CA$7, and the taxes on a Velocity reward booking are only around AU$90 – with a US connection included. So you're still flying up the pointy end across the Pacific for less than AU$100 in cold hard cash.
To top it off, this turns out to be one of the best Business Class flights I've had in quite some time. But the lounge experience in Vancouver leaves a lot to be desired for those who book using Velocity Points…
Check-in
This time, my journey through Vancouver is just a quick transit. Sure, I could've taken a direct United Airlines flight from San Francisco home to Brisbane – and that was my original plan. But with Velocity Points to spend, I stumble upon a Business Class reward seat via Canada.
For 104,000 Velocity Points plus just AU$90.11, I've nabbed not one, but two flights. San Francisco to Vancouver in Air Canada Business Class. Plus Vancouver to Brisbane, in Air Canada's Boeing 787 Signature Class. It's the same number of points as Vancouver-Brisbane direct, and gets me from where I am to where I need to be. Happy days.
Check-in is super easy in San Francisco. There's no queue at the Air Canada counters, and no issue handing over my checked bag around nine hours before that first leg. I quite appreciate that, as I've just arrived on another airline booked on a separate ticket. Being able to rid myself of the bag means I won't be stuck around waiting – I can carry on with my day.
Transiting Vancouver will be tight, with just 1.5 hours between touchdown and take-off. Adding to that, an SMS pops up from Air Canada, advising that my flight into Vancouver will be an hour late. After a brief panic, I see another message come through. My Brisbane-bound flight is also delayed… to accommodate late connections. Huzzah, I'm saved.
Once in Vancouver, the transit is surprisingly smooth. Coming from the United States, I don't even have to go through security – let alone touch my checked bag. I literally walk off the plane and scan my passport in the transit zone. I'm then escorted through a side door, straight into the departures hall.
Canada calls this One Stop Security. I call it easy!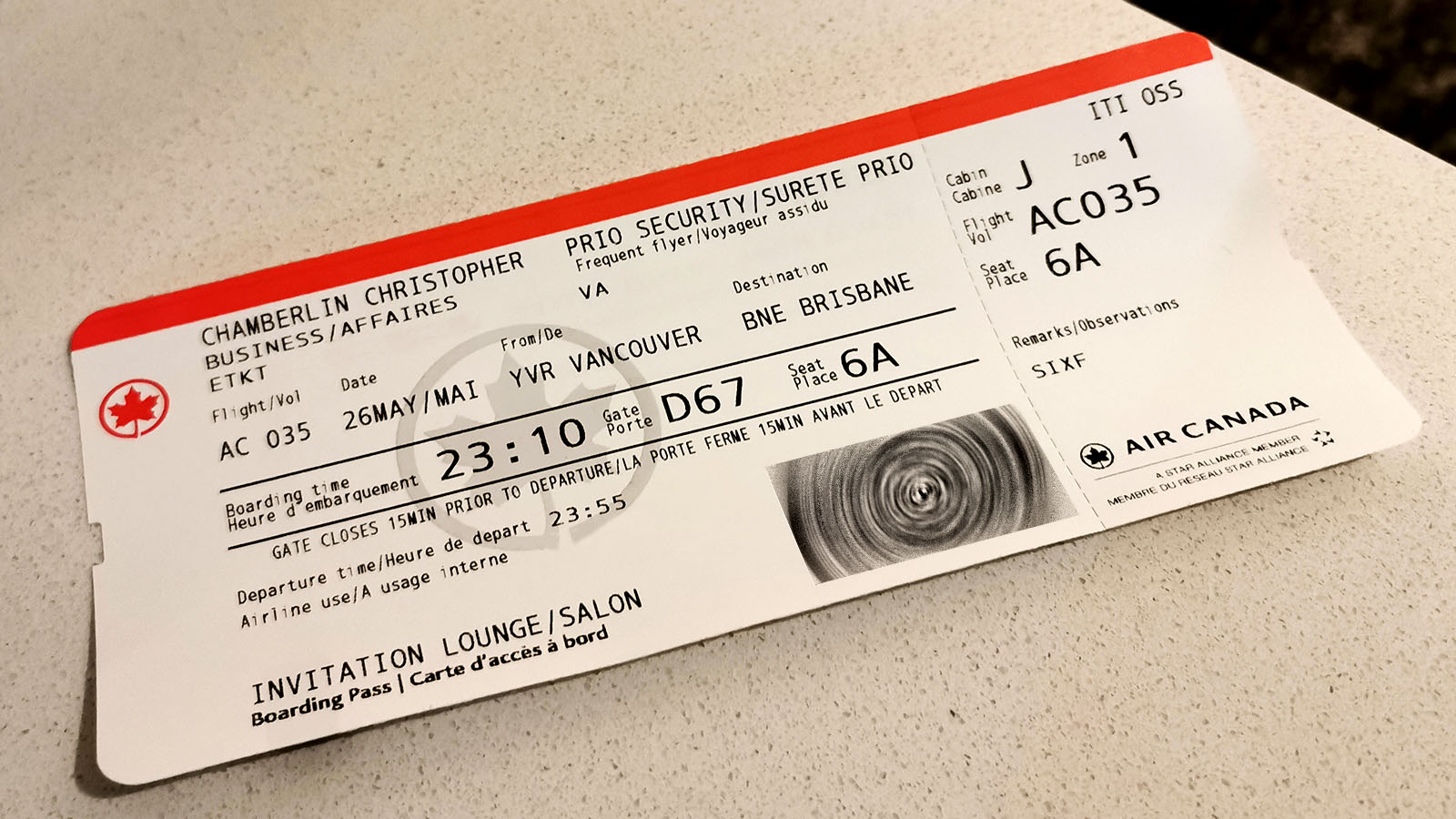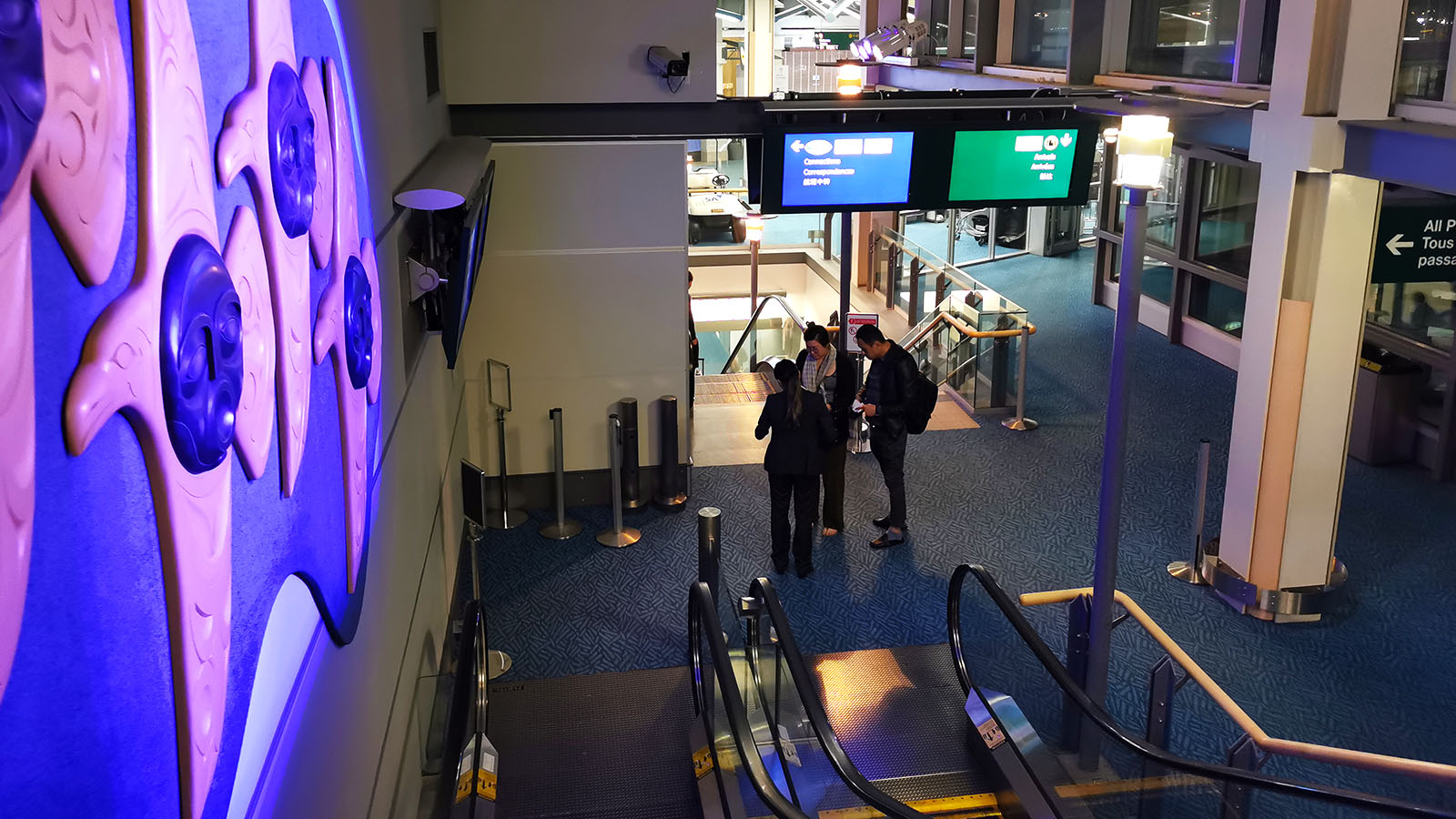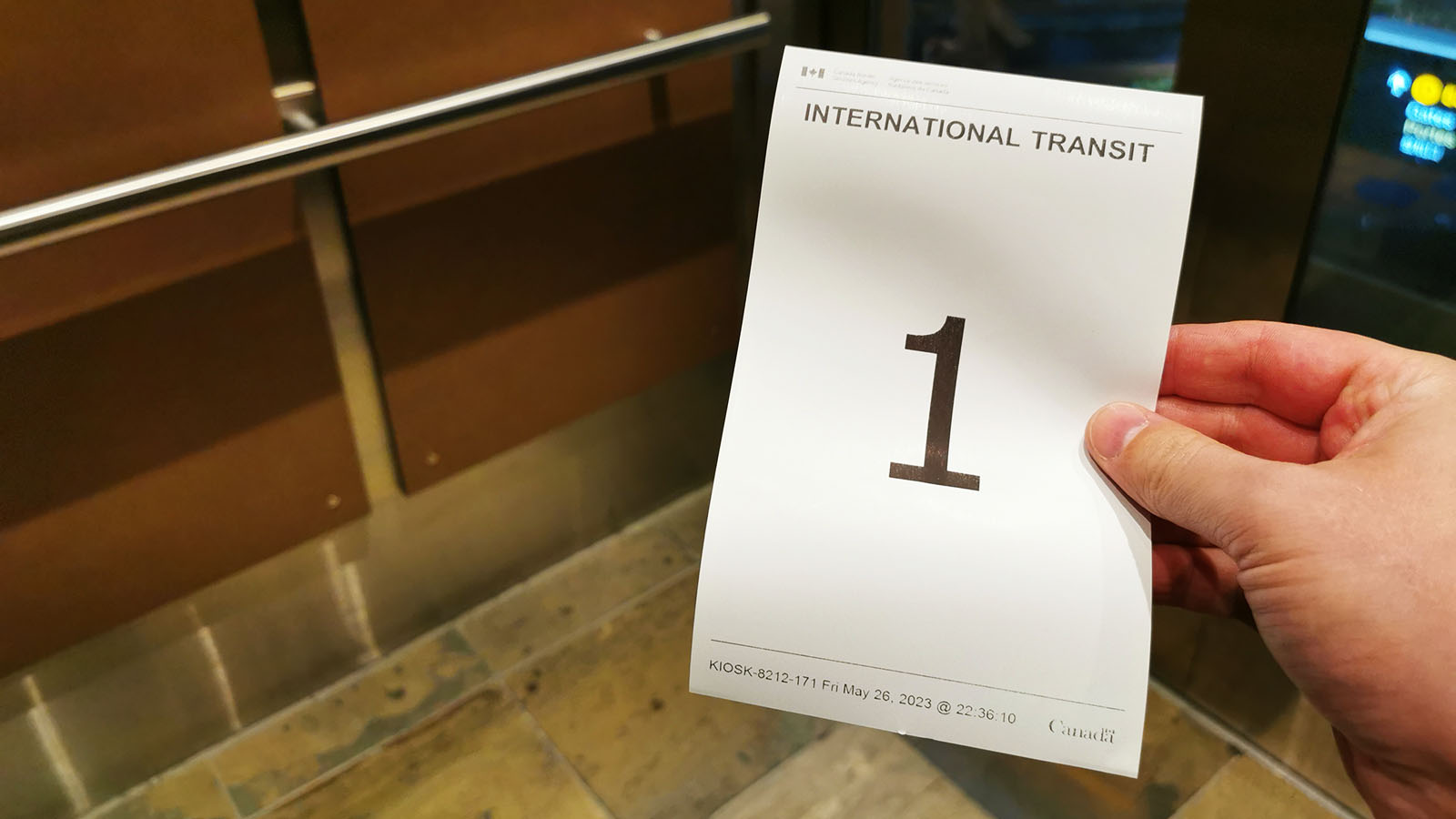 Lounge and boarding
It turns out I'm not the only passenger with a delayed connection. There's a Toronto flight also coming in late, carrying around 60 Brisbane-bound passengers and their bags. So I have time for an unexpected pit stop at the lounge in Vancouver.
Back at check-in, Air Canada staff advise me I can use the swish Signature Suite in Vancouver, given I'm flying Signature Class. The Signature Suite is Air Canada's lounge exclusively for long-haul Business Class passengers – and after all, I'm flying to Australia. But the check-in staff are wrong.
With an entire page devoted to the Signature Suite on Air Canada's website, there's a lot of information. But buried right down the bottom is some fine print. 'Business Class flight rewards booked and ticketed by partner airlines … will be excluded.' That's a pretty significant clause to bury, so I've bolded it for you here. (Take note, Air Canada).
This doesn't mean you're stuck sitting out in the terminal. You still get access to Air Canada's basic Maple Leaf Lounge next door. But I must admit, I'm not wowed.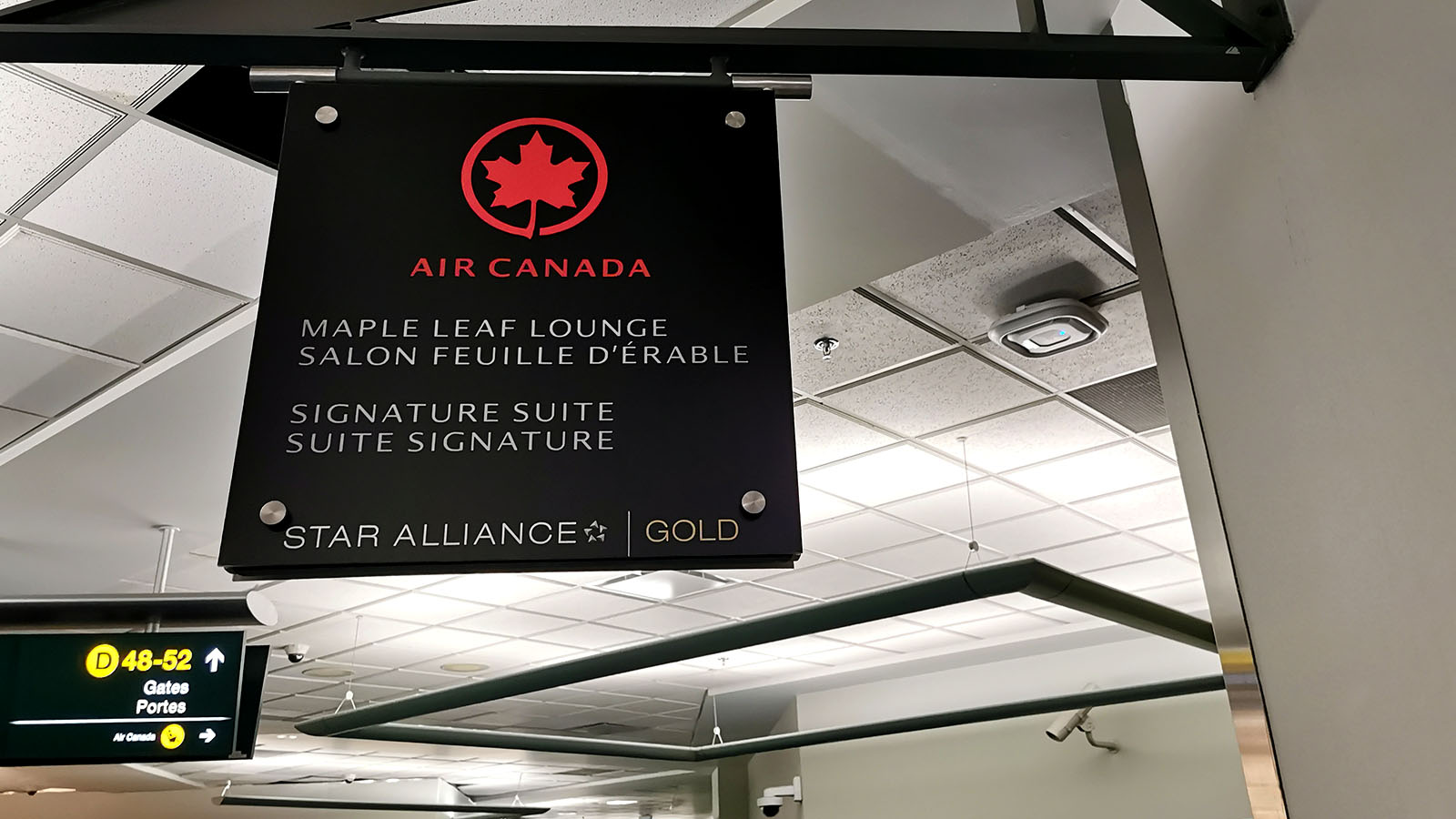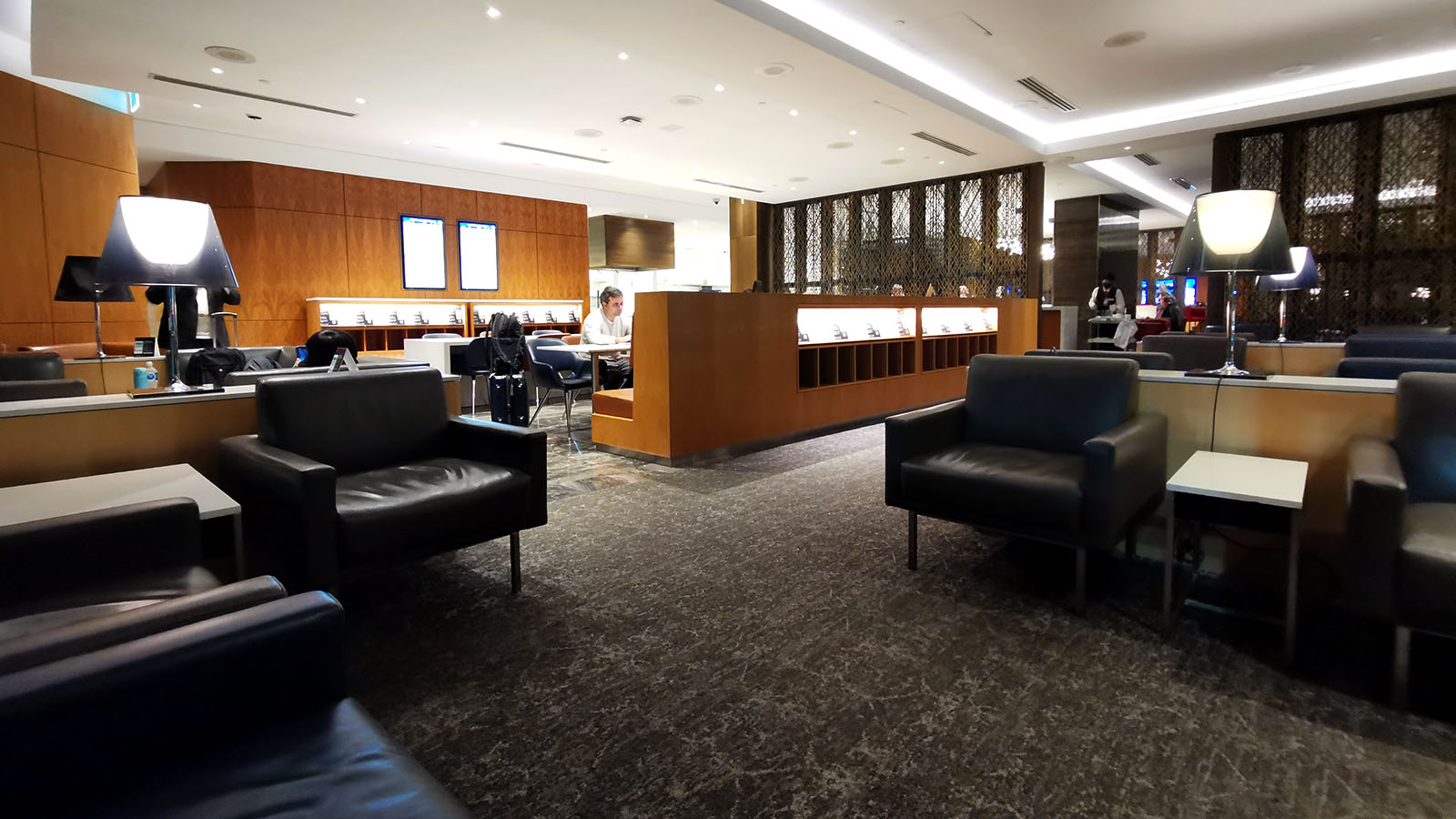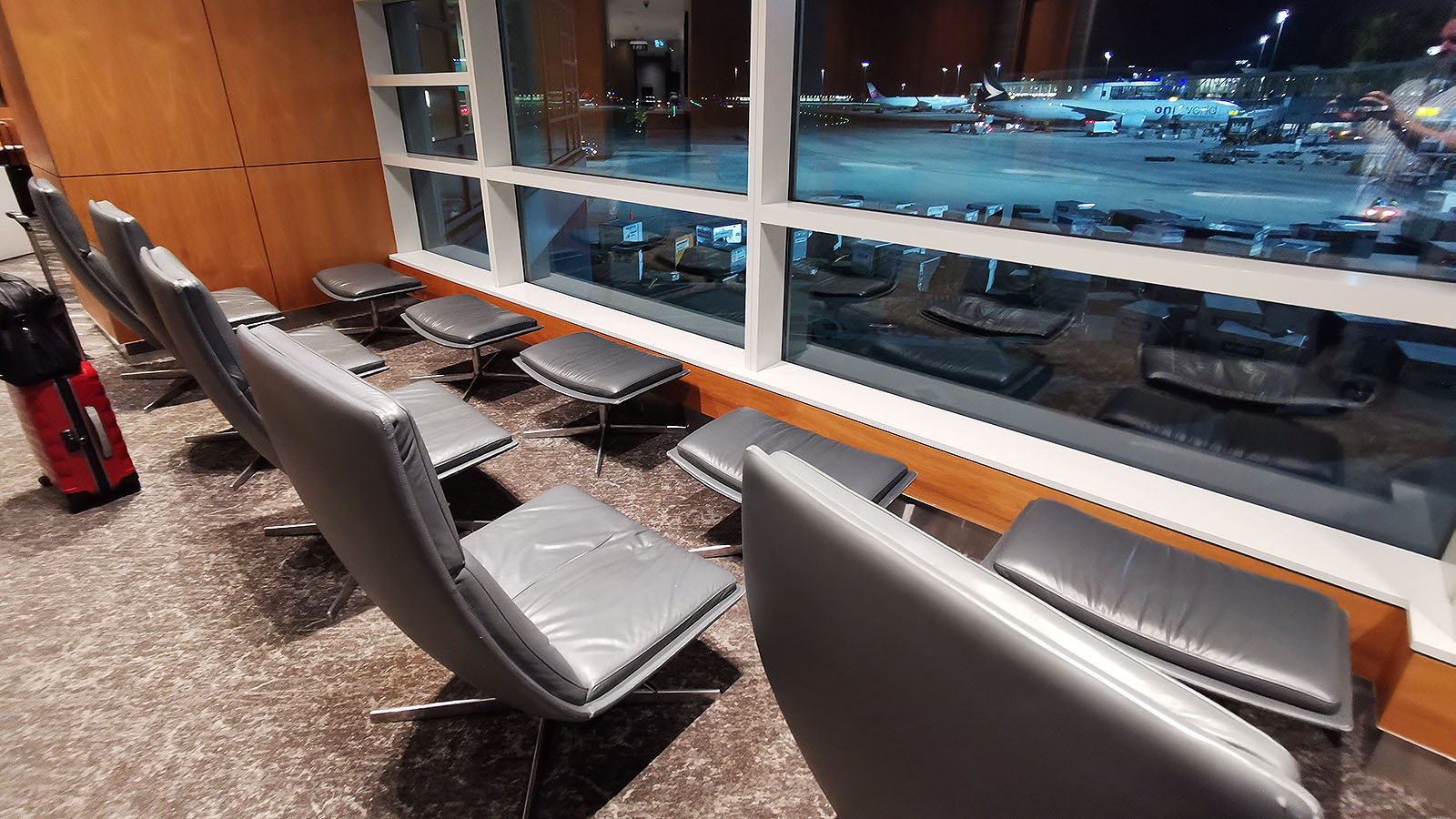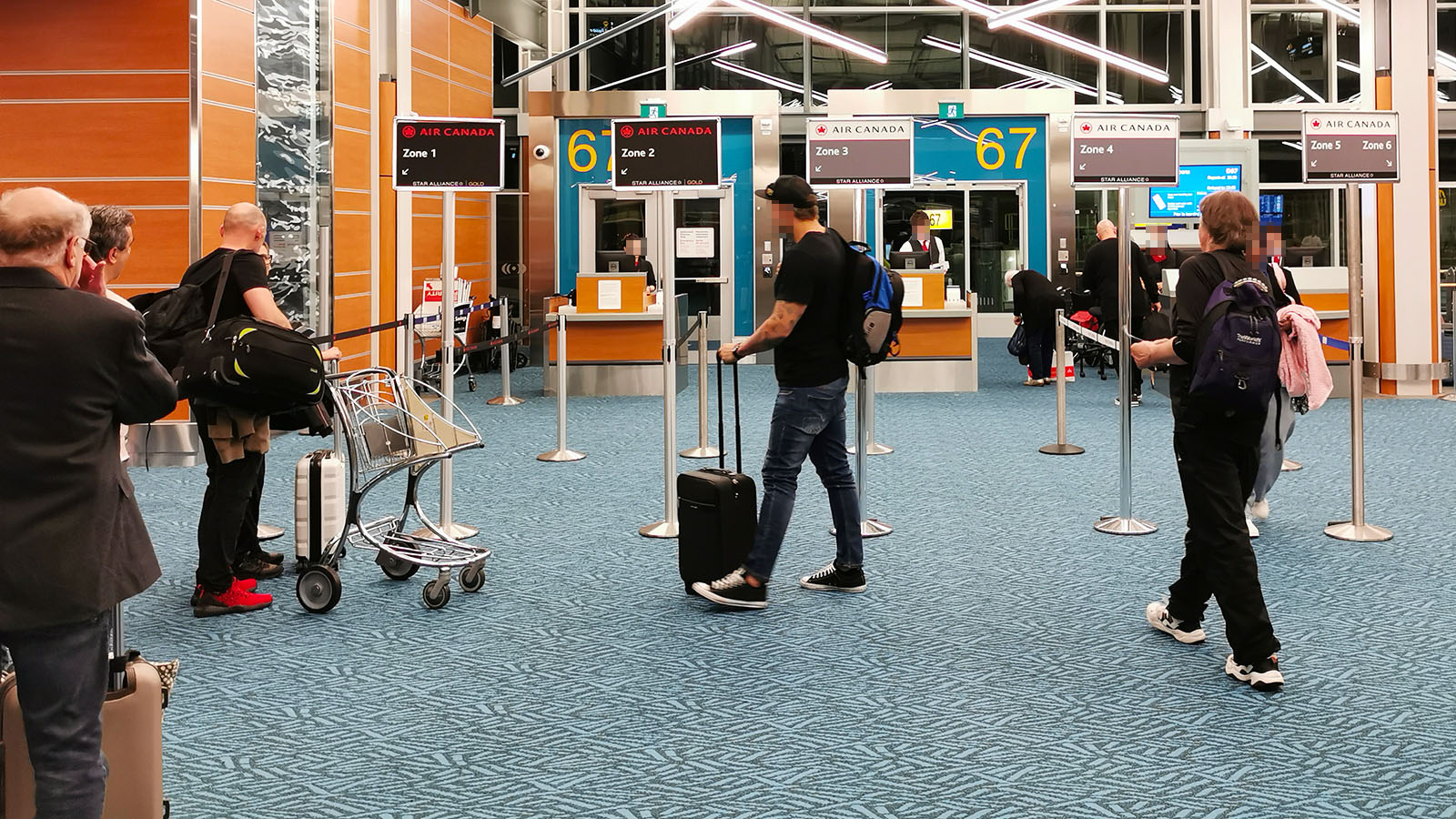 This Maple Leaf Lounge feels quite dated. Dark furniture, dark carpets and wood-panelled walls aren't particularly inspired. While I'm not hungry, I have a quick look at the buffet to see what's available. But even with several flights still on the board, I arrive to find the food being packed away.
All in all, Air Canada's lounge experience in Vancouver is a real letdown for travellers who savvily book flights using points. Enough to make me think that if booking the same itinerary again, I'll aim for a United Polaris reward flight straight from San Francisco to Australia. Of course, that'll also include access to United's own exclusive Polaris Lounge…
Air Canada Boeing 787 Signature Class seating
Lounge chaos aside, here's the main reason I book this itinerary. Air Canada Signature Class means having a flatbed for the near-15-hour trek across the Pacific aboard the Boeing 787. And if you have a close eye for detail, you might notice that Air Canada's seat is very similar to Virgin Australia's now-defunct 'The Business' cabin.
Both are customised versions of the Super Diamond seat by Collins Aerospace. This translates into direct aisle access for every passenger, and each seat angles itself away from the aisle. For me, this is one of the best long-haul seats for a great night's sleep. And you know what? I doze for eight hours – an entire night's rest above the clouds. Adieu, jet lag.
Air Canada also provides a mattress cover, duvet and pillow to make the seat more comfortable. As if that isn't enough, you can even make the bed firmer or softer via the touchscreen control panel. Just remember to pack your own pyjamas – unlike some other carriers, Air Canada doesn't supply them.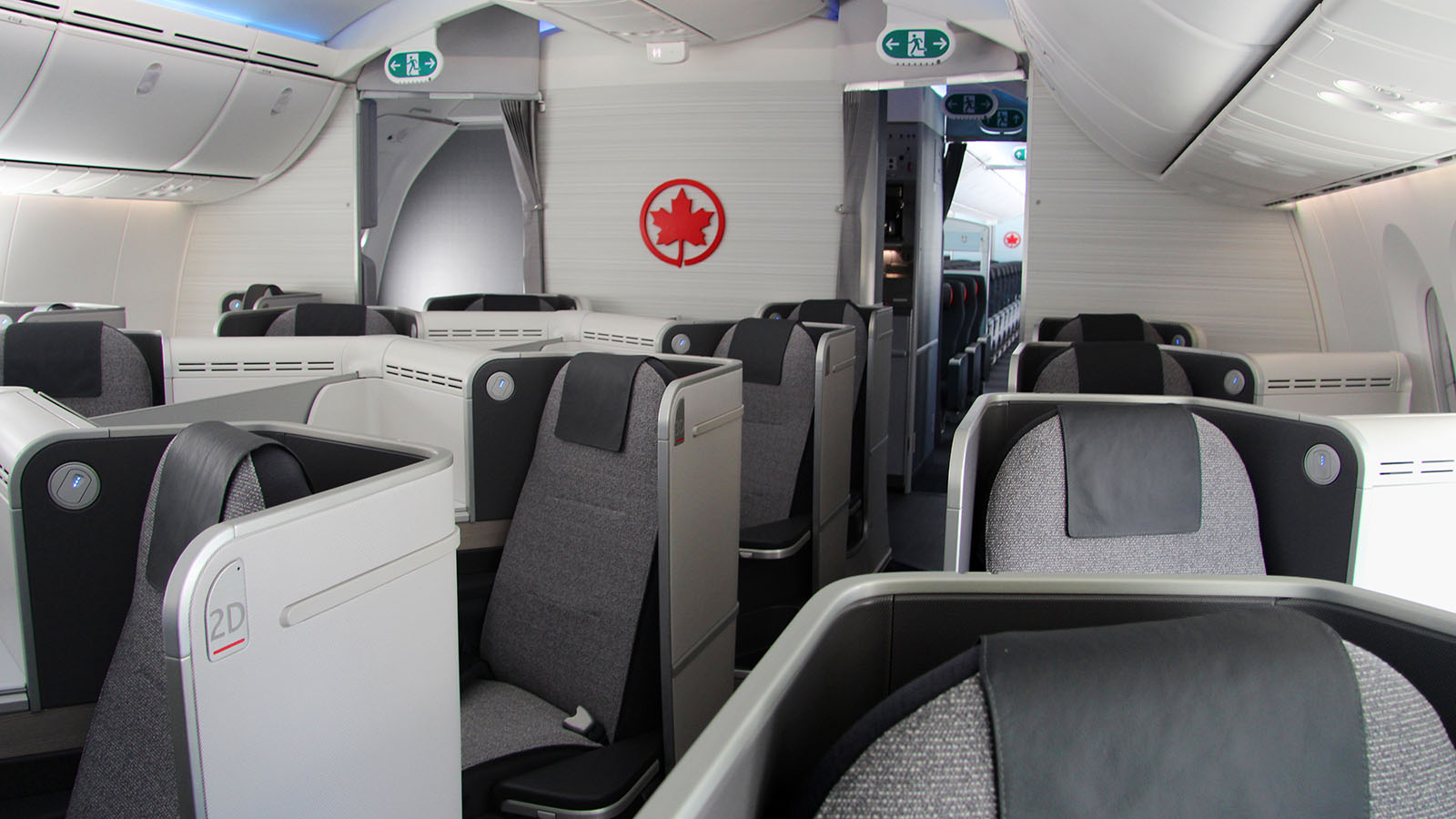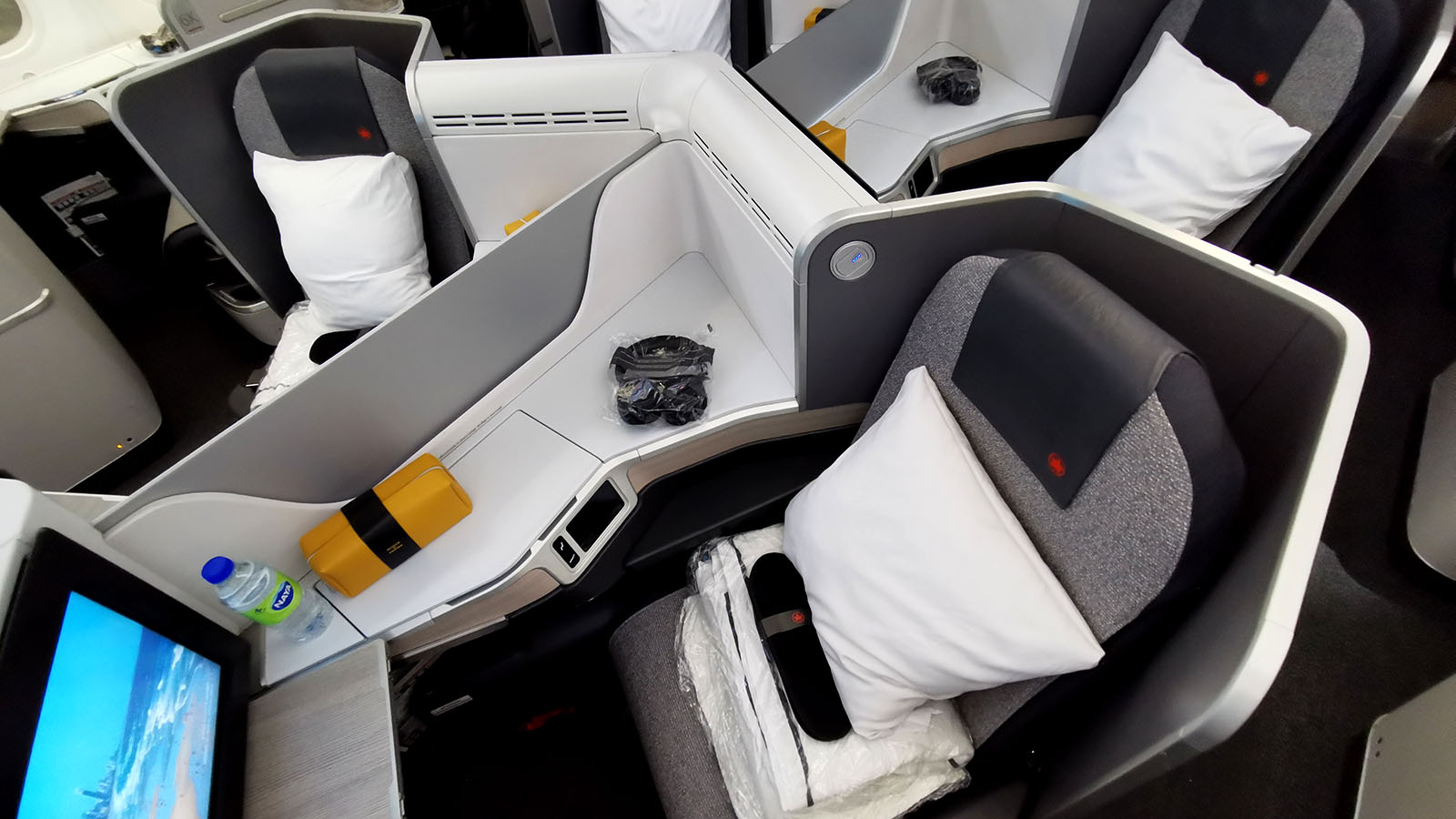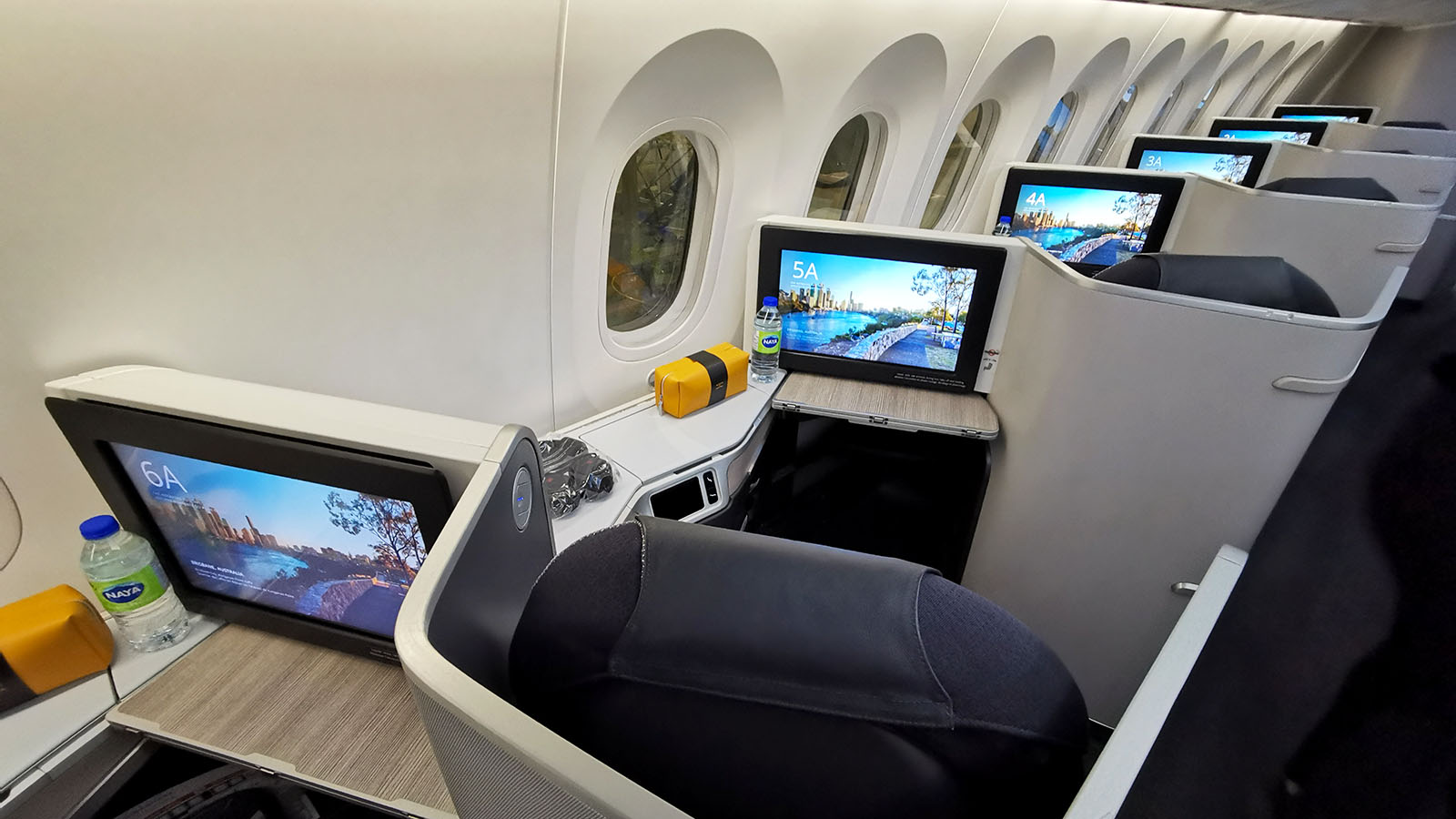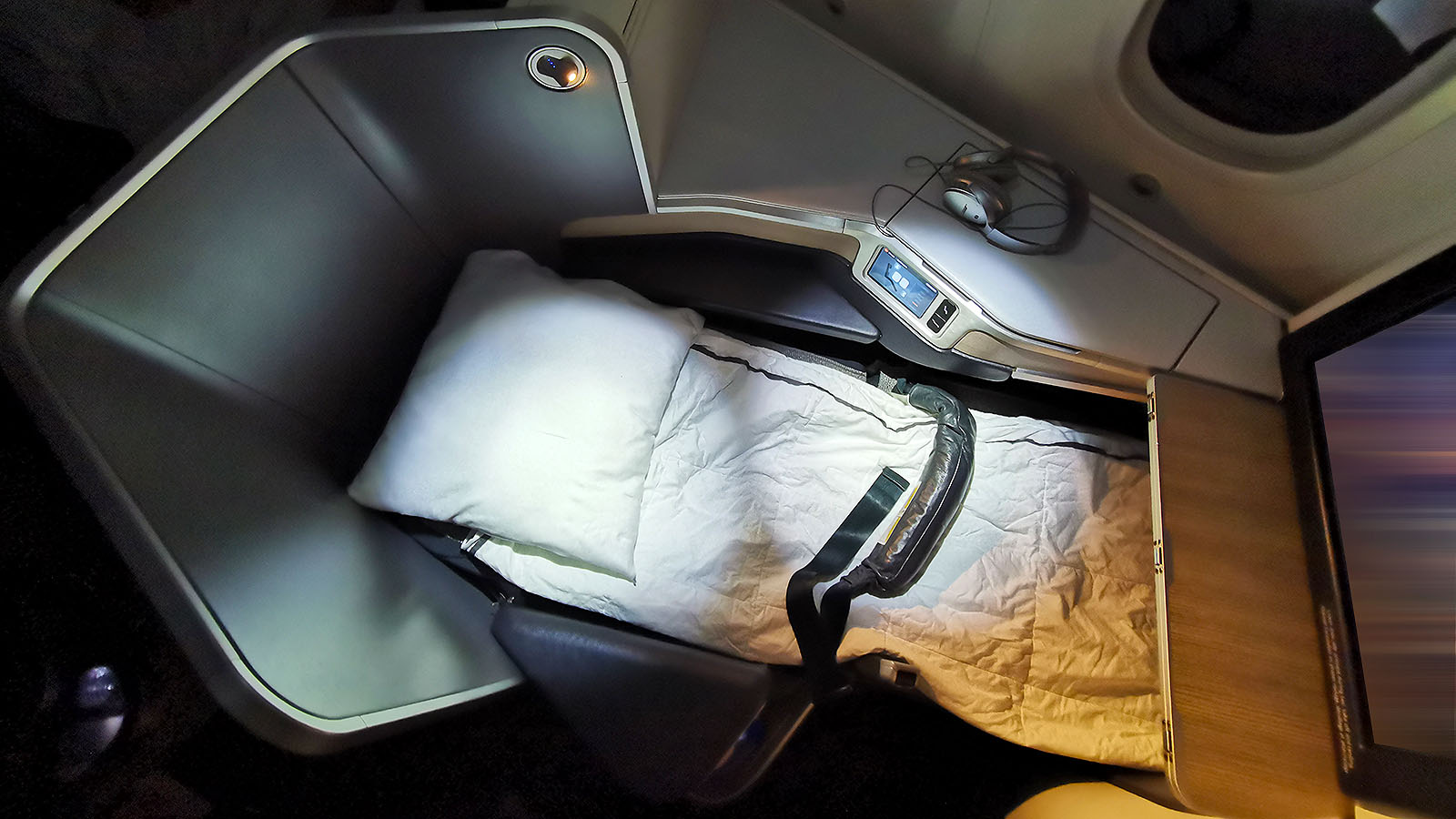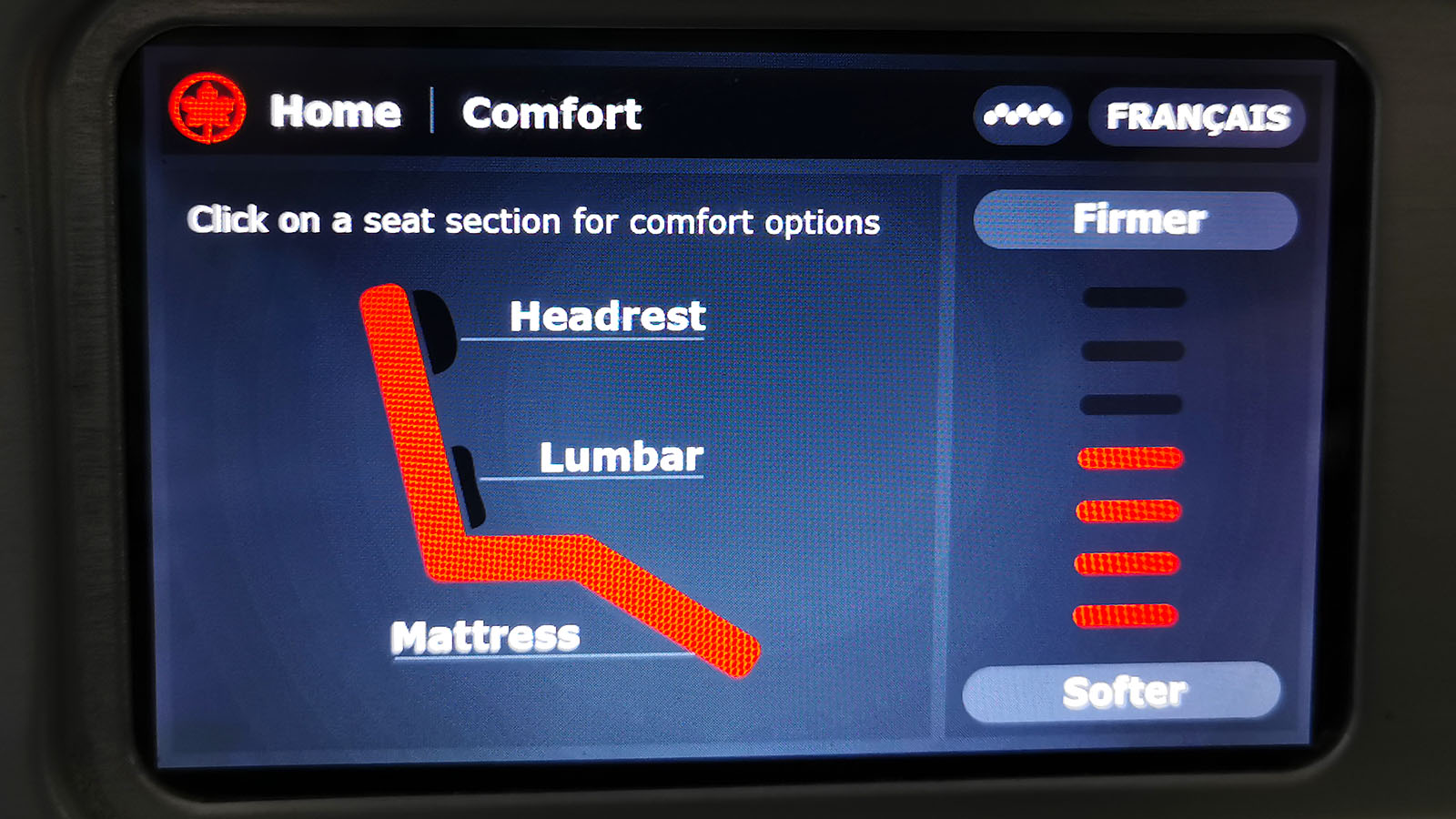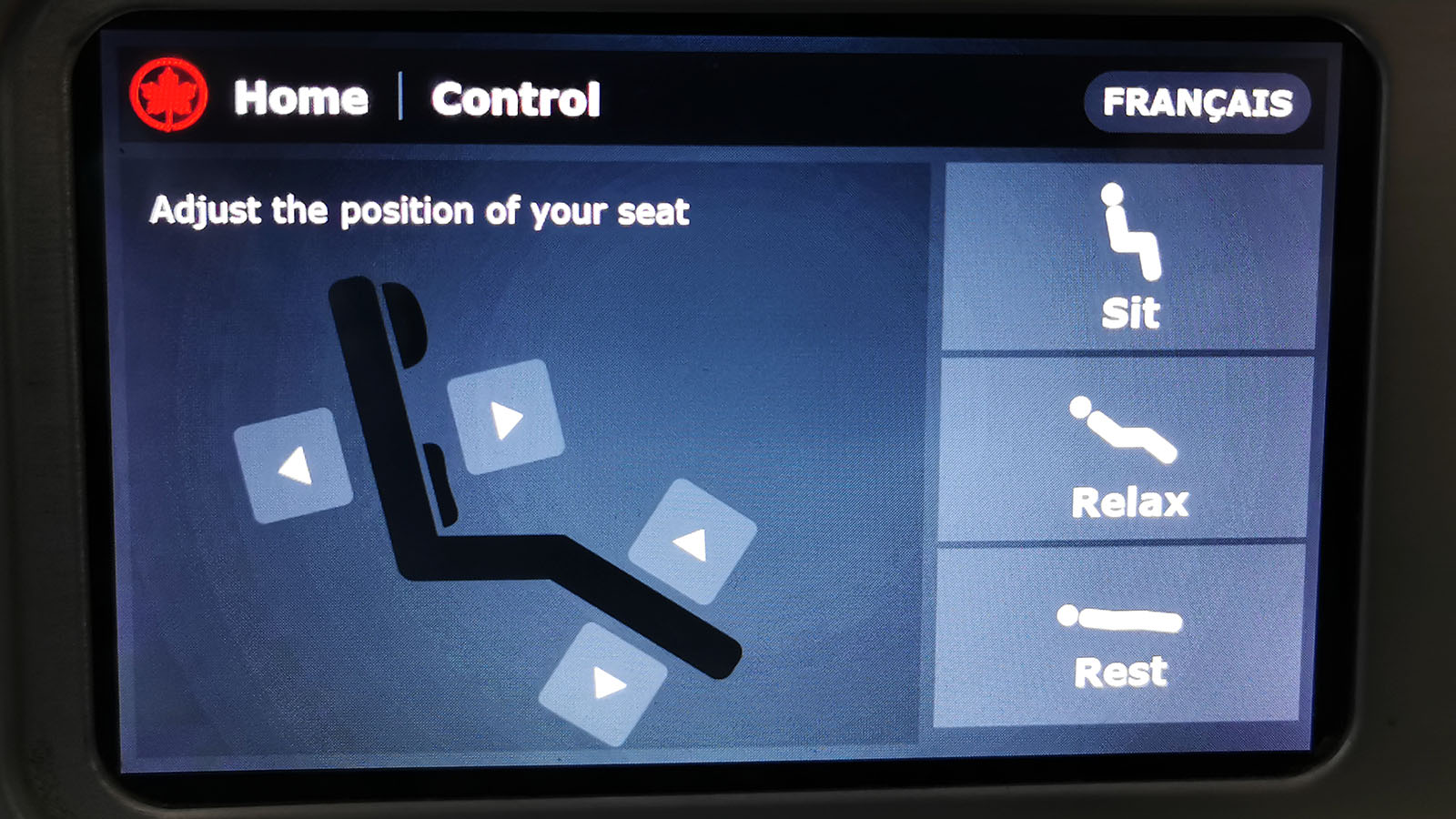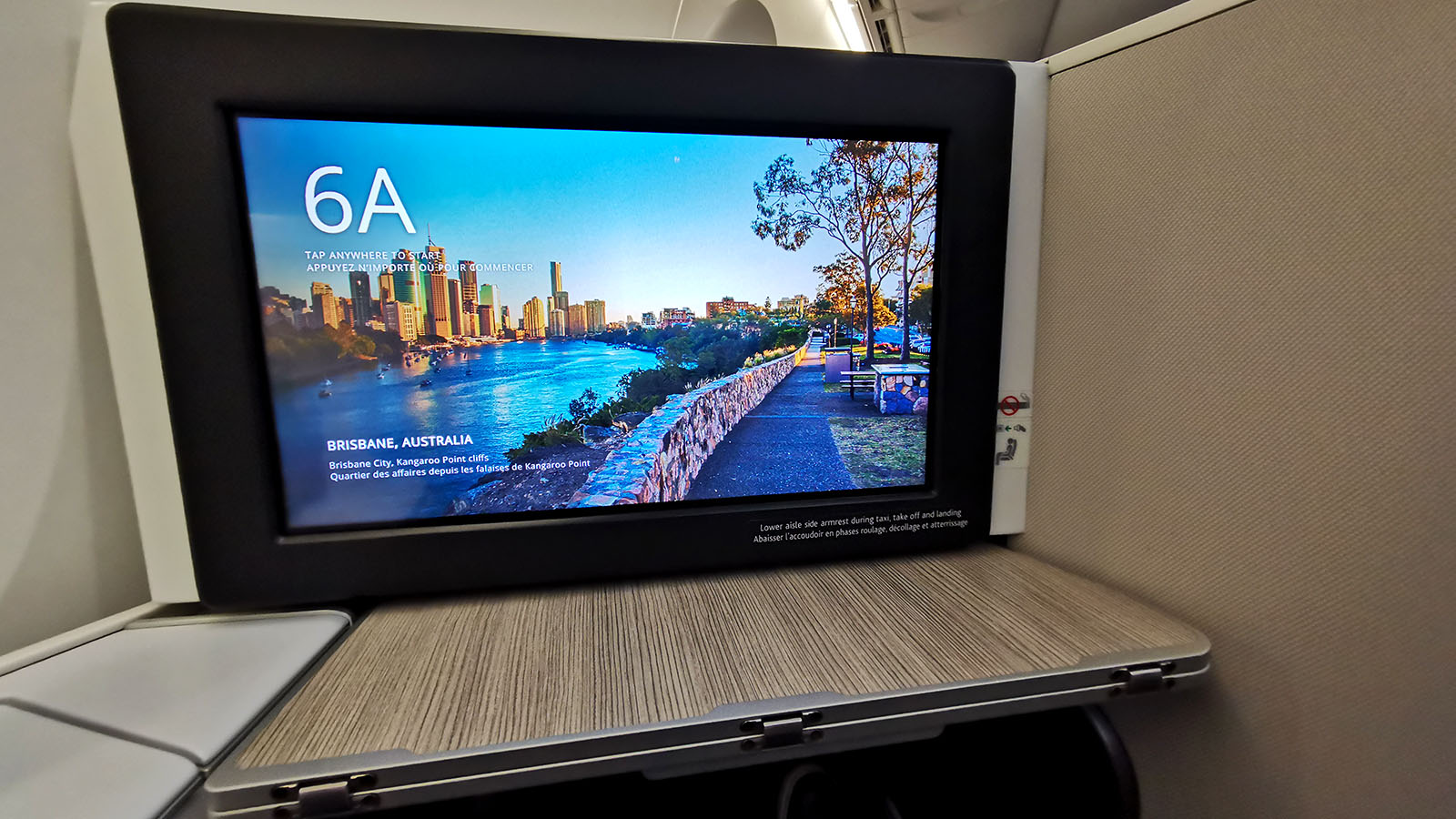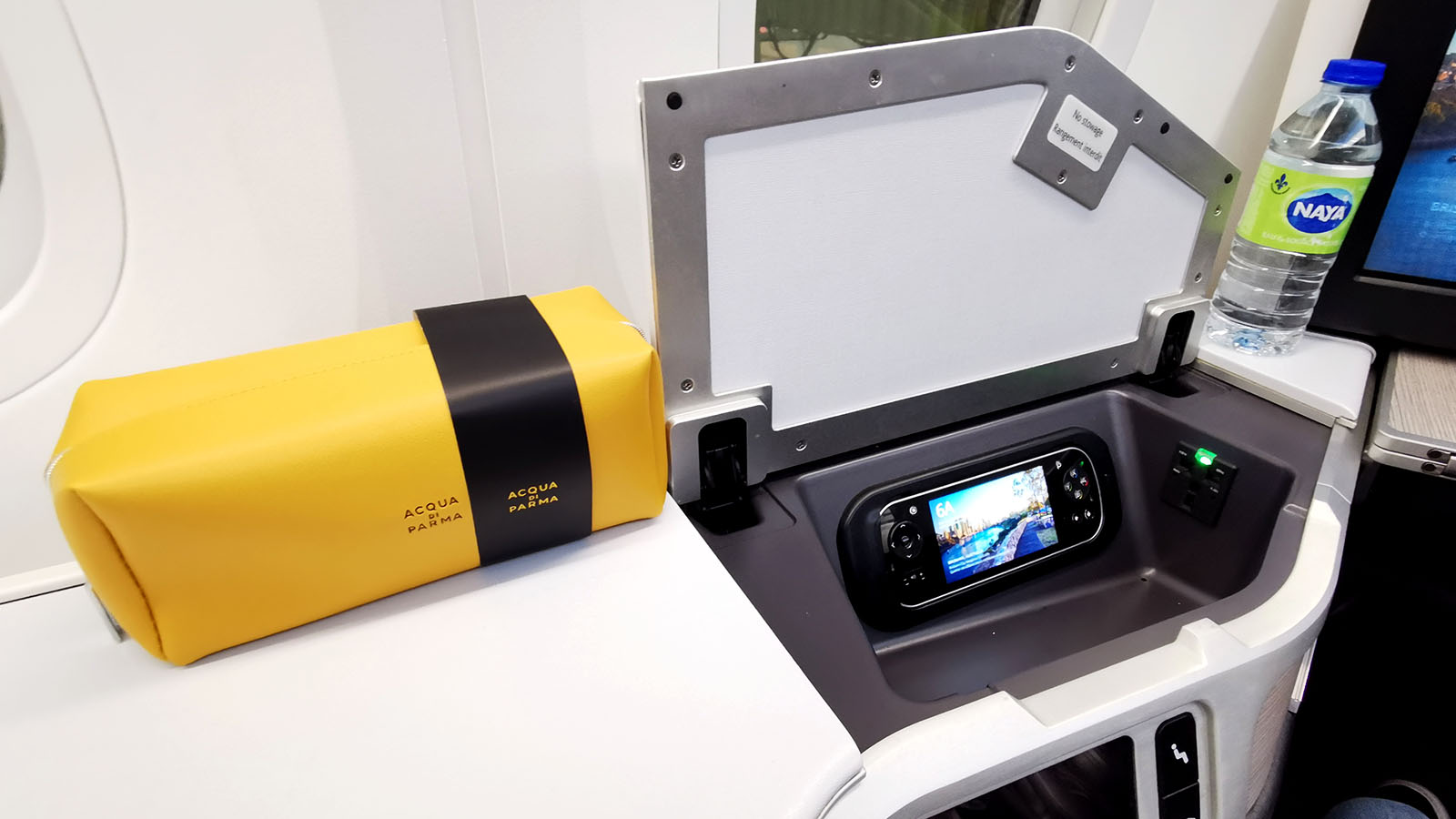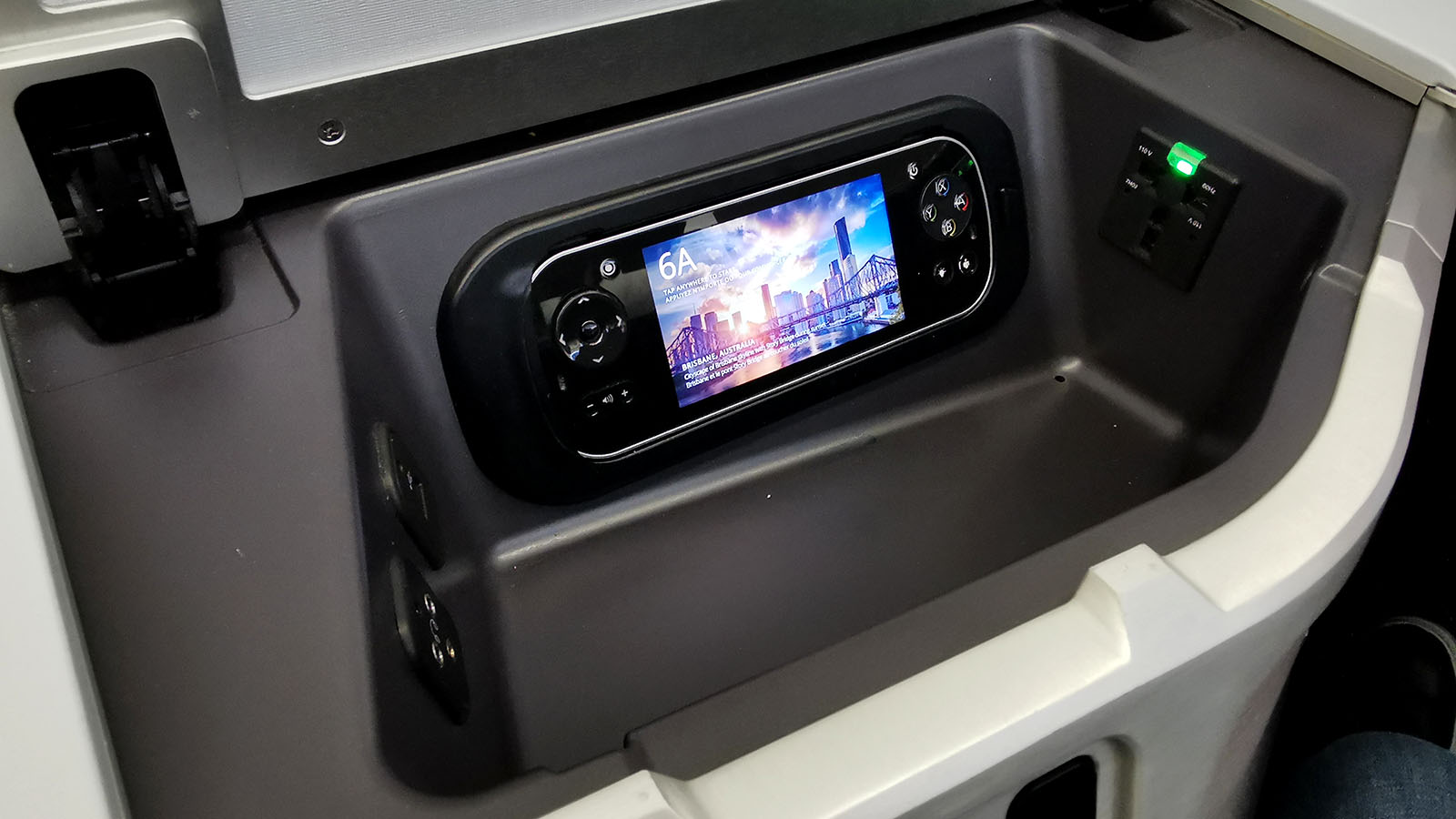 The seat also comes loaded with other features. There's a nifty nook on the side, which is where you'll find a power point and the headphone outlet tucked away. It's large enough to house things like smartphones, too. This means you can charge your gadget while you sleep, without it being on display to passersby.
What's more, there's always a surface in front of you: handy when you just need to put something down. It starts as a shelf right below the TV screen. But give the lever a pull and it slides forward, opens out, and becomes your tray table.
Even when it's in the parked position, I find I occasionally nudge that shelf with my knees. But then again, I am six feet tall…
Air Canada Boeing 787 Signature Class food and beverage
The schedule of Air Canada's Vancouver-Brisbane flight has the Boeing 787 pushing back around midnight. It also reaches Australian shores early in the morning – usually, pulling into the gate at roughly 7 am. That's absolutely perfect for dinner after take-off, a solid sleep and then breakfast. Not to mention arriving and already being on Brisbane time.
A crew member pops open the Champagne while we're still on the ground in Vancouver. The flight comes at the end of a productive business trip for me, and the drop of choice is Laurent-Perrier. Clearly, I don't need much convincing.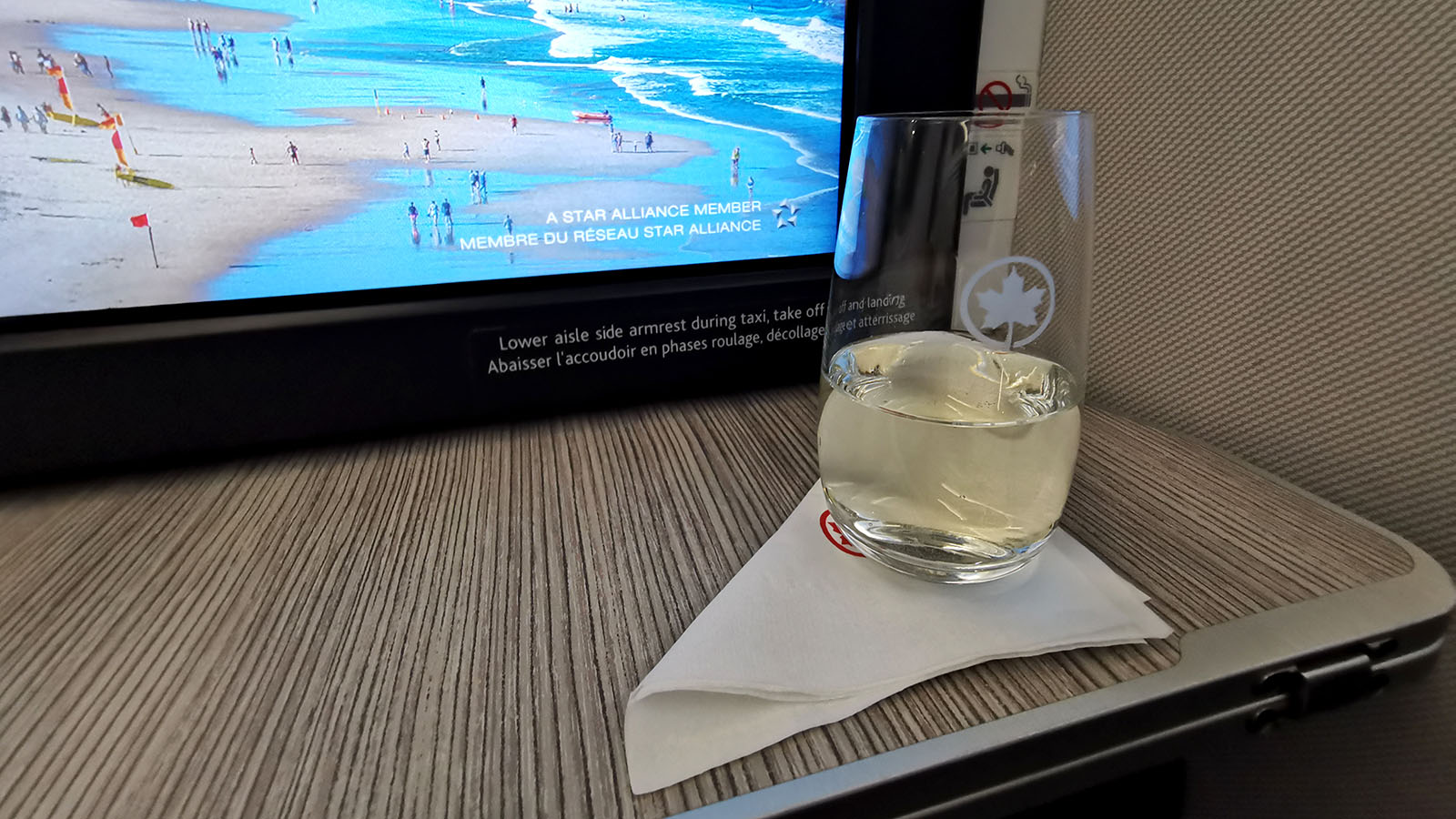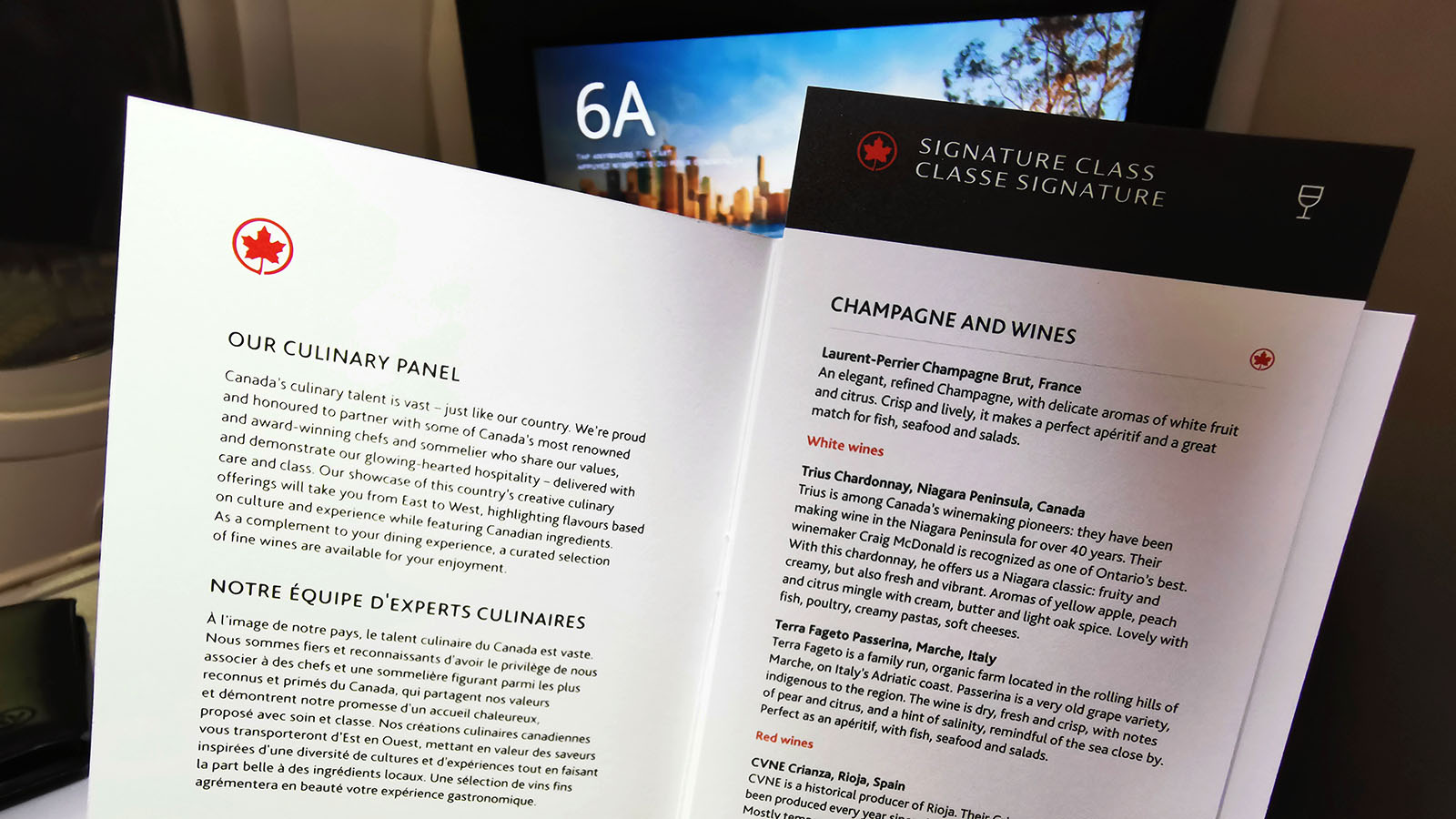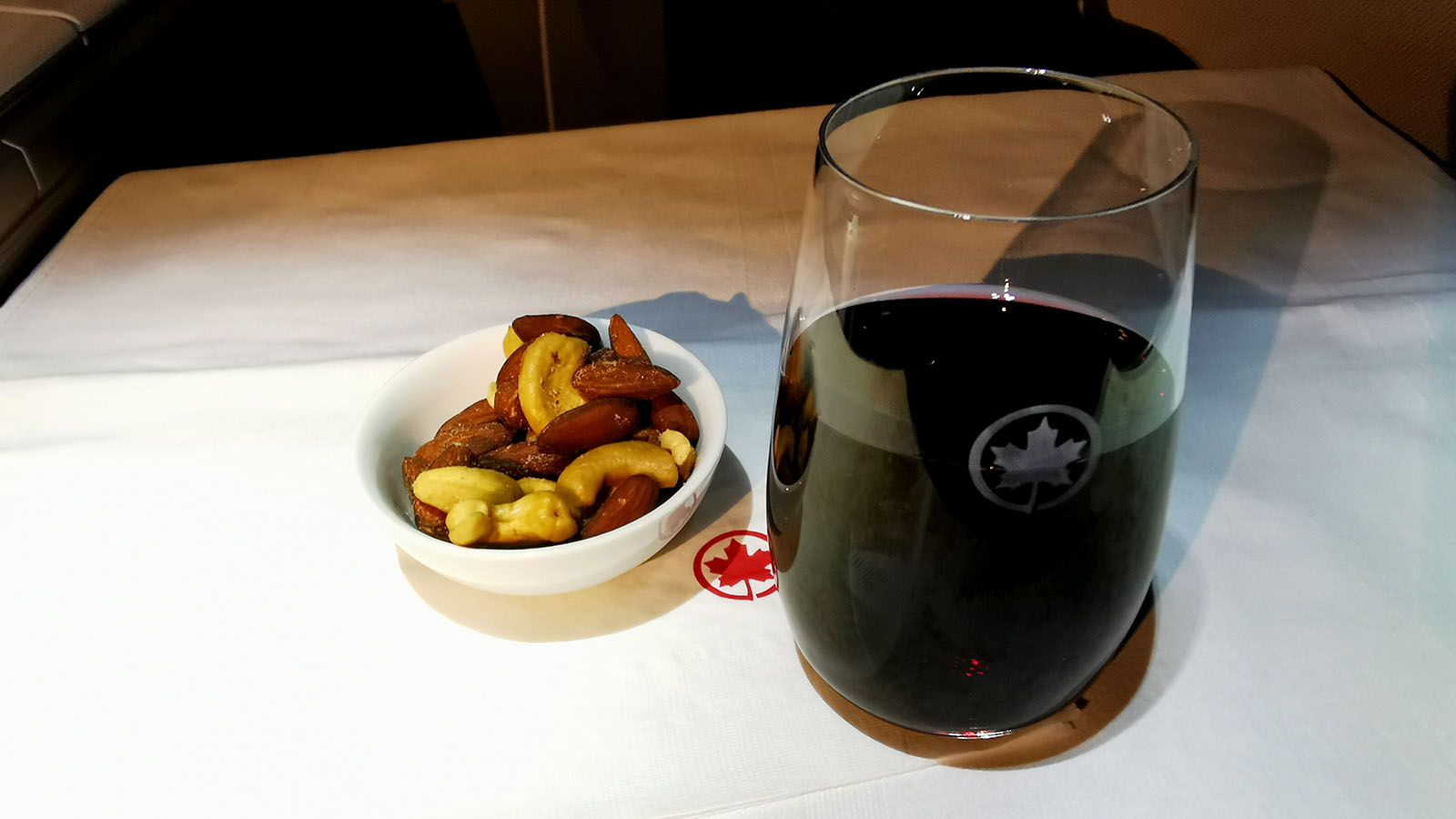 I also really appreciate having a full printed wine list to peruse. With tasting notes and pairing suggestions, I can plan my next move. I land on the very sippable CVNE Crianza Rioja. To subtly test the crew's wine knowledge, I also order using the true pronunciation (similar to 'ree-yoh-ha'). Daniel, the cabin director, doesn't bat an eyelid. He serves not only my chosen wine, but also some warmed nuts. Touché.
Dinner
When it comes to the evening meal, everything is served at once. If this were a daytime flight, I'd prefer course by course – being in no particular rush. But on this leg, sleep is on everyone's agenda. A speedier service gets you resting sooner: and that's A-OK with me.
For the main, choices are:
Beef short rib with mashed potato, tomato and asparagus.
Braised chicken leg with spicy noodles and bok choy.
Roasted salmon with lemon butter, wild rice, carrots and broccolini.
Mushroom ravioli in an arrabbiata sauce with parmesan and basil.
Then on the side:
To start: Gravlax salmon with a fennel and orange salad and honey mustard dressing.
Cheese: Oka, cheddar and brie with grapes and melba toast.
Dessert: Brown sugar tart.
After enjoying plenty of Texas BBQ earlier on this trip, having chicken on the previous flight and with salmon already in the starter, the ravioli sounds – and ultimately, tastes – great. The salmon salad is also nice and fresh. But appearance-wise, the dressing would have been nicer in a small pouring jug rather than a plastic takeaway container.
A glass of port also appears while I'm eating the main, ready to enjoy with the cheese. Overall, and after not eating in the lounge in Vancouver, it's the perfect amount of food.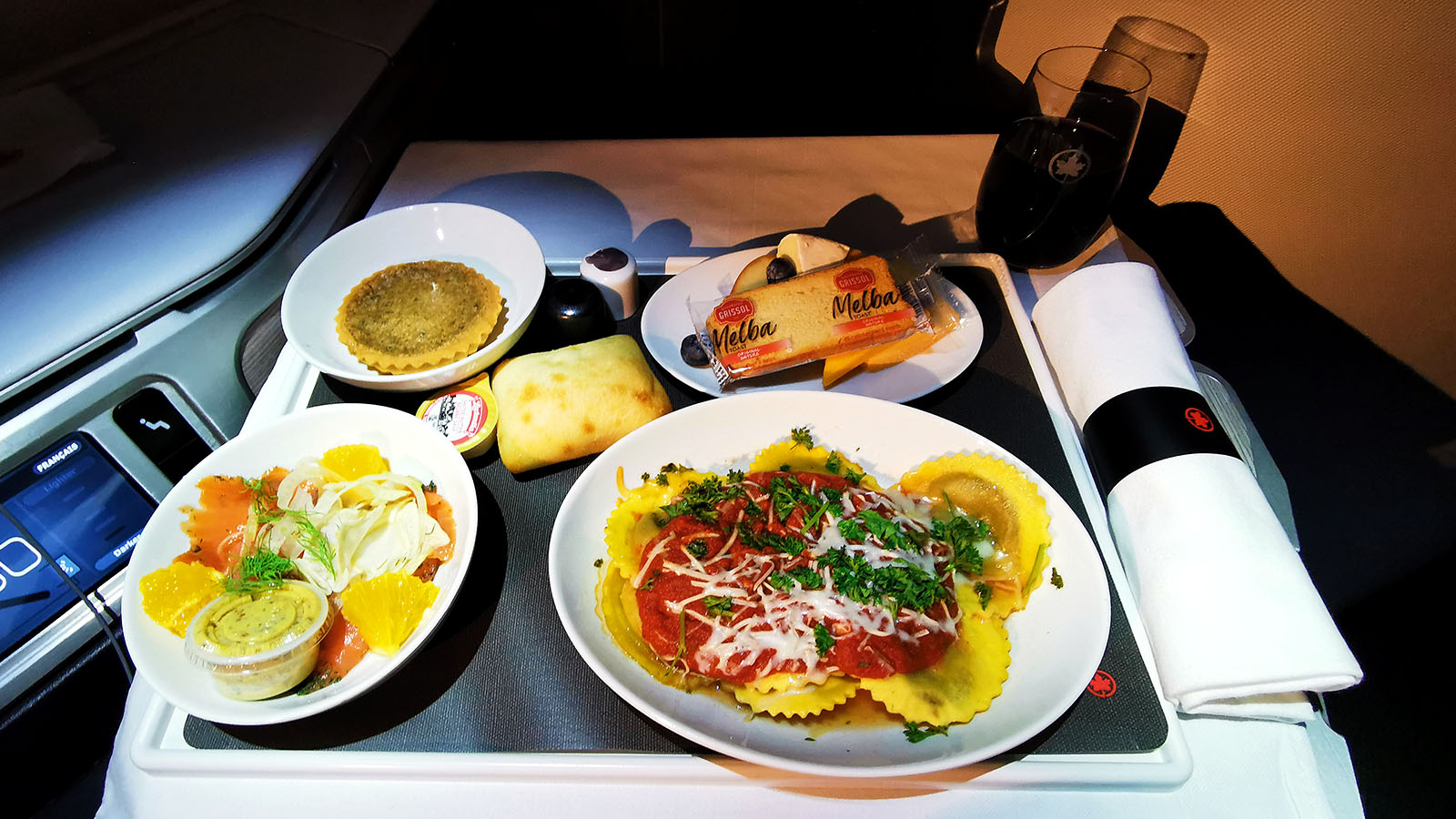 I also appreciate the flexibility that Air Canada provides in Signature Class. If you don't want to eat straight away, let the crew know before take-off and they'll happily let you dine later on, at a time that suits you.
Separately, if you're peckish during the night, the distinct 'light bites' menu offers dishes like a chicken pot pie with potato wedges.
Breakfast
After a terrific sleep, I wake before the lights come on for breakfast. It doesn't take the crew long to notice, which finds a skim latte promptly arriving at my seat. It's just what I need – and it's been a long trip, so I don't hesitate to order another.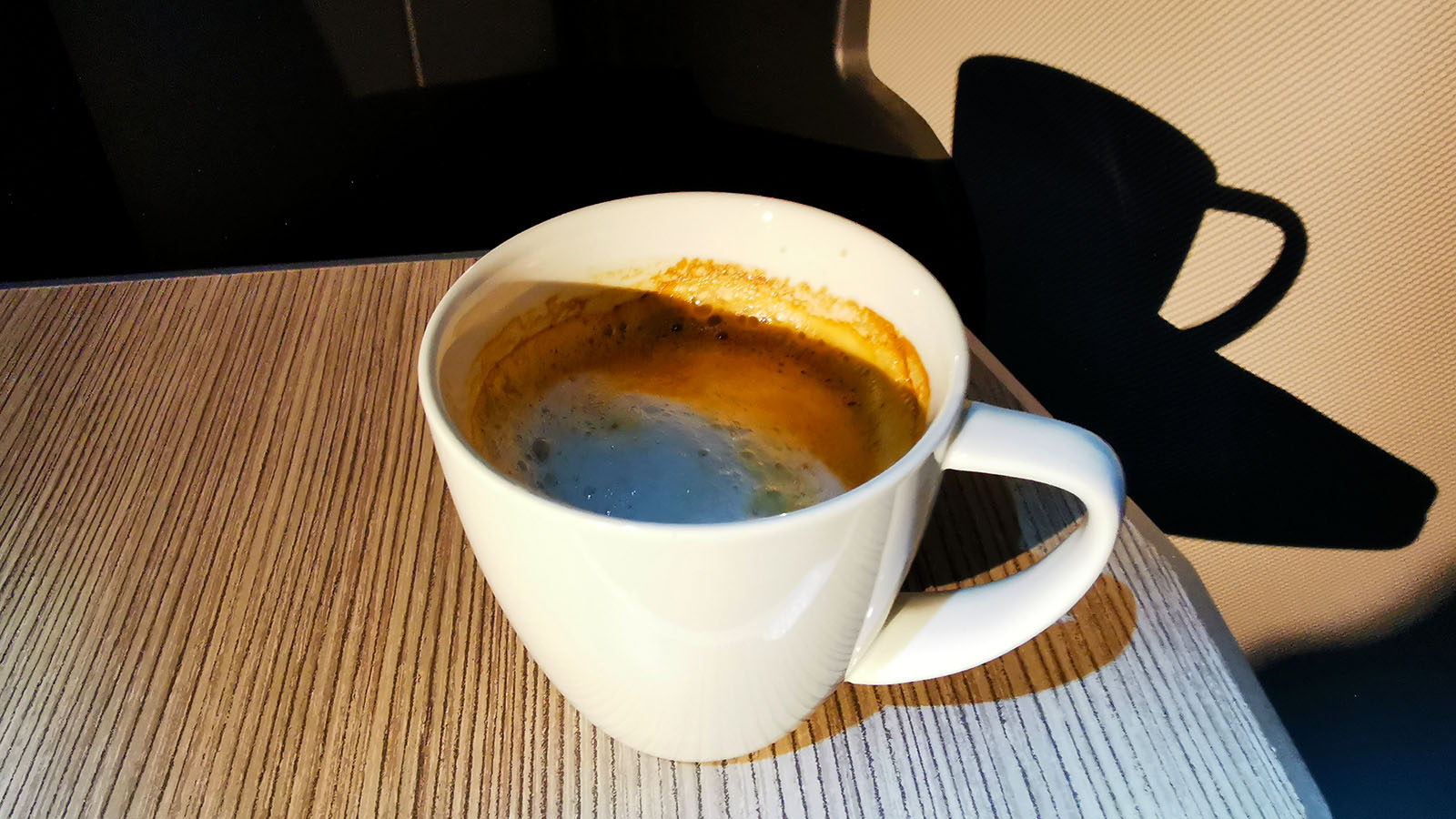 And speaking of breakfast, to maximise rest, Air Canada will serve you as late as 75 minutes before landing in Brisbane. That's at around 5:45 am, before the scheduled 7 am arrival of AC35. It's as close to busting jet lag as you can get – eating the morning meal as the sun is rising at your destination.
Today's options are:
Omelette with parsley, chicken sausage, cottage cheese, roasted potatoes and capsicum relish.
French toast with a berry compote.
On the side:
Fresh seasonal fruit.
Muesli with apples, sultanas, coconut and pumpkin seeds.
Croissant with butter and jam.
After my dinner, I don't feel like a lot of food – so the French toast sounds divine. Spoiler alert, it is.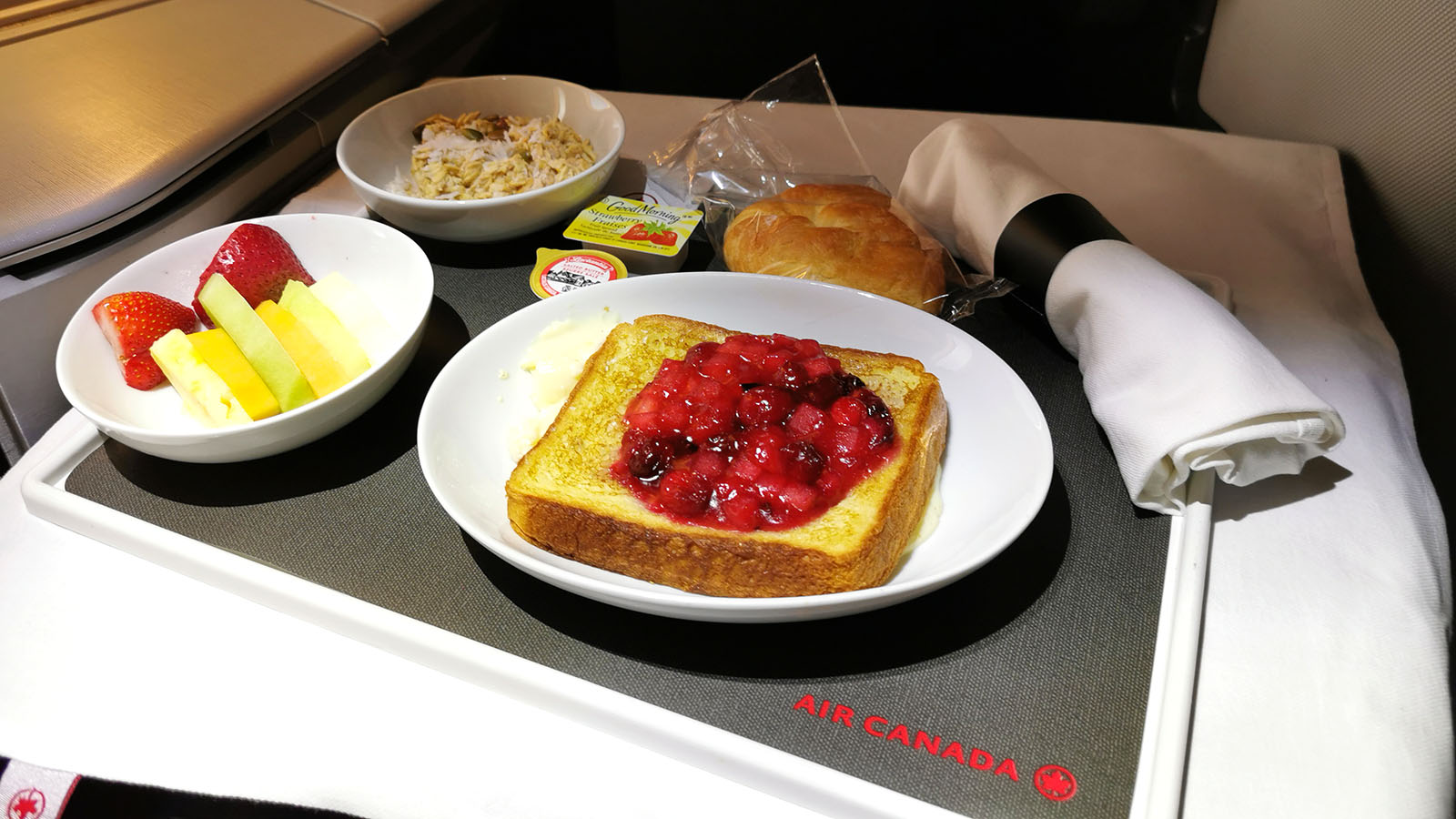 Having said that, the croissant would have looked nicer on a plate rather than wrapped in plastic. It also would've been more enjoyable warmed up, rather than served at room temperature. But the fruit is nice and fresh, and the muesli is light and delicious.
Overall, the food and beverage are both very pleasing on this flight, and don't leave me hungry – or in need of caffeine.
Air Canada Boeing 787 Signature Class service and entertainment
Service on this Air Canada Signature Class flight is among the best I've had in Business for quite some time. At first, interactions are polite and relatively 'standard'. Of their own accord, crew don't dive into long chats or disturb you. Except, of course, to say hello after boarding, and to provide the usual service.
But open the door to chit-chat, and things get more interesting. With Air Canada being Canada's national airline, every crew member is fluent in both English and French – so take your pick. The cabin crew I chat with are all great at making conversation. In particular, in asking follow-up questions that keep the chatter going yet without being too intrusive.
I particularly enjoy hearing how one of them savvily buys airline miles during points promotions to guarantee flights for their family holidays. And of course, airline workers get great staff discounts on flights, but usually fly standby – whereas by using miles, seats are confirmed. In my experience, it's not common for cabin crew to engage with airline loyalty programs given their access to staff travel, so colour me impressed!
When I'm relaxing with headphones on, I catch the rest of I Am Sam, which I've started on my connection into Vancouver. I also get through about half of In the Heights before going to bed and then finish the movie over breakfast. There are plenty of newer films available too. But when sleep is my goal, I usually choose something I've seen before, which helps me unwind and avoids getting too invested when planning to doze.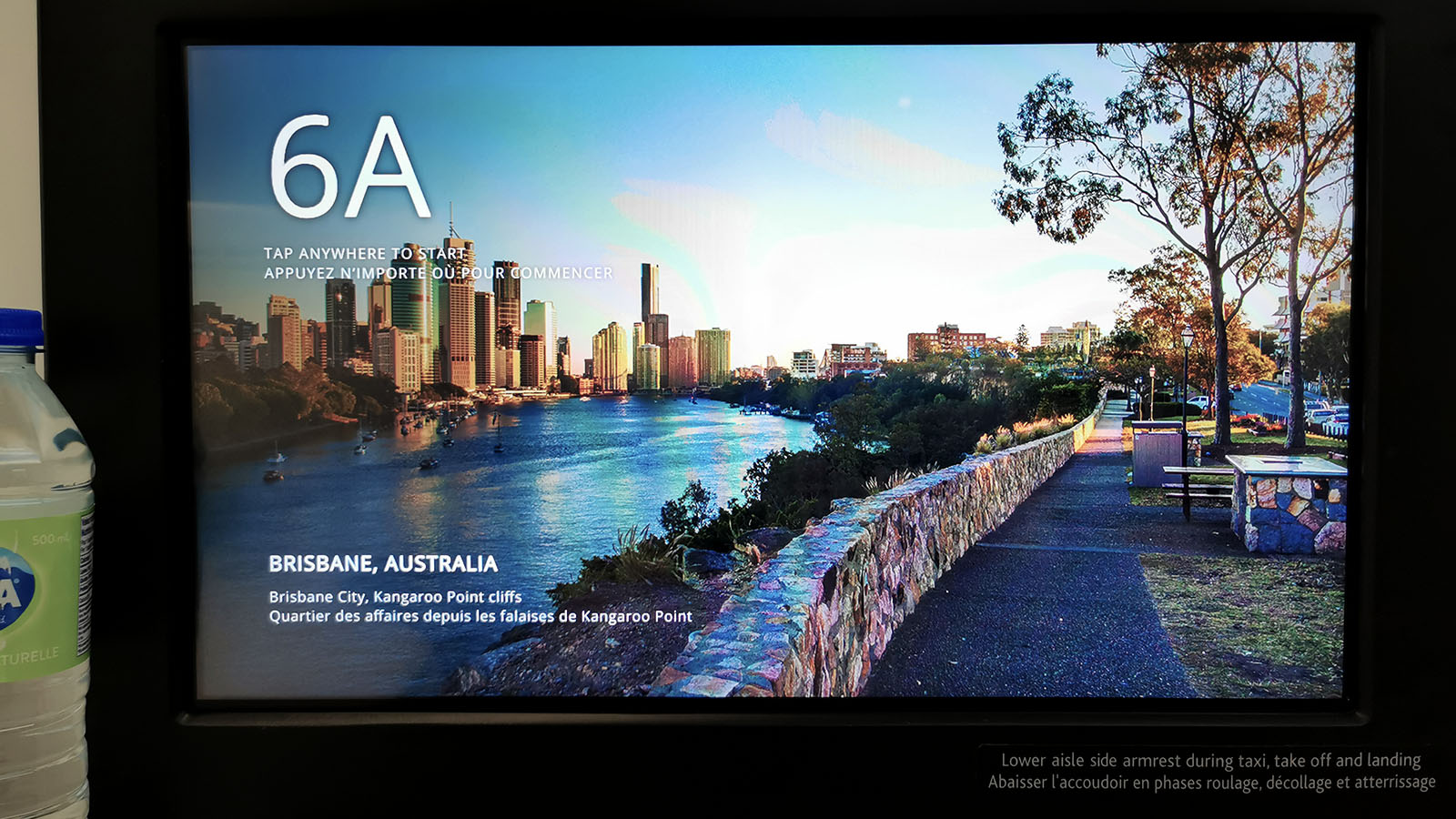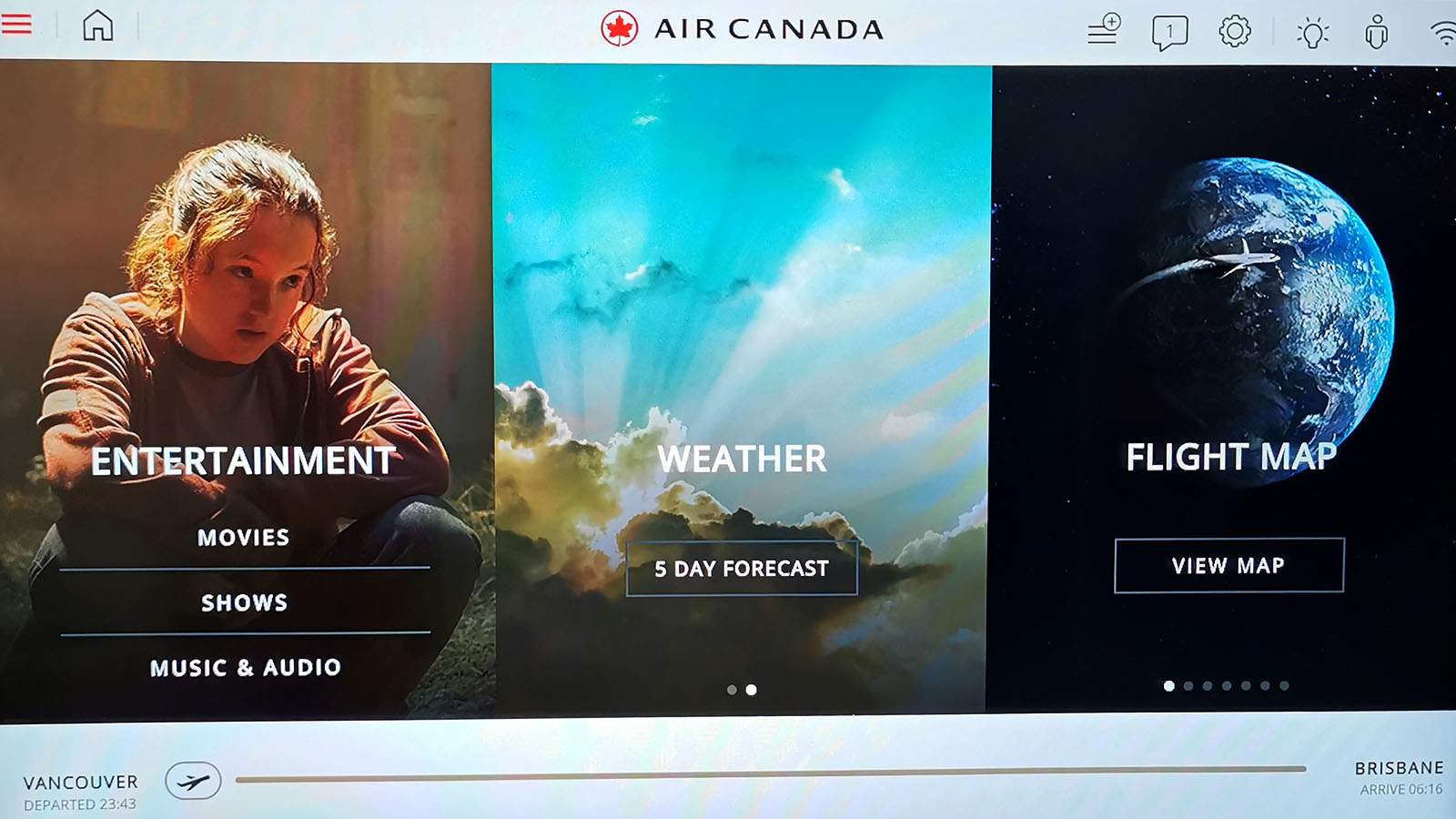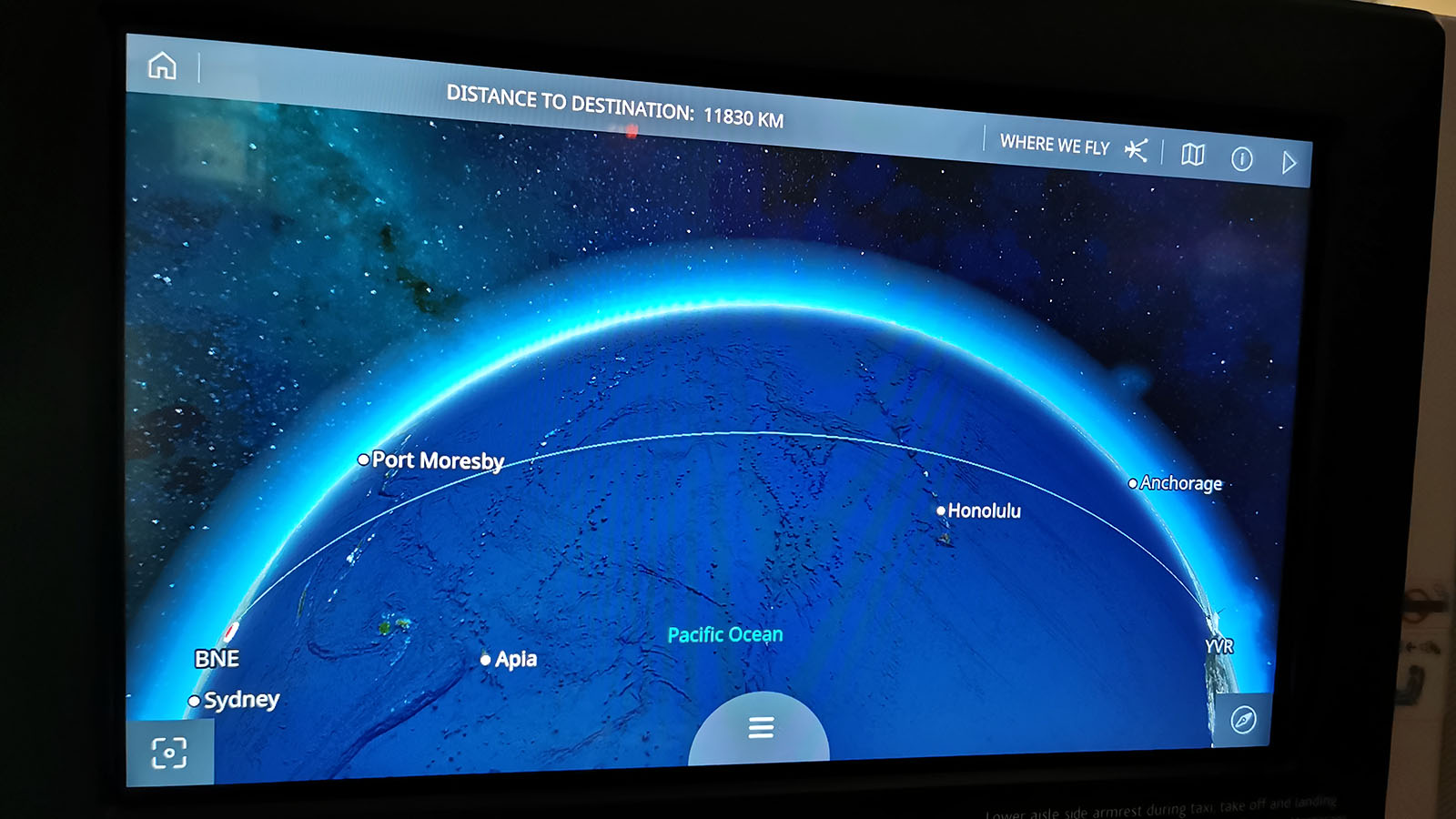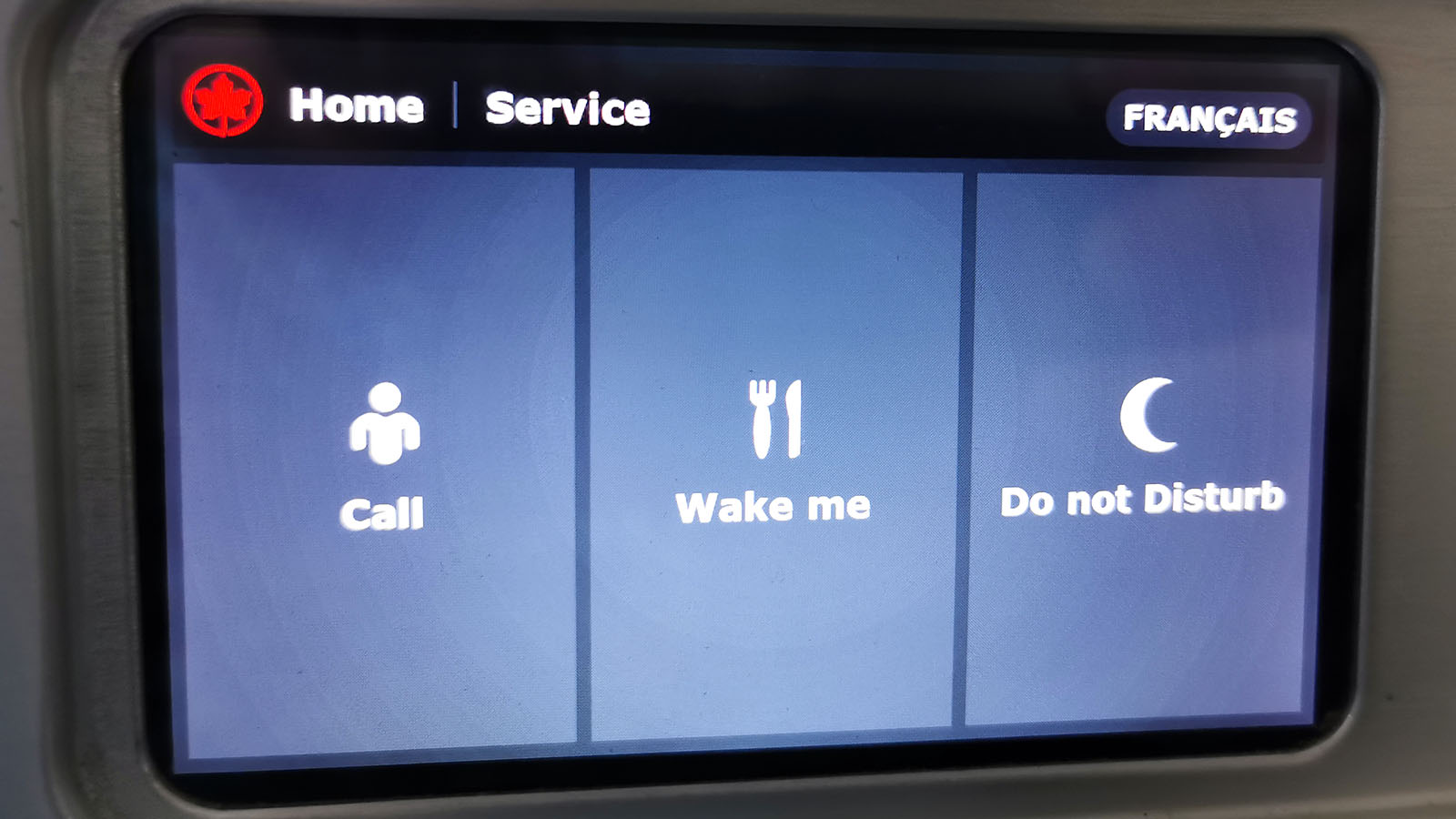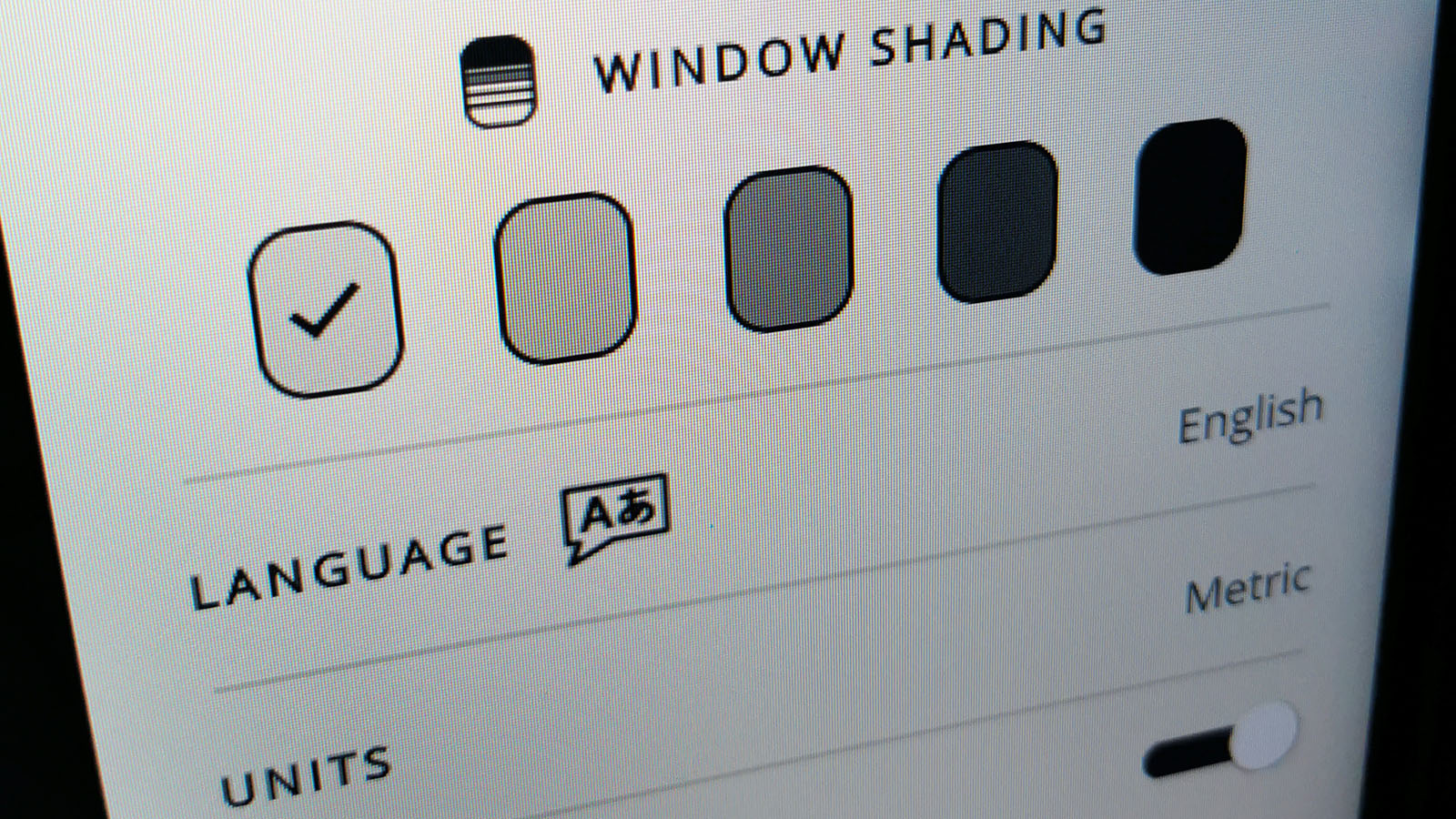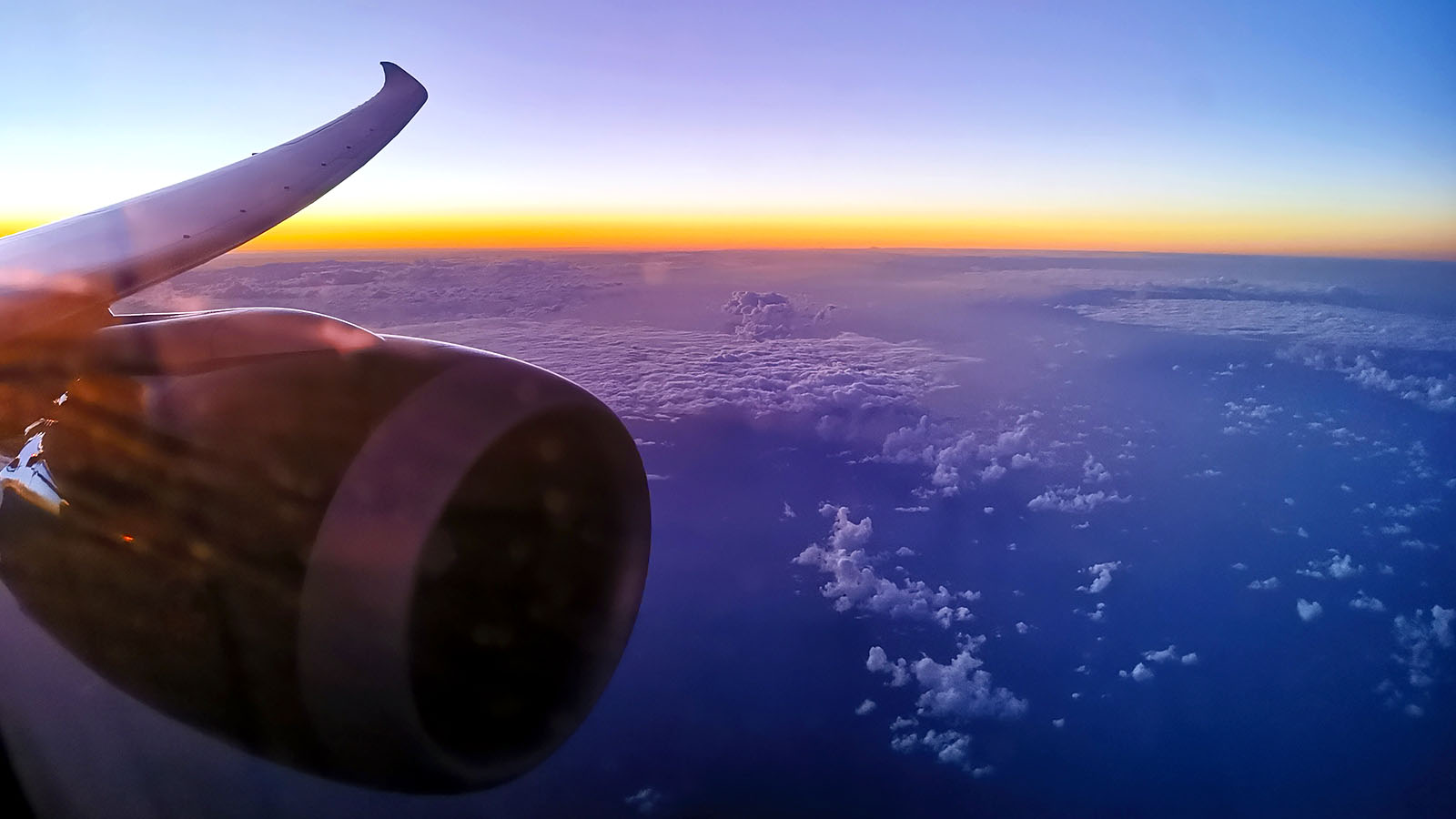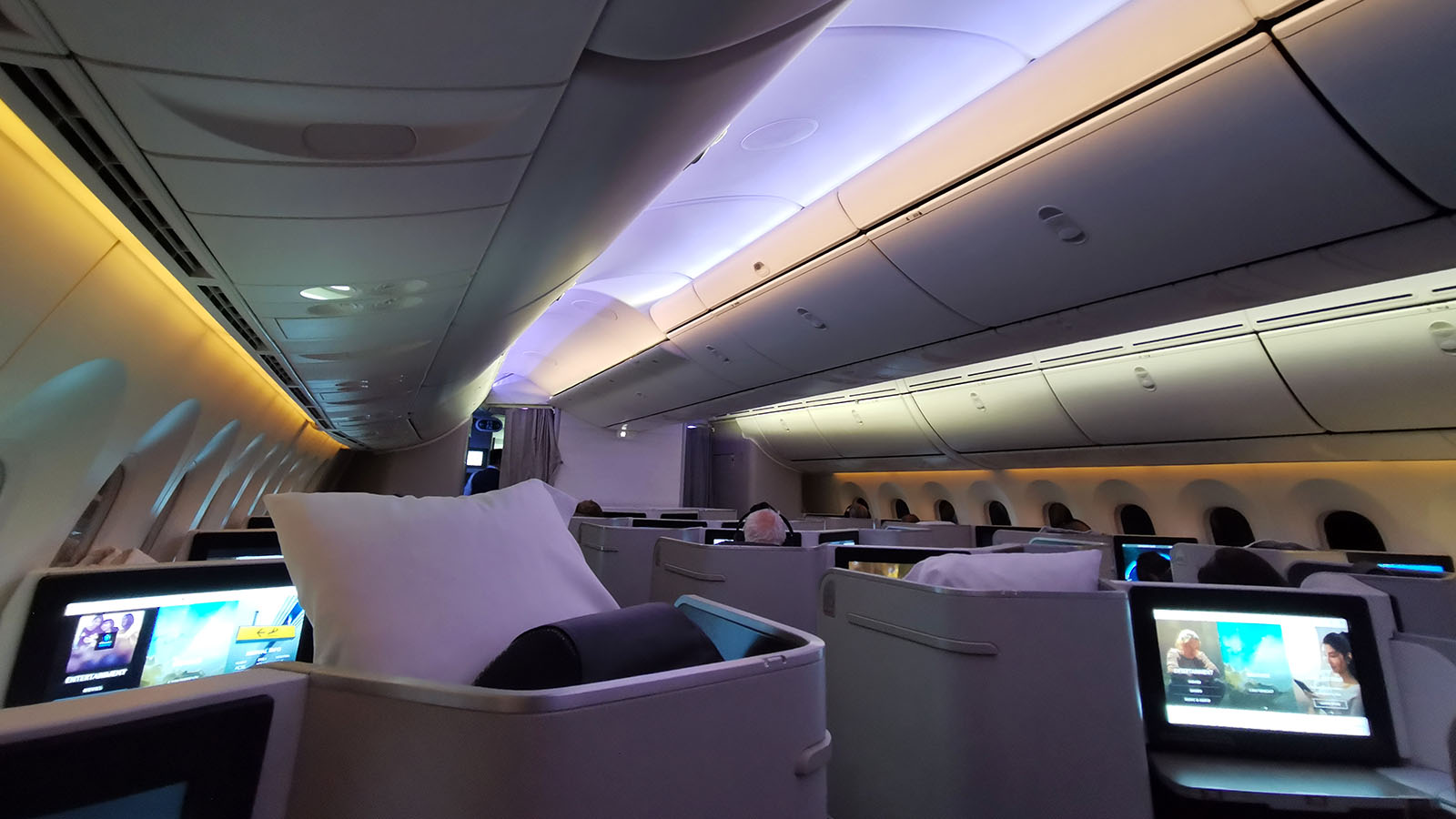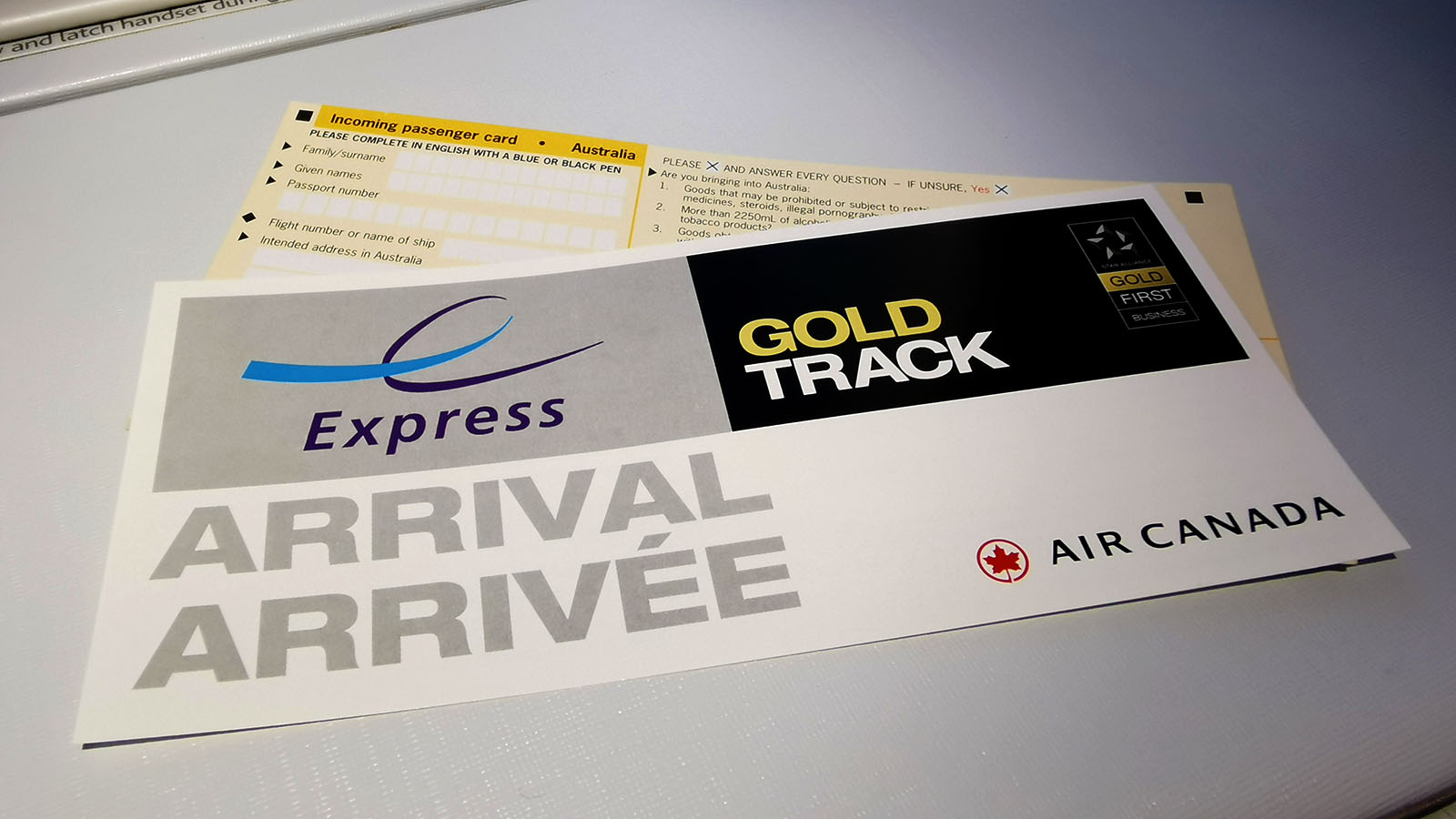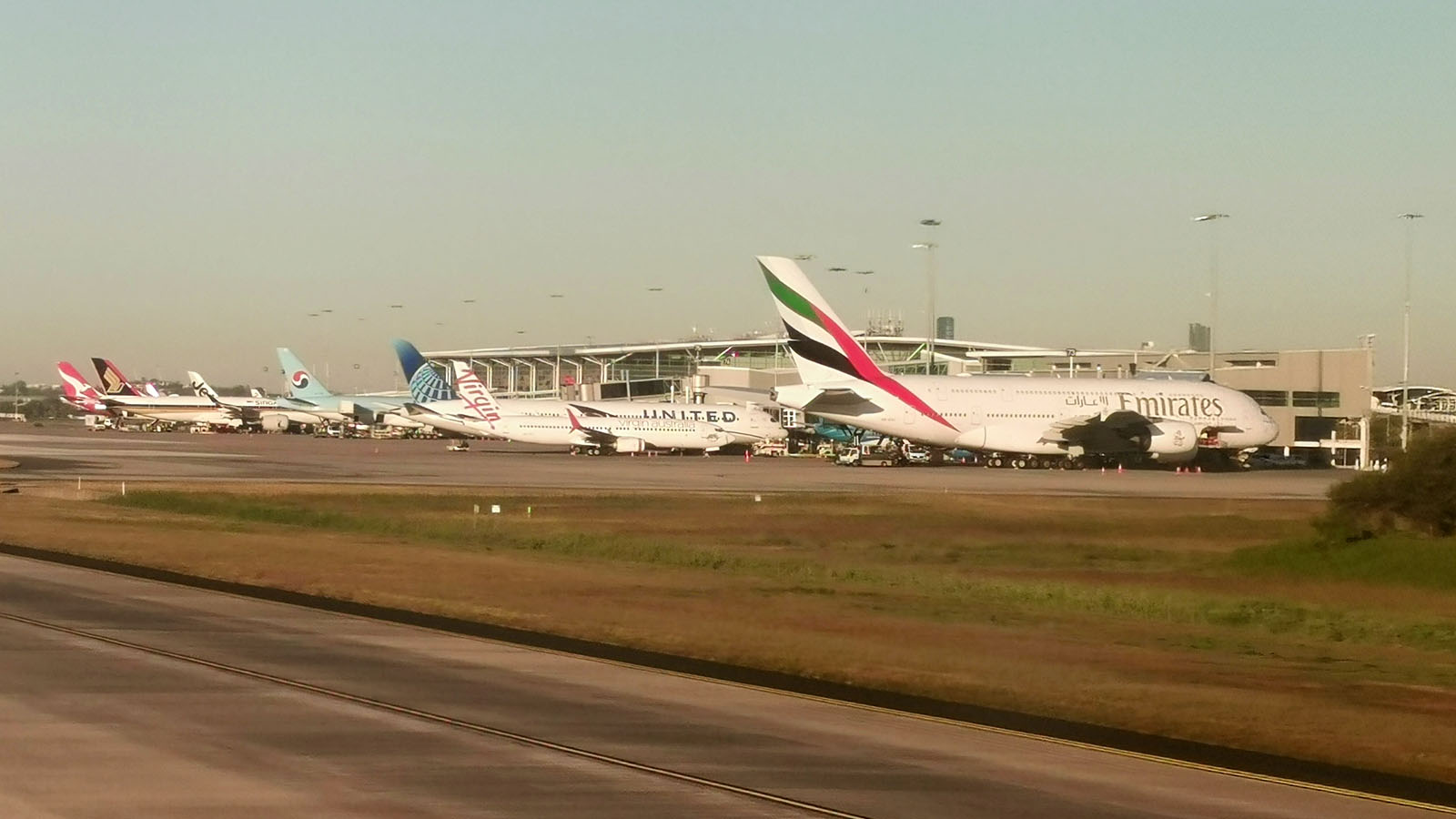 I also like how you can use the entertainment screen to control the window shades. I 'un-dim' my windows to catch a glimpse of the sunrise as we get closer to Brisbane. But I look back inside and notice something very cool. Air Canada's Boeing 787 mood lighting is mimicking those same colours inside the Signature Class cabin. It sure is a nice way to start the day.
With the lights on, crew deliver inbound passenger declaration cards for Australia. For Business Class passengers, an airport express card is provided too. It proves a handy way to skip the morning queues at Brisbane Airport's main Customs exit. If you need to connect during the flight, Wi-Fi is available for purchase: but I was quite content sleeping.
Ending things on a high, I'm glad to see my checked bag arrive on the belt at the end of my trip. I'm mindful that very early check-ins and tight connections are two of the big reasons that bags sometimes don't turn up. My journey has both, but that's not a problem for Air Canada.
Summing up
I hadn't planned to venture via Canada this trip. After all, I'm mainly jetting between Australia and the United States for a conference. But with a hub in Vancouver and direct flights to both Brisbane and Sydney, Air Canada should certainly be on your radar. That's especially true when spending Velocity Points.
Certainly, Virgin Australia's partner United Airlines has many direct flights between Australia and the US. But with Velocity Points to spend, I'm not as fussed by convenience as I am about having a bed for that long transpacific crossing.
On the day I need to travel, I can book an Economy reward seat on United direct from San Francisco to Brisbane. Or I can fly between the same cities in Business Class with Air Canada, with a simple transit in Vancouver. Clearly, I don't need much convincing to book the latter – and I'm glad I do.
Sure, things get off to a rocky start in Vancouver, given the lounge situation. But with my quick transit, I'm not there for long anyway. The real prize is my eight hours of sleep when homeward bound, bookended by great food, wine and conversation. Having said that, Air Canada isn't doing itself any favours by denying Signature Suite access to some Signature Class guests.
Even if Air Canada doesn't want to include this by default when booking using partner points, having the option to purchase entry at the door (or online) would be a win-win. More revenue for Air Canada, and a better experience for the traveller.
But at the moment, book with Velocity Points, and there's no workaround – you just miss out. I can't think of another airline that denies Business Class lounge access when ticketed in Business Class, just because you've booked with points from another frequent flyer program. That's certainly not a trend I'd like to see other airlines follow.
Also read: Travel hack – transit Vancouver when travelling to the USA
Photography by Chris Chamberlin, who travelled using Velocity Points. Feature image courtesy of Air Canada.
---
Stay up to date with the latest news, reviews and guides by subscribing to Point Hacks' email newsletter.
Air Canada Boeing 787 Signature Class (Vancouver – Brisbane)
was last modified:
September 1st, 2023
by