This valuable perk will disappear on 1 March. Here is what to do if you already have a booking or plan to make one.
The change
In early February, I received the following email from Qantas:
From 1 March 2019, Qantas Frequent Flyers booked on a Classic Flight Reward ticket in First or Business for a flight operated by Emirates will no longer be eligible for the Chauffeur Drive service.
Last month, Emirates decided that redemptions made with their own points currency, Skywards miles, would be ineligible for the service from 1 March too.
The service
Currently, if you book a First or Business Class ticket with Emirates, you get a complimentary chauffeur transfer to the airport at your origin and from the airport to your accommodation at your destination.
As Emirates states on its website:
We'll collect you from your door and drive you to the airport. When you land, we'll be there to drive you to your final destination – whether that's to your home, office or to your favourite restaurant.
Note that this service is available in 70+ cities, but that doesn't include the whole Emirates network.
What to do
If you have an existing Qantas Points booking with Emirates: if you've already booked your chauffeur service, it will be honoured; if you haven't yet, then go to Manage your booking on the Emirates website to lock in your chauffeur transfer by 1 March 2019 for travel up to 1 March 2020
If you are planning on making a Qantas Points booking with Emirates: if you can book before 1 March, then you can request the chauffeur service
If you are travelling in Economy or have elite status: you do not receive this service
If you have bought an Emirates First or Business Class ticket with cash: you will still receive the chauffeur service—this change does not affect you
My take
This is a negative change for Qantas Frequent Flyers, as well as tickets booked with Emirates Skywards miles or other partner points currencies such as JAL Mileage Bank and Alaska Mileage Plan miles.
I have two bookings with Emirates this year—in Business Class from Milan to New York in June and in First Class from Dubai to Jordan in October—so I have been sure to book my chauffeur transfers in already.
---
In this guide
Emirates is the largest foreign airline servicing Australia, carrying almost one out of every ten passengers in and out of the country. In this guide, we explain why using your Qantas Points on Emirates flights to New Zealand, Southeast Asia, Dubai and beyond is a great option.
And it isn't hard—here's a quick look at the Emirates route network, the kind of pricing to expect, and how to go about researching and booking points availability with 'EK'.
The Emirates route network and fleet
Emirates have an extensive route network servicing Australia: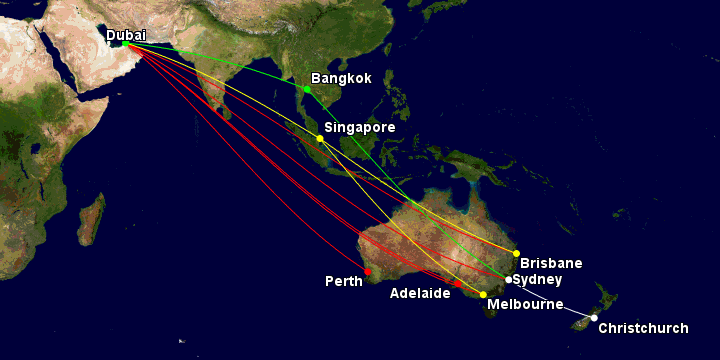 | From | To | Frequency and aircraft |
| --- | --- | --- |
| Sydney | Dubai | 2x daily on A380 (sometimes third daily 777 flight) |
| Sydney | Christchurch | 1x daily on A380 |
| Melbourne | Dubai | 2x daily on A380 |
| Melbourne | Singapore | 1x daily on 777 |
| Brisbane | Dubai | 1x daily on A380; 1x daily on 777 |
| Brisbane | Singapore | 1x daily on 777 (service expected to end in sometime in 2020 but not confirmed yet) |
| Perth | Dubai | 1x daily on A380; 1x daily on 777 |
| Adelaide | Dubai | 1x daily on 777 (no First Class) |
The functionally excellent Emirates route map can be found here.
Note that some Emirates A380 flights in other regions can sometimes operate a configuration without a First Class cabin, cramming in over 550 Economy seats, but that isn't applicable to flights into and out of Australia.
Emirates First and Business Class products
Emirates First Class is one of the best in the world and there isn't much difference between the actual seat on the Airbus A380 and Boeing 777 but the latter does lack an onboard shower and bar.
The tradeoff is that there are only eight First Class seats on the 777 compared to almost double that (14) on the A380, so you may receive more attentive service on the older aircraft.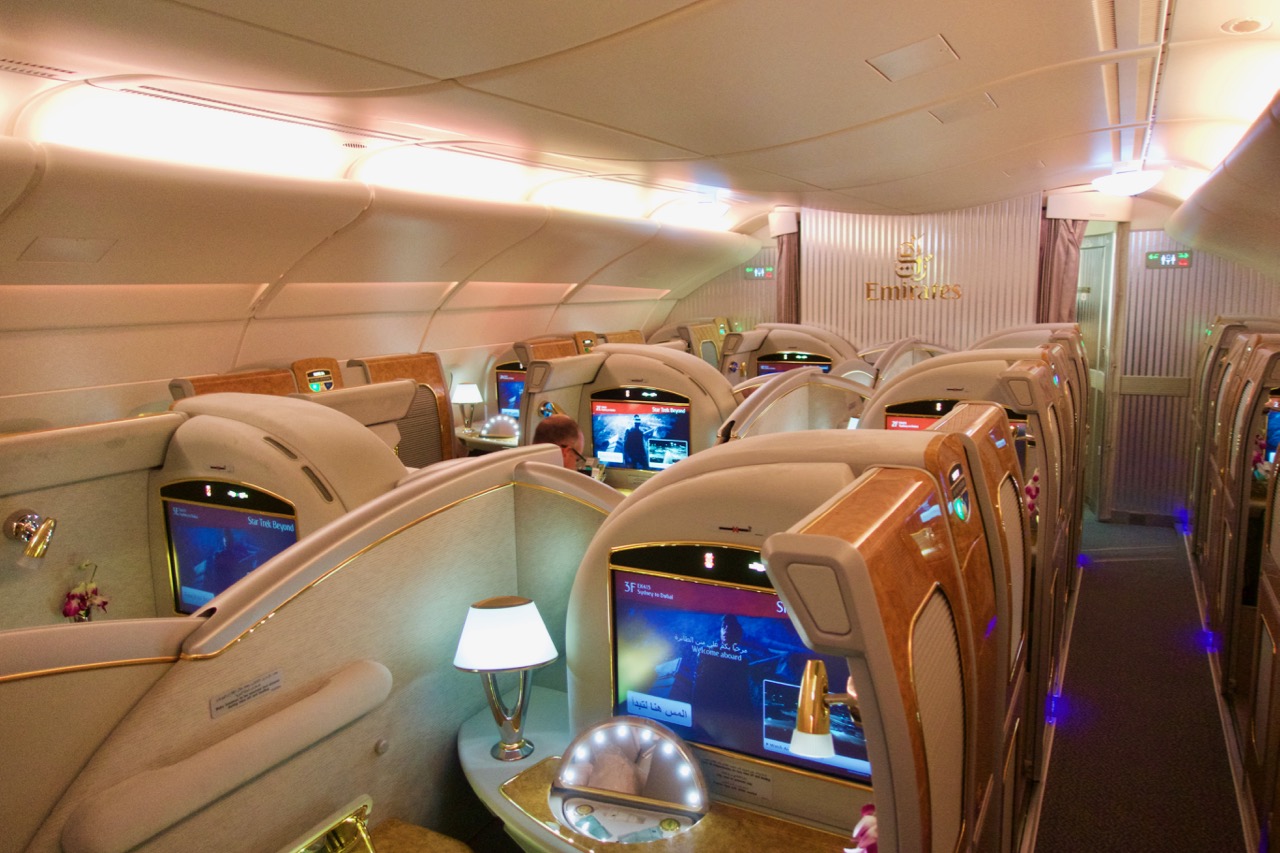 Emirates A380 First Class overview
Business Class is where there is a big difference. The A380 is set up in a 1-2-1 configuration and all beds are lie-flat: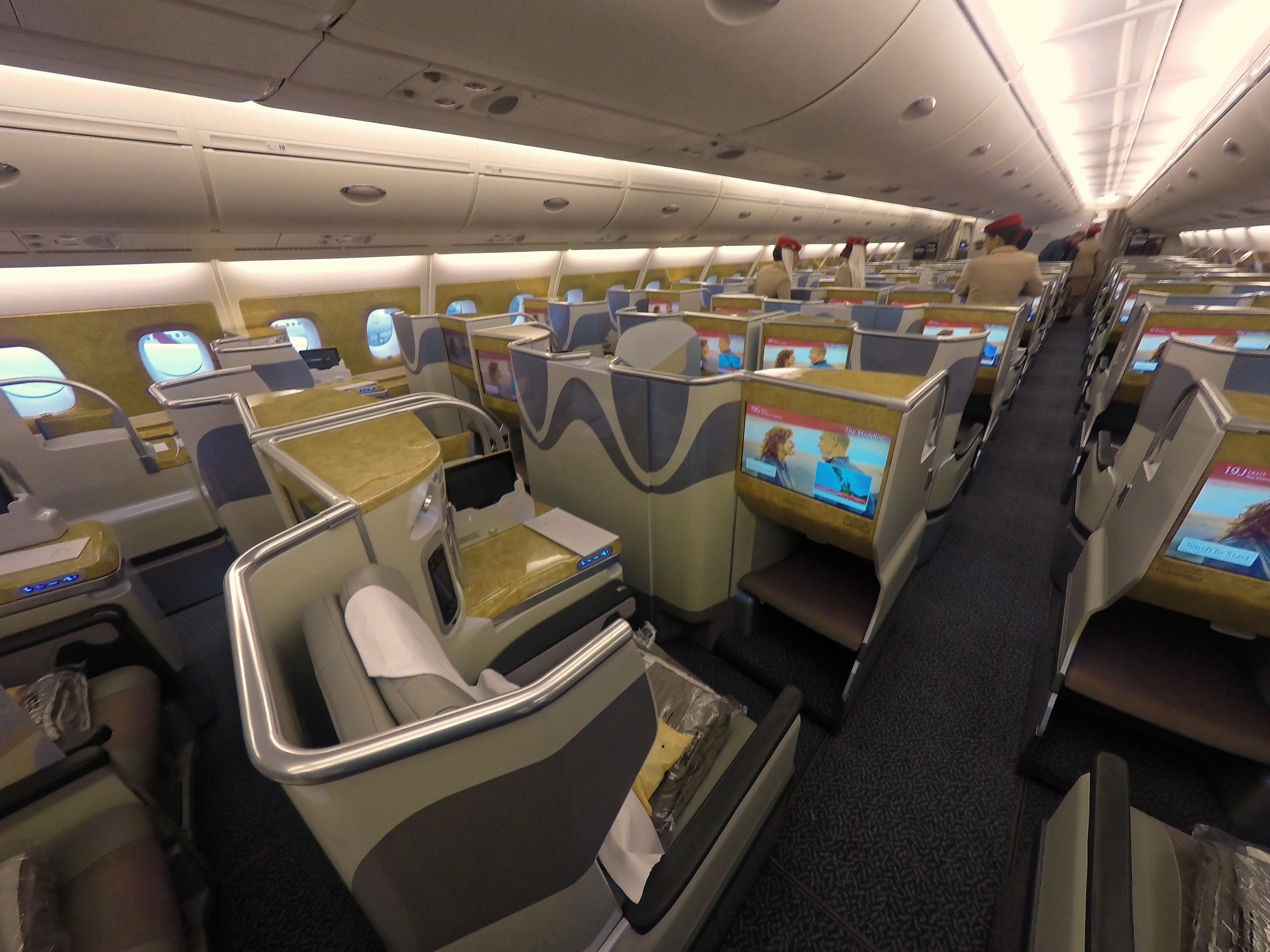 Emirates A380 Business Class overview
whereas the 777 has angled-flat seats in a much more cramped 2-3-2 configuration: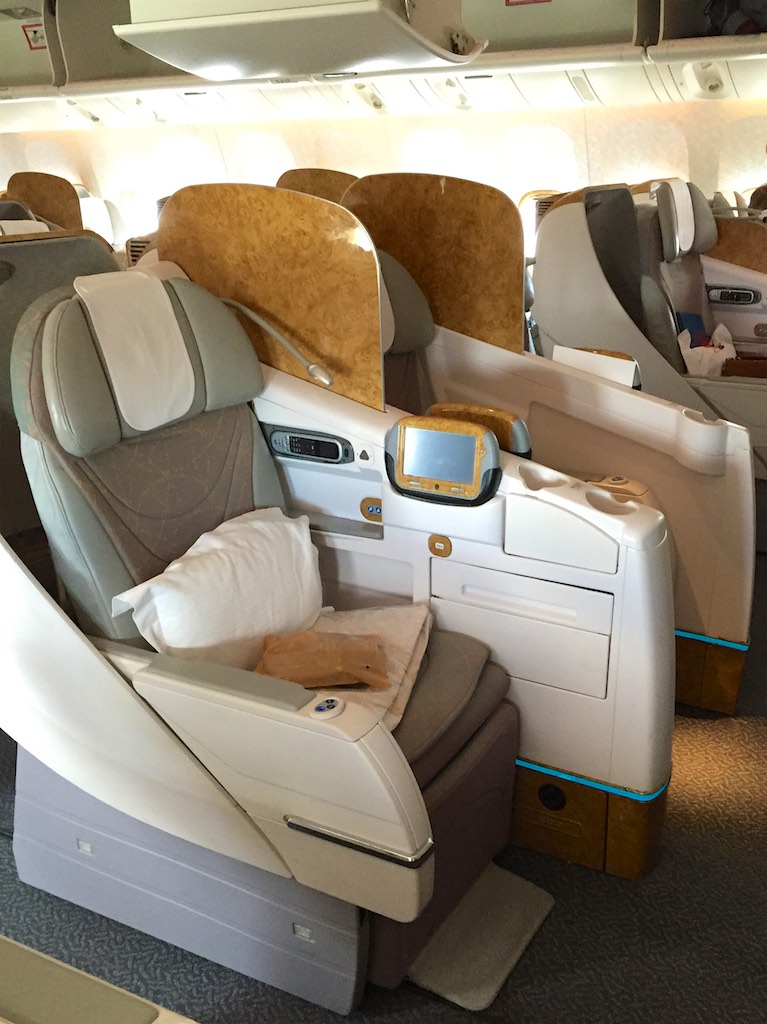 Emirates Boeing 777 Business Class review
Note that Emirates have unveiled a First and Business Class products on its 777 fleet but the rollout will be very slow, so it is much more likely you will be flying on one of the two aircraft above.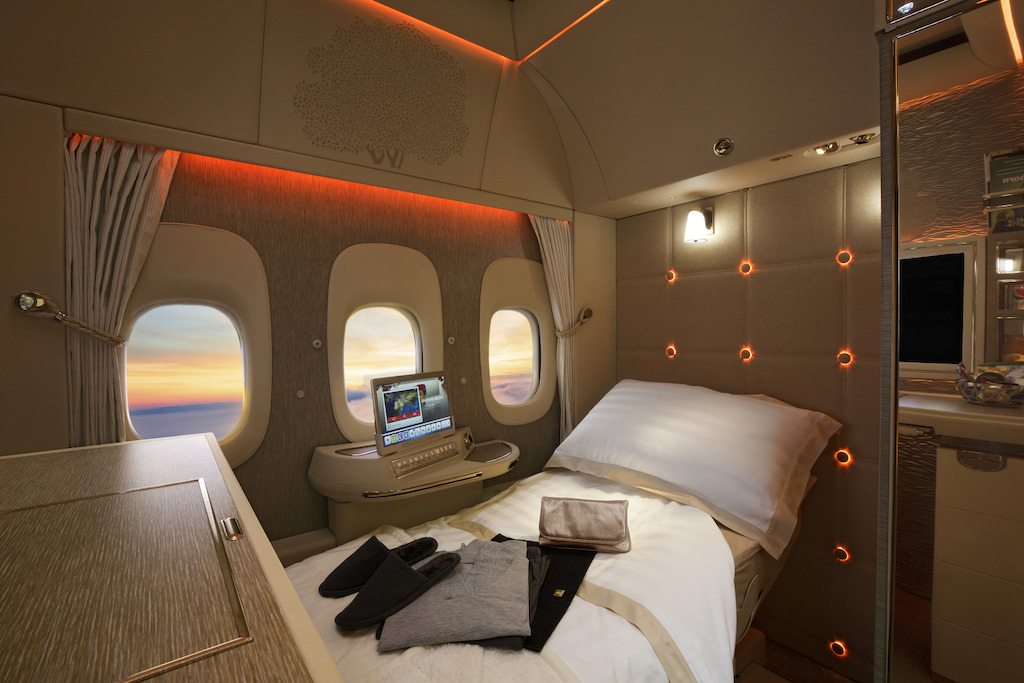 New Emirates 777 First Class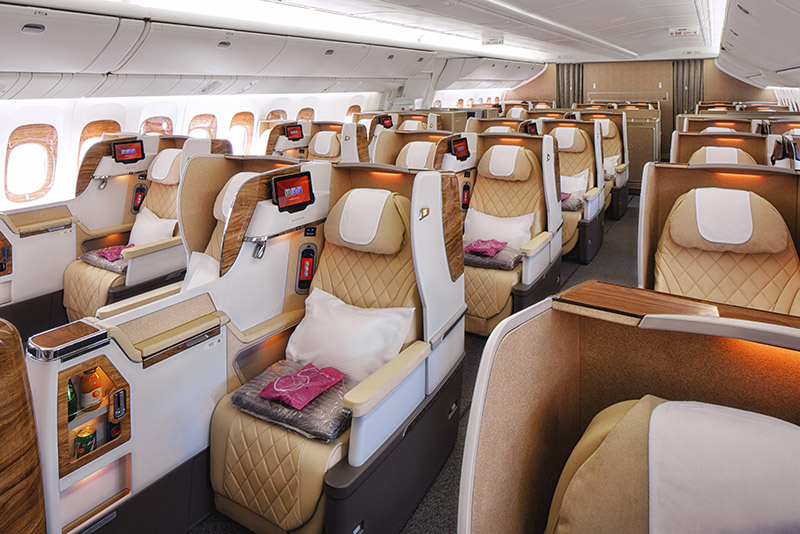 New Emirates 777 Business Class
Qantas Points pricing for Emirates flights
Emirates is a key joint venture partner for Qantas so the points pricing for Emirates flights when using Qantas Points is the same as if you were flying with Qantas on the same route.
Of course, Qantas don't fly many of the routes that Emirates fly—that is why they are partners—but that pricing is equivalent, unlike many of Qantas' oneworld airline partners like Cathay Pacific or British Airways, which would be comparatively more expensive.
You'll need to look at the Qantas Points redemption tables to see the full list of prices—look at the Qantas Classic Flight Reward which is valid for Qantas, Airnorth, Air Vanuatu, American Airlines, Emirates and Fiji Airways flights.
The simpler way to calculate points pricing though is to use Qantas' own points calculator, which you can find here.
Here are some of the price-points for the key routes mentioned above:
Route
Qantas Points one-way
Economy
Business Class
First Class
Australia - NZ, e.g. Sydney - Christchurch
18,000
36,000
54,000
Australia - Asia, e.g. Melbourne/Brisbane - Singapore
28,000
60,000
90,000
East Coast - Dubai
45,000
90,000
135,000
Adelaide - Dubai
40,000
80,000
120,000
Perth - Dubai
35,000
70,000
105,000
With Emirates, it can absolutely make sense—in terms of travel time and routings—to fly beyond Dubai and travel onwards to Europe (definitely), Africa (especially North and Central African countries), South or North America (especially if departing from the Aussie West Coast, or travelling to the US East Coast).
For the longest multi-flight itineraries (9,601-15,000 miles), you will spend a maximum of 128,000 Qantas Points in Business Class or 192,000 Qantas Points for Emirates First Class.
So that is for itineraries (with no stopovers) such as:
Sydney – Dubai – New York
Melbourne – Dubai – London
Perth – Dubai – Rio de Janeiro
Taxes and fees are comparable to what you'd pay for a Qantas flight redemption—so they're not cheap.
When you shouldn't use Qantas Points to fly with Emirates
Where you won't be able to use Qantas Points effectively to fly with Emirates is, of course, where it doesn't make economical sense to do so in terms of time and points spent. Outside of Bangkok and Singapore to North and Southeast Asian destinations or China, or from the Aussie East Coast to US West Coast, for example.
As a result, if you spot a good deal on a paid Economy fare, that's probably going to be better value than using points for Economy travel (as it will include the taxes in the price you're paying). That's not to say using points for Economy flights is never good value—in some cases, it definitely can if paid fares are high on a particular route or in peak periods.
But this is why we focus our best uses of points on Business and First Class—as paid fares are much, much higher in those cabins, so while you need more points to redeem for them, you'll get a much higher value cents per point value out of your points—and it's a much more fun way to travel too, if you can earn and save the points with this in mind.
Note that you cannot use Qantas Points to upgrade Emirates tickets purchased with cash.
How to research and book Emirates flights using Qantas Points
All this information is well and good, but you need to be able to act on it and make the purchase. Thankfully, Qantas.com is generally an excellent search tool for Emirates award flights.
Emirates award seats should appear to Qantas members 330 days before departure but I have seen up to 335 days, so it may pay to check a little early.
I prefer starting by going straight to the Qantas.com multi-city search tool here, regardless of whether I am searching for a multi-city itinerary.
Make sure you check the box to show Classic Flight Reward cities, and to Search Classic Flight Rewards.

If you want a flexible date search, check that box too—but this can be annoying if you aren't actually flexible with your dates, as it adds an extra step to get to the actual flight results.


On clicking Search, you'll then be prompted to log in with Qantas Frequent Flyer account credentials, and then you can start seeing flight results. In this example, I am looking at Sydney to Dubai in just a few weeks time.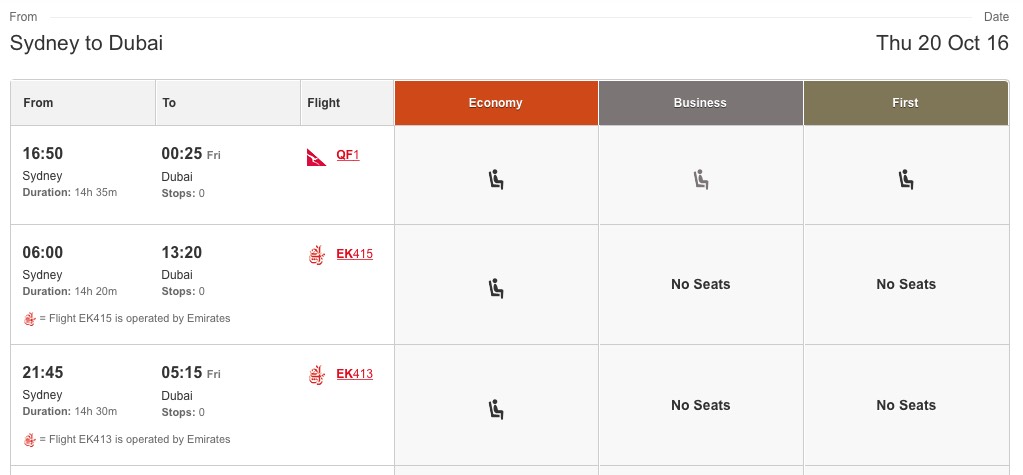 Flights that begin with the EK airline code, e.g. EK419, are operated by Emirates. Qantas.com also clearly states this, and has a small Emirates logo icon in the results too.

Something you should look at closely, especially when searching for Sydney and Melbourne departures, is the number of stops on the routes returned. This is in small text near the flight details.

With Emirates operating flights from Sydney, Melbourne and Brisbane to Dubai that also stop in Southeast Asia, if you want to go to Dubai or beyond then those one-stoppers are not desirable—unless you feel like 'maximising' your time and fun in Emirates Business or First Class.
From here, if you have enough Qantas Points in your account you can then get a quote for the taxes and fees along with the required points. If you don't have enough points in your account yet, give Qantas a call to find out and scope out the additional costs so you're fully prepped.
Summing up
Qantas, to their credit, have made using Qantas Points for Emirates flights very simple and attractively-priced compared to their own flights as a key Qantas Frequent Flyer partner.
Targeting your points earn strategies and redemption goals toward Emirates flights to Asia, Europe, New Zealand or even the US is a great way to maximise the return from your Qantas Points.
And for inspiration, here are some of the cheapest Qantas Points redemptions for luxurious Emirates flights.
Have you had any great experiences from using your Qantas Points from Emirates? Let us know in the comments!
Flying Emirates First or Business Class this year? A reminder to book your chauffeur before Friday
was last modified:
July 19th, 2019
by