The ongoing Qantas points sign-up bonus that the American Express Qantas Ultimate card is offering is aimed at travellers who want to maximise their Qantas Frequent Flyer point balance on their next overseas trip, so we thought we'd compile our dream list of what we'd do with those points.

Apart from being one of the highest Qantas point earning card on the market with a high sign up bonus plus a free return domestic Qantas flight every year, the points you earn from this card can be used for the following high-value redemptions on Qantas, Emirates and its oneworld partners.
This article is produced in partnership with American Express.
---
1. Enjoy the world's best Business Class product and lounge with Qatar Airways
One of the newer oneworld partners, Qatar was voted the world's second-best airline in the Skytrax World Airline Awards in 2016, and won both the best Business Class onboard product and Business Class Lounge in the world.
You'll find pretty similar products on its daily A380 flights from Sydney and A350 service from Adelaide to its hub in Doha, with lie-flat, direct aisle access Business Class seats: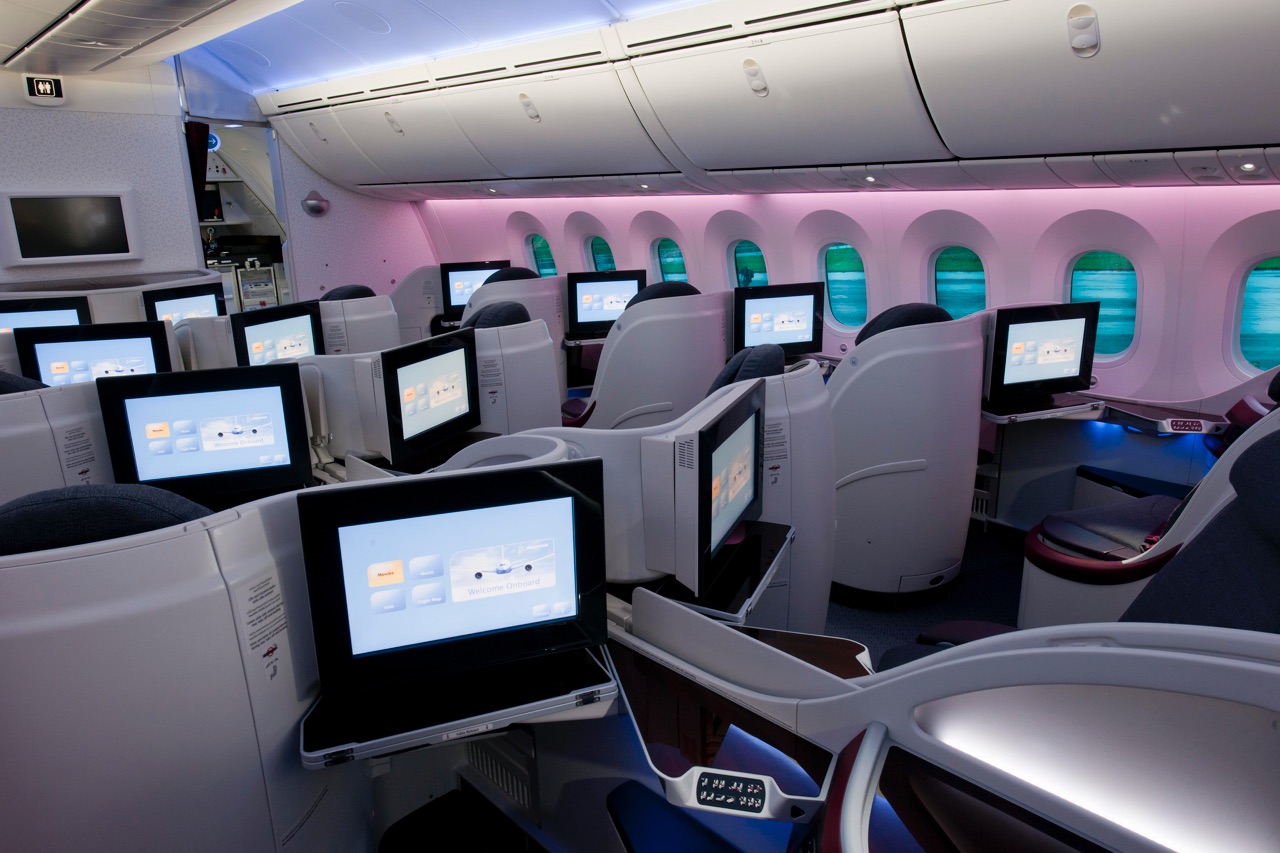 a full-service bar on the A380: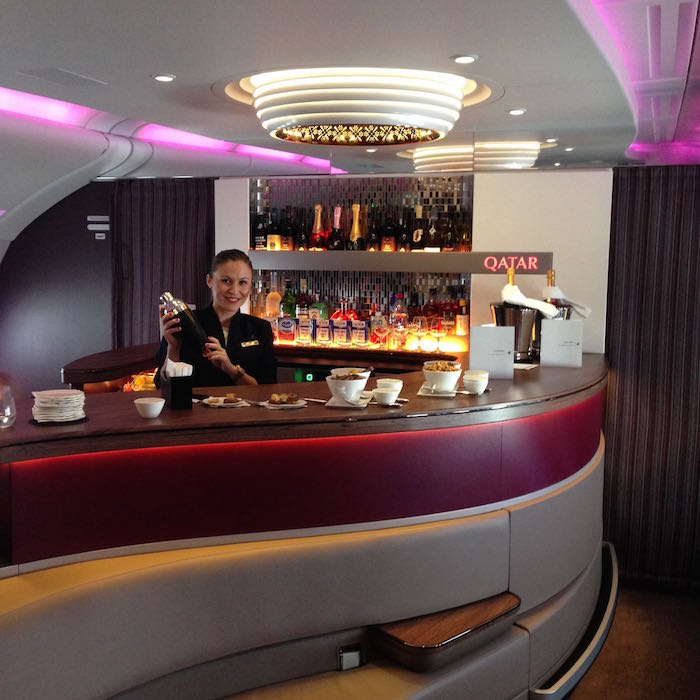 and a self-service bar on the A350: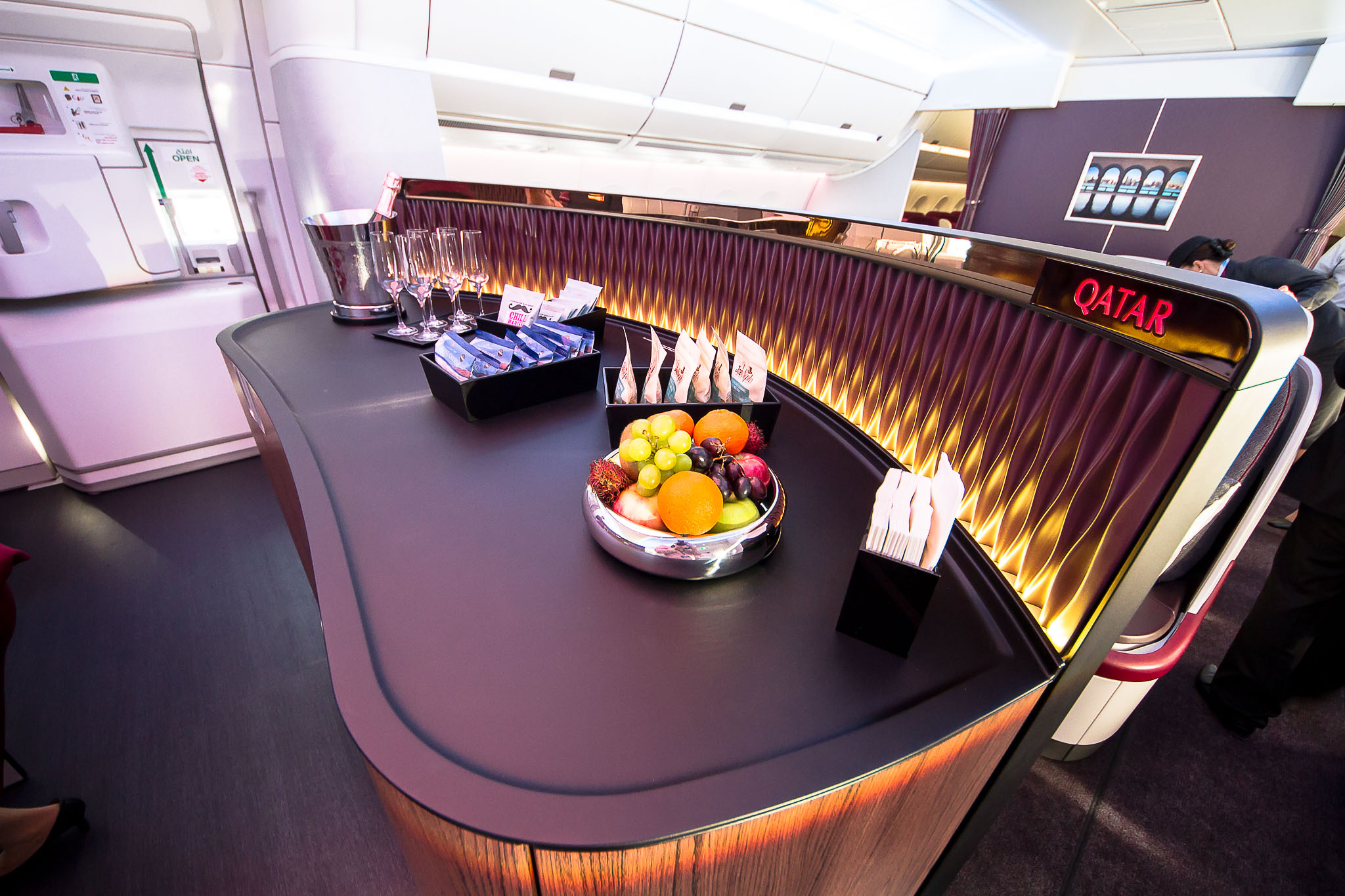 Let's hope that the Melbourne and Perth services get an upgrade from the 777 sooner rather than later: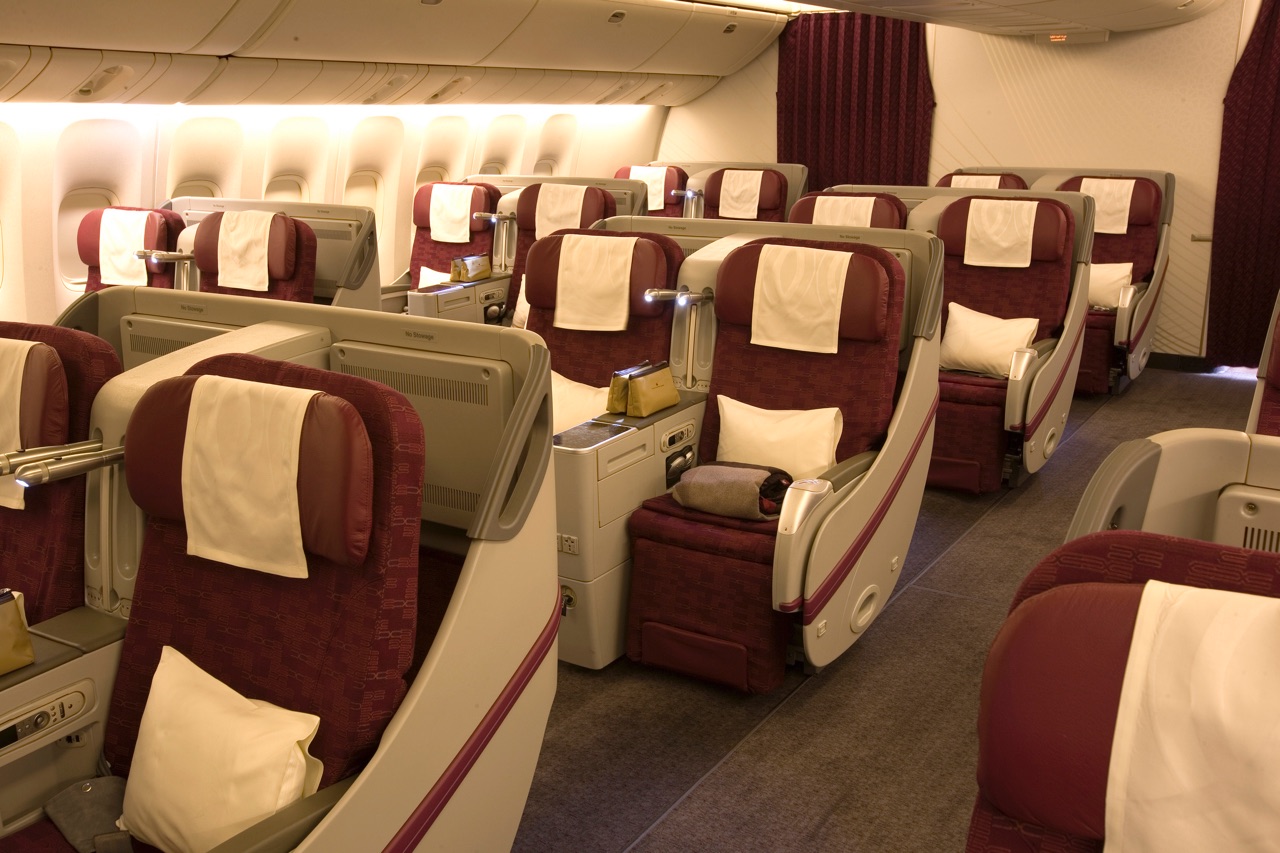 Plus, if you're connecting through or departing from Doha, you'll get to enjoy the impressive Al Mourjan Business Lounge: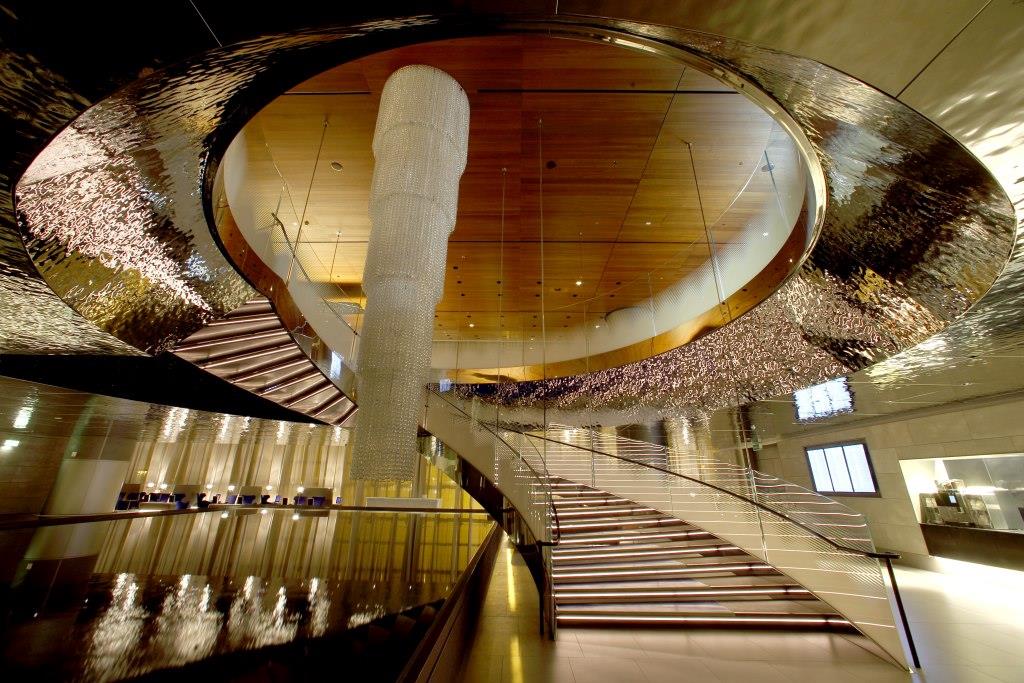 A one-way Business Class ticket from Australia to Europe on Qatar Airways usually costs 139,000 Qantas points (jumps to 159,000 from 18 September 2019).
2. Lie 180° flat on all Cathay Pacific Business Class flights to and from Australia
Known for its consistent onboard product, Cathay Pacific flies between its Hong Kong hub and five Australian airports: Sydney, Melbourne, Brisbane, Perth and Adelaide.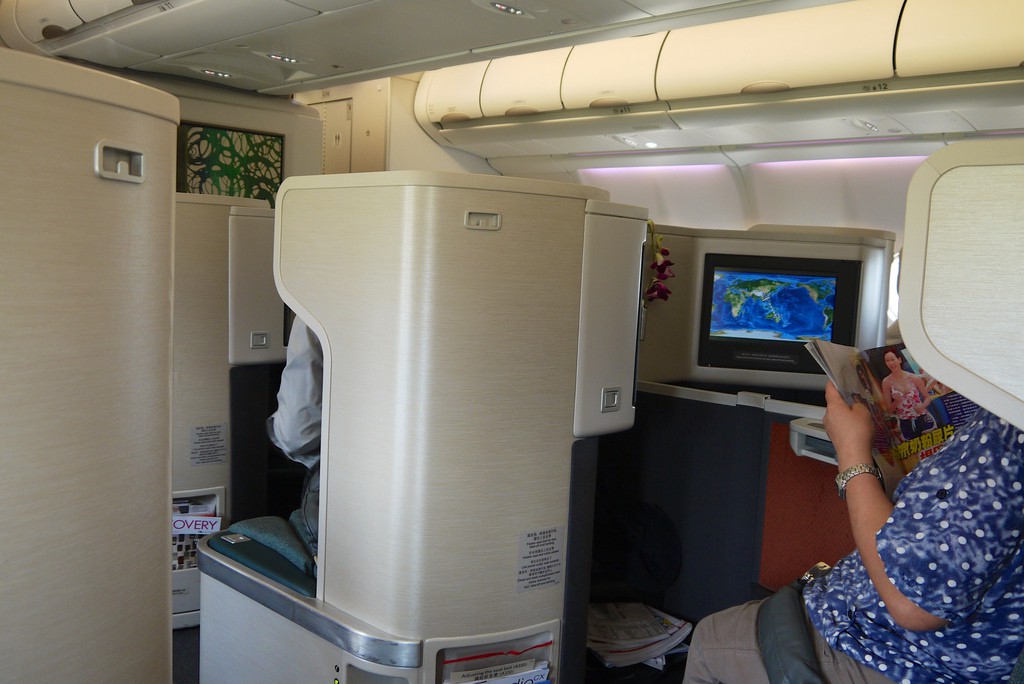 Regardless of aircraft, all Business Class seats to and from Australia are lie-flat and offer direct aisle access in a 1-2-1 configuration.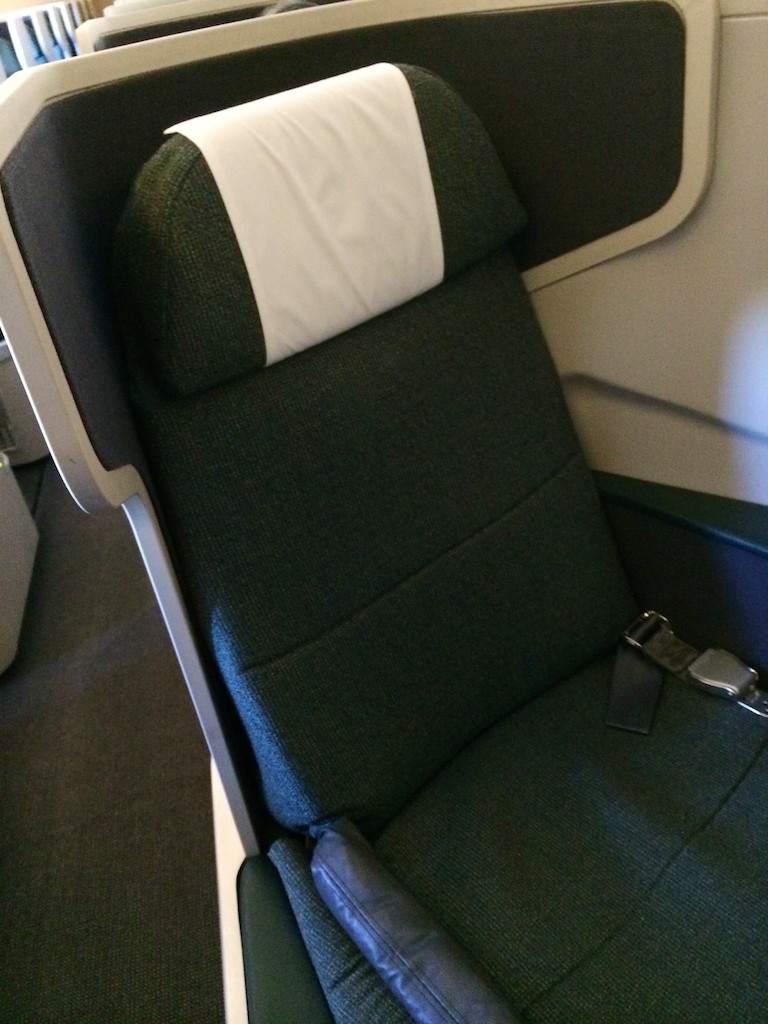 Most of its flights are onboard its Airbus A350 or Boeing 777 aircraft.
A one-way Business Class redemption from all Australian airports to Hong Kong on Cathay Pacific will set you back 65,000 Qantas points (jumps to 75,000 from 18 September 2019).
If you can, try to get on one of Cathay's new Airbus A350s, which are the newest aircraft in the skies. The carrier will replace one of its three Melbourne flights with the A350 from 1 February 2017, with other routes in our region including Auckland, Manila, Taipei, Singapore and Bangkok, as well as London Gatwick, Paris, Rome, Dusseldorf and Vancouver further afield.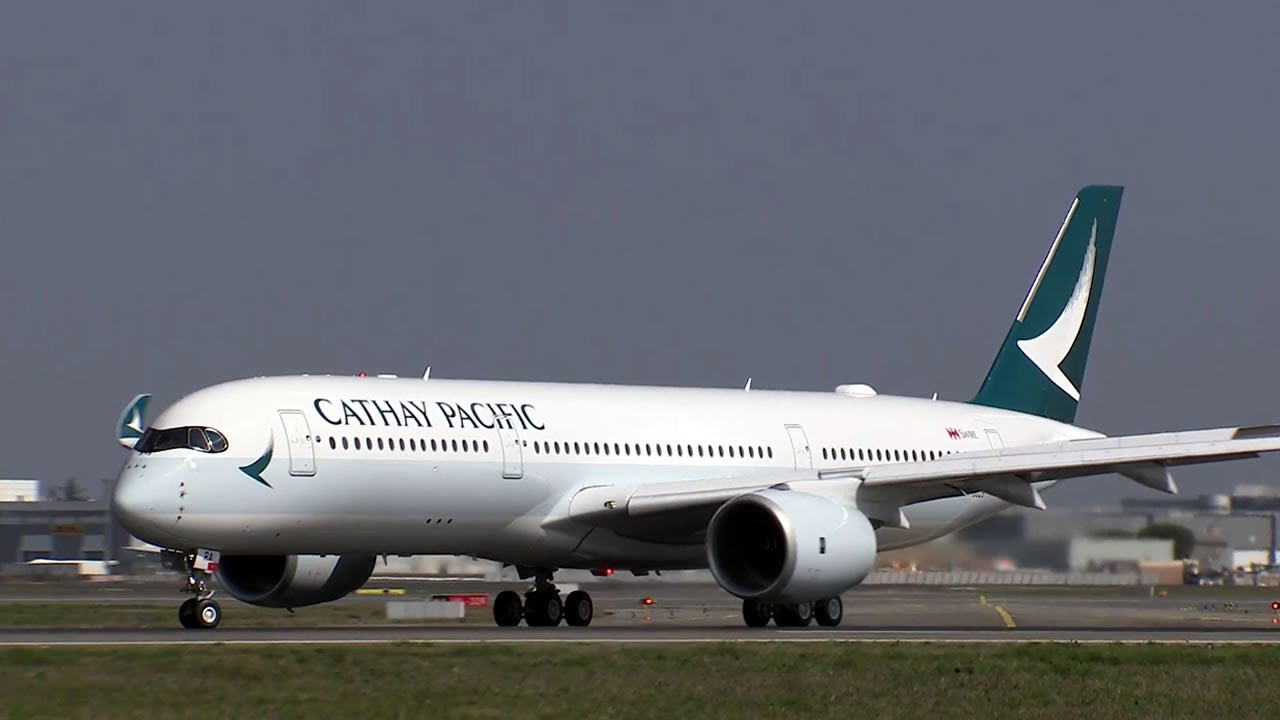 Cathay Pacific Airbus A350
Note that Cathay does not currently offer a First Class product to Australia, so look to connecting flights to US cities like New York, Los Angeles, San Francisco and Chicago, and European cities such as London Heathrow, Paris and Frankfurt for that experience.
3. Enjoy top-notch customer service on Japan Airlines First Class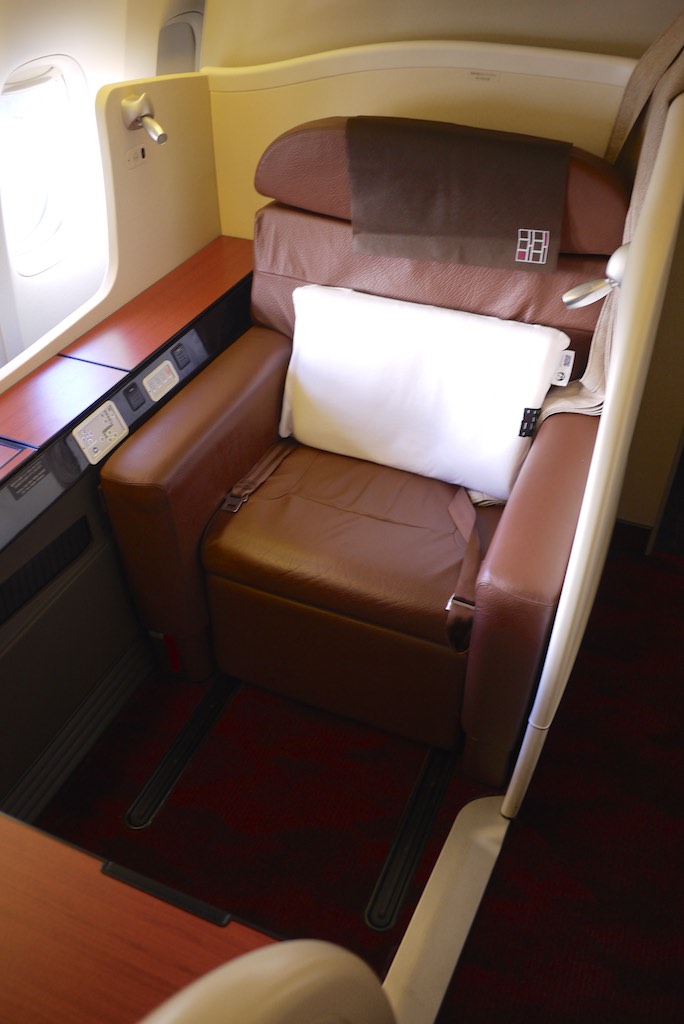 Both JAL and its main Japanese competitor ANA have amongst the best reputations for attentive and efficient customer service in the airline industry.
Japan Airlines flies a four-class Boeing 777-300ER between Sydney and Tokyo Narita. The flight there is during the day and the one back from Tokyo overnight, so we would recommend that if you have to choose between which one to use your Qantas points on, that you go with the daytime flight to make the most of the experience during waking hours.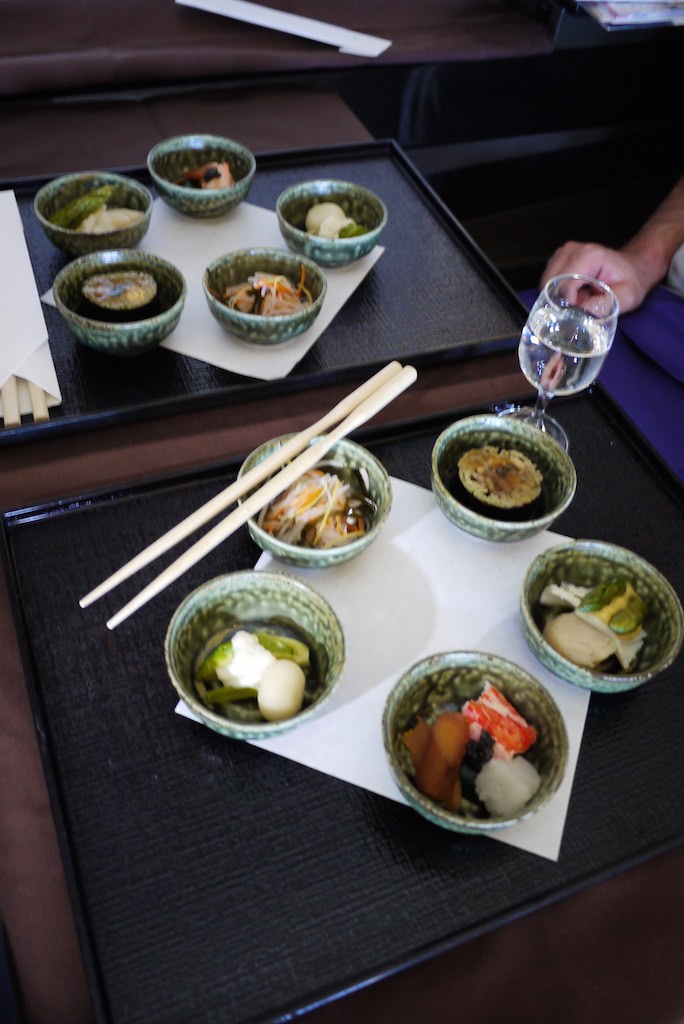 Japan Airlines First Class dining
Keith took both flights there and back and described them as "ridiculously amazing, extravagant and sublime", with the high level of customer service as the standout feature.
A one-way First Class flight from Sydney to Tokyo on Japan Airlines costs 114,000 Qantas points.
Ad – Scroll down to continue reading.Minimum spend, terms & conditions apply.
4. Have a hot shower in the air flying Emirates First Class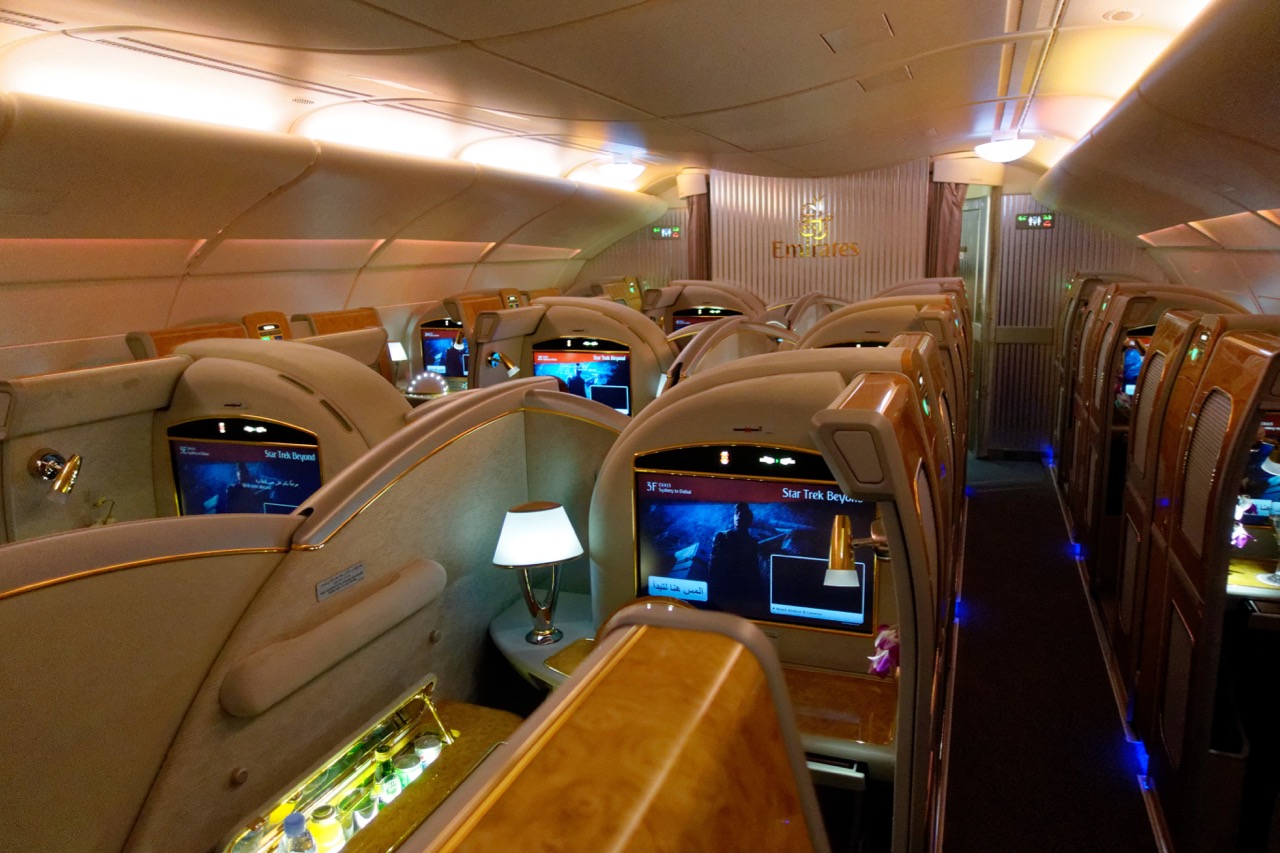 The largest Gulf carrier was voted the number one airline in the Skytrax World Airline Awards in 2016, along with having the best in-flight entertainment system (which is quite important on our long flights from Australia).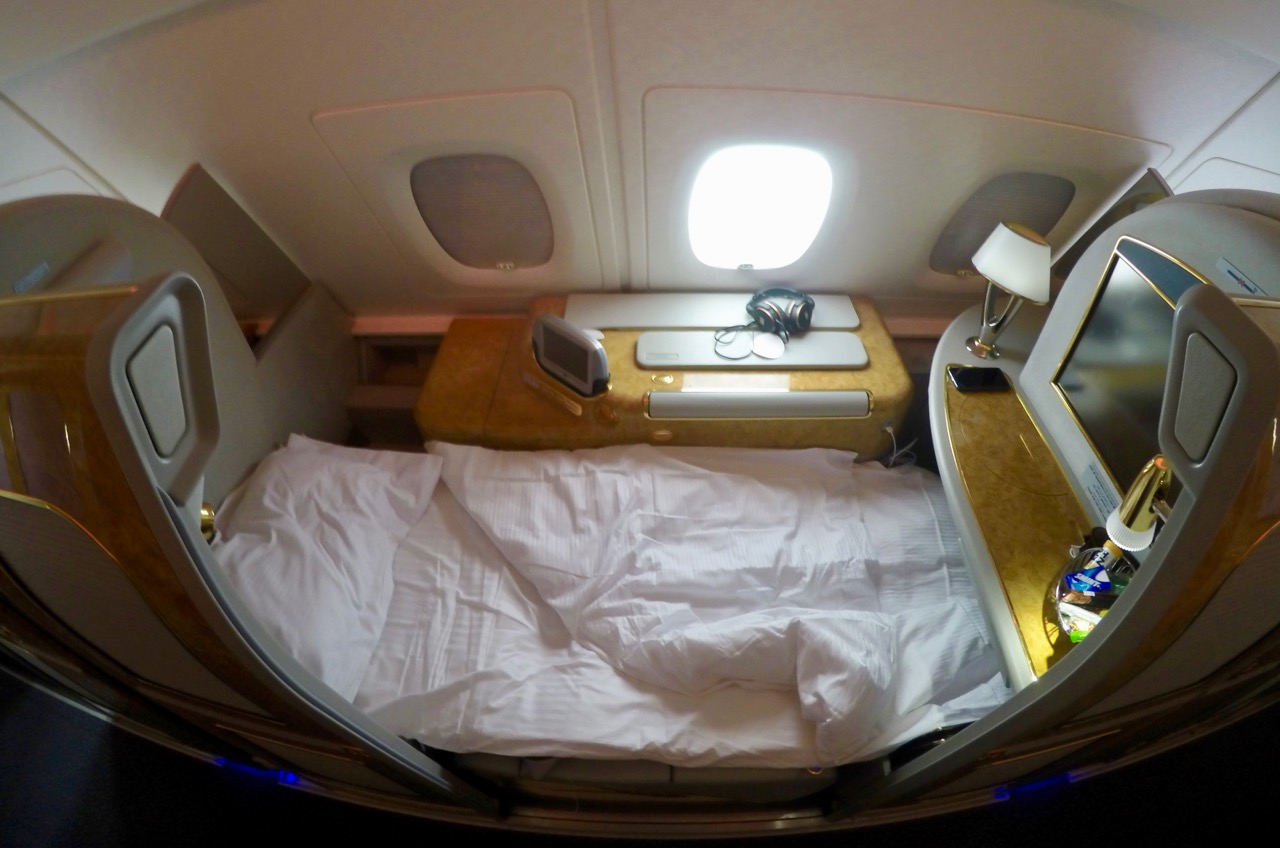 It also operates the world's largest fleet of Airbus A380s, which have the blingiest First Class Suites in the business, with an onboard bar and shower.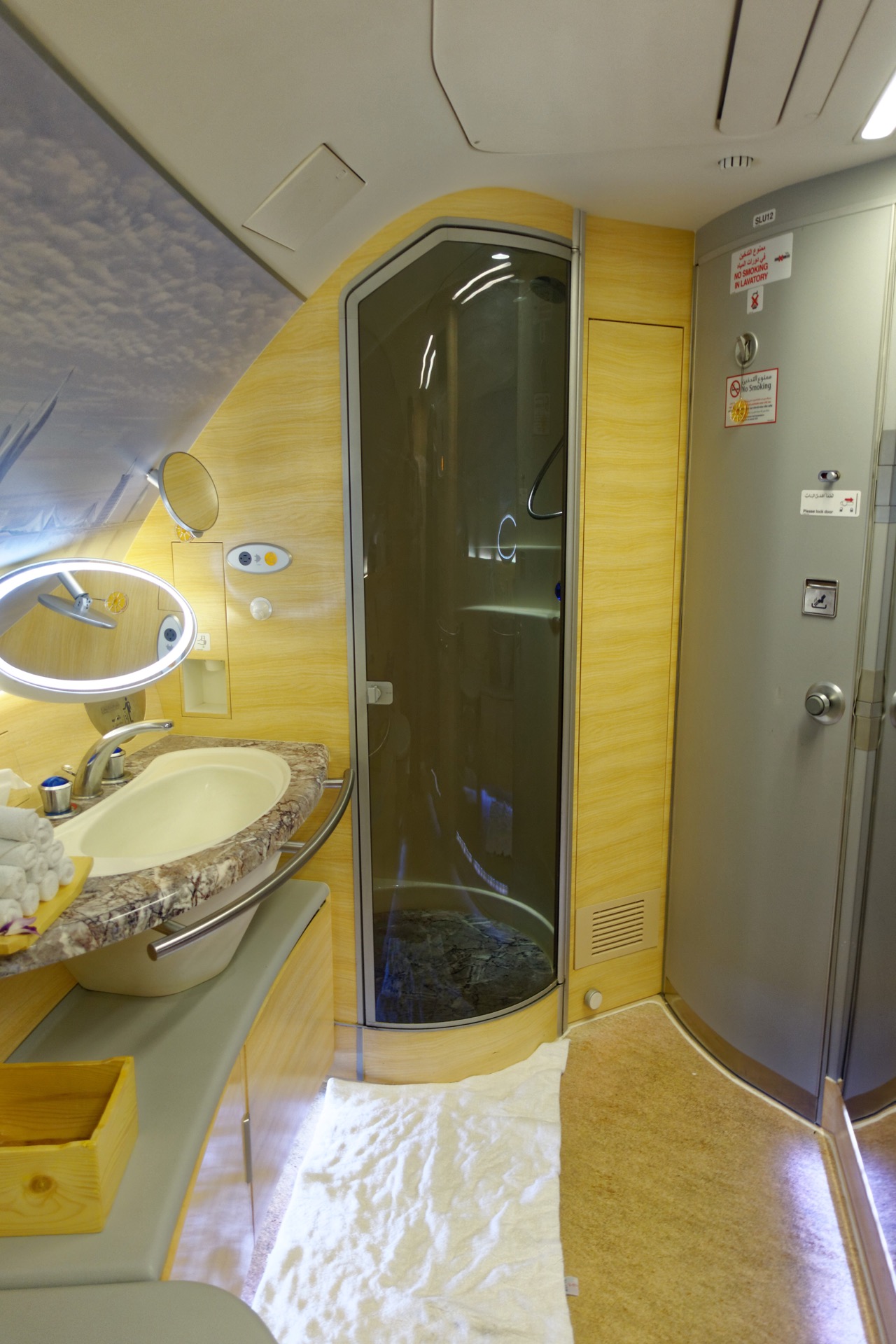 We're lucky in Australia to have the A380 servicing the following routes:
Sydney to Dubai and Christchurch
Melbourne to Dubai and Singapore
Brisbane to Dubai
Perth and Dubai
A one-way First Class redemption between Australia and Dubai on Emirates will set you back 108,000-144,000 Qantas points (jumps to 123,100-162,800 from 18 September 2019) depending on your departure city.
US vlogger Casey Neistat does a great and entertaining job of showcasing the best parts of the Emirates experience:
5. Fly around the world from 132,400 points using a oneworld Classic Reward redemption
Qantas Frequent Flyer's round-the-world ticket allows you to explore the world and stopover in up to five cities over a 12-month period.
It allows for up to 15 flights with Qantas and its oneworld partner airlines, which can be used for up to 35,000 miles of travel.
This award is available for all classes, starting at 132,500 points for Economy travel right up to 455,000 in First Class.
You can read our guide to using Qantas oneworld Classic Rewards for good-value round-the-world flights here.
6. Keep it local with Qantas First Class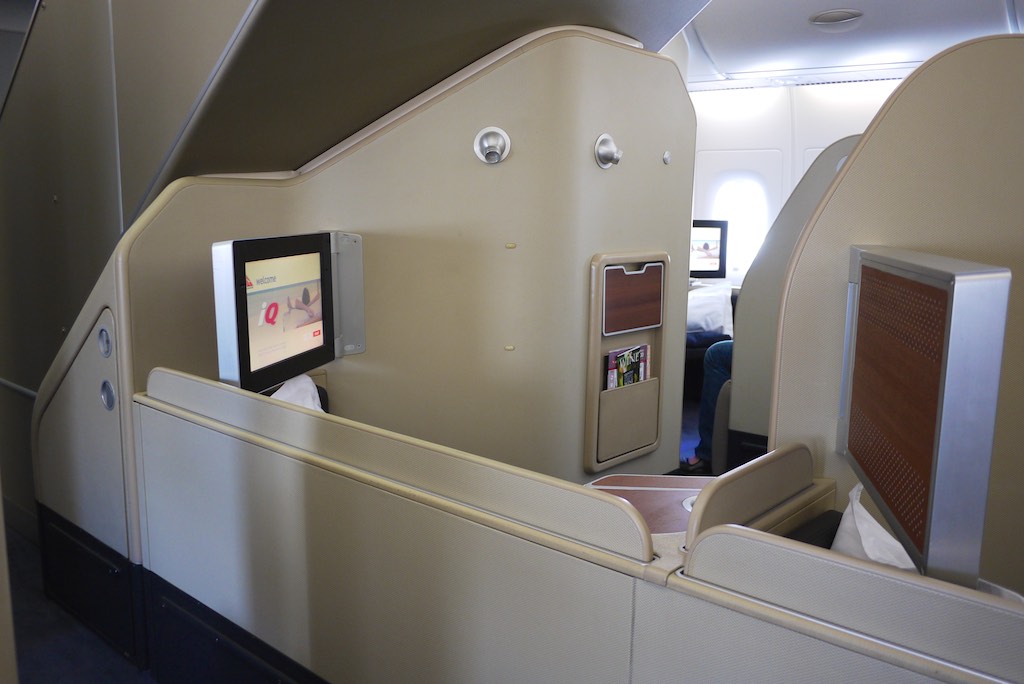 Australia's legacy carrier offers First Class only on its Airbus A380 flights, which currently serve Los Angeles, Dallas/Fort Worth, Singapore and London from Sydney and Melbourne.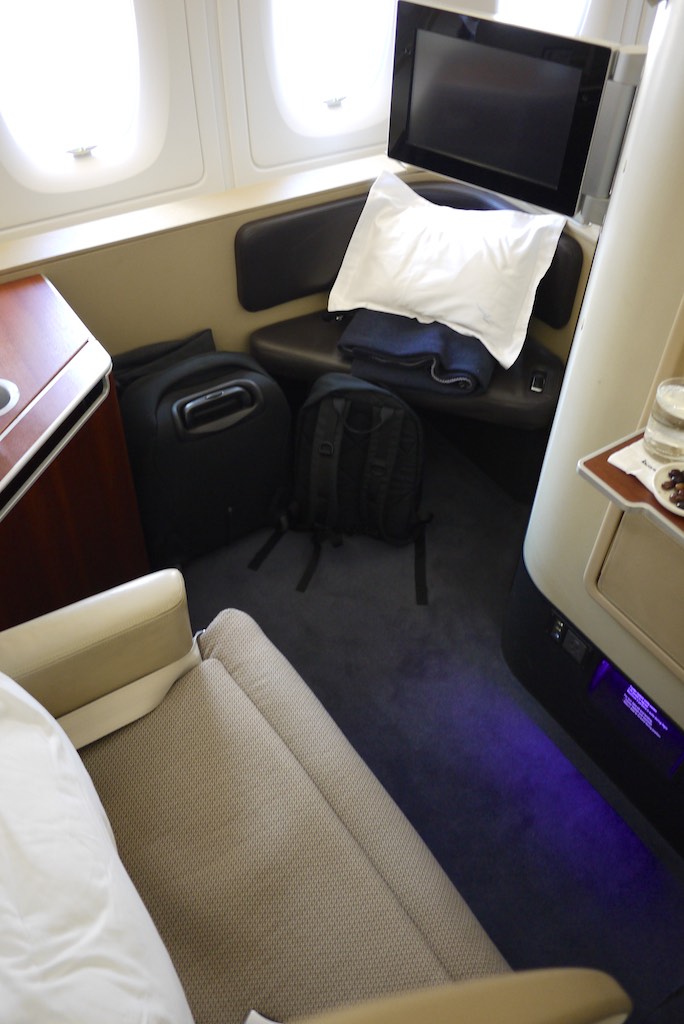 Whilst not necessarily regarded as being at the top of the pack in terms of its First Class cabin and service, those loyal to Qantas will take comfort in a familiar environment (and that sigh of relief when you hear an Australian accent when boarding a flight overseas).
You will, however, get access to Qantas' amazing First Class lounges in Sydney and Melbourne (see below).
A one-way First Class flight from Sydney or Melbourne with Qantas prices at 144,000/162,800 Qantas points to Los Angeles, 168,000/189,800 to Dallas/Fort Worth and 192,000/216,900 to London (before/after 18 September 2019 changes).
You can read our Qantas A380 First Class review here.
7. Fly First Class out of Sydney, Melbourne, Brisbane or Los Angeles to access some of Qantas' best lounges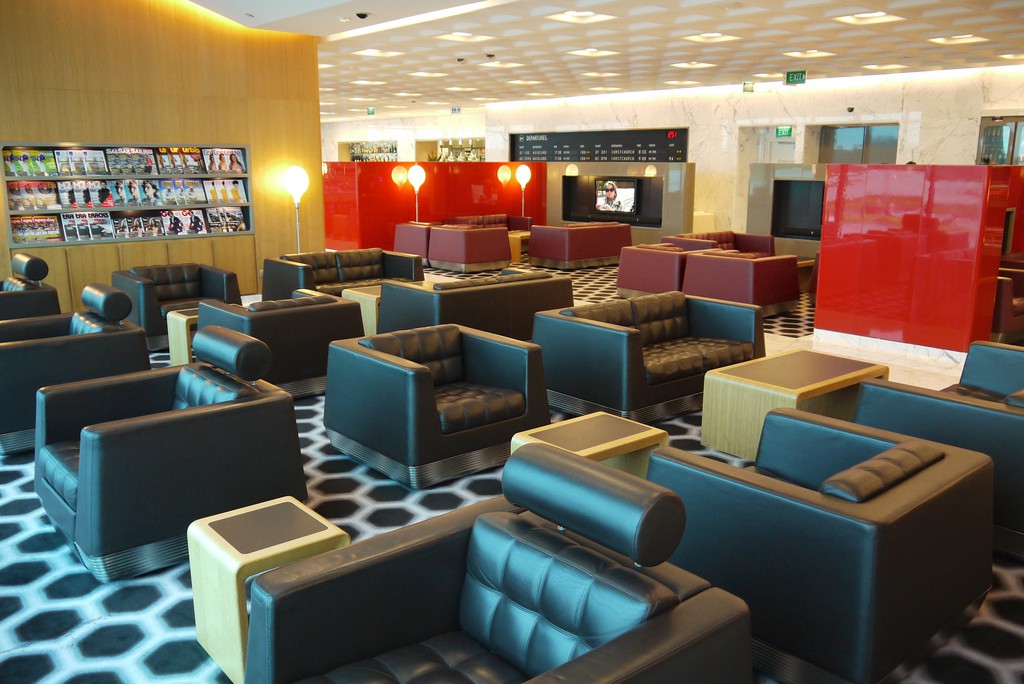 Qantas First Class Lounge at Melbourne Airport
Your travel experience doesn't start when you board the plane – it starts from the moment you leave your front door.
So if you're flying out of Sydney, Melbourne or Brisbane Airport in First Class on Qantas, Emirates or any oneworld airline, you'll be able to spend time before you board in some of Qantas' best lounges.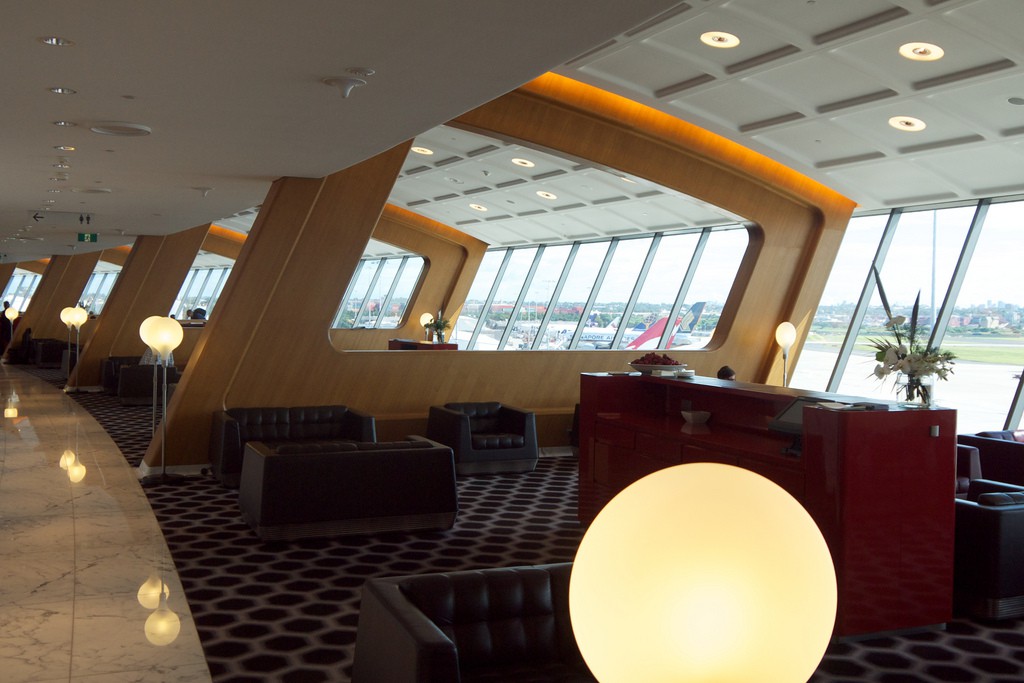 We've personally given both the Sydney First Class Lounge and Melbourne First Class Lounge five-star ratings and we're looking forward to trying out the new (combined First and Business Class) Brisbane International Premium Lounge on our next trip from the Sunshine State.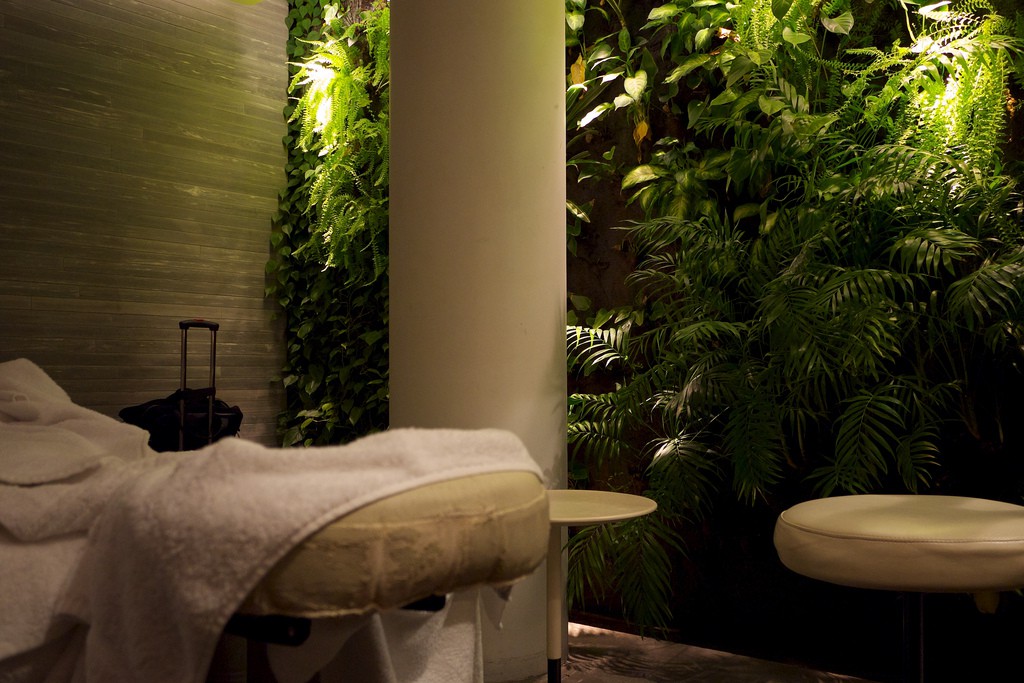 You can get a complimentary spa treatment at the Qantas First Class Lounge at Sydney Airport
The Qantas-run Los Angeles oneworld Business Class Lounge is a solid one, so I can only imagine the First Class Lounge.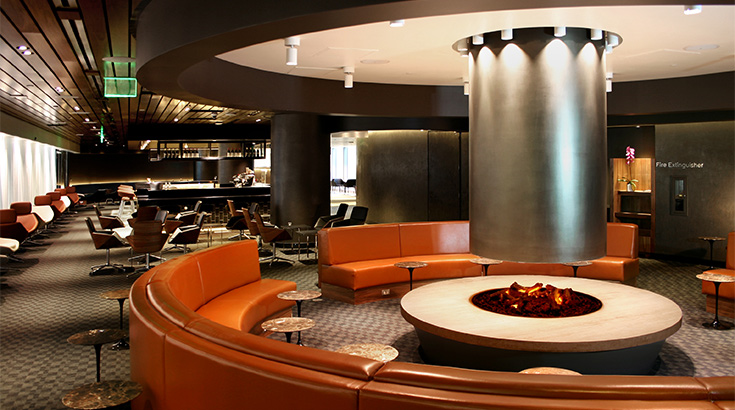 The open fireplace at the oneworld International Business Lounge at Los Angeles Airport
You can read our definitive guide to Qantas lounges here.
Summing up
With a balance of 55,000 Qantas points provided by signing up for the Qantas Ultimate American Express card, you'll be on your way to showering onboard Emirates' A380, lying flat in Cathay Pacific Business Class and enjoying top-notch Japanese hospitality on Japan Airlines.
Our own images supplemented by official photos from respective airlines.
What are your 'Ultimate' uses of Qantas points? We'll be collating your own ideas on how you'd like to redeem your points into a future article, so let us know!
Our 'Ultimate' uses of Qantas points: seven great redemptions for your next trip
was last modified:
February 2nd, 2022
by