We've all heard that we should aim to use cash for Economy Class flights and save our points for more luxurious experiences in First and Business Class—but is it actually worth it?
Well, that's up to you to decide, but based on this post, you may opt to fly towards the pointy end of the plane.
Here is a runthrough of what you can expect from a First Class experience, with some tips thrown in to make the most of your flight.
1. Schedule a spa appointment
If you're flying out of Sydney or Melbourne in First Class on Qantas, then you're in for a treat.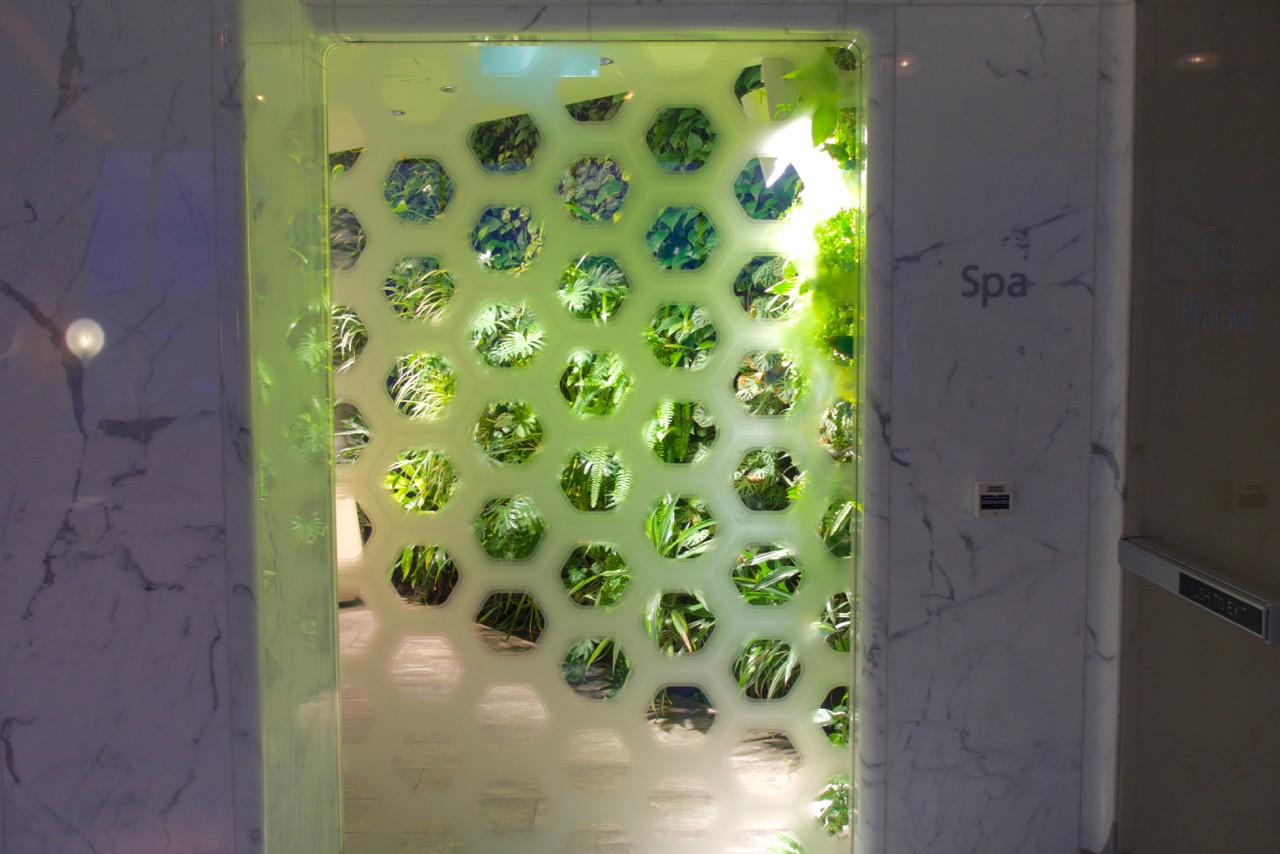 Look out for a call from the manager of the Qantas International First Lounge 24 hours before departure. You'll be able to schedule in a complimentary massage or facial before your flight.
If you're flying Emirates or a oneworld partner airline like Qatar Airways, Malaysia Airlines or British Airways, you can't book an appointment in advance. Rather, you can sign up on a first-come, first-served basis when you get to the lounge.
2. Get chauffeured to the airport
I'm going to be upfront—you're probably not going to be able to access this service, and that's because over the past few years, airlines have really tightened up this benefit.
If you've used cash to book your ticket from Australia, First Class passengers on some airlines can get a free transfer to and from the airport. That includes Air China, British Airways, China Eastern and Emirates. This video above is aimed at Emirates Business Class passengers but applies to First Class travellers too.
3. Sit down to check in
You could fly Economy Class and wait impatiently in a long, snaking line. Instead, why not take yourself and your bags to the dedicated First Class check-in counter?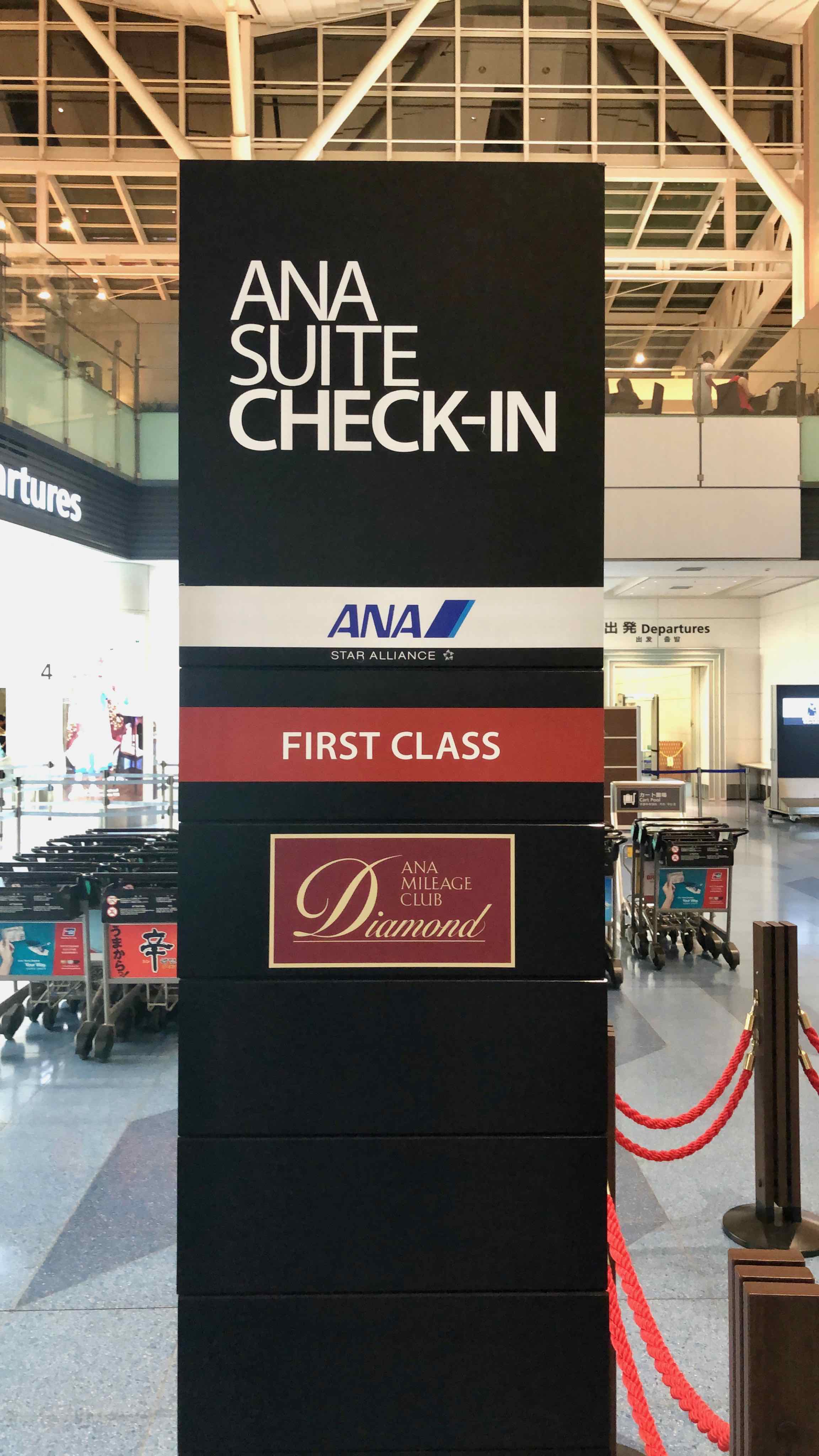 Often, you'll be invited to sit down at a desk with a dedicated check-in agent and will be assisted with your luggage.
4. Speed through security and immigration
Premium class passengers—meaning those in First and Business Class—usually have a separate line to pass through security more quickly than other travellers. Sometimes that will extend through to immigration, leaving you more time to…
5. Enjoy à la carte dining in the lounge
Most First Class lounges allow you to sit down and order off the menu in addition to being able to choose from the buffet.
Etihad First Class passengers in Sydney and Melbourne get access to The House, which offers exquisite dining from a curated menu on tables draped in white linens.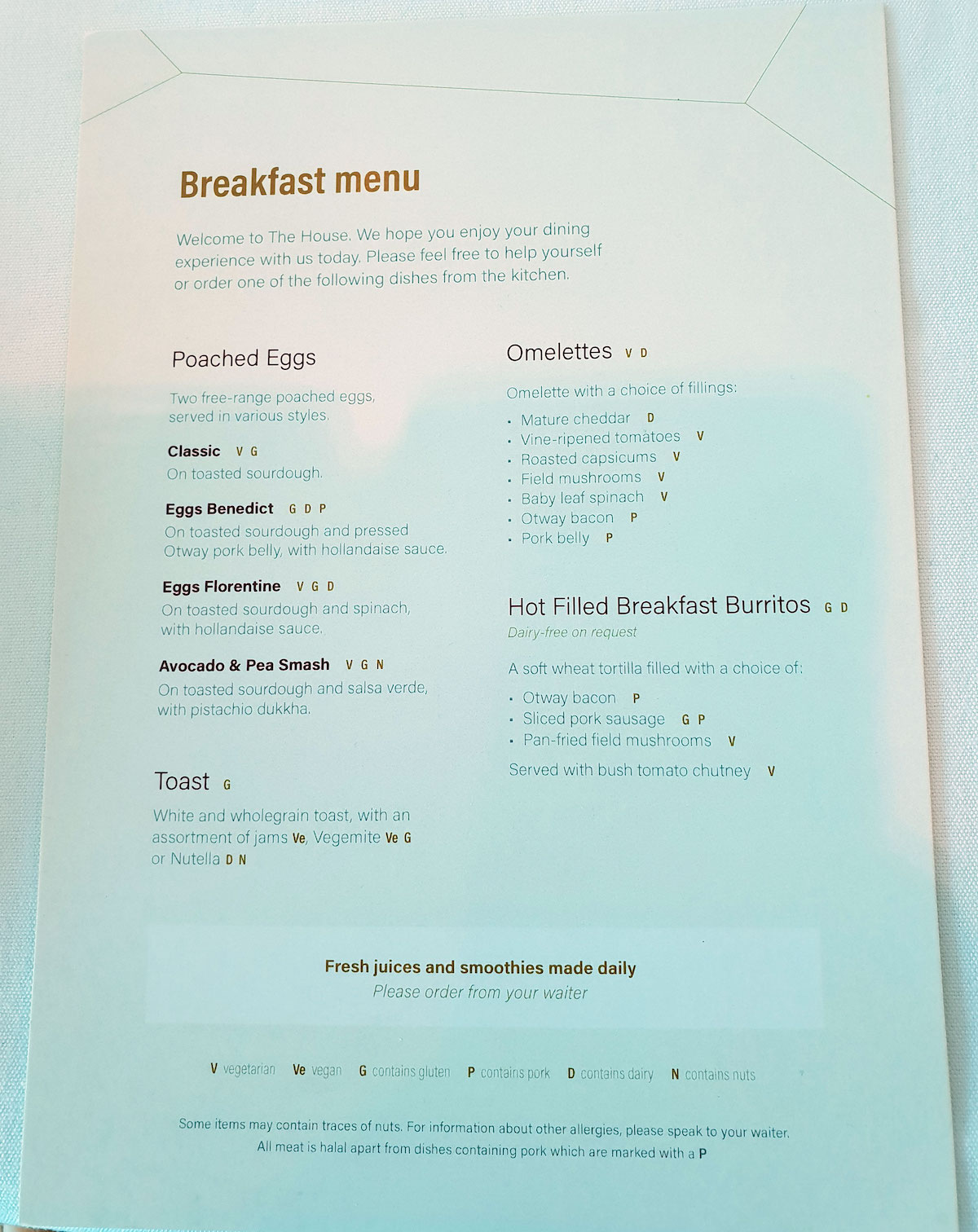 6. Freshen up before your flight
Do you have a long flight ahead of you and want to make sure that you're as relaxed as can be? Then soak in a bath or savour in a hot shower before boarding.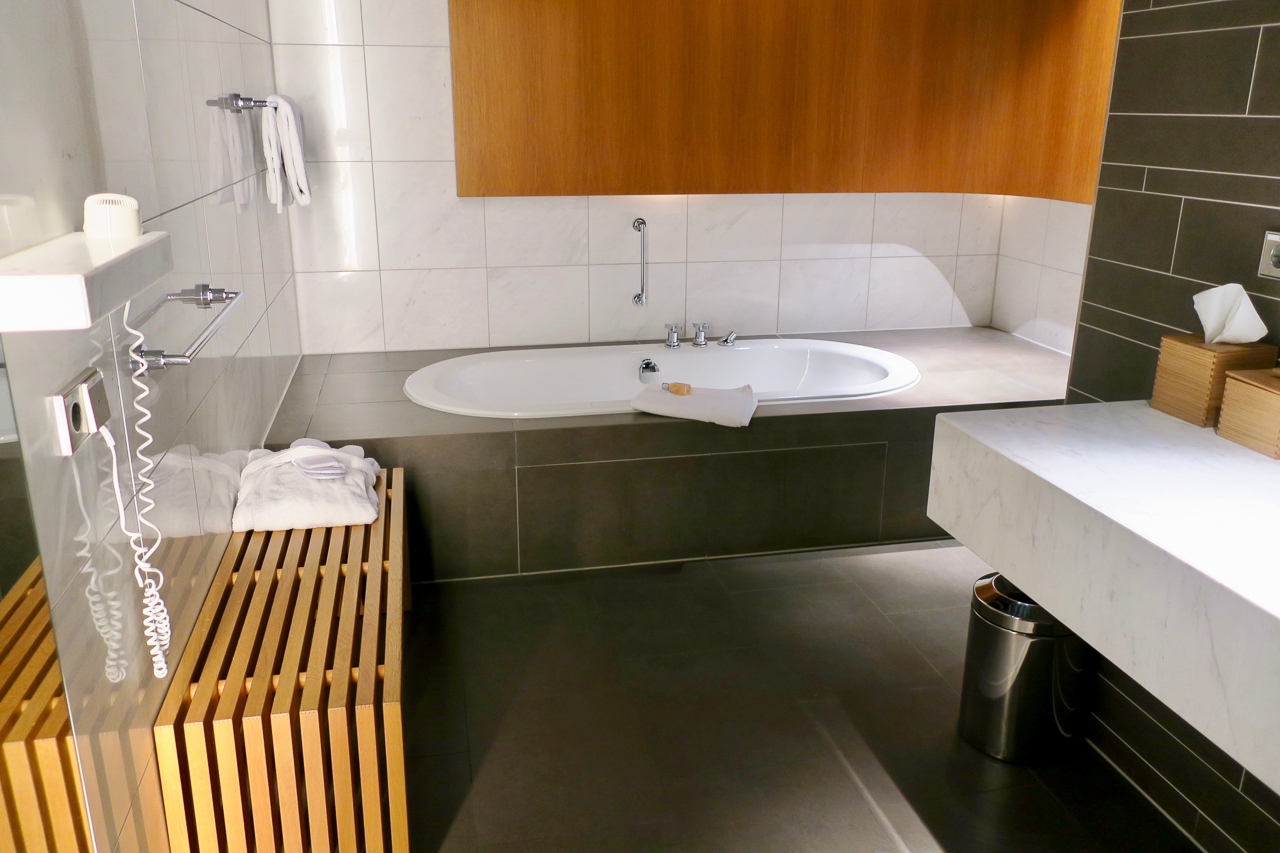 7. Get driven to your plane
This is a treat—if you are flying THAI out of Bangkok, you'll be picked up at the lounge and delivered directly to your boarding gate in a golf cart.
But let's do one better. If you're flying Lufthansa out of Frankfurt, you'll be driven from the First Class Terminal—that's right, there is a separate terminal for the 1%—straight to your plane. No waiting at the boarding gate!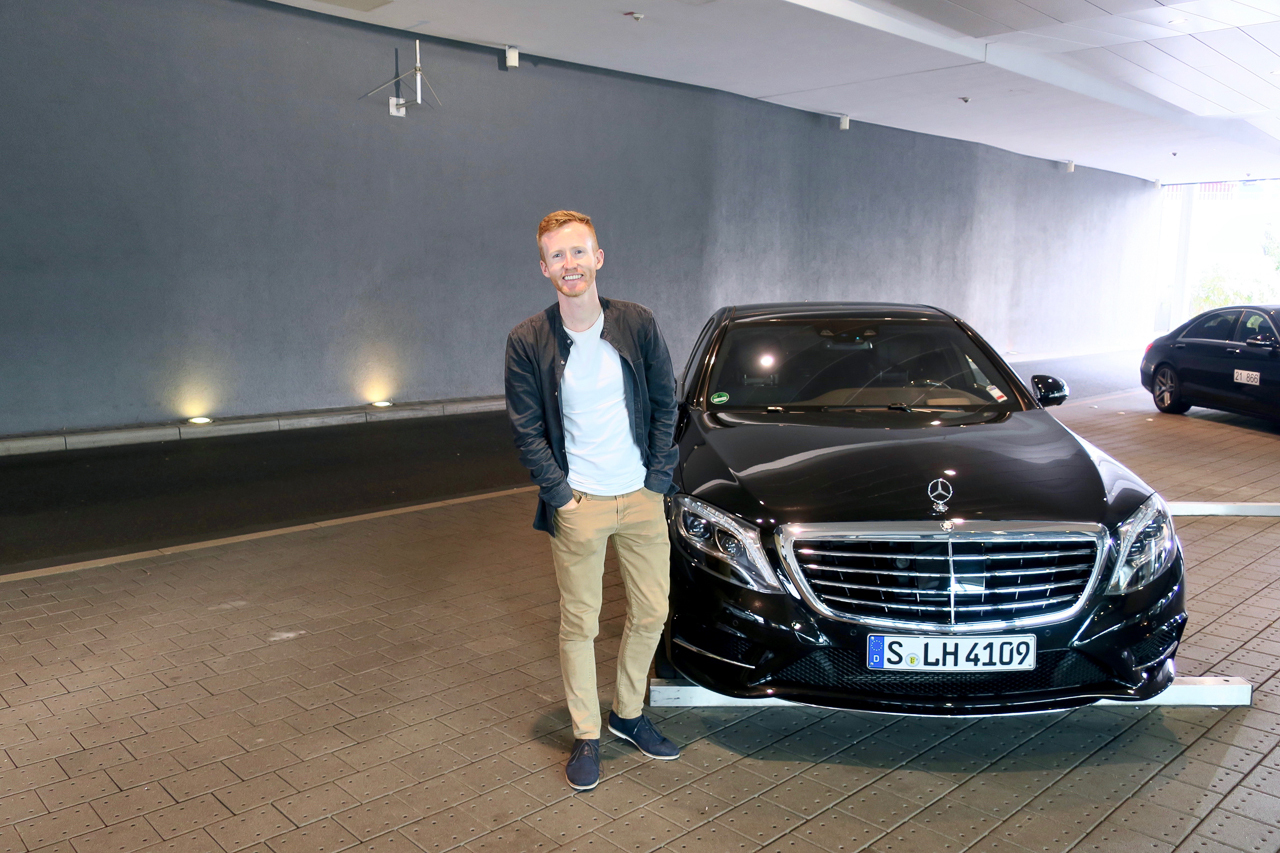 8. Board before anyone else
This one is a given—you're allowed to get on the plane before the other classes do (or you may choose to wait until the end).
9. Travel in a small cabin
The most common First Class configuration is 1-2-1, meaning there is one seat on each side of the plane and two in the middle. You'll find this on the majority of airlines, including Japanese carrier ANA.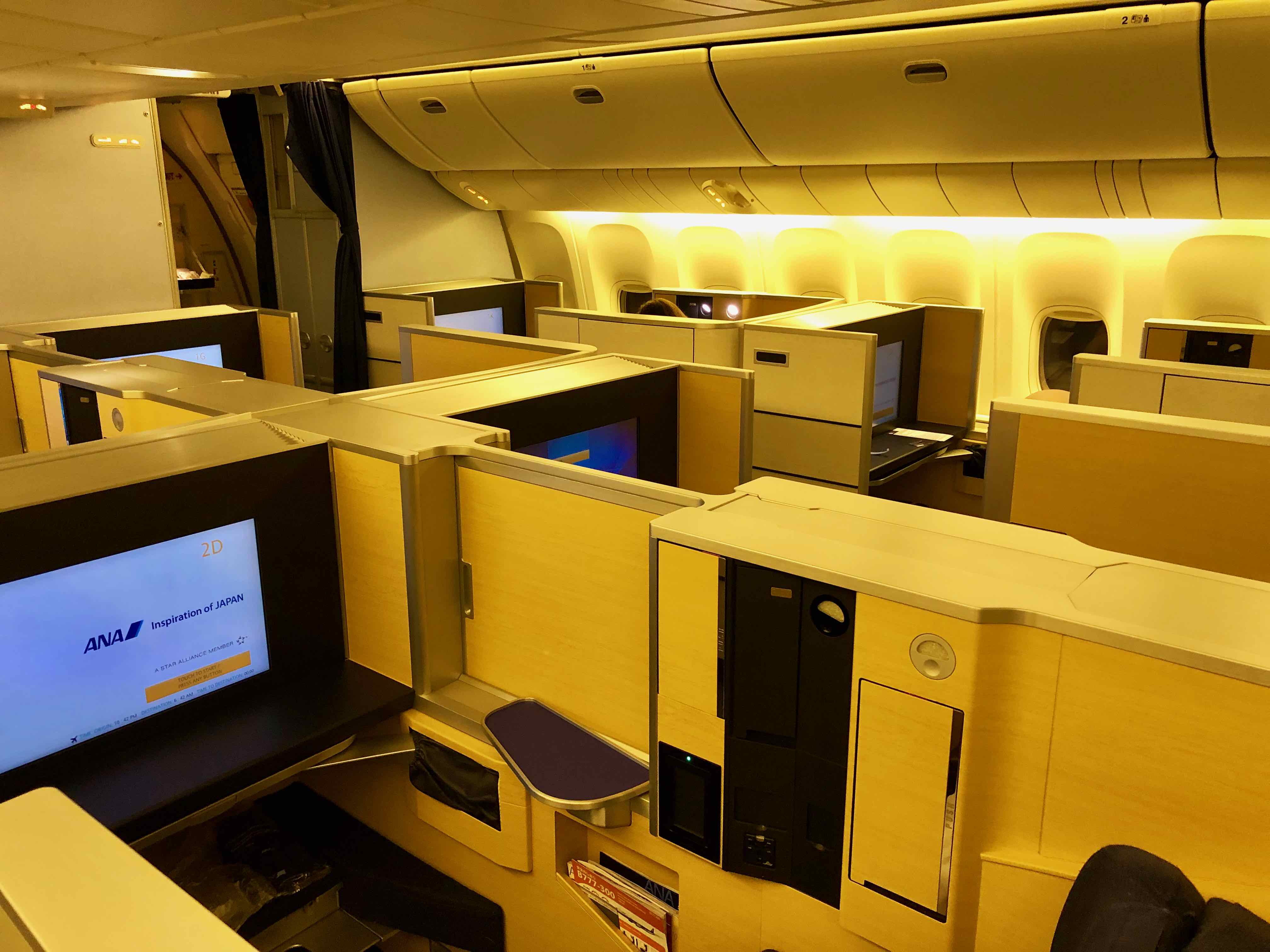 The second-best configuration is 1-1-1, which you can find on Cathay Pacific (and Qantas):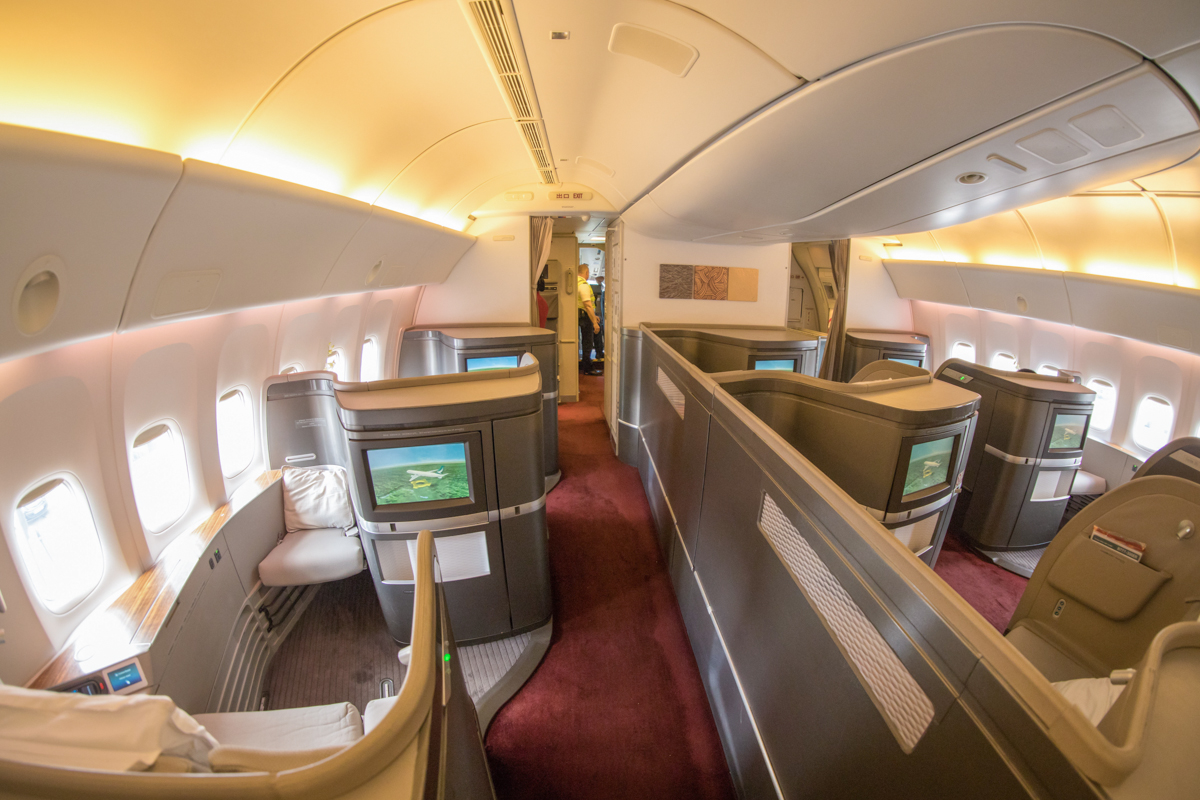 and the holy grail is a 1-1 configuration, with one suite on each side of an aisle. You'll find this on Singapore Airlines' newest A380, for example.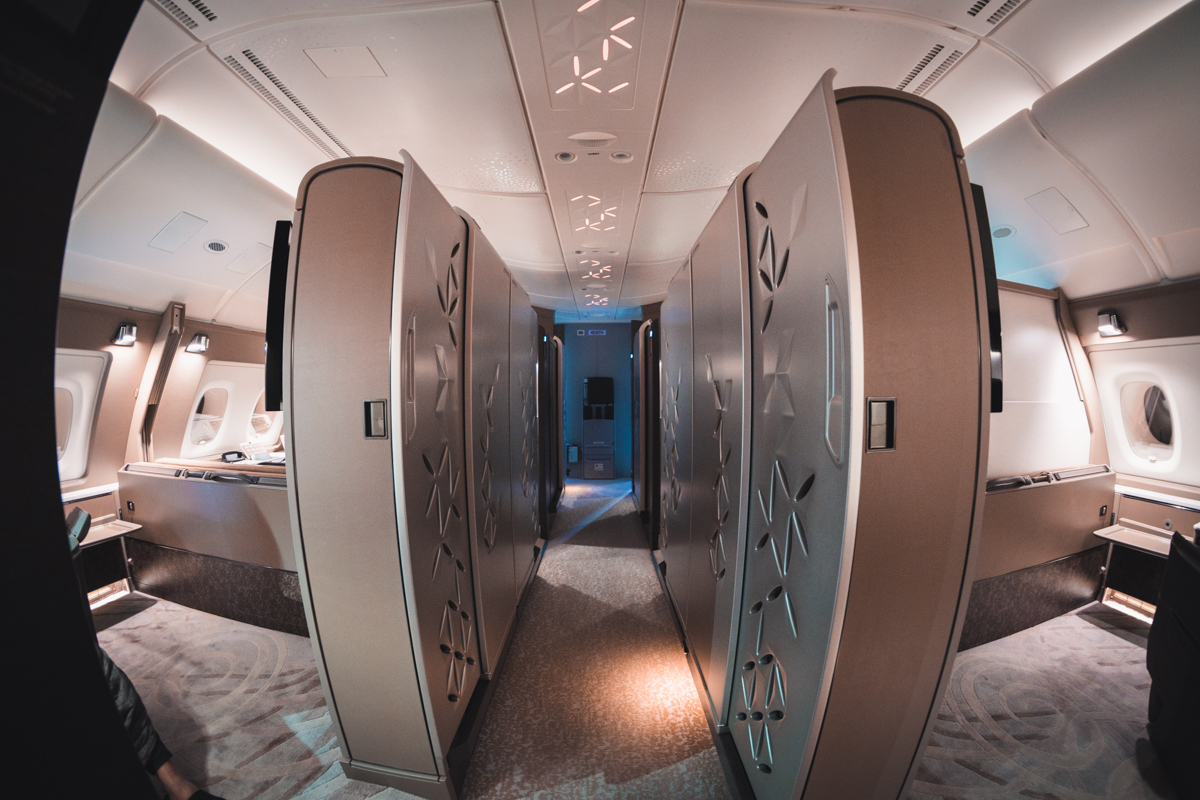 10. Enjoy a welcome drink
Sample some bubbles as you settle into your seat.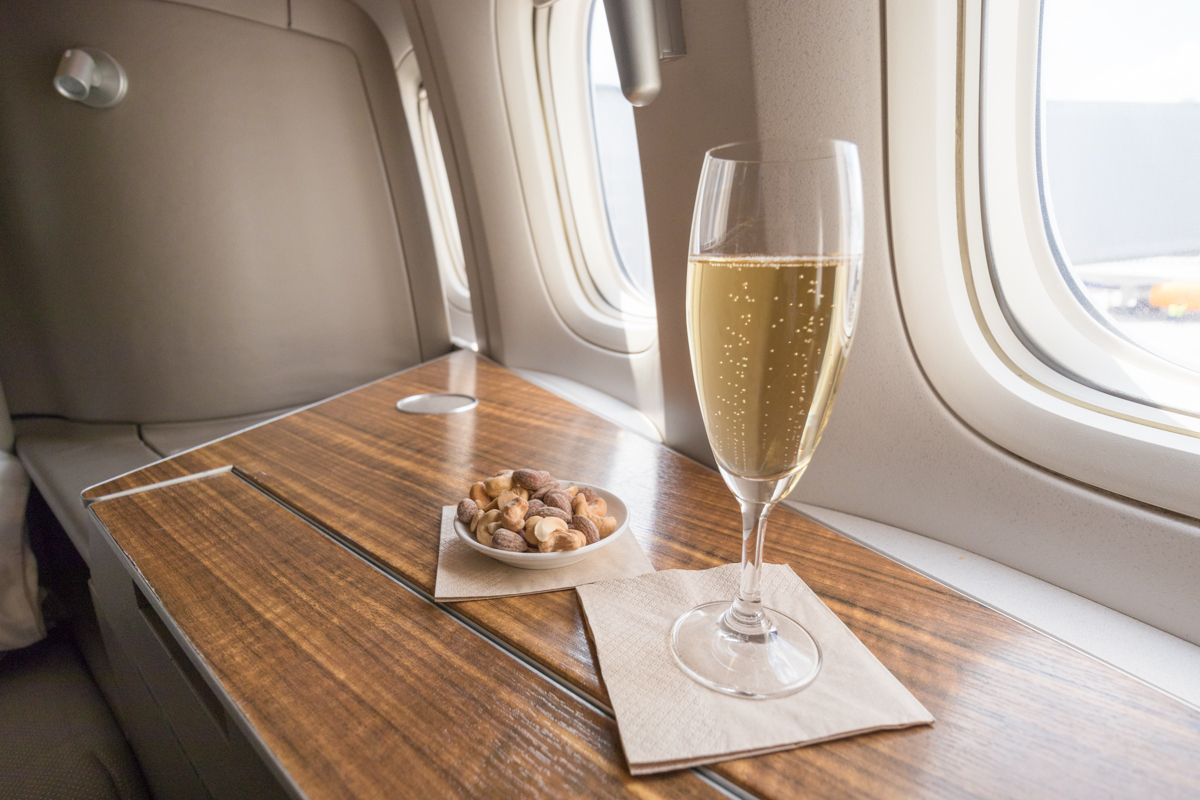 Just be aware that depending on the airline and the airport your departing from, the crew may not be legally allowed to serve alcohol until after takeoff, in which case you'll usually get a water or juice.
11. Receive a personalised flight briefing
Expect to be warmly greeted by a member of the cabin crew, often the purser, who is the manager of the whole team. They'll typically ask you if you have flown with the airline before and will give you an overview of how long the flight will be. You'll be informed of any predicted delays or an early arrival.
This is a great time to confirm if you have pre-ordered your meal and to ask any questions you may have.
It's also helpful to request a tour of the seat so that you are aware of all of its features. A polished cabin crew will proactively give you this information without being prompted.
12. Discuss the menu with the inflight chef
In First Class, you get to eat what you want when you want—it's called 'dine on demand'. You'll get to curate your meals with the help of the cabin crew or, in the case of Etihad and Garuda Indonesia, an inflight chef.
Ad – Scroll down to continue reading.Minimum spend, terms & conditions apply.
13. Change into your pyjamas in a large bathroom
The cabin crew will usually size you up themselves, but they tend to play it easy with a larger size (so as avoid any offence). Keeping that in mind, do ask if there is a smaller size so that you can try on both.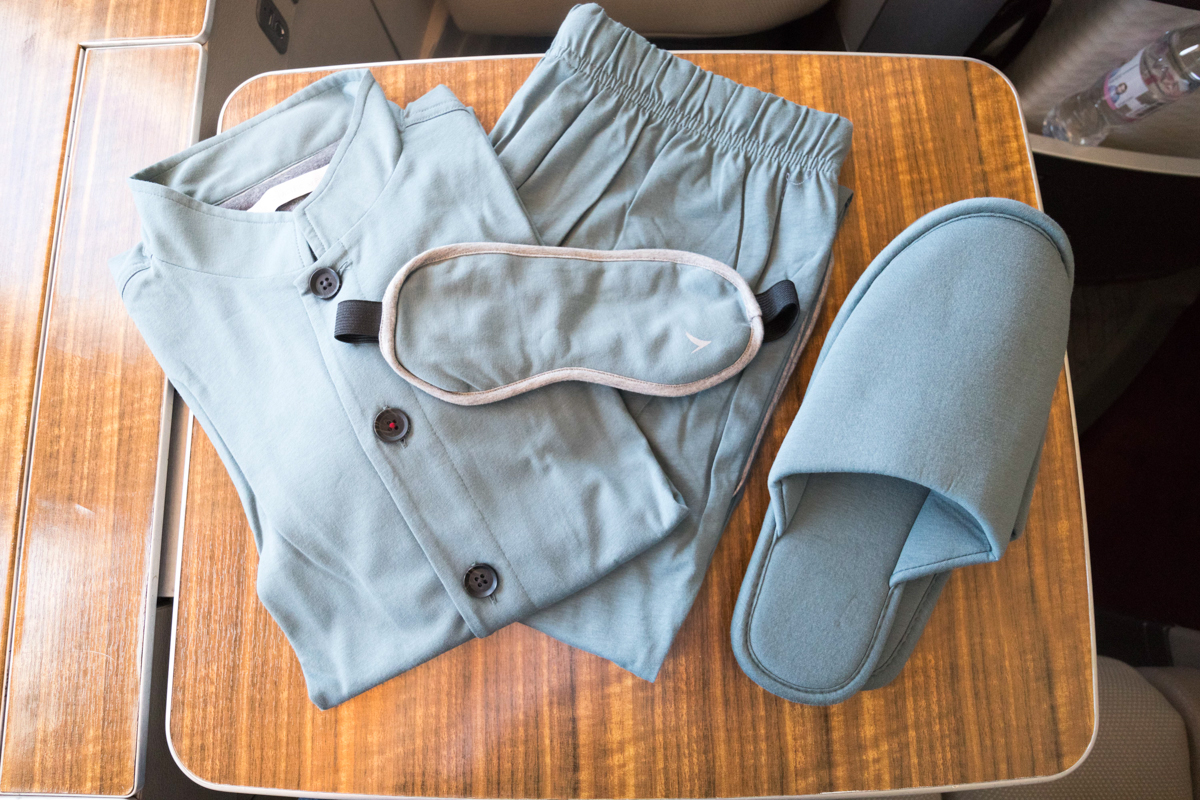 My suggestion is to get changed before takeoff. Given you've probably been one of the first passengers to board, there is ample time to do so. That way, you are all comfortable before you've even taken to the air. Ask for a coathanger or two to take along to the bathroom to hang your clothes on.
You'll generally find the bathrooms in First Class to be much larger than in Economy Class, especially on Singapore Airlines.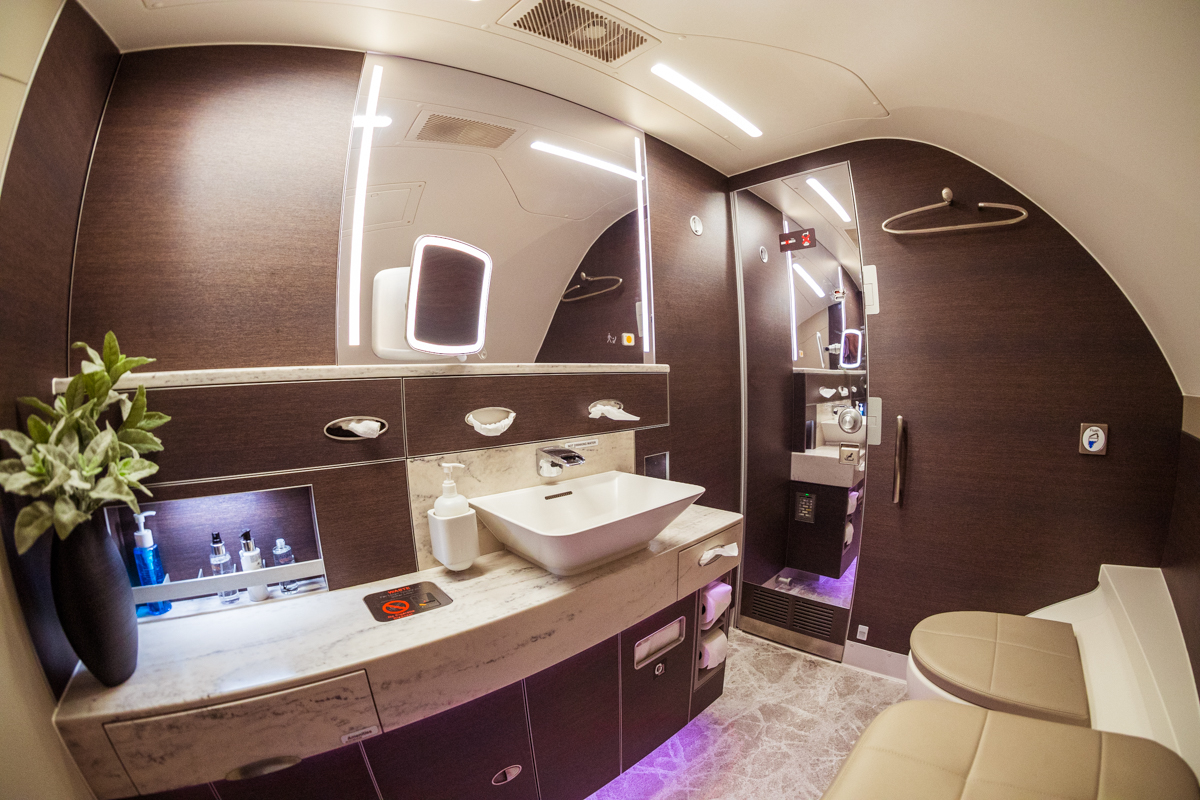 When you exit the bathroom, give your clothes to a cabin crew member to hang up for you until the end of the flight.
14. Bask in the privacy of a suite
This is where excellent products are often separated from the rest. Most new First Class products have sliding doors, like on Korean Air: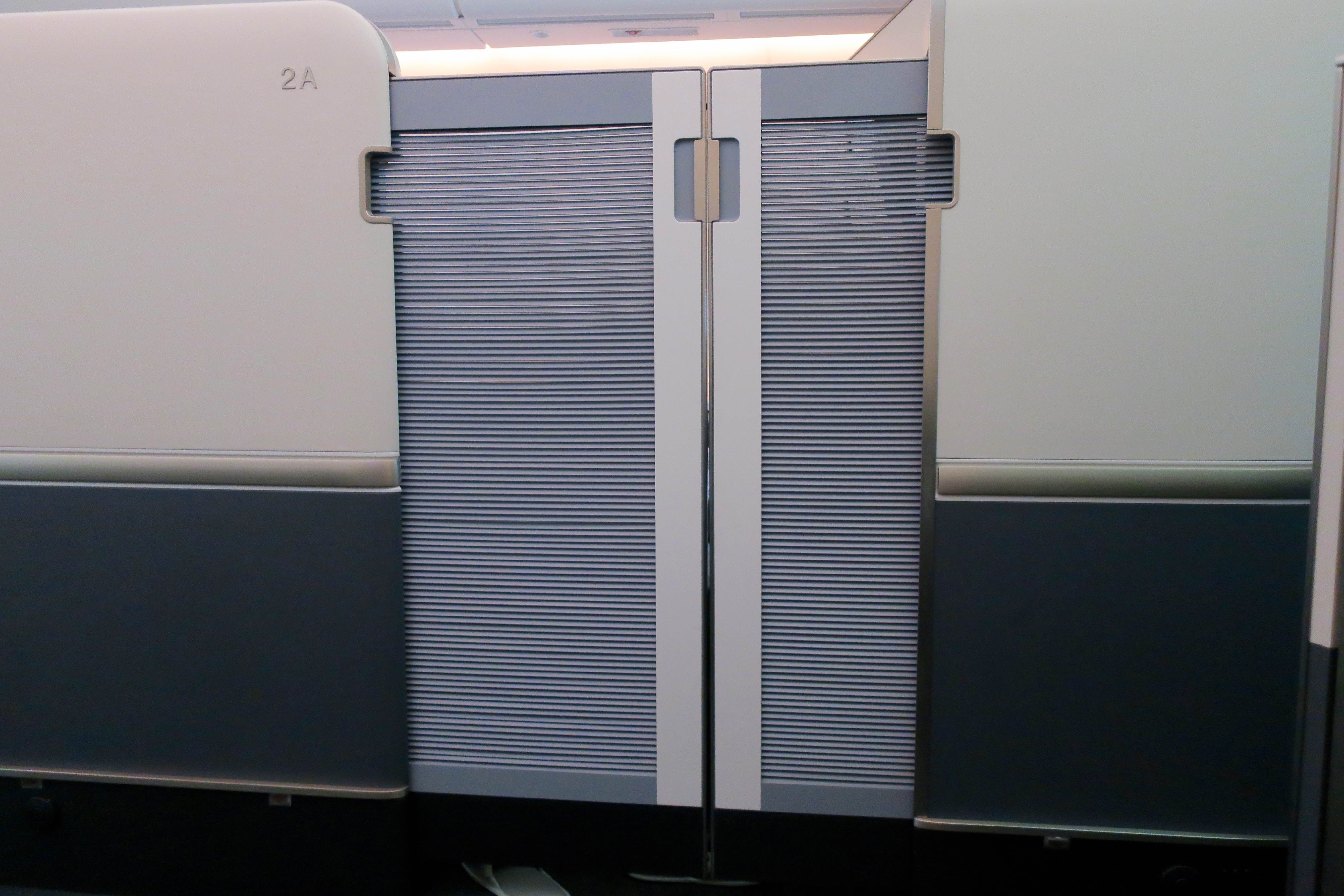 and Emirates.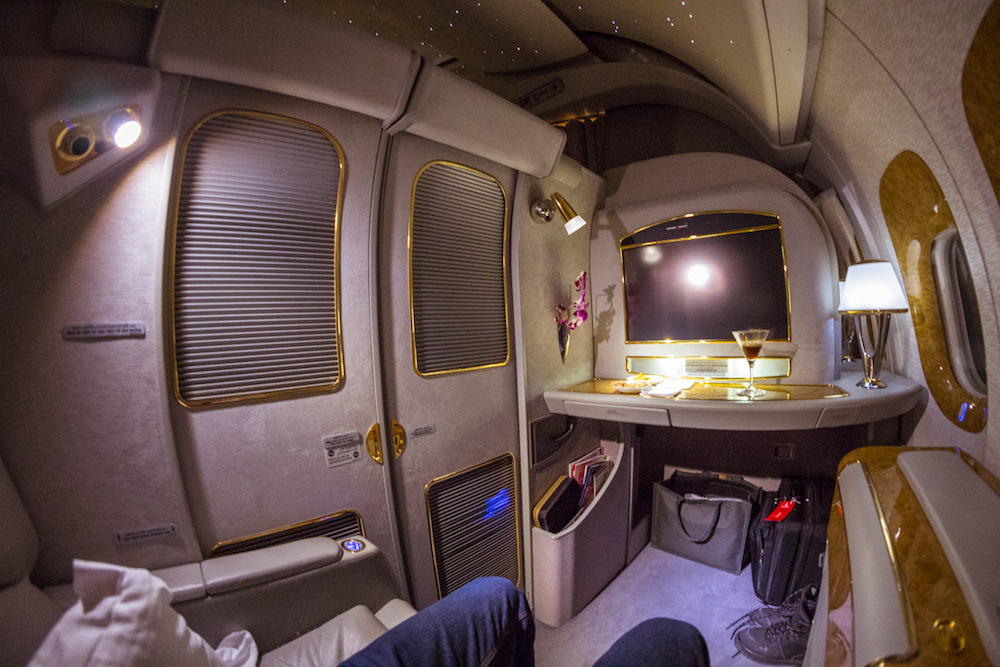 However, some airlines are stuck in the past with open suites, like Qantas: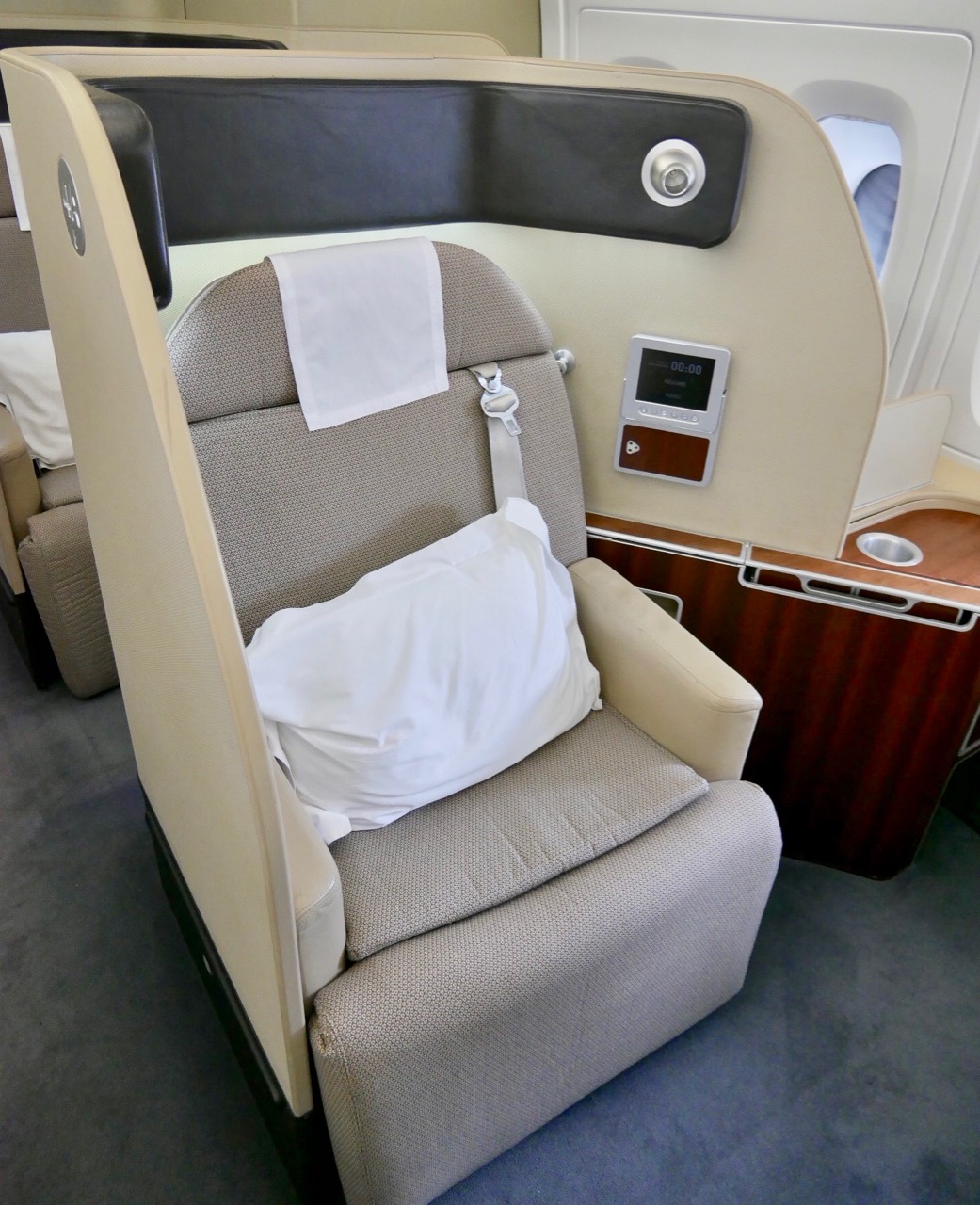 and Qatar Airways.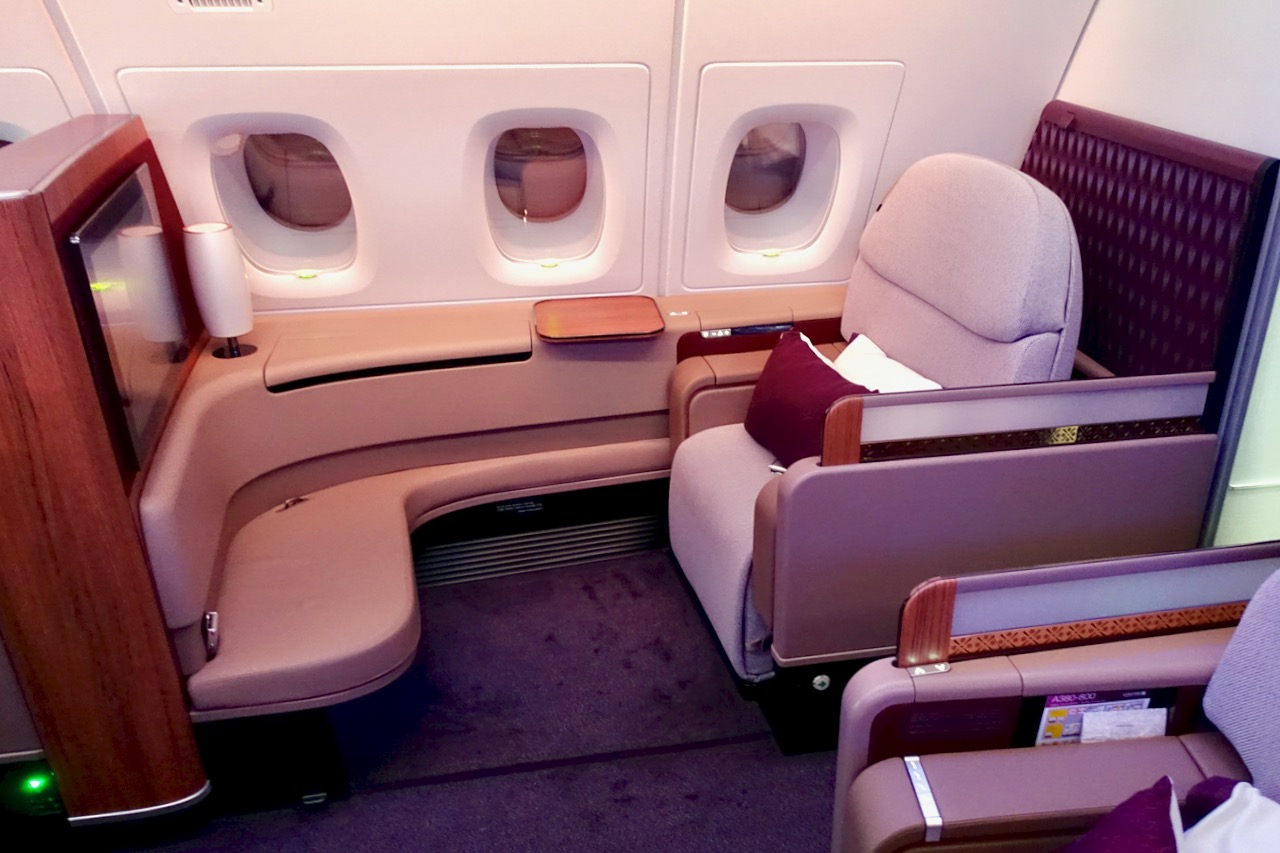 15. Relish in world-class dining
Expect to be served restaurant-quality food on white linens with fine crockery and cutlery.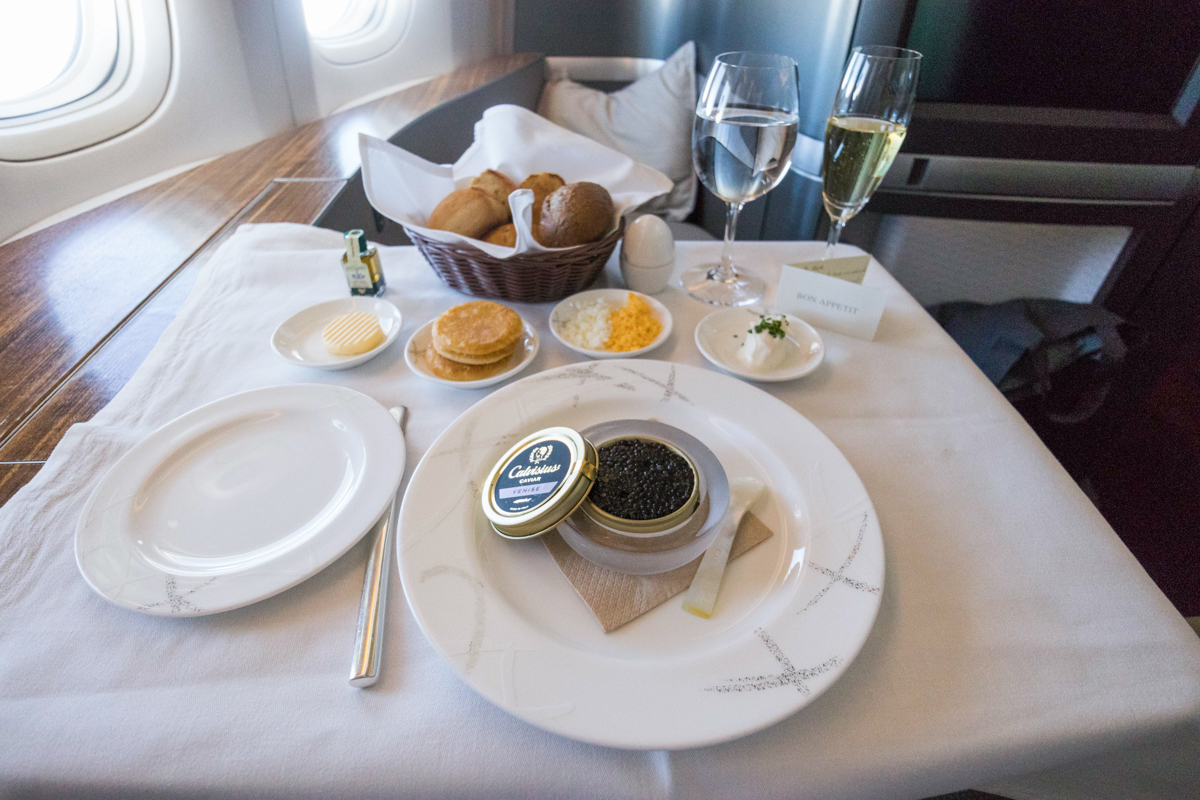 You'll usually have your table set with a tablecloth, followed by a drink and bread basket, then an amuse-bouche, starter, main, cheese, dessert and coffee/tea.
Delight in a delicious Arabic mezze platter on Etihad: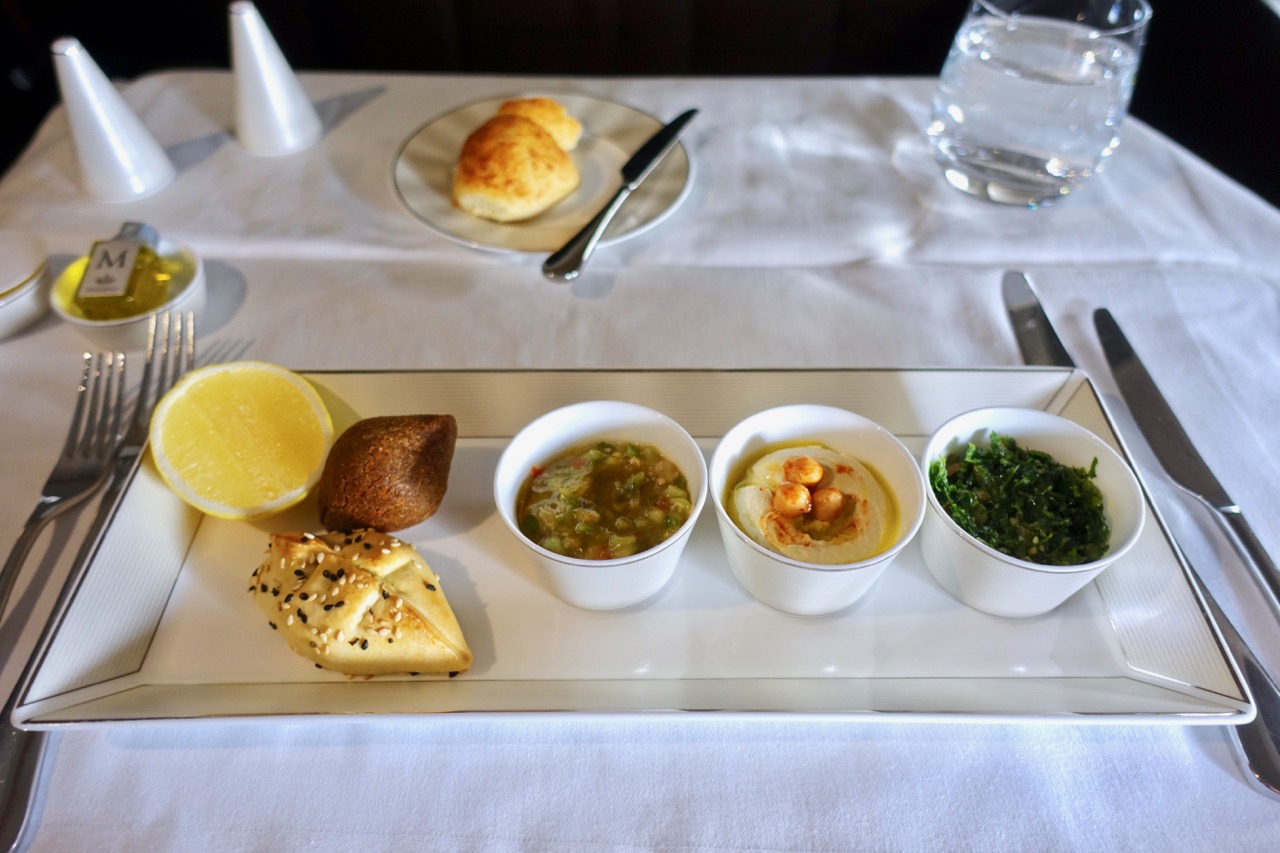 or tuck into some fresh sushi on Japan Airlines.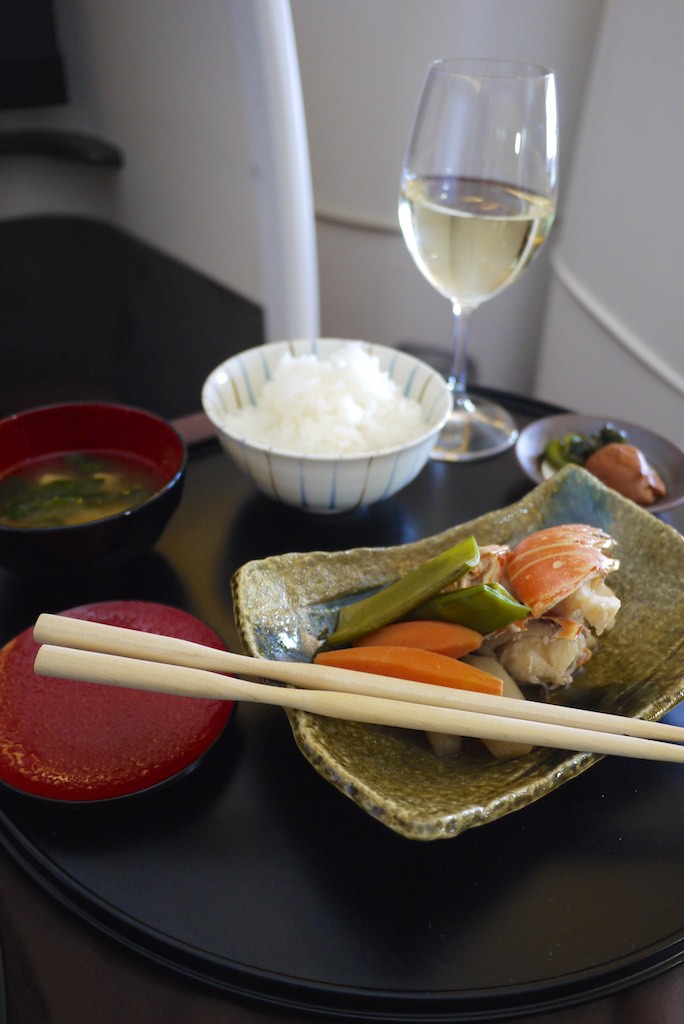 Make sure to leave room for dessert!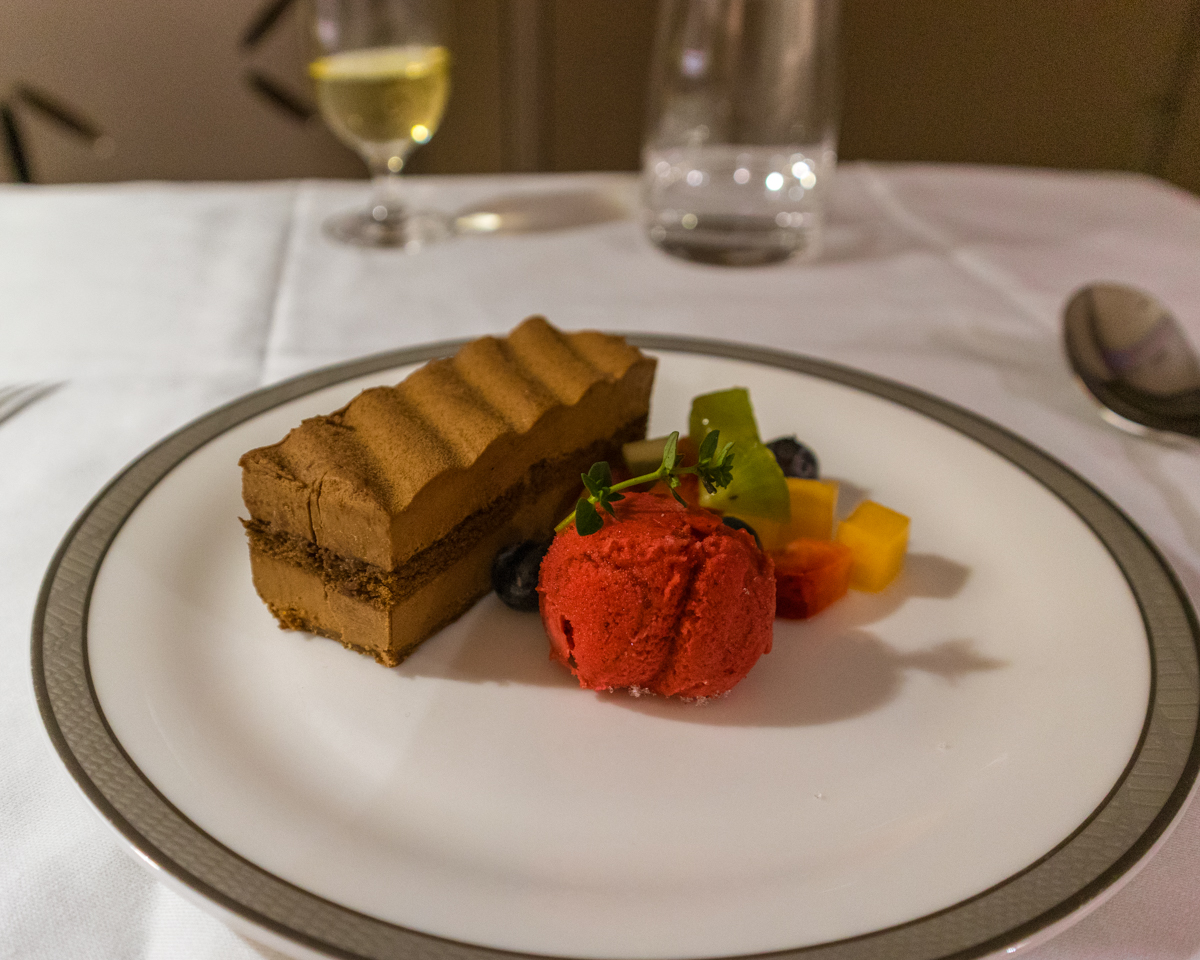 16. Sample the drink offerings
You've paid cash or used your hard-earned points, so you may want to get your money's worth!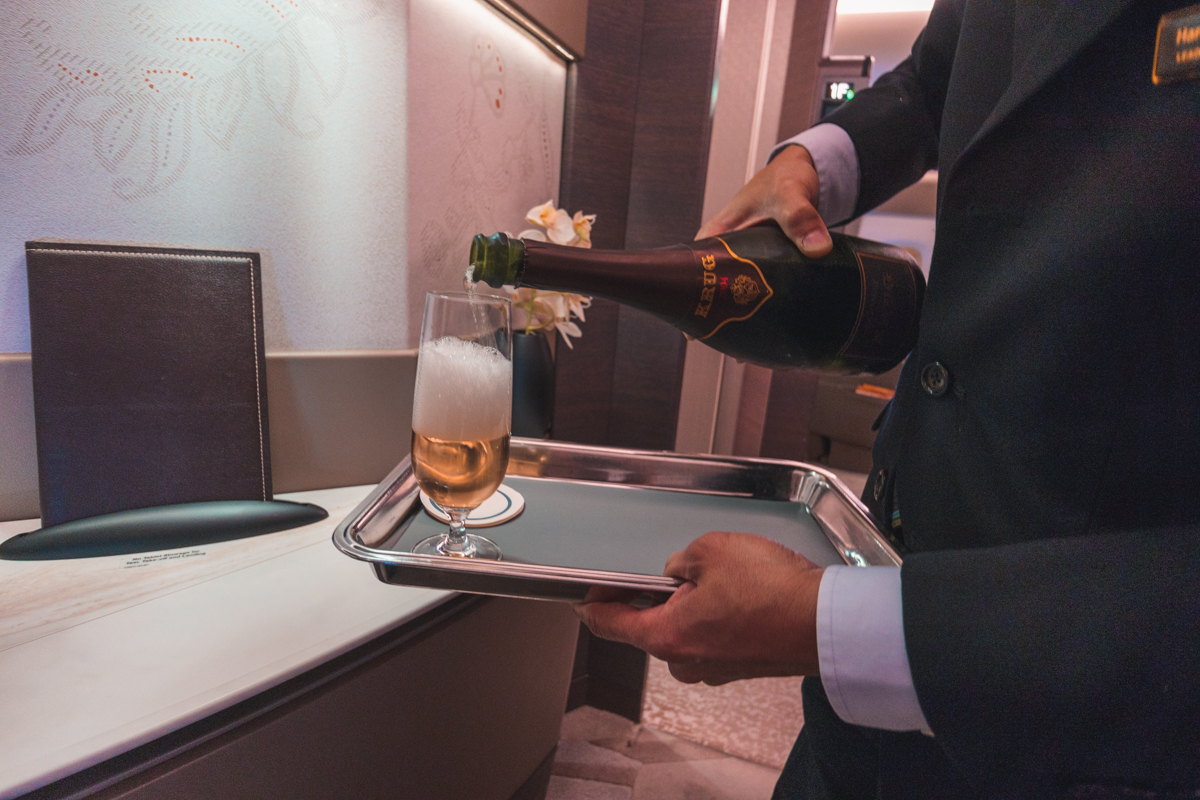 You'll most likely get a menu for drinks that is separate to that for food and it'll cover wines, beers and spirits. The quality can vary widely, so I would recommend doing a Google search for [airline] + First Class drinks menu. Here is an example from Etihad:
17. Socialise at the onboard bar
The three big Gulf carriers—Emirates, Etihad and Qatar Airways—all have an onboard bar for First and Business Class passengers on their A380 aircraft. The same goes for Qantas and Korean Air.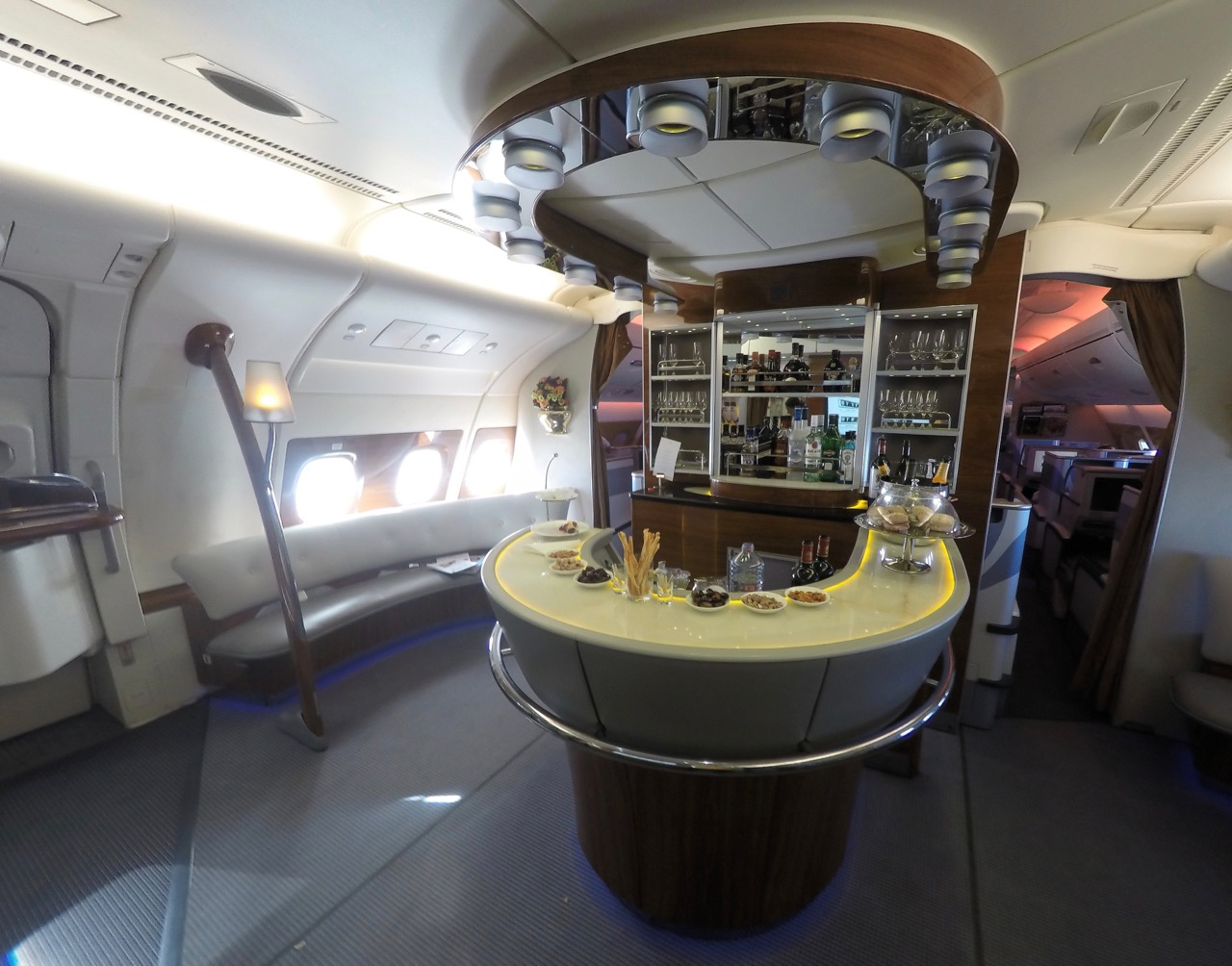 18. Enjoy the onboard entertainment
Now it's time to settle. You'll get a touchscreen that usually measures more than 25 inches…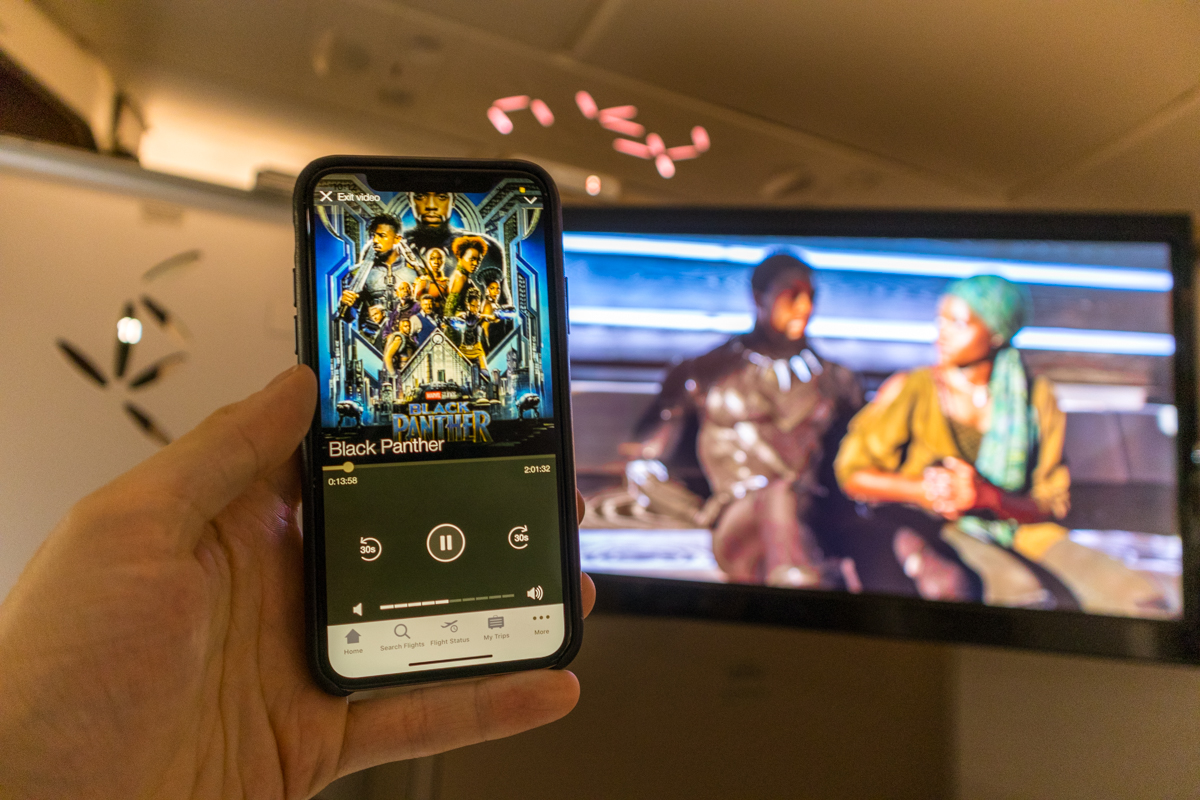 …but most of the time it's out of arm's reach, so you'll have a handy remote to scroll through the movies, TV shows, music, podcasts and games.
19. Rest up in a separate bed
In my experience, more often than not, First Class cabins are not full. This means you can use your assigned seat for dining and entertainment, and ask the cabin crew to set up another seat as your bed. Usually, they're happy to comply.
I like to choose a window seat for dining and a centre seat for rest.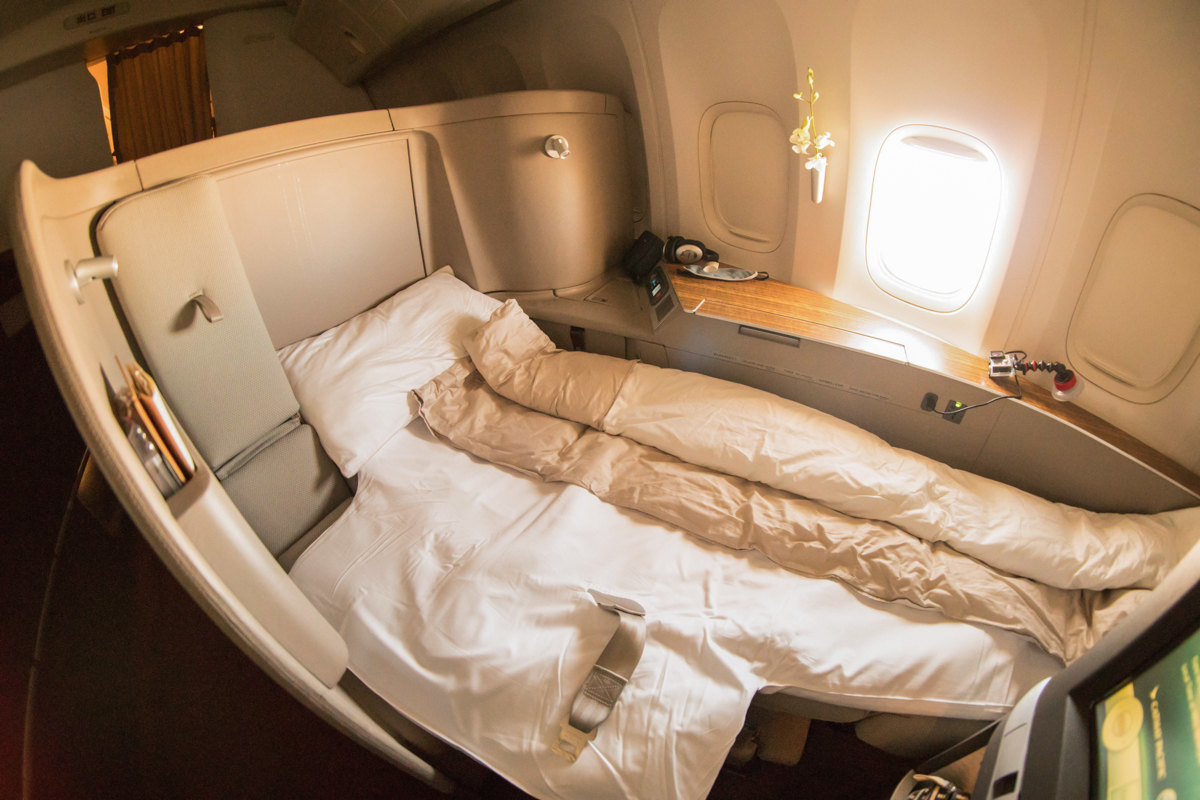 You'll be provided with a mattress pad, a blanket and pillows, but feel free to ask for extra supplies if you want more padding—they'll usually have more in-stock.
Asian airlines tend to keep the cabins warmer than others. In that case, feel free to ask the cabin crew to turn the temperature down to have a more comfortable sleep.
20. Refresh with a hot shower onboard
You're two hours from landing in Dubai or Abu Dhabi and have a one-hour layover before your connecting flight. You may not have enough time to shower in the lounge, so why not do it onboard?
When flying on the A380 superjumbo with Emirates or Etihad, you'll get five minutes of hot water, which lasts longer than you'd think.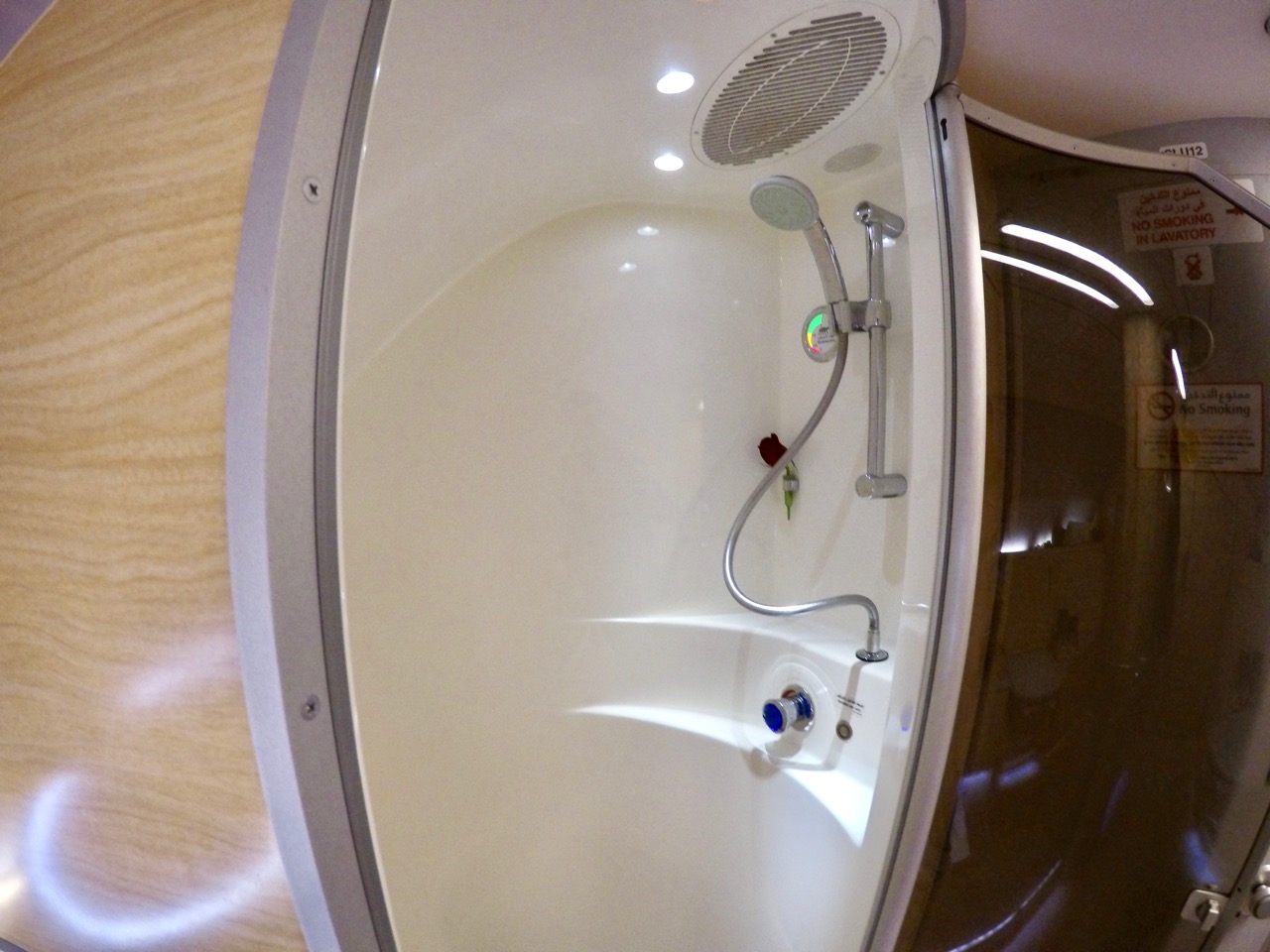 Just make sure to book in your shower time with the crew as soon as you can after boarding. My recommendation is to shower as close to landing as possible—they're the most popular timeslots.
21. Use your amenities kit (or save it for later)
In addition to the pyjamas and often slippers, you'll get a little kit to take home with you. It'll include things like a toothbrush, toothpaste, haircomb, eyemask, earplugs, mouthwash and moisturising cream.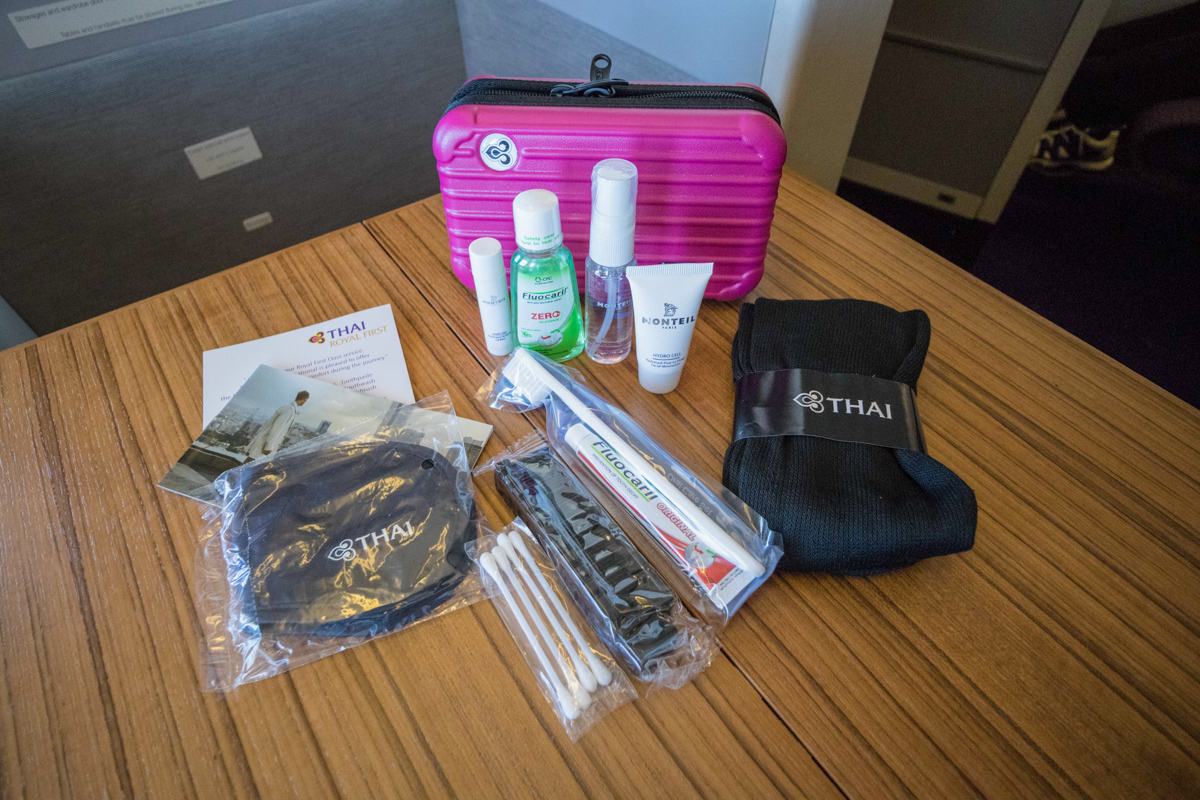 Commonly, there is a different version for men and women. A lot of the time, they will be supplied by a luxury brand like Givenchy, Giorgio Armani, Aesop or Samsonite.
22. Be thanked by the cabin crew
The industry standard is that 30-60 minutes before landing, the purser or another member of the cabin crew will come to your seat to thank you for your business.
A nice touch is when they write a personalised note, which is more likely to be delivered earlier in the flight along with a meal.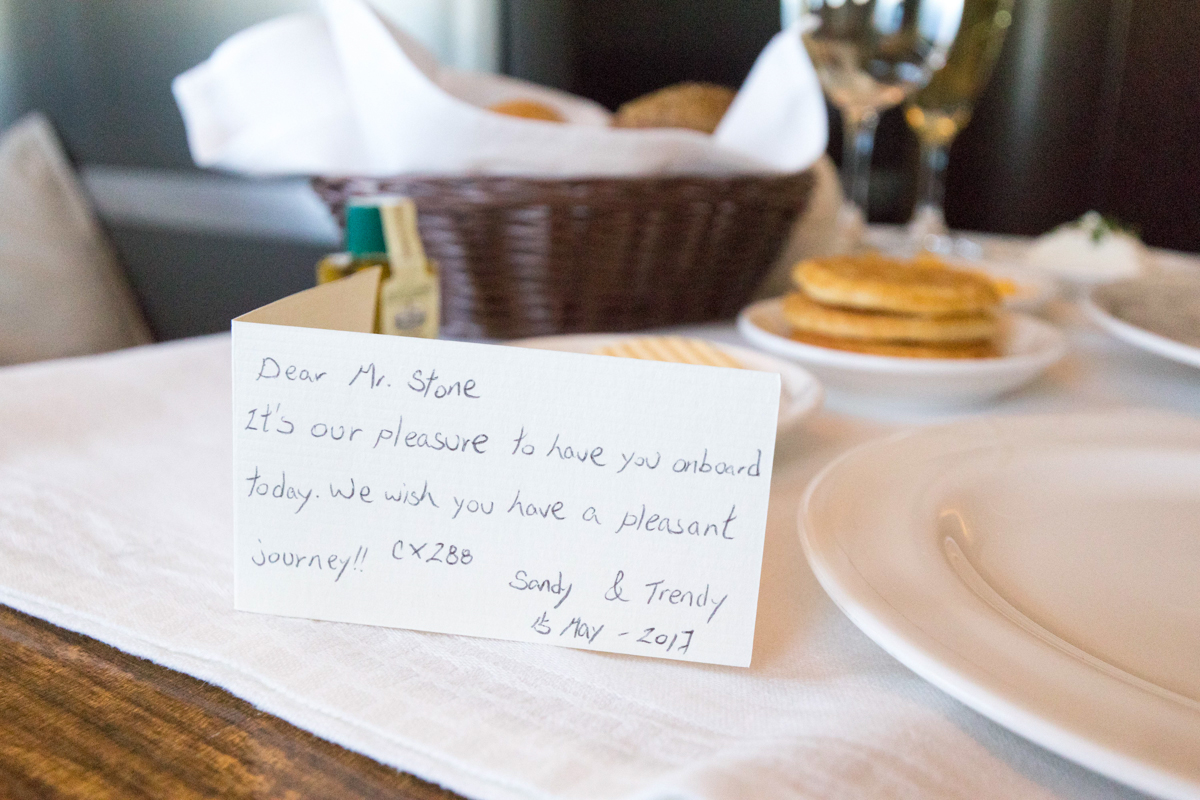 23. Speed through immigration and customs
At some airports, you'll be given a pass to use expedited lines for immigration and customs. Your bag should also be one of the first to appear on the carousel.
24. Get driven to your destination
If you are eligible for this service, then you'll have a chauffeur waiting for you in the arrivals area. They'll probably be holding up a card or table with your name on it and will be ready to whisk you to your accommodation.
Summing up
Flying First Class is something that so many of us dream about but don't have the money for—and that's where frequent flyer points come in.
These days, Business Class is the cabin that most airlines are focussing on upgrading. However, that means that the remaining First Class offerings are becoming ultra-luxurious products with limousine transfers, private suites and onboard chefs.
If you want to fly one of these products, you can get there the quickest if you sign up for one of these credit cards. Then you can check out our First Class reviews to choose which airline you want to aim for. Some of the cheapest First Class flights to redeem using Qantas Points are when flying between certain cities within the Middle East.
Happy (luxury) travels!
Which First Class product do you want to fly and why? Share in the comments below!
24 things to do to make the most of your First Class flight
was last modified:
February 11th, 2022
by