In October last year, a good friend of mine (Hi Greg!) and I decided that it would be a really good idea if we went skiing in Japan for a few days, taking in Tokyo on the way back to Sydney (for me) and on the way to Europe (for him).
A contributing factor was Japan Airlines operating a 777-300ER and opening up award seat availability in First Class on the route for December to March.
The focus of this review is the outbound flight from Sydney to Narita on Boxing Day, which was an amazing experience and got our Japan adventure off to a very authentic start.
Research & Booking
We had a fairly limited set of dates given my travel partner needed to be in Europe for another commitment by a specific date, and with Christmas and New Year in the mix as well – but fortunately availability with JAL was fairly good, with 4 seats open on Boxing Day 2 months out when we booked.
I snapped this one up with an British Airways Executive Club account that needed emptying of Avios from some credit card bonuses in the UK, family travel pooled into the account and miles purchase offers.
The return flight (which I also ended up taking in Japan Airlines First) was a different story, but I'll cover that in another review.
The cost ended up at 75,000 Avios (now 103,000) and £211.40, and was easily booked on britishairways.com.
The Flight – JL772 Sydney to Tokyo Narita First Class
As a 9.15am departure, this flight is timed well for a slap-up breakfast in the Qantas First Class lounge, which you can access as a First Class oneworld passenger travelling out of Sydney.
After breakfast, we headed off for boarding at around 8.45am, and quickly got settled into our First Class seats – with us both in aisle D on the right-hand side of the plane. There are only two rows in JAL First Class, and I grabbed seat 2D.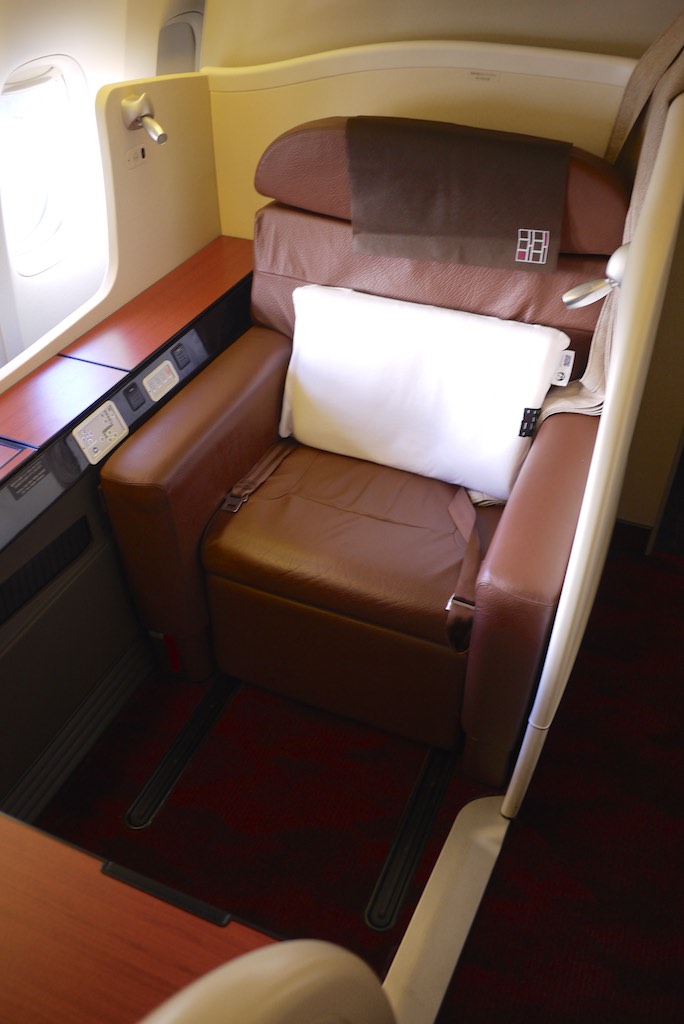 The cabin was around half full for this flight, and seat 2C next to me remained open for the flight – which we took full advantage of. More on this later.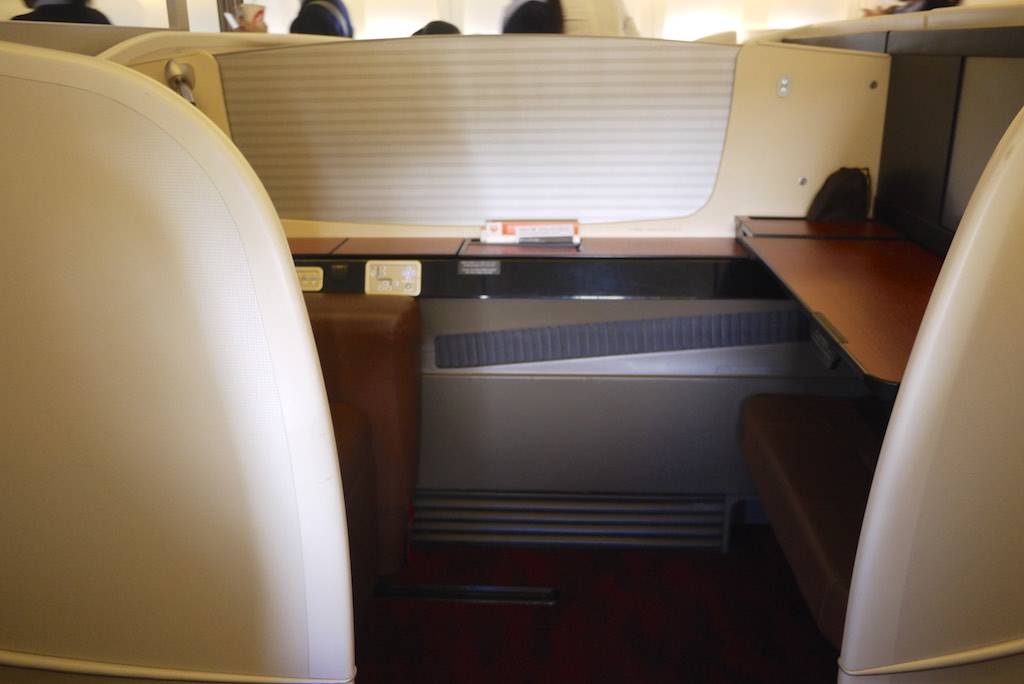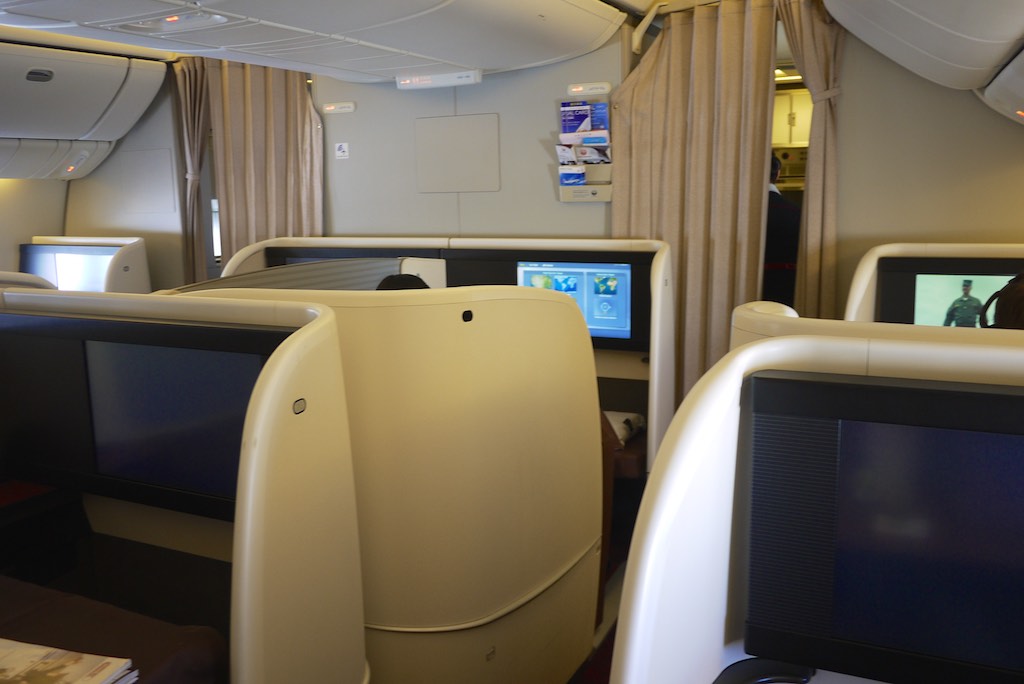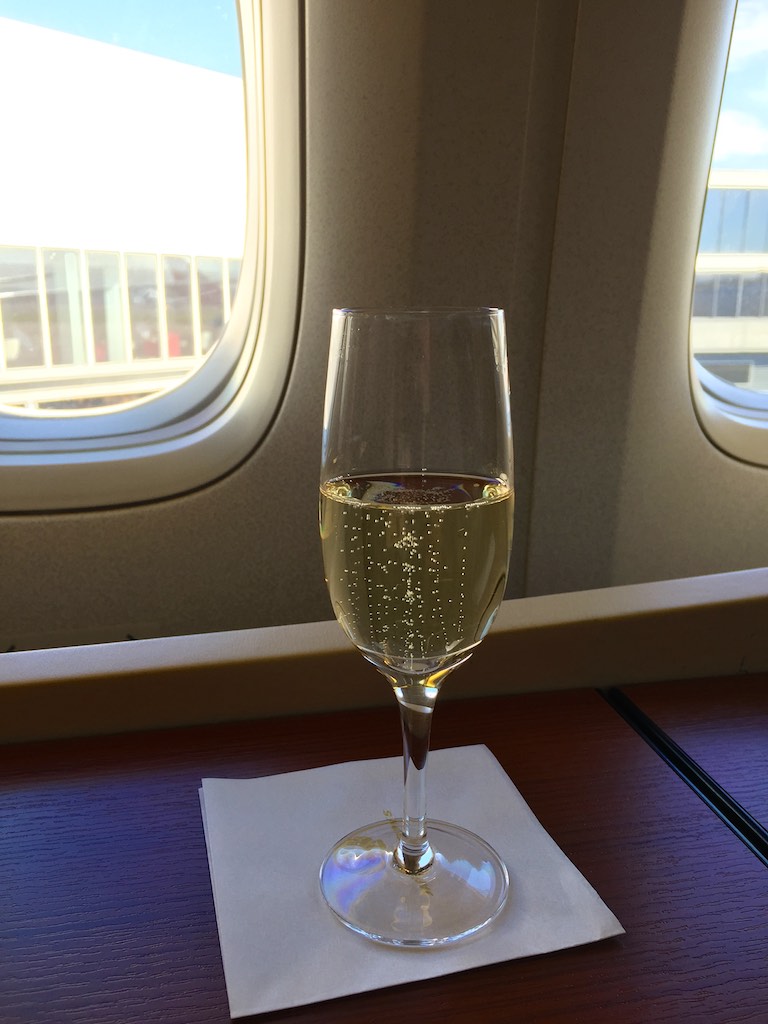 I settled in for a glass of champagne to kick the trip off properly, and two members of the crew who would be serving us in First Class introduced themselves.
The view from my suite's windows on take-off overlooking Sydney was stunning.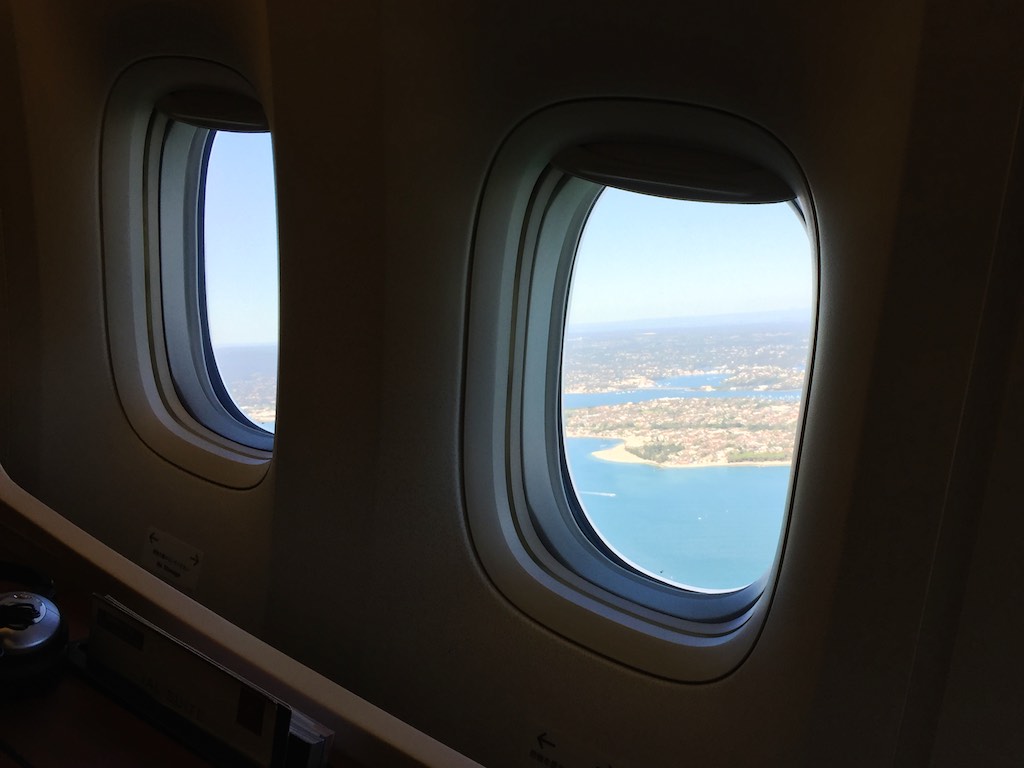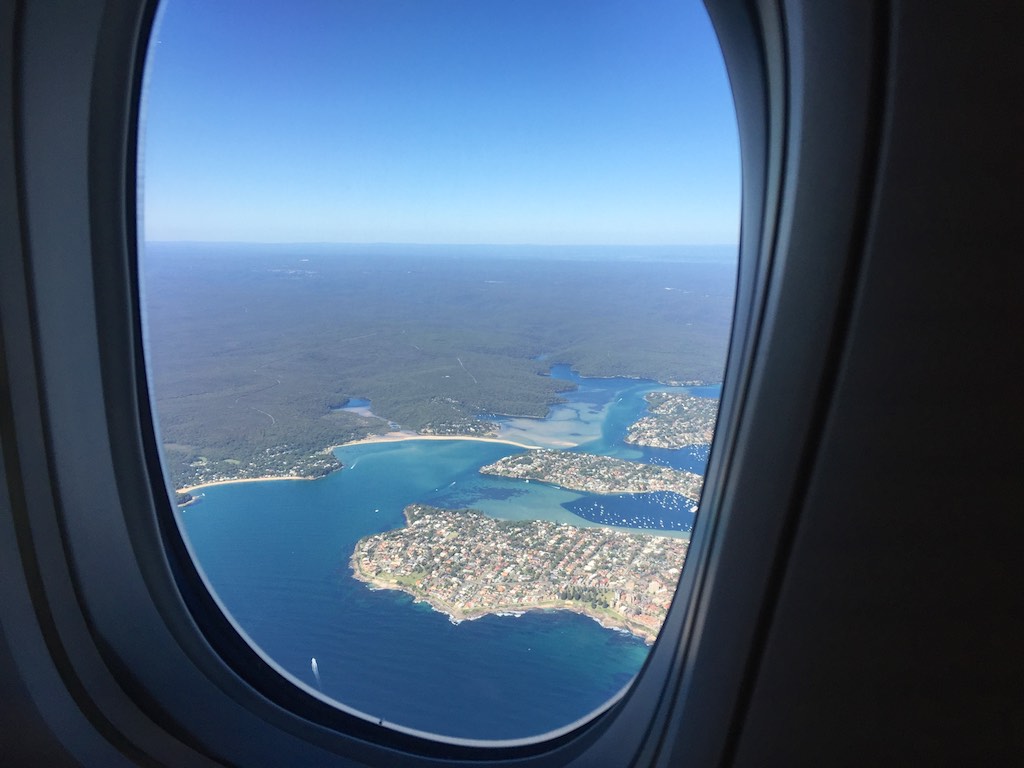 Once in the air, I got stuck into exploring the JAL First Suite. This was seat 2C: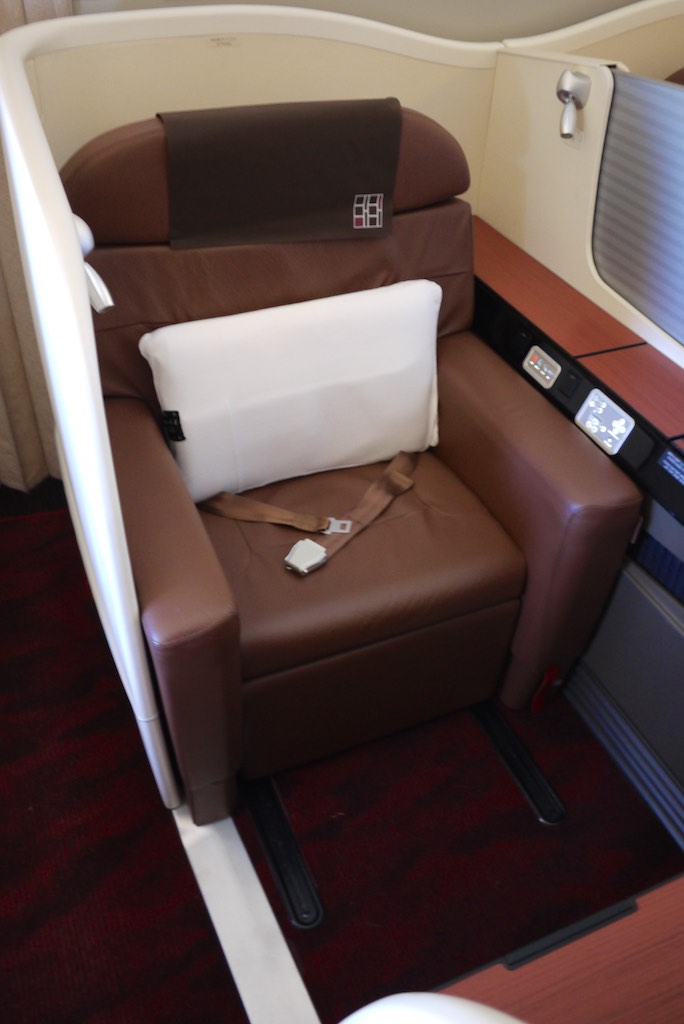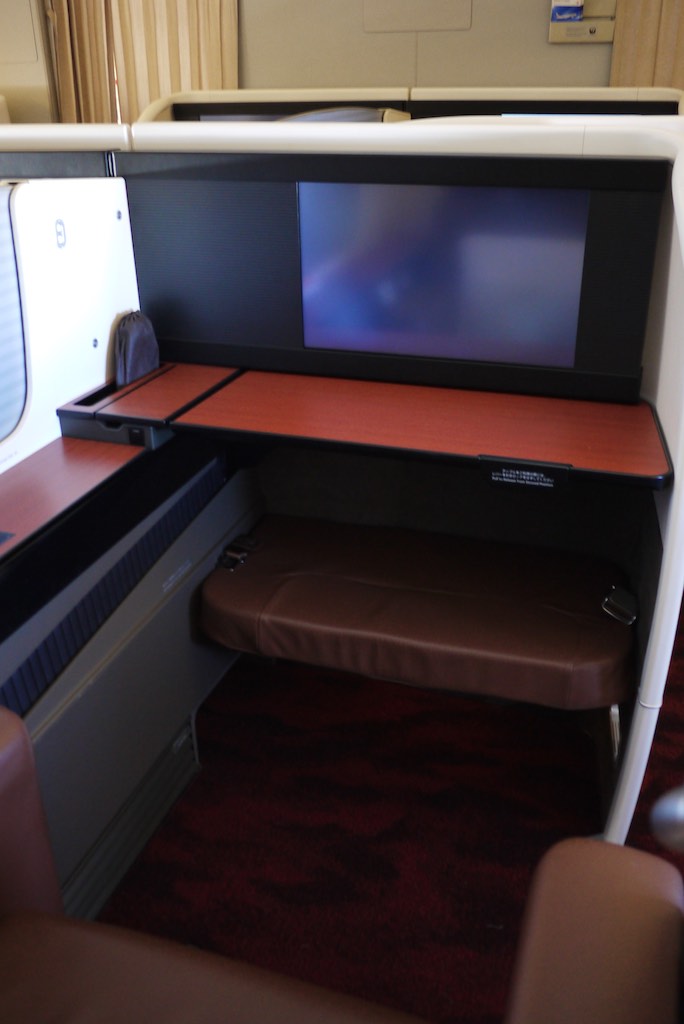 And with the middle seat divider up: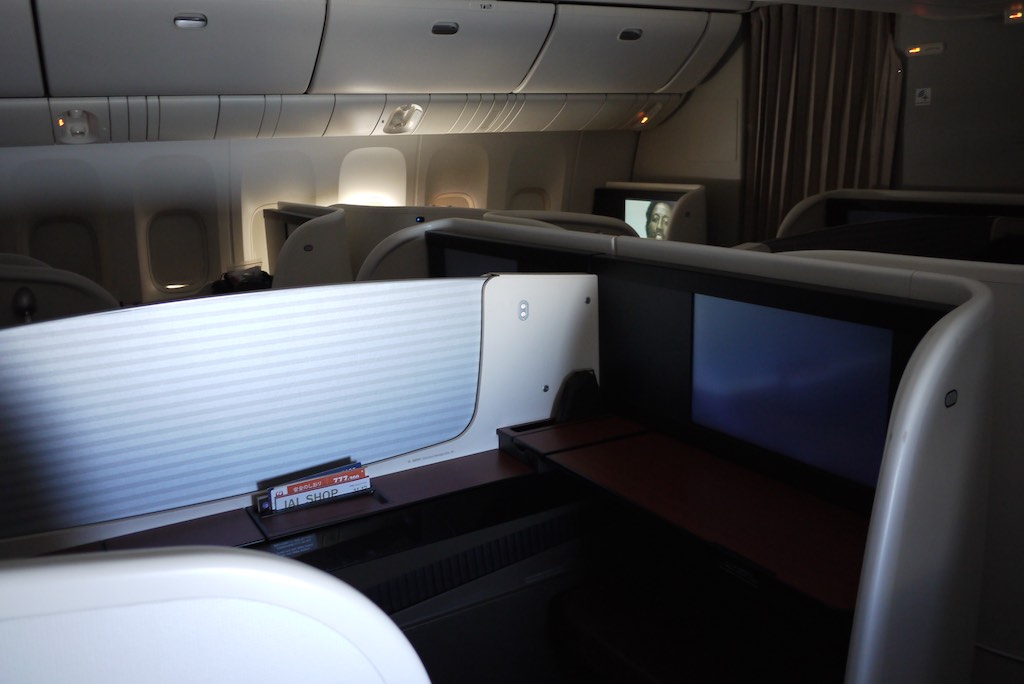 And then my seat, 2D: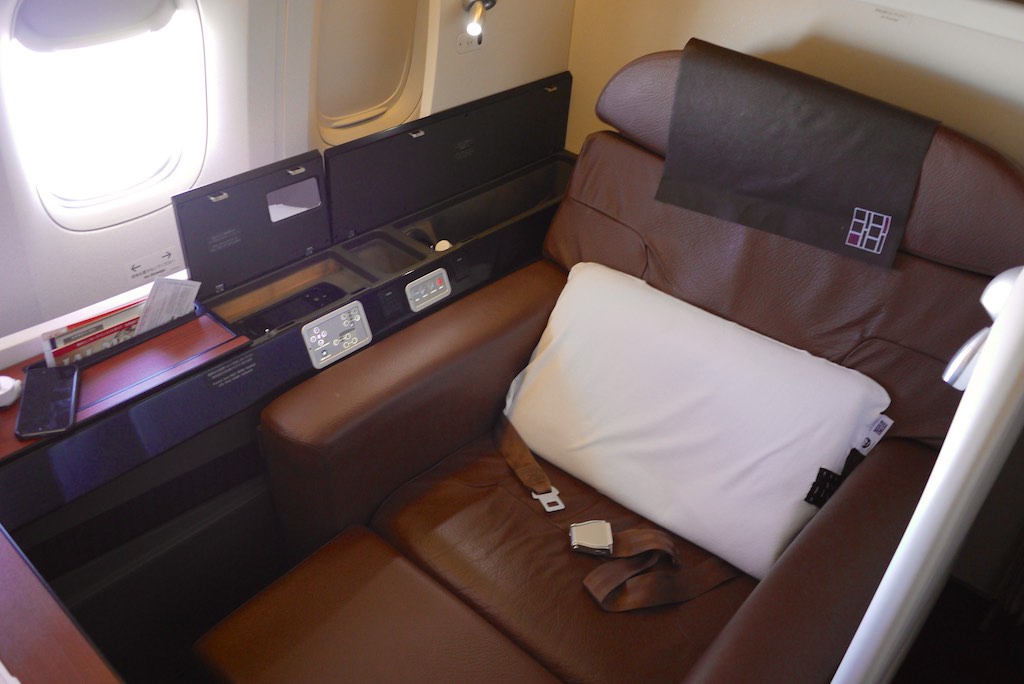 The seat controls were extensive – even though I'm tall, my feet couldn't reach the ottoman under the TV screen in front of me so I moved forward, reclined a bit, and got cracking on in flight entertainment and some work.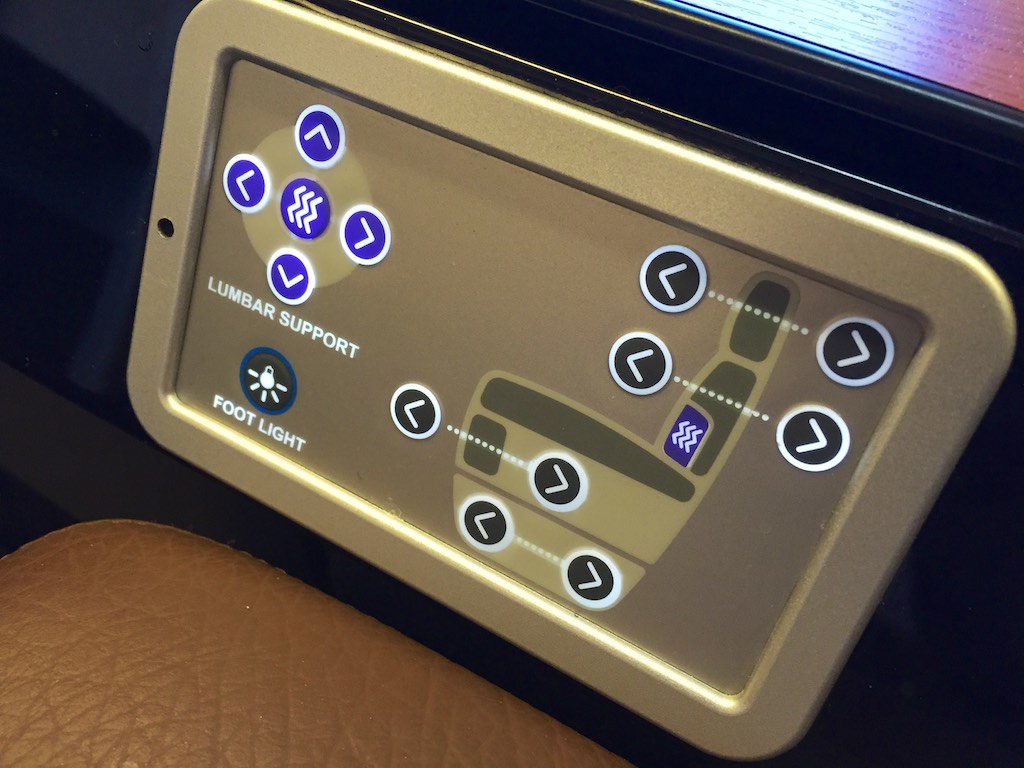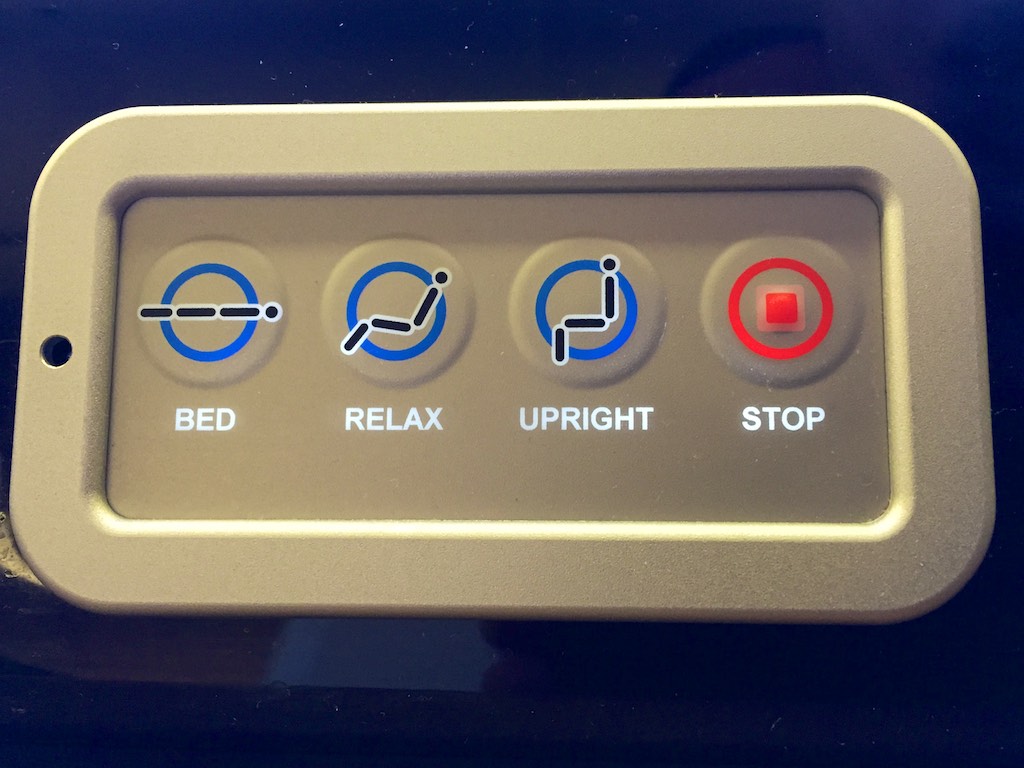 In-flight wifi was on offer for free with a voucher for First Class passengers, but doesn't operate in Australian airspace for whatever reason, and as a result wasn't available until the second half of the flight.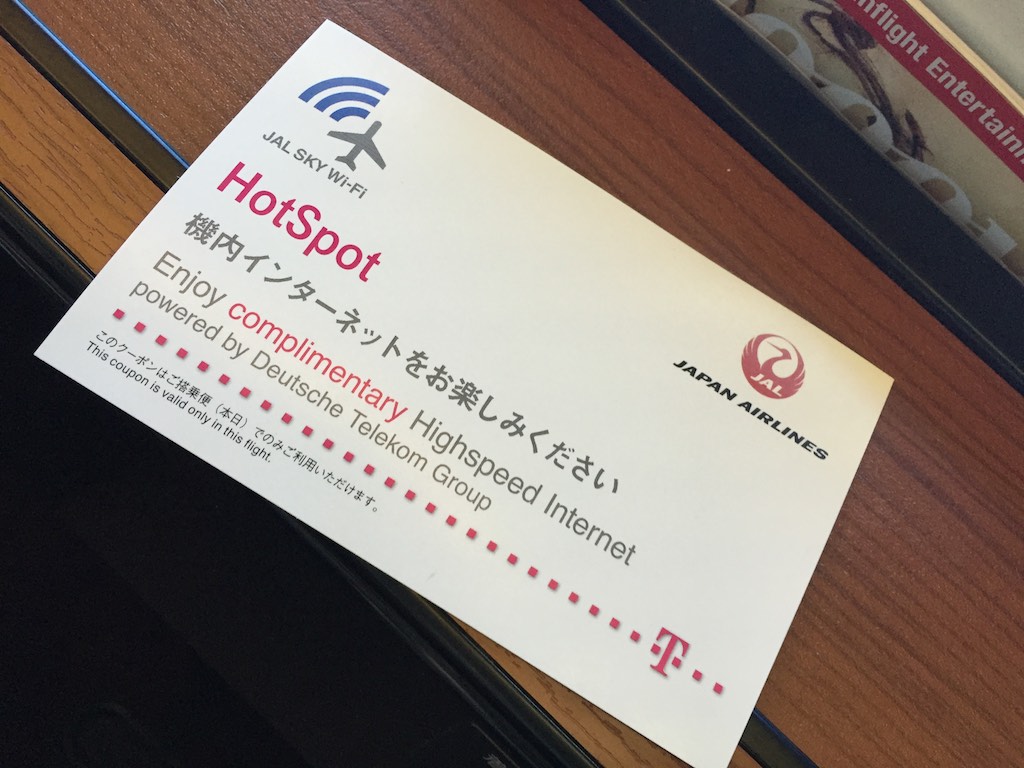 As we made our way up the East Coast there were some stunning views of the Great Barrier Reef, and I was glad we ended up on the right-hand side of the plane: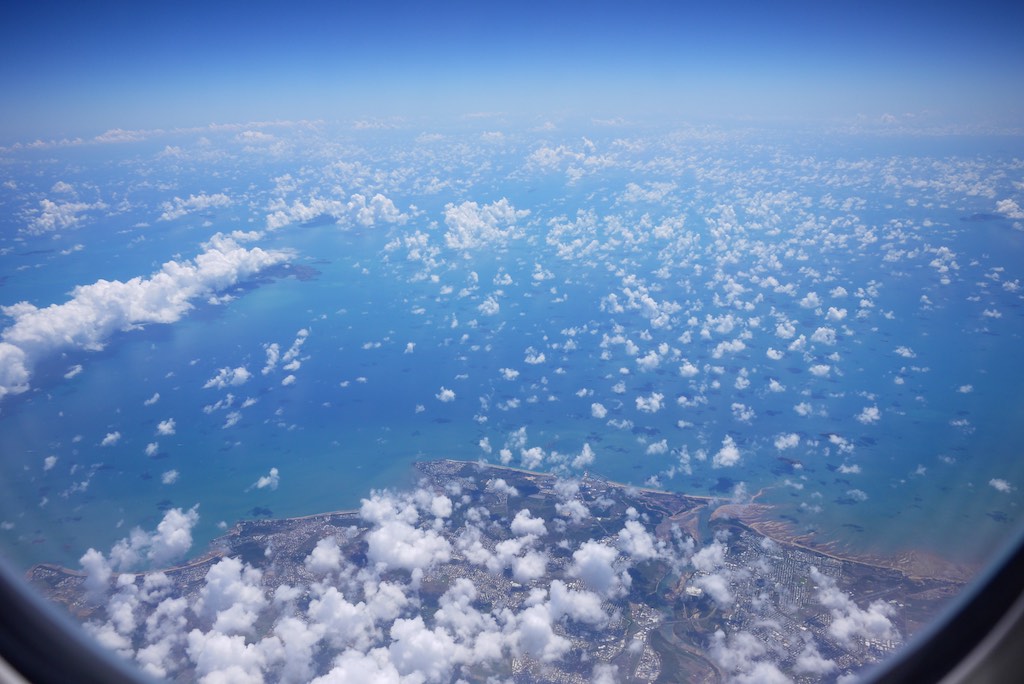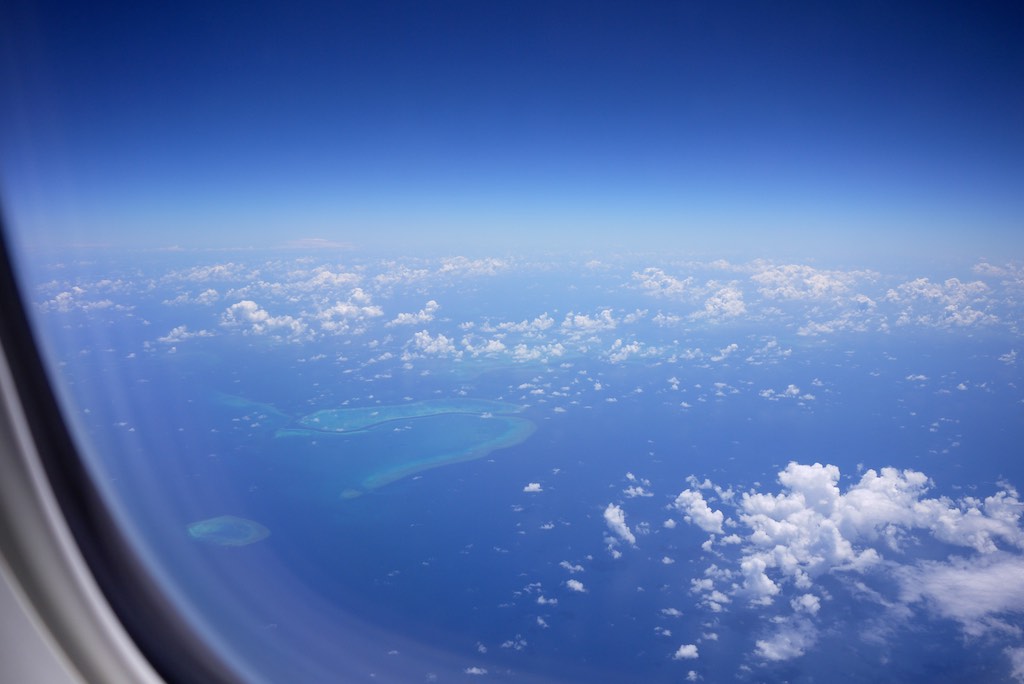 By this time we had been through morning tea, and were getting ready for lunch.
After lunch, I continued with more work – the in-flight entertainment selection was fairly unappealing, so while I grabbed bits of movies here and there, I mostly just worked or watched movies on my laptop with the moving map in the background.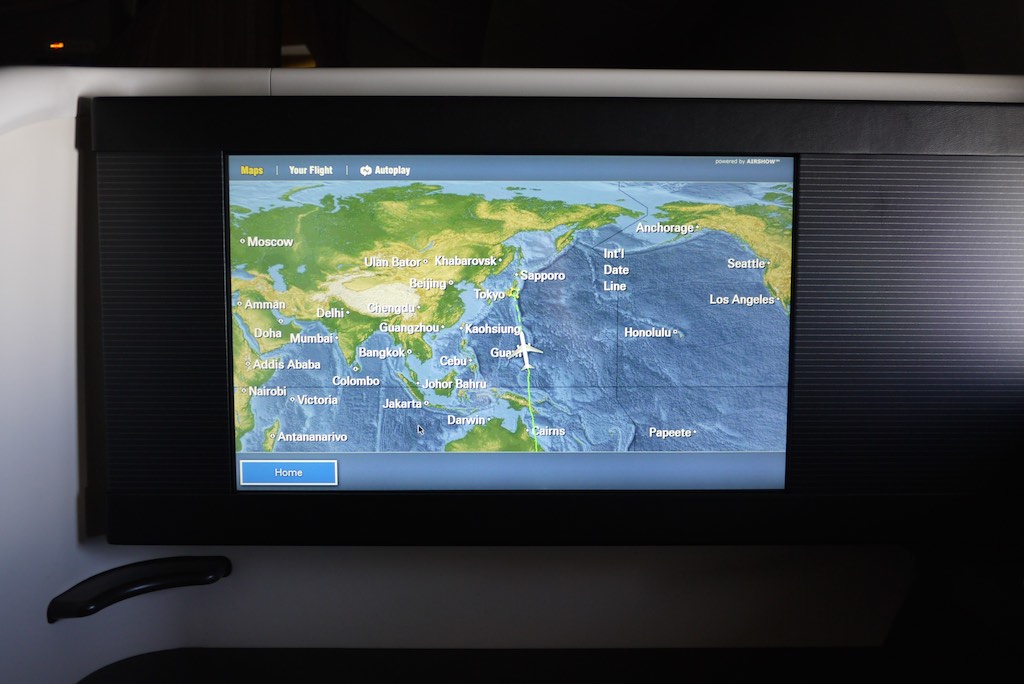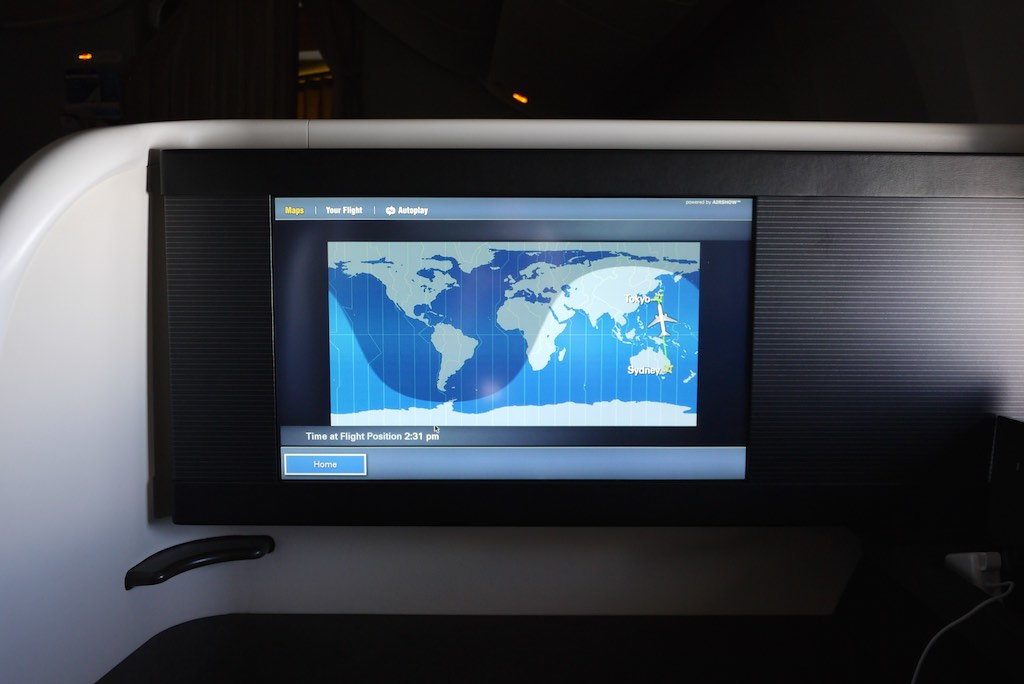 Food & Dining – JL772 Sydney to Tokyo Narita First Class
This was the menu for our flight:
And the Wine List:
As I mentioned before, we noticed seat 2C was free, and we seconded this to be our dining room for the whole flight – JAL's First Class suite, like most others, allow for two people to dine with one sitting on the ottoman while the other is directly opposite on the main seat.
First, we had morning tea in this dual-dining set up: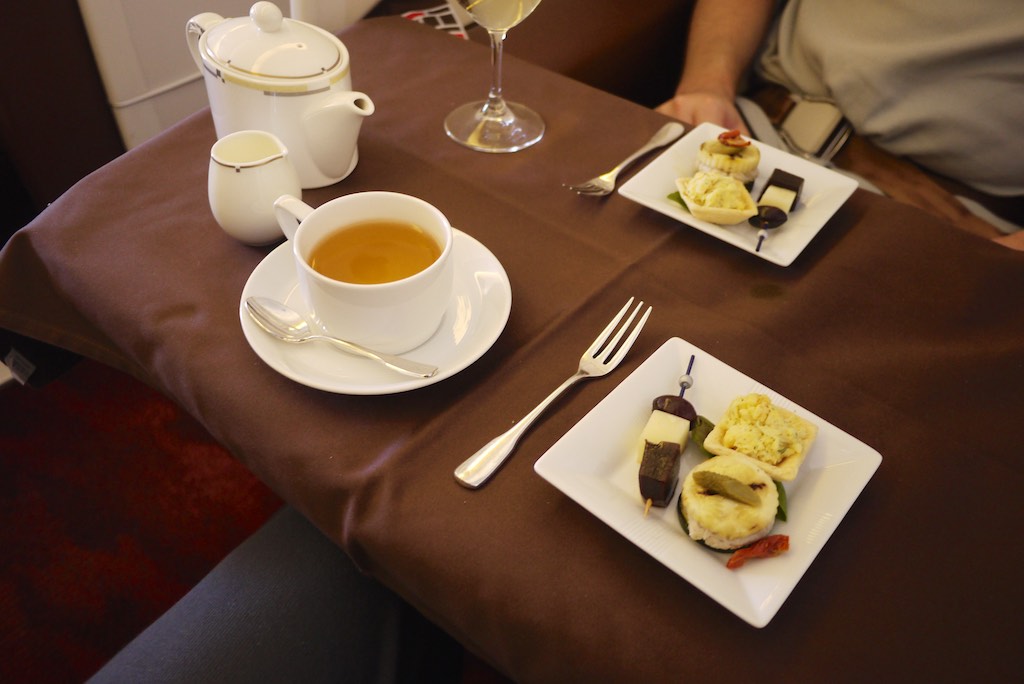 After morning tea, I requested a few snacks to munch on – some tasty, others weird, all totally Japanese: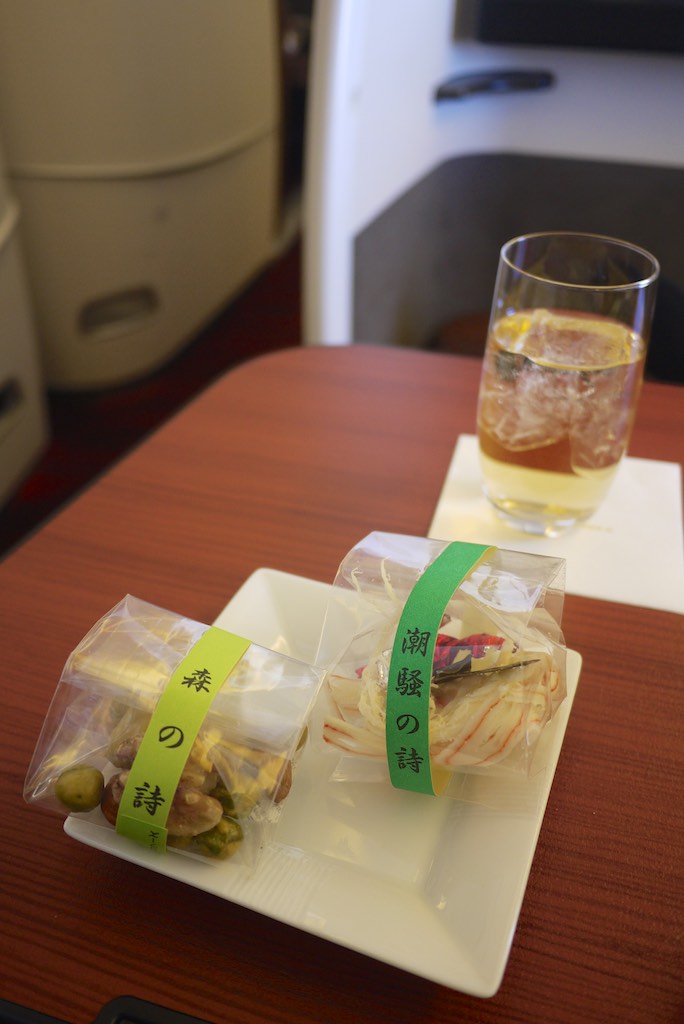 A few hours later, we decamped from our seats and move back to our 'dining room' for lunch. We both opted to share the full Japanese tasting menu.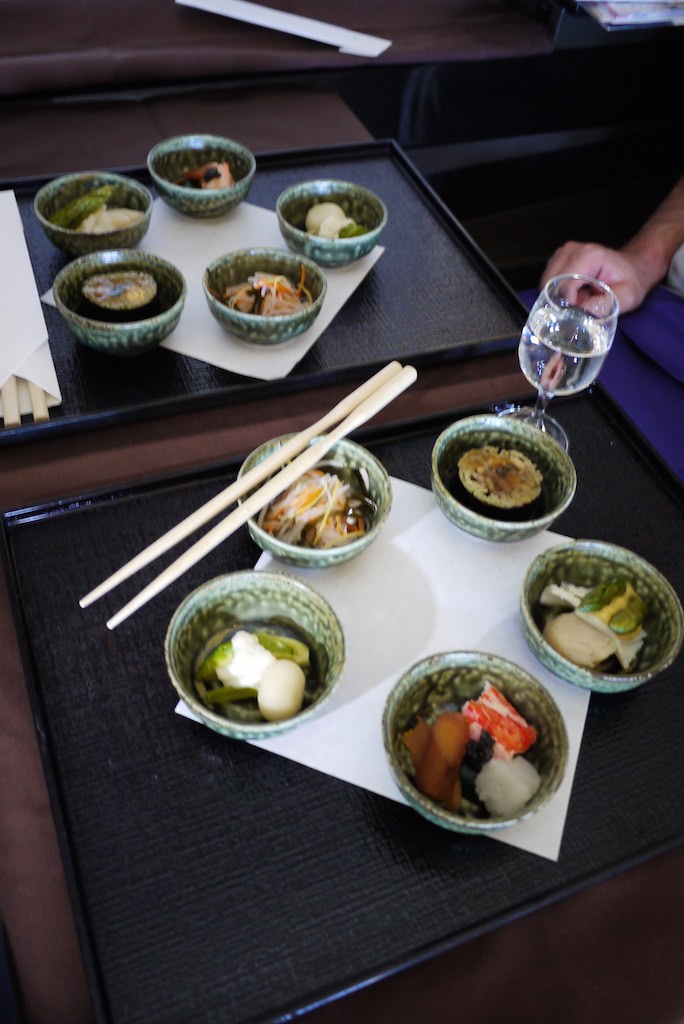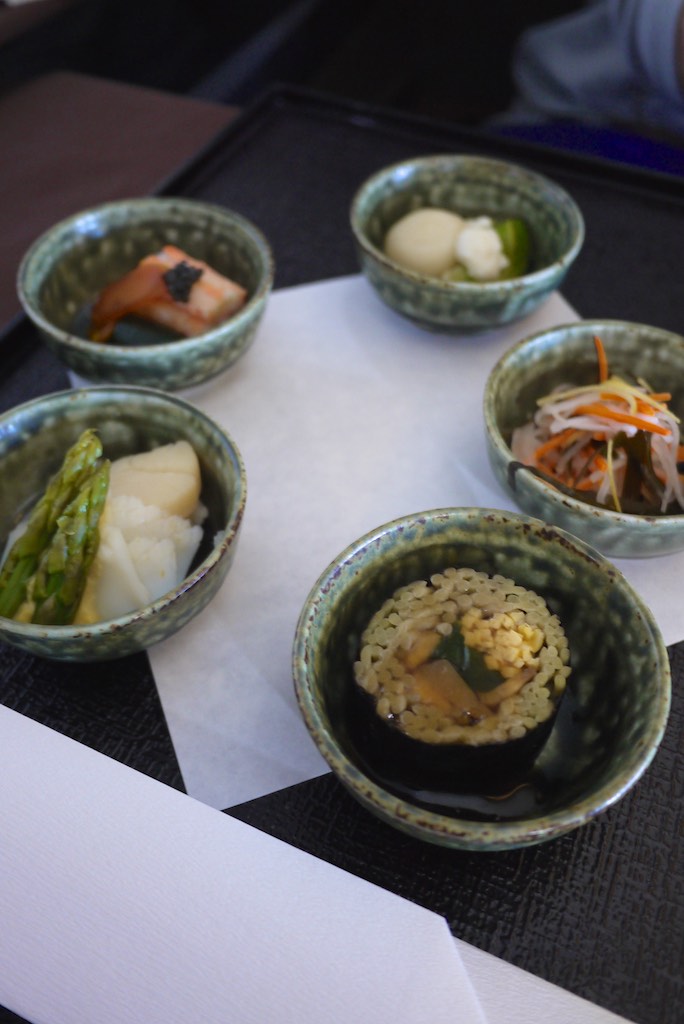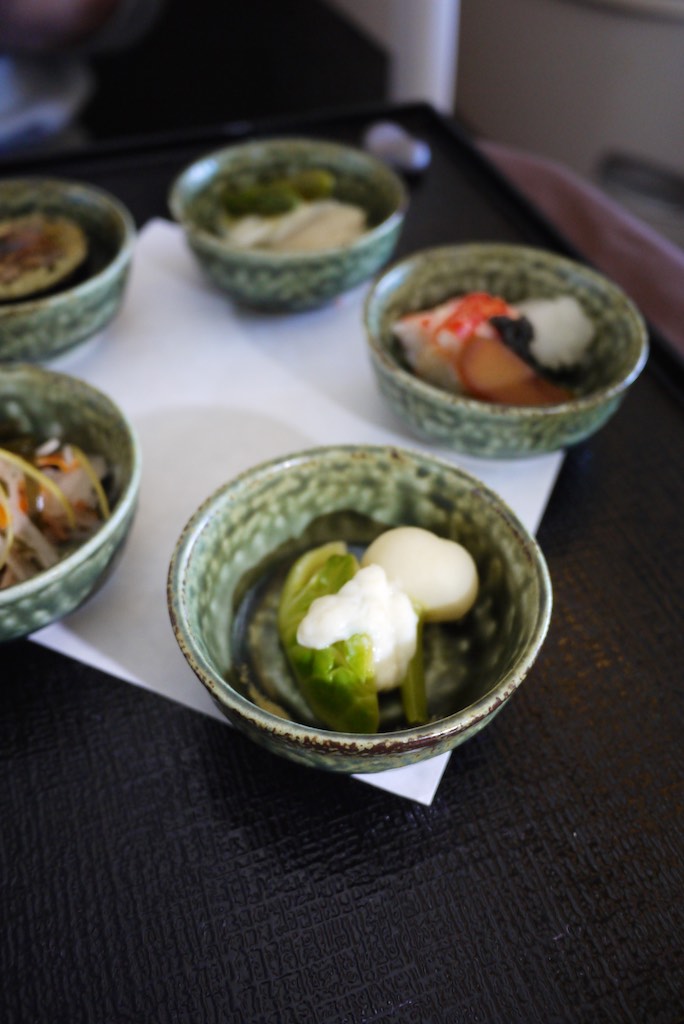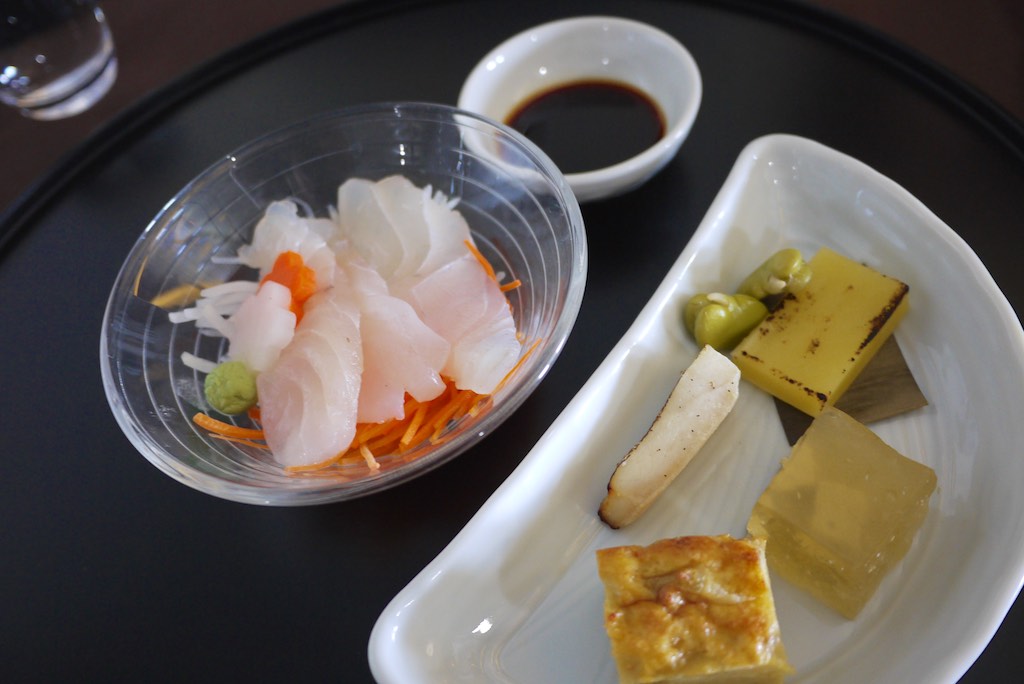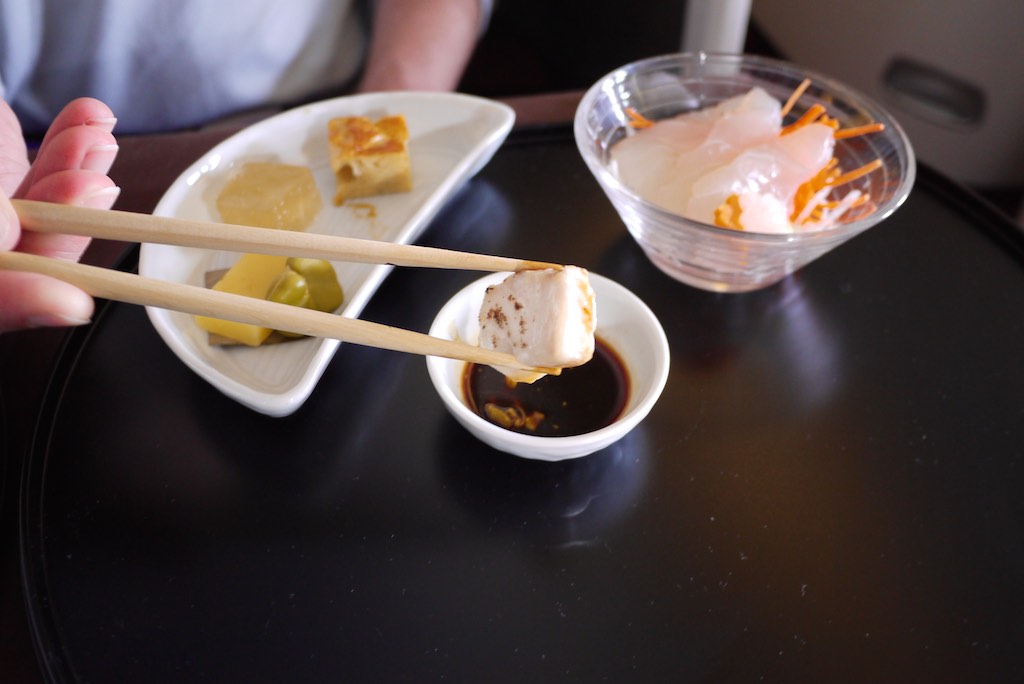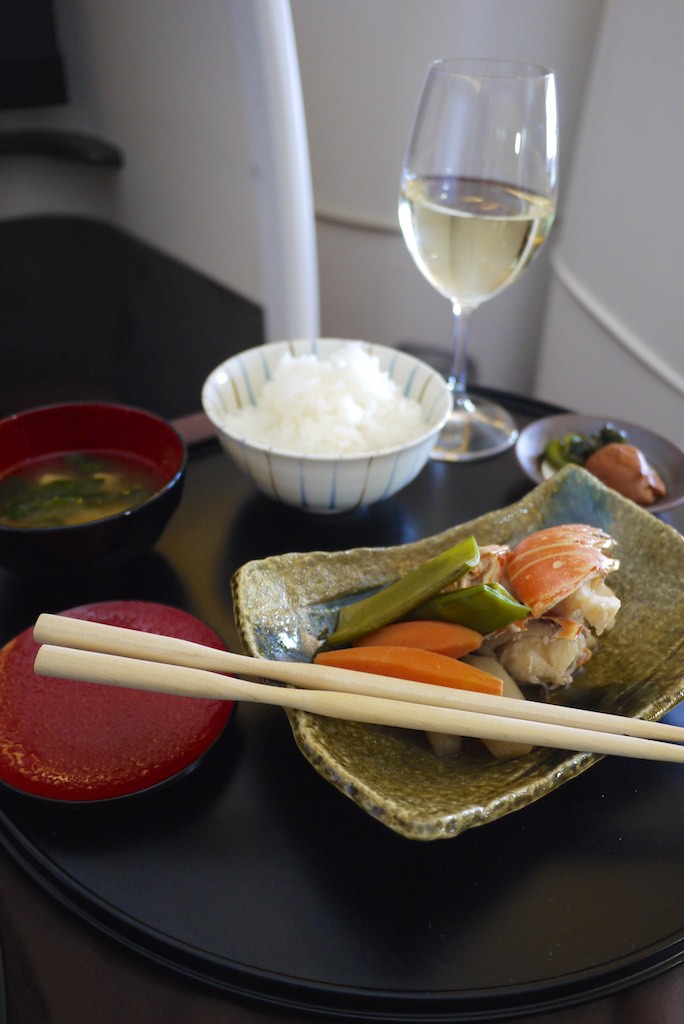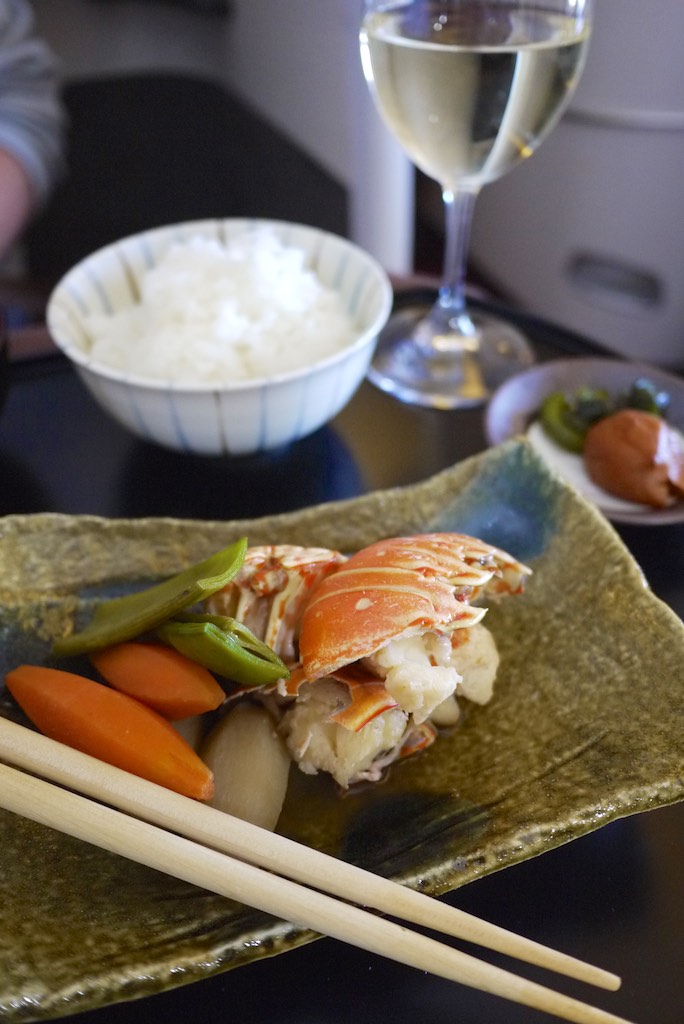 This all finished up with marzipan and chocolate treats: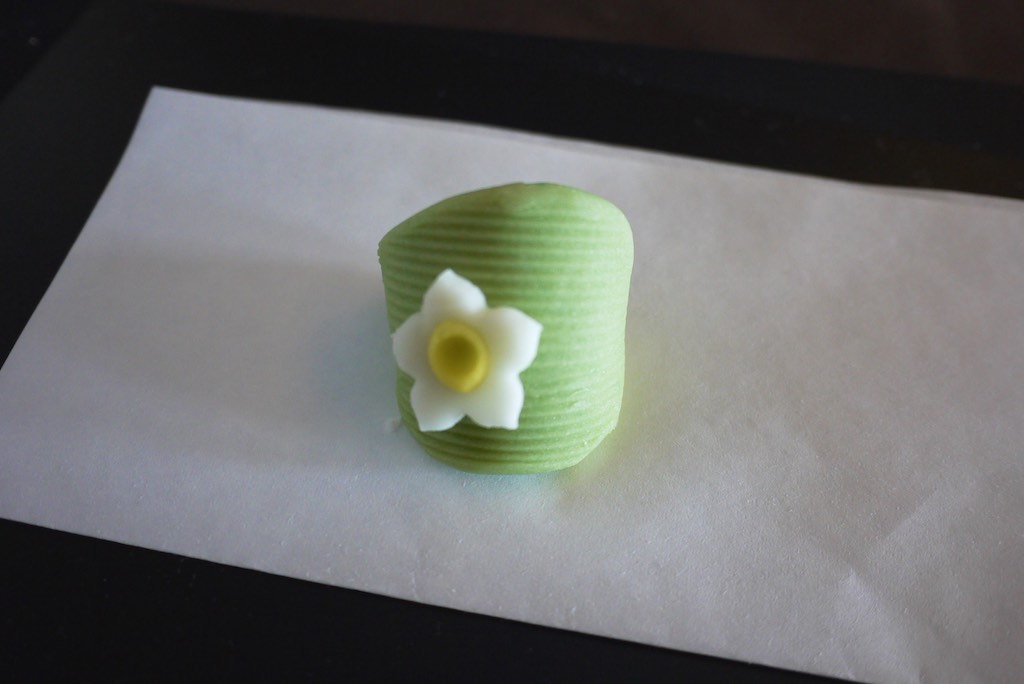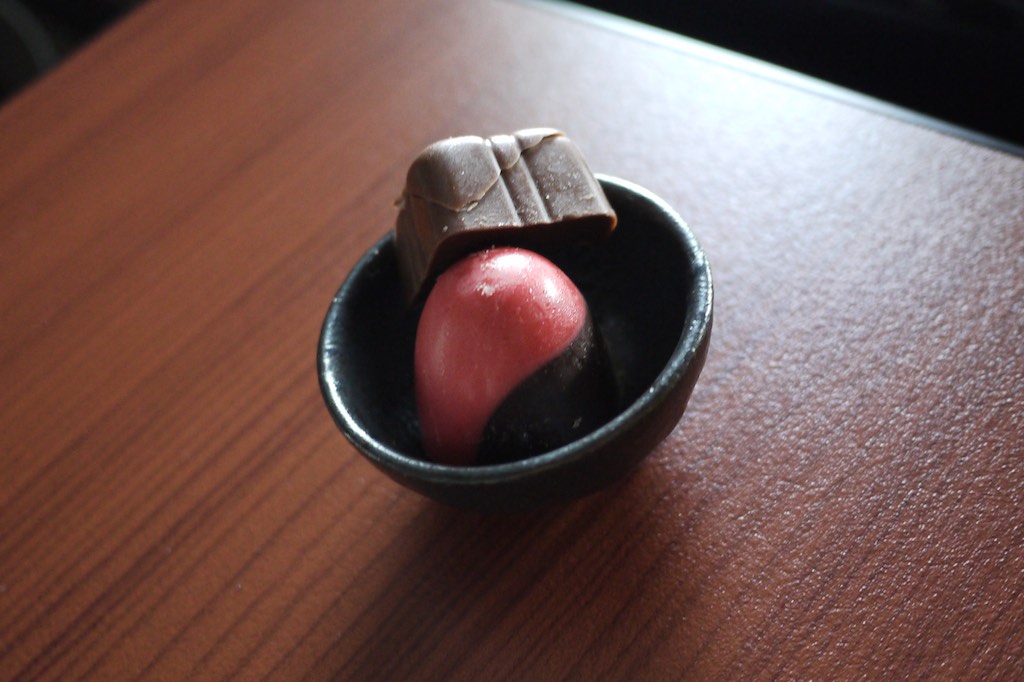 Toward the end of the flight, there was another dinner snack on offer. I opted for both soup and a croque-monsieur esque ham and toasted cheese sandwich – both very tasty.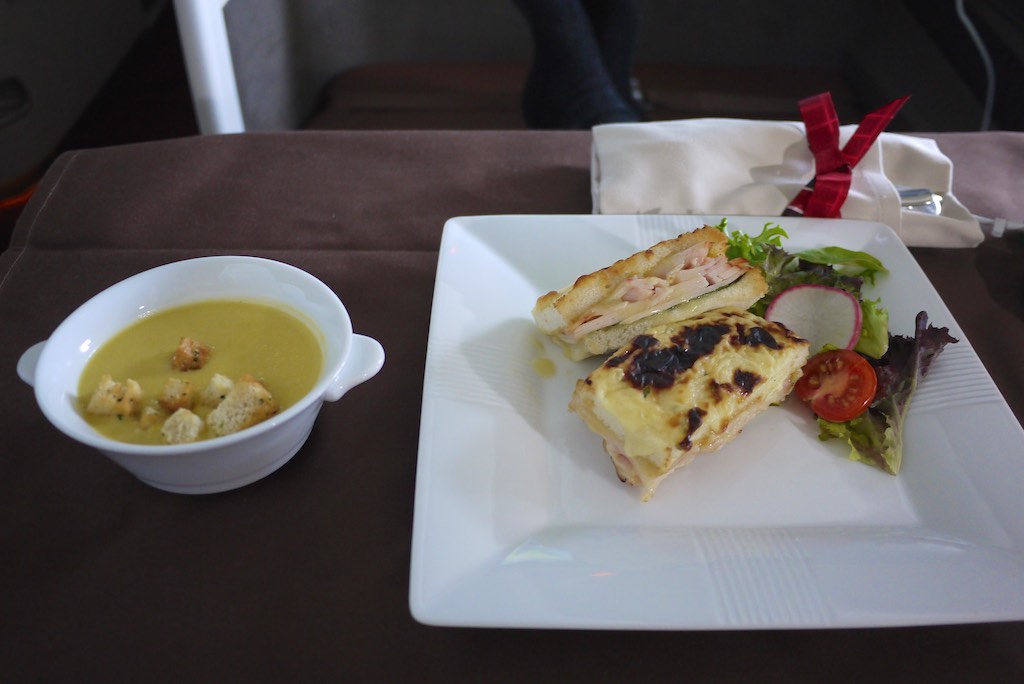 After the final dinner snack service, I put my feet up and passed the time until landing at Narita at dusk.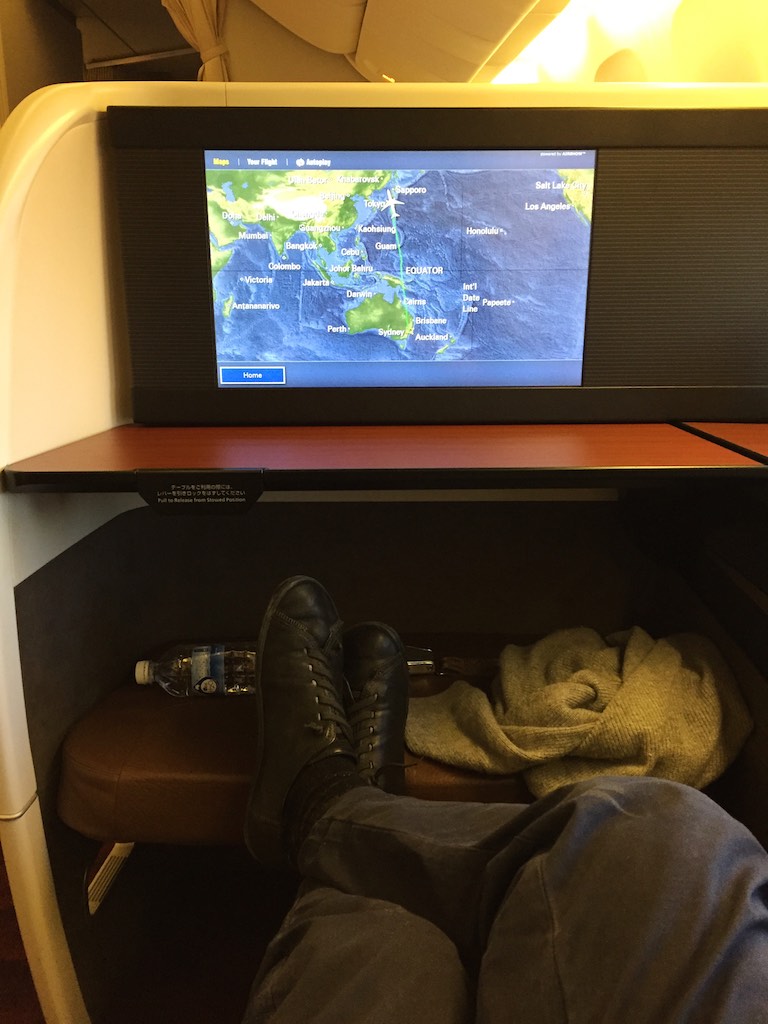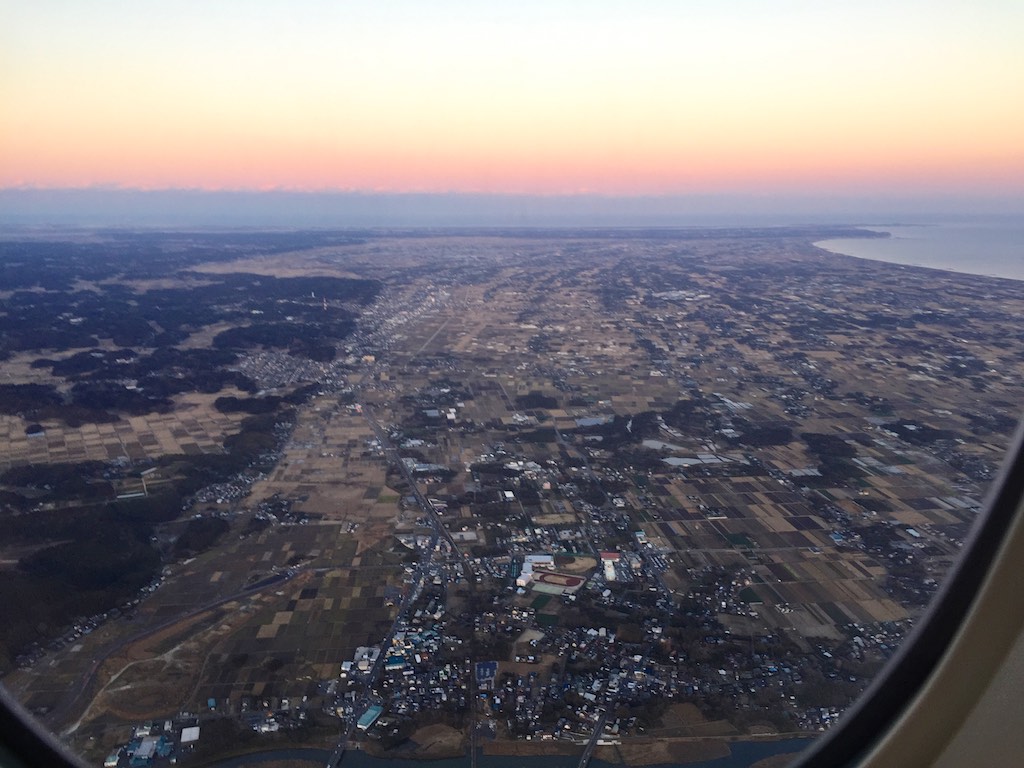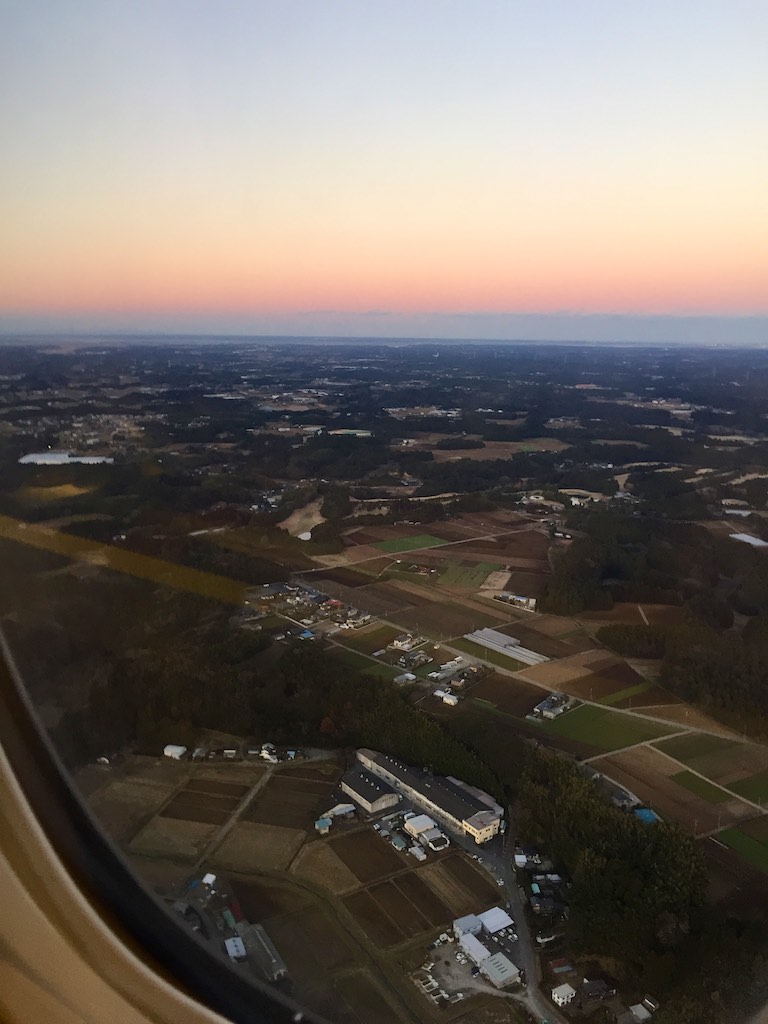 The arrivals process mirrored the flight – the 5 First Class passengers exited first onto a waiting bus – which promptly drove off with only us in it. Completely unexpected, and totally awesome.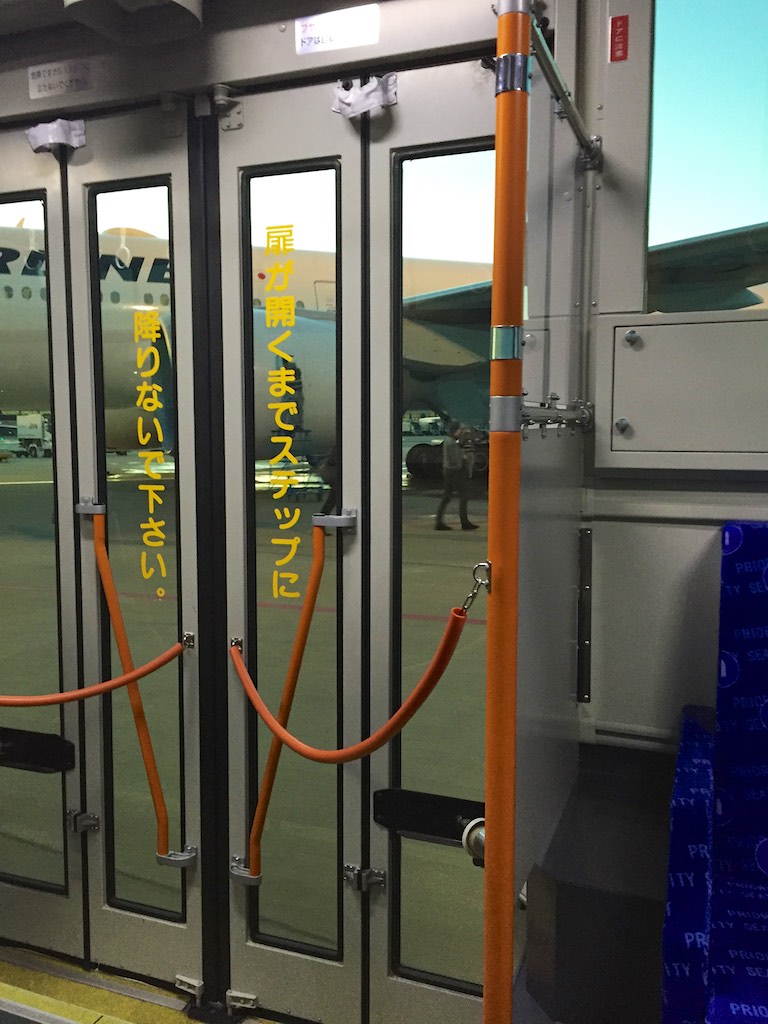 And to top it off, my bag was first off the carousel.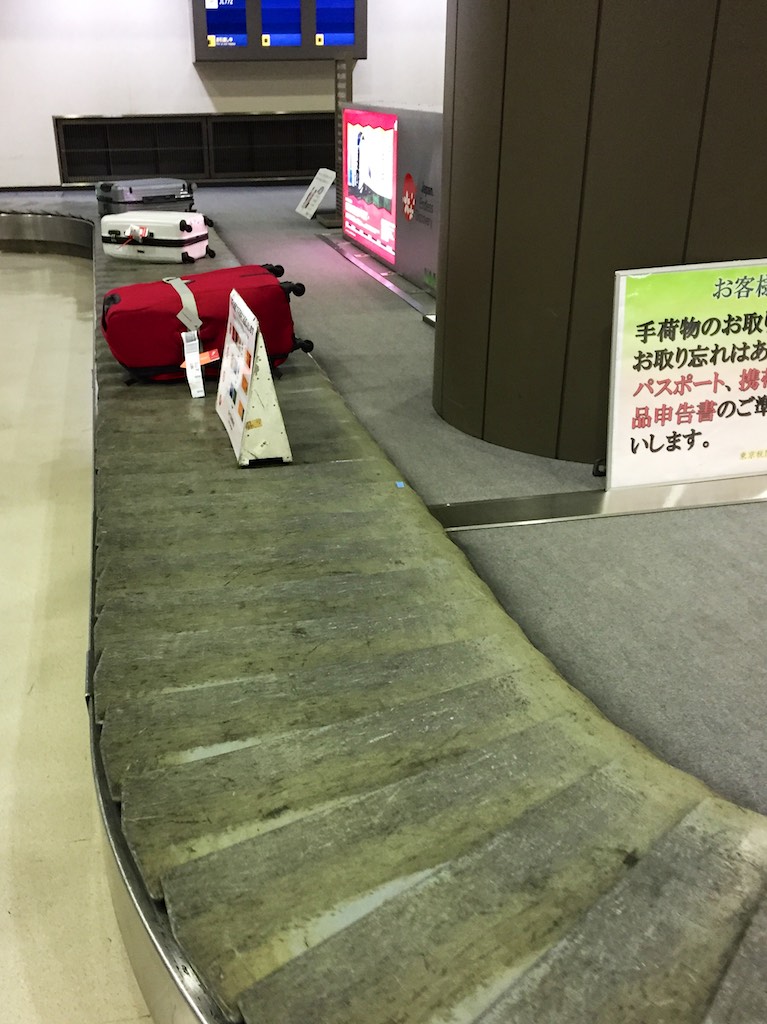 My take
This was a ridiculously amazing, extravagant and sublime flight, and what made it was not any one element of the seat / suite or the food – in hindsight, it was the service that gelled the whole experience seamlessly together.
Travelling First Class felt like a clear cut above Business – not anything I've really felt on other (admittedly limited) First Class trips before.
The crew were generally not present until the exact moment you started thinking you might want them – and then they seemed to magically appear.
They were happy to accommodate every request, and really enjoyed serving us the full Japanese meal, explaining every dish in detail, recommending Sake or Wines to accompany the food, and share their enthusiasm for us to enjoy the experience. It was quite something, and I'd repeat it in a flash.
Related articles
Review: Japan Airlines 777 First Class (Sydney – Tokyo)
was last modified:
February 23rd, 2022
by