Despite our relatively small population, travellers in Australia still benefit from access to some of the world's best First Class products.
In this guide, I take a look at the top ten First Class products flying from Australian airports and, crucially, how to book an award seat using frequent flyer points.
What makes for a good First Class product?
I've judged these products based on the:
comfort of the seat
privacy of the seat
food and drinks you'll enjoy onboard
service you are likely to receive
extra amenities such as an onboard shower or bar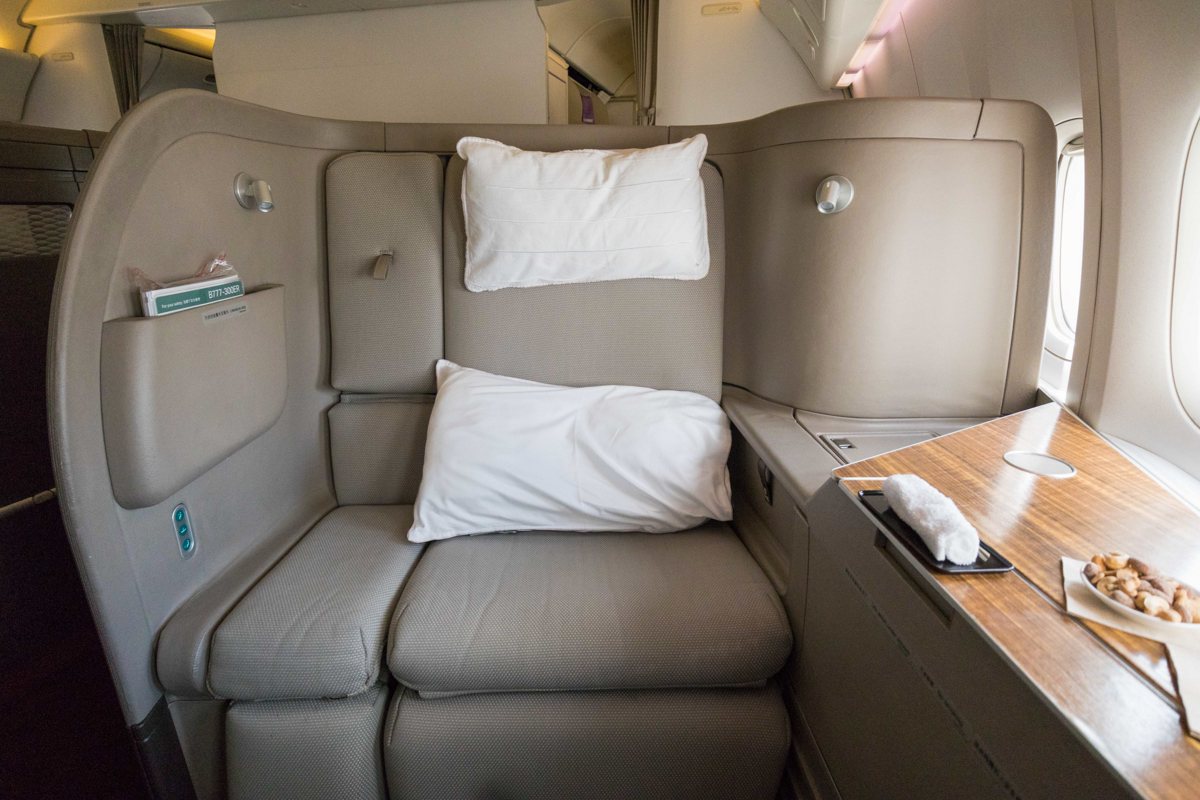 Ad – Scroll down to continue reading.Minimum spend, terms & conditions apply.
A ranking of the top 10 First Class products flying from Australia
Singapore's flag carrier provides excellent customer service and delicious food and drinks on its flights no matter the aircraft. (Tip: make sure to pre-order your main course using the Book The Cook service.)
The oldest of their First Class products can be found on some flights from Sydney and Melbourne to Singapore. It's definitely a step-down from the other two versions mentioned later in this guide.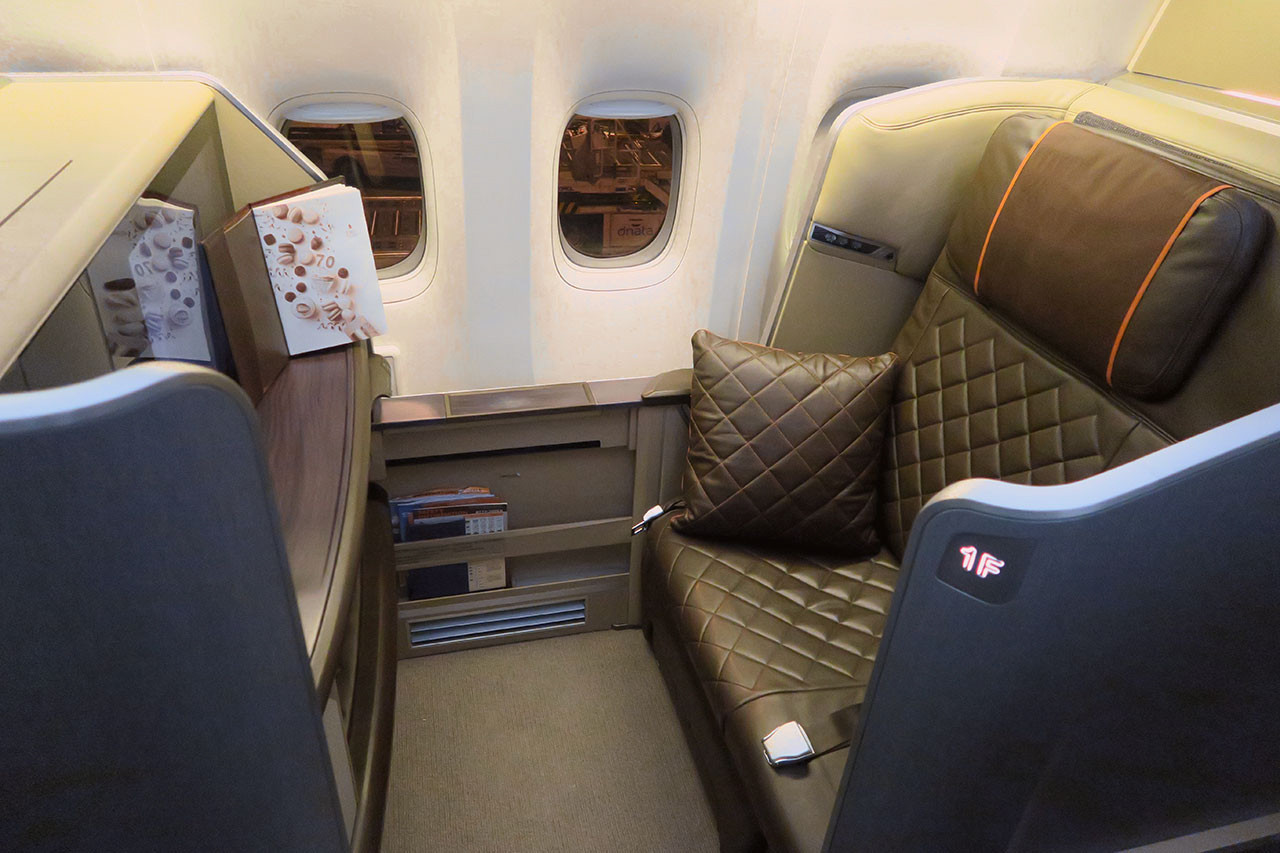 However, regardless of the aircraft, First Class passengers on Singapore Airlines can enjoy a caviar service to kickstart their experience onboard.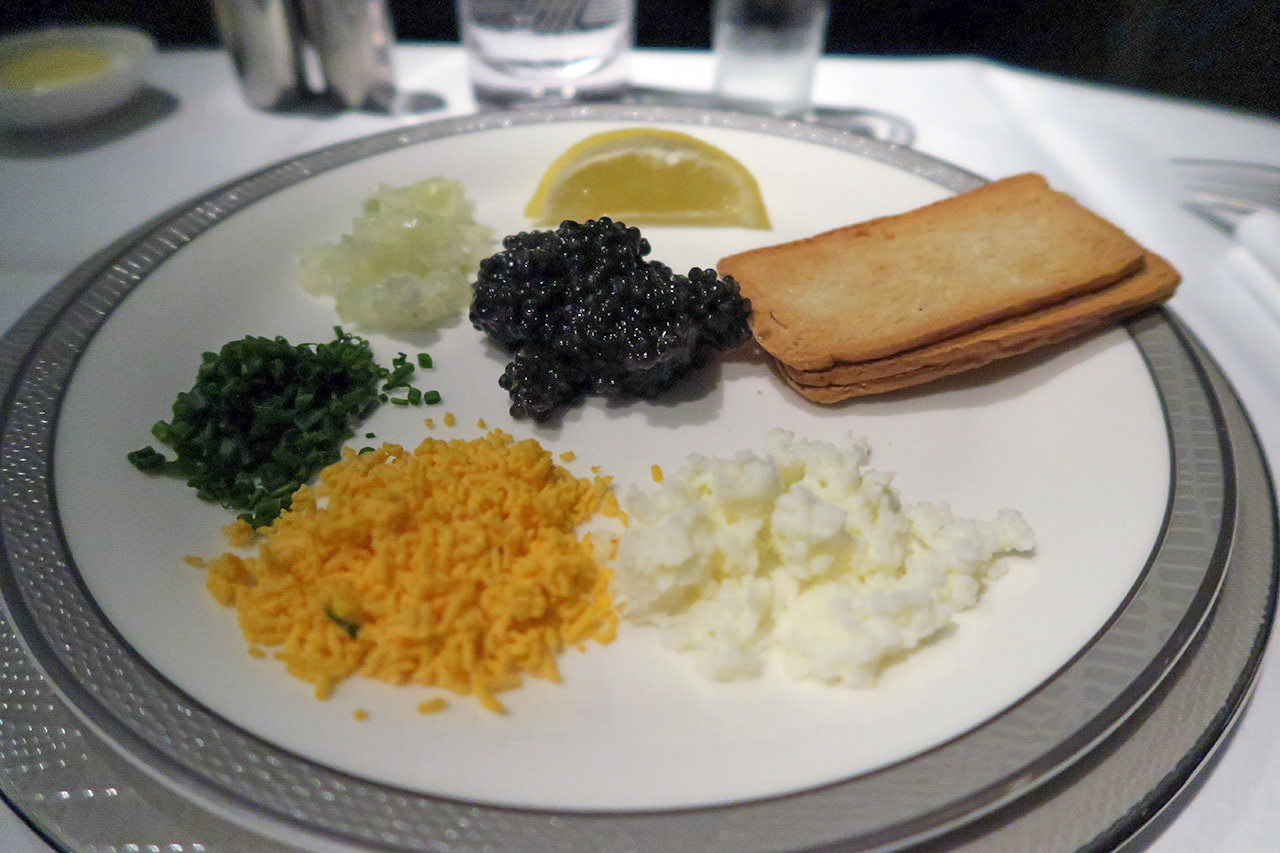 You'll need access to KrisFlyer miles or Velocity Points to book a redemption flight.
Jetting between Sydney and Bangkok, you'll enjoy friendly service, a private seat and a comfortable on-ground transfer process in Bangkok.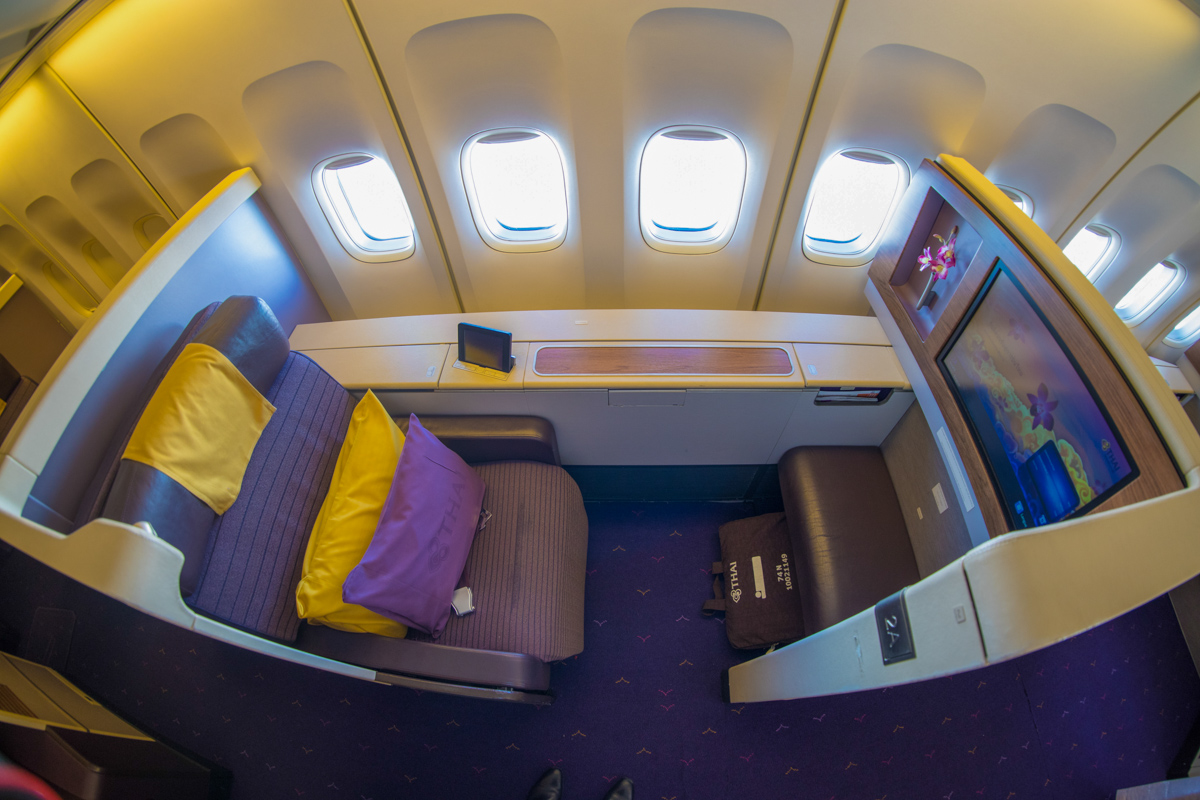 The food is downright exceptional.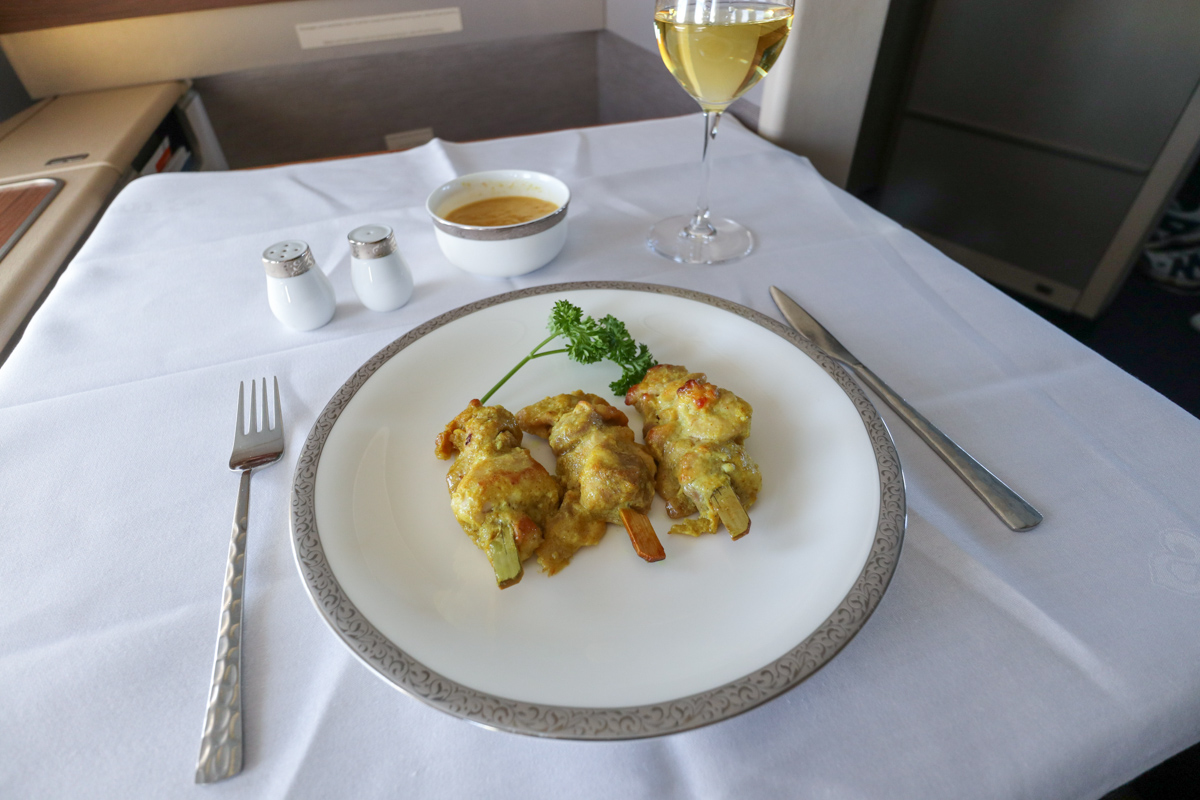 Departing Sydney, you'll get access to the not-so-fantastic SilverKris First Class Lounge run by Singapore Airlines. However, when flying out of Bangkok, you can enjoy a complimentary 60-minute massage before your flight.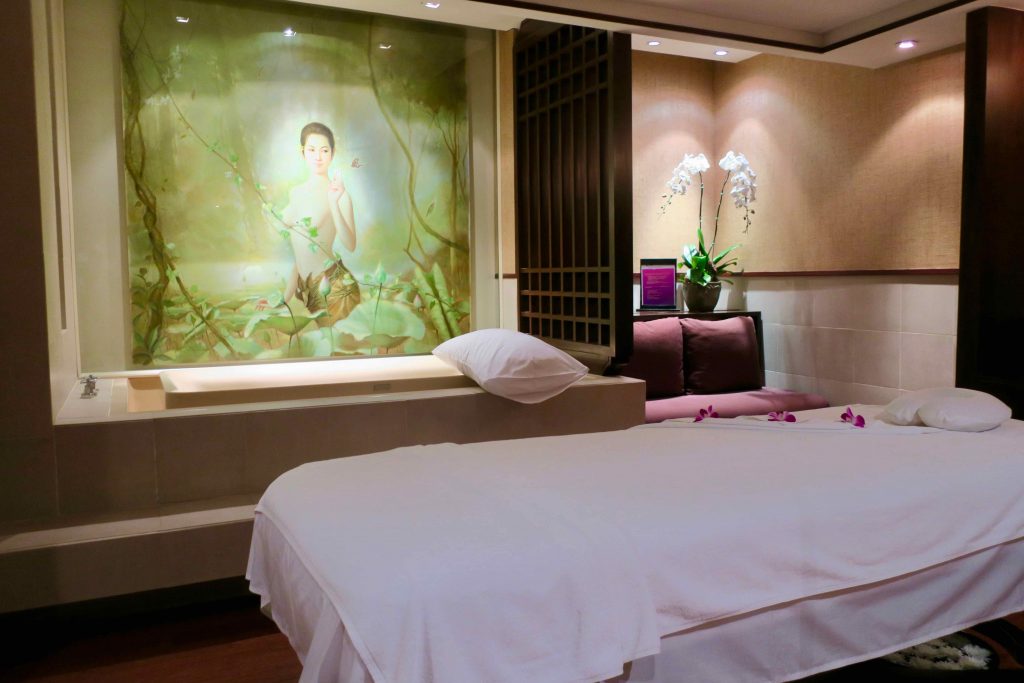 This flight is bookable with KrisFlyer and THAI Royal Orchid Plus (an American Express Membership Rewards partner) miles. United MileagePlus and Avianca LifeMiles have lower redemption rates, though.
Just be aware that THAI is notorious for equipment swaps, so you may be downgraded to an inferior aircraft like the A380 or older 747 at the last minute.
This product was launched back in 2006 and is showing its age but it's still a solid option. You'll enjoy a high degree of privacy in your closed suite: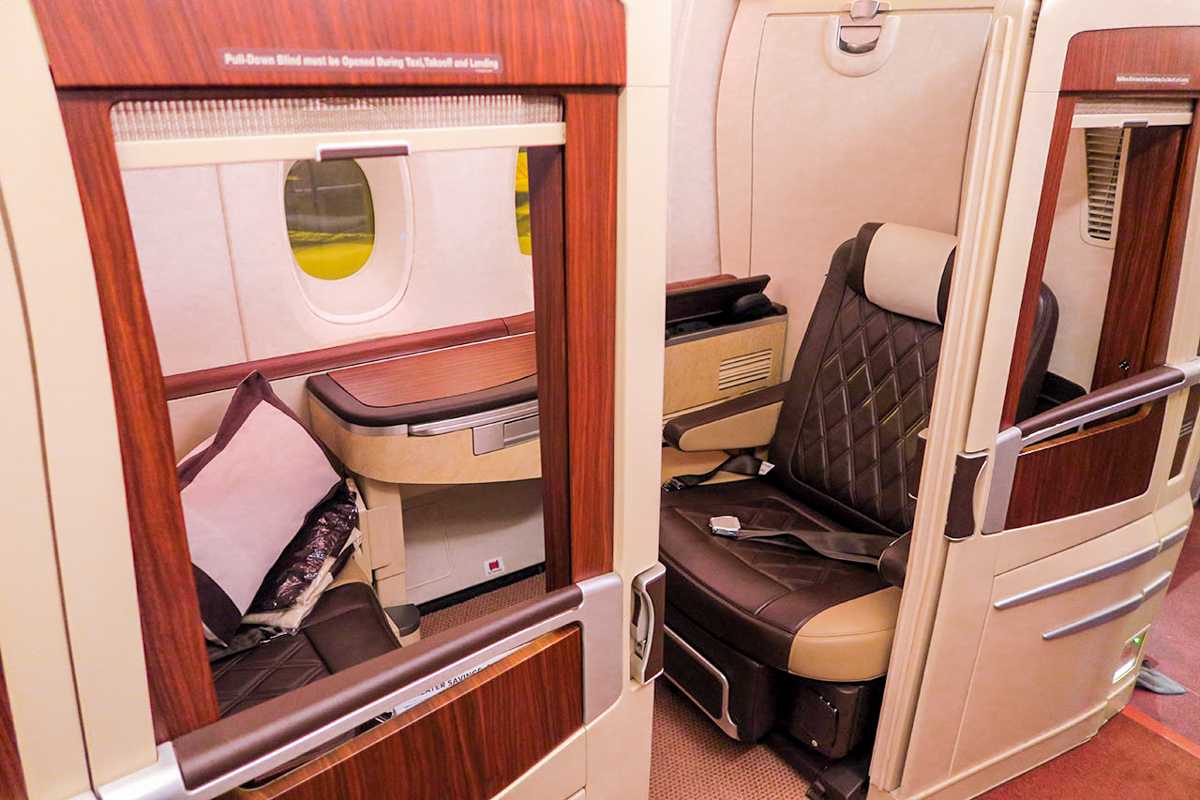 and if you're travelling with someone else, you can have two centre seats made into a double bed.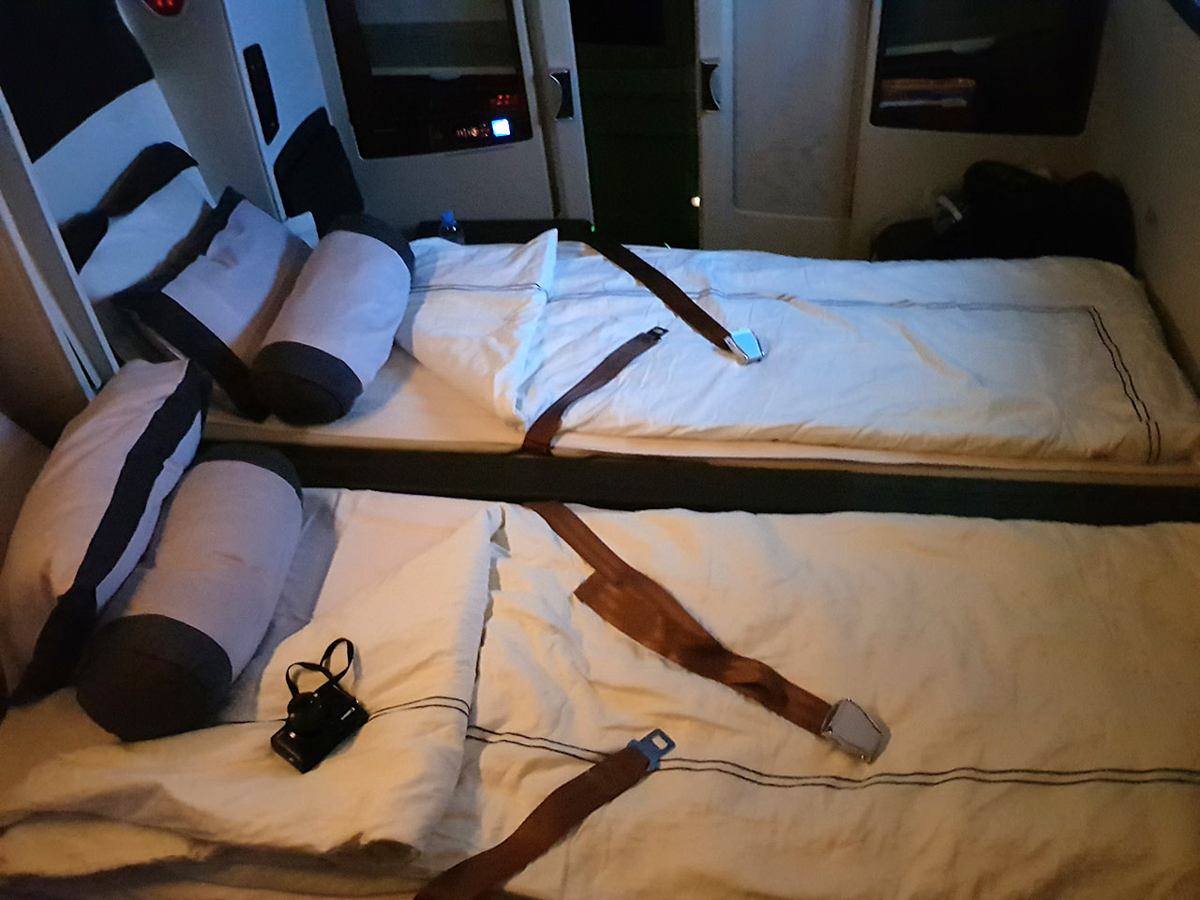 Given that this version of the aircraft has 12 First Class seats and the newer one (later on this guide) has half that number, you are much more likely to find an award seat on one of these flights. For comparison purposes, there are only 4 First Class seats on the 777-300ER mentioned previously.
This older product can be found on flights from Sydney and Melbourne to Singapore, but it will most likely disappear from the skies by the end of this year. If you want to try it out, book it now.
This Gulf carrier has arguably the best Business Class product in the world (the Qsuite). However, you can also fly with them in First Class on its Airbus A380 services from Sydney, Melbourne and Perth.
The cabin is set up in a 1-2-1 open suites configuration, which isn't the greatest for privacy. However, the seat and bed are comfortable.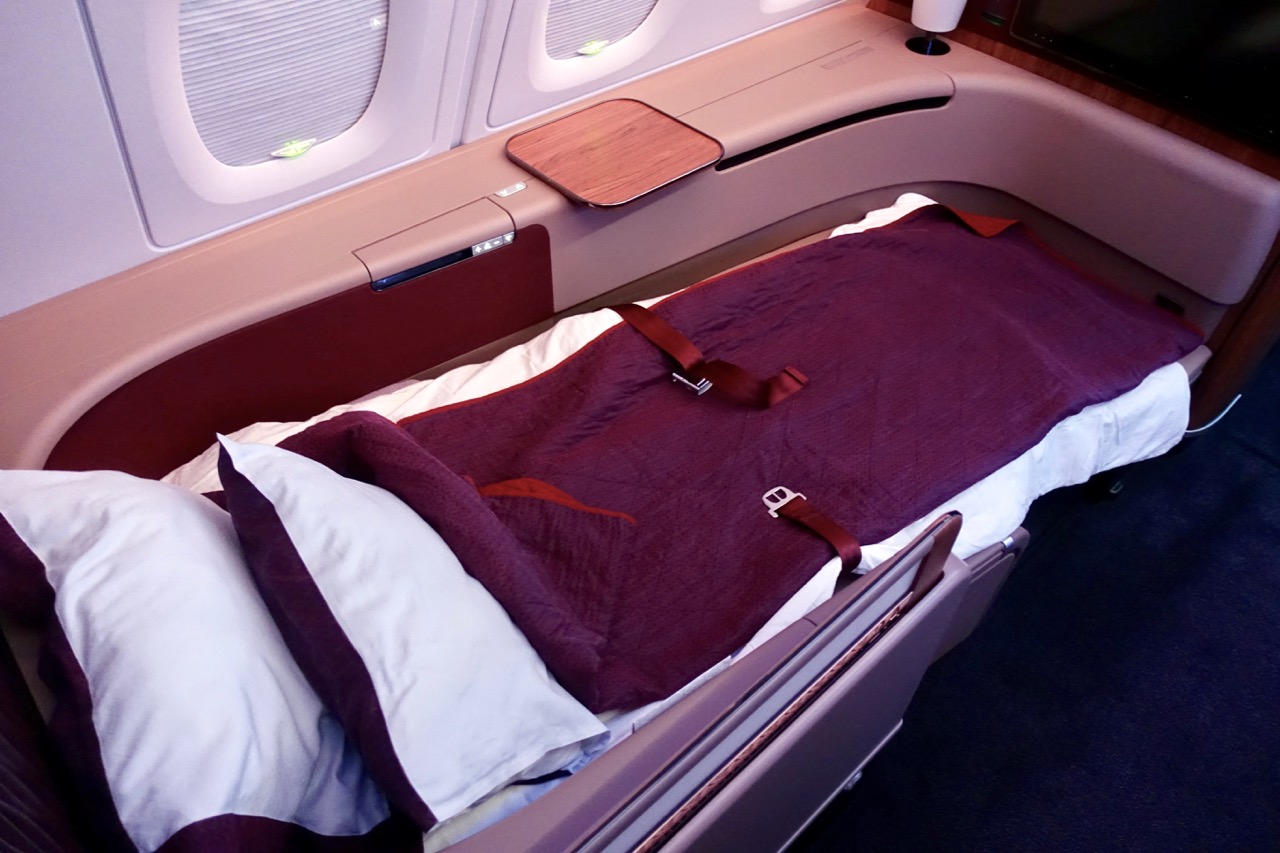 You'll also get access to the best onboard bar of any airline.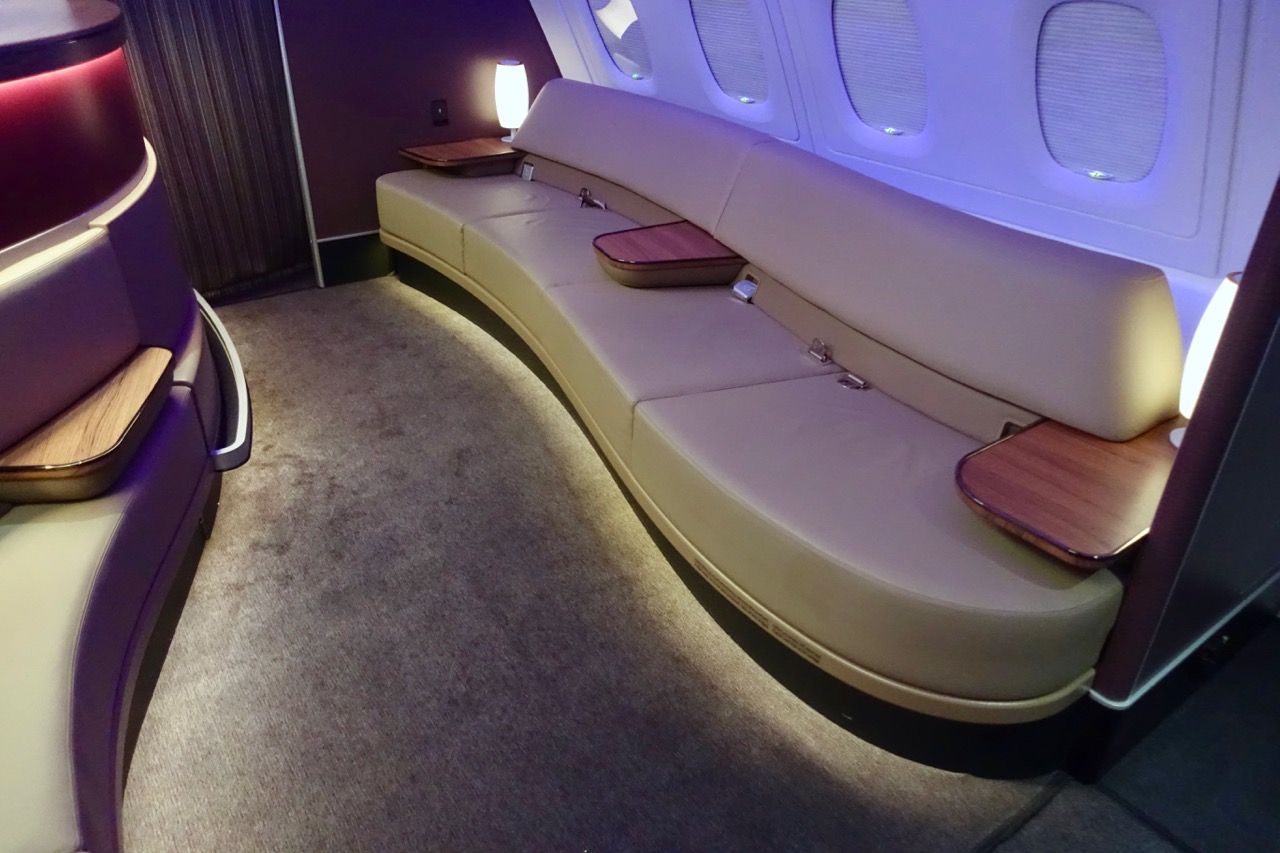 The Qatar Airways Al Safwa First Class Lounge in Doha is one of the most luxurious in the world. And departing Sydney and Melbourne, you'll get access to Qantas' excellent International First Lounges.
Qantas Points and Asia Miles can be used to book a redemption flight.
Warning: you're unlikely to fly this product. That's because Korean Air often changes its aircraft and it is more common to find the Airbus A380 (pictured below).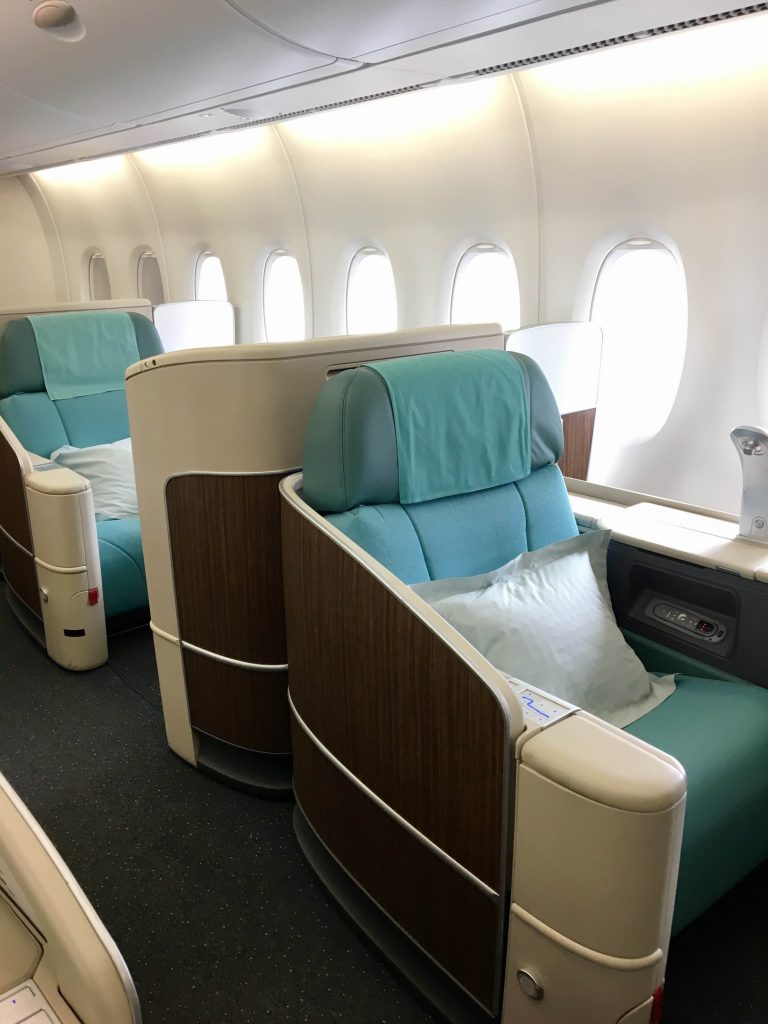 However, if the 747 is scheduled on the Sydney – Seoul route, then you're in for a treat. This is the seat in which I've had the best sleep ever on a plane due to its comfortable bed and sliding privacy door.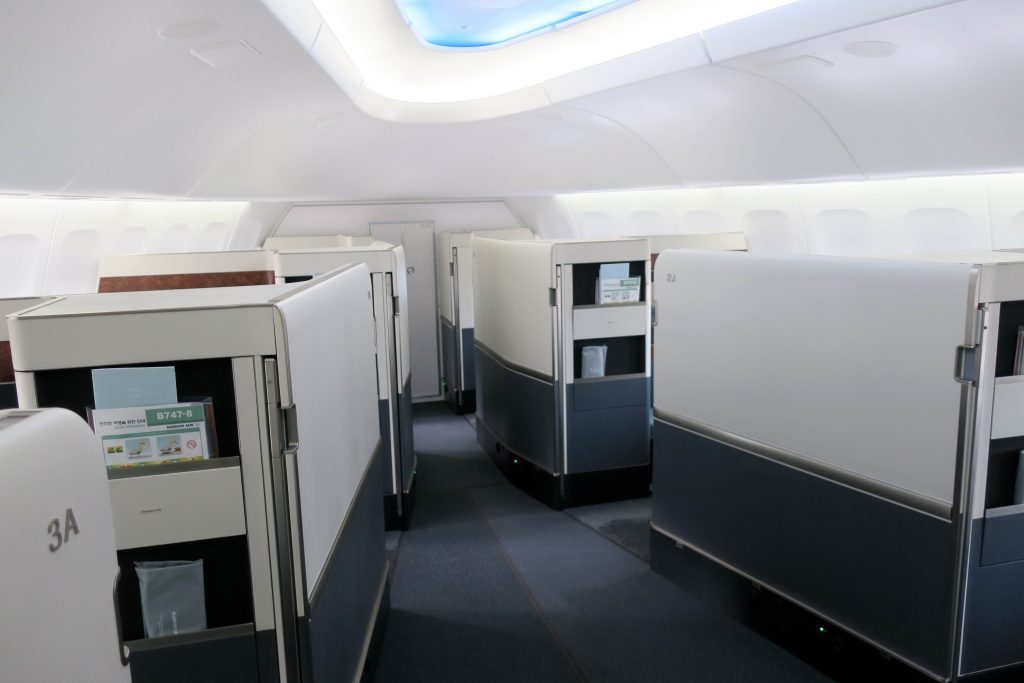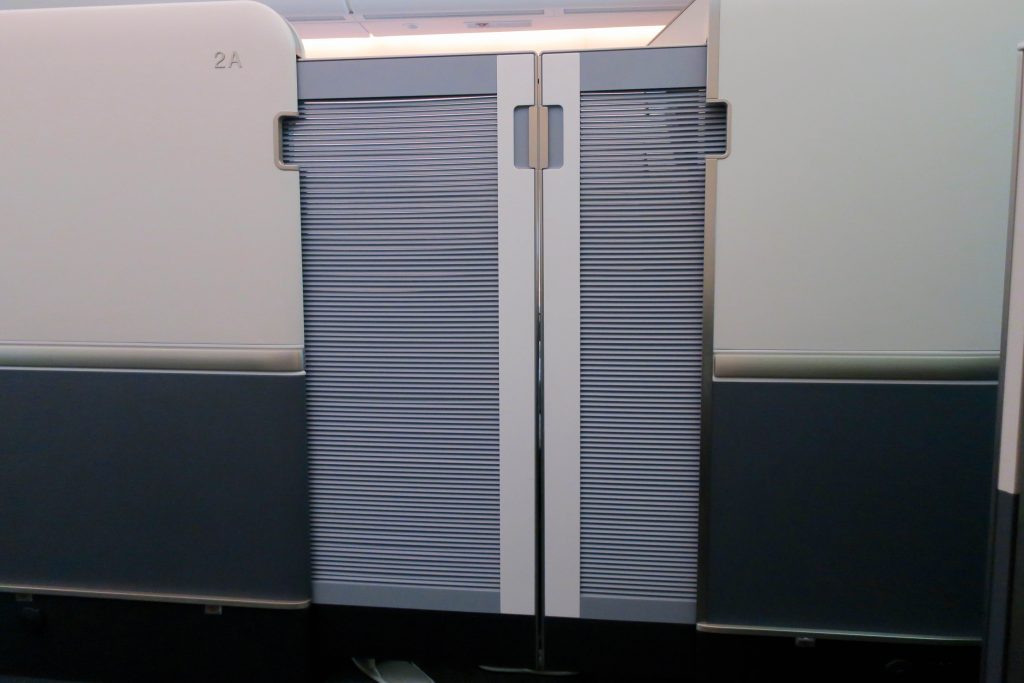 You'll get attentive service, but the language barrier can cause minor frustrations.
The downside in booking: you'll need access to Korean Air SKYPASS miles. How do you get them? You have to transfer from Marriott Bonvoy, which is an American Express Membership Rewards partner. (Etihad Guest miles can be used for travel on Korean Air but only in Business and Economy Class.)
Get ready for one of the best beds in the sky. Qantas' top premium product on its flagship Airbus A380 aircraft offers cushy foam mattresses and pillows, which are important on its long flights from Sydney and Melbourne to London, the US, Singapore and Hong Kong.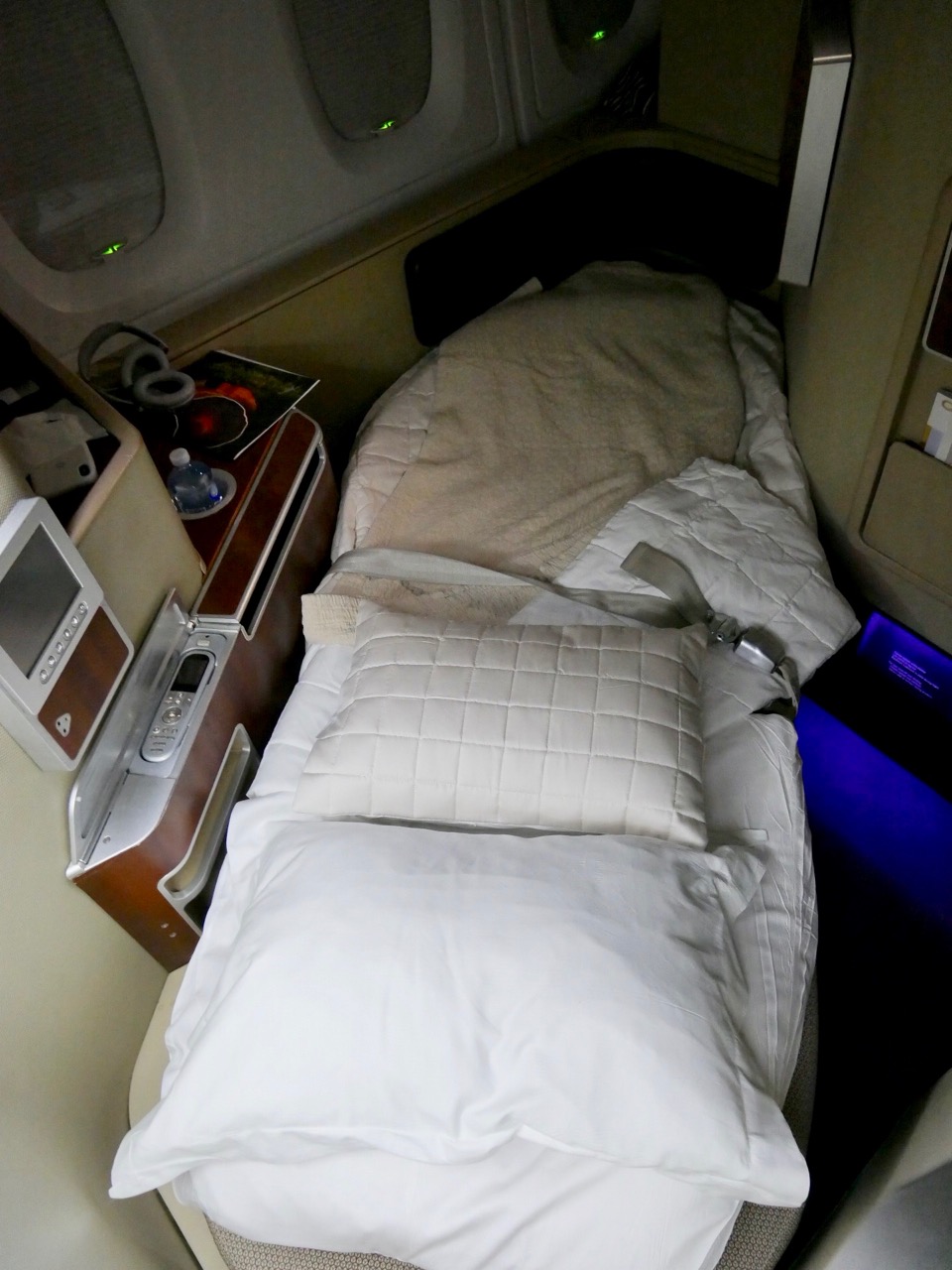 This cabin is set up with 14 open suites in a 1-1-1 configuration.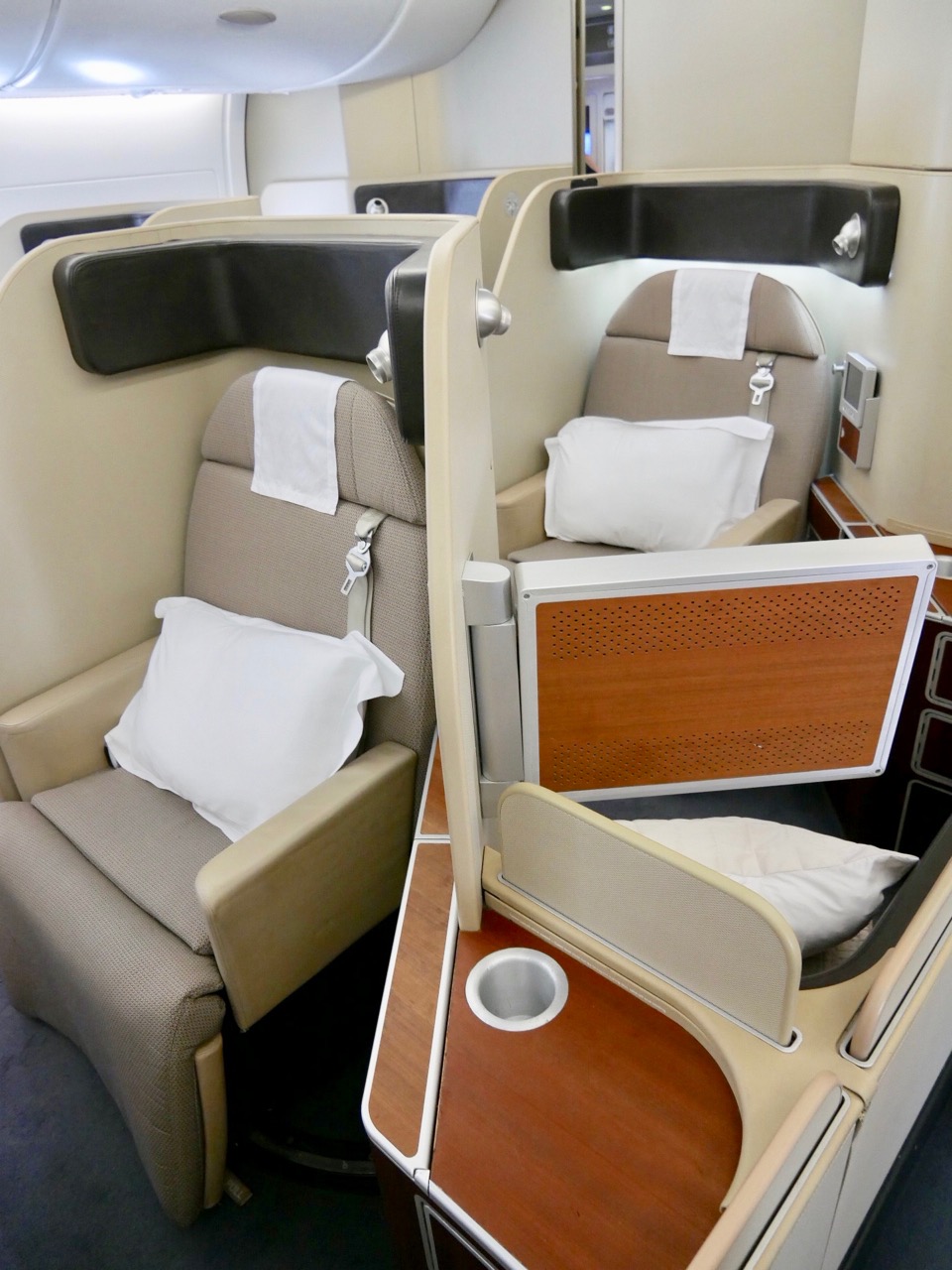 The airline's A380 fleet is currently getting a refresh, expected to be completed by the end of this year. However, there will be only minor changes in this cabin, with a bigger inflight entertainment screen and new seat fabrics.
Here are some tips to secure this redemption:
Qantas' Japanese partner flies from Sydney and Melbourne to Tokyo, but its First Class product has been absent for the past couple of years. Luckily, it's returning from 1 September 2020 on its daily flight from Sydney to Tokyo Haneda.
First Class is set up in a standard 1-2-1 configuration, with eight open suites across two rows. As you can see it's an older-style product. However, it still shines in its fantastic service and comfortable bedding.
The food is incredible and you can dine with a travel companion in the same suite, like on Cathay Pacific.
You can book Japan Airlines flights with Qantas Points or Asia Miles. If you want to fly around the world in First Class using Qantas Points, this is a great option to include in your trip.
'Darling, it's not First Class—it's a First Apartment!' This is one of the most aspirational redemptions in the world and isn't actually available on many routes. We're lucky to see it fly between Sydney and Abu Dhabi.
The nine private suites are set up in a 1-1 configuration: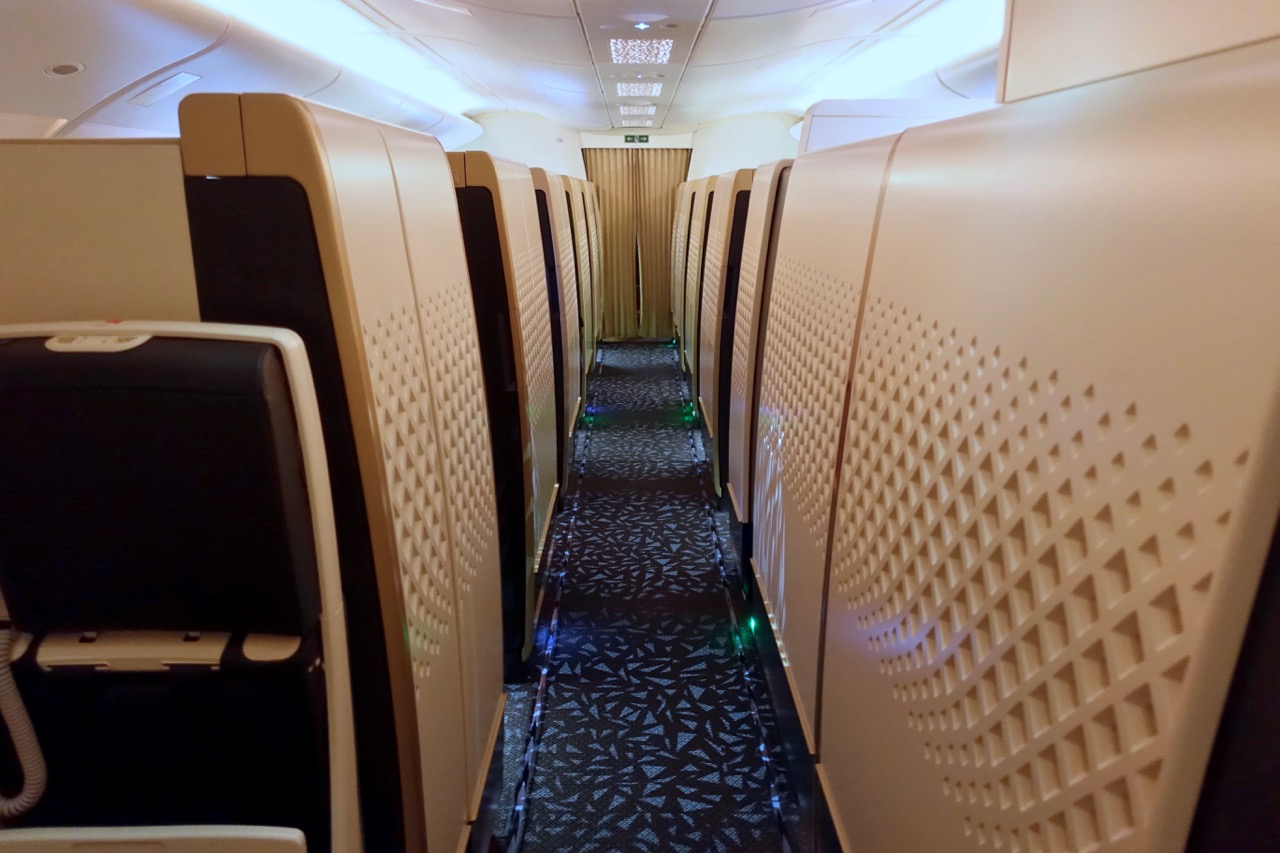 which permits enough space for each passenger to enjoy a separate seat and bed.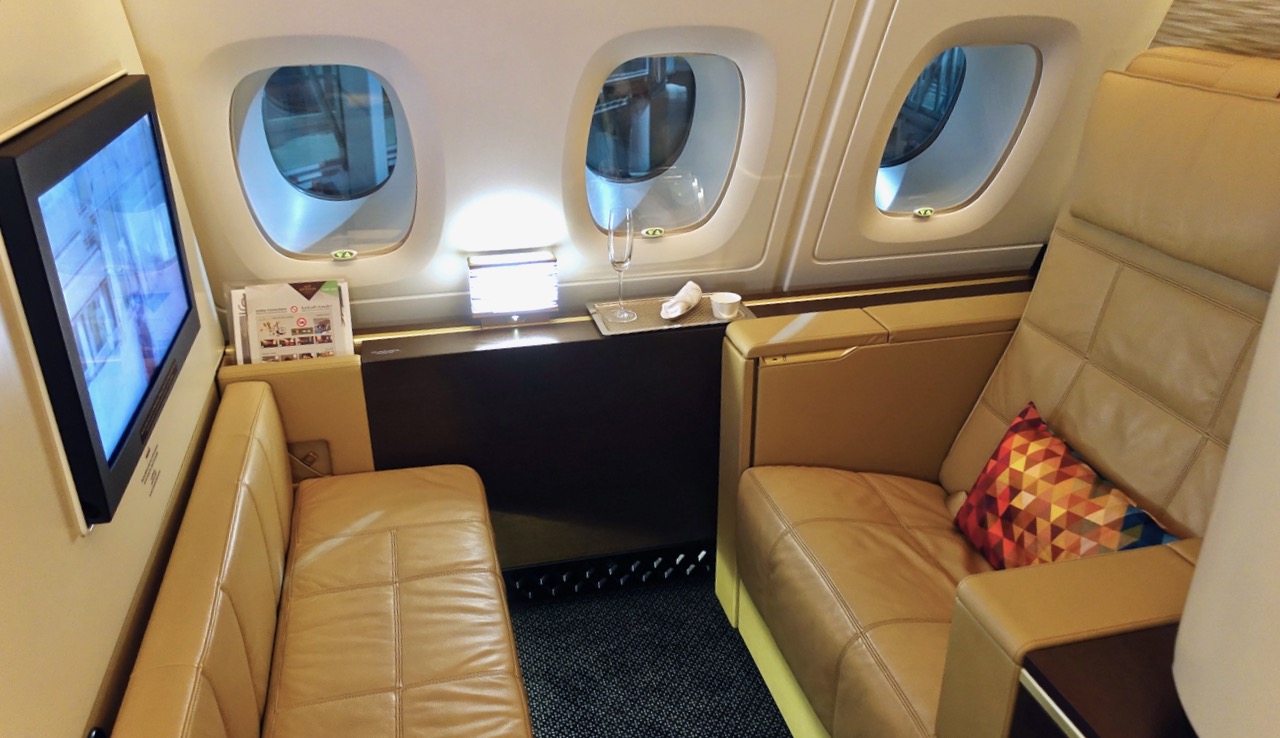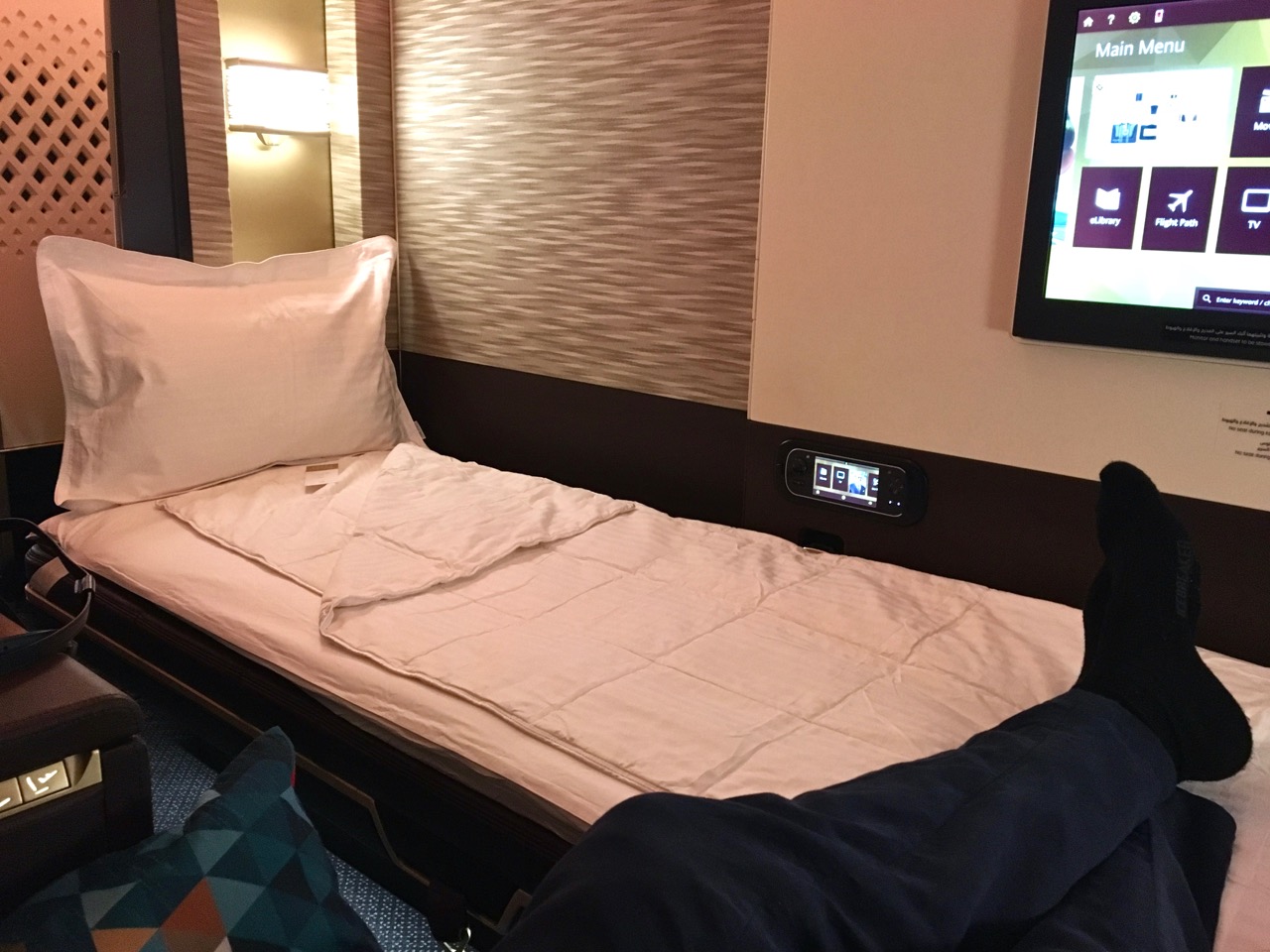 The dining options and customer service could be improved. You'll get a hot shower and access to an onboard bar but neither is as good as on Emirates. Essentially, where this product shines is in its space and elegance.
The cheapest way to book an award seat is with American Airlines AAdvantage miles. However, you can also use Etihad Guest miles or Velocity Points. (If you're booking through Velocity, just watch out for the hefty Etihad Airways Carrier Charge.)
This Qantas partner shines with private suites, top-notch food and excellent customer service. It's blingy, it's over-the-top and it's a pleasure to fly.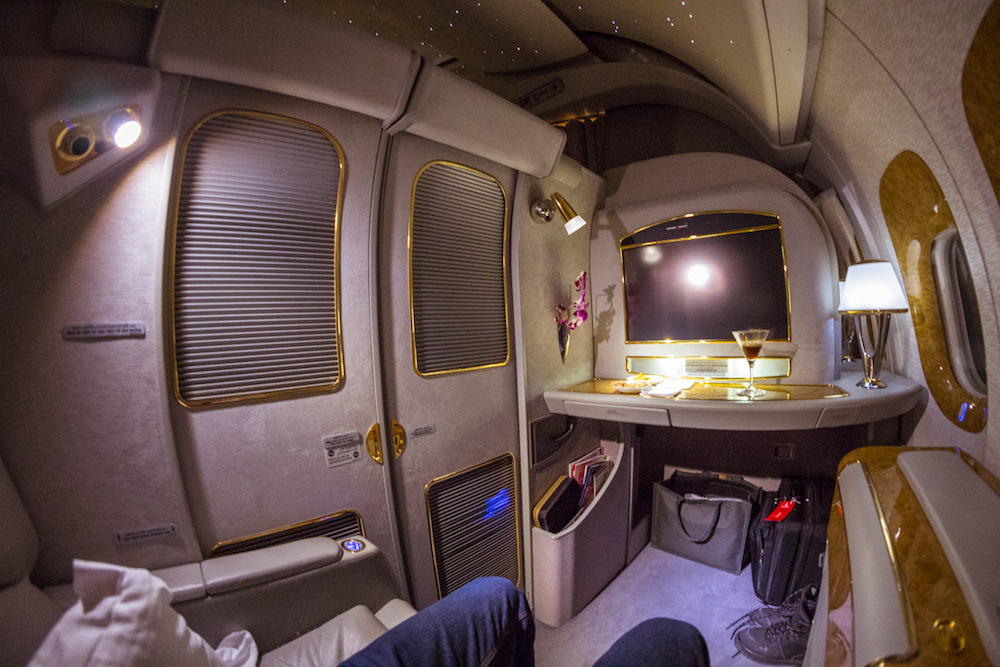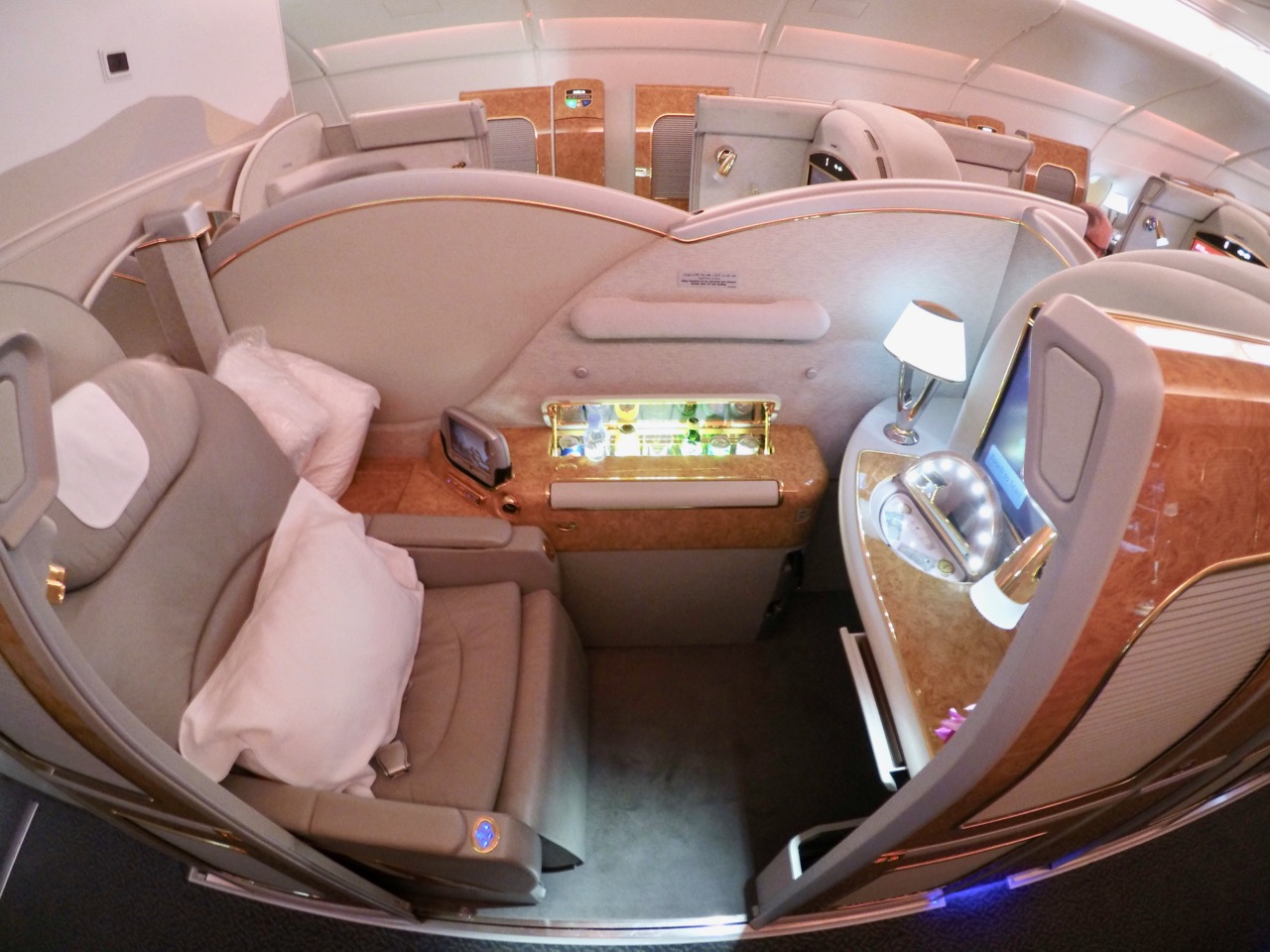 On A380 flights from Sydney, Melbourne, Brisbane and Perth to Dubai as well as Sydney to Christchurch, you'll get access to the best onboard shower of any airline.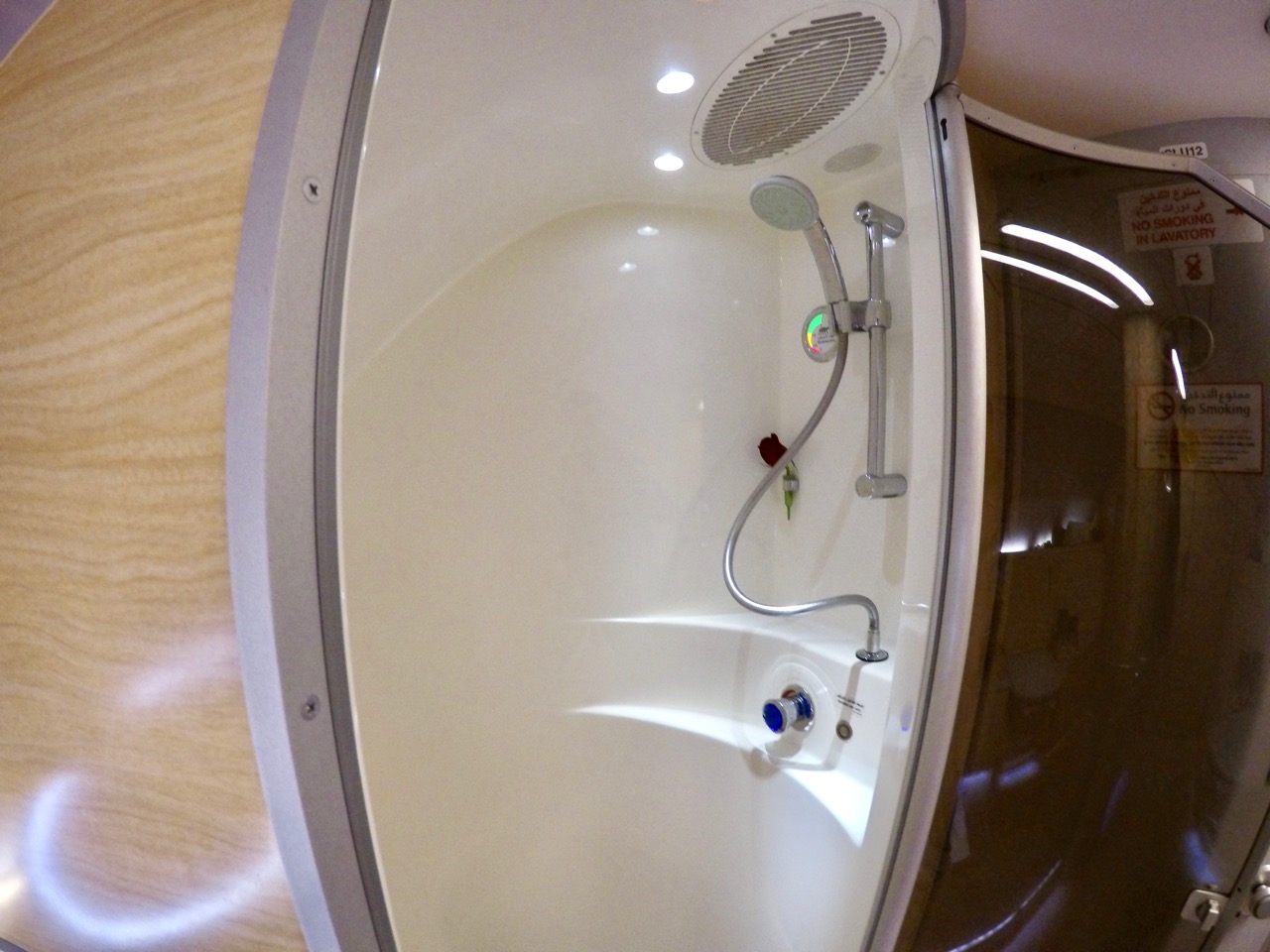 Whilst you can enjoy a beverage in your suite, you can also venture to the onboard bar, which is shared with Business Class passengers.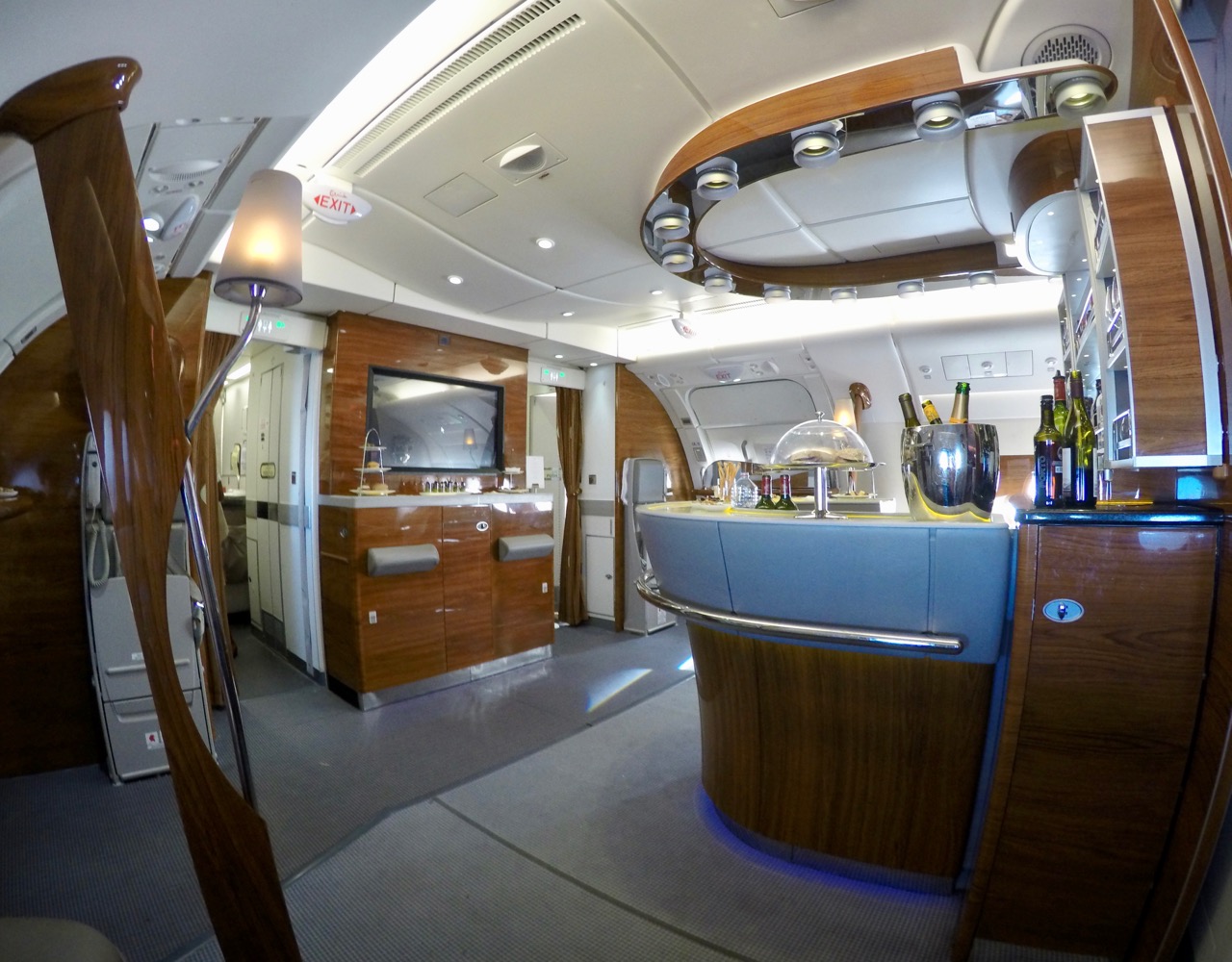 On 777 services to and from Australia, you won't have the shower or bar but the service is generally more attentive on this aircraft. (Note that Emirates' newest First Class product does not fly to Australia.)
This is one of the best uses of Qantas Points or Emirates Skywards miles, and can be some of the cheapest First Class flights to redeem when flying within the Middle East. Here is why I think Emirates' product is better than Etihad's.
This product's understated elegance and class-leading space matched with Singapore Airlines' excellent soft product makes for the best First Class product available to travellers in Australia.
Again set up a 1-1 configuration but this time with only six private suites, you'll have a larger area than on Etihad to walk around.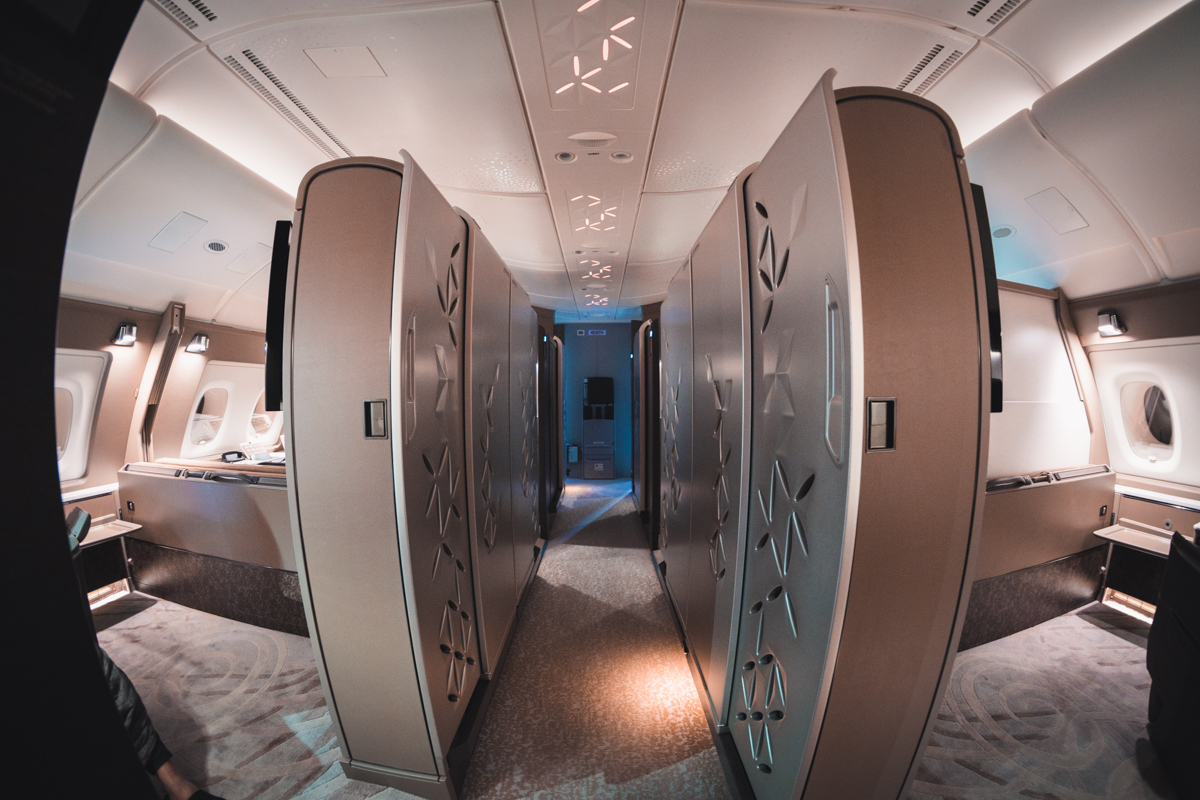 You'll also enjoy the separate bed and seat. (The seat is, unfortunately, a little odd, which you can read about in our full review.)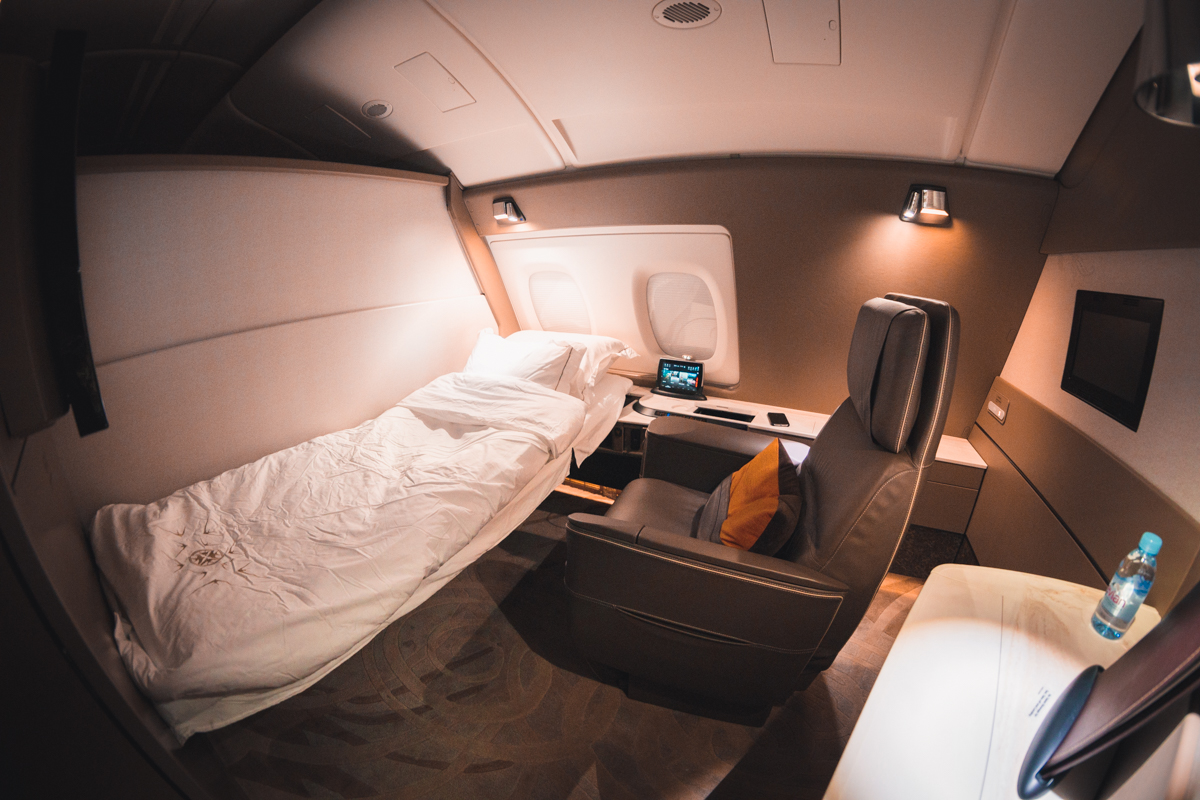 Whilst there is no onboard shower (or bar), the bathrooms are modern and spacious: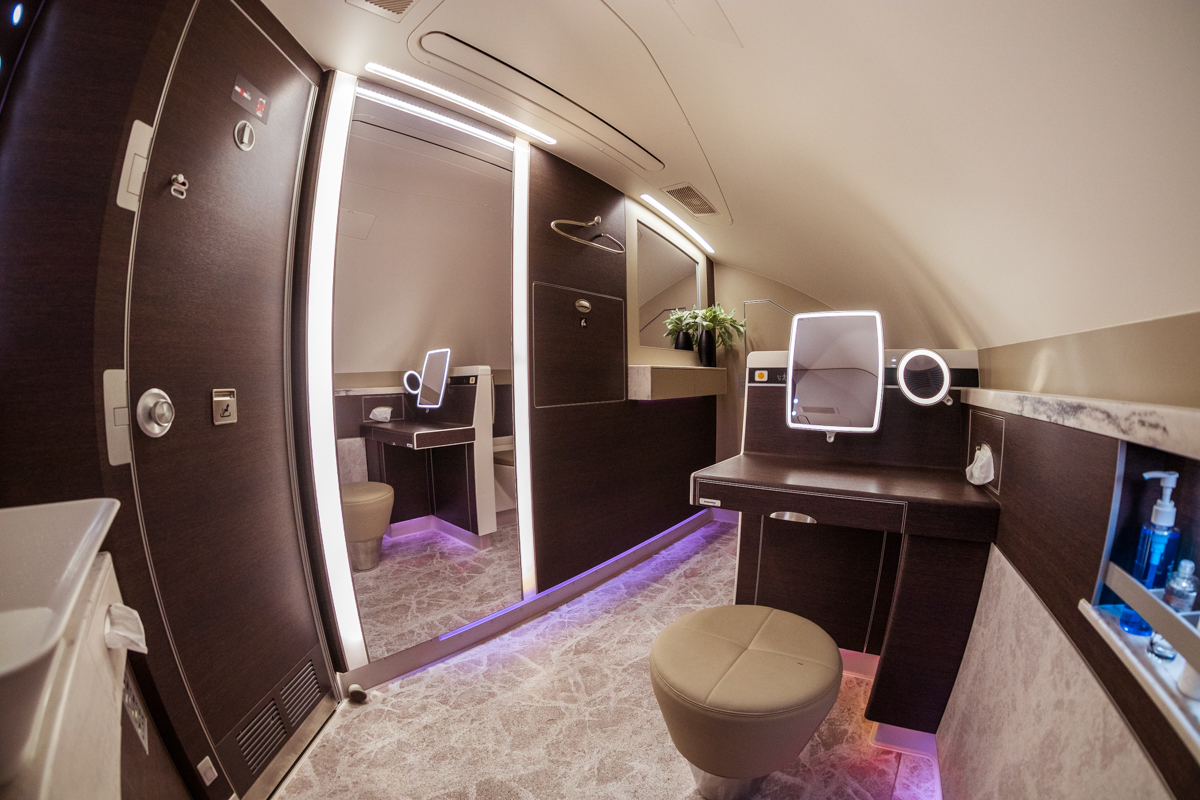 and you can enjoy a glass (or bottle!) of Dom Pérignon or Krug back at your seat—sorry, suite!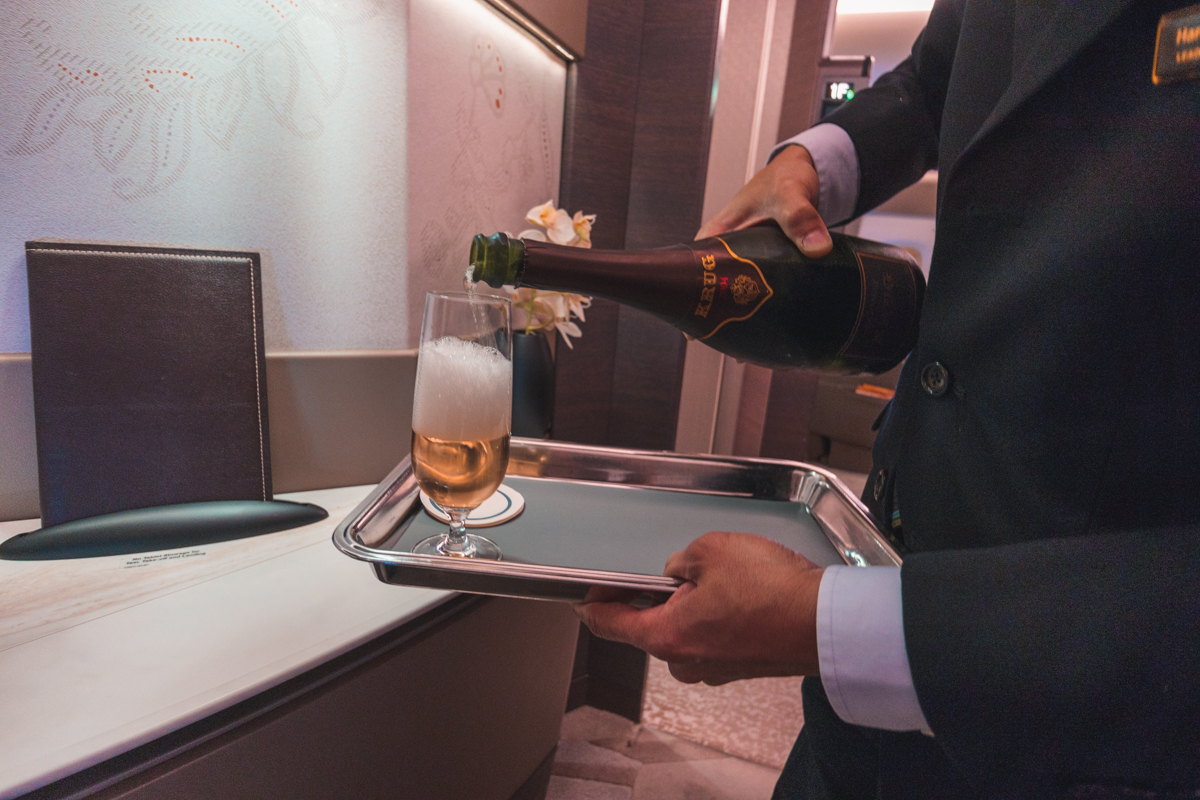 The good news? This upgraded product is already flying from Sydney and will prbably be available from Melbourne sometime later this year. The bad news? It's hard to find award seats at the Saver level, so you'll probably have to burn more KrisFlyer miles on a pricier Advantage award.
Summing up
With airlines generally preferring to invest mostly in improving their Business Class seats, a select few have decided to upgrade their First Class products. This means they have become even more luxurious, with individual seats, sliding privacy doors, caviar service and onboard showers raising the standard.
As frequent flyers, we can choose to save up our points and redeem them for these uber-opulent experiences.
With over half of the airlines featured in this guide offering quite different products across their fleet, the aircraft type is what counts most. Therefore, it is important to make sure exactly which plane you are on when going through the booking process.
For more in-depth information, you can check out all of our First Class reviews here. And these are the top 10 Business Class products flying to and from Australia.
I would love to hear from you. Do you agree with my rankings? Why or why not? Please share your thoughts in the comments below.
The top 10 First Class products flying from Australia [2020]
was last modified:
May 18th, 2022
by