There's no denying that Business Class is a great way to fly. And for most premium travellers, it's also enough. You typically get a fully-flat bed, direct aisle access and meals and drinks to match at least a café – if not better. But First Class is on another level, with the very best suites truly taking luxurious travel to new heights.
In Australian skies, we're fortunate to have eight different First Class suites flying on various international routes. Some old favourites like Etihad's Airbus A380 Apartments and Thai Airways' Boeing 747 First Class no longer fly here, sure. But there are plenty of excellent alternatives for being spoiled at 40,000 feet.
Of those cabins, here are the suites that the Point Hacks team consider to be the top five for Australian travellers in 2023. As with our recent Best Business Class article, here, we're looking solely at the suite. Not the wine list, not the lounge, not the service, not the other amenities on board – simply, the seat itself.
1. Singapore Airlines' Airbus A380 Suites
In our book, Singapore Airlines' latest-generation Suites are the very best in First Class on flights from Australia. The sense of space, style and thoughtful design make this a true bucket list experience.
Compared to the airline's Suites of yesteryear, today's SQ Airbus A380s come with just six Suites in total. Nestled at the front of the upper deck, Singapore Airlines' Suites adopt a 1-1 cabin layout. Yes, this means there's only a single aisle down the centre of the world's largest passenger aircraft. That alone should signal how much room you have to move.
Enter your Suite to find a separate bed and armchair. And whether it's to work productively or sleep deeply, you can close the door and be in a world of your own. But there's so much more.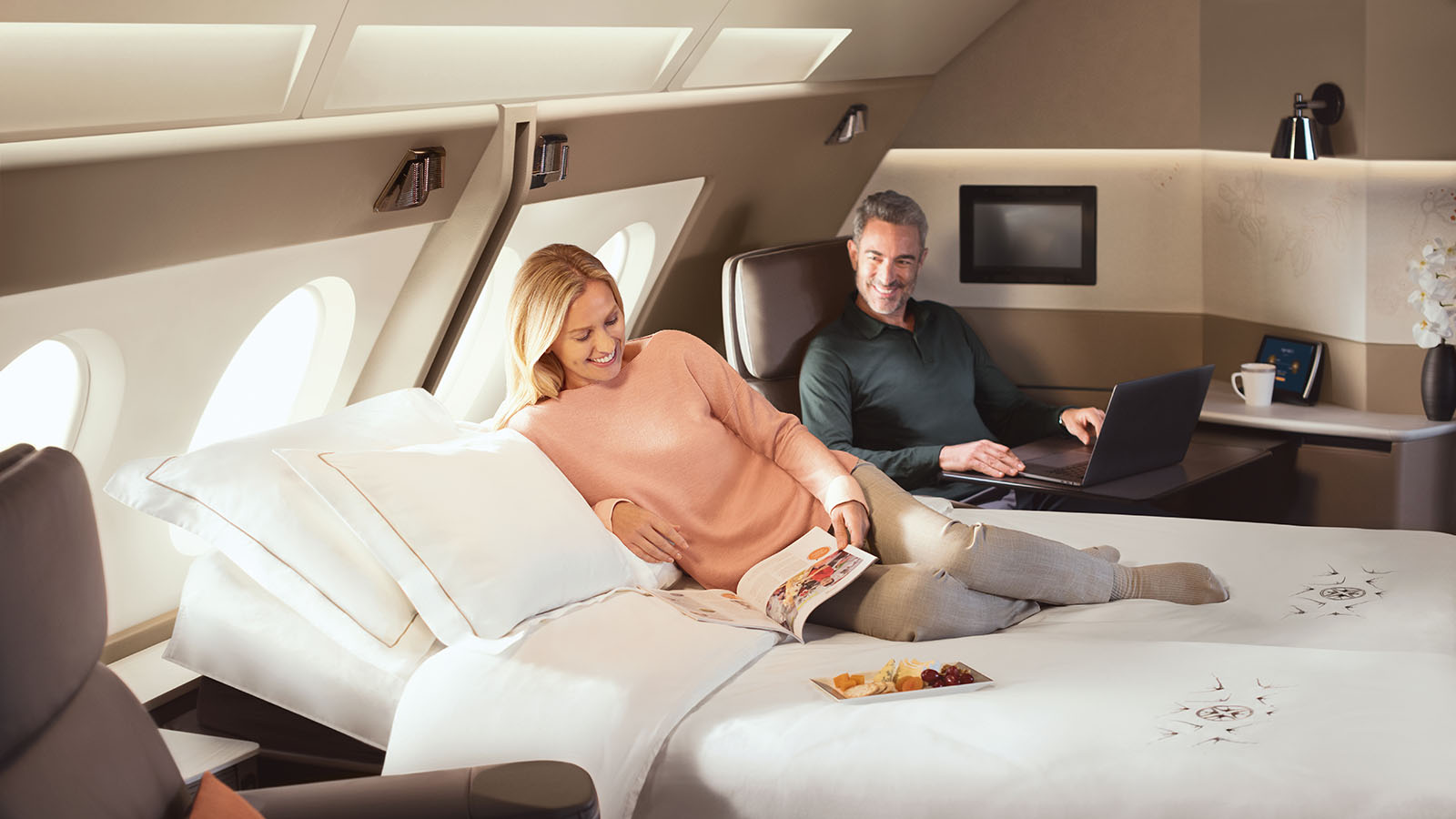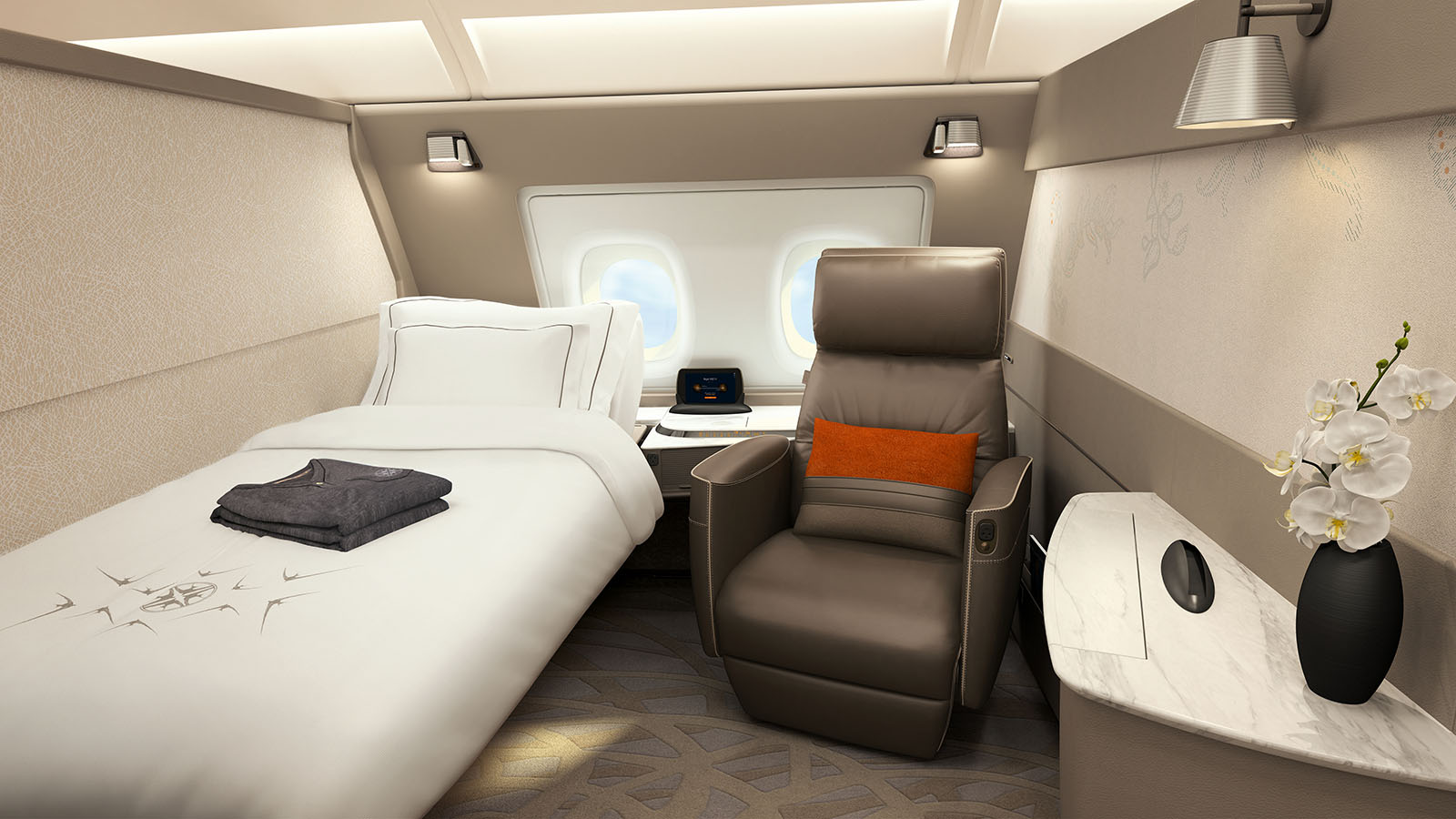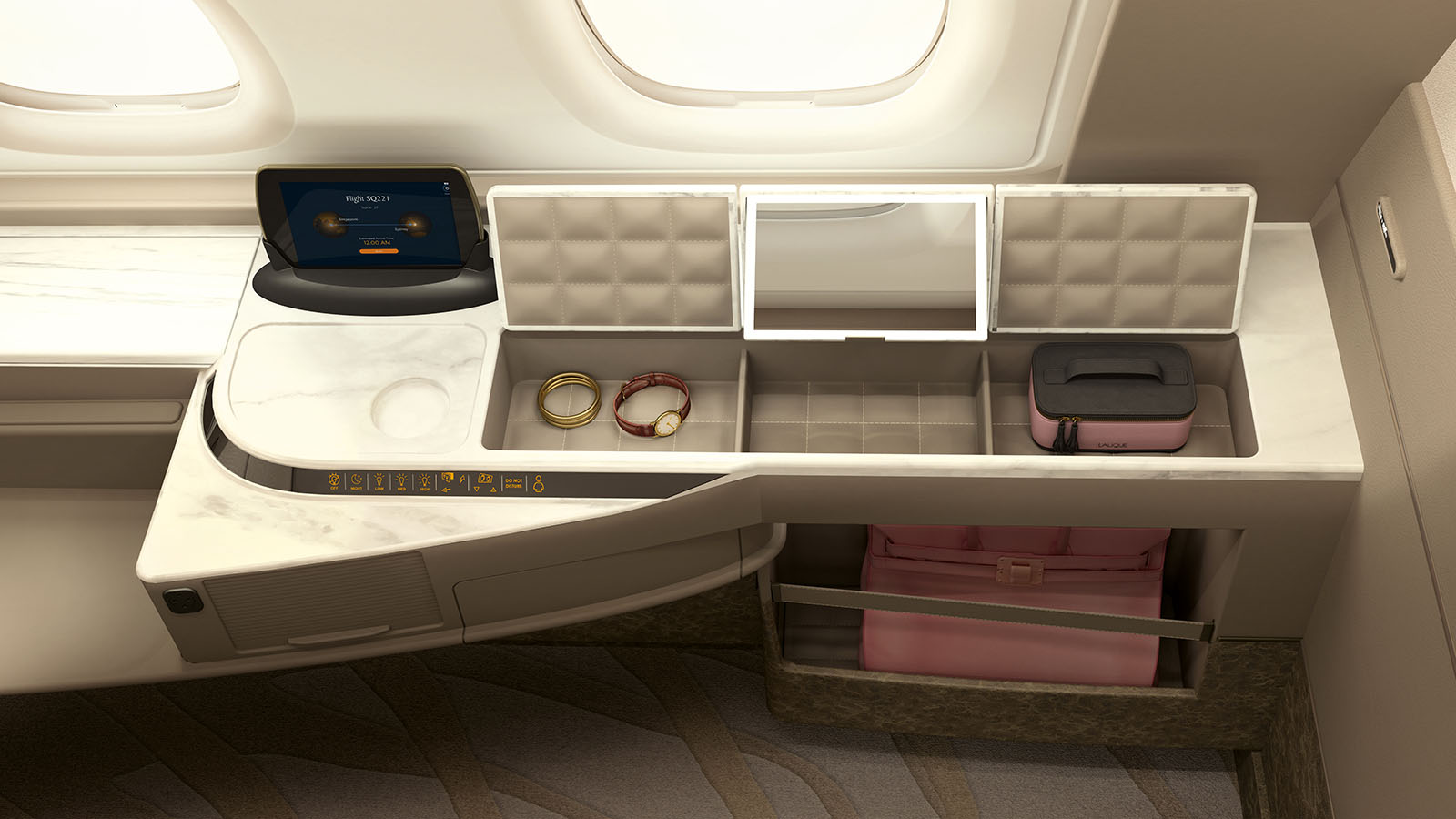 Book a pair of Suites, and you can enjoy your own shared apartment on the plane. That includes a sizeable double bed. To set it up, the crew can retract the wall between your neighbouring Suites. You're then free to roam in between. It's about as close to a private jet experience as you can get on a commercial flight.
Speaking of that double bed, the adjoining Suites that allow this are 1A + 2A, or 1F + 2F. But get in fast: with only six Suites to begin with, these choice picks are quickly snapped up.
Point Hacks review: Singapore Airlines Airbus A380 Suites (Singapore – Sydney)
Watch Toby's experience here:
2. Emirates' Airbus A380 and Boeing 777 First Class
Emirates offers First Class on all but a handful of its international flights. This fortunately finds First Class on every single Emirates service into and out of Australia. With Emirates, passengers can dart across the Tasman, venture to Asia or jet to Dubai and beyond at the pointiest of pointy ends.
For now, the airline doesn't fly its leading 'game changer' First Class suites Down Under. But what we'll call its 'regular' First Class suite is still a great choice. It arguably outperforms all other alternatives in Australian airspace.
So what makes it stand out? Well, it begins with closing privacy doors. At the time of writing, Emirates is the only carrier other than Singapore Airlines to feature them in First Class on Australian routes. You won't find them in the First Class cabins of Qantas, Qatar Airways, American Airlines, British Airways or Air China – cementing Emirates' higher rank.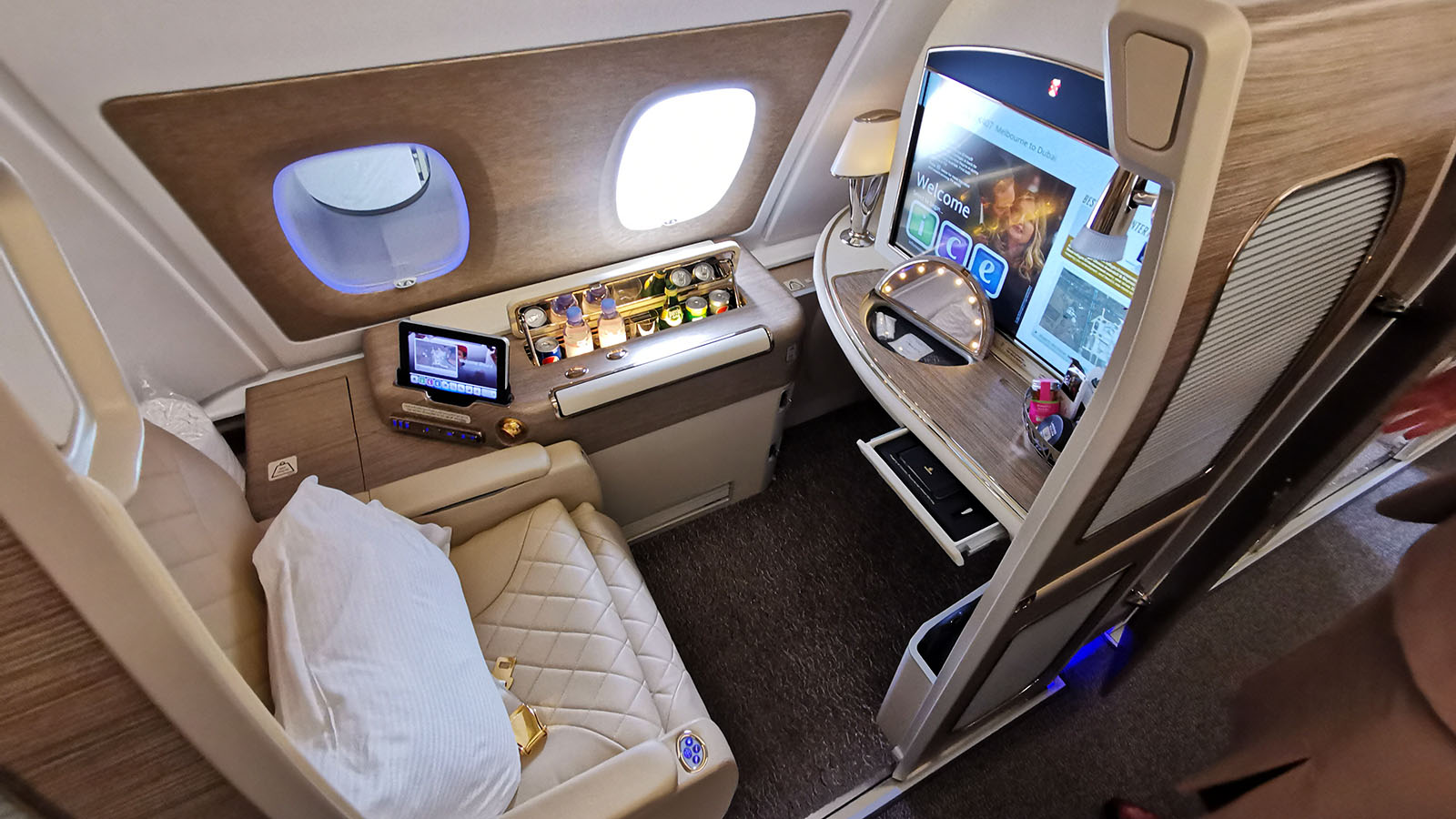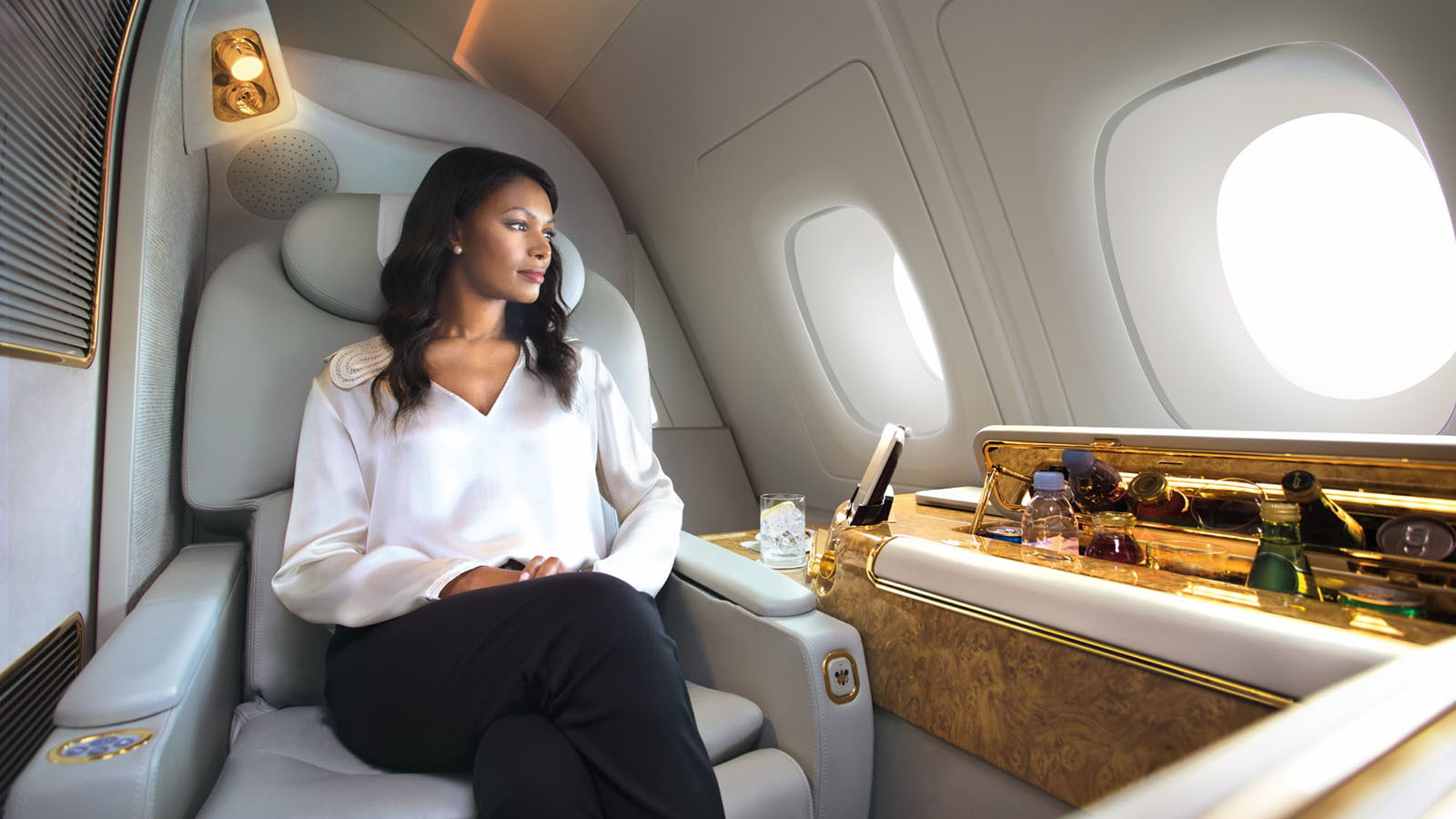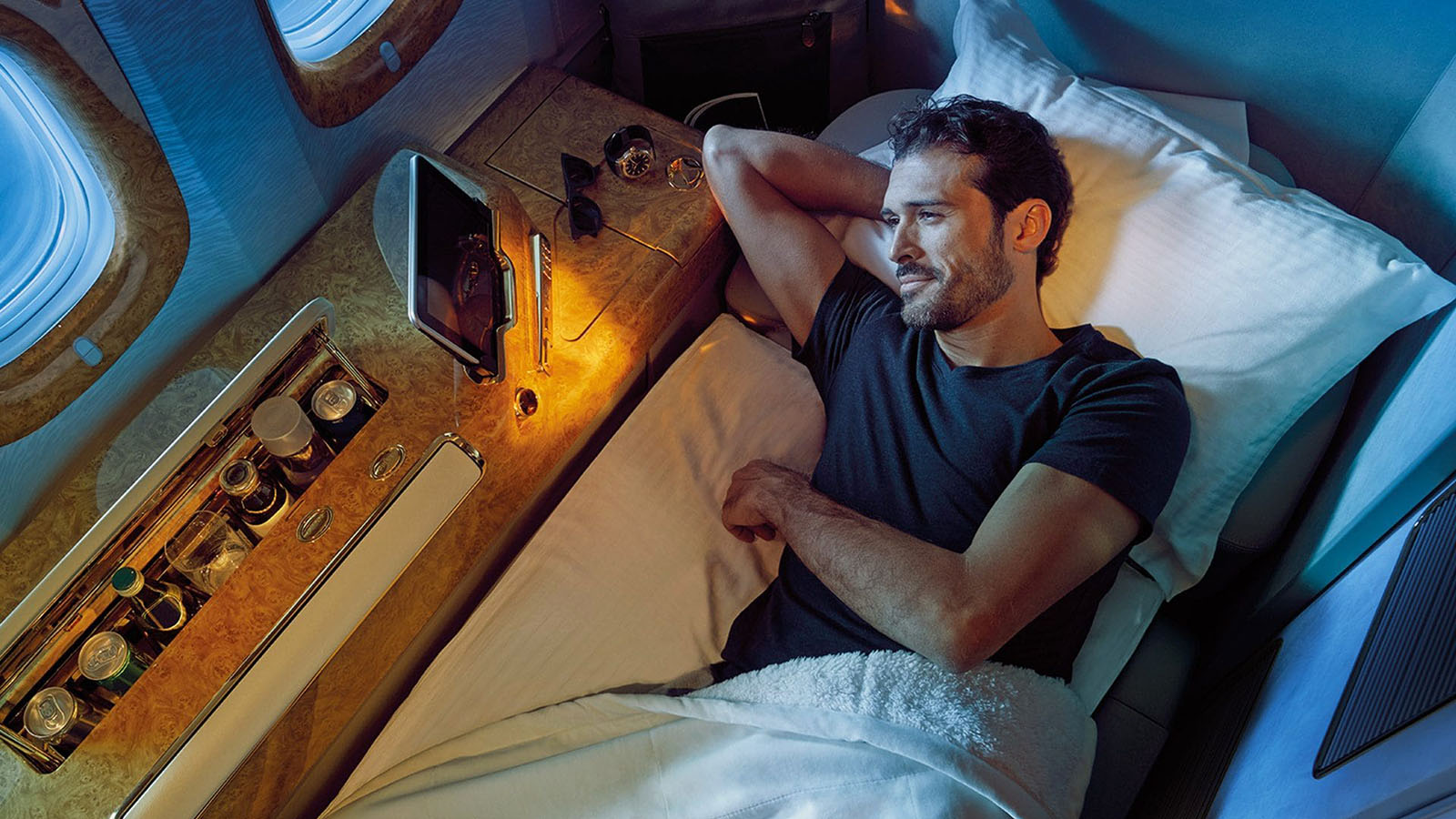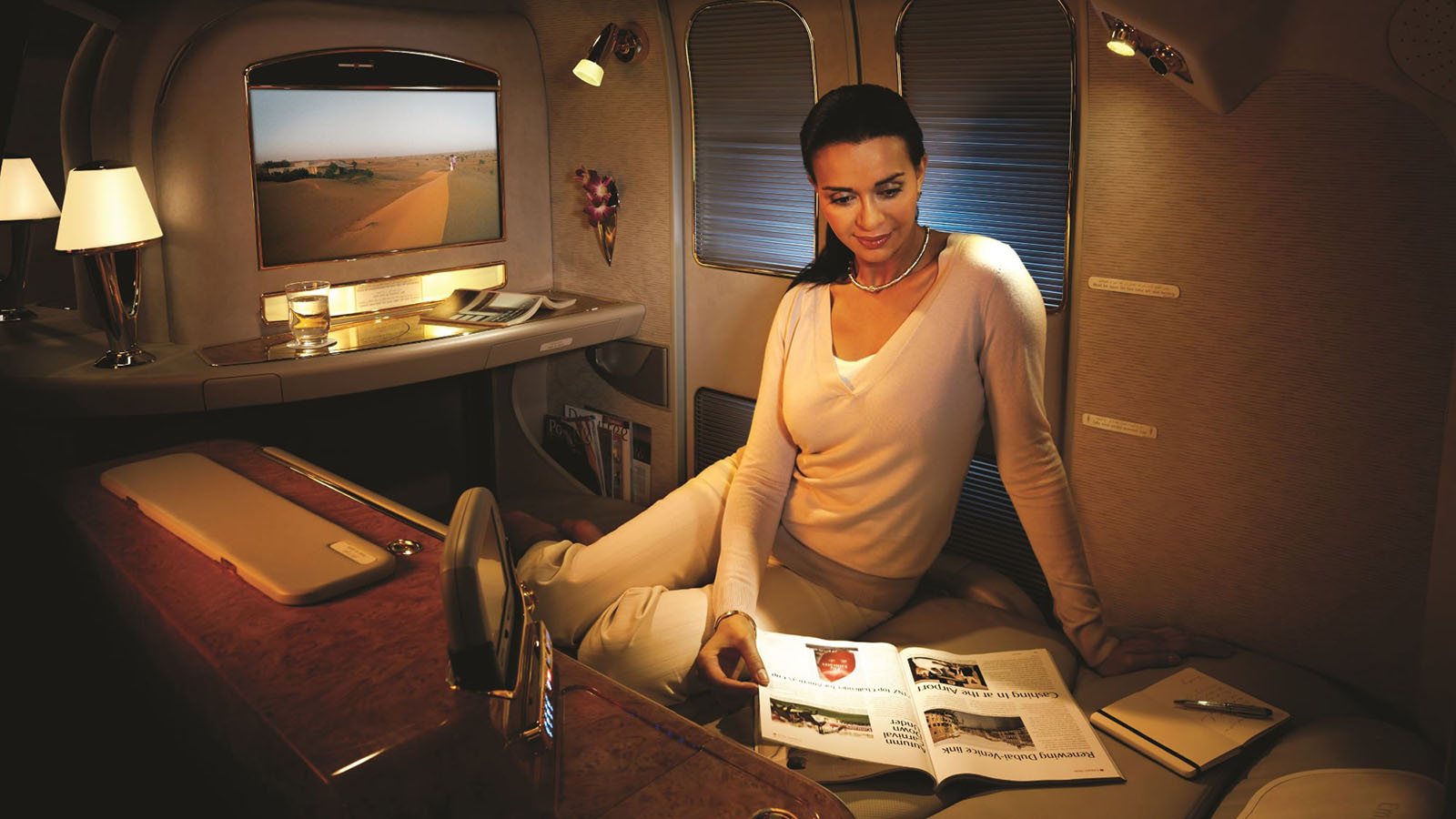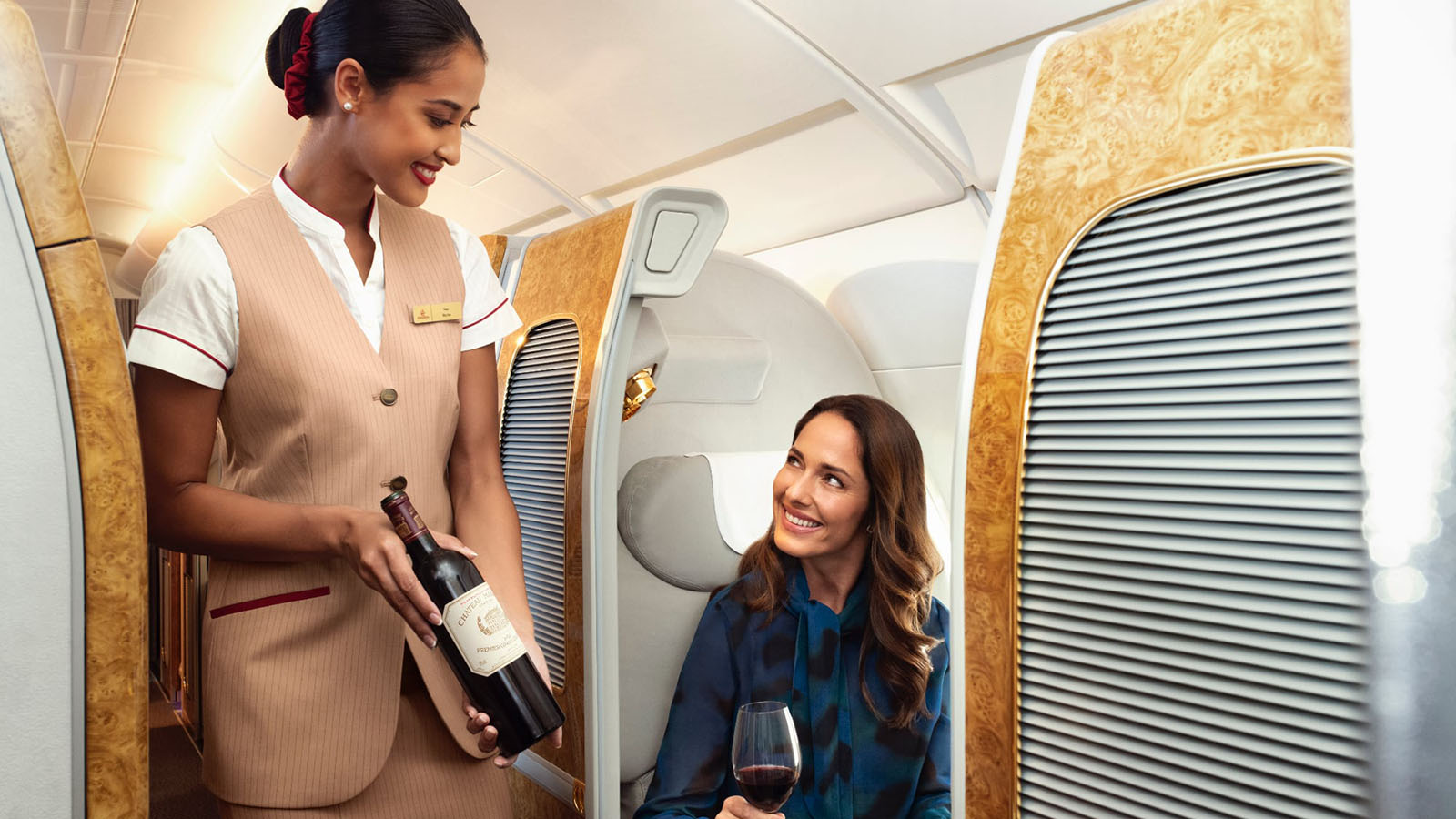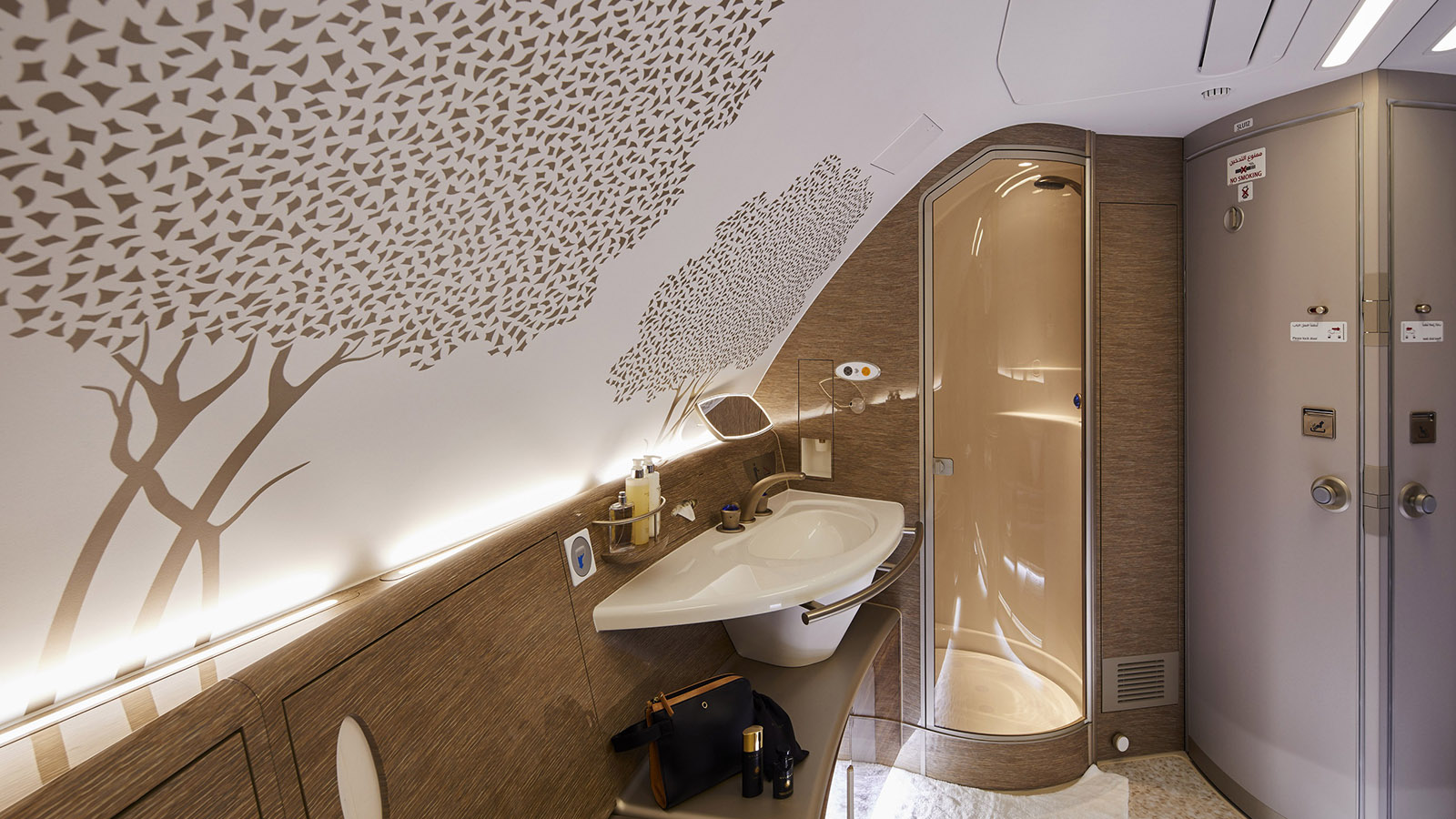 Emirates' First Class suites also sport a variety of small but thoughtful touches. Want to check your hair or touch up your make-up? Just pop the mirror open and it lights up. Want to read without that typically strong white 'plane downlight'? Switch the lamp on instead. Did a great idea just come to mind? You'll find a writing kit in the drawer.
There's a personal minibar too. For us, this feature doesn't win Emirates any extra points. The drinks are all room temperature, so you still have to buzz the crew for ice – or simply, a cold drink. A bigger X-factor is the two shower spas on Airbus A380 flights. They don't contribute to Emirates' rank here, as we're again focusing solely on the suite. But you can't talk about Emirates First Class and not mention the shower at 40,000 feet…
Also read: Experiences – Ultimate Emirates First Class luxury to Europe with Qantas Points
3. Qantas' Airbus A380 First
As we move into the next ranks, closing doors are no longer a differentiator. Instead, we're looking for other features that bring an X-factor to the in-seat experience. And with that in mind, we'd say that Qantas' Airbus A380 First cabin is the next-best in Australia.
The key feature setting it apart? Companion dining. Book two seats in First Class – and any two seats, at that – and one can come and join the other for a meal. It's not often you can truly share breakfast, lunch or dinner with someone on a plane at the very same table. Some airlines, like Air New Zealand, offer this in Business Class: but it's a tight squeeze. Here, there's more space – making it just as suitable for couples as for colleagues or high-flying business partners.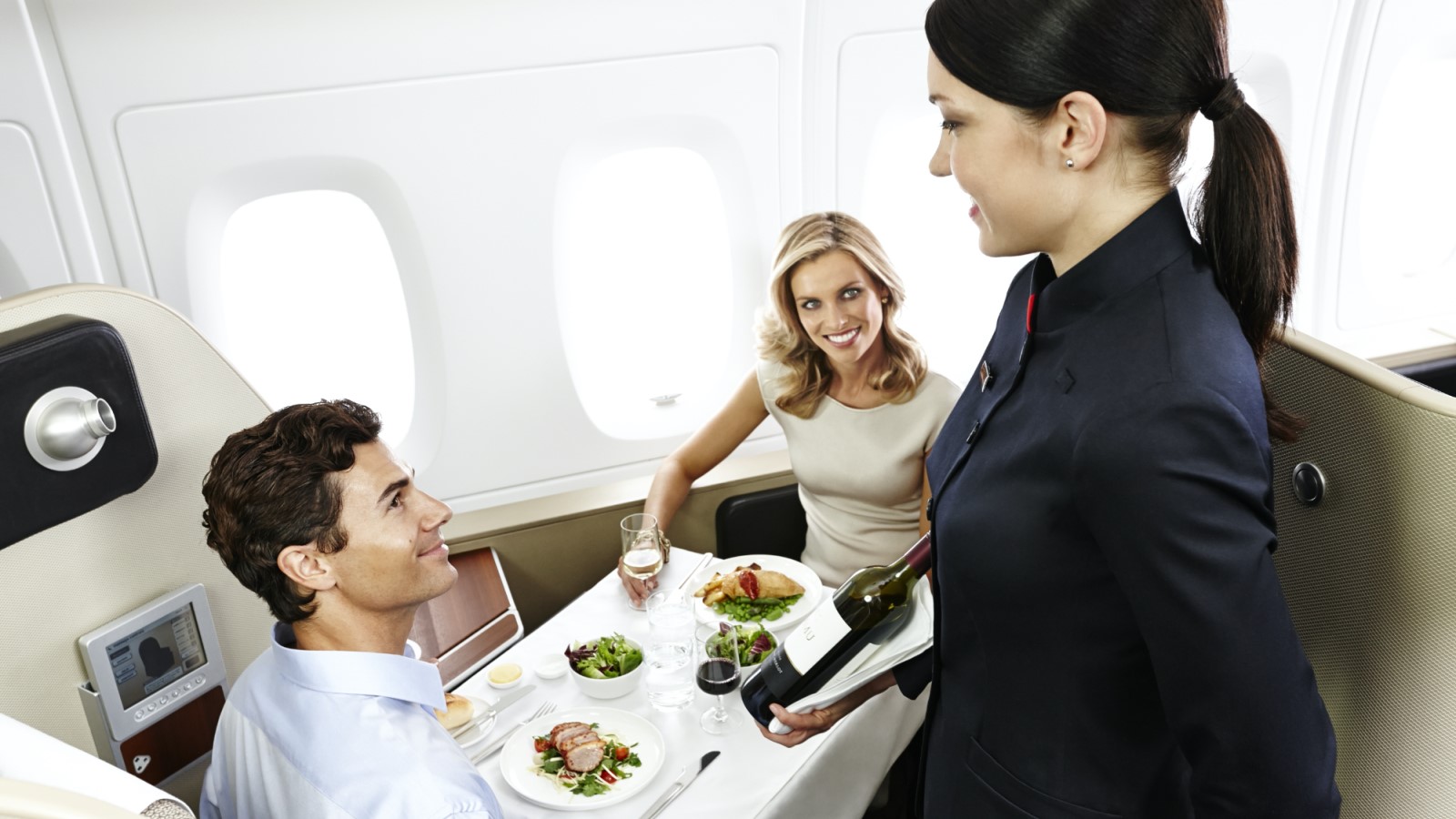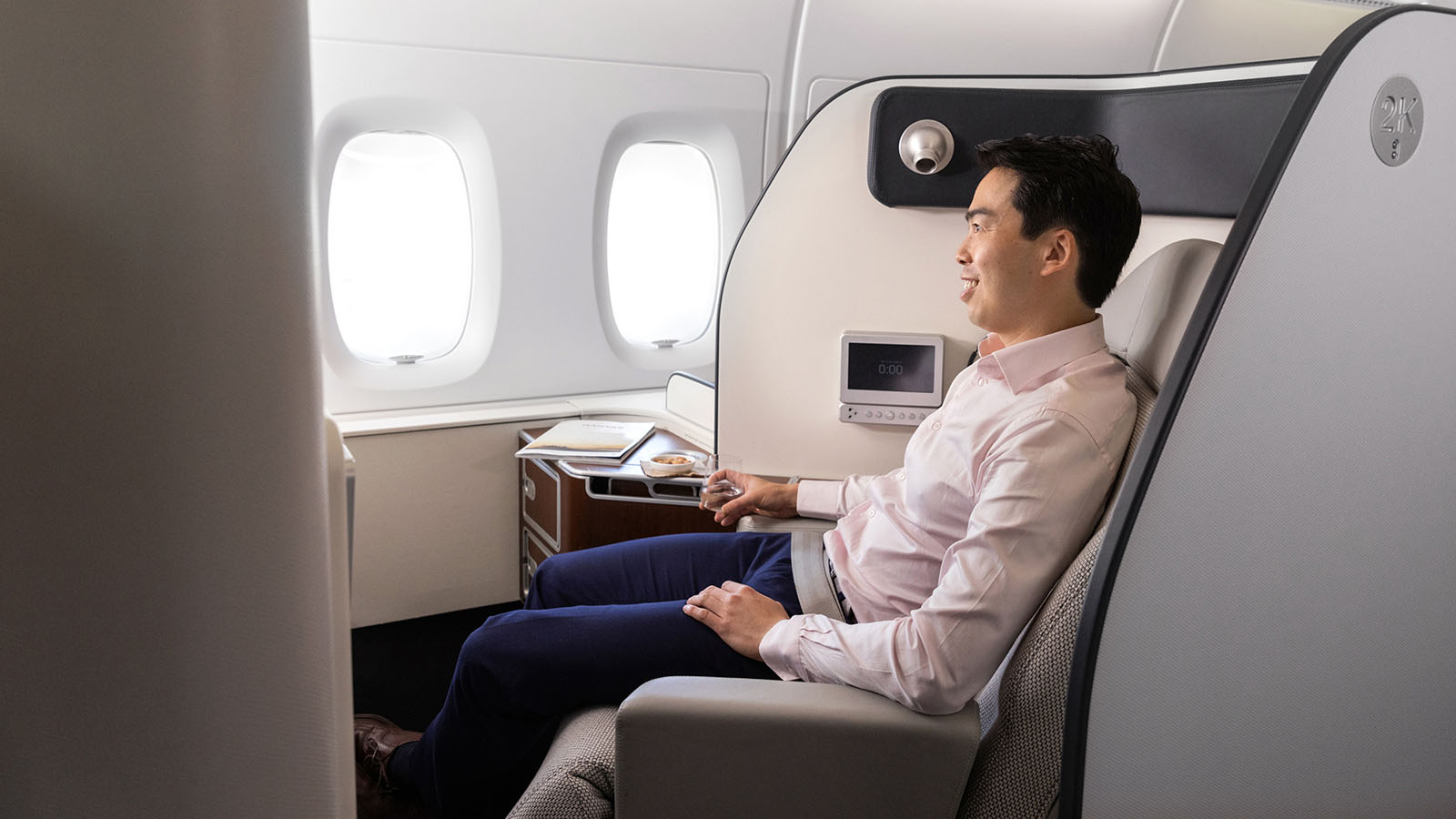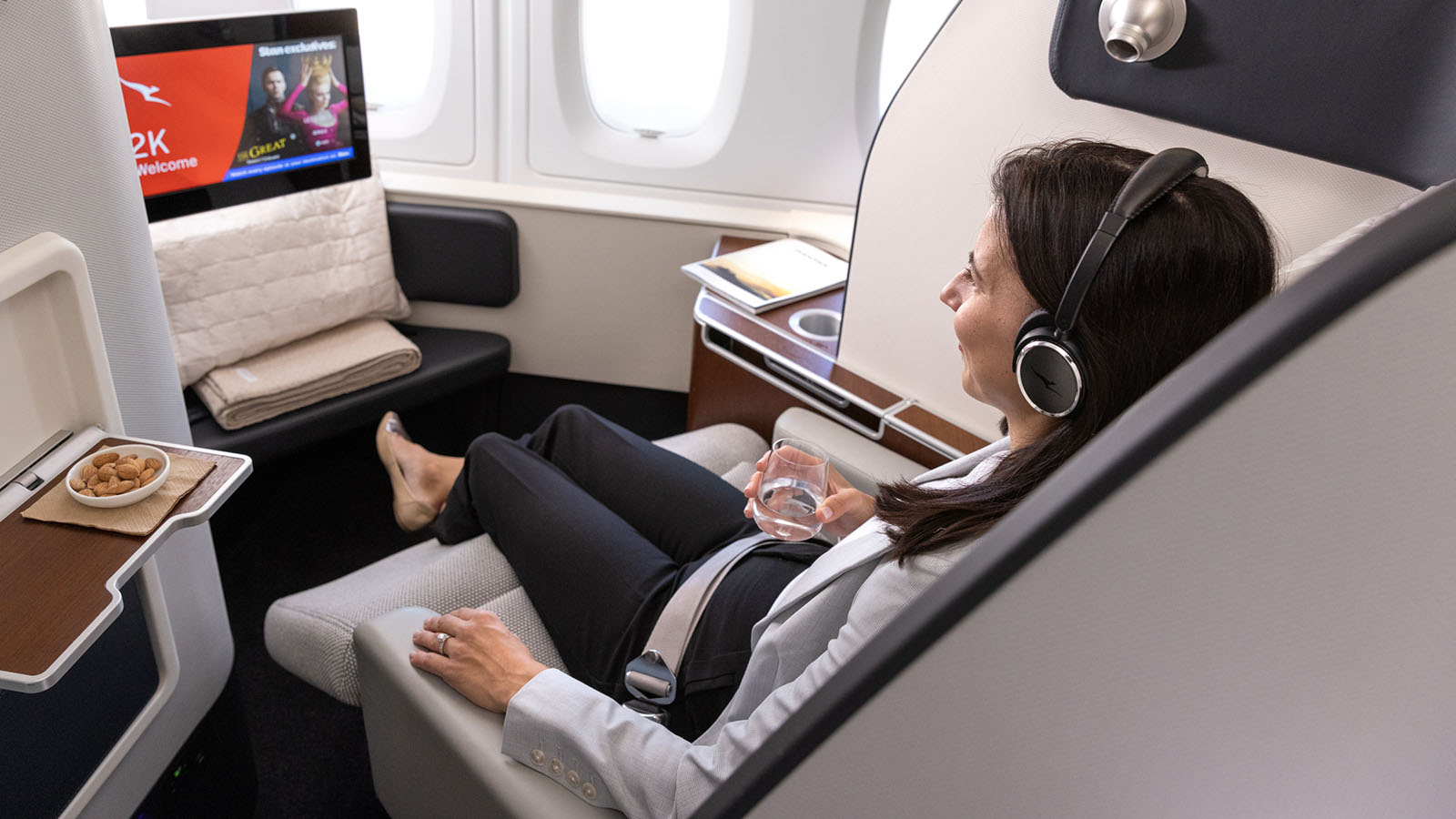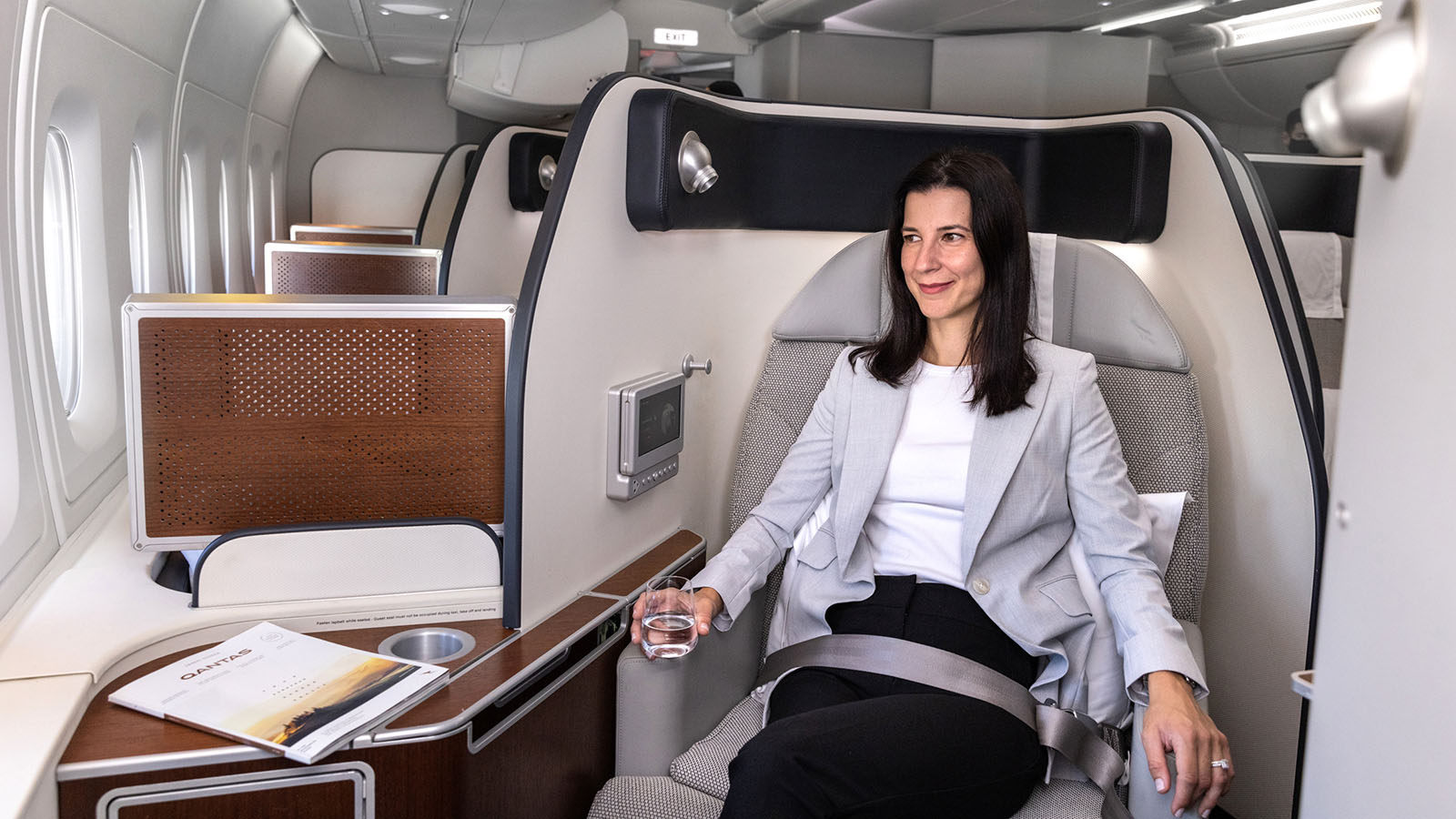 As for the seat itself, the high-backed shell provides a reasonable degree of privacy. After take-off, your seat swivels away from the aisle, adding to that private feel. And when it's time to doze, your suite transforms into a 212cm bed with a pillow menu, as well as a Sheridan throw, duvet and memory foam mattress. For many Qantas flyers, the restful sleep is the biggest drawcard of flying overnight in First.
Point Hacks review: Qantas Airbus A380 First (Sydney – Singapore)
Ad – Scroll down to continue reading.Minimum spend, terms & conditions apply.
4. Singapore Airlines' Boeing 777 First Class
Our next rank recognises sheer space. And with that in mind, this place goes to Singapore Airlines' Boeing 777 First Class cabin. Notably, Singapore Airlines uses the different branding of 'Suites' only on its Airbus A380s, to convey the sheer sense of space. But in Boeing 777 'First Class', there's still plenty of room to move.
Here, each First Class suite is designed for one passenger, but can really accommodate two. It's not unlike a loveseat, so you can sit close to a companion, or just enjoy the room and stretch out. That works better on shorter 'visits', as there's only one seatbelt – and this isn't a double bed.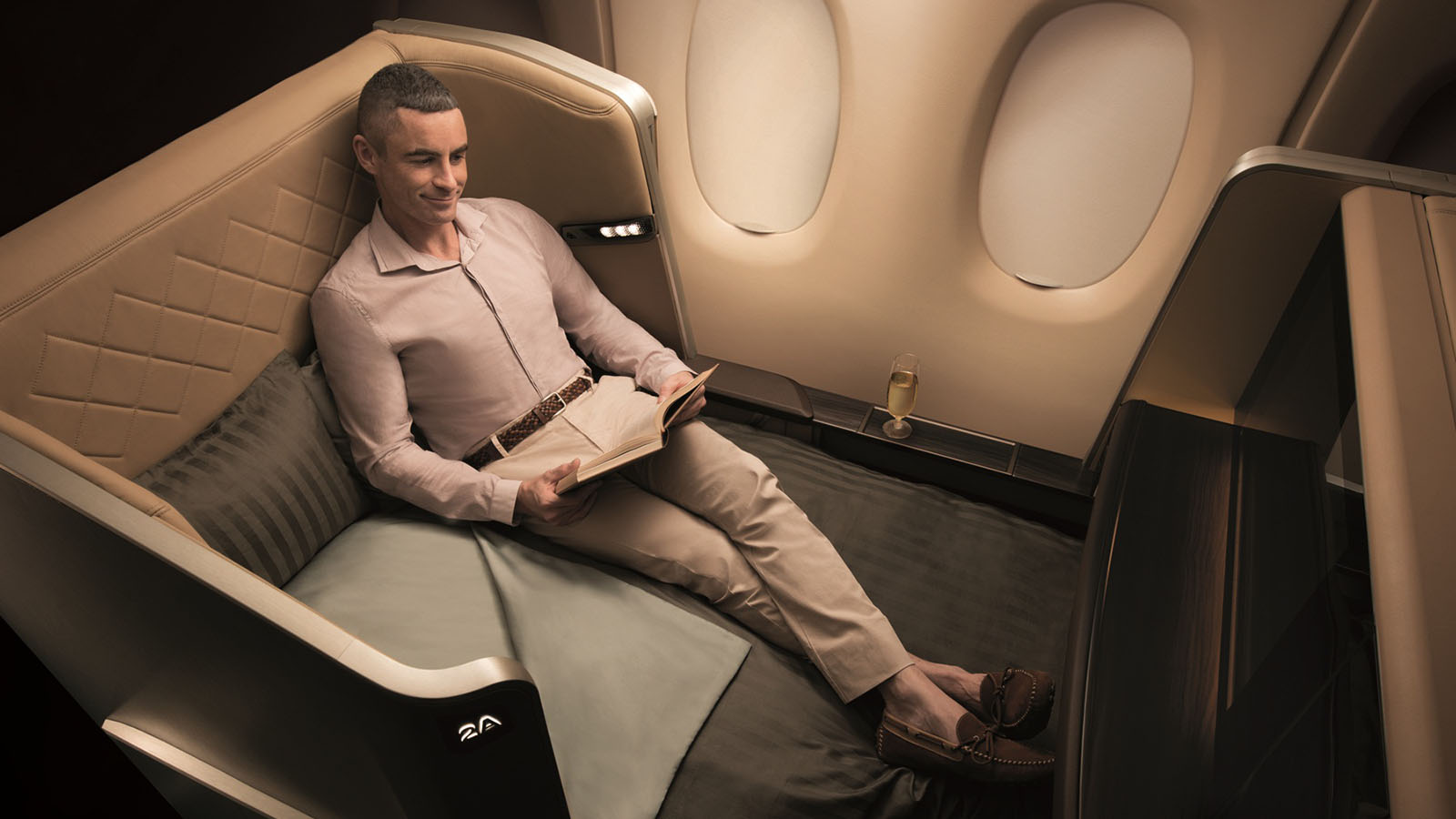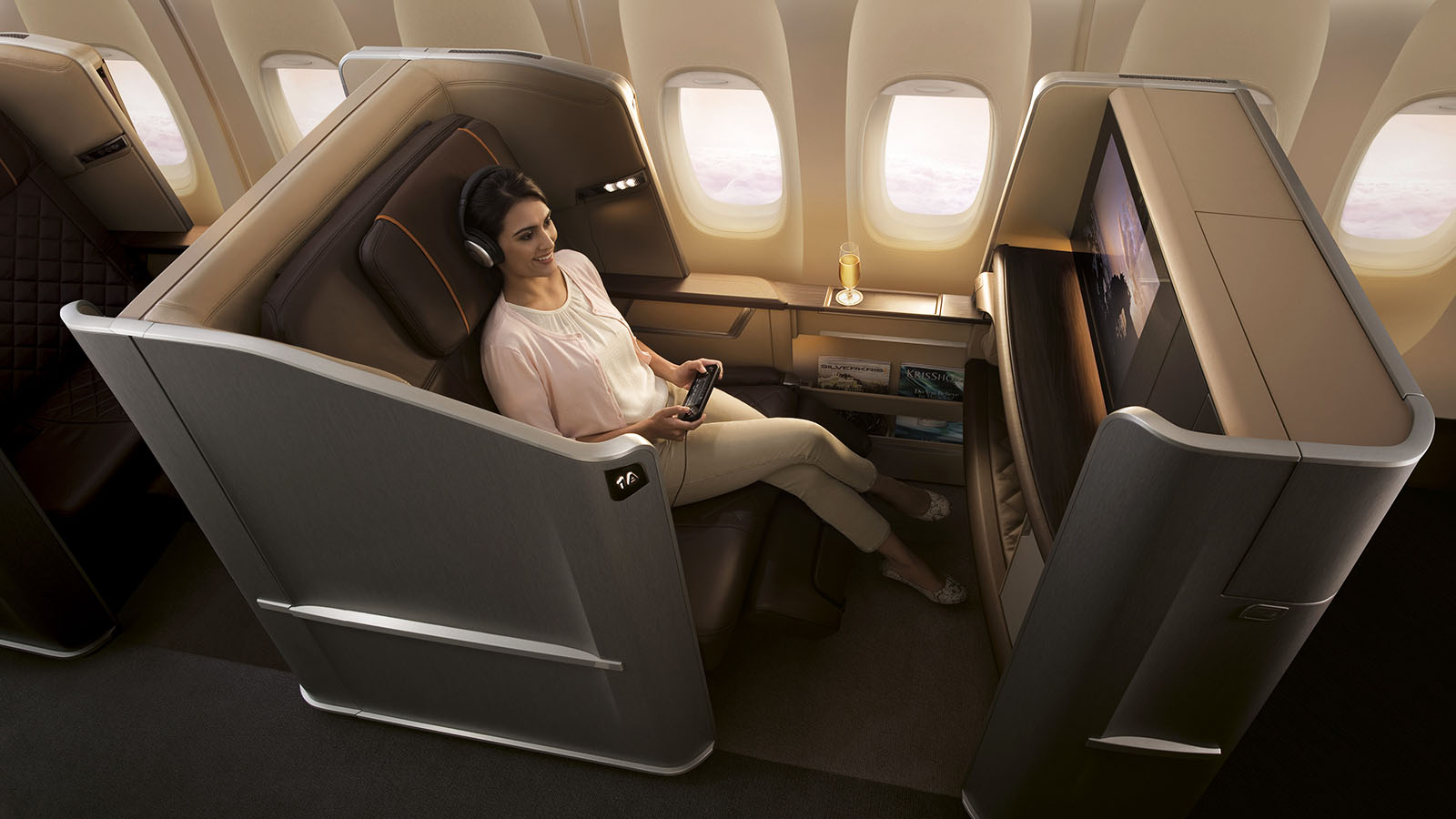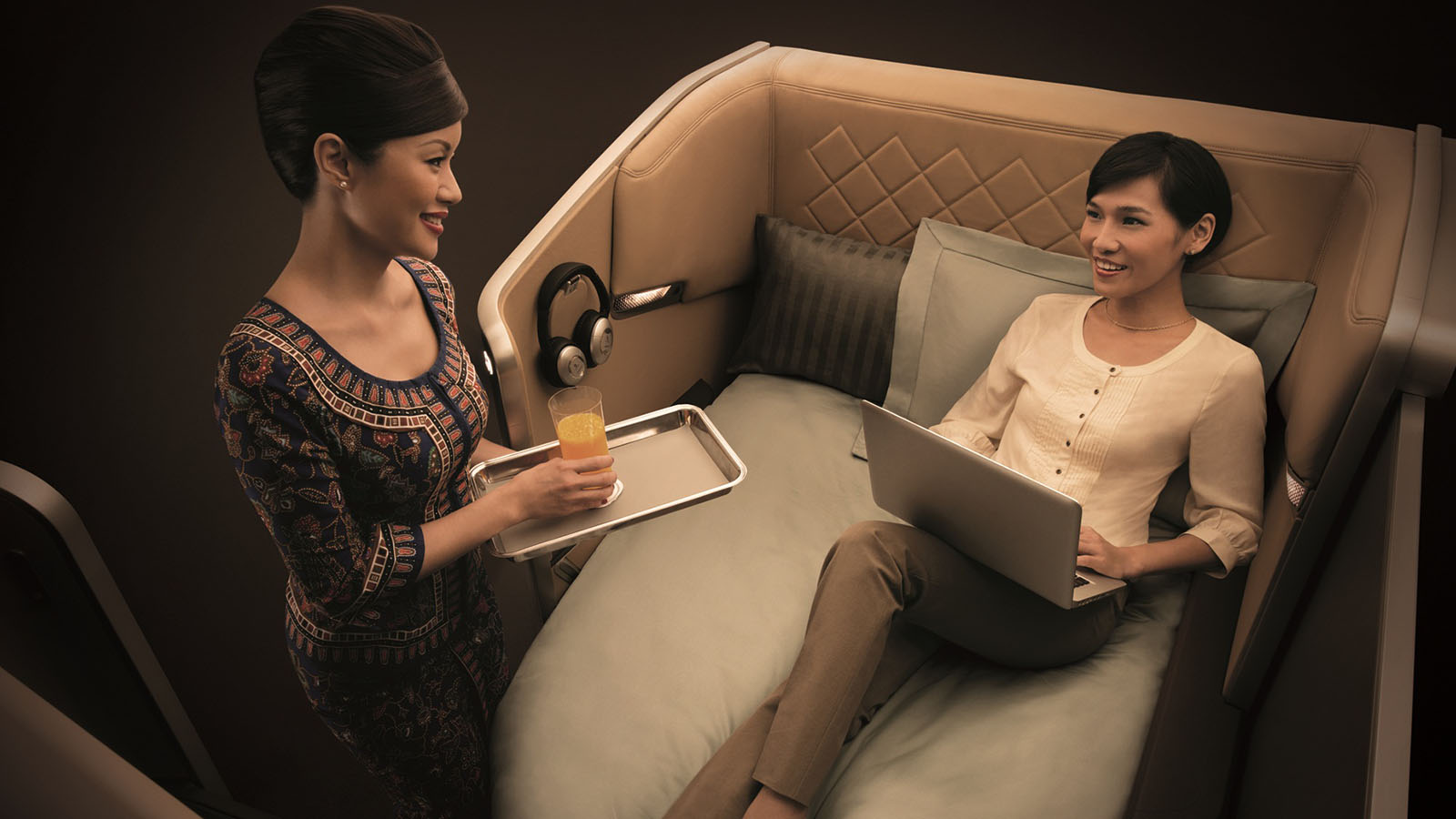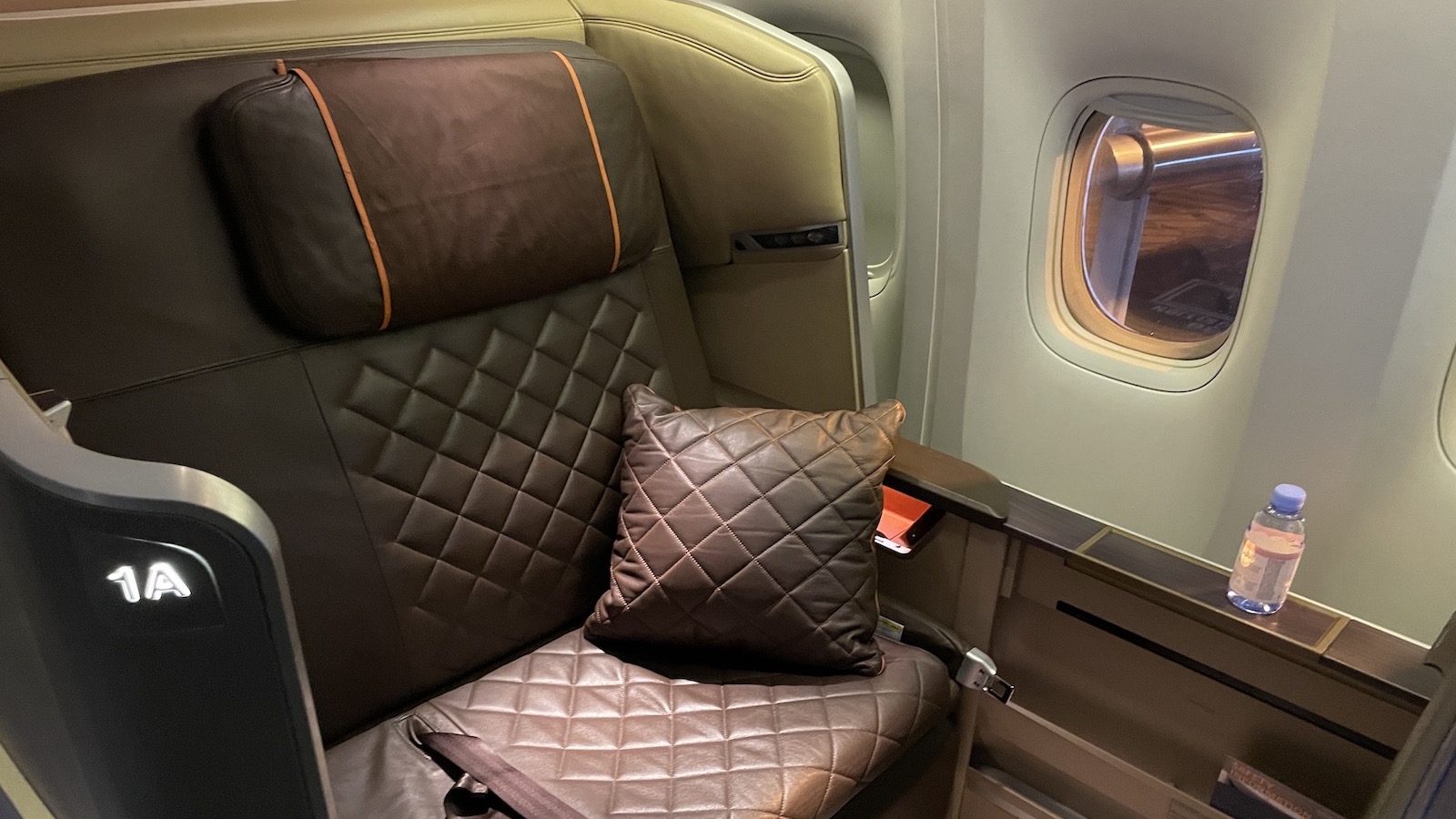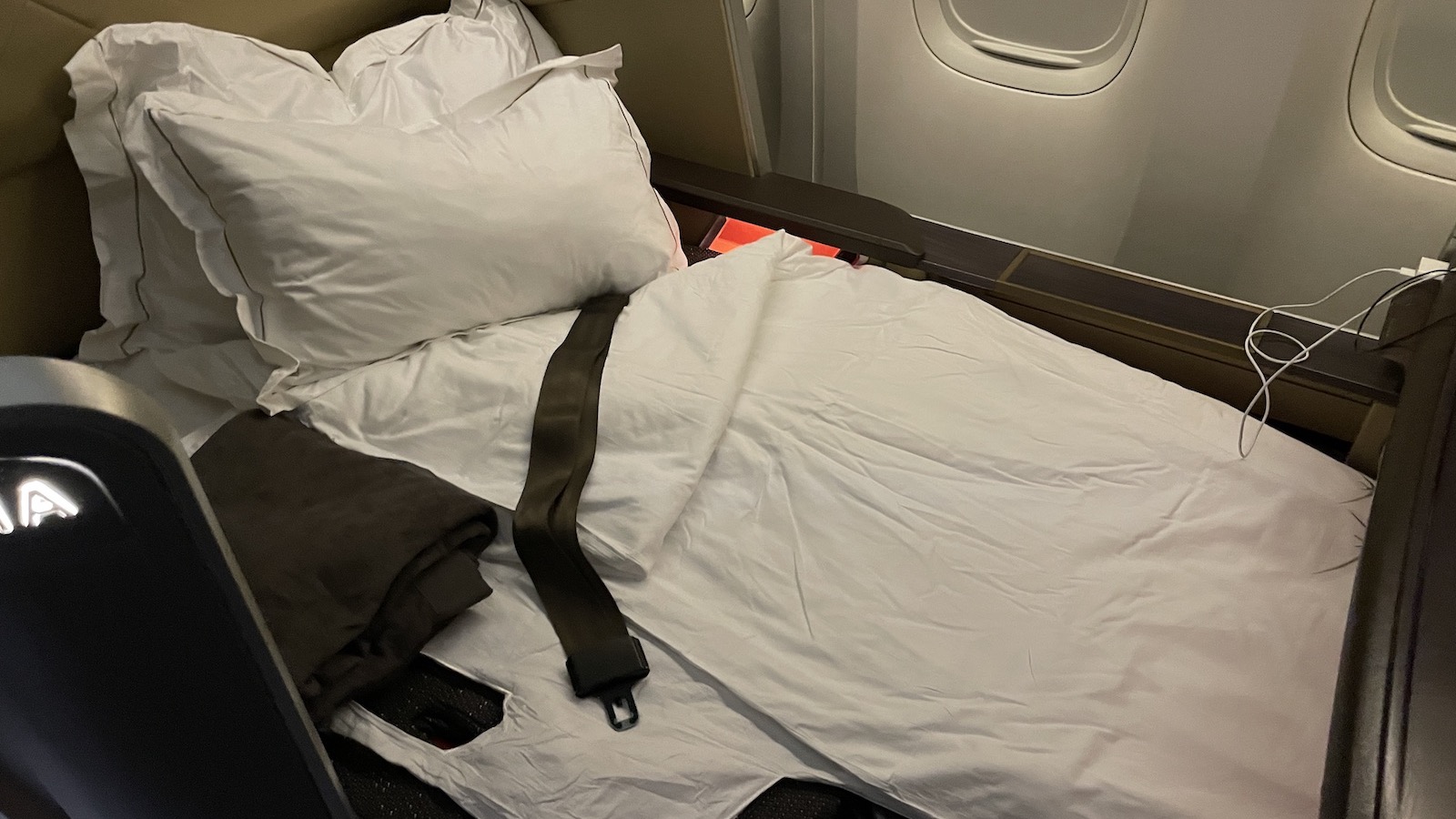 Speaking of beds, the seatback folds forward and lays flat to create one. This also reveals a comfortable padded shell behind you. Sit upright in this mode and it's like kicking back on a chaise lounge.
While not part of our ranking considerations, Singapore Airlines' food, dining and service are all the same in First Class as in Suites on comparable flights. You don't 'miss out' on those softer touches by flying in regular First Class.
You're more likely to find Boeing 777 First Class flights available at KrisFlyer's better-value Saver rate. Airbus A380 Suites often tend to be available only at KrisFlyer's Advantage rate, requiring more miles to book. But it's not a hard and fast rule.
Also read: Experience Singapore Airlines First Class for just $79 with KrisFlyer miles
5. Qatar Airways' Airbus A380 First Class
Fifth place in our rankings comes by a process of elimination from the four remaining First Class suites flying to Australia. Of those, Qatar Airways' First Class seat arguably looks and feels much more premium than its competitors.
Qatar Airways goes big on style, but in a very understated way. There's nothing overly loud and blingy. Instead, a collection of smaller touches complement each other as part of that subtle design language. Think textured shells, chiselled metals, tanned leather, modest woodgrain and bursts of the airline's signature purple. They all come together to create a First Class seat that outmanoeuvres the other contenders on flights from Australia.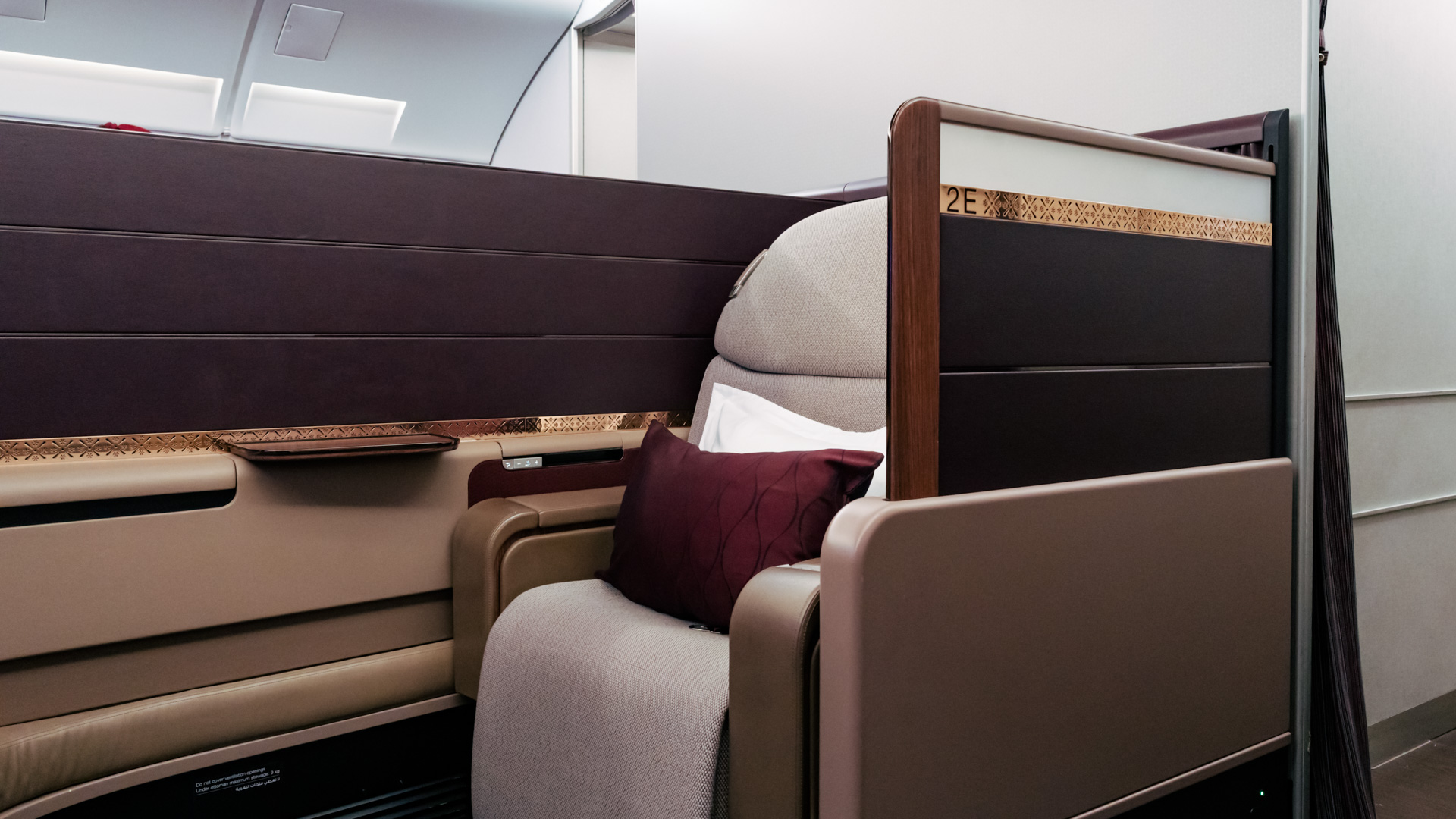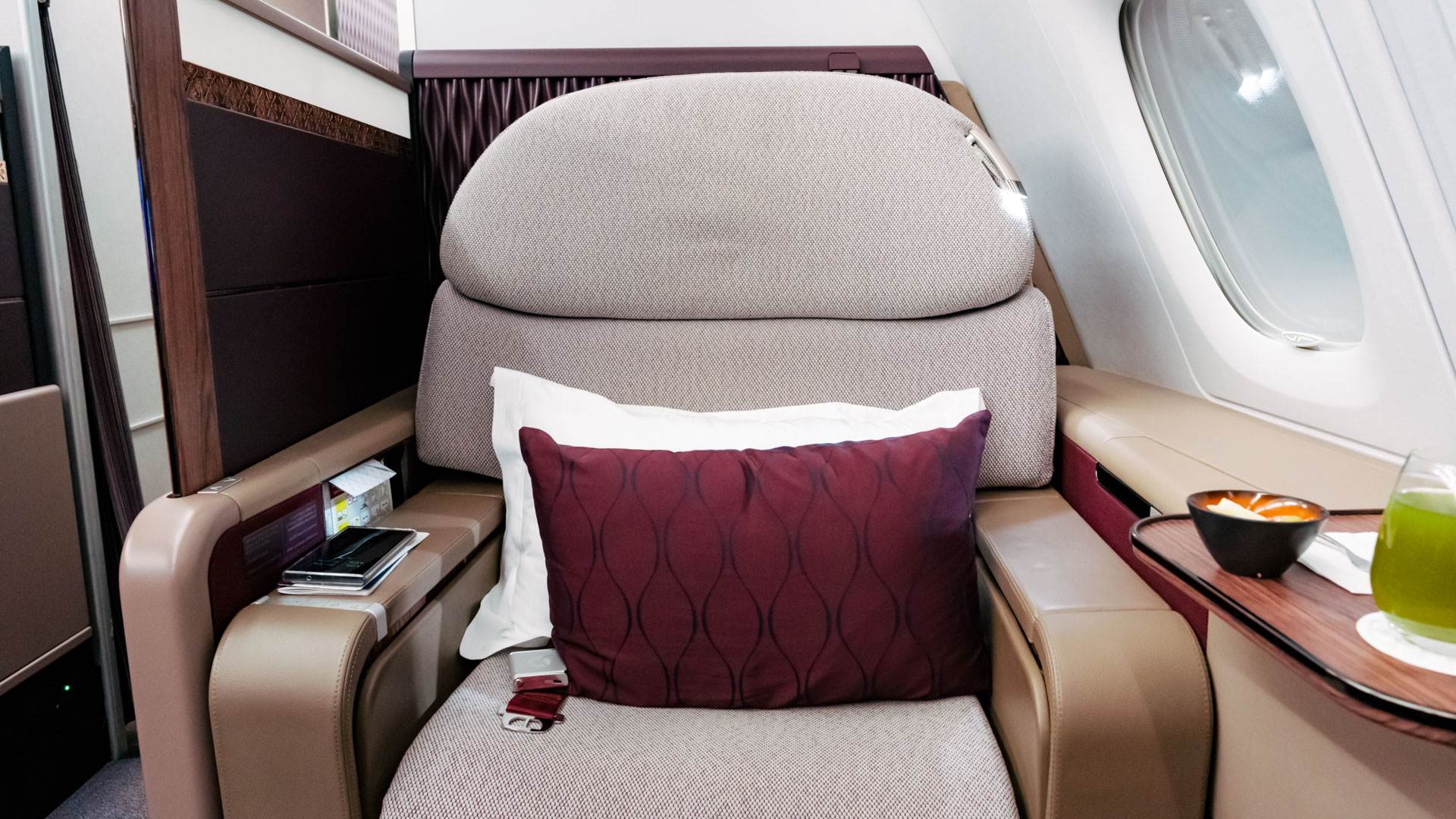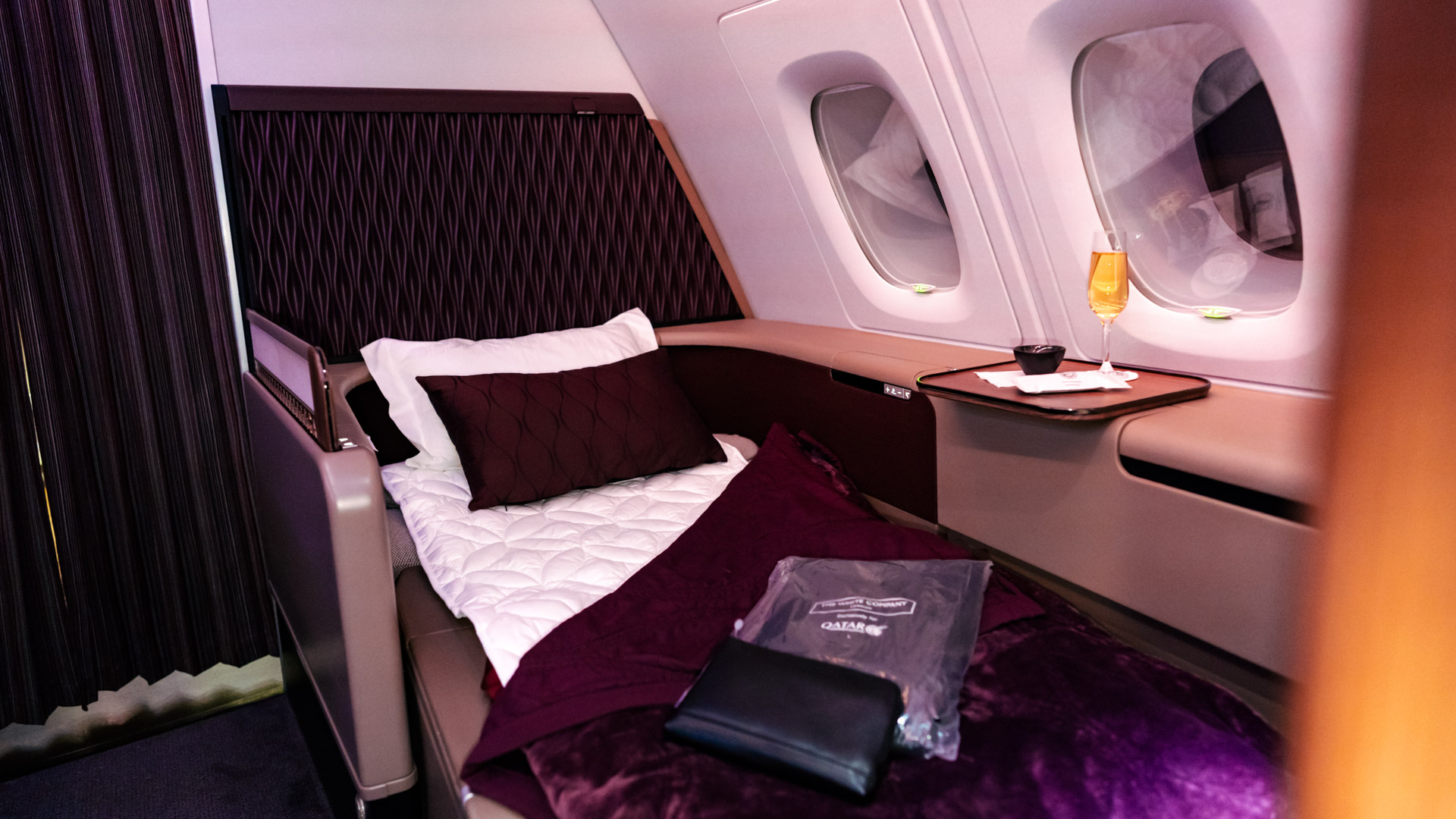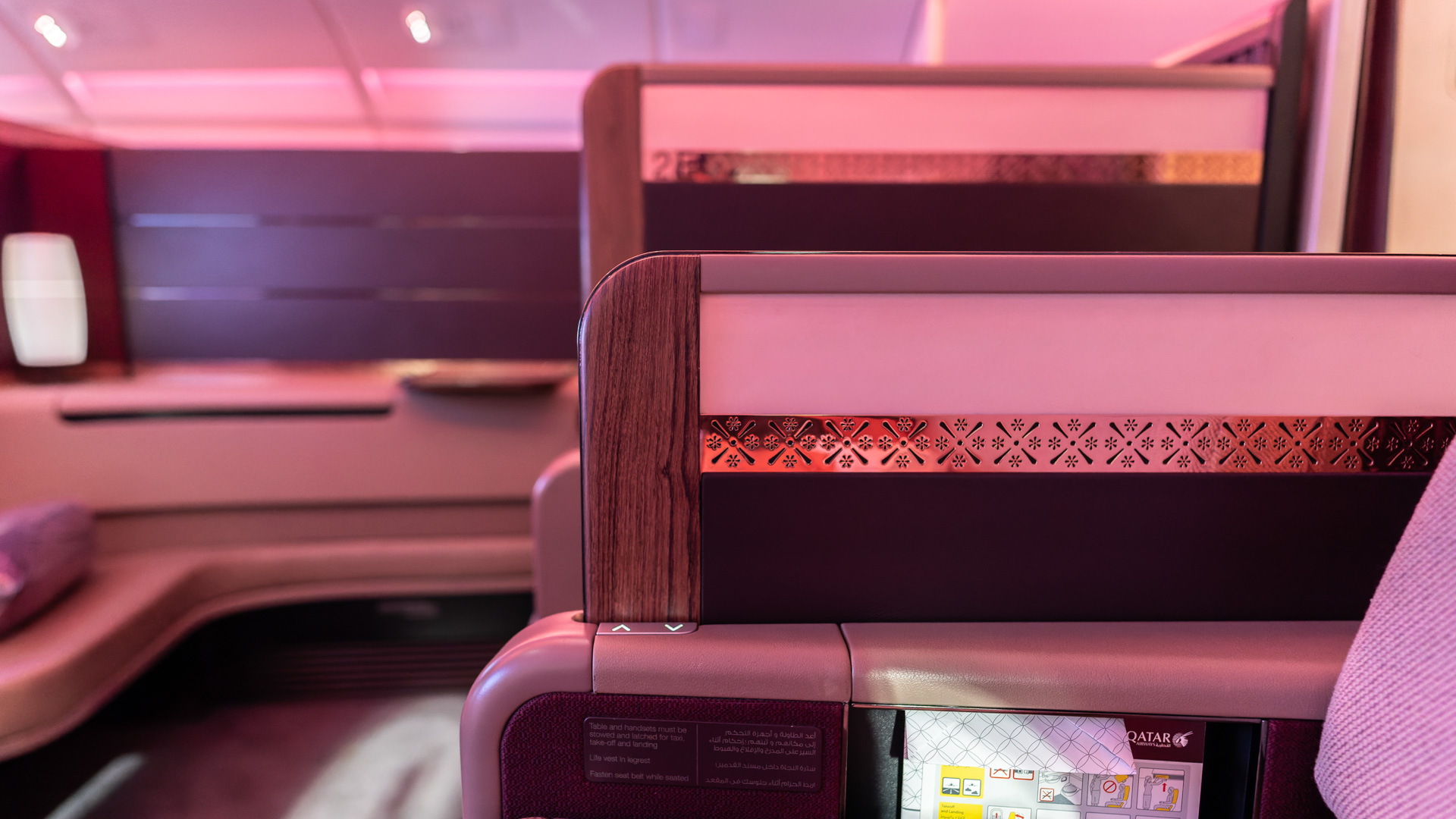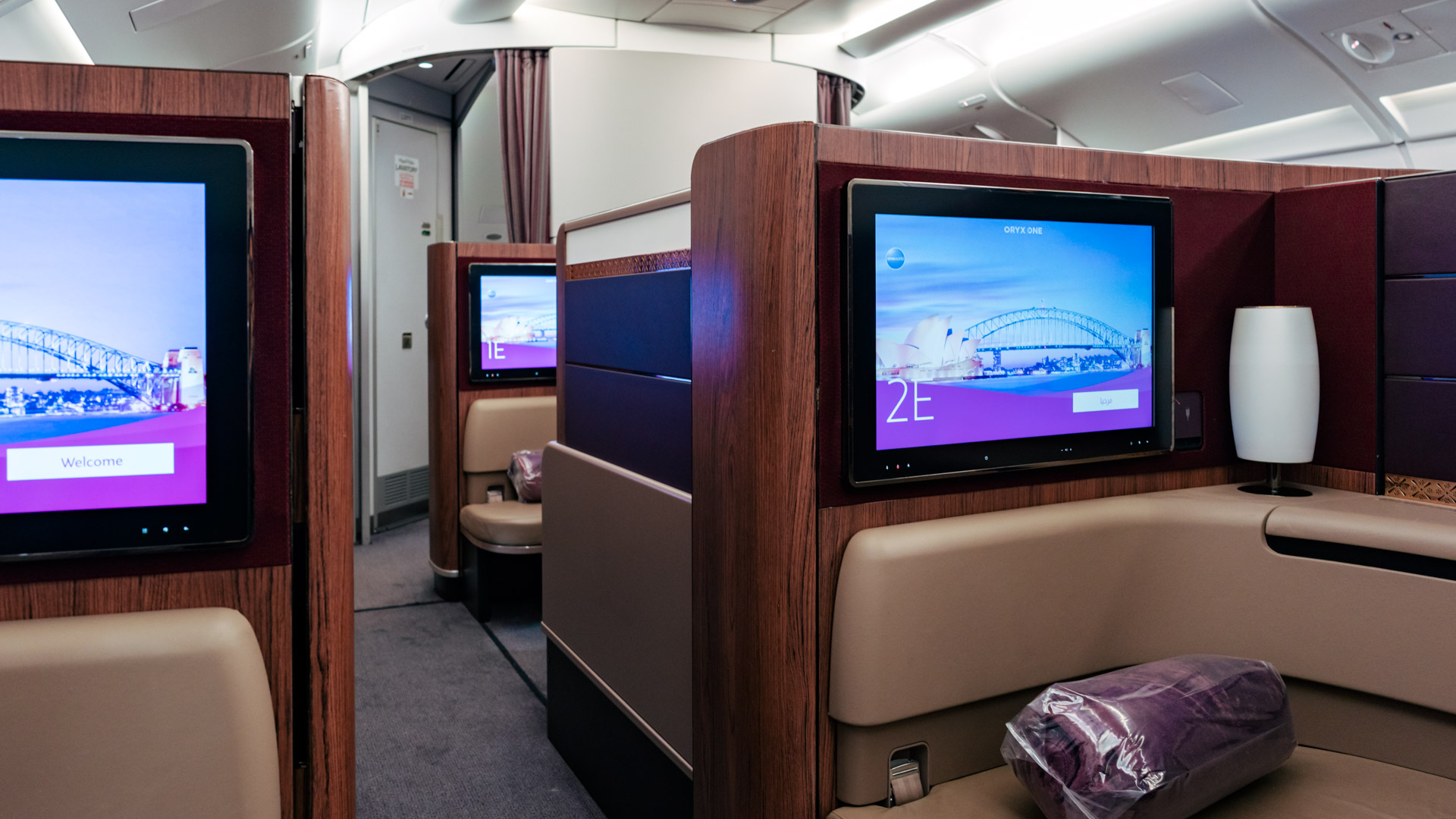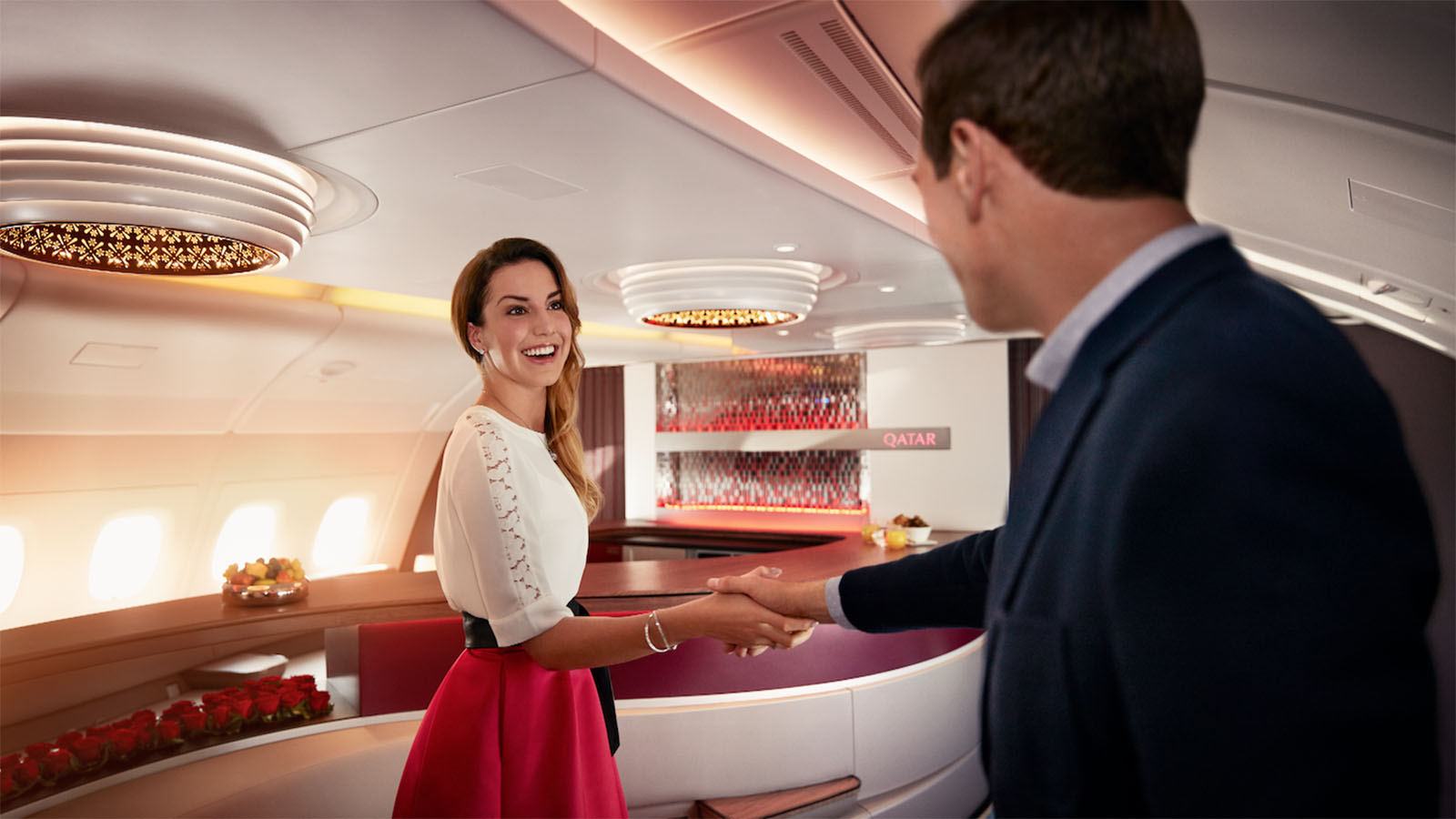 But we should also address the elephant in the room – or, given it's Qatar, the Arabian oryx, perhaps. In our recent rundown of the best Business Class seats flying from Australia, Qatar Airways landed top of the podium with its Qsuite. Qsuite offers closing doors, combined suites, double beds and even a 'quad' format for four travellers to share.
Qatar Airways' First Class cabin, on the other hand, offers none of these things. In that sense, most would argue that Qatar's Business Class cabin is actually better than First Class. At least, when you're considering only the seat. That said, Qatar Airways' Airbus A380s don't have the Qsuite product – instead, a more standard type of Business Class seat.
So if you do find yourself aboard Qatar Airways' superjumbos, First Class is still the most comfortable way to fly. But First Class in general is slowly being phased out by Qatar. If this one's on your must-try list, we'd suggest booking sooner rather than later. Qatar plans to retire its Airbus A380s over the coming years – and First Class along with it.
Point Hacks review: Qatar Airways Airbus A380 First Class (Doha – Sydney)
Other First Class suites currently available from Australia
Beyond our top five, there are three other First Class seats flying to Australia. In alphabetical order, these are:
Of course, any of these First Class seats will translate into a very comfortable flight. Air China, being Star Alliance, can be booked through programs like Singapore Airlines KrisFlyer. Meanwhile, reward seats on AA and BA can be secured using Qantas Points, as well as via other oneworld Alliance programs – including those of AA and BA directly. Here's a quick rundown on these alternatives.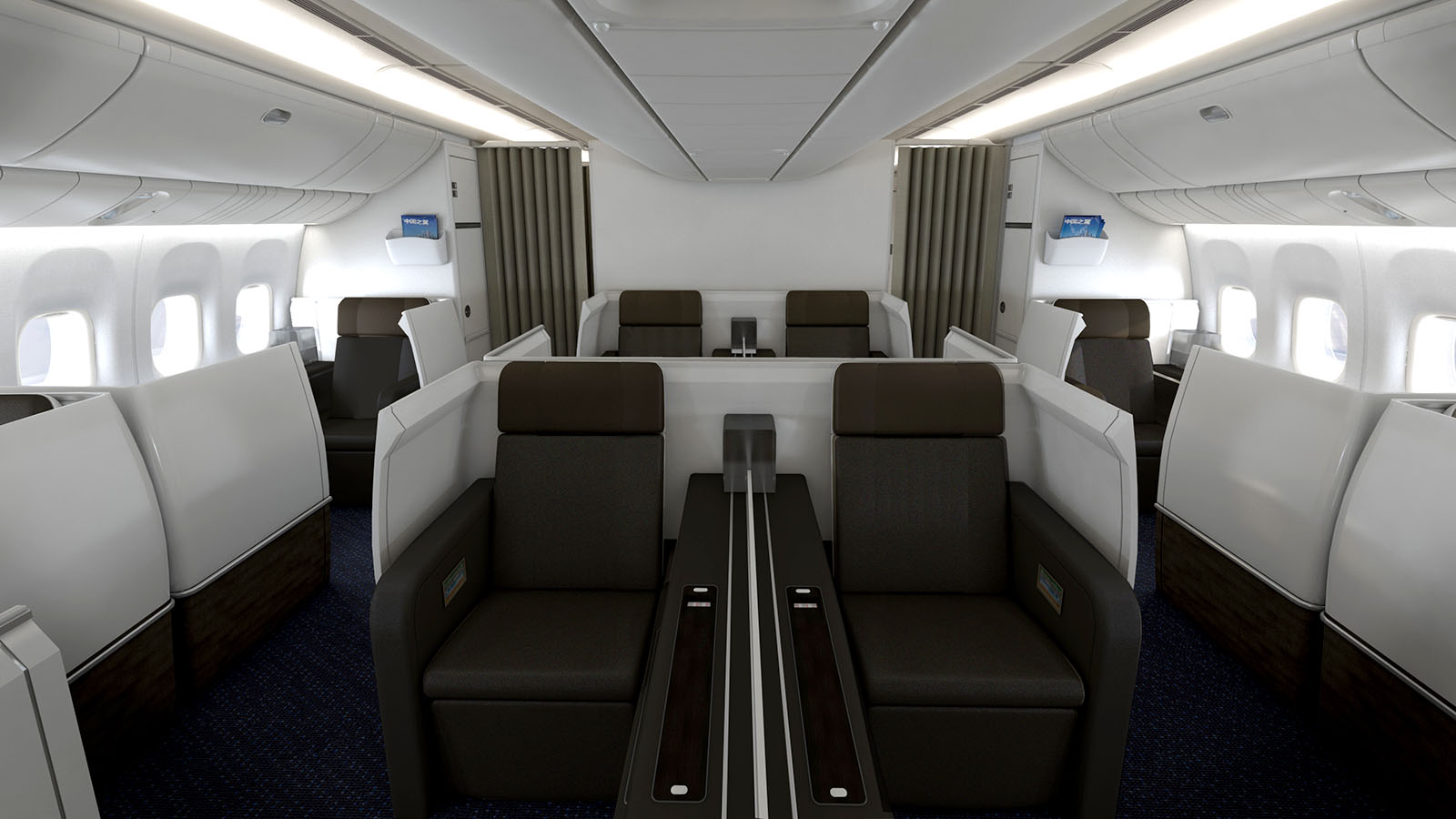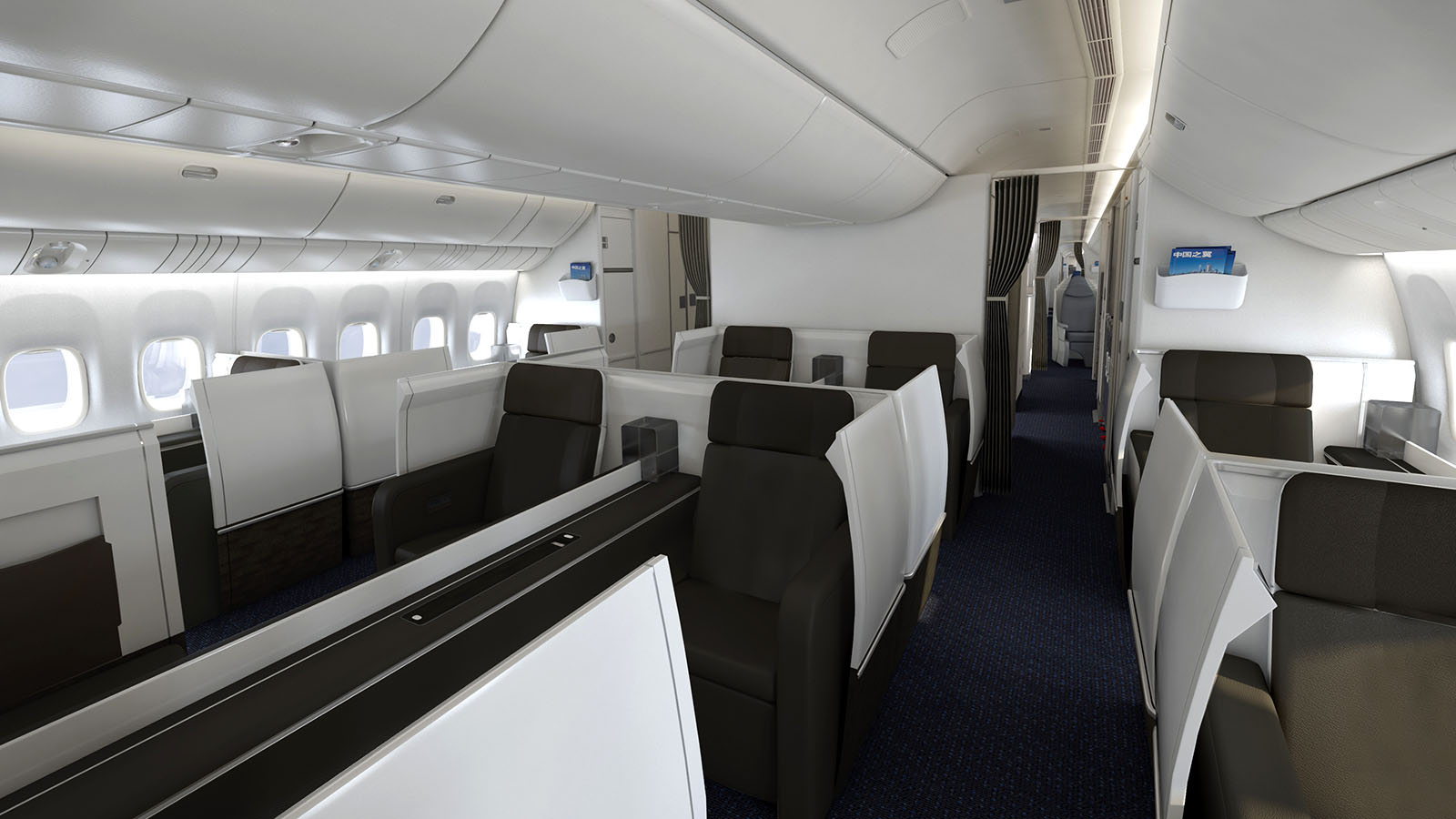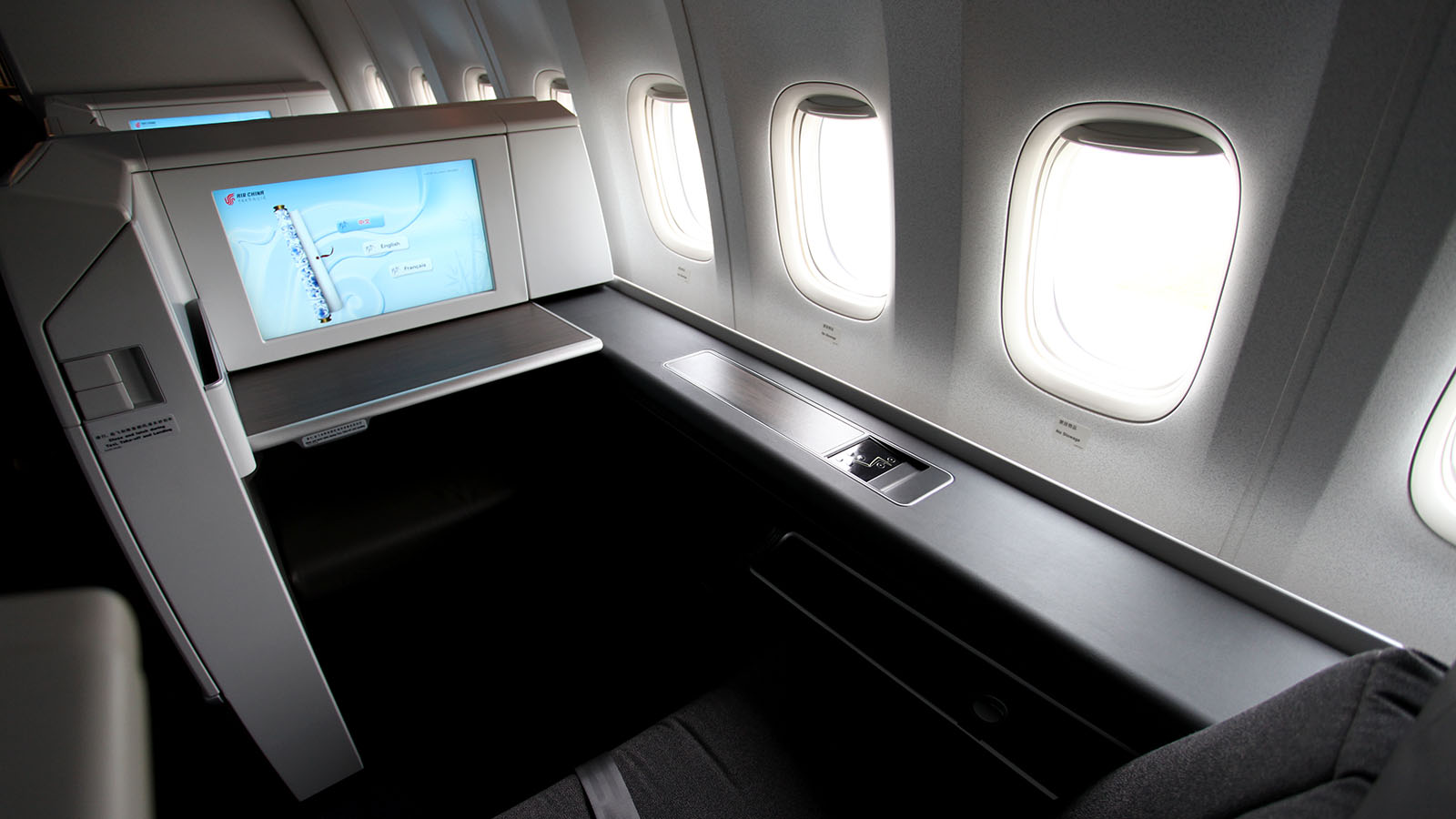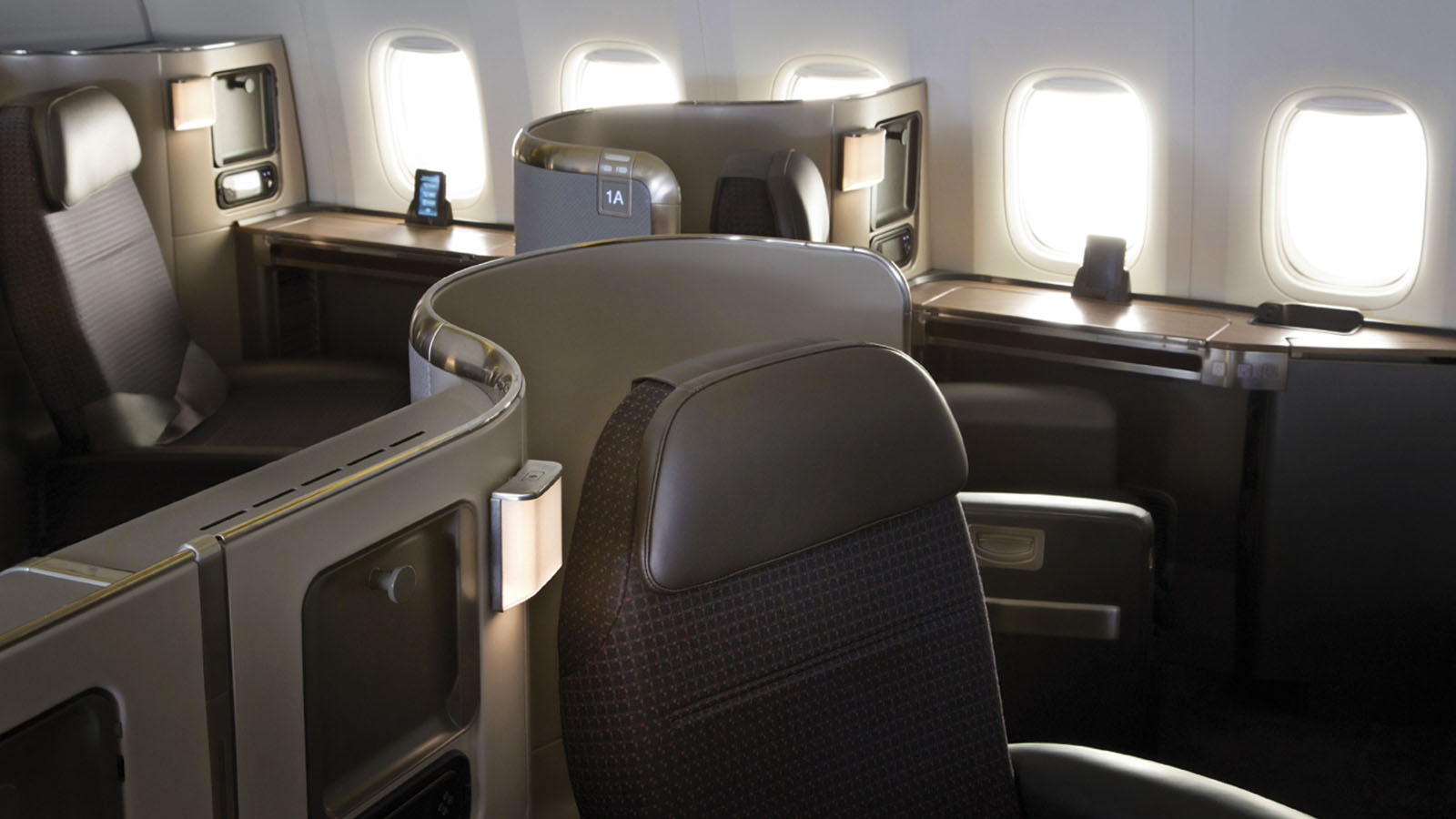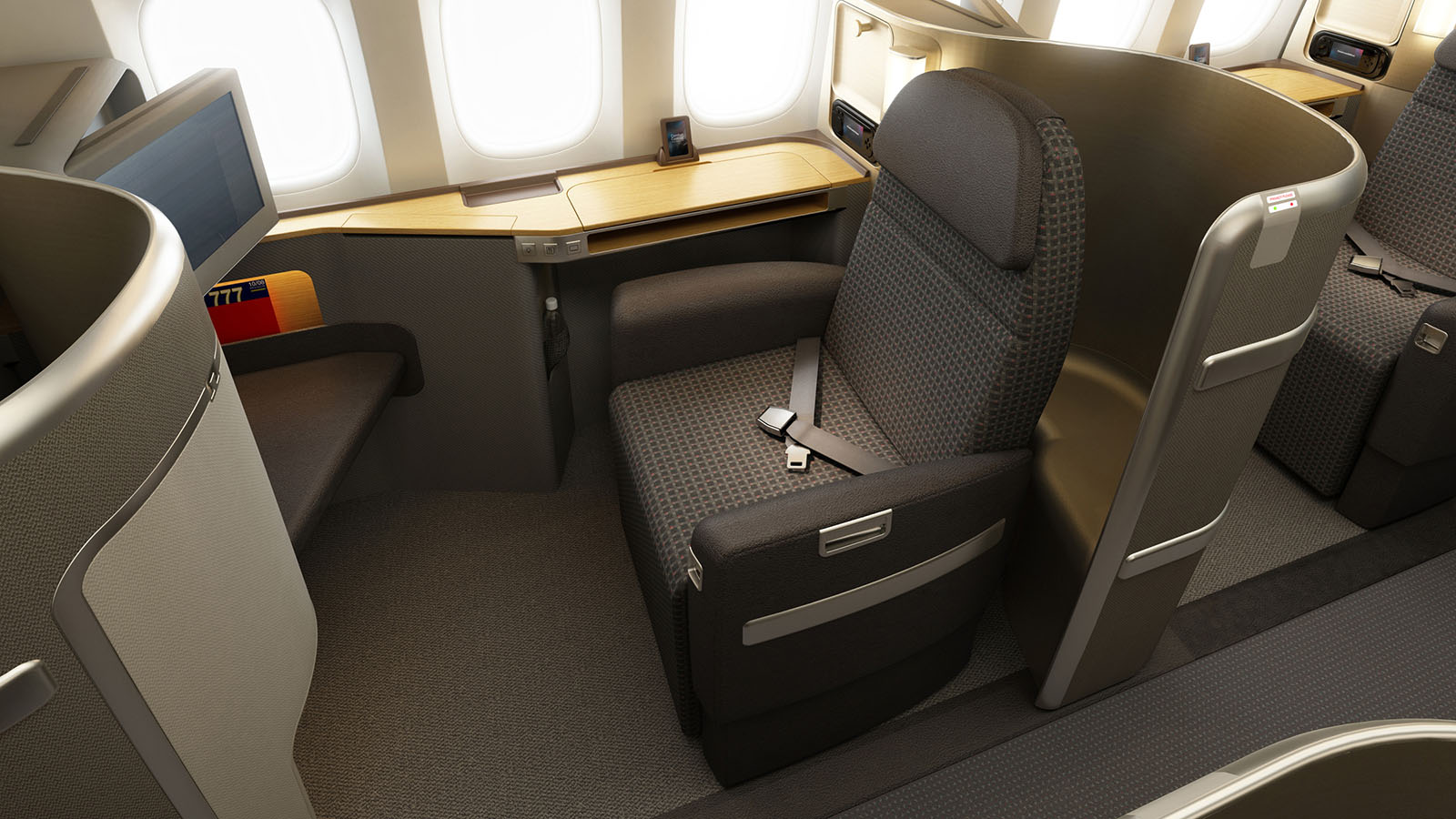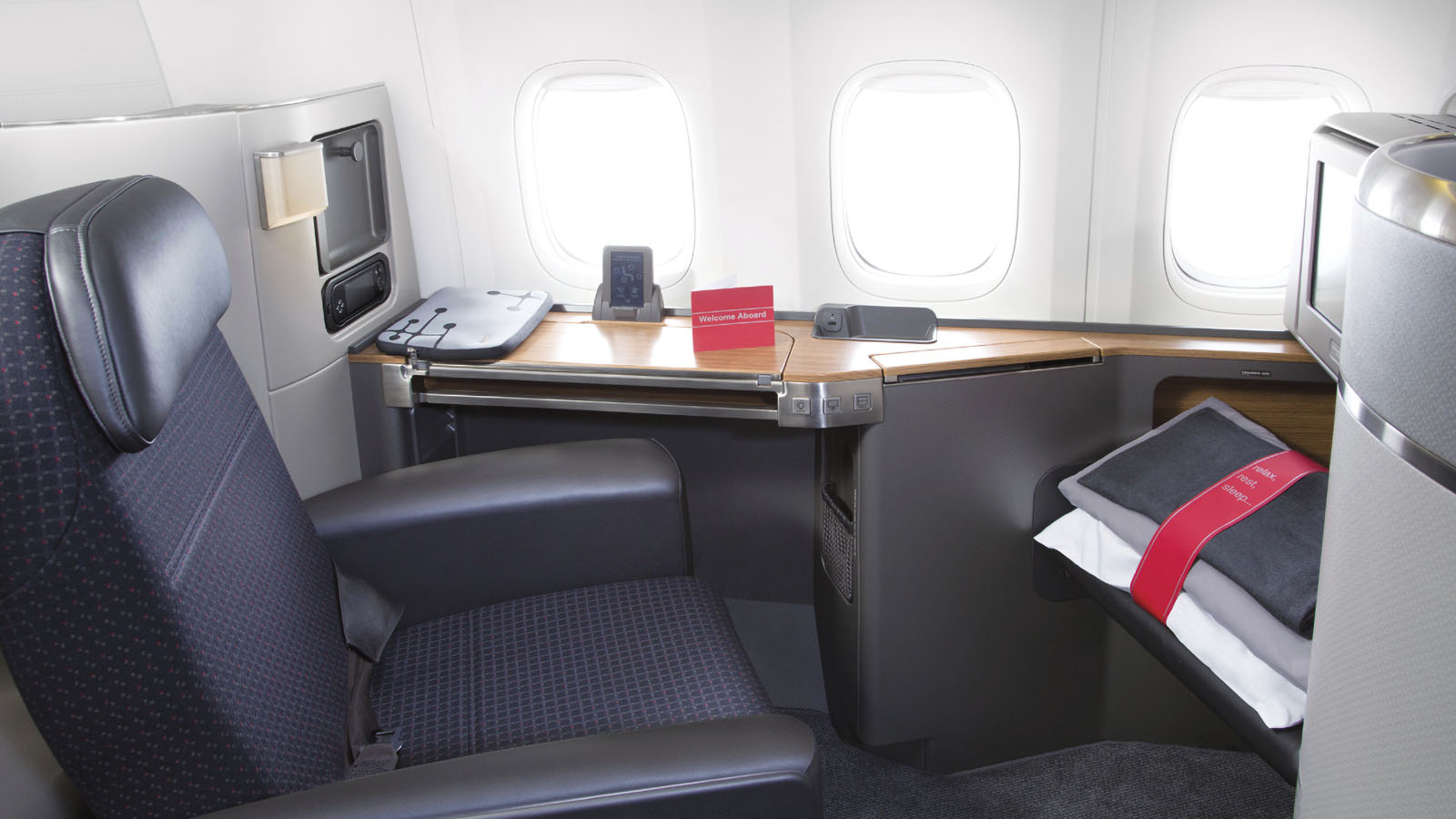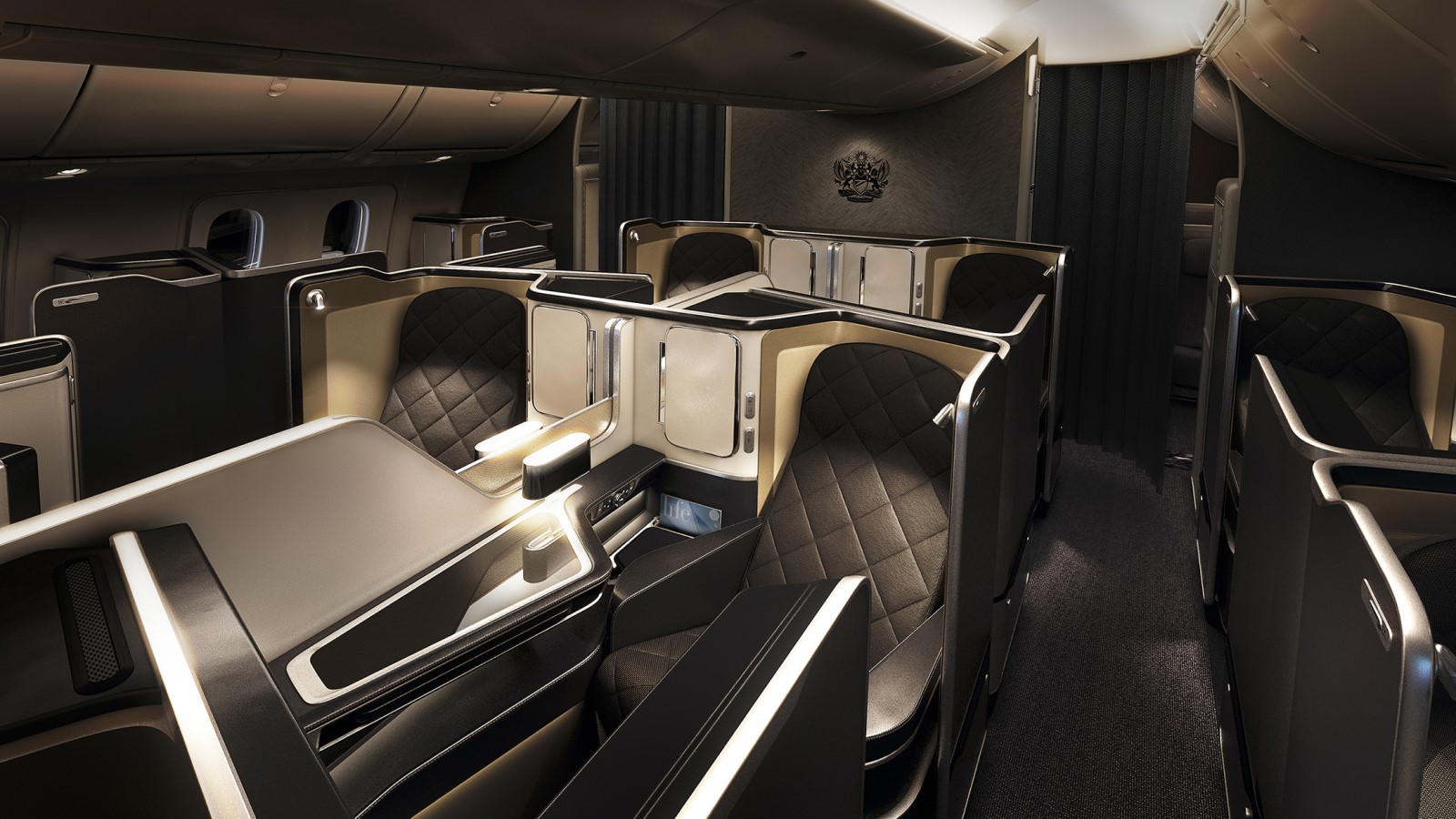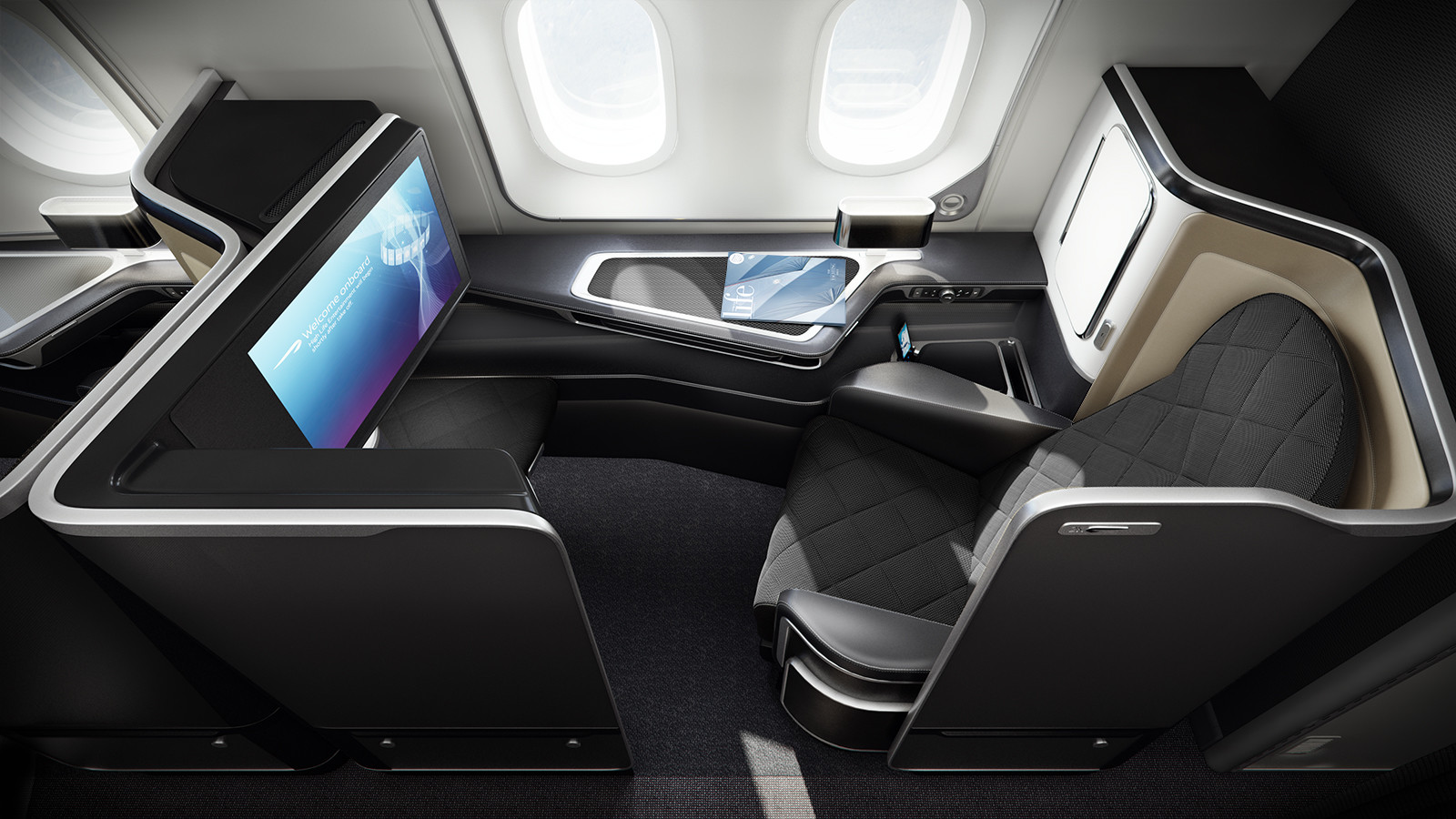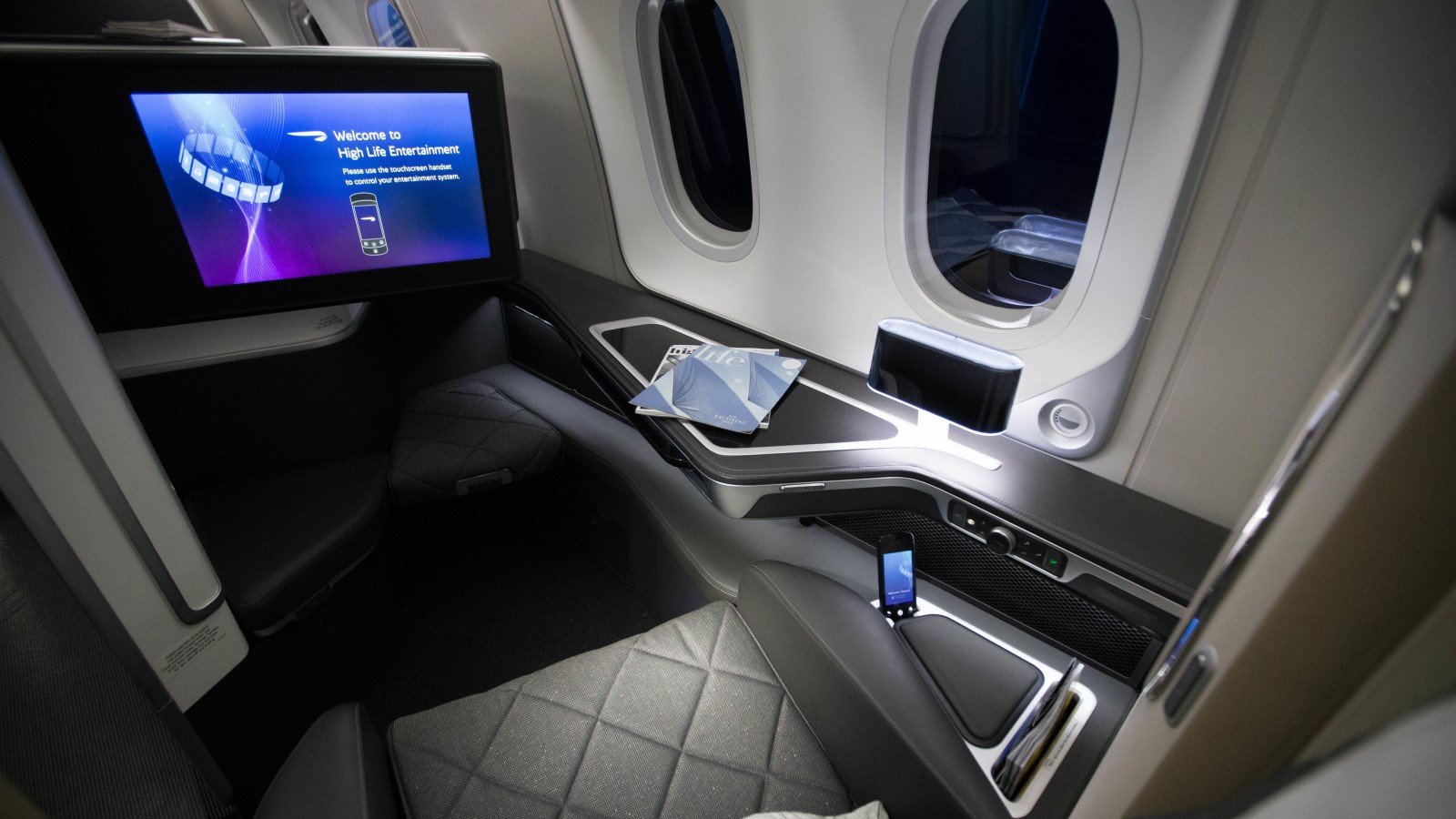 Let's start with British Airways First. On Australian flights, those First seats are a heavily customised version of the Zodiac Aerospace (Safran) Cirrus seat. It's certainly enjoyable – but it's actually a Business Class seat by design, even though BA's version affords a little more space. It's a seat you'll find in Business Class on airlines like Cathay Pacific. We're looking for the best First Class suites here: not Business Class with better service.
It's fair to acknowledge though that on some of BA's newest-configured planes, the seats in that small First cabin can have closing doors. But these are otherwise the same Business Class-style seat. You also can't predict when and where these newest seats will appear, as aircraft changes are common. We'll look to review the situation again when we next update this story, in case BA begins flying these to Australia more reliably.
With American Airlines, we acknowledge that Flagship First allows companion dining. But the seat also largely mirrors that Cirrus design. It's tweaked to provide a little more space than BA's version – and for something different, you can swivel the armchair to face the windows. But having flown it from Sydney to LA, to me, it still 'feels' largely like a very good Business Class, rather than truly First Class.
Then, there's Air China First Class. It's also very roomy, but design-wise, is very muted. It's essentially a while plastic shell wrapped around a dark seat. The only pop of colour comes from the red pillow placed at the seat. No doubt, it's practical – but First Class in 2023 is all about the 'wow' factor. With some design tweaks, who knows – this could even take that fifth rank when Qatar's own First Class seats are retired. But for now, it sits just outside that top five.
Summing up
There's certainly more to flying First Class than just the seat. It's an experience that also encompasses premium lounges, elevated inflight dining, better wine lists and more attentive service. To draw a comparison, you could liken Business Class to a five-star hotel. But if that's Business Class, First Class is more like a resort with overwater bungalows.
First Class takes the best of Business Class and pushes it further. And of course, different elements will appeal to different travellers. For instance, some people really like flying BA First for the meals, service and Champagne – even though they're delivered in what's really just a Business Class seat.
Because everybody's preferences are different, we've focused these rankings solely on the seats and suites. Any airline can slip a nice bottle of bubbly onto the catering truck – but it's the cabin that truly makes each carrier stand out.
Once you get beyond the double beds and closing doors, people's preferences can start to waver. Perhaps you personally prefer Singapore Airlines' Boeing 777 First Class over Qantas First on the Airbus A380? Or maybe you spend most of your time working during the flight, and really enjoy the office-like setup in AA Flagship First? Let us know!
Vote for your favourite First Class suite, and tell us why you like it in the comments below.
Except where otherwise credited, all imagery courtesy of the respective airline.
---
Stay up to date with the latest news, reviews and guides by subscribing to Point Hacks' email newsletter.
The five best First Class suites flying from Australia
was last modified:
November 20th, 2023
by