Arguably one of the best First Class lounges in the world, this private terminal makes security and immigration a breeze, with fantastic dining options, a calm environment and excellent customer service.
Being driven directly to your plane like a celebrity is just the icing on the cake.
I was lucky enough to experience this lounge for half an hour during a quick connection between a Lufthansa Economy flight from Madrid and my onward flight to Houston in Lufthansa First Class in April 2017.
Lounge Details
The terminal/lounge is open between 5:30am and 10pm and free wifi is available.
Lounge Location
The lounge is intended for passengers originating in Frankfurt as there is a private entrance and driving circle but as I was connecting from another flight, I took the six-minute walk from Terminal 1 Concourse A along the sidewalk and entered through the pedestrian entrance, taking the elevator up to the main entrance.
Google Maps definitely helps as it is not signposted. If you are connecting from a non-Schengen flight, make sure to leave enough time to clear immigration.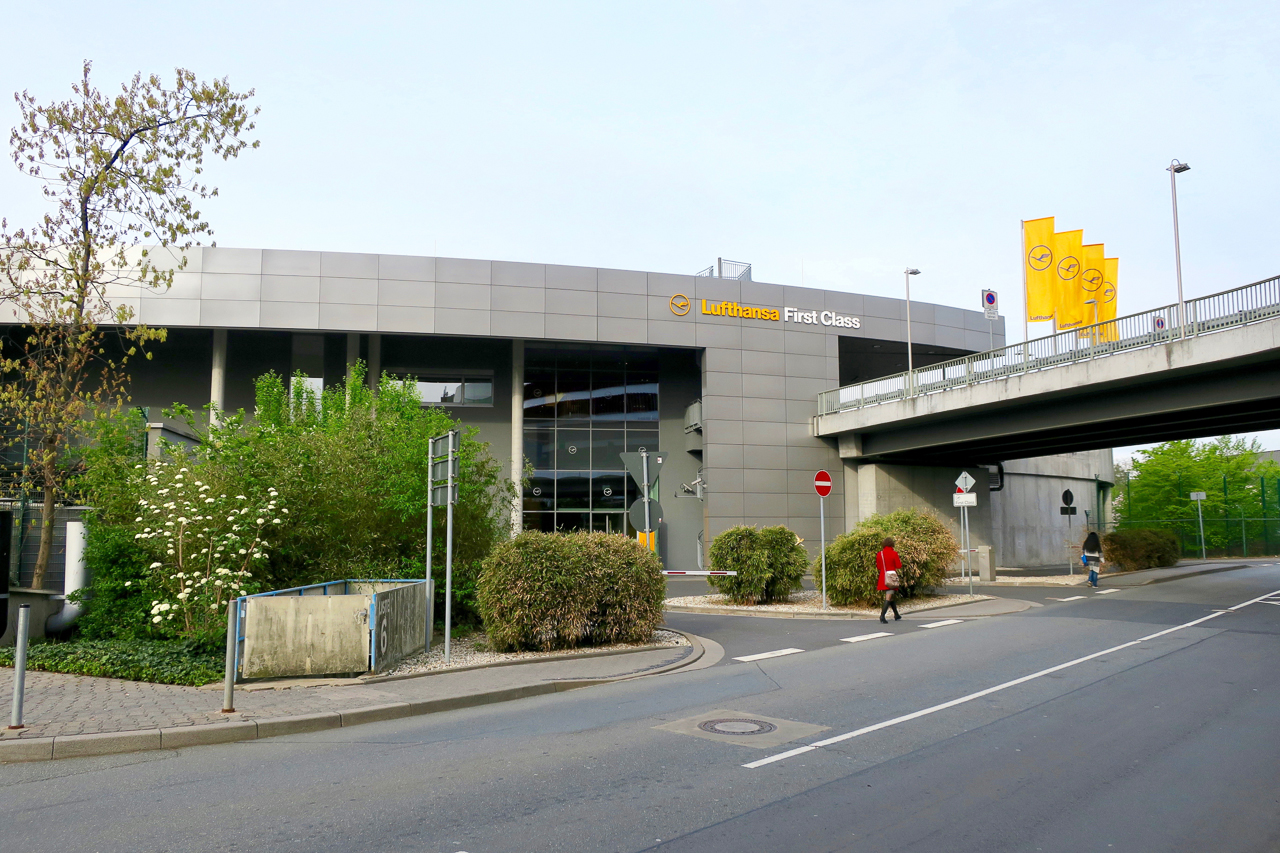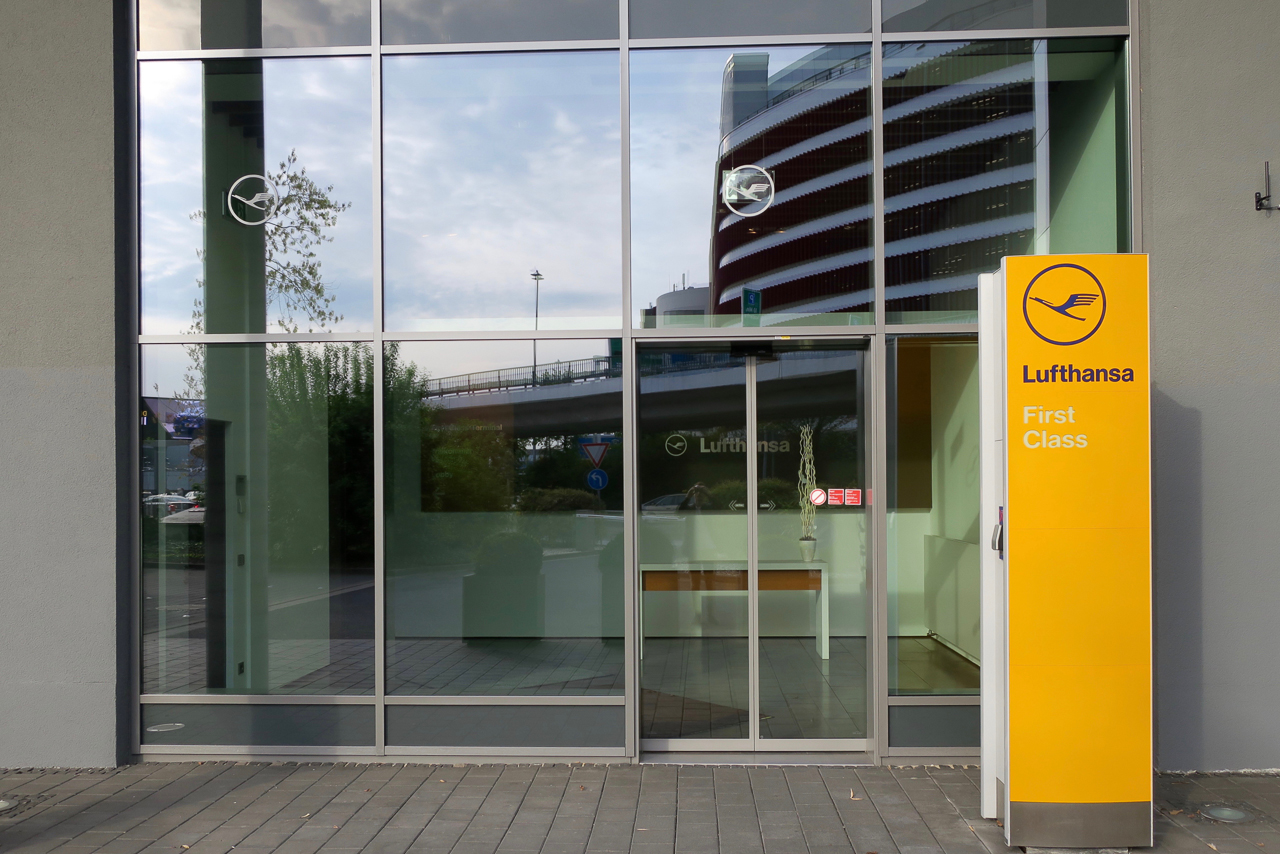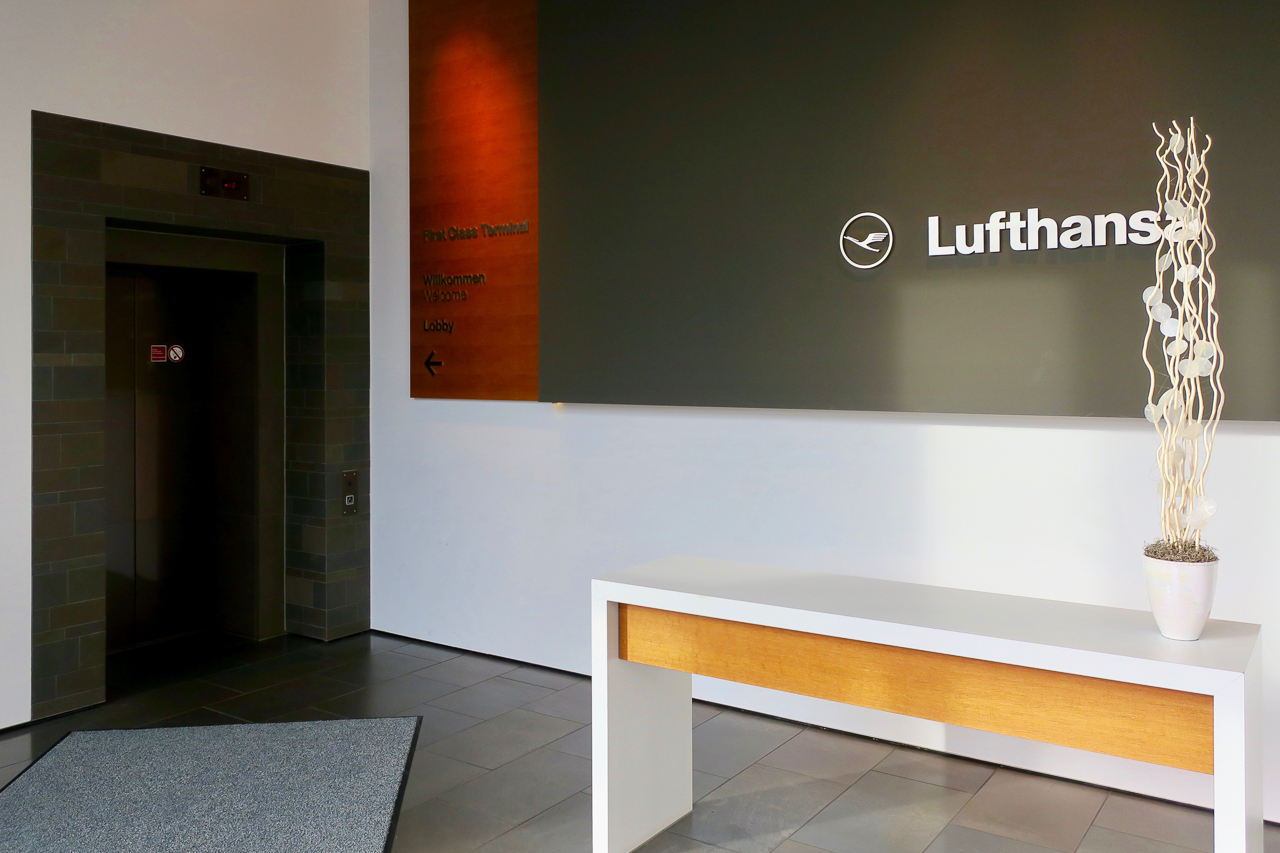 The entry foyer is beautifully appointed and was attended by three employees, one of whom will check your boarding pass and passport and become your personal assistant, taking you through private security screening (lasting 30 seconds) and giving you a tour of the lounge.
This personal assistant will hold onto your passport and prepare your immigration documents, then will fetch you when it is time to board.
There is also a small duty free shop after security: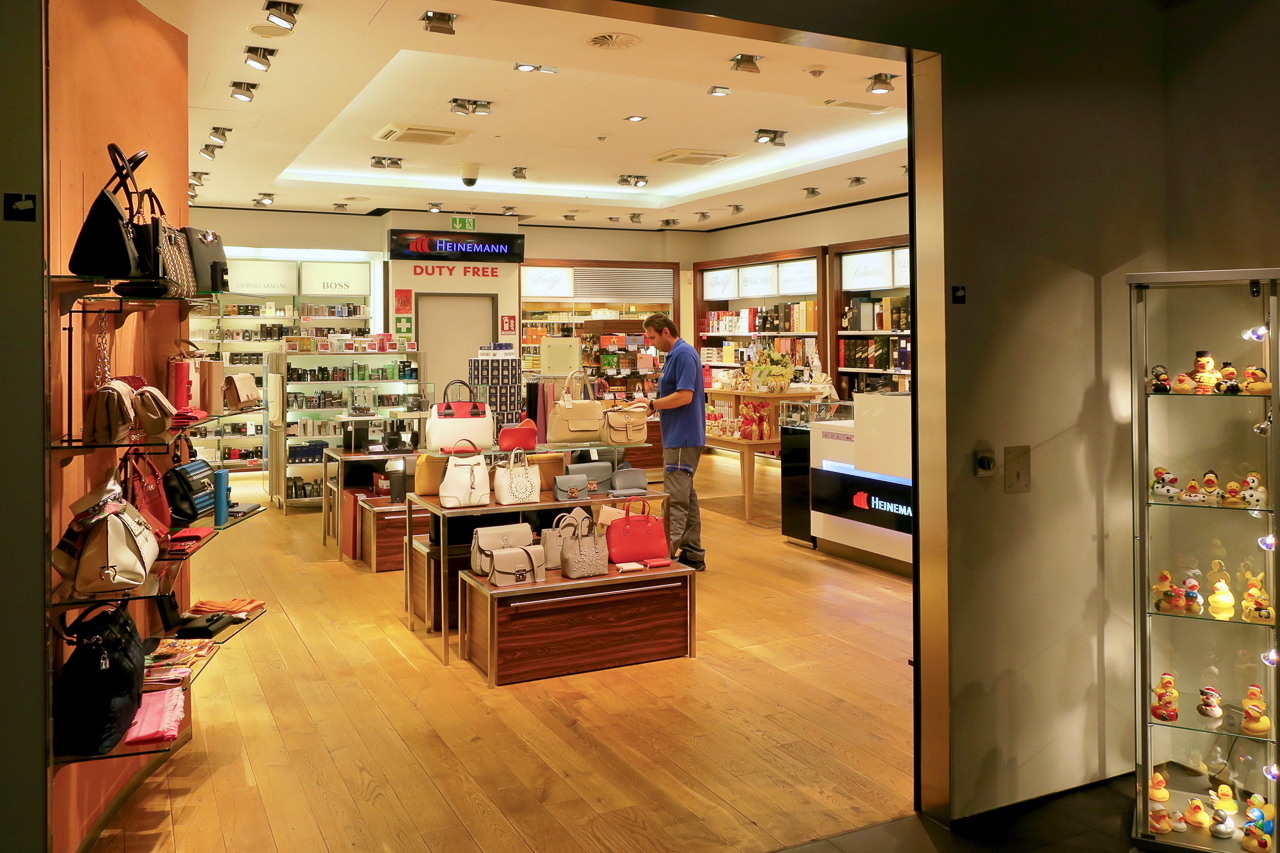 Lounge Seating
There are plenty of spaces to relax—I found the lounge 25% full when I visited at 11am on a Tuesday.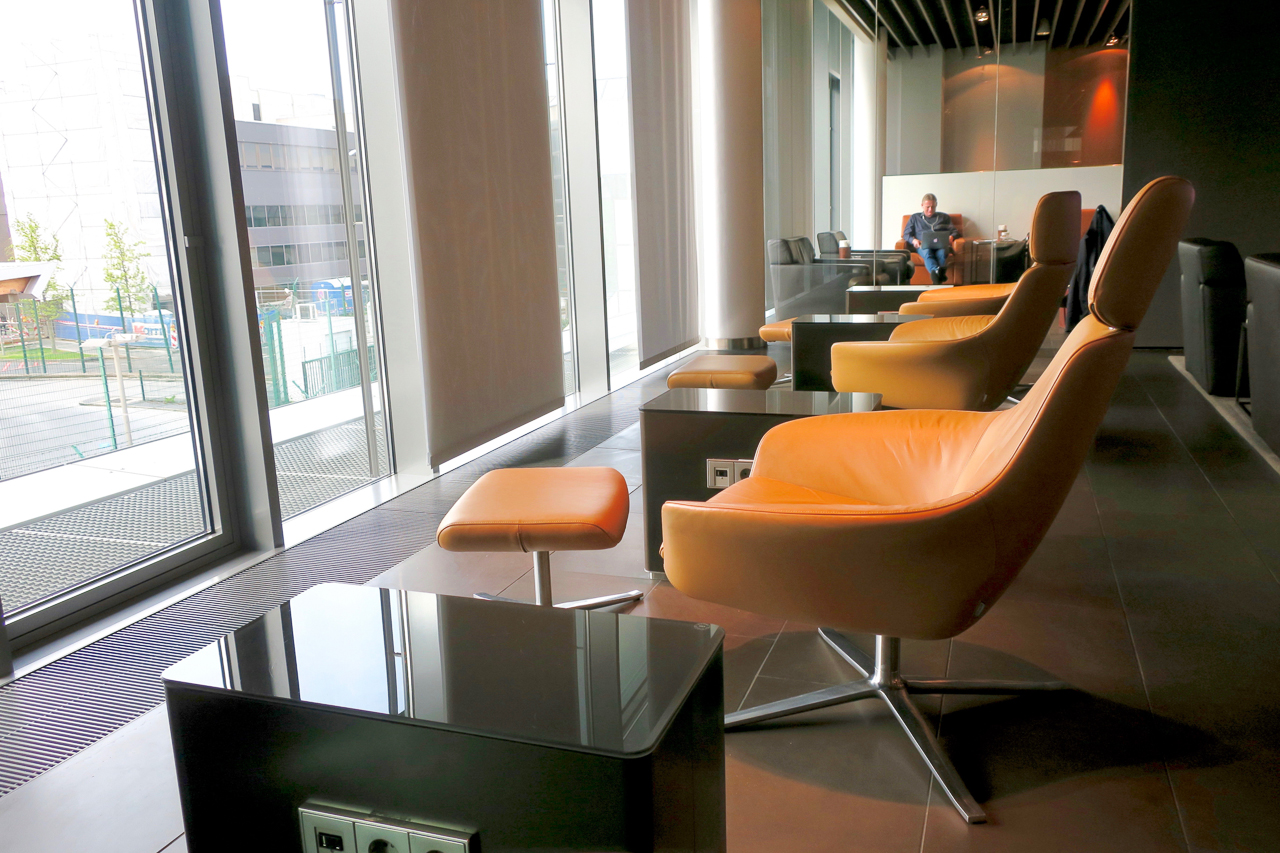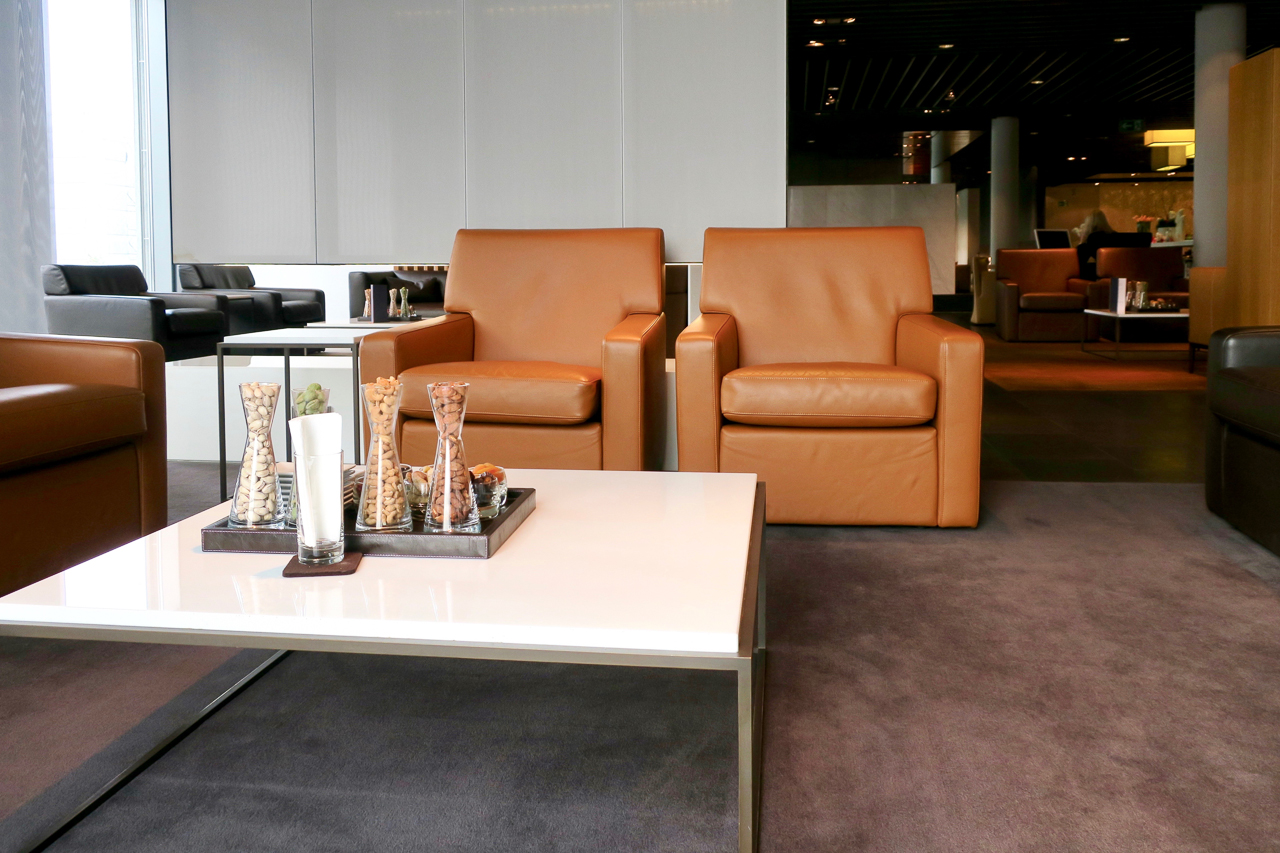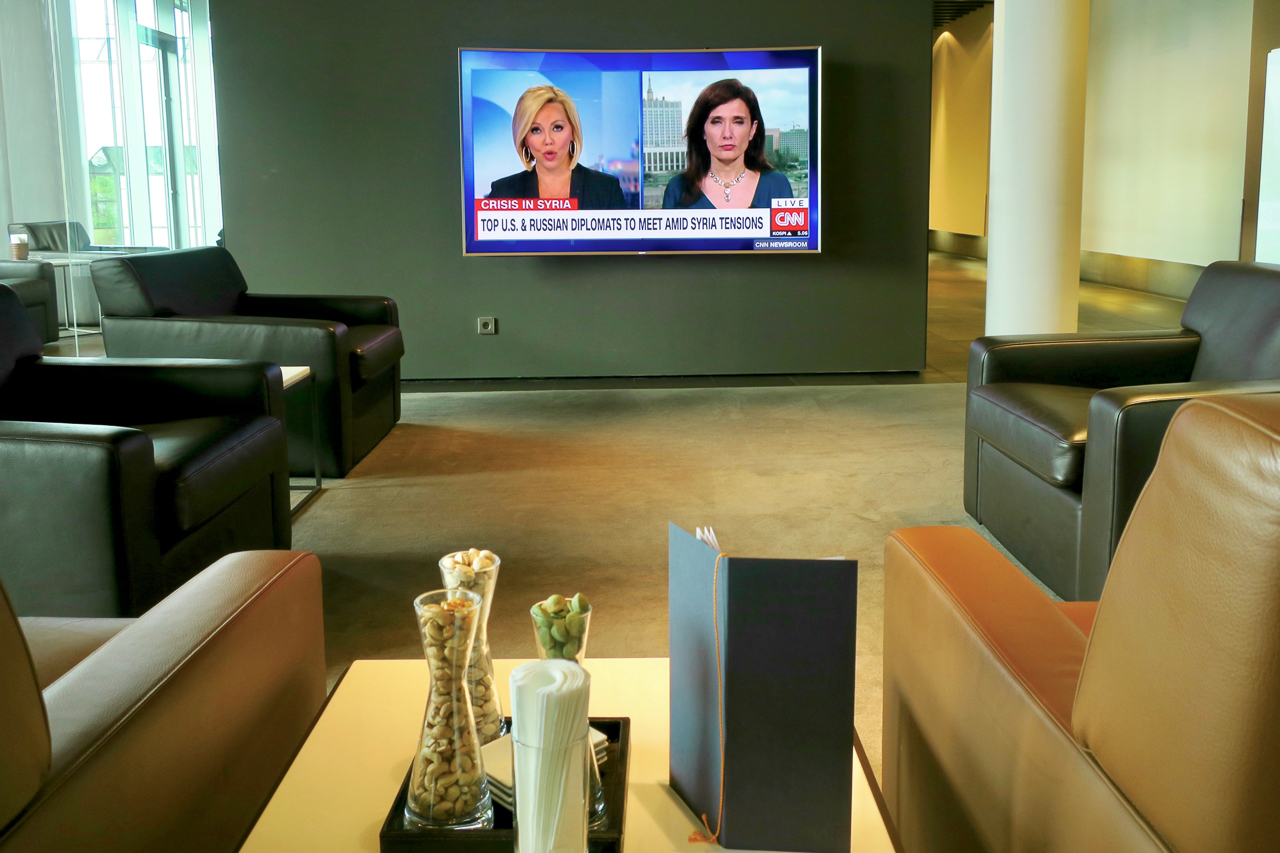 As you'd expect, there are closed-door private workstations (numbering five):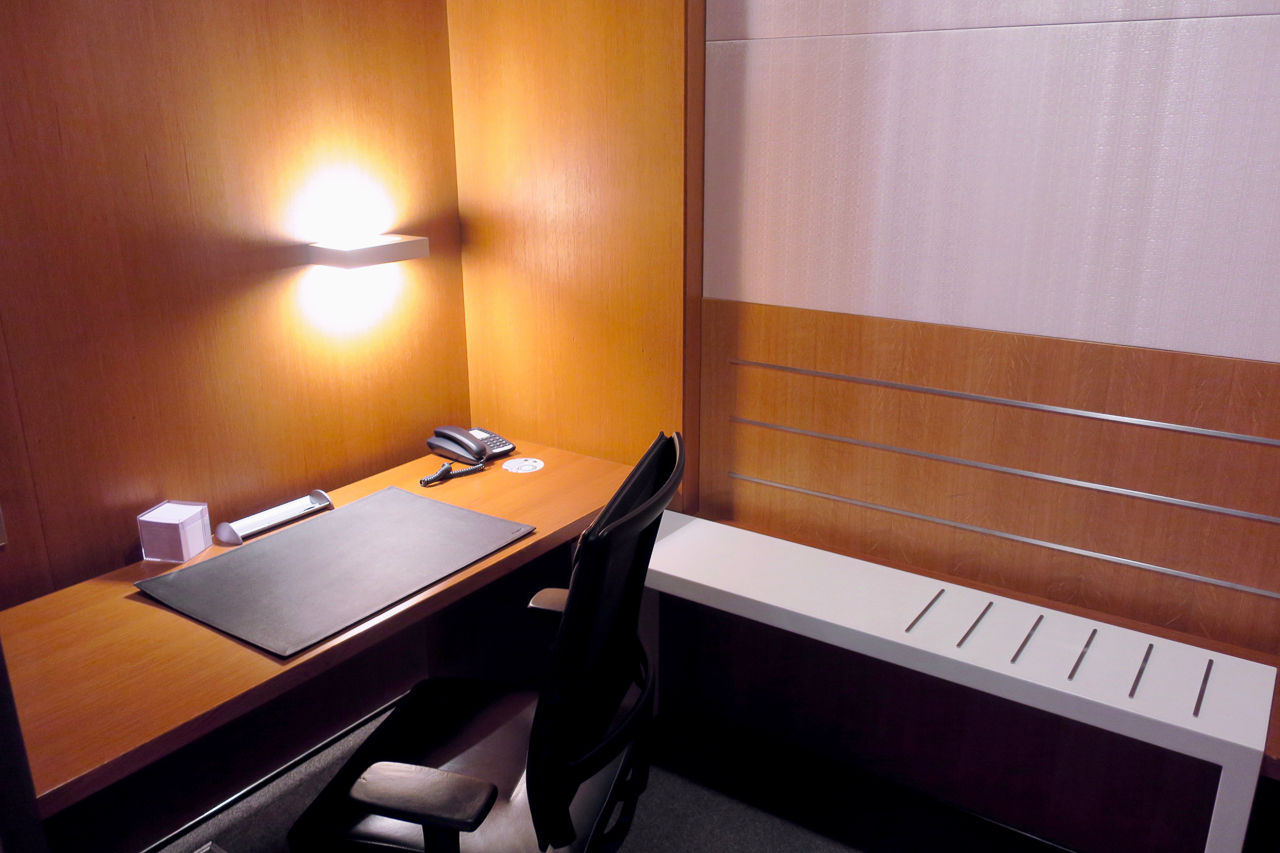 and there are a total of three not-so-private relaxation chairs: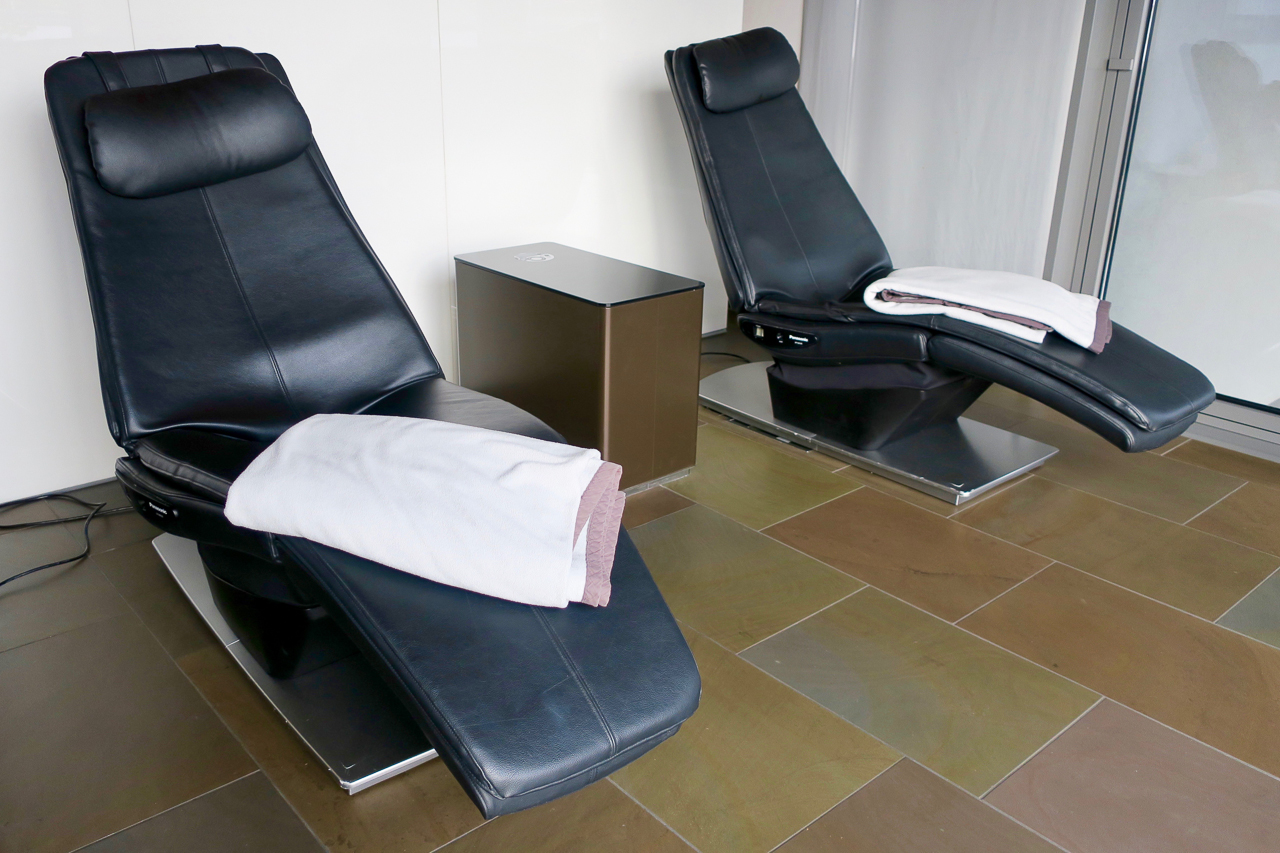 Food & Drink
The food and drink offerings are mindblowing! You can order à la carte: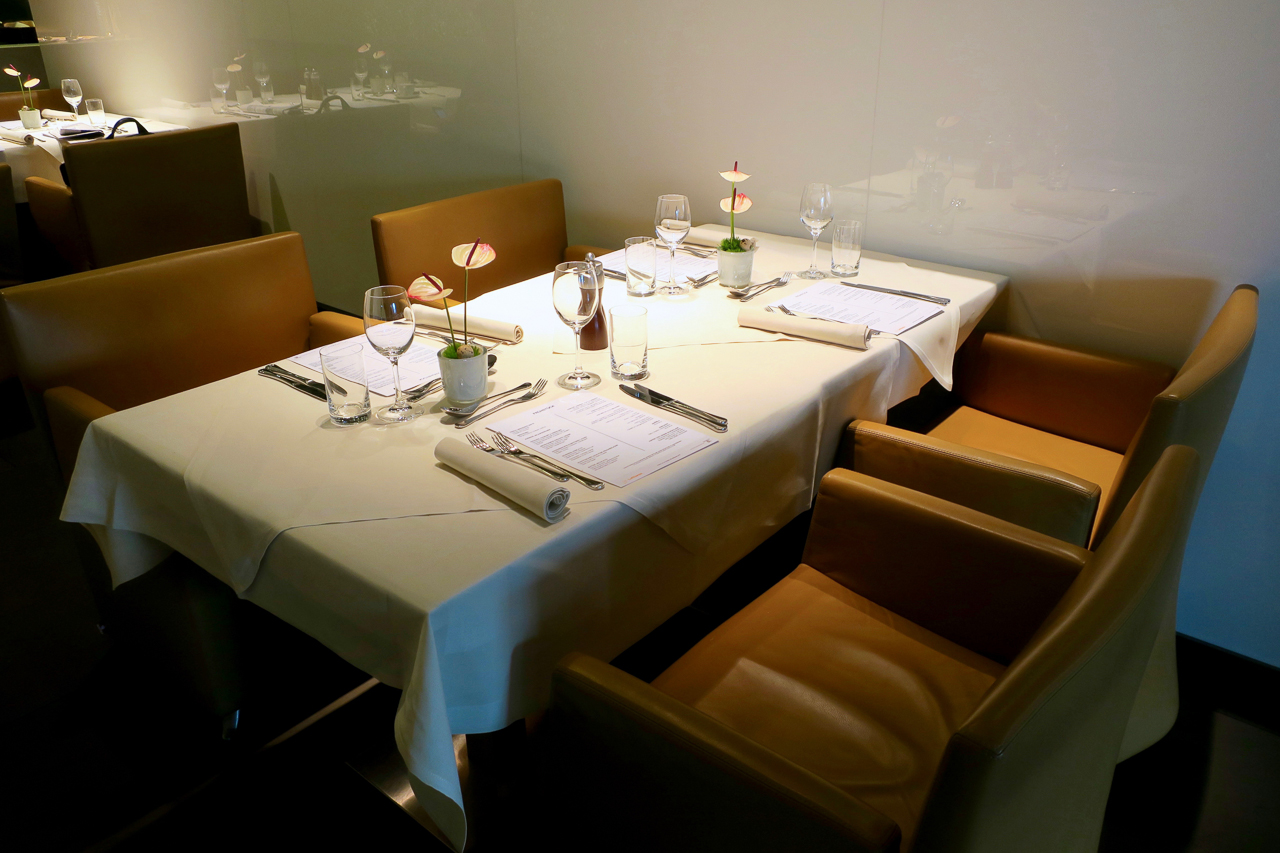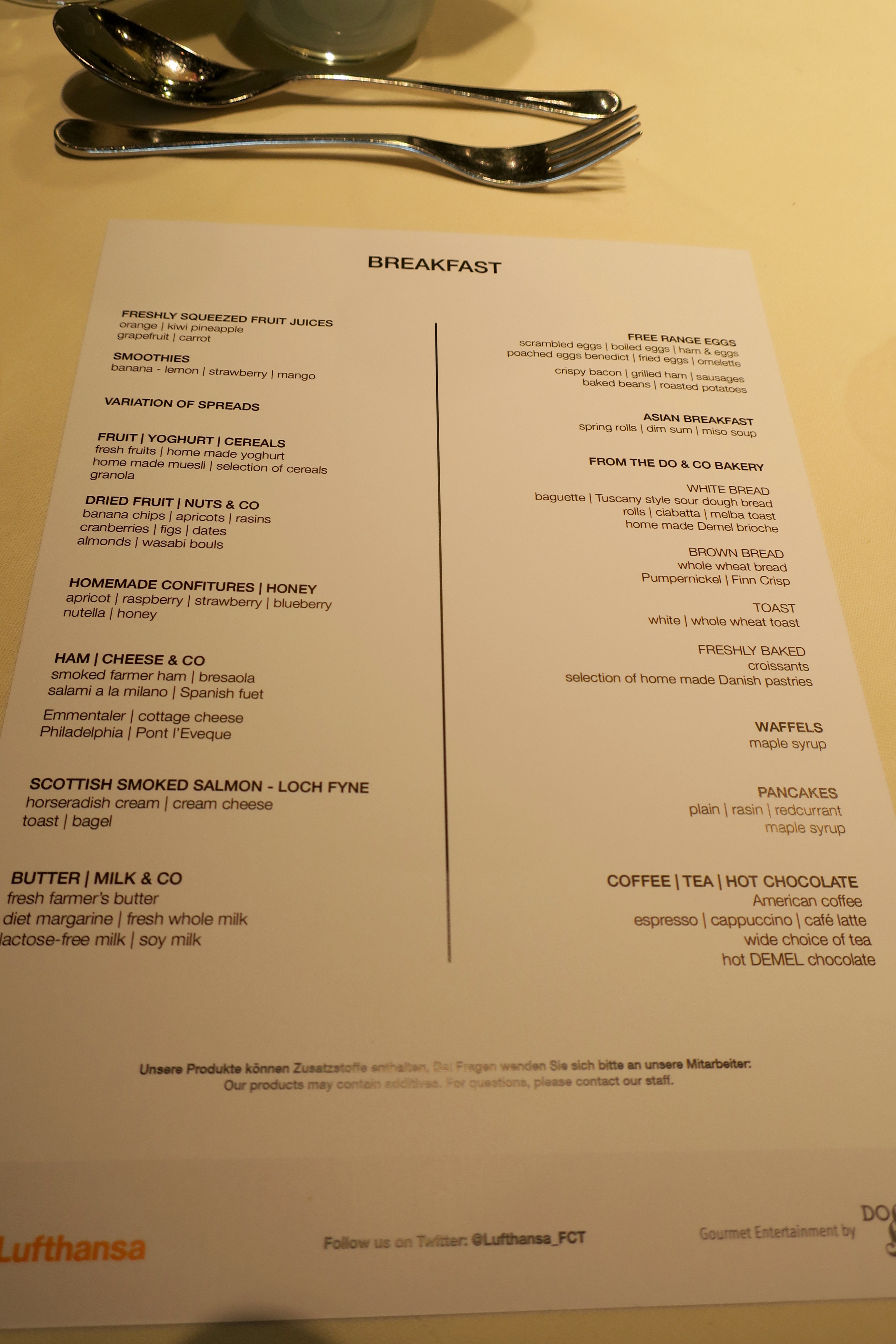 or do-it-yourself at the ample hot and cold buffet: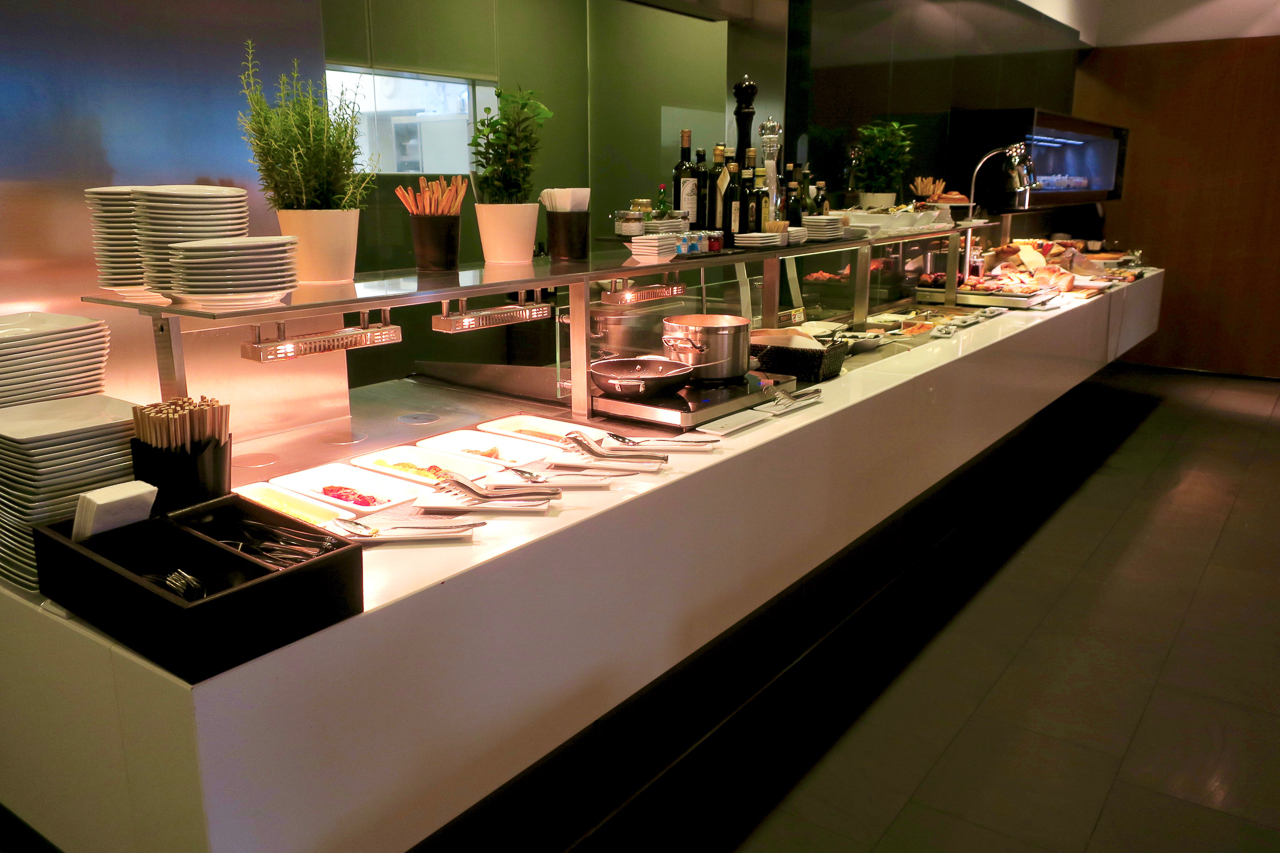 Of course, you need so many olive oil choices!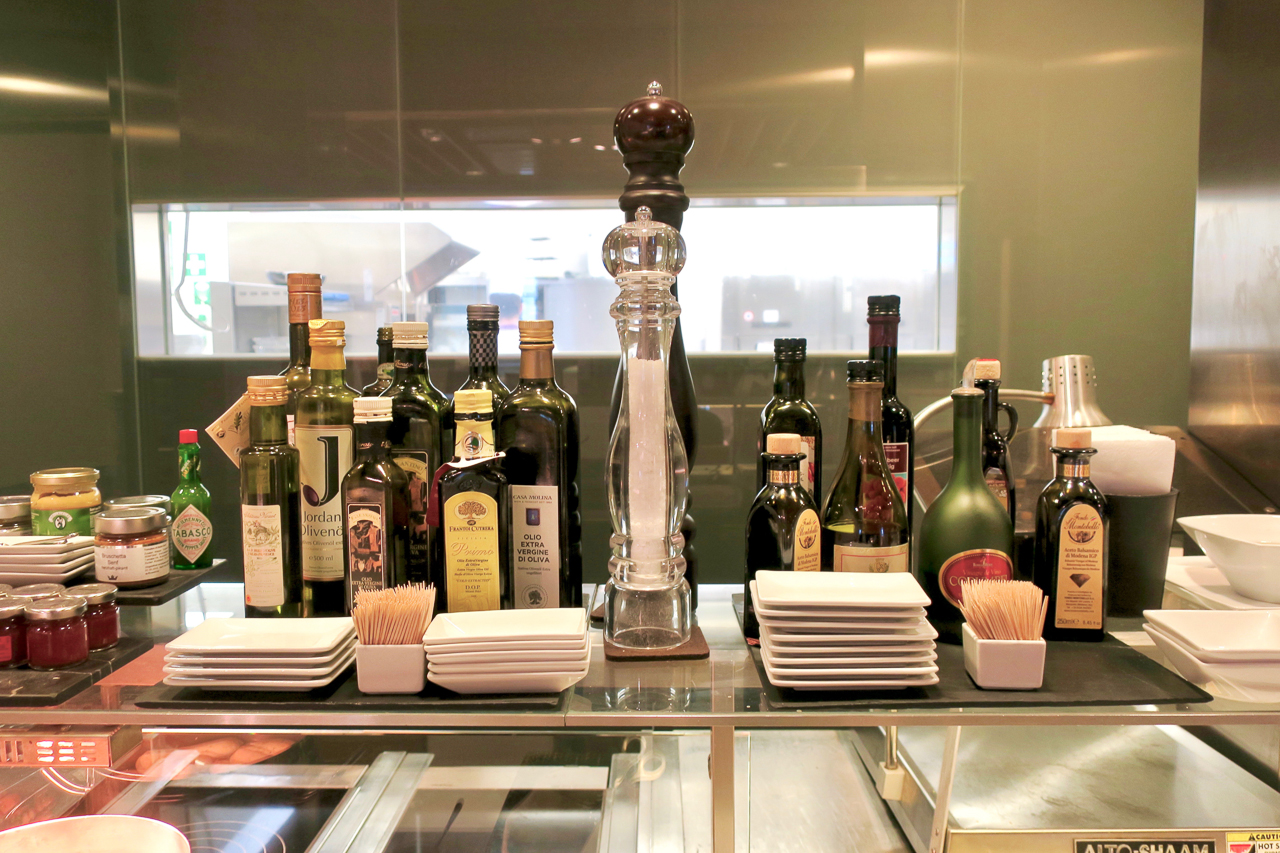 There are healthy juices and more traditional breakfast options on hand: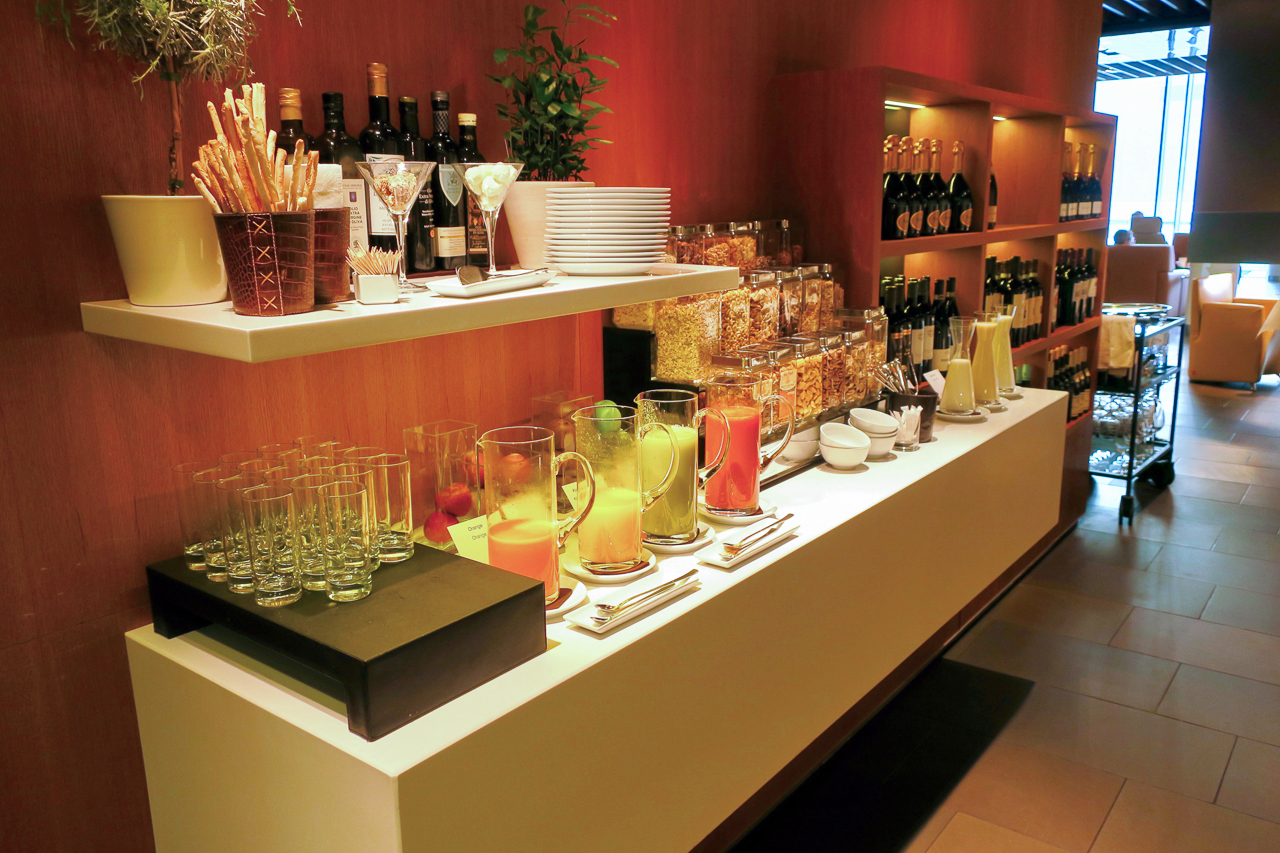 and there is also a Iberian ham carving station: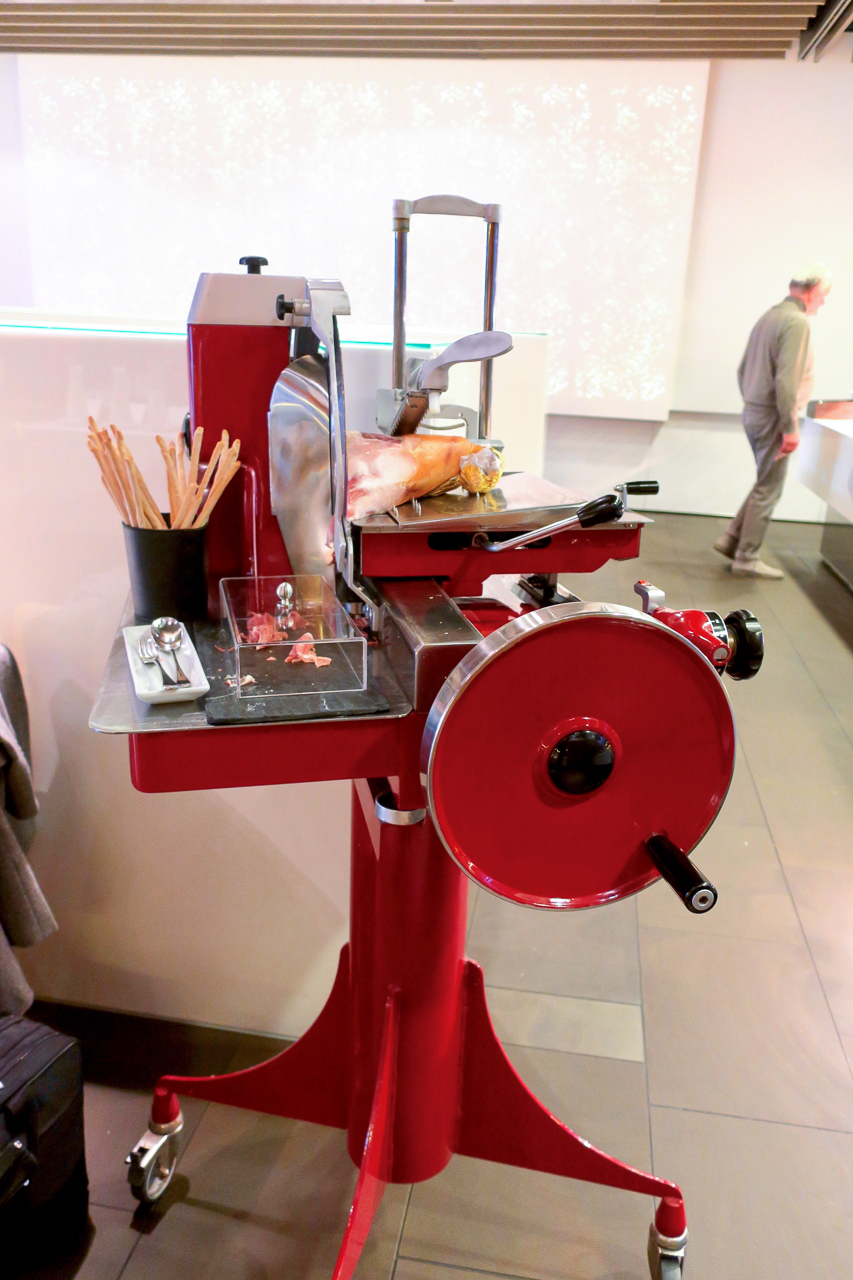 I had to have a quick, small meal as I only had 30 minutes in the lounge due to my connection: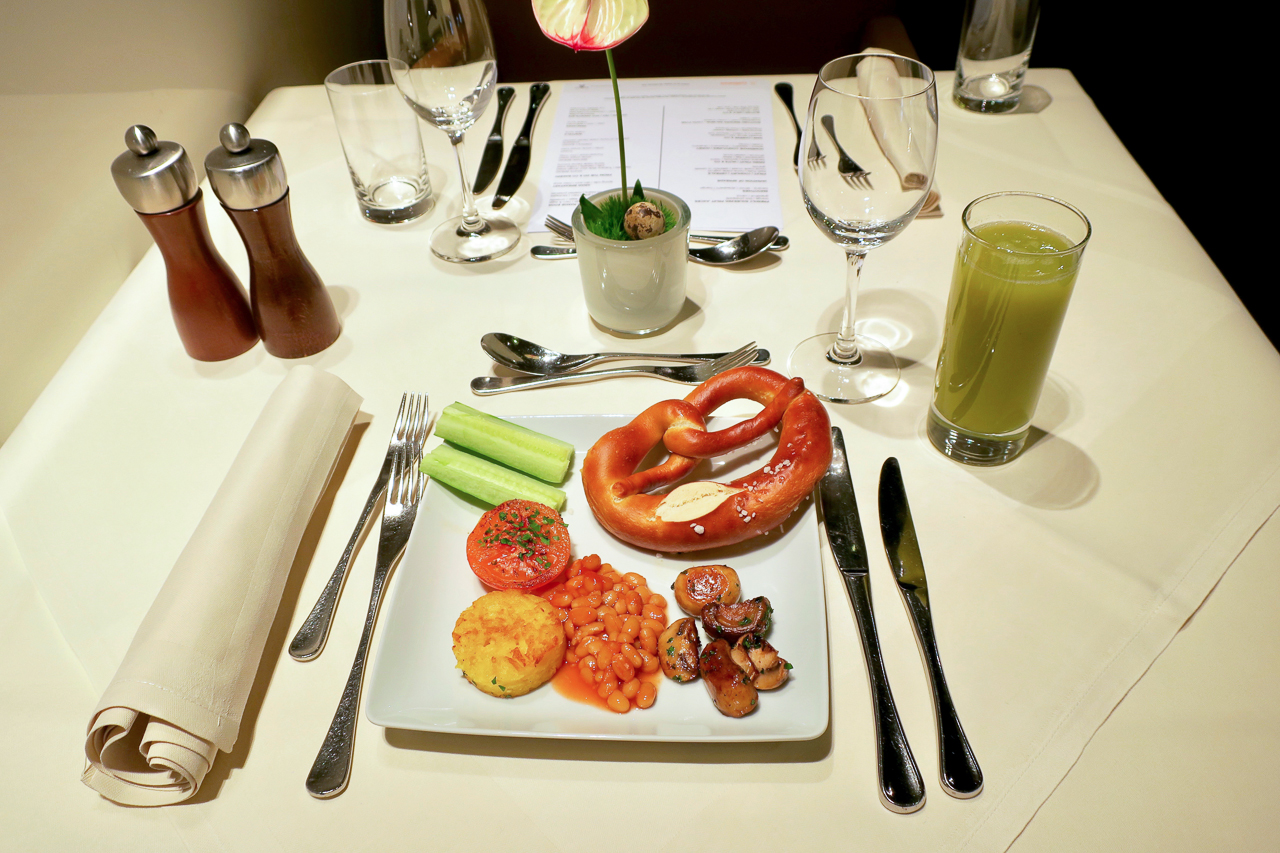 There is also an attractive full-service bar, which was decorated for Easter during my visit: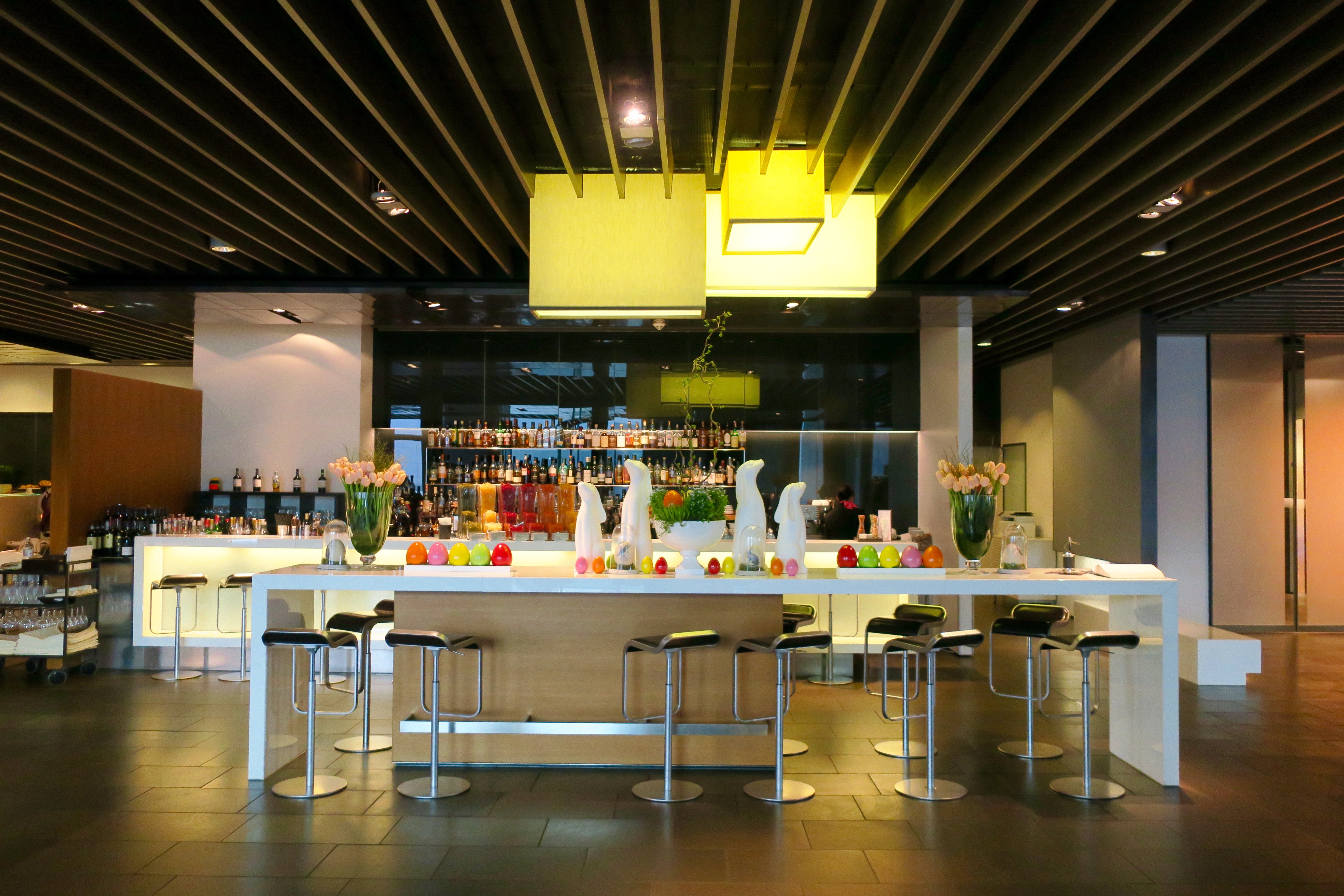 Amenities
There are two private sleeping rooms (no attached bathroom) available on request. They were both open when I visited.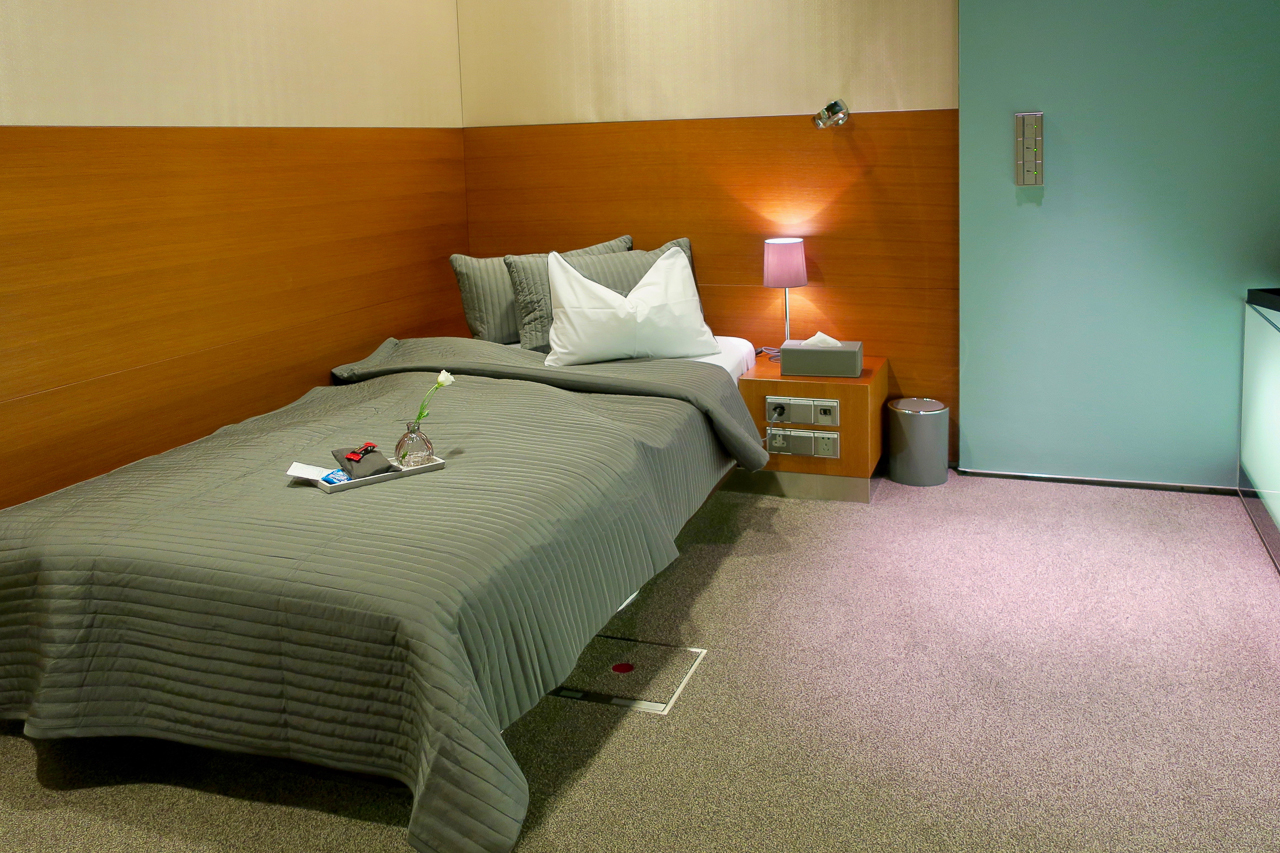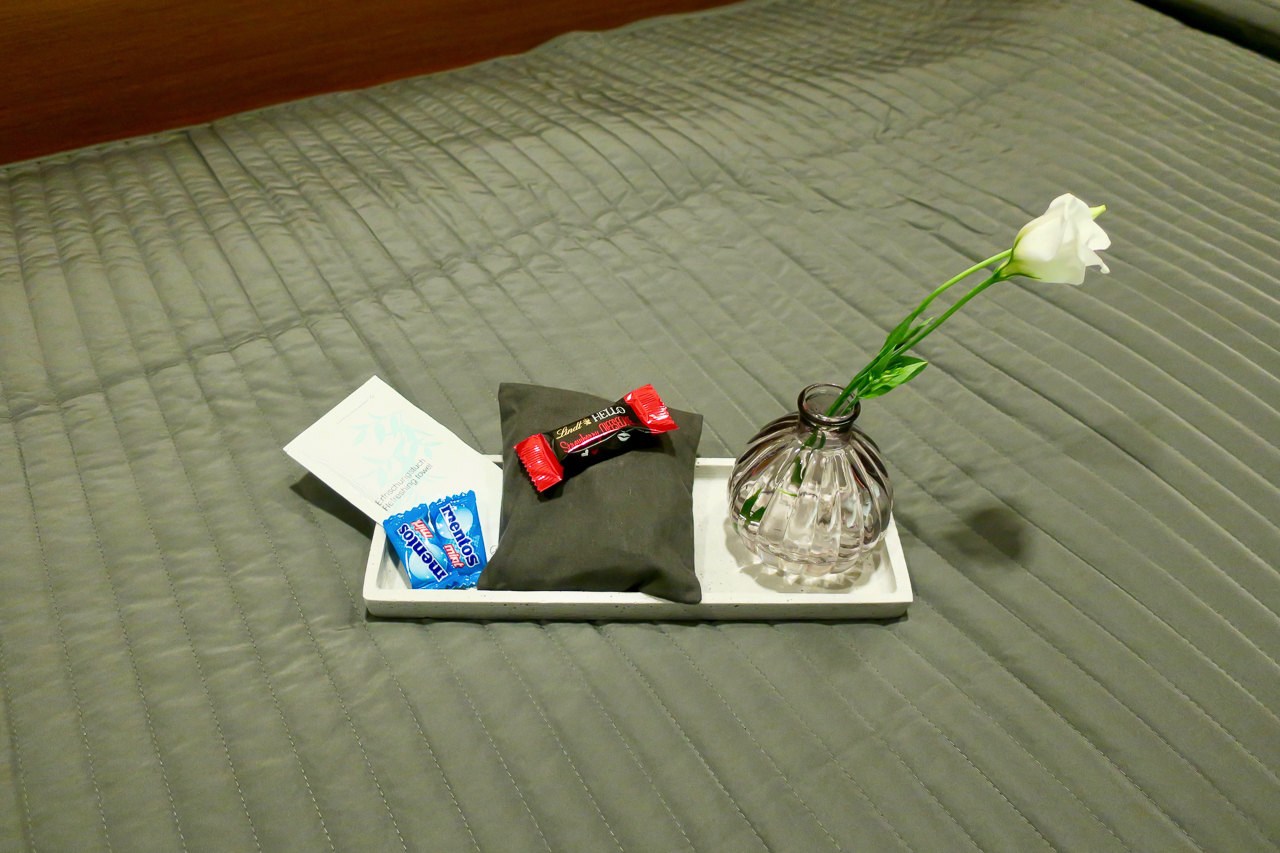 If you need anything ironed or sewn, they can arrange that for you:
If you ask the shower attendant, you can get a complimentary rubber duck as a souvenir of your visit: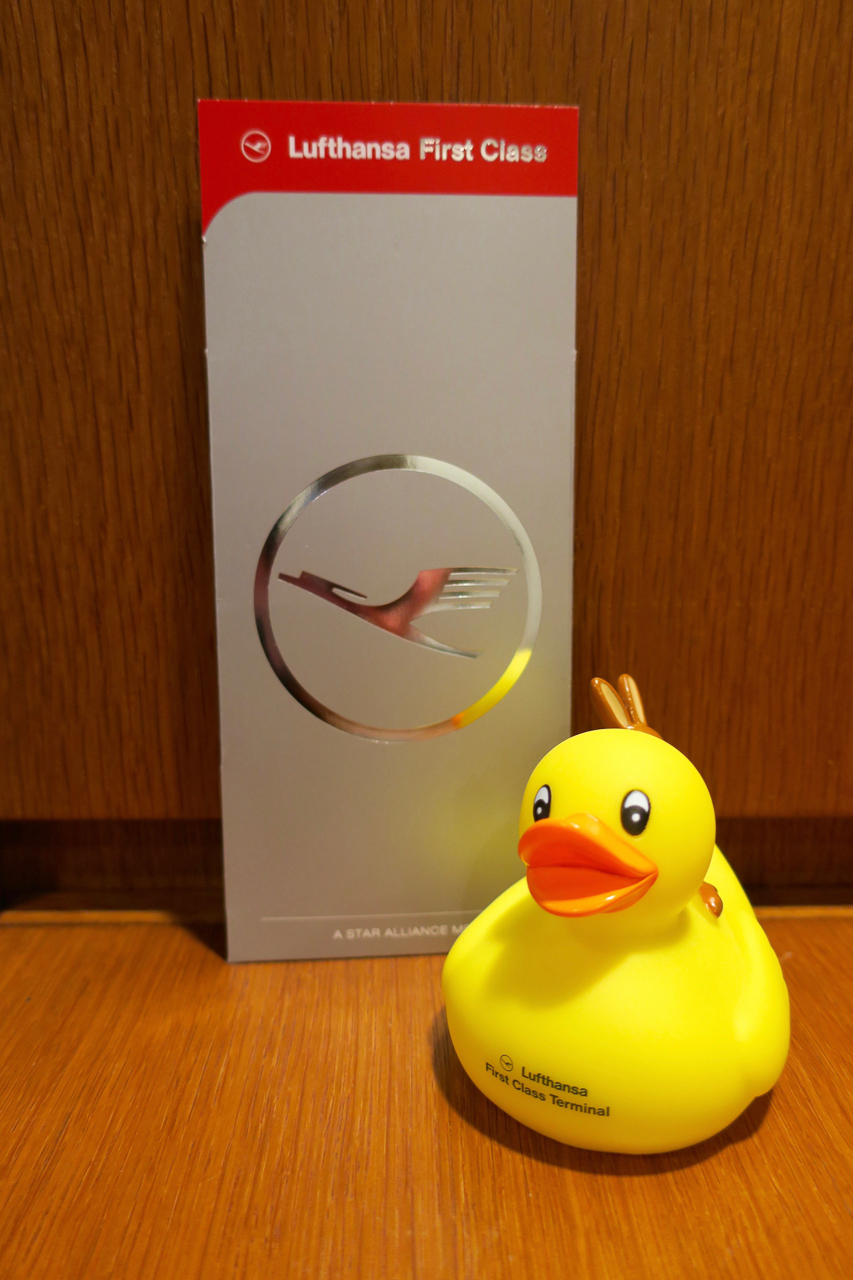 There is one huge bath-equipped bathroom in addition to numerous showers: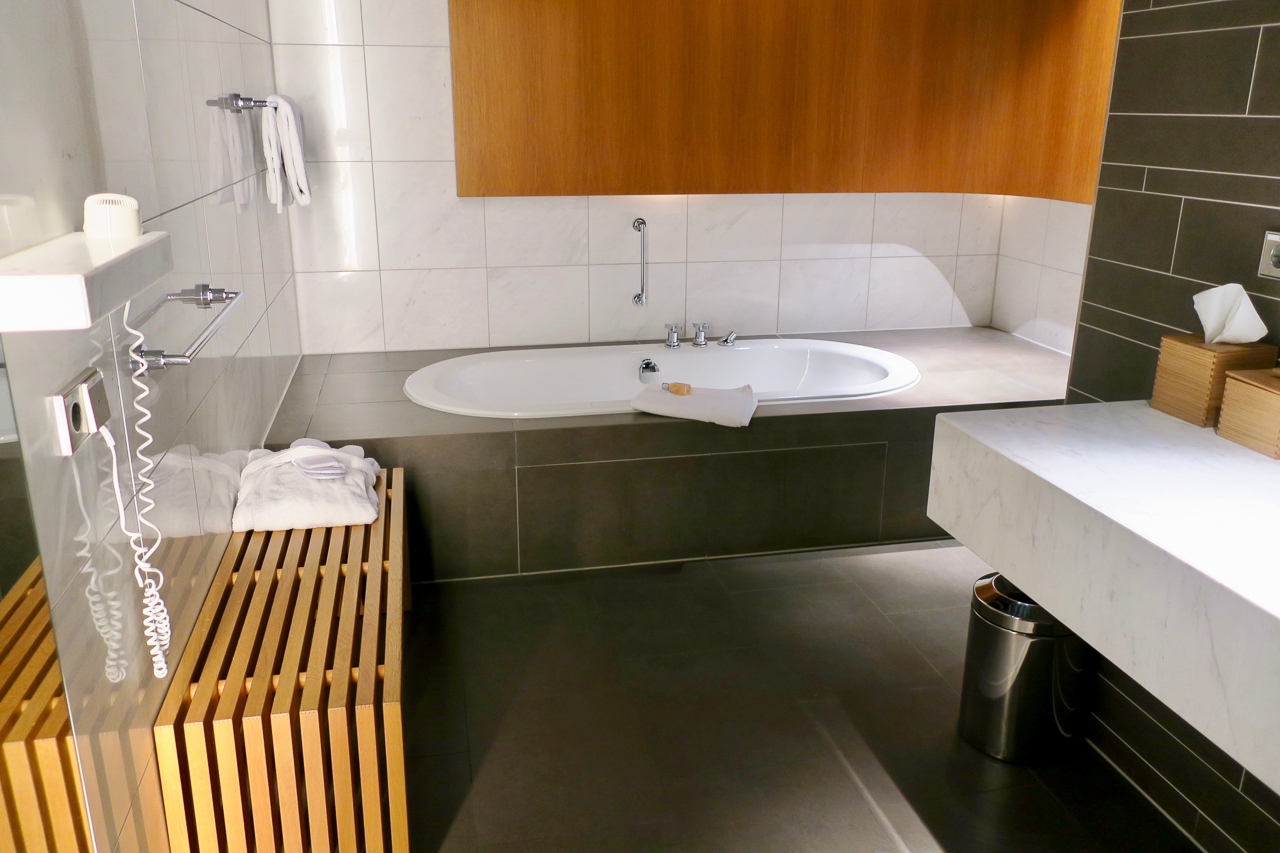 Not pictured is a closed-off big cigar room. There's no smoke overflow from the room like in some of the lounges at Qatar's Hamad International Airport.
Limousine Service
One of the best perks of this experience is that when your flight is getting ready to board, your personal assistant will come and find you in the lounge and escort you down the elevator or stairs to the downstairs personal immigration point.
There, your passport will already be waiting and the immigration officer just needs to see your face to give you your exit stamp, then you're on your way directly to your plane in a limousine.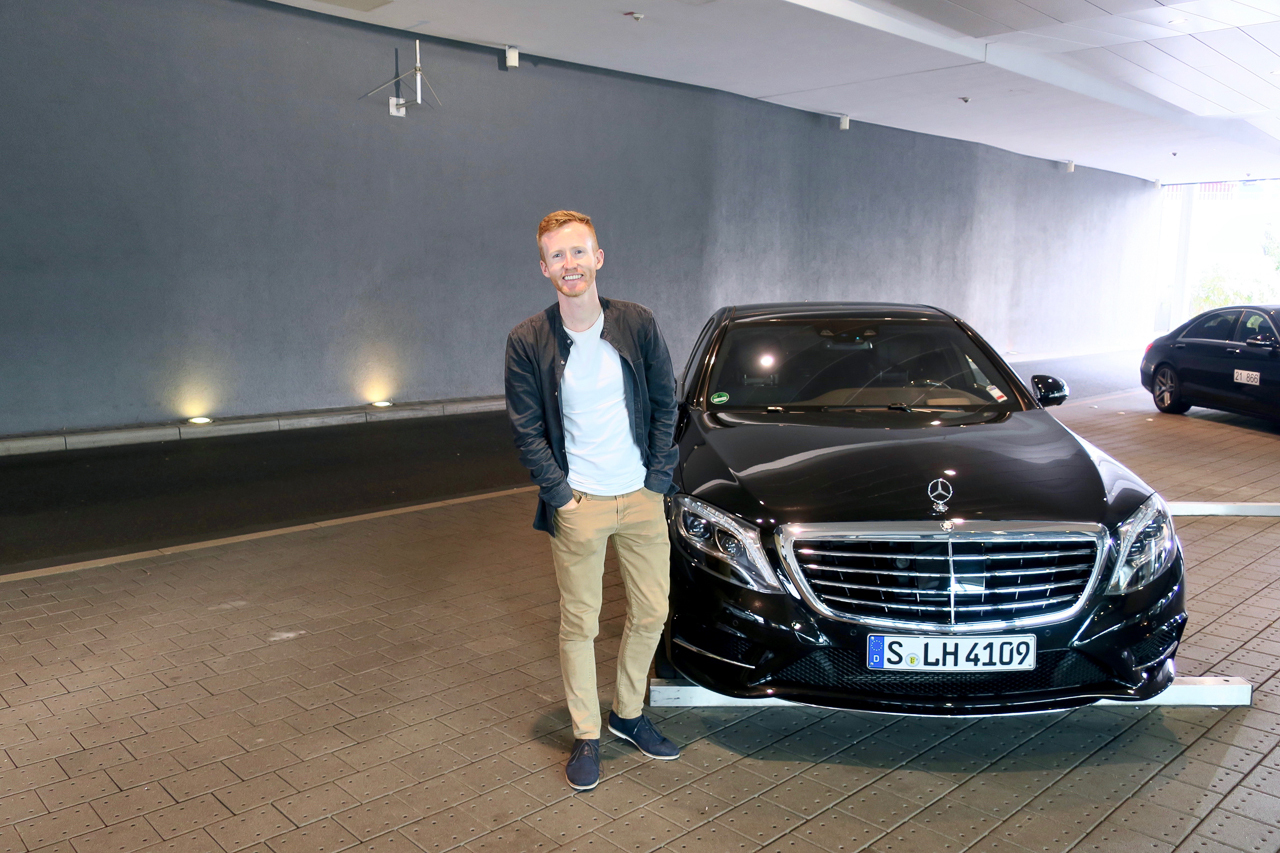 You'll travel with any other passengers boarding the same flight as you—it was just myself and one other passenger in my car.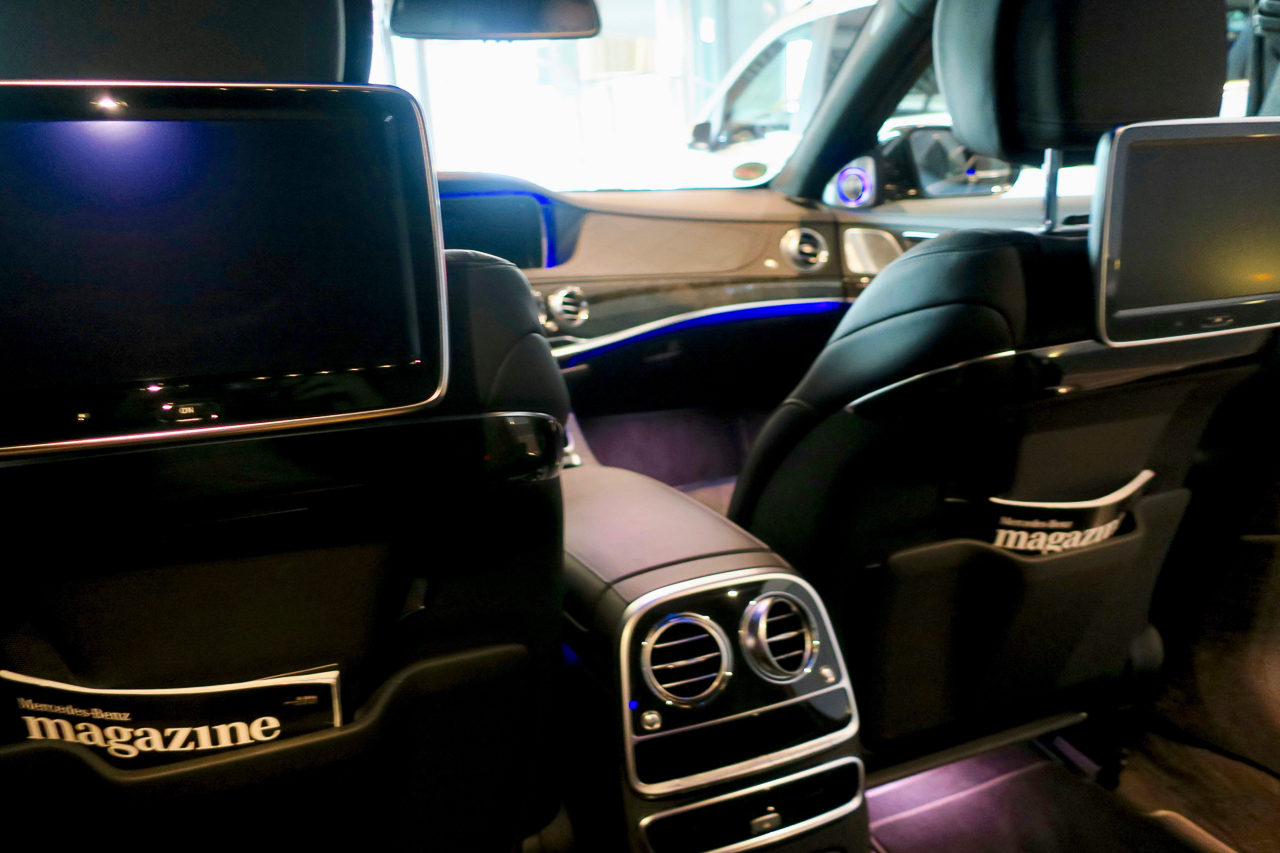 You'll park under the plane and catch a private elevator to the boarding bridge, skipping gate boarding altogether!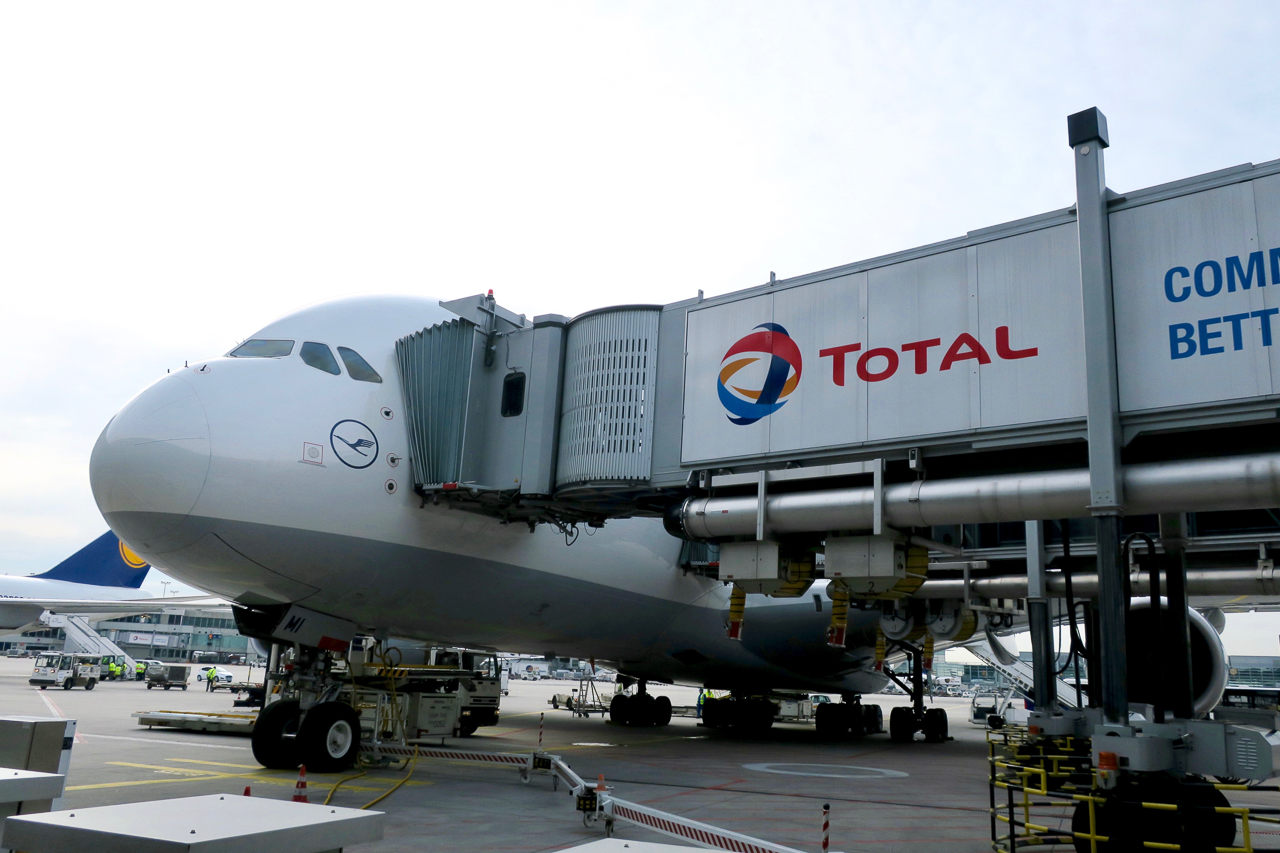 Lounge Access Options
By class of travel: departing on a First Class flight with a Lufthansa Group airline—Lufthansa, Austrian Airlines, SWISS or Brussels Airlines—or arriving on a Lufthansa Group First Class flight and connecting to a Lufthansa Group flight in any class, e.g. arriving in Lufthansa First from North America and connecting to intra-European Lufthansa Business (or the other way around)
By airline frequent flyer status: Lufthansa HON Circle member
You will not have access for flights with any other Star Alliance airline.
Lufthansa First Class Terminal Frankfurt: my take
If you want to see how the 1% really live, here's your chance.
You'll enjoy the Germans' famed efficiency, solid English-language skills and attentive but not overbearing customer service; a beautifully-designed space; delicious food and all the alcohol you can imagine; plus a chauffeur service directly to your plane.
My only gripe is that it is not made easy or clear by Lufthansa how to access this separate terminal if connecting from another flight, i.e. not originating travel in Frankfurt.
Lufthansa First Class Terminal Frankfurt overview
was last modified:
March 17th, 2022
by